We have gathered together some of the best DIY printable crafts found on the internet right here for you. Whether you need ideas for staying at home with your children or are looking for gifts to make for other people, you will find some inspiration here. There are arts and crafts projects for all ages and skills, including toddlers, preschoolers, primary school-aged children, teens, and adults. We have everything from simple printable coloring pages to fun DIY toys, games, puppets, etc. These free printable crafts are perfect for preschoolers, kindergarteners, and even older children who need some fun ideas for the weekend and summer vacation.
Free Printable Crafts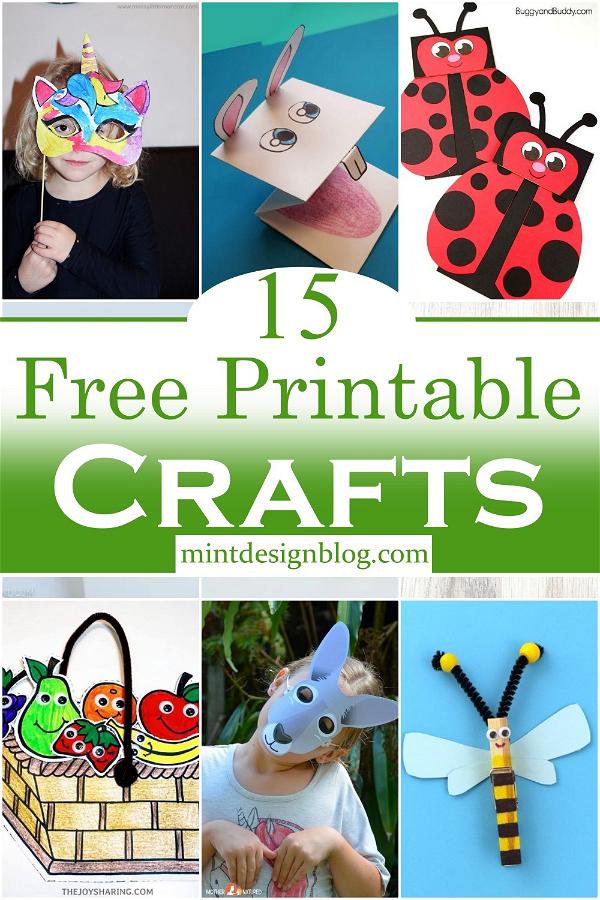 Get crafty with the kids and stay playful all year long with the help of this whimsical and practical collection of printable crafts for kids! Inside, you'll find inspirational instructions, templates, and worksheets for handmade gifts, seasonal decorations, fun activities, and printable coloring pages for just about every holiday or special occasion. Whether they're too busy to stop and color or have been asking to use your crayons, the printable crafts in our collection are sure to be a hit with your kids. We've got something for daytime fun or evening entertainment, from puzzles and word finds to coloring sheets and Easter egg ideas. All you have to do is browse this list of free printable crafts and be crafty. Get access to some fabulous printable crafts here in this DIY list to bring a huge smile to your kiddo's face and broaden their sense of imagination.
Fruit Basket Craft: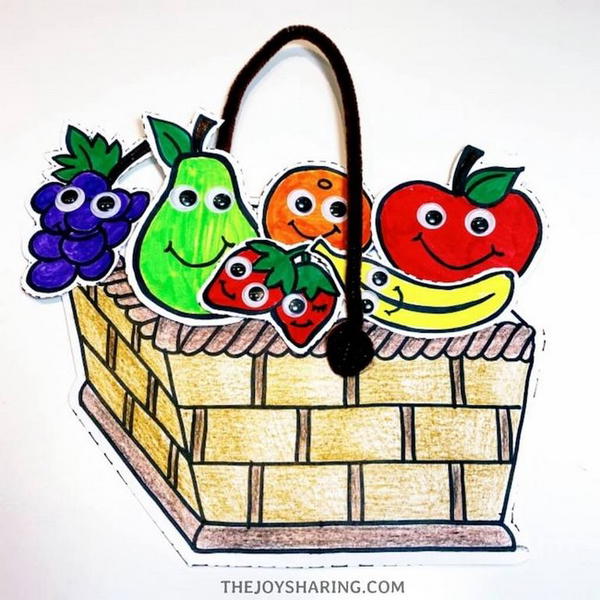 Preschoolers can take a walk on the wild side and use fruits, vegetables, and other healthy foods to make this fun fruit basket craft. It's a fun way to talk with preschoolers about the different colors of the fruits and vegetables they use. Try making this fruit basket craft for your child and talk about the importance of eating fruits regularly as part of a balanced diet. This DIY fruit basket craft will make a perfect addition to your outdoor play area or patio, plus you'll surely admire making it.
Paper Bunny Hand Puppet: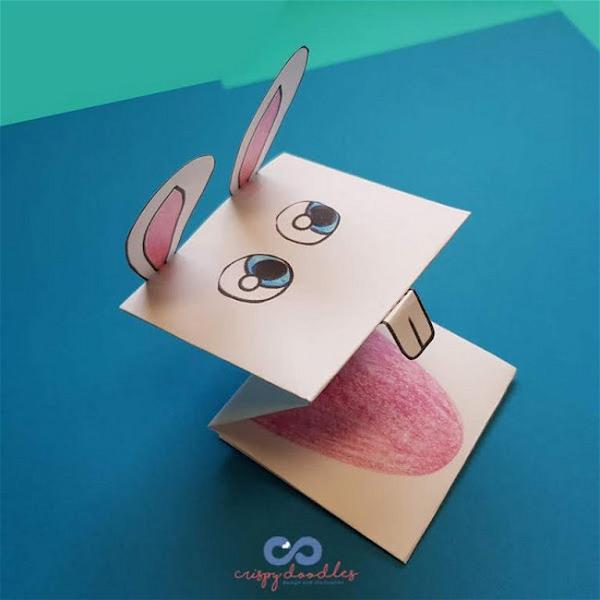 Assemble a rabbit puppet out of paper and make him hop along with his DIY paper bunny hand puppet. The eyes, ears, nose, and mouth are drawn on the head. Use a carrot with a green pipe cleaner attached to make the carrot that our bunny is holding. The pink balloon makes his tail. They are easy to make and far more fun than those store-bought plastic things. This DIY paper bunny puppet is a great crafting craft for Easter Baskets or just fun! These bunny hand puppets are easy to make and will get your kids excited about this upcoming Easter season.
Flower Template For Mix & Match Flower Craft: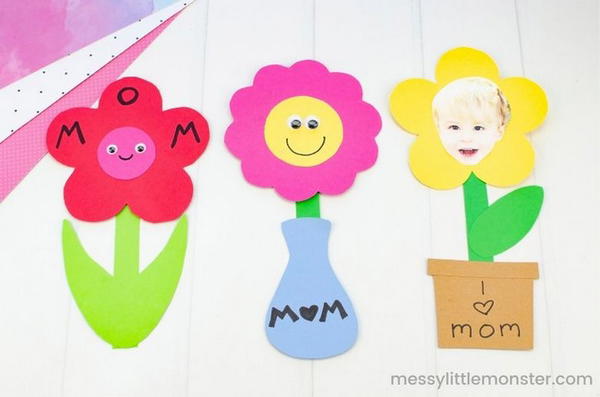 Make flowers, stems, and vases out of paper, then mix and match to make your unique bouquet! With this easy template and simple instructions, you can make all sorts of beautiful flowers. There are many sizes of flowers in this template, allowing you to mix and match the flowers, stems, and vases to create the pattern you want! You can mix and match the little ladybug, daisy, rose, and daffodil flower heads with different colored stems, glass vases — even add your DIY creations. All of the pieces are customizable; this flower template would look great on a table-scapes craft project too.
Unicorn Mask Craft: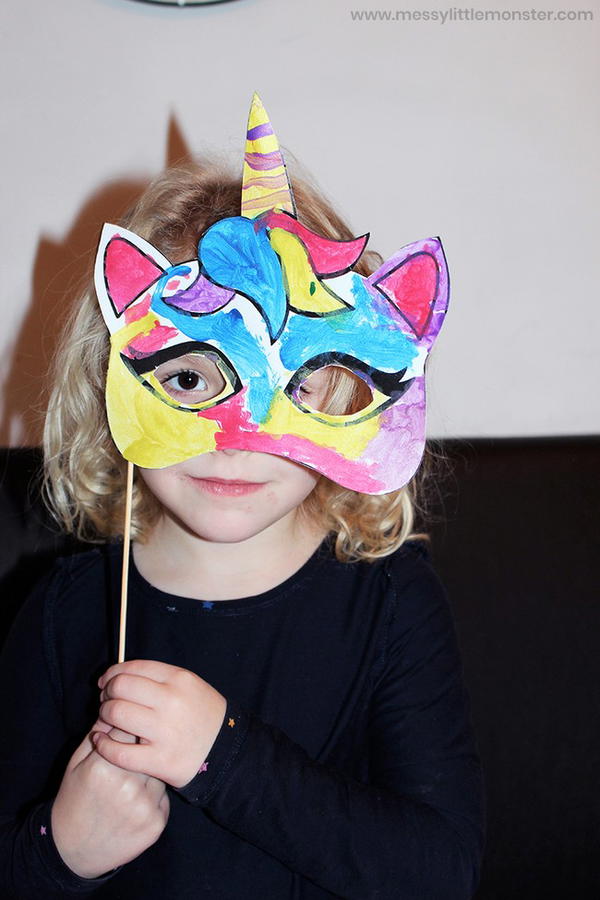 Cool unicorn mask craft-Kids will love this craft as they have fun coloring our unicorn printable! They can decorate their pony in any way they like and fill in the blanks using the three different crayons and pens. Then, super simple to turn into a unicorn mask, cut it out, cut eye holes, stick on a piece of elastic for the headband, and you're done! This unicorn craft is such a unique gift idea, and kids will be so proud to give this to their parents as something they made! Combine the magic of a unicorn with this fun coloring craft and graphic design style; it'll surely be your favorite.
Free Kangaroo Mask Printable For Little Jumpers: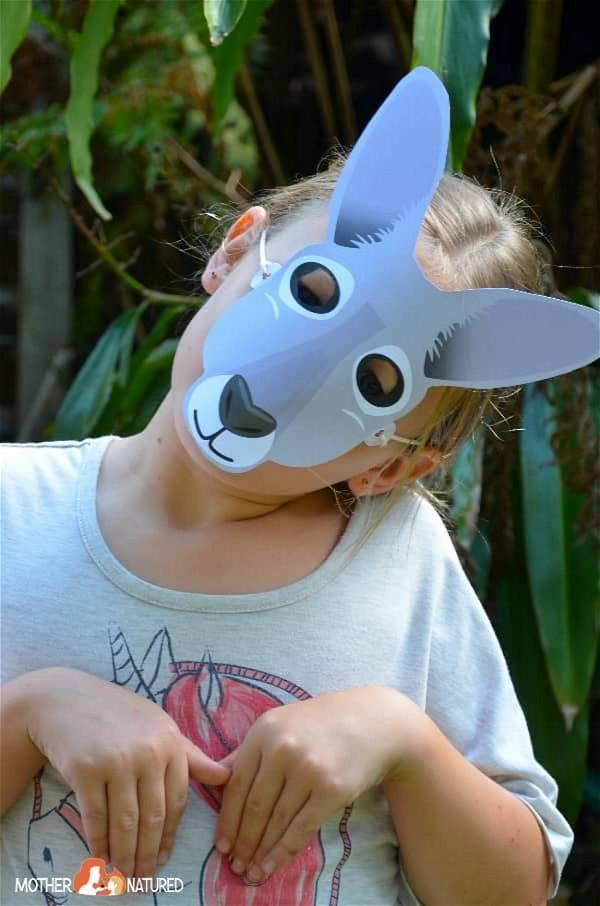 It's no secret that kids love to jump around. They're little human bobbleheads, after all. And this kangaroo mask printable is a perfect way to let them celebrate their innate bouncing abilities! We made the masks with two different colored backgrounds because my son is afraid of wearing anything covering his entire eyes. He prefers things that have eye holes. Fill them with treats, put on a favorite kangaroo movie or tv show, and watch the jumping begin!
Five Green Frogs Printable Puppets: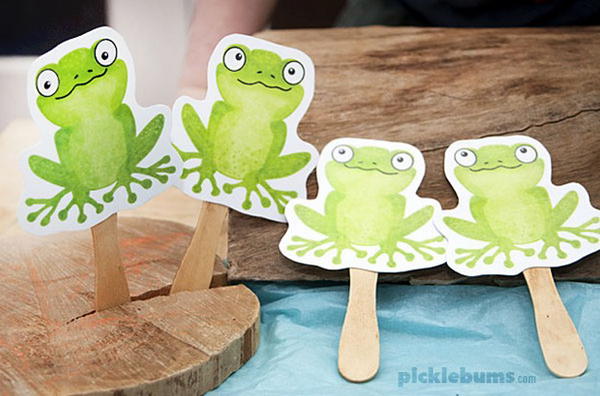 Make your printable frogs sing the five green frog songs, or add props to help you tell many more frog stories. Print out the five green frogs pictured above, then have fun creating your own story and props. Sparkle Starters are a great tool for engaging reluctant readers, particularly those who need extra opportunities to practice with text cues. They can be used with the accompanying script or your ideas. There are pages for four little green guys, sitting at desks and talking to each other, and you'll surely admire it.
Paper Bag Puppet Ladybug Craft For Kids: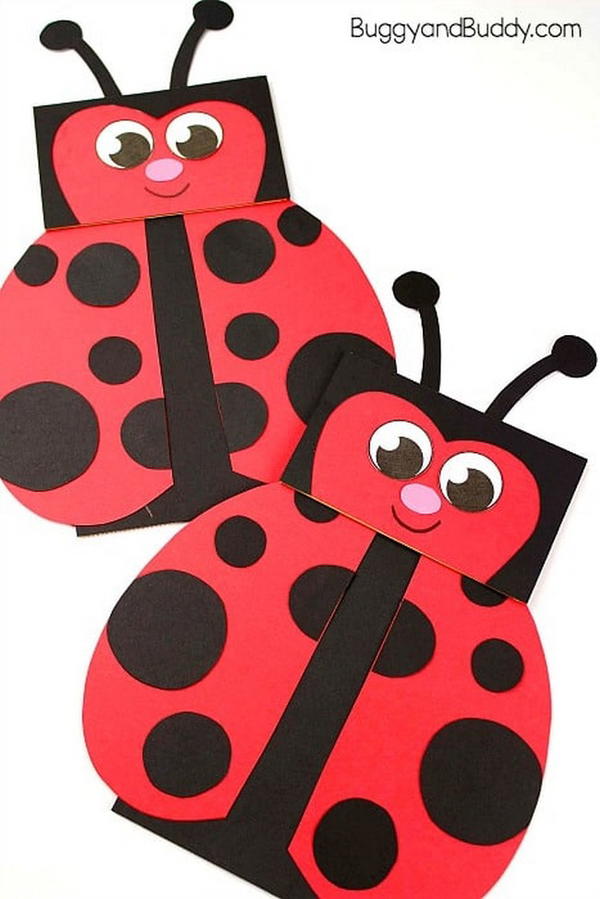 Make a paper bag ladybug craft in minutes with this simple template. This fun, free printable is the perfect spring and summer craft for kids and also goes great with a unit on bugs, insects, or The Very Hungry Caterpillar. All you need are a few craft supplies, a paper bag, and markers to get started. Our step-by-step template takes you through creating this adorable bedtime bug puppet, from painting the head to cutting out holes for the mouth and eyes. With a few simple supplies and your creativity, you can make this relaxing craft that's perfect for kids too!
Easy Clothespin Bee Craft: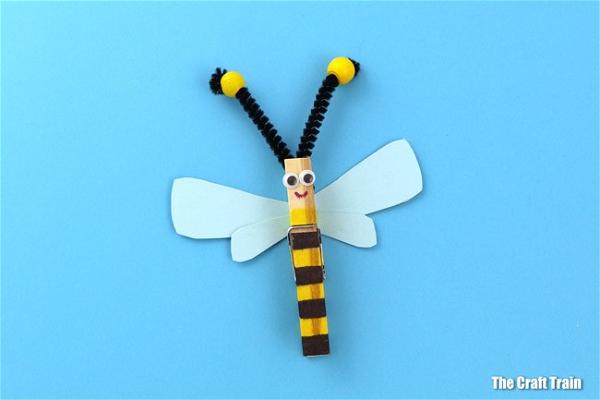 Clothespin bees are an adorable bee craft that kids of all ages will love. A little bit of cutting and a lot of paint make these simple clothespin craft kits, but still easy enough for older kids to make themselves in a short amount of time. Perfect for outdoor activities or rainy days! The materials are flexible, and you can choose to use whatever you would like as far as colors, shapes, sizes, and textures go. This is one craft that we'll save for spring, but you can surely use your imagination and use any color scheme you would like.
Butterfly Squish Art: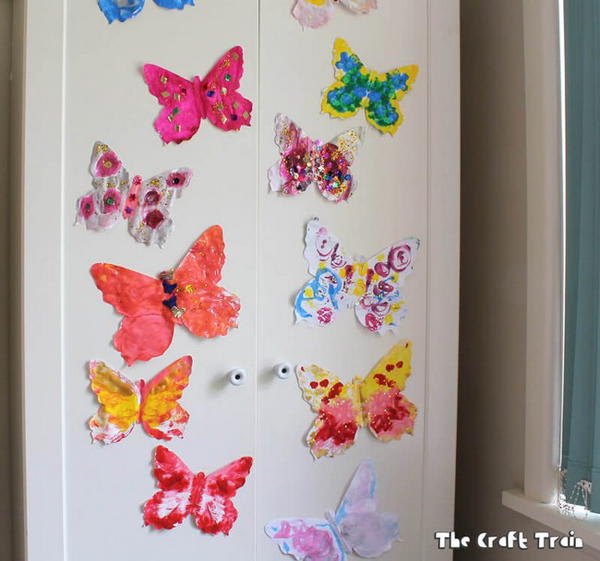 Haba's specially crafted butterfly stamp and deli paper, make your colorful butterfly squish art. It's a fun and engaging process art activity for kids and adults that also makes a lovely art display to hang on the wall. This project teaches kids about the incredible symmetry in real butterflies' wings. It's a hands-on art activity for kids and makes a lovely display on your walls. This adorable butterfly art is perfect for any special occasion. It makes it into a series of three butterflies and presents them as gifts. We will also provide simple instructions for hanging your completed piece as an art display on the wall!
Printable Butterfly Tiara And Wand: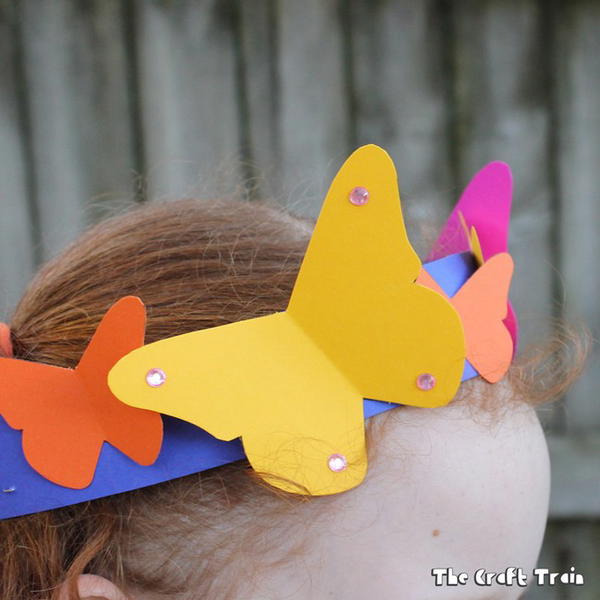 Don't be surprised if your party guests spend the entire time at your daughter's birthday party fluttering around like butterflies! This printable butterfly tiara and magic wand set is a fun idea for a party favor that kids can make themselves or their parents can assemble. Add the crown template to a floppy paper or cardstock circle with staples, and decorate as you wish. Take it one step further and add a bow to the blank headband, or attach a bunch of streamers. The choice is yours, and so are the beautiful decorations that butterflies bring to any occasion.
Printable Fairy Garden: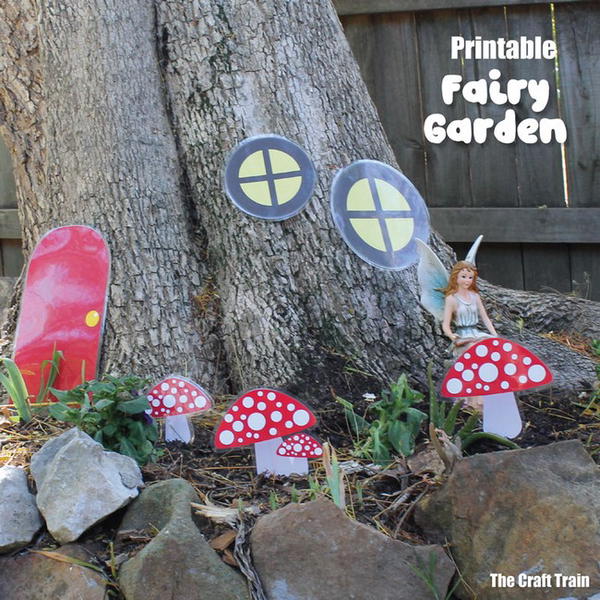 This Printable Fairy Garden is designed to be a template for a fairy garden that you can print out, cut out, and glue together. You can use this for any party—a birthday party, a birthday party for a child who loves the outdoors, or just an any-time-of-year fairy garden you create with the kids. It's easy to use and makes it a breeze to create your enchanting little world right at home. This nursery ground is perfect for keeping your fairy happy, from the small house to the flowery pathways and everything in-between. You may even want to tame a baby dragon or two!
Frog Craft And Duck Craft For Kids With Template: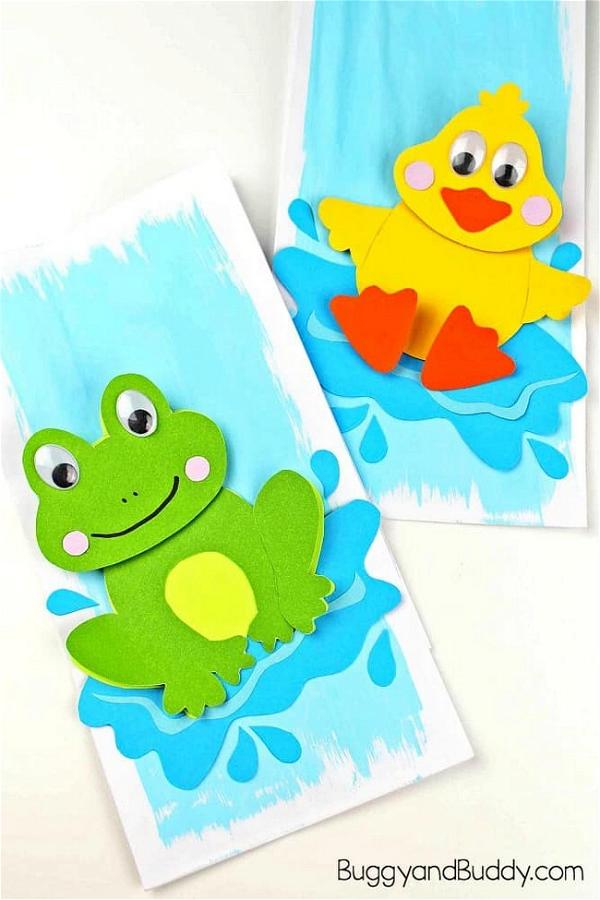 Frogs and ducks are common sights when we're outside in the spring and summer months. Kids will have a blast creating these cute little craft animals. The free template makes this an easy craft to model; only one skill level is required! Make these simple frogs and ducks for kids a great alternative to the more complicated paper mache projects often found on craft sites. These fun crafts are just perfect for spring and summer events and festivals, wet days at school, or just keeping those creative juices flowing!
Paper Leaf Doodle Art Wall Hanging: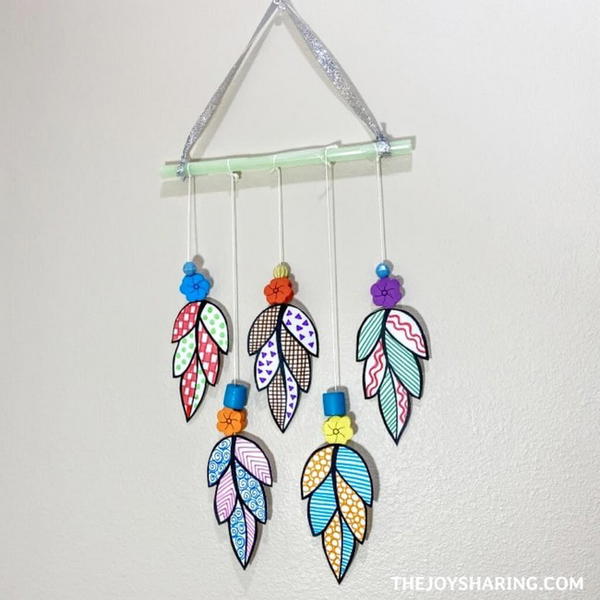 Get inspired by these gorgeous doodle art pieces, and get ready for serious creativity. The crisp black and white background is the perfect blank canvas for your imagination to explore. Mix and match different doodles and make something truly unique while you are at it! It complements almost any style; whether it's modern, coastal, or classic, surely you'll admire this craft and wish to make further copies of it. It's an inspirational art piece full of energy and life. Suitable for every age and every type of room, this doodle will also be a great way to introduce color, pattern, and texture into your home.
Free Printable Mother's Day Crown: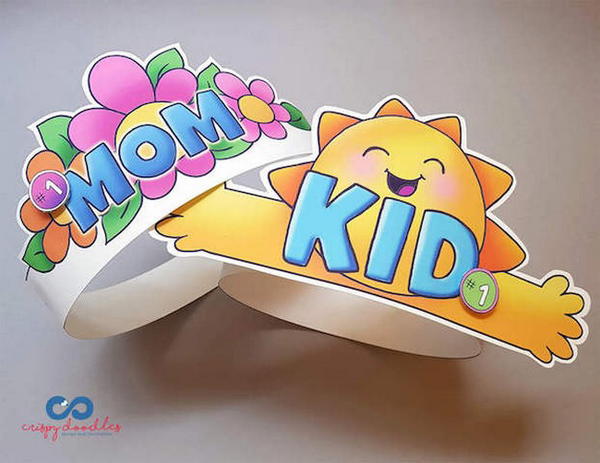 Mother's day is just a week away. This crown set is the perfect cut and glue craft for your little ones to make for mom. The crowns are available in two sizes so all ages can join in on this adorable craft. The crown is sized right for kids to wear and show off their artwork. This printable sheet comes with perfectly sized crowns; the letter that spells MOMMY in a pretty font - ready for you to decorate. Writing letters to each other is important, and this activity promotes early literacy skills for children.
Cute Bugs Mosaic Art For Kids: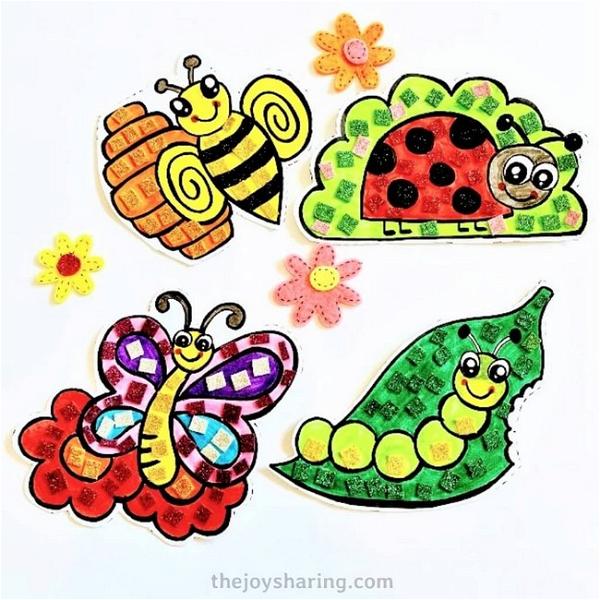 Mosaic art is a great way to introduce your kids to the world of art. Let them explore different materials and colors in this simple paper mosaic art. The simple design makes it easy; kids can make their mosaic art as they please. This spring-themed paper mosaic art would be perfect as an accent piece to any kid's room or nursery. The happy bugs will brighten up any room. This mosaic art is fun and easy, so grab these craft supplies and let your imagination run wild!