Routers can be used to help you build a lot of useful things. They're amazing tools that can help you make your home look and feel great. But because these tools can be noisy, hard to wield, and difficult to fix in awkward positions, there are times when it might be easier to use a router table. A router table is an accessory for your router that has a surface for it to sit on top of that is attached to some sort of fence that it rests against. Take a look at these collections of 14 DIY router table plans and choose the right one for your home.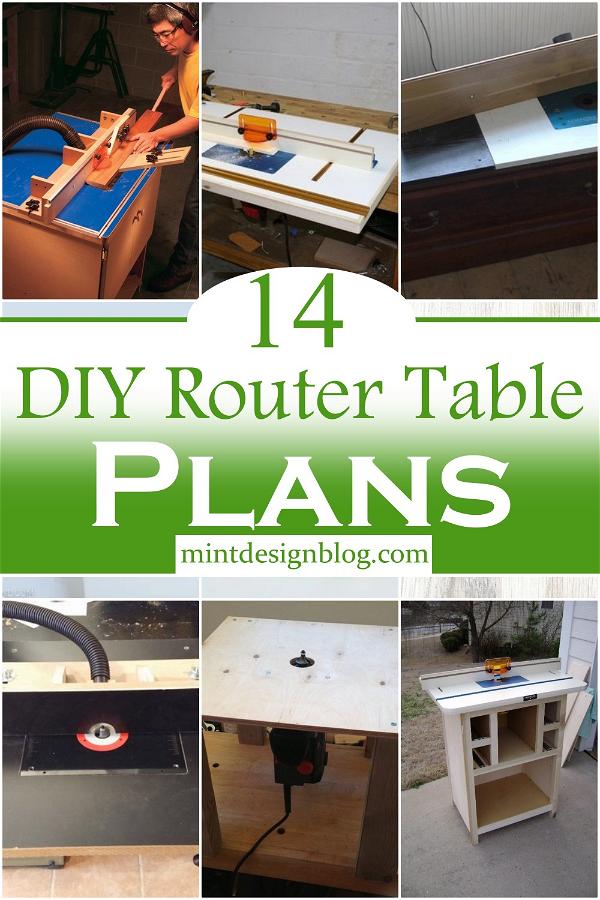 There are a few items every DIY enthusiast needs when they start building: a good set of tools, materials, and plans. Routers can be cumbersome to work with when attached to a workbench. This is why many people opt for using them with a router table. They're stable and easy for working long hours. Building your own allows you to match it to your projects and needs, from mobile setups to ones you'll use in your shop. Routers are widely used in cabinetry and other woodworking projects. Building your own router table adds flexibility and convenience to creating precise, level cuts.
DIY Router Table Plan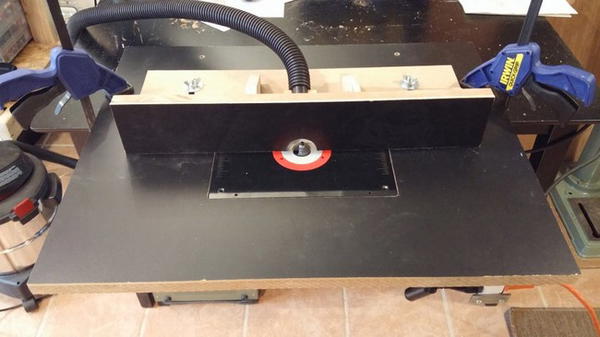 Do you want precise control over your router but lack the space or budget to purchase a table saw? The solution is to build your own simple router table. You can use this router table as a workstation while giving you precise control of the cuts when working with wood. With this plan, you will be on your way to building an attractive, functional wooden router table. That can easily be made with basic carpentry tools like a drill and a circular saw. It takes work to build a precision router table and router lift, but this plan is here to show you how. With basic tools, any level builder can create a superb table for all their DIY projects that will give years of smooth service.
Patrick's Router Table Plan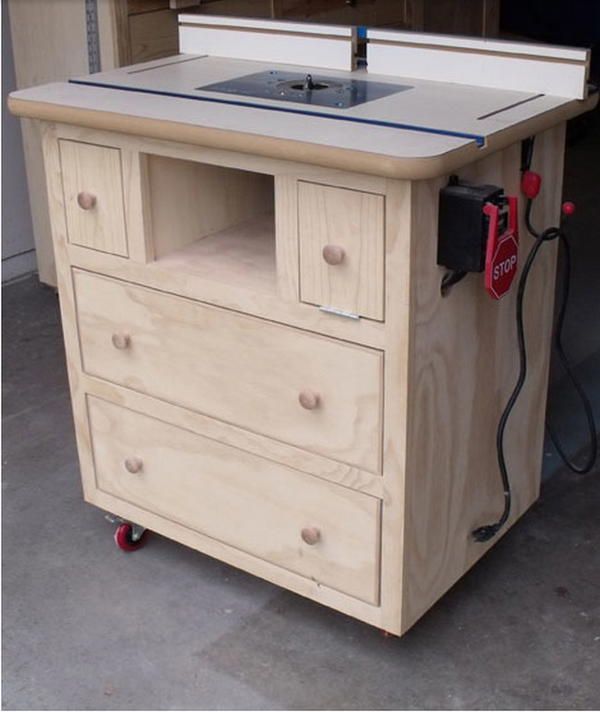 Patrick's Router Table Plan is a detailed plan for building a compact table that offers plenty of storage and easy portability. This table goes wherever you can find the space to use it. With this router table, you get all of the benefits of a well-organized and versatile workspace without it taking up too much room. This sleek and sturdy system features a multi-purpose worktop that's big enough to be both a router table and an assembly table. The top doubles as a benchtop when you set up your work supports at the top of the base. You can dismantle it completely for smaller jobs. It's a small shop in itself!
American Woodworker Router Table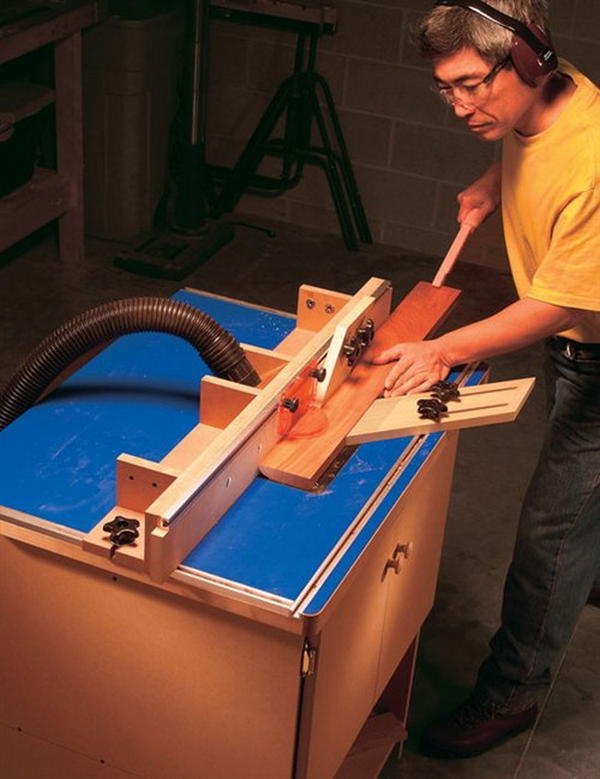 This American Woodworker router table is designed to give you all the functionality of a store-bought router table, but at a greatly reduced price, saving you money and offering you a great DIY project that can be shown off to your friends and family. This router table provides a solid, sturdy surface to mount your router. This table is built to accept industry-standard plates. Photos and detailed drawings are included in this article, perfect for the beginning woodworker. A great thing about building your router table is that you can get all the functionality of one you buy at the store but at a greatly reduced price.
Benchtop Router Table Plan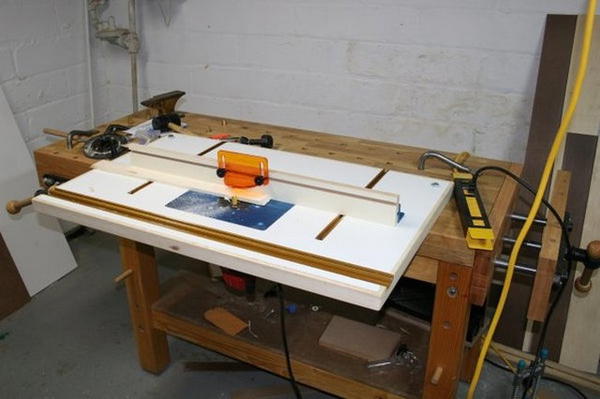 The Benchtop Router Table Plan will prove helpful to you if you're thinking of making yourself one that lets you do woodworking with a lot of precision. It goes without saying the benefits of upgrading any corner of your workshop to a more modernized version. But when it comes to working on the ultimate plan, we want our readers to take in every little detail before they start creating this piece.
You can create a versatile benchtop router table with this plan. This craft table is perfect for crafts, hobbies, and small-scale woodworking projects. It has a spacious work area and convenient storage. Install the tabletop on an existing table or stand. The Benchtop Router Table Plan details include step-by-step instructions, diagrams, and illustrations.
Stow-and-go Router Table Plan
A professional-looking router table that is fast to build, easy to break down, and light enough to take to a job site can cost hundreds of dollars. This plan breaks down the process into small, simple steps and walks you through the building process with detailed photos and drawings. From the materials list to details on bit selection and mounting, this plan covers everything you need. You won't find a more affordable or complete router table plan anywhere. The features of the router table make it especially attractive to those who want the convenience of a table that can be both portable and attached to a permanent workbench. As well as to users who want a router table that is quickly set up and breakdown.
Scott Moore Router Table Plan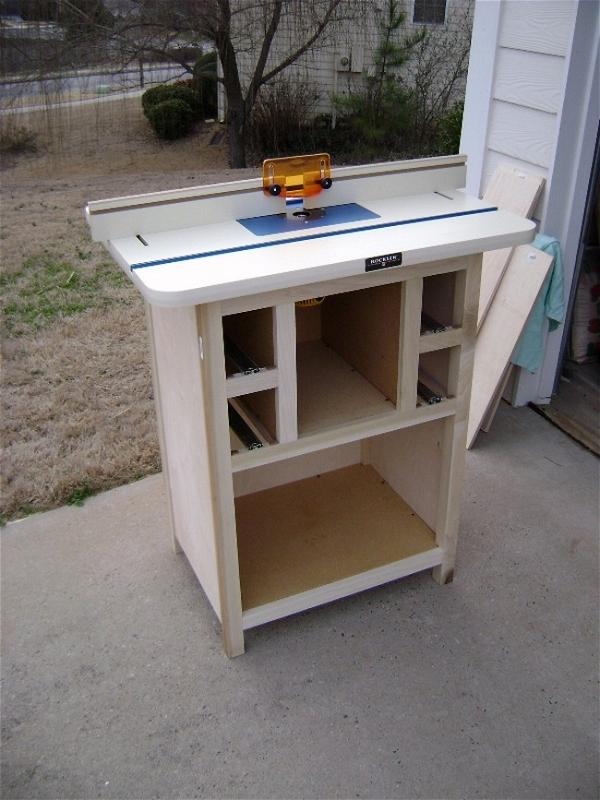 If you like to use a router table but don't want to rig up something that won't give you the result you need, this is the cabinet for you. It's designed to have everything you need close at hand and be ready to go. It's even got a place to store your router and other accessories, so nothing will get lost. Scott Moore's router table plan took him six months to design, test, and perfect. Its cabinet-style design offers a unique way to store your router, bits, feather boards, and a vacuum cleaner/dust collector. Its lower shelf also provides an easy place to vacuum up your mess. The entire table has been designed for ease of construction along with stability and durability.
DIY Router Table Plan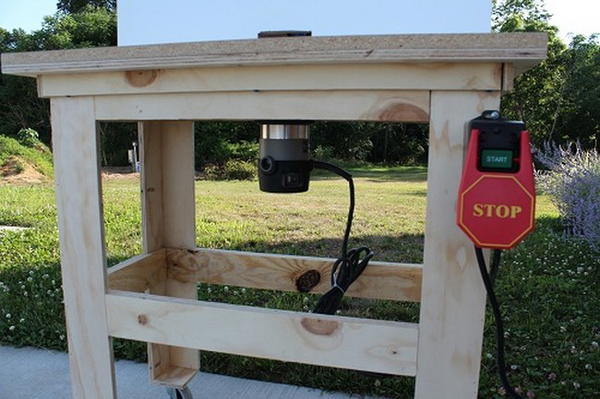 Here's a pretty basic plan for building your own router table. The plans include an exploded view of the parts, detailed instructions, and tips for adjusting the width of the groove with just a few simple changes. This is built to be a no-frills model that will stay in place and get its job done without any fuss. This is a straightforward router table plan that anyone should be able to build in a weekend. It features a built-in power strip for keeping things neat and organized, as well as a tool organization tray for keeping all of your tools within easy reach. This is a router table designed around an inexpensive kit. The kit comes complete with all the wood parts, hardware, and an adjustable fence.
Simple Router Table Plan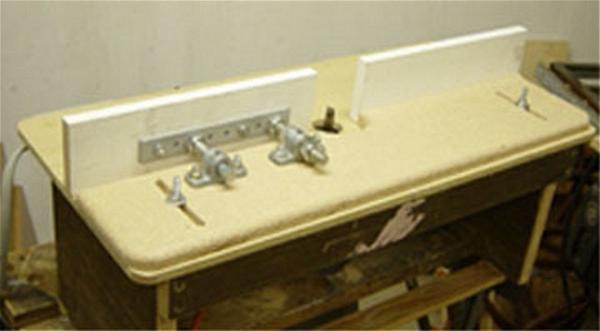 If you want to add a router table to your shop, but don't have the money or shop space for a full-blown cabinet style unit, this plan will show you how to build a simple router table that will get the job done better than building one yourself, or buying a cheap one. You're going to love this simple route table plan because it gets you a benchtop router table that is the perfect height from your main table saw or workbench, and it is sitting on high-quality legs. This is a simple set of plans for building a router table that you can build on a weekend. The plans come with a printable template for cutting the pieces so it is pretty easy for anyone to do.
Cheap Router Table Plan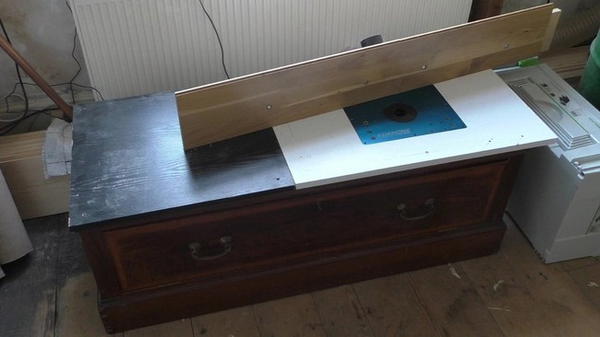 A router table is an essential part of every woodworker's shop. Router tables always seem to be on the expensive side though. This router table plan was designed with one goal in mind… to help you build a router table for a reasonable price! An inexpensive and simple design for a router table that doesn't require a lot of lumber to build. This plan is perfect for the hobbyist who doesn't have a lot of money but still wants a quality and safe table. The plan features lots of pictorials, full-size drawings and measurements displayed perforated on large sheets. So you can easily copy it onto your own construction paper.
Mini Router Table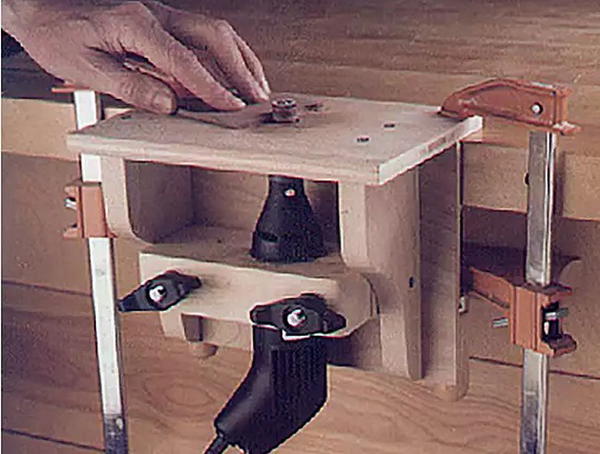 Don't have room for that huge router table? This mini router table is an easy project that will put a miniature version of the tools you need to produce excellent work within reach. It even includes a micro-adjustable fence, as well as in and out stops. You need a router table but don't want to make a big deal. This is an easy, compact alternative that you can build in no time! It should work with any router as long as there is clearance from the bottom of your router to the baseboard. This will be helpful for those of you with smaller footprints for your router tables who want to assemble this quickly rather than spending more time on a more complex model.
Simple Router Table
An elegant addition to any shop, this Simple Router Table creates a beautiful connection of workbench, top, and base. It's portable, with a beautifully finished top that can be easily attached to the base, which requires only simple assembly. Perfect for anyone looking to get their feet wet in working with hand tools or expand their current shop. The Simple Router Table's appeal comes from the many personal possibilities for customizing it to fit your specific needs. Its flat work surface, concealed storage, and hidden drawer give you lots of extra space for keeping your tools close at hand. The Simple Router Table is built from kiln-dried wood and features a gorgeous lacquered top. It will stand up to years of cutting, routing, and sawing. Bring the power tool workshop with you into your home with the help of this simple router table.
DIY Router Table plan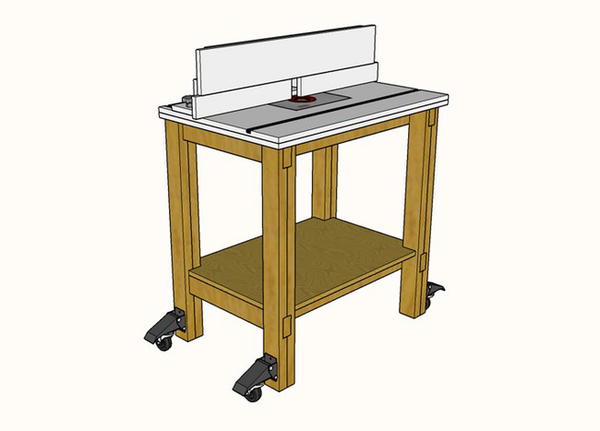 If you're looking for a way to save some money on a router table build or just like making things with your own hands, we have some DIY router table plans for you to use. The nice thing about these plans is that they are split into three simple components – the base, the table, and the fence. Each component is simple to build or can be replaced with a pre-made version if you already have your heart set on a specific. These DIY router table plans come in three basic components: the base, the table, and the fence. Each can be built or replaced with a premade version to match your skill set or budget.
How To Build A Router Table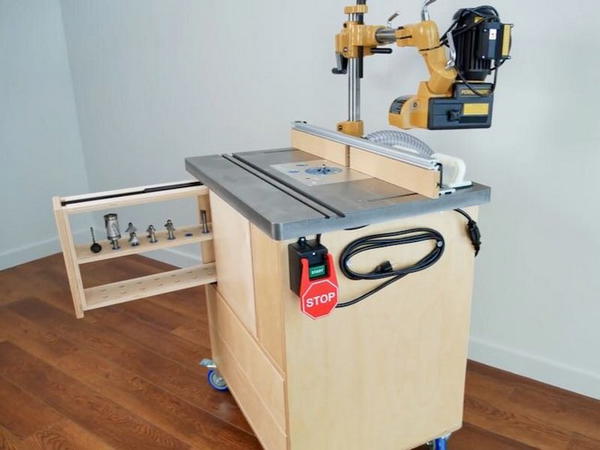 The router table is an important piece of machinery in any woodshop. This router table gives you the features to help provide an organized experience while cutting with your router. This table gives you storage for all of your bits, helping you find the exact one you need when you need it. The cut-out doors on either side of the top are removable, allowing you to adjust the fence easily and make cuts up to 9" wide. Also included is a custom-built cabinet that has cast iron runners and bit storage inside!
Bench Top Router Table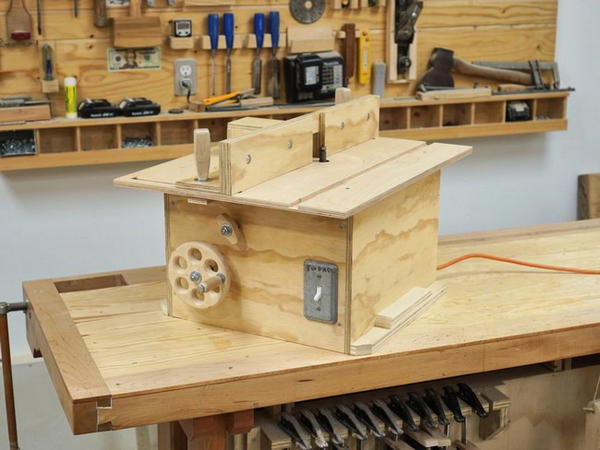 The Bench Top Router Table from Woodpecker is a wonderful solution. This sturdy router table is ideal when you want to get creative and make cuts that you couldn't make without one. It works well for routing around dado cuts and other special projects. But it can also be used to do more routine routing as well. And it all folds up quickly and easily so you can free up valuable space when you need it. This is a great tool to have if you work in smaller shops. Because this router table is mounted to your bench, it can be easily moved out of the way when not being used. Mounting this router table to your bench will also keep it from tipping over and protect important workpieces from falling on the floor or being damaged.