If you want to save money, and don't want to pay for a new set of sawhorses, then these DIY sawbuck plans will help your impressively. These Wooden DIY Sawbuck plans have been designed to be made from DIY lumberyard materials. The plans can be used as a sawhorse, firewood carrier, pallet rack, potting bench, and a variety of other woodworking projects Hobby Farm Plans is the source for do-it-yourself sawbuck plans and projects, including DIY sawhorse table plans, DIY sawhorse workshop plans, and many others.
DIY Sawbuck Plans And Ideas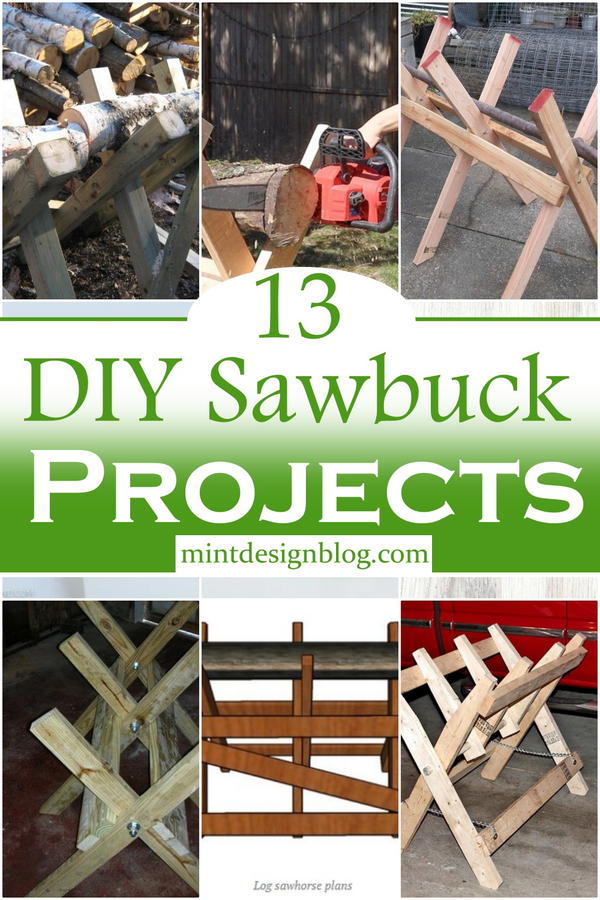 Many of these projects are designed to help you build a sawbuck with just a few tools and simple instructions. But there's no need to purchase a sawbuck if you have a few tools, a bit of time, and a little DIY knowledge. Picking out the best wood for your sawbuck can be tricky. It should be strong enough to support your project, but light enough that it's not too heavy for you to lift and move around. We recommend using small branches or pieces of firewood for this project. Some of these projects require you to use nails or screws, but others show you how to build it without any hardware at all. The choice is up to you!
Homestead Sawbuck by The Weekend Homestead
The Homestead Sawbuck is a smaller, yet still fairly heavy-duty woodworking sawhorse that utilizes a router for the main framework. This allows for lighter-weight yet more durable frame members. This saw horse will be able to hold up much heavier loads than the other saw horse designs we have looked at, and it will also have a more professional look because of the use of more precise woodworking tools. Using a few simple tools and a chunk of wood, you can easily build yourself a Homestead Sawbuck! Woodworking is fun and rewarding, especially when you build something that has practical use in your everyday life.
Difficulty Level: Moderate
Time to Build: 2-4 hours
Tools Needed:
Tape measure
Circular Saw
Square
Drill/screw gun
DIY Sawbuck for Cutting Firewood by Homestead Handyman
If you're cutting firewood, do yourself a favor and make yourself a sawbuck. It's a simple little device that saves your back (and a little bit of money) when you're bucking logs. If you're lucky, you can grab some free scrap wood and build this job in an afternoon. The DIY Sawbuck for Cutting Firewood is built from free lumber. If you have some scrap wood laying around, you can probably also build one for next-to-nothing. Almost any kind of wood will do, provided you have a saw to cut it into pieces that are the correct sizes. You can make a Sawbuck for Cutting Firewood from scraps around your house, or you can even make a new one from scratch. Then you can cut firewood into pieces that are of any length and size you need!
Difficulty Level: Easy
Time to Build: 1-2 hours
Making a Firewood Sawbuck Stand by Brian Weekley
As we try to recreate our outdoor living areas with all the comforts of a modern home, we need more firewood. In some areas, the firewood is delivered in convenient bundles. In others, it is cut and stacked by the homeowner. Whether it's stacked in a corner or in another area of your backyard, a nice set of sawbucks will help make the work go faster. With this project, you can build an attractive sawbuck that also has a practical everyday function to help organize wood and tools as well as supporting racks for other yard and garden items.
Difficulty Level: Moderate
Time to Build: 2-4 hours
Tools Needed:
Square
Table saw or radial arm saw
Drill/screw gun
Make a Firewood Sawbuck Stand.
Build a Sawbuck in 5 Steps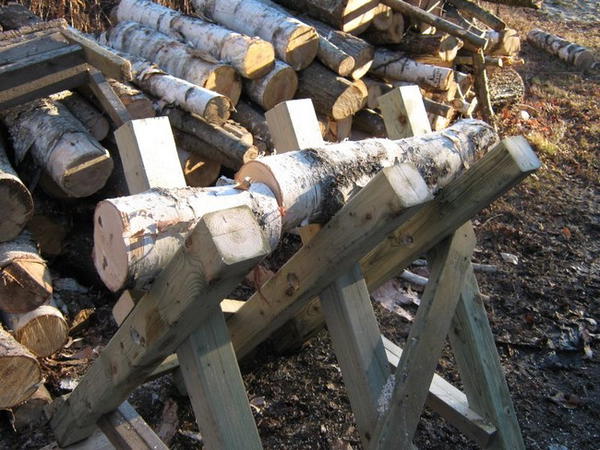 If you're out looking for a project to do over the weekend, try building a sawbuck. The sawbuck is a structure designed to support your chainsaw on the ground and keep it from rolling away. These structures are also known as sawhorses. They can be made from numerous materials as long as they are sturdy enough to hold your chainsaw. A sawbuck is a simple device that allows you to securely hold something with both hands and see all of it at the same time. It can be used when changing a tire, doing large-area maintenance on your vehicle, working with small children, or many other things that require two hands but cannot be done while holding something in one hand.
Difficulty Level: Easy
Time to Build: 1-2 hours
Tools Needed:
Circular saw
Drill/screw gun
Drill bits
Socket set
Tape measure
Square
10. Sawbuck Plan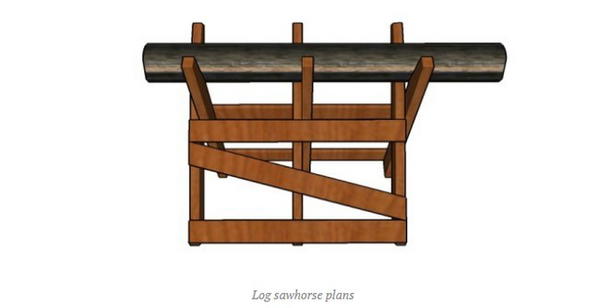 Build a sawbuck in an afternoon with these plans. The sawbuck is a very simple structure and once you know the quick and easy steps to build a sawbuck, you'll be making them in no time. A great way to get started on a piece of work and not overspend as you go! Sawbucks exist, but in our experience, you're about 20% less likely to get to the finish line because of all the little distractions on the way. The sawbuck is perfectly sized to sit on your patio while holding your firewood. It's easy to build or take apart, and you can use it throughout the winter months to stack your wood up nice and high.
Difficulty Level: Moderate
Time to Build: 1 day
Tools Needed:
Hammer
Tape measure
Square
Miter saw
Drill/screw gun
Sander
Router
DIY Sawbuck Bench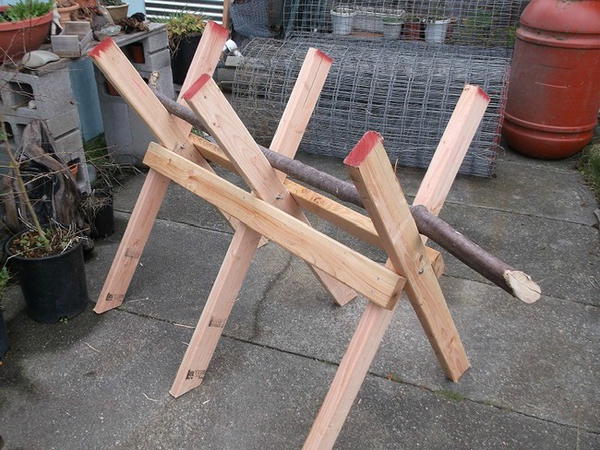 The DIY Sawbuck Bench is the perfect tool for making a cut back to the log for easier processing after bucking. It securely holds wood by the log in a cradle made from logs themselves, making it easy to make an angled cut, and eliminating kickback. The DIY Sawbuck Bench has a low profile and can be used as a workbench or sawhorse. This design uses a variation of the sawbuck design to make a bench that is perfect for woodworking. The combination of large, stable legs and a slot in the center of each provides the cradle upon which the wood slides into place, mitigating rolling and causing kickback.
Difficulty Level: Moderate
Time to Build: 1 day
Tools Needed:  saw, power drill, Phillips Screw BitMeasuring Tape, Angle Square, Pen
How To Build A Folding Sawbuck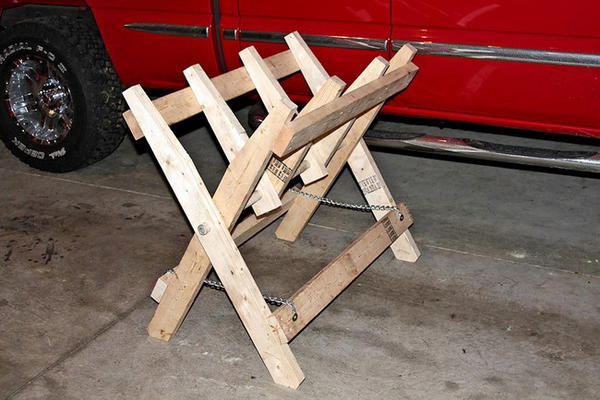 A sawbuck is a simple frame you can use to hold a board steady for cutting. It's easy to build, takes just a few minutes, and requires few tools. Sometimes you really don't have the room to bring out your permanent sawhorses, or maybe you're just on a tight budget. For a few bucks (or less) you can build your own sawbuck that folds flat and can be stored against a wall when not in use. This is especially useful if you have limited space. A sawbuck is a tool typically used by lumberjacks. It has two fulcrums, from which boards can be safely sawn by crosscutting. It's basically a sturdy wooden X-shaped frame made from pieces of timber bolted together.
Difficulty Level: Moderate
Time to Build: 1 day
Tools Needed:  saw, power drill, Phillips Screw BitMeasuring Tape,
DIY Easy Sawbuck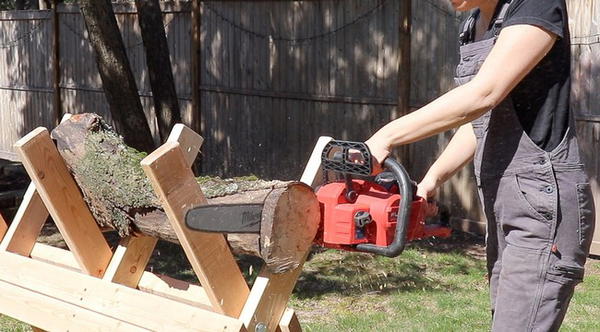 Welcome to the DIY Easy Sawbuck. This fun and easy woodworking project will help you gain the skills needed to construct a full-size sawbuck for outdoor use. This project is ideal for beginners or experts wanting a challenge. The DIY Easy Sawbuck can be used to display many tools and items while being compact and easy to carry. Not just a sawbuck, it can also be used as a garden tool stand. The design makes it easy to train a variety of plants up these vertical supports including beans, peas, herbs, tomatoes, cucumbers, or flowers. The Sawbuck Trellis was designed after our famous Easy Garden Bed Frame and will hold up in all seasons!
Difficulty Level:  beginner
Time to Build: 1 day
Tools Needed: long carriage bolts, washers, wing nuts
Folding Sawbuck Plans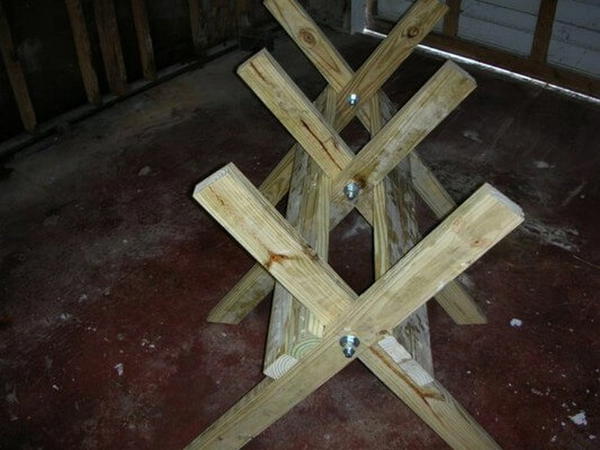 If there's one thing that no camper should be caught without, it's a great folding sawbuck! They're convenient and easy to use, they fold up nicely when you're done with them, and they make cutting wood down to size so much easier. These Folding Sawbuck Plans from Firewood For Life will build a sawbuck that's sturdy enough to last for many years. The best part about it though is that this sawbuck folds closed, making it much smaller and easier to store. It's also an easy project to complete that requires just a few basic tools. . This is a great way to store firewood that doesn't take up as much space. It's extremely sturdy and can even use as a bench when you don't have any firewood to store.
Difficulty Level: Easy
Time to Build: 1-2 hours
Sawbuck Plan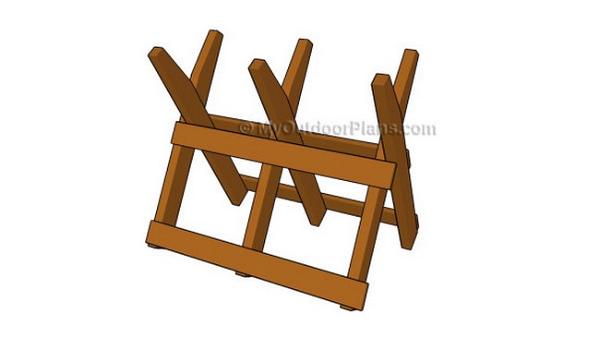 Create your own sawbuck with the help of these easy plans. To make it, you'll need some tools, screws, nails, and glue. This sawbuck is worked without much in the way of complicated joinery. It has a sturdy base that makes it ideal for holding logs and can be customized to fit any sized timber. In an environment that is constantly changing and growing, it is important to have a refuge somewhere. Some of us have our garages and workshops for this, but not everyone does. The Sawbuck Plan gives you a simple-to-build portable workshop that will change the way you look at the outdoors.
Difficulty Level: Easy
Time to Build: 1-2 hours
Tools Needed:
Hammer
Tape Measure
Framing Square
Level
Miter Saw
Drill/Screw gun
Sander
DIY Folding Sawbuck by 3x3Custom
The DIY Folding Sawbuck is the perfect addition to your own backyard workspace. Whether you're looking to build a permanent sawbuck or a portable, space-saving option, the DIY Folding Sawbuck lets you choose. It's built from common, easily sourced materials like lumber and metal brackets, and it folds flat so that you can store it easily when not in use. Even beginners will be able to put this sturdy project together in just a few hours. It's the right size to accommodate smaller cutting jobs, and it folds closed for easy storage. It's ideal for a variety of activities you'd like to bring outdoors, such as working with lumber, cutting thicker branches, or even creating your own firewood.
Difficulty Level: Easy
Time to Build: 1-2 hours
Tools Needed:
Drill/screw gun
Miter saw
Sander
Square
Table saw
How to Make a Sawbuck in 3 Minutes by Bau – Er
. We love building with pallets! From projects for the home to turning them into beautiful artwork to crafting with them too! If you have a pair of free hands and know how to use a chainsaw or circular saw, you can make one of these useful and attractive sawbucks out of old pallets in no time at all. Though simple, this is a very stable, accurate, and reliable tool that combines the functions of sawhorses, chop & miter saw stands and assembly tables for one low price. This is a must-have for hobbyists looking for a quick way to cut wood pieces!
Difficulty Level: Easy
Time to Build: 30-60 minutes
Tools Needed:
Chainsaw
Circular saw (optional)
DIY Folding Sawbuck by Lasse Antero
The DIY Folding Sawbuck by Lasse Antero is a great project for those wanting to keep their small firewood supply neatly stacked and ready to be used in their fireplace, wood-burning stove, or outdoor grill. If you're a fan of dry heat during the cold winter months, using firewood to keep your home toasty warm is an economical and environmentally friendly option. Getting wood split is one of the most laborious parts of wood-burning. This project can be made from scraps and provides the firewood holder with a folding design that can be stored flat or unfolded when needed. Showcase your handy side with this simple DIY project that will help you easily and quickly stack small firewood. The sawbuck holds the wood up and off the ground, keeping it safe from mold or mildew and making it ready for the fire.
Difficulty Level: Easy
Time to Build: 1-2 hours
Tools Needed:
Drill/screw gun
Handsaw, circular saw, or miter saw
Measuring tape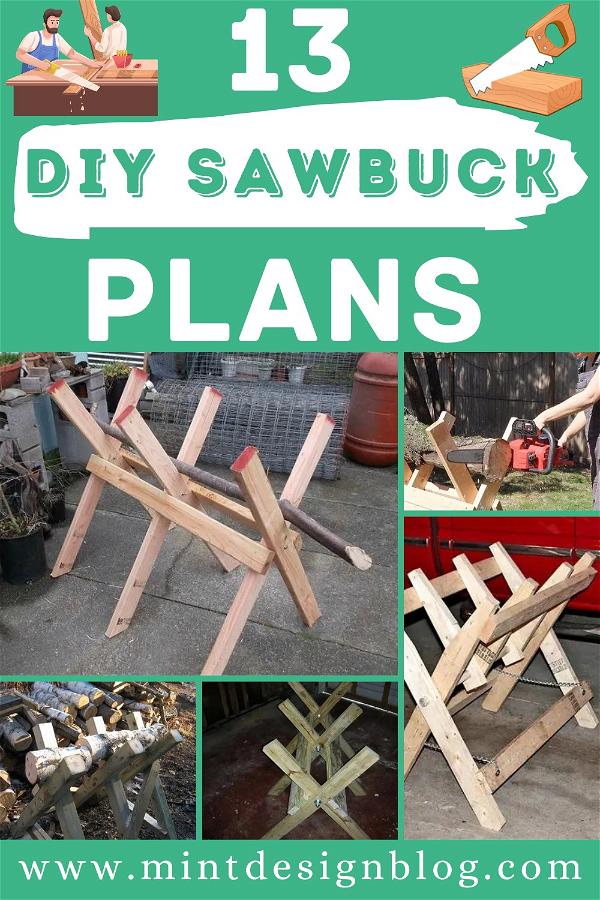 Conclusion
Whether you're a DIY-er, a gambler, or someone with an idea and a little cash that wants to see their design become a reality, we welcome you to build with us. We'll guide you every step of the way in hopes that you attain the knowledge, understanding, and confidence to tackle this project as your next weekend warrior adventure.
See Other Projects