Building a bunk bed is a great DIY project for the young and old alike! Whether you're looking to free up space, or provide your children with an exciting space to play, designing and building a beautiful bunk bed is a fun project. The following list of 30 DIY Bunk Bed Plans and ideas should help you out! Space Saving Bunk Beds is a collection of plans that provide options, ideas, and inspiration for building bunk beds that are designed to take up as little space as possible. These plans include bunk bed plans, loft bed plans, and trestle bed plans for children's bedrooms. These space-saving designs are all easy to build and are the perfect bunk bed or loft bed for kids, teens, and even adults.
DIY Bunk Bed Ideas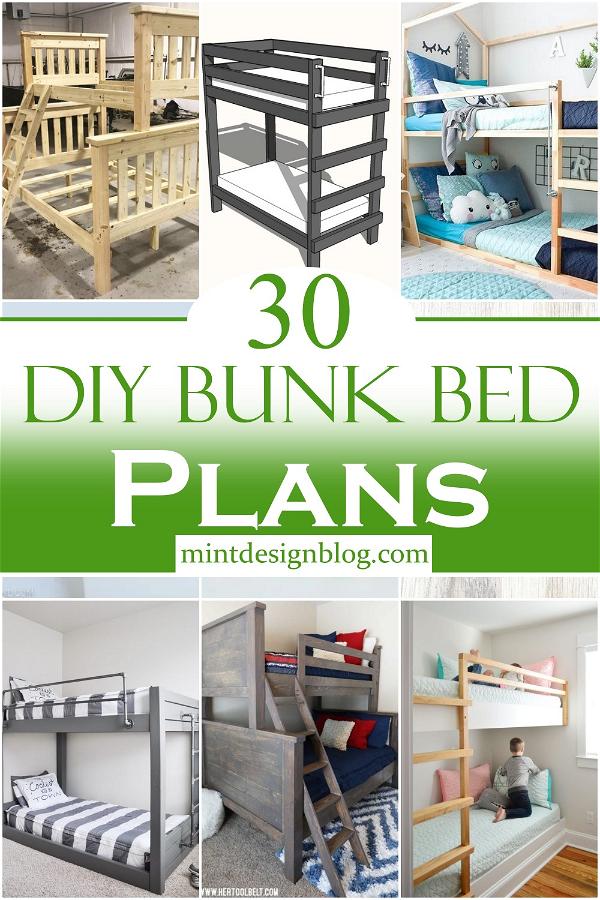 Bunk beds can be a great option for kids of all ages. They are cool and they make a bedroom look fun and inviting. If you do not have the time or money to invest in buying a bunk bed, take a look at some of these DIY bunk bed plans. Building your own is much less expensive, and you will get to design them to fit the space you have available perfectly. There are also many options for adding extra storage, making your bunk beds multifunctional in your little one's room. Here are 30 DIY bunk bed designs from around the web that are sure to help you along your way.
These plans can be easily adapted to fit your needs, and you can use a simple piece of wood from your backyard if you want to give a new look to your bedroom.
Space Saving Bunk Beds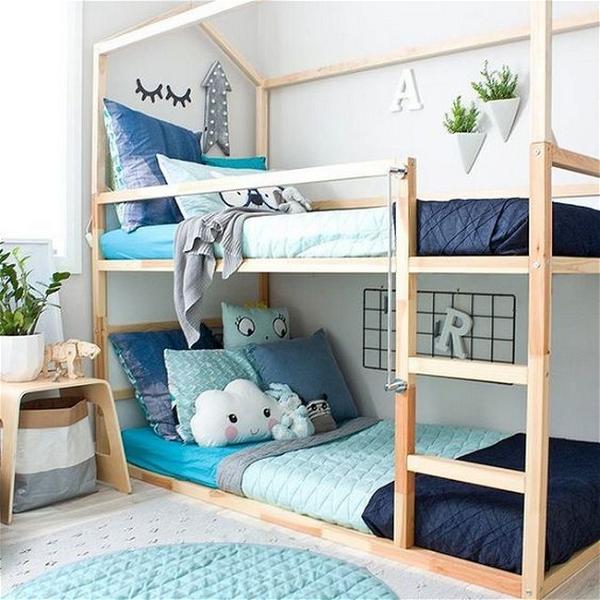 From apartment living to large family houses, bunk beds are incredibly useful. They can double as a great place for kids to sleep in, or they can give you more space in your home by creating an extra bedroom. The best thing about bunk beds is that you can stack them high with a few additional materials. A bunk bed is a type of bed in which one-bed frame is stacked on top of another, sharing space and taking up less floor room. The beds may be stacked anywhere from one to four levels high. Building bunk beds will help you save space in the house and if you have kids or guests staying with you. Since space is precious, we suggest building this bunk bed design or one of our other options to maximize every bit of space in your room.
Classic Bunk Bed Plan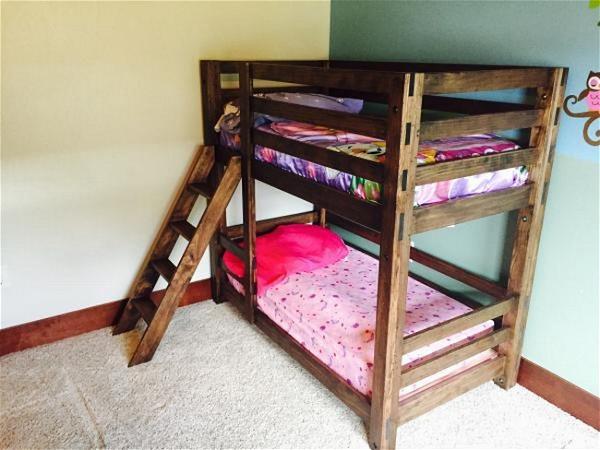 If you're looking to get rid of those metal bunk beds but want a contemporary design that blends with most decor, these plans are your answer. The ladder is integrated into the bed frame and is stable enough to hold a few kids. This Classic Bunk Bed Plan features the only integrated ladder on the market safe enough for kids to use. Built using two standard twin-size mattresses, this bunk bed features sturdy side rails that straighten out the top bunk, a bookshelf that's ready to store your favorite reads, and a safety rail for peace of mind. Taking up less space and cost than two sets of single beds, a double-decker bunk bed is a smart option for your growing family. But you're not limited to just the plain wood or metal beds that you find at big box stores. You can build one yourself!
Toddler Bunk Beds
If you've got toddlers and are looking for a bunk bed, we've got the perfect solution! When your toddler outgrows their bed and gets a friend, what do you do? You can buy bunk beds or build them yourself! These toddler-sized bunk beds are perfect! They're not only easy to build, but they're also inexpensive. And best of all, you can fit them to your child's specific size. These toddler bunk beds are easy to build and inexpensive. Make them whatever size you need, just grab a tape measure and use our instructions to find the size you need. The beauty of this project is its simplicity. Building something like this doesn't take much time and will save you a lot of money. Enjoy!
Farmhouse Style Bunk Bed
This Farmhouse Style Bunk Bed features a beautiful rustic look with a twin bed on top and a full-sized bed on the bottom. Add style and functionality with the Farmhouse Style Bunk Bed. This bed features a twin bed on top and a full-sized bed on the bottom, making it perfect for a small space like a child's room or guest room. Of course, you can change the finish to look however you want, allowing this bed to work in many settings. The bunk bed is available in many different colors, which can be found in your finished bed's properties. This bed features an elegant design perfect for your child's room. It comes with a stairway that is excellent for sleepovers, a tall bottom rail for safety, and a full-sized top bunk that can fit two adults.
Industrial Bunk Bed Plan
If you're looking for a cheap and easy-to-build project, these industrial-style beds would make for a fine build. They look amazing when completed, but cost very little to build. You can complete the project over time if needed. The look of the beds is inspired by steampunk artwork. They utilize a few basic materials: wood, nails, and pipe fittings. You will also need screws, a drill, and some paint. This is a plan set for making a bunk bed and bedside tables, both of which can be used on the same bunk and have a matching theme. To make your own Industrial Bunk Bed you will need A hacksaw, Measuring tape. Hammer, Countersink drill bit, Phillips screwdriver (for hanging the end panels).
Built-In Bunk Beds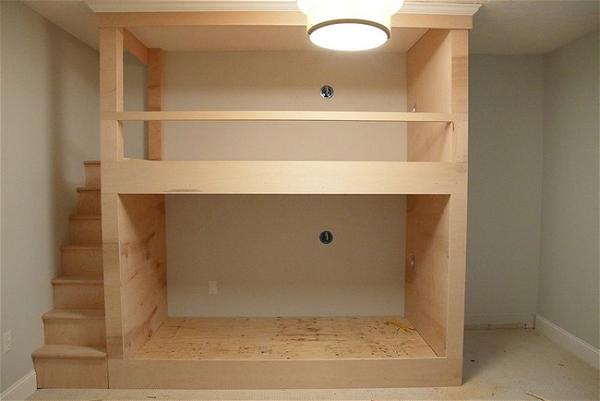 Liven up your space with a bright idea. Sometimes, there just isn't enough space in a room for everything you want to put in it. Built-in bunk beds are popular because they don't add square footage to your home, but still offer plenty of extra storage and/or sleeping space for guests. And if you're looking for more room down the line, simply remove them! This built-in bunk bed offers a perfect way to give your kids more room, create a bunking space to share with friends, or add more sleeping quarters for guests. Crafted from hardwood, it's designed to look equally at home in the country, in a coastal cottage, or anywhere in between. You could also use the space under an existing staircase, or beneath an existing loft bed.
DIY Bunk Beds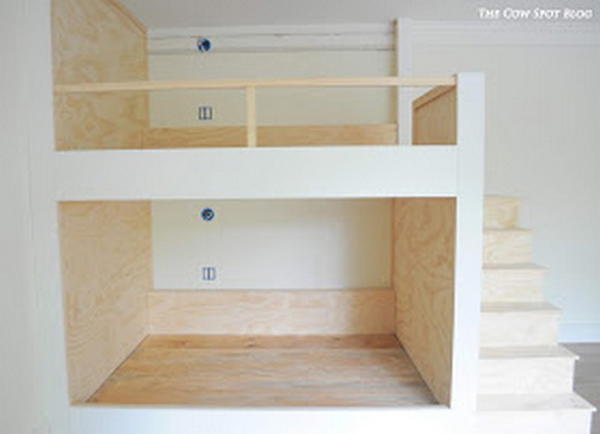 With the DIY bunk beds, you can give your children a new bedroom. DIY bunk beds are the perfect solution for small spaces, or for guests. These DIY bunk beds are stylish, sturdy, and affordable to build yourself! A guest room is an essential part of any home and a great place to entertain friends and family. Bunk beds are a clear choice for putting guest space to the best possible use. With a DIY bunk bed, you can build them in any size and color, to suit your own tastes. These bunk beds were built with cedarwood, which is easy to work with and durable. The top bunk has a ladder on one side and a stair on the other side. The stairs are designed to make it easy for kids to climb up and down.
DIY Built-In Bunk Beds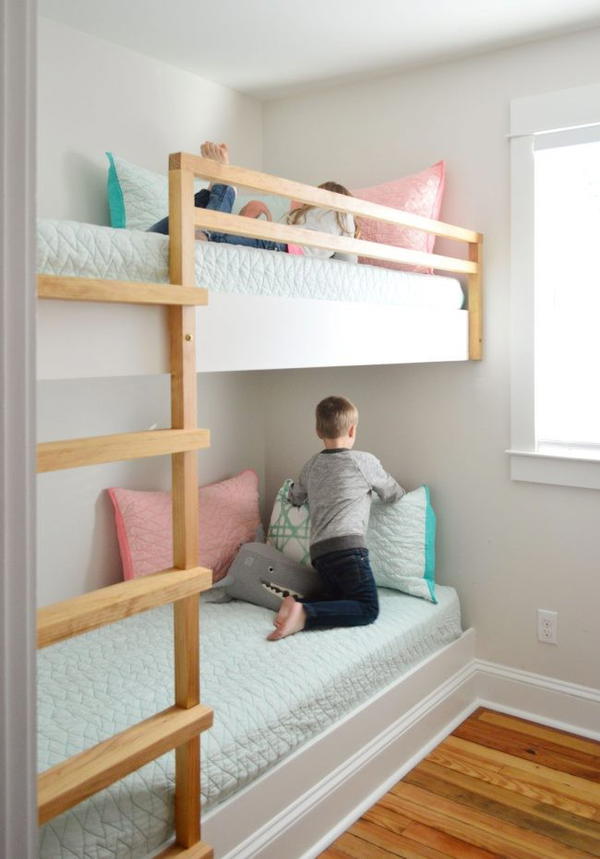 Built-in bunk beds are great ways to save space in a small room. The project can be done by beginning DIY'ers, it just takes some carpentry skills. It's a great project to get the family involved in. Let the kids sand and paint or stain the piece. It will give them a sense of ownership in their bedroom, and not make it just seem like a build for them. They need to love it. And you'll both be happy knowing that with DIY built-in bunk beds, they are years ahead of their peers with these fun and functional beds─a a great conversation piece and a space-saving design that contributes to the overall decor. Although the room will look different, make sure to keep similar colors, to keep with the rest of the house.
Twin Over Full Bunk Bed
If you're looking for something that can last your two children through the years, this Twin Over Full Bunk Bed is a great solution. With a twin bed on top and plenty of space below, you'll have room for both a young child and an older one. Fully assembled, this bunk bed is easy enough to put together that most parents will be able to take it from box to use in no time. This twin-over-full bunk bed has a quintessential look. With its vertical ladder, it's a kid-friendly storage solution that's also great for other areas of the house. And with an available dresser unit and nightstand, you can make it into a complete bedroom set. Plus, you'll have plenty of space for storing the kids' favorite toys, games, and clothes!
Rustic Bunk Bed Plan
Rustic elegance in your kids' bedroom. This set of rustic bunk bed plans is for people who want to create a simple, yet stylish bunk bed for their kids. This rustic bunk bed system uses basic lumber and bolts, and it shouldn't cost you much to build. As long as you have some confidence in yourself (and have built something like this before), then you should have this bed built in a weekend. These plans will give you the blueprint to creating a kid's dream bedroom on a small budget. It's never too late to update their room with a rustic bunk bed that they are sure to love!
Easy DIY Bunk Beds
This is a set of two stacked bunk beds for youth. They are designed to provide a space-saving way to share sleeping space with siblings and friends. Design challenges included the obvious height requirements and separate sleeping arrangements for the younger versus older children. The solution was to raise one bunk so the upper kid could see over the lower bunk and avoid some of the drowning risks if something were left on the floor. Plus, there would be an open space at the top for additional storage. Building your own bunk beds is easy, and won't cost much. Those who see it will be impressed and think you spent a fortune for them. They look like custom-made furniture, but at a fraction of the cost.
Triple Bunk Beds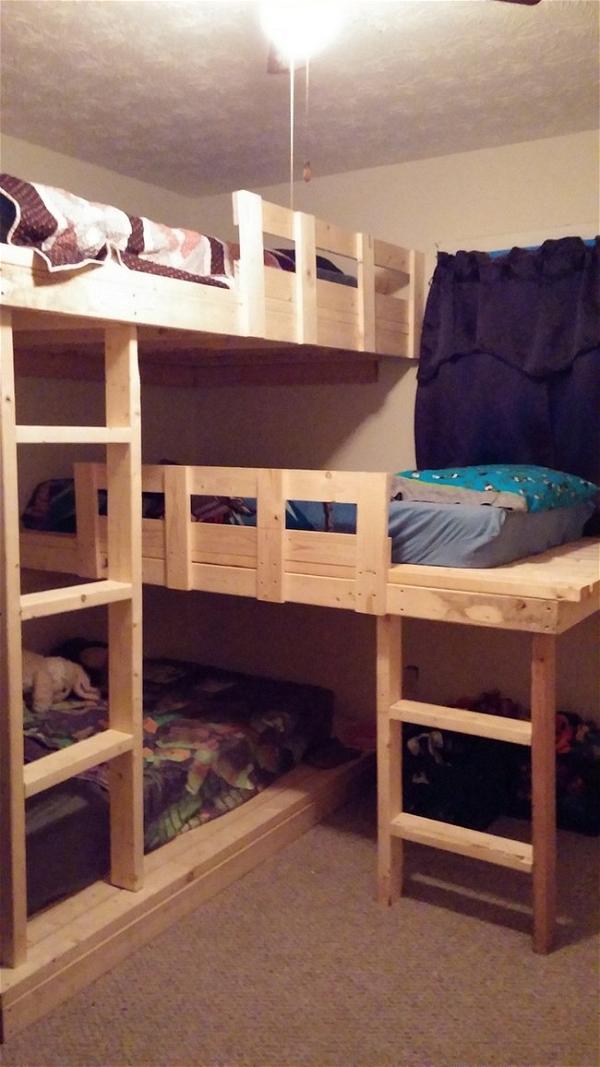 These triple bunk bed plans will allow you to sleep three of your children in a space that is usually limited to one. Space use is maximized by stacking two sets of bunk beds on top of one another. This triple bunk bed plan is one of the most popular plans to date and with good reason! A set of these beds would make a great addition to any family home and they're so simple to build too. The cool part about these beds is that the middle bunk can be used as a play area or an extra study area when it is not being used for sleeping purposes. It's simple to build, takes up very little space, and best of all, it looks great!
RH Inspired Kenwood Bunk
Build a unique RH Inspired Kids Bunk. This plan is just what you've been looking for to make the building of this fun project easy. It includes all the measurements for all the materials needed as well as detailed instructions so you can build it just as we did. This bunk is an actual home you can build on a weekend and actually sleep in! These plans cover every aspect of building your own RH Inspired Kenwood Bunk Bed. It includes my actual build list, blueprints, and detailed instructions. It has a built-in book and toy storage area at the bottom of the bed underneath the mattress. The bed is built using all hardwood, it has plywood box risers so the mattress sits off the floor.
Jr. Loft Bunk Bed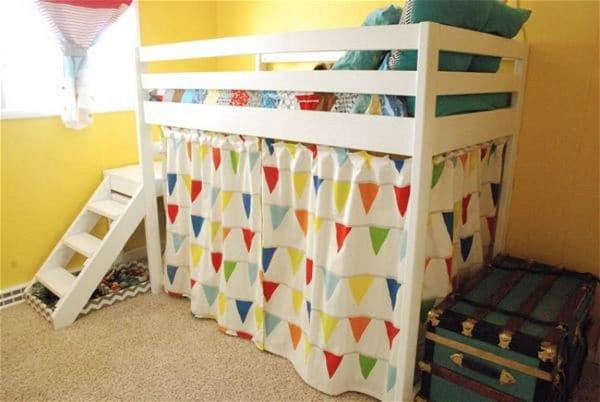 Looking for a bunk bed with stairs that are as safe and functional as it is fun? The Jr. Loft Bunk Bed is a perfect choice. Colorful and functional, this bunk bed was designed specifically with small kids in mind. And it brings a stylish touch to their room! Rather than using a ladder, this bunk bed has stairs that directly access the top bunk. Plus, these stairs are safer than ladders in case an accident happens. This bunk bed is compatible with this Jr. loft dresser to save more space and create more convenient storage! Your kids will love having their own room, knowing they will always have a place to call their own without fighting over who gets to use the ladder in their older sibling's loft.
Simple Bunk Beds
So your kids (or you) are always looking for places to put all of their toys, books, and clothes. The solution? Custom-built bunk beds! They're not difficult to build or expensive, but no one will know that from looking at the finished product! Since both beds are twin-sized, this is a great way to save a lot of space. These simple bunk beds aren't complicated to build or expensive, but no one will know that from looking at the finished product. Since both beds are twin-sized, this is a great way to save a lot of space and it gives siblings something fun to play on or sleep on.
DIY Bunk Bed for Kids
These bunk beds for a child's room includes all metric drawings for ease of construction by every builder. They are ideal for a small bedroom or tiny house, and the design makes it possible to fit in a more comfortable sofa below instead of a sleeping loft. This DIY bunk bed is a great project for new DIYers, as it involves simple construction methods and low-cost materials. Building the bunk bed for kids is a project that is simple, quick, and easy except for installation at home. It is a little more complicated when you build for children's ages because it requires precise measurements and planning in advance. When you're finished with your project, you'll have a fun, convertible space for kids or even adults.
Easy and Strong 2x4 & 2x6 Bunk Bed
Not only is this bunk bed easy to build, but its design also makes it sturdy and safe. The slanted ladder is ergonomically designed, and safety rails provide extra protection. The unit can be made with a single or double mattress. This Easy and Strong 2x4 & 2x6 Bunk Bed comes with all hardware you'll need to attach to any flat surface. The complete set includes 6 guardrails and connecting hardware for 11 standard 2x6 or 2x4 top and bottom slats. Designed to easily convert from a twin bunk to a free-standing loft by removing the upper bed, in an instant! You'll find that with the Easy & Strong bunk bed you have an investment in quality and your child will certainly enjoy the space the bunk bed provides. With its sturdy construction and easy instructions, you can complete the project in one weekend.
Rustic Modern Bunk Bed
It's proper for kids to have loft beds. But that doesn't mean you have to sacrifice modern looks for the sake of your toddler's slumber party. This Rustic Modern Bunk Bed makes up for any parental guilt when you combine a sleek, glossy finish with traditional handcrafted wood detailing, understated silvery metal rails, and charming rustic appearance. This elegant bunk bed is made from naturally distressed, solid wood with a hand-rubbed finish and accented with bright white metal hardware. A perfect space saver that will bring modern decor flair to your bedroom!
Princess Castle Bunk-Bed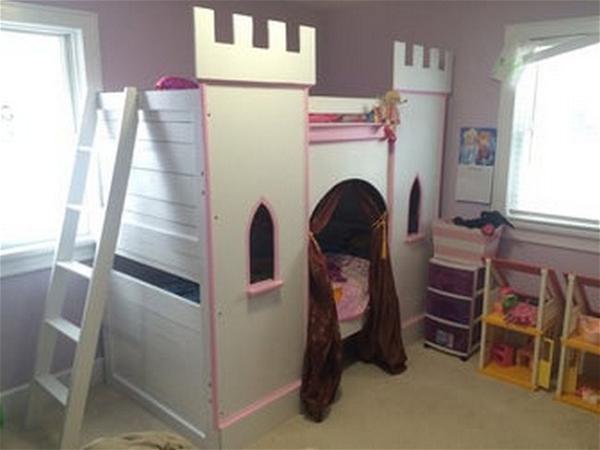 A child's castle is their own little world, and with Princess Castle, they can have all that they need to rule! They can sleep, play and be a princess in their bedroom without giving up too much room. For the first time ever, little girls can have their own luxurious pink Princess Castle Bunk-Bed! Share your dreams under the stars in your very own dream bed. This regal bed arrives ready to assemble and doubles as a twin-sized loft when it's time to share with a friend or sibling. Designed for children 3 and older, this bed is constructed from premium wood products and features durable metal hardware. For added safety, simply wheel your slumber party into place with its convenient two wheels on the bottom of the foundation.
The Micro-Bus Bunk Bed and Playhouse
Climb aboard this classic Micro-Bus for a truly unique space for your little one to play and sleep, day and night. The conveniently located ladder makes it easy to go from the bus bunk bed to the relaxing couch underneath. The built-in storage closet and plastic bins provide a fun way to keep things organized. This Micro-Bus Bunk Bed and Playhouse is a comfortable, modern luxury for kids all around. Bedtime stories will never be the same with this bed, which features one spacious bed on top and a cozy double bed underneath. Little dreamers will love crawling inside the miniature bus, with room to snuggle up inside too. This bunk bed is designed to be big in style, but small in space. It's perfect for kids who want a private retreat and plenty of storage.
Minimalist Bunk Bed
Minimalist Bunk Bed is the new kid on the block when it comes to stylish kids' furniture. Designed with little ones and their parents in mind, this eloquent, cool bunk bed is unique for a reason. It's made with solid wood and steel, completely safe and sturdy. The Minimalist Bunk bed was designed to fit little bedrooms or playrooms nicely with its small footprint, but also has lots of functional and aesthetic details that you'll love. This slim bunk bed will look great in a kids' room or playroom. The frame is made of solid pinewood and metal which makes it very sturdy. It's time for your child to have a bunk bed that will last for years to come!
Cabin Loft Bunk Bed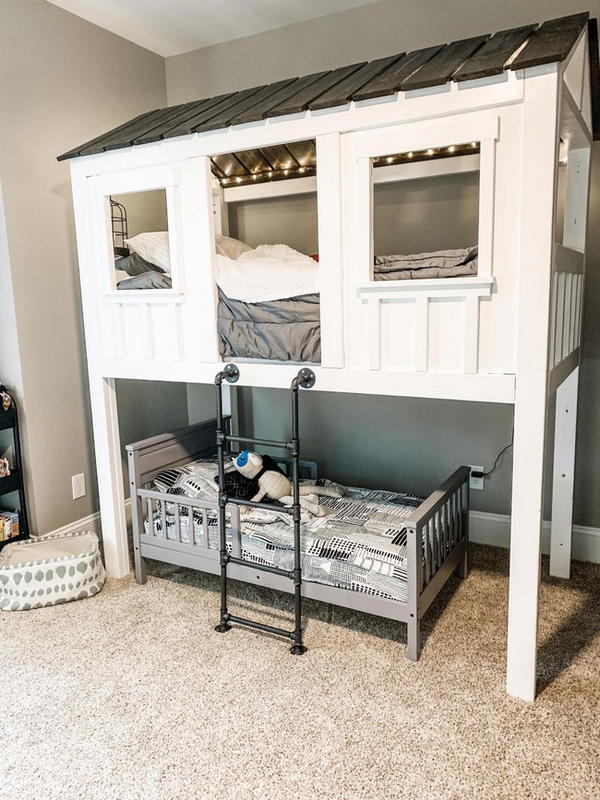 This Cabin Loft Bunk Bed combines the familiar feel of a standard bunk bed with a cool loft for your child to enjoy. Fun, cozy and private, this special design brings the outside inside, with a built-in reading nook and the ability to add other interior decorations such as lights or screen doors. You'll have no trouble getting your kids to go to bed on time! The kids will love this sleek and compact cabin loft bunk bed.
The upper level creates a mini-loft for extra play space yet is off the ground so it won't take up extra floor space. A ladder safely connects both levels. The cushioned lower bed is disguised as a bench seat at the foot of the loft, which opens to reveal a storage area that could hold supplies and toys, books, or games. It's perfect for kids wanting tons of space but not taking up any more than they need to.
2X4 Basic Bunk Bed Plan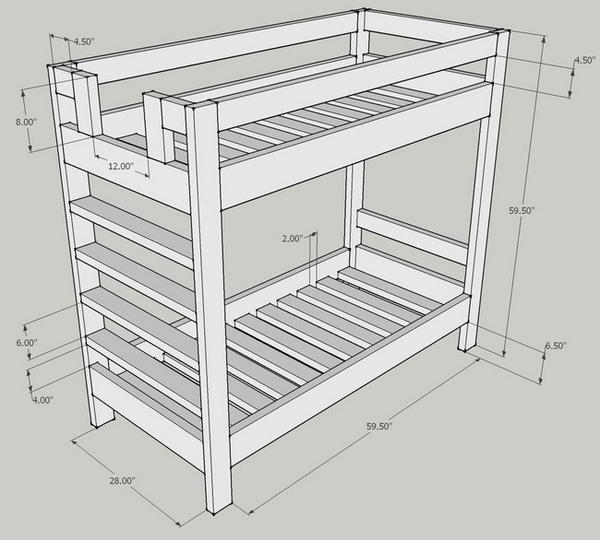 This is a great bunk bed for any student or youngster. It's also perfect for a guest bedroom, TV room, etc. So let's get started with this easy build! This 2×4 basic bunk bed is a great project. It's not really that difficult and it doesn't require lots of hard-to-find materials. Basically, you can build the entire thing using only boards, 2 ½ inch nails, and the 2x4's themselves. This makes it great if you don't have access to loads of tools or lumber, or if you just want something simple and inexpensive. The design is basic and very easy to follow, so you should be able to build it even if you don't already know how to stack/cut boards properly.
 2X6 and 2X4 Bunk Bed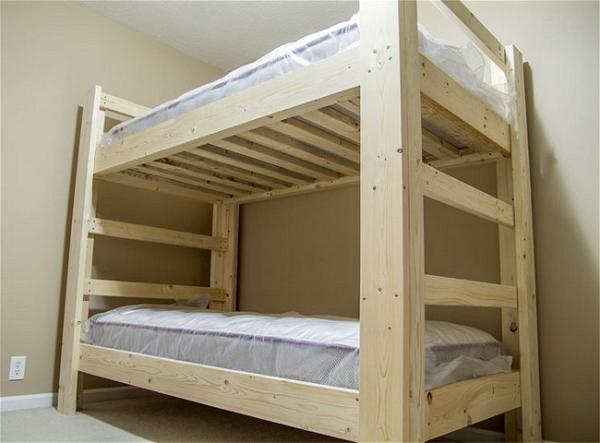 This bunk bed, built from 2x6s and 2x4s and covered with a simple stain, is an economical way to furnish a room for your kids. The detachable guard rail is an optional feature that enhances safety. In the standard configuration, it makes for a nice loft bed with plenty of storage space underneath. Build this inexpensive bunk bed for your young kids, a new niece or nephew, or anyone else in the family. The beauty of this bunk bed is that it's built from basic materials you probably already have in your workshop. Stain the lumber before assembling the bed to get a rich, rustic-looking finish.
Build Your Own Bunk Bed Plan
Hoping to complete a project yourself that not only is fun but can also save some money? Look no further than the DIY Bunk Bed Plans. This set of plans is detailed and easy to understand. They're capable of building either a twin or loft-style bunk bed with a staircase leading up to the top. With built-in bookcases and storage space, they really do offer all you could want in a bunk bed! This set of plans is how to build a bunk bed with a staircase leading to the top. This bunk bed with a staircase will greatly enhance your bedroom space. The plans are not for beginners so don't rush into this project without measuring several times and carefully looking over the materials list.
Modern Bunk Bed Plan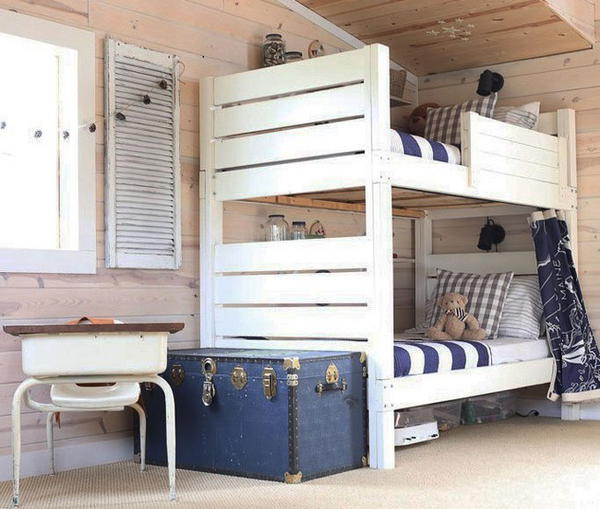 For anyone who loves the look of modern furniture, this bunk bed is a must! By simply modifying some basic brackets and accessories you can get a bed that offers clean lines and an industrial vibe. These plans are very detailed, thorough, and easy to follow. Never has built a bunk bed been so approachable. It takes up minimal space, has a sturdy construction, and can be configured in a variety of layouts. It's simple to assemble and built from inexpensive materials you can pick up at most hardware stores. Enjoy a good night's sleep without leaving too much room to wriggle with the Modern Bunk Bed Plan.
Bunk Bed Designs with Dimensions
Are you looking for some new bunk bed designs to spice up your kid's room? Well here is a list of some designs that you might want to consider. These plans will help you to build beautiful and safe bunk beds for your kids. They are also all exceptionally easy to build, with none of them taking longer than a weekend to construct for two full-size beds. You're sure to find a design or two in this collection that will take your breath away. You can print off the plans to scale and then take them along with you to your local builders' merchants, or others where you can get materials to help you build them much cheaper than going to a furniture store.
Bunk Bed Construction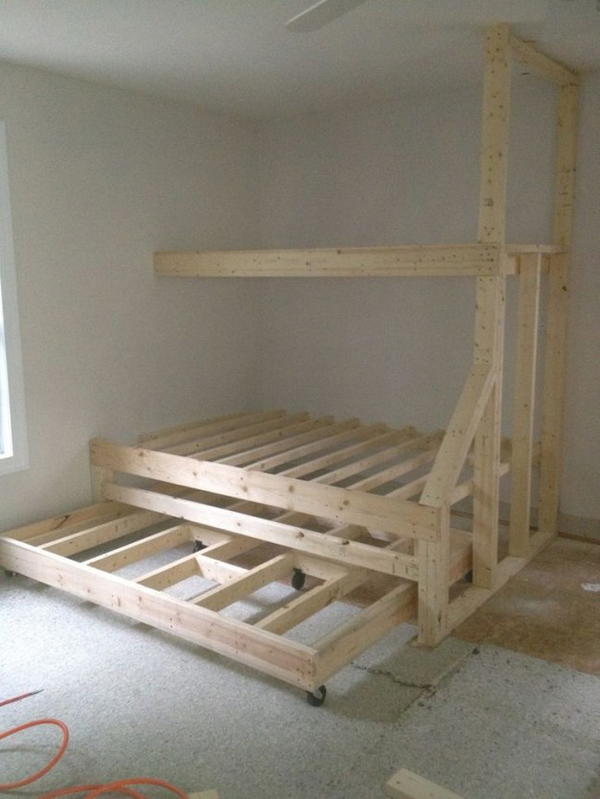 Homeowners, you can very easily create an ornate bunk bed setup that looks like it was always meant to be there with this set of plans. This design makes the most of your space by housing the beds in a built-in unit in the wall. The unit is completely removable, so you won't notice it when it's not being used. The bunks are built into the wall, making them a permanent addition to your home. You won't want to build these plans unless you own your home. For homeowners, the plans will help you create an elegant vintage-styled bunk bed setup that will look like it was always meant to be there. This allows your kids to have ample space to play, or even sleep on a mattress on the floor.
Loft Triple Bunk Bed
Now is the time to take away from your room decor limitations and make it a truly personal space to call your own! This loft bunk bed has ample sleeping space with plans to fit up to three people in one bed or arrange the frame any way you desire. It will be a personalized sleeping area that you can call upon in any situation, giving more freedom and flexibility than a regular setup. You can build this bunk bed to be exactly how you want it. Use extra space for drawers or bookshelves, make the bed frame wider if you need more space, or make the height higher than we did — whatever you need it to be! Be creative and arrange the lofts however you want them. The possibilities are endless!