These DIY table runners come in different shapes and sizes (literally!) to suit your style. They're great for summer picnics and make a nice addition to fall dinners with their rich berry hues. So whether you're hosting an elegant dinner party or snuggling up with friends on the weekends, our lovely ideas are there to help you give your dinner parties that shiny finishing touch. And they're handcrafted to be durable, easy to clean, and simple to store away at the end of the day, using our proprietary process that involves cutting out the fabric. Table runners are here but if you want to get inspiration about the creation of the actual table itself then our list of DIY tables will surely motivate you.
DIY Table Runners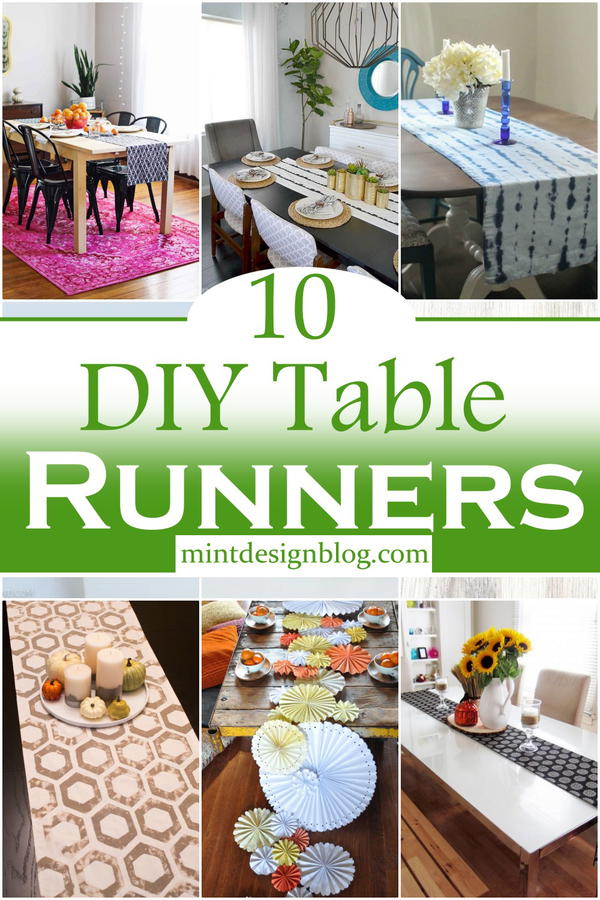 All of these DIY table runners are easy to make and require lesser time for their completion all you need is some time out of your routine and follow these stunning ideas to make impressive additions to our home decor for the part event to beautify your finding table impressively. Some general steps to follow before getting started are:
Measure the size of your table for whom you're going to make the table runner, it will help you select the best DIY table runner idea.
Select the material for the table runner covering the room decoration or your Dining table's decor, to suit best.
DIY table runners bring convenience and they look extremely beautiful too. They are easy to make, inexpensive, and require less time for completion as compared to most of the other table decorations.
DIY Modern Table Runner:
A DIY Modern Table Runner is the perfect way to give your table a makeover. Versatile enough to use year-round, it's perfect for any occasion, whether you are inviting friends over for dinner or need to set up a party buffet! The materials couldn't be simpler - the only supplies needed are Duck Tape®, scissors, fabric, and a table or surface that will get covered in tape strips. Plus, with so many different colors of tape, this project can go with any decor theme. Runners are normally reserved for more formal occasions, but this one is so simple and easy to make so that you can use them all around the year.
DIY Shibori Table Runner:
This DIY Table Runner is easy to make and adds such a beautiful element to any dinner table setting. It uses natural, tie-dye methods of dying, so it also benefits from being eco-friendly. You can find all you need to create your own at the thrift store! Once you have your fabric and dye, the hardest part is over. Mix the dye in a container large enough to dip your fabric into it. Fill a basin with water and add a few drops from each of the three containers from the kit. Mix until the color you want appears, then change it to a hue you like better. Now place your fabric in the dye mixture and let it sit for 30 minutes.
27 Creative DIY Candle Holders
Easy DIY Table Runner And Napkin:
My go-to dinner party tip is adding an easy DIY table runner and napkin, and it makes all the difference. Think of it as the other element to your other Thanksgiving decorations. Does your centerpiece need a punch? Do you love having unique coasters on the table? Well then, this is that extra design element that makes all the difference! The runner has always received compliments, but it is simple to create. This tutorial shows you how to make the runner quickly and easily using your Silhouette Cameo or Portrait machine. you can also add some excellent napkin rings to your didnig scenario to make it look more hospitile and special by following our series of DIY chalkboard napkin ring ideas.
DIY Scallop Stamped Table Runner:
Combine relaxing sea shades with calming scallops to turn any space into a welcoming getaway. Our DIY Scallop Stamped Felt Table Runner Kit is quick, easy, and fun! Plus, not only does it create the perfect rustic tablescape for your favorite gathering place, but you can repurpose your finished runner into an everyday piece of art that makes a statement above the sofa or at the end of your bed. This is a fun and easy project to make and would be a pretty and delicate decorative piece for any holiday festivities, especially those centered around the dinner table.
No-sew Table Runner:
The No-sew Table Runner tutorial shows you how to create a beautiful table runner without embroidering, sewing, or needing a sewing machine at all. All the material is cut out for you, and all you do is fit them onto a steam strip and press! When these strips are done pressing, you have a beautiful runner with nice, polished edges! This project is perfect for beginner sewers! It's so easy; you can whip up one of these table runners in less than an hour. Included in this tutorial:
Make the fabric strips.

Make the glue.

Arrange, seam and glue.

Finish applying the binding.
Canvas Drop Cloth:
If you're looking for an easy way to add a bohemian touch to your home, look no further than this versatile pre-washed canvas drop cloth. It can be used as a room accent, headboard, window shade – the possibilities are endless! The neutral color and classic texture blend with all kinds of interior styles and color palettes. Plus, it's lightweight and breathable, so you can easily cut into it or hang it without weighing down your home. This 100% cotton canvas drop cloth features strips of different lengths to create an exaggerated swag effect. We think it looks great made in saturated shades, but you can also use the same style with stripes for a more polished look. It's perfect for throwing on furniture or over-upholstered pieces.
Stamped Table Runner:
With the Stamped Table Runner, you can create that awesomely worn stitched look with paint and a sponge! This super easy and low-mess way of creating a look your friends will ask you how you did it. Just the perfect gift for Valentine's Day, this darling table runner can be easily made by cutting a sponge to size, dipping it in paint, and stamping it onto the fabric you want to cover. Make something extra special by adding your message or monogram. It only requires a sponge and paint, and you can use it on any surface.
Paper Pinwheel Table Runner:
A quick and easy way to turn a basic table into a party-ready display is to throw a table runner across the center of it, which can be used to hold things like glasses, bottles, or food items. This distressing project will make a gorgeous decorative piece that can also be used decoratively throughout your home year-round! The pinwheel is the star of the show as its paper spokes pick up light, creating a fun flair that will draw attention to your special event or gathering. The center is open for holding serving dishes, vases, or other arrangements on a buffet table. Corrugated paper is flexible and holds its shape well on a cream-colored background with a grommet-style finish around the edges.
Paint Stick Table Runner: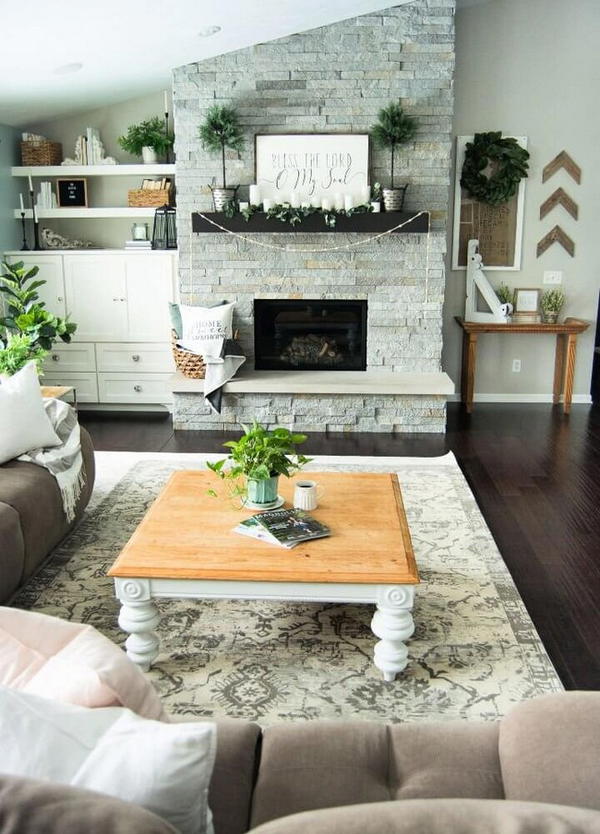 The Paint Stick Table Runner is fun to make and personal to use. Cut the paint sticks into lengths of 2 ½", arrange the colors in an order that pleases you, glue, stack, clip, or tie them together, then stick them to a sturdy material base. This simple project is great for creating instant color wherever room decor needs a lift! This paint stick table runner does a fun craft project for older kids. Paint the smaller sections and let them dry before sticking them together. To easily display the runner on a shelf or windowsill, attach it to a thick base like felt.