When it comes to feeding time for your flock of chickens, you have a few options. You can spend the money and buy pre-made feeders from a pet supply store. These are generally more expensive than they need to be, though, and they will likely use plastic parts which can crack or break if not properly cared for. We have put together 15 DIY chicken feeder plans for you to choose from. Some of the designs include automatic feeding systems or self-filling systems that will allow you to fill up your chicken feeder without having to do it every day. These plans are fairly easy to follow and will help you make an automatic chicken feeder in no time.
DIY Chicken Feeder Plans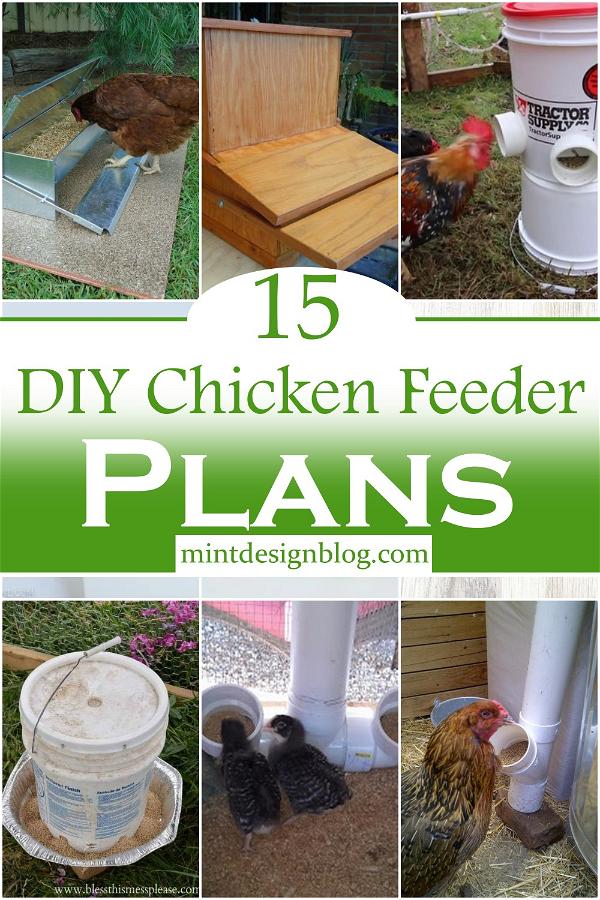 Feeding chickens is a really important part of keeping them healthy. If you've got a good chicken feeder, then you can make sure that the birds are getting fed without your intervention. This means that you can focus on other things. Trouble is, there are so many different chicken feeders out there that it can be hard to work out which one is best for you. There may be expensive ones that cost hundreds of dollars but are they really better than the cheaper models?
In this article, we take a look at 15 DIY Chicken Feeder Plans out there. You'll be able to learn exactly how to build your own chicken feeder and save money in the process! You can buy chicken feeders at the store, but they are very expensive. If you want to do it yourself, this article will help you make your own feeders for feathery friends.
DIY Automatic Chicken Feeder Assembly instructions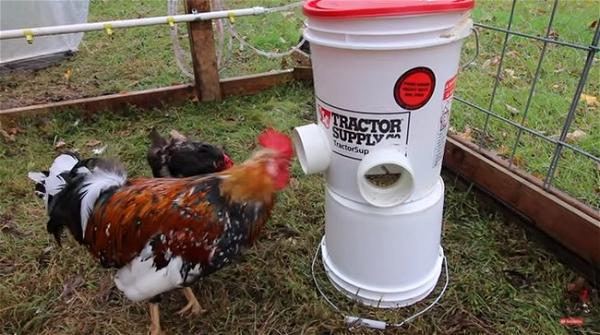 This is an awesome option for people that want to feed their chickens automatically, but don't want to use a chicken coop with an automatic door, or spend money on a pre-made automatic chicken feeder. Instead, you can build one yourself in less than an hour, and all it requires is access to a drill and some PVC. There's even an easy alternative if you know how to weld! It's easy to build, and even easier to maintain. Best of all, anyone with minimal time and skills can do it!
Building A Treadle Chicken Feeder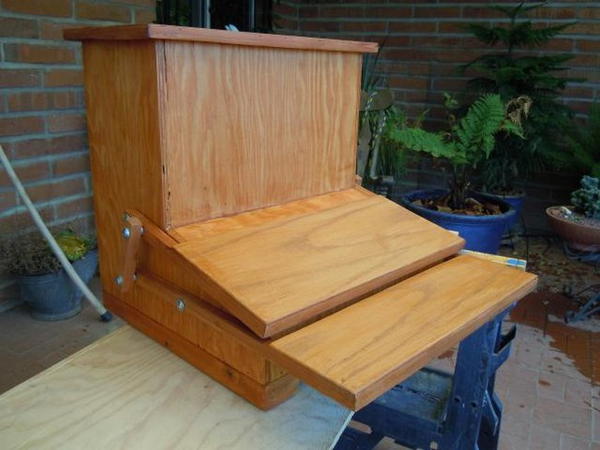 Building a Treadle Chicken Feeder will test your skills as a woodworker, but the time and effort you put in is worth it. This attractive feeder works by pushing down on a treadle while emptying feed into the holding container below. It'll take many hours, and a whole slate of tools to build this handsome feeder. But, the finished product is so beautiful and worth your time!
It is designed with the intention of making it easy to put together, while also being visually appealing. It looks great inside or outside, and the chickens can access the food from the front or rear by pecking it out. This particular model uses a treadle mechanism to open and close the feeding door, to make sure that no wasted food gets eaten. It's made from pine and has an optional divider in it to keep hens out of roosters' food.
PVC Feeder and Waterer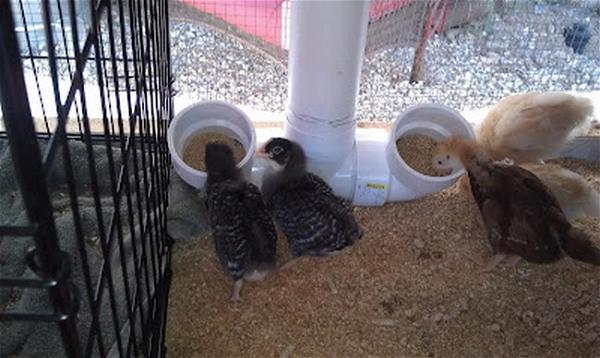 If you are looking for an easy-to-implement and inexpensive option for watering your chickens that won't take up much space and can be picked up for a few dollars at the local hardware store, PVC feeders and waterers are the perfect solutions. By using PVC pipe, which you can get from any local hardware store, as the base of your feeder as well as a source of water, you can create an effective and inexpensive way to keep your chickens happy. This PVC feeder and waterer is a simple do-it-yourself project that will only take a few minutes to put together. The PVC pipe design makes it easy to fill, and the lightweight base means you'll be able to move it around without trouble.
PVC Chicken Feeder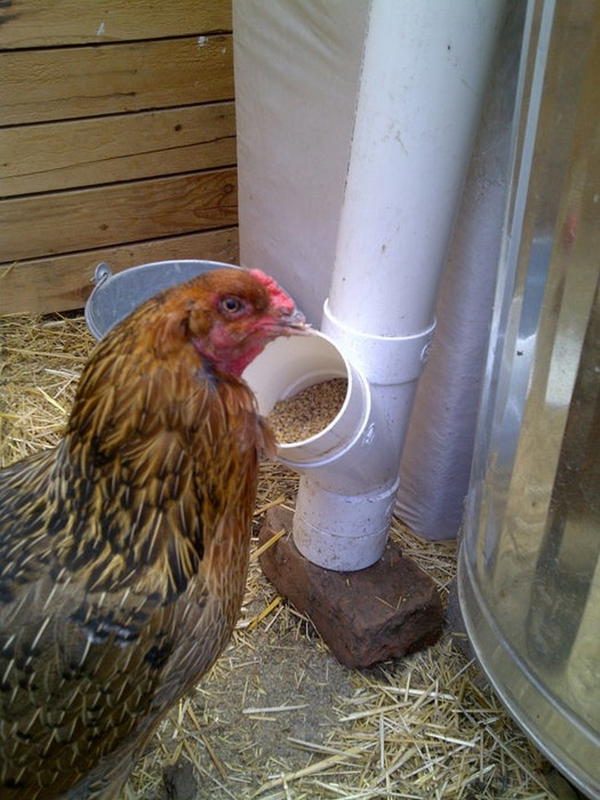 This PVC Chicken Feeder is a unique take on the classic PVC coop feeder. While most PVC feeders are purchased primarily because they're affordable, our design offers a couple of things you won't find with other PVC designs. Your chickens will love eating out of the PVC Chicken Feeder, which features a nesting design for maximum convenience. Also, like most PVC feeders, it's extremely affordable. First, it can be completely disassembled for easy cleaning. This is an essential quality for any chicken scratch. It also boasts two holes: one for your chickens to eat from inside their coup, and one for you to easily refill from outside the coup. Overall, this convenience makes it the ideal choice for any flock owner!
DIY Less-Waste Chicken Feeder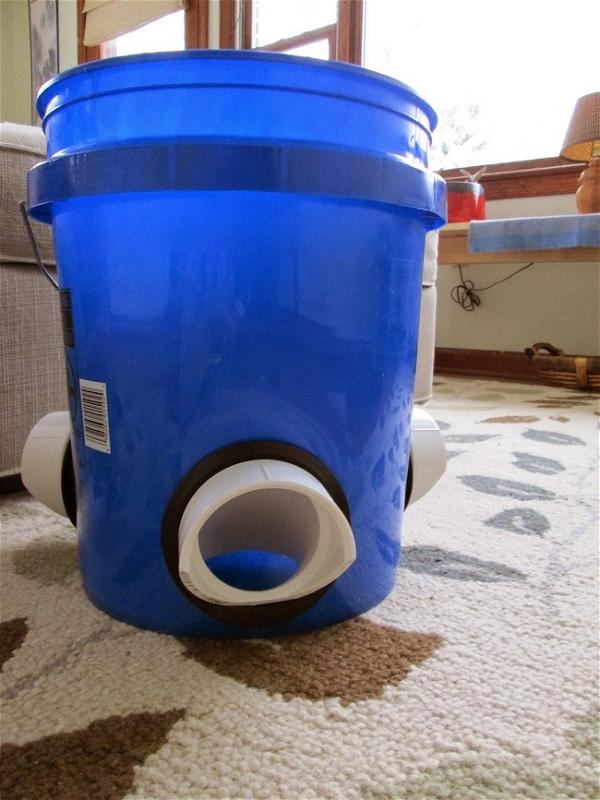 If you've got some basic tools and a spare 5-gallon bucket around the house, this chicken feeder is easy to make—and it doesn't waste as much food as a lot of store-bought designs. It's pretty simple and basic, though, so you can make it easier if you want to. The idea is that you use parts of a 5-gallon bucket as the base, which should already be on hand. It's important to keep in mind that the chickens won't necessarily know how much they're eating or drinking, so you should check in with them fairly frequently. This bucket design is great for people that need a lot of feed, and it even allows you to fill up with ease. The lid holds itself in place very well, so there are no worries about water spill-over.
Automatic Chicken Feeder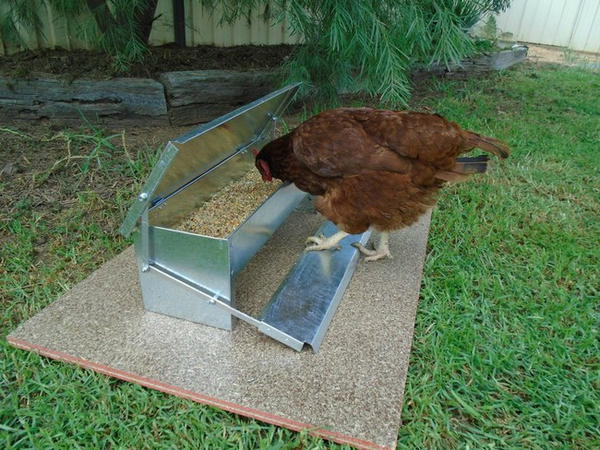 The Automatic Chicken Feeder is a simple, yet highly effective chicken feeder that allows chickens to access the food inside it while keeping other critters out. To eat, the chickens need only to approach the feeder and their weight will cause its lid to open, allowing them to eat. This is a great solution for someone starting out in raising livestock as it offers both convenience as well as security. A prominent concern among chicken owners is whether or not stray animals will access their chicken feed. The copper top of the feeder is made so that only chickens' feet may press it, thereby opening the top and allowing them to eat. You can monitor the amount of food that has been consumed too, by observing the weight of grain that still lies within the hopper.
The Garbage Can Feeder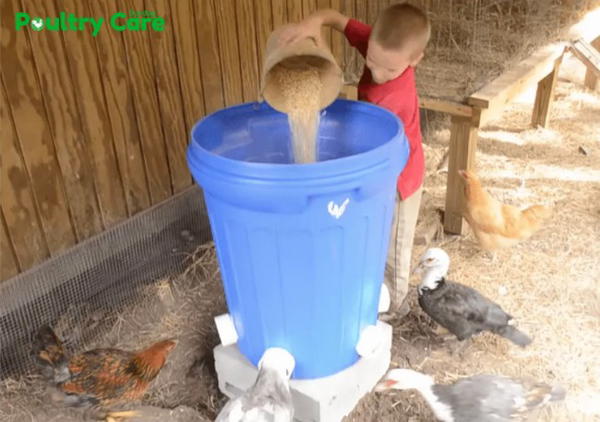 Are you tired of feeding your chickens expensive chicken feed? And then having to clean up the mess? With this Garbage Can Feeder, you will be able to save on dirty work. Attach your feeder to any garbage can and fill it up. When it's time to refill your chicken feeder, simply take the garbage can out of your chicken coop, dispose of the garbage, and refill with fresh food. In fact, there are several different ways you can go about converting your garbage can into a chicken feeder if you are handy enough. The Garbage Can Feeder is a straightforward and easy way to provide your chickens with food. This Garbage Can Feeder is designed to provide a better way for you and for your chickens.
DIY Trough Feeder Using Gutters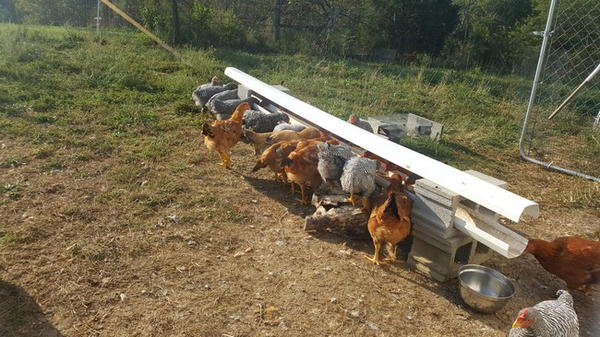 If you're looking at the inflatable trough feeders and think they are too expensive, this do-it-yourself project could be a great alternative. All you'll need to start is some cinderblocks, PVC, end cap, and gutters. Put it all together and then fill it up with food for your birds! The feeder has an open bottom for drainage, so make sure that it doesn't sit on concrete or someone might stub a toe in the middle of the night. With these plans from Small Footprint Family, you should have this project done before your furry friends even figure out that there is food inside of it! This DIY trough feeder can be partitioned to allow for individual food trays to keep different types of feed separate.
Automatic Feeder Waterer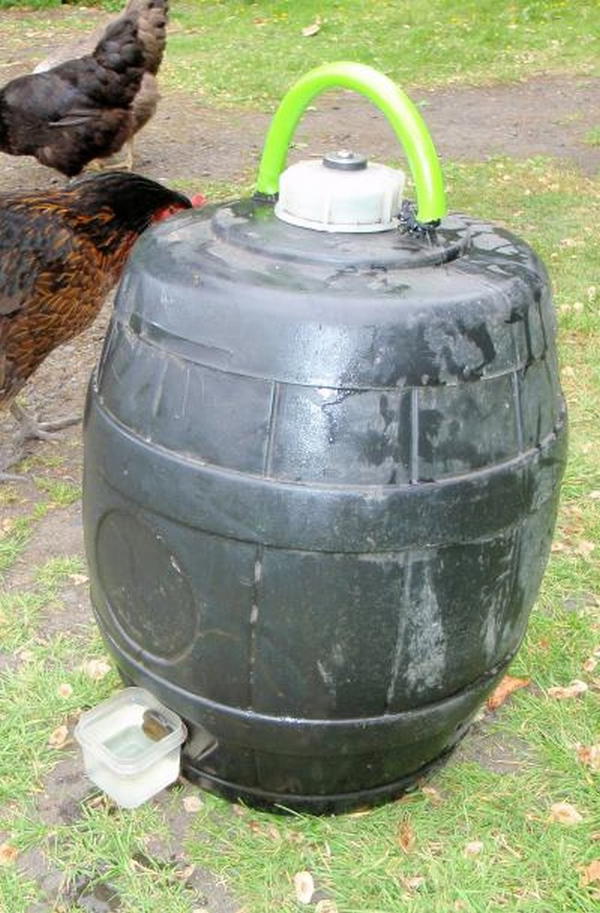 Upgrade your farm with a worry-free Automatic Feeder Waterer. This durable water tank and feeding system give chickens easy access to water and feed. The Automatic Pet Feeder is an effective way to make sure your pet can eat, even when you are away. It works by automatically dispensing food at set intervals and is great for dry food or small meals. This automatic feeder/waterer is a handy way to ensure your pets always have fresh food and water at their disposal, even when you're away. The feeder waterer has an adjustable lid so you can fill it with the right amount of pellets, seeds, or hay to suit any animal, big or small. The container can be filled up with water in the same way.
DIY Chicken Waterer And Feeder From 5-gallon Buckets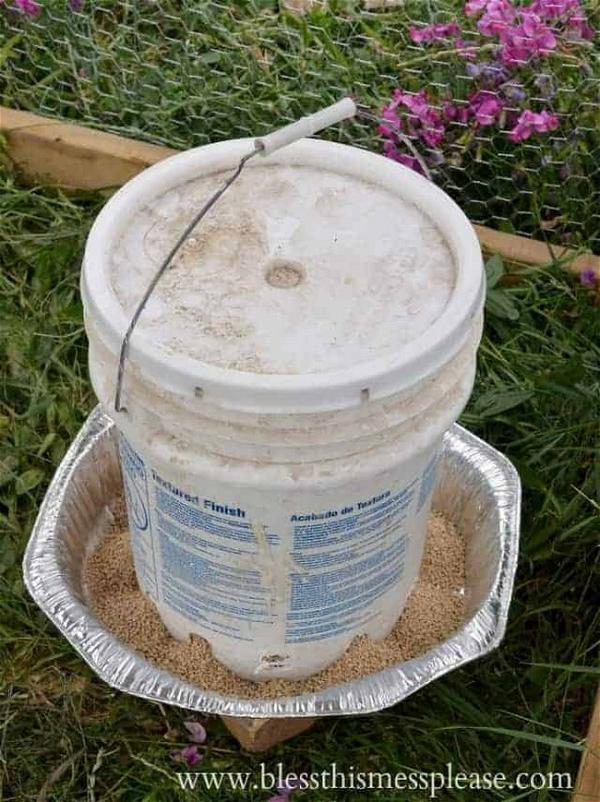 You can make this DIY Chicken feeder and waterer from only two 5-gallon buckets! This plan takes you through not only the directions for its construction but also how to use it so that your chickens don't waste any water or food. Maybe you won't even have to build it. Don't forget to save your old gallon pickle jars! They are perfect for this project! You can have fresh water and feed in one unit so you don't have to worry about your birds going thirsty or hungry. This is a great project to prevent waste and put out recycled plastic buckets back into your garden. Use your creativity to dress it up and make it your own waterer for raising chickens.
How To Build A Treadle Chicken Feeder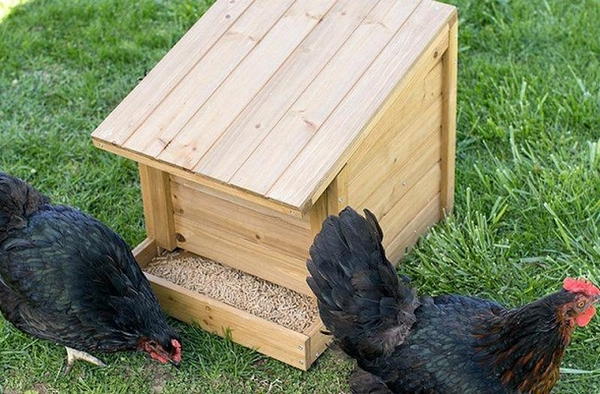 Whenever you walk by your chicken coop, the fresh, nutritious feed will automatically drop into the feed trough for your chickens! A chicken feeder is a much-needed tool for feeding your chickens during the winter months when they need more food to keep warm. Don't buy an expensive feeder, store-bought feeders are often flimsy and can be expensive, not to mention difficult to move.
Is it time to stop driving to the feed store, wasting time and fuel when you could be spending time with your chickens? This chicken treadle feeder will make life so much easier. Fill the hopper with feed; press down to dispense. This feeder comes with a simple design and it is very easy to use. The design makes it not only effective but also efficient in distributing the feed evenly.
DIY No-Spill Chicken Feeder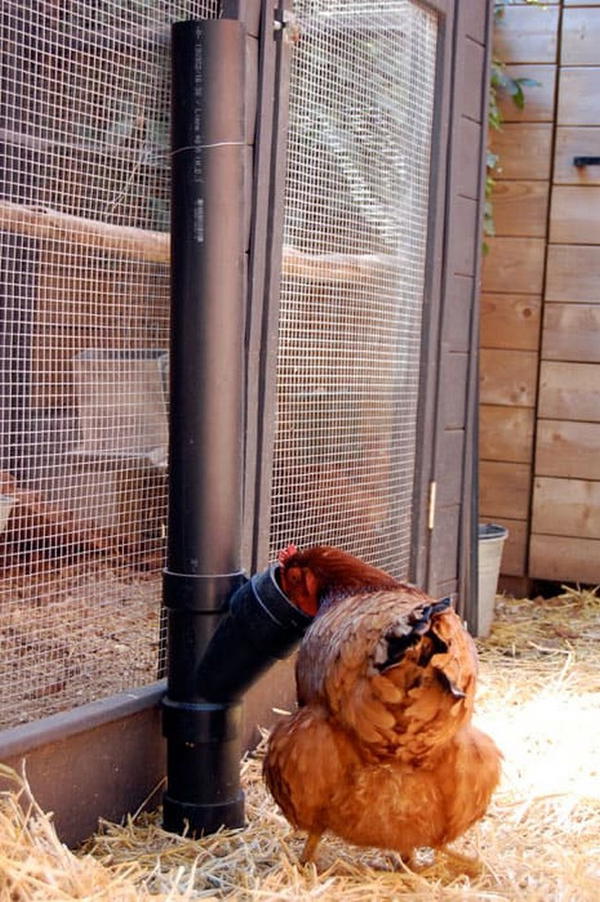 Have you ever had a chicken feeder? It is really helpful for the birds. They have a tendency to spill the food around, which attracts ants and other unwanted guests. However, with this Chicken Feeder, you won't have to worry about it anymore! Raise chickens in your backyard and feed them a healthy diet with fresh food harvested from your garden. The DIY No-Spill Chicken Feeder is a fun and entertaining way to ensure that your chickens get the nutrients they need to be healthy. Save your time and your money and make a no-spill chicken feeder in just a few minutes. With a few scraps of wood, bolts, and some bungee cords you can make a chicken feeder worthy of being featured on the DIY network!
Easy Hanging Chicken Feeder
DIY Easy Hanging Chicken Feeder is a DIY project for the whole family. Get your kids involved in backyard chicken care today and help them raise the chickens of tomorrow! This is an easy chicken feeder that you can make from supplies you probably already have laying around the house. This feeder takes only minutes to create and is the perfect solution for keeping food where it belongs, with your chickens. It is great for use with wild birds, as well. This DIY homemade chicken feeder is an easy-to-make project and perfect for preppers. It is a roomy feeder that allows the bird plenty of room to get to the food. It is sturdy, reliable, and clean enough that it can be left hanging over the coop door or within the coop itself.
Trash Can Feeder
Instead of having to race home to feed your chickens every day; you can now have a feeder that functions as a bin! This tried and tested design uses a trashcan, adding an easy-to-clean lid. Just place some food on the lid, and watch your birds enjoy it. If you have the extra time and parts, you can add a clear window that lets you see how much food is left. This simple automatic chicken feeder is built from the container of your choice and some common hardware. With no moving parts, it is safe and uses gravity to slowly dispense feed throughout the day. You get to leave your chickies alone for a few days, and not worry about them starving to death!
Empty Plastic Bottle Feeder
Make a feeder tank for chicken with an empty plastic bottle. The display is for use and processing. In this way, you can save the money that you spend on buying the feeder. This guide will tell you how to make a feeder out of an empty plastic bottle. Use of plastic bottles in the easy-to-use and economical plastic bottle feeder can be used as a feeder tank for chickens; it can hold chicken food, water, and other necessities of life. This is a very beneficial project that can be done with an empty bottle without any additional function. This product is suitable for processing and diversification, it is easy to use; you do not need to install a mixing machine and other tools, it is economical and environmentally friendly.
Conclusion
Feeders are helpful additions to a backyard coop; as it allows owners to fill food for their chickens at any time during the day or night. Here are some plans for DIY chicken feeders that you can use. There are so many reasons to build your own, including cost, time, and convenience. Most importantly, though, building a chicken feeder yourself is a great way to be creative; to share that creativity with others who raise chickens.