When it comes to outdoor furniture, there is no better choice than an Adirondack chair. It is a perfect addition to any porch or patio, great for relaxing and taking in the view. Plenty of people are familiar with these chairs but not everyone can afford to buy one. The idea of building your own Adirondack chair may seem daunting at first. But it is actually not as hard as you might imagine, especially if you have some basic woodworking skills and tools. In this article, we have collected the top 40 DIY Adirondack chair plans and ideas to help you learn how to build one of your own. Not all of the projects are easy, but they all should be manageable by any woodworker with a little bit of experience under their belt.
Free Adirondack Chair Ideas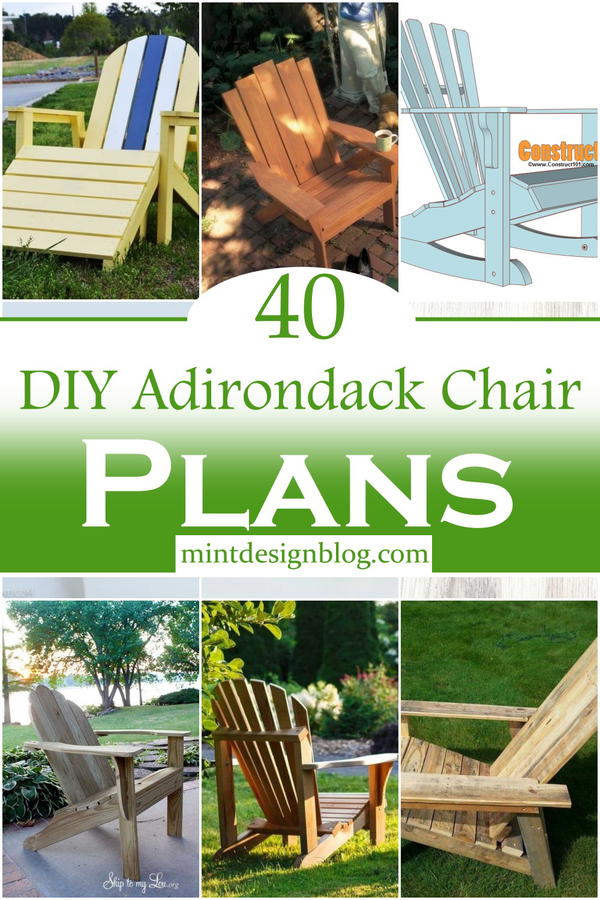 A garden chair is a convenient piece of furniture that can be used for various purposes. Whether you want to use it as an additional seat next to your table on a casual evening, or as a small-scale chair that can be placed in your garden, you might find the best garden chair suitable for your needs. Tall, low or wide, and small, no matter how you want your garden chair to look, you can easily make one and enjoy the comfort it brings to your life. All you need to do is pick a design from this list and start building. In this article, we share 40 DIY Adirondack chair plans for your inspiration. If you want some more fabulous Adirondack chair plans then our list of double Adirondack chair plans will inspire you.
1. Build An Adirondack Chair By This Old House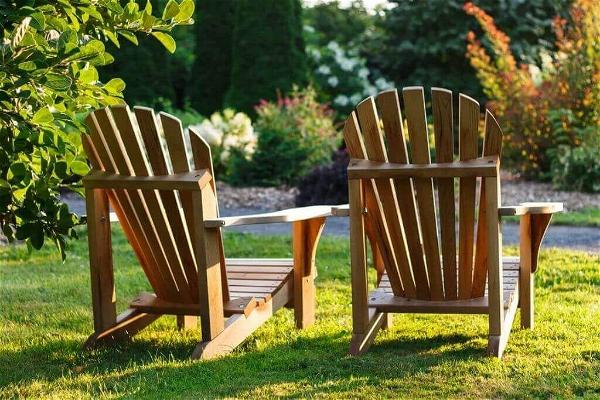 The modern Adirondack chair sometimes called a deck chair or "camp chair", is a classic summer furniture item. This is a basic project that's still fun and easy enough to use as a weekend project. Building an Adirondack is a fun project that grows with your skill level. Whether this is your first time tackling something of the sort, or you're prepping for a sunny day lounging with a good book, set aside an afternoon to learn about construction and build your own chair. Build the perfect Adirondack chair with this full-color, step-by-step woodworking guide by the editors of This Old House. Includes plans for two lounge chairs and a small table, plus tips on how to build a simple rocking chair, as well as maintenance and finishing advice.
Project details: thisoldhouse.com
2. Adirondack Rocking Chair By Instructables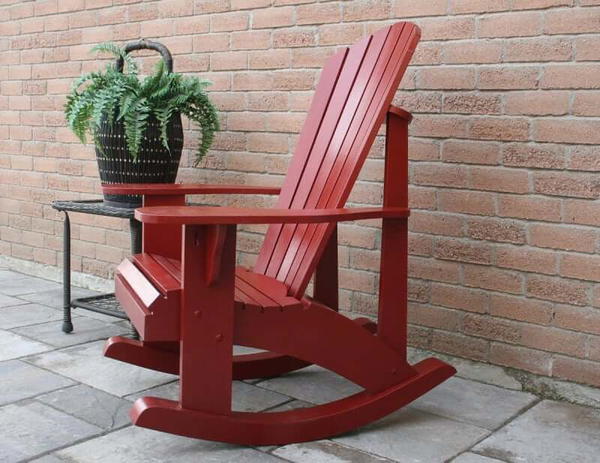 This Adirondack Rocking Chair by Instructables is a combination of both traditional Adirondack Rocking Chair and Rocking Chair. It enjoys the gentle rocking motion, as well as the relaxing sensation when you sit on the chair. Without any butt-bite feeling when you sit on the chair, this chair will bring you to enjoy a leisurely time with your family or friends.
This project combines both Adirondack and rocking chairs. It has gentle curves at the lower base that allow slow, restful rocking motion. The opposite of the traditional Adirondack chairs, it has prominent seat and is closer to the ground, avoiding butt-bite feeling and leg pressure when sitting down. The backrest covers most of your back while you are seated comfortably so that you can lie down on the chair whenever you feel like it.
Project details: instructables.com
3. Adirondack Rocking Chair Plans By Construct101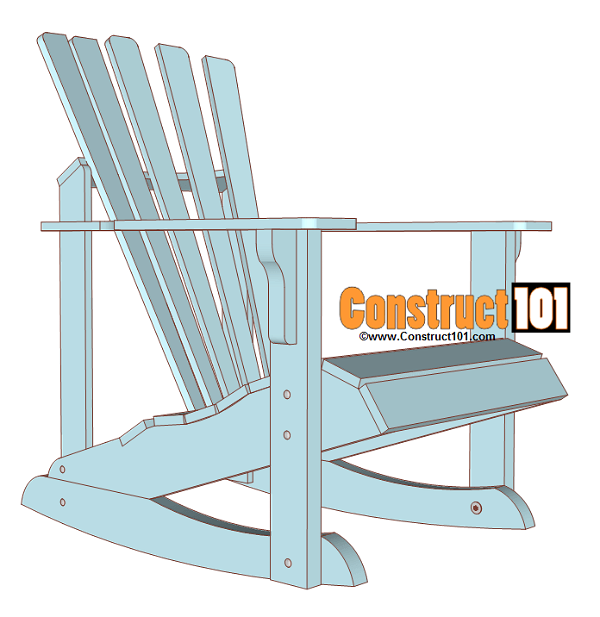 Make the most of your space with this rocking chair that provides comfort and style. Enjoy the views from your patio, deck, or after a fun day in the garden. Constructed of cedar, which makes it strong and tough for outdoor use. A durable weather-resistant cedar finish will withstand rain and moisture without warping or rotting. Rocking chairs are a great addition to any deck or patio set up and serve as a wonderful spot for outdoor entertaining after summer barbecues with family and friends.
Get our free Adirondack rocker plans to build your own! This rocker is a great project for the beginner woodworker, using simple tools and techniques. With an Adirondack design and tapered legs, this rustic rocking chair can be made out of a variety of wood types for a customized project. Here are some Adirondack rocking chair plans for you to build. This design is more comfortable and stable compared to a typical one. The project is also a combined Adirondack rocking chair. But the legs are just slightly curved, so the chair does not move too much.
Project details: construct101.com
4. 2×4 Adirondack Chair Plans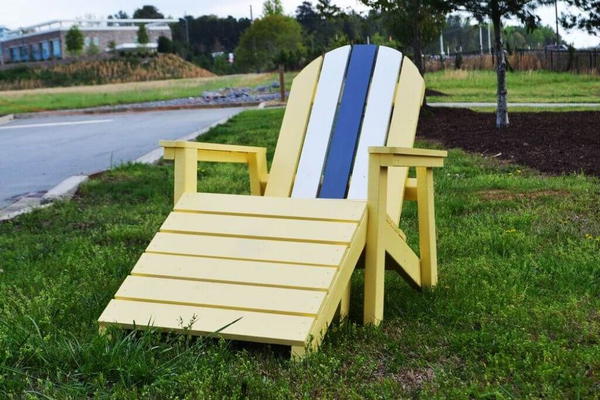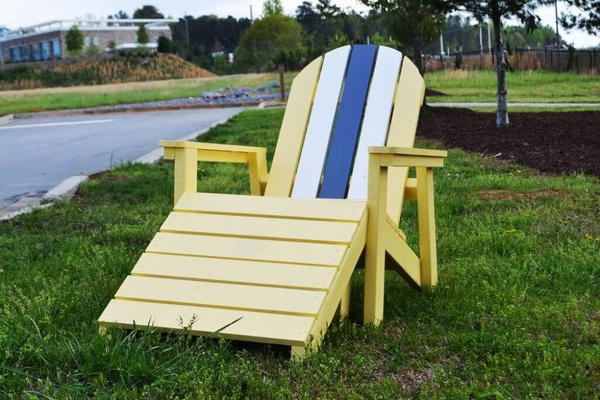 Let's put together a perfect Adirondack chair plan for this summer. It is often a good way to relax, enjoying the sunshine in your backyard while sitting in this Adirondack style chair. It is made of two separate parts: the chair and the footstool, which are each a stand-alone structure to make a sure easy assembly. The unique construction of the legs and backrest allows you to take a relaxing reclining nap after a refreshing dip in the swimming pool. These plans show you what you need to build this type of chair as a wooden model to enjoy in your backyard. The size of the chair is appropriate for adults and teens, but some of the measurements have also been provided so that you can make them smaller if needed.
Project details: ana-white.com
5. DIY Modern Adirondack Chair By Crafted Workshop
Build an elegant Adirondack Chair with an interesting design. It is a client project made out of solid wood and some metallic parts that come with a modern look. Most of the materials you'll need for this project can be picked up at your local hardware store. In this project, we used some pocket screws as well as book-matched pieces to make the back panel more stable. A trip to the lumberyard might be helpful if you don't have enough scrap wood lying around. The tools required are a jigsaw, drill, and router. You'll also need screws and nails to assemble the chair - just make sure to buy a bit that's slightly smaller than the screw itself so it doesn't stick out when you start driving it into place!
6. Adirondack Chair Plans From Skip To My Lou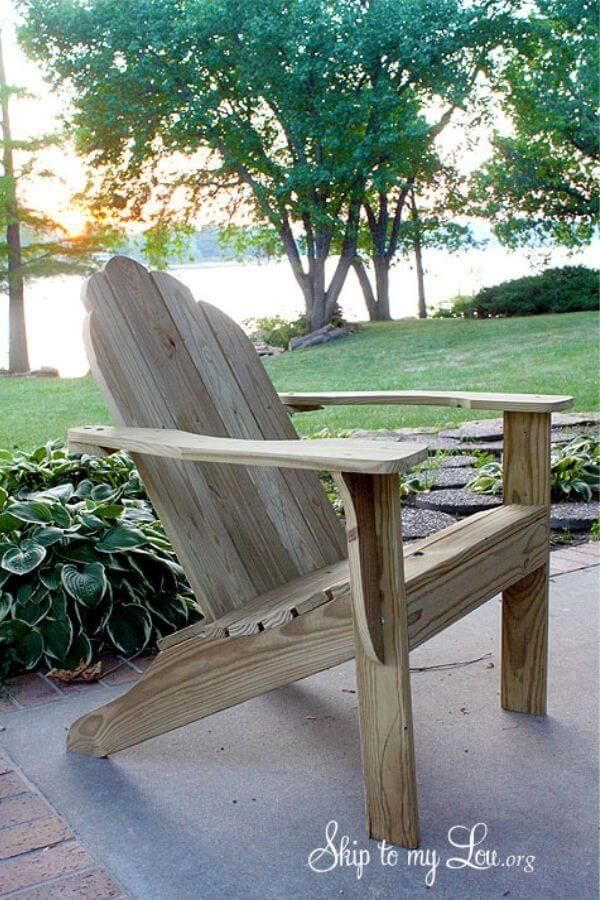 Skip To My Lou Magazine builds Adirondack chairs for people who want a comfy place to sit outside but don't have the space or resources for a full-size chair. These Adirondack chairs are incredibly easy and inexpensive to build. They add a unique, rustic element to any yard or patio. These chairs are simple to build, requiring just a few commonly found tools, from scratch.
Maybe the Adirondack Chair is the most accepted icon for summer fun. Your heart will skip a beat the first time you feel the solid hardwood frame supporting you as you sink deeply into one of these chairs. The Adirondack Chair was designed for generations of use, whether in your backyard, by the lake, or even on a patio indoors.
Project details: skiptomylou.org
7. Adirondack Style Chair (Pallet Wood)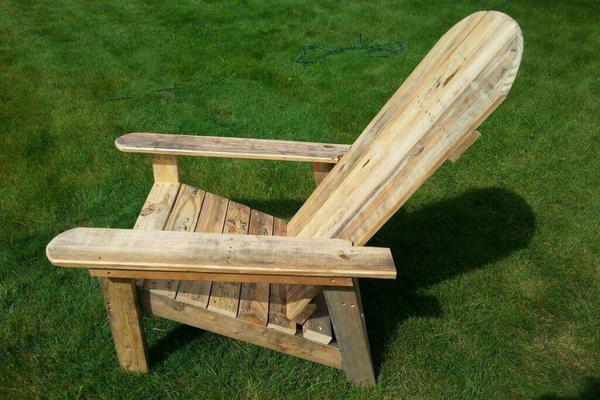 If you can't stand the monotonous styles of conventional furniture, why don't you try creating an Adirondack Style Chair with some old wood? Of course, these pieces of wood must be leftovers because we don't recommend using damaged pallets when building a chair. In this regard, your creativity and carefulness will determine whether you complete the piece.
The Adirondack-style chair is perfect for an outdoor refurbishing project. Once you complete the pallet wood chairs, you can also make other DIY pallet furniture, like a picnic table or even a side table for your terrace. We suggest using outdoor sealant to coat each chair before and after placing it outdoors to protect them from sun rays and rain.
Project details: instructables.com
8. DIY Big Adirondack Chair From Haha Bird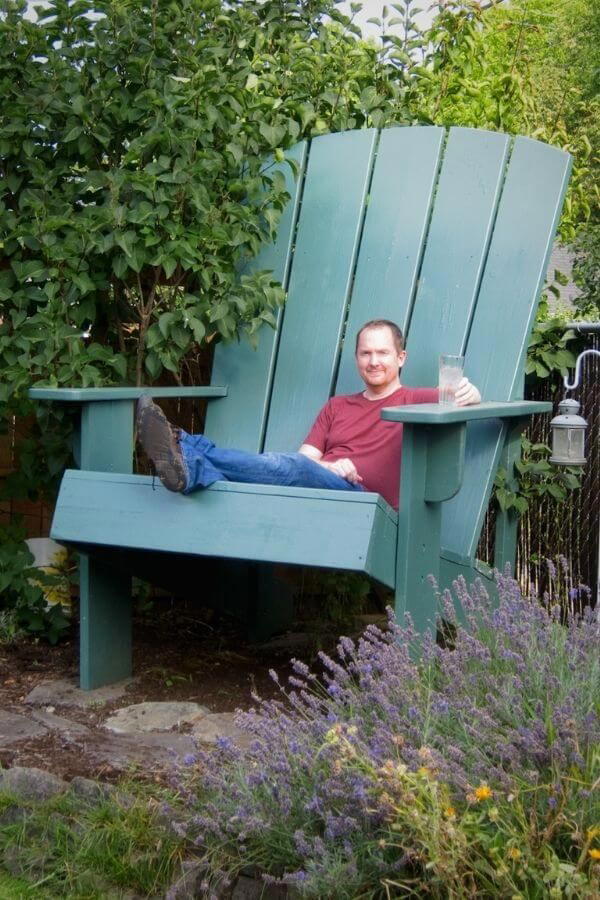 The Haha Bird team has created the ultimate DIY project for your summer. Having one at your own home is a joy indeed. It lets you enjoy the magnificence of nature. The Adirondack chair is made from simple instructions, which need to be assembled with nuts and bolts.
In order to make the DIY Adirondack chair, you will need wood (or just buy one from your local store), screws and nuts, and a saw which can do a perfect job in cutting the product. Once you are done with it, you may want to decorate the chair with cushions for additional comfort.
Project details: hahabird.com
9. Double Adirondack Chair Plans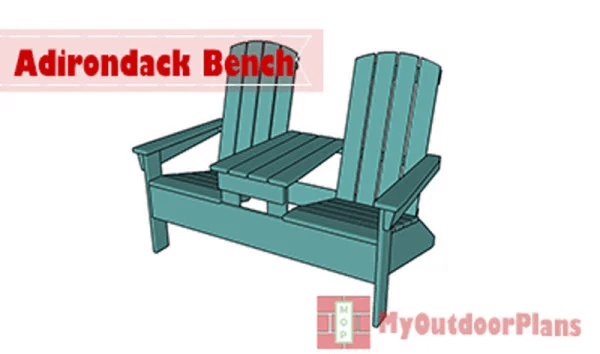 In this renovation project, you will build two Adirondack chairs into one table attached together in the middle. The double Adirondack chair is 2 regular chairs put together. It is just as sturdy and durable as the original. One person could sit in this chair alone, but it is more practical to have more than one.
Double Adirondack Chair Plans is a woodworking project that you can use in your backyard or at the cottage. Together, you and a friend will build two chairs, but then you will combine them into one table to create a conversation piece. To build this project, you will need to join two Adirondack chairs to create a new double bench chair that can accommodate two people at a time. Both of the chairs will have a similar design with minor adjustments.
Project details: myoutdoorplans.com
10. DIY Adirondack Chair By Instructables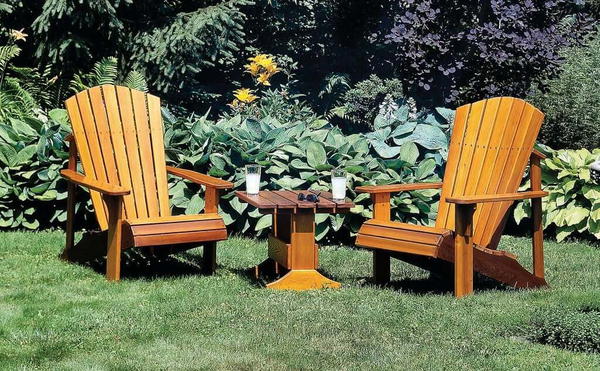 Build the ultimate Adirondack chair that can be enjoyed for many years and even passed on to family members. The Adirondack chair design is simple, easy to build, comfortable, looks great, and is easy to use on a patio or at a beach.
The chairs are very attractive, comfortable, and roomy. They have an unusual design with angled slats and back and forth providing a stylish look to the item. This can be created using both old and new replacement planks. The cost of the materials is not expensive and you will create some rustic-looking chairs that will attract attention anywhere they are placed but especially in the garden.
Project details: instructables.com
11. Adirondack Style Rocker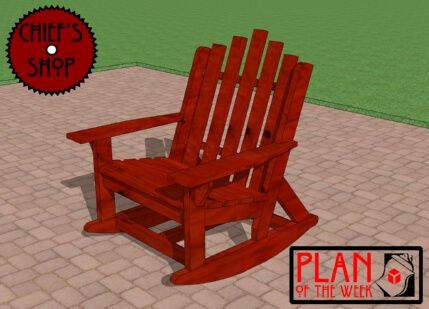 Adirondack-style chairs have been known to be alluring, comfortable, and classic. Now, you will find a modernized version with the best parts of classic Adirondack styling.
Take it easy on with this Adirondack-style rocking chair. Made of hardwood, this all-weather piece features a classic, rustic design with an elegant cross-back and solid black walnut slats. The indented seating area gives the chair its unique shape, while the rocking mechanism makes each movement soothing, perfect for sitting out on your porch or deck and enjoying nature. For optimal enjoyment, you can add padding to the chair to ensure that you're as comfortable in this piece as possible. Plus, its all-weather construction means that it will last a long time.
Project details: chiefs-shop.com
12. DIY Cape Cod Chair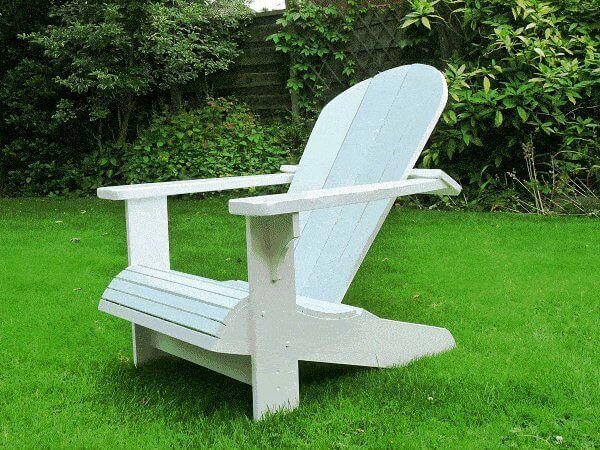 This DIY Cape Cod Chair is great for your porch or beach house and will remind you of summer days long after winter has set in. Thanks to the low seat and reclined back angle of this chair, even a small person can sit comfortably in it. If you like the look of a Cape Cod chair but feel that they're too tall, you can build your own low-to-the-floor version Our plans include instructions for the seat, legs, and post, armrests, backrest, and backboard, so you can build a complete chair from start to finish. For this short project—which just may become your favorite place to relax—you'll need concrete blocks, molding for the armrests and backrest, and some plywood.
Project details: buildeazy.com
13. Adirondack Chair And Loveseat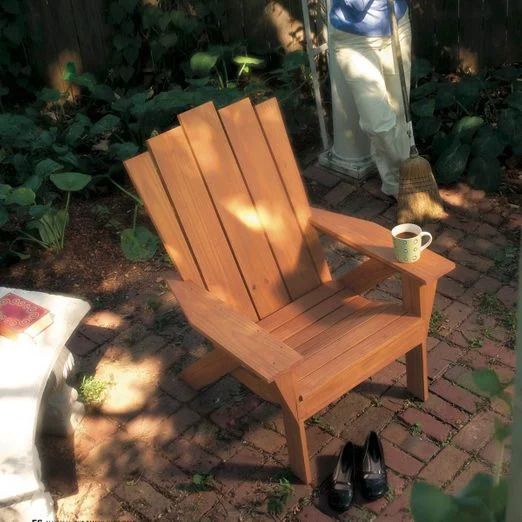 The Adirondack chair and loveseat are much alike but have slight differences. Both of them seem to be simple. This Adirondack chair and loveseat with curved recess seat is a classic wood project for all woodworkers The arms of the chairs will become wider than the standard versions, but you can cut them narrower if you like less roomy arms. This design requires plans to cut the curved recession might have an impression that nothing spectacular can come out from this simple design, however, you are wrong. It is well constructed with four straight legs and wide arms, so you can sit on it comfortably with your friends or family members for chatting at home.
Project details: familyhandyman.com
14. Ultimate DIY Adirondack Chair With Pull-Out Footrest
Sometimes you want to sit outside in the fresh air and enjoy the beautiful scenery. However, you can't do that if the backrest is not long enough for you or it is not comfortable enough. Here comes this Adirondack chair with a pull-out footrest design that's worth your attention. With clean lines and a compact footprint, all you need is a weekend morning, some free time, and simple tools, and everything will be done in a breeze.
The finished DIY Adirondack chair with pull-out footrest is specially made for relaxation and comfort. You will spend more time completing it rather than just making a piece of furniture that serves as a decoration Adirondack chair with a pull-out footrest is a perfectly peaceful place to sit and read or even have a long dreamed nap. The chair has four positions: collapsed, horizontal, angled, and stand-alone.
Project details: jackmanworks.com
15. Pallet Adirondack Chair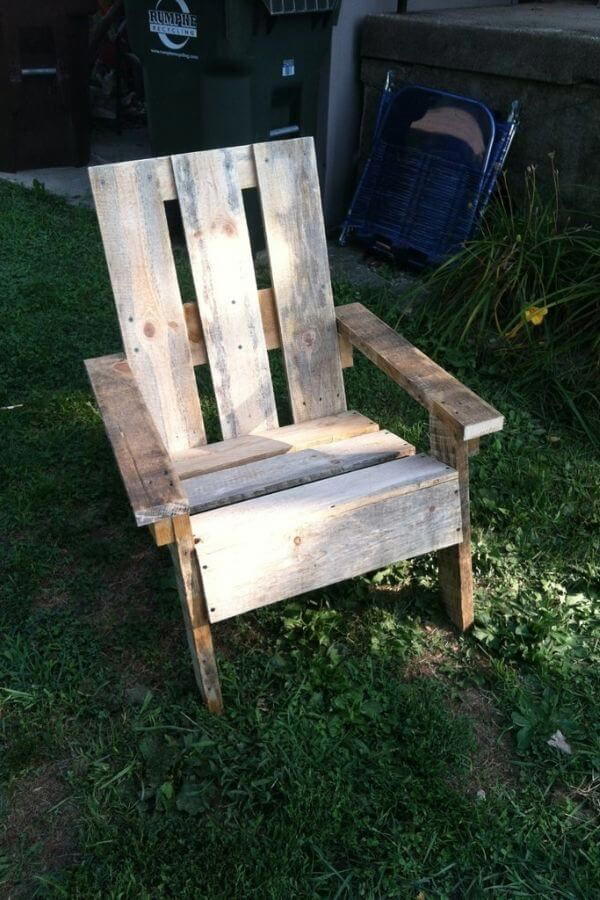 Pallet Adirondack Chair is a fun and budget-friendly way to liven up your backyard! The project is designed to help you build Adirondack chairs that will beautify your outdoor area.
Bring the spirit of the forest inside with Pallet Adirondack Chair! This DIY project is super budget-friendly and is a perfect addition to your backyard. This comfy chair features a brilliant white finish and would look great next to a tree or on the lawn. The best part of this project: there's no wrong way to make it! The chairs look basic and easy to build. You can make the backrest and the seat with only 3 slats. Not to mention, the chairs are budget-friendly as you can recycle used wood pieces.
Project details: instructables.com
16. Outdoor Adirondack Chair Plans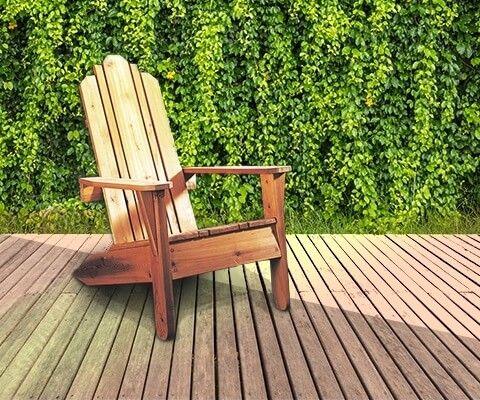 The Outdoor Adirondack chair is a simple design that can be built in one weekend. Whether you're lounging by the pool or sitting at a campfire, this Adirondack chair is the perfect place to rest your weary bones. This chair is comfortable to sit and it works great as part of a porch or patio set. And since they're built to last, they can easily adapt to your needs over time. You can even make several to store during the winter and use them again on warm spring and summer days
It is also designed with notes to help you make the right adjustments. The project involves three cuts: one at the top and the bottom parts of the back, and one at the middle divider between two legs.
Project details: blackanddecker.com
17. DIY Adirondack Chair By Ana White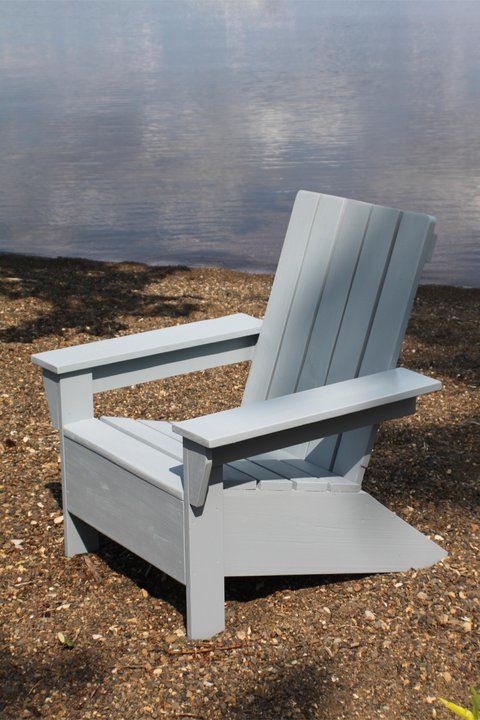 The DIY Adirondack chair White is an excellent choice if you are looking to spice up your backyard if you desire an Adirondack chair for small rooms or a backyard, feel free to look at this project. It has a compact style and low seat that will not take up much space. Made of sturdier material, this chair is compact and easy to assemble.
If you planning to build your very own Adirondack chair for tiny spaces? All you need to do is gather the right tools, measurements, and some good old elbow grease. It will take no time at all before you have yourself a nice little Adirondack chair.
Project details: ana-white.com
18. Easy Modern Adirondack By Rogue Engineer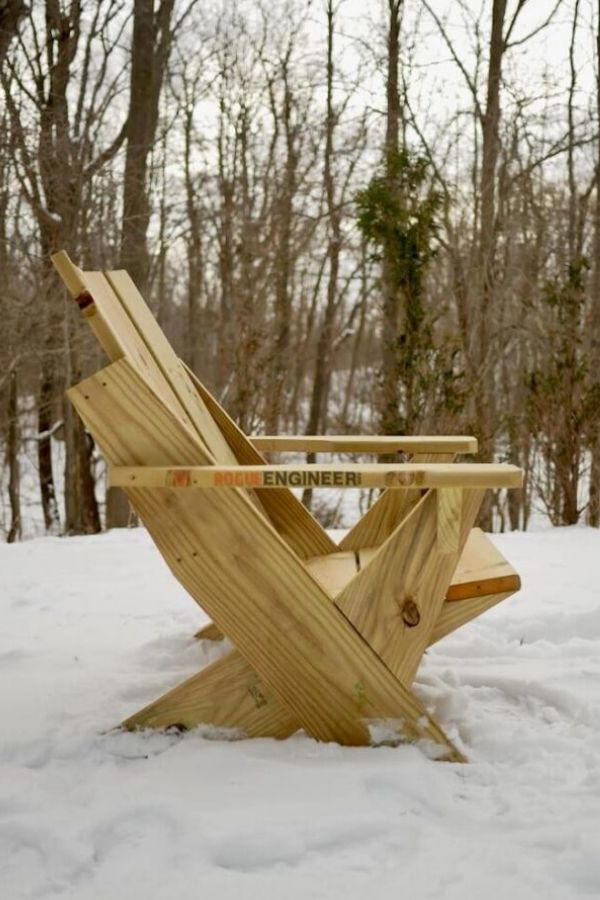 One of the best aspects of the Adirondack chair is that it comes in a variety of sizes, shapes, and styles. This one is called EASY MODERN ADIRONDACK CHAIR- by Rogue engineer. This style has easy assembly since you just need to bolt the seat. The size is suitable for large individuals.
This specific Adirondack chair is very sturdy since it features a wide, rigid, and thick backrest, tapered legs, and arms made of round logs. It is designed for big people that suffer from low blood pressure or metabolism. Working in your deck then this chair will let you enjoy a nice view while relaxing your body. Make for yourself an ideal place to unwind with an Easy and Modern Adirondack chair. It brings you an enjoyable time in your patio, garden, or where ever you want to let it.
Project details: rogueengineer.com
19. Free Adirondack Chair Plans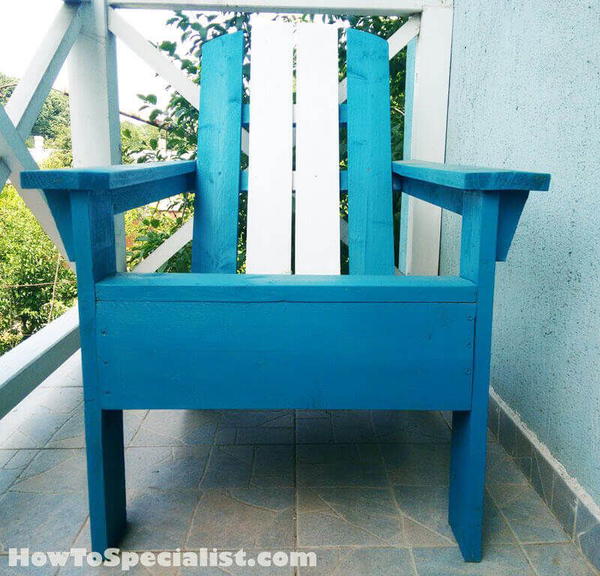 Adirondack chair plans will help you build a comfortable and long-lasting chair for your garden. It has a small footprint that does not use much space. The round top makes it easy to lean back, preventing any stiff back from sitting in a straight position. Comfortable armrests will serve as great reading supports while you sit on the porch swing and enjoy the scenery of your neighborhood. You can build an Adirondack chair to enjoy summer days in the garden. More than a century since its conception, it is still popular with its simple lines and comfortable rocker seat.
Project details: howtospecialist.com
20. Scrap Adirondack Chair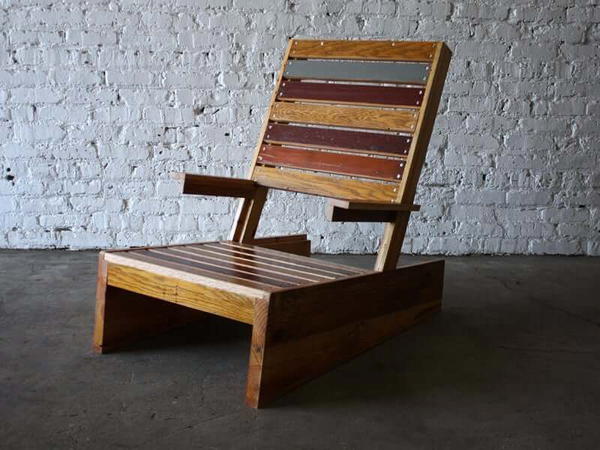 If you love Adirondack wooden chairs but need a larger one for the deck or patio, the DIY product will be useful. The design follows the traditional model closely, except for the arms which are not that comfortable to rest your hands on. Otherwise, it is a great addition to your backyard.
A homemade Adirondack chair may be hardly a bargain. But this model is different! First, the thick and wide seat board makes our product firm and stable. Second, the legs of this chair can hold a lot of weight. It is ideal for bulky people and high-quality lumber.
Project details: instructables.com
21. Classic Looking Adirondack Chairs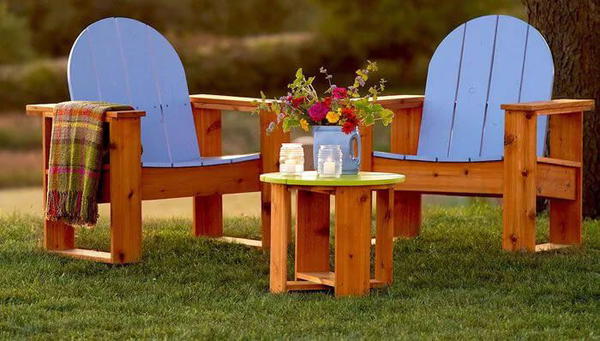 With our plan, you can build your own Adirondack hybrid chair in one day. It is a fairly simple project that won't take more than 2 hours to complete. Now, with these Adirondack Chair blueprints, you can get the same look and feel as the original classic Adirondack, without ever having to build one yourself. This is basic woodworking that's quite fun(and easy!) Just buy the wood and hardware required for it, and you can start working on it immediately. This makes a great weekend project for wood lovers who want to spend their free time outdoors, enjoying the summer sun.
All the parts of the plans allow you to have a precision fit. You can use redwood or cedar for the frame, and pine for the slats. And this is a relatively easy project as it just requires basic skills.
Project details: lowes.com
22. Adirondack Loveseat Plans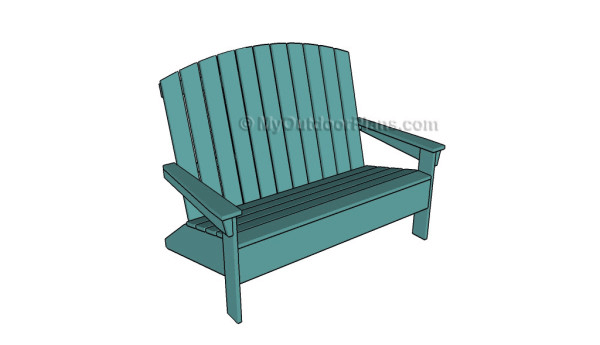 Adirondack chair woodworking plans take a minimal budget and provide you with the ideal way to improve your out of doors furniture. The Adirondack chair is the most iconic piece of furniture in North America. Not only does it capture the beauty of nature, but it also epitomizes a back-to-nature lifestyle. What makes this wooden chair so attractive is its form, which was inspired by settlers from Europe who used to build their chairs from pieces they cut in the forest.
This is the Adirondack chair plan, but it is not an ordinary model. This one is a large loveseat that can fit two adults or four children of standard size. Built from solid wood, it can handle heavyweight and strong winds.
Project details: myoutdoorplans.com
23. Simple Adirondack Chair Plan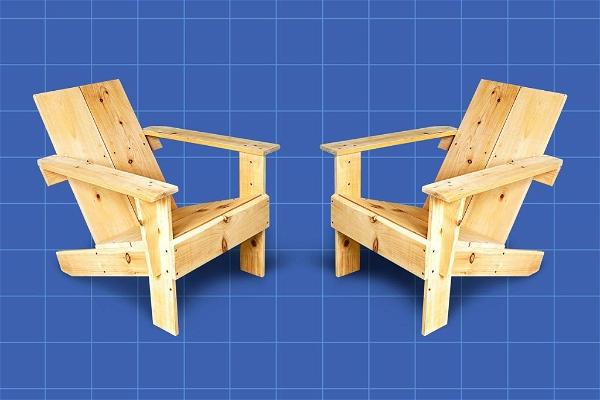 This Adirondack chair plan is a great example of how functional furniture doesn't have to be fancy. It is handmade with basic tools and materials, so you can put it together easily.
It is not hard to build this Adirondack chair with small slats. Taking the pictures of the chair in the grass, you will find it is much more comfortable than the one in others' workspace. With its simple design, the Adirondack chair offers a comfortable and relaxing place to sit in the garden or on the patio. With its minimal parts, it is also easy for a beginner woodworker to build without requiring any tools. This plan is great for anyone that needs something larger than the standard size chairs.
Project details: popularmechanics.com
24. Adirondack Chair For Home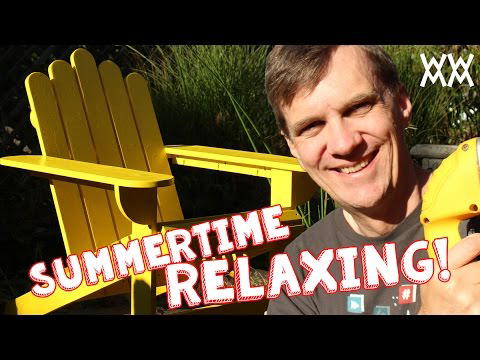 With the Adirondack chair design, you'll get to experience what it was like to build your own furniture when you were a kid! All you need to do is sand the parts and paint, or stain them. You're not done yet! You can choose to weld or screw the legs for extra stability. When it comes to comfort and durability, the best quality of Adirondack chairs is unbeatable. They were first made for the Adirondack Mountains in upstate New York, a place known for its natural beauty and limitless activities. Comfortable or not, if you want to spend some time in the sun but near a body of water without any moving parts, this chair will always be a top choice.
It is not a secret that everyone wants to have a big chair that they can sit on and enjoy their time outside. It will give them warmth and satisfaction. However, most of the time, people don't have enough room to place such giant furniture. This is why finding small and cute Adirondack chairs that are able to fit in your patio or backyard is advantageous for you.
Project details: woodworkingformeremortals.com
Adirondack Chaise Lounge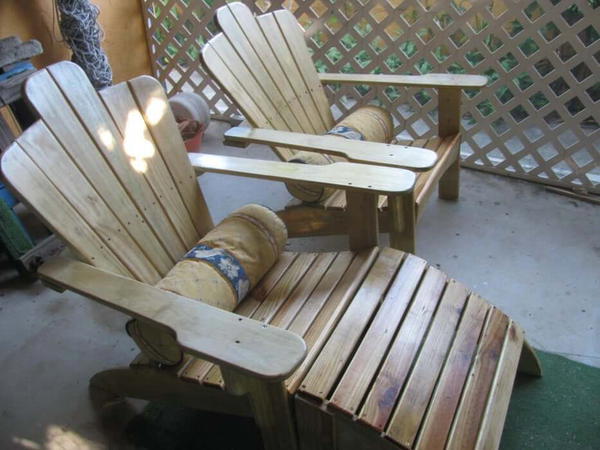 When you're about to watch an amazing sunset, or having a vacation by your own outside backyard, a chair like Adirondack Chaise Lounge is worth having. It's coated with varnish in order to make it durable. Considering all the important characteristics of this sun lounger, it's worth your money. The reclined design is different from the usual deck chair. What we are examining is not just the comfort, but also the aesthetic appearance. The wood is treated with varnish so that it can resist rain and weathering and keep its original shape.
Project details: instructables.com
26. Child's Garden Adirondack Chair From Rona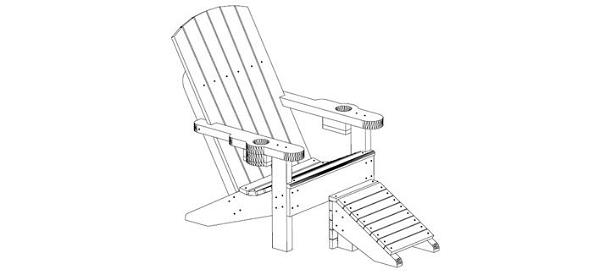 we are going to build a garden chair for small kids, and it will be very easy to DIY. First of all, you need 3 wooden boards. You can choose the most colorful one and paint it in your favorite color. After that you can draw two rectangles on the board; this is the seat of your chair. Now, cut out rectangles and drill four big holes in the middle of each handle. Please make sure to leave a small hole on both sides of the back of your chair.
This is where you will fix the umbrella. After that, you can put glue on the arms and test your chair to make sure that it's stable enough. When you have finished with gluing, screw all the pieces together with wood screws. Then cut out circle shapes and screw them into each wooden handle. Paint them yellow and hang them inside each handle after they have dried up completely. Now fix the baseboard, connect both arms together with hinges, and put some padding on the chairs' seat as well as on its back so that it becomes comfortable for kids to sit down on it!
Project details: rona.ca
27. DIY Folding Adirondack Chair By April Wilkerson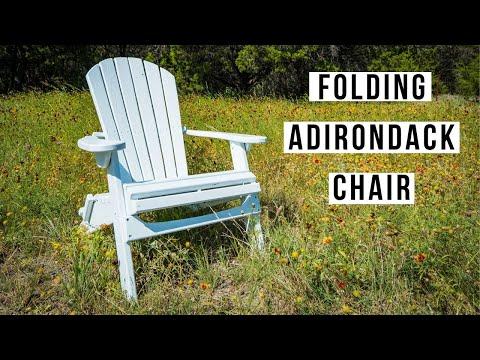 If you're looking for a full-sized chair that's easy to transport, this Folding Adirondack Chair is perfect. It will fold completely flat - making it easy to fit into the trunk of your car! You've seen this large chair before, here on Pinterest!! Well, what about making one for yourself? It's actually pretty easy. It's always a good idea to keep one of these chairs around for when you need it. It's perfect for camping trips, the beach, or even to set up in your backyard if you have room.
The only tools you need to build this chair are a Phillips head screwdriver and comfortable pants, as it is a 3-4 hour project. It's super comfortable and durable, made for hours of relaxing with a good book in your backyard.
28. Upcycled Adirondack Ski Chairs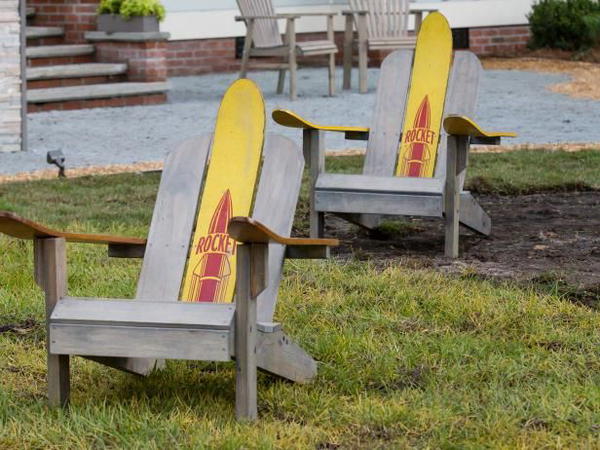 The concept of this DIY project is quite cool. You will reuse old water skis to create a sturdy Adirondack chair don't throw away your old water skis! There are worse ways to spend your time than by making yourself a duck-pond-side Adirondack chair. It's easy to do - all you need is a drill, saw, and passion.. Repurposed skis can be what you need in order to get your own chair at home. And, don't worry that the snow and water may destroy the chair as it is not made of bamboo or wood, but of durable water skis. If a 2-person Adirondack chair is too big, you can get away with three skis; if a 4-person Adirondack chair is too heavy, you can opt for six skis. The possibilities are endless!
Project details: diynetwork.com
29. DIY Adirondack Chair By Kirsten Dunn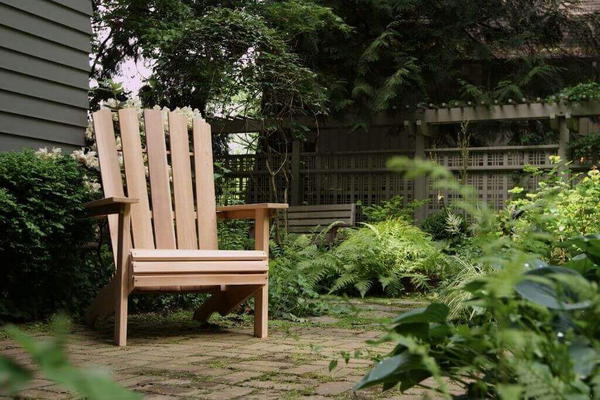 This project is for those of you who love to do some DIY at home but haven't got enough time to make all the preparation for this big project. This Adirondack chair is another inexpensive, stylish and sturdy chair that deserves your attention. It is a perfect piece of furniture for outdoor living with family or friends. The slatted design is easy to make, saving time for you and making the whole piece of furniture come together even more easily. It has an adjustable backrest so that you can make it ergonomically comfortable, just the way you like it.
Project details: diy.dunnlumber.com
30. Adirondack Beach Chair W/ 2 Positions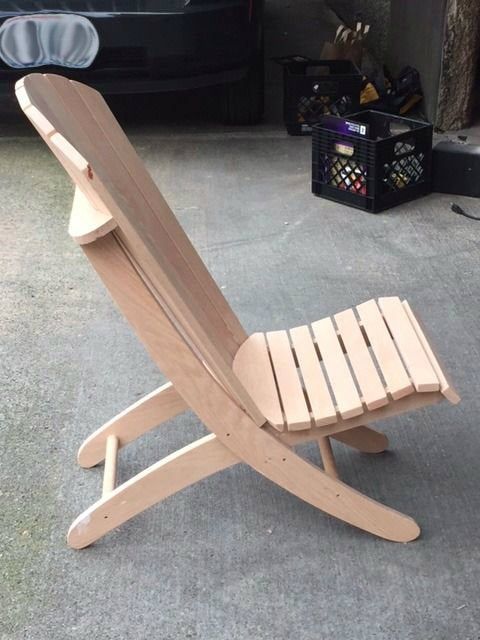 The Adirondack beach chairs are one of the great things you can take to the beach while on a camping trip. They have a classic design with a simple wooden design and two positions to sit upright or recline forward. The lug brackets are made of aluminum so it is durable.
you can invite your friend for a sail in your backyard with this two-position Adirondack beach chair. Whether you're using it for your oceanfront porch or to watch the sunset at the lake, this classic design is perfect for any outdoor setting.
Project details: instructables.com
31. DIY 2×4 Modern Adirondack Chair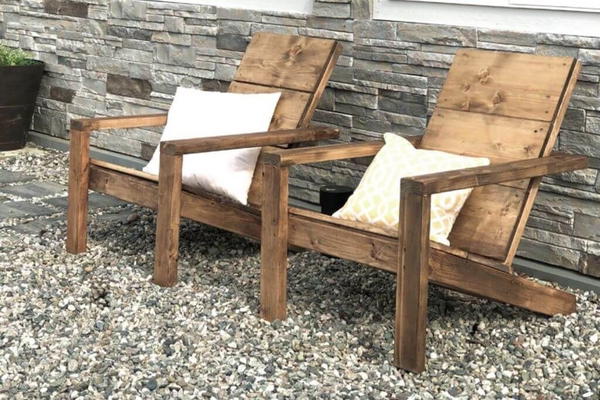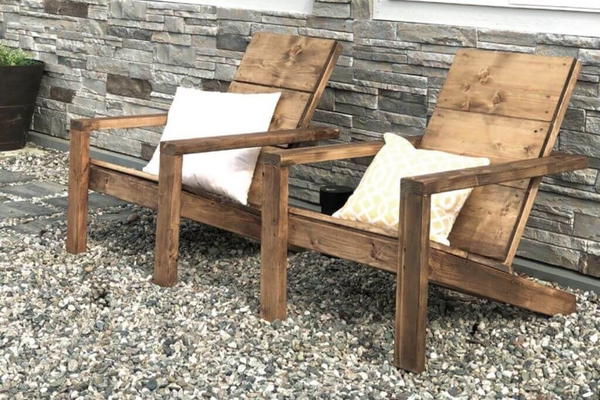 During the warmer months of the year, most of us like to lounge outside on our inclining Adirondack chairs. The wide boards used in this design will keep you and your guest as comfortable as possible, by minimizing the gap between the backrest and the seat. It is a fun and really easy project that will let you enjoy your summer days to the maximum. It's based on the classic Adirondack chair design but features no slats over the backrest or the seat to help with comfort during hot summer days.
The design is based on the traditional Adirondack chair, but it's built using 2x4 lumber and wide deck boards instead of the normal thin slats. This guarantees practically no gaps between the boards of the backrest and seat, making it more comfortable. Also, the 2x4s ensure a stable structure and can withstand heavier loads.
Project details: ana-white.com
32. Wooden Pallet Adirondack Chair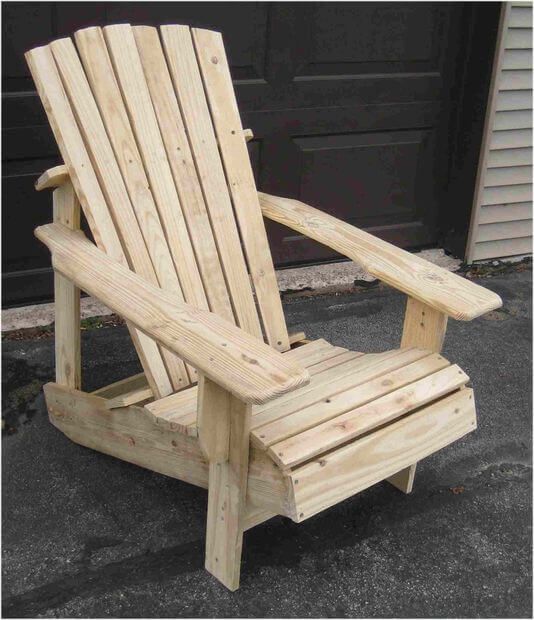 This unique design of a reclined backrest makes it easy to relax while watching a sunset at the shoreline. It creates some unexpected challenges though. Once you rest your body, you need something strong enough to hold all your weight. With this solution, all the pressures are equally distributed throughout the chair, all the way to the 4 legs.
The plan is intended for a large DIY enthusiast that wants to create his/her own modern Adirondack chair. It has the rare design of a reclined backrest by using old wooden pallets. There are many designs available on the internet, but nothing quite like this one. It is simple to build from scratch and a great weekend project for all DIY enthusiasts.
Project details: homestratosphere.com
33. Adirondack Chair Made From 2X4s Plans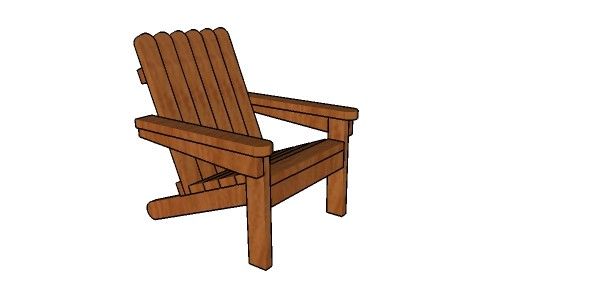 Introducing the ultimate Adirondack Chair made from 2x4's plans! This chair is 100% all-American, created for you and for your fellow countrymen. While most pieces of furniture are made with imported materials, this one does not have a single piece of plastic or metal on it. 100% of the parts you need to create this masterpiece can be made with just 4x8 sheets of the finest lumber around cedar and pine.
In this guide, you will learn how to build a chair using 2x4s. A chair made from these materials can provide hours of relaxation either on the porch or inside your house. If it is time for you to get rid of your old wooden chair and add some new one for your house, why not do it yourself?
Project details: howtospecialist.com
34. Wine Barrel Adirondack Chair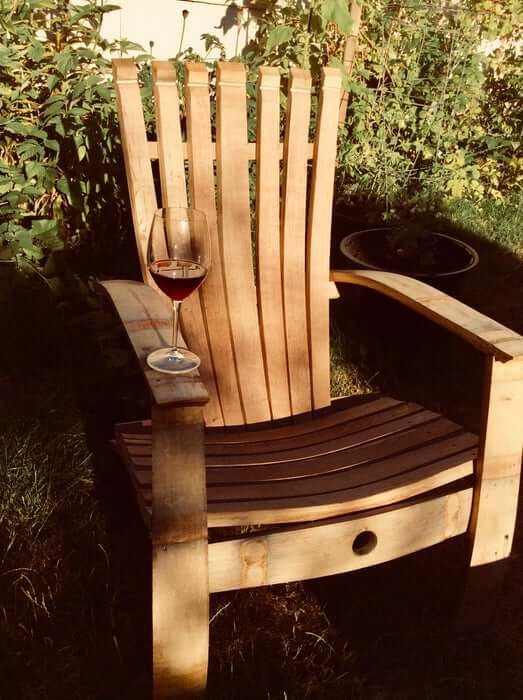 All of you are familiar with the classic Adirondack chair. This outdoor furniture is a great way to relax on warm summer evenings. But then you notice the bent slats. The chair is spectacularly stylish and remarkably comfortable. This is not a one-shape-fits-all chair--one of the reasons it's so appealing--as the height, width, spacing, and curvature of each slat on the back conforms to Mike's individualized measurements. The result is a piece of furniture that fits so perfectly it may be mistaken for custom.
Project details: instructables.com
35. DIY Upcycled Adirondack Chair By Addicted 2 DIY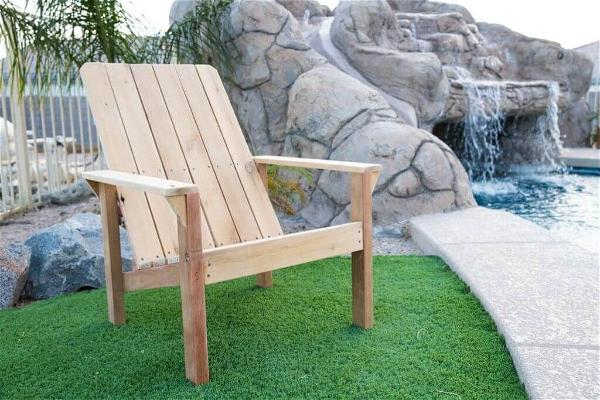 This project is about an Adirondack chair that you can build-out of the lumber from a sectional sofa. With the help of some recycled materials, you don't have to spend a penny on building this upcycled Adirondack chair. It uses 2×3 slats for its base and 1×4 slats for the backrest and seat frame, which are easy to find on your old sofa. It's built to be pressure-treated but can just as easily be built from cedar or other decay-resistant lumber. A cozy, wide-seated Adirondack chair is always a fun place to sit, especially when it's covered in wicker. This DIY project shows you how to take a sectional sofa that's past its prime and recycle it into a lovely outdoor seat.
Project details: addicted2diy.com
36. Build A Modern Adirondack Chair By Crafted Workshop
This easy-to-follow Adirondack chair plan features clear instructions, high-quality photographs and illustrations, cut diagrams, and step-by-step photos for every stage of the project. Also included is a supply list and material pricing guide to help you make informed purchasing decisions.
Some woodworkers prefer simpler designs, which can be a good choice for many projects. But if you are looking to challenge yourself and use some advanced techniques that involve dados, half-laps, and saws without teeth, then this project is for you!
37. Adirondack Chairs From Scratch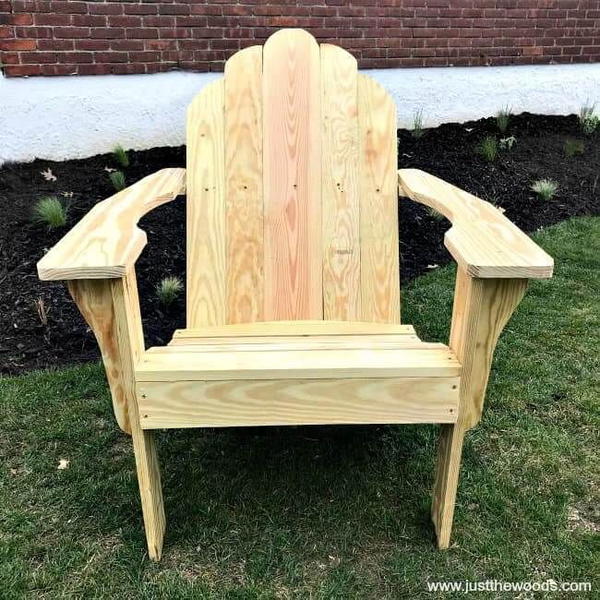 We have reinvented the Adirondack chair design. We have eliminated the sharp, uncomfortable points by boring some curves onto the armrest. The curves follow the shape of your arm when putting on the armrest so that it can support yours to the fullest. This is what we call "Armchair Comfort". The curves on the armrest enable you to put your arms in various positions you desire. The curvature of these curves follows the shape of your arm when placing it on the armrest so that it can support yours to the fullest.
There is no longer a need for you to adjust yourself in order for your arms, shoulders, and head all to rest comfortably; hence, putting up a smile on your face. You add comfort to the Adirondack chair by way of the armrests. One thing you have to be mindful of is that most armrests are straight and flat; this orthopedic style may not be as comfortable as it appears. The curvature on the other hand is designed with a purpose. It enables your arm to rest comfortably so that you can hold your drink, books, or just place your arm on it for a long time without tiring.
Project details: justthewoods.com
38. DIY Adirondack Chair With A Paracord Seat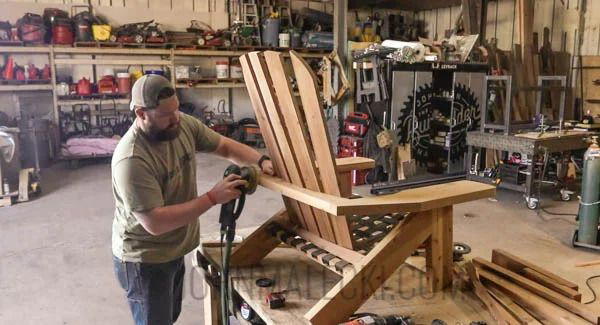 While you are having fun and spending your summer days relaxing in the sun, it's important to be comfortable. This DIY Adirondack chair is perfect for that exact purpose. You can build this chair even if you have zero woodworking experience and doesn't require any special or expensive tools. With this tutorial, you will learn how to make an awesome paracord seat and a comfortable chair that is long-lasting and highly functional.
Project details: instructables.com
39. DIY Pallet Adirondack Chair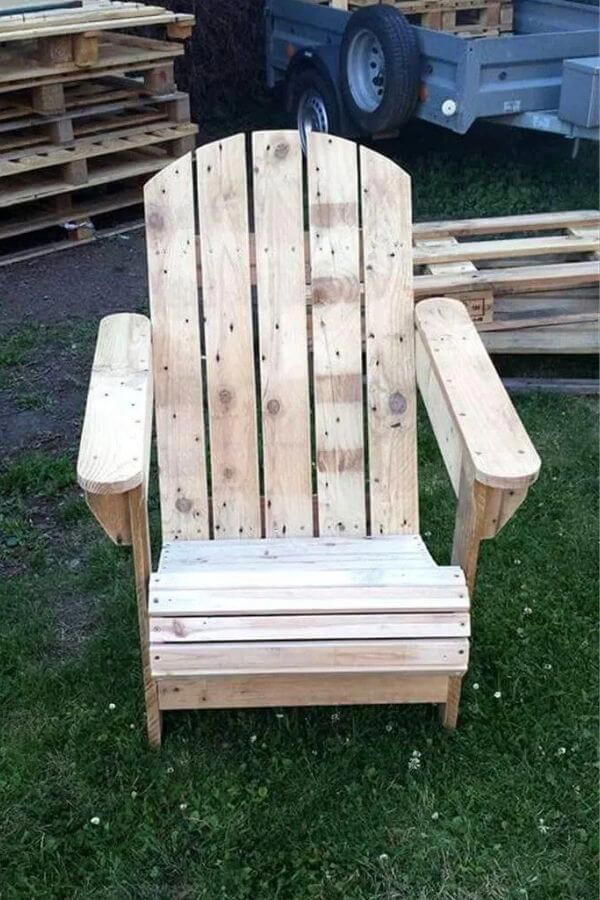 What a pleasure to sit smoothly on this wooden Adirondack chair! Here, we share a straightforward design of a DIY pallet Adirondack chair, which has a fairly solid primary frame to hold you and is still light enough for you to carry in with ease. The DIY pallet wood Adirondack chair plans are easy to make if you have the right tools. All the parts in the primary frame are connected with accent-headed steel bolts. No bulky joints mean that everything is smooth and strong.
Project details: easypalletideas.com
DIY Adirondack Rocking Chair By My Outdoor Plans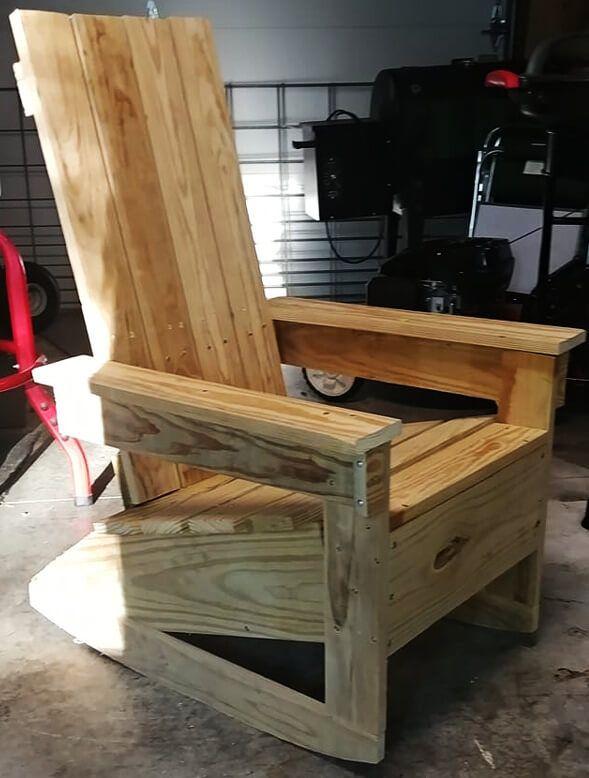 Are you looking for an Adirondack chair plan that can be built easily, but with the strength and durability of a much more expensive piece? If so, then you will want to check out the plans in this article. This easy Adirondack rocker is the perfect project for a beginner who wants to build a heavy-duty chair. The rockers make it comfortable enough for hours and hours on the front porch rocking away. Build this DIY Adirondack rocking chair with a beautiful reclaimed wood plank design that requires very little effort to create. It's the perfect companion for your backyard deck.