DIY candle holders are beautiful. Nothing makes your home feel warmer than the soft glow of a candle, but our time is too valuable to spend hours on Pinterest searching for the perfect DIY candle Holder when the best collection of fabulous ideas is waiting for you to try it. These DIY candle holders can be easily made with just a few simple steps from everyday items from around your house. These candleholders are easy to make yourself and can bring a great deal of character to your house. You can check all the ideas we provided below to add some extraordinary, unique, trendy, and stylized pieces to your dining table, bedroom, living room, or wherever you want.
DIY Candle Holders
Follow these beautiful DIY candle holders to add a decorative flair and essence of gratification to your home décor. These rustic, farmhouse, modern, chic, and most amazing DIY candle holders can be made from various objects used around the home, including corks, pine cones, sticks, and shells. Complete instructions – including endless free candle projects – are given to further enhance your interior design skills. Some of the most creative and interesting DIY candle holders we've ever seen come from the talented folks on the internet are gathered here for you.
Candle Holder From Glass Jar And Doilies: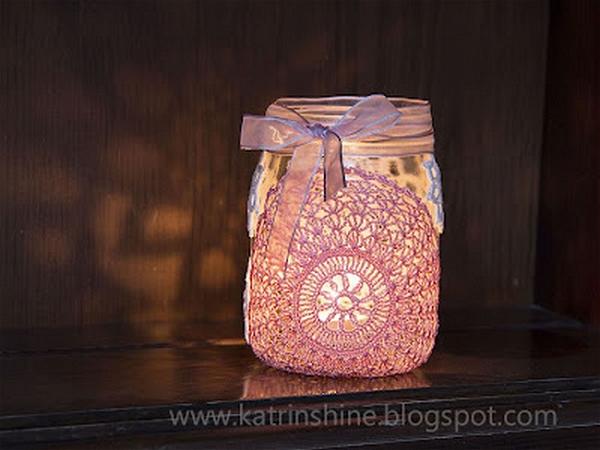 Do you have a bunch of doilies lying around at home, and you have no idea what to do with them? Here's a great idea! How about creating a beautiful candle holder from some glass jar and some crochet doily? This lovely, simple project requires nothing but some glue, some scissors, and the least amount of your time. It is a very useful as well as a decorative item. You can place this candle holder on your dining table or some corner of your living room, and it'll make your room look interesting and lovely.
DIY Wooden Block Candle Holders: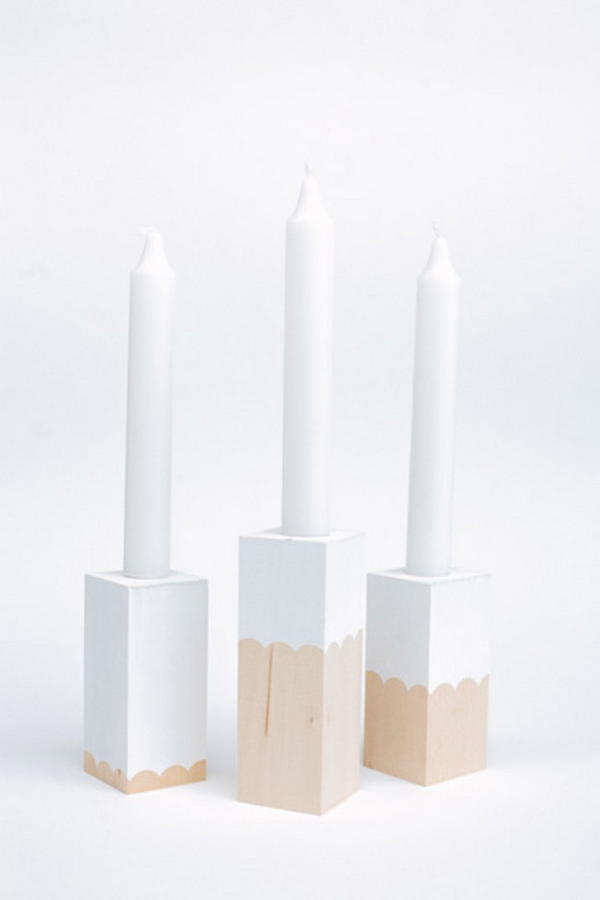 Just give any dinner table some subtle glow and charm with these candle holders, made of simple materials that you probably already have at home. These candleholders look extraordinary and will glow warmly as you dine peacefully. They're easy to build and can be used as decorative pieces as well as candle holders. So make your very own DIY wooden block candle holders and enjoy the warm evening with your family and friends. This set of candle holders is not just an accessory for your dinner table but also a perfect gift for your friend.
Copper Striped Candle Holders: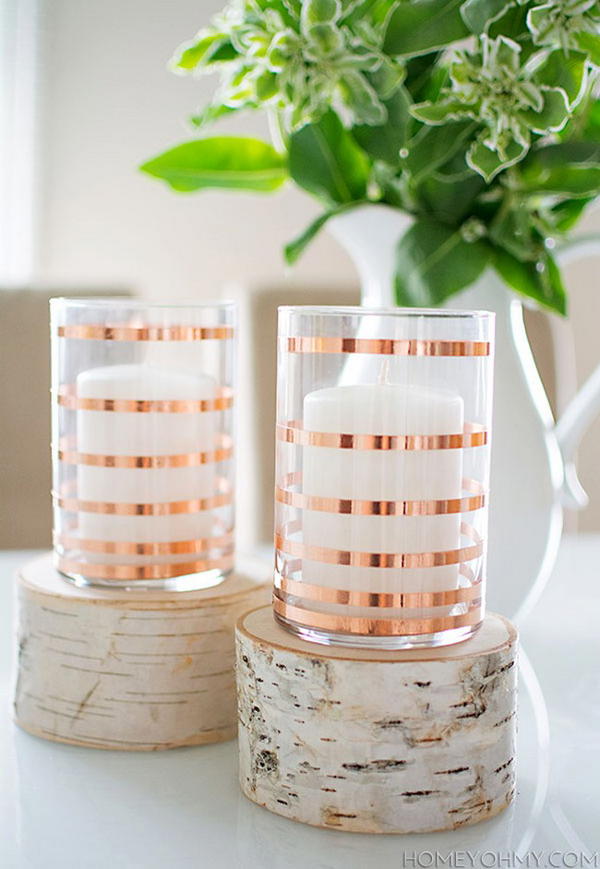 DIY Copper Striped Candle Holders If you are tired of the traditional candle holders but still want to have that elegant look on your dining table, then here is an easy alternative. All you need is copper tape. What I like about this craft is that it can be hung either vertically or horizontally. And it will surely deserve a place on your photo wall. These DIY copper candle holders are made of copper tape strips. It is very easy and simple to craft and decorates your dining table with these DIY copper candle holders.
Handmade Shell Candles: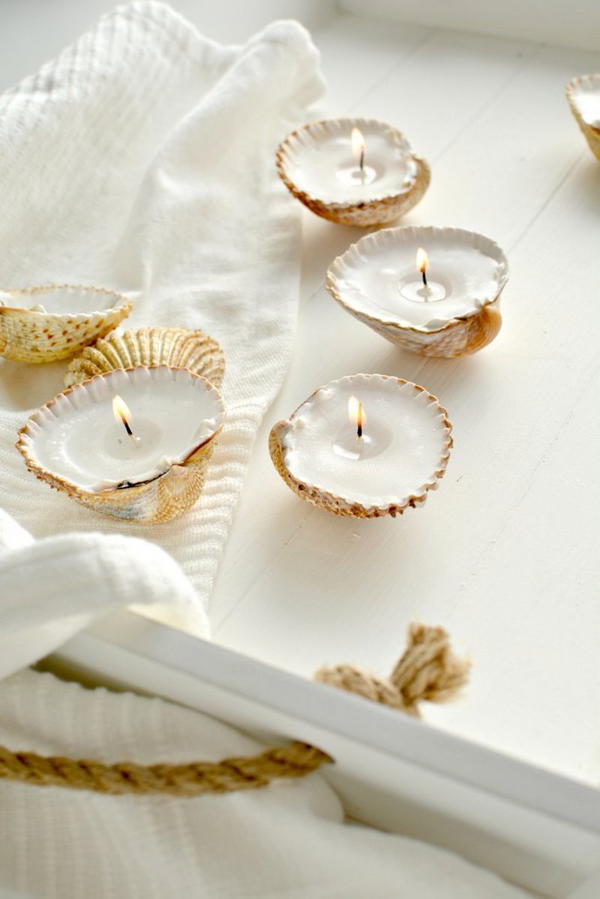 We have developed an entire range of Handmade Shell Candles; there are great interior features for home decor. Decorative items can be used in decorating your house; they're made from hand-painted shells, a natural product of the sea, they have a design of the most different and cute shapes. The shell fire is impressive-feeling when you light them up at night for a dinner party. DIY Handmade Shell Candles will help you to personalize your existing décor and is a special gift. Just buy some shells from the local handicraft store or online store, add an original touch to your hotel room or home.
Minimalist Concrete Candle Holder Plate: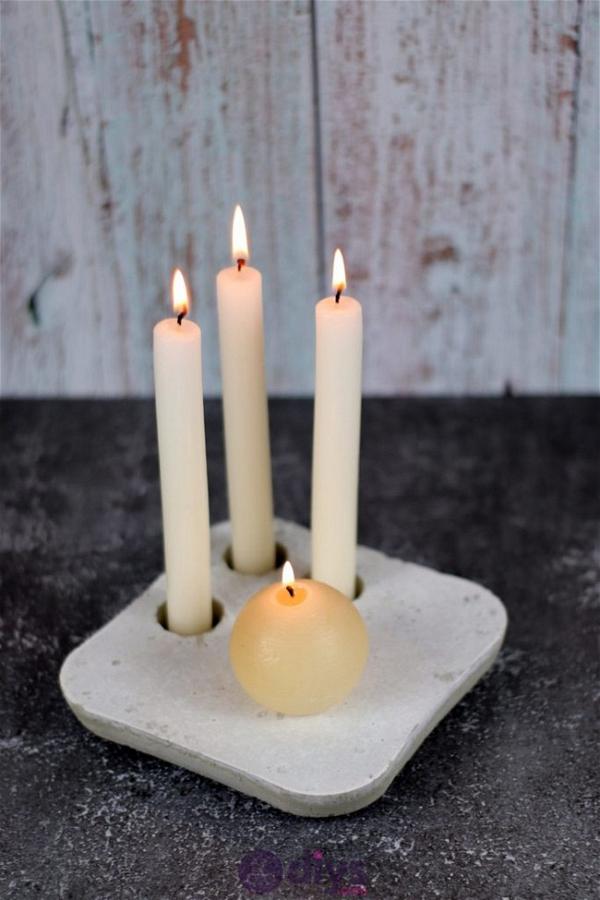 And now, you can make your least expensive and unique candleholders make your dinner parties memorable with this DIY idea. This project is really easy peasy, with minimal tools and DIY materials required.  We use simple items found at any hardware store, think concrete sealer, dishes, glass bottles, a string of lights, etc. You can outsmart your guests with this wonderful DIY concept. This Diy idea is much less expensive than you think and will be more interesting, involving, and fun than leaving some candles on the table while you and your loved ones enjoy your dinner.
Laced Cement Votives: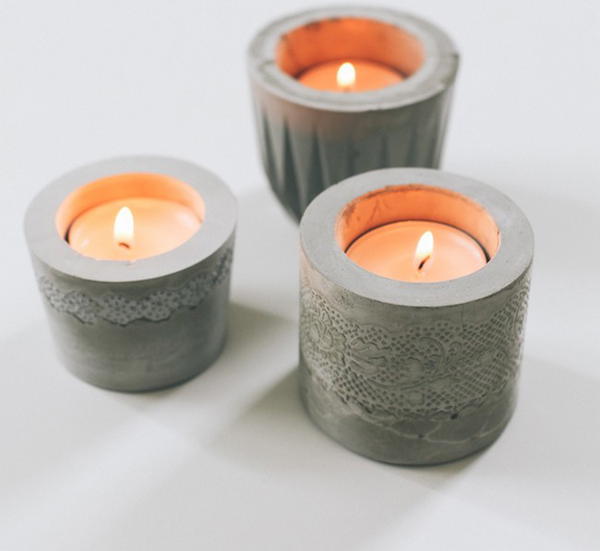 This is an easy project that anyone can do to create unique votive holders for tealights or tapers. The materials are super inexpensive, and it doesn't require any special tools. If you've ever used paper mache, this process is much like making Stained glass, but much more affordable. Create unique DIY paper cup votives that look like lace on the wall with this superb idea. This is a great project for anyone who loves transformations or unique decor.
Frame Lantern:
Put four empty frames together to create this beautiful lantern. The perfect way to add a touch of charm to any room, this globe-shaped lantern is easy to make. All you need are four empty picture frames, some black floral wire, and some scrap paper for the flame pattern on the sides. Watch the light grow and glow in this charming frame lantern. It's such a neat way to add light and beauty anywhere in your home. And since you create it yourself, you can use inexpensive wireframes picked up at the dollar store and painted with your favorite colors.
Table Leg Candle Holders: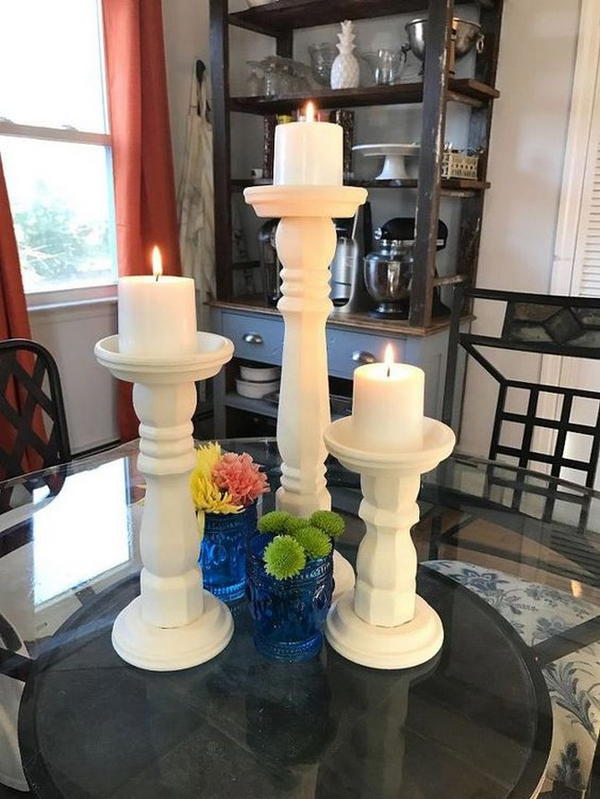 Leaf Mason Jar Candle Holder:
This Leaf Mason Jar Candle Holder will make any dinner table look amazing. It makes it fun to create centerpieces since the leaves make the candle glow in different ways. Since you use Modge Podge, you can also use them as party decor. This project is also great for outdoor parties since the candles are protected from rain. This is a fun project to do with the entire family as you watch the "leaf" you modge podge come to life. It's a beautiful way to have a nature-themed centerpiece with a warming glow of light.
Glass Bead Candle Holder:
Open your door to candle making by making this unique, modern candle holder out of a round vase and some glass beads. These Non-glass votive candle holders are perfect for those who love candles and want to save money but don't want to sacrifice beauty. They allow the light and colors of the candle to shine through, just as a glass vase would, but cost way less. If you're working on a budget, consider buying all of your supplies from the dollar store!
Outdoor Terra Cotta Candle Holders: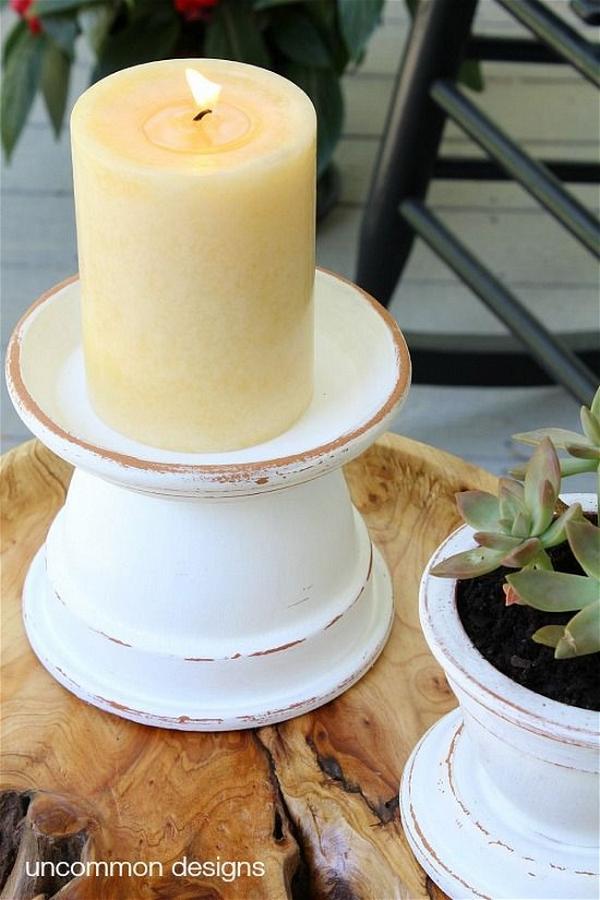 Cinnamon Stick Candle Holder:
These cinnamon stick candle holders will add a nice, homey touch to a room. You can make several of these in a matter of minutes, and they look very nice with their natural fragrance. These work best with small candles, which you can get from dollar stores. Place the cinnamon sticks around the candle and tie them with a hank of knotting string or twine. This candle holder is so easy to make with cinnamon sticks. All you have to do is place them around a candle, tie them together with some twine, and you are good to go.
Concrete Tea Light Holder: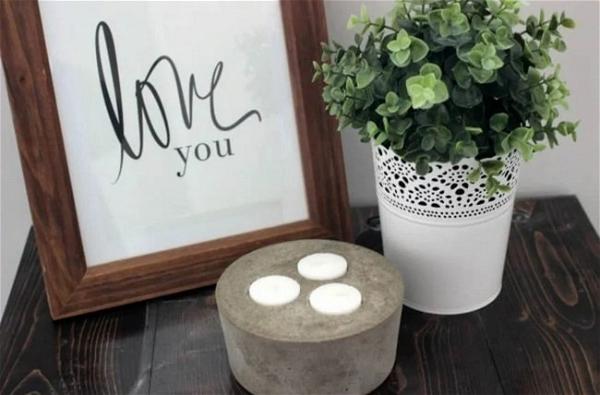 Christmas Township Candle Jar: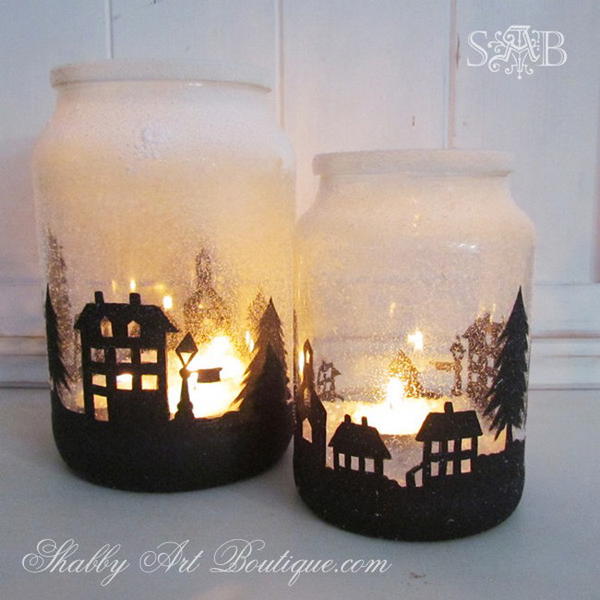 The Rock Candle Holder:
DIY Stained Glass Votive Holder:
Whether you're looking for a quick DIY project, have a wedding or other event coming up, or are just looking to add some life to your home decor. This stained glass votive holder will do just that. Made out of an inexpensive vase, simple tissue paper, and Modge Podge. It's easy and relatively quick to make and can be altered in many different ways (like the picture above) super simple and cheap, but your friends and family will think you spent tons on it!
$2 DIY Candle Holders: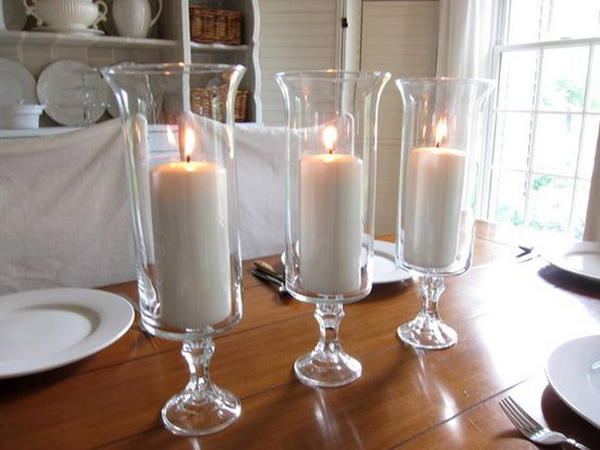 Recycled Can Tea Light Holders: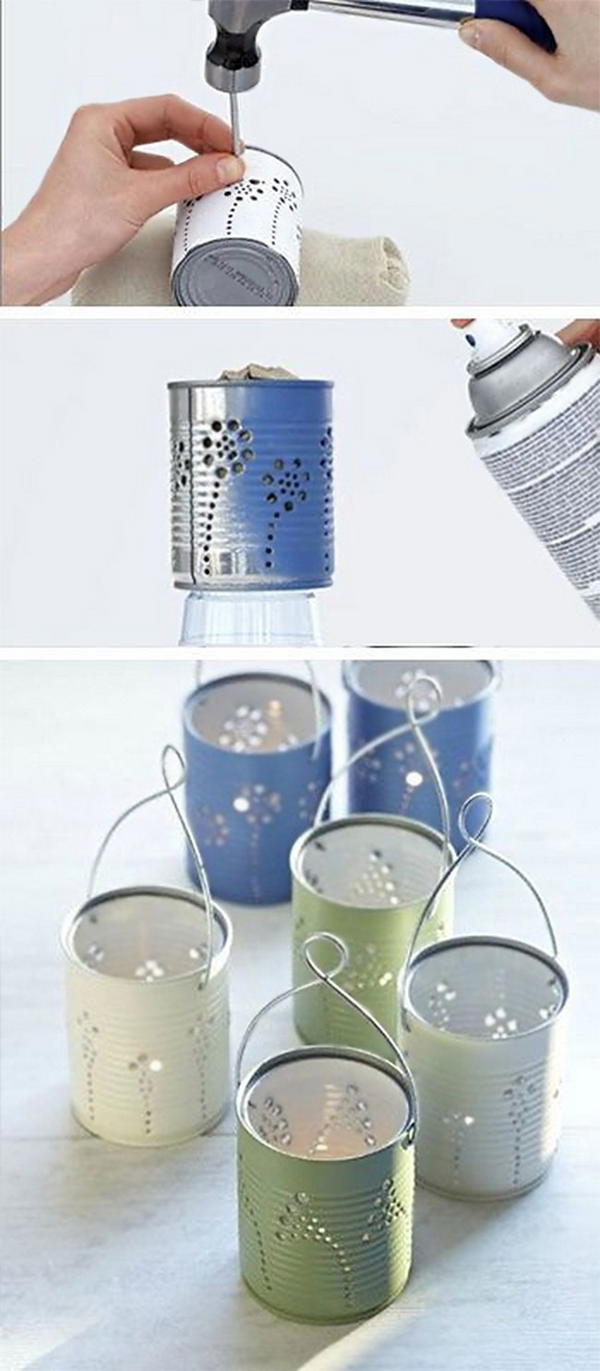 Recycled can tea light holders are a perfect way to recycle old tin cans. Try different shapes and decorative designs on the side of your cans, then spray paint to get your desired look. From there, add the tea light using the same technique that you do with glass cups. Add handles or ropes to hang your cans from ceilings, or lean them against bookshelves or tables. You can also spray paint words onto the cans for unique wedding centerpieces. It will be a superb DIY decoration piece, and you'll surely admire it.
Large Driftwood Candle Holder:
When it comes to decorating in a beach house, one of the hardest things is finding the right combination of rustic and modern. Sure there are wicker baskets everywhere, but you can find those anywhere. One of the easiest ways to achieve that look while being more economical is to use driftwood that you have found on your walks on the beach. Drill holes along with the wood deep enough to hold a lighted tea light. Then place them around your space.
Christmas Wine Glass Candle Holders:
Outdoor Candle Holder:
You know those cans of Tuna you always forget to throw out? Now you have a use for them. This is an easy outdoor project that looks nice. Just clean the tuna can, paint it, cut the bottom out with tin snips, and insert it onto a paint stick. The cardboard will help keep the tuna can in place. Then add a hurricane globe filled with sand and a candle. You can buy Tuna for under $2 at your local grocery store, making this frugal outdoor candle holder extra cheap!
Votive Candle Holder: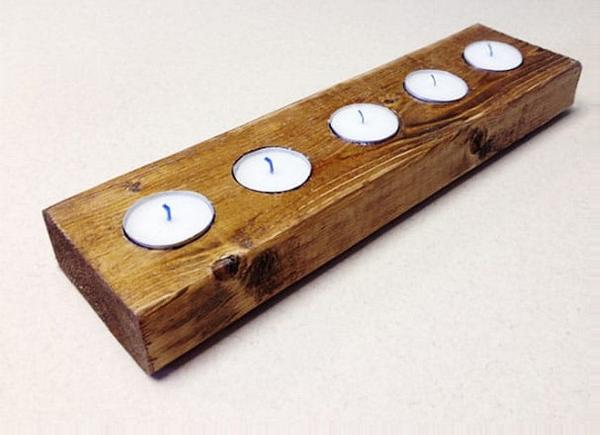 Scrap wood that you never use again can be put to good use by creating this beautiful votive candle holder. By drilling holes into the small blocks of scrap wood, you can easily add candles and bring more light to any area. It's a great way to use up some of the unsightly wood scraps sitting around your workshop, and if you stain the wood beforehand, you can have a piece that looks much more finished. You can use this simple project as an easy way to bring a festive vibe to your home. The scrap wood used in the examples can be painted or stained to give it a more impressive look. By drilling the holes into the material before adding the candles, you can be sure that they will be safe enough for your decor.
Taper Candle Holder: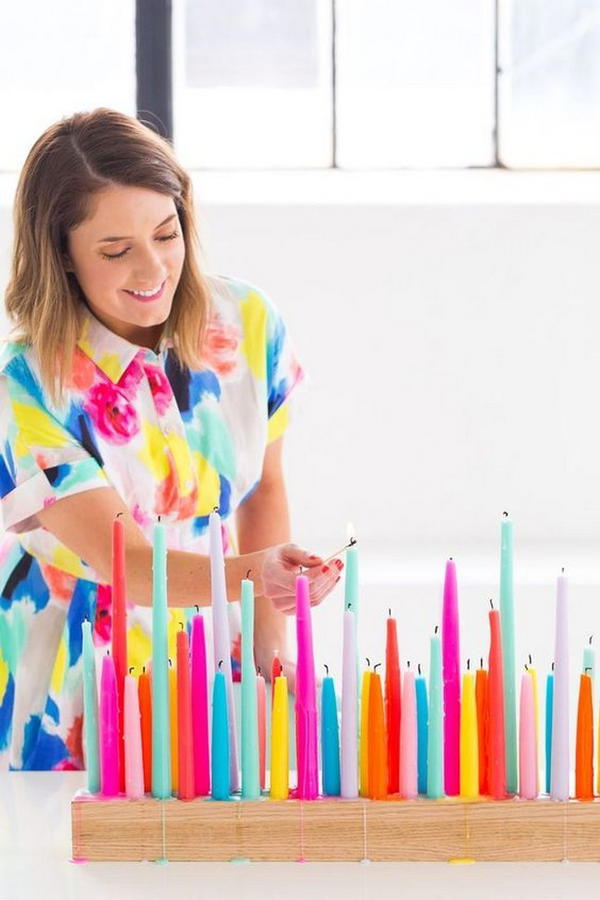 These amazing pieces are Perfect party decorations, or for everyday decor, the given taper candle holders are practical and easy to make. It takes nothing more than a piece of wood (such as oak, but you can experiment with different types), drill & bit, tapers, lace, and beeswax to create your own beautifully unique taper candleholder! They work great by themselves or in groups to create a display. It's simple to make one yourself; you need to know-how. Below are the steps needed to make your taper candle holder.
Snow Covered Mason Jar Candle Holder: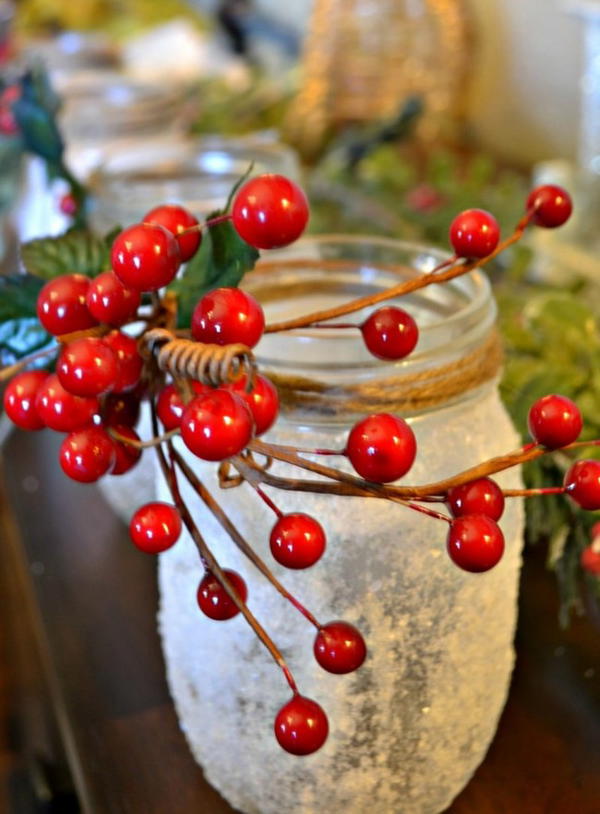 Make this cute snow-covered mason jar candle holder decorate your house over the holidays. It's perfect for those cold winter nights. All you need is a regular mason jar, a hot glue gun, a bag of Epsom salt, and a few other items. The hardest part is remembering to let the jar dry overnight before lighting the candle! This works for people who prefer a rustic or country home. You can make your pretty centerpiece with this easy DIY project; it will be a decent beautifying piece for your home décor, and you'll surely admire it.
The Fork Candle Holder:
The Fork Candle Holder is perfect for weddings, birthday parties, and other special occasions where you want to add an extra touch of flair to your table setting. Its simple design makes it a fun way to decorate and create the candle centerpiece that will be a talking point for your guests. The included forks can be bent into different configurations to hold candles of different sizes. Constructed of durable, food-safe metal, The Fork Candle Holder will add texture to any gathering.
The Saucer and Teacup Candle Holder: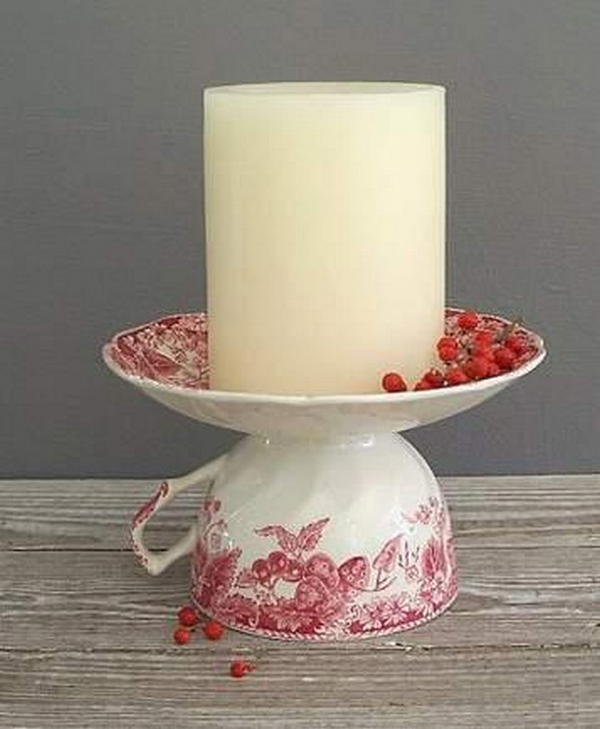 With this quick and easy project, you can create a rustic, vintage-looking candle holder that will surely impress your guest at the next party you host. All you have to do is glue saucers to the bottoms of old teacups. Use the saucers as the base for the candle. It's a simple DIY project that can be completed in less than a day. Creativity is bursting from this candleholder. A fun way to use old teacups is to glue a teacup and saucer together, then place a candle in them side by side. You can put them on a plate or make a plate out of the cup and saucer. This will make a "sweet" gift for any birthday party or wedding shower!
Rustic Wood Candle Holder: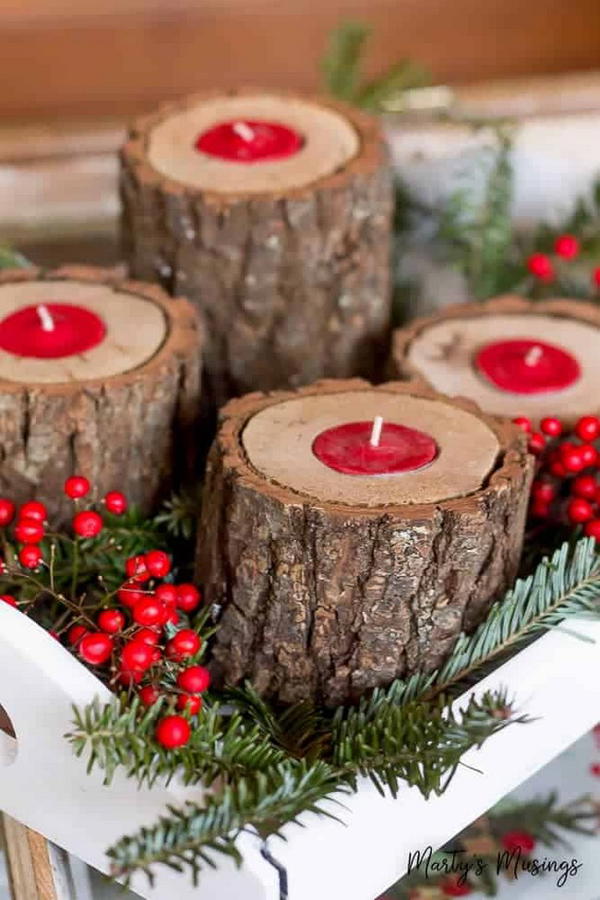 The saucer and cup candle holder can be made from your favorite teacups that no longer accompany dinnerware. You glue the saucer to the bottom of the teacup at each base. Turn the teacup on its top and use the saucer as the support for your candle. With this quick and easy project, you can create a rustic, vintage-looking candle holder that will surely impress your guest at the next party you host.