If you're looking for the perfect place to curl up with a good book, take a nap, or hang out, consider adding a window seat. It's an excellent way to use extra nooks and spaces in your home. Whether your bedroom is small or large, you can always find room for a window seat; if you're lucky, you might even have space for more than one! Check out these 15 ideas to get you started. Whether you're looking for a tiny spot to tuck away some shoes and books or an ample space for stretching out and relaxing, these DIY tutorials will help you build the perfect window seat for your home. With the help of some simple window seat projects, you can quickly turn any area with a view into a cozy window seat.
DIY Window Seat Ideas

The window seat is a common feature in many homes, and for a good reason, it's a great place to curl up with a book or to use as extra seating when you're hosting a party. Most people already have a window seat but don't appreciate its full potential. You can use a window seat for all sorts of things, and it can be used for extra seating, storage, or simply as a quiet reading nook. Either way, you want the look to be stylish and practical. What better way to do that than DIY? Today we're going to show you 15 easy projects that will quickly turn any window seat into a stylish and useful area just waiting for your touch.
Benefits Of DIY Window Seat Ideas
Our window seat ideas are a great way to take advantage of the space directly in front of a window. You can use them for additional seating or storage; they look great when decorated. The options are endless: you can add shelves, paint it any color you like, or even add a cushion to make it more comfortable. They're also a great way to decorate and add character to your home, no matter what style. When bored with your bedroom, a window seat can be the latest in stylish decor. Light, airy and cozy, it's a versatile piece of furniture that provides storage for extra blankets or DIY pillows and a place to rest or read.
They're easy to make, mainly if you use a kit or pre-made materials.
They were cheap! If you don't have any tools, then they're even cheaper!
You can customize them in any way you want, making them fit perfectly into your home and giving it a unique look that no one else has.
DIY Window Bench Seat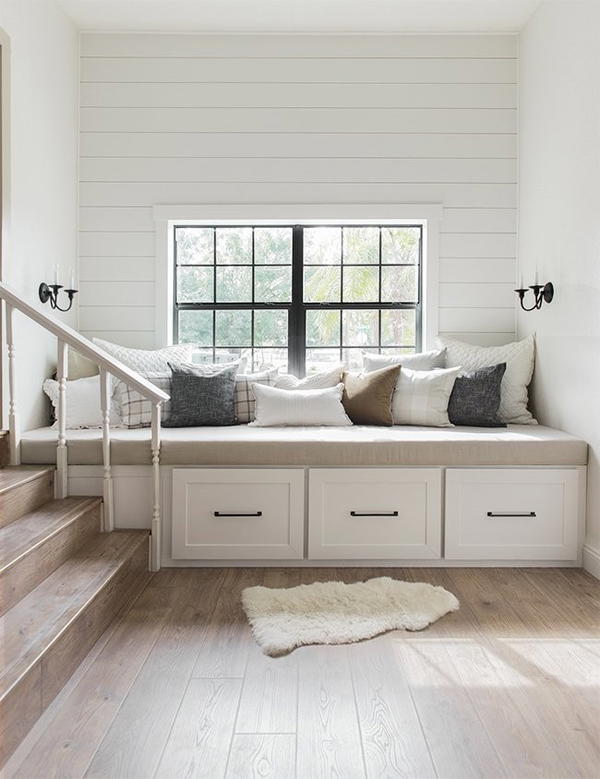 Looking to add some bench seating to your home? This DIY Window Seat project is clever, low-cost, and easy to build. Whether you're looking for a window seat in your bedroom, kitchen, or living room, this design can be adapted to fit any nook in your home. Make a window bench seat with a DIY window bench seat. You need plywood, foam, and fabric to create a cozy spot perfect for reading a book or watching the sunrise.
DIY Modern Window Seat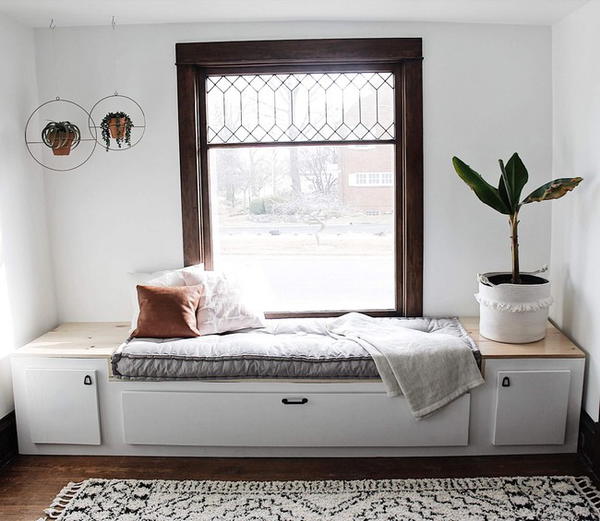 Transform your space with a DIY modern window seat. This project is simple to make and will greatly impact your home. A window seat is perfect for adding a cozy spot to your home. Plus, it makes for a great project for a DIY newbie! This simple tutorial will show you how to create your custom window seat in no time. It's the perfect place to curl up with a good book or relax and watch the world go by. You'll love having guests over and letting the light through your freshly built window seat!
DIY Upholstered Window Seat
Turn plain, boring windows into cozy seats in just a few easy steps. This DIY Upholstered Window Seat project features a beautiful natural wood frame and comes in exactly the right size to fit your windows. And the best part? It's super affordable! Using plywood and oak veneer, you can create a custom window seat with cushions in any style or color. The window seat boxes are easy to build and add a decorative touch for the perfect fit in any living room or bedroom.
You can also see: Creative DIY Window Box Plans
DIY Window Seat With Storage Out Of Ikea Cabinets
What a perfect window seat for a little one! The storage below is great for toys, and the cushions can be changed to fit your child's liking. You'll love the pop of color that this DIY project adds to any room of the house! This DIY window seat with storage is one of my favorite projects. It can be used as a bench, a place to sit and get dressed, or even a small table in a bedroom. This is a great project to use the Ikea cabinets you already have! If you don't already own any, get them! They are a perfect size and super versatile!
DIY Bench Seat Reveal
Get ready to fall in love with this DIY Window Seat Bench Reveal! This is the perfect project to transform your home. You'll learn to create a place to relax and read, enjoy an afternoon snack, or keep your favorite sun-filled spot cozy and warm. With lots of natural light coming in through the window seat's large, multi-paned windows, it will be one of your favorite places in your house. This DIY Window Bench Seat is one of those projects that takes no time to make but is so useful and pretty to boot.
Build A Window Seat With Storage
A window seat is an amazing way to increase storage and function in any room. This DIY Window Seat with storage features a built-in storage option to house your favorite things neatly. Build this awesome project with help from a professional handyman, and cover up your cuts with filler compound before painting your projects. This DIY window seat tutorial shows you how to build a window seat with storage from scratch and make it more functional with the help of some plywood, insulation, and fabric.
How To Build A Window Seat
This window seat is perfect for taking a nap, reading a book, and curling up with a mug of hot chocolate. Learn how to build your own with this step-by-step guide. The window seat is one of the most pleasurable areas to hang out in a home. Not only can it serve as a place to sit, but it can also double as a storage spot for newspapers or extra bedding and pillows. Look no further than this DIY window seat for those looking for an easy way to find extra seating space in the living room or primary bedroom.
DIY Window Seat From A Kitchen Cabinet
Looking for a unique way to expand your home with a window seat? This project uses a cheaper alternative to the old-fashioned wooden window seat, transforming poplar upholstery-grade plywood into an attractive and functional built-in window seat that you can paint or stain. The finishing touches include custom cushions, built-in lighting, and a storage shelf. This Window Seat Tutorial will show you how to build a simple window seat from a kitchen cabinet. You can make one for your home in just a weekend!
DIY Built-In Bookcases Cabinets & Window Bench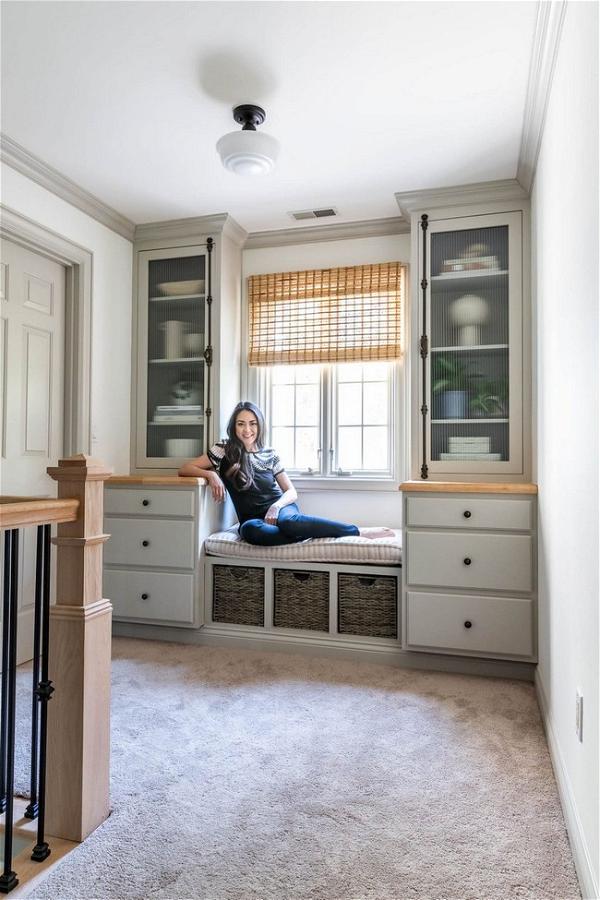 Wow! It's not just one but two built-in bookcases and a window bench. Have you ever wanted a charming little reading nook in your home? You can do it with minimal tools and a weekend! DIY Built-In Bookcases, Cabinets, And Window Benches. This classic window seat project is the perfect space for curling up with a good book or reading to your kids. Build this DIY window bench for a comfy built-in window seat and ready to go.
DIY Window Seat
This DIY window seat makes a great place for watching birds, napping in the sun, or just soaking up the morning sunlight. With a few simple tools and a little help from friends, you can build one of these sweet windows for yourself. Add a beautiful, functional piece to your home with our DIY Window Seat. By sawing the boards yourself, you can personalize the look of this project and make it fit into your space perfectly. With a few power tools and lumber, you can build your window seat in no time!
Easy DIY Window Bench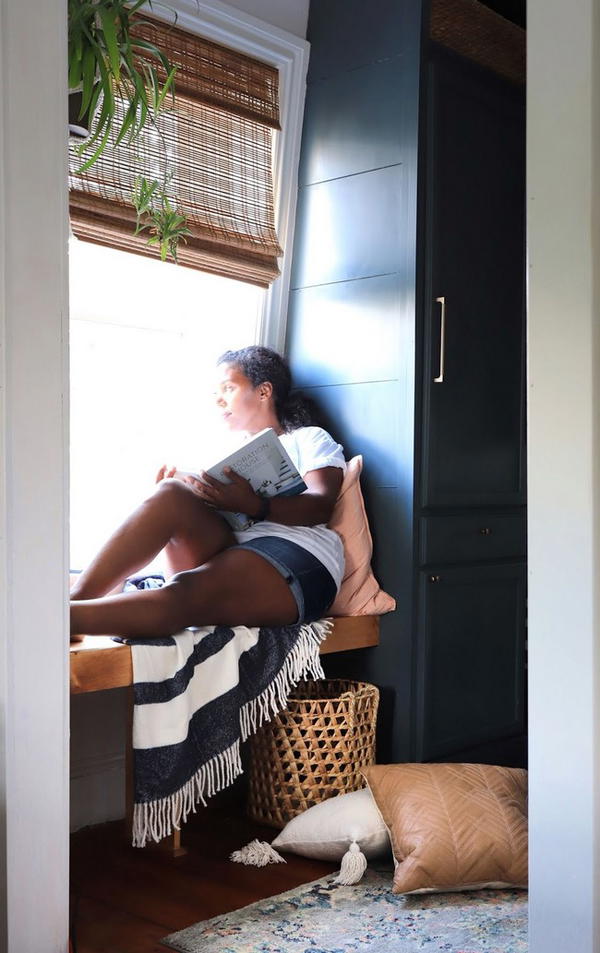 Transforming a small window into a storage-filled accent is a cinch with our easy DIY window bench. The minimalist style maximizes storage space while maximizing views and allowing natural sunlight. Whether looking for a spot to curl up with a book or a place to put your feet up, this DIY Window Bench makes the perfect addition to any room. Its simple yet charming design adds a touch of rustic charm anywhere in your home, while its easy construction makes this project one even beginners can tackle.
How To Build A Window Seat And Built-In Bookcase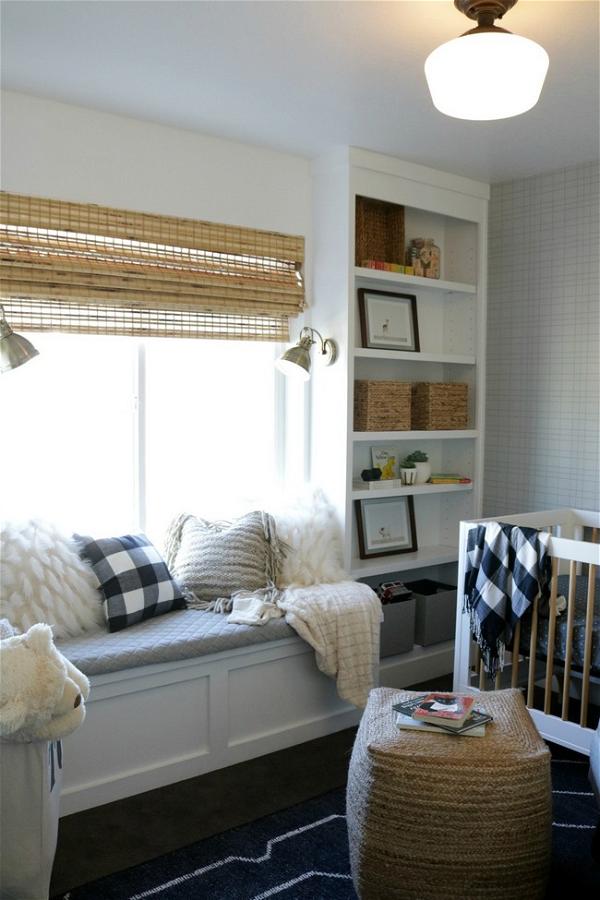 Your own window seat can be a surprisingly easy project if you have room, patience, and basic tools. Whether adding storage or just finding a place to sit down, this DIY tutorial will walk you through the process step by step. Creating this window seat is a great way to add style and functionality to your home. They add style to any room and are perfect for reading or relaxing. If you have an empty wall in your living room or primary bedroom, this project will help you create the perfect place to sit back and relax.
How To Make A No-Sew Bench Seat Cushion
This DIY Window Seat project is easy to make and requires no special skills or tools. Make the bench seat yourself in about an hour for only about $10. Whether you have an unfinished basement or a bedroom with more seating, this bench cushion is a great way to add personalized storage while creating a comfortable place to hang out with friends, family, or just by yourself. This simple DIY project takes less than 15 minutes and doesn't require any sewing!
How To Make A Tufted French Mattress
Here's an idea to make your window seat stand out from the crowd. The tufted French mattress bed is both fashionable and functional. It creates a comfortable place to sit, relax, read, or catch some z's. If you're looking for an easy Do-It-Yourself project that doesn't require a lot of heavy construction, then this one is for you! Add comfort to any space by adding a tufted mattress. It's easy, too - use this simple tutorial to create the perfect seat in your bedroom or living room.
How To Build A Window Seat With Hidden Storage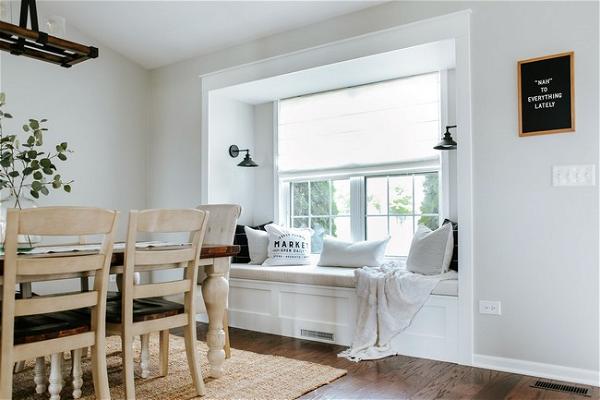 This window seat is a great way to add more seating and storage to your home. Your DIY window seat can have a smooth surface, and casters for mobility. It will be easy access to underneath storage or even a cushion with hidden storage. This project will take you several hours of hard labor. The entire project costs $400 or less, depending on how fancy you want to get with features like casters and other features like cushions with hidden storage! This DIY project draws from classic architecture with a modern twist. It can work out of any material, with hidden storage underneath for extra floor space.
See Other Projects