Pillows are not just decorative items; they can also be used to make your bed or sofa look more attractive. Pillows can also be a great decoration, but you can also make them look more attractive by adding fun and new elements. You can use clothes and buttons, sew some patchwork on top of the pillow, or even sew small toys. If you want to give your pillow a new look, here are some DIY Pillows Ideas to make your pillows look more creative and unique.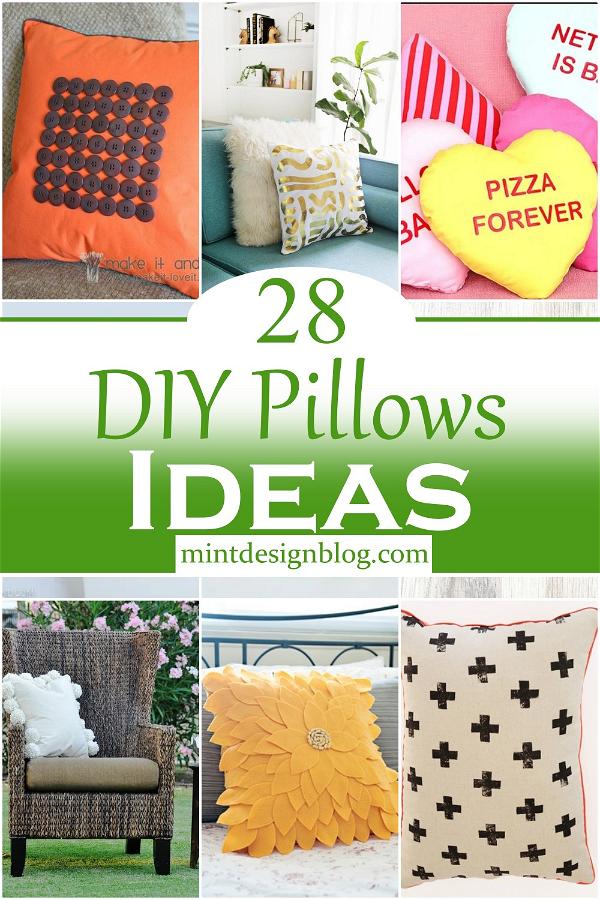 Pillows are one of the easiest and most cost-effective ways to add personality and style to your space when it comes to home decor. We've got you covered whether you're looking for DIY pillow ideas for a new living room or bedroom! From handmade pillows that are perfect for hiding stains to fancy silk fabric ones that will give your home office an upgrade, below are the top DIY pillow ideas for you!
Make your own fun and quirky pillows for the best price possible! Here are 28 DIY Pillows Ideas so you can find the perfect one to spruce up your home
You Can See: 23 DIY Homemade Quilt Ideas
DIY Gold Foil Pillow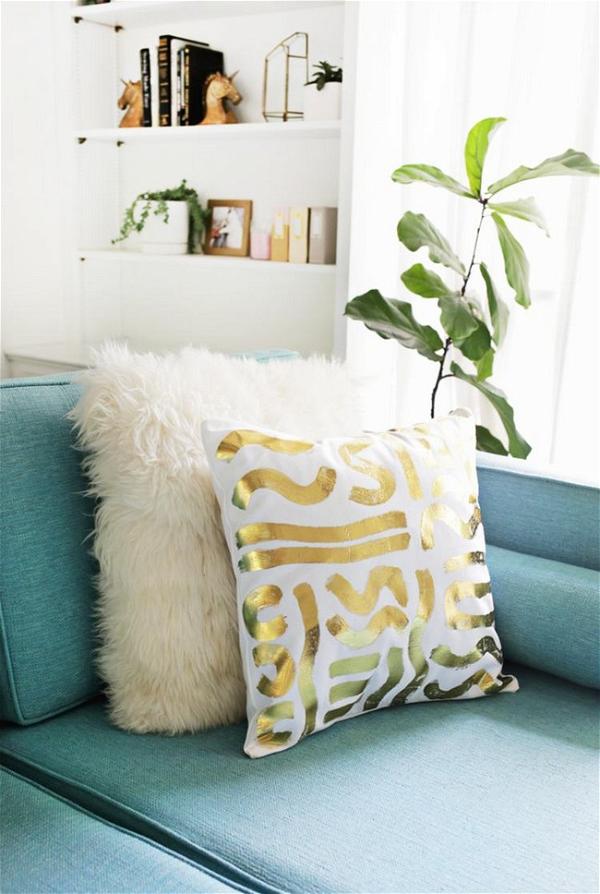 This DIY gold foil pillow is a fresh take on holiday pillows. It's an elegant addition to any room that looks fantastic with holiday reds and greens but can also be used all year round. With gold foil wrapping paper and our DIY pillow project, you can create something easy on your wallet and easy on the eyes! Sewing this gold foil pillow is a great way to change your decor for the holiday season. It's easy to do and can be customized for any year.
DIY Mondo Pom Pom Pillow
You'll love the soft and cozy texture, which will look great in any space. Create a statement piece that is your own. You can make this pom pillow yourself in less than an hour and save money! The instructions are simple and easy to follow, making this DIY project doable for any beginner. Plus, it's so much cheaper than what you'd pay at a store for materials.
MATERIALS
2 skeins of super bulky yarn (I used Lion brand)
¾ yard duck canvas
18" square pillow form
Sewing machine and supplies
DIY Pillow Tutorial Pattern
This DIY pillow tutorial pattern is designed for beginners who want to get into sewing. You'll be able to give your pillows an exciting look by using up the fabric scraps you have lying around. Making the pad involves cutting out a burlap rose and sewing the fabric together. The making process is relatively easy to follow, and most people should have no problems making their version of this attractive and designed pillow.
DIY Peacock Pillow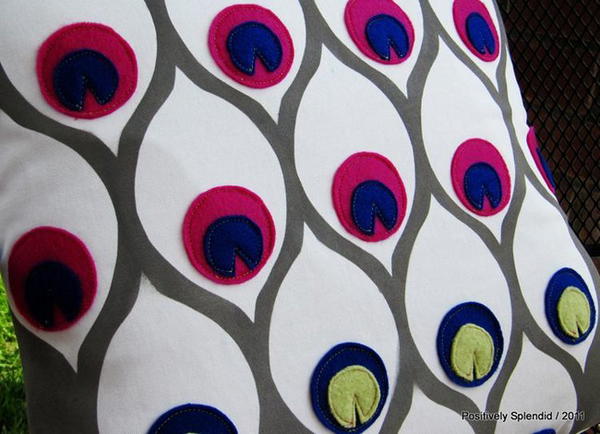 DIY Peacock Pillow is an easy-to-follow tutorial that teaches you how to make a pretty and colorful pillow with peacock designs. It is versatile, and the method can change quickly to suit your taste. This pillow makes a great gift idea for someone who loves peacocks. You will need only one pillow form, twill fabric, and felt for the feathers. Nothing can be easier than that. It's such a gorgeous design that it fits into any room's décor.
DIY Large Floor Pillow
This DIY floor pillow is easy to make and all the materials needed are easy to find. If you are looking for something unique for your home, then this is it. You will be surprised at how well it looks in your living room or any other area in your house. To make this large floor pillow, you will need a massive piece of fabric and filling. The making process is simple but time-consuming. It could take a few hours or more, depending on your sewing skills. You may also choose to purchase batting or foam as an alternative to using solid fabrics and fibers.
DIY Throw Pillows
If you want to add a little bit of your personality to your home decor, this DIY throw pillow is an option. The fantastic thing about this DIY project is that the design seems pretty straightforward, but the result looks lovely! Watch this video for step-by-step instructions on making a DIY throw pillow with a decorative bullseye design. The creator explains in detail, so you can do the same and create your version.
How To Sew A Throw Pillow
Sewing a throw pillow is not too difficult of a task to complete, but it is helpful to have a guide if you are brand new to the process. In this tutorial, the creator takes you to step by step through the process. From cutting out your fabric and board for your cover to creating a pillow form inside of it and sewing up the sides, this guide will have you feeling comfortable with making pillows in no time!
DIY Anthropologie Pillows
No-sew, no-fuss pillows are a severe winter life hack. This easy sewing project is perfect if you're looking for new couch decor or throw pillow ideas. It's one of those jobs you can knock out in less than an hour. Of course, you'll need the supplies, which are restricted to two pieces of fabric and some leftover stuffing from previous projects. These DIY pillows are easy and fast to make and will look almost exactly like Anthropologie's but at a fraction of the cost.
DIY Hearts Pillow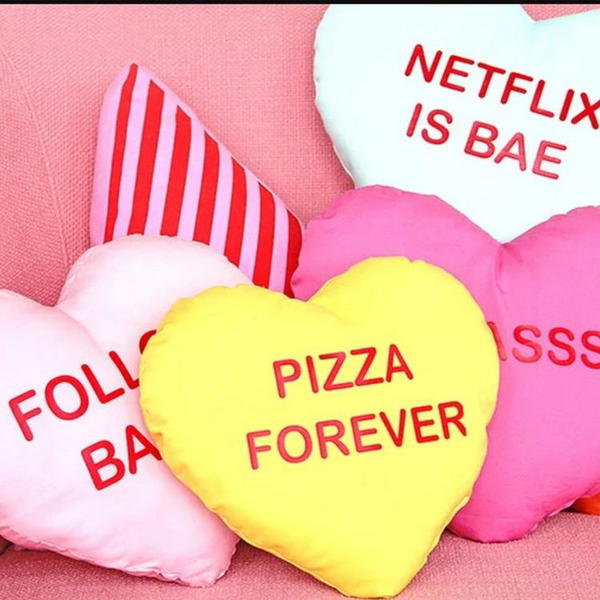 This DIY Hearts Pillow will be a heart-warming addition to your home décor. The pillows are easy to make and perfect for adding a cozy touch to any room. Trace out a heart template on cardstock, cut out your fabric, and sew it together. Add your stuffing, then use iron-on letters or machine embroidery to create beautiful messages for decoration. It's a fun and easy sewing project that even beginners can make! This guide shows you the complete procedure.
DIY Buttons Pillow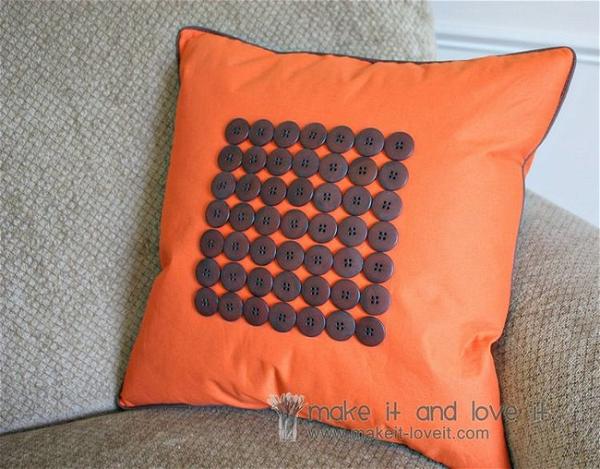 A DIY pillow can be perfect for adding a new bit of color to your home. Buttons are a fantastic decoration for any project and an easy way to mix and match patterns and colors. This is an excellent project for beginners; all you need is an old pillow from around the house or a store-bought pillowcase and some buttons. This DIY project is an easy way to find the perfect fabric, put your own buttons on it to match your decor, and then make a pillow. Click the link below to see how this was done.
DIY Sunflower Pillow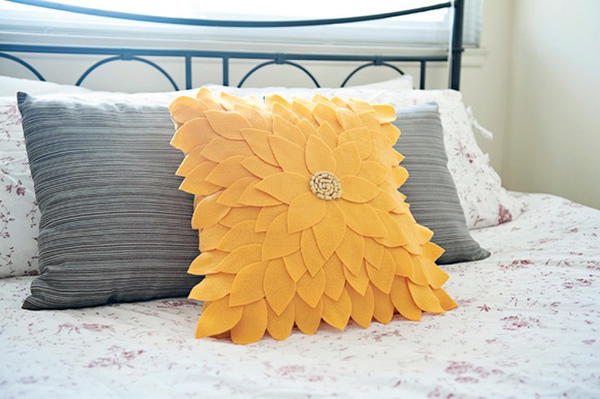 Sunflower pillows are not just gorgeous but so versatile and comfortable. This project will guide you through the process of creating your sunflower pillow from start to finish. The entire front of this pillow is made with felt petals that you cut out yourself. It's easy to assemble, won't take too long to make, and is a fun project! Create this DIY Sunflower Pillow to add a pop of color and a charming accent piece to your living room or bed. Best of all, it's easy to make and inexpensive!
DIY Throw Pillow African
Do you love African fabric and culture? Here's a simple opportunity to add a touch of Africa to your home by creating this DIY throw pillow. Using African fabric as the primary material, you will also find that this project is super easy. You can finish it within an hour or two, so why not try it out today? With this simple tutorial, you'll be able to generate your own African-inspired pillows using the same technique. Includes easy-to-follow steps and illustrations, plus tips on making these work for your home or as gifts.
How To Sew A Pillow
This DIY project is for people who have a sewing machine at home and know how to use it properly. The making process is relatively easy to follow. You will be able to have your own handmade pillow ready in no time, using items that you might already have lying around your home. This is a tutorial on how to sew a pillow. You can do this easily at home, and you will get a good quality pillow out of the process. Watch this video to see how it's done, step-by-step.
DIY Throw Pillows
Throw pillows aren't just for your bed. Add them to your sofa or couch, use them as decorative pieces in a room, or give them to someone as a birthday gift. No matter how you use throw pillows, they are a must-have accessory. This is the perfect DIY project to add flair to your room. In no time, you'll have an excellent variety of new pillows, just like these! Here's how to DIY some throw pillows without using a sewing machine. Watch the video above.
How To Make A Pillow
Making a pillow is an easy and creative way to decorate your home, especially if you do not have enough money or time for expensive purchases. The materials for this project are available in the house: two old towels or T-shirts, buttons, elastic bands, and an ironing board. Even if you are not very crafty, you will be able to make your own personalized pillow. This video shows you the complete step-by-step instructions and follow-up steps.
DIY Pouf Pillows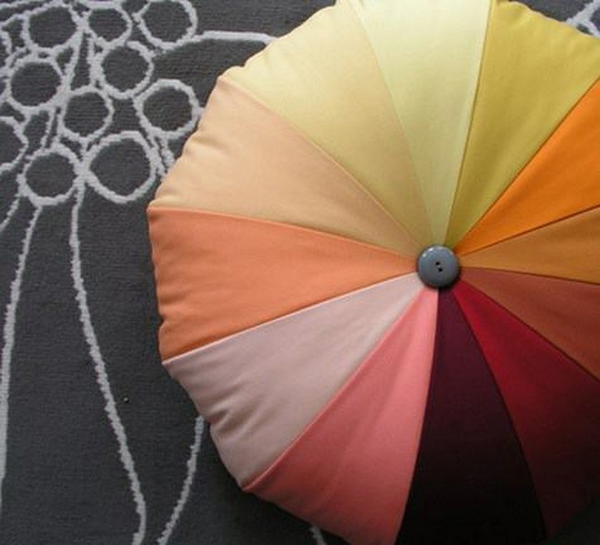 Who doesn't love a good pouf?! They are so versatile and straightforward to make. The best part is that they're cheap and easy to make! You can have your DIY pouf pillow if you have fabric, pillow filling, and an hour to spare. This tutorial shows you all you need to know about making these. This project is an affordable way to decorate your home or make a gift for a friend or family member.
DIY Rustic Pillow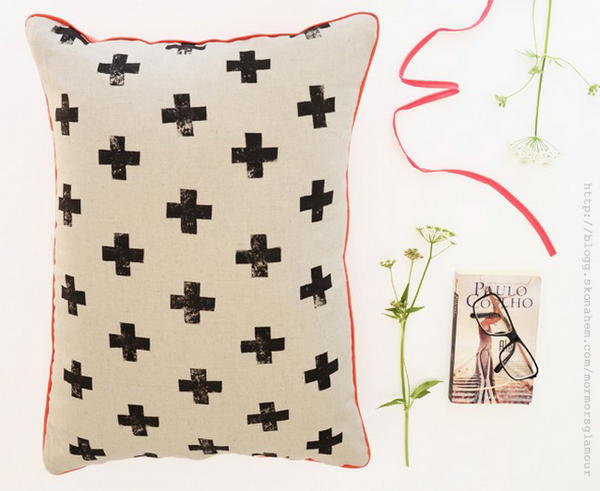 If you are looking for a DIY project that's affordable and easy to make, these rustic pillows will be perfect. Whether your house is full of earthy colors or the walls are painted with warm shades, these pillows will make your home look unique. They can be made in just a few hours, and the materials used don't cost much. The tutorial for this project is easy to follow, so anyone can make these pillows by following the instructions provided.
DIY Sprocket Pillow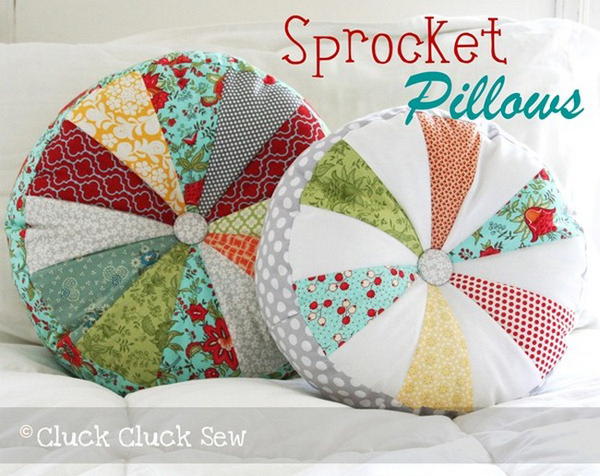 This DIY Sprocket Pillow is a fun project that involves minimal sewing. Instead of cutting fabric, you're simply printing out designs and assembling them on a pillow form. It's a great way to be creative with your sewing skills, and it's also a fantastic gift idea for anyone who loves sprockets. It is a perfect gift for any occasion - birthdays, holidays, housewarmings - and they're great conversation starters! And they are so easy to make; you can finish one in an evening or two or three if you're going for a complete set.
DIY Sweater Pillow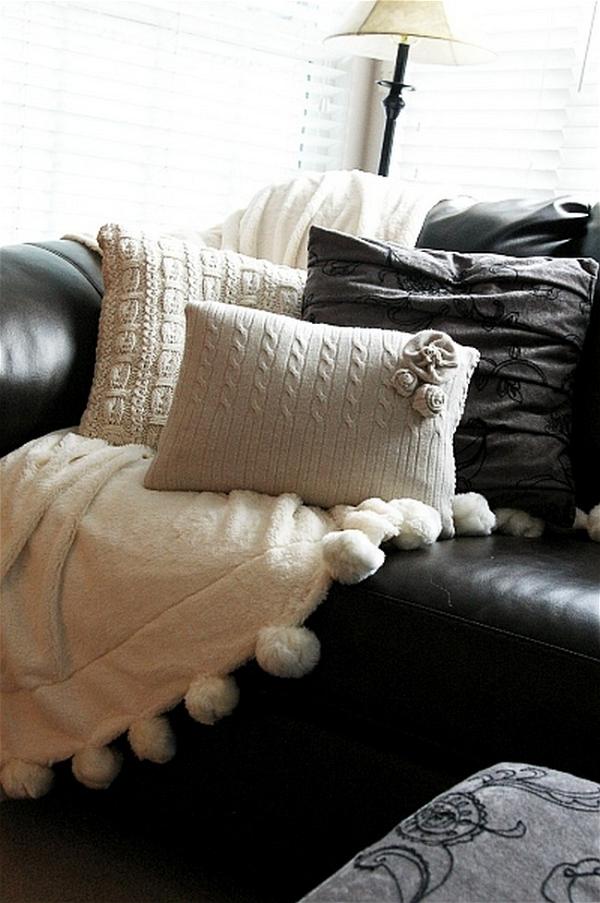 A great DIY project for the whole family. The pillow is made from an old sweater. You'll also need a sewing machine and stuffing materials. These pillows are an easy way to use a material that would otherwise be thrown out or recycled into something new, they're soft and comfortable to use on any couch or chair, and they make your home look like art that is constantly changing. It's easy to do and costs nothing but time.
DIY Throw Pillow With Zipper
Keep your head nice and cozy on the couch with these easy-to-make DIY Throw Pillows. With a zipper closure and corded sides, you can change out the cover when you want a change of color or texture. The entire pillow will be made from basic sewing skills, and its simple shape makes it easy to sew. Grab some fabric and start. This fun craft is the perfect way to brighten up the room and make it more personal while saving money at the same time. Great for gift-giving, too!
How To Make A Baby Pillow
A well-made baby pillow is the best way to ensure a good night's sleep for your little one. Babies don't know how to properly support the neck and head, which leaves them prone to pain, fussy behavior, and even ear infections. By making your baby pillow, you can create an effective tool that will help support the baby's heads while they sleep. This DIY tutorial will show you how it is done. You'll have to decide which fabric you want to use for the pillow, but please choose a baby-ish color.
DIY Huge Floor Pillow
This floor pillow is the perfect DIY project to make if you are looking for a challenge and want to learn how to sew. The tutorial is well-made, detailed, and easy to follow. Also, at the end of the tutorial, you will get a great idea of what you can use this big floor pillow for. You can use it as a comfy place to sit and relax, take a quick nap when you're tired from being out all day, or even play games with your friends and family!
DIY Tuxedo Pillow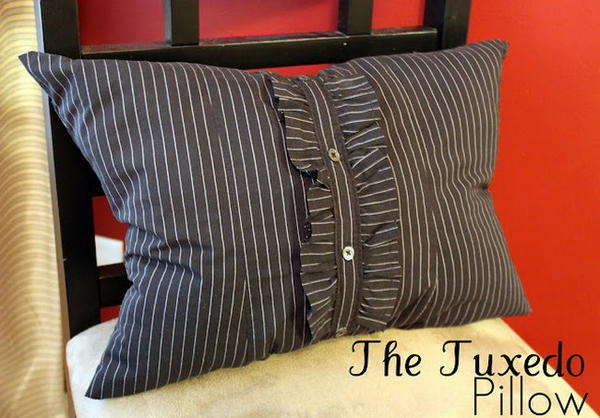 Why not turn it into a decorative pillow if you have an old shirt? This DIY Tuxedo Pillow is open to your creativity and is excellent for a man's room or a guest bedroom. The best part is that you don't need any sewing experience; follow these easy steps. It would help if you had an old shirt, scissors, and some lace or ribbon. Measuring the finished size of your pillow will depend on the size of the shirt you use. Then create a pillowcase that will turn heads no matter where you place it!
DIY Spray Painted Wheat Pillows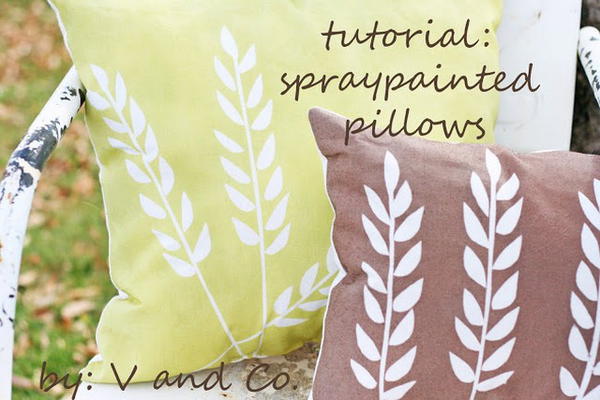 These spray-painted wheat pillows are a great way to give new life to old pillows. They take only minutes to make and look terrific on their own or as accents on existing decor pieces. Make your templates from freezer paper and then spray paint muslin fabric with the design. You can alter many of these designs to your liking, such as changing the size, shape, and color. A great way to create rustic home decor that doesn't cost much money
DIY Cross Stitch Pillow That Makes Me Happy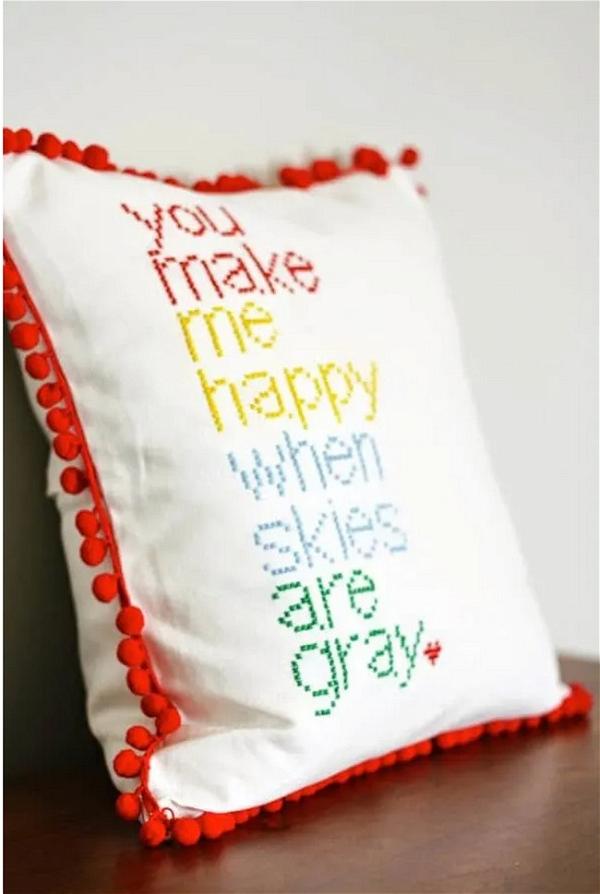 This cross-stitch pillow is a simple project perfect for any skill level. Perfect for beginners who want to learn embroidery or anyone who wants to add a little flair to their décor with a quick project, this pillow will make you happy whenever you see it! All you need is fabric, your favorite embroidery thread colors, and anything else you might want to add, like ribbon, buttons, or shapes cut from felt.
DIY No Sew Bow Pillow Covers Two Ways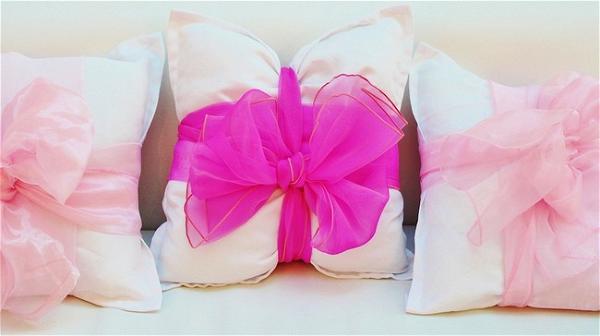 Everyone loves a nice, soft pillow to rest their weary heads at night. But sometimes, the pads you have don't fit your mood at the moment. Pillow covers are also a great way to add joy and color to your rooms. But if you're not into sewing, this is an excellent craft project for you! It's quick, easy, and best of all; you don't have to sew! That's right – This is the way to create no-sew pillow covers that will make your place feel cozy, fun, and beautiful all at the same time.
DIY No-Sew Valentine LOVE Pillow Cover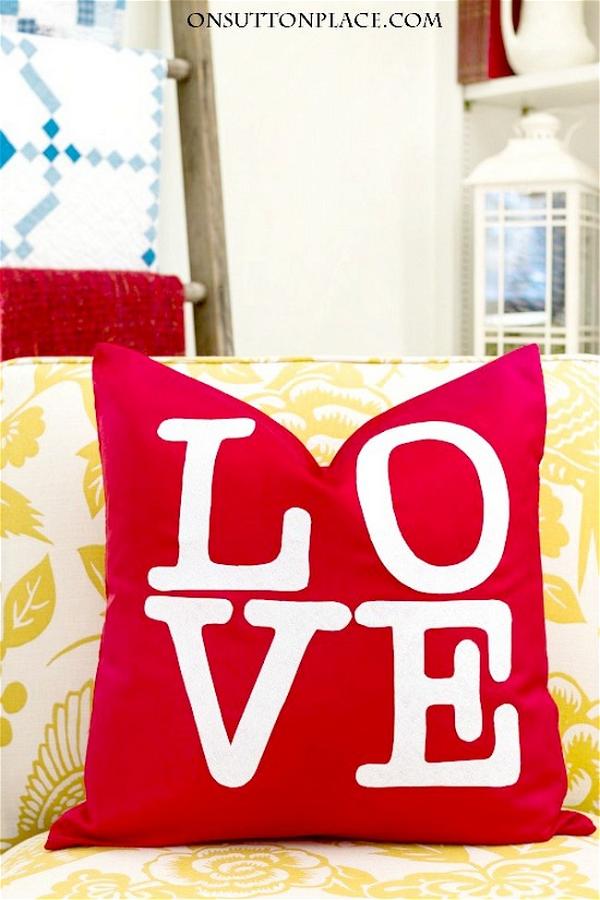 This Valentine's Day, Why buy an expensive Valentine pillow when you can make your own inexpensively and quickly? Make your pillow cover with no sewing required. You can create a fun and personal Valentine's Day gift for someone special. This tutorial will show you how to make a cute, heart-shaped pillow cover from fabric. Easy to sew and can be made in just minutes, this project is perfect for beginners. The best part? You'll only need two simple supplies, meaning that you can save money making it at home!