You can make some of the most comfortable and decorative pieces of crochet with the help of these free crochet pillow patterns. Crochet pillows are easy to make and can be made in any size and color. You can make them in various shapes like squares, rounds, triangles, etc. You can use various stitches to make these crochet pillows. Stitches like filet, popcorn, bobble, cluster, and many more give you a great texture and beautiful looks for your crochet pillows. These free crochet pillow patterns will help you make unique patterns for all your needs. They can be used for home décor, gifts for your loved ones, and many more. Make them with different colors and shapes to give your living room or bedroom a new look.
Crochet Pillow Patterns

Add a splash of color to your couch or bed with these free crochet pillow patterns. They are fun and easy to make, and if you have a little crochet experience, these pillows will take no time at all. This collection of 20 free crochet pillow patterns is just what you need to get ready for fall. Whether you want to bring fall colors into your home, or you're looking for free crochet patterns for pillows that use luxury yarn, we have plenty of options for you.
Find 20 free crochet pillow patterns that are sure to bring a pop of color and personality to your living space in this list of free patterns.
Stitches Used
In this article, you will find 20 free crochet pillow patterns. There are several different types of stitches used in these patterns:
Chain stitch
Single crochet stitch
Double crochet stitch
Half double crochet stitch
Treble crochet stitch
Slip stitch.
In addition to some basic crochet stitches, there are also a few advanced stitches like popcorn, bobble pillows, and spikes. Some pillows also feature simple embroidery or applique designs that can easily be added on after making the base pillow.
Mosaic Triangles Pillow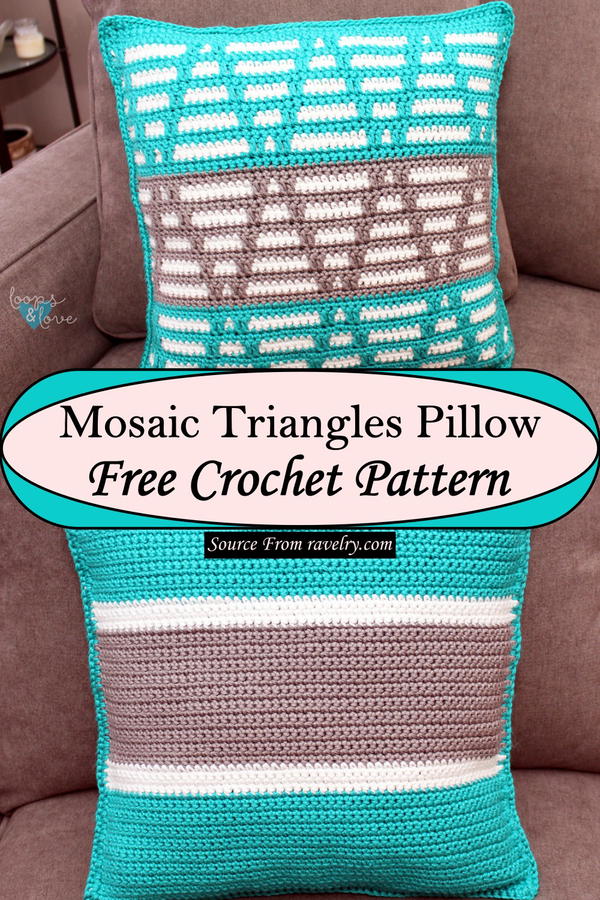 Add some fun crochet geometry to your sofa or bolster this bold pillow. The "Mosaic Triangles" crochet pillow is a fun project that works up in just a couple of hours. This pillow is perfect for any home décor or nursery décor. Whether you want to use it as a floor pillow, throw pillow on the couch, or accent pillow on your bed, this crochet pillow will make a perfect addition to your home. The placement of stitches makes it look like it is a mosaic design in the shape of triangles. Crochet this pullover striped sweater for yourself or give it to someone as a gift!
Knit Picks Shine Worsted
4.0 mm (G)
Flower Power Pillow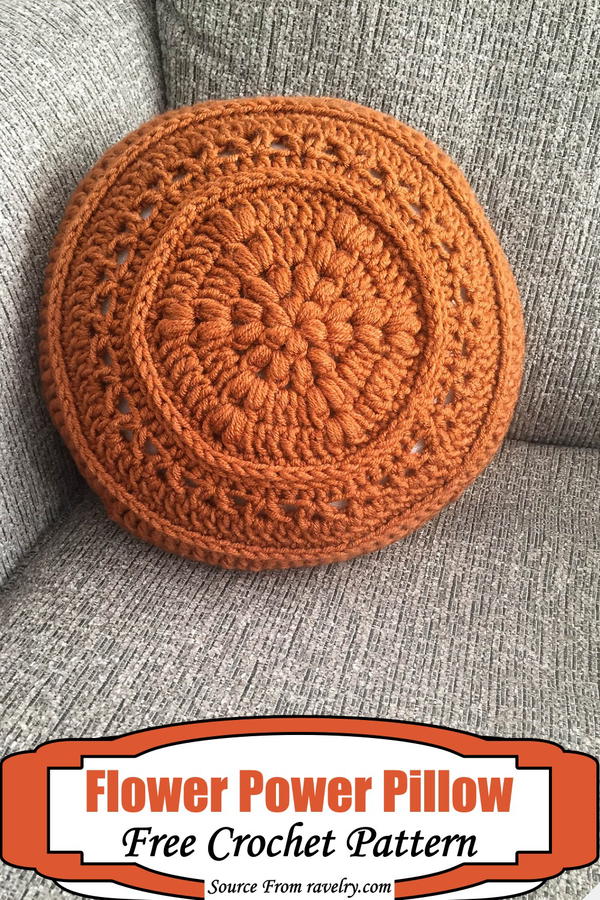 This Boho-inspired circular pillow was crocheted with love to keep you cozy and warm on those chilly nights. It uses a variety of stitches (puff stitch, double crochet, half double crochet, slip stitches) to keep things interesting as you crochet, and the end result is gorgeous. This stylish pillow adds a touch of Boho chic to any room in your home. The circular pillow includes a variety of different crochet stitches, including puff stitch, double crochet, half double crochet, and slip stitches. It's a great project for more advanced crocheters looking for an extra challenge!
Knit Picks Brava Bulky, Paintbox Yarns Simply Chunky, Yarn Bee Soft & Sleek Chunky, Lion Brand Color Made Easy
6.5 mm (K)
Easy Ripple Pillow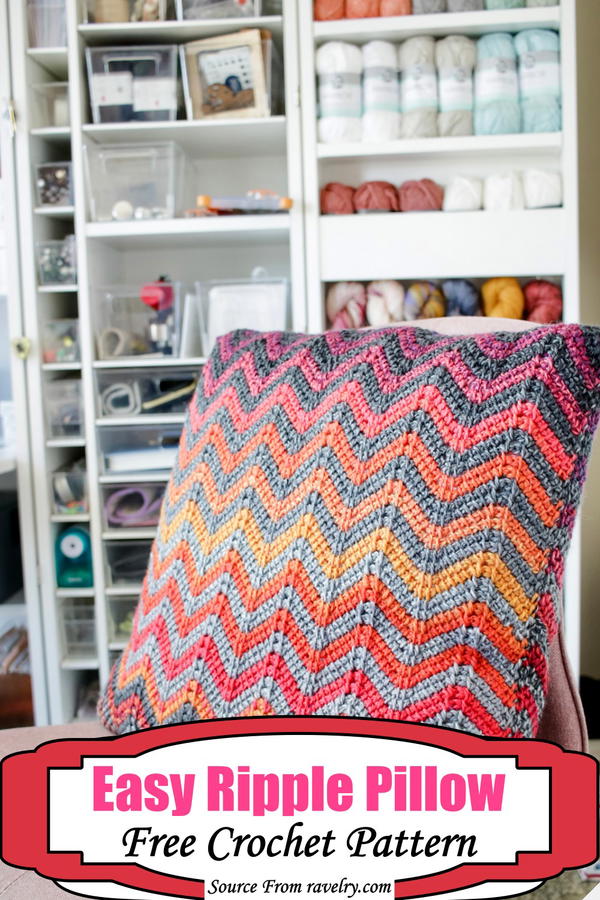 The Easy Ripple pillow is a fun yet subtle take on the classic crochet ripple pattern. A lush, chunky yarn and a Tunisian crochet technique give this pillow its unique look and feel. In two colour-changing shades of white and grey, you're sure to love this accent for the couch or bedroom. This take on a traditional crochet chevron might look tricky, but it's actually done in Tunisian crochet! The two colors look gorgeous together and make for an interesting pattern.
Knit Picks Chroma Twist Worsted Weight
6.0 mm (J)
TLC Cushion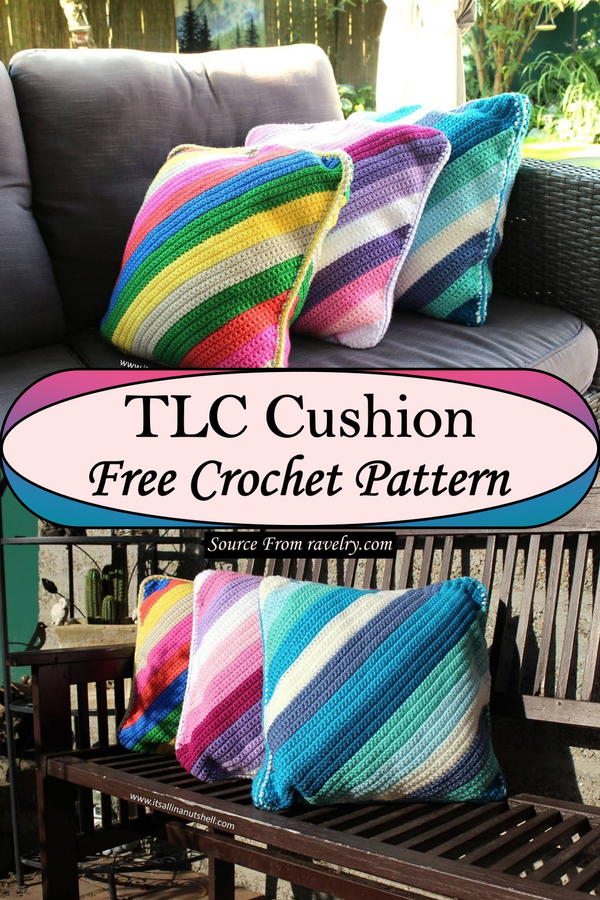 Looking to learn more crochet stitches while making another beautiful blanket? TLC Cushion is the pattern for you. Make a soft, cushy pillow using easy crochet techniques and let your creativity shine with color and stitch choices. TLC Cushion is designed to work up quickly, so you'll have a completed project before you know it. Learn to crochet with the bonus TLC Blanket pattern for the TLC Cushion. Perfect for home decor, this chunky, textured cushion is great for beginners.
Scheepjes Chunky Monkey
5.0 mm (H)
Desert Stripes Pillow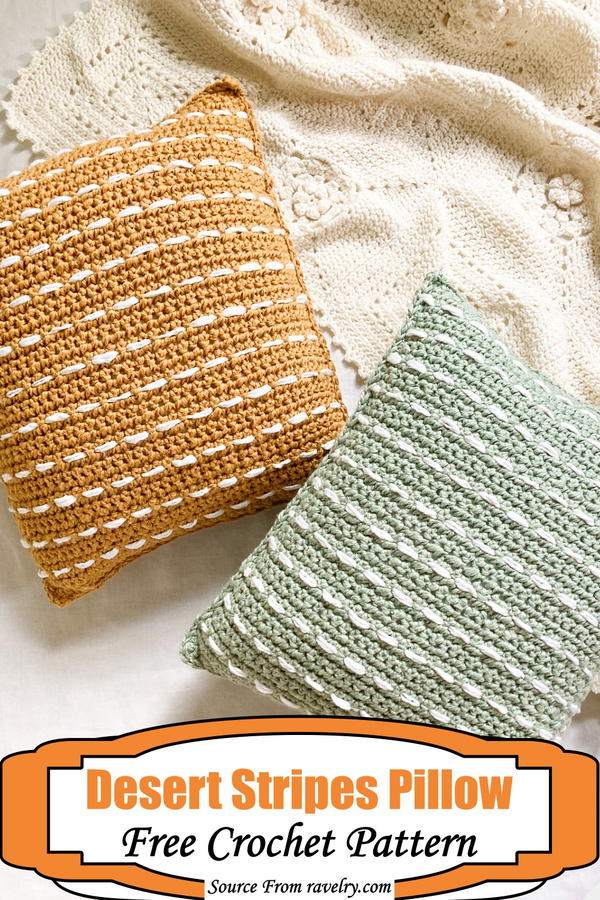 Embroidered pillows featuring a bold print, and inspired by the beauty of the desert. Completely customize the embroidery design to fit your decor. The quick and easy pattern uses simple stitches and bulky yarn, so you can create these beautiful pillows in no time. Either throw this pillow in your favorite chair or place it on a shelf for a cozy accessory. With a simple embroidery design to follow or for inspiration, you can whip up a beautiful pillow that is sure to spruce up your home.
Knit Picks Billow
6.0 mm (J)
Hygge Diamond Pillow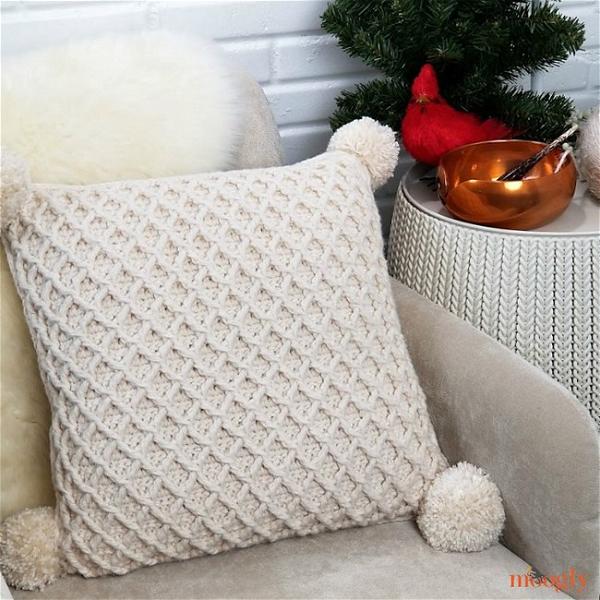 The Hygge Diamond Pillow is such a fun textural piece to add to any space. The perfect small pillow for your couch, bedroom, or nook you need to fill. An easy pillow to customize - from colors to corners! The designer went with white for a versatile look - this works for your winter wonderland, boho, and texture-on texture looks. But feel free to mix it up and make it your own! The soft throw pillow features a diamond design and looks great on the couch or in your bedroom.
Red Heart Hygge, Red Heart Hygge Charm
Large Sleepy Time Gnome With Moon & Star Pillows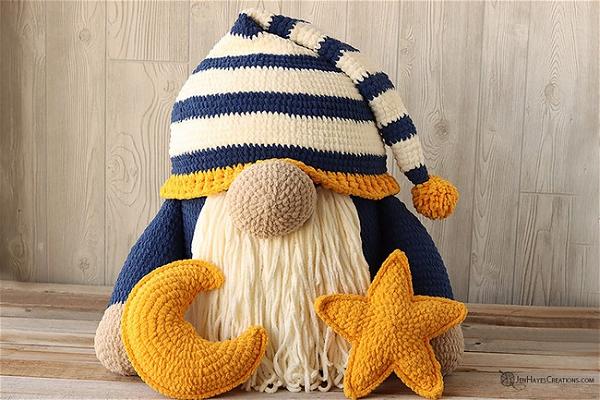 Whether you use him as a plush toy or a room decoration, Henry is sure to become a favorite new addition to your home. His large size and unique shape will make him stand out in any space, and his neutral colors will make him right at home on any shelf, table, or floor. Henry is the perfect addition to your shelf, sofa, or bed as he has been designed with sleep in mind. He is cozy and comforting with his soft beard and giant hat, Henry will be a hit with your children!
Bernat Blanket
Crafty Cactus Pillow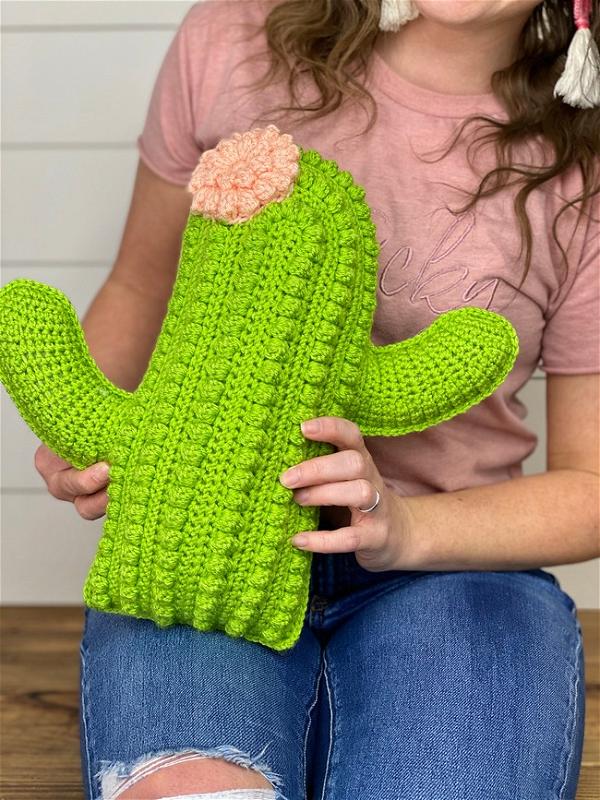 This adorable pillow will make a delightful gift for someone special. Add this to your room for a little extra color and personality. It is completely made with cotton fabric, so it is easy to wash. This cactus pattern has a fun print on the front and a white cotton backside. The finished size is approximately 14 inches tall and 14 inches at the widest part. The pillow has the look of an adorable cartoon cactus but is actually a cute and comfy pillow. If you can make a simple granny square and do basic single crochet stitches, you can create this pillow!
Hobby Lobby I Love This Yarn!
Roller Skate Pillow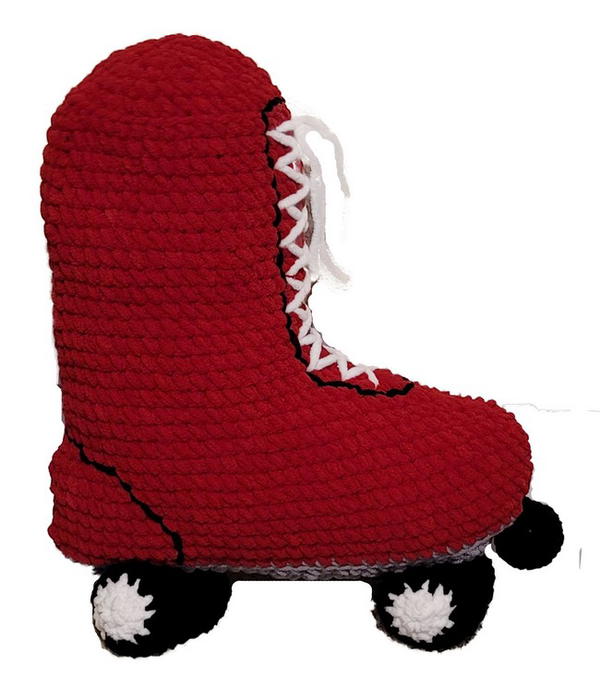 Give your room a retro-cool vibe with this Roller Skate Pillow! This crochet pillow pattern is super easy, using a simple single crochet stitch and super soft blanket yarn. It's the perfect size for a couch or bed, and makes a great handmade gift! This pattern is great for beginners, and a fun way to introduce your child to textile crafts. Have fun making up a team of skating pillows for your child's room, or make one add some throwback vibes to your kitchen.
Bernat Blanket
Theodore Bear Pillow Pal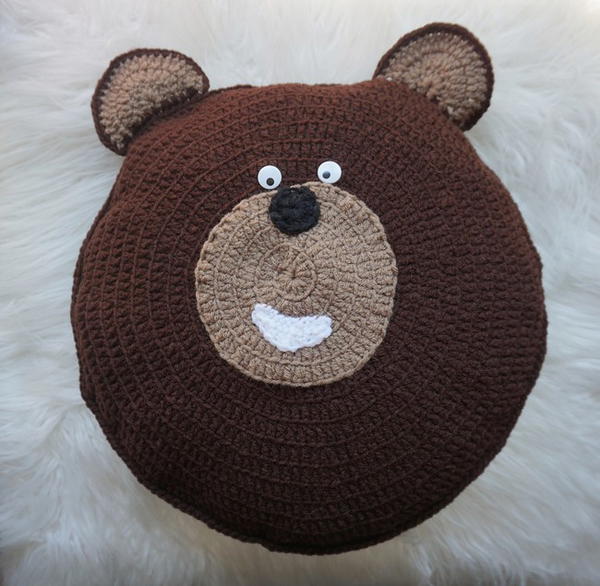 Imagine yourself drifting off to sleep with the warm and inviting embrace of our incredibly soft and cuddly Theodore Bear Pillow Pal. This classic design includes a sweet face that's stitched in every detail, large round ears, and huggably soft fabric. The premium quality materials stand up to lots of love for years to come. Cuddle up to the Theodore Bear Pillow Pal for a restful night's sleep any time of year.
Red Heart Super Saver Solids
Spot Dog Pillow Pal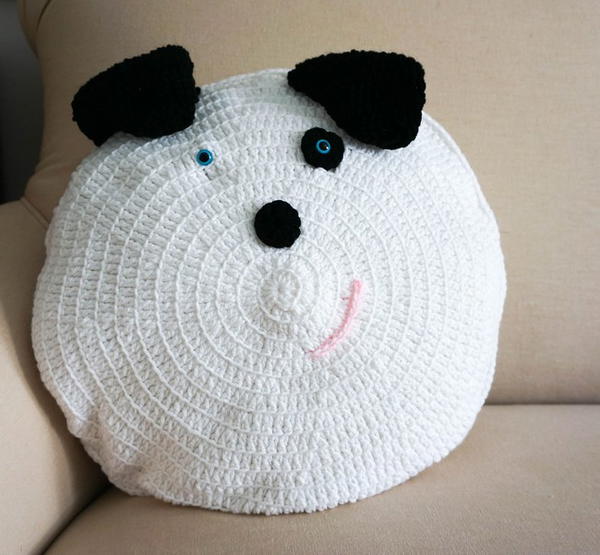 Who needs the real thing when you can have this irresistibly soft and quirky crochet toy? This Spot Dog Pillow Pal is so cuddly, you'll want to take him everywhere! Spot Dog Pillow Pal is handmade from soft wool and finished with glass eyes. He's filled with pure wool, so he's lightweight, yet sturdy. Your little one will love to curl up with our crochet toys. Each handmade pillow pal is as cozy and sweet as can be, made from quality cotton and polyester fibers that are soft to the touch. Great for a comfy nap or a playtime adventure, Spot is fun for any age.
Red Heart Super Saver Solids
Pillow Cover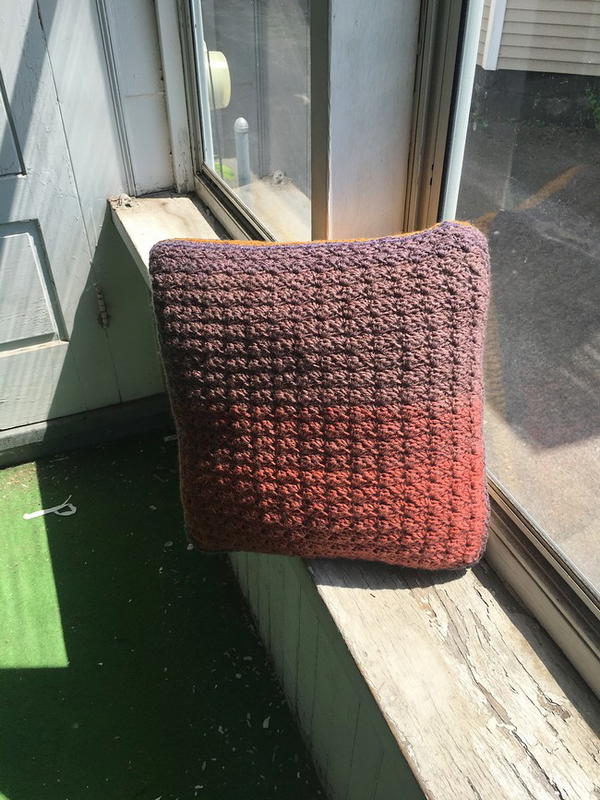 Make a pillow cover using single crochet, half double crochet, and double crochet stitches. The project is made in three panels that are whipped stitched together to form the pillow cover. The measurements of the project are 18 inches by 18 inches and the yarn used is Lion Brand Mandala. This pillow cover is a great beginner-level project once you get the hang of the three main stitches used in crochet. In this class, you'll learn how to hold your hook and yarn, what to do when your stitches aren't lining upright, and how to whip stitch panels together to make your finished pillow cover.
Suggested yarn: Lion Brand Mandala
Snowman Pillow Buddy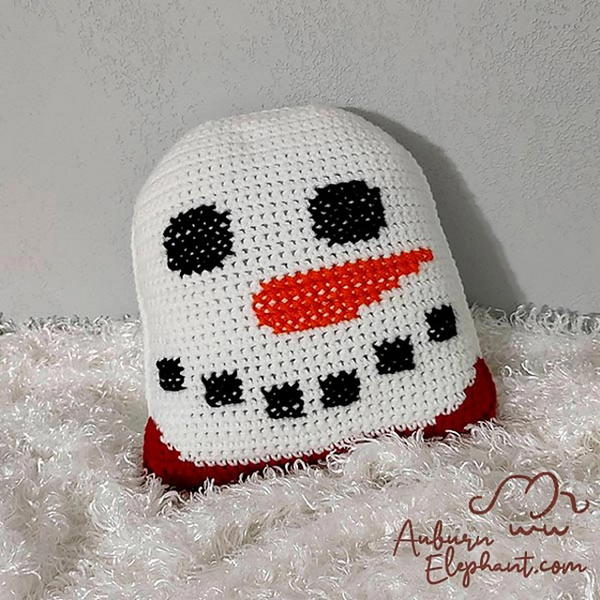 A new best friend for the holiday season, this pillow pet's super-soft chenille plush is fun to cuddle with. With a large surface area and soft feel, this pillow buddy is great to use as a bedtime pal, TV buddy, or travel companion. Your Snowman Pillow Buddy is also a great seasonal decor item. Brighten the winter season with this adorably plush snowman stuffed animal. What a charming piece of festive décor! Made with luxuriously soft fabrics that children will love to hug and play with all season long. A great friend for the holidays!
Big Twist Value Solids
Pillow Sophia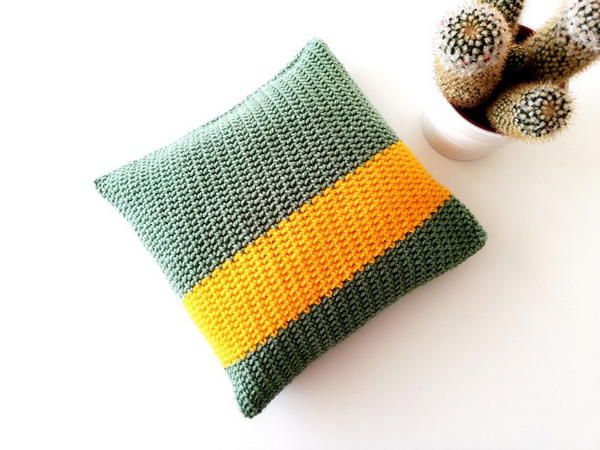 The Pillow Sophia makes a beautiful accent pillow for your home. This pillow is 100% cotton, with a crocheted design around the edges and a tassel on each corner. Stylish and versatile, our Sophia pillow adds a unique twist to any home décor. Crafted of linen with a tonal crotchet detail this pillow is perfect when layered together with solids, stripes or prints. Its luxuriously soft feather/down insert ensures the perfect amount of support and comfort. This pillow features a crochet style that creates just the right amount of texture to your room décor. The pillow has a removable cover so it's easy to clean. Sold without insert
Pillow Dreamcatcher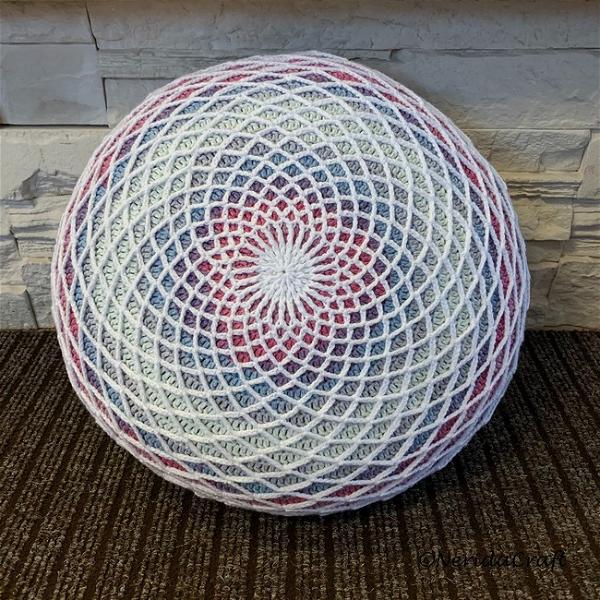 This pillow is hand crocheted with white yarn and beautiful colored batik yarn. With its dreamcatcher in the middle, it will be a great addition to your living room or bedroom. Please note, that this pattern is only for the crocheted cover, not for the pillow base. Any leftover yarn can be combined to make a matching round pillow. The technique for making this beautiful dreamcatcher is explained in the pattern. This crochet motif will be perfect to create a surprising pillow or cushion. It won't take you long to crochet, and you will be able to use your leftovers of multicolored yarns.
Alize Cotton Gold Batik Design
Haylee Throw Pillow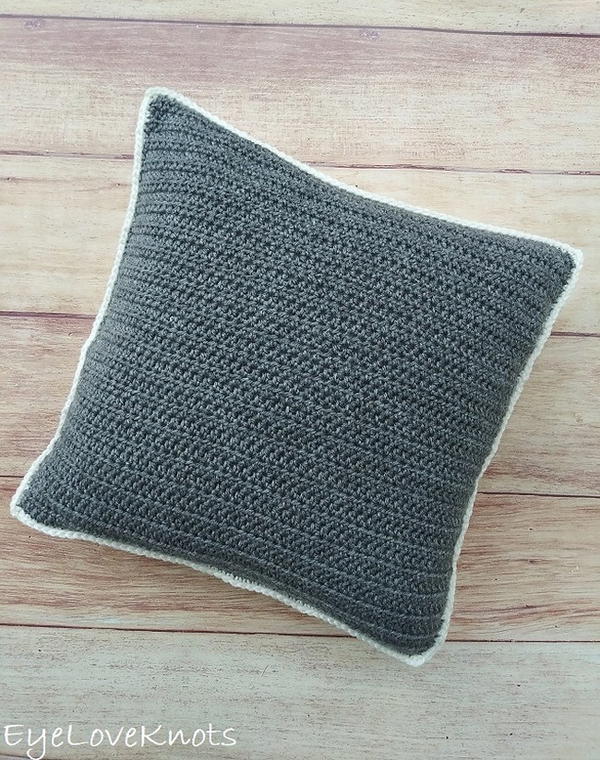 Crocheted by hand for incredible texture, this Haylee Throw Pillow adds a warm touch to any room. With soft material and a rounded shape, it provides a comfortable rest for your head or arm. Its simple pattern allows it to fit into various colors of room decor. These textural, fringe pillows are perfect for adding a fresh touch to your living room or bedroom. The Crocheted Haylee Throw Pillow offers a cushioned and shaggy surface to rest your head, or to just add flair to your room.
Red Heart Super Saver Solids
Sweetheart Mini Pillow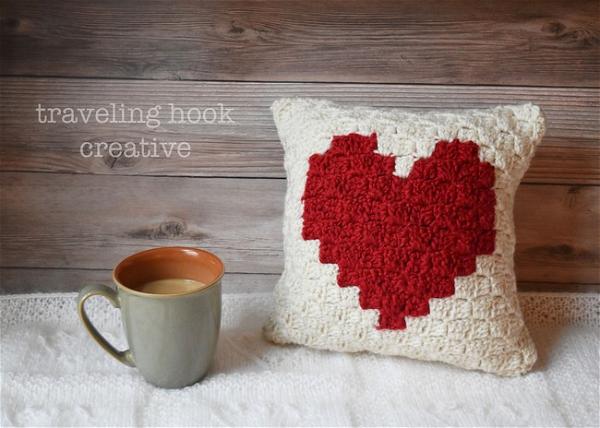 This cute pillow is the perfect addition to your bed or that reading nook in the corner of your room. The Sweetheart Mini Pillow is a fun, beginner-level crochet project that comes together quickly. It's a fantastic stash-buster since you can use any cotton yarn you might have leftover from previous projects. And since it works up so fast, it's the perfect project for last-minute gifts too! Add a sweet Valentine's Day touch anywhere with these mini pillows. These simple, heart-shaped pillows are easy to make. Use your favorite color combos for sweet accents.
Lion Brand Homespun, Red Heart Super Saver Solids
Cozy Cabin Pillow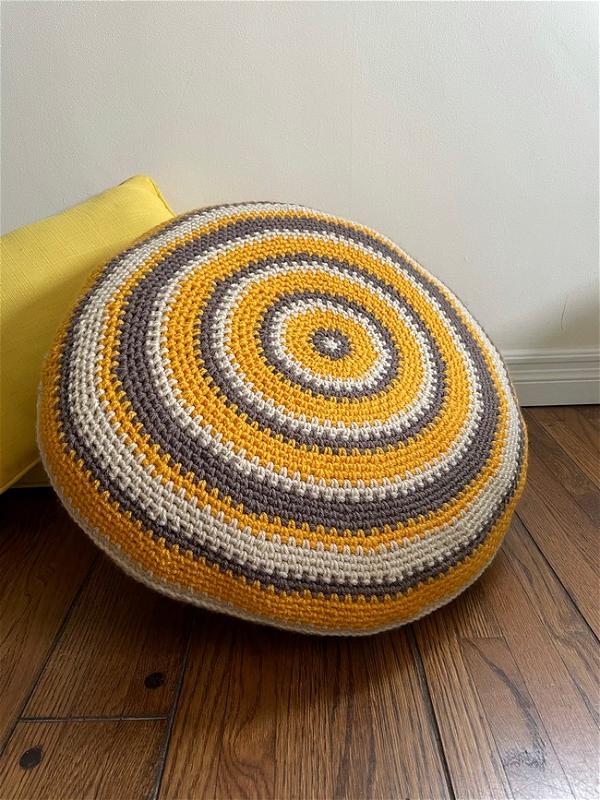 If you like the look of moss stitch, this pillow will make a great addition to any room. The soft, plush texture combined with the alternating round pattern creates an attractive interlocking effect. It's an easy project for beginners who are comfortable with knitting in the round. This crochet pattern is fast and easy to make. Perfect for beginner crocheters, this pillow is made with winter cabin colors, but looks cute with any color combination! This pattern is written in standard US terms. You will need to know how to crochet in the round and how to front post double crochet.
Red Heart Super Saver Solids, Big Twist Value Solids
Spooky Crochet Pillow Cover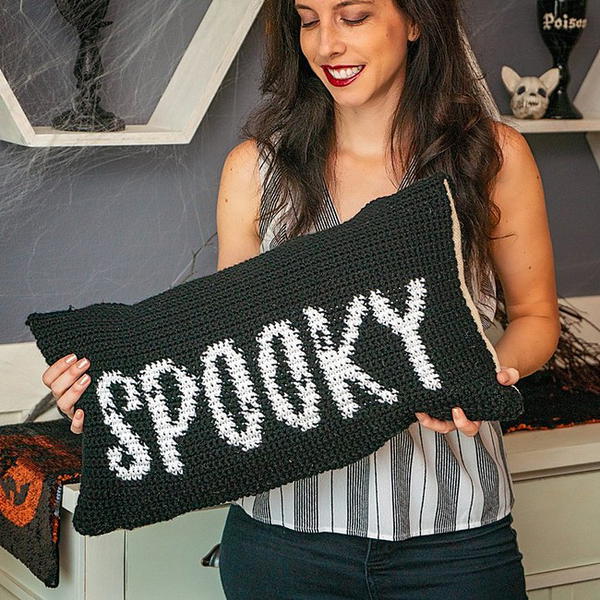 Crochet your very own Spooky Crochet Pillow Cover to liven up your home decor for the fall season! This Halloween crochet idea is a quick and easy project for the beginner crocheter. In this quick and easy Halloween home decor pattern, create a fall pillow for your home in just a couple of hours. The Spooky Crochet Pillow Pattern will liven up your home decor for the fall season. And since you are making it yourself, make extra for gifts! Squared with 3 rows of alternating colors make this an excellent introduction to colorwork crochet.
Knit Picks Brava Worsted
Maisy Velvet Pillow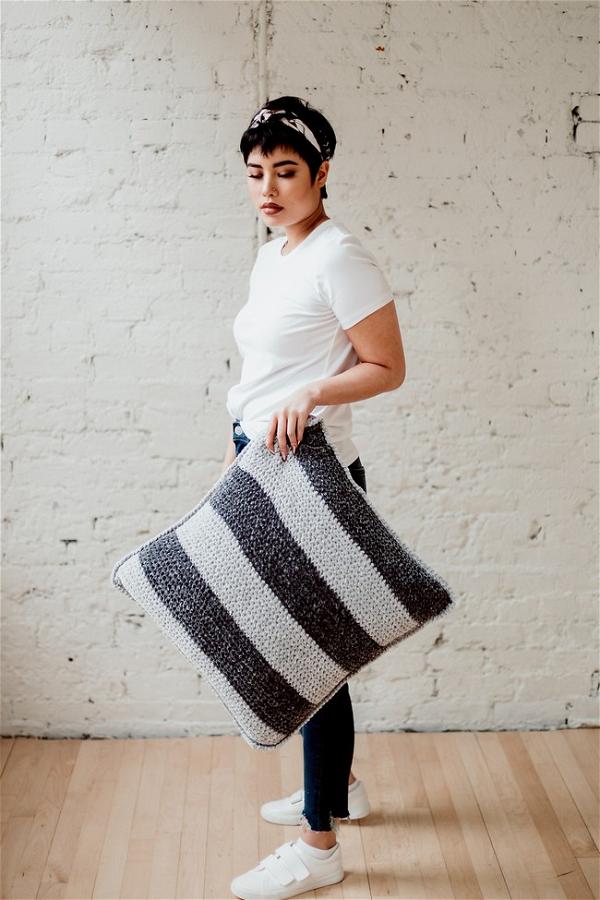 Introduce a visual adventure to your home with the Maisy velvet pillow. Its bold stripes and inviting texture will set the tone for a sophisticated living space. Available in a variety of colors, the Maisy is made of sustainable chenille yarn and is super soft. This pillow is a versatile addition to any room in your home. The easy-care, soft, cozy fabric can be easily cleaned, giving you a long life for this decorative piece.
Lion Brand Vel-Luxe