Follow these stunning Crochet Bobble Pillow Patterns to create adorable and one-of-a-kind pillows to boost the charm of your home's rooms.
Gone are the days when pillows were only for sleeping; now, they serve multiple purposes. They enhance your home's appearance and create a welcoming atmosphere. Perfect for napping, reading, or watching TV, crochet pillows come in various designs and sizes to suit individual preferences. Whether you enjoy a rough texture or soft fluffiness, this article provides a fantastic selection of unique crochet bobble pillow patterns. These amazing crochet pillow patterns will transform your crocheting experience and add striking beauty to your bedroom, living room, and guest room.
Crochet Bobble Pillow Patterns Free

Introduce a splash of vibrant hues or a calming vibe to your home decor with our amazing crochet bobble pillow patterns! Each design is a piece of art in its own right, with various colors and textures that will elevate any living space. These handmade pillows are not just for comfort but also for making a stunning decorative statement that infuses every room with a delightful charm. Get ready to unleash your inner crochet artist and create a chic and trendy accent for your home with these easy-to-follow bobble pillow patterns that will add a cozy touch to your living space.
Crochet Bobble Stitch Pillow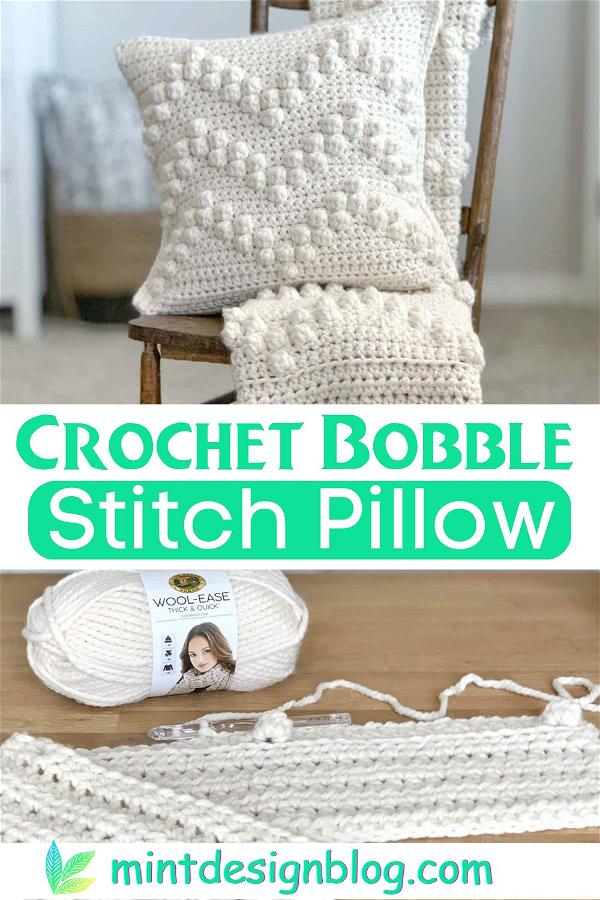 This delightful Crochet Bobble Stitch Pillow Pattern will be a perfect addition to your home decor! This unique pattern showcases the attractive bobble stitch, creating a textured, eye-catching pillow to brighten any space. Ideal for both beginners and experienced crocheters, this amazing crochet pattern offers step-by-step instructions to help you make a cozy and stylish pillow. The versatility of the bobble stitch allows you to customize the colors and size to match your taste.
Crochet Bobble Pillow Cover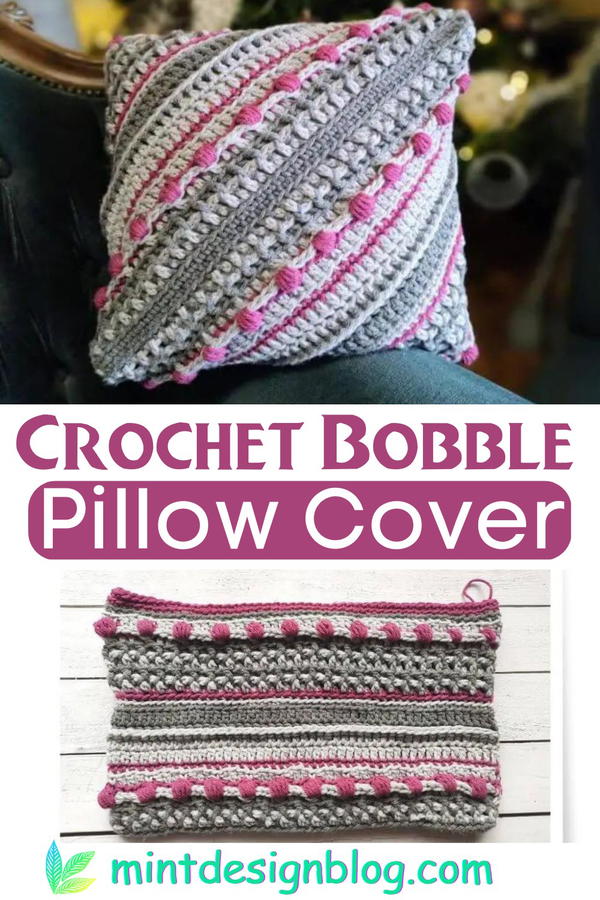 Welcome to the fashion world of the Crochet Bobble Pillow Cover Pattern, where style and comfort harmoniously blend. This amazing pattern will guide you in making a stunning pillow cover adorned with the appealing bobble stitch, infusing texture, and charm into your home decor. Suited for crocheters of all skill levels, the easy-to-follow instructions will lead you on a delightful crochet adventure. The beauty of this pattern lies in its customizability, allowing you to play with colors and sizes that reflect your flair.
Crochet Buttercup Pillow Cover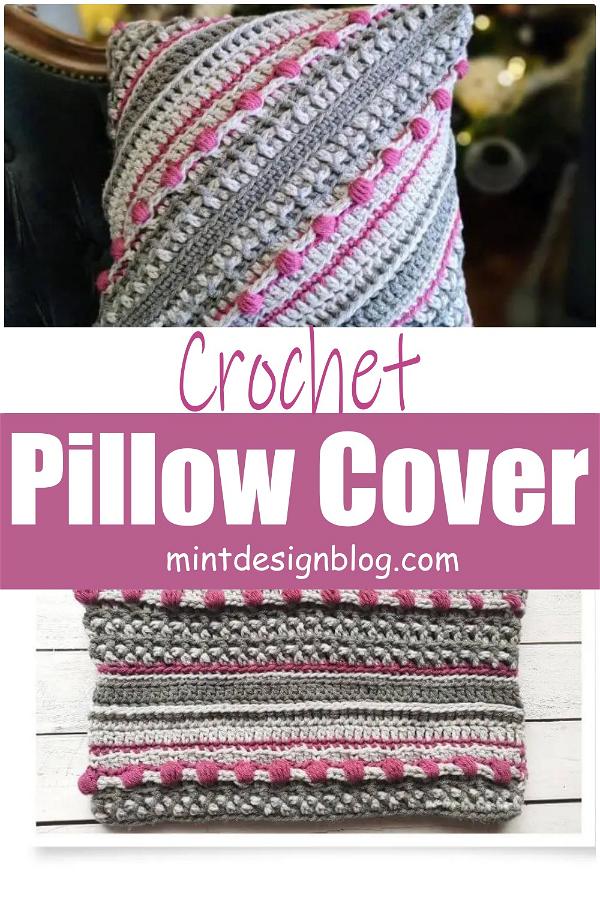 If you love to crochet, this pattern is a perfect stash-busting project and an instant gratification pattern that you can use to make any square pillow case with a top border. This crochet Buttercup Pillow Cover design, with its different shades of yellow, green, and orange over a black base yarn, will brighten up any corner of your home. This creative project will help you use your scrap yarn stash and have something lovely to decorate your home or creative corner. You can make a pillowcase with any yarn that brightens your day and inject color into your room. No special stitches or techniques are involved - just the basic crochet stitches.
Dragon Eye Pillow Crochet Pattern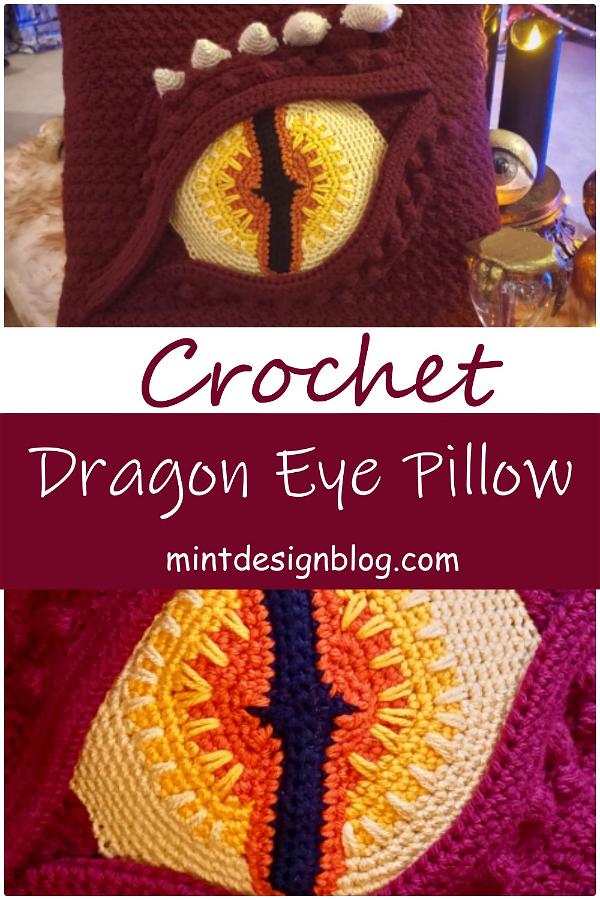 Look no further if you want a crochet project to make a pillow. This Dragon Eye Pillow pattern is ideal for any beginner-intermediate crocheter looking to learn how to crochet with multiple colors and change colors while working in the round and on a textured surface. This very easy and simple pattern will allow you to make it into exactly what you want without confusing instructions.
Bobble Stitch Pillow To Crochet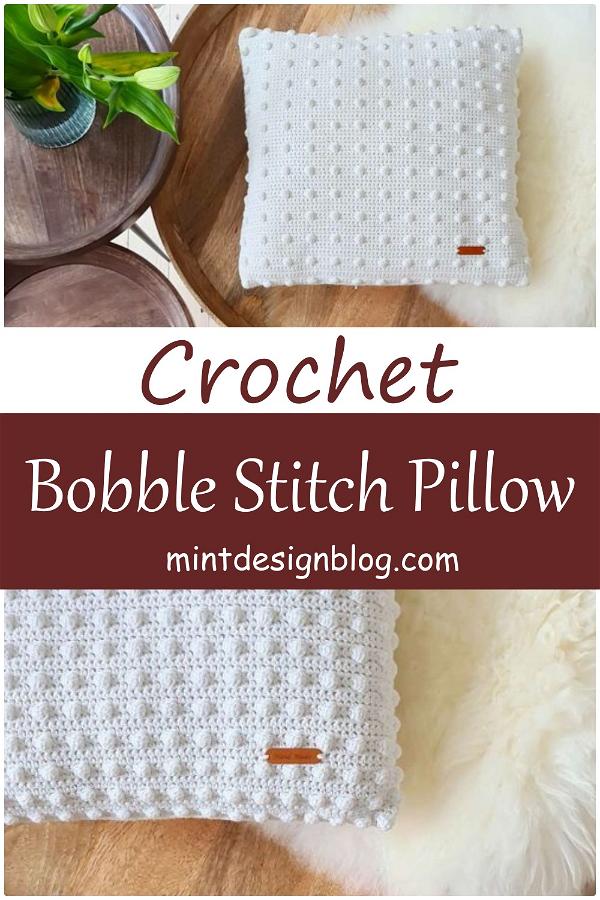 Our top crochet Bobble Stitch Pillow design features a bobble stitch, providing extra texture to the crochet pillow. It's a versatile addition to any couch or chair, letting you customize it to your style. The crochet pillow cover is an excellent gift for various occasions! The handcrafted pillow is 100% cotton and filled with your preferred stuffing. With its Scandinavian design, the pillow complements any interior style. The hand-cut edges and vibrant colors create a festive and distinctive appearance.
Bobble Stitch Crochet Pillow Cover
Using the crochet stitch tutorial, this video will show you how to make a bobble pillow cover. The bobble stitch is easy to learn so you can do this project without any crochet experience. It is an easy stitch and can be used to embellish your projects. You can use the instructions for any cushion, blanket, or afghan you want to make. This amazing pillow cover will add a trendy and artistic accent to your home decor.
Crochet Bobble Textures Pillow Tutorial
Crochet a rectangle pillow with bobbles and textures stitches. We have many different designs to choose from. This crochet project is a fun and easy way to learn new techniques and work with different materials, including natural fibers like wool and cotton. It is considered an easy level because it's only one round at the beginning of the pillow before switching to bobble stitches which take little time once you get the hang of them. This pillow pattern uses a variety of stitches to create texture and dimension while still being simple to make.
Crafty Cactus Pillow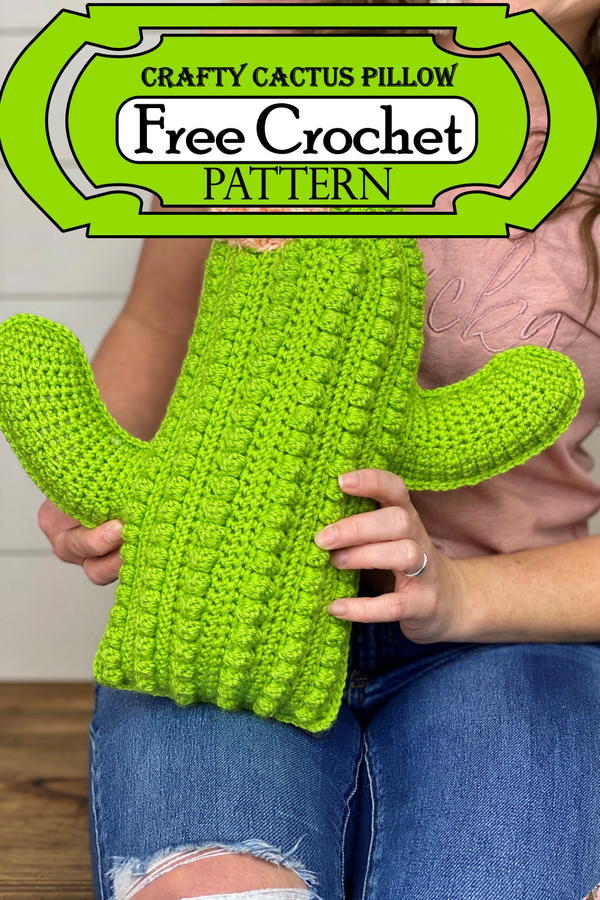 This crochet crafty cactus pillow is a fun and easy design that uses only basic stitches to create a unique and versatile gift. This easy-to-make cactus pillow is the perfect way to give a handmade gift. It works quickly, uses only one skein of yarn, and can please anyone who loves the desert (or snuggling with a potted plant). The pattern comes in two sizes, so you can make it to fit even those with the smallest apartments or the biggest backyards. Pattern includes detailed instructions for crocheting the pillow and ideas for customizing it with various trim options.
Crochet Bobble Pumpkin Pillow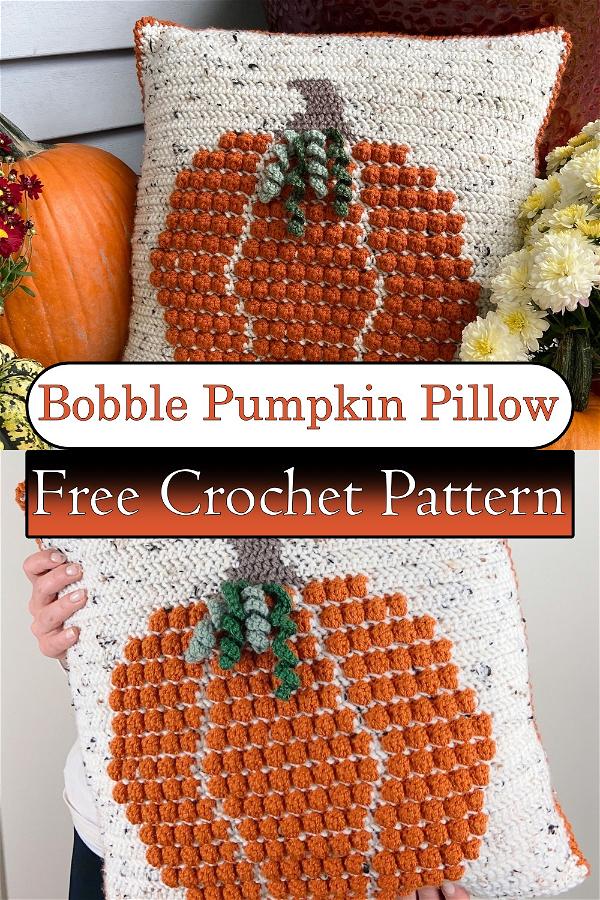 This crochet bobble pumpkin pillow pattern is a great Halloween or fall accent! You can keep your sofa inviting and cozy with this embroidered pillow. The plush acrylic yarn is easy, and the pattern stitches up quickly. This intermediate-level project includes links to video tutorials for the bobble stitch, herringbone stitch, and half double crochet stitch. The bobbles create an adorable raised effect, while the herringbone stitch gives this pillow a unique look and texture.
Crochet Flower Power Pillow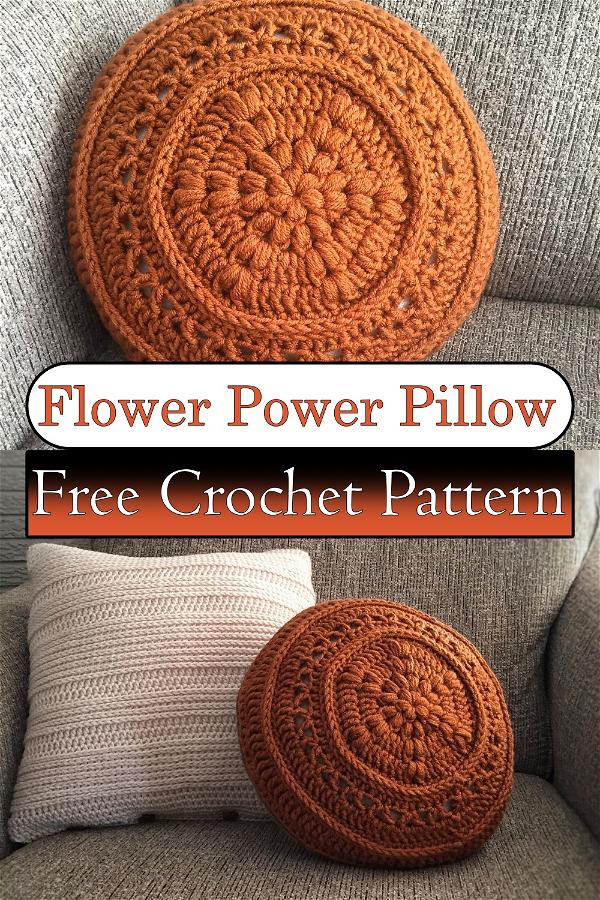 This Boho-inspired circular pillow is perfect for cushioning in your home or as a display on your work desk. This pillow will be perfect all year round, with crochet flowers and leaves all crocheted in rows! It's a great design for beginners looking to try a new technique or for more advanced crocheters ready to take on something more challenging. It starts with the base, main and inner circle, and then more rounds are made for the ruffle and flower. Stitch counts are given for each addition to help you keep track of your work.
Bobble Stripe Farmhouse Pillow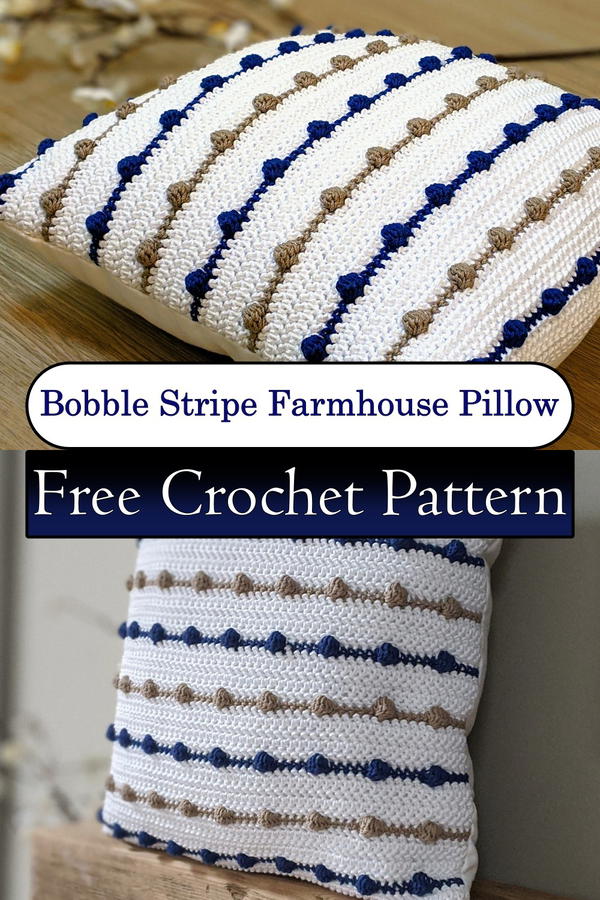 This Farmhouse-style crocheted pillow features alternating stripes of bobble stitches and herringbone half double crochet. This easy and fun pattern is perfect for the beginner crocheter! It's constructed using Lion brand 24/7 cotton yarn and a size G crochet hook, making it the perfect addition to any room in your home. The pillow measures approximately 10 x 20 inches. And don't worry—you can customize it to fit any style by choosing any color of yarn!
Rainbow Bobble Pillow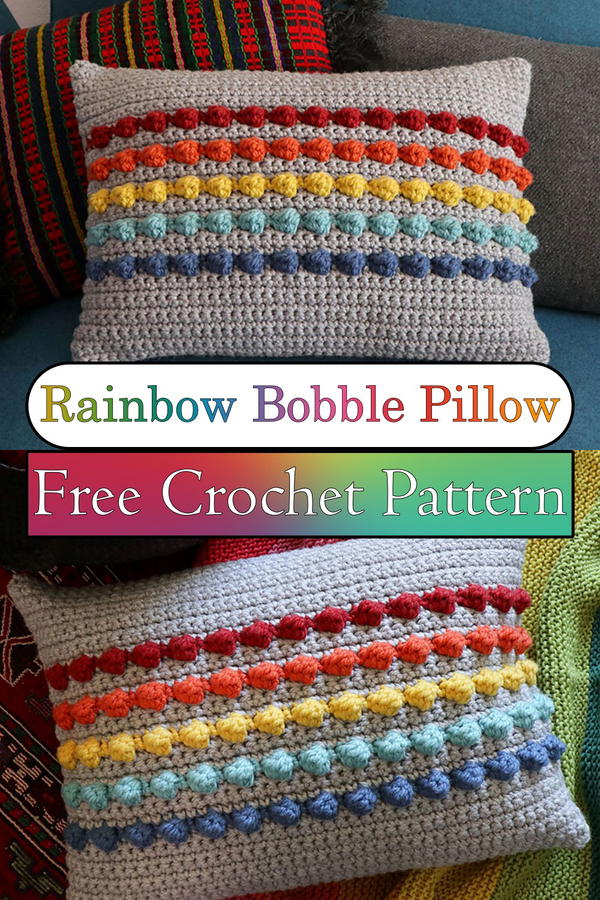 This stunning crochet pillow will brighten up any room and make a beautiful addition to your home. The pillow cover uses the Granny Cluster Cluster Stitch, creating a beautiful texture, and the bobble feature adds even more texture. The crochet blanket uses soft yarn and has simple crochet stitches, making it easy to follow. This pattern is perfect for beginners as there isn't much to keep track of apart from counting rows occasionally.
Crochet Bobble-Wobble Pillow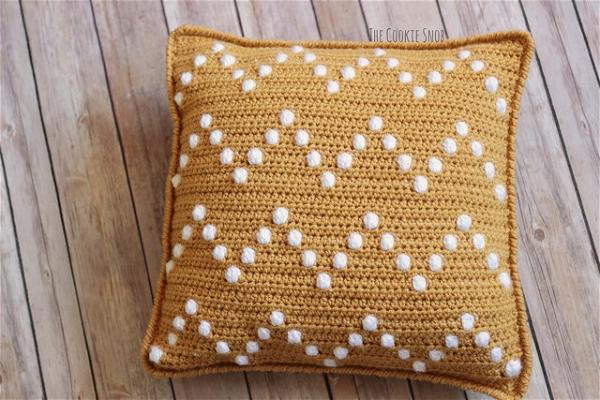 This crochet bobble-wobble pillow pattern perfectly adds texture and dimension to your living room or bedroom. The pillow features chevrons made from bobble stitches, which look adorable and are a great stress reliever during those tough times at work. This crochet pillow pattern is designed to be as fun to make as it will be snuggly to cuddle with. If you can make a single crochet stitch, you can do this! It takes basic crochet skills, making it perfect for beginner crocheters too!
Bookend Bulky Bobble Pillow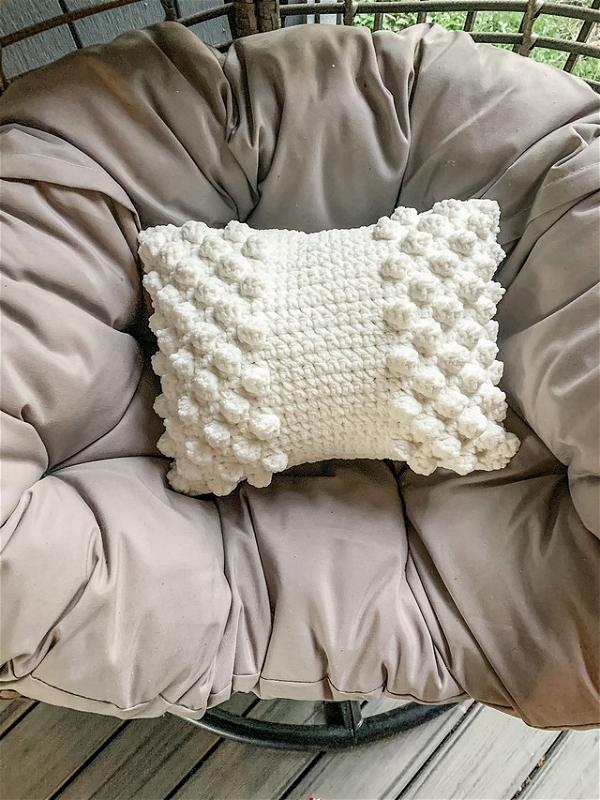 This free Bookend Bulky Bobble Crochet Pillow Pattern is simple and enjoyable to create, making it an ideal gift for crochet newcomers. You can complete this fantastic bookend pillow in about an hour, so it's the perfect last-minute crochet addition to your home. The pattern is quick to make and extremely easy, allowing beginners to learn crochet bobbles while crafting a stylish pillow for their home.
Crochet Bobble Pillow Trio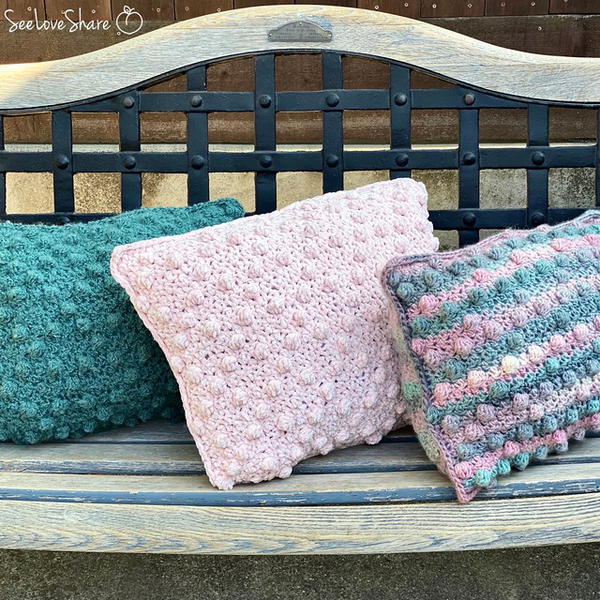 Are you looking for a project sure to be loved by all? Bring some beauty and function to your home with this Crochet Bobble Pillow Trio. This unique pillow pattern will create a custom look for your home or gift. The crocheted bobbles give the pillow a pretty texture, while the rows of single reverse crochet on the back make for a simple design that allows you to show off your favorite color combinations!
Crochet Pretty Bobble Pillow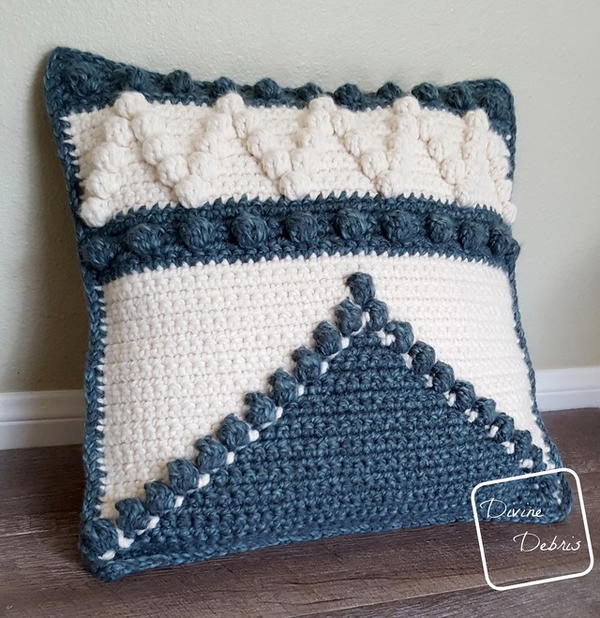 The Pretty Bobble Pillow makes a great addition to any living room, bedroom, or office. Crocheted in 100% cotton, this cushion is washable, making it easy to care for. Customizing your cushion's colors is easy by adding more yarn scoops in your preferred colors. This pillow pattern is made with a combination of bobbles and color blocking to create a classic-looking pillow. Customize the colors to give you a unique pillow each time you make it.
Crochet Oak Apples Pillow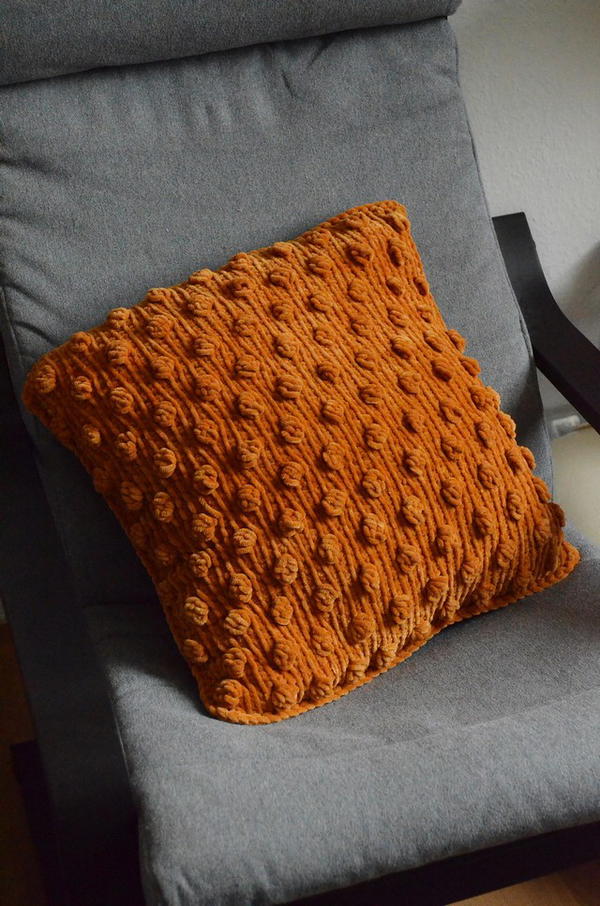 Make this simple crochet pillow pattern and enjoy the softness of baby chenille yarn. The adorable apple crochet applique can be replaced with any design you like. The pillow's shape and special bobble method make it an enjoyable and calming project that you, your friends, and your family will cherish. This fast bobble pillow guarantees comfort throughout the day.
Curve Crochet Throw Pillow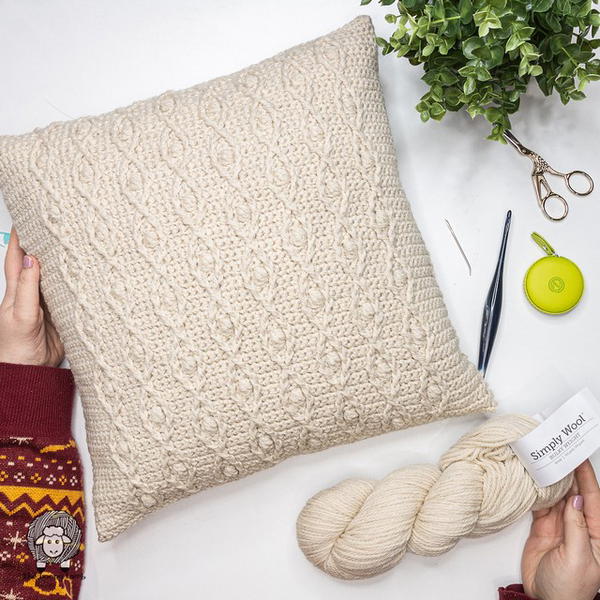 Crochet Ahead of the Curve Throw Pillow pattern shows you how to crochet cables traditionally done on the wrong side of your fabric. The result is a seamless fabric for the backside of your crochet throw pillow or blanket. This superb pillow pattern is easy to create and goes together fast, so it's a great way to spend time with friends, family, and loved ones without breaking the bank. Crochet ahead of the curve pillow will add beauty to your living room or bedroom and makes for an ideal gift for anyone that enjoys relaxing at home or traveling far away.
Chunky Bobble Stitch Pillow Covers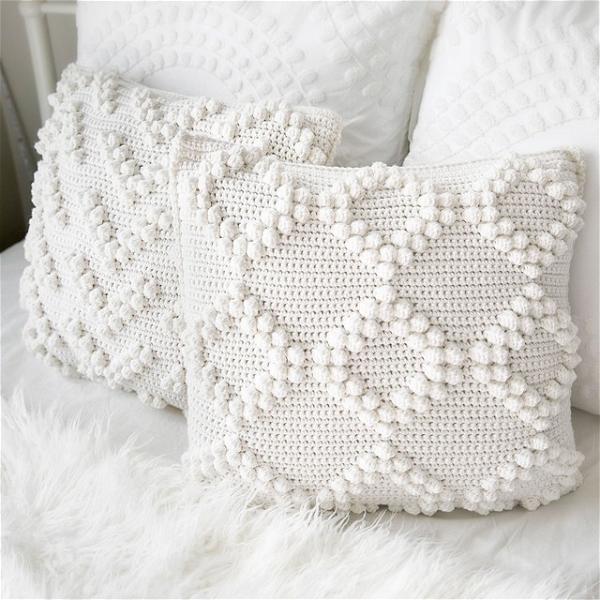 It's time to enhance your home's look with new throw pillows for your couch, chair, or bed. This fast crochet pillow cover pattern lets you create numerous pillows in minutes. Its straightforward design is suitable for both beginner and expert crocheters! The versatile pattern can be used for eye-catching sofa cushions, throw pillows, or even to make a quick, simple hat, sweater, or scarf using the double crochet bobble stitch.
Crochet Charismatic Pillow
This pillow is an excellent accessory for any living room or bedroom. The Charismatic pillow brings a colorful, comfy touch you can personalize with your preferred colors. Its playful two-color design is simple, and the bobbles make the pillow stand out. Customize the pillow with your desired colors and enjoy its vibrant appearance and straightforward stitch pattern on any sofa, chair, or bed. It will add a joyful, squishy element to your life.
Crafty Pencil Pillow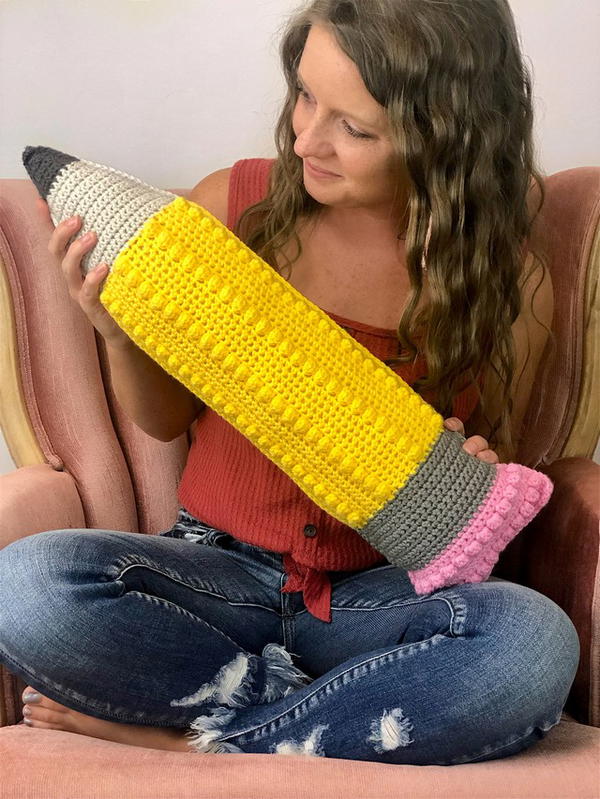 The super crafty and unique crochet pencil pillow is perfect for crochet lovers who want a cute and useful project. Make it in any style or size, with limitless color combinations to match your room's decor. This adorable crochet pillow can be even more unique by changing the yarn and hook colors for a personalized touch.
Crochet Anthropologie Pillow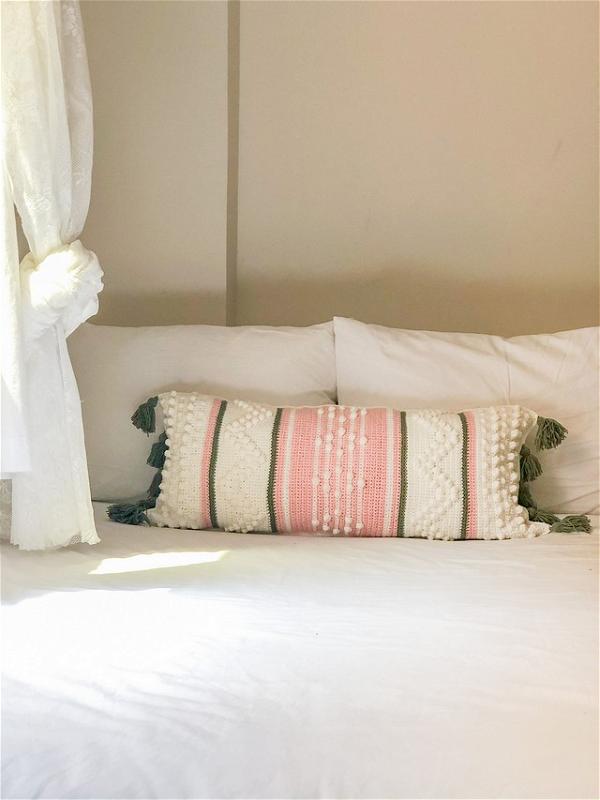 The Anthropologie Crochet Pillow pattern features two beautiful and unique crochet designs for the front and the backside of a pillow. You can easily make either of these or use this pattern to create a plain pillow cover with your preferred color, yarn, and hook size. Follow along with the given pattern, or make your own! Learn how to crochet with this step-by-step tutorial; get creative and make whatever you please.
Sandy Bobble Throw Pillow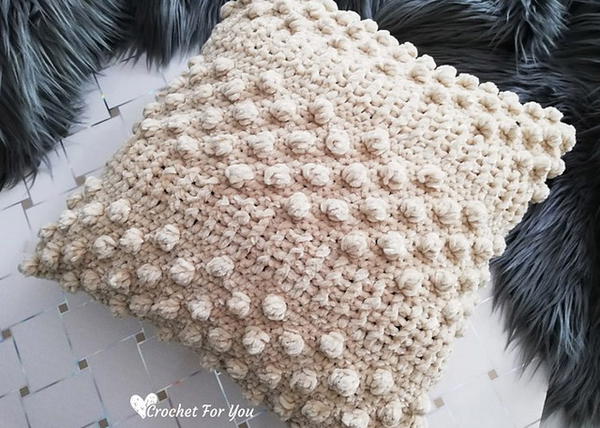 The Sandy Bobble Throw pillow is stylish and comfy for your living room decor. Crochet this sandy bobble throw pillow with buttons on the back. This crochet pattern has instructions for a removable throw pillowcase that is 16 x 16" and fits any standard-size pillow. This removable pillowcase is the right size for any accent chair or sofa made from soft velvet yarns. With buttons to keep it secure, you can wash and dry it when necessary. Makes an ideal gift for friends and family.
The Burst Of Sunshine Pillow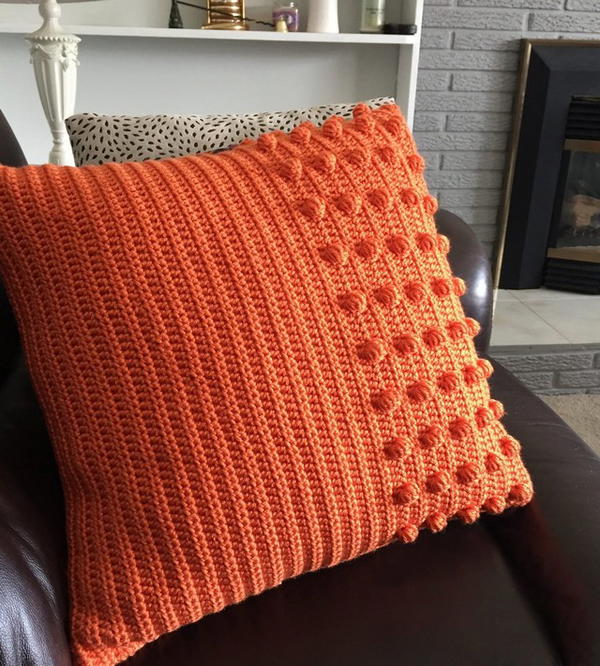 Creating a colorful and cheerful pillow cover for your room decor is simple. This quick pattern adds charm to your couch or space. The cover allows for easy removal and cleaning of the pillow. This lovely pillow also makes an excellent gift. Don't forget to explore our other crochet patterns after making this pillow!
Crochet Fair Folk Pillow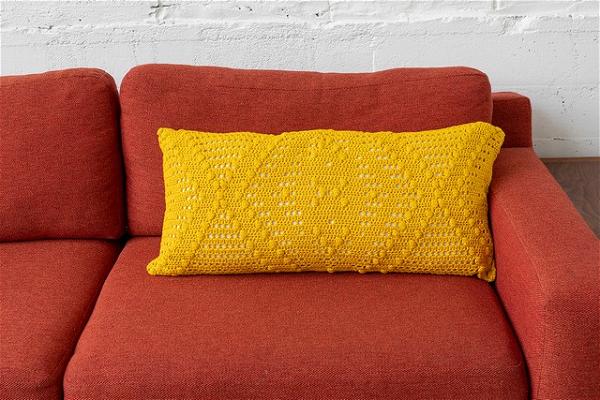 The Fair Folk Pillow is a summer décor item that makes an eye-catching statement in any home. This pillow features filet stitches and eyelet holes to create striking shapes with sleek textures. It's perfect for use in a bedroom, family room, or anywhere you want to add some whimsy to your decorating scheme. It's the perfect summer home decor for making a bold yet delicate statement on any bed or seating area.
Crochet Picot Pillow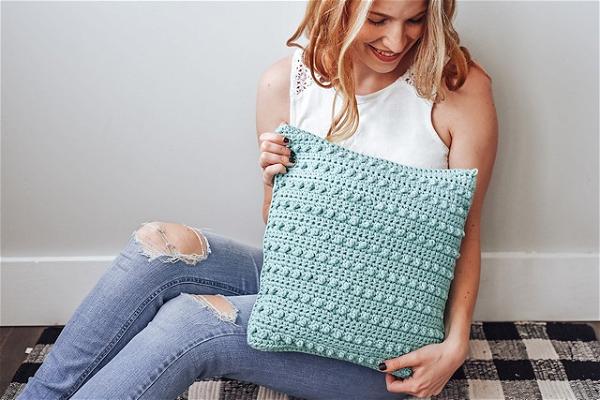 This crochet pillow pattern is the perfect modern design for any home! This quick and easy crochet pillow pattern is perfect for beginners or anyone looking for a craft night project. You can embellish it on any chair, couch, or bed. This is a great crochet pillow pattern for intermediate crocheters looking to create something unique. It features a "picot" stitch edge, making it appear like the pillow is draped in lace. Make one today and see how stylish you can be!
Crochet Bumble Bee Pillow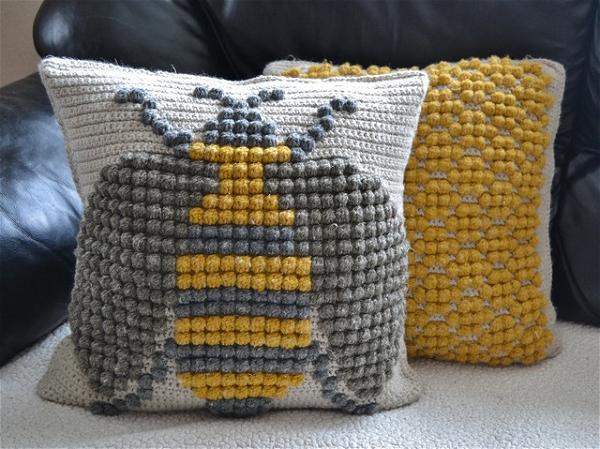 This crochet Bumble Bee Pillow is an excellent throw pillow design. The bee pattern uses simple bobble stitches, adding charm to your home decor. With minimal yarn required, it's an affordable gift for friends or family. This pillow can be cherished for years and is suitable for both kids and adults. Its textured design and easy bobble stitch pattern make it ideal for beginner and experienced crocheters.