Are you tired of your winter clothing? Give some old items a new look with these free crochet patterns! These boho-inspired crochet patterns are perfect for adding a bit of color and flair to your wardrobe. These 20 free crochet boho patterns are all easy to make and great for beginners so that you can get started on them right away. You'll love the way these colorful patterns brighten up any outfit! Achieve bohemian flair with these free crochet patterns for boho-chic clothing and accessories. From ruanas to shawls, you'll find a wide variety of projects in this collection. Whether you want to add bohemian style to your home decor or your wardrobe, you'll find something in this collection that you'll love.

If you want to wear something unique and comfortable simultaneously, then this collection of crochet boho patterns is for you. Perfect for any season and age, these boho patterns will help you get gorgeous garments and home décor pieces. This collection is a must-have for any crochet fan who aspires to make their own chic, stylish, and comfy boho accessories. It contains 20 super cute patterns that include everything from simple accessories to projects that require some basic crocheting skills. This collection of inspiring boho crochet patterns is great for any occasion. The different styles and wide range of sizes will make a great addition to your look.
Tips to Crochet Boho Patterns
Are you ready to get started with crochet boho patterns? We know how exciting it can be to pick out a pattern and get started, but before you do, it's important to make sure that you have all of the supplies you need and are familiar with any special stitches.
To give you a better idea of what steps to take, we've put together some tips for basic crochet preparation.
Gather the Materials: The first thing you need to do is gather all of the materials your pattern calls for. Crochet is a relatively inexpensive hobby, but in order to make sure that your project goes smoothly, you'll want to make sure that you have all of the materials on hand before getting started. Here's what you should check for:
Yarn (in the correct color and weight)
Hooks (in the correct size)
Stitch markers (optional)
Measurement tape or ruler
Use a larger hook size than you would use for a granny square. This creates a more open look and feel.
Focus on creating a finished product that is lightweight rather than heavy and dense. This will help make it flow with your body rather than become stiff and uncomfortable.
Select open stitches that create a lot of space between them. Boho is all about airiness, so keep this in mind with your pattern choice!
Uses Of Crochet Boho Patterns
Make throws and pillows.
Decorate clothing and bags, using them as an accent
You can make flowers
Create mats and coasters
It can be used in the home, travel, or as a fashion accessory
Crochet Boho Patterns can be used for several things
You can make a table runner
Add to your Christmas decorations
Make a crochet hat
Crochet boho patterns are popular
Boho patterns can be used to decorate anything from home decor to jewelry
Crochet boho patterns are the newest trend
These clothes and accessories are beautiful and unique
Boho Heart Coasters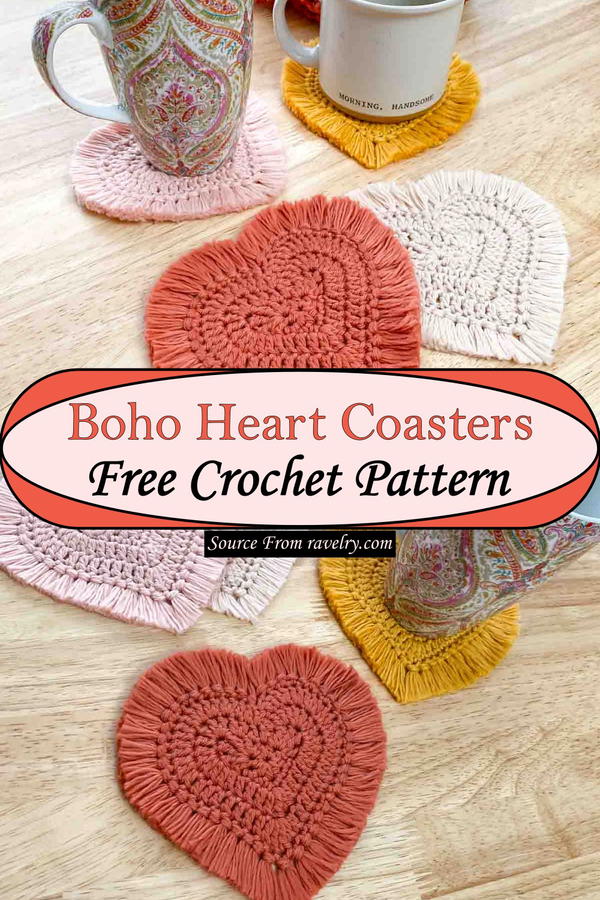 Bring back memories of your grandmother's house with these heart crochet coasters. These adorable heart coasters add a little spark of love to any space - from the kitchen to the office. They work great as a gift or just for fun at home. Use them all year long or as a thoughtful gift for any occasion. Set hearts aflutter with these heart-shaped coasters for the Boho at Home collection. Crochet coaster patterns are a fast and easy to crochet and make great presents! This will be a quick project that uses up some stash yarn with no stitch counting and no gauge swatch needed – perfect!
Boho Plant Hanger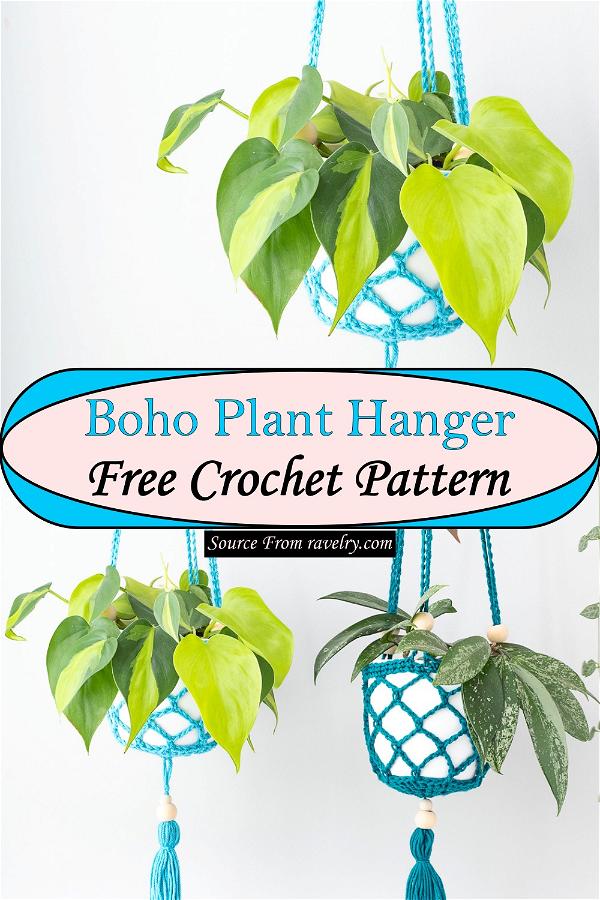 Are you looking to add a little boho-chic to your home? This easy crochet pattern will help you make your own modern, minimalist plant hanger. This crochet boho plant hanger pattern is an easy repetitive pattern that works into a beautiful bohemian home accent. The design of this hanging planter fits 4-5 inch pots. It is crocheted with yarn that provides excellent durable support for your plant pot while providing texture and interest to the overall effect. Durable enough to be hung indoors or out, this pattern is super cute for kitchen herb gardens since it can hold several small pots making a lovely way to display your favorite herbs!
Boho Inspired Bag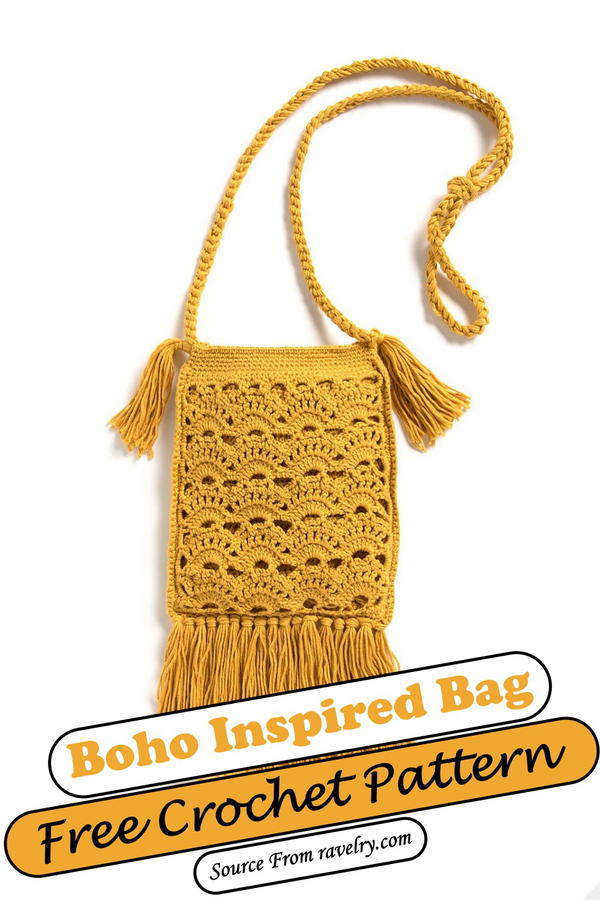 Easy does it with this Beginner-Friendly Crochet Boho Inspired Bag Free Pattern. Not only is this bag pattern easy, but it's full of cute details like a lace overlay and generous fringe -- giving you enough to work on that your work won't seem boring but still simple enough for even the newest crocheters to try! You will love it in the Golden color featured, but the pattern would look amazing in any solid shade that lets the stitchwork really stand out. You'll love this easy project in any color you fancy, featuring shell stitches, single crochet, and fringe techniques!
Adera Boho Coaster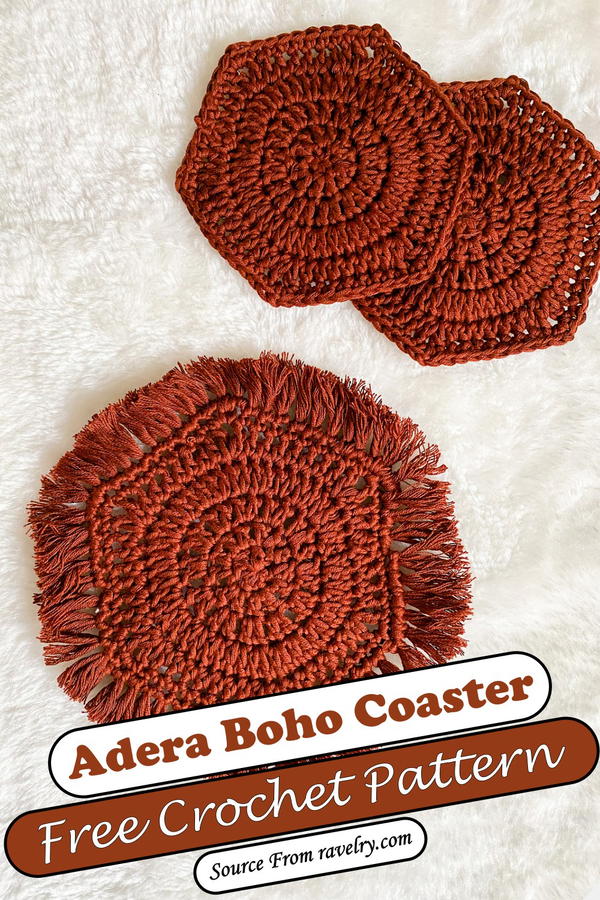 Decorate any table, picnic, or decor with these fun, easy-to-make hexagon coasters! These are perfect for summer and spring parties or a cozy corner at home. They are also great gifts. This is the ideal project to keep your surface safe from hot mugs and glasses. The Adera boho Coaster Pattern crochet pattern will show you how to create a beautiful hexagon coaster with a fun and unique boho fringe that adds extra detail to this simple project. Change colors as often as you like, create an ombre effect, or make them all in one color. Just have fun with it!
The Boho Stripes Blanket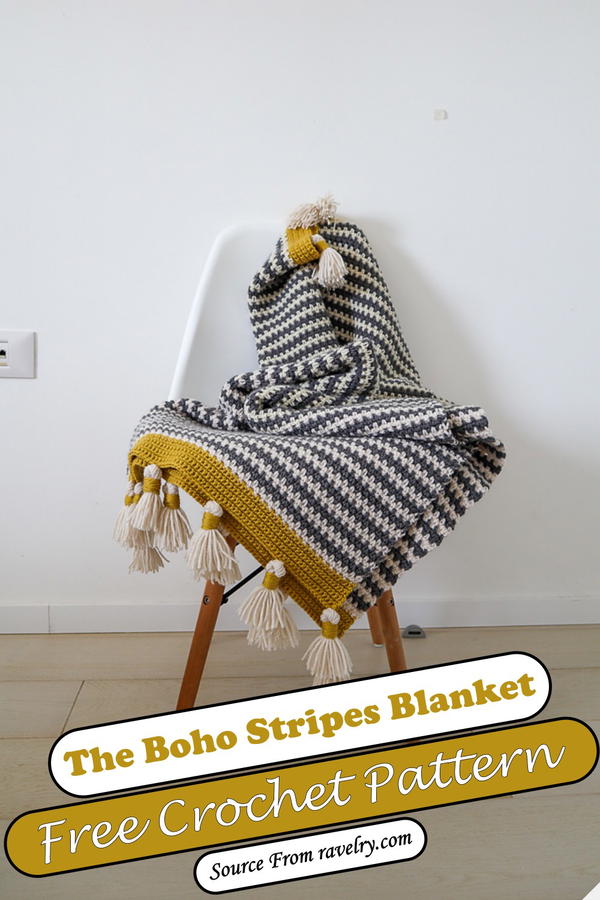 This super-soft blanket is perfect for cozying up with a good book. With oodles of texture and modern-meets-vintage colorwork, you'll have fun creating this soft yet sturdy blanket throughout the entire project. Prime for giving as an heirloom gift, or keeping all to yourself, spend your time sinking into the drapey linen stitch. Plush up a bedroom, hang it as a bedroom wall hanging, or use it as a wrap on beach trips, snuggled up on the sofa or around a campfire.
Boho Jar Cover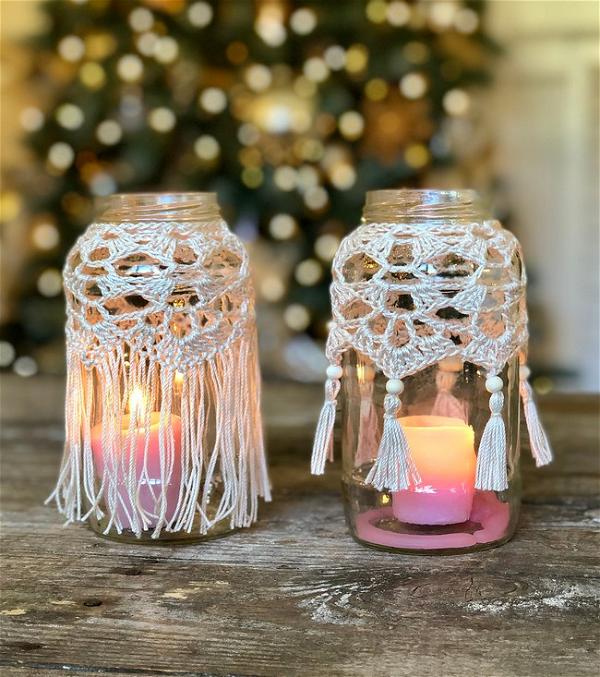 Sometimes things get messy! But laying flowers or other knick-knacks in a recycled spaghetti sauce jar doesn't exactly add to the ambiance of your home. Make your reusable jar covers with recycled jars and some simple boho crochet. These covers are easy to make and a great way to reuse plastic bottles and jars you may have lying around the house. With various colors and textures, you can create a set that gives your kitchen counter creative, boho style! These crochet jar covers allow you to upcycle those jars into something that fits perfectly into your decor and is a great way to save the planet at the same time.
Boho Blossom Throw Pillow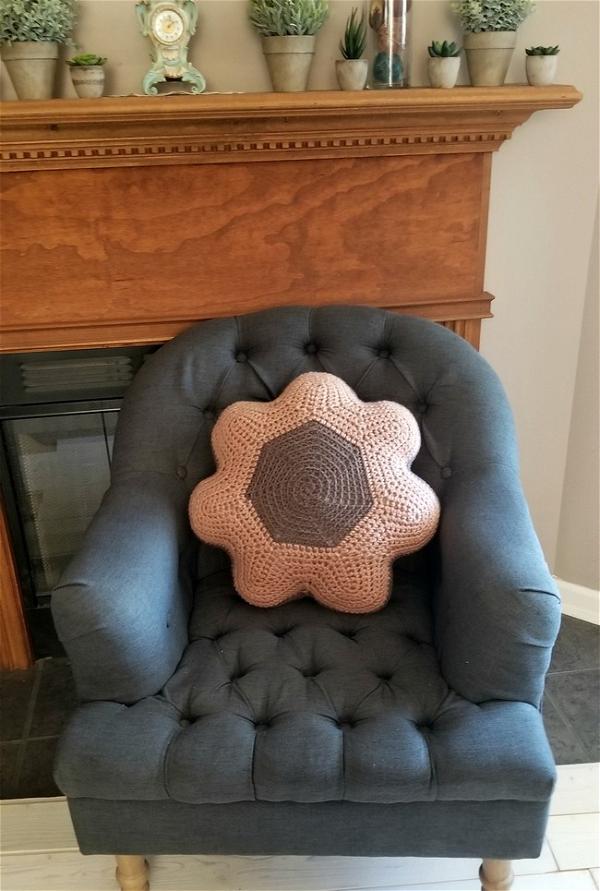 Add an extra dash of style to your decor with the Boho Blossom Throw Pillow. This cute throw pillow is worked in a circular design with simple stitches and fun construction. Make this lovely pillow in colors that match your current decor, or select a color that provides a bold contrast. It will be a fabulous addition to your couch or bed. This pillow pattern is easy to make and looks great as a quick decoration update. You can work it up in colors that match your current decor or pop out a bold color to make this pillow the focal piece of any room.
Boho Bauble Cover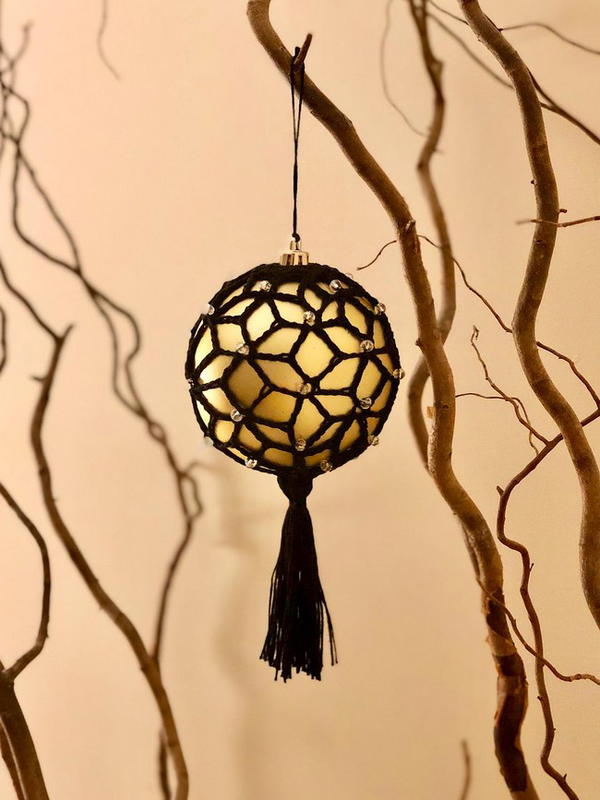 This crocheted ornament pattern is easy yet fancy enough to impress your guests this holiday season. Crochet your own Christmas ornament with this beautiful star pattern. This crochet boho bauble cover will bring elegance and sophistication to your Christmas tree this season. This crochet ornament is the perfect mix of modern and rustic! This ornament is so pretty and easy to make you'll have a whole tree full of new decorations in no time. The pattern calls for a worsted weight yarn, but any size yarn can be used to suit your style. Use a smaller yarn gauge and hook to make a more delicate, lacy bauble cover, or use a larger one to make more of an oversized bunting.
Boho Legwarmers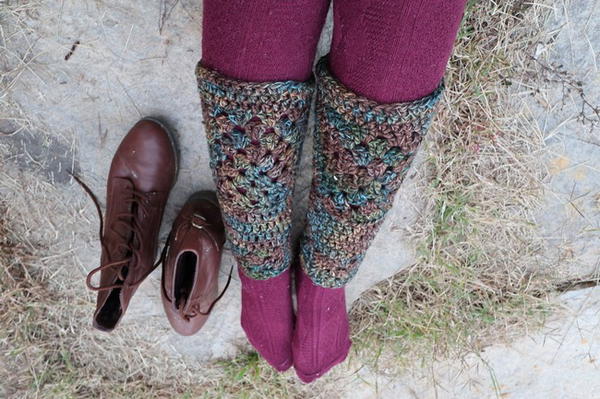 Soft, neutral palette knitted legwarmers in a warm and attractive crochet stitch. Leg warmers are the perfect fashion accessory for fall and winter. It can be worn over slacks, tights, or leggings! A beautiful pair of crochet Boho Legwarmers in a gorgeous magenta color will help make any outfit you wear on the beach or in the city look stylish. Handmade crochet boho legwarmers from wool. The flexible and comfortable design feels good when you wear them. This pair of legwarmers will make you look good with a skirt or dress on chilly days. Pair with your favorite boots and moisture-wicking activewear leggings. Great for working out, yoga, hiking, dance, cycling, or Chillin... Also perfect for year-round wear!
Boho Puff Stripes Blanket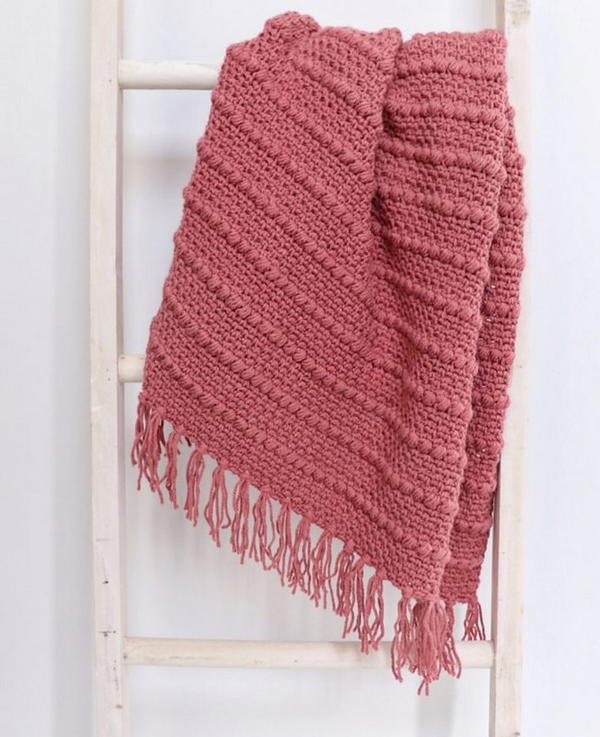 Adorned with soft pops of color and texture, this beautiful handmade blanket by Buttercup Baby Creations is the perfect accent for any baby's nursery or kids' room. Ideal for swaddling, use it as a floor mat or cozy throw on little one's bed or in mom & dad's family room.
Handmade crochet blanket for baby or toddler. Style this boho, modern and chic blanket around the house as a throw, outside in the stroller or at the beach. The Crochet Puff Stripes Blanket is a trendy throw that combines many of the hottest trends to create the perfect blanket for any modern farmhouse home. It's ideal for every occasion.
Boho Napkin Ring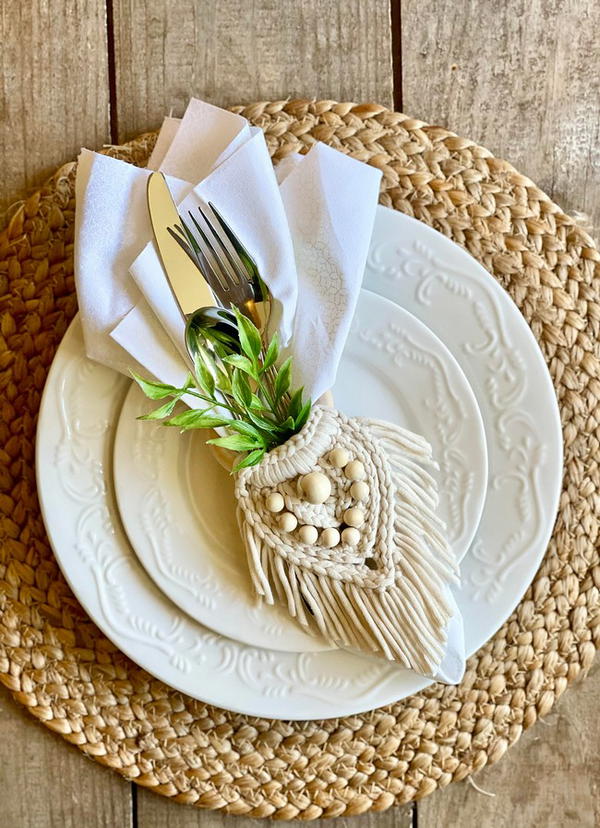 These playful napkin rings add a little Boho style to your table setting. These colorful and stylish Boho napkin rings will make your table stand out at your next dinner party! Make your way to the table with these gorgeous, hand-crafted napkin rings! These easy Crochet Boho Napkin Rings are a great gift or an easy addition to your own home decor. Make a set for your own home or give them as gifts to friends for the next dinner party or holiday dinner. They are made in the same way as a tassel and can be customized with any color yarn you desire. Simply set the napkin inside and twist it around the center on each side.
Boho Chic Vest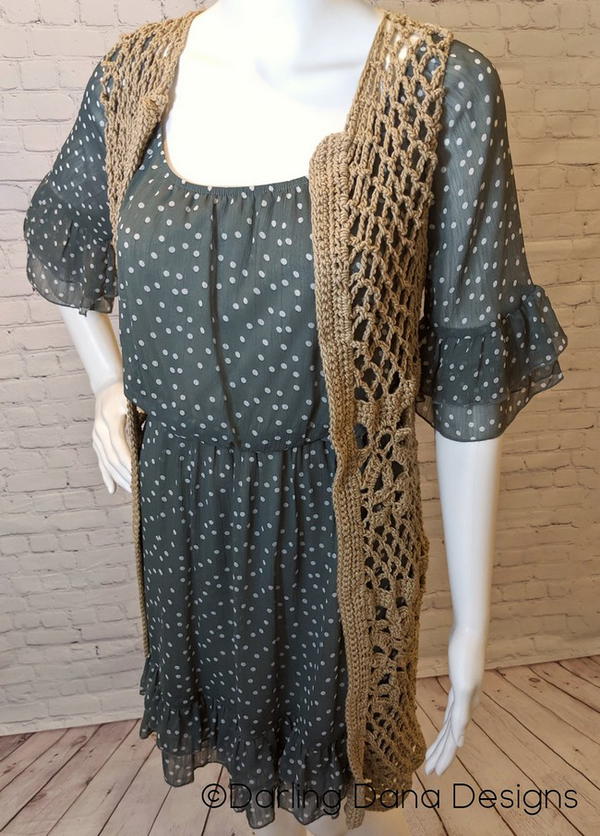 This chic crochet lace vest is the perfect addition to your spring wardrobe. It's stylish and crocheted from a soft blend of cotton that will keep you feeling cool, even on the hottest summer day. This freeform Boho Chic Crochet Vest is a gradual blend of shades and textures. It's perfect for a cool summer night. The left side is fully enclosed with a button, keeping it out of the way. Worn over a tank top and jeans for a casual look or with a mini skirt for a night on the town, this fashionable piece will let you showcase your style no matter where you are headed. When paired with a white top and sandals, this vest will keep you cool and on-trend!
Boho Basket Planter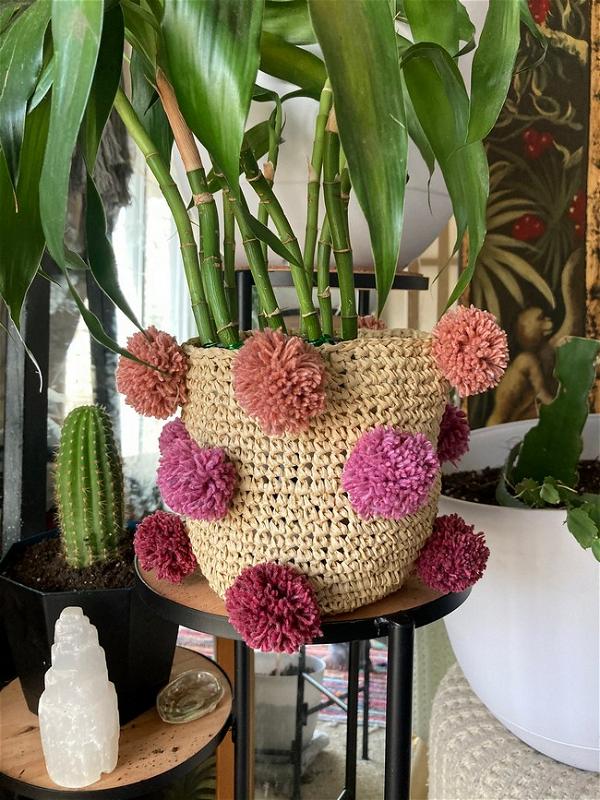 These handmade crochet planters add an earthy and bright bohemian vibe to your home. Use them as a beautiful base for planting succulents, cacti, or larger plants. Perfect for boho weddings, baby showers, and accenting the home. This boho Basket Planter is great for any indoor or outdoor space. These basket planters are perfect for storing small items or plants. They are hand crocheted from cotton rope and have a hand-embroidered front face. They come in three different designs, each one unique and handmade. The basket is hand crocheted with a cotton rope and finished with gorgeous gold trim. Place your favorite plant inside or use it to decorate your space!
Boho Star Wall Hanging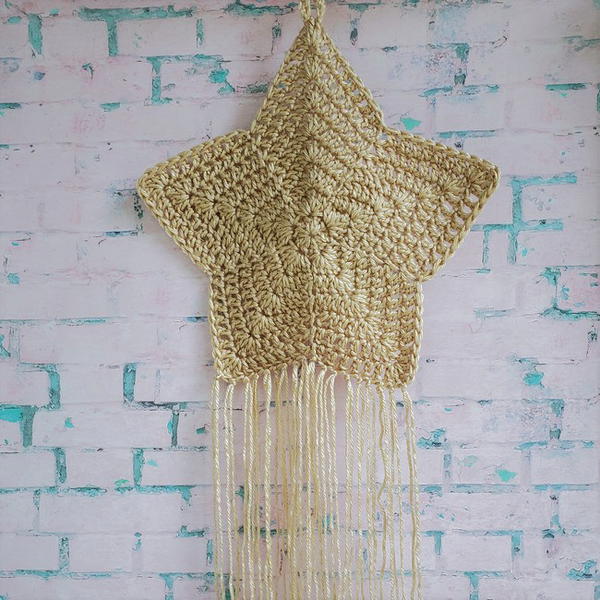 This crochet wall hanging brings a touch of boho elegance to your walls. This project can also be used to make a beautiful wall hanging. This simple wall hanging uses a large star-shaped motif and fringed edges to create a bohemian chic look. The Boho Star Wall Hanging is a unique piece of handmade decor for your home. This colorful crochet star wall hanging is perfect for brightening up the walls in your home. Crochet this boho home decor item in any colors you like to suit your room's color scheme! Use this pattern to wow your house guests with a colorful crochet wall hanging.
Boho Triangle Garland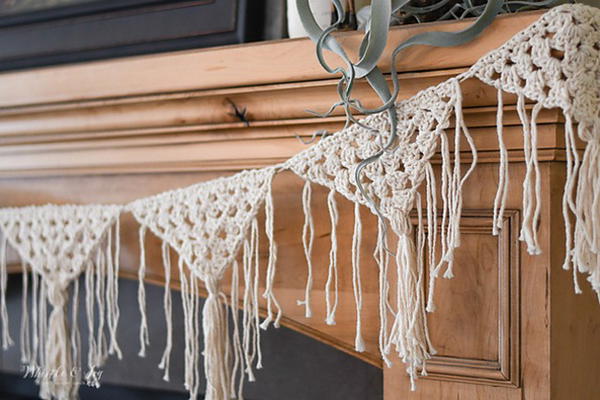 If you're looking for an easy crochet project to make something beautiful and modern for your home, then this granny triangle garland is the perfect project for you. It would be a great addition to a nursery with all the boho vibes, but it looks lovely in a bedroom or living room. Plus, it uses the basic granny stitch, so if you're learning how to crochet, then this will be a fun project for you to try out! This modern garland will be great to hang above your bed, mantle, window, or even on the wall!
Boho Fringe Top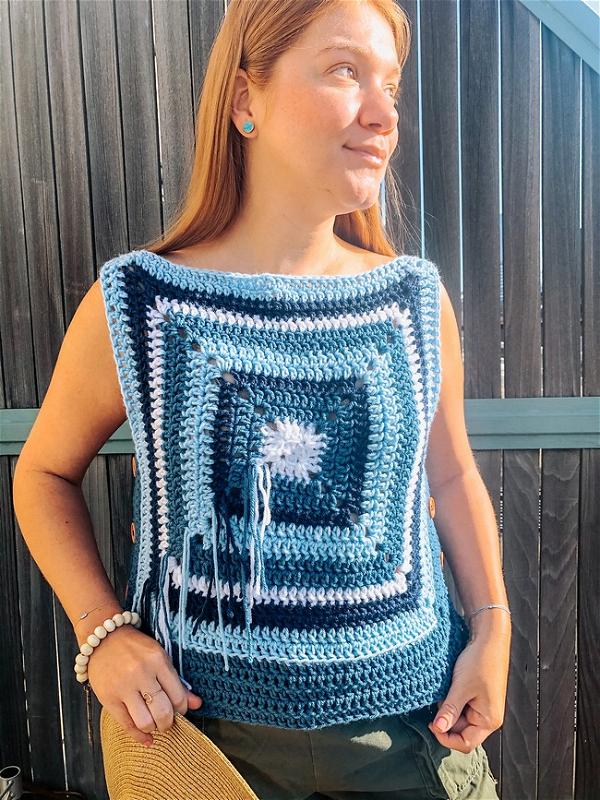 The Boho Fringe Top is a comfortable top for summer days. The boxy fit will keep you cool and make a statement under your favorite cardigan or blazer. The Boho Fringe Top is designed with the granny square stitch in mind, combining it with a flowing silhouette and playful fringes. Inspired by the hot days of summer, its oversized shape allows for warm-weather comfort without compromising on style. Designed for an oversized boxy fit, this pattern is great for beginners looking to make garments. This is an excellent top for someone looking to begin making crochet tops. This top has an oversized, breathable fit for summer fun.
Boho Love Necklace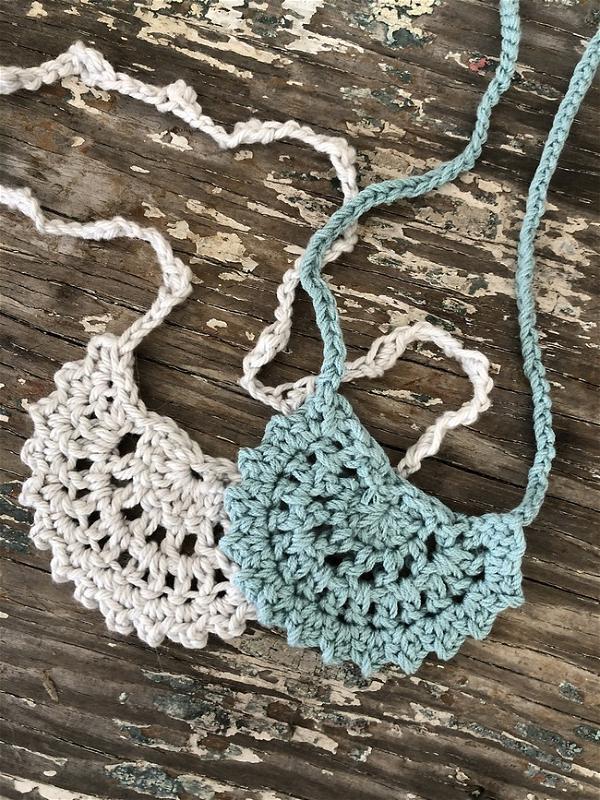 This necklace is an excellent beginner pattern; this necklace is crocheted in one piece and on the bias. The seed beads add extra sparkle to this easy crochet project. It's a great gift for any woman or yourself. This versatile piece is handmade with love and care in the cotton thread; it doesn't stretch or fray and gives a light feel when worn on the neck. The Boho Love Necklace features adjustable length to decide the best fit for your neckline. This gorgeous easy, fun, and adjustable crochet necklace is the perfect accessory for any outfit, casual or fancy.
Boho Water Bottle Holder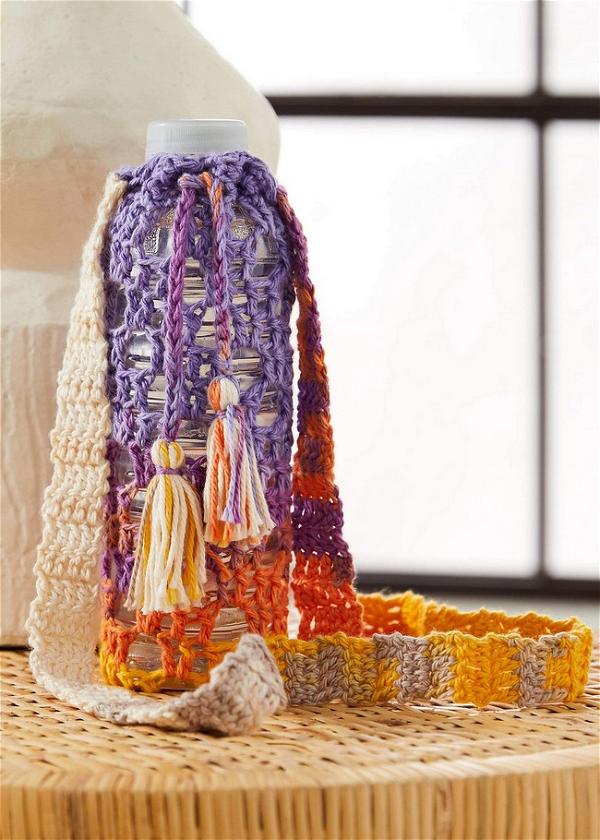 This water bottle carrier is fantastic for keeping your drink cold and helping protect it from the elements. They make great gifts too. This super cute Boho water bottle holder is perfect for your water bottle. It has a strap under the bottle and a fastener closure to keep your drink in place. This one-of-a-kind, hand-crocheted water bottle carrier is perfect for taking water, coffee, or tea with you on the go. This holder has a cinch strap that you can attach to your backpack or front of your bike—made with love and care from super soft cotton yarns.
Boho Plant Wall Hanging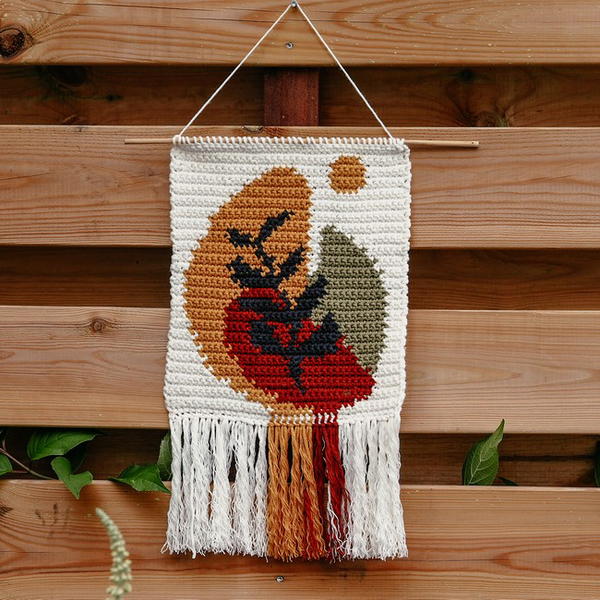 This beautiful boho modern wall hanging will bring life to your walls. It is lovingly handmade from cotton yarn. There is nothing more beautiful than some natural decoration. This will complement any decor creating a relaxing atmosphere. It has different textures and is customizable; you can change the color scheme, size, number of rows, and shape to make it uniquely yours. This is also very easy to clean to put it in the kitchen or bathroom. It can work well in different shapes, sizes, and colors to add personality to any space.
Boho Bristol Bag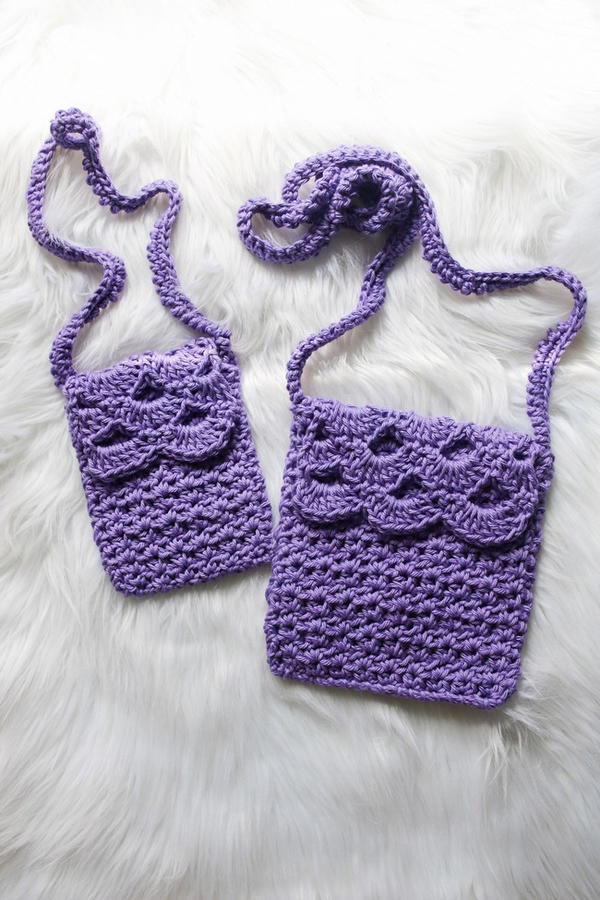 Crochet Boho Bristol Bag is the perfect bag for a night out, the beach, or the theme park. The beautiful texture of this bag will add style to your look and be breezy enough to allow you to have fun in the sun! A practical and stylish bag for all occasions. Boho Bristol Bag is a textured bag with a variety of different stitches. It can work well in three sizes, with lining. The pattern includes step-by-step photo tutorials for all techniques and a tutorial on adding some crochet to a ready-made bag.