It is no doubt that cosmetic bags are a great addition to every lady's purse. They are designed to store all your makeup kits and be easy to carry around; and come in different shapes and sizes, are cute designs, and have many separate compartments. Check out these 25 DIY makeup bag ideas & plans. If you are a DIY lover, making a makeup bag for yourself won't be an issue for you; You can use any fabric and old pouches to make it. Use colorful prints and lovely designs to make it look more attractive; You can also use different patterns if you want. If you are gifted with sewing skills, there is no better way to show them than by making a beautiful makeup bag for yourself.
You can also make many different styles of makeup bags, depending on your taste and preference. Some bags have multiple pockets and zippers, so you can store all your makeup accessories separately without mixing them up. Some people like a simple bag, while others prefer something complex with many layers and pockets. If making a bag seems too complicated, why not try making cases instead? All these ideas will help organize your kit in the best way possible to look organized and attractive. It also makes it easy to find things without repeatedly going through the entire kit.
Check out these 25 DIY makeup bag ideas and plans, from which you can make new or change your old and boring makeup bag into something better and more useful!
DIY Makeup Bag With Vinyl Lining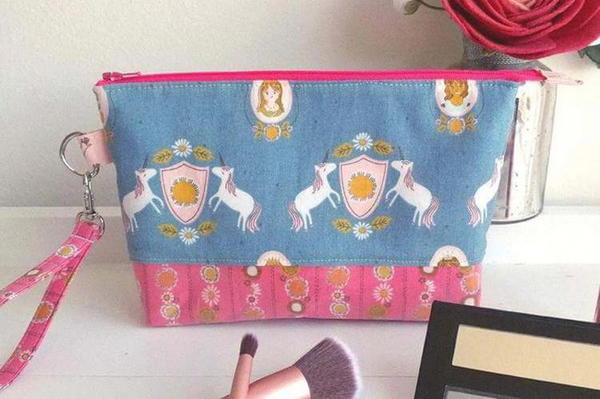 Thinking of making your own makeup bag but unsure how? Then you may want to take a moment and watch this video. Many people love to make their own makeup bags because it saves them some money, and they love being able to personalize the pack with their favorite patterns or colors. It is not as hard to do as it seems; once you know the technique, you can apply it to any bag. This DIY makeup bag with vinyl lining is easy to make, and it's lined with vinyl material to add durability and sturdiness. This is perfect for storing your makeup brushes, hand creams, and other cosmetics in style.
DIY Makeup Pouch Bag
To make this DIY makeup bag with vinyl lining, you require a few tools and materials. These include a sewing machine, scissors, decorative stitches and threads, a vinyl lining sheet in the color of your choice, and a large zip for the electronics compartment. The first step is to sew out the actual bag. When making the central panel of the cosmetic case, please add some decorative stitches near the zipper and fold-over section. This easy-to-make Makeup Bag will be large enough to hold your beauty stuff and keep them safe from getting crushed. Best of all, you will only be using the materials from your craft stash.
DIY Makeup Bag With zipping
Are you looking for a makeup bag? This is the most beneficial DIY tutorial for you. You can get a headband without extra cost, and it is also a cute decoration for your house. You could also use fabrics with colors and patterns to match your different clothes. Ideal for storing jewelry, cosmetics, and accessories, this multipurpose bag will look great on your dressing table or in your wardrobe. You can get a pretty good idea of what you need for this DIY makeup bag. This is an easy project for beginners because it does not have a lot of complicated steps.
DIY Stylish Makeup Bag
This bag is something that you may be interested in creating. It can be great for a gift or to carry your make-up in. Making it yourself is pretty straightforward and cost-effective. It would be best to have jean pieces, a cardboard top, the bottom of the bag, handle strap, and zipper to do this project. With these easy-to-follow instructions in this video tutorial, you can make your own DIY Stylish Makeup Bag.
DIY Beginners Cosmetic Bag
Are you looking for a project to do? You should try to make a DIY cosmetics bag! This is very similar to the makeup bag from Bosi, but probably with a fraction of the cost. All you need are love and talents. Start gathering your materials and creating this beautiful bag yourself if you think you have it. Follow the step-by-step instructions provided in this video to make your very own cosmetic bag.
DIY Travel Makeup Bag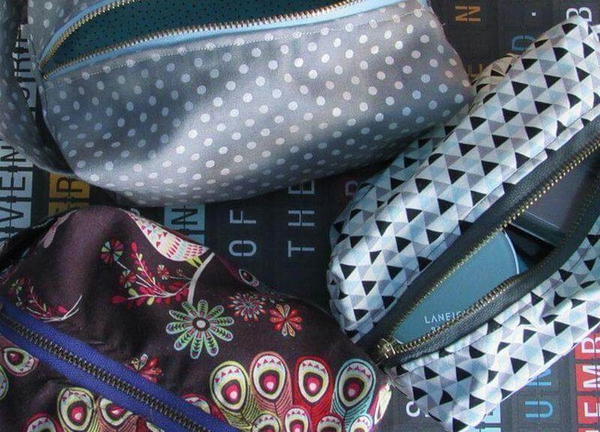 This DIY Travel Makeup Bag is an elegant, stylish, and compact way to put together your makeup kit to bring with you on a trip or even to organize your bathroom. The materials needed are inexpensive and readily available at any sewing shop. It's super easy to make, and you could customize it totally to suit you. The pattern is easy to understand and follow, with pictures and detailed instructions present in this guide. This would be a nice gift for anyone who loves doing their own makeup.
Easy Cosmetics Bag Pattern
This cosmetic bag is sure to make your life easier. With it, you will never have to dig through your drawers for your makeup in the morning. And you can easily fit everything you need for a day out into this adorable bag." This bag is also ideal for small items such as sewing accessories and travel items. This pattern is suitable for beginners. Make this cosmetic bag a gift or even add an extra sparkle to your own dresser. This guide shows you the complete procedure.
DIY Makeup Bag
The DIY makeup bag is a must-have item for women. It can be used as a cosmetics storage bag, making your everyday life easy and convenient. This tutorial instruction will focus on creating an easy sewing DIY makeup bag. It is beneficial for you who want to keep some cosmetics, cosmetic products, or accessories. It's effortless to make by yourself, and you don't need much time to finish it. It can be your great hobby and funny activity too.
DIY Cosmetic Pouch
This jumbo-size cosmetic pouch features an exclusive design in various beautiful prints to choose what you like best. Ever want a makeup pouch that is not only cute but also practical? Look no further. This DIY cosmetic bag is solid and durable, yet just the right amount of adorable to carry all your essentials. Perfect for travel or work, this high-quality bag will protect your precious beauty items while keeping them within reach. This DIY cosmetic bag is easy to make, looks great, and is an excellent gift for your friends!
DIY Makeup Travel Bag
If you're a crafty girl who loves to travel, this DIY makeup bag is perfect. You can modify this project to create a travel bag out of any fabric and the size you need, or get creative and make it extra-special with your favorite patterns! Add a pop of style to your travel case by adding a homemade makeup bag. By making this simple sewing project, you can easily add pockets of different sizes and compartments to hold all kinds of toiletries.
DIY Cosmetic Bag
You can make your own DIY Cosmetic Bag with these free sewing instructions. This bag has three separate compartments, just like the store-bought bags, and you can use it to hold all your makeup essentials. The bag features an adjustable strap for wearing across your shoulder, a slip lock type zipper to keep everything secure during travel, and a soft fabric lining that protects your makeup from getting scratched. You can store things like your smartphone, pens and pencils, sewing accessories, and office cosmetics case and still have space for other things you need every day. Check out this project to find out more about making a zipper pouch.
DIY Makeup Bag Pattern
This Makeup Bag is the perfect size to fit all of your cosmetics, brushes, and beauty accessories. It's an easy sewing project that can be made in less than an hour. Pattern pieces allow you the flexibility to create custom-sized compartments for your individual needs. It will enable you to make the perfect makeup bag in your favorite solid or textures for all of your cosmetics, brushes, and extra items. This DIY makeup bag pattern will give you the perfect holder for your essential cosmetics and is fast and easy to make.
Makeup Bag Sewing Pattern DIY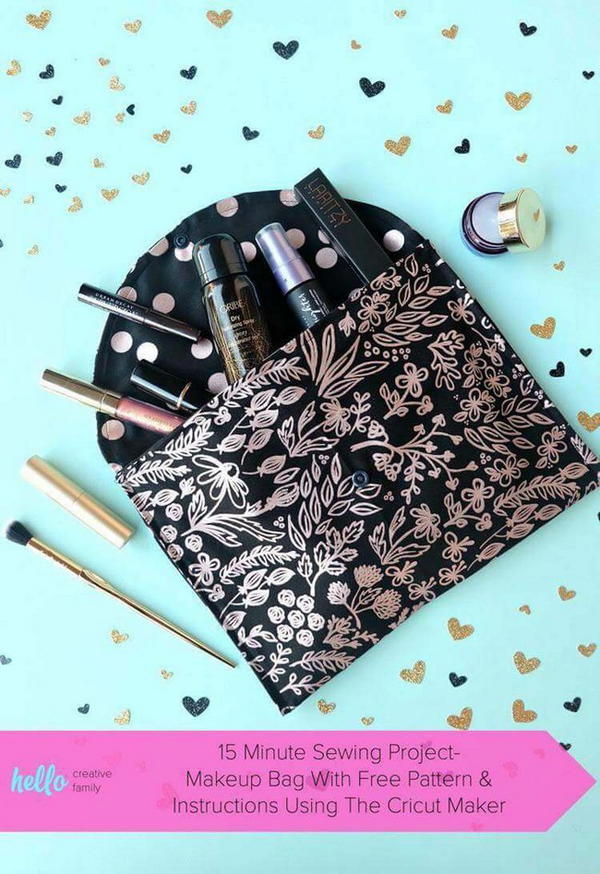 Getting a new sewing kit and getting sewing ready is exciting; getting a beautiful set of jewelry with the equipment is impressive! This Makeup Bag Sewing Pattern DIY makes it a fun experience for you. It will give you a chance to create something beautiful and functional. This pattern is quick to learn, easy to implement, and requires only a few supplies. This design ensures an attractive bag with enough room for storing your makeup products. This DIY gift from you to your friend is the perfect way to make her happy on her birthday, when she starts her new job, or for just about any occasion that you can think of. Give her something original, handmade, and one-of-a-kind with your personal touch!
DIY Cosmetic Case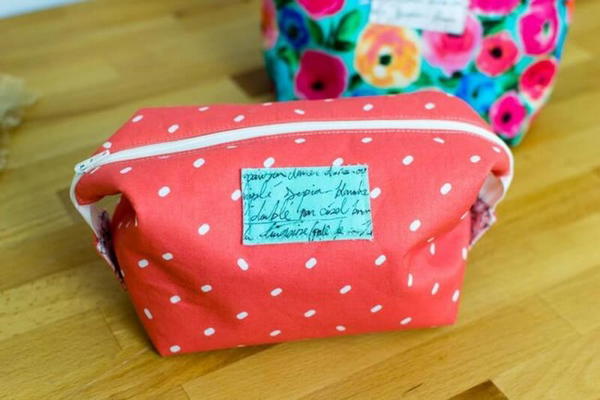 Carry your cosmetics in style and sophistication with this gorgeous DIY cosmetic case. The secret is in the lining, which matches the exterior and helps you keep your makeup accessible and organized. You can also customize the look by choosing from a wide variety of fabrics––so if denim is your thing, it's no problem! This fun cosmetic case is great to throw in your purse, a beach bag, or an overnight bag! It's relatively easy to make (definitely a beginner project) and only takes about an hour.
DIY Clear Makeup Bag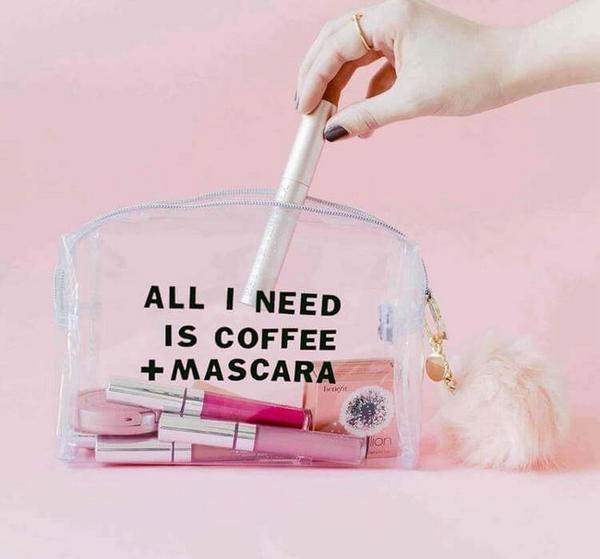 Clear makeup bags are typically used to store makeup items; they help you keep your things organized and easy to find, as they're see-through. However, they can also be used as makeshift drawers or pencil/pen holders. You can make a pack of clear makeup bags relatively cheaply and find a strap or keychain to carry it around with you quickly. This creation can be completed within a short amount of time and doesn't require much work or skill. Use this guide to learn more!
DIY Quilted Makeup Bag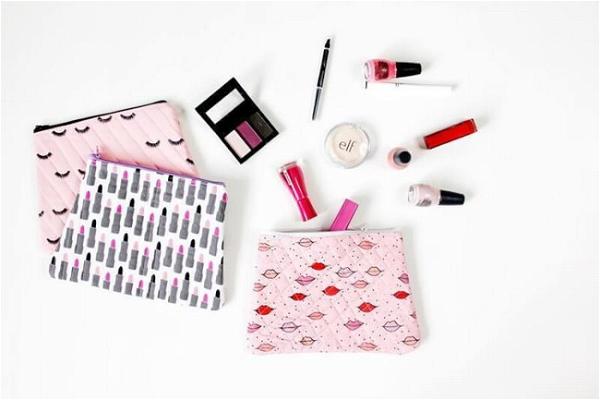 This makeup bag is a great way to preserve the most beloved of your cosmetics. This DIY quilted zipper makeup bag has plenty of space to fit everything inside. It's easy to assemble, with simple sewing techniques required, and looks as good as it feels. It is also an excellent gift for that remarkable woman in your life who loves organization. Go through this guide, look through the instructions, learn a new craft and create this lovely makeup bag for yourself or someone else.
DIY Makeup Bag With Zipper
It's a simple and easy project with a professional-looking finish that's quick to make. The bag is roomy enough for all your cosmetics, so you will never be scrambling for where you put your favorite lipstick or mascara. Make several as gifts for friends and family. This DIY makeup bag with a zipper is a great gift idea for your girlfriend or yourself to keep your daily essentials organized and shielded from dirt. Create your own designs with different fabrics and zippers to add fun to this wardrobe essential. Watch this video to learn more!
How To Sew A Makeup Bag
A simple makeup bag is an effective way to store your cosmetics and toiletries. This makeup bag is created by joining two pieces of fabric, adding a zipper, and then sewing all around the edges. A sewing bag is not just something you can try; it can also be a lot of fun. You can create your own designs and styles without any worries. Here is a video tutorial that helps you get started in the colorful sewing world.
How To Sew A Makeup Bag
Sew a makeup bag for yourself or as a gift for your friends and family members. Makeup bags are great accessories to keep your makeup essentials safe and organized; they can also double as travel pouches or carry-ons. This simple DIY project pattern can be done in approximately two hours and is the perfect beginner sewing project, and the results will be excellent. This video tutorial will help you create a cute makeup bag using simple materials, such as a zipper, contrast, and main fabric.
DIY Makeup Bag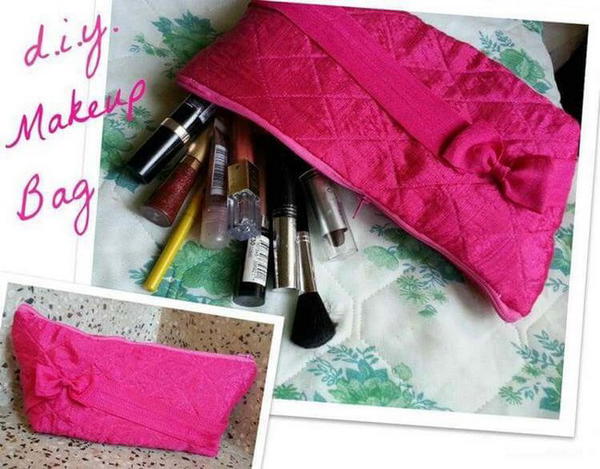 Create your own personal bag for your makeup; DIY Makeup Bag is a colorful and fun DIY project that can be quickly completed in just a few hours. The perfect way to organize all your beauty products, it's an excellent DIY project for anyone who loves crafts. Make a pretty makeup bag or pouch with this easy-to-follow guide. You'll find step-by-step directions, templates, and everything else you need to do this project.
DIY Miniature Makeup Bag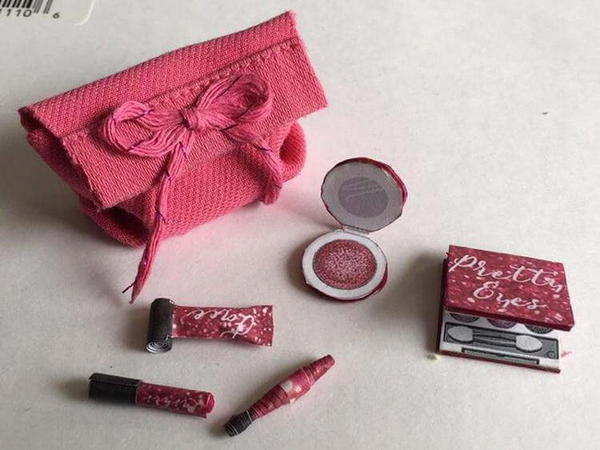 This fabulous craft project is all about putting together a tiny makeup bag. You will need fabric, fabric glue, a paintbrush, scissors, and low grip velcro. The result is something that looks like a miniature version of the real thing; This project was created for those who are not familiar with sewing or want to take a break from sewing. So this is more of an art project than anything else. Create your own miniature makeup bag by following these easy steps in this DIY project guide.
23. DIY Makeup Bag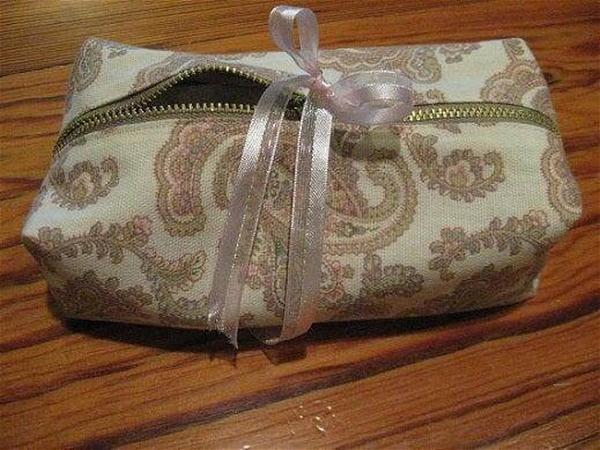 A DIY makeup bag is a great project to make if you're a beginner. It's easy to make as it only requires materials that you can easily find, such as lining fabric, scissors, matching thread, pins, a ruler, and a sewing machine. Cut the fabrics into pieces: first, sew the main fabric on the zipper, then stitch side seams. After this, you're good to go! This DIY project is a fun and creative way to store all your favorite makeup. It's the perfect gift for someone who loves fashion, beauty, and cosmetics.
DIY Leather Makeup Bag For Biker
This is the perfect DIY for leather lovers. It's a super easy leather makeup bag with spikes that you can make in just under an hour; The project may look complex, but it's fast and straightforward. And it's very stylish, so you can carry it everywhere you go; Its unique and eye-catching design will grab everyone's attention. This guide's fun and easy-to-follow instructions will help you learn how to stitch, assemble, and make your own unique makeup case.
DIY Drawstring Cosmetic Bag
This DIY Drawstring Cosmetic Bag is not only a great sewing project for both beginner and advanced sewers but also the perfect addition to your already existing collection of cosmetic bags. With three pieces of bag panel, two flap panels, and two pieces of drawstring casing, it's easy to make one for yourself or as a present for a friend. Use this DIY project guide that includes step-by-step photos for each step of the way to complete this project quickly.