DIY Driftwood Projects is jam-packed with great information on how to make creative and useful art, furniture, and accessories using simple and inexpensive driftwood. From wall hangings to serving trays, stands to coffee tables, this article has dozens of projects -- plus informative tips and instructions for choosing, collecting, and preparing driftwood. Driftwood is a beautiful material to work with. It's free, and you can find it almost everywhere - the beach, a riverbank, even your backyard. You can use it for just about anything, from signs to furniture to decorations for your garden. It adds a lovely rustic touch to any room or garden area.
DIY Driftwood Projects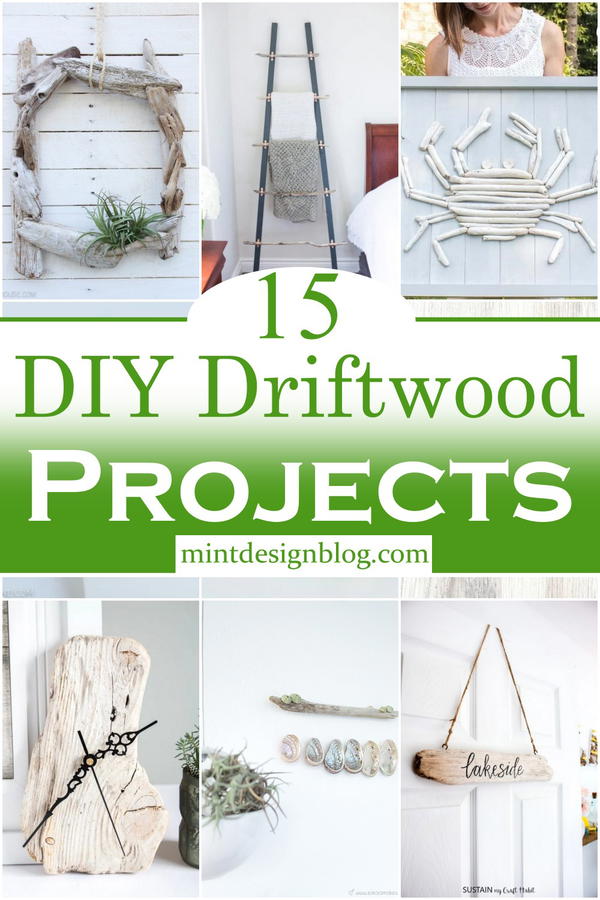 Treat driftwood with care - its origins in saltwater make it very susceptible to rot. Sanding and cleaning it thoroughly before working with it will ensure that you don't introduce any unwanted pests into your home. There are several ways to treat driftwood before you use it. You can also soak it for a few days in a solution of one part bleach to nine parts water. If you just want the bleached look, place your wood outside in the sun for a few weeks. Remember though, that this presents its own problems - the wood will be prone to cracking as it dries out, and the color will fade. There are so many ways to add a touch of nature into your home. Driftwood is one of the most cost-effective and attractive ways to do it.
Here are 15 great ideas for using driftwood in your home. Not only you can use it in your home, but you can also use driftwood outdoors.
How To Make A DIY Driftwood Mirror
This driftwood mirror is a gorgeous addition to any room. Combined with the beachy feel of the driftwood and shells, they create a scenic picture that can be enjoyed day after day. This one is super easy and inexpensive to make. It would be great as a bathroom mirror or in any room in the house! The main thing that you need for this mirror is driftwood, glue, and glass. If you are going to try this project, please do it on a warm day and make sure there is ventilation for fumes.
This can be an all-day project, but well worth it in the end. This good-looking mirror is perfect for a nautical-themed bathroom. It is easy to make, and you can use driftwood you find at the beach. You can use this mirror as a decoration in your bathroom or as a simple mirror hanging on the wall of your home.
Skill Level: Beginner
Tools:  Assorted driftwood pieces, beveled mirror round shape, jigsaw, sandpaper
Supplies: Wood, Glue, Screws, Nails
DIY Rustic Coastal Blanket Ladder With Driftwood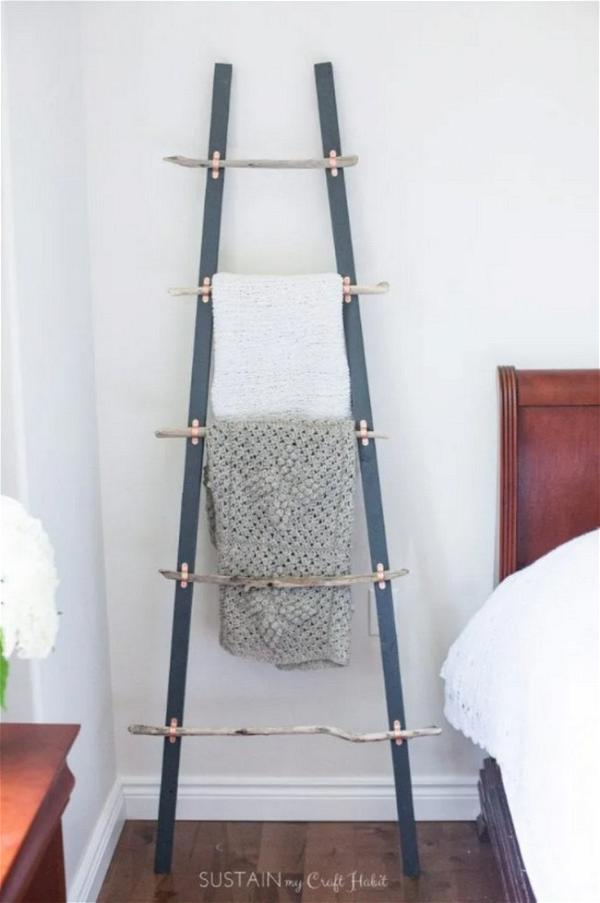 Landscapes and decorating go hand-in-hand. If you are ready to make your house a home, consider changing your outdoor space. With a little DIY magic, you can create instant curb appeal by adding outdoor decor. In this fantastic tutorial, you will learn how to turn driftwood into a rustic coastal blanket ladder. First, choose your wood and gather your tools before cutting the pieces so that everything is ready to be assembled at once. Once the ladder is assembled, attach the pieces to one another using nails or cable ties for added support.
This beautiful DIY Rustic Coastal Blanket Ladder With Driftwood is a MUST HAVE for any coastal home! If you love the look of driftwood and cozy blankets, this DIY is for you! The blanket ladder centerpiece can also be used as a place to sit, dangle your feet, or even layout on when you're relaxing in the sun.
Skill Level: Beginner
Tools: miter saw, orbital sander, wood paint
Supplies: Wood, Glue, Screws, Nails, metal hooks
How To Make A Hand Lettered DIY Driftwood Sign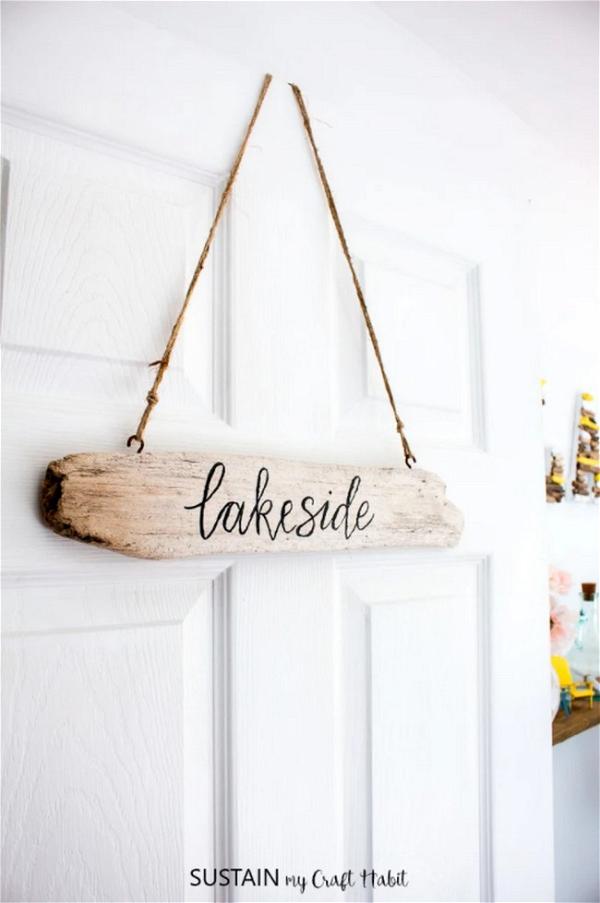 Making a Hand-Lettered DIY Driftwood Sign is a great idea for the beginning of a wedding or any party. These signs are extremely affordable, and when paired with burlap or twine can make for a beautiful sign. This DIY Wood Sign is also quite easy to create, and is not limited to just weddings. It would be great as part of a Valentine's day party or even as part of your Thanksgiving Decorations! Liven up your porch with this hand-lettered DIY driftwood sign. Based on a Swedish saying, it is made using common items found in most homes. This project was my pick for the first episode of DIY Sunday School, a series that will show you how to tackle simple crafts and home improvements.
Skill Level: Beginner
Tools: wood, rope, jigsaw
Supplies:
lat, rectangular piece of sun-washed driftwood
small paintbrush
paper
pencil
hooks
thumb tack
How To Make A Clock With Driftwood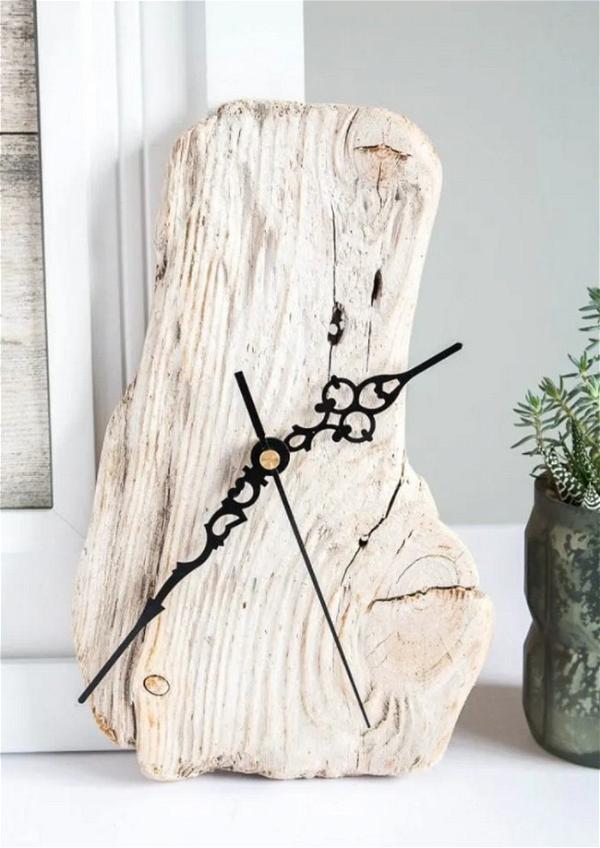 Spring forward, Fall back. Living in this part of the world, we still follow the practice of Daylight Savings Time (DST); which means that in early Spring we set our clocks forward 1 hour in order to lengthen our evening daylight. And then in the Fall, we set the clocks back again for 1 hour. So with all this going on, there's literally no better time than the present to show you how to make a clock using a piece of beautiful driftwood!
Learn how to make a clock with driftwood right here. Turn any wooden piece into an impressive-looking (and working) timepiece in just a few minutes. Building a clock out of driftwood is both inexpensive and a great way to decorate your home or give it as a gift. Building this clock is really not that hard, but it does require decent carpentry skills. These instructions will help you build a beautiful wooden clock that will last.
Skill Level: expert
Tools: wood, clock hands,
Supplies: chisel,  hammer, drill
DIY Driftwood Wreath with Air Plants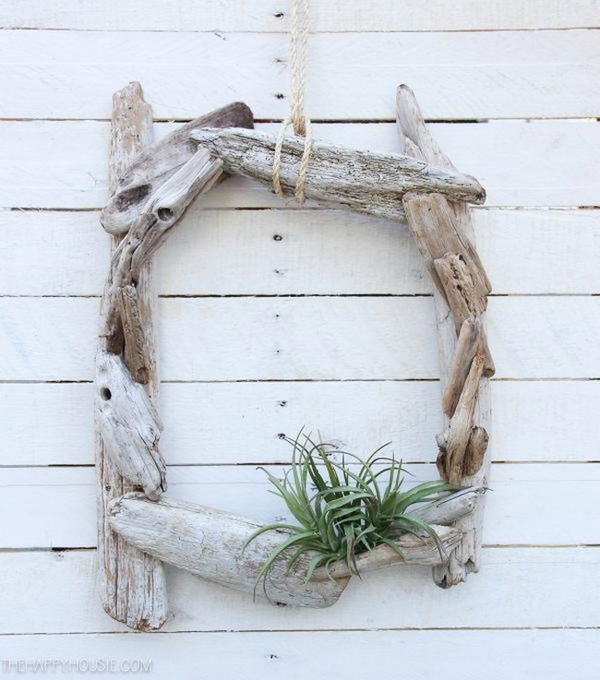 Get ready for some fall decor with this DIY Driftwood Wreath with Air Plants! Host an annual party to celebrate the changing of the seasons. Fill a bowl with homemade candies, set out loads of silverware, and goodie bags for each guest. Invite friends to wear autumn colors and bring scarves, boots, or other accessories to add a little spice. This DIY driftwood wreath is the perfect way to give your decor an instant coastline or beach home vibe. It combines my love of the outdoors and bringing live green plants into one simple project!
You can pick your own driftwood, create the wreath base, and add the air plants at whatever pace is right for you. With a few simple materials, you can create this super easy DIY driftwood wreath. The best part is that it comes with air plants for an extra bit of beauty. Add this unique look to your front door, wall, or hanging on the front porch.
Skill Level: expert
Tools: wood, rope
Supplies:  hammer, drill, glue
How to Make a Driftwood Lamp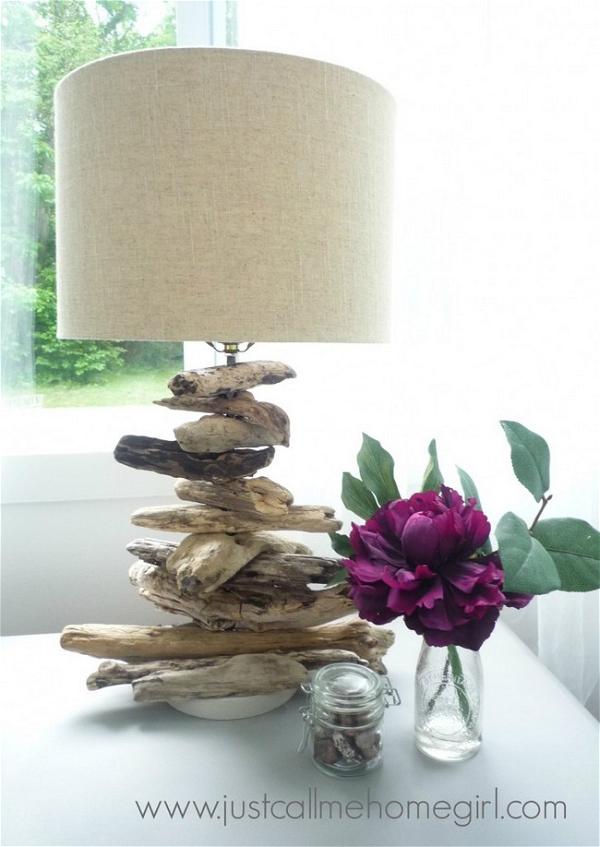 Have you ever wondered how to make a driftwood lamp? Driftwood lamps are becoming amazingly popular and have become a great addition to many rooms. Driftwood lamps are a perfect rustic accent piece and are very popular on Pinterest and Instagram. They aren't hard to make, but many assume they must be expensive. It's so easy to make yourself—there's no need to spend a fortune on designer lamps. Learn to create an original lampshade that is perfect for showcasing your unique lamp. With driftwood figurines, glass bell shades, and even driftwood floor lamps and floor diffusers, there´s no end to the creative designs that can be achieved with driftwood. Driftwood lamps are an easy, fun DIY project that anyone can do. Making a lamp from driftwood is a great way to re-purpose pieces that would otherwise get thrown away in nature.
Skill Level: expert
Tools: lamp metal stand, round wood base, Assorted driftwood pieces
Supplies: wood, glue, lamp bulb
How To Make Shell & Driftwood Wall Hanging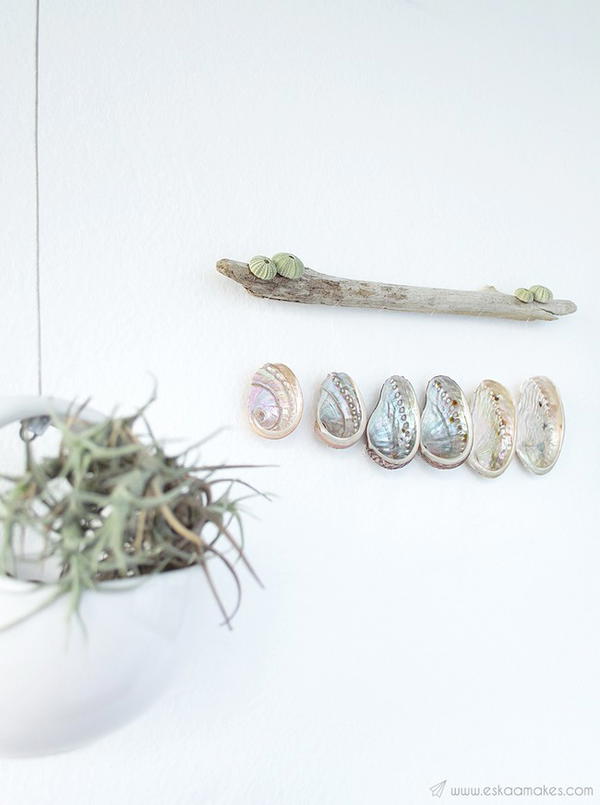 Make a beautiful driftwood wall hanging. The homemade nature of this project will make it more special -- and much treasured -- than anything you could buy. Its asymmetrical design showcases the unique shape of seashells, and its lopsided scale adds to the natural charm. If you want to spend some time on the weekend, why don't you try making this shell and driftwood wall hanging? It is a kind of decoration that has seashells and driftwood combined. This would make for an eye-catching decoration for your home.
The materials required to make it are available easily and can also be found at home. Anyone could try this out for sure. One of the easiest ways to bring the beach into your home is through a shell and driftwood wall hanging. It's a quick, simple project: You can make it with just two shells, a few tools, and some driftwood or pottery bits like rocks, broken plates, and tiles.
Skill Level: expert
Tools: 6 shells with holes, driftwood stick, shells of sea urchins, or small shells to decorate
Supplies: super glue, nylon thread
Driftwood Crab Wall Art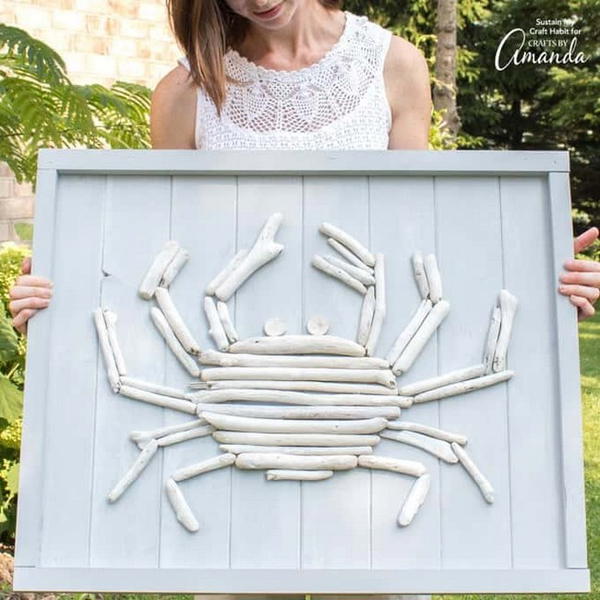 Your wall will never be bare with this crab on the beach wall art. This fishy decor is simple to hang, just open the crab's claws and place it on your wall. In the water, crabs are elusive creatures. Out of the water, they become fascinating pieces of wall art. Crafted from driftwood logs that have aged in the sea for decades, this piece will become a beautiful and eye-catching accent to your home or workspace. It features a solid brass hook at the top so you can hang it without worrying about damaging the wood. The rustic finish makes no two products exactly alike, giving each their own unique charm. This would make a great gift for anyone who loves shoreline decor and saltwater creatures.
Skill Level: beginner
Tools: cotton rag,  pine board
Supplies: wood glue, airgun nailer,  paintbrush
DIY Hanging Rope Shelf with Driftwood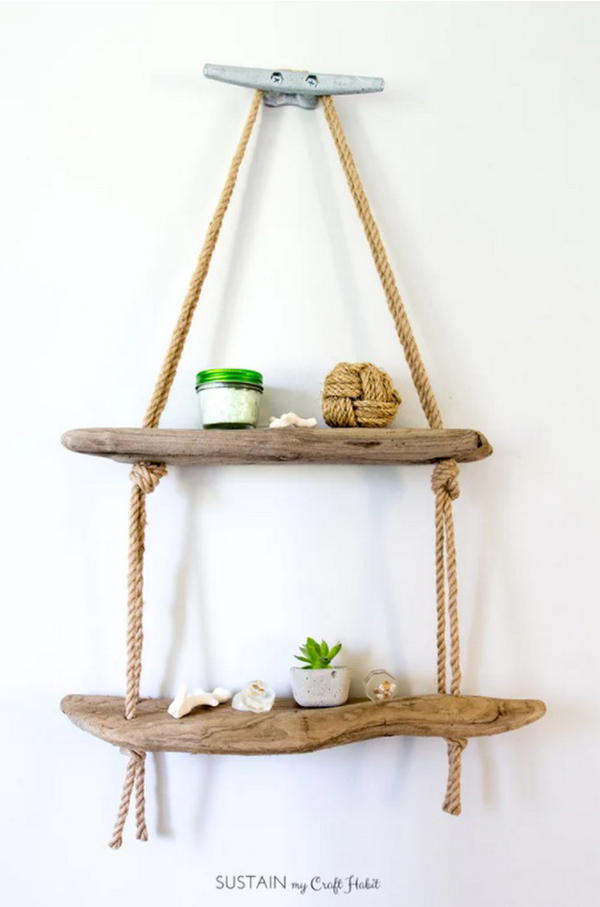 Instead of splurging on pricey shelves, try this easy project. A piece of rope and a few other inexpensive materials are all you need to create this beautiful shelf. Hang the shelf above your desk or near your vanity for a lovely, decorative touch to any room in your home. Next, tie the ends of the rope together into a sturdy knot and tighten until secure. You don't want this shelf to fall over or anything! Drop-in whatever pouches, vases, photo frames, or other fun decorative pieces you've been saving for the right moment then voila you're done.
Skill Level: beginner
Tools: reclaimed wood or barn board, Natural Coloured Jute Rope,
Supplies: Screwdriver and large-sized drill bits, Scissors, Polyurethane, clear matte spray paint
DIY Driftwood Heart Art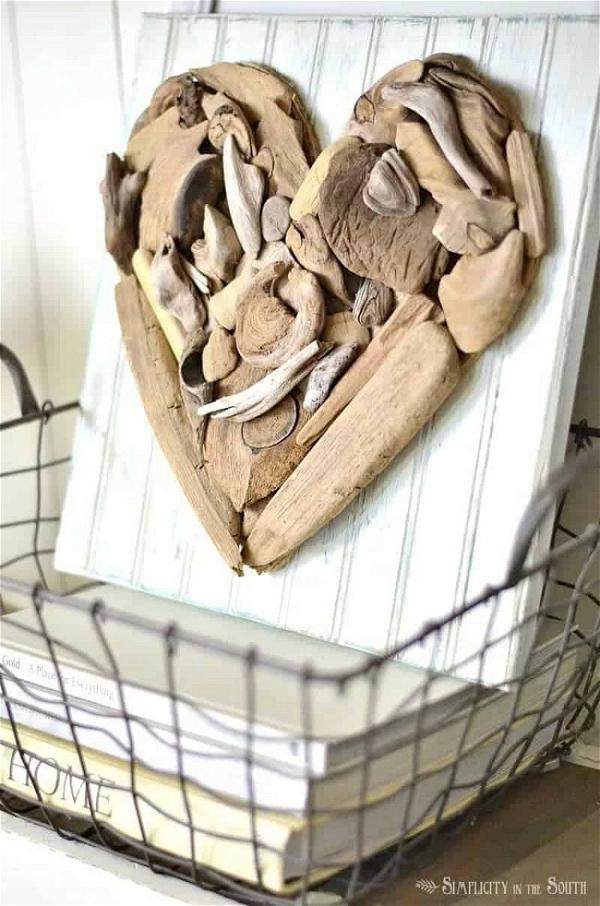 A cute and simple DIY gift for Valentine's Day or any other day that lets you send that special someone a message of love. This simple and inexpensive DIY project is perfect for any room that needs a little rustic touch. With just some driftwood, paint, a picture frame, and a glue gun, you'll be on your way to creating an easy DIY art wall piece that you won't want to take down. The driftwood heart has the cute shape of an arrow and it's great for someone who loves the beach or wants to believe in fairytales. This decoration is very easy to make and you need only four small things: a frame, an image from a magazine, gum glue and sticks of driftwood.
Skill Level: beginner
Tools: Assorted driftwood pieces,
Supplies: wood, glue, pinewood board
DIY Driftwood Necklace Holder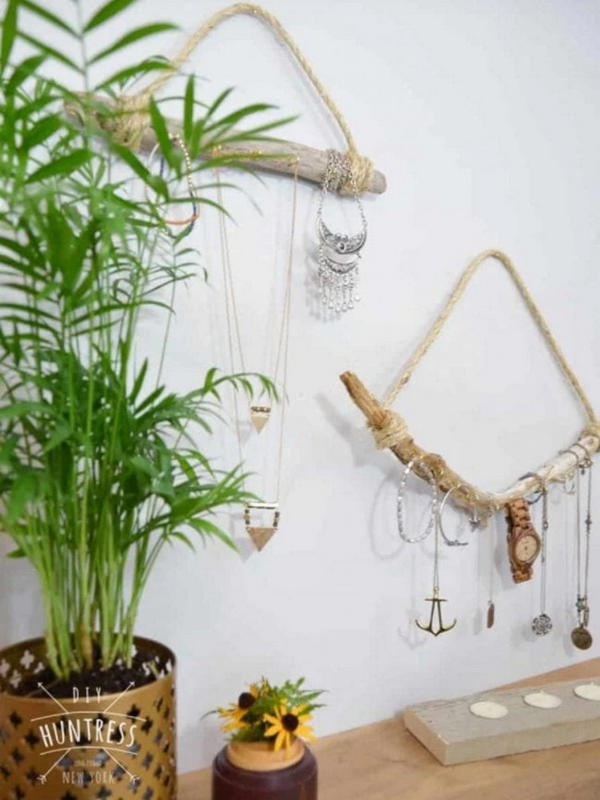 Do you like collecting driftwood? Well, then we have the perfect DIY Driftwood Necklace Holder for you. Keep your necklaces organized with this necklace holder. With a rustic-looking branch for the perfect backdrop, you'll be able to see all of your favorite pieces easily. It's simple to make and is a great housewarming present for your friend who loves the beach and driftwood. With a rustic-looking branch for the perfect backdrop, you'll be able to see all of your favorite pieces easily. This necklace holder is pretty, rustic, and will look great in your bedroom!
Skill Level: beginner
Tools: Drill, Small Drill Bit, Scissors, Tape Measure, Marker
Supplies: rope, carved wood
Driftwood Pumpkins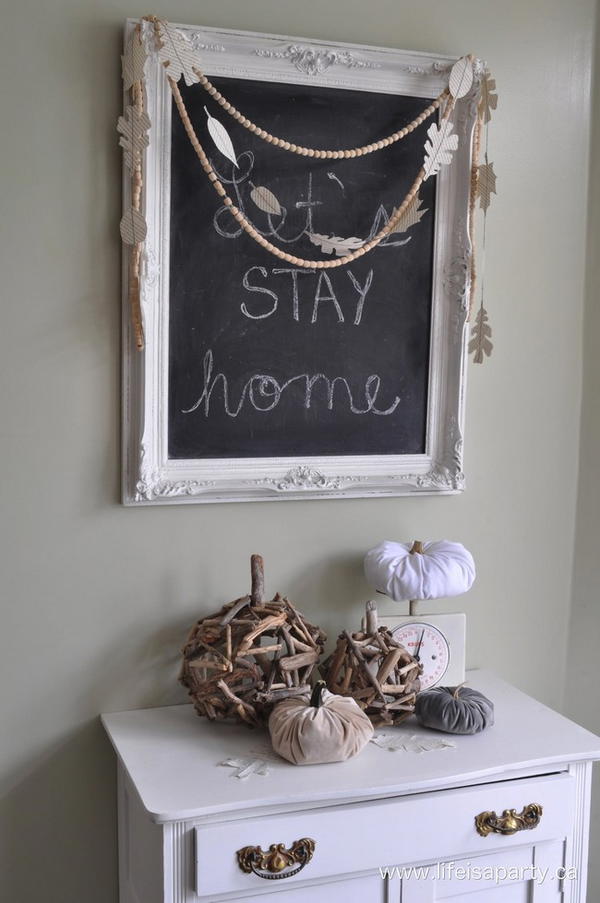 Getting into the fall spirit? Here's a fun and easy project to do with your family. These DIY driftwood pumpkins are made from collected driftwood pieces and look just like real pumpkins. The perfect way to add some rustic charm to your fall decor is with driftwood pumpkins! With wood from the beach or a walk in the forest, these simple pumpkins are sure to be the perfect addition to your home this fall. These DIY driftwood pumpkins are perfect for anyone who loves the outdoors and is looking for a unique decoration to add to their home in preparation for Halloween or Thanksgiving. They're easy to make and look absolutely stunning, but they don't take up a lot of space, so they can be tucked into a corner of any room!
Skill Level: beginner
Tools:
small driftwood pieces
a balloon
hot glue
Supplies: wood, pine board
DIY Driftwood Mirror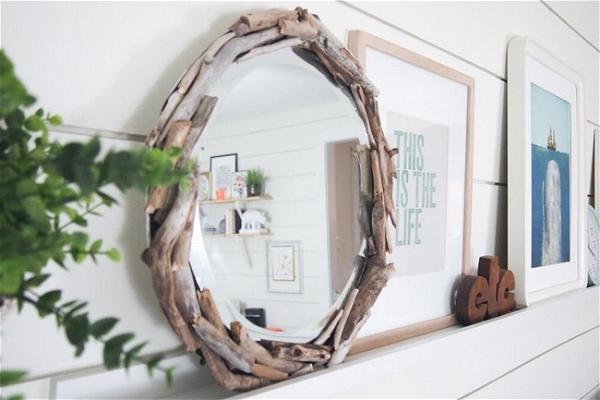 You'll get where you're going a lot faster when you take the back roads, and that's exactly what we had in mind here. Show off your DIY skills and make this gorgeous driftwood mirror feel like you've really arrived! The DIY Driftwood Mirror allows you to bring the warmth and charm of natural driftwood into your home. The simple frame is made from a mixture of poplar plywood and saw cuts, which keeps costs down. Inexpensive mirror panels—available at home-improvement centers and hardware stores—are glued to the frame for a sleek look, which coordinates with most decor.
This easy project requires no special skills or equipment. Showcase your favorite filter by creating this sophisticated mirror using a sheet of driftwood and our easy step-by-step tutorial. The wood displays the natural texture of the wood which adds a rustic vibe to your space. Whether you are looking for a simple DIY project or want to add a unique piece to your home, this Driftwood Mirror is perfect for you!
Skill Level: beginner
Tools:
Supplies:
Easy Coastal Chic Decorating
Is your home polished and professional? It should be. Coastal Chic decorating allows you to do that without having to spend a ton of cash on new furniture. With its beachy colors of yellow and blue, you're sure to make it seem like summer all year long! Coastal Chic Decorating is your personal guide to creating an easy decorating style that can be used in any room of your home. Packed with photos, sketches, and instructions for each project, Coastal Chic features a half dozen simple and fun themes that are ideal for coastal homes including Coastal Modern, Coastal Boho, Coastal Farmhouse, Coastal Nautical, Coastal Cottage, and Beach Chic.
Skill Level: beginner
Tools: clean driftwood, white candle,
Supplies: white crochet cotton, pinewood board
Driftwood Christmas Tree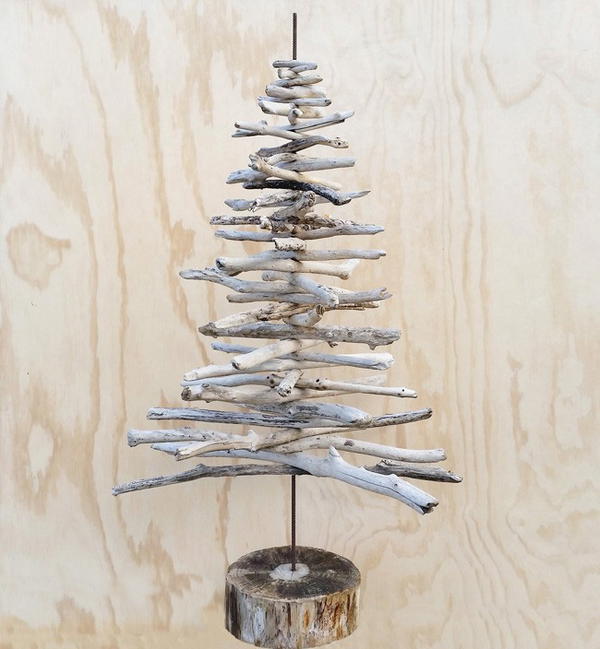 Give your family the gift of Christmas memories with the Driftwood Christmas Tree. With jagged branches and stark shapes that are sure to catch the eye, its rustic look will be a beautiful addition to any home. After the holiday season is over, this tree can be repurposed as a stunning garden accent in the spring. This handcrafted Driftwood Christmas Tree is beautifully crafted from natural materials and makes a perfect decoration for any home. Ornaments hang from hand-forged metal hangers, adding a unique touch. Provide plenty of space for gift-giving under its decorated pine boughs year after year. Decorate in rustic style this holiday season with our Driftwood Christmas Tree. This unique tree was crafted from an actual tree in the Jackalope's backyard and is sure to be a conversation starter at any holiday get-together.
Skill Level: beginner
Tools: clean driftwood, reinforcing rod, round wood base,
Supplies: 1 small nail, Drill,
conclusion
We hope you love this DIY driftwood projects book. Driftwood can be incorporated into various design elements, from jewelry and decor to furniture and more. Whether you're looking to create your aquarium design or simply add an artistic touch to your home decor, this guide has everything you need. Learn the difference between various types of driftwood and tips on where to find it. This article also provides instructions on how to turn raw driftwood into a masterpiece that will make all your guests say "wow!"