Having a chandelier is one way to get your space to shine. The soft light brings a warm feel and helps in creating a romantic ambiance. Have you ever thought about creating a chandelier for yourself? Building a chandelier can be a fun DIY project to do at home. It can also add life to your interior and make your house stand out. If you have an old chandelier that needs repairs or is broken, maybe it's time to create a new one. To give you some ideas on how easy it is to make DIY chandeliers, we have compiled Homemade DIY Chandelier Ideas for you. Go through this list, pick one that suits your needs, and start creating a masterpiece!
DIY Chandelier Ideas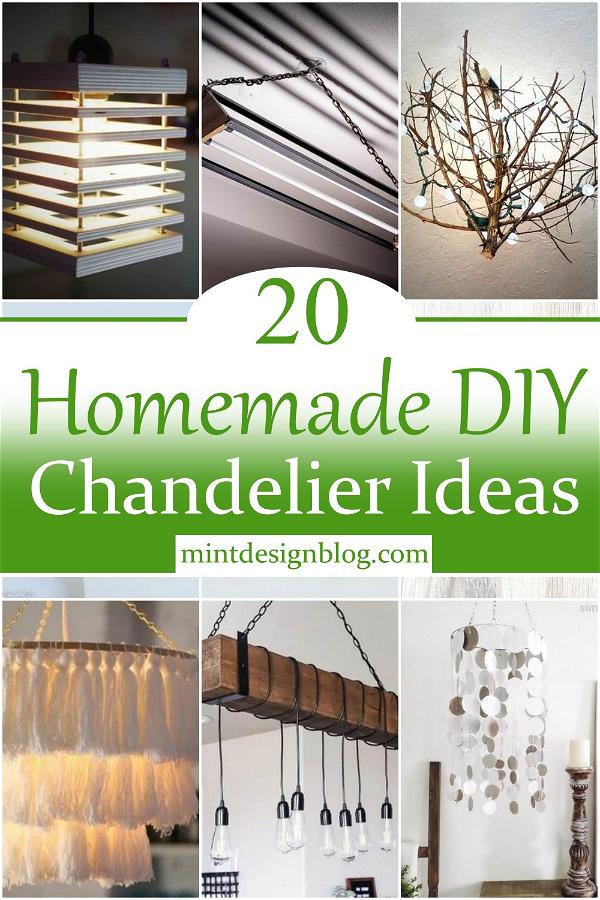 Many homeowners love chandeliers because they can be customized according to their preferences and style. They come in all different shapes, sizes, designs, and materials. Some homeowners find it hard to choose what they want, making it even more difficult considering how expensive a suitable chandelier can be. When you decide you want to get yourself a new chandelier, but you're on the fence about whether or not it's worth spending so much on one, why not make one yourself? Below are many Homemade DIY Chandelier Projects that let you decorate your home with these beautiful creations without breaking the bank.
No Professional Skills Required:
Create your own custom chandelier using the information provided in this blog post and stand out from everyone else who has bought theirs! If you want to add one to your home, but the cost is a bit high, don't worry. DIYing a chandelier is an excellent way to save money. You can create your own unique, custom-made piece that no one else will have. Whether you want a dramatic chandelier or something more modern, we've got everything you need to create your own statement piece. You don't need to be a professional - these Homemade DIY Chandelier Plans are easy enough for first-timers!
An Excellent Addition To Any Room:
A chandelier is a classic and timeless way to add flair to your home. It can be an elegant focal point in any room, creating an atmosphere of romance or adding a touch of elegance to a dining area. It can also be the sparkle of your home, add a touch of class or transform the look and feel of any room. They are easy to make at home, with many chandelier Homemade DIY Chandelier Ideas that include various materials. They are easy to do, and you can customize your chandelier to match your style.
DIY Chandelier Beads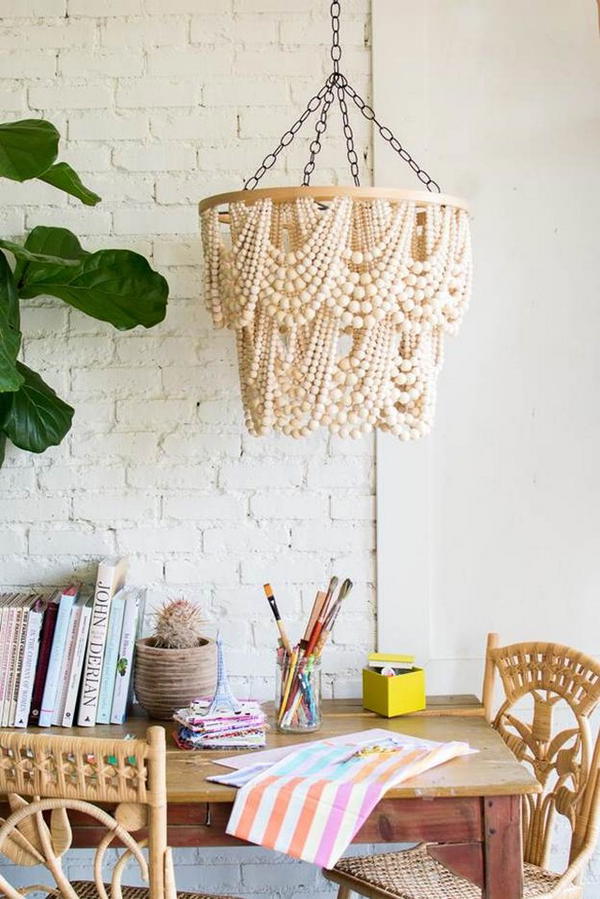 Get the look of a traditional crystal chandelier without all the crystals. Design a beaded chandelier with a unique and sophisticated style to suit your home decor. To create this stunning beaded chandelier, you'll need some beads, wire, and wooden beads. Use a wire cutter to trim any excess wire off, then crimp both ends with pliers to keep them in place. Then using two sets of beads and one wooden bead, string the first string between two large wooden beads, then add five large and five small striped glass beads on either side of it, followed by four small glass beads before repeating the five large and five small glass bead set again. Repeat this step on all eight strings and screw them onto the lampshade frame.
DIY Tumblweed Chandelier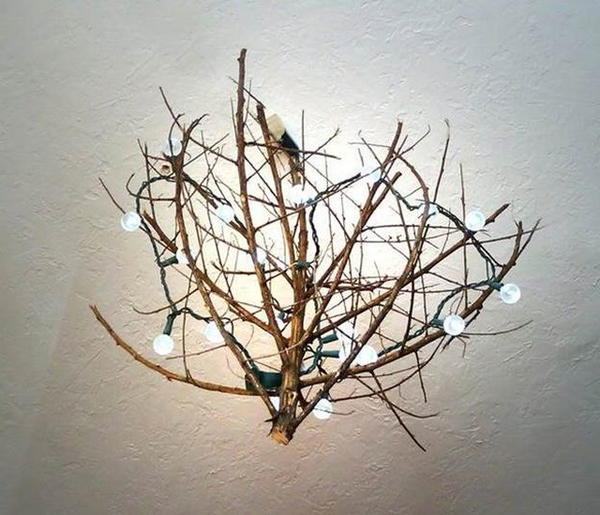 This is the perfect project for any crafter who wants to create something functional and beautiful for their home. It is a fun, easy craft that your friends, family, and neighbors will indeed be inspired by. It may be a great addition to your living room, dining room, or any other place where some extra lighting is needed. More than just a decorative piece, it would also be great for parties and other gatherings since you can use it as a lighting fixture too!
Tassel Chandelier Idea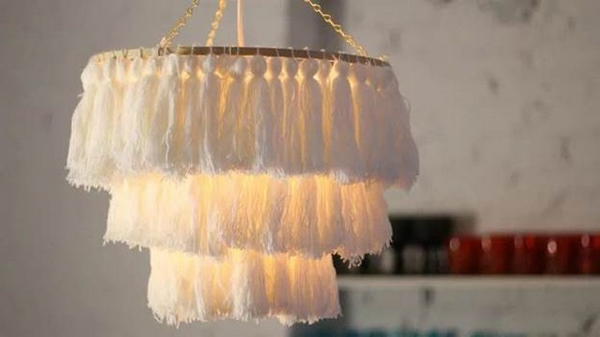 This DIY Tassel Chandelier is perfect for the one who loves to have something creative and easy to manage. The procedure is simple enough, and practically any crafty person can make this. You will need four balls of yarn, scissors, cotton string, and other materials. Make it for your wedding ceremony or any occasion you want to decorate with a statement piece. It's fun to make and easy to personalize - use whatever colors you like!
Farmhouse Wood Beam Chandelier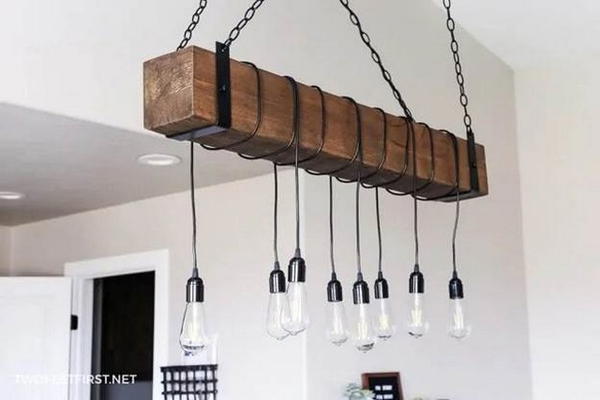 Is there a better way to complete your rustic or farmhouse decor than with this DIY Farmhouse Wood Beam Chandelier? This chandelier is made from vintage wood beams. It's set apart by its unique hanging chain, which includes rope woven through the beams. Each metal chain wire has been galvanized for extra protection against rust, and the metal chains have been treated with rustproofing oil to keep them looking their best for years.
Easy Chandelier Idea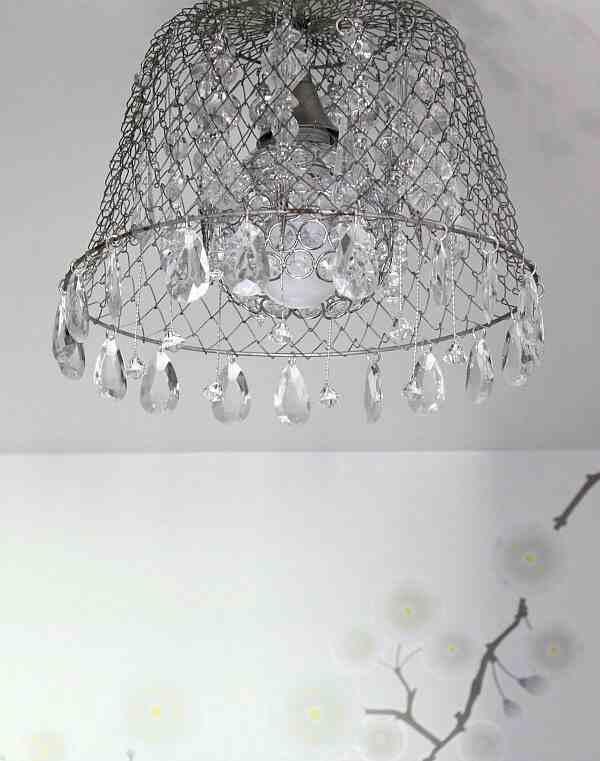 Get a modern, sophisticated look with this DIY crystal chandelier. The tutorial is easy to follow and will show you how to make your own modern crystal chandelier that can be hung in one evening if you work quickly. It is a great way to create a unique look for your home, and it's terrific for entertaining because guests will be amazed by its beauty. The materials used are easy to find and will be cheap. Make sure you have enough crystals because these can get pricey!
Dream Catcher Chandelier
A dream catcher is a handmade object designed to filter out bad dreams. It makes for an attractive and eye-catching chandelier that adds personality and interest to a room. This DIY tutorial will show you how to create your dream catcher chandelier out of wool, beads, feathers, and a ring. Measure the ring against the light you plan on hanging it from to ensure proper sizing before starting this project. This involves a lot of tying knots, so it's advised that you practice beforehand. Overall, this is an easy project and will surely impress visitors.
Brass Chandelier Plan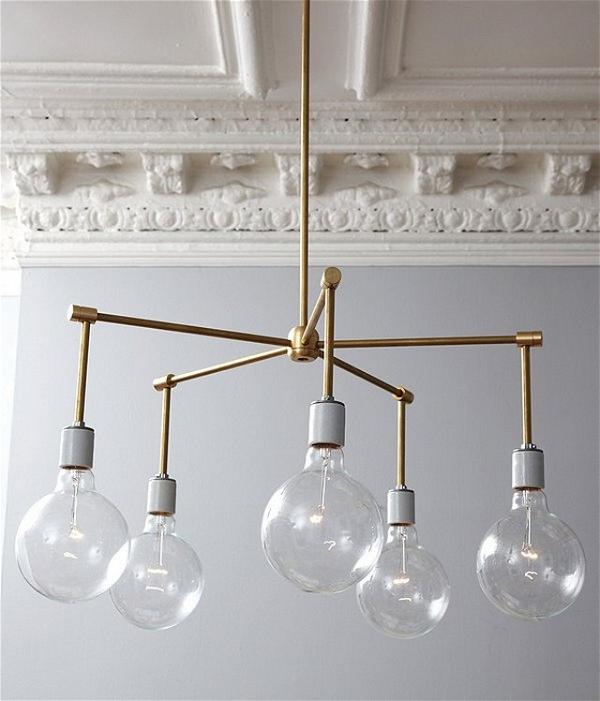 Make this DIY brass chandelier that will transform any room and make it look amazing. This stylish brass chandelier is a must-have if you want to add a touch of sophistication to your home. The combination of its unique design and cool tones makes it an ideal choice for contemporary homes. With beautiful brass pipes, a brass loop, and a couple of other tools, this project is easy to follow if you have all the required materials. Its sturdy construction will last for years, so don't wait any longer!
Easy Pearl Chandelier
If you need a chandelier but do not want to go to the store and buy one, then this Pearl Chandelier DIY project is for you. This chandelier is a perfect make for your girl's room. It looks impressive and elegant. Its making process is straightforward to follow. The steps include a list of required materials, step-by-step instructions on how to make them, and a picture of the completed chandelier. You can use pearls or any other small decorations.
Octopus Shape Chandelier
If you have always wanted to have a chandelier that no one else has, then this one is a perfect DIY project for you. It is not hard to make; it will take some time, but the results are worth it. All you need is the materials and determination. This octopus-shaped chandelier looks intimidating, but with proper planning and execution, you are sure to achieve it within a week. If you follow all steps attentively, the outcome will be perfect, and you will enjoy yours for many years.
Fringe Chandelier Tutorial
Building a chandelier is an easy project for DIY enthusiasts, and a fringe chandelier is an excellent option for those looking for something unique. You'll have fun picking out the lamp or hanging light you'd like to use as the base for your chandelier. This guide will show you how to build a fringe chandelier using essential tools and materials. Follow our explicit instructions to learn how to make this fabulous addition to your home in no time!
Modern Wooden Chandelier Plan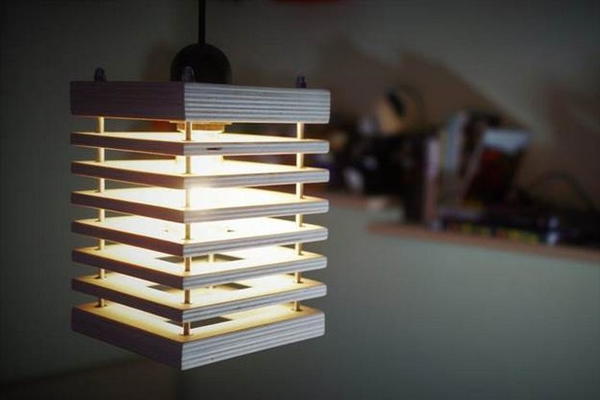 In the DIY projects category, you will find our collection of spare parts, tools, and accessories that make your experience better. It is no longer a problem assembling your products due to the presence of all the necessary tools, especially in this category dedicated to chandeliers. You can use this product to build a chandelier or other types of light fixtures based on your needs. It's one of the unique chandeliers you can find on Pinterest or the Internet.
Chandelier With Artificial Flowers
If you have a special event to attend and do not have time to go shopping for flowers or make arrangements yourself, this can be the perfect DIY project. You can find artificial flowers at almost any store, saving you more time and energy for your next grand event. This is an excellent project with a detailed tutorial to help you make your own beautiful chandelier with artificial flowers. There is no wrong or right way, so have fun and enjoy decorating your home with style!
Rainbow Beaded Chandelier
This chandelier is a true statement piece! Just look at it; how it catches the light and reflects it beautifully is mesmerizing. The beads are in different shades of red and white, and the rows of crystals add some glamour to a home. The making process is easy to follow; you just need to arrange the beads and attach them to a chain with a crystal hanging from below. Not only does this DIY bead chandelier look gorgeous, but it will also make for an interesting conversation starter about its uniqueness.
DIY Hanging Chandelier
This DIY 6 ft chandelier project is ideal for those who want to adorn their living room with an elegant chandelier but don't have enough budget. It's a large glass chandelier made out of scrap materials and aluminum which requires many resources like glass, paint, and so on. But it will look amazing in your living room once you assemble it. This is a great project for when you have a little time on your hands; this DIY chandelier is made from reclaimed wood and food cans. You'll need to invest a lot of time and resources to get this done.
Oversized Fabric Garland Chandelier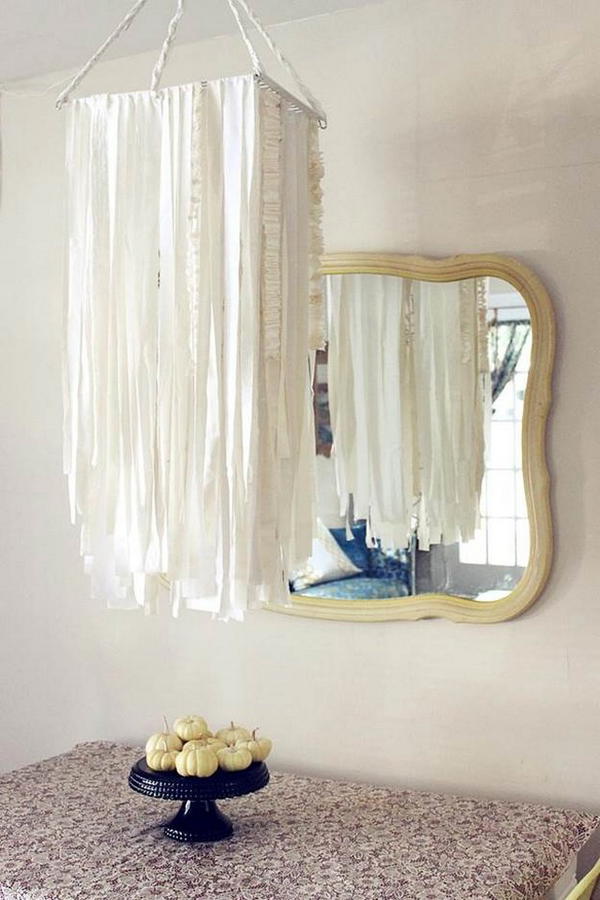 This DIY Oversized Fabric Garland Chandelier features an enormous size that is perfect for your living room, family room, or dining room. You can use it to bring life to a particular area or simply as a statement piece that will complement your home's decor. The chandelier is easy to assemble, so you can complete your project quickly and accurately without hassle. The best part about making this chandelier yourself is that it won't cost you a fortune! You will need less than $20 worth of materials to make this fantastic chandelier for yourself.
Hula Hoop Chandelier Plan
Looking to add beauty to your home without having to spend much money? This DIY Hula Hoop Chandelier will help you light up some of your darkest corners, even if only temporarily. It requires only a hula hoop, light bulbs, and some glue. The light bulbs ensure that there is proper lighting in the room. This chandelier will be a great addition to any home decor. Although it is a bit more challenging to complete, it adds beauty to your home without paying much.
DIY Chandelier Frame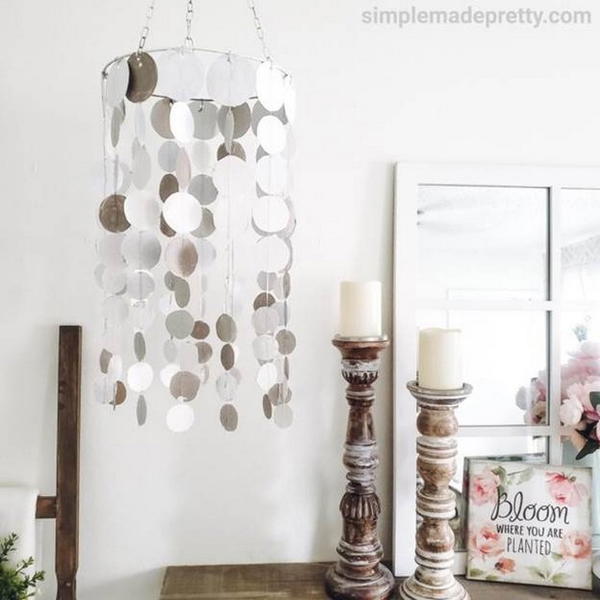 Now you can make the perfect chandelier for your room! After all, you don't have to spend a fortune to decorate your house. You can easily make it on your own. Look at this beautiful DIY chandelier made from plastic bottles and other basic materials from Dollar Tree. It only costs $1 to create this stunning centerpiece for anyone's room, so what are you waiting for? You can hang this from anywhere, making it perfect for the bedroom, dining room, or kitchen.
Drum Shade Chandelier
This DIY drum shade chandelier is sure to make any musician happy. This easy-to-build project is made from a drum shade and rope, which will give your home a modern and industrial feel. It can be used in your bedroom or living room and hung as high as you want it to hang because the bottom of the chandelier is adjustable, so you can set it at any length you desire. This project is perfect for those who love music and want a fantastic piece for their room.
Industrial Chandelier Plan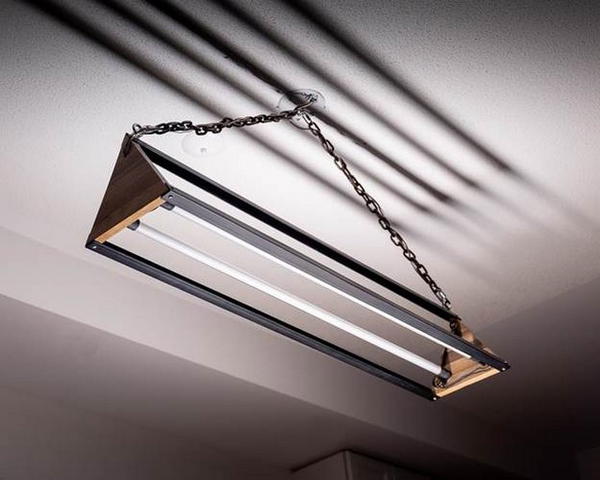 This industrial chandelier can be the perfect centerpiece for your dining room, living room, or entryway. The project is easy to make, and all the materials are inexpensive. It's ideal for so many occasions, and you can use different shades of bulbs to customize it. Its simple frame design uses a collection of angles to echo the industrial materials used in its creation. This fixture makes a great focal point for any room and casts just enough light.
String Light Chandelier
This DIY String Light Chandelier is simple, rustic, and easy to make! The chandelier will add a unique touch to your room and create a warm atmosphere, especially in winter. Made from a wooden frame and string lights, it has detailed instructions and is easy to put together. The tutorial also includes tips on hanging the chandelier and alternate ways of using it. You'll need essential tools and supplies to do this project, but no sawing or drills are required.