Whether you're an avid bowhunter, a precise target shooter, or a Renaissance Faire hero, there's nothing more convenient than a rack where you can hang your bows. It's never fun to have to hide your favorite gear away in a closet or under your bed. Not only are DIY bow rack plans a great way to proudly display your bows and arrows, but they're also easy and cheap to make at home with basic woodworking tools.
DIY Bow Rack Plans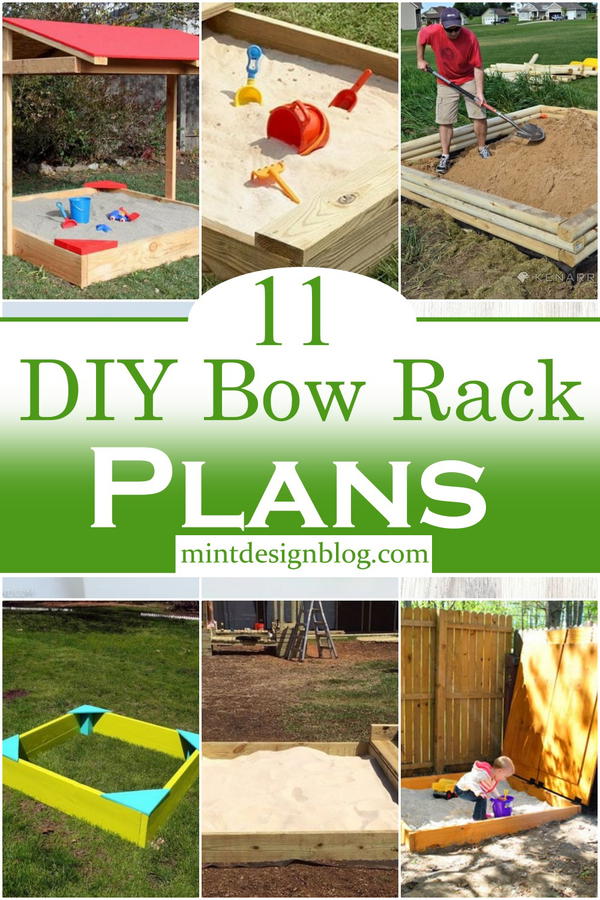 Even if you're not a woodworker, this list has something for you — PVC is a popular material for archers. Learning how to build a bow rack is as common in the DIY circles as other furniture, so good plans can be tough to find. Luckily for you, we've gathered seven of the best from across the internet. Spend today building a bow rack you'll be proud of, then tomorrow out on the range or in the backcountry. DIY bow rack plans help you save money on expensive store-bought models while providing you with better quality, customized equipment.
20 DIY Bike Rack Plans You Can Build Today
Compound Bow Rack by Popo's Woodworks
Here at Popo's Woodworks, You know that it can be tough to find a bow rack for your compound bow and arrows. Why not build one yourself? It's easy, and this free step-by-step plan will help you do just that! All you need is some basic power tools, some plywood, and the ability to follow a simple diagram. After it's over, you'll have one more part of your house set up for all of your adventures. Thanks for listing with us and hope you enjoy this plan. This rugged rack is perfect for holding compound bows, and it keeps your arrows organized. Cut the top and bottom with a jigsaw, then shape the rack with a rasp, sander, and files. Build it out of wood scraps, so you don't even have to buy new materials—just use what you have on hand.
Tools Needed: Table saw, Jigsaw, Pencil, Tape measure, Clamps, Sander, Drill, Pocket hole jig, Brush
Supplies Needed: Boards, Dowel rods, Wood glue, Pocket hole screws, Stain, Wall anchors
DIY Bow And Target Stands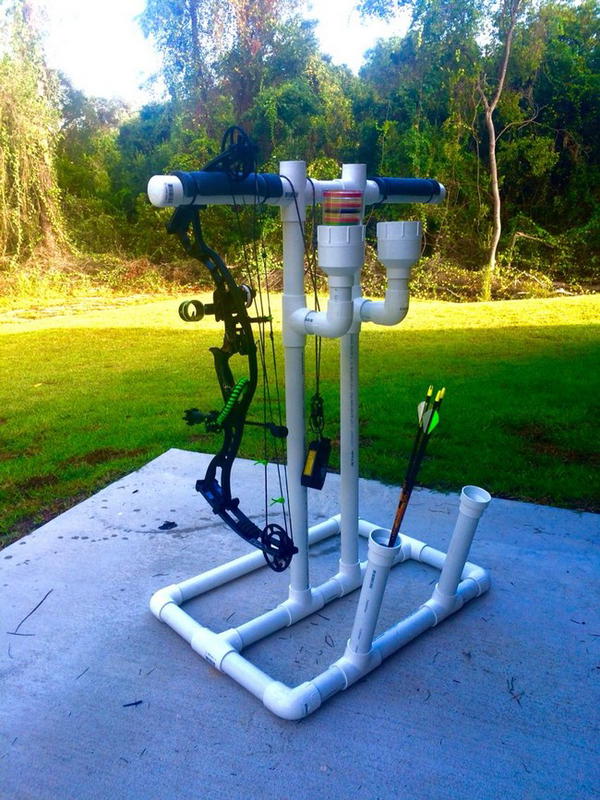 Bowhunters, this is the bow stand for you! Works great for bow hunting in ground blinds. Bow and crossbow target stands make hunting practice a breeze, especially if hunting from a tree stand. Whether your bow is vertical or horizontal, these bow and crossbow target stands are an affordable and safe way to practice your aim without the need for complicated mounting systems or lengthy ladder setups. These stands are lightweight, portable, and easy to use! DIY Bow And Target Stands. A great set of bow and target stands. Designed to hang targets vertically and low to the ground, or horizontally at an adjustable height. These stands are portable and great for training in your backyard. The DIY Bow, Target, and Horseshoe Stands collection is all about giving you the freedom to design, build, paint and ornament your own bow stand.
Tools Needed: Screwdriver, Hammer
Supplies Needed: Pallet 2×4 Screws Hooks
Bow Rack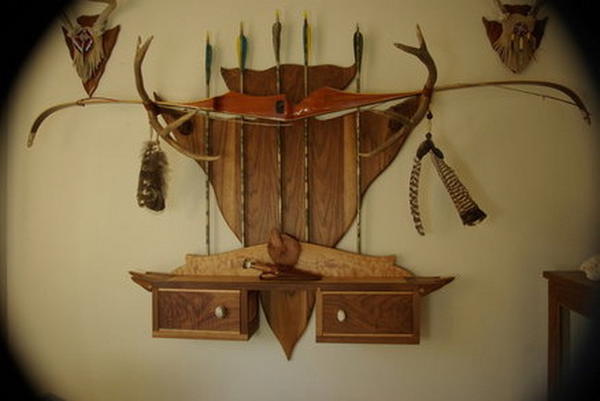 Build your very own Bow And Target Stands at home with these cutting-edge plans. Bow stands can be built in a variety of materials. You can build an easy-to-make bow stand out of wood or if you are looking for something more complicated, ballistic nylon and aluminum can be used. Takedown bows are capable of being broken down and stored into multiple pieces. When properly stored, takedown bows keep their resale value and can be resold when needed. This Stand is a perfect addition to the deer hunter's home or cabin. These bow and arrow accessory stands allow you to display your bow and arrows in your home or office. Your bow will be accessible and ready at a second's notice. Made of solid poplar wood with an easy-to-clean linseed oil finish, these bow and target stands are durable and easy to assemble.
Hardware/Supplies:
 Kreg Screws
 Shelf Pins, 5mm
Tools:
Kreg Pocket-Hole Jig
Kreg Shelf Pin Jig
Drill
Miter Saw/Saw
Tape Measure
Built A Wall Mounted Bow Rack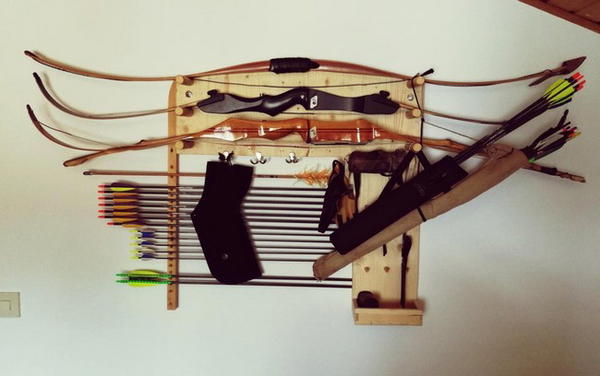 Liven up your hunting decor with Built's Deluxe Wall Mounted Bow Rack. This beautiful handmade bow rack is crafted from 1½" diameter oak and features a gunstock style design that gently cradles the riser of your bow eliminating the risk of damage to both the riser and cam. The Bow Holder fits securely on your wall with 3 heavy-duty aluminum mounting plates and braces. Available in smoked oak or quilted maple. Please select the color option above when placing your order. Once you have bows and equipment to hang, you need some sort of wall-mounted rack to display your stuff. The Built A Wall Mounted Bow Rack will hold your bows and mounts so they are safely on display. It's a great way to free up floor space and organize the basement or the garage!
Hardware/Supplies:
 Kreg Screws
 Shelf Pins, 5mm
Tools:
Kreg Pocket-Hole Jig
Kreg Shelf Pin Jig
Drill
Miter Saw/Saw
Tape Measure
Homemade Bow Rack by The Sticks Outfitter
If you've got a big collection of bows and arrows, it can be hard to keep them organized. The best way to do that is with a bow rack, but the ones available commercially can be pricey. In this video from The Sticks Outfitter, you'll learn how to make your own bow rack at home for a lot less money. The heart of this design is a spare wooden pallet, so if you've got one of those lying around, the rest is easy. The instructions are in video form, and it definitely helps to have a six-pack handy to complete the aesthetic. If you don't have a pallet, you could use an old door, or even a piece of plywood. The beauty of this design is that it can really be made from anything.
Tools Needed: Screwdriver, Hammer
Supplies Needed: Pallet 2×4 Screws Hooks
Simple Bow Rack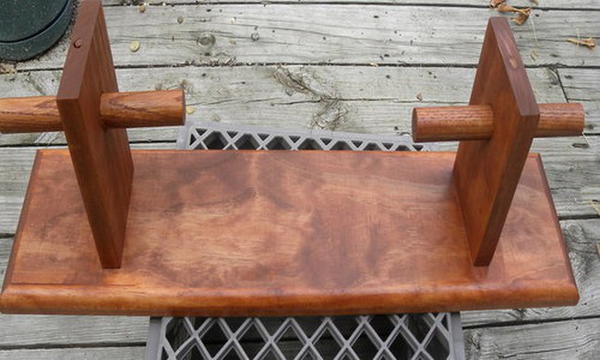 One Project Closer presents the Simple Bow Rack, devised by a dedicated bowhunter and woodworker. This inexpensive bow rack ensures that your bows are always at arms' length and ready for action. Once you have built it, simply bolt it onto a bare wall and use the pegs to store up to four rifles of any kind. Use the slots to hang your targets, too. This design has a system for mounting the rack to the wall and two adjustable arms which can hold short- or long-handle bows of any size. To finish off your bow rack, you can either leave it as is or paint and finish it.
Tools Needed: Pencil, Tape measure, Speed square, Hammer, Saw, Drill driver, and bits
Supplies Needed: Stain grade pine, Dowel oak, Drywall screws, Wall anchors
PVC Bow Rack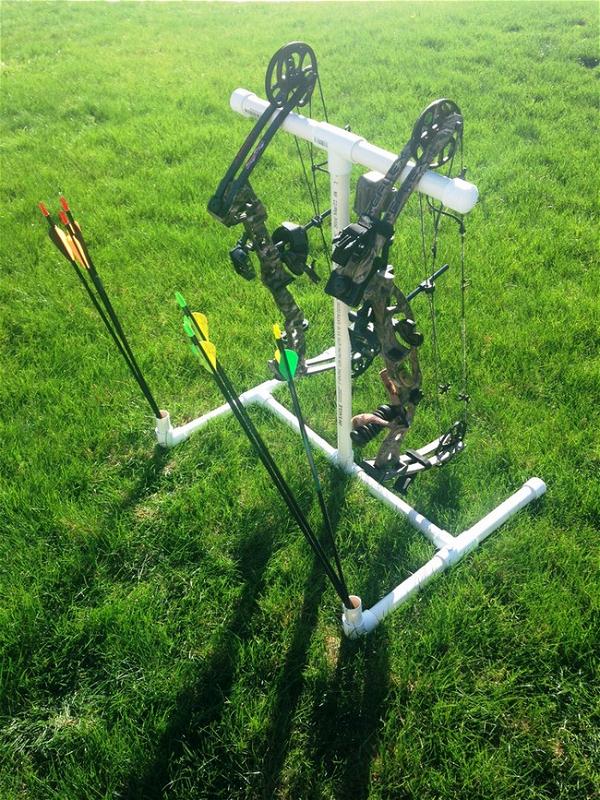 If you're not a woodworker, then no worries! This DIY PVC Bow Rack with PVC pipe is great for quickly putting down your bow while you go retrieve your arrows from the target but works for long-term storage too. Keep your bow safe and handy with this lightweight PVC pipe bow rack. It's easy to put together and is a great alternative to using bulky wooden dowels. It's a DIY PVC Rack for bows that mounts to the side of your shed or garage. It works great for storage or for quickly setting your bow down while you go retrieve your arrows from the target. This rack can be easily adjusted to fit any bow length and has storage for more arrows.
Tools Needed: Hacksaw, Tape measure
Supplies Needed: PVC pipe, PVC Ts, PVC elbows, PVC end caps, PVC cement, Sandpaper, Foam insulation
Archery Bow Rack
The Archery Bow Rack is a simple and effective way to store your bows safely and conveniently. This rack allows you to easily organize and access all of your bows. It is made out of sturdy aluminum and has three tiers that are adjustable so they can be configured to hold many different sizes and styles of equipment. The frame can fit almost any wall, even with studs, and the rubber feet keep it firmly in place so your bows and longbows stay safe. This lightweight and easy-to-use archery bow rack is the perfect way to store your bow safely and securely. Archery Bow Rack holds one or two bows and works with almost any size of a bow made today. The universal design will allow you to store both recurve bows and longbows without any problems.
Hardware/Supplies:
 Kreg Screws
 Shelf Pins, 5mm
Tools:
Kreg Pocket-Hole Jig
Kreg Shelf Pin Jig
Drill
Miter Saw/Saw
Tape Measure
DIY Bow Holder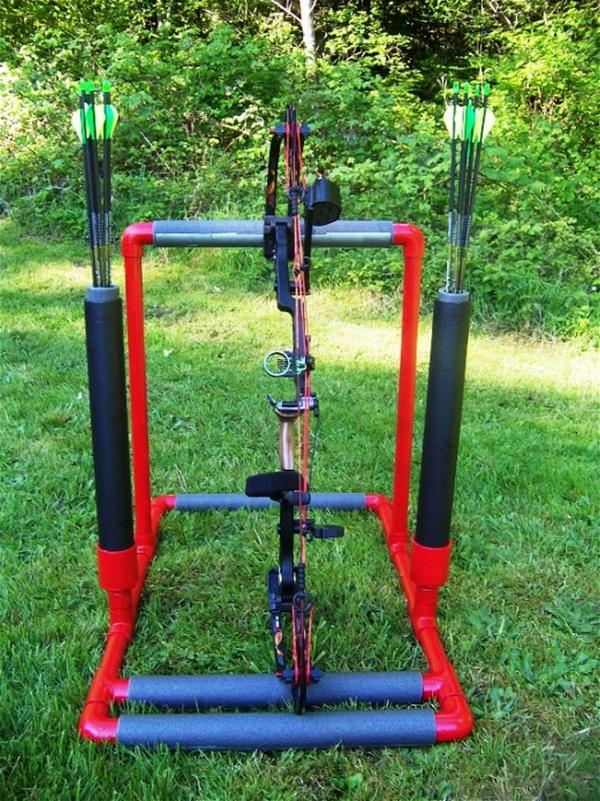 It's that time of year when bows are in full swing and there's nothing quite like a pretty bow to dress up your packages, your tree, or even your mantle. Unfortunately, if you're anything like me, keeping all of your bows neatly organized is a bit of a challenge. There are always little bows tucked into pockets or cupboards, waiting for their turn to be used or displayed. Make this DIY Bow Holder for your home and you will never have bows laying around again! All you need is a few supplies and a little bit of time. This would also be a great gift idea or something fun to do with the family.
Hardware/Supplies:
(22) 1 ¼" Kreg Screws
(6) Shelf Pins, 5mm
Tools:
Kreg Pocket-Hole Jig
Kreg Shelf Pin Jig
Drill
Miter Saw/Saw
Tape Measure
How to Build a Bow and Arrow Rack
This article tells you everything that you need to know on how to build a wall-mounted bow and arrow rack. These racks are very decorative and can really spruce up your house. The process of building these racks is not an overly difficult process; however, it does take some time for the construction and painting to be done. If you are good with your hands and do have an artistic eye, then this job is for you. This is truly an easy project that anyone can do. It's a fun way to personalize your home or workspace and keep everything neat and organized. This complete plan set tells you exactly how to make your own Bow & Arrow rack. This is a great gift for yourself or others.
Hardware/Supplies:
(22) 1 ¼" Kreg Screws
(6) Shelf Pins, 5mm
Tools:
Kreg Pocket-Hole Jig
Kreg Shelf Pin Jig
Drill
Miter Saw/Saw
Tape Measure
Make a Compound Bow Rack
This rack will allow you to store your bow with the string safely in its original position. It makes a great addition to anyone's gear. This will make getting to your gear easier, and looks pretty cool too! The rack comes completely preassembled, aside from a hex screw acting as a bow detent which will ensure your compound's safety in transport and storage. When it comes time to hit the range or trail, simply allow the bow to hang over the far edge of the rack to prevent accidental discharge.  Modeled off an antler/horn rack, this rack both looks great and is rugged enough to hold up even under heavy use.
Hardware/Supplies:
(22) 1 ¼" Kreg Screws
(6) Shelf Pins, 5mm
Tools:
Kreg Pocket-Hole Jig
Kreg Shelf Pin Jig
Drill
Miter Saw/Saw
Tape Measure
See Other Projects