The cross is a symbol that has been used for thousands of years. It is a symbol of Christianity, but other religions also use it. The cross has many meanings and can represent many different things. The 25 DIY Wood Cross Designs is one example of how the cross can be used in different ways. There are many kinds of wooden crosses available, including some DIY projects. These projects use other materials and methods that you may want to consider when making your wooden cross. Wood cross patterns are a great way to make your crosses for crafts, gifts, etc.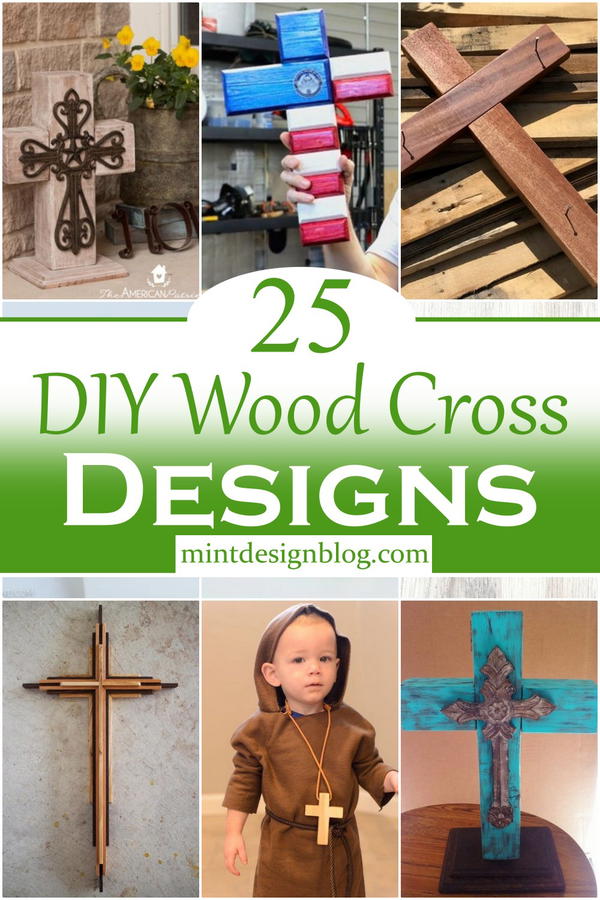 Crosses are a common symbol that people use to represent their faith and devotion to God. You can use 25 DIY Wood Cross Designs to cut out the shapes of your cross from wood or other materials, such as cardboard or paper. The simple design of these wood crafts is easy to follow, and the result will be unique and beautiful. They come in all different shapes, sizes, and colors. You can find many types of wood in your local hardware store. Some of the most popular woods used for making crosses include: However, if you want to make this one by yourself, there are  25 DIY Wood Cross Designs that you can make in no time at all.
These 25 DIY wood cross designs are perfect for making beautiful decorations for your home or as gifts for friends and family.
Materials and Tools:
Wood plaques
Wood stain and sealer
Paintbrush
Paint pen
Drill or screwdriver
DIY Wooden Cross
It is not a regular cross. Unity Crosses symbolize the spiritual union of a man and his wife. It's usually given as wedding gifts to newly married couples or those about to get married. A DIY wooden cross isn't just for Christians. It can also be used as a wedding gift for your friends to remind them of the bond of marriage. Wooden crosses are great for personalizing and decorating other things around your home. Learn how to make a cute DIY wooden cross here! Making one is easy and quick, so check out this video for a brief tutorial on how to complete this craft project.
Skill level: Easy
Wooden Cross DIY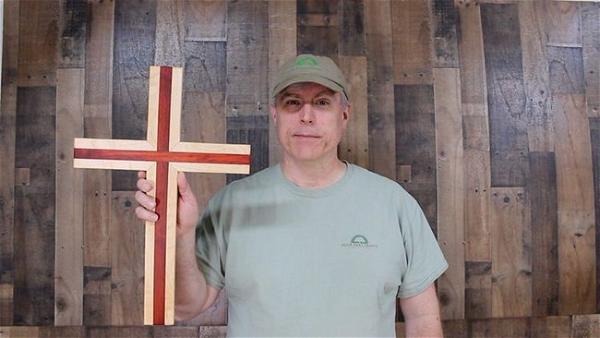 Timeless and elegant, the beautifully laminated cross is a craft that can be engraved with any words of your choosing. This project will take you through making your custom wooden cross using different wood types. This design is also wonderfully versatile – you can use it as a wall hanging or make it into an altar cross. Simple and sturdy, this wooden cross is easy to make and looks good in any room. Making a cross is an excellent way to get into woodworking. It's far more manageable than building a house, and the result is something that can be given as a gift or even become part of your home décor. fouroakscrafts
Skill level: Easy
How To Make A Wooden Cross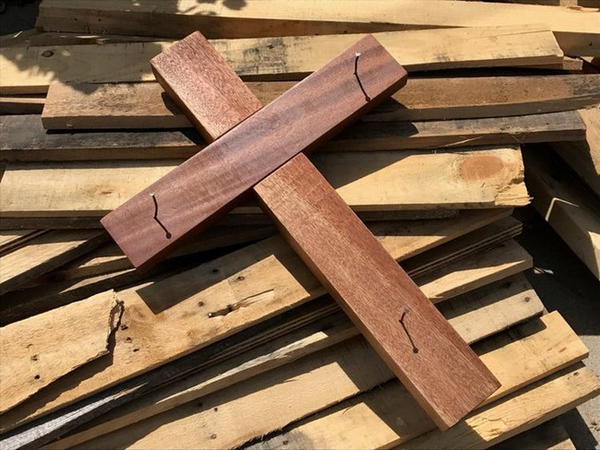 Making a cross yourself is a meaningful activity that can help bring you closer to God. Wooden crosses are often used as a symbol of Christianity. They can be placed in a home, church, or yard to show that one believes in Christ and has given themselves to him. This cross is simple to make using only a few tools and materials. You can make your cross at home or make one as a gift for someone else. To make your wooden cross, you will need some supplies and tools – but the most important thing is to be well prepared before you begin crafting this religious symbol.
Skill level: Easy
How To Make A Custom Wood Cross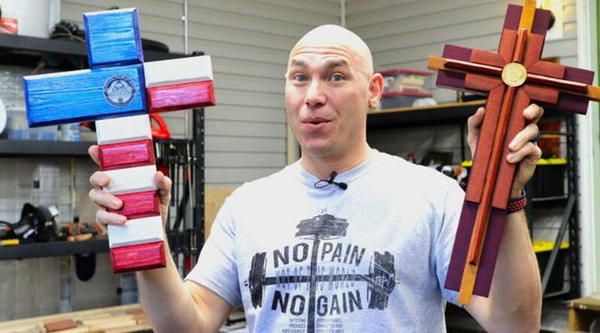 Do you like the idea of having a customized cross for your home? Woodwork has gone from piecing wood strips together to a creative industry, where handcrafted pieces are given as gifts and even used to celebrate a special occasions. Consider how you would like to use your custom wood cross to develop an artistic concept. Woodwork has gone from piecing wood strips together to a creative industry. A cross is a great way to express your faith, love, and devotion to family and friends. The process is easy and can be done by anyone with a bit of woodworking experience. 731woodworks
Skill level: Expert
Rustic Cross From Reclaimed Wood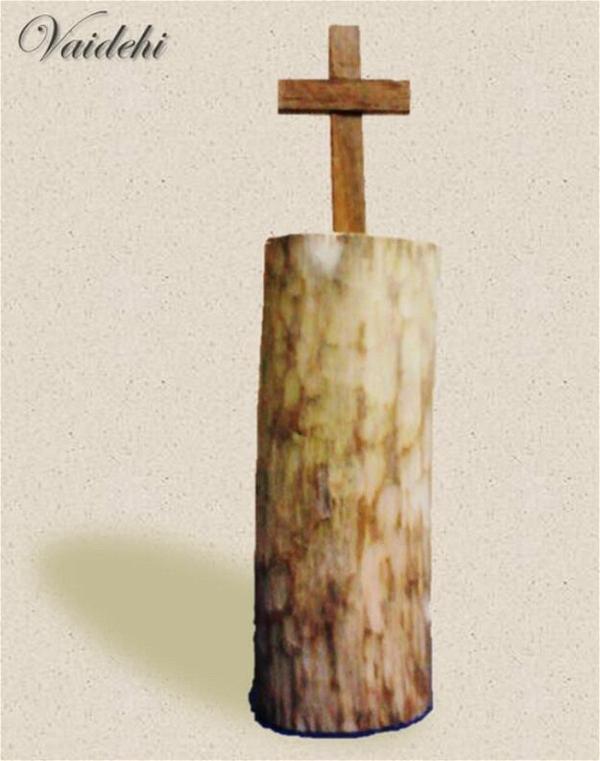 It's no secret that old wood carries more character than new wood. When you work with old wood, it's like working with an artist. Each board has its own story, and it shows in the lines and knots on its surface. You can easily add to this by adding some time and effort. This article shows you how to make the most fantastic cross ever from reclaimed wood, a practice that is becoming popular worldwide. Take some old reclaimed wood, give it a bit of polish, and you have yourself the rustic cross from reclaimed wood, which makes the perfect addition to any home. Instructables
Skill level: Easy
DIY LED Backlit Cross
Backlit crosses are the new fad. If you're searching for a beautiful and large cross, then the holy backlit cross is what you need to have. It will give your room a whole new look while adding to the aesthetics of your home. You need to know only a few things before making one on your own. LED cross signs and backlit crosses bring a new look to your apartment or room. They add to the aesthetics and create an ambiance of serenity. If you're interested in DIY backlit cross signs, click the link and read how it's done.
Skill level: Expert
How To Build A Wooden Cross
Building a wooden cross can be a great way to get started in woodworking. You can make a wooden cross for your wall, hang it in the garden, or even decorate it for an altar at home or in church. You don't need expensive tools, lots of time, or even an expert knowledge of carpentry. This DIY project is cheap and easy to do! In only about 20 minutes, you can finish making a beautiful wooden cross for yourself or someone else. With the right tools and this tutorial, you can learn how to build your very own custom-made wooden cross. Make sure you follow the instructions closely so that you can achieve success with your project.
Skill level: Intermediate
DIY Rustic Wood Cross
This DIY wood cross is perfect for any outdoor celebration or ceremony. You can use it at weddings, outdoor receptions, baptism celebrations, etc. It makes for an ideal gift idea and decoration for any room in your house. Over time, you may notice your wooden cross becoming old and worn out, or perhaps you have received a wooden cross as a gift and want to customize it for yourself. This DIY rustic wood cross tutorial will teach you how to build a stylish and straightforward cross at home with the wood you have on hand. You'll only need a few simple tools and can use any wood you want!
Skill level: Intermediate
LED Backlit Cross
Making high-quality crosses has been possible using LED-backlit crosses, which artisans dig out from a sheet of wood with laser cutters. These cross designs give beautiful and vibrant colors that are hard to imitate. LED-backlit crosses are unique, but they can also be a little intimidating for those who aren't familiar with how to make one. This video tutorial will be handy for people who want to make their own but do not have access to professional tools or craftsmanship experience. This is the perfect guide, whether you're satisfying your curiosity or want to make your own.
Skill level: Expert
Turquoise Wood Cross Tutorial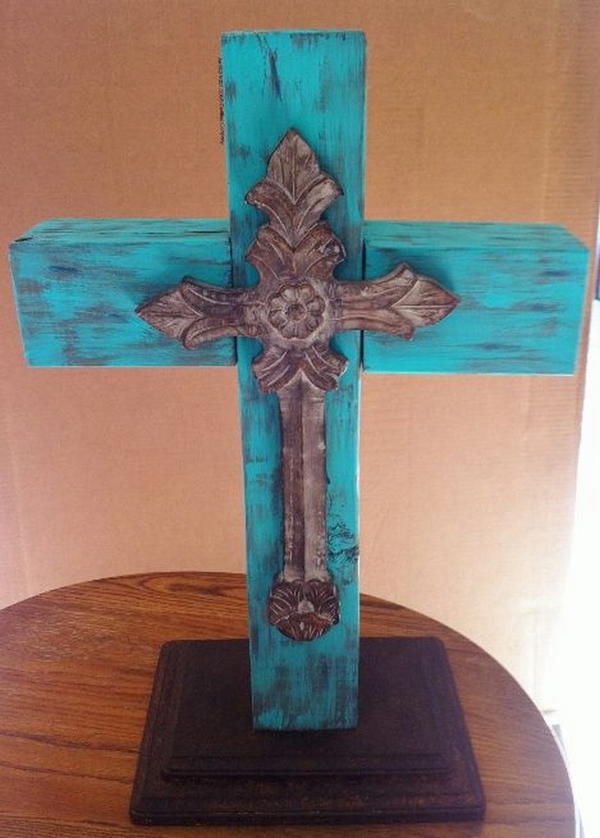 Woodwork is not just about putting pieces of wood together. It's an art. It's pretty easy and fun to do, so don't be afraid to give it a try! You can use this creative project as an excellent gift idea or just something cool to have around the house. You will learn how to make a turquoise wood cross that looks great in your home or could even be given as a gift. The tools and materials needed are also enumerated, so nothing stops you from making your own. Create your original and decorative cross with this simple tutorial. The process is easy to follow, and you can add in a few personal touches as well.
Skill level: Intermediate
Wooden Cross Necklace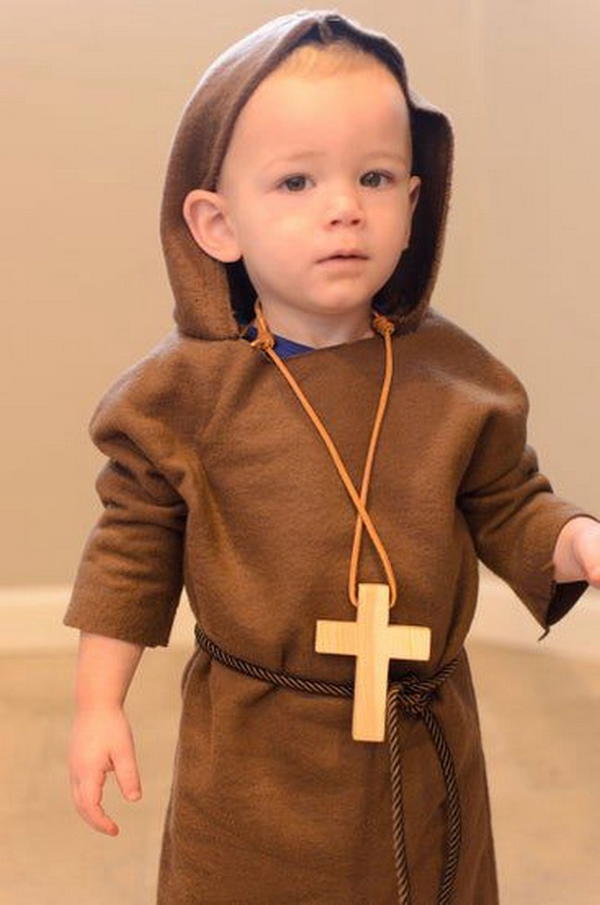 Are you interested in making historical artifacts or looking to make neckpieces? This wooden cross necklace is the perfect project for you? The Wooden Cross Necklace is a fantastic project that allows you to make your cross pendant. The process takes time and patience, but the result is something worth having. Many people of different faiths wear cross necklaces, not just Christians. This tutorial will help you make your wooden cross necklace that is simple to design and assemble with essential tools. Make it with the tools you have and customize it for that particular person in your life. The possibilities are endless! This wooden cross necklace makes a great gift for anyone interested in religious artifacts. . instructables
Skill level: Easy
Handmade Gilded Cross
This handmade gilded cross is a unique piece of art that would make the perfect gift for yourself or someone you love. Made from high-quality materials and designed to last, this piece looks beautiful and practical. Crosses are a primary symbol of Christianity. They symbolize love, peace, and faith. In this tutorial, follow the step-by-step instructions, and in no time, you'll have your own stunning handmade gilded cross that you can display proudly on the wall of your home or office. This cross is made from materials you can find at your local craft stores, such as pinewood and acrylic paints.
Skill level: Expert
DIY Rustic Cross Design
This DIY Rustic Cross Design is a fun and easy project that you can do to decorate your home or woodwork uniquely. The cross will look great on a taller piece of furniture. Make your rustic crosses for your Christmas decorations by following the steps below. This DIY tutorial can give you ideas on crafting beautiful yet straightforward decorations. Turn any ordinary wall into a beautiful work of art with the Rustic Cross Wall Decal. The decal is easy to apply, remove, and reposition on any smooth surface—perfect for updating your space. If you are looking for a simple way to bring the beauty of nature into your home decor, this DIY wooden cross is just what you need! Its sturdy construction and modern design will add a warm, welcoming touch to any space.
Skill level: Intermediate
How To Make Secret Wood Cross
The secret wood cross is a unique idea for a gift or to give your own home a modern and welcoming feel. This DIY project is so remarkable because it's completely hidden when it's not in use. Once you're done making it, you'll have yourself a beautiful piece of art, but keep in mind that if you want to test the usefulness of this DIY project, leave it in plain sight! Most cross designs are noticeable, but this secret wood cross can be a conversation starter that only you know. This project will become one of your favorites with some materials and tools!
Skill level: Easy
Layered Wood Cross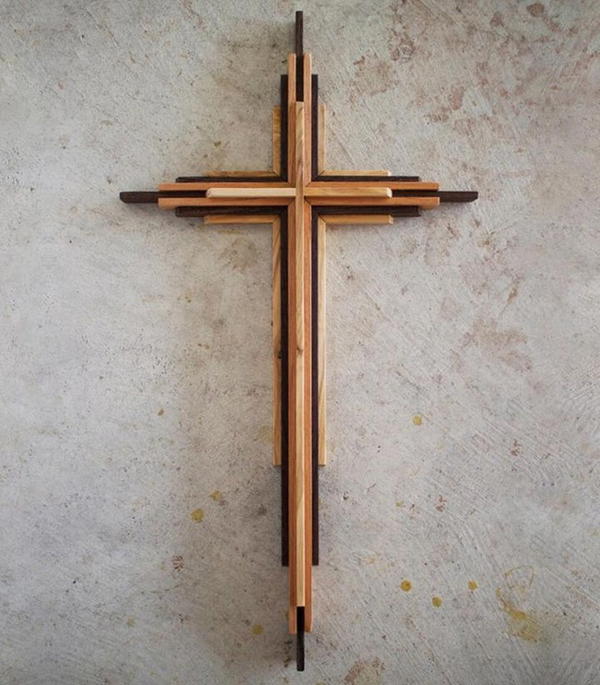 This DIY cross-project takes you beyond woodwork and into design and decor. When it comes to personalizing your home with a stunning piece of woodwork, you can't beat a layered wood cross. It's an incredible way to show off your creativity and design skills. With this layered wood cross, you will learn how to utilize your skills as a designer and craftsperson to create something that is both beautiful and meaningful to you. This layered wood cross project is a great way to combine your love of design with your love of woodworking. No matter what style, you will create unique art. This project is not only a perfect addition to your home's decor, but it could also make for an incredible wedding or housewarming gift if you are so inclined. denneheydesign
Skill level: Expert
Rustic Whitewashed Wooden Cross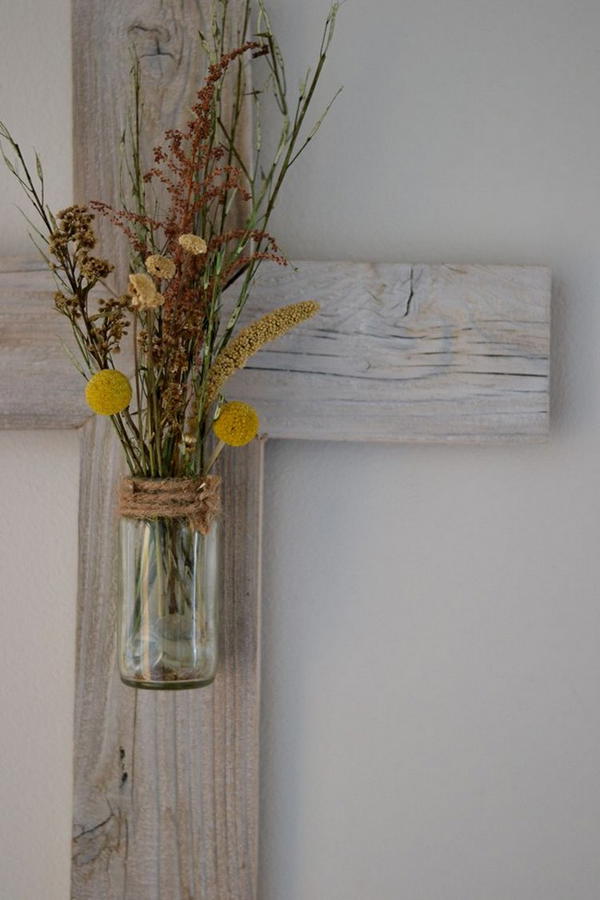 Like the look of whitewashed driftwood or weathered fence posts, but don't want to invest the time and energy in finding, cleaning, and applying a natural finish? With some wood and glass jars, you can create your rustic cross in just a few hours. This project is the perfect addition to any home or garden. These rustic whitewashed wooden crosses are simply stunning. The significant part of this project is that you can make one of your own. This rural whitewashed wooden cross will add the most beautiful and natural look to your home. This rustic piece of art will be the perfect decoration for your living room or even bedroom.
Skill level: Expert
DIY Cross Wood Design
Create a simple, stylish look for your home or apartment with this DIY Cross Wood Design Kit Color. The cross design molding makes for a great accent piece for hallways, windows, or any room needing some extra style. The beautiful DIY wooden cross can be given as gifts and souvenirs, perfect for home decoration. It is straightforward to do at home and is made from plywood, resin, etc. Do you like the design? Now you can create your cross wood with our DIY Cross Wood Design. You can hang this on your wall as a decoration or use it to say something special about yourself, your family, or your friend. Make a unique and personalized gift for Christmas, Valentine's Day, Mother's Day, and other occasions.
Skill level: Intermediate
Handmade Wooden Cross Design
A wooden cross is a Christian icon symbolizing the crucifixion of Jesus Christ. Our handmade wooden cross is an elegant way to adorn your home or office or use it as a gift for someone special. It will remind you of God's sacrifice and love for us beautifully every time you glance at it. This handmade wooden cross is of the best quality to last a long time. It comes in different pieces and can be easily assembled. We will create the cross together on this day and learn how to pray the rosary, used in Christian culture. After that, we will make our rosaries.
Skill level: Expert
 Simple DIY Cross Wall Decor
The Simple DIY Cross Wall Decor is the perfect way to incorporate your favorite style into a room, and it's just in time for Easter. Whether you have a special occasion coming up or want to create a spring decor for your home, you will appreciate this project. This DIY project is so simple that both young and old can quickly complete it. The design of the cross wall decor is easy to apply, and it creates an attractive look on the walls. You will need a dry cloth and iron or steamer to apply this art. Made using simple supplies and tools, this project is excellent for beginners and will add a pop of color to any room.
Skill level: Intermediate
Hand Carved Wooden Pectoral Cross
This beautiful hand-carved wooden pectoral cross is perfect for personal use or to be blessed and given as a gift to a friend or family member. This necklace's carving depicts the suffering of Jesus, who wore it himself during his crucifixion. It represents the sacrifice that he made for us and should never be taken lightly. It can be worn as a necklace using the cord included, displayed on a table as centerpiece art, or just hung on the wall as home decor. This item makes an excellent gift for Easter, birthday, and Christmas!
Skill level: Expert
DIY Outdoor Wooden Cross Design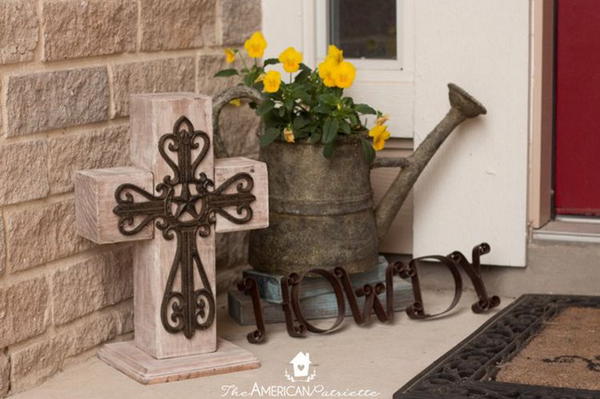 This DIY Outdoor Wooden Cross Design is easy to make and perfect for your yard or garden area. Let it show your love to Jesus Christ! These are easy to make but do take some time, depending on how many you want to make. It is a DIY outdoor wooden cross design. You can use the wood to make your cross for outdoor use. It is easy to make your cross from the wood using your hands. Wooden crosses are a beautiful addition to any garden. And the best part is, they are easy to make yourself! Learn how to design and construct your unique cross to build a special place in your garden that shows off your faith and sets a spiritual tone for family activities.
Skill level: Intermediate
Wood Cross Craft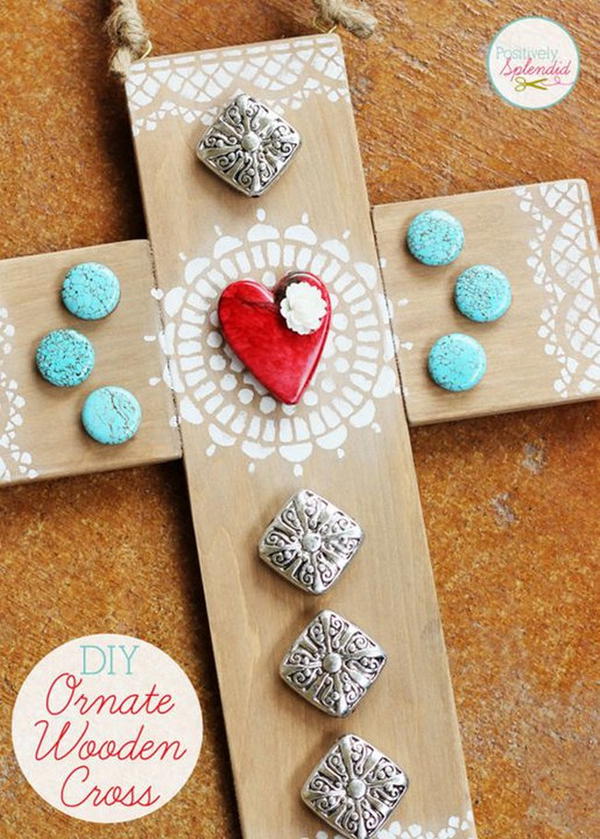 It is a perfect item for your home. If you are looking for something special, something beautiful, something that could add the spiritual flavor of Christianity to your home or altar, then this is the ideal cross for you to use. Reminiscent of the wooden crosses found in many cemeteries, this aged look is created by painting and sanding the surface. Laser-etched cross and heart detail add a special touch to this traditional item. It is an excellent project as a gift or display at home. It's an elegant addition to your home, office, or church. The natural tones and texture of the wood make it ideal for decorating any space.
Skill level: Expert
DIY Wood Cross Design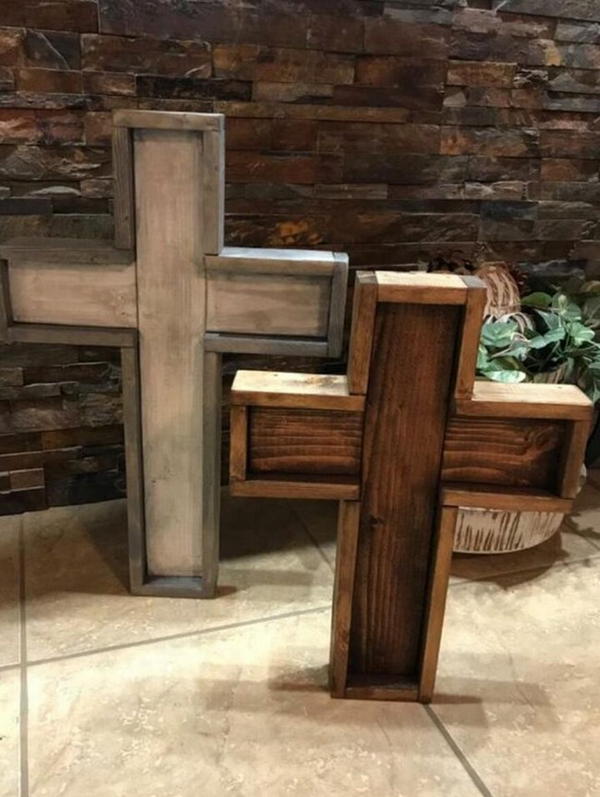 Take you to the next project by making this DIY Wood Cross Design! With simple instructions, you can have a one-of-a-kind looking cross. This project will surely inspire you to make more creative things with wood and design your crosses. The DIY Wood Cross Design is easy to build and fun to personalize. The cross is made from simple craft materials, held together by nothing more than a fine cord, so you can take as much time or as little time as you wish to create it. Bring a beautiful element of faith into your own home with this DIY wood one-of-a-kind cross design.
Skill level: Easy
DIY Easter Cross Decoration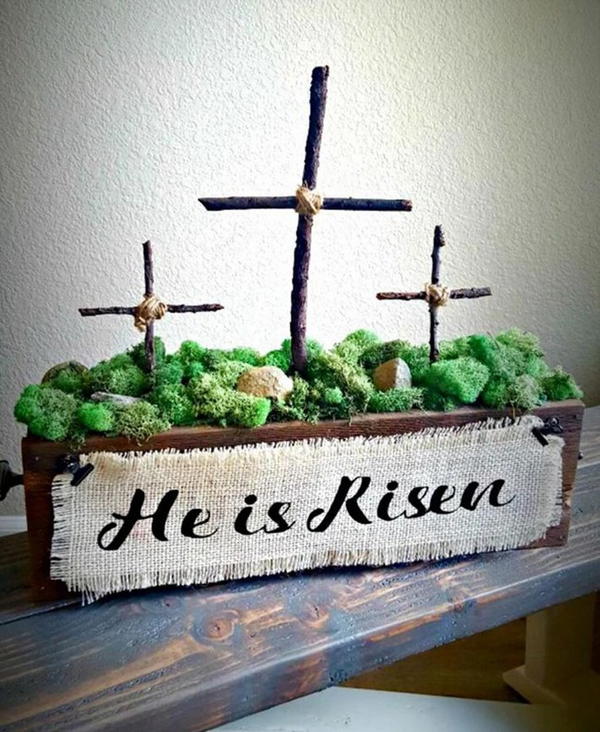 Turn your home into a haven for Easter with this DIY Easter Cross Decoration. This project is an attractive, inexpensive way to decorate your home for the Easter holiday in a way that you can enjoy year after year. The decorations are straightforward and don't require any special skills or tools. Easter Cross decoration is handmade by yourself. You can use this DIY craft to decorate your home, like your garden, window, etc. Easter Cross Decoration is a unique and practical idea for Easter gifts and Christmas gifts. You are made of paper and other simple materials you can DIY at home.
Skill level: Intermediate
How To Make A Wedding Cross
How to make a wedding cross. Wedding crosses are perfect for decorating your home and having them as a keepsake for years to come. There are several wedding crosses in different shapes, sizes and designs. Not many people realize that a wedding cross is an integral part of an Orthodox Christian wedding. The bride prepares the wedding cross in advance, representing a symbol for her. This tutorial guide will give you step-by-step instructions on making one out of existing supplies. Assemble these classic wedding crosses using wood and metal—the perfect gift for weddings or as a home decor item.
Skill level: Expert
Conclusion:
When it comes to organizing your home and creating a beautiful, peaceful and warm atmosphere, there are many DIY projects that you can use. One of the most popular decorations is wood crosses. Wood is an excellent material for making crosses because it is easy to find, and you can use it in any style or design you want. There are many reasons to do this project, and the best part is that it doesn't have to be perfect! You can choose a design or make your own. The 25 unique DIY wood cross designs in this book are perfect for the home or your weekly worship service in the church. The instructions are easy to follow and will have you practice your design skills quickly.
See Other Projects