Here are some tips for elegantly and affordably setting up a DIY camp kitchen for you and your friends! You can always fall back on everyone's favorite campfire foods (like hot dogs, s'mores, and trail mix), but why not step your game up with some of these delicious camping recipes? Everything from breakfast to dessert can be made in the woods over an open fire or a camp stove. Now that your meal planning is figured out, it's time to tackle the cooking part. You have to make sure you have everything you need in a portable kitchen set up, so you don't have to run back and forth between campsite and parking lot every time you want something. If a bear attacks while you're gone, we can't promise we'll wait for you to get back before we eat your share of the s'mores.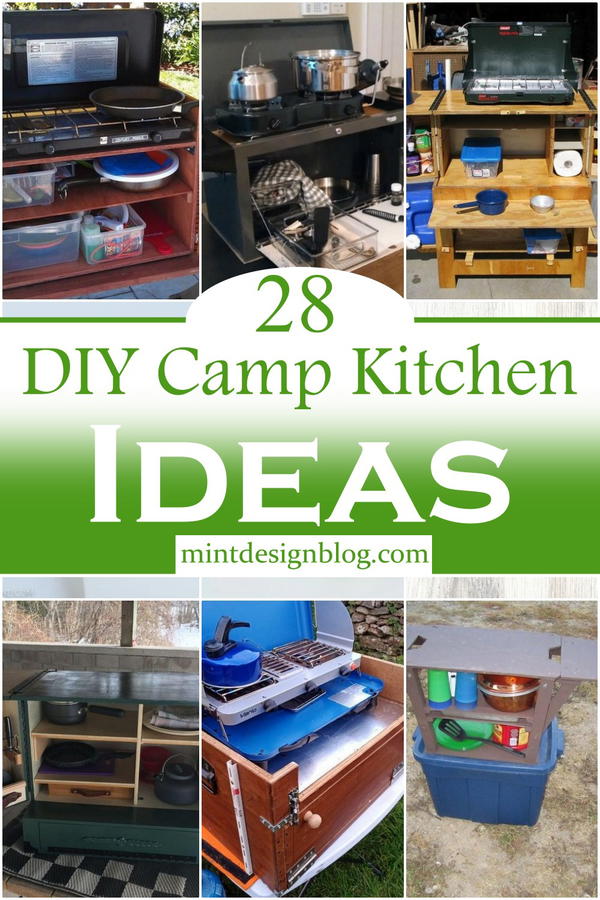 Camping is one of the most entertaining outdoor activities out there. However, just because you're roughing it doesn't mean you can't eat well on your camping trip. The key to a great camping meal is a well-stocked camp kitchen. We've put together this list of 28 DIY camp kitchen ideas to help you stock up for your next trip. Some of the ideas will help you create your own camp kitchen from scratch; others are simply clever ways to organize the supplies so that you can find what you need quickly and easily. There are also some recipe ideas to help you make the most of your new setup.
With these great 28 DIY and portable camp kitchen ideas, you'll never have trouble finding that perfect meal!
Classic Plywood Camp Kitchen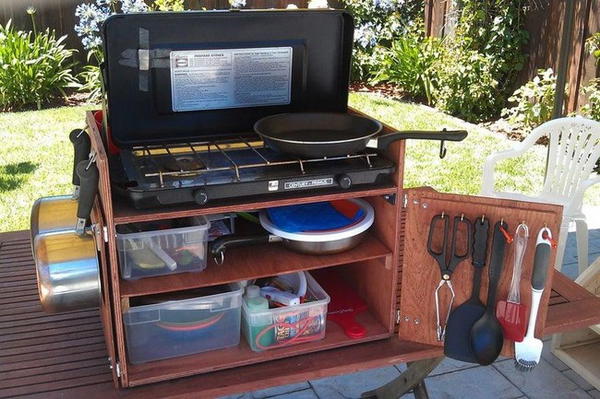 So you want to go camping, that is great! After all, going on a camp will inspire you to live life to the fullest. But before going on a trip, you need to get some things ready. Well, what is more, important than having a camp kitchen which is durable and easy to use? This Classic Plywood Camp Kitchen has it all! Imagine cooking your grilled pork chops in this kitchen. Cooking your breakfast with this one can also be lots of fun. It is easy to make out of a plywood crate and will hold up to the heavy usage of a family or camp kitchen. It is small enough to travel with, but large enough to feed your whole family, and can even be used as a base camp stove when you are in a pinch.
DIY Chuck Box Camp Kitchen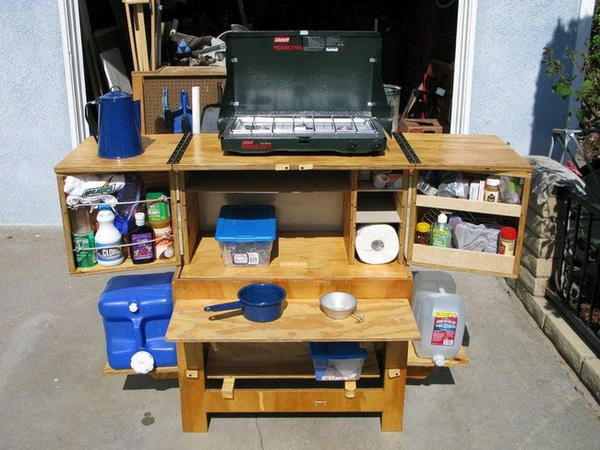 Do it yourself with the chuck box. The chuck box is a great way to take your family or friends out camping and have an organized camp kitchen. This food-based truck has all the correct features that anyone would need in their camp kitchen, especially Alan Walker who does everything by himself. You can put anything in this food-based truck from pots and pans to cutlery and plates. This article is very useful for you because this is a good step-by-step instruction on how to make your own camp kitchen.
Space Friendly Camp Kitchen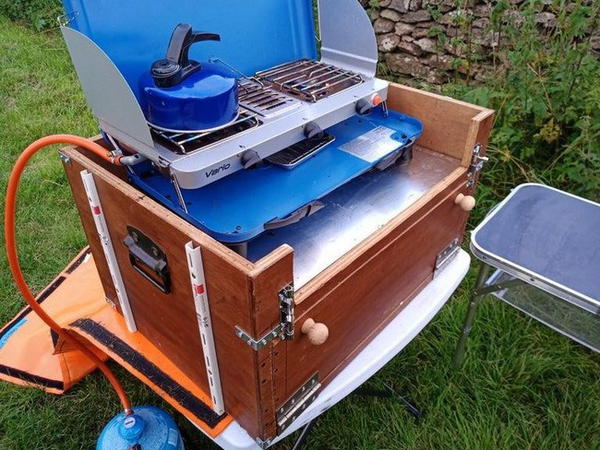 You can use this camp kitchen to make your outdoor meals hassle-free. This chuck box is lightweight and easily carried. You can store basic supplies in it and make it your own design so it will not be bulky. It has a place where you can put a small gas cooker, you can also make a drawer to store some basic kitchen supplies. This design will definitely help you save space while ensuring that you can cook while camping.
Converted Tool Box Camp Kitchen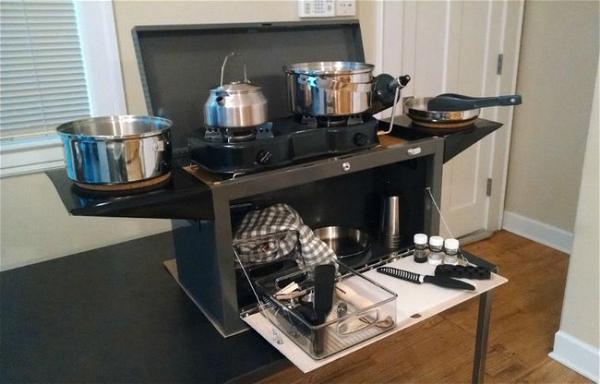 A converted toolbox camp kitchen is easy to carry around. If you have an extra toolbox in your garage, you can convert it to a cook station. It is very easy and can be done in just minutes. This is a helpful item for camping and hiking as you can bring all of your cooking supplies with you. It is also a great way to save money on expensive portable cooking stations. This simple camp kitchen will make it easy for you to spend less money at the store and enjoy outdoor cooking instead of eating once again out of the cardboard boxes they come in from fast food places.
Low Budget Camp Kitchen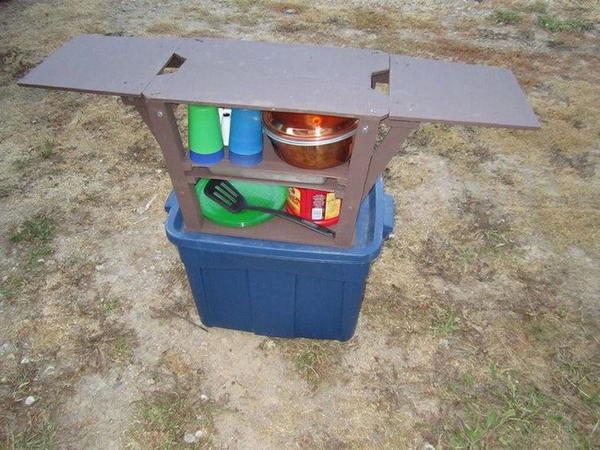 If you are planning to have a party at your campsite, this is the perfect, affordable solution for you! Here is one easy-to-make camp kitchen that won't hurt your pocket. It does not cost much. This camp kitchen is very easy to make. You only need wood and nails. You can create this in a quick and easy way without spending so much money on materials. It is portable, lightweight, and easy to pack up when you are done. Please don't forget to bring an apron and safety glasses to protect your clothes while working.
Large Counter Space Camp Kitchen
If cooking for a large group is your thing, then this camp kitchen is the perfect fit for you. With extra counter space and shelving, you can have everything you need in one convenient place. Great for large groups or families. Durable construction will last many camping trips to come. It provides ample storage for cooking and serving items, two deep drawers for food storage and preparation, and a clever internal tool trolley for good organization. With such quality construction, this camp kitchen will last you through years of camping adventures.
DIY Deluxe Camp Kitchen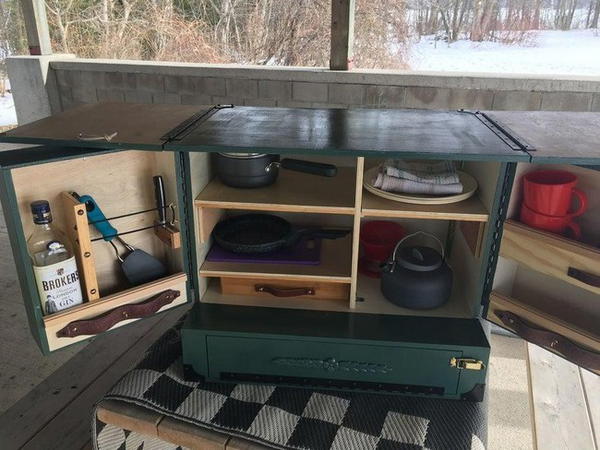 This DIY Deluxe Camp Kitchen is easy to assemble and take apart and comes with a wire shelf. Its handles are designed to make it easier to transport. Use as a stand-alone unit or as part of the full kitchen set. This is the ideal solution for anyone who's looking to camp in style. The mini-cabinet is for storage and houses two shelves, giving you space for utensils, plates, pans, food, and more. It comes with a metal bar that forms a handle and supports the entire structure making it easy to carry. It's also available in different colors to suit your taste.
DIY Lightweight Camp Kitchen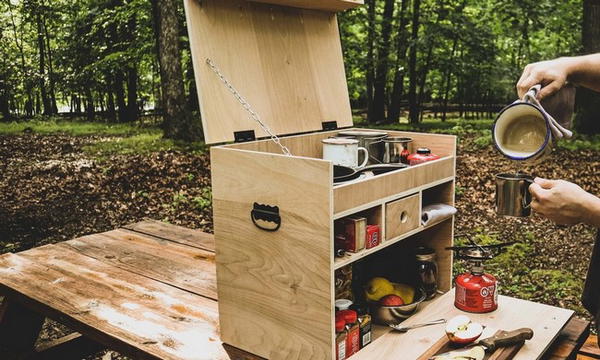 The Chuck Box is a lightweight camp kitchen that can be easily transported with four sections for the storage of cooking items and utensils. It's also versatile, with plenty of space to add your own additional dividers. This is especially helpful for groups traveling together or as couples where individual cooking utensils are needed for each person. This DIY camp kitchen can be put together in just a couple of hours. It's lightweight and inexpensive, which is good if your vehicle doesn't have tons of storage space. Easy to transport, it will make cooking at your campsite so much easier.
DIY Portable Camp Kitchen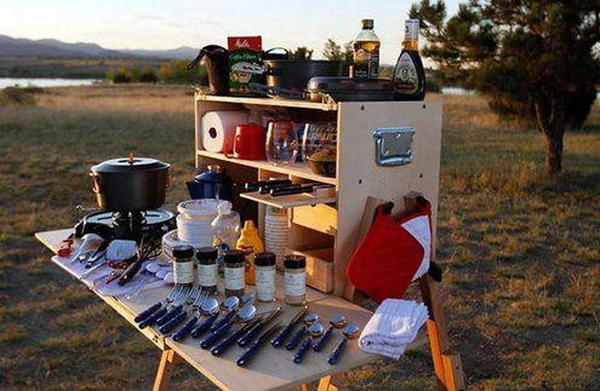 This DIY Portable Camp Kitchen will make a nice addition to your camping equipment. All you need is plywood, cupboard handles and other accessories, and some nails and glue. The camp kitchen has everything you need including cupboard spaces, racks for pots and pans, a sink, and a cutting board. The best part of camping is cooking meals while you sit around a fire, and sharing stories with your friends, family, and loved ones. It is always important to have a portable kitchen that helps you prepare, cook, and serve food outdoors.
Simple DIY Camp Kitchen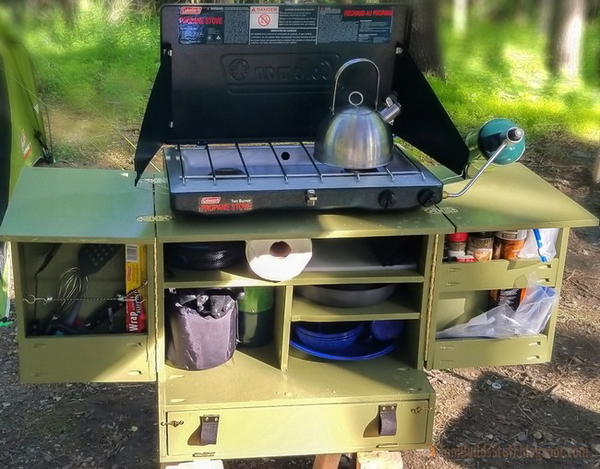 Camping is a popular pastime for families and kids. With so many gadgets involved as well, it's no surprise that there are advanced versions of the camp kitchen to help you keep your cool while outdoor cooking. This simple DIY camp kitchen will help you offer a satisfying meal to your entire family in just a short amount of time. There's enough space to carry all the ingredients and gadgets needed. The blue and green color schemes are cheerful and nice. Perfect for your next camping trip, this DIY kitchen fits in the back of most SUVs. Complete with a prep station for cooking, dimmable fluorescent light for visibility, and a sink and storage shelves for preparing food.
DIY Camp Kitchen Chuck Box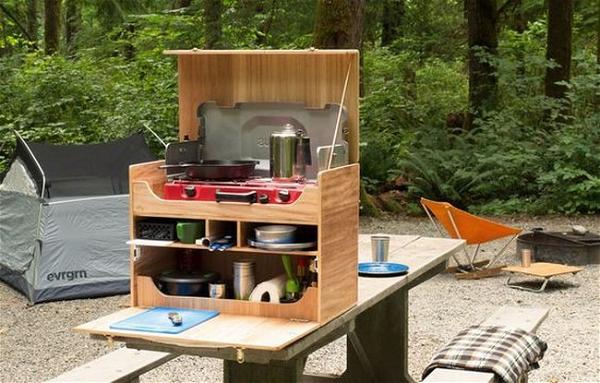 This DIY Camp Kitchen Chuck Box is the ultimate in mobile comfort. This extra-large dish box is equipped with individual compartments, cork boards, and notepad sheets for any number of handy kitchen uses, plus a side table with a cup holder! It's perfect for chefs who like to have their kitchens organized, portable, and fully stocked. Tool storage is also provided for when you have to use what you carry. Whether your next adventure takes you off-road, up a mountain, or across an ocean, count on us for a quality camp kitchen setup. When it comes time to do some cooking indoors, let nothing stand between you and your food with the Foldable Camp Kitchen Cart.
DIY Portable Chuck Box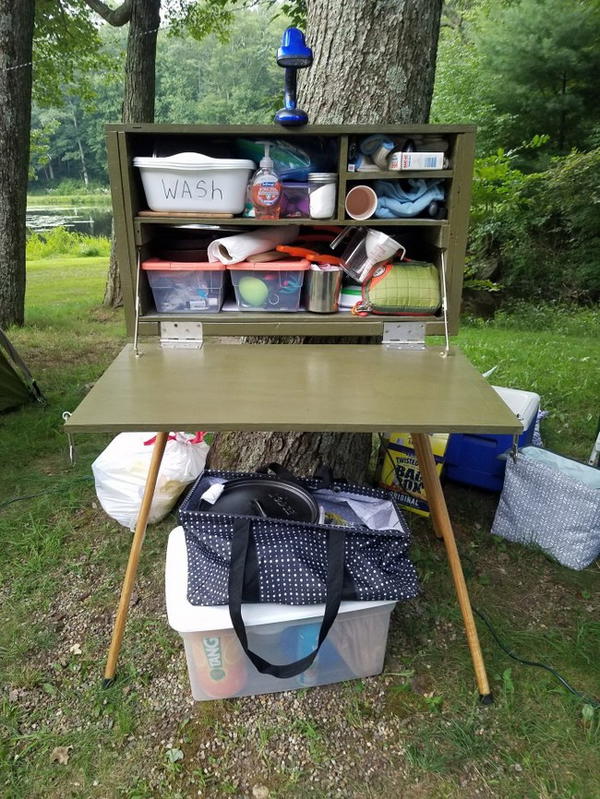 This portable chuck box can be easily converted into a kitchen by placing a portable gas cooker on it. It is the ultimate tool for solo campers, campers with small kids, or even families who want to avoid the hassle of lugging heavy cookware from home to their site. This portable chuck box is, for the most part, logical and functional. It has a countertop, an inner storage area, and portable gas cooker support. Materials – A good set of plywood sheets and some nails are all that's needed to assemble this box. The only power-tool required is a drill. This is an exclusive portable camp structure that is easy to make and extremely useful while you're on your adventurous trip.
DIY Lightweight Plywood Camp Kitchen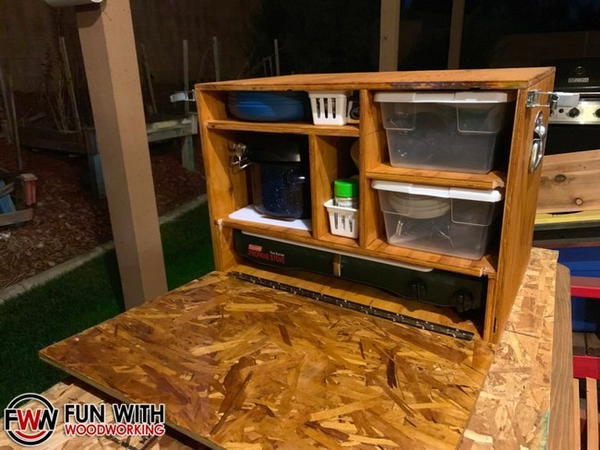 If you're going camping on a budget or are simply looking to impress your friends with a well-made camp kitchen, then this is the perfect project for you! To build this lightweight plywood camp kitchen you will need only basic tools and minimal cost. There are no specialty tools used in this build and it assembles quickly. This camp kitchen is extremely strong and durable which means that once built, you will have it for many camping trips to come. Wouldn't you love to be cooking up some of your most famous culinary chicken recipes around the campfire with your friends?
DIY Kitchen With Great Storage Space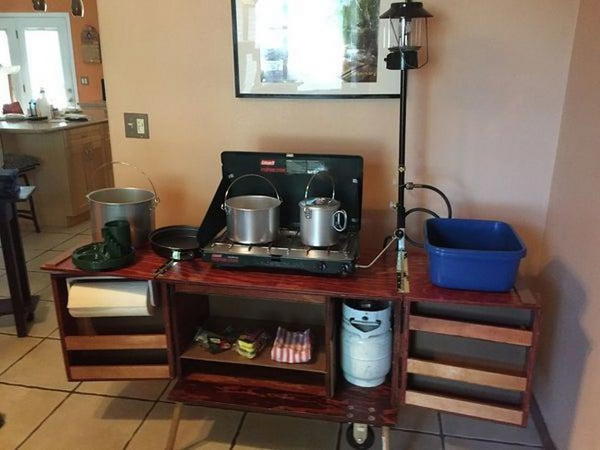 Camping is all about enjoying doors fun and it's easier to cook outside and have a comfortable camp kitchen when you're car or campsite provides basic equipment. DIY Kitchen is not a piece of cake. It will take some time and attention to finish it. However, you have a great cooking station with excellent storage space underneath when you are done. This camp kitchen looks amazing and is perfect for camping, tailgating, hunting or just hanging out in the woods. The storage area is great for lunch and drinks, a sink and hoses are provided if needed, and the grill is there if you want some food made outside the house.
You can also see: DIY Grill Table Projects
DIY Kitchen Box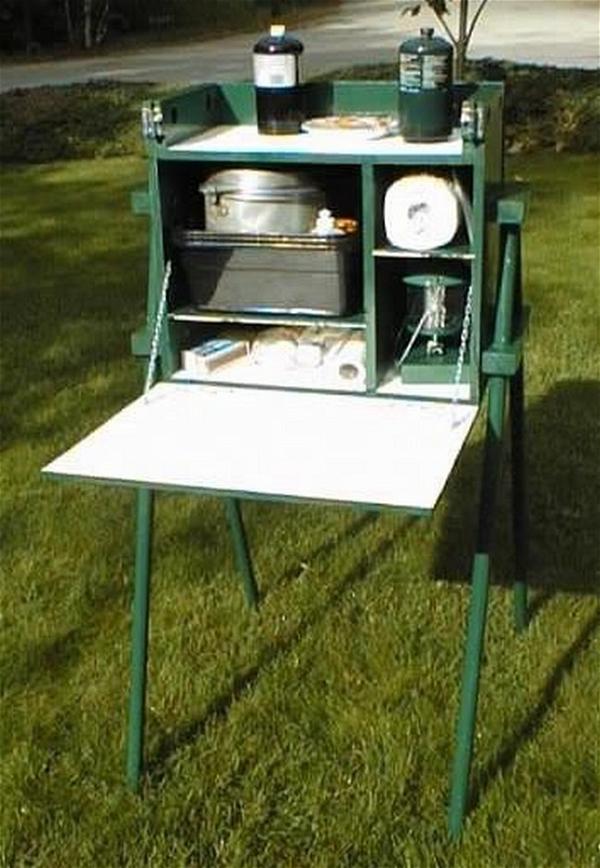 Planning a camping trip but don't want to go through the hassle of packing all those pots and pans? The DIY Kitchen Box is here to help! This unit is great for transporting your kitchen, even on an airplane. This folding kitchen stand has a hinged countertop that latches closed, keeping everything contained and protected. The legs are attached and folded underneath. It is fully collapsible for transportation and has nooks and crannies for storing a variety of kitchen-related items. All you need to bring are the cooking essentials.
Lightweight DIY Chuck Box
https://www.youtube.com/watch?v=OQ4rAwJCEp0
The chuck box is a rectangular crate to be used as a camp kitchen. It can also be used as a storage box inside your cabin or home. The design of this project is simple, dependable, and effective. This box is designed so you can easily carry it with two straps, though they're optional. It's also very easy to disassemble into small parts and store without taking up much space. It's great for storing things that you want quick access to as well as burying it deep to keep them safe. The best part is -- is that you can make one yourself! All you need are some basic woodworking skills, some tools, and a few hours of time.
Easy To Make Camping Chuck Box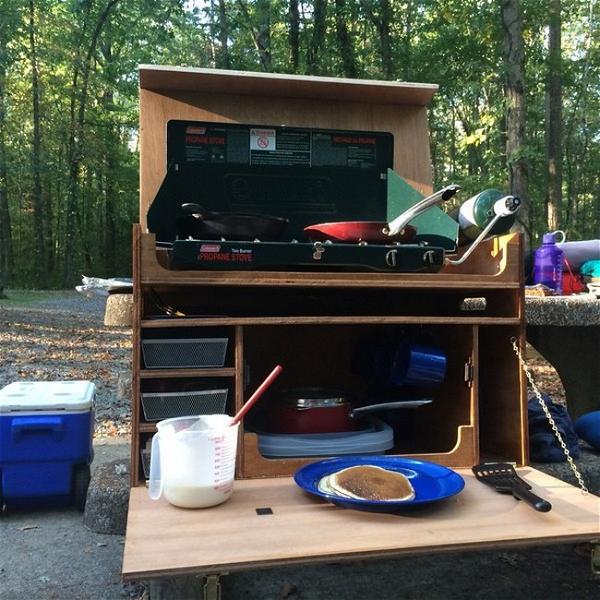 Do you want a rustic, retro, or even futuristic-looking kitchen to go for your camping trips? If yes, then here is one of the easiest and most affordable DIY camping kitchens! It has been designed like a toolbox that can be packed out and unpacked easily. All the components are readily available at your local hardware store and measured, cut, and assembled in less than a day. The design has a modern look and might be just what you want to make when you are out fixing up that old broken-down cabin or retreat from the city. Its simplicity makes it easy to use, just run your food and pots on a chrome-plated rod and open them up when you are ready to eat.
DIY Camping Chuck Box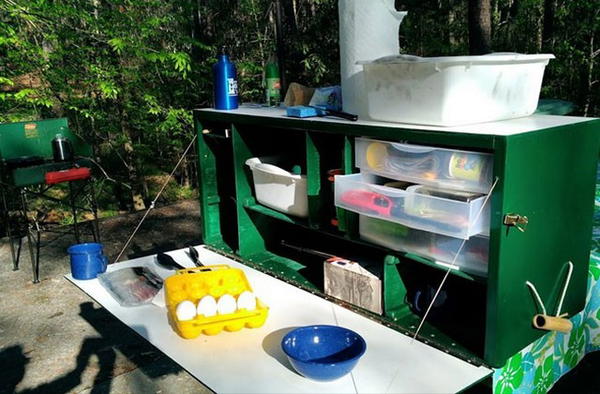 The DIY Camping Chuck Box is exactly what you need for camping and fishing trips! Now you can enjoy your camping trip without having to deal with the burden of carrying heavy items. The large compartment is roomy enough for basic tools, utensils, and another foodstuff, while the small outside pockets are great for storing your cellphone or other personal items. It is the perfect pack for your next outdoor adventure. It is easy to put together with simple DIY and camping tools. This Chuck Box will help you prepare for your trip by storing everything that you'll need for a full day of fun: utensils, small cooking gear, and other stuff. It's leak-proof, waterproof, and easy to clean.
DIY Camp Kitchen With Sink
Believe it or not, this appears to be a free-standing camp kitchen with a sink. The counter space is large enough for any chef and the overall design is modern in a rustic camping way. Kitchen tables are great, but when you are cooking outdoors, you're somewhere else the workstation on the table is, and that can lead to a lot of unnecessary bending down. This looks like it could be plopped right down where ever you are camped and with a bit of scavenging up some pots and pans; you will have yourself a DIY kitchen.
Large DIY Camp Kitchen
Perfect for larger families, the Large DIY Camp Kitchen is your answer to family camping. Available at an affordable price, it is spacious and durable with compartments that can hold your kitchen items. For easy maintenance and cleaning, this camp kitchen is also made with long-lasting materials that are easy to clean. A big camp kitchen is helpful when you have a lot of things to cook – it can be used to store and organize the kitchen supplies like sets of bowls, cooking utensils, spatulas and spoons, coffee, etc cups. This large DIY camp kitchen has many compartments that make it perfect for any size camper's need.
DIY Camp Kitchen For Mini Van or SUV
This step-by-step guide will show you how to make your own. There is enough space for two people to work and for the equipment, you need for any type of kitchen adventure. This van camper kitchen has a fridge, freezer, and hot and cold running water. It also sports a double burner with a grill and outside storage. This design includes many extras, like a spice rack, cutting board, and cupboards to store plates and glasses. You can cook, eat and wash right in your SUV/Mini Van- fabulous! No need to go back and forth.
DIY Camp Kitchen For Tent Or Van
Have you ever been glamping? Glamping — glamorous camping — is a relatively new phenomenon. It started with just a little bit of luxury, the gift of time to get away from it all, but now some are going all out, creating real glamping camps for themselves and their guests. This can be useful for those who camp, travelers, and adventurers used by the hosts of caravans. To make it functional, you must prepare a mini camping station (kitchen) in your van or tent to avoid inconvenience on the road.
DIY Camp Kitchen Sink
You'll be happy to learn that this project is not too difficult and if you have a creative spirit and some basic tools, you might even have found the perfect project for your first DIY adventure. This DIY Camp Kitchen Sink project is a great way to add a little extra storage space to your camp kitchen and give you somewhere to wash up. Coated with enamel paint for extra durability, this sink is built for all kinds of camping trips. It's really easy to do and lets you choose whatever accessories you want for the sink, including water hook-ups or drain lines for washing dishes.
DIY Chuck Box For Camping
If you're an outdoorsman and like to be prepared then this project is for you. This DIY Chuck Box for camping is inexpensive to make, it will serve as a good portable and lightweight food preparation system for your next camping trip. It is ideal for storing food and other items while camping. It's constructed from a simple, foam cooler that's covered in fabric and lined with magnets to keep all of your knife blades secure. A removable center divider allows you to customize your storage, so you can fit anything you need inside.
Lightweight DIY Camp Kitchen
You will want to take your camp kitchen on every trip you take from now on. Just imagine setting up an outdoor kitchen that can be taken down and packed away before you leave the campsite and carry everything in just a backpack, this is exactly what this innovative lightweight camp kitchen with all its nifty compartments does for you. This is a DIY camp kitchen that is easily carried into the wilderness and provides countertops for preparing simple or quick meals, or simply to prepare tea, coffee, or hot chocolate. This design has drawers and shelves that are easy to keep organized. Plus, it is versatile enough to use in the backyard as a workstation.
Canopy Camp Kitchen
If you are looking for a camp kitchen that can create a powerful cooking zone, this ultimate canopy camp kitchen idea might be the most suitable for large groups. Its multiple burners, griddles, and stovetops can handle a large menu of meals. It also has a sink with running water and a refrigerator, making it easy to create tasty food items. The canopy is great for keeping your kitchen out of sun and rain while you cook up a wonderful meal. You can either make a canopy out of wood or plastic or get one at your local camping store. You will love this idea as it looks good and gives you quite a bit of extra space on top of your existing truck bed.
DIY Suitcase Camp Kitchen
If you are camping out under the stars, consider having a camp kitchen to cook your meals with. This DIY suitcase camp kitchen is just one of many different ideas that can help you create the perfect setup for your camping trip. If you have a loved one that loves to go on trips like this, this would be a great gift for them. It is an amazing addition to your camping gear and a conversation piece. Travelers, it's time to start thinking outside the box. It is pretty easy to follow, and will allow you to carry your own kitchen anywhere you go!
Small DIY Camp Kitchen Idea
What could be better than a DIY kitchen idea you can make yourself? The small kitchen idea is ideal for times when you are camping in a small group and don't want to lug around all the larger home-style kitchen items. Making this small DIY camp kitchen idea is not as difficult as one might think, and it's designed to help you save money by being able to make your own kitchen items. It's also good if you want to practice some new skills or just want to start out working with wood. This can also be used for backyard parties or picnics.