Wood wall art has a unique way of transforming the look of your home's interior. Even though it is one of the most popular forms of wall art, it can be hard to find affordable and stylish items. The good news is that you can easily make your own wooden art at a fraction of the cost if you know what to do. Here are 26 DIY Wood Wall Art Ideas that You can use to add style and personality to your home or create a beautiful accent wall with these easy DIY wood wall art projects.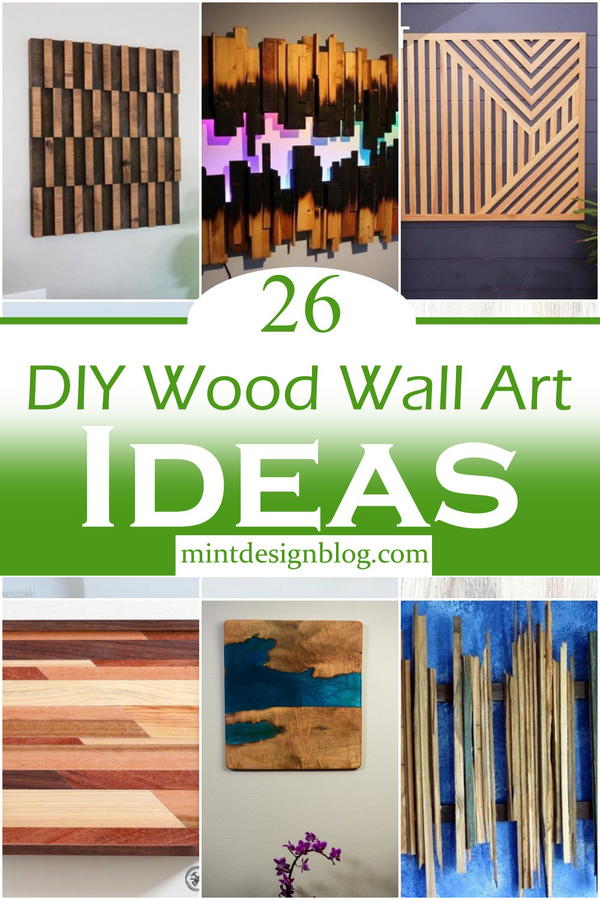 You can easily make wood wall art yourself. This is a great way to give your home a rustic, modern, and unique touch. It brings a natural elegance to the room and goes with almost any color scheme, from dark to light. The best part about this article is that you do not have to spend too much money trying to buy expensive wood wall art. We have put together some wood wall art ideas that you can DIY without spending too much. All you need to do is follow the instructions, and in no time, you will have the best wood wall art for your home.
Here are 26 wood DIY wall art ideas in all shapes, sizes, and inexpensive and easy materials on the wallet.
How To Make Wood Wall Art
Are you looking for a new and easy way to spice up your home décor? Create your own wood wall art by simply following the easy instructions. All you need are the right tools and a few pieces of wood to get started. It doesn't matter if you are a newbie or a professional craftsman; making wood wall art is a quick and easy way to enhance the space in your office, living room, kitchen, or wherever. Some may say that ordering these pieces from an online store is more economical—perhaps it is true. However, there's something undeniably rewarding about crafting something yourself. It gives you an instant dose of fulfillment and personal gratification.
DIY Burned Wood Wall Art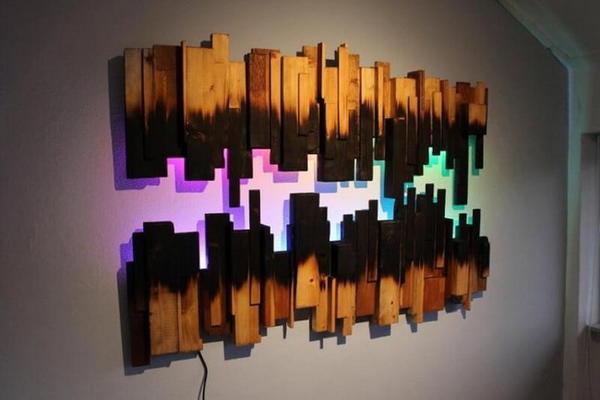 Your handmade wall decoration is like a shadow of your life. Please try to choose a photo that you love and fits the wall. What do you want for your room? This DIY burned wood wall art with LED light can fulfill your dream. Make your wall look chic using burned wood. DIY Deluxe is another spectacular DIY product case of our store. It comes with a package of various sizes of wooden panels, screws, nails, solder, and a bracket with a keyhole. You need to cut the panels and assemble them into a beautiful pattern. Then burn and oil it. The result would be excellent!
DIY Wood And Resin Wall Art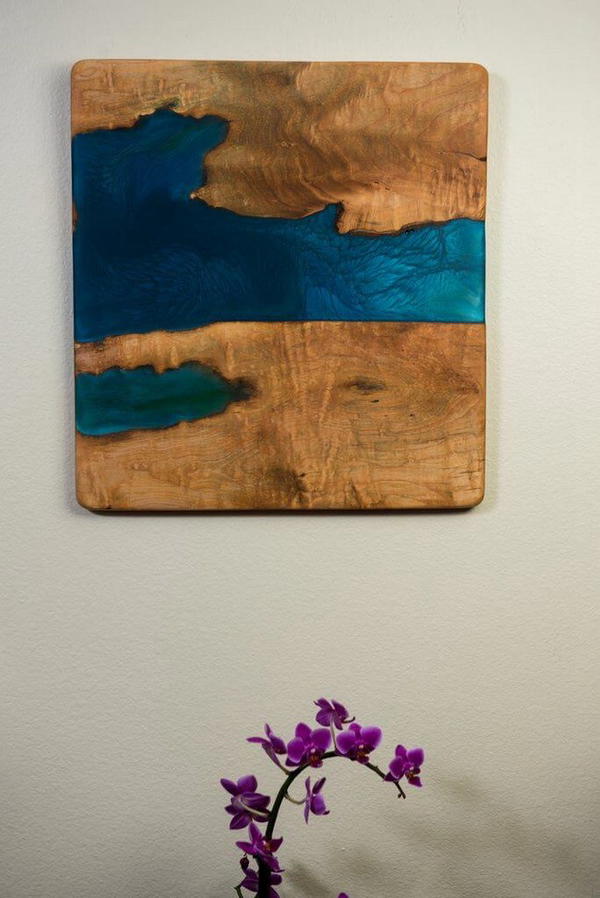 This easy DIY project turns old wooden boards into beautiful works of art. Learn how to create your own, one-of-a-kind wall art by mixing resin and wood. It is a great way to create a one-of-a-kind work of art for your home! This stabilized wood and resin wall art kit includes everything you need to create your own beautiful, unique artwork. Use this fantastic DIY wall art to decorate your home or office. This resin art is ideal for you if you're into arts and crafts, jewelry building, and other DIY projects. With this wooden mold, you can create two resin pieces at a time. But wait, more than the art possibilities, this wooden mold also helps you expand your creativity.
DIY Easy Wood Wall Art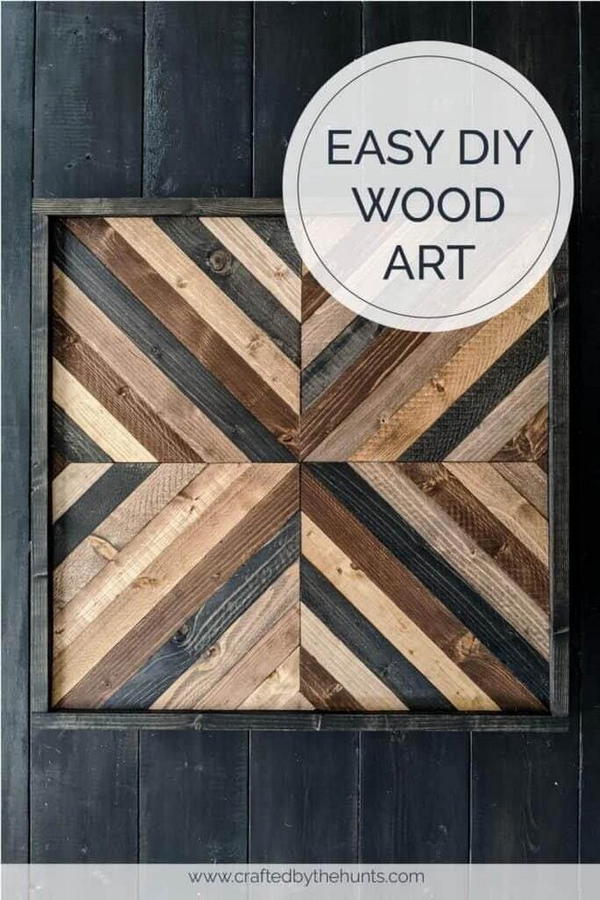 Want to create a beautiful piece of wall art from common materials around your garage? This project makes use of pine boards and plywood. It is an excellent alternative to a sometimes expensive and usual design idea. With a few tools, like a miter saw and stain, you can quickly finish your project just a weekend afternoon. It's as simple as cutting a few pieces, staining the wood, and nailing it to plywood backing for a rustic style garage look.
DIY Geometric Wood Wall Art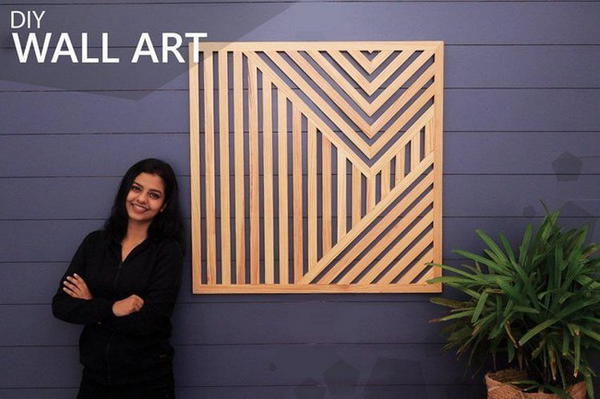 This DIY Geometric Wood Wall Art is easy to make and can be used to personalize your home with a modern touch. The geometric pattern can be hand-painted in various colors that blend well with the room's existing decor. This geometric pattern can also be wall-mounted using furring strips, wood glue, a miter saw, and a nail gun. Each piece needs to be planned and nailed together. Stained in brown or gray tones with a warm feeling, the structure of this art will add sophistication to your living room or office space. This DIY project is a perfect weekend activity for the whole family.
DIY Wooden Wall Art
This is the tutorial for the DIY Wooden Wall Art. This will teach you how to make a beautiful frame for your photos or memorable snippets of your life. This project is great for a do-it-yourself beginner and can also add to a room setting. It is pretty cheap, easy to make, and charming. It would be best if you had some wood and a saw for doing the work. You can finish the work in just a few minutes if you have those things.
How To Make A Geometric Wood Wall Art
This wooden wall art is easy to make and a great way to decorate any empty wall. It is an excellent project for anyone who wants to try simple woodworking. It uses wooden dowels and plywood that can be found at any hardware store, along with a jigsaw, stain, and a brad nailer. This geometric wood art project is an easy way to add some fun decorations to any wall. It's versatile, too, since it can fit any decor style. It's also a great gift idea since you can use any wood, stain, or paint to change the look!
See also: 30 DIY Wall Art Ideas
DIY Geometric Wood Wall Art
Completely customizable, this geometric wall art can be altered to create a one-of-a-kind piece. Utilize the multi-functional power of a miter saw and plywood board to create a geometric masterpiece. Stain or paint with your favorite color after the sawing is complete. The versatility of this DIY project makes it easy to achieve professional results in your own home. It will make your space stylish and easy on the eyes. You can use it as an accent piece in your living room or even a kid's bedroom. With just a few tools and materials, you'll be able to create this modern art for your home.
DIY Framed Wood Wall Art
This framed wood DIY project is a great way to get creative and make an eye-catching and unique wooden framed piece of art for any room. Create your own statement wall art using this kit, packed with everything you need to complete the design. A simple DIY project that can be done in one afternoon and will make any room look elegant and stylish. The perfect way to add a stylish touch to even the plainest items. The perfect way to add an artistic touch to even the plainest of items. Hang it above your sofa or your favorite chair for a unique addition to your home decor.
DIY Geometric Wood Wall Art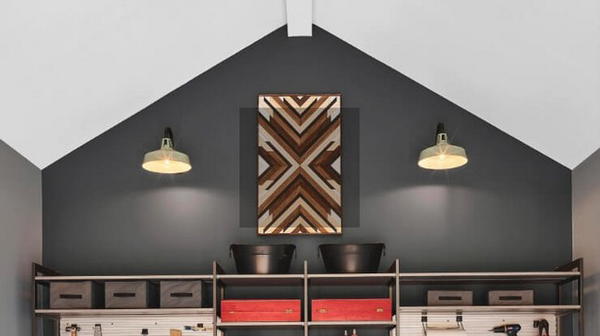 Looking for a unique and cheap creative way to decorate the walls in your home? This DIY Geometric Wood Wall Art project is sure to make an impact in any room. This versatile pattern can be created out of any pre-cut wood pieces, making it easy to create a unique and personalized look for any space. You'll create your own one-of-a-kind design when you build your own geometric wooden wall art. You can have a genuinely original decor piece with a miter saw and a few essential tools. It takes some precision measuring, a bit of planning, and some elbow grease to transform the planks into an attractive project that will add excitement to any space.
DIY Abstract Wooden Wall Art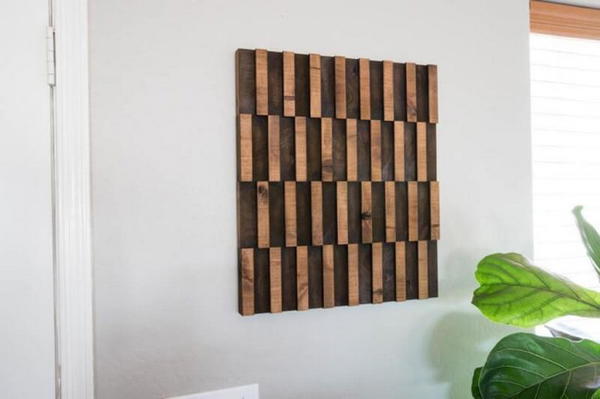 This DIY Abstract Wooden Wall Art is a fun weekend project that helps you create a piece of home decor. The size and shape of the pieces allow them to be arranged in just about any way you can think of, making them perfect for any room or décor style. It is a perfect way to display a specific hobby or job. Each section is customizable with the options given above. This can also be created using many different materials, not just wood. To start building this wall art, one will need to get all of the materials involved and read through the instructions thoroughly before starting. Adjustments may have to be made if any mistakes are made.
How To Make Wooden Wall Art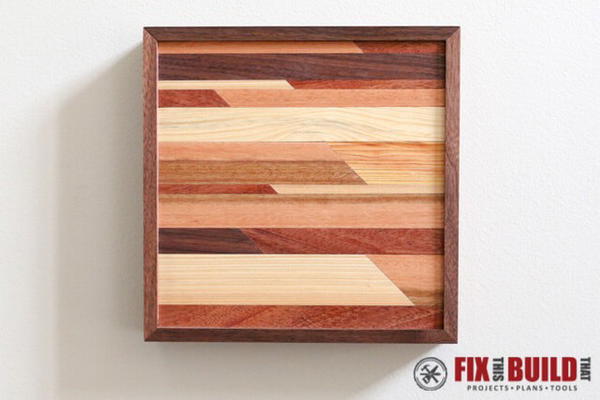 Wood is one of the oldest decorative materials that come in various dimensions and styles. With time, wood can crack and break. And when you have ugly-looking cracked or broken wood on your home's wall, you are likely to want to consider replacing the wood rather than fixing it. Decorative wooden wall art is convenient, expensive, and more accessible than replacing the whole wood panel on your walls. This gorgeous piece of art can be made using wooden frames and plywood. This is a project that you can do with your son or daughter. It makes excellent family time and lets you spend some quality time together.
DIY Wall Art From Scrap Wood
If you love scrap wood, then making DIY wall art with them is what you need to try. This project helps you utilize your scrap pieces of dowels and gives your house an exquisite and artsy look. You can create these pieces on your own, and in the end, you can make all of your photos stand out. Keep in mind that you have an entire wood pallet to work with, so think of what else you would like to do! Ths wooden frame would easily stand out in your room and will complement the whole decoration of the room!
How To Create Wood Dowel Wall Art
Learn how to create this beautiful wooden wall art with wooden dowels. It is the perfect beginner wood project. It's easy and inexpensive, it comes out beautiful, and you'll feel so proud of yourself when you see your creation completed. The only tools you need are a saw, hammer, and nails. This project will take about 2-3 hours of your time, and it will cost far less than an expensive framed print, thereby saving you money! It is a great way to add a rustic touch to your decor. Make the art and add it to your home in just a few hours!
DIY Wood Wall Decor
This DIY wood wall decor will best be displayed in your living room, bedroom, family room, home bar, and garden office. Build this DIY Wood Wall Decor in just a few steps. This beautiful wall decor is excellent for adding decor to your home, marking special occasions, and making an excellent gift for everyone. It makes a lovely decoration for birthdays, weddings, family reunions, etc. This is a traditional piece of art that will surely bring warmth and comfort to your interior. You can watch this video tutorial which shows you a step-by-step procedure!
DIY Abstract Wood Wall Art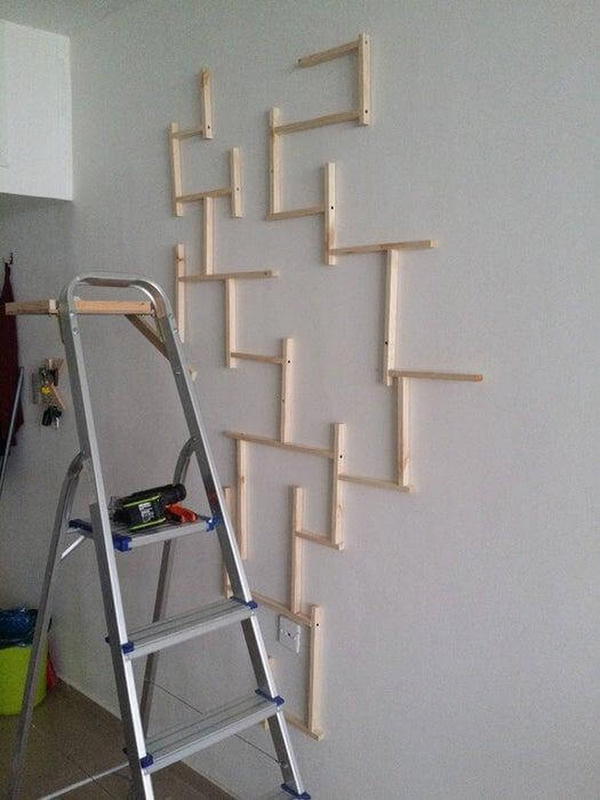 DIY-Wall-Art is highly inspiring wall art that can be easily made at home. It is made up of wooden planks of different lengths and sizes attached to form the desired pattern. Various patterns can be made using different designs; they would look fabulous on the wall. Designing this DIY Wall art is extremely easy; you need to know a few things about carpentry that you learn from a free carpentry workshop held in your area, or go through this guide!
DIY Wood Wall Art With No Tools
Everyone loves a good wall hanging, especially during wedding season. This wall art is so beautiful and so simple to make. You can make one for a friend or yourself. You would be surprised at how creative you could get. All you need is patience and some creativity. This DIY wood wall art will be easy and fun to make. These fabulous designs are perfect for that space you have on any interior of your house.
DIY Wood Wall Art
Personalize your living space and create a beautiful accent wall with our DIY wood wall art. Bring a touch of wood and color to your home with this unique hexagon-shaped custom DIY wood wall art. This is a perfect statement piece for an office or living room. Each woodblock is hand-cut and professionally treated, painted, and varnished for a lasting finish. It is a great way to add flare to your home décor. Just assemble the ready-to-paint hexagon pieces with fringe! This unique 3D art is sure to envy all your family and friends.
DIY Wood Wall Art For Beginners
If you're looking for easy, cheap ways to decorate your home, you'll want to try these wood wall art projects. It can be applied to almost all hard surfaces, such as bedroom walls or any space to which you want to add beauty. They can be customized to fit both your style and budget. These simple DIY wood wall art ideas are perfect for beginner artists with the right tools. Choose the simple patterns and embellishments that are most comfortable for you, and you can soon have a whole wall of decor. Anyone can do this without prior experience, and you'll have your very own piece of art to show off!
DIY Reclaimed Wood Wall Art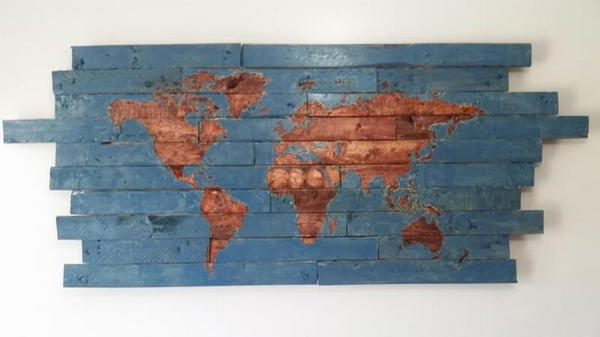 Everyone loves a pretty piece of art. But they were so expensive! This project shows you how to make affordable artwork that looks like it costs a fortune. DIY Reclaimed Wood Wall Art is easy to make, furniture that even beginners can handle. The design's large-scale format and industrial-chic details deliver a look you'll love. You'll only need some scraps of wood and an old pallet. The sellers even show you how to get the supplies. This guide will walk you through the complete process of making it.
DIY Wood Slat Wall Art
Amuse your interior with the DIY Wood Slat Wall Art. It is simple to make and easy on the pocket. You only require a few materials - plywood sheet, wood slats, paint, glue, bar clamps, etc. You'll be amazed at how easy it is to put together and how stunning it will look once complete! This wall art piece is sturdy and easily customizable in size, color, and decor to best fit your home's style. Follow the instructions given in the guide to make this wood art.
DIY Scrap Wood Wall Art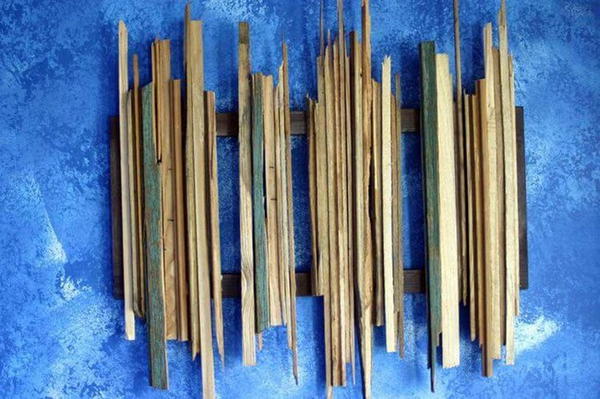 Scrap wood is one of the best materials for DIY crafts. It is excellent for creating wall art, and it is effortless too. You can make a frame using different types of scrap wood and glue them together. The color of the frame can be in contrast with the color of the woods, or it can be identical. This will decide how good your wall art will look on your wall. Use this guide before making it.
Easy DIY Mountain Wood Wall Art
This easy DIY mountain wood wall art is an excellent project for you to do with the kids. The process isn't that tough, and you will not have to pay an artist hundreds of dollars to create something unique. You need a table saw, miter saw, and router to build the pieces. Stain the pieces and glue them to the board to create this cute piece of wood wall art, which can be a beautiful decoration in your home. Here is a video tutorial that helps you make this.
DIY Pallet Wood Letter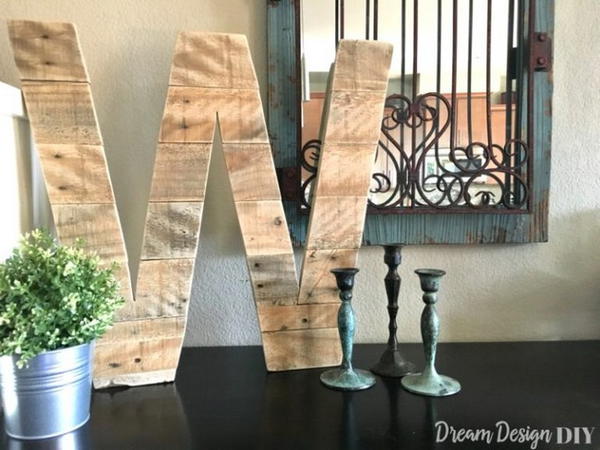 The DIY Pallet Wood Letter is an excellent project for recycling unused wood pallets. This large pallet wood letter makes a perfect centerpiece for any room in your house. This decorative piece also makes a statement on your walls or kitchen countertop. It looks best when painted using your favorite colors. This is a quick and easy craft project that anyone can do in less than an hour! Here are complete instructions on how to turn a basic pallet into a decorative pallet decor project!
DIY Wooden Arrows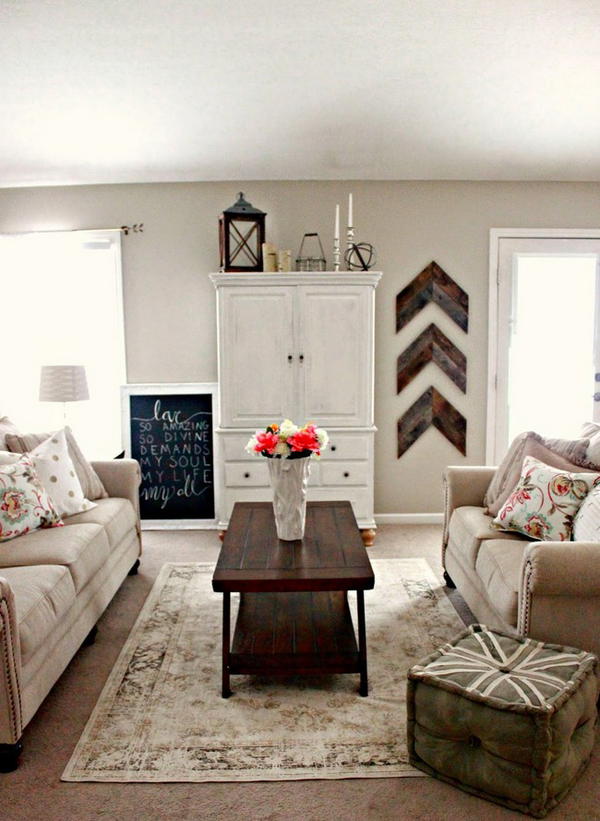 DIY Wooden Arrows is a perfect beginner to intermediate archery project that can be completed in your garage, living room, or even the bedroom; these are affordable and straightforward projects for anyone. The best thing about this project is that you can customize your arrows to fit the style of your own home. You can choose to paint letters on them to spell out a word and add vinyl lettering to make the arrows say whatever you want. This guide helps you by giving the step by step instructions.
DIY Wood Wall Art From Plywood Scraps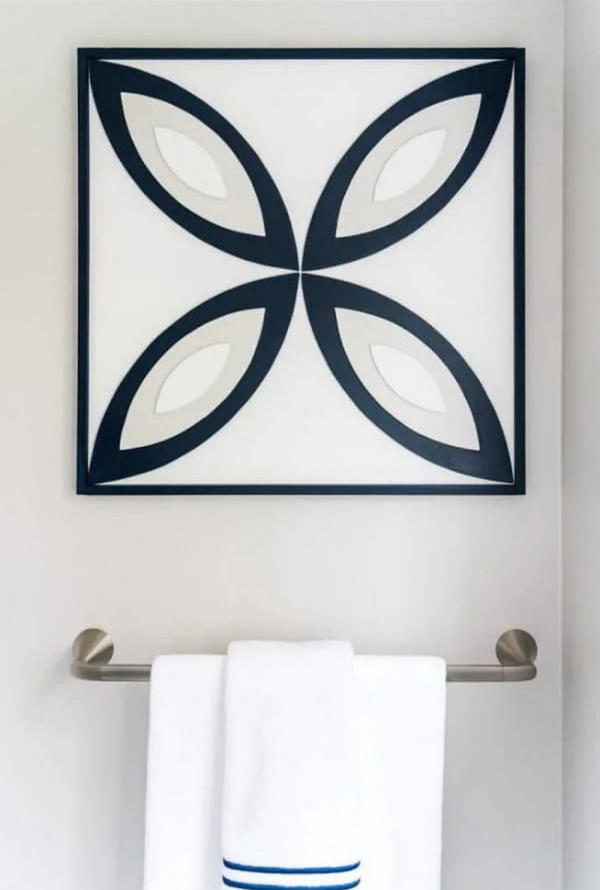 Need a new piece of art for your home? Why not make it from scrap wood you've been saving? This wood wall art is so easy to DIY, and it costs just a few dimes to make! It's made from sheet plywood scraps, making it an eco-friendly, inexpensive decor piece. This project is easy enough for beginner crafters. Check out this guide below to see the step-by-step instructions and learn about how you can make one too!