Decorating the walls of your home with unique and attractive accessories is a great way to express your personality and add a flare to your living space. If you happen to be handy around the house and enjoy making items by hand, there are plenty of ways to make your own wall art with things lying around the house. With very little in the way of tools, skill, or materials, you can have beautiful pieces hanging on your walls in no time at all. The following 30 DIY Homemade Wall Art Ideas will give some inspiration for the next time you're stuck on how to fill an empty wall or two in that room that needs that bit of extra cheer or whimsy.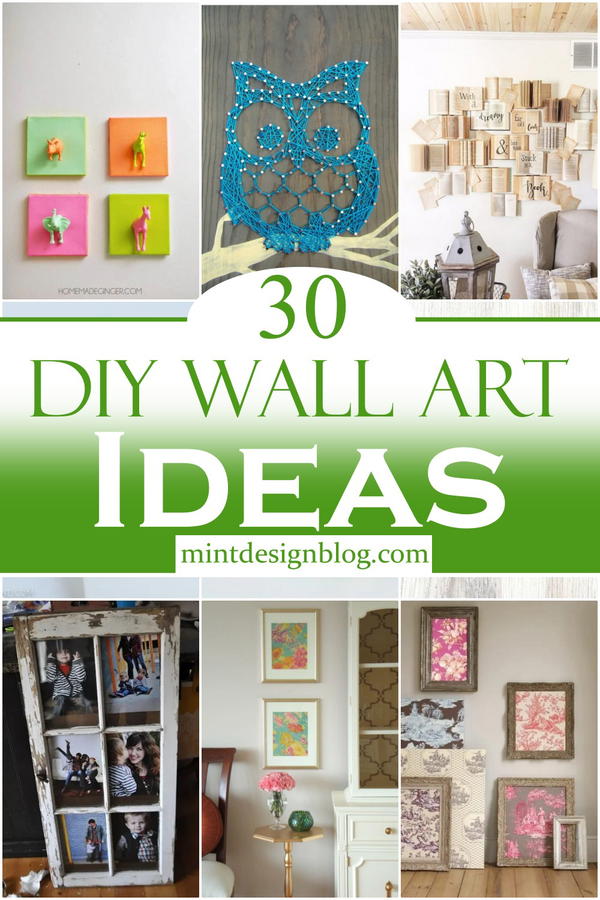 Have you ever been in a position where you have found yourself unable to decorate your home the way you would like to? Most people think that they need to spend a lot of money in order to improve the interior of their homes. But the fact is that this is not necessarily true. Nobody will stop you if you decide to change the color of your walls, add different patterns, or use unique DIY wall art ideas. These 30 DIY wall art ideas. will help you personalize your walls with art just the way you like it.
There's no better way to express yourself than through artwork that you create yourself, here are 30 DIY Homemade Wall Art Ideas you can create.
Materials Needed For DIY Homemade Wall Art
Painting is a great way to personalize your home, but it's not always easy to know how to get started. Here are some basic materials you'll need for nearly any painting project:
Canvas or canvas board
Acrylic paint
Paintbrushes
Small mixing palette (metal or plastic)
Paper towels or cloth rags for cleaning your brushes
Disposable cups for water, if you're using acrylic paints
Oil paints, if you're using oil paints
DIY Flower wall Art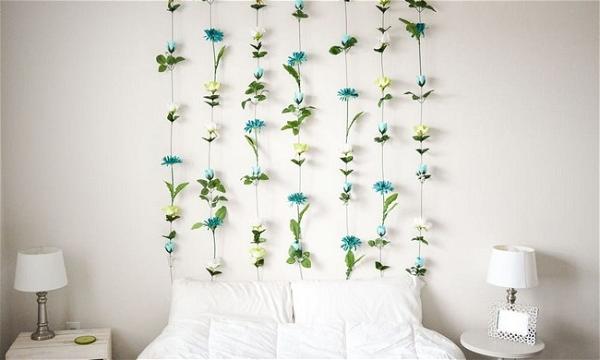 Bring the outdoors in with a DIY flower wall art project—no garden required. Fill in your blank wall with an idea using floral-patterned crepe paper and wood. Simply cut out flowers, frame them with the frame, then arrange and attach them to the wall. This wall art will turn your bedroom into a more luxurious space. It will look gorgeous whether you live in a luxury penthouse or a studio apartment. Since it is self-adhesive, this is the best wall decoration idea when you want to boost the aesthetic appeal of your current bedroom theme.
SKILL LEVEL:  Beginner
2. Diy Framed puzzles wall Art
What can be more interesting and relaxing than to put together a thousand puzzle pieces that create a beautiful image? Sometimes the process of turning all these little pieces into a big picture becomes even more amazing than the result. And after you hang your masterpiece on the wall, it will take pride of place in your home! Enhance the aesthetic value of your wall with this amazing framed puzzle that has a pretty design. Easy to install, this DIY puzzle can be placed on the floor or mounted on the wall to add a quirky look to any space.
SKILL LEVEL:  Advanced/ Expert
DIY Open Books Wall Art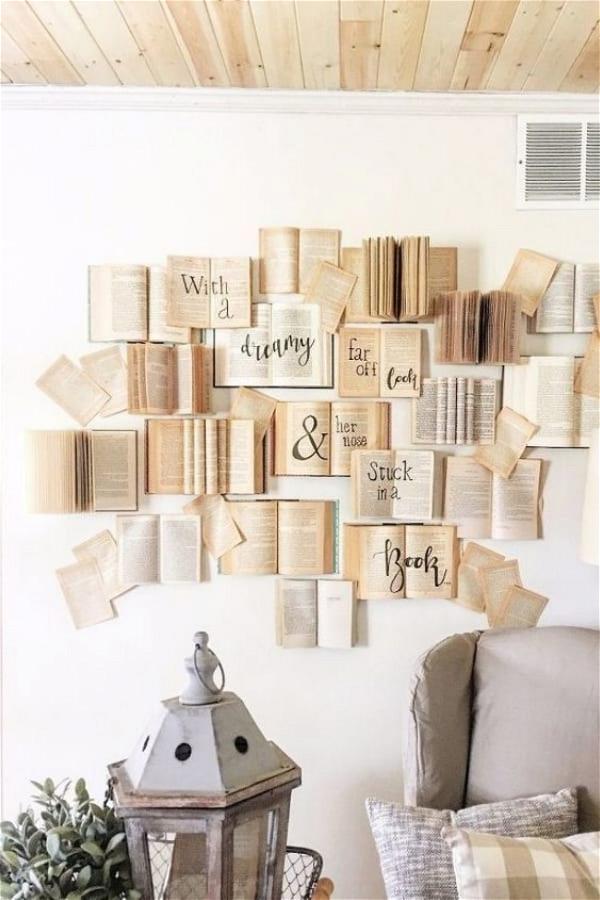 The style of the books will be determined by your favorite genre, but the design itself is completely up to you. Revamp your room with a shot of style that comes with decorating your walls with accessories. If you need to spruce up your space, check out this wall art, which will add personality and create the targeted vibe you have in mind. Get creative with your old book collection and turn them into textural wall art. Use hot-glue between pages to keep books in place. Paint the sides a different shade to add dimension.
SKILL LEVEL:  Advanced/ Expert
Diy Tins with flowers wall art
Sometimes it's hard to figure out how to recycle cans and many other packagings that you might have at home. But this DIY cans with flowers wall art is a wonderful way to use those tins. Paint them in the color of your choice, hang them on the wall, and plant small cactuses in them. Turn old food tins into beautiful pots with flowers. Paint them with the colors of your choice and plant cute little cactuses in them. You can make a beautiful wall arrangement from these pieces and decorate your living room. The world will be saved from garbage because you recycled it, and your home will look more beautiful.
SKILL LEVEL:  Advanced/ Expert
Branch taxidermy wall Art
Bring nature indoors with this DIY branch taxidermy wall art. This beautiful piece requires a wooden plaque, two branches, green hobby moss – which is easy to find at any local craft store – and a pair of scissors. All you need to do next is arrange the branches into your desired juxtaposition and glue them onto the plaque, trimming away any excess ends. In a matter of minutes, you can create a unique piece of taxidermy for your wall that will bring the outdoors in!
SKILL LEVEL:  Advanced/ Expert
Framed Photos Wall Art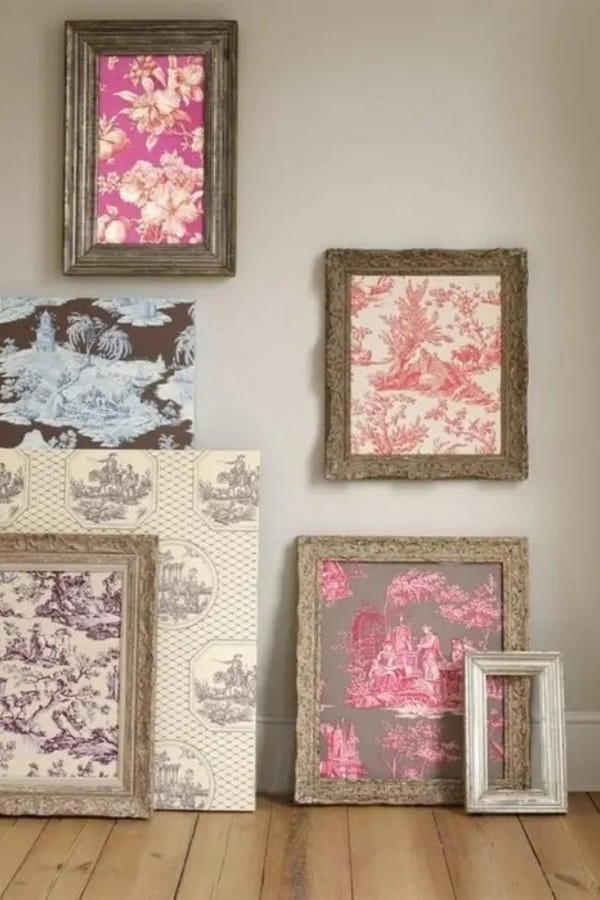 Wall frames are a great way to accent your home with special memories. This project is a simple process, even if you don't have a typical wall or you want to create something truly unique. Use an old picture frame to create a one-of-a-kind shabby chic wall decor. Hang it on the wall and fill its interior with favorite family photos, or print out inspirational quotes and words to remind yourself of the good things in life.
SKILL LEVEL:  Beginner
Flower garden with butterflies wall Art
Get this DIY wall art to make the most of your kid's room make the place where you and your child are living more colorful, lovely, and comfortable. Have a wonderful time creating something extraordinary – this gorgeous flower garden full of butterflies. . It is a perfect way to wow your kid with a colorful and beautiful butterfly garden. Moreover, you can use it to add color to any room or office wall too. Don't worry - it's not complicated at all!
SKILL LEVEL:  Beginner
Children's paintings wall Art
This tutorial is going to show you how to use your children's painting to create custom Wallpaper. After following this short tutorial, you will be proud to show the works of your talented kids on their bedroom walls. Children love to create their own art and paintings. Encourage their creativity by hanging them on your walls and creating a colorful, decorative effect. You can also preserve their artworks as keepsakes by framing them. A great way to showcase your kids' artwork. Create a gallery wall in your entry with this artwork by your kids. They love that their artwork is displayed.
SKILL LEVEL:  Beginner
Autographs wall Art
Fans will love getting autographs on this new, larger design for wall decoration. The wall art canvas or writing board has a special outline print that makes it easy to sign your own name. Underneath the signature area is a saying you can personalize at each event and show to families, leaving an inspiring impression on guests of all ages! Whether you are collecting celebrity autographs at an event, creating a memento of your favorite sports game, or just making personalized decor, this customizable piece can be used again and again to make a lasting memory.
SKILL LEVEL:  Beginner
DIY Canvas Print Wall Art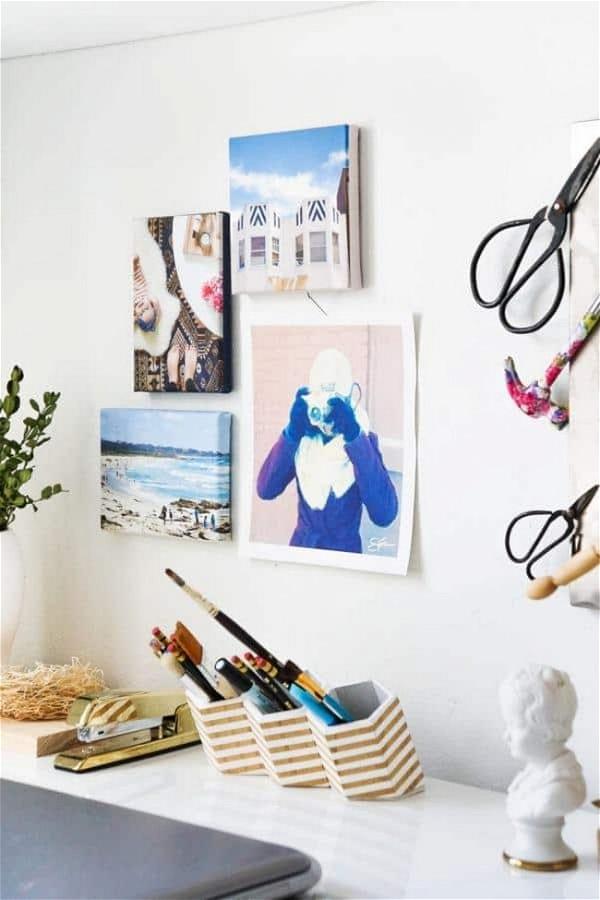 If you love art and want to decorate your home in a unique way, then buy this mosaic canvas print wall art from us. You can create your favorite exhibition wall changing the collage of the mosaic wall arts continuously. Create your own beautiful wall art using your high-quality canvas. Just choose your favorite piece, upload a high-resolution image, select the size you need, and we will create the perfect gallery of canvas print wall arts perfect for your home or office. You don't need a big budget or expensive equipment to start your own hobby and make incredible works of art and masterpieces by using beautiful canvases.
SKILL LEVEL:  Beginner
Diy Painted pattern wall Art
The Diy Painted pattern wall Art will make a great addition to any bedroom, kitchen, or office. Add a touch of whimsy to an accent wall with this creative DIY wall-decorating idea. Pick out the pattern you like the most and print a bunch of trees, flowers, hearts, umbrellas, or mountains all over the chosen wall. Not to mention that you can make it more personalized by using a photo of your children as a sample. There are various patterns and styles available, such as flowers and trees, and owners can customize their wall art using photographs. The product comes with everything needed to install on any wall in the house.
SKILL LEVEL:  Advanced/ Expert
DIY Framed Silk Scarf Wall Art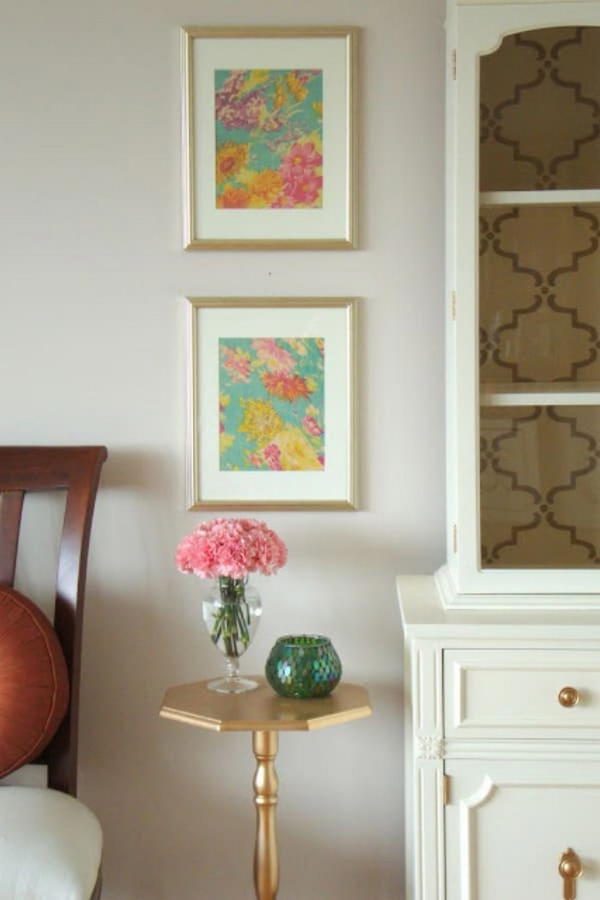 If you love unique decorative art but have no money for art-artist painting, then we suggest using silk scarf wall art. It is the most budget option, which will even add a character to your room. You don't have to know how to paint or spend a fortune on original art to have special pieces of art to show off in your home. You can hang a unique framed piece made of the silk scarf. A wall decoration like this adds character and class to your living room.
SKILL LEVEL:  Beginner
DIY Gallery Wall Art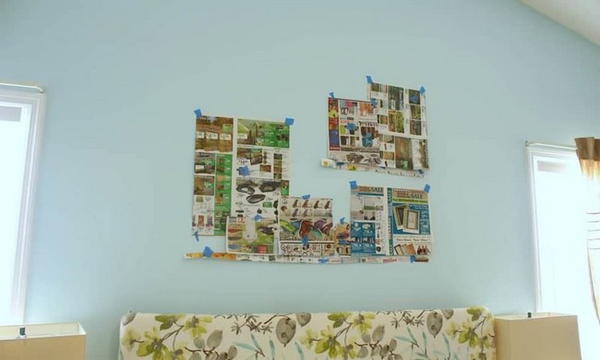 Add a touch of vintage to your home with our DIY Gallery Wall Art. Simply hang the wooden bar on your wall and change out posters with magnets. It is that easy! Collectibles, advertising, and vintage posters are a perfect way to express yourself or make wonderful gifts for friends reminiscent of past. Decorate your wall with this interesting art piece that will catch the eye of anyone who sees it. Place this piece in an area where it will be seen, whether in an office hallway by the bathrooms or on a wall at work, to give something unique to look at.
SKILL LEVEL:  Beginner
DIY Old Window Wall Art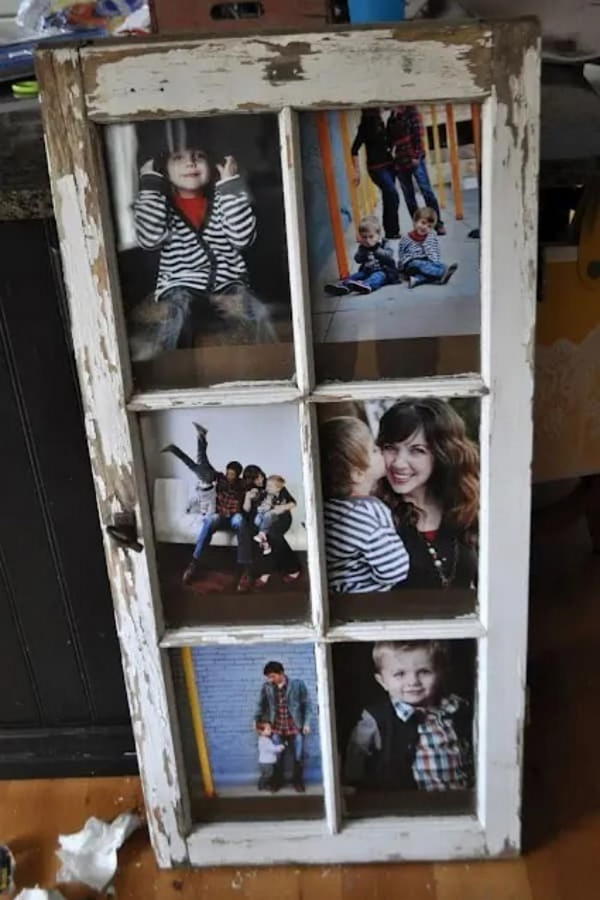 Are vintage windows too expensive and hard to find? Don't worry! We've got an easy solution that makes this old window look like a million. Just build it yourself. This is a great project for anyone looking to add a unique twist to your home. You can use an old window you already have—or find one at the local flea market. Just decorate with spray paint and stencils if you want, and then add photos of where the glass used to be.
SKILL LEVEL:  Beginner
Hat wall Art
This is a perfect idea for people who like having many accessories. If you have a collection of hats or other accessories, maybe it's time to get them out from under the bed or off the closet shelves and use them to decorate your wall. This is a way to give your favorite hats the attention they deserve. This is also a way to use your imagination: the more accessories you have, the more interesting your wall will be. You can use other accessories if you are not mad about hats! What you need is hooks and wall mounting screws, as well as a ruler or measuring tape. Be creative! The colors and sizes of the hooks don't have to match!
SKILL LEVEL:  Advanced/ Expert
Romantic letter wall Art
Make a photo of your wedding or the first day of school and hang it on the walls in the corridor or living room. Let this poster remind you about bright emotions, positive moments, and good memories every time you look at it. Your sweet old letters don't have to be put away in a box. Instead, make a magnified copy, frame it, and place it on the wall of your living room to keep memories alive forever. You can also preserve your love story by hanging copies of your oldest or favorite letters.
SKILL LEVEL:  Advanced/ Expert
DIY Magazine Collage Wall Art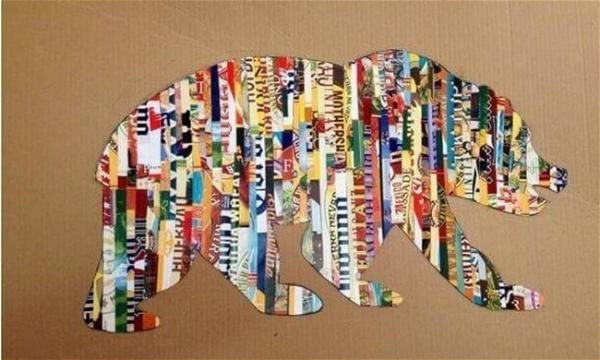 Love to DIY? This magazine collage project lets you create your own wall art piece with a fun twist. Make it with your kids for a fun afternoon of bonding. It's perfect for any room in your home and can be customized to fit your style. Make this elegant and simple wall art with your kids to recycle the old paper and spend quality time together. This idea is super easy and stylish; you can give it a personal and sentimental touch by customizing the colors.
SKILL LEVEL:  Beginner
You can also see: DIY Felt Animal Patterns 
DIY Dahlia Decoration Wall Art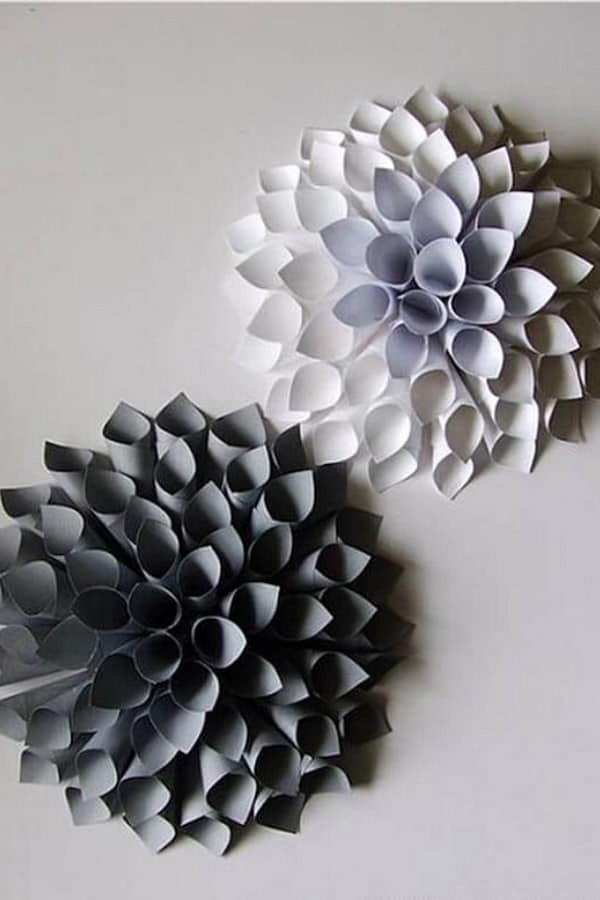 Adorn your home with DIY paper wall decor that your kids will love. Let them join the project and bring joy to a whole family! Learn how to make these whimsical paper flowers by combining the art of paper folding and quilling. This floral design requires little advanced skill, but the end result is breathtakingly beautiful and makes a great gift or wall hanging. If you have kids over at your place, you are sure to get plenty of volunteers as assistants to this decoration project. You can also spend some inspired time with your kid and make these 'blooms' together.
SKILL LEVEL:  Beginner
Diy Lace project wall Art
The DIY Lace Project Wall Art is a throwback to your grandparents' house, it's easy to create, and easy to style, making it a big wall art idea. All you need are some lace doilies, fabric glue, and a piece of wood. This DIY lace project wall art is a great reuse idea of what you can do out of the old lace piece. Instead of wardrobes' wear and tear, try to put them on your walls and make a new trendy wall decor! The gorgeous thing about this project is that you can use any of your old doily or tablecloth or even a napkin.
SKILL LEVEL:  Advanced/ Expert
20. Diy Colorful glass or pieces of mirror wall art
Cut the glass according to the shapes you desire. If the result is a piece of broken mirror, so much better. However, if you want to stick more pieces on it and make a triangle, oval, or some other shape, cut them all in the same way and use some glue. Some also apply grout as in mosaic decoration. This can also be used in other parts of your home and not only in the entrance hall. Maybe an oversized picture made of stained glass would look quite interesting on one of your walls?!
SKILL LEVEL:  Beginner
Ceiling medallions wall Art
Quickly and easily add some chic to your ceilings with a ceiling medallion. These decorative, white medallions are molded from durable polyurethane foam which will never crack or warp. Specially designed for the do-it-yourselfer, the ceiling medallion comes in easy-to-install pieces and can be painted with any oil or latex paint. And best of all, they install in minutes; no special tools are necessary!
Ceiling medallions are a perfect material to create wall art. If you have ceiling medallions laying around just paint them white! Wall mounting hardware is included on the back of the medallion. This is a gift idea to see how your presentee will like ceiling medallions. No need to make holes in the wall and pay for expensive equipment. This way is faster, cheaper and so much easier.
SKILL LEVEL:  Advanced/ Expert
Diy Colorful crates wall Art
Redecorate your room in a creative way with this colorful wall art. This is a perfect DIY project for your Saturday afternoon and you can team up with your children to do it! Old wooden boxes can transform into shelves. By painting these boxes and mounting them to the wall, you are creating a colorful shelf. You can customize colors and sizes to your desired layout. This project repurposes waste into recycled art, which helps preserve the planet. These DIY crates can be used to hold just about anything. In the bathroom, as organizers, or in the dining room as extra storage.
SKILL LEVEL:  Advanced/ Expert
oilet paper roll decorations wall Art
Now you can teach your kids to reuse toilet paper rolls by teaching them to make this unique form of art. Save up all those toilet paper rolls and spend a fun afternoon with the kids making these elegant shapes to decorate your walls. Make wall art from toilet paper rolls! This may seem like an odd concept, but it's a great way to recycle. Plus we're not talking about just any piece of wall art. This is elegant work that'll make your guests oooh and ahhh when they see your unique creation. Once you paint the rolls black, you can create incredible shapes with quilling paper through a variety of techniques. You'll feel great knowing you took simple materials and made something fantastic!
SKILL LEVEL:  Advanced
DIY String Wall Art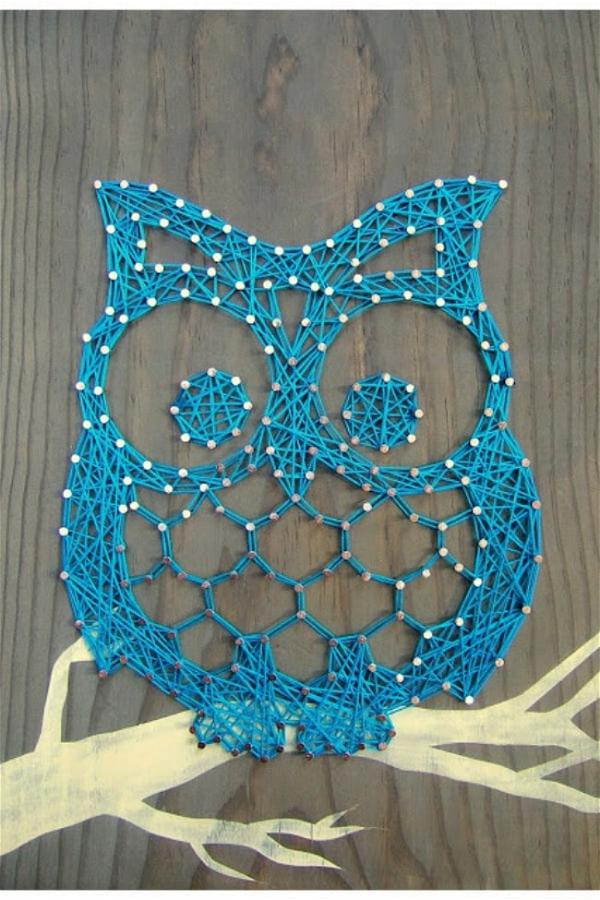 String wall art or wire wall art is a form of modern art where multicolored strings are neatly and beautifully attached to a wooden board. It is not that difficult to do, but the final result is incredibly beautiful! You can even customize your string wall art by making your favorite flowers or animals. The walls of your home will get an astonishing and extraordinary makeover in seconds with this simple idea. Create your own decorations with DIY String Wall Art! All you need is string, wood, and nails. Make your favorite flowers or animals and design a unique room!
SKILL LEVEL:  Beginner
Recycled Calendars And Postcards Wall Art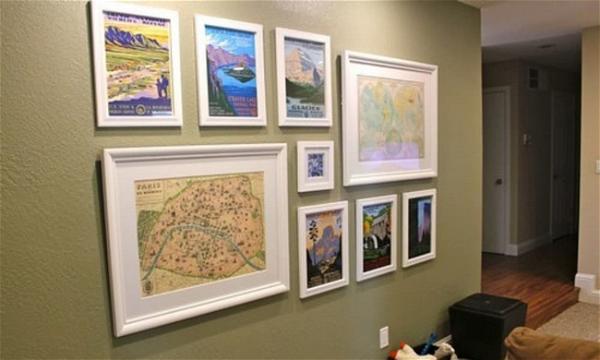 Turn a boring wall into an impressive one by making this piece of wall art. The project uses recycled calendars and postcards, pasted on a piece of cardboard. Choose your favorite images and add notes to each of them. You do not need to be an expert in making fancy crafts to make wall art. Use some old calendars and postcards and frame them separately or as a collage. The options are endless: frame them separately or as a collage, and display them on the fridge or along the wall of the kitchen or living room. This DIY project is easy to complete, but the results are amazing. Enjoy!
SKILL LEVEL:  Advanced
Recycled Cake Recipes Wall Art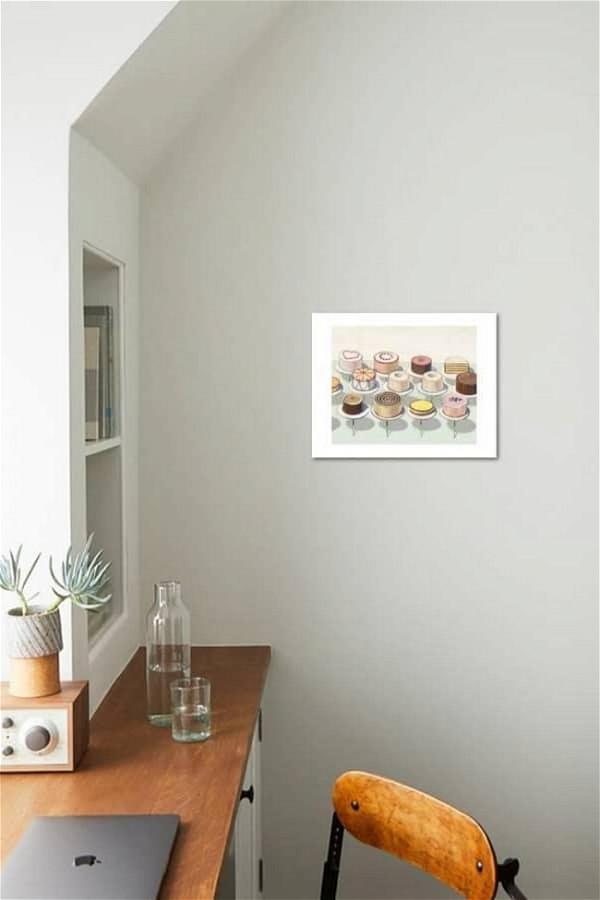 You probably have a box of old recipes from your grandmother that you never use. Well, these were used to make this recycled wall art that will surely brighten up your kitchen and give it a personal touch', Turn your granny's old recipes onto a piece of art. This original design makes a piece of art that is far superior to any other recipe box you've ever seen. It is made of locally sourced birch plywood which is then painted and varnished with a clear coat of sealant. The edges are rounded to give it both an elegant and modern look that will complement any kitchen space.
SKILL LEVEL:  Beginner
Magnetic Scrabble Board Wall Art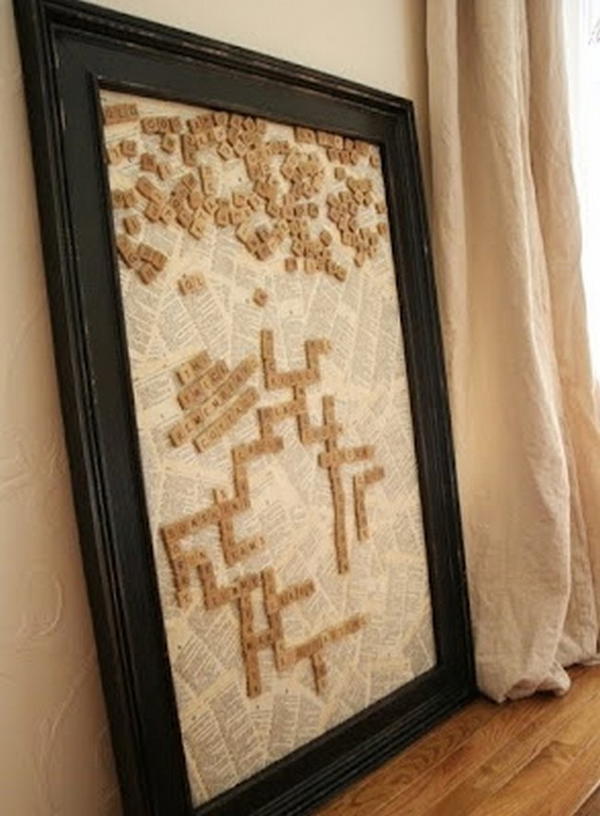 Grab your old Scrabble board and frame it! Add some magnets on the back of each letter. This will allow you to play scrabble with your friends or family while also being decorative on your wall. The size of a magnetic Scrabble board makes it almost ideal for repurposing as decor. It can be used as a basic blackboard, noticeboard, or even just a colorful way to break up your existing gallery wall. By using a magnetic Scrabble board you can create a place to jot down notes, hang important memos, and display what's important to you.
SKILL LEVEL:  Beginner
EASY DIY Canvas Art with Plastic Animals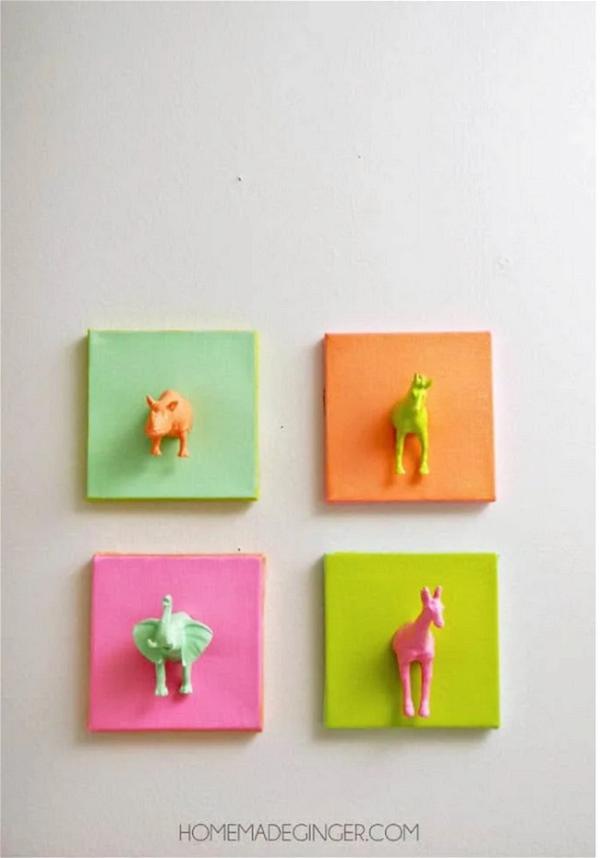 Have a boring blank wall? Here's a fun idea for you! Use plastic animals to make a cool DIY canvas art. A perfect way to display children's toys in a creative way – this easy DIY tutorial will show how to create photo-worthy closet organizers and displays with these cheap dollar store toys. Bring your kid's old toy animals out of the toy box and onto a beautiful backdrop for all to see! This whimsical piece of wall art will add fun and color to your kid's room.
SKILL LEVEL:  Beginner
On Cloud Wine Free Printable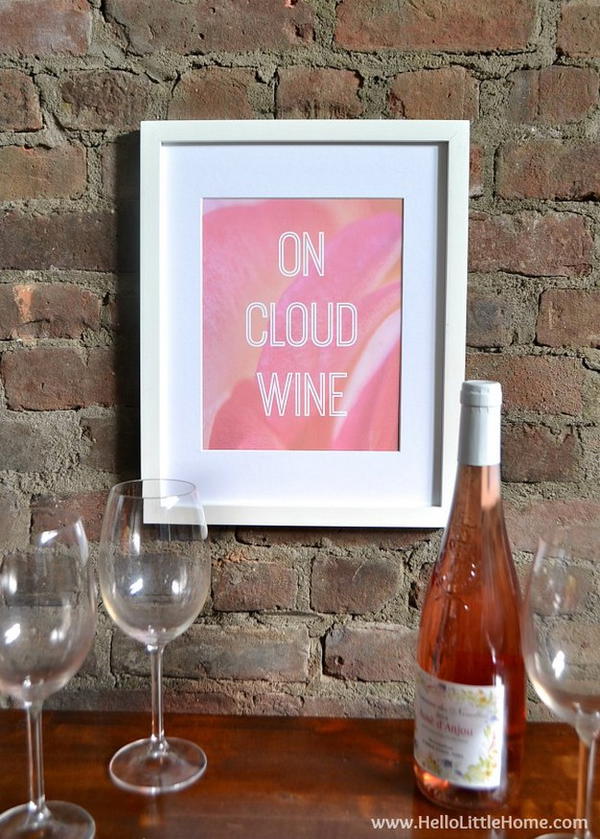 This printable wine quote is a perfect wall art option for any wine lover! It's also perfect to adorn your next party and it makes a great gift! Wine enthusiasts will adore this wine-themed "On Cloud Wine" wall art print. This free printable makes a great gift for any wine lover in your life, too! Hang this on your kitchen wall next to your wine glasses, at your next party, or give it as a gift to a friend! It's a cute and easy way to bring some extra fun into your space, with little extra investment.
SKILL LEVEL:  Beginner
DIY Canvas Mounted Instagram Photos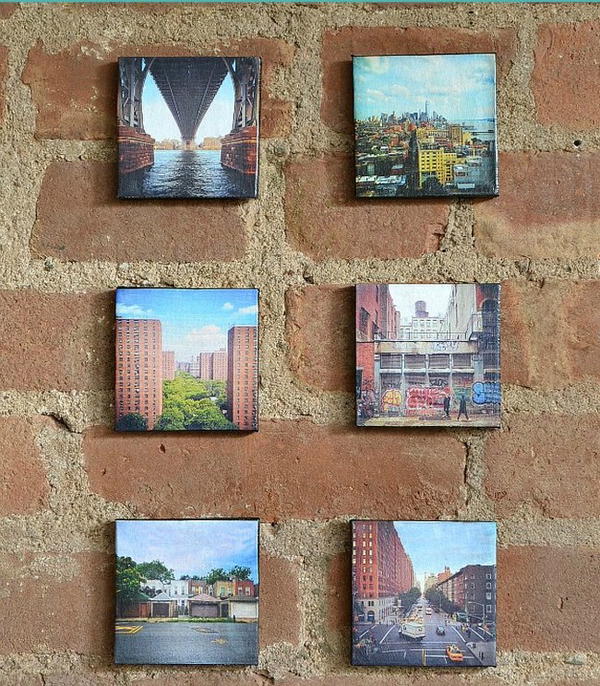 Canvas mounts give your Instagram photos a professional gallery-wrapped look and feel, so you can display beautiful wall art of all your favorite memories. And now you can choose to display images in a vertical or horizontal orientation! This is a fun and creative way to get your Instagram photos off your phone and onto your wall. Just select a few of your favorite photos via Instagram, add them to the custom app, choose amount type, and we'll ship you everything you need to make some amazing art with your pictures.
SKILL LEVEL:  Beginner
CONCLUSION
Creating your own art can be a fantastic way to bring any room in your home to life. With the right tools and a little creativity, you can make beautiful pieces of art that look as good as anything you could buy. Homemade wall art can also be inexpensive, making it the perfect choice for a family on a budget. You will love these cool ideas that we have put together for you and your walls. These are simple, easy, and quick to do and look amazing when you are finished. These 30 DIY Homemade Wall Art Ideas will help you create the perfect piece for your walls.