Building a retaining wall for your garden is one of the wisest decisions you can make if you want to grow plants in your garden. Despite how modern and technologically advanced we have become, there will always be certain things we can't do without. When it comes to construction, we want something that can function best in a variety of situations; in addition to this, it must also be affordable and durable at the same time. Whether you are looking for a DIY project or want to hire professionals to handle it for you, these great DIY Retaining Wall Projects will help you get started on building that perfect retaining wall for your garden.
DIY Retaining Walls are popular for establishing a foundation for your garden and providing something to add stability to the ground. However, it is extremely frustrating if retaining walls only seem to be getting taller as the soil under them continues to erode at an alarming rate. DIY Retaining Wall Projects are easy to fix your problem and provide a quick investment return. These DIY retaining wall ideas will help you dive deep into what one should be like. If walls to keep water out are your issue, consider some creative ideas to solve that problem!
DIY Retaining Wall Projects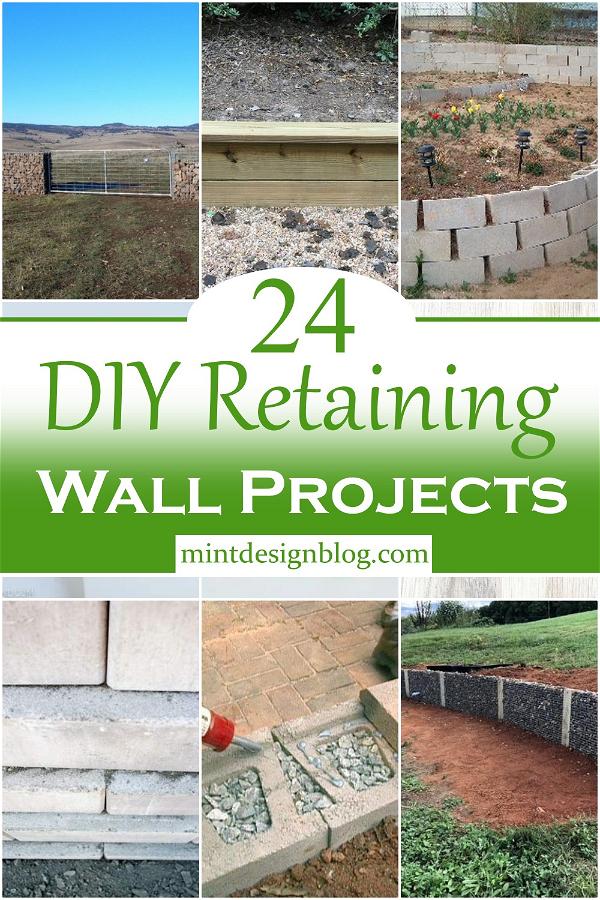 You can build your own DIY Retaining Wall with just a few things around your house and save a great deal of money! Building a retaining wall with the right materials and design can be a quick job. Using the right tools will also help ensure everything goes smoothly during this DIY project. The best thing to do when it comes to this is to let your imagination go wild and have fun while making DIY Retaining Wall Plans.
Uses And Scope:
A good DIY Retaining Wall Project can help tame your yard and create space for your lawn, garden, or plants, not to mention it can also add value to your home. It is a wall along the perimeter of a lot or property to retain the earth and its natural slopes. In gardening, a retaining wall serves many functions. You can build a retaining wall from stone, brick, or concrete blocks; or with logs and cement stucco. You may also be able to build it from the earth, crushed stone mixture, and sand if you want something that fits better with your landscape design.
How To Build A Railroad Tie Retaining Wall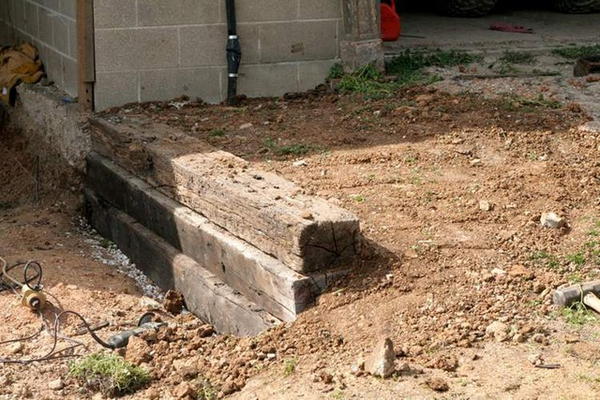 Building a railroad tie retaining wall is an excellent solution for improving the appearance of your home. This type of wall provides a sturdy, attractive, cost-effective way to hold soil back from sloping areas. This guide will help you construct your own railroad tie retaining wall. It provides detailed instructions on how to build it step by step. You'll learn how to level the area, then add gravel or stone to create a perfect base for placing the wood timbers.
How To Build A Retaining Block Wall
If you want to add a retaining wall to your yard, consider building a cinder block instead of a poured wall. These easy-to-make walls are easy to construct, look impressive, and require minimal effort. This step-by-step video tutorial teaches how to make a property line retaining wall using cinder blocks as the main construction material. This video shows you how to build the wall and save money; there is no need for mortar or other expensive materials. It's a very easy project to do at home, so check it out and build your next wall!
DIY Retaining Wall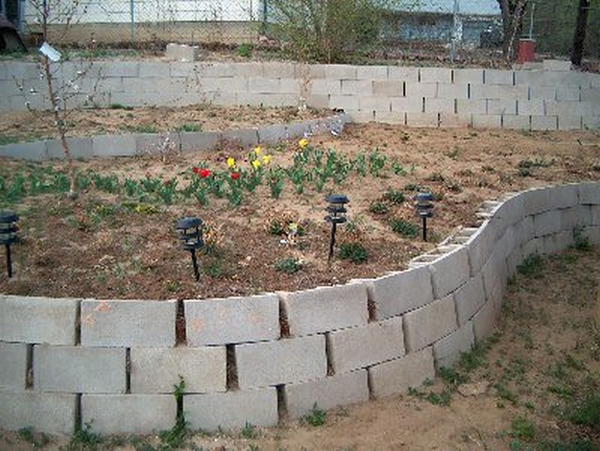 This guide shows you how to build a cinder block retaining wall that's both easy to set up and durable. The creator of this guide built this retaining wall with cinder blocks, but you could use other materials if you prefer. Your local hardware store will have the materials you need. However, read the instructions carefully before beginning construction if you're placing this wall on your property and want it to last for at least 10 years.
DIY Gabion Retaining Wall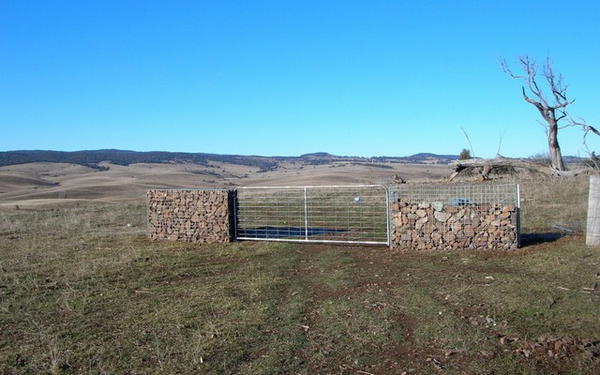 If you're looking for a DIY project and want to learn how to make a retaining wall, here's a great option. This wall will give your garden a dramatic accent using a combination of wire mesh and large stones. The process is simple: first, prepare the wire mesh around the designated area. Then, start filling the mesh with stones until you get the desired height of your wall. This DIY project takes time and effort, but it will be worth it if you're committed to creating a uniquely beautiful structure in your landscape or garden.
DIY Culvert Retaining Wall
This DIY culvert retaining wall is not just for the eye; it's for the whole family, for kids to play on, and for pets and people to enjoy. If you want to make your garden look special and unique, this is a great way to do it. The best part about this wall is that it does not cost much money to build, and you can also use recycled materials. This easy-to-follow DIY video will walk you through the steps necessary to build a durable, attractive retaining wall like the one featured in this video. Watch how one man built this amazing culvert retaining wall as a unique retaining wall featuring an open tunnel beneath the driveway.
Retaining Wall DIY
This video tutorial guide shows how to build a retaining wall in your backyard. With step-by-step instructions, you'll hardly miss a thing. And since this project is fairly simple and easy to follow, even beginners can make it happen. If you need to create a nice-looking retaining wall holding back dirt from your backyard and keeping it clean and neat, then this DIY video guide is for you. This video DIY guide will show you how to build one quickly and easily with only materials you can get at most big-box home improvement stores.
DIY Retaining Wall Build
With this DIY Retaining Wall Build, you have a chance to save on costs by following a simple tutorial that you can even get on video. This project is quite expensive, though; it will cost you $1000 for the tools and materials. But there's a link on the description to where you can get them at a better rate. DIY Retaining Wall Build is an amazing project that will not take too much of your time and energy. You will see how easy it is to do so, thanks to the easy-to-follow instructions provided by the video tutorial!
DIY Outdoor Wooden Retaining Wall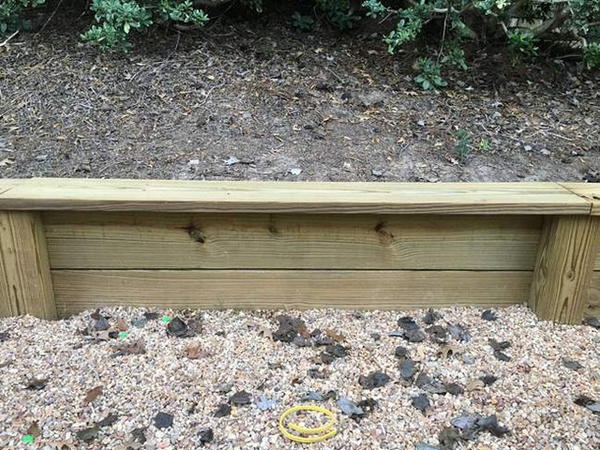 In this project, you'll learn how to create a DIY outdoor retaining wall that's simple and effective. Use pinewood boards, which are easy to find at your local home improvement store. This step-by-step tutorial shows you how to measure, cut, and join the pieces together so you can finish with a decorative top course. With these simple, easy-to-follow instructions and illustrations, this project is easy enough that even a beginner can do it.
How To Build A Block Retaining Wall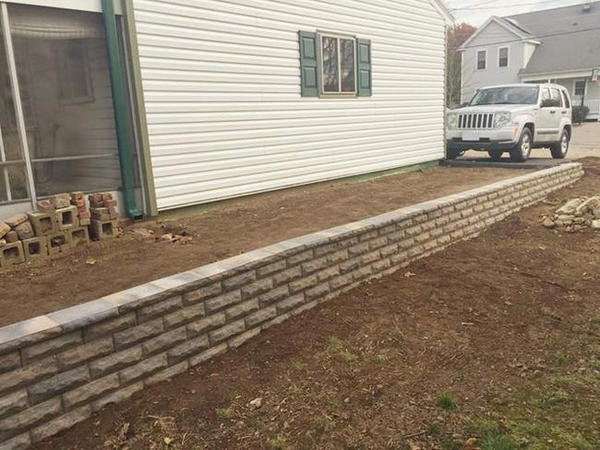 In this tutorial, you'll learn how to build a block retaining wall. The wall allows you to use minimal landscape materials and offers a striking visual impact. Follow along to discover the required blocks, proper drainage methods, and other useful information to help you start building your retaining walls. The materials required for this project are wall blocks, mason lines, gravel, cap blocks, landscape adhesive, fill dirt, stakes, landscape fabric, a caulking gun, and a few other tools. With a little planning and preparation before construction, you can build a block wall that you'll be proud of.
How To Build A Retaining Wall With Blocks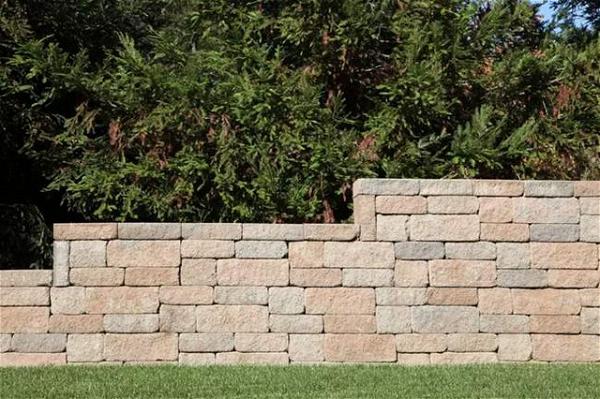 A retaining wall is a good way to raise the level of a backyard or failure so that you can create a patio, vegetable garden, or play area. Building your own drainage system and retaining wall is easy, especially if you follow this step-by-step guide and have some basic construction skills. You need to know how to use basic hand tools such as a shovel, hoe, and rake and have access to simple power tools such as saws, drills, and welders. You can choose from many kinds of retaining walls, ranging from vertical to sloped ones and even curved paths or stairs.
Building A Retaining Wall With Ease
A retaining wall is a way to go if you wish to give your lawn a better frame and a more finished touch. Retaining walls are also functional as they can double up paths or garden terraces. Learn how to make incredible-looking block retaining walls with ease by following some simple steps that anyone can do. Whether it is a small backyard or a large front yard, this video tutorial will guide you through the process quickly and easily so that your wall looks amazing when you're done.
Building A Stone Retaining Wall
A stone retaining wall is more than a wall that merely keeps back the earth. It can also add beauty and function to an outdoor space, helping create an aesthetic ambiance and adding value to your home. With our instructional video guide, you'll gain the confidence and know-how to build a stone wall that keeps everything in place, looks gorgeous from all angles, yet doesn't appear overly imposing. The most important thing here is to find the best quality materials and plan your layout carefully before moving forward on your project.
How To Build A Block Retaining Wall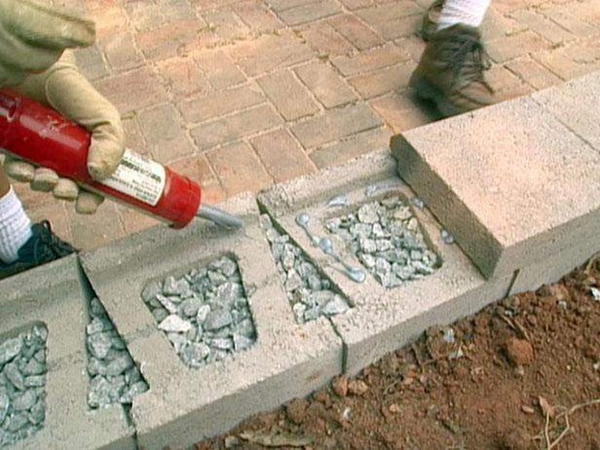 A retaining wall is a great way to accent your landscaping, add privacy and shelter your property from unwanted weather. A block retaining wall is an easy DIY project if you have the right tools and materials. You'll need to secure the footing at the bottom and top of the wall before you can build. The next step is laying drainage pipes down and then covering them with gravel around the walls' base. The last step is installing blocks onto sides in increments, so you don't overfill any section and keep walls leveled as high as possible.
How To Build A Timber Retaining Wall
This wood retaining wall with timber looks less durable, but fortunately, it's actually more impact-resistant than you think. So how do you build a timber retaining wall? First, you'll need to excavate the soil beneath it and install concrete posts, brick piers or other strong base materials. Then assemble your timber frame and plant in the spaces between them with landscaping fabric to keep dirt from shifting away from your new retaining wall. Lastly, stake down your timber posts with landscape ties where needed!
DIY Retaining Wall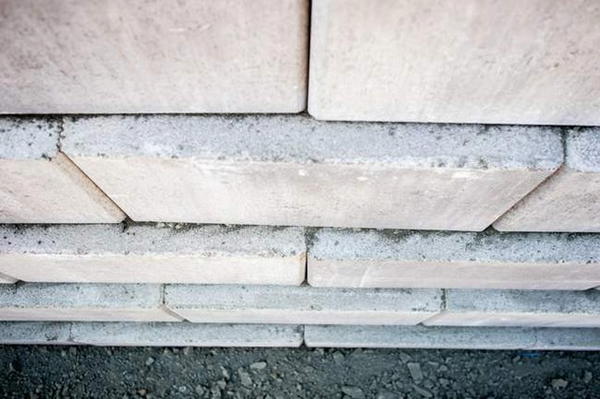 The DIY Retaining Wall from Do Your Walls is a great way to create a retaining wall that matches your style and needs. Everything you need for this project — from tools to concrete — is included in this guide. This do-it-yourself guide is made for professional contractors and home users, so it's easy to follow without any previous experience building walls. Once your wall is built, it includes instructions on finishing the surface with grout or stucco.
How To Build A DIY Retaining Wall

This DIY retaining wall is sure to last quite a while and can be built with some basic tools. Hard posts are used as the base of this project; agricultural drainage pipes are used in place of bricks and mortar, and sleepers are stacked and filled with a drainage aggregate that is then covered with rapid set concrete. The plastic posts and pipes are durable enough to last for years, allowing you to enjoy the look of having a professionally installed wall without paying for professional labor.
DIY Retaining Wall Easy Build
Get the retaining wall you've always wanted with this easy-to-follow DIY Retaining Wall. Whether you want to show off your favorite flowers in a beautiful garden or beautify any other area of your property, this easy guide walks you through each step of setting up a pleasure-inducing wall that would make any homeowner happy to call home. This wall can serve as a beautiful patio or border to a garden and a great water runoff system by using the vertical channel to hold back rainwater.
DIY Retaining Wall Idea
This retaining wall is easy to make and only requires basic tools. Start by laying down gravel, then lay down the filter fabric. This will keep the walls from collapsing as you build them. Then, form your capstones into a square shape, making sure that you leave gaps for your wall blocks between each capstone. Lastly, lock your blocks into place with locking grids. Our DIY Retaining Wall will protect your soil from erosion and help to reduce noise by dampening vibration. It also looks great and can be mixed with other landscape materials.
DIY Retaining Wall Build
With our guide on building a retaining wall using railroad ties, you will be able to design a beautiful wall that won't require too much of your time and money. You'll need just some basic tools and materials that you can easily find at any DIY store, and get started building your own retaining wall in no time! This DIY will show you how to use railroad ties to create this nice-looking and effective retaining wall that can be used in any situation around your property.
DIY Retaining Wall From Railway Ties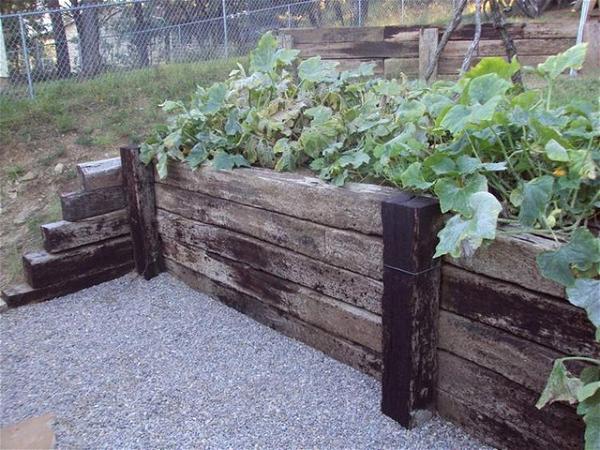 The only way you can learn is through experience, and that's exactly what we're going to help you do. This project will take a lot of time and energy. The materials for the project are relatively cheap and easy to find if you look in the right places. We've included all our information about our retaining wall for your reference so that you can make an informed choice about whether or not this is something where you can invest your time. This project requires a lot of planning, so check out the instructions in detail to figure out how much you will need and what tools you'll need.
Gabion Stone Retaining Wall DIY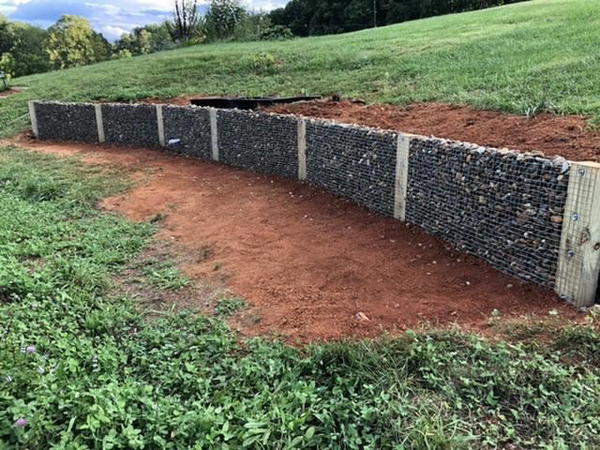 If you want to make a retaining wall, you may need Gabion. A Gabion is a cage-like structure made of metal or plastic and filled with stones or gravel to hold the earth in place. This can be used in place of concrete or wood. You can make it yourself or find an expert who can do it for you. This video explains how to use gabion stones and welded wire fencing to make a retaining wall that is sturdy and beautiful.
Natural Dry Stacked Stone Wall - DIY Retaining Stone Wall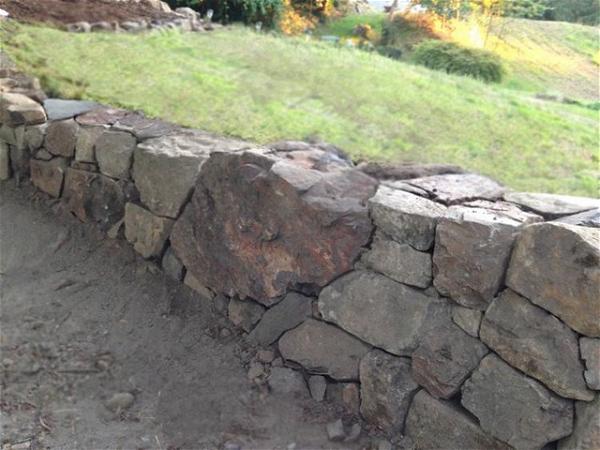 Dry stacked retaining walls are the perfect DIY project for someone who wants to create a beautiful feature without the mess of mortar. A natural stone wall is one of the most popular choices for your backyard landscape. Natural stone walls are timeless and allow you to express yourself in a way that traditional block or masonry walls can't provide. As long as you have enough room and follow the right steps, you'll have a beautiful new feature to show off in your yard in just a few days!
How To Build A Small Retaining Wall
This video tutorial will walk you through the process of building a small retaining wall using concrete blocks and several other materials. Building a small retaining wall is not as difficult as you might think. The key is to make sure that your base, or footing, is level and sturdy. The formwork for this small retaining wall was made with concrete blocks and mortar to create a strong foundation. Once leveled, compacted and smoothed, you can add gravel for drainage, then build up the wall with more concrete blocks. Get ready to turn your backyard or garden into an oasis!
DIY Block Retaining Wall
This guide is ideal if you need an affordable, easy-to-build block retaining wall. A block retaining wall is easy to make, and the materials you need can be yours in one day. See exactly how to build a block retaining wall from start to finish by yourself and with inexpensive materials, the best tools for your project, and all the tips you need to make your retaining wall successful. This DIY project will allow you to have a top-quality retaining wall without hiring someone or buying expensive supplies.
See Other Projects