Sprinkler systems are one of the best ways to implement a modern yard and garden design. Consider installing an irrigation system when planning your new landscaping and garden design. Watering your yard can be expensive and time-consuming, especially when you factor in the cost of keeping your sprinkler system running. However, a DIY sprinkler system can help you save money while adding value to your home. Exploring easy-to-install irrigation systems that don't require professional contractors will help you make your next watering project even easier.
DIY Sprinkler System Ideas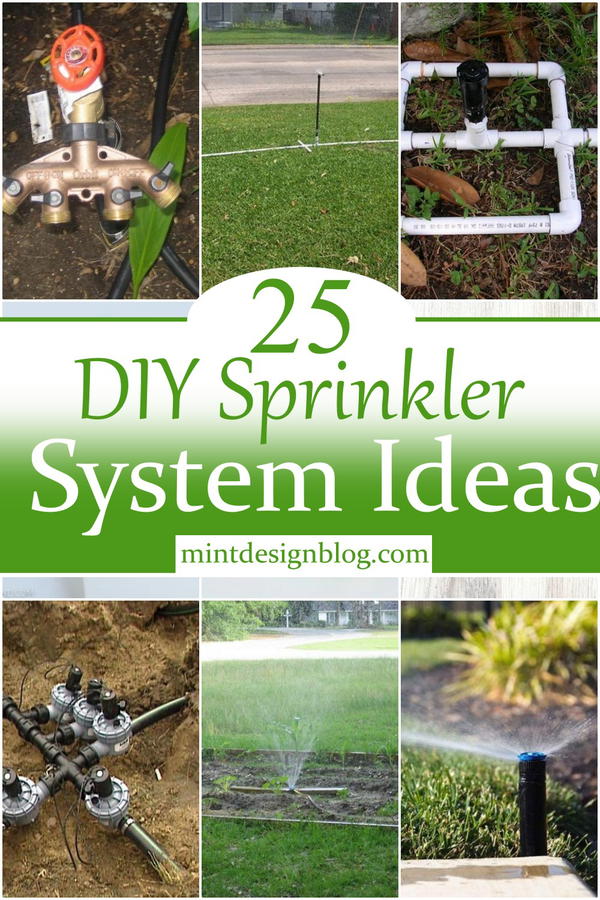 Build and install your own sprinkler system, or hire a professional. Discover how to design and lay out the sprinkler zones in your yard. Learn simple and easy DIY tips to maintain your sprinklers throughout the season. Save the time and hassle of a professional installation by building your own DIY sprinkler system. There are many effective options when creating your own sprinkler system, including pipe fittings and various nozzle types, tube irrigation, and drip irrigation. Explore today's collection of sprinkler systems available and see how easy it can be!
If you're looking for fun and easy DIY sprinkler system ideas, look no further than these 25 great projects that anyone can build.
You Can See: 20 DIY Garden Decor Ideas To Beautify Your Lawn
The benefits of DIY sprinkler system ideas
There are many reasons why people choose to do it themselves when it comes to home improvement projects. According to a survey conducted by the National Association of Home Builders, nearly half of the respondents said they prefer to do the work themselves rather than hire a professional because they can get the job done right and save money. However, doing things yourself can be risky if you don't know what you're doing. The following are some advantages of doing it yourself:
You save money
You learn new skills.
It's fun
How To Install Sprinkler System
Whether you're scheduling a new home or remodeling an existing one, installing a sprinkler system can add curb appeal and increase the value of your home. But before you begin, there are important questions to ask yourself, such as whether you want a system that can be operated by hand or remotely. If you like the ease and comfort of having an automatic system, here's how to install it yourself. Installing a sprinkler system is not as complicated as it may seem, but it will benefit greatly from proper planning before digging in. Several things should be considered, such as the design, materials, and layout.
DIY Automated Sprinkler System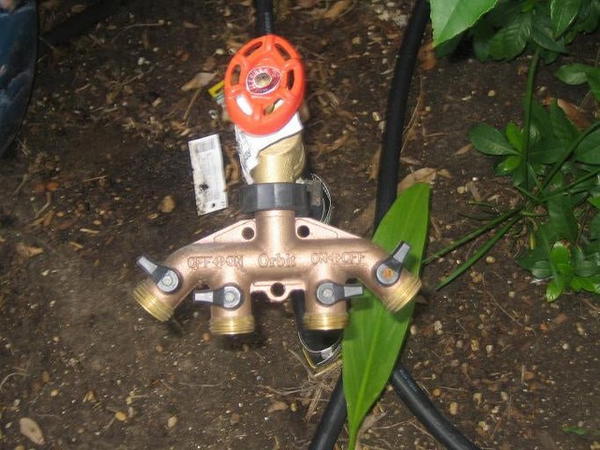 If you love gardening, you would love this automated sprinkler system. It takes care of your garden on its own, leaving you more time to spend with your family or take care of other household tasks. The price may seem expensive, but it's worth it if you don't have time to water your garden daily. This is a step-by-step guide on how to set up an automated sprinkler system. The system is quite straightforward to perform; you can install these independently without professional help. Using this watering system also has many benefits, such as more time for yourself and less water wasted!
Simple Garden Sprinkler System DIY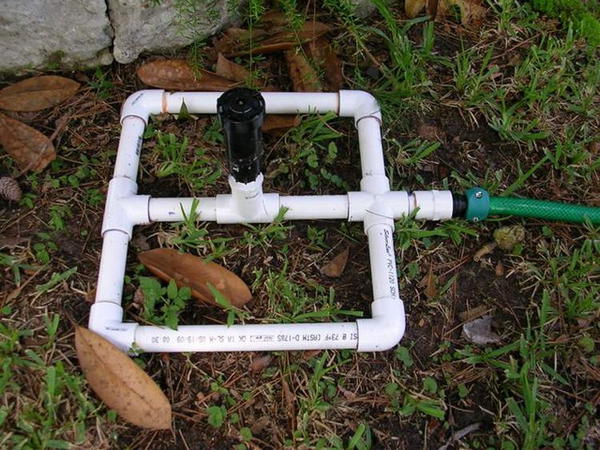 'There is something magical about watering your garden hydroponically. The water pressure keeps the plants healthy and always gives priority to the roots so the plant can do its thing for the flower, vegetable or fruit. Giving them all the space to grow big and strong.' This simple garden watering system is super easy to set up, and you won't be buying any special sprinkler kit. You'll need some PVC pipes, a threaded hose connector, some PVC elbows and glue.
DIY Underground Sprinklers For $100
We know you are a DIYer looking for a non-commercial alternative to a traditional sprinkler system. Here is another way to save money on backyard landscaping and lawn irrigation. If a simple sprinkler system like the one in this video isn't enough for your lawn, here is a more advanced underground sprinkler system that you can make for $100. Watch the video on making an underground sprinkler system with just some PVC piping and sprinklers, and get started on making your dream home!
DIY Three Head Sprinkler System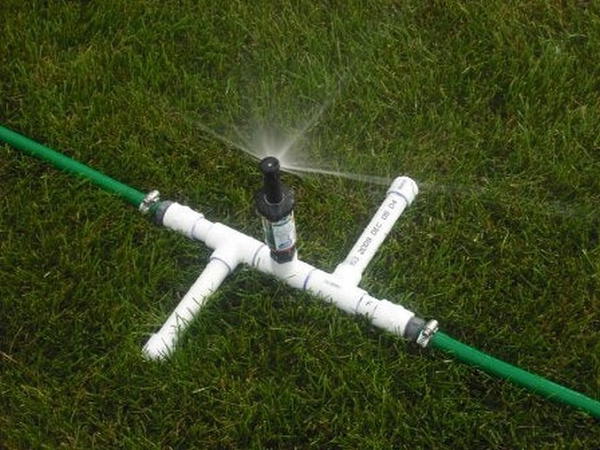 Works with garden hoses connected to the water supply. The sprinkler makes watering your lawn, garden and trees easier. Just set it up and let the water do all the work for you! This DIY three-head sprinkler system is great for covering large areas. The PVC pipes are cut to the right length and connected with a garden hose. Then you stake the whole thing into the ground like a tent, install each sprinkler nozzle, and add water. This three-headed sprinkler can be used in any area that needs lots of watering. Simple and effective!
Linux Powered Garden Sprinkler System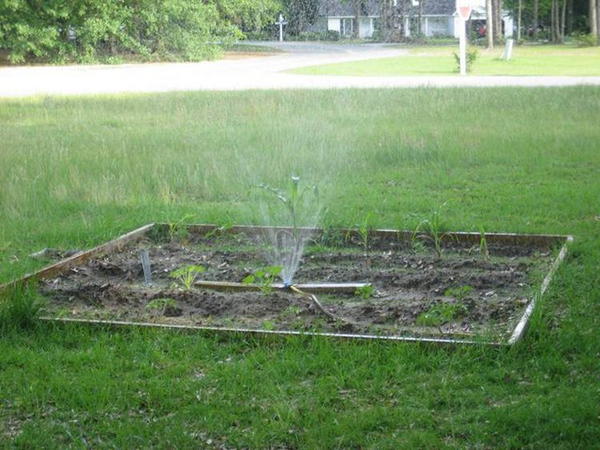 The sprinkler system is small, compact and easy to assemble. You can customize the sprinkler system for your needs. The garden sprinkler system can automatically water plants at specific times and intervals. The project is based on the Raspberry Pi computer, which controls water flow via an electric valve. The system uses a parallel port board to communicate with the water valve. Make your own Linux-powered yard sprinkler system with this hack. The screws used in the parts can be easily replaced with thumbscrews for easy assembly and disassembly.
DIY PVC Sprinkler Toy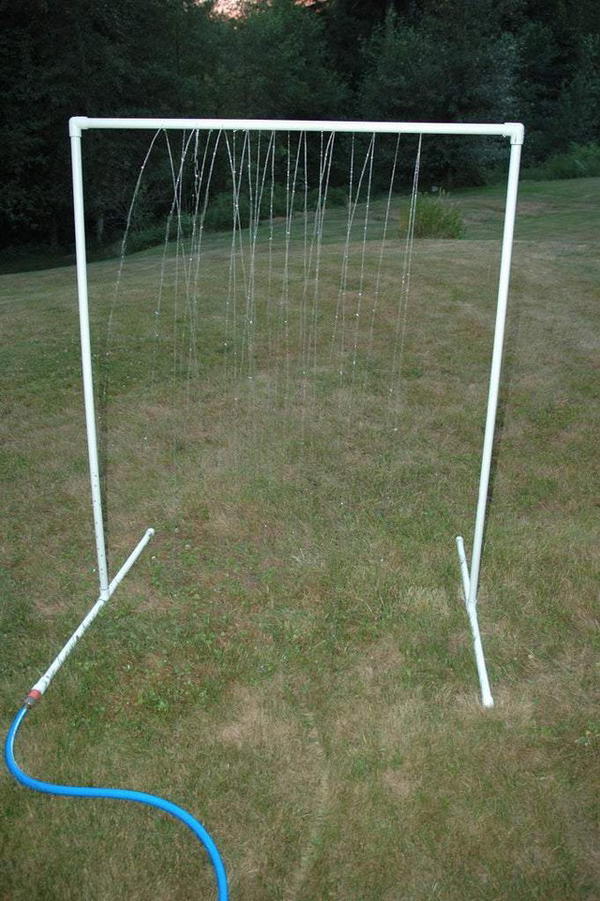 If you have kids and don't want to spend a fortune on sprinkler toys that break after a few weeks, here's a cheap DIY PVC sprinkler toy. The cost is under $10, leaving room for lots of water balloons and other fun summer activities. The best way to keep your kids busy this summer is to get a PVC sprinkler system in action. This project is super easy to make, kid approved and can give you hours of fun. New tools are always fun too. Here's what you'll need: 10ft long pieces of PVC pipe, elbow joints, threaded hose connector, end caps and a couple of PVC Tee connectors; these are the only tools needed for the making process, which will take no more than 30 minutes!
$25 Sprinkler Sled
This guide will teach you how to build an easy, inexpensive, and effective sprinkler sled. This is a great project for kids to work on because it's inexpensive and easy to assemble; however, adults can probably manage the job as well! This sprinkler sled is a cheap, easy way to get kids to use their imagination and have fun outside. Kids will put in the work and push the sliders across the ground creating a path that the water follows like a trail. This is great for teaching them about science and math as they work to calculate how much force it takes to create friction on the ground.
How To Install A Sprinkler System
This is a simple process that the average homeowner can do. The needed materials are easily obtained from a hardware store, or you can purchase them online along with the project instructions for about $30. There's nothing like an automatic sprinkler system to make your day. Enjoy a lush lawn that gets watered like clockwork, with minimum effort on your part. If you live in a climate where rainwater freezes in the wintertime, you know how important it is to keep it watered – and this system makes that job easier than ever.
Lawn Sprinkler System DIY
It's very easy to make a sprinkler system for your yard, and you don't need a lot of experience. This project requires some PVC pipe components and connectors, elbow joints, sprinkler heads and other hardware that you can buy from your local hardware store. This simple do-it-yourself sprinkler system turns the wettest part of your yard into a lush oasis. With a sprinkler head and PVC pipe connectors, elbow joints, Tee connectors, and other PVC components, you can create a low-maintenance lawn irrigation system that will keep your lawn green, even during dry summer.
DIY Portable Sprinkler System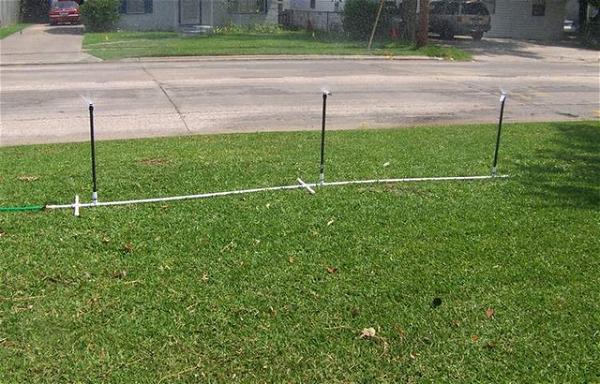 "Be a little more economical with this portable sprinkler system. Repackaged with the newest, most innovative technology and materials, this is a perfect product for anyone who wants to explore the great outdoors without draining their bank account." This DIY Portable Sprinkler System is easy and affordable. With this handy kit, you may purchase a hose with an attached sprinkler head or an extension hose and connect it to your existing hose. You will also need to purchase a reel stand, which comes in various options, so you can choose the best structure that fits your needs and aesthetic preferences.
Above Ground DIY Sprinkler System
This Above Ground DIY Sprinkler System is easy to install, adjust, and maintain. This system requires no digging, so it's perfect for small areas or gardens in tight locations. Transform your yard into a beautiful green oasis with the Above Ground DIY Sprinkler System. It's easy to install and works like a charm even without water pressure, so it's perfect for new homes and hard-to-reach areas. Great for small yards or as an addition to an existing sprinkler system, this kit features everything needed to enjoy an easy, hassle-free watering experience.
Homemade Rotating Water Sprinkler
Prepare your garden for spring by making a rotating water sprinkler with a plastic bottle, a deck screw and some rope. This easy DIY project is great for filling up planters and outdoor gardens! Simple to make and super fun, this homemade sprinkler is a great way to give your garden some much-needed water. You can adjust the speed of the water to best suit its needs or spin it around in circles for some entertainment value! This homemade water sprinkler is a safe, fun way to keep kids cool in the summer. Use it during a barbecue, and kids will fight each other for a turn!
How To Install A Sprinkler System
An underground sprinkler system is a fantastic way to save money on your water bill. This automated setup can be beneficial in many ways, such as improving the look of your yard and preserving energy. You'll need to dig out the areas where you want to run the sprinkler lines and lay them one by one. Make sure that you connect the pipes correctly by following the instructions above. Once they are connected and working properly, you can place the timer and start enjoying your new sprinkler system!
How To Install A Sprinkler System
An in-ground sprinkler system is the easiest and coolest way to water your garden or lawn effortlessly. If you're not a professional but still want to add an irrigation system to your home, this guide gives instructions on how to install it using a pre-made kit or one you picked up at the hardware store. A DIY sprinkler system is an easy and budget-friendly way to water your garden or lawn. This guide will show you how to install one in about a day. You'll purchase a sprinkler kit for this project, which might cost more than you planned, depending on the kind of sprinkler you want. The creator of this guide put several links to where you can get the sprinkler kit he used."
DIY Sprinkler System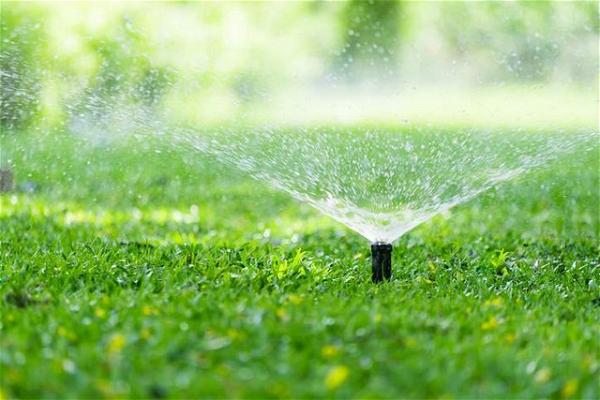 If your yard lacks a sprinkler system, but you don't want to pay for one, this is the project for you. This DIY sprinkler system will save you time and money while offering your lawn the water it needs to grow lush and green. This project requires minimal tools, and the parts can be purchased at almost any hardware store. This easy-to-follow guide will aid you through the process of making your own sprinkler system. It is an excellent way to keep your lawn healthy and green while saving on water bills.
DIY Above Ground Sprinkler System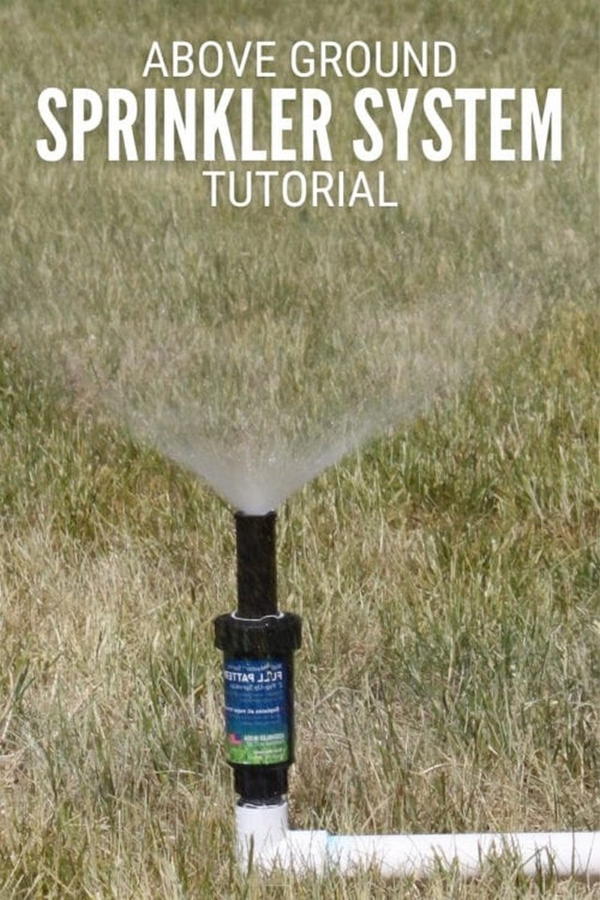 Build a unique above-ground sprinkler system with PVC pipes, male threaded adapters, hoses, and lots more. This DIY project is simply amazing with simple, easy-going steps. This is the unique above-ground sprinkler system you'll ever make. And taking only a few supplies and simple, easy-going steps, you can build this for yourself. To complete this project, you'll need hoses, PVC pipes, male threaded adapters, hose PVC pipe cement, and much more. Also, the steps are simple and easy to follow, which makes this project amazing!
DIY Sprinkler System With PVC
This versatile PVC sprinkler system works great for various applications, including vegetable gardens and flower beds. It's easy to set up and can be expanded as your project requires. It is easy to install and works great. With just a few basic tools and a little plumbing know-how, you'll have a perfectly working irrigation system in no time at all. This DIY sprinkler system is made with PVC; it's budget-friendly and easy to set up. It's a vertical rotating sprinkler system that can water your garden or lawn in rotation, with a unique coverage pattern.
DIY Sprinkler System
What makes this sprinkler system different is that it can be assembled and disassembled with ease. Unfortunately, if your yard has a large area, you must purchase several of these systems to cover the whole area. This guide has been made to help you build a sprinkler system that can cover 5000 sq. ft. and more. The creator of this guide used water cans, so it is also a great way to avoid spending unnecessarily on irrigation systems when you can create one yourself.
Homemade Underground Sprinkler System
The underground sprinkler system is a great idea for any homeowner, as it can be set up in minutes and easily adjust to your lawn's needs. The system consists of the sprinkler head that sticks from the ground and underground piping encased in concrete or plastic. All you need to do is bury the length of pipe where you want your yard to be watered and then connect all your sprinkler heads by following the instructions and diagrams. You can stick with one watering pattern or change it frequently, depending on how much watering is needed in each area.
Homemade Water Sprinkler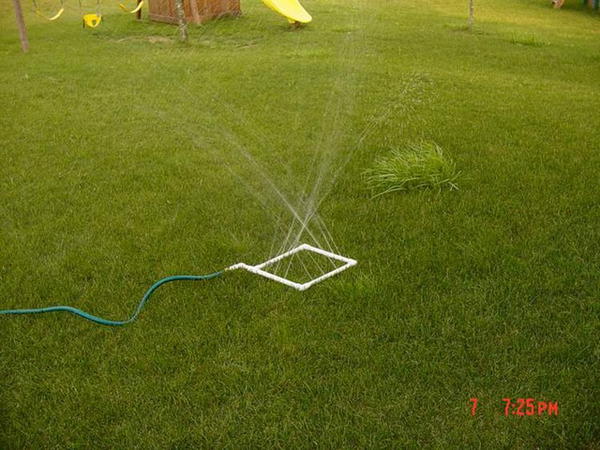 Fishing around for a garden hose, dragging it across the lawn, and then aiming it at your plants is not fun! This sprinkler can reach every part of your lawn without stress. It's made from PVC pipes with an extra long neck to reach all corners of your yard. This unique idea to create a sprinkler system is easy and quick to build. It will allow you to water your lawn without stress with an efficient and effective design. The PVC pipes are cheap, durable, and lightweight, making them perfect for this project.
Garden Sprinkler Homemade
Do It Yourself, Watering Your Lawn and Garden, DIY Home Projects. This video will show you how to make a simple, low-cost water sprinkler system yourself. You can keep your garden and lawn watered when there is no rain during the summer. This project is easy enough that you can DIY an old garden sprinkler into an automatic, solar-powered device. You will need two solar panels, two 12-volt deep cycle batteries, a small microcontroller, and the right electronics to link it all together. This is a Do It Yourself project that constructs inexpensively. It will expand out and cover the ground with water and water plants in your garden
DIY Garden Hose Sprinkler System
Looking for a fun project to add an awesome sprinkler system to your yard? This DIY Garden Hose Sprinkler System is easy to install and gets you watering your garden in no time! A DIY garden hose sprinkler system is both easy and inexpensive to make. You can create your own watering system by attaching a sprinkler to the end of your garden hose, making it easy to water your garden or flower beds. It's a simple, cost-effective, and no-mess solution to watering your garden. This DIY garden hose sprinkler system is ideal for you to provide your plants with the water they need to thrive. It uses the water pressure from your hose to create a sprinkler spread that can cover a large area without using silly-looking plastic sprinkler heads.
DIY Above Ground Sprinkler System
Get a green lawn in no time with this DIY above-ground sprinkler system. Create your own watering schedule and save money, too! Do it yourself sprinkler system for plants. The system is a great way to get the most out of your water and ensure plants water even when you're not home. It's easy to build, and this kit has everything you need to start. Whether you live in the city, a town or the country, an above-ground sprinkler system will keep your lawn, flowers, and trees healthy and looking great. With this simple DIY guide, you can learn how to design and install your own sprinkler system at home.
How To Install In-Ground Sprinklers
Installing an in-ground sprinkler system means you don't have to work hard to keep your yard watered. If you'd prefer to install an in-ground sprinkler system that requires no maintenance and keeps your lawn watered, this how-to video will walk you through every step. First, mark out the area where you want to install the sprinklers. Then gather your materials—you'll need polyethylene pipes, a hose, a 5-gallon bucket, a battery-powered timer and pop-up sprinkler spray heads. With these tools, you'll be ready to start digging holes. This is an outstanding choice if you want to conserve water since these units are much more efficient than hand watering. This system can save you up to 50% on your water bill!
See Other Projects