Outdoor plant stands help to dress up your patio or deck and add some interest to a landscape with a variety of pots. Even a small tabletop stand can add a nice look, and provide some colour and contrast, while a larger more substantial stand will really add to the overall look of the landscape. Any outdoor plant stand ideas should be built with a non-slip surface for pots. It's the season to plant some flowers and herbs, so what better way to show off your selection.
With spring right around the corner, you are probably looking at your decor and realizing that the flower pots just aren't cutting it. Make some fun DIY outdoor plant stand ideas that will leave people talking about your cool decor for years to come. Plant stands are quite possibly an underutilized garden accessory that just might be the key to bringing your space back to life. I love to decorate my porch and patio area with flowers and other plants. I also like to add a little style and interest to pretty up the place. We found some great plant stands that will dress up your outdoor areas while inviting us to spend more time together in the fresh air and sunshine.
DIY Outdoor Plant Stand Ideas:

Here are 41 easy DIY outdoor plant stand ideas for you to try out this spring! Using planters has become so popular for homes with limited space. But you are not short on creativity, are you? Check out these DIY outdoor plant stand ideas. They are so different from what you might think of as a stand, that each one of them is sure to lift the eyes of anyone who sets their gaze upon it.
When it comes to outdoor decorating, don't be caught with your pants down! With these incredible DIY outdoor plant stand ideas, you could make your own plant stands to beautify and fresh up your outdoor areas easily and in all sizes, shapes, and with any kind of materials. Start shopping your house for the perfect material.
Outdoor Plant Stand with Arbor: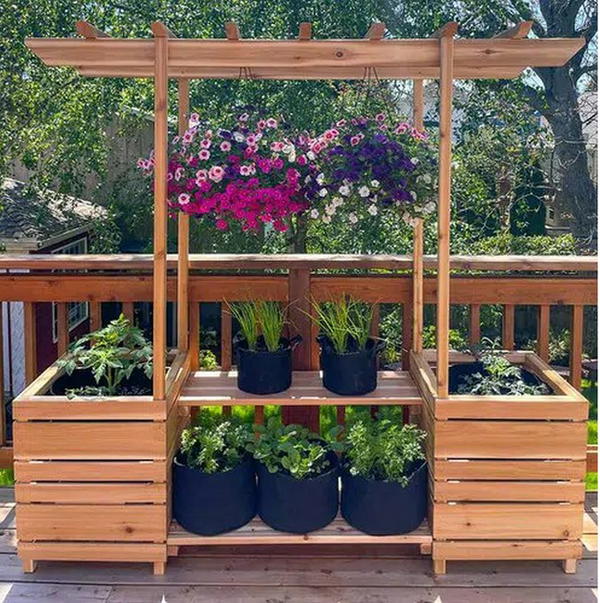 Need some extra room on your deck, patio, or above your garage door? This DIY outdoor plant stand is the first and last thing you'll need to grow a variety of plants! It features two large planter boxes for easy growing. The arbor on top provides lots of room for hanging baskets and more! This outdoor plant stand is the perfect addition to your garden. This outdoor plant stand is ideal for growing lots of plants in a small space.
It features two large planter boxes, shelves for pots, and an arbor on top for hanging baskets. Plus, it can be easily customized to fit your space exactly. The lumber is pressure-treated with a water repellent coating to keep your plants happy and healthy. All it takes is some elbow grease and a few materials for this DIY project that will really pay off!"

Outdoor Plant Stand: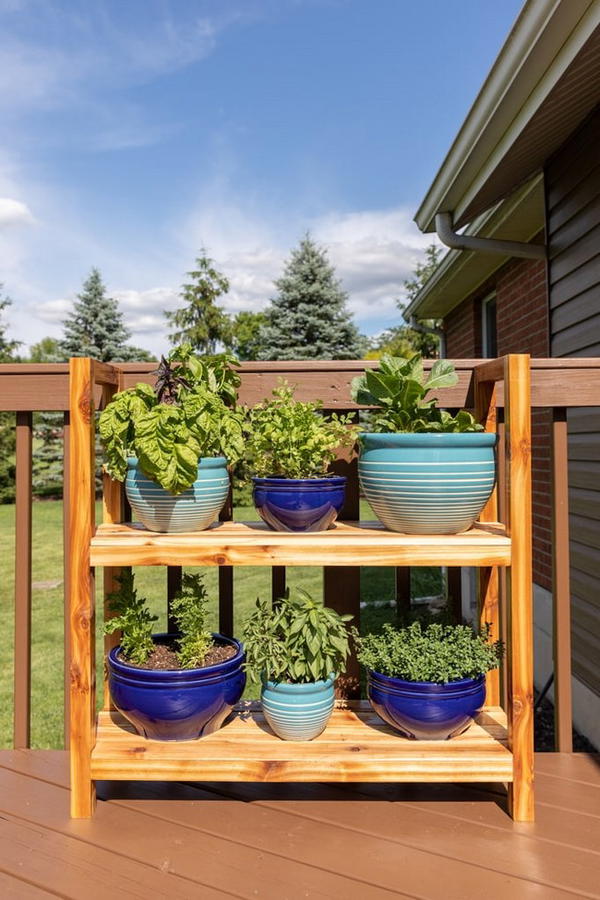 Build this DIY plant stand using your favorite woodworking tools and only basic carpentry knowledge. You can customize its appearance by painting or staining the cedar pickets to match the decor of your home. There is something special about adding greenery and color to your outdoor living space, and it's even better if you can do it without spending a fortune. This DIY outdoor plant stand made out of a single cedar 4×4 fence post and four cedar pickets will do the trick.
The post can be cut to fit any sized planter, space permitting. It's hard to find outdoor plant stands that are cheap and sturdy but not impossible. Simply oversize one piece of lumber, use four pieces of smaller lumber for support, and size all the hardware, so it fits together snuggly. Find out how to build your own DIY outdoor plant stand. Details are here.
DIY Tomato Cage Plant Stand: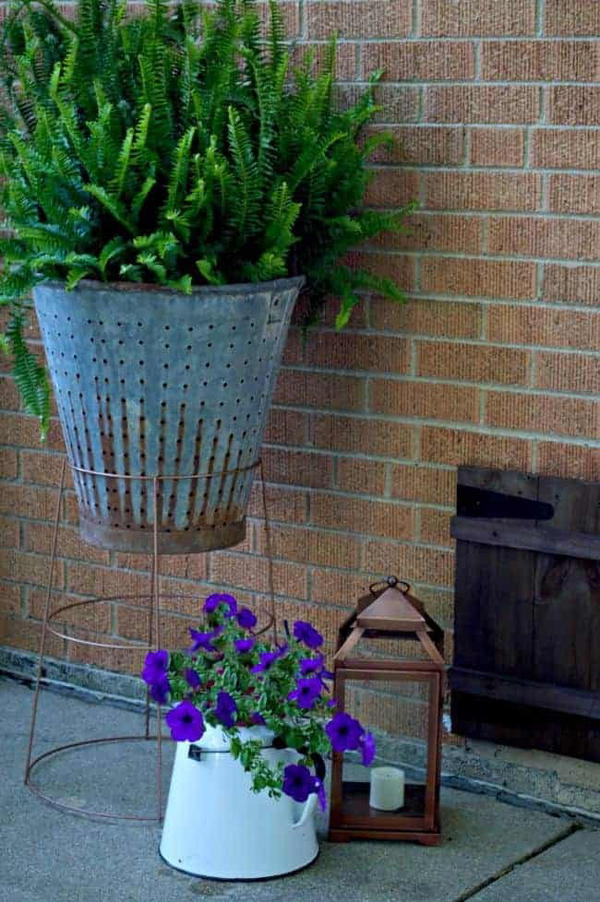 Not sure what to do with an old tomato cage? Transform it into this DIY Tomato Cage Plant Stand, of course! The sturdy metal cage makes an ideal display rack for all kinds of plants and is totally rustic. Just top the rack with a few of your chosen items, like antique watering cans, seasonal merch, or even succulents, and you'll have an adorable mix of vintage and new! DIY plant stands made from a tomato cage that you use in the garden.
Create your own 3-tier plant stand by reusing something you already have. You can make it as large or small as you like; I pictured a medium-size stand to give you an idea of what it might look like. With a DIY plant stand no tools are needed, just remove the cage base and add your plants. Then you can decorate with chickens, golf clubs, etc… the creator even found an old mail holder in an old barn and painted it and turned it into a plant stand. There is so much in this store! So don't forget to take a look in the "other" category in the menu when you're in the store.
How To Make A DIY Plant Stand: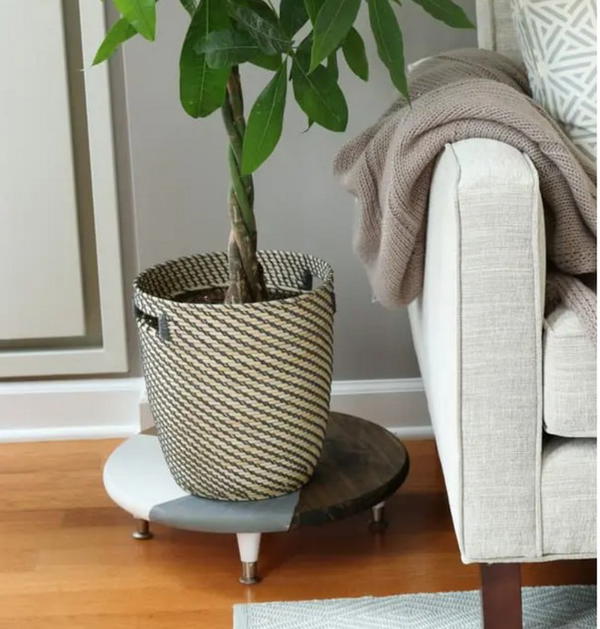 Are you ready to make some major upgrades? I think it's time! Turn the ordinary into the extraordinary with this simple DIY plant stand. It can be painted to match your interior or accessories, or simply left as is. Are you dying to get your DIY on? We KNOW. We feel you. If you're looking for a rookie project to get you in the "DIY game", this plant stand may just be the nudge you've been waiting for! It's easy, affordable, and totally customizable to your style.
Plus, you really can't go wrong with adding a plant into your indoor or outdoor space. You can't go wrong with adding a plant into your space. Not only is this project budget-friendly (you probably already have some of the materials needed on hand!), but it's also perfectly sized to hold your books, candles, and more! And with some table legs added, how cute would it be to use as a makeup station or side table?
Space Saving Plant Stand:
Spruce up your desk and save some space by building this clever corner plant stand. The stand makes it easy to display your favorite houseplant or herbs, and doesn't take up much room on your desk or countertop. This space-saving plant stand is simple to assemble and can hold quite a few plants. It will work in any corner of your house where you'd like the extra space. We love the combination of bronze and walnut wood that creates a warm, natural feel.
And since it's so easy to put together, there's no need to hire a carpenter..."Green thumb or not, anyone can benefit from this space-saving plant stand. Designed for corner placement, it features a frame that folds flat and hides underneath the floor planter, making it easy to store when not in use and perfect for those with limited floor space. Made of lightweight and durable wood, this plant stand includes a water reservoir that you can fill with water and attach to your plant of choice. Watch the video here.
Upcycled Drawer Plant Stand: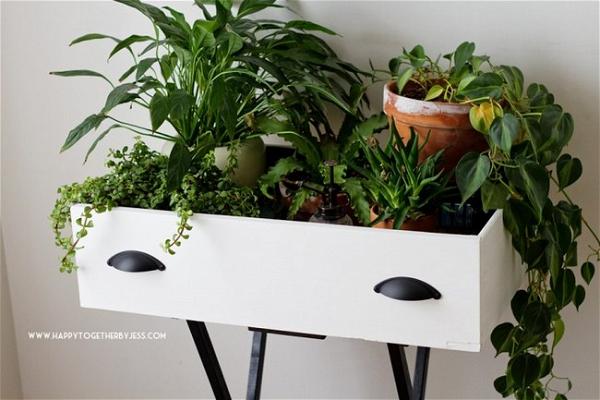 Taking an old drawer and turning it into a plant stand feels ingenious. With lots of open space for air circulation but the warmth of wood, it feels very homey too. How would you transform an unused piece of furniture? You are looking at a great plant stand made out of the up-cycled drawer. It is extremely practical and will look great in any home. With this plant stand, you can easily keep the necessary tools in the drawer for maintaining the health of your interior plants.
A good-looking plant stand doesn't have to be made from wood! This upcycled drawer plant stand can go anywhere, indoors or out. Use upcycled furniture to make a new plant stand. Remove the drawer from the cabinet and replace it with an upcycled drawer! Easy instructions show you how to make a great-looking stand right in your own home. This simple plant stand requires only an old drawer, chopsticks or rods, and glue. You can upcycle it to any size, change the material to match the look of your space/room decor, and paint it if you choose! Details are here.
Tiered Plant Stand: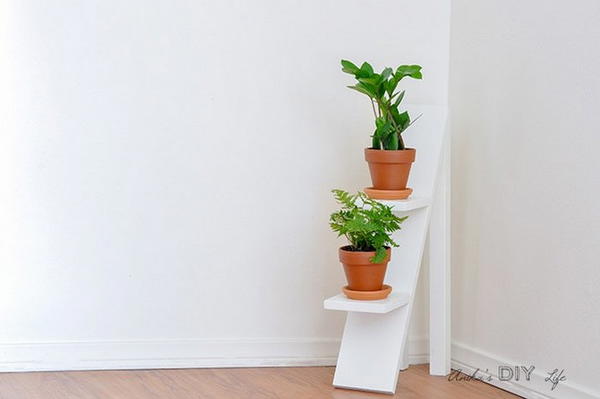 Are you looking for a DIY project that's both inexpensive and useful? If so, this tiered wood plant stand tutorial is exactly what you need. Brilliant! An easy DIY for a tiered plant stand. If you have a small balcony, these could work great to maximize your space and add plants to your home. Don't you hate it when your plants get spindly and lonely? Give them a boost and build yourself a tiered plant stand! You can use this in any room of the house or even outside.
The best part about it is, it's built with scrap wood, so you don't have to run to the store. Here is a link to instructions on how to build your own tiered plant stand. It is easy to build and can be used indoors or outdoors! Here are some tips for this project: These gorgeous tiered plant stands are so strong that you'll never have to worry about them holding up your pots. For this tutorial, use scrap wood, but you can build your stand out of any wood that you prefer, 3 boards of wood and two bolts, and you can make as many tiers as you want. It's perfect for those plants that always seem to need some extra light. Click here for details.
Corner Plant Stand: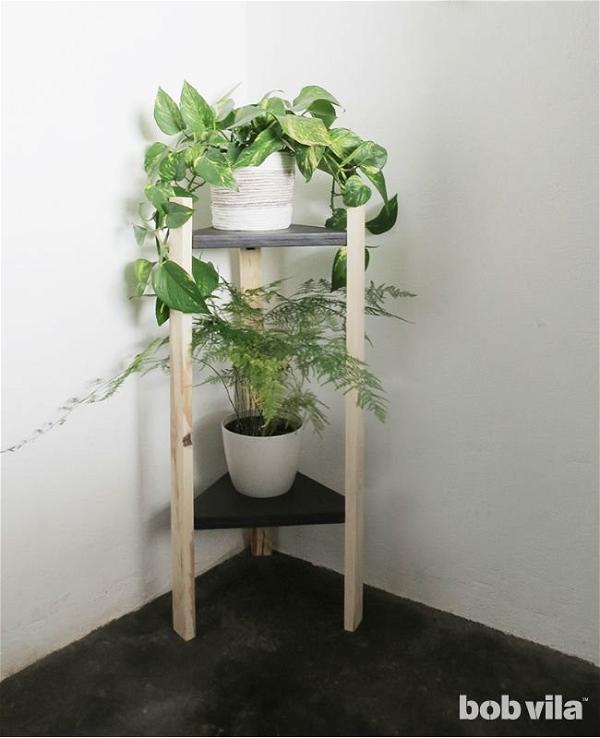 The Corner Plant Stand is your new best friend. It will help you create a unique plant display for any corner of your home or office. You can have a full tree that sits on the top or a couple of plants cascading from top to bottom. The choice is yours! This plant stand is perfect for any space in your home. Use it to add a touch of greenery to an empty corner or use it as a bedside table in a small bedroom.
With an attached reservoir for water and hand-applied color, the petite silhouette and simple design make this corner plant stand a great choice for small spaces. The materials for this project are so inexpensive because you are making a frame out of plywood scraps that you have lying around your workshop or garage. These scraps might have even been discarded at one time by Home Depot employees who are not quite sure what to do with them. Details are here.
Plant Stand with Wheels: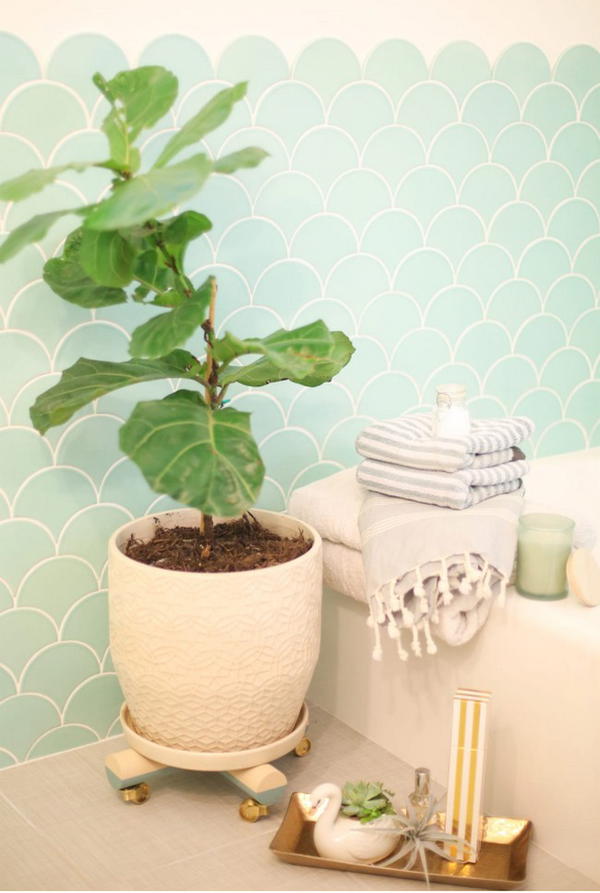 Get creative with this perfect indoor plant stand, made from an old 2″ wooden dowel you probably already have in your garage. The sturdy wheels can roll heavy pots from room to room indoors, making it easy to move the planter as the seasons change. This model also adds modern flair to any living or dining area. This DIY plant stand is modern, cool, and easy to build! With added casters, it's easy to roll heavy pots from room to room indoors. This plant stand is easy to customize, allowing you to choose your own design scheme. It's packed with very useful features that make it an essential addition to any home. With built-in casters, it even rolls heavy pots from room to room indoors with ease!
If you've ever had to move heavy potted plants, you know what a hassle it can be. The casters on this stand make it easy to wheel heavy pots from room to room indoors. You can use deck screws or nails (not included) to attach the 120 lbs. capacity caddy on the bottom for added stability, or leave it off for easy, lightweight mobility. A third option is also available–just screw the casters directly into the bottom of your pot on top of your caddy! Check out the tutorial here.
Mid Century Modern Plant Stand: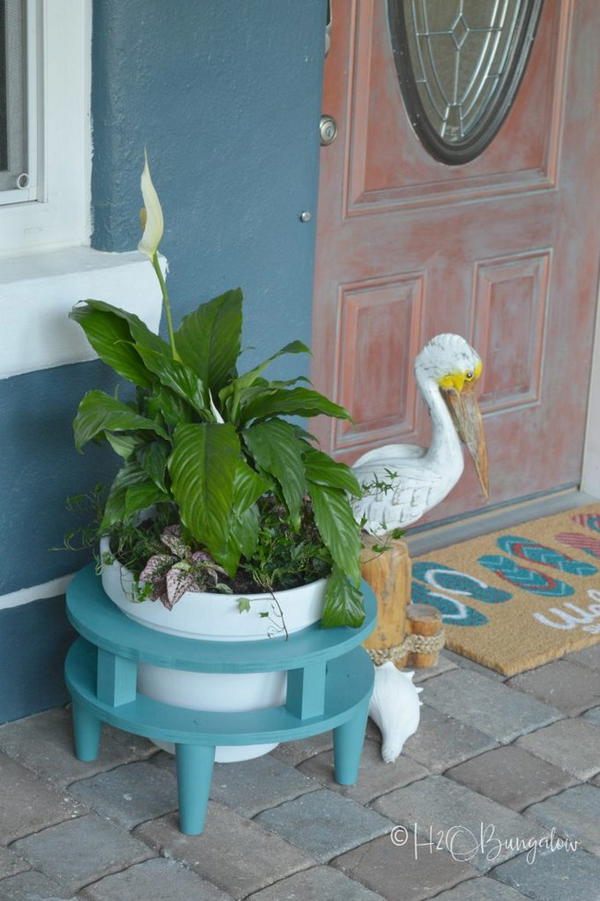 This plant stand is made of iron with a scroll design base. It is sturdy and functional and will look great on your balcony or patio. At first glance, this looks like an ordinary household plant stand. But look closer. At the top of the legs are small vertical slots that allow you to adjust the angle of the plant stand up or down depending on how much light your plant needs. Made from solid, sustainably grown plywood and finished with a Rustoleum Spray Paint in Vintage Teal water-based wood stain (that can be wiped off if it somehow gets on your hands), is a great choice for anyone looking to start decorating their balcony or patio space.
An industrial-style plant stands for compact spaces like patios and balconies. This solid wood table base stands on easily, but you can add casters that allow it to be easily moved around the home. It features a minimalistic design with solid wood construction that will fit into any decor style. The Mid Century Plant Stand is designed to look sleek with its rocket legs. Assembly is simple with the step-by-step instructions that are included in the box, and the stand blends into any setting, whether indoors or outdoors.
Circular Metal Stand:
Grow a plant in a place where you don't have any space to place the pot. This metal pot stand is designed for all sizes of pots and pans. It has an adjustable height and tilts from 0° to 30°, which is very useful when cooking on a flat cooktop. The hook on the bottom is for hanging your kitchen towels and keeping the place tidy. You can also use this as a candle stand or a plant pot. This Circular Metal stand allows for oversized or multi-pots.
This metal stand is perfect if you want to displant several pots in a limited space. Its adjustable size makes it easy to fit on its base and unplanted, which provides more storage space for other kitchen tools. Its sturdy material makes it safe and efficient for your kitchen. This product is suitable for 5 pints and 3-quart sizes of roasts and vegetables! Just be sure that the dish isn't too large, as the metal stand will only support up to 4.5 quarts!
Modern Plant Stand: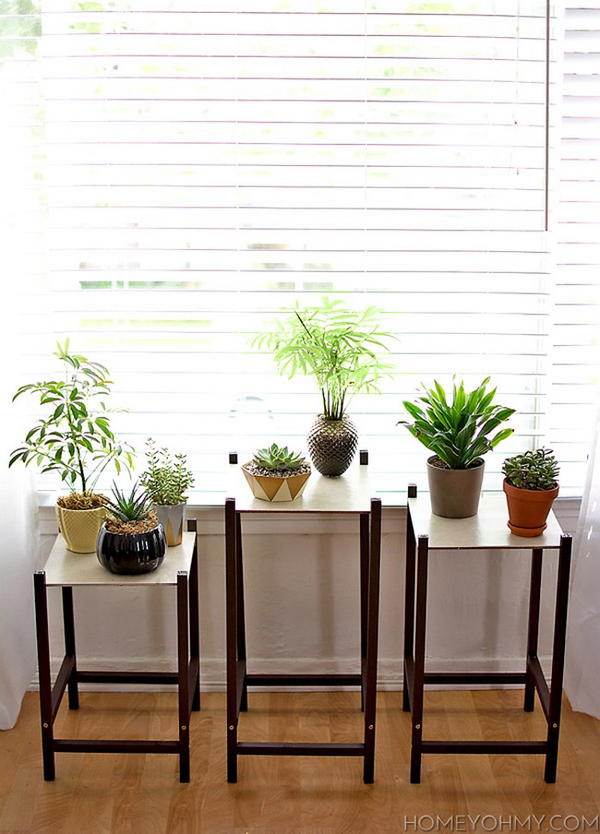 What makes a house a home? Big comfy couches? Fluffy bath mats? Is a kitchen full of cookbooks and counter space galore? We think it's the little things that make a pulse-pounding difference. Especially those that look as good as these modern plant stands. The sturdy ceramic tile atop a wood base blends into any decor style while adding function to your indoor garden. Everyone has a corner or empty space that could be adorned with live plants. And, if you are lucky enough to have one of our new Modern Plant Stands, you will know how it feels to sit back and relax in your oasis.
Modern plant stands are made from wood and ceramic tile to showcase your living foliage. These modern plant stands are made using wood to allow you to make them in any color to match your home. The plant cubes are supplied with the stands allowing you to place plants anywhere you want to create a garden haven or grow herbs without taking up huge amounts of space. These modern plant stands are built with wood and ceramic tile. Plant stands work well in front of a big and little screen TV. Details are here.
Small Plant Stand: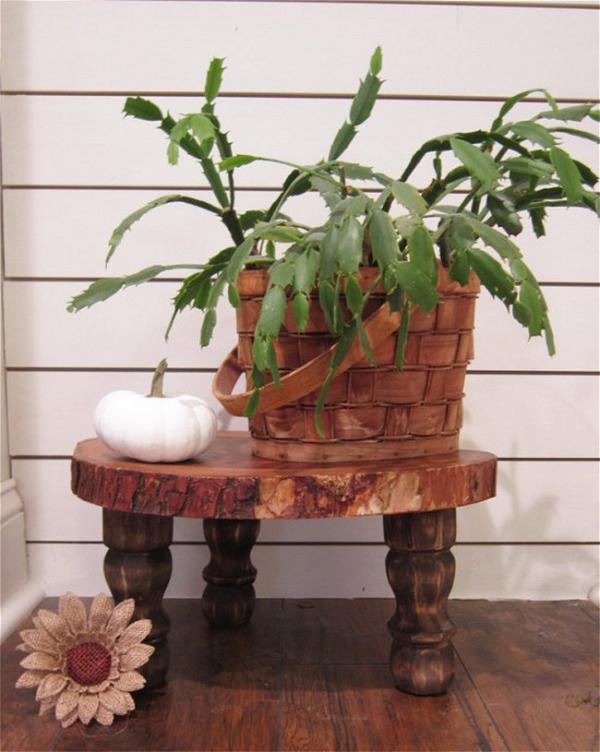 Bring your plants to new heights with this Small Plant Stand. This favorite feature of this planter is the classic design plus the simple stained finish. Let this sweet little plant stand add a touch of modern style to your decor. This small plant stand has a timeless design that will complement any home or office.
It looks amazing displaying floral arrangements but also serves as a magazine rack or decorative display stand. Made of natural wood with a smoothly finished surface, this plant stand is sturdy enough to hold several potted plants or items. Its openwork design gives it an artistic touch and makes it easily customizable with flowers, potted plants, framed photos, trinkets, candle holders, vases, and more!
 Bird Feeder & Plant Stand: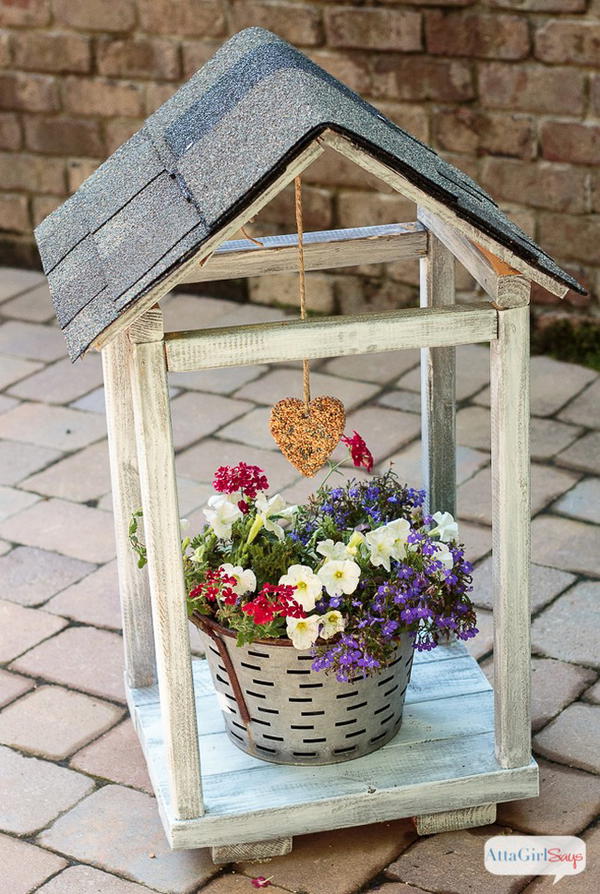 This Covered DIY Bird Feeder And Plant Stand are ideal for gardeners who are looking to bring birds into their yard, but it's also a good way to teach kids about nature. The project involves math, reading, and lots of hammering so everyone can enjoy this family project. The feeder projects come with easy-to-follow instructions that take you through the whole process of creating your very own, personalized bird feeder.
The project also doubles as a plant atrium, giving you the opportunity to grow herbs or flowering plants alongside the bird feeder. So whether you're looking for cheap and easy project ideas to do with your kids or are looking for something to donate for a good cause, these DIY bird feeder projects are perfect! Details are here.
Tiered Metal Plant Stand: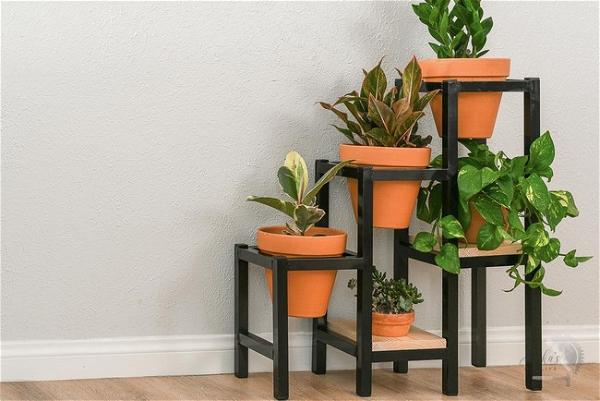 The process of shaping metal gives you something that looks like a piece of art. However, it can be tricky to know where to start and what to do. In the following project, we show you how to make a tiered plant stand using aluminum brazing with a blow torch. A tiered metal plant stand is a great and easy way to display all of your plants and orchids. You can use this tabletop iron plant holder indoors and outdoors.
It's a DIY project that would make a simple and unique gift for anyone on your holiday shopping list who enjoys gardening. Metal plant stand-making has never been easier! Artistic gardening is one of the ways to cultivate an aesthetic space. But getting the right equipment for your indoor plants is not easy. This tiered metal plant stand tutorial will definitely help you make one by yourself! With this amazing DIY project, you can make many different kinds of plant stands by simply changing materials. What are you waiting for? Let's get started right now!

Mid Century Plant Stand: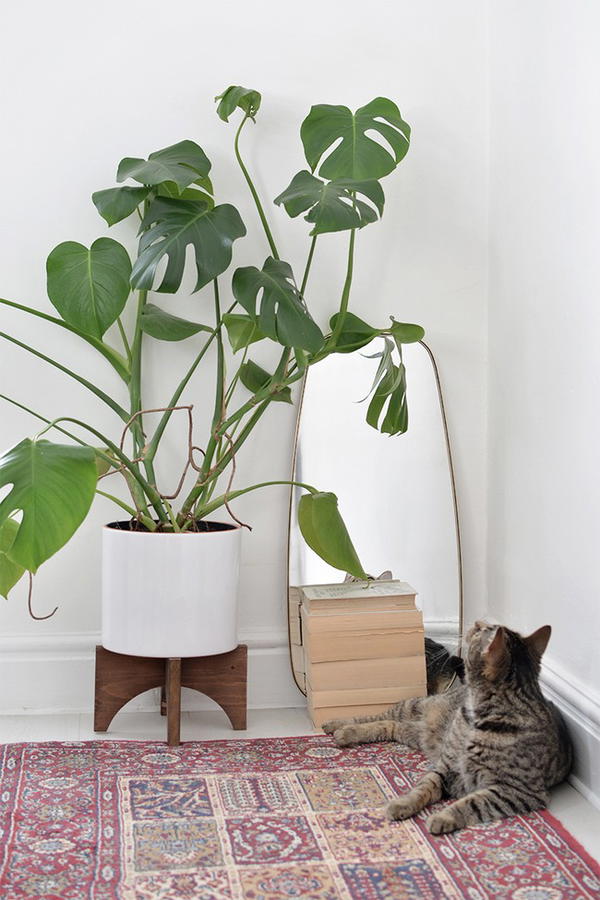 Beautiful, sturdy, and solid, this plant stand is sure to add a mid-century touch to your decor. Why not function, form, and fabulous wrapped up in one?!​ The Mid-Century Plant Stand is the perfect way to add some fun, inexpensive style to your home or office. This stand is made of reclaimed wood that's salvaged from old factories and warehouses in the Midwest, which means it has a lot of character.
The Mid Century Plant Stand will add a pop of mid-century style to your home. This stunning plant stand can hold all types of indoor greenery, from air plants to real plants. Crafted from steel and finished in a powder-coated finish. The Mid Century Plant stand will add style and function to any home!

Colorful Stacked Book Plant Stand:

This colorful plant stand is easy to build with just a few materials. It's perfect for elevating those small planters off the ground. Perfect for a small space, a ground-level deck, or in a balcony planter box, this DIY colorful stacked book plant stand takes little time to create and is very inexpensive. For ease of assembly, color-code the pieces based on which book they came from. Turn your favorite book collection into a beautiful display with this easy-to-make stacked book plant stand.
Perfect for elevated planters, the books are the decorative element that you stack to create the stand. It is important that the books are small enough to lay flat... Nearly anyone can make a colorful stack of books or a wooden box to become a simple plant stand. The taller the books in a stack, the taller your planters will be off the ground. However, 3 books fit perfectly on a standard-sized concrete block. Those concrete blocks are often used in garden beds to keep them raised. Details are here.
Carved Hexagon Planter with Plant Stand: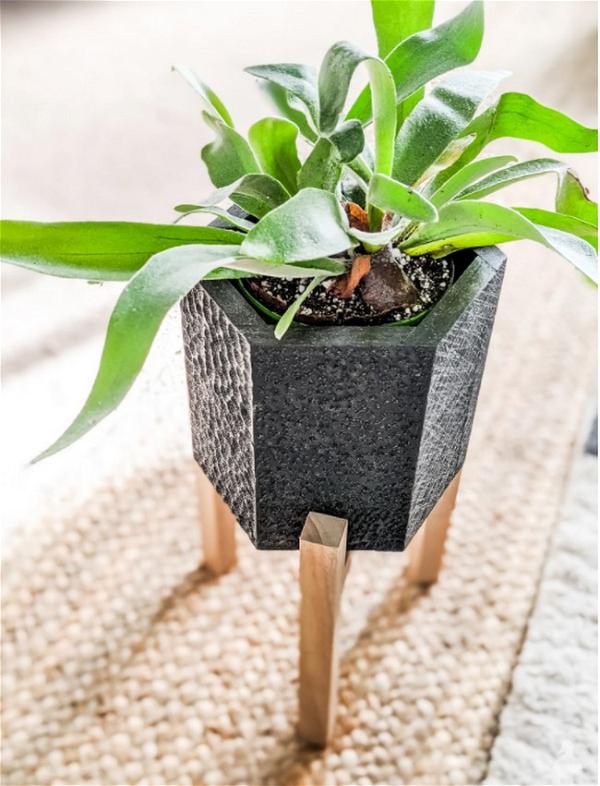 Love plants, but short on space? This planter unit makes a striking decorative accent for your home or office. Shaped by a router and carved from solid-wood stock, the hexagons are joined with a mortise-and-tenon joint reinforced with steel hardware. A plant stand mounts to the back for added flexibility. Hex planters and plant stands let you plant beans and block weed whackers. Their cool geometric shapes work for any garden style.
If you need to elevate your planting bed, just drill holes in the corners of a CD box, then line it with thick corrugated cardboard for extra strength. Stack the boxes to build a pyramid that lets water drain easily through the slotted bottom. This hexagon-shaped planter is a perfect accent for a small patio. It's a smart alternative to a bulky, unattractive planter. Or, why not put this geometric beauty inside your living room? It'll fit perfectly on a coffee table or end table.
Copper Round Plant Stand: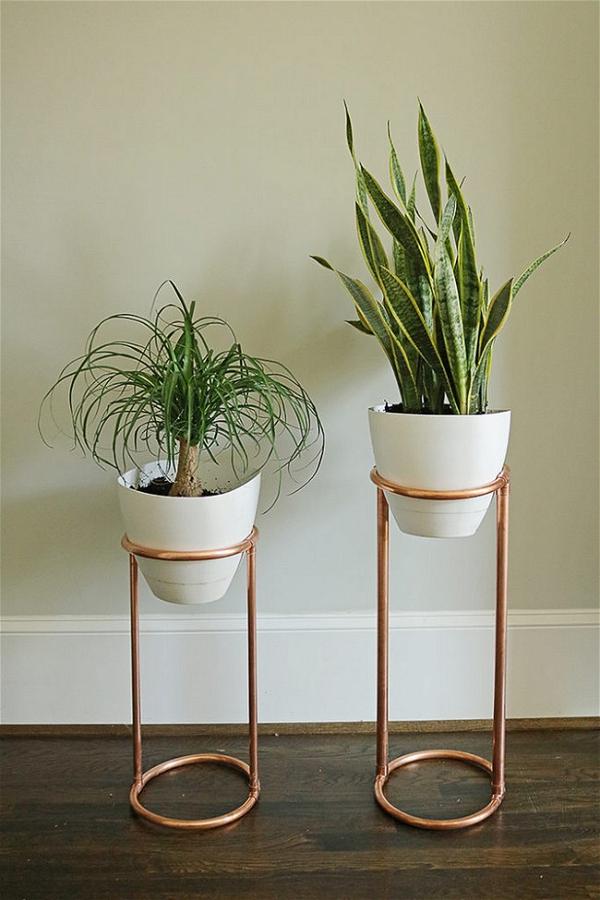 Inspired by mid-century modern design, the Copper Plant Stand features a round copper base topped with a slender pewter-finished fiberglass fiber pot. This classic pedestal table would also look great paired with the Cello Plant Stand, also available in Copper. Cute and functional! Go for a modern, mid-century aesthetic in your home with these fun copper plant stands. The Copper Round Plant Stand is the perfect way to bring a touch of mid-century modern style into your home.
The solid copper base brings a warm contrast to the brass detailing. The pole is wrapped with various soft shades of metal, giving this piece a soft yet bold look. Allow living, green beauty to grace your home with the Copper Round Plant Stand. A striking display for small plants and flowers, this stylish, modern piece of décor is sure to bring a little extra color and texture to any indoor space. Click here.
Skinny Planter Stand: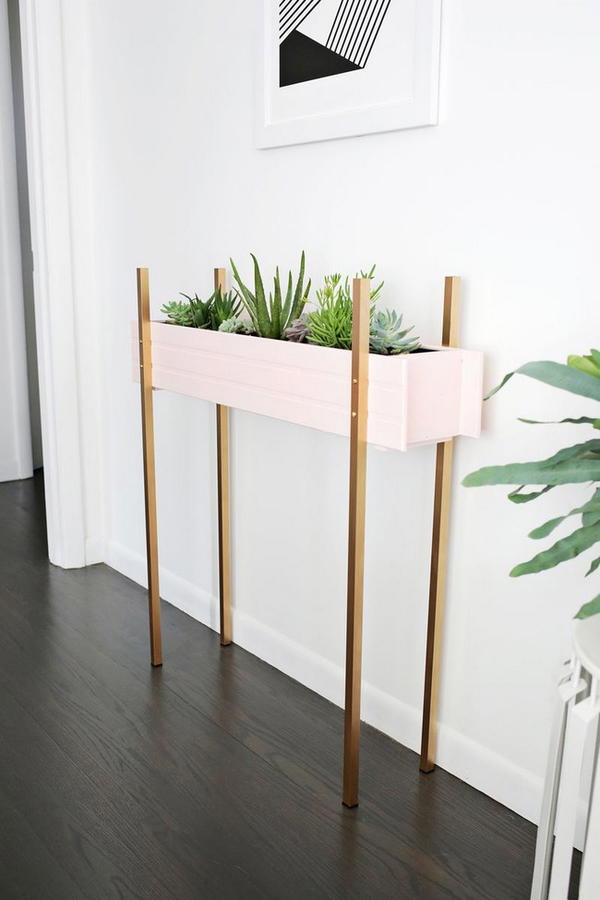 Bring your plants up to eye level with our Skinny Planter Stand. This modern plant stand is the perfect accent for any space. This skinny plant stand will add a decorative touch to your room. It's best placed in a corner-the wide base keeps it sturdy, and the streamlined design means it takes up much less space than its full-sized cousins. It was designed to fit into small spaces, like narrow entrances and hallways.
It's the same high-quality construction as the standard Planter Stand; however, narrower, which makes it ideal for corners or entryways. The reclaimed hardwood top has a dark walnut finish and is the perfect spot to place your favorite blooming plants. This item requires assembly, and we recommend using wood glue (not included) for best results --it's an excellent piece for renters or anyone with limited tabletop space. It features a powder-coated finish that resists rust and adds durability. The tree trunk design makes it sturdy and attractive.
Click here for details.
Plant Stand Cart: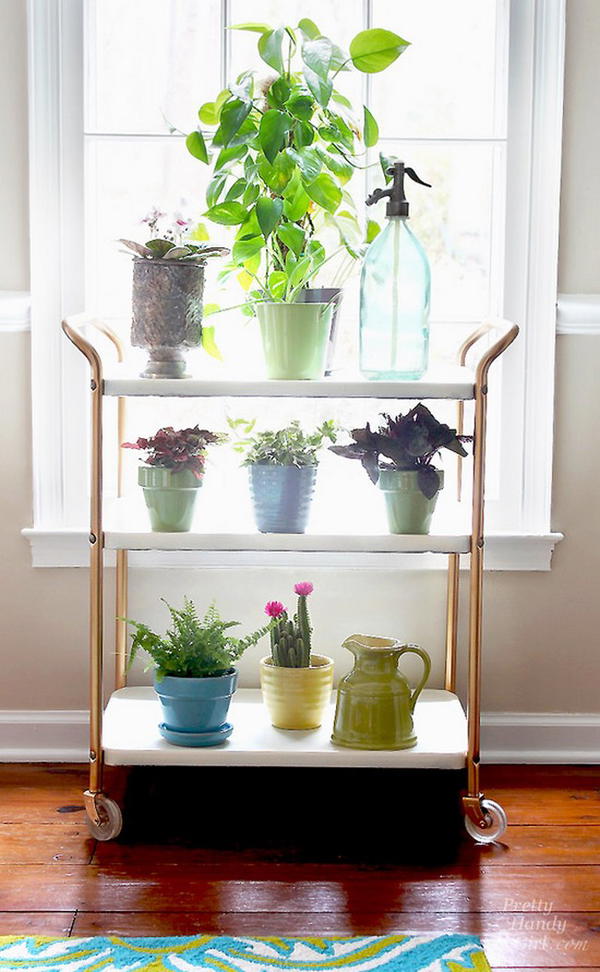 We'd love to fill our homes all year long with indoor plants. But, not everyone has the space. The solution? A Plant Stand Cart! This sleek plant stand is designed to take up less space than a typical plant – and can be tucked into a corner or against a wall – whenever it's not in use. Plus, you can easily change out the pots and move them around as your needs change! This skinny plant stand will be the perfect addition to your home decor with a streamlined design and easy assembly.
Its unique and sturdy design is made of smooth and durable fumed oak, and its narrow base requires very little floor space. It provides an elegant look or keeps it modern. The polished chrome or beautifully gunmetal silver stand is reimagined with a durable wooden top to hold plants that are up to 3 lbs! Click here.
Tree Stump Stand: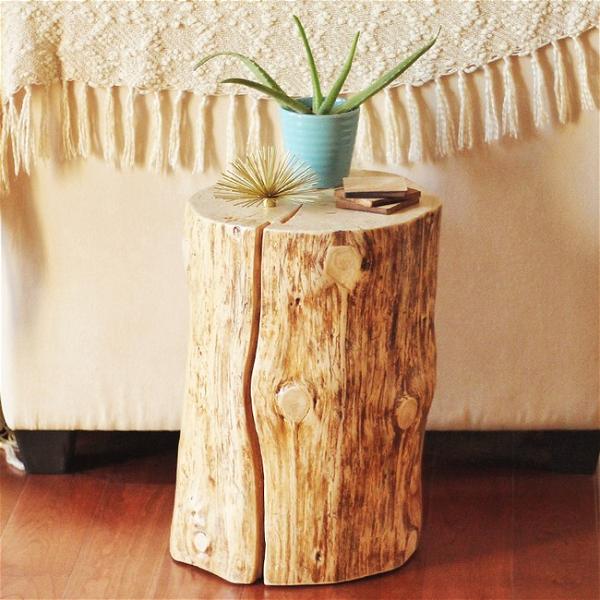 Do it yourself, look no further. From the bestselling author of "Build Your Own Pottery Wheel" comes this great new book that takes you through the steps of turning a tree stump into a table and plant stand. With clear and detailed instructions and lots of photographs, this book is for both the absolute beginner and the more experienced woodworker who wants to add a creative twist to their carpentry skills. A must-have resource for anyone looking to recycle tree stumps for use in creative projects such as these! A tree stump can make an ideal table for your living room or family room. This project is simple and will only take a few hours to complete.
The stand will be just the right height for the tabletop you buy, and it can also be used as a round plant stand. This stumpy table is a great addition to any room in your home. It's the perfect size for a smaller area, but don't let it fool you — the sleek metal stand and wooden teak stump look great together. The table legs can be quickly unscrewed and removed, and the tree stump stand then becomes a plant stand that's large enough to hold a few potted plants or many small-flowering plants. With three layers of laser-cut wood veneer, this tree stump planter is very durable. Details are here.
Vertical DIY Plant Stand: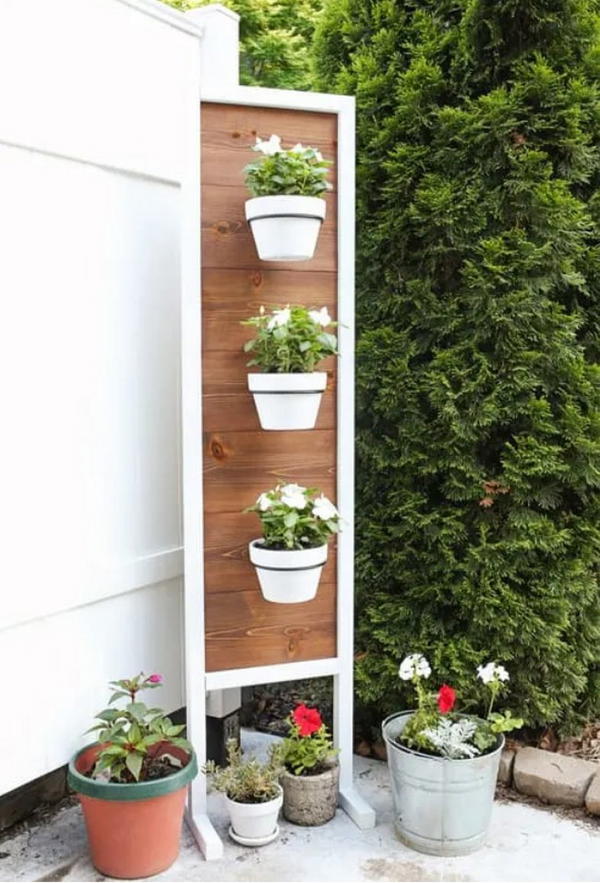 After a bit of research, we have come up with a new way to display some of your favorite plants. Vertical gardening is a great way to add a decorative touch while saving on space. We have created a step-to-step guide that will walk you through the simple task of forming this DIY vertical planter stand out of wood and some wall mounts from the hardware store. If you have been on a gardening kick, then this DIY vertical planter stand is perfect for your balcony – and only takes a few minutes to make! It's simple enough to work on with your kids, so once you have a holiday weekend free you can spend a nice long day hanging out together.
To create this DIY vertical planter stand, you will need the following supplies: ¾" plywood sheet at 66.5 x 16 x 1.5" = 1. This DIY vertical planter stand will allow you to grow herbs and veggies all the way up! These DIY plans include cutting lists and step-by-step instructions and photos. Take your next garden project up a level and build this vertical planter stand.
Simple Wooden Plant Stand: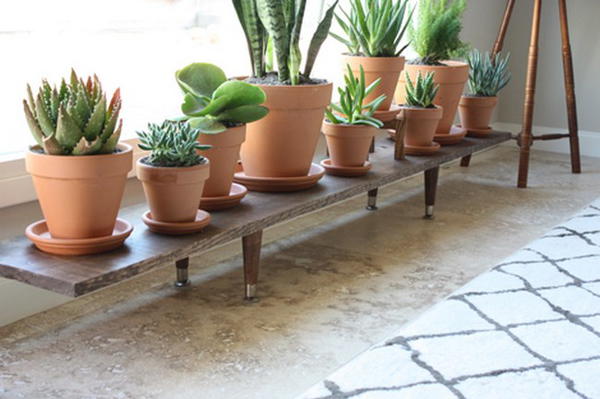 This wooden plant stand is a great project for people who like simple projects that look better than you expect. The plant stand is easy to make, even for beginners. If you've got basic woodworking skills, you should be able to build this project in an afternoon. It's elegant enough to use indoors, but also looks great on an outdoor patio or deck. This plant stand is an excellent beginner woodworking project that looks great with minimal effort.
It's perfect for any indoor or outdoor plants that need a place to be displayed. The stability of the stand will also give you peace of mind, knowing that your plants are sitting securely on top of it. Fun and easy to make, this plant stand serves as a great step-by-step project for beginners! Featuring a minimalist design that allows the shape and contours of the wood to shine, it makes a beautiful accent piece to any entryway table or kitchen counter. And with the Mid-Century Modern style, it'll fit right at home in any retro or contemporary home.
Check out how to DIY this here.
Midcentury Plant Stand: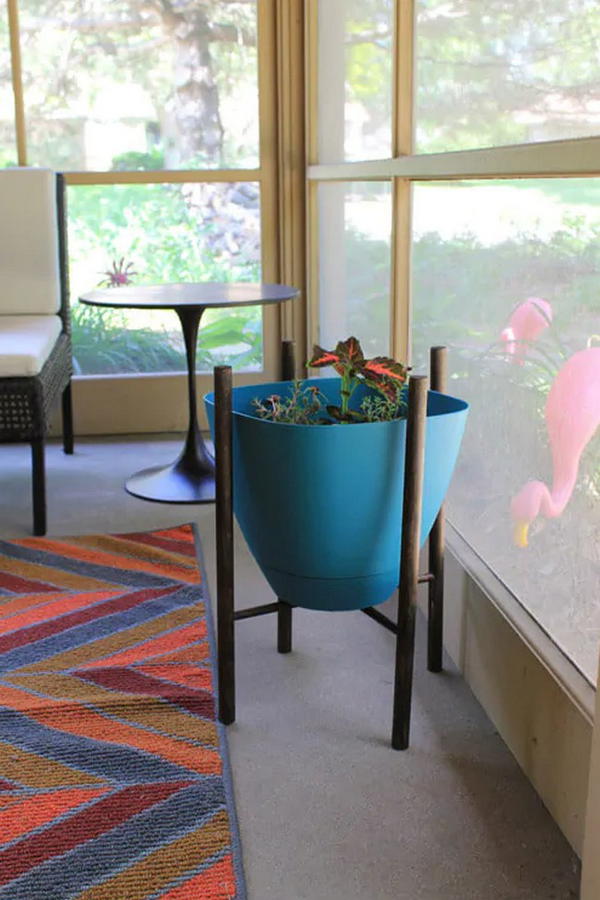 Window shopping is fun, but buying something new for your patio or front porch is even more exciting. this midcentury plant stand that's made of composite wood and just loves the colors. What a great accent to any decor. Happy planting! It has nice clean lines and flat sides — which will work well with the planter stand design. It also was inexpensive, lightweight, and such a fun color!
This big plant stand is great for the porch or entryway, or anywhere you'd like to display your greenery. Its wood construction ensures years of use, and it's small enough to tuck away when not in use. Its design is simple but beautiful, with rounded sides and clean lines that will work well in most homes — and unlike other planters we found, it's lightweight and easy to move around.
here.
Modern Plant Stand: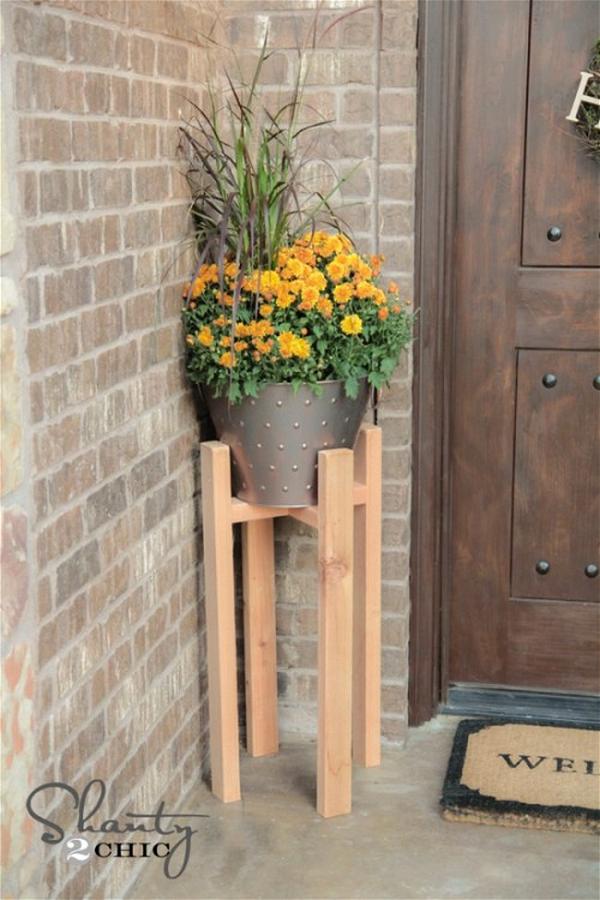 If you need a place for your pot to slip into, this is perfect for you. This plant stand works with any pot as long as the rim of the pot shows above it. It doesn't cost much to make and can be made out of recycled materials. You are going to love how simple and cheap this plant stand is. This stand can be modified so that any pot can fit in it. It is also a quick project. You could actually builD it in an afternoon using supplies from the local hardware store. You are going to love how this stand can be modified so that any pot can fit in it. This plant stand is very light, yet sturdy. It is made out of recycled pallets.
Here is the step-by-step tutorial for your help.
Concrete Plant Stand: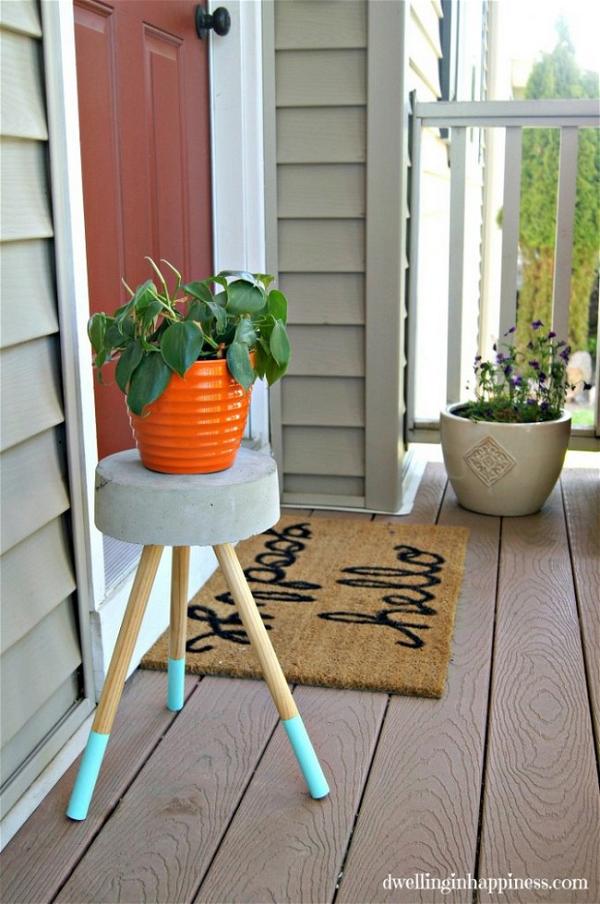 Here is a tutorial that shows you how to make a cute concrete plant stand for your indoor or outdoor plants! This concrete plant stand is so fun and easy to make, and will only cost you about $5. This Concrete Plant Stand is perfect if you are on a budget, or just enjoying crafting. This adorable little DIY concrete plant stand is cheap, simple to make, and gives your room a fun touch of decor. The best part? It's cheap! This would be the perfect place for your cactus or succulent. It is really easy to make, and the best part is that you only need a few simple items.
For similar tutorials visit our blog . See the tutorial here.
A-Frame Folding Plant Stand: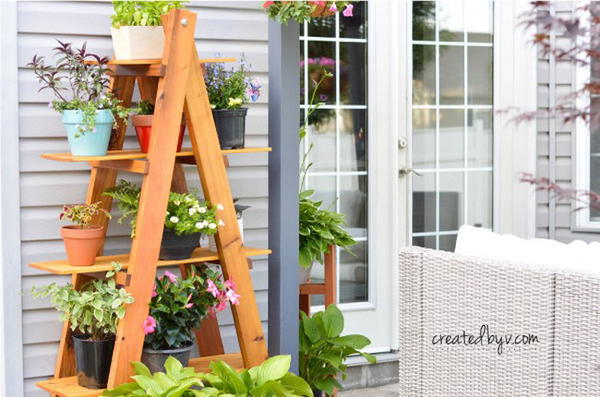 This A-frame folding plant stand stores flat to save space and sets up in minutes for a striking display that makes a perfect gift. The A-Frame Folding Plant Stand is perfect for showcasing your favorite plants. It comes with a white base, metal grid top wiring system, and seven steel hooks for seven kinds of plants. The perfect solution for showing your prized collection of plants in style.
This durable A-frame plant stand folds flat for easy storage, pops up in seconds for use, and opens to a simple but elegant design that keeps your plants stylishly displayed in the optimum growing position. Designed with nature in mind, it folds flat for easy storage and features a durable powder steel frame that will hold up through the seasons.
Details are here.
Wooden Plant Stand: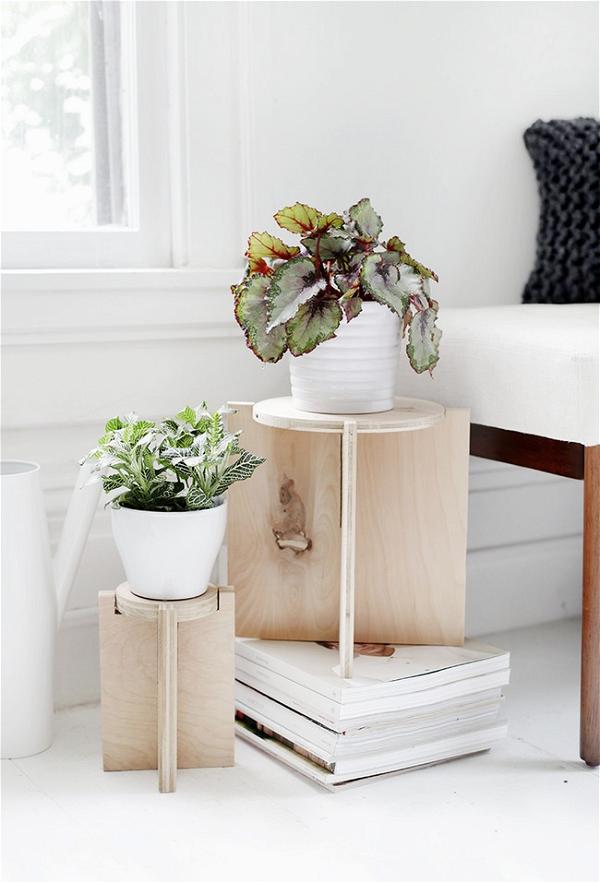 These plant stands are ideal for hanging plants anywhere you like, but you can also use them to hold other things. They're easy to build with simple tools. You can tuck one into an unused corner of your deck or patio where the garden hose is neatly wound up for the season. Guest towels can be hung on it; it's ready for summer garden parties. Guest towels now dry off in the dry air (no mildew smell), so bring on the party!
A wooden plant stand is a great DIY weekend project and the perfect way to show off your green thumb! The steps to making one of these are pretty simple: No fancy tools or skills are needed to make any of these projects. You can put them together in an evening with just a few simple tools--a tape measure, pencil, wood glue, and a jigsaw to trim the edges; or grab some scrap 1x4s and get to work with just your hands. this one.
Wire Plant Stand:
Looking for a way to add depth and height and showcase and organize small plants? Look no further than this simple, rustic metal plant stand. This sturdy stand is covered in thin gauge stainless steel wire and gets its stability from the triangle structure of thin gauge pipe legs. It makes a great potting station, or you can use it at the end of your day to display potted plants. Plant stands are great for getting small house plants up off the floor to get them out of the way.
In this video, you'll learn how to make a wire plant stand for small pots using single-strand wire... Check out this detailed video on how to make a wire stand for small pots. This plan is for a plant stand but you can also use the same design for pots, bowls, or small plants. The stand was made from 22 gauge steel wire and 20-gauge wire to make the smaller wires. It makes for a lighter structure so it's easy to move around when needed.
Check out this detailed video
Stubby Plant Stand: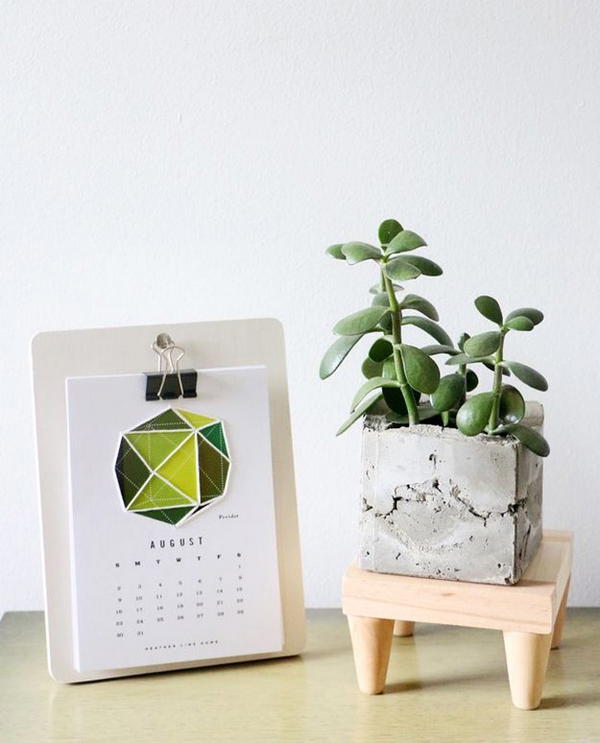 The Stubby Plant Stand is a modern, clean-line design that works with small pots. It makes an attractive display for small houseplants or individual plants. Your plant's appearance will be the star of the show with this slender, modern stand. Use our simple tips to craft your own Stubby Plant Stand, and watch as your plants gain popularity! The stand holds the pot in place by the rim only. It is simple to make and can be completed in less than one hour.
Easy to make, this would be a great holiday gift or hostess present for anyone! The simple, modern design showcases smaller indoor plants. This minimalist stand displays a small pot to its best advantage. Great for both indoor and outdoor use. Use lightweight, pebble-filled concrete in a contrasting color for a bolder look. Details are here.
Wooden Pallet Plant Stand:
This wooden plant stand is one of the simplest and easiest DIY projects we've ever brought for you. It features two shelves on each side, allowing you to place several pots and succulents on it at once without overcrowding your space. Made with a palette and some bricks, this minimal plant stand is the perfect way to display and protect your favorite greenery. Made from recycled American walnut, this plant stand is simple to make, easy to assemble, and beautiful to look at. This expertly crafted stand made out of wooden pallets is no doubt, a great addition to your indoor or outdoor décor. It's so simple but so efficient and ingenious! Let's check out the details below. Here's
Wood Plant Stand: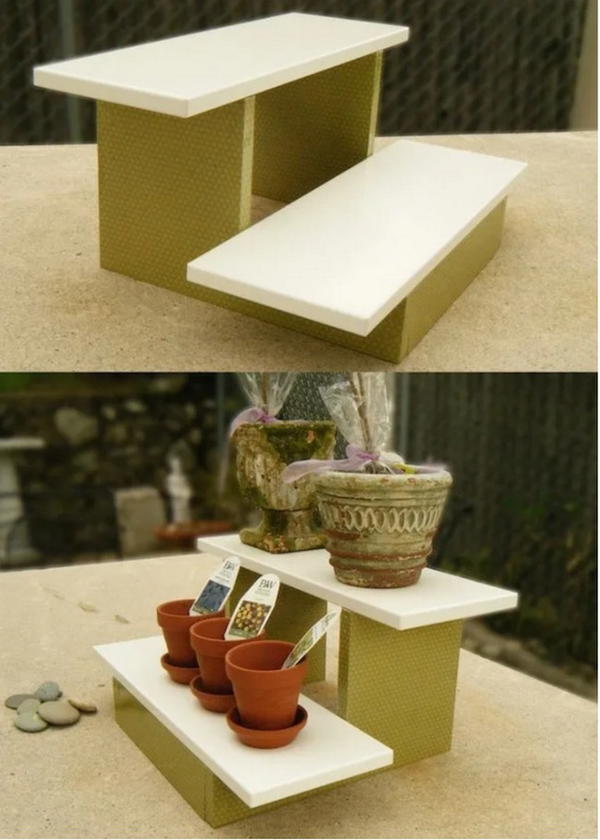 This DIY wooden plant stand is perfect for showcasing plants or art that you display on top of your fireplace mantel or bookcase. The design of this stand will compliment almost any modern room. It features a heavy-duty metal base with pre-drilled holes to easily assemble and even has wheels on the bottom to allow for easy moving. Start by choosing two different kinds of wood; the lighter wood will be visible, while the darker wood will make up the base and support structure. An unfinished wood plant stand is perfect for creating a rustic look in the house.
It's all about easy and inexpensive accessorizing. This plant stand can be used to showcase small plants and plants with containers. A classic wood plant stand made from a single piece of oak or similar hardwood. Easy to make, the whole thing just slots together, and you can paint it any color you want to match your decor. The plant in this picture is in a 4" diameter pot.

Outdoor Plant Shelf Stand: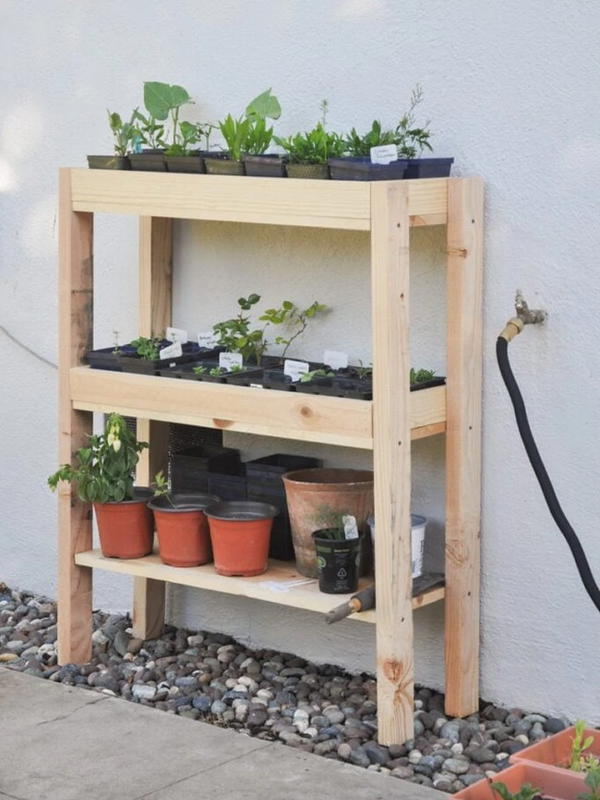 When you're cultivating an outdoor space full of plants, herbs, succulents, and more, it can be hard to keep everything organized. Now you can solve that problem with our plant shelf. This durable stand is weather-resistant and UV-protected, so it's built to last through all four seasons. It features a three-tiered design for plenty of room to display your trendy potted plants, and since it goes together in minutes, you can start enjoying your well-kept garden right away.
This Outdoor Plant Shelf Stand is excellent for any plant lovers out there! Whether you're using the stand indoors or outdoors; this plant shelf will make a perfect addition to any room. With its classic design, you'll be amazed at how easily the stand blends with any room. The base of this wall-mounted plant hanger can hold up to 50 pounds of weight, allowing for storage of heavier plants without the risk of the hanger tipping over.
Mini Wooden Plant Stand: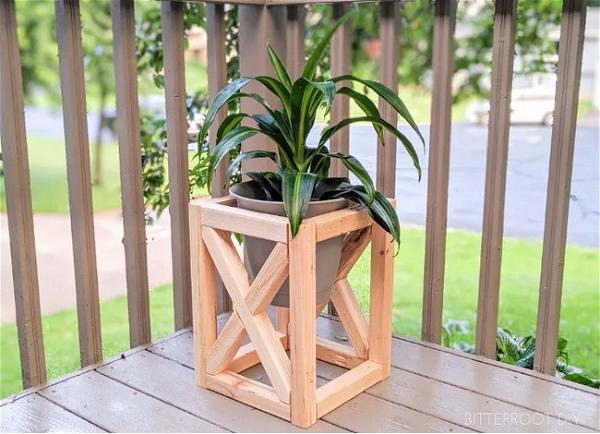 Build this small plant stand on your next woodworking session. This plant stand makes a chic and stylish addition to any room. Complement this wooden planter with your favorite houseplant or grow some herbs! You'll find it's a great way to bring the green indoors... an easy and attractive upgrade for any room! This DIY project will surely add some flair to the décor of your room, office space, or garden.
Follow this plan to build a more stable and lovely plant stand that will complement your plants or flowers. In a tiny corner of your home, a little plant stand can go a long way. And with a little paint and a few jigsaw puzzle-like grooves, you'll have a charming accent in no time! This DIY plant stand is easy to build and fun to customize. It has pre-drilled holes for screws and comes with instructions on how to cut the shape. All you need is a drill with a ⅜-inch bit, wood glue, wood filler, and stain or paint. Details are here.
Copper Plant Stands: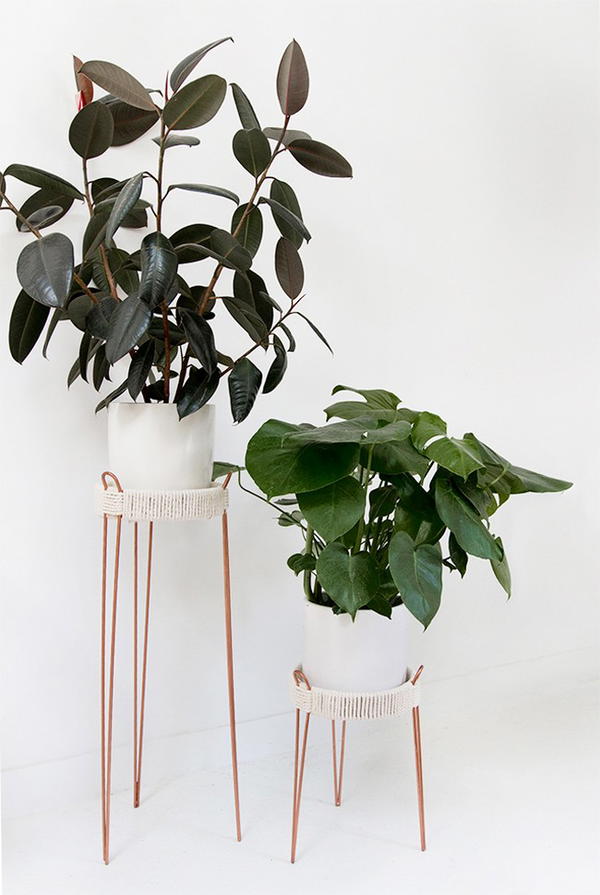 Copper plant stands are the perfect addition to your homescape. They can fit on a log table, a coffee table, or a TV console! Copper Plant Stands will make your home very bright and shiny. These adorable flower stands are very elegant and will radiate positive vibrations all around you. Now, these copper plant stands will be some of your favorite home decor pieces. The brass plant stand (another DIY) is a close second.
For these little beauties, the creator used a premade round cake pedestal from West Elm and a copper metal that you can buy at a craft store. These trendy and stylish plant stands provide a sophisticated touch for your bedroom. All the materials needed to make them are easily accessible and affordable. The copper plant stand can hold our scroll candle holder beautifully, which will not take up much space on the plant stand.

Check out this DIY
Tiered Wooden Stands:
This plan brings you one of the easiest and useful wooden stands to keep your plants fresh. If you get tired of buying expensive magazine racks and shoe racks to use for this purpose, then we'd like to introduce the Wooden Tiered Plant Stand that the crafter has carefully created in a small amount of time and for a small amount of money. Woodworking is a great hobby. If you've crafted a few projects and want to refine your craft, you need the right tools for the job.
Tiered wooden stands, sometimes referred to as plant stands, are perfect for holding plants and displaying them in flowing lines. This video will guide you into making a smart wooden plant stand with ease in an inexpensive manner. These wooden plant stands are practical for home decoration or can be sold as a nice gift to family or friends. They also can bring beauty to your balcony or sidewalk.

 Patio Plant Stand:

A plant stand is a must-have for people who like to plant flowers on their patio. This one can be made from wooden pallets, and it can give you great help when you arrange your plants in the front yard. It has a nice design and style, which gives a rustic feel to its appearance. This plant stand is perfect for your patio! It has a pretty design, and its simplicity will suit any space. It also makes a great gift for any occasion.
With weather-resistant materials and easy assembly, this Wood Plant Stand is the perfect addition to your patio or balcony. With a water hole and drainage tray, you can keep your plant alive longer without the mess! The design of this planter allows for six flats of seedlings to be stored on top while three potted plants rest below. Made from wood and metal with a glass vase tube, this plant stand is sure to last year after year. Order your plant stand today and get growing! Details are here.
Tiered Corner Plant Stand: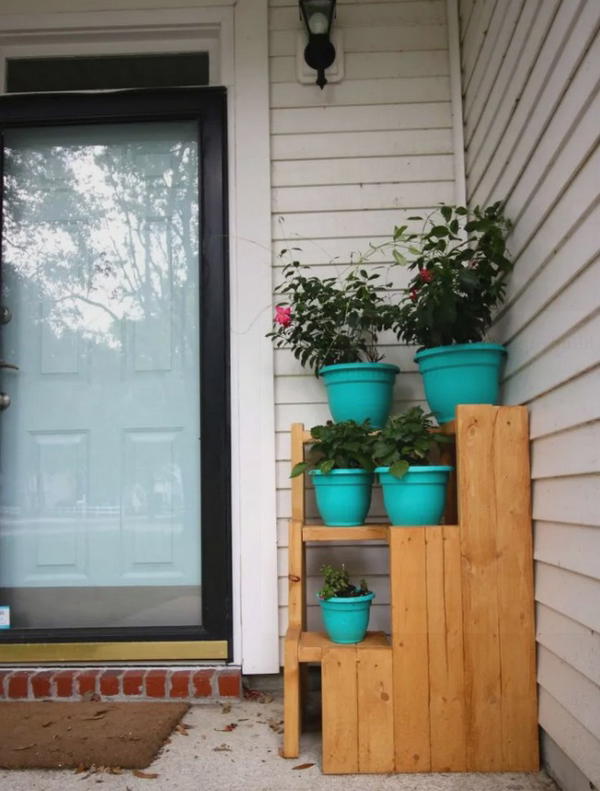 Showcase your favorite potted plants with this cool 3 tiered corner plant stand. It's easy to make, and the most expensive part is the pre-made lumber. If you have a lot of potted plants, consider making two - one for indoors and one for outdoors. This design can be customized in many ways to fit a corner space in a manner suited to your style. It was very easy to build and is so much sturdier than a typical plant shelf box.
Whether you have a herb garden, a large selection of flowers, or a combination of both, this DIY 3 tiered corner plant stand is a fast and easy solution. Assemble the base from standard 1×8 lumber and create a triangle on each side plus an additional set of triangles for the back. By making the top of the plant stand wide enough to support many pots, you can use it as storage for all types of things such as toys or even dog food rather than it taking up space down low.  Click here.
Plant Stand With Hairpin Legs: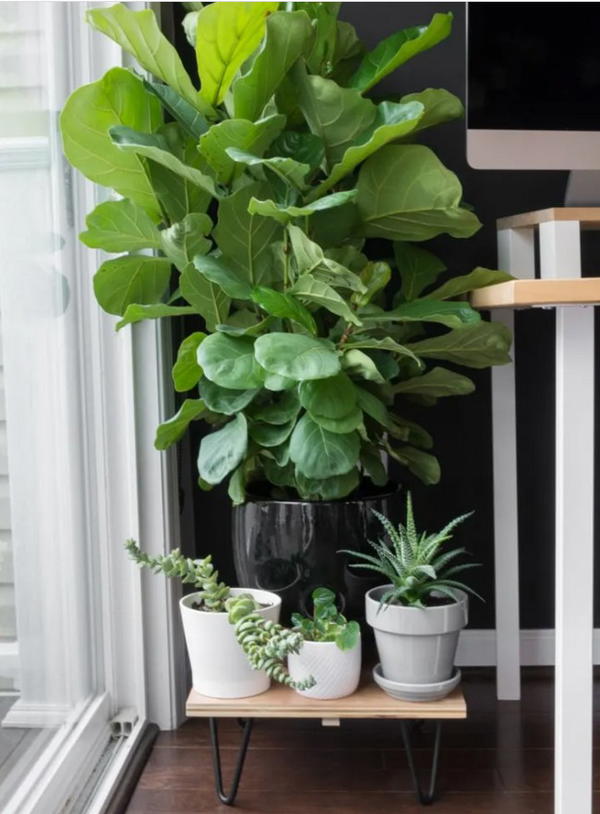 If you are in need of a fabulous plant stand for your apartment, apartment, or office to create an instant green statement, you must make this midcentury plant stands. The "hairpin legs" are simply pieces of hairpin lace in different shapes--a great way to make something without spending money! I love how it looks both assembled and deconstructed. It would look so chic floating in the corner of a room on top of a white vintage trunk. A plant stand adds height to large plants like fiddle leaf figs.
It is particularly useful for placing under hanging plants like pepper vines. If you already have the legs, this DIY midcentury plant stand is easy to make. The finished product is a chic way to display a tall house plant or floor plant. This particular one is designed with back-to-back hairpin legs that form a right angle.

Rope Spool Plant Stand: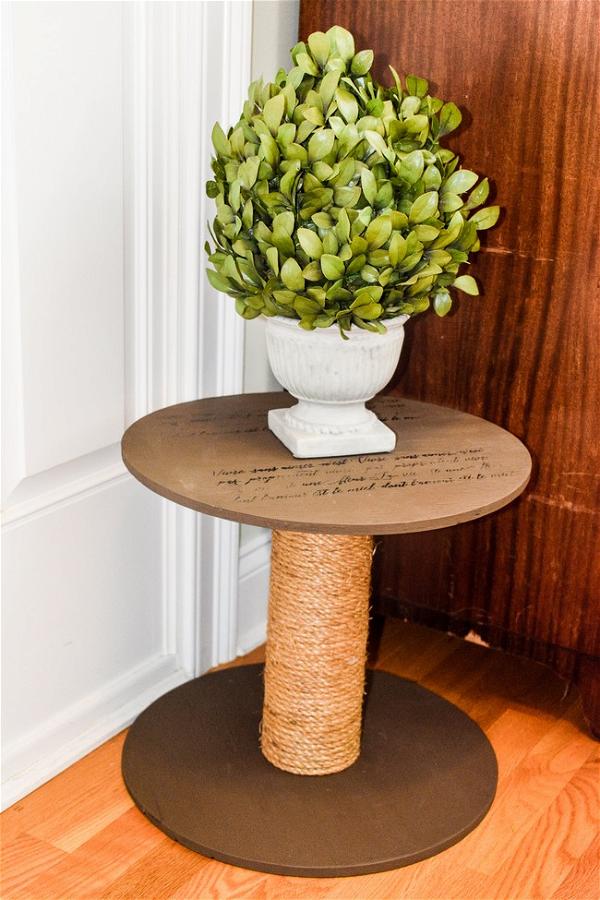 A rope spool plant stand is one of the easiest DIY ideas that you can follow to make your own planter. The best part about this idea is that you can easily use all those plastic rope spools lying around in your garage and create a useful stand with them. A spool stand is a funky way to display a live plant. Its minimalistic look shows off the shape of your plant, and it takes up minimal space.
This rope plant stand is clean and simple. You can make it quickly and inexpensively with the rope you may already have on hand. If you have a couple of wood scraps and a few tools, this project is a great way to use up some materials and add a unique look to your home.

See Other Projects