These DIY Cricut Wood Projects are perfect for beginners and a great way to make something useful. Simple projects are amazing! The Cricut can cut out words and shapes into the wood, making it amazing for decorating or creating an entire sign. These DIY Cricut Wood Projects are perfect for beginners and a great way to make something useful. Simple projects are amazing! The Cricut can cut out words and shapes into the wood, making it amazing for decorating or creating an entire sign.
DIY Cricut Wood Ideas

Cricut is one of the best and most popular craft cutters on the market. Available at Walmart and Amazon, you can create your own drawings and shapes to be used for all different types of projects.  All these ideas will help you improve your creativity and imagination in decorating your home with wood designs. The steps involved in each project are illustrated with high-quality pictures that will help you understand the process easily. So, let's get started In this post, we are going to share 16 DIY Cricut Wood Projects with you. You can make wall art, signs, or even furniture with your Cricut.
DIY Farmhouse Style Wood Sign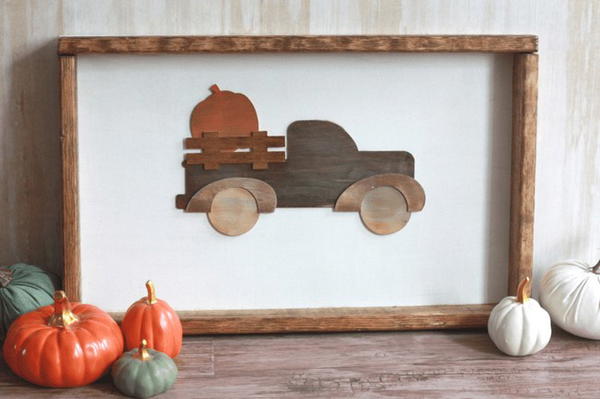 Farmhouse style is often defined by its mix of materials, unstructured design, and vintage accessories. This diy farmhouse sign is the perfect centerpiece for your chic, rustic home decor. Handmade with care in our woodshop, and finished with a natural wood stain and chalkboard paint, it's designed to create a statement while providing a canvas for family memories and personal messages. This farmhouse sign is a quick and easy project that infuses that charming farmhouse vibe into your home. This wood sign is the perfect addition to your house! It's useful for displaying important information and comes in a DIY kit that is fun to customize.
Skill Level:  beginner
Tools: Cricut Maker
Cricut Knife Blade
Cricut Strong Grip Mat
2 sheets Basswood
precut sheets
Basswood
Masking or painters tape
Wood stain
Rags for stain
White Paint
Grey Paint
Paintbrush
Wood Glue
Supplies: birch plywood,  Titebond Wood Glue, White paint, Paint roller, Wood Clamps
, Wood stain
DIY Name Puzzle With A Cricut Maker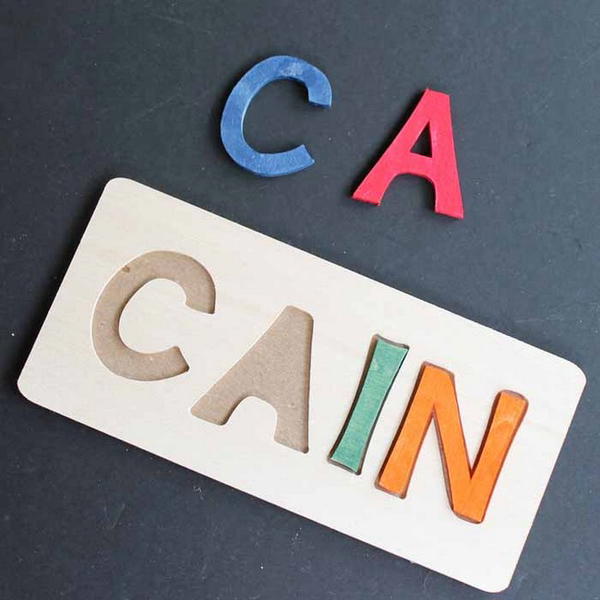 Looking for a fun and personalized bedroom decor piece for kids? Name puzzles are an easy-to-make DIY that your kids will love having in their rooms. This DIY Name Puzzle is made with the Cricut Maker. Use your Cricut Maker to cut out the letters, then follow along to make your own wooden name puzzle using spray paint, an acrylic sealer, and a blue or clear varnish! It is made with a Cricut Maker and features a free name font for download! This can be made with no fancy tools, no ironing, and involves very little modifying. It is quick to make and will promote some hand-eye coordination and number recognition for older children.
Skill Level: beginner
Tools:
Supplies:
Basswood sheets
Cricut Strong Grip Mat
chipboard
Masking tape
DAP RapidFuse Wood Adhesive
Americana Color Stain
Paintbrushes
Rag
DIY Seasonal Home Sign With The Cricut Knife Blade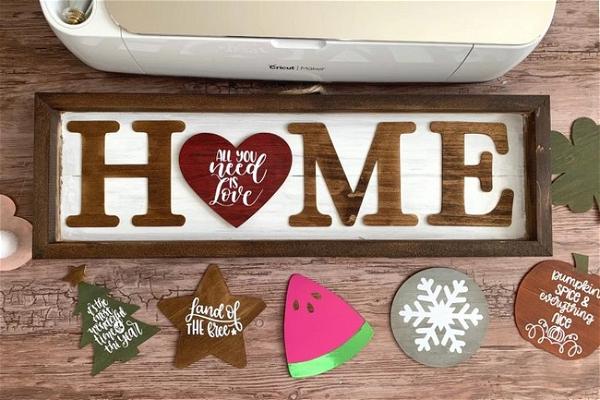 Make this great seasonal wood home sign for the holidays or any time of the year. There is a knife blade that can be used with your Cricut machine to cut out letters. This DIY seasonal home sign is a great way to welcome your family and friends into their new home with custom messages each season. This project can be done in under an hour, making it a great addition to any DIY project list. You will need a Cricut knife blade to make this sign. The Cricut knife blade is no longer available for purchase, so a substitute might be necessary.
Skill Level: expert
Tools:
Cricut Strong, Grip Mat
Cricut Glitter Iron-on (White,Pink)
Foil Iron-on, Green
Cricut EasyPress
Supplies:
Basswood
Wood Sign
Minwax Wood Stain, Quart, Honey

Titebond Wood Glue,

Velcro Sticky Back Squares, white
Pom
Acrylic Paints
Foam Brushes
Cricut Earrings You Can Easily Make In Minutes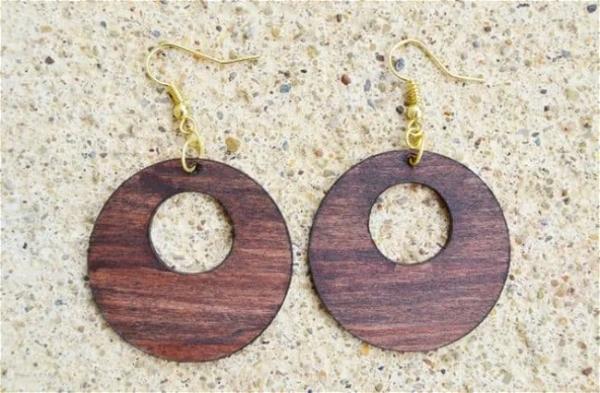 Need to get a wearable Christmas gift made in a hurry with the Cricut Explore? These DIY earrings will be made in minutes with the cutting machine. You'll be able to make your earrings with cutting-edge technology, at a fraction of the cost. No complicated hoop and materials; just cut, trim, add loops and jump rings. These earrings are perfect for beginner Cricut users or those looking for quick, easy projects. These Cricut earrings are so easy to make, you can have them made in minutes. All you need to do is cut out the earrings, color the holes if desired, use a new board and blade, and let your creativity take over. These earrings look great when worn with casual outfits.
Skill Level: beginner
Tools:
Cricut Maker
Basswood
Cricut Knife blade
Cricut Strong Grip Mat
Supplies:
My Cricut Earrings Project File
stain marker
earring wires and jump rings
pliers
Rolled Wood Flower Wreath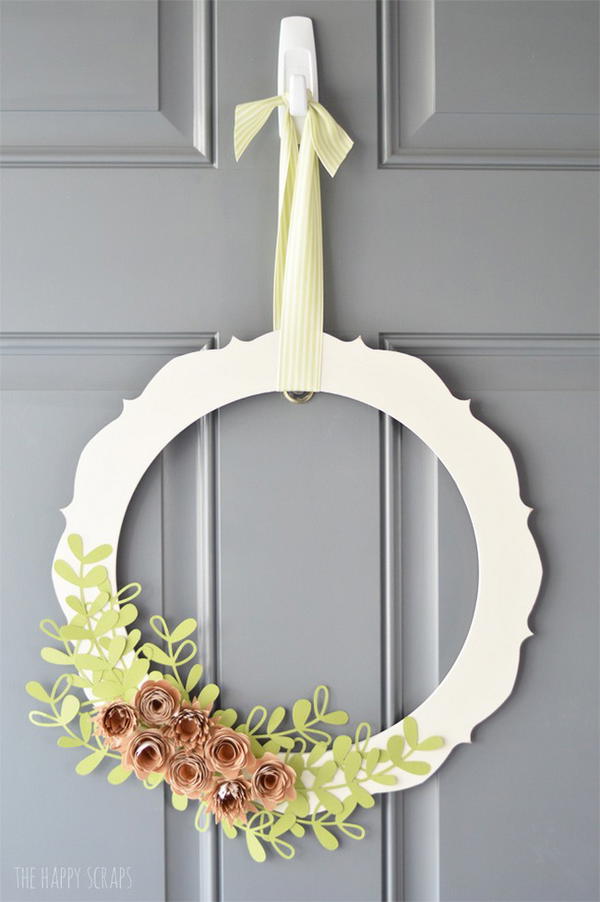 Add the simple elegance of nature to the interior of your home with our rolled wood flower wreath. Lifelike, real branches have been hand-chopped then made flat so they will lay more flat against your door. Enjoy the warm and inviting look of wood without the work of traditional woodcarving with this rolled wood flower wreath. Hand-chopped natural branches are flattened to lay flatter against the door, then hand-finished with a rich brown stain. As beautiful as they are easy, just wire or ribbon them in place, add a bow, and hang. Plenty of branches means there's enough for a full display that can cover the sides of your door.
Skill Level: expert
Tools:
Hot Glue Gun
Cricut Cut File
Cricut Explore Air 2 Machine
Wood Veneer Cardstock
Supplies:
Green Cardstock
Wood Wreath Shape
Paint
Ribbon
Personalized Wedding Hangers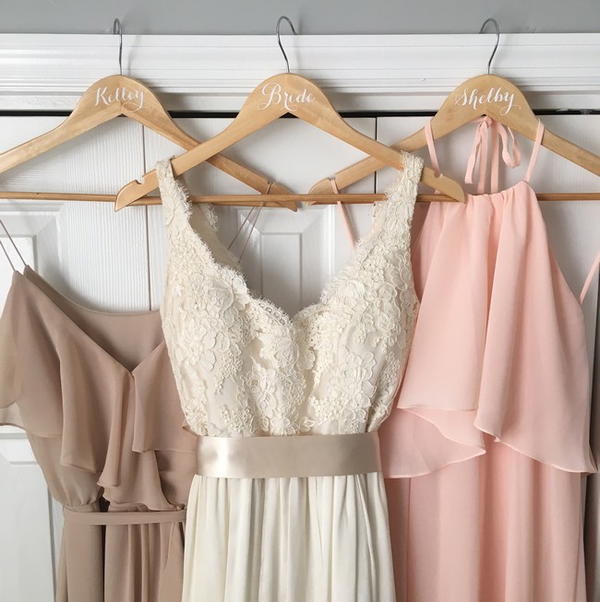 Looking for a unique wedding favor? With these personalized wedding hangers, guests will be reminded of your special day each time they reach for their favorite dress or blouse. These generic wedding hangers are perfect for anyone that wants a one-stop-shop to create their beautiful décor.
These hangers can dress up any event. A wedding is a marriage of two people through which they show their love and commitment to each other. Your gift is also a symbol of your love and commitment to them. These personalized hangers are made from good quality wood, covered with cloth. They have four hanger hooks for hanging dresses or pants. They are especially suitable for the newly married couple who is setting up their first home. These hangers will give them just another reason to smile.
Skill Level:  beginner
Tools:
Illustrator
Cricut Explore Air
Cricut Weeder tool
Supplies:
White vinyl
Cricut Transfer Tape
Scraper tool
Wooden hangers
DIY Wood Round Welcome Sign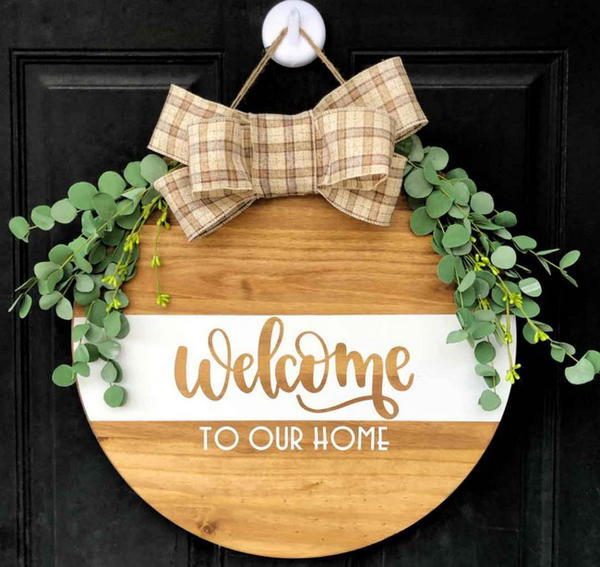 When you're inviting friends over for a BBQ, you'll need someplace to put their name on the front door. This DIY Wood Round Welcome Sign is just what you need! It's sturdy and can be applied to almost any surface. It's a great project to do with the kids, too! All you need is a few household supplies and a simple circular saw. If you're searching for a great piece to add some rustic decor to your home, cottage, or cabin, then this is the sign for you! This will bring lovely style to your home.
Skill Level:  beginner
Tools:
Iron-on vinyl material
Glue gun
Glue sticks
Cricut machine (or scissors to hand cut a design)
Supplies:
Stain
Gloves
Table covering (to protect the surface)
Stain sponge (or use an old T-shirt)
Wired edge ribbon
Faux greenery
Twine for hanging
DIY Cricut Wooden Serving Tray For Hot Cocoa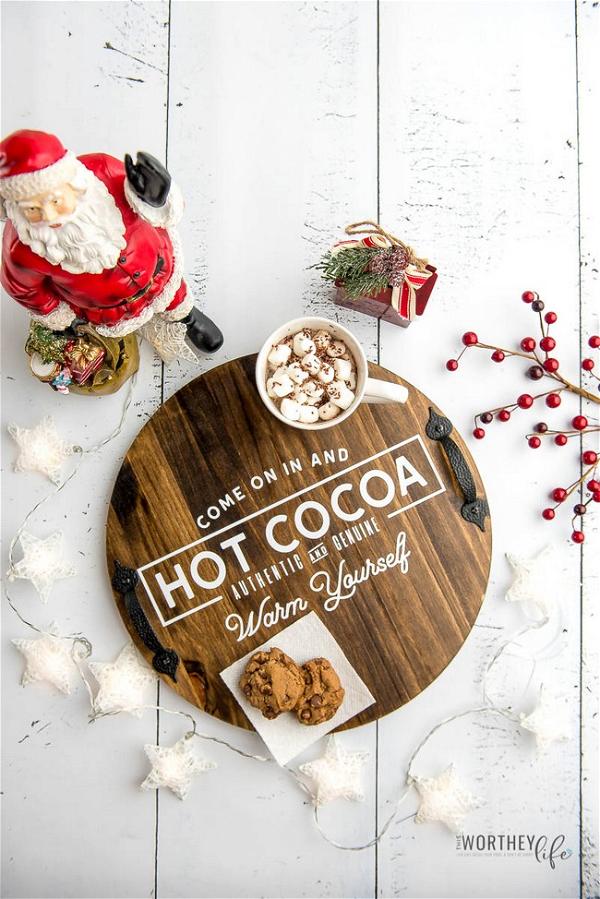 Looking for a fun and easy DIY Christmas crafts project? This is so simple you'll want to make several and give them as gifts. Perfect for holiday parties, this wood tray is an awesome craft to spruce up dull winter days. DIY wooden serving tray for hot cocoa using your Cricut Maker from the comfort of your home. Make this wooden serving tray to display a fun message as well as your favorite hot cocoa! This is a fun gift idea that anyone will enjoy and you can quickly create it in just a few simple steps! With some simple materials, a cutting mat, and pre-made stencils, you can make this project in under an hour. This Cricut wooden serving tray is perfect for holding a classic hot chocolate.
Skill Level: beginner
Tools:
Cricut
Drill
Phillips head screwdriver
Blue light grip mat
Weeding tool
Scraper tool or old gift card for scraping
Supplies:
A round piece of wood
Wood stain or paint
Mod Podge
Sponge brushes
Cabinet handles
Vinyl for Cricut in preferred color
Contact transfer paper
SVG File
Felt Flower Valentine Decor With The Cricut Maker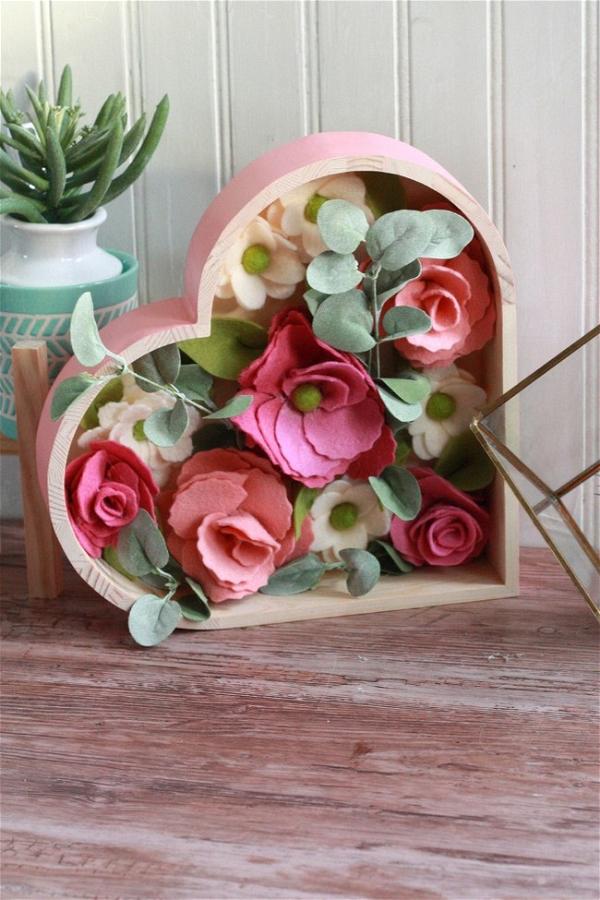 Let's make this Valentine's Day a little more special. If you love creating with the Cricut Maker, then you'll love this set of felt flowers for Valentine's Day decor! This beautiful kit comes with eight precision-cut pieces of felt in four popular Valentine colors. The vibrant reds, pinks, and purples are ideal for any festive occasion--and they make your house ready for a hot date at the stroke of midnight on Valentine's Day! The Cricut Maker allows you to cut felt flowers, put them on an adorable rectangle tray from the Target Dollar Spot and then stick them to it with Velcro dots.
Skill Level: expert
Tools:  Cricut Maker & Rotary Blade
Cricut Fabric Grip Mat
Hot Glue Gun & Glue Sticks
Supplies:

Eucalyptus leaves
Heart tray from the Target Dollar Spot, or a similar tray to glue the flowers
Assorted felt sheets
Felt balls
DIY Birch Wood Animals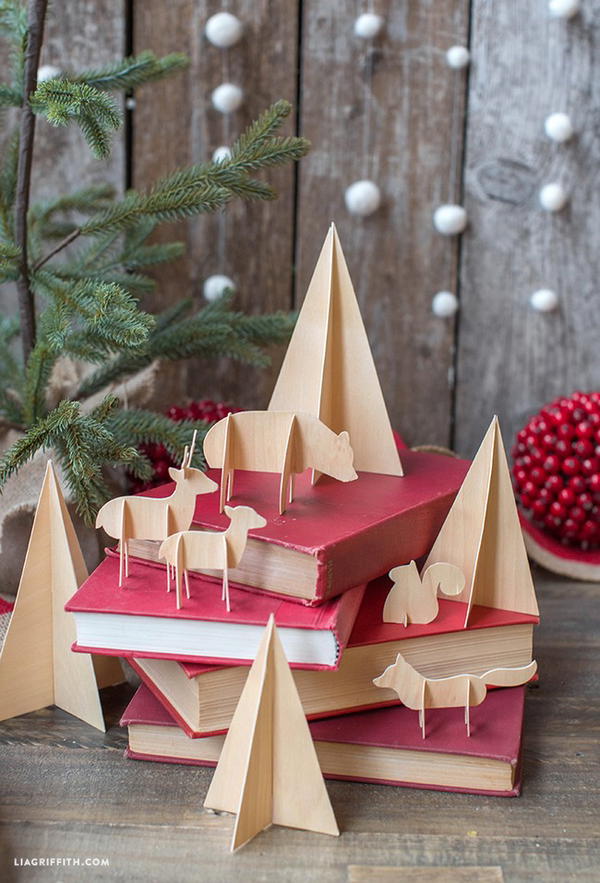 These DIY Birch Wood Animals are part of a series of hand-carved animals designed to help kids with their motor skills while they explore the artistic process of carving diy birch wood. The perfect family activity for a rainy day, a kids' birthday party, or an art teacher. Decorate them with glitter paint, or attach thread for hair and clothes. Kids learn about art and creativity, and parents get to enjoy a precious memory of their child's proud moment. Make an elephant, bunny, bumblebee, bear, and more.
Skill Level:  beginner
Tools:
Cricut Maker
Silhouette Cameo
Cricut Explore Air,
Supplies: BARC birch wood paper, spray glue, poster board,
DIY Breakfast Tray Upgrade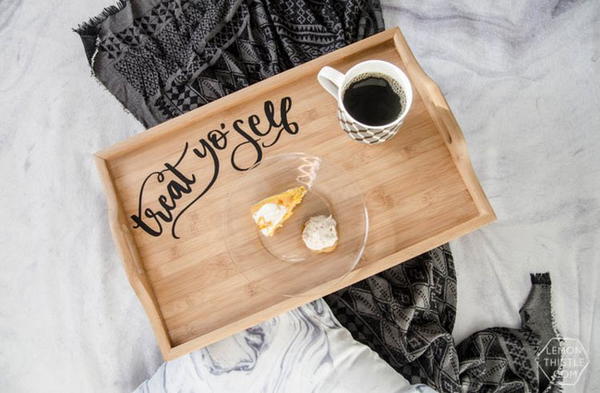 Does your breakfast table need an awesome upgrade? Never eat your breakfast off of your lap ever again! For those who just need that little bit of extra space for their morning meal, we have the tray upgrade for you. The elevated tray sits on top of the table and fits the raised end tables to create a breakfast table in the middle of your cockpit. Rotate for easy access to your cooler and small storage spaces as well. These DIY breakfast trays are simple and sure to bring your family some great memories. Upgrade your breakfast tray with this DIY Breakfast Tray. It is a great idea for breakfast in bed, but also useful for bringing lunch or even a late-night snack to your room.
Skill Level: beginner
Tools:
Adhesive Vinyl and Transfer Tape OR pencil and paint marker
Supplies:
 wooden breakfast tray
hand-lettered design
Cricut,
DIY Wooden Cats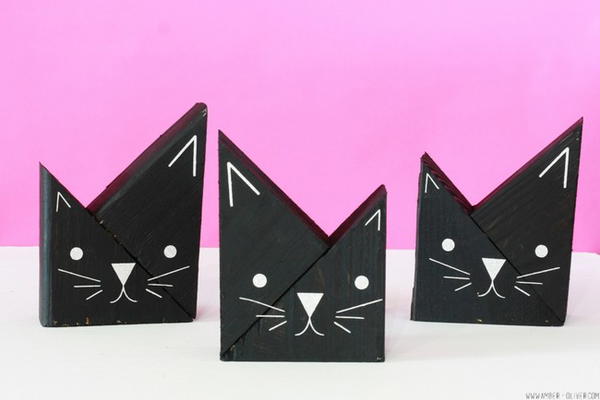 Do you love cats? Then you will fall in love with these DIY wooden cats. Cats are creatures of habit and their routines hold the comfort for a regular routine. But not all cats are the same and this is what makes them unique. At first glance, you will see the cuteness of these handmade wooden figures that appear to be real felines. If you love the idea of adding some natural feel to your living room then there's no need to look further. These DIY wooden cats are carved in a cute way and are available in various shapes and sizes.
Skill Level: beginner
Tools:
Supplies:
Wood Glue
Cat Face Cut file
Gold Foil Vinyl DIY Decor Project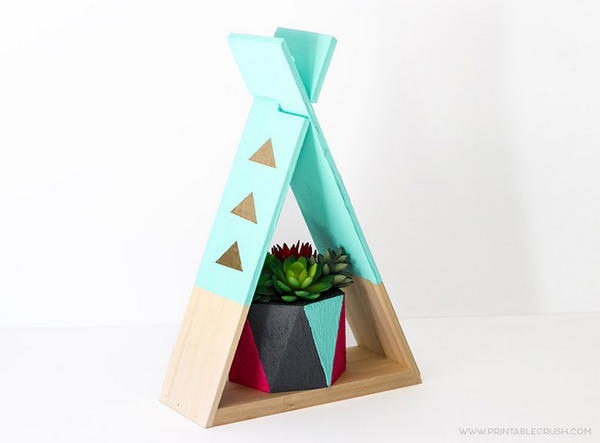 This Gold Foil Vinyl Wood Teepee is such an easy project that can be done in a matter of hours, and it's the perfect piece for modern home decor. Customize it with your favorite colors to match your home's decor. The wood teepee frame is lightweight and easy to assemble. Prop it up with a couple of dowel rods and then cover the teepee in the vinyl gold fabric that glows under a florescent light to add a rustic design with modern vibes. Add your own decorative touches with some gold paint or ribbon to achieve this look in no time!
Skill Level: expert
Tools:
Teepee
Ruler
Pencil
Cricut Explore Air or scissors
Supplies:
Cricut Strong Grip Mat
Cricut Gold Adhesive Foil
Mint Acrylic Paint
Paint Brush
Painters Tape
Cricut Wood Burning with Any Cricut Machine
Wood burning is a great craft. Did you know that you can do wood burning with any Cricut machine? A Cricut wood burning kit allows you to use stencils and the Scorch markers to add designs to raw wood surfaces. This is a great way to make a gift for Father's Day or any other occasion. Plus, it is something else you can do with your Cricut machine. You could use this technique with any of your Cricut cuts. Just cut out the design and instead of using transfer tape, you can iron on a stencil. Then you trace over the stencil with a scorch marker. This would make a great gift for Father's Day.
Skill Level:  expert
Tools:  Cricut Joy (or any other Cricut machine),  Sandpaper, MarkerHeat gun, Weeding tool Scraper Sealer
Supplies: Cricut Smart Vinyl, Transfer tape. Wood surfaces,Rag Scorch, 
DIY Wood Sign With Cricut Maker 3
Make your own custom wood signs with the Cricut Maker 3 and Perfect Pencil. Get to choose the background color, pick your font, add special accents, and decorate the edge with the Perfect Pencil. This is the best way to make a sign for anything, indoor or outdoor and since this sign gives you options to change it up it is easy, fun, and very customizable! Use it to cut your first letters with the Cricut Maker. This DIY wood sign starts with pre-cut plywood and is easy to personalize. This wood sign is so quick and easy to make with the Cricut Maker 3. It's a great project to create for your home, or as a gift for someone special.
Skill Level:  expert
Tools:
Teepee
Ruler
Pencil
Cricut Explore Air, hammer
Supplies: Cricut, wood, nails
Simple Projects with the Cricut Maker
Featuring projects for every skill level, Simple Projects with the Cricut Maker will show you how to bring your creativity to life using our new cutting machines. Want to start a new project, but don't know where to start? From cards and scrapbook pages to photo frames and quilts, the Cricut Maker has hundreds of projects for you. This book is filled with great ideas that will get you started from your first cuts. With a little imagination and this guide, it's easy to create wonderful things using your Cricut Maker! Get inspired by the beautiful designs of professional artists and then reproduce them in your own home, or take a trip down memory lane with classic images from the 90s. With Simple Projects' expert instruction, you'll be creating your own personalized crafts in no time at all.
Skill Level:  expert
Tools:  hot glue gun, drill, hammer
Supplies: Cricut, wood, glue, nails, screws
Conclusion
Whether you've just bought a Cricut Explore or are thinking about buying one there are so many amazing things you can do with your machine! Simple projects that look amazing! Cricut had some amazing crafts, and this article contains a great collection of projects that you will lovemaking. These projects make great gifts or decorations for your home. There are some fun designs so that you can personalize your rooms, and even use the project ideas to make simple decorations for other special occasions.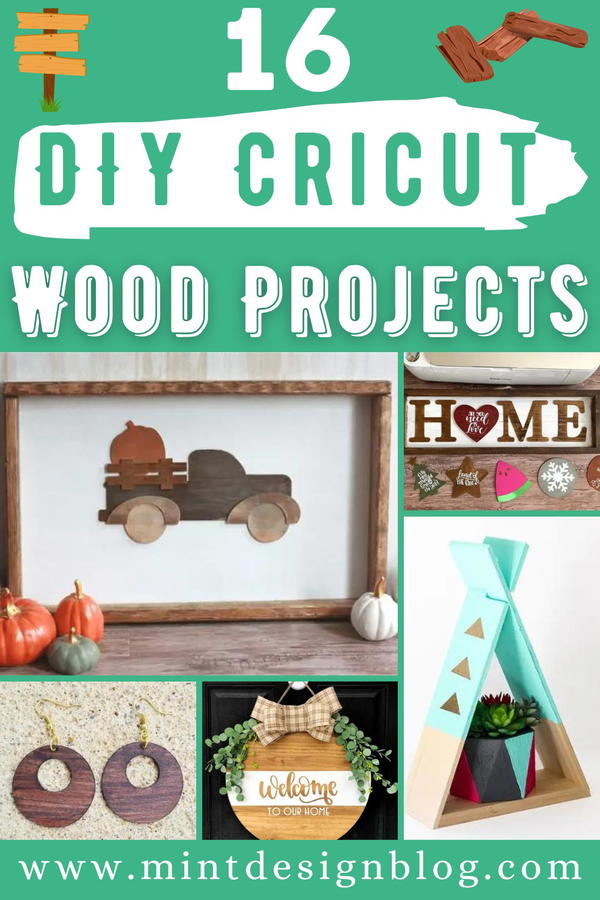 See Other Projects