The TV is the focal point of any living room, and its stand or cabinet should complement the style of the rest of the room. A traditional TV stand can be beautiful with the right design elements, but it's not always the right choice for a modern living space. If you want to make your TV stand truly one-of-a-kind, it might be time to try your hand at building it yourself. There are many tutorials on how to build a TV stand, and most of them are relatively easy to follow. However, if you're not super handy, you might want to consult a professional before you begin.
DIY TV Stand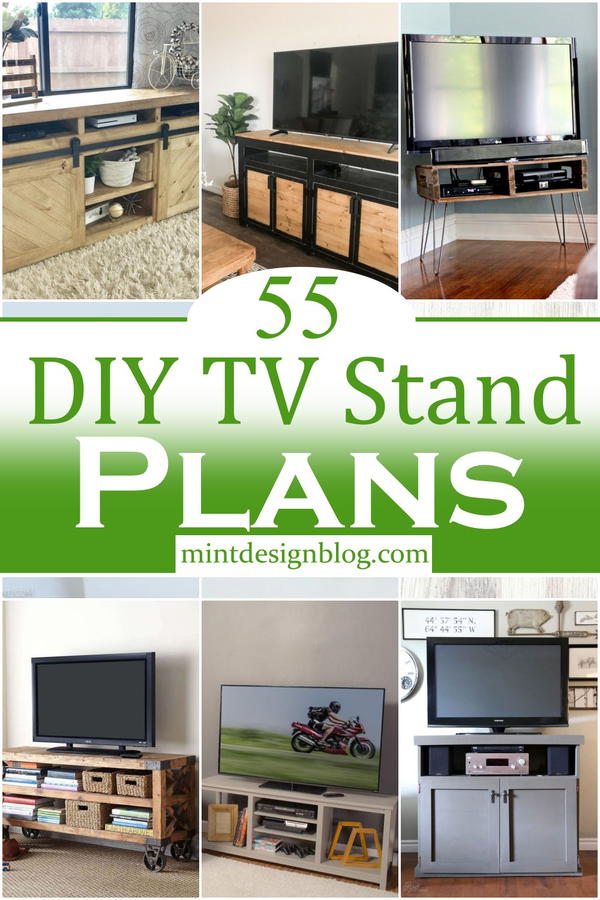 Focus on functionality as well as aesthetics when it comes to building your own TV stand. A well-designed piece that holds your television in place can also hold a wide variety of other items for easy access. Most modern stands have space for storing movies and video games, but you could also add cabinets or drawers for storing things like extra blankets and pillows or even books and magazines. This is a great weekend project for all skill levels! The supplies are very affordable, and you could even build this for free using recycled wood if you wanted to!
These DIY TV stand plans will help you build not only a place to put your TV but also a place to store your connected devices and media.
Other Plans
DIY Pallet TV Stand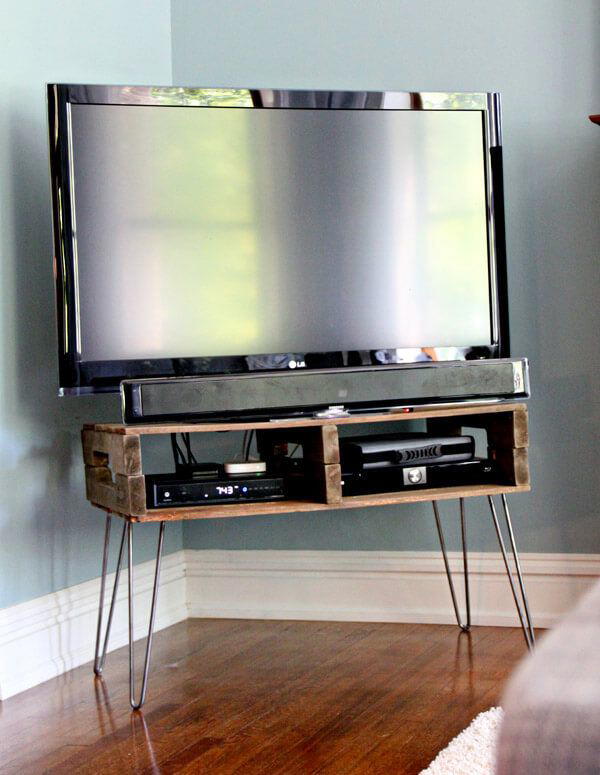 If you didn't want to spend your money on a new TV stand, here is an idea of how you can make one. You just need to grab a pallet, hairpin legs, and some decent tools. Yes, that's all! I would say pallet wood looks even better than some of the expensive materials used in furniture, so if you are into rustic stuff, this TV stand is for you.
Now, let's get started building our pallet TV stand. This project is not as hard as working with some other kind of wood, but you must be patient and precise since every pallet is unique. Not enough room behind your TV? We have a stylish and inexpensive solution. All you need is a pallet, hairpin legs, and some screws.
Project details: preparingforpeanut.com
Farmhouse Style TV Stand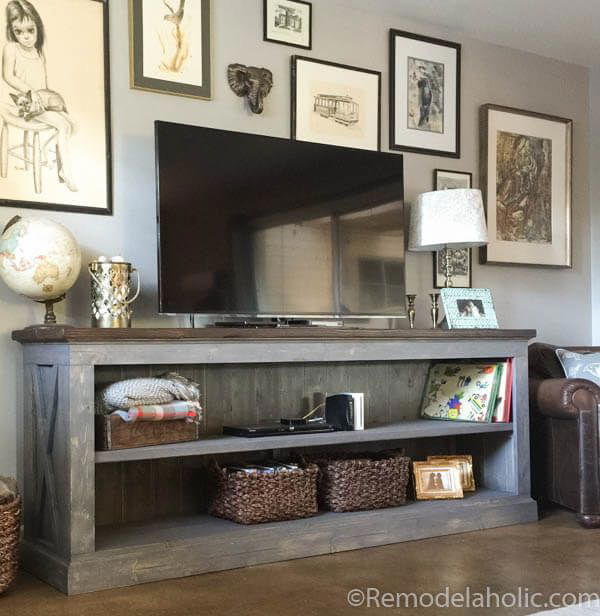 Who doesn't love a classic Farmhouse Style TV Stand? It's not only beautiful because of its simplicity but also invites you to tinker as you have time. Because it is only loosely guided by the steps, it is a blank canvas for your creativity to help fill in the landscape. We'll show you some tips and techniques in this article to showcase your own style.
This Farmhouse style TV stand is perfect to give your room a cozy touch. Whether you'd like to display photos, books or other knick-knacks, you've gained more space and organization with this Farmhouse style TV stand which includes 2 open display shelves. This TV stand is constructed of solid wood, giving it a lasting quality.
Project details: remodelaholic.com
The Inspired Workshop's DIY TV Stand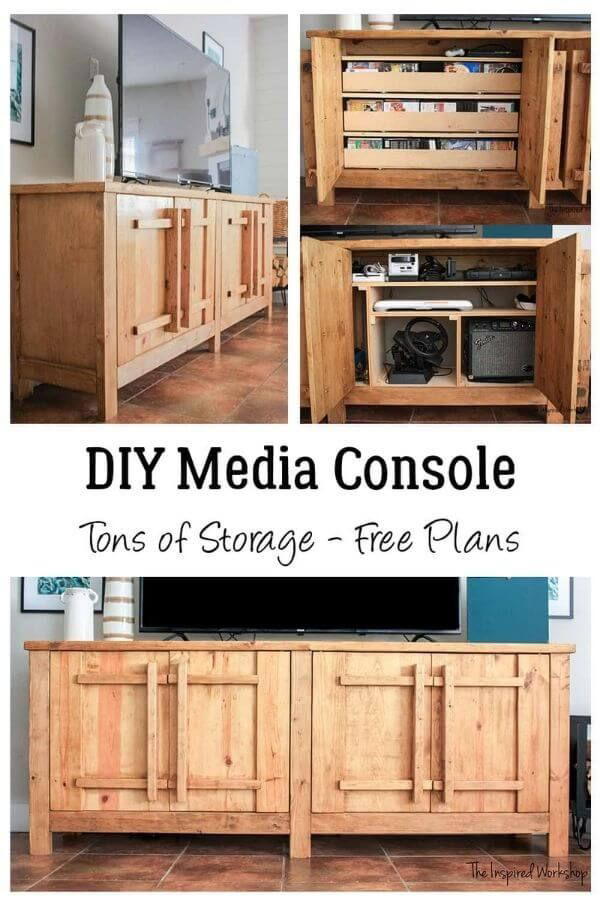 The right cabinet is an extension of the left one, but instead of drawers, you'll get multiple shelves that provide many different storage options. You can store speakers, game consoles, or any other electronic equipment here. Admit it! There is something satisfying about building furniture with your own two hands, especially if the project is inexpensive and easy to make. The problem is, it's not as fun piecing the project together when you have multiple written instructions and a big pile of parts. That's why we came up with a solution that utilizes the popular DIY TV stand tutorial but adds our own interesting twist.
Project details: theinspiredworkshop.com
Barn Door TV Console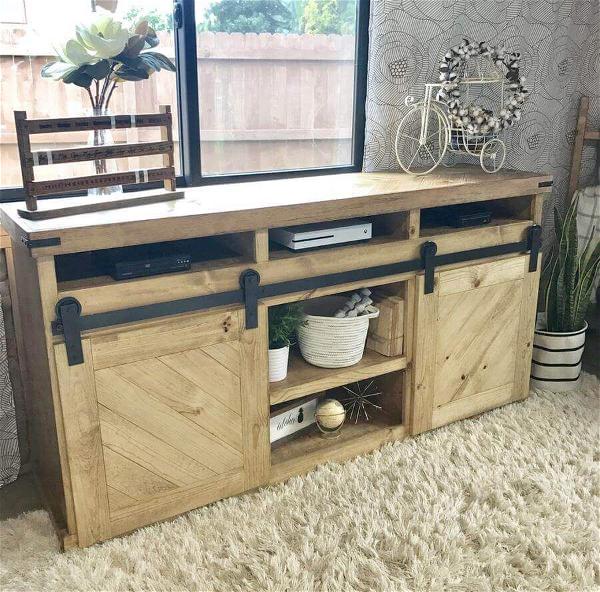 Why spend money on a new, expensive tv console. Why not build this amazing Barn Door TV Console and save your money for something else. It's easy to build and looks amazing. Get all the material you need along with detailed plans and instructions from me.
The formal dining room has a classy décor. But aside from its traditional look, the furniture is versatile and functional. Aside from its stylish look, this dining room table is built to last. So make it your go-to space for entertaining guests and hosting holiday parties. The barn door TV console provides nearby seating and storage in a compact package
Project details: handmade-haven.com
DIY 4-Door TV Stand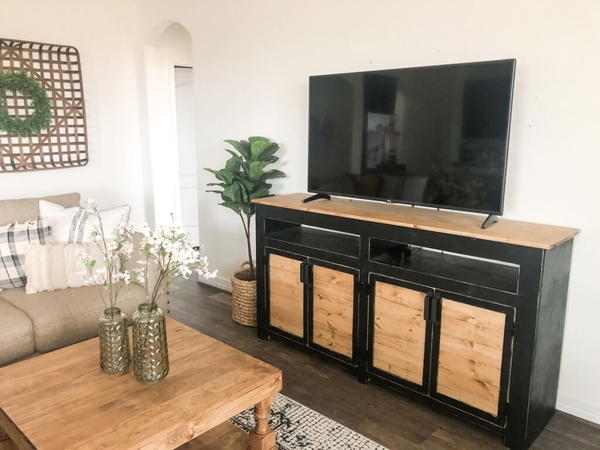 DIY 4-Door TV Stand is the perfect solution for your TV stand dilemmas. Minimize the cost by making it yourself and adding a touch of personality with its unique design. This super functional piece combines style and practicality with four doors and a hidden drawer! It offers multiple storage options that keep all of your items organized and out of sight, freeing up space on top for your TV or other media devices.
Project details: shanty-2-chic.com
Kreg's Easy DIY TV Stand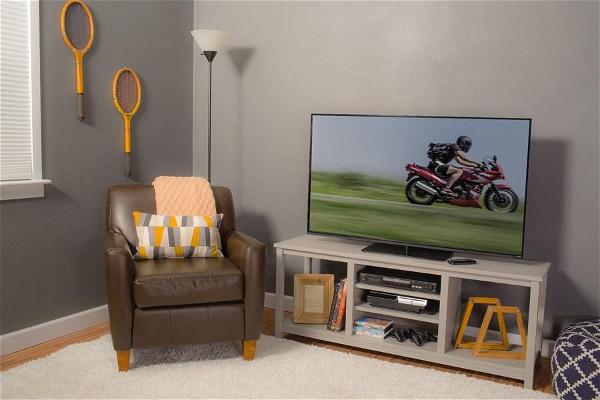 The Kreg Easy DIY TV stand is a step-by-step guide that shows you how to make a stand with a TV cabinet that features casters. It has a shelf system and a wide-leg style frame. Thisis also a flat pack design so you can assemble it easily in around two hours. The freestanding project provides excellent stability for flat-screen TVs that weigh up to 60 inches, and its open design will look great in any room in your home. The stand is so simple to build, it will make you kick yourself for not making one before. With endless customization, the possibilities are endless.
Project details: learn.kregtool.com
DIY Modern TV Stand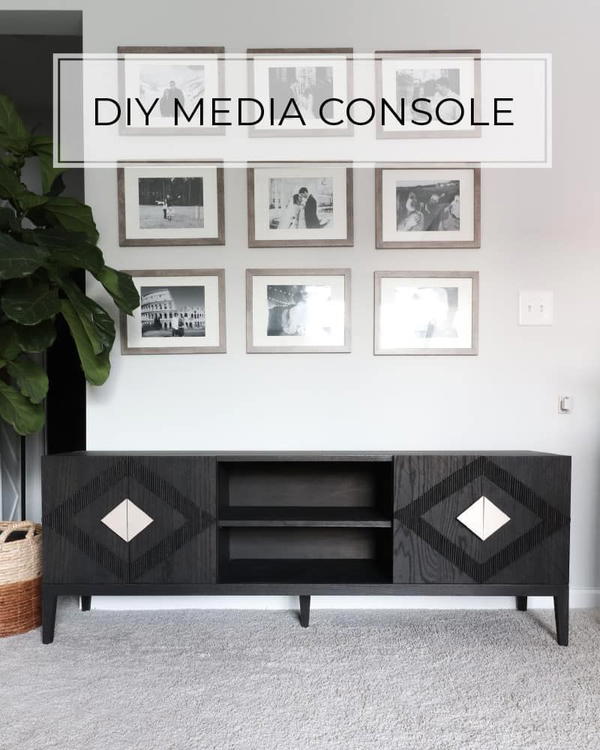 If you are going for a rustic and natural look for your interior, the DIY modern TV stand is the perfect furniture for you. All you need is a set of basic power tools and finishing materials. We will show you how to build this project from cutting the wood to adding the finishing touches. This could be an ideal piece of furniture to spice up a modern home or your office. Its simple and chic design may easily blend with your existing furniture, or stand out if you want it to. This is a DIY project, which means you can make it as easy or as complicated as you want. You can just follow the instructions and see what you get at the end.
Project details: craftedbythehunts.com
DIY Rustic TV Stand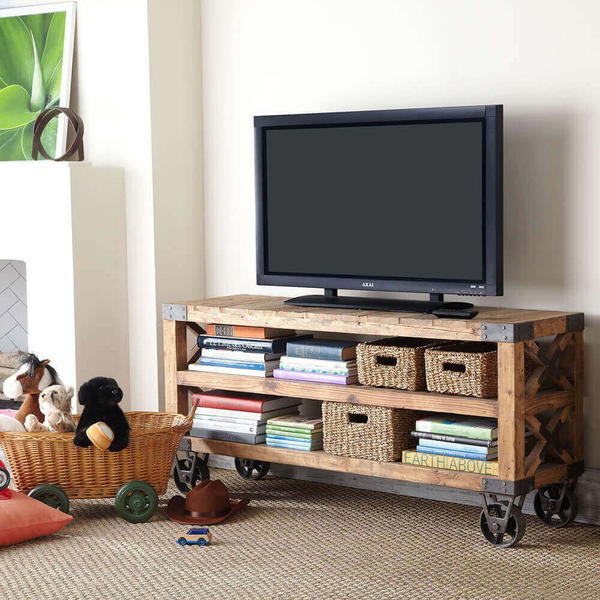 The DIY Rustic TV Stand is an extremely easy and fun project. It's great for a garage, a big front porch, or even a rustic buffet. These instructions will guide you in building the frame for this project, and show you how to finish it. If you love to create furniture and are interested in building a rustic TV stand, this project is simple and great for beginners with directions that are not too hard to follow.
This rustic TV stand project is designed to be as simple as possible. Many of the cuts are straight cuts, and the curved parts are very simple to cut using two jigsaws. Additionally, the woodworking techniques required are very basic. The stand does not have any complex joints or surfaces, so this would be a good project for a beginner.
Project details: mountainmodernlife.com
Tripod TV Stand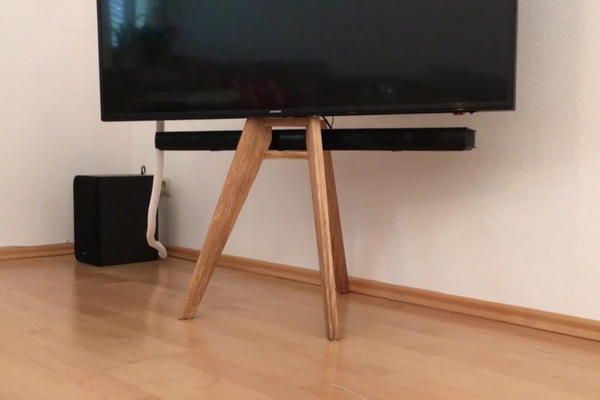 This Tripod TV stand may appear to be one of a kind, but it is capable of supporting a TV of up to 52". The 3 legs have specific curves and a flat surface at the bottom. They are able to hold 15 lbs per leg and hence a TV that weighs 30 lbs can rest on this stand with no hassle. Thanks to its minimalistic design, it allows for easy access towards the back of your TV. Built to fit most standard TV sizes and come in a variety of colors, the Tripod TV stand is versatile and strong. From smaller apartments to larger homes, this lightweight TV stand can be used to position your flat screen wherever you want.
Project details: instructables.com
Grey DIY TV Stand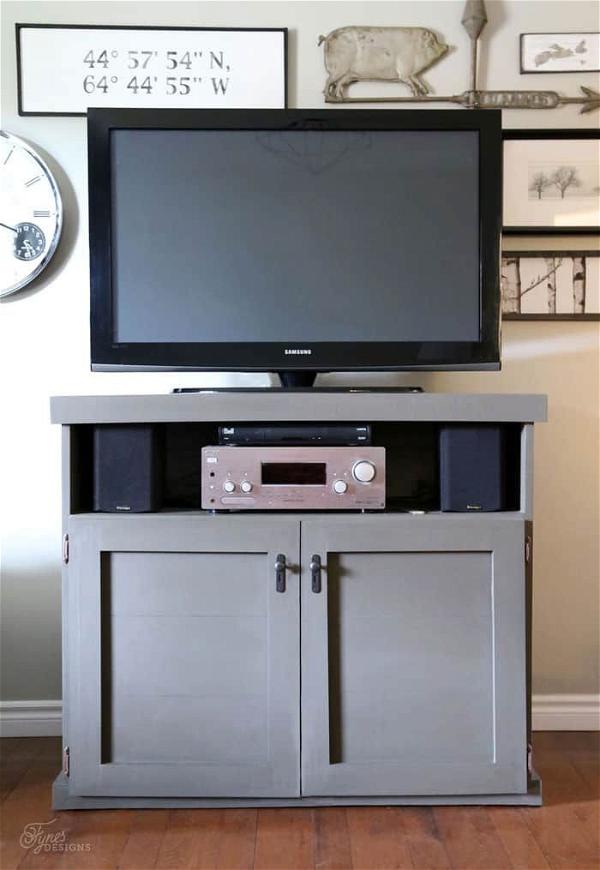 The Grey DIY TV Stand is a great first project for those looking to build their first furniture piece. It comes with full instructions and allows for in-depth customization of the size and design elements. The stand can be built with or without doors and allows you to easily upgrade to customize your own creation. A straightforward design is a perfect choice for simplifying your space. This ultra-simple TV stand is made up of a few basic components that can be found at any local hardware store. Sanded and stained, this piece will become the focal point of any room. It can also double as an entry table if you put a drawer unit on top.
Project details: fynesdesigns.com
DIY Rustic TV Stand From Angela Marie Made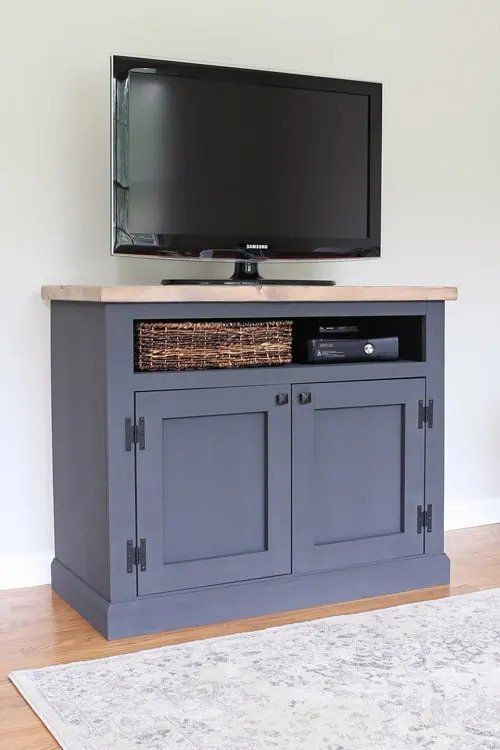 If you want to update your living room into a warm and rustic space, you need the right accessories. The idea of this design is not to buy new TV furniture, but to build your own entertaining center using materials you have at hand. This workspace is sized to perfectly fit a 40-inch TV and stereo system, so you could apply this project to other areas as well. The charming look that comes from the weathered wood countertop makes your living room instantly warmer and more welcoming.
Project details: angelamariemade.com
DIY Floating TV Stand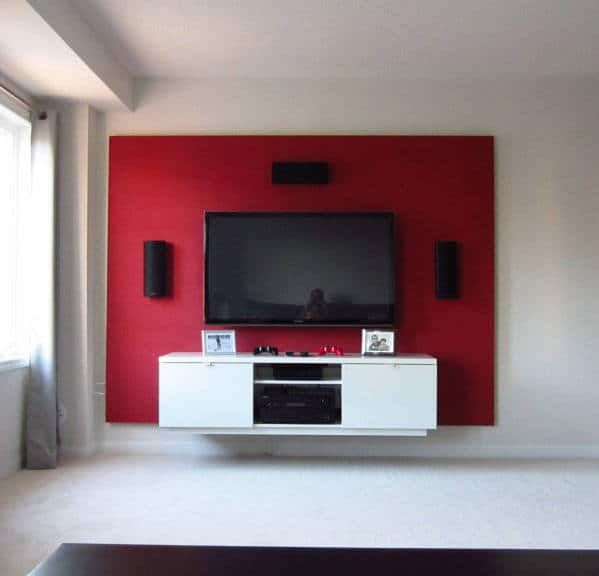 Looks can be deceiving in the world of a flat-screen television. You'll be surprised how large a TV looks without the bulky stand or legs; and how a few tweaks here and there can turn something that started as plain into a designer statement piece everyone will be raving about. This stand looks very sophisticated and you will not believe it was assembled from plastic crates, because no one will ever figure that out. It does not require tools or drilling, it comes together with the ease of a puzzle.
Project details: nextluxury.com
Funky Junky Interiors' Pallet TV Stand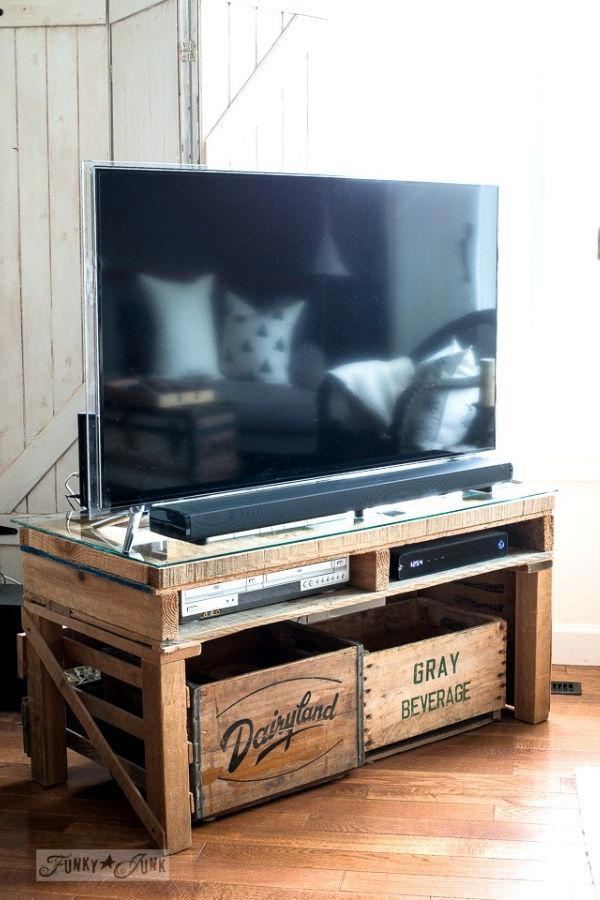 This pallet TV stand is all about being friendly to the environment and recycling. It is made from thrown pallets, while its storage boxes are made from discarded crates. The whole thing looks elegant with a glass top. Perfect for small areas. If you are tired of looking at the rough edges of recycled pallets around the house, here is something for you. This one is not just about being friendly to the environment and recycling. Its body is made from thrown pallets, while its storage boxes are made from discarded crates.
Project details: funkyjunkinteriors.net
Grandy Barn Door Console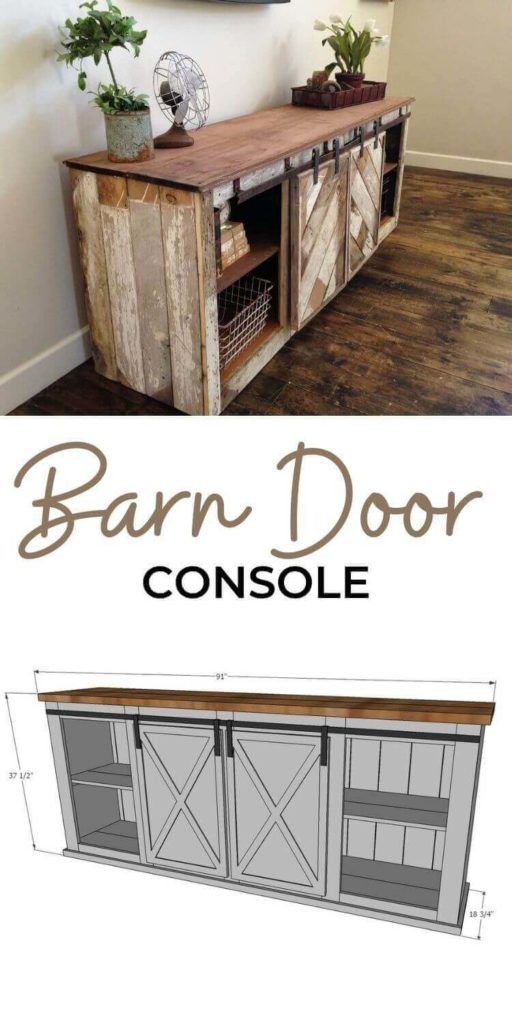 If you love the look of old-fashioned barn doors, but can't squeeze one into your decor, this is the project for you. With a modern edge, this barn door console features a sliding wooden door and an open shelf. With just a few simple steps and some precise cuts, you to can have an incredible-looking piece in your home! This is a fun project that you can use as either a table or a console. It is something different and will definitely be the center of attention in your home. This piece of furniture is very practical, especially if you are limited in space as it can roll under a bed when not in use, and its sliding doors are very useful for placing remote controls, magazines, etc.
Project details: ana-white.com
Nine Red's DIY TV Stand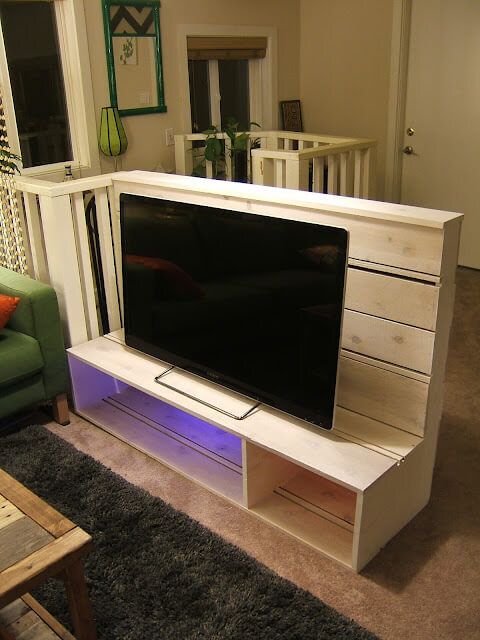 Is your TV space limited? Do you want to spice up the look of your home theater? Introducing Nine Red's DIY TV Stand with light. No cutting and welding are required. It only requires simple tools to build. The coolest part of the TV stand is that it has several holes in the back frame to let light bulbs glow from inside. This way you can have a romantic movie night with enough lighting. Save some money and build your own TV stand! It may make you more confident.
Project details: ninered.blogspot.com
Easy DIY TV Stand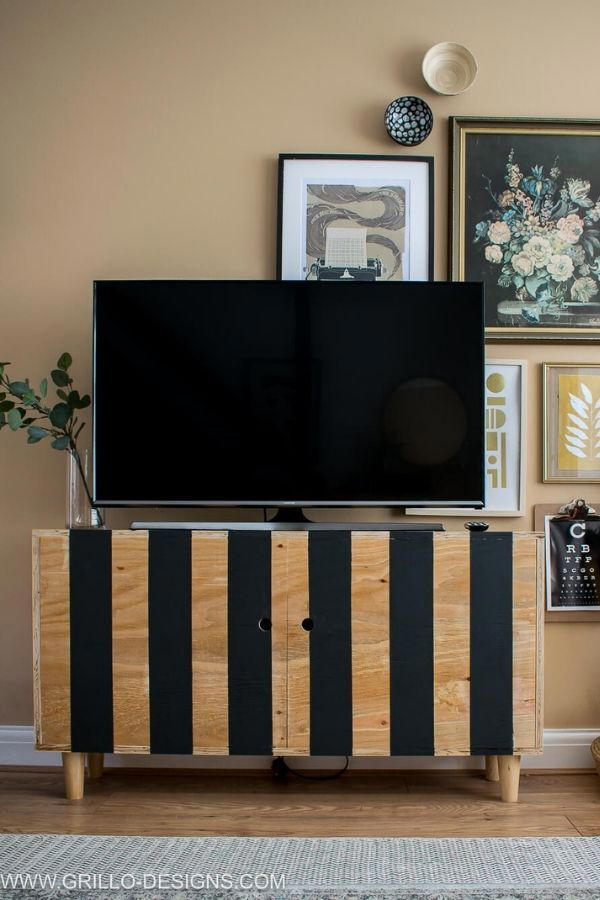 If you love the idea of a DIY television stand, but don't have the technical skills or expertise to make one. No worries! With this newbie guide, you will learn exactly how to build a durable and inexpensive TV stand that looks great while staying within your budget.
This is a simple demo for an easy DIY TV stand. The idea is to make use of the already available materials in your home and paint them with stripes so that you can get a unique and interesting-looking TV stand. The DIY TV stand is a popular product on the market. It is versatile, functional, and makes a great showpiece for your living room.
Project details: grillo-designs.com
DIY Media Console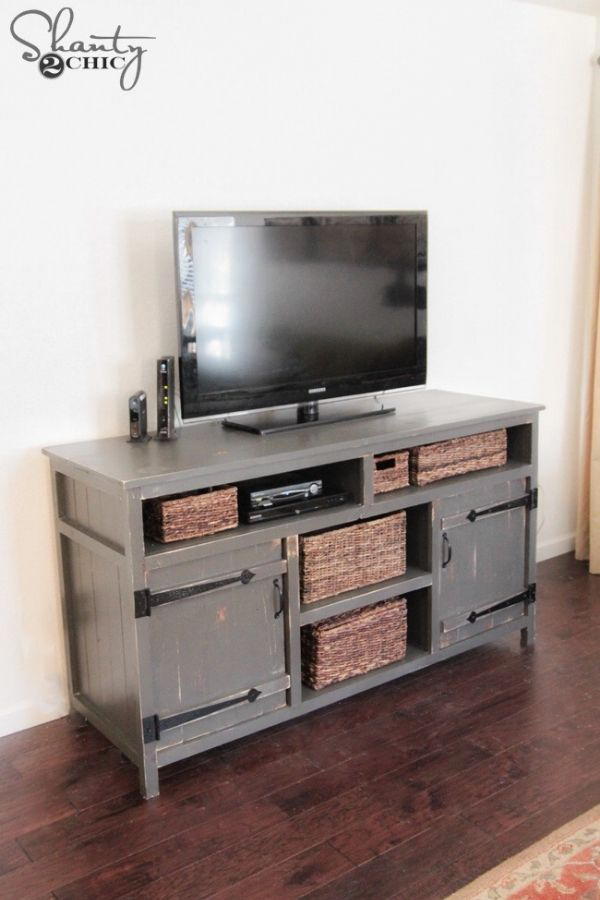 This is the DIY Media Console project that elevates your living room decor with a vintage touch. You will need stable wood measurements and fine tools to create strong pocket screws that can support bulky devices like speakers and digital media. The DIY Media Console project is the perfect DIY project for any living room to accommodate your big-screen computer monitor, speakers, digital media player, and flat-screen TV. You need stable wood measurements and fine tools to create strong pocket screws that can support bulky devices like speakers and digital media. And after a little paint, it's as good as gold.
Project details: shanty-2-chic.com
DIY Corner Media Center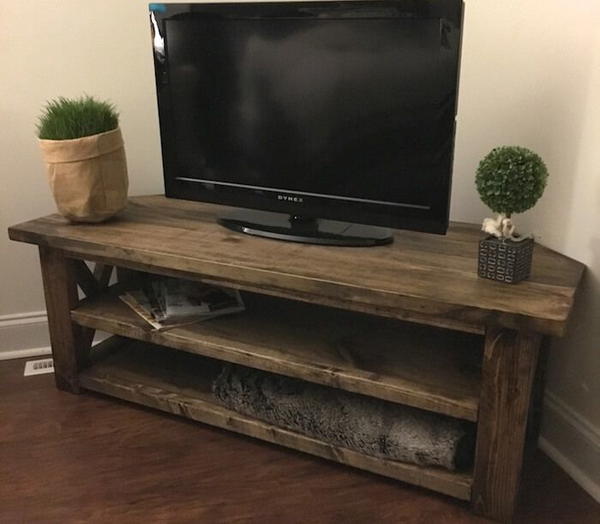 There are many corner media center designs out there, but many of them are simply not strong enough to take on a heavy TV. The X-shaped construction of this stand prevents it from sagging ever again. When you need to get that corner space looking tidy, the DIY Corner Media Center will make it happen. The slanted wall TVs are becoming more popular these days, and you might find yourself needing to find a stand for your new flat-screen TV. You don't want a stand that makes it difficult to access the power switches or hook up video or audio cables, and luckily this one doesn't!
Project details: rogueengineer.com
DIY Sliding Barn Door TV Console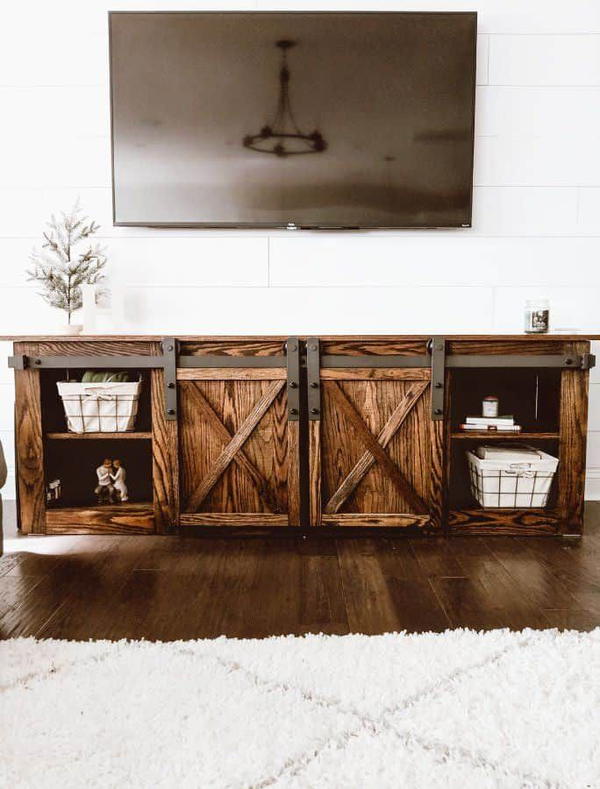 It is simple to build this DIY Sliding Barn Door TV Console. This design is great for those that are looking for a stylish way to store your media in your living room or bedroom. The perfect thing about this stand is that it looks better because all of the supports are hidden in the back so you don't see any ugly joints. One of the most common problems we have in our living rooms is the lack of space to store all of your items. We often look for a TV stand that is simple and elegant, without compromising on how much we can fit inside. This tutorial will show you how to build this stylish TV console using only six wooden planks and some joints that are invisible to the naked eye.
Project details: craftedbythehunts.com
Tall Corner Media Stand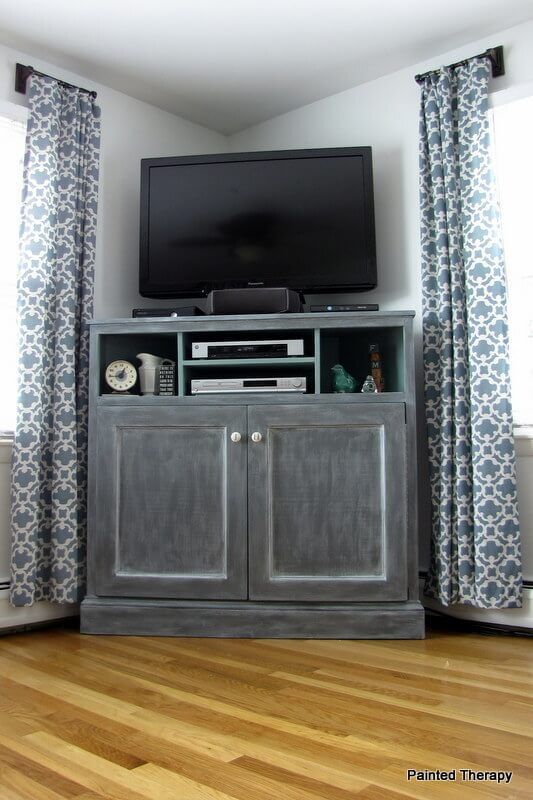 This corner media stand is great for those with curious children around their TV. The design of this piece is to put the TV up high so that your child is unable to reach it. It is made out of MDF with veneer and is a great addition to any living room. The best part about this corner stand is that it can easily fit in your home. You spend a lot on your TV, so why not protect it with the Tall Corner Media Stand? This glass-door corner shelf vessel is designed to create a steady base for your TV, which keeps everything off the floor, preventing accidents. Considering how expensive TVs can be, giving them an extra layer of protection from little kids is well worth the money.
Project details: ana-white.com
Rustic Concrete Top TV Stand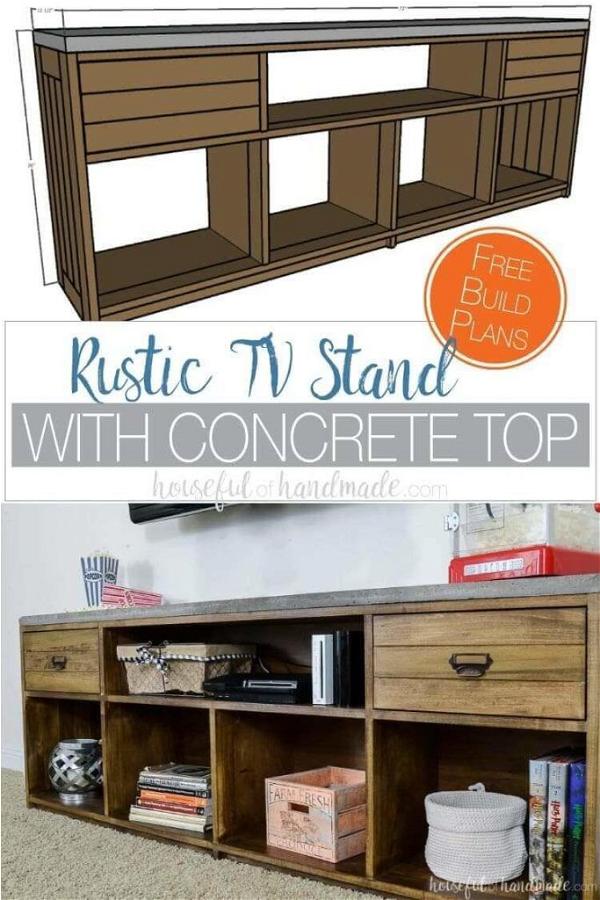 Solid, durable, and economical, this project is a great way to breathe new life into old furniture. By chamfering the corners of 1x3 wood boards, then routing the edges of the plywood and concrete top, you can create a TV stand that looks like it should be much more expensive than it actually is.
The concrete top also adds a functional component to help support your TV and patio furniture. This is a great use of leftover plywood and concrete to build a TV stand. It's also an alternative that can add some visual weight to offset the usually lightweight TVs and their all-too-thin stands.
Project details: housefulofhandmade.com
Restoration Hardware Printer Cabinet's Knock-Off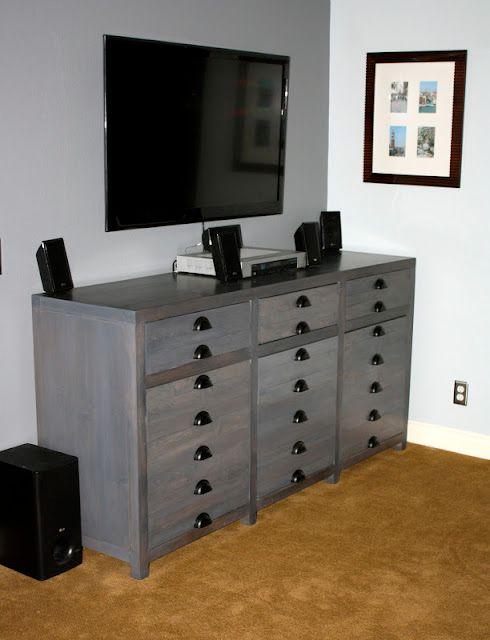 Inspired by antique printer cabinets and designed to be reminiscent of the 1960s, this project will help you create a functional and beautiful addition to your home office. You can customize the structure by using a variety of woods, including douglas fir or pine, but we love the look of rustic alder when left unfinished. After you build the base cabinets, use shims to ensure that drawers are straight and fit properly. The beauty of handmade furniture is its uniqueness and character, but when you are a self-taught cabinetmaker on a budget, it can be hard to achieve the look that you want.
Project details: makemeprettyagain.blogspot.com
Easel On Wheels TV Display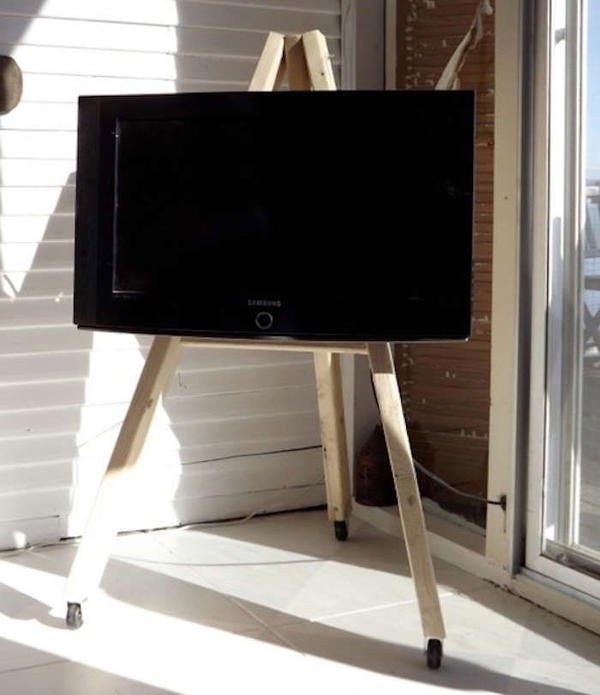 Despite the minimalist look, creating this unique TV display isn't as easy as it seems. The challenge lies in getting the perfect compound angles for the 3 legs. They must join together to prop up the top (created separately), preferably with only 1 long bolt. Next, you need to balance the easel perfectly. To improve the balancing, install a chain running from the back leg's lower brace up to the top's medical brace. You don't need to be an artist to create a TV display on wheels – just follow our step-by-step instructions to create your own.
Project details: remodelista.com
DIY Rustic Corner TV Stand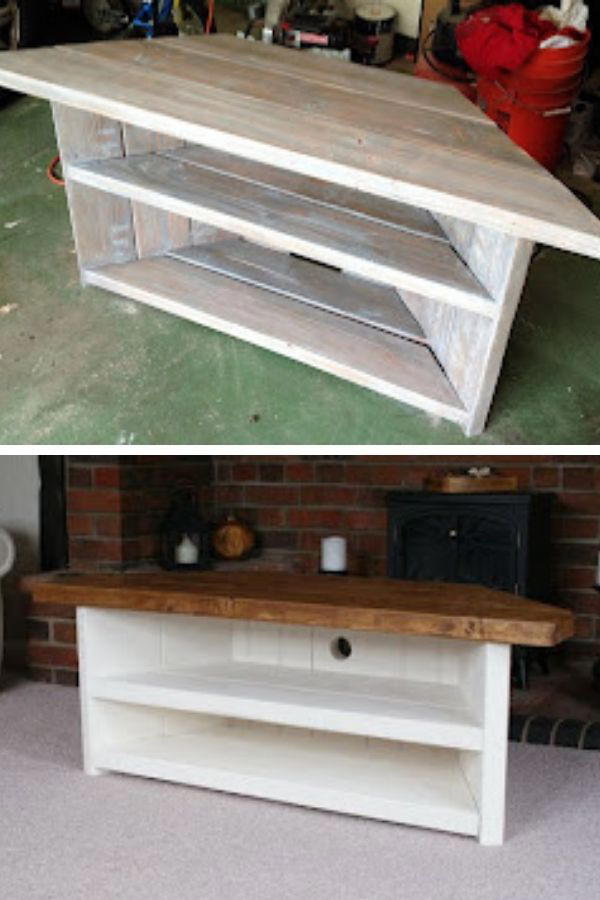 Now that you have your own DIY rustic corner TV stand, you will have the perfect centerpiece for your living room. With such an old-style look, no one will be able to tell that you made it yourself at home. The best part is that it will stand out among all the other furniture and decorations because of its unique look. In fact, it even goes so far as to remind some of the items found in antique malls! Many of today's home designers are looking for a rustic style to include in their creations.
Project details: mimiberrycreations.com
DIY Apothecary TV Stand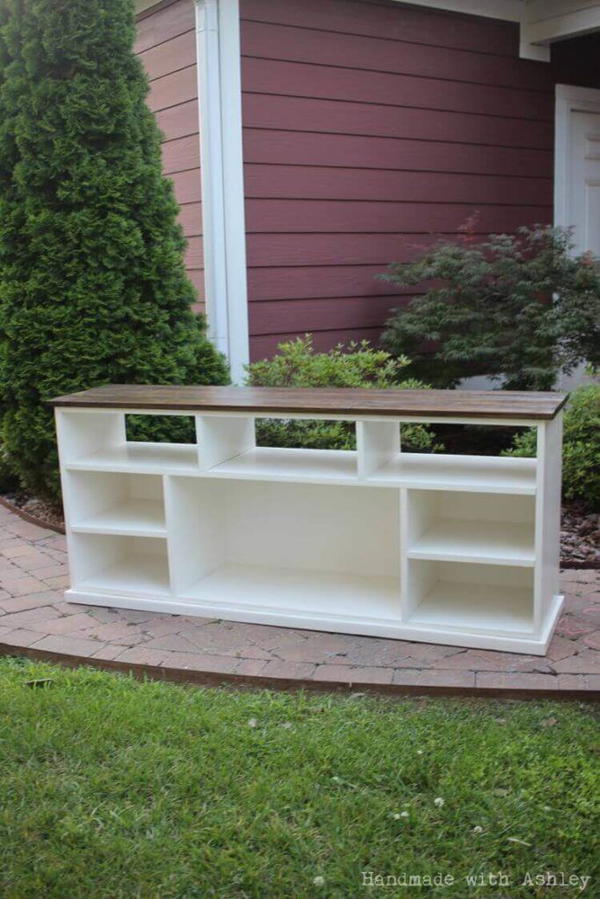 If you love to add a little bit of glamour, personality, and flair to things, the DIY Apothecary TV Stand is an ideal piece of accessories that'll add all of those to your home décor. The classic, yet modern TV stand is perfect for small apartments, yet it can also be used in ample living spaces. It comes with an apothecary-style middle compartment. This is where DIY magic happens, as you get to use a drill and build your own compartments to store whatever you need. Give your customers the best experience ever. Use this classic stand to create a warm and inviting space that's perfect for serving desserts, storing condiments, or displaying beverages.
Project details: ashleygrenon.com
DIY Stand With Shelving Unit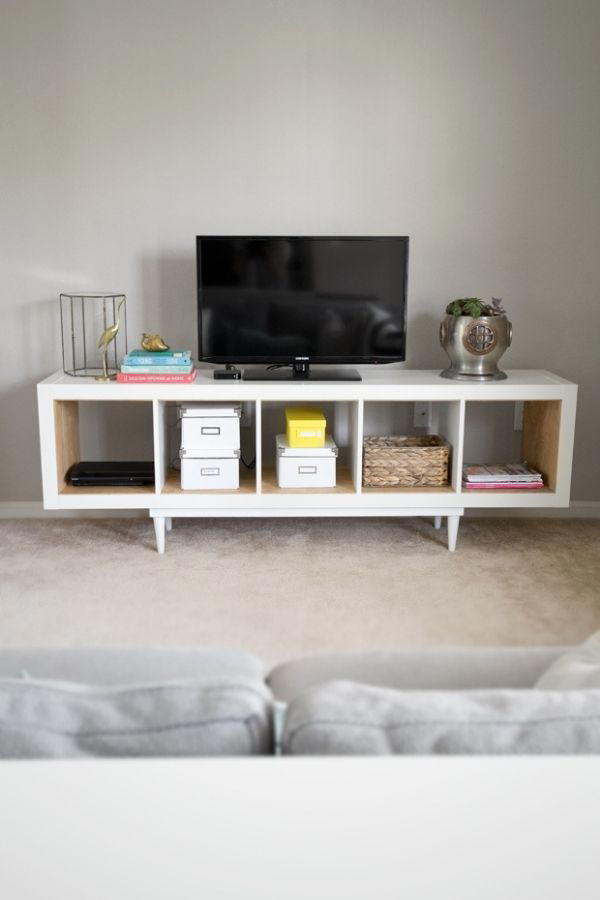 Building a TV stand from scratch can be a difficult and daunting task. With this guide on DIY furniture repurposing, you will be able to construct a high-quality TV stand with very little fuss. Since it relies on existing furniture pieces and materials, this project can be completed in a short amount of time, even if you are new to construction work.Repurposing furniture and creating new pieces out of disused materials is not for everyone. However, once you've started to dabble with it, you'll never want to stop. Today's guide will introduce you to the idea of how easy it is to change the look of your living room by creating a DIY standing unit underneath a shelving unit.
Project details: infarrantlycreative.net
DIY Sliding Door Modern Entertainment Center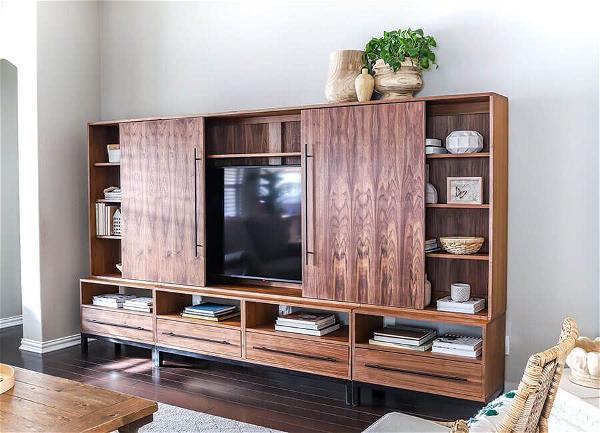 We will walk you through everything from beginning to end. First, we show you how to weld together the base for maximum stability. Next, you will see how we cut and measure for precision cutting of all other components and materials. Lastly, we take you through the assembly process with detailed images. Follow the step-by-step E-Book instructions and you can have this DIY sliding door entertainment center like ours on a weekend!Sliding mirror doors give a clean and elegant look to this modern entertainment center.
Project details: jenwoodhouse.com
DIY TV Lift Cabinet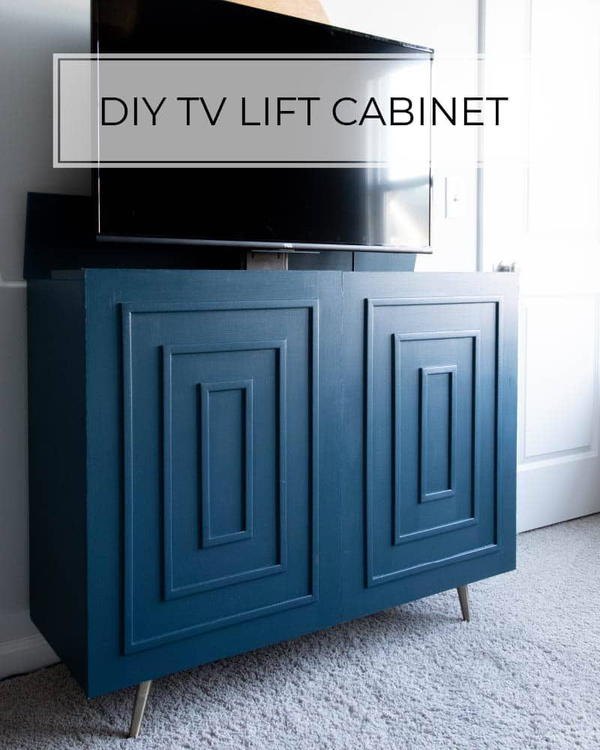 DIY TV Lift Cabinet is a cabinet designed for those who would like to hide their TV lift mechanism inside the cabinet itself. It has a faux back, storing the TV lift mechanism and the decorative façade of the television that stores your television placed in an opening. A soft cushion will be provided so that you can use the cabinet as a sofa table. Upgrade your living room with this simple DIY TV Lift Cabinet. This piece of solid wood furniture has a faux back that folds up to accommodate the pull-down lift mechanism and the TV. The front door slides up over the opening and locks into place for a neat and tidy look.
Project details: craftedbythehunts.com
Wooden Pallet TV Stand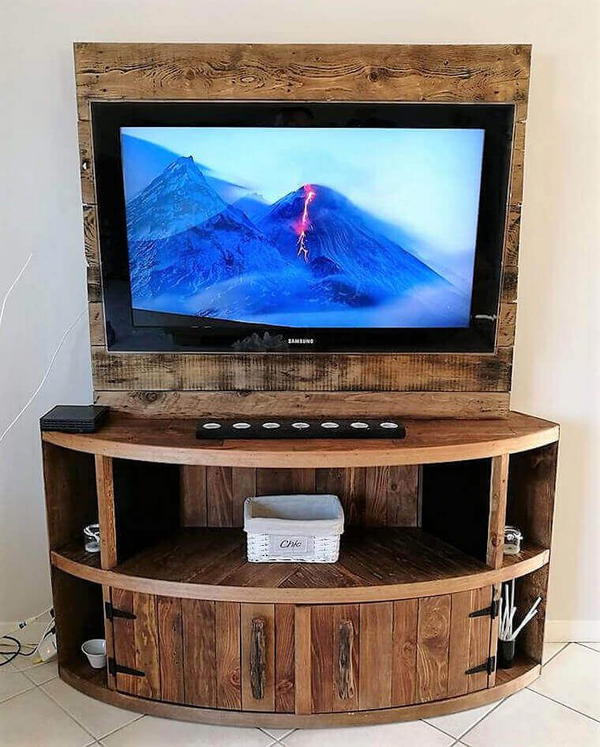 With the way our lives are today, you can never be too safe. This new wooden Pallet TV Stand should be a good lightning rod against any upcoming storms. Its curved counter provides a unique design that more than just gives a pretty face to your living room. It also functions as an actual stand where you can place your TV upon. We always stress how important it is to keep the wires hidden, which is why we provide a solution in the form of a back entryway with a wire management cover for them to go in. You'll have no problems at all hiding the cables. The best part about this piece is that it's made from recycled materials! This means there are half as many carbon emissions from it being produced into something usable. We're going green here people!
Project details: palletideas.info
Long Modern Entertainment Center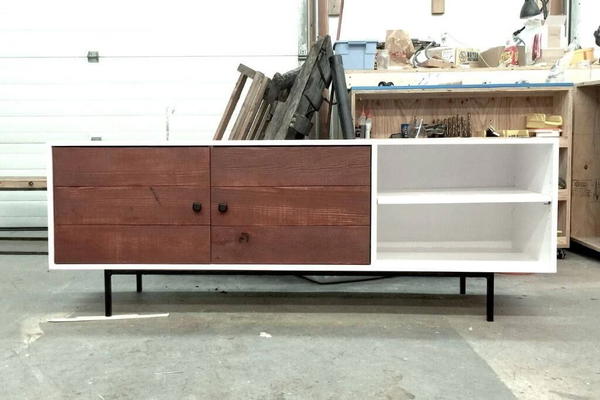 The double doors entertainment center will certainly improve the home presentation. This is a TV stand that fits well through small spaces and opens up with double doors. It is the perfect place to store a TV, a game console, or other electronic appliances you want to conceal from view. Made from cedar fence pickets, it is an interesting find.The focus of this piece is the large flat-screen TV. The wall mount sits flush to the entertainment center and offers adjustable swivel, height, and tilt. The TV's menu and cable hookup are clearly visible at eye level, so you can easily access everything without having to bend over or move the furniture. Hidden within the unit are a variety of shelves and drawers for storing DVDs, CDs, games and other components.
Project details: ana-white.com
Instructables' DIY TV Lift Cabinet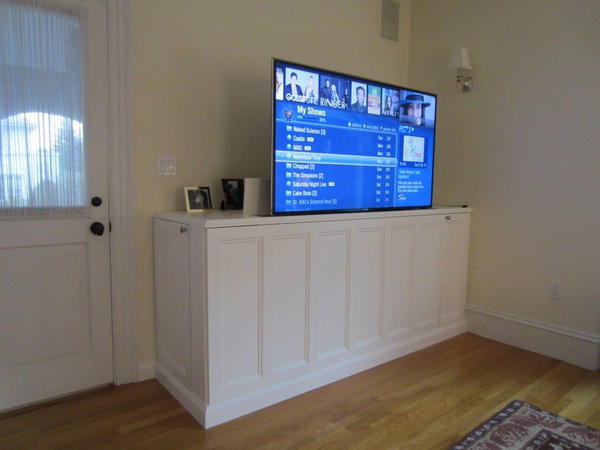 Secret compartments are always fun, and this DIY TV lift cabinet idea is certainly no exception. With the help of a little craftsmanship and some basic knowledge of power tools, you can build your own disguised media center in less than a day. This project demonstrates how to make a DIY TV Lift Cabinet. It's perfect for those of you who want to hide your bulky big screen TV and other stuff in a simple yet stylish way. This project is a really neat way to hide your TV and other entertainment gear. Not only does it look stylish, but it is also very functional.
Project details: instructables.com
Pottery Barn-Inspired TV Stand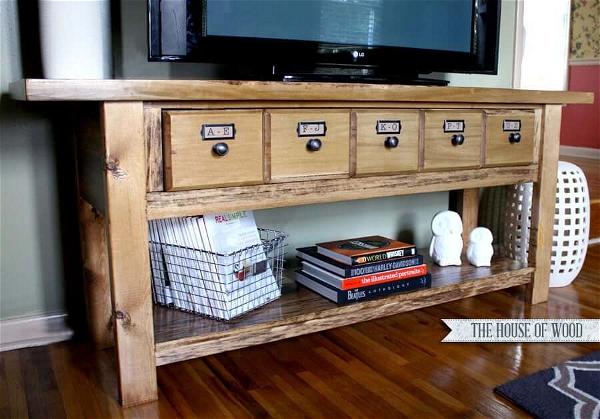 This TV stand is a Pottery Barn-Inspired Stand that has 2 layers for different storage needs. The design of the stand allows you to save space and gives you fast access to your things. It also can be used as a side stand for your couch, to provide a table for your drinks and snacks, or just as an additional shelf in your living room. With the Pottery Barn-inspired TV stand, you can store your TV, DVDs, and other accessories, as well as books. The lower layer can be a perfect place for placing bulky items like books. The upper layer has 5 drawers where you can organize your small accessories. The build is quite solid and sturdy.
Project details: jenwoodhouse.com
Sofia Clara's DIY TV Stand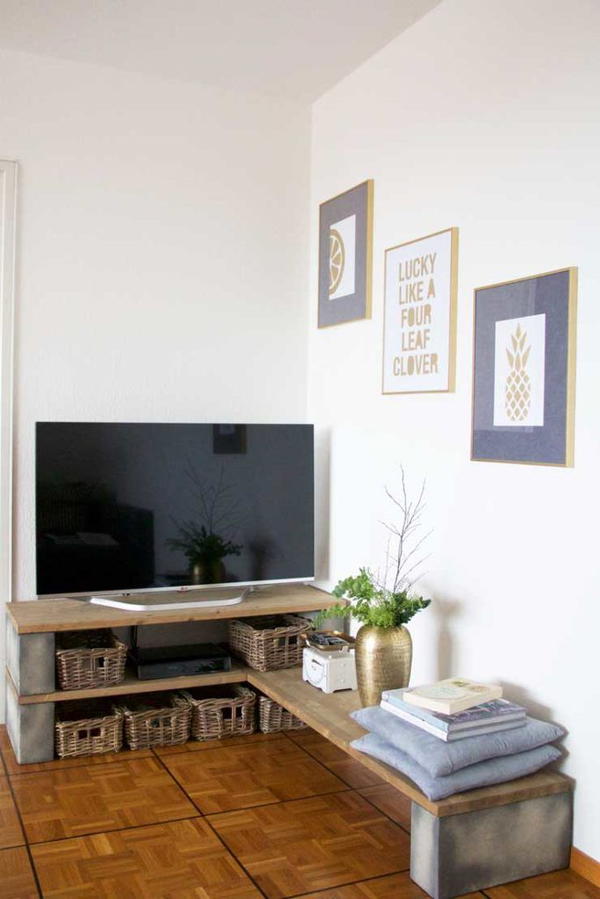 The Sofia Clara's DIY TV Stand is the best fit for any fan of minimalistic style. And if you're one of those people, who think that a TV stand should not be more than what it stands nowadays often take up a lot of room, but this one does not. It is simple to make, but so effective that it will fit perfectly into your living room. The minimalist design will look great in any corners actually needed, here's a great example of how to make one from 1 plywood board and 2 square blocks of stone.
Project details: sofiaclara.com
Dresser Turned TV Stand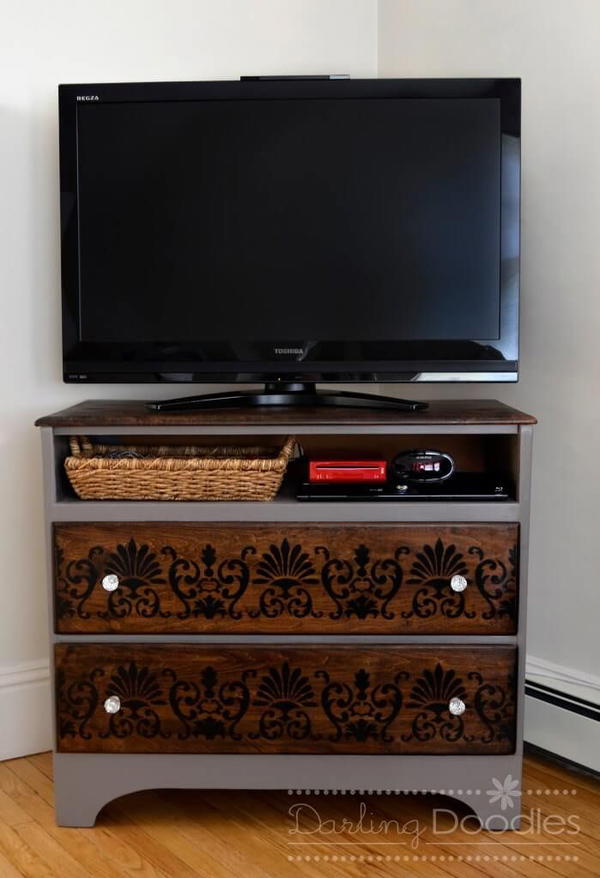 With just a few simple steps, you can convert an old dresser into a TV stand with built-in storage compartments. This project will be easy as long as you have some basic carpentry skills. In the end, you'll have yourself a chic-looking stand that perfectly complements your home decor. Most old dressers can be turned into a TV stand with a little bit of work. Just take the top drawer off and build a base beneath it. After sanding down the whole thing, give it good staining.
Project details: darlingdoodlesdesign.com
DIY Pipe TV Stand – Rustic And Modern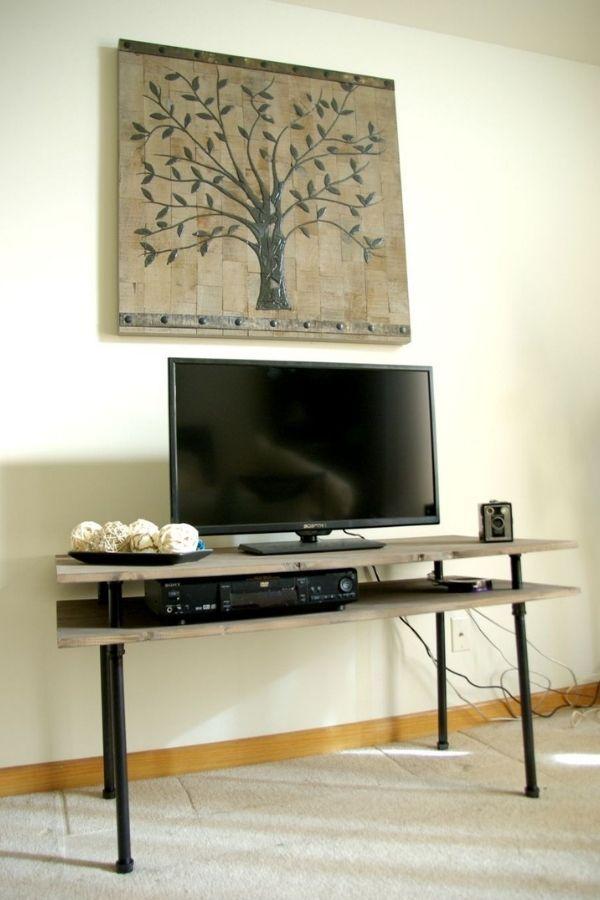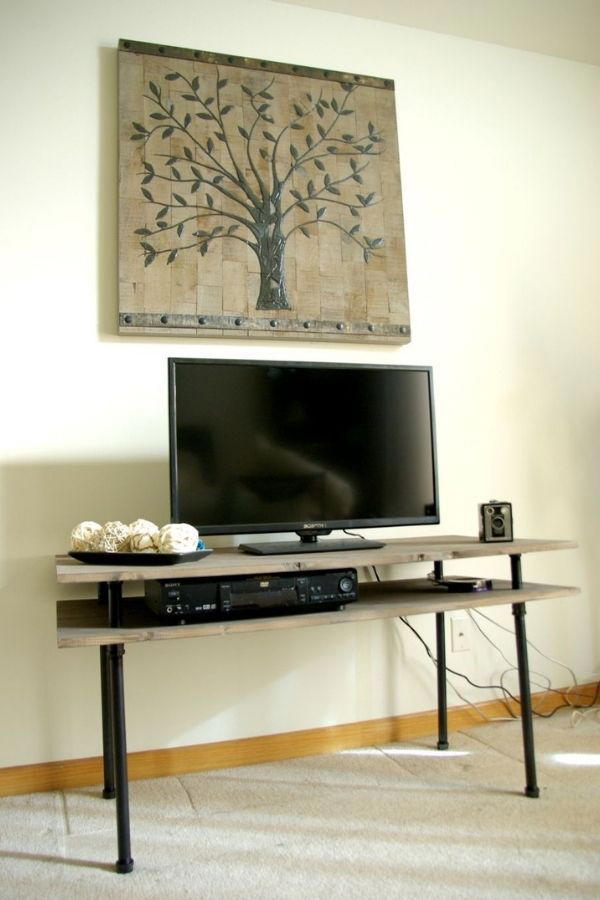 Tired of those big, bulky TV stands that seem to get in the way more than they actually serve their purpose? The DIY Pipe TV Stand is an awesome project that will give you a modern industrial look with an added touch of vintage rustic charm. This stand is unique as it uses the combination of pipes and wood to create a stunning piece for one of your most prized possessions: the TV.
The DIY pipe TV stand with galvanized and raw pipes, it's completely steel. It has a modern industrial look that is able to make any room rustic, having a TV stand for the contemporary family room.
Project details: homedit.com
DIY Makeover Dresser Into TV Stand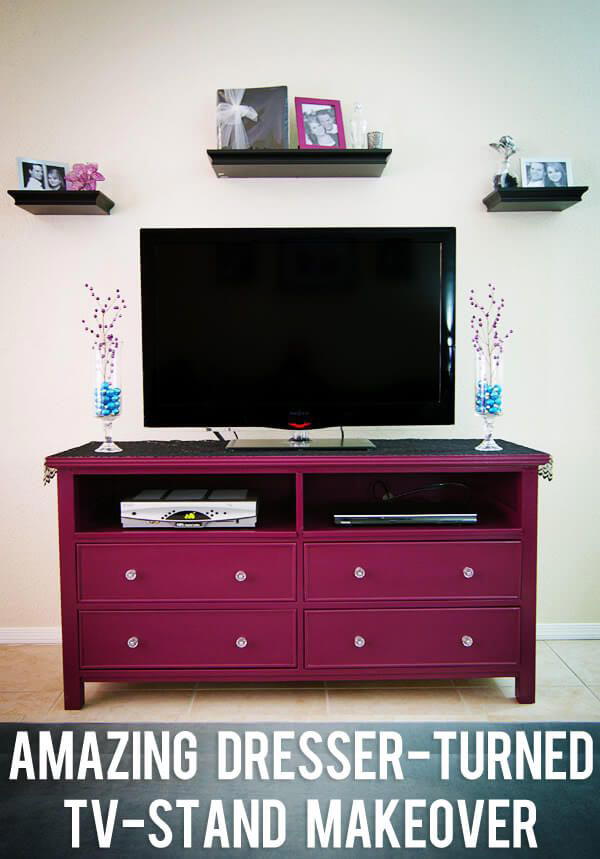 Turn that old wooden dresser or chest into a TV stand. The process is very similar to making a new piece of furniture from scratch, just quicker. Your dresser will be as solid and strong as the day it was new! This is a DIY dresser into TV Stand idea. It comes in handy especially if you have a space problem. The most important thing to do before building things from scratch is to make sure that the tube structure of your furniture can hold enough weight without breaking easily. The next step is to remove the drawers from the dresser. You need to make 5 holes for the cables and 4 holes for the power switch and electric outlets. The rest will be up to your personal preferences and thinking about how it's needed.
Project details: howdoesshe.com
Lazy Guy's Media Console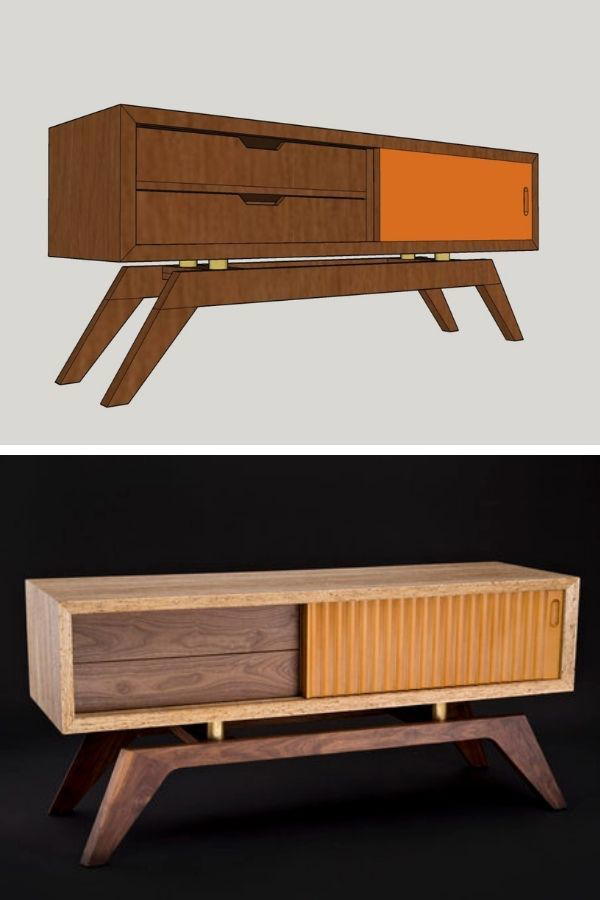 This is a great TV stand for the living room. It's simple, elegant, and modern. The legs are long enough to hold a large TV and they look sleek. The carcass has 2 drawers and sliding doors that hide your media components away and keep them out of sight. This stand fits perfectly with every style; it goes well with any type of furniture in any part of the house. Great for someone who is looking for an affordable and unique midcentury media console. The whole stand is separated into 2 main parts, the carcass, and the legs. They are joined together by 2 seemingly slim connectors, but they are surprisingly strong.
Project details: lazyguydiy.com
Kreg's DIY X-Leg TV Stand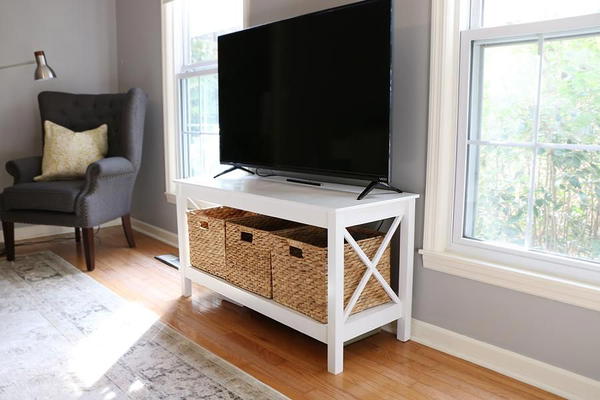 The stylish, modern TV Stand is a nice addition to any living room. It is stylish and narrow enough to fit properly behind sofas or in a corner. Its interesting X-shape supports are eye-catching, allowing it to act as a pseudo space divider. With its clean lines, lasting construction and quality materials, this TV stand will also be a practical addition to any living room.This contemporary TV stand creates intrigue and joy right where you need it. Its unique X-shape supports are interesting, while its open spaces keep things airy and mood-boosting.
Project details: learn.kregtool.com
Mid-Century Media Console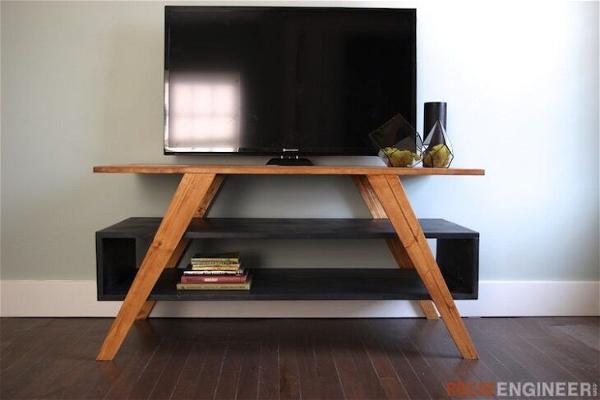 If you are looking for a mid-century media console, this is the piece of furniture for you. It features a wooden shelf that is floating in front of an angled and tapered stand, both finished in light wood color and with a black shelf. This simple combination looks modern and stylish. Bringing up the retro feel is this Mid-Century Media Console. This stand can be used to place your television, but it also has a shelf for your VCR, DVD player, and stereo system.
Project details: rogueengineer.com
Farmhouse Media Cabinet
Revamp your living room with one of these farmhouse-style media cabinets, which is the ultimate combination of rustic and modern. The doors follow old-school barn doors, but the rest is pure and simple white. Pop your display on top and get ready to enjoy your favorite shows! Farmhouse Media Cabinet has simplistic beauty that is perfect for country-style decor. Its look is made all the more inviting with the small drawers and open cubbies. This project might be a bit more challenging than you would expect. However, the instructions are very detailed and clear enough to complete them.
Project details: learn.kregtool.com
DIY TV Display From The White Cottage Farm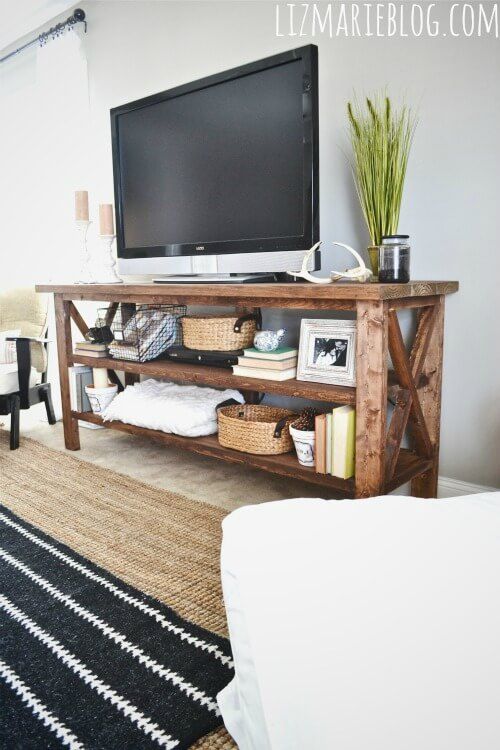 If you love the idea of displaying your favorite objects on shelves but want to avoid a clunky, enclosed TV cabinet, then you'll want to try this design. It takes the tried-and-true U-shape of many a weathered farm table and applies it to a television stand. Be sure to wait until the second assembly step before cutting any parts, so that you can make sure all vertical parts are evenly spaced.No no door, no back. Have you always wanted a TV stand where you could see your entire entertainment center? I know I have! This stand is built for viewing.
Project details: thewhitecottagefarm.com
DIY TV Console From Two Feet First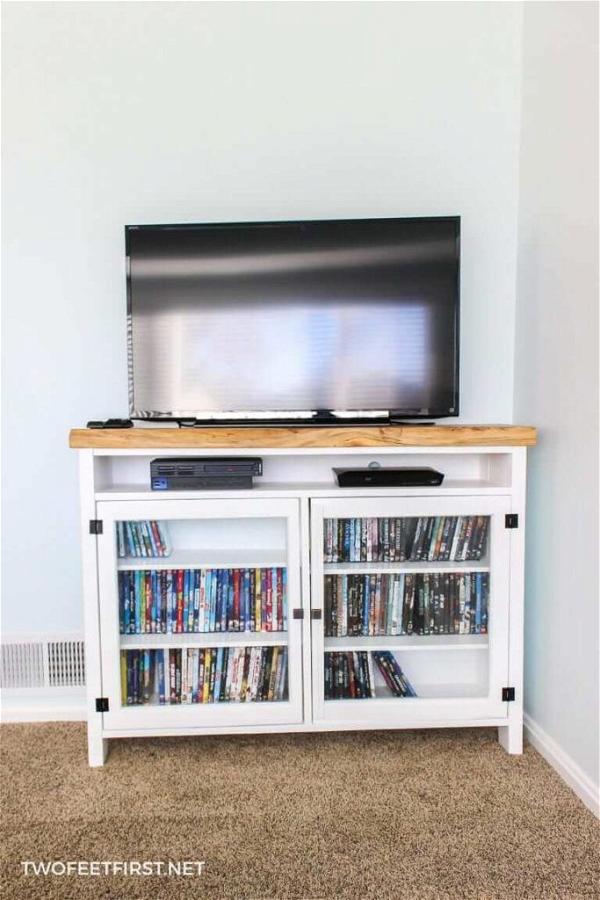 A DIY TV Console made from two separate pieces of furniture which is the size just right for us to be placed in the vestibule without cluttering the room. The form of this stand is simple, but we used a glass door to see what was there inside. The 2 glass doors also bring more brightness into this stand so that it can also have one more feature, making our room a bit livelier. In this project, we're going to create a TV console that doubles as an entertainment center.
project details: twofeetfirst.net
Family Handyman's DIY TV Stand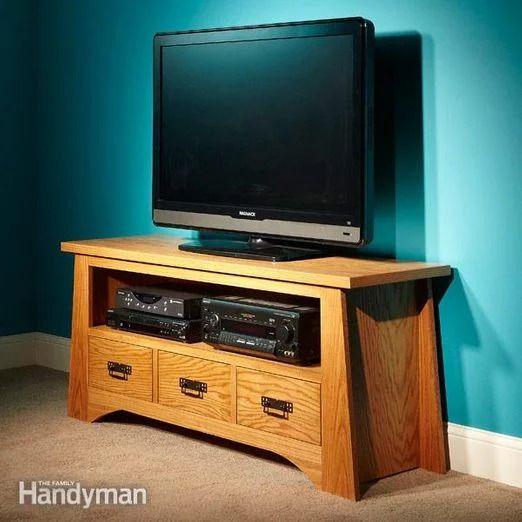 Doing it yourself will save you time as well as money. This simple-to-build DIY TV stand is based on a design that we recently featured here. The same sturdy wooden frame is on display here, but with cleverly curved lower rails. You can build the TV stand on a weekend, and if you do crafty things around the house often, you'll already have most of the tools required to complete it. This project takes you through designing, cutting, and assembling the pieces, but it isn't complicated. The curved rear rails add an elegant touch to the overall design too.
Project details: familyhandyman.com
Reclaimed Wood TV Stand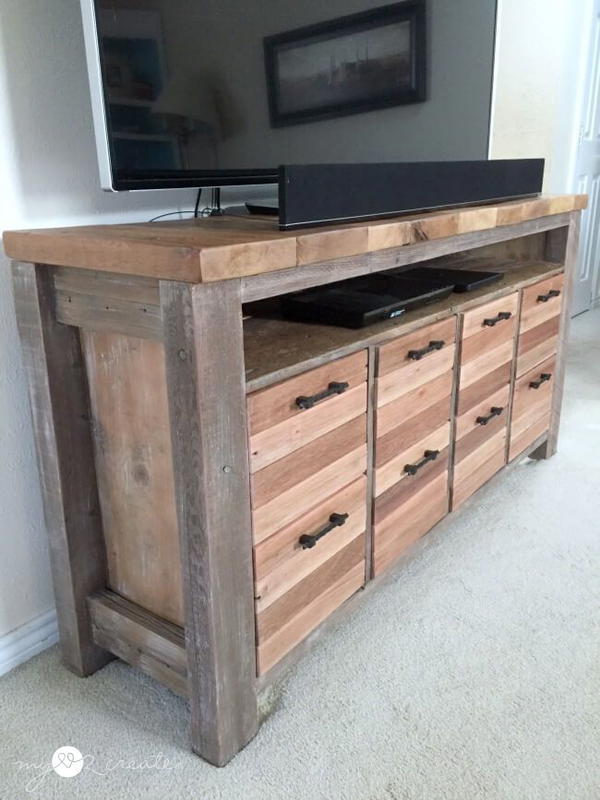 No matter how many times you've entered the living room to find yourself overcome with worry that your TV will fall, it finally happens. Your dog paws at it and lo and behold, there goes your heavy, expensive TV into the ground. No more worries with this reclaimed wood TV Stand. This gorgeous stand was designed to provide you with the best TV location. Its reclaimed wood will make it fit in any room, be it modern or more rustic. With this product, your TV-watching experience will be one of the most entertaining moments of the day.
Project details: mylove2create.com
DIY Floating TV Stand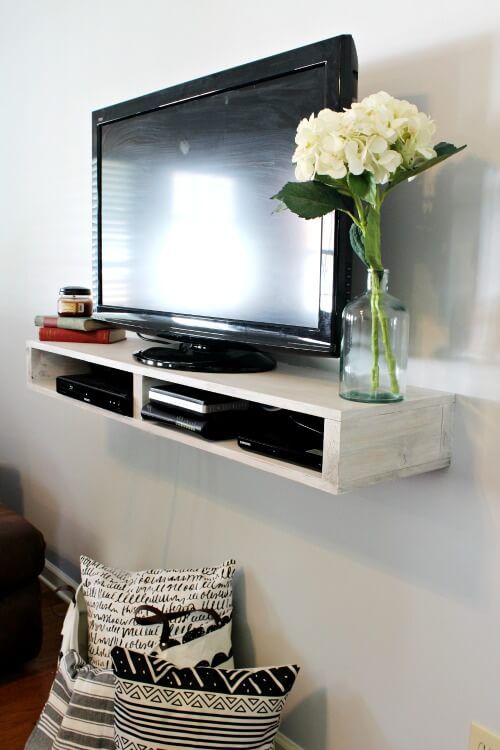 Have you ever wondered how people get the legs under their TV stands just right? They don't. We have all dealt with the impossible task of trying to vacuum those dust bunnies and cobwebs that seem to be hiding everywhere. It always seems that the opening underneath our TV stand is just not wide enough to get in there and do it right. Well, we found a solution to this problem. It is a DIY floating TV stand. There are instructions on how you can build one by simply utilizing a ¼ plywood sheet and 2×4. You will need some basic tools like a saw and drill, but if you know how to use these, building a floating TV stand will be easy for you!
Project details: woodshopdiaries.com
Turned Leg Media Console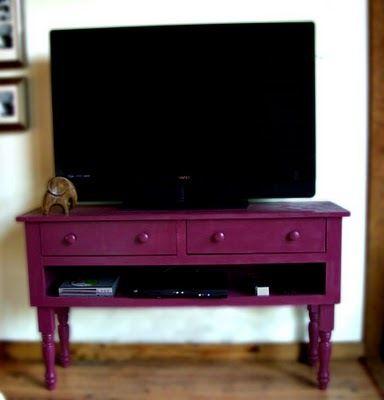 The Turned Leg Media Console is a piece of furniture that is unique in character. It features an elegant contrast between its sleek, contemporary design and the warmth it exudes through its rich finish. This console can stand the test of time and serve as an essential component to your living room, bedroom, or entertainment area for years to come. The Turned Leg Media Console is shaped like an hourglass and it has an elaborate base that makes the piece truly stand out.
Project details: ana-white.com
DIY LED TV Stand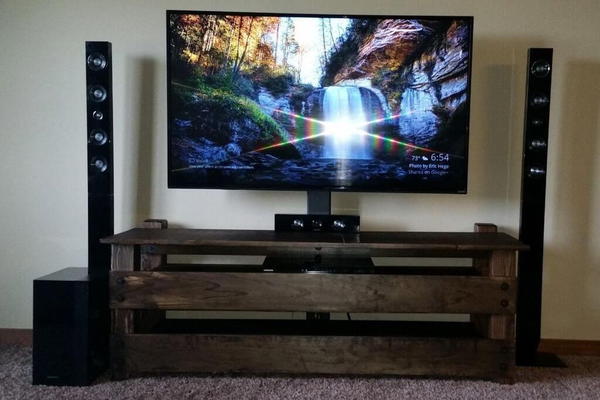 The DIY LED TV stand is a simple product designed to solve a problem. There are many high-quality stands on the market, but they often fall short in their eagerness to make a product appealing. Instead of designing something that looks good, forget about it and make something that just works.
if you want to build this stand for your TV, the first thing you need to prepare is an appropriate plan. For example, you may use some free wooden box plans as a reference if you don't have an idea of how to construct this stand from scratch. It is highly recommended that you add a cushion to prevent your high-cost TV from getting damaged.
Project details: imgur.com
Pallet Entertainment Center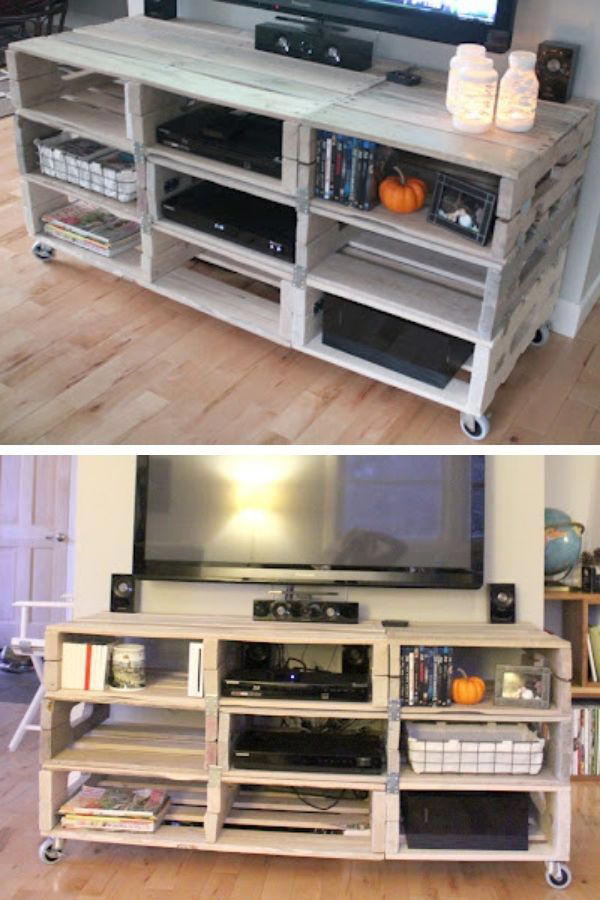 The Pallet Entertainment Center is simple to assemble, as you only have to clamp the square pallets together. The casters make it easy to move the center if you need them. It's a design that will work perfectly in any room of your house, or in an office. A pallet entertainment center is customized for saving space and combining style with substance. Don't let your toddlers grab your remote control ever again, simply build a pallet entertainment center to place it on. A perfect fit in any environment, your pallet entertainment center will easily blend in even with the discoloring of time.
Project details: theforgestyle.blogspot.com
Floating TV Stand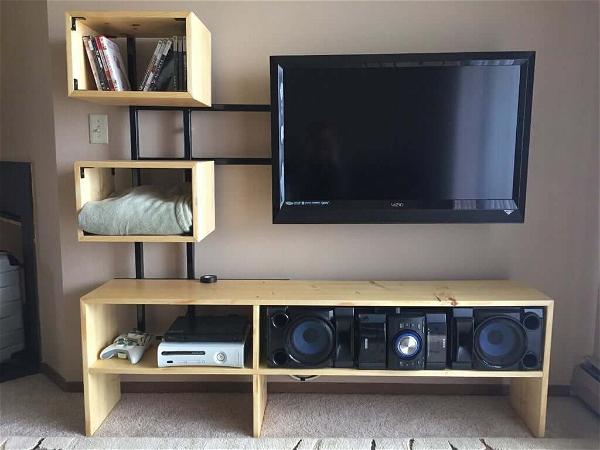 A floating TV stand is a perfect solution to your messy cables. Tons of storage, vents to keep your electronics cool, and it'll look good in any room. Perfect for mounting on any wall, the floating TV stand is great for organizing your living room. It has a durable steel frame and stacks up to three shelves that are perfect for holding up your televisions and other valuables. Each shelf also has cutouts designed to hide any electrical cords coming out of your device. The shelves and caps have a white finish, which complements any television.
Project details: instructables.com
DIY Easel TV Stand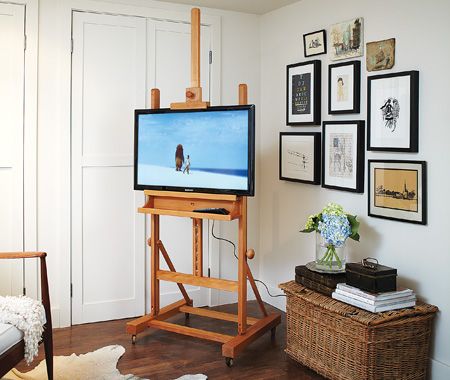 This DIY easel TV stand is a thoughtful recycling idea, but if you don't have a woodworking skill, don't worry. You can find them at an art store or online, as well. Glass mounts make TV sets easy to display and adjust without any fuss. Not only that, they help hide cables while providing more ventilation for your entertainment center. This type of TV bracket adds a lot of character to the piece and serves as an eye-catching way to make renovations in your home or office.
Project details: houseandhome.com
Fireplace DIY TV Stand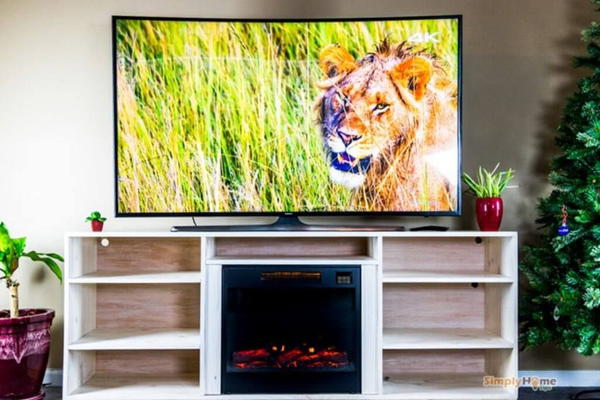 This fireplace stand is an optional DIY project you can use with the basic TV stand. It will surely create a different ambiance in your room and make it more conducive. As it provides you with several places to put the stored items, this project will also make your space tidier and easy to access whenever you want.
Even though fireplaces do not serve big purposes in terms of heating, they are much more helpful to add coziness and warmth during the cold winter season. With its detailed dimensions and complete blueprints, the DIY fireplace TV stand is suitable for your needs.
Project details: simplyhometips.com
Industrial TV Console Table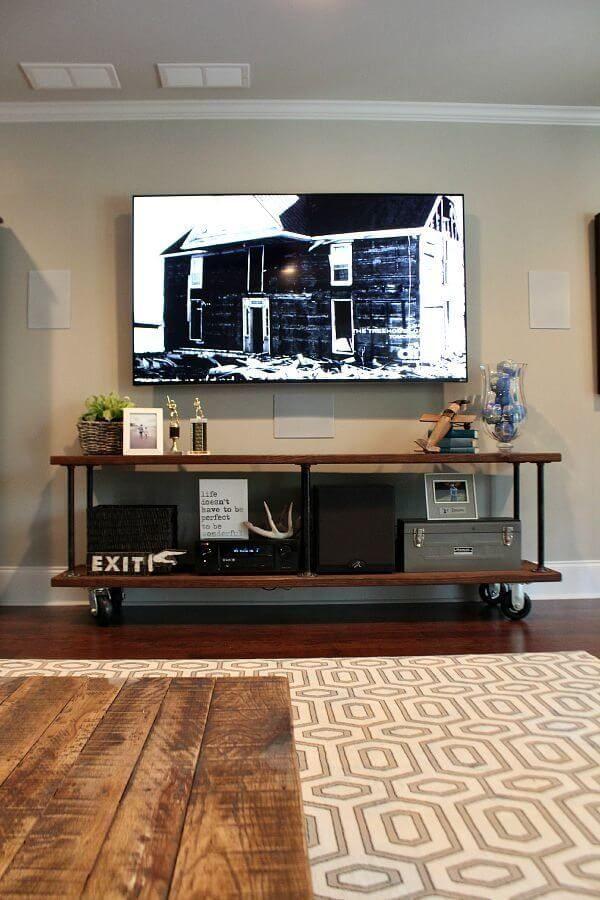 Do you love your flat-screen TV, but long for something to hold the stereo components? Maybe you want an entertainment center to store DVDs, CDs and video games? This industrial TV console table can bring it all together in one area. Besides this function, it is beautiful stand-alone piece of furniture for any family room or media room. The open shelf allows you to arrange photo albums and books with ease. For portability, the feet are equipped with wheels so you can move this piece of furniture when needed. It will remind you of a train car table.
Project details: refreshrestyle.com
Antiqued Media Stand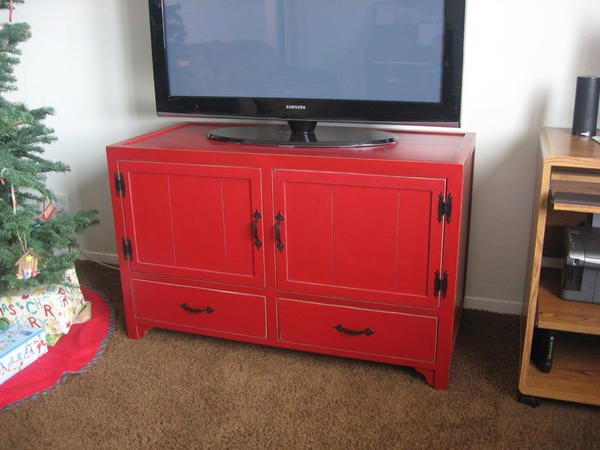 Our antiqued media stand is the perfect addition to any home. We designed this media cabinet with solid wood posts and an antiqued finish so that it looks like a hand-me-down from grandma. This flat-pack furniture item fits in your living room, bedroom, or workspace so you can place your TV and media players on top and keep your favorite movies, books, records, or games inside. It's even safe for storing most electronics!
Project details: instructables.com
Barn Door Media Console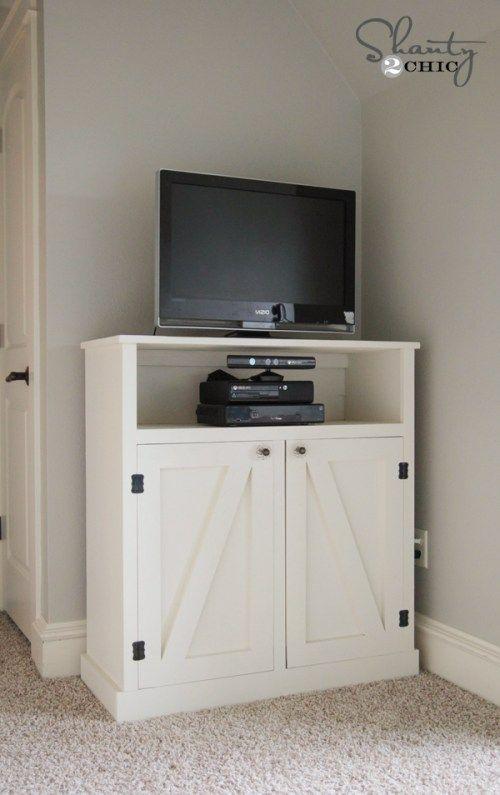 This TV stand brings your whole viewing experience to a whole new level. The 2 barn-style doors are designed as the showcase, which are ideal to show off your prized collections or decorations. The barn door design gives your living room another dimension of its own and helps separate it from other similar living rooms.The Barn Door Media Stand is the perfect TV stand for you to hold your flat screen. The barn-style doors on top complete the country/farmhouse feel of the piece and leave plenty of room for media devices and accessories.
Project details: shanty-2-chic.com
Apothecary TV Console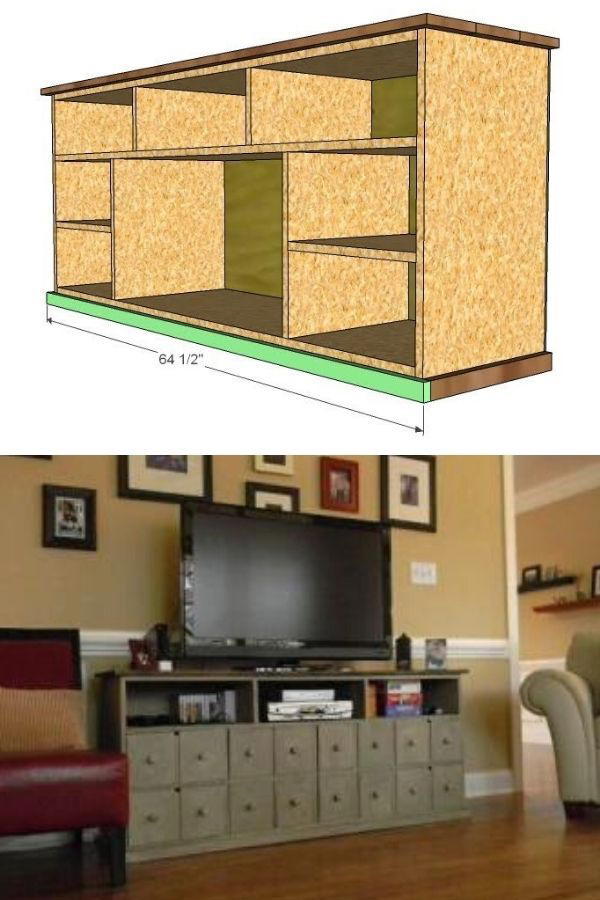 Drawer space is a must for any TV console, but many Apothecary-style furniture pieces don't have enough. This TV stand solves the issue by replacing the top row of drawers with an open cubby area that can hold electronics, DVD players, and more. This hack will give you a TV stand that is a bit more versatile than most Apothecary-style stands. It's also slightly smaller and therefore can work in spaces that are a bit tighter.
Project details: ana-white.com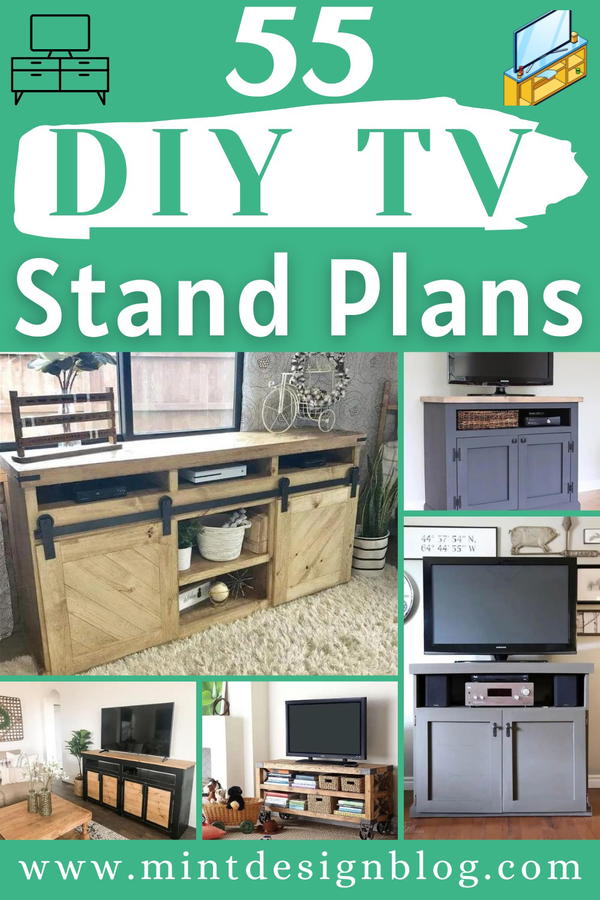 See Other Projects