One of the best parts about getting into quilting is that you're never too advanced to start a project. Even if you've been quilting for years, there's something magical about starting small and working your way up. Mini quilts take this concept to heart: they're the perfect size for dainty touch-ups, decorating a guest room, or making a set of cozies for your favorite teacups. Here are some unique and free mini quilt patterns (and accompanying tutorials) that are worth checking out for those looking to get started.
How To Make A Mini Quilt Pattern
Are you looking for some new projects to sew over the holidays? Look no further! We've rounded up some free mini quilt patterns that are simple, cute, and easily sewn. The best part of these patterns is that they make great gifts. You could sew one up in an afternoon and present it to a friend or family member as a gift or hang it on your wall as decoration. Not only are they quick, but they're also versatile! Some of these patterns are meant to be sewn using fabric scraps, so you can get creative with what you have on hand.
Benefits of Free Mini Quilt Patterns
You can make a mini quilt in just a day or two, so there is no need to spend weeks on a large project. The finished quilts look beautiful, but it is still possible to hand-stitch them if you don't have access to a sewing machine.
There are many advantages to making mini quilts:
You can use scraps of fabric which means that you don't need to buy expensive fabrics;
Mini quilts are perfect for beginners because they are easy and fun;
You can make several mini quilts at once so that you always have one ready to give away as a gift;
Nine Patch Mini Quilt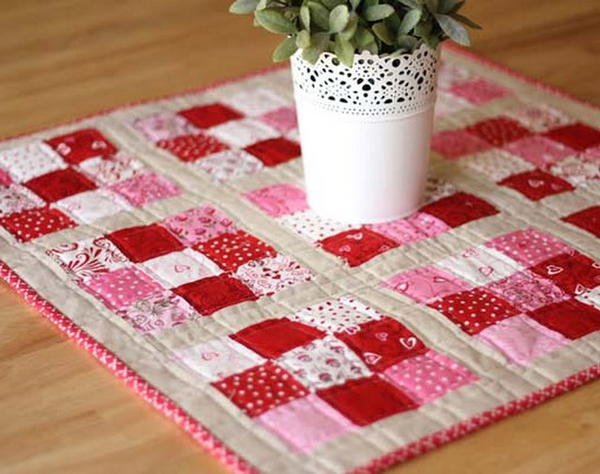 Who can resist the bright colours and happy shapes of this Nine Patch (mini) Quilt? It's an ideal project for all those fabric scraps you've accumulated, allowing you to make a cheerful set of squares that are fun to create and make any decor bright. The Quilt is a perfect gift idea, so don't forget to make one for yourself too! You can make the Quilt in the afternoon, making it a great weekend project! This Nine Patch Mini Quilt will be a piece of home decor you can enjoy for years to come.
Rainbow Chevron Mini Quilt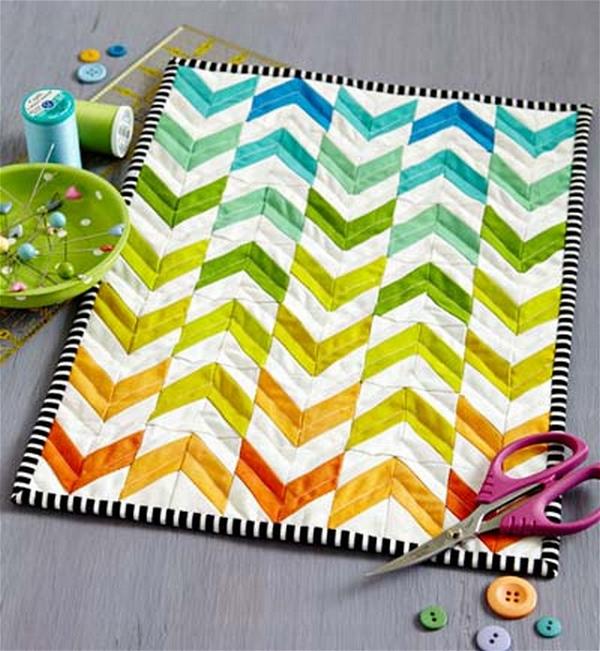 Bring a little bit of rainbow magic into your home with this rainbow mini quilt! The chevron stripes are just gorgeous, and the plain white sections between each colour give the illusion that they're moving across the quilt. The contrast between them creates an illusion that the chevron stripes are moving, making this a fun way to bring more depth to your decorating style. The perfect piece to display in a nursery or on a guest bed.
Shoo Fly Miniatures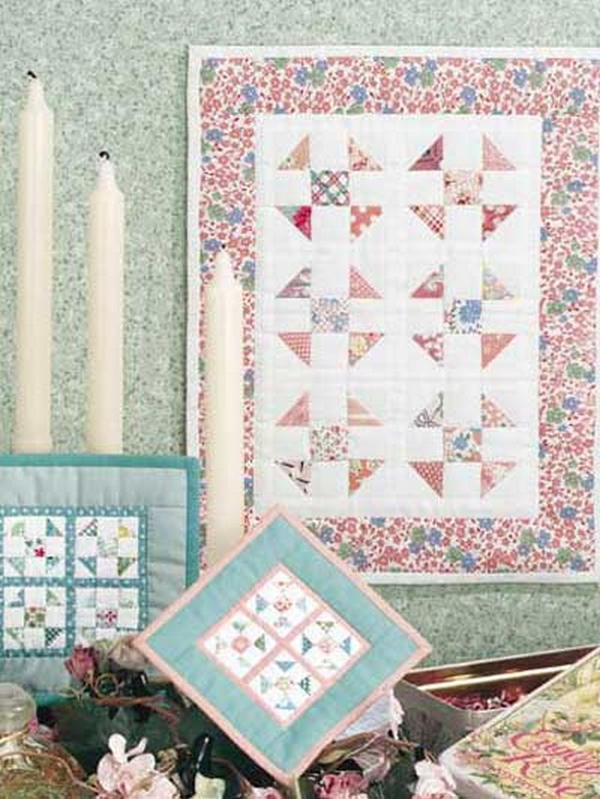 The Shoo Fly Miniatures quilt pattern is a great way to make three different size ornaments with a similar feel. They all have points around the corners, making this pattern versatile and fun. This mini quilt pattern will help you get bigger blocks in your seasonal decorating effort and make it easy to switch things up every season while still getting a fresh look in your home. Happy sewing! And remember, don't forget about the main ingredient: patience. Enjoy the process, and a great result is sure to follow.
Get the pattern at freepatterns.com
Rainbow Mini Quilt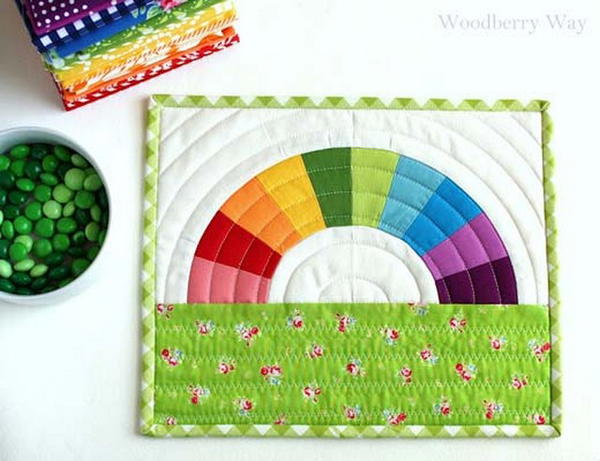 St. Patrick's Day is one of the most festive celebrations in the world, and nothing makes it feel more celebratory than a rainbow. Here's the perfect way to bring that cheerful feeling into your home with this mini quilt! The rainbow glows in the sunlight and lives in the heart of every child. Now it's time to bring that magic into your home with this colorful Rainbow Mini Quilt. This item makes a great gift for those celebrating St. Patrick's Day or simply lovers of color!
by Woodberryway
You can also see: DIY Baby Quilt Patterns 
St Patrick's Mini Quilt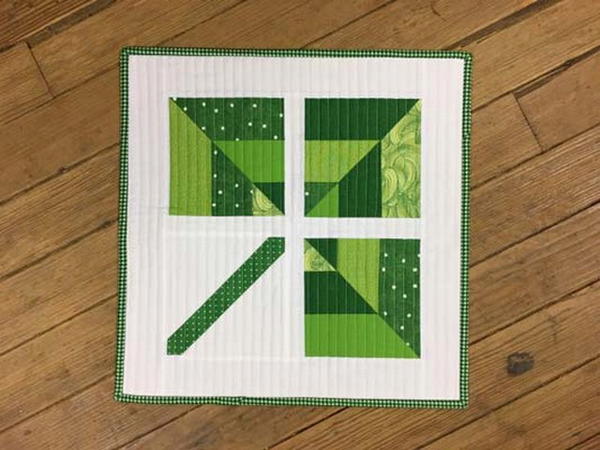 This year, celebrate St. Patrick's Day with a splash of luck and thistle. This mini quilt pattern for beginners is so simple to make that you can turn it into a fun craft day with friends. This is another great St. Patrick's day pattern, especially if you have kids who love to dress up and pretend they're leprechauns. This mini quilt would go perfectly with the previous pattern for a table centrepiece or perhaps even as wall art to bring a touch of luck and Irish charm into your home.
Ships And Sails Mini Art Quilt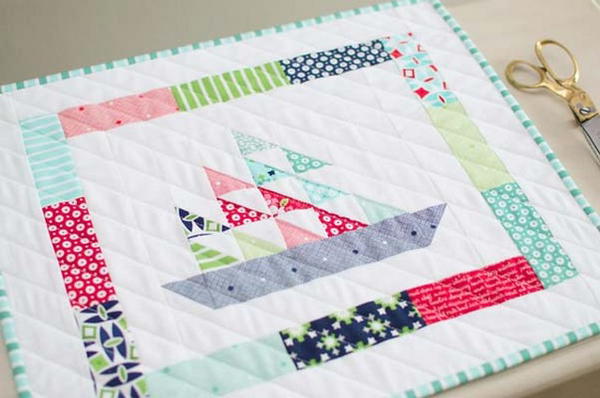 Sail away into the sunset with this Ships and Sails mini-art quilt. Its 'patchwork' design is a fun spin on classic quilts, but its cotton fabric is made for maritime enthusiasts who love boats and pirates. The heart of any great pirate ship is the sails, so use patchwork style to create a vibrant red and orange design to match the bold colours on the sails. Whether setting sail for adventure or cruising the open seas, this patchwork quilt will keep you warm and cosy.
Classic Amish Diamond Quilt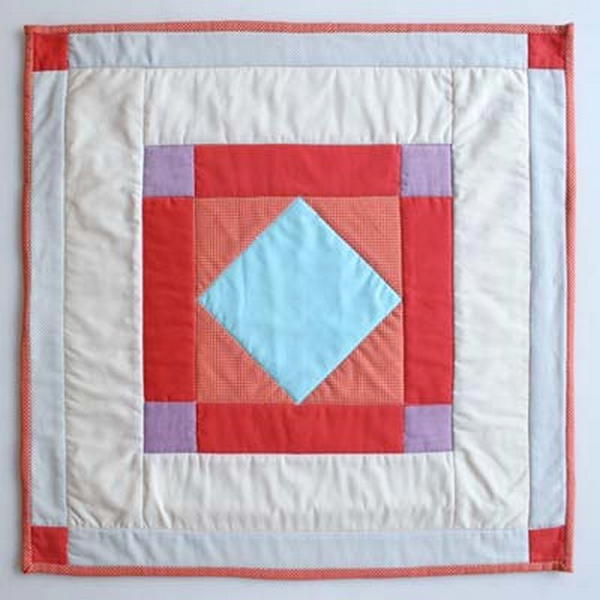 If you love classic Amish style and old-school quilt patterns, then this Amish Diamond Quilt is perfect for you. With its floral pattern and modern prints, this classic antique quilt will add warmth and comfort to your home. It features an all-over diamond pattern in an assortment of solid colours, giving it a modern touch. The gold metal frame on the back provides added support to be hung on a wall without any problem.
by Purlsoho
Dresden Plate Mini Quilt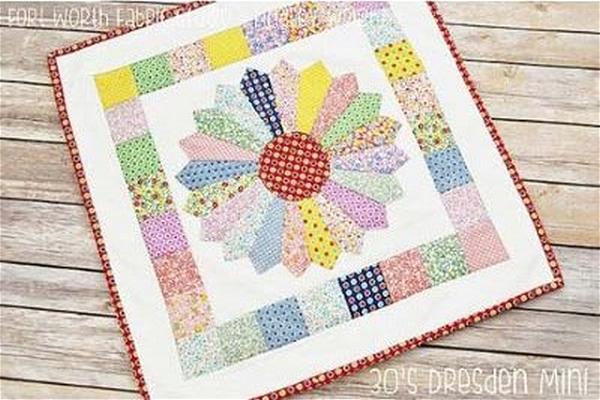 It's time to brighten your home with a beautiful and cheerful Dresden Plate Mini Quilt! This soft patchwork quilt has a gorgeous centre pattern that brings joy to anyone's room. It looks especially lovely, on a bed but can also be great as a throw or wall hanging. This Dresden Plate Mini Quilt is the perfect project for a beginner or intermediate quilter. Follow the easy step-by-step tutorial and add some inspiration to your collection of patchwork quilts.
Rainbow Dresden Plate Mini Quilt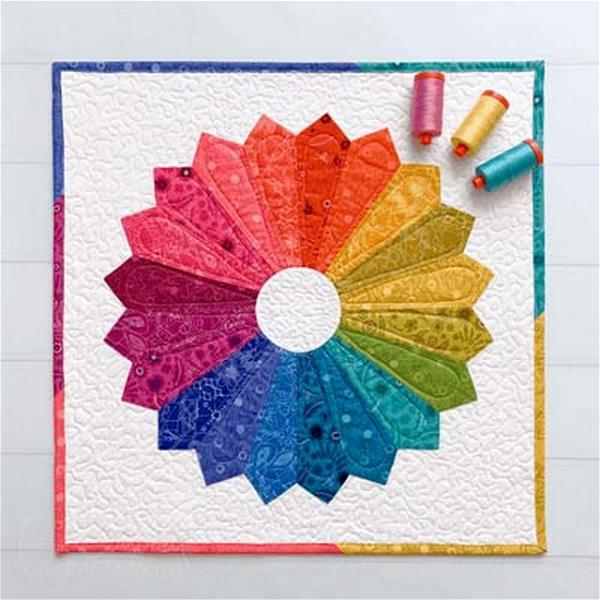 This rainbow quilt is made of many little Dresden plates. It's fun to make and a nice change from most traditional patchwork quilts. This mini quilt pattern is perfect for using scraps from your stash to make a one-of-a-kind throw pillow or wall accent. The Dresden plate design in this quilt looks great with a white background, and the craft square saver ruler is used to cut all the pieces quickly. Make it any size with coordinating fabrics that express your unique style.
Circle Of Fun Delight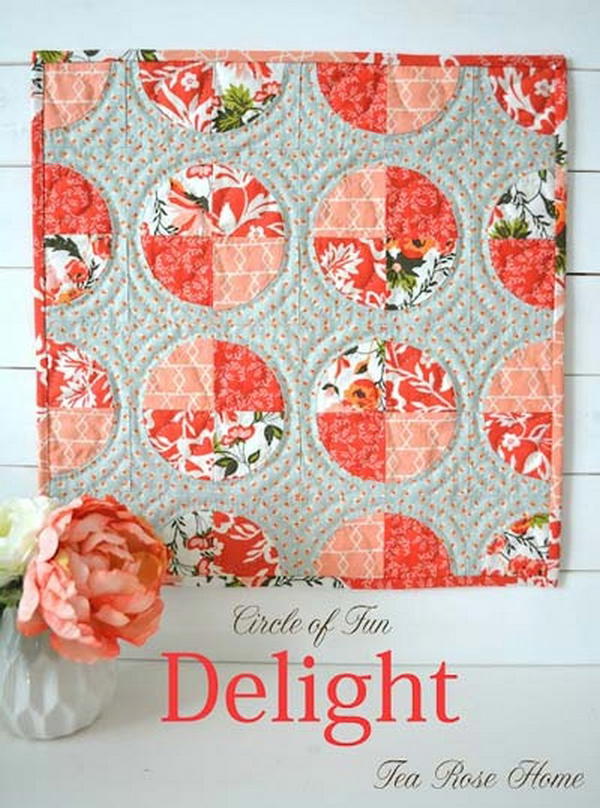 Circle Of Fun Delight is a fun and exciting project for any quilter who wants to try something different. Or, if you want to make a circle of the fun quilt that gives off an old-fashioned feeling, this pattern is just right. Get a fresh and modern twist on the traditional pieced quilt in this Circle of the Fun mini quilt. It features quarter-circles, semicircles, and full circles, all coming together to create a fun-filled project that looks like you spent much more time on it than you did.
by Tearosehome
Mini Scrap Quilt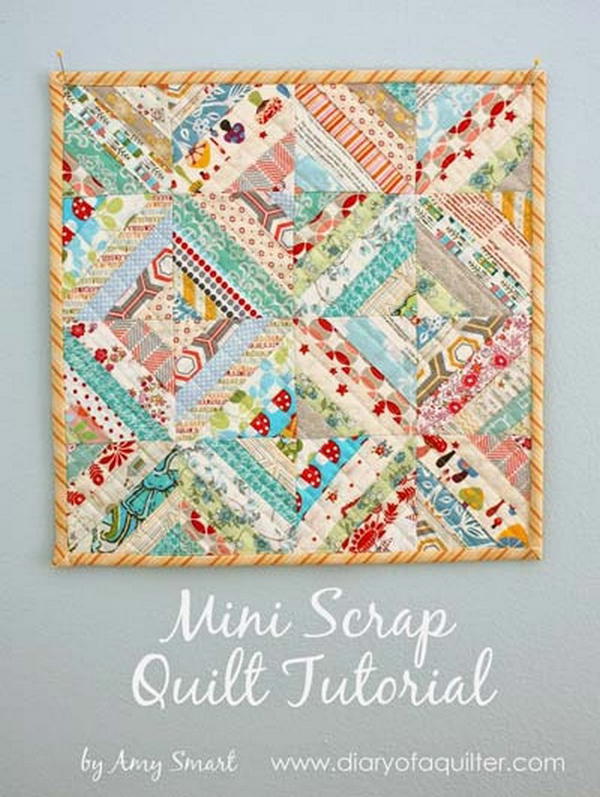 Use the scraps in your fabric stash to create this colourful mini scrap quilt. The different fabrics provide a fun new twist to an old classic - the patch pattern. This quilt features a modern take on the traditional scrap quilt with bias-cut fabrics for extra depth and movement and a unique edge treatment created by cutting out seams along the binding. This unique scrap quilt pattern uses fabric scraps cut on the bias. The final look is infused with a beautiful depth and vibrancy.
Tutorial at Flamingotoes
Mini Christmas tree quilt
This mini Christmas tree quilt is the perfect addition to your holiday decor! Featuring a green frame and eggshell background, this quilt comes with an easy-to-follow pattern for the pine trees. Mount your tree on a wall or hang it from your front door, but be sure to keep some presents nearby—this one doesn't come with any! Made of cotton fabric, it will be easy to machine-wash when it's time to freshen up after the holidays.
by JordanFabrics on YT
Get the pattern HERE
Flying Geese Mini Quilt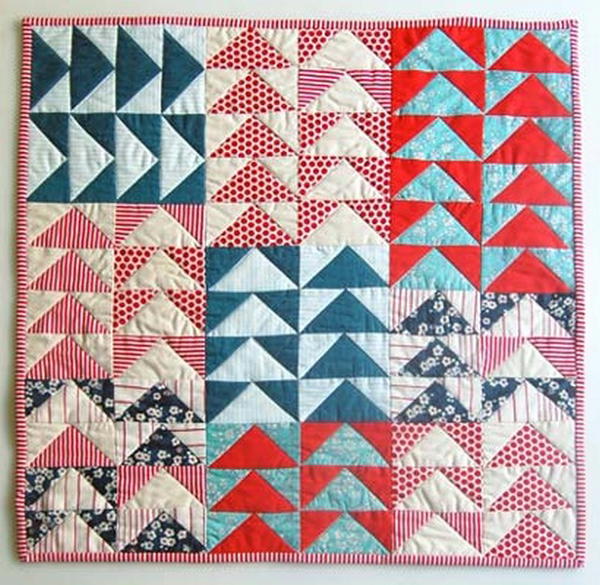 Take a trip to the mini quilt world with this flying geese mini quilt! This pattern is versatile and fun—the finished project can be used as a wall hanging, table mat, or pillow. The triangles are arranged in a graphic array on an off-white background and accented by sharp dark lines. With so many different pieces to make, this will be the perfect way to use up scrap fabric and create something visually striking. Just sew some triangles, a border and backing for yourself or someone you love. Add some batting, and you are ready to go!
by Purlsoho
Spool Mini Quilt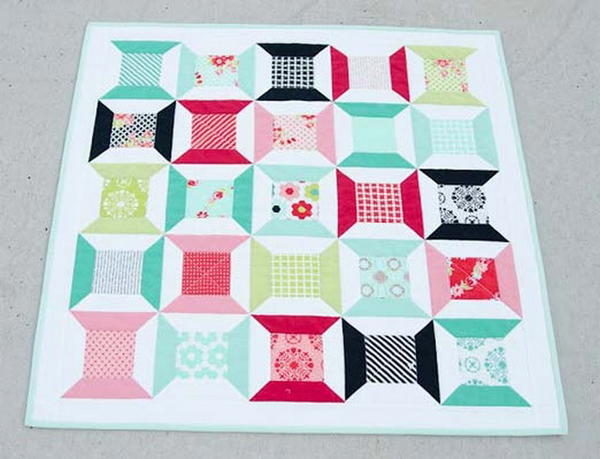 You'll love making this mini quilt with spools of colourful threads! The pattern has five rows and five columns, arranged in alternating patterns of standing and lying spools. The colours are bright and cheerful, the thread colours beautifully contrasting against the white fabric background. To make this adorable mini, you don't need to be a professional quilter! This quick project is great for beginners and will bring smiles to everyone who sees it.
Heart Mini Quilt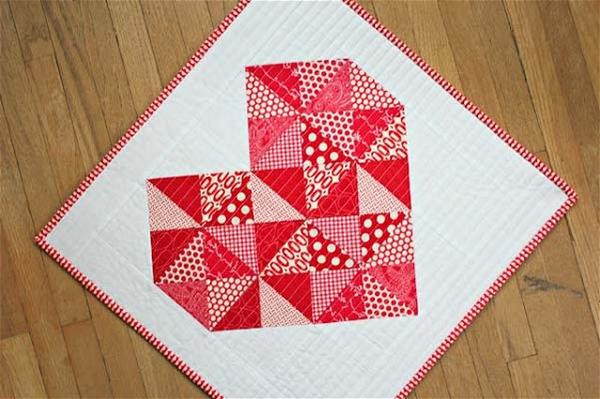 Whether you're looking for a cute Valentine's Day project or a gift to give on any special occasion, this heart mini quilt pattern is perfect. It's quick and easy to create, plus there's no piecing involved, so that you can use up those scraps! This mini quilt pattern may be small, but it makes a big statement. Over a yard of fabric will give you the base in white, and another fat quarter makes the triangle patchwork pieces red and pink. This would be so sweet to make for someone special — or just for yourself.
Nebula Miniature Quilt(paid)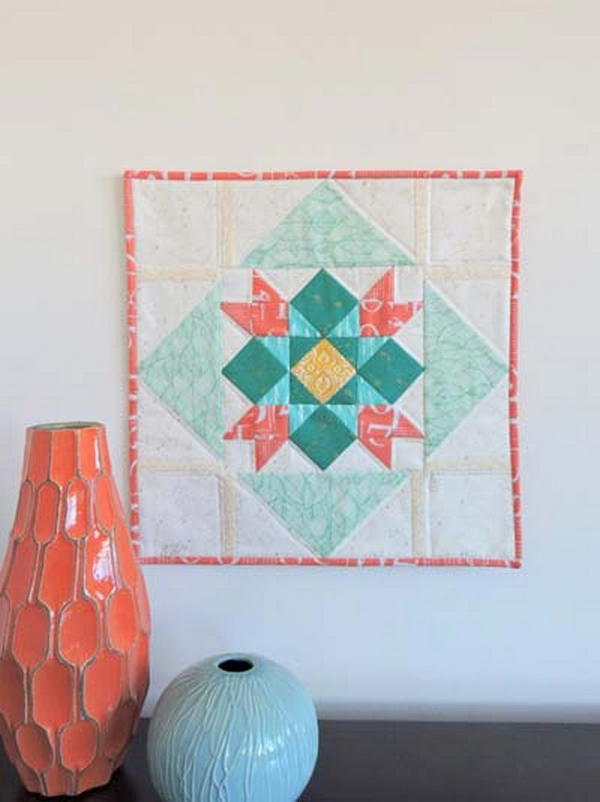 This nebula miniature quilt is the perfect way to add a pop of colour and pattern to your space. This mini quilt is handmade from vintage fabrics, with a colourful effect that would look great anywhere in your home. This nebula miniature quilt is a beautiful accessory, especially if you enjoy nature. The patterns and colours make it a unique piece that can use anywhere in your decor. Have it on your living room wall or sitting on top of your table as a centrepiece; these are just some of the many places you can place this beautiful piece.