Baby quilts are one of the most popular projects for quilters. Whether for a new baby or your kids, these free baby quilt patterns are quick and easy to make and loveable gift-giving options. If you're looking for a baby shower gift or making one for your new addition, these free patterns for baby quilts will help you create an heirloom that your little one will love and cherish forever! They're so quick to make that you can make one for every baby shower you go to! The best part about these patterns is that they can be customized for any season, holiday, or occasion!
Free Patterns For Baby Quilts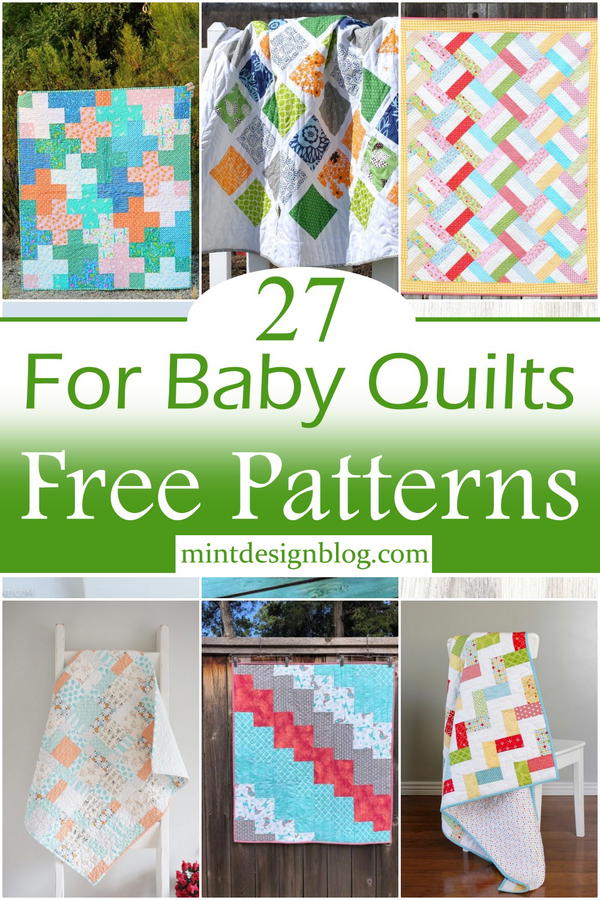 There are plenty of choices regarding free patterns for baby quilts. This pattern collection offers the right design style and difficulty level to appeal to your favorite quilter. Several designs will bring smiles and cuddles to any child's room, from beginner to advanced levels. Whether you're looking for a quick, simple beginner's project or something more advanced, there are endless options here.
Free Baby Quilt Pattern & Tutorial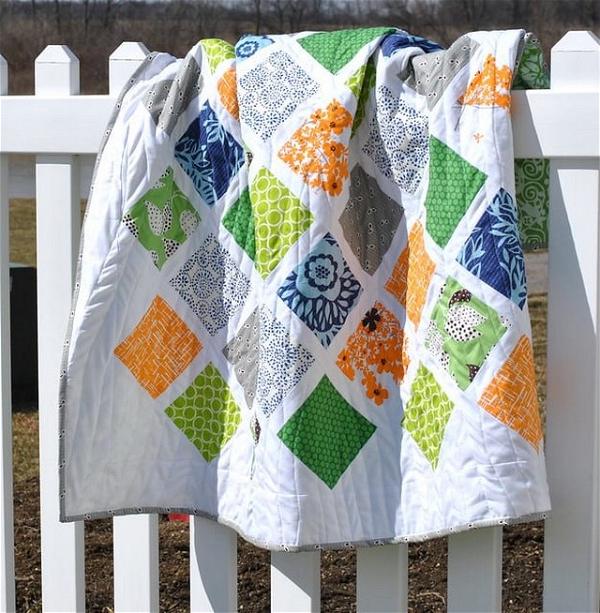 This baby quilt is so easy to make and quite adorable. The pattern is easy to follow but leaves room for creative interpretation if you want to make changes! Free baby quilt patterns and step-by-step tutorials will teach you how to make a beautiful but easy baby quilt. This lattice quilt pattern is one of my favorites, and it's perfect as a crib quilt or wall art when it's too big for a crib. It finishes at 40" by 48".
Stairway Baby Quilt Pattern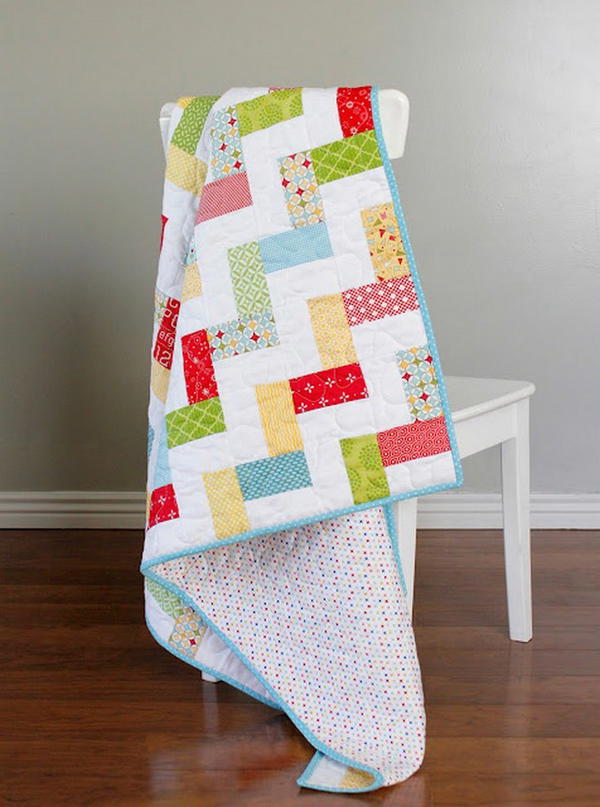 Stairway Baby Quilt is an easy quilting design that will create a cheerful look in any nursery or child's room. This quilt is quick to make - it's just one simple block, which is then rotated to make the stairsteps look. The quilt uses leftover blocks and some jelly rolls (if you haven't joined the jelly roll craze yet, now's the time!), so it can be a stash-buster. The colors and patterns are so adorable, and the pattern is simple enough that it can be made up quickly.
Blocked Baby Quilt Pattern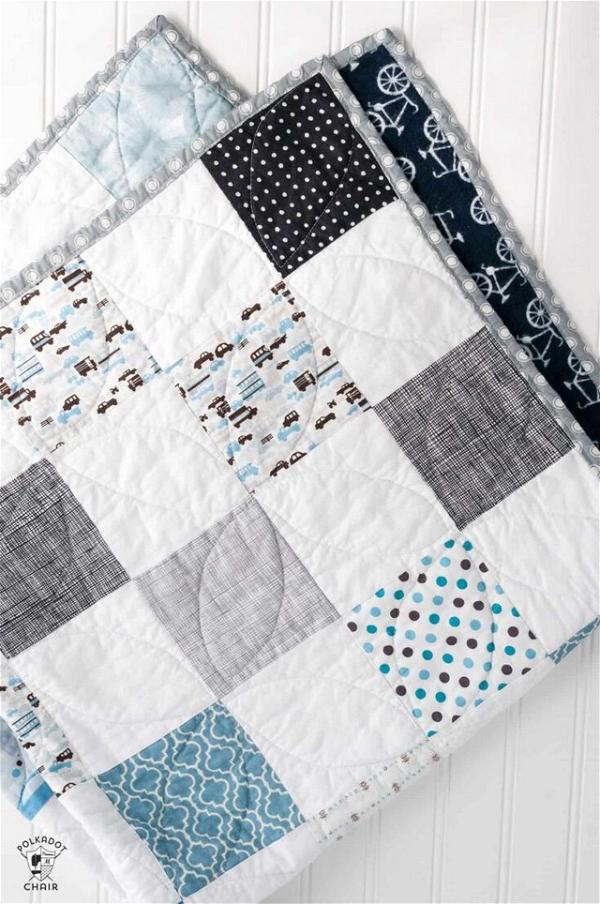 This simple patchwork color-blocked baby quilt accurately mimics the look of an ombre design with just a few easy steps. There is no need to add additional steps or elements to make a stunning effect like an ombre; your squares and fabrics will do all the work for you! This is a truly stunning baby quilt design, created by simply placing squares of varying shades of the same color on top of each other in a fashion that creates an amazing ombre effect. With our free tutorial, you will be amazed at how easy it is to create this beautiful pattern!
Two-Hour Baby Quilt Tutorial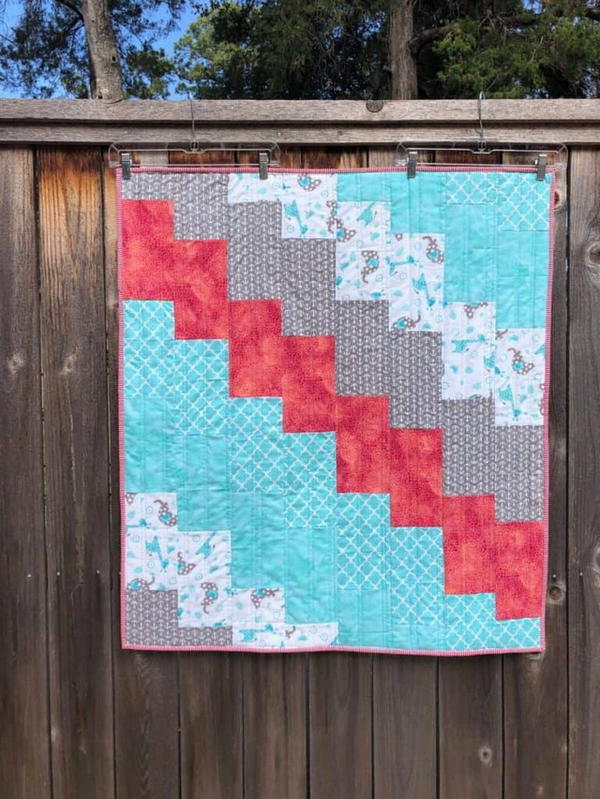 The two-hour baby quilt tutorial is the perfect way to make a nice baby quilt quickly and easily. This quick pattern can be made of bright fabrics that you don't want to cut too small or as a stash buster—a simplistic design with no steps that are difficult for beginning sewers. The finished product is also great for beginners who may not have taken a class yet and feel ready to start sewing independently. The easy quilt pattern makes this an ideal project for beginner sewers and can be finished in just 2 - 3 hours!
Square Simple Charm Baby Quilt
Like a game of four square, this quilt will surely be a winner. This simple pattern uses charm squares from your favorite collections to create a sweet and nostalgic baby quilt. It will become a treasured heirloom that can be passed down through the generations. Made with a four-square design, it's easy to piece and will bring many years of use. The size is perfect for cozy nurseries or as a play blanket.
Fat Quarter Baby Quilt Pattern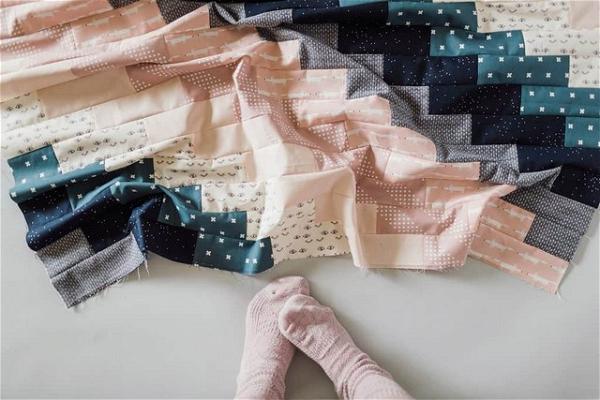 This simple, sweet, and easy baby quilt uses fat quarters and is perfect for beginners. Use solid fabrics or scraps for a pieced look. If you love the look and want something larger, use extra fat quarters for each color. It's easy enough for new sewers but also challenging enough to satisfy a more experienced quilter. The finished quilt measures 42" square and is perfect for a baby gift or brightening your little one's room.
Free Baby Quilt Pattern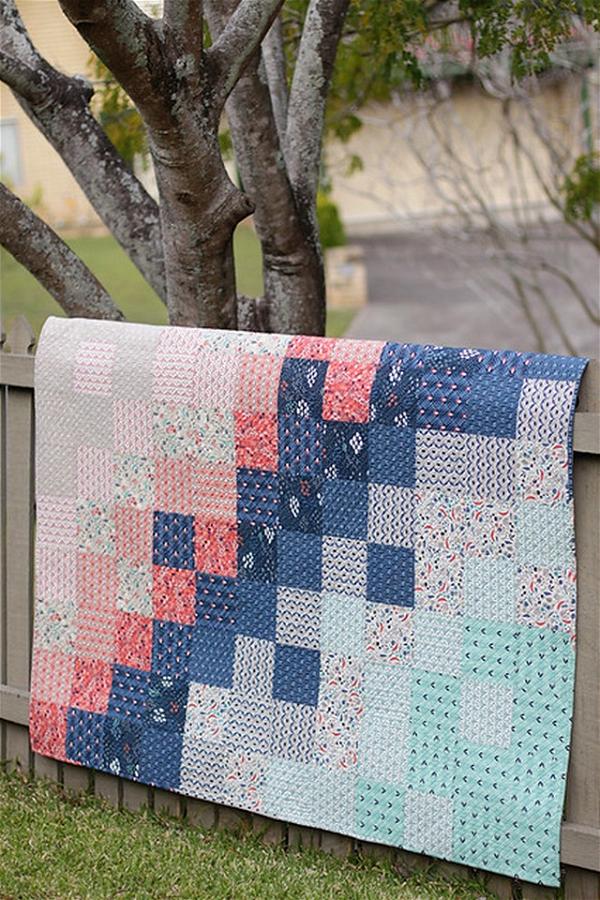 An adorable baby quilt for the new arrival in your life, this one is a breeze to make! Made with a layer cake and store-bought binding, it's perfect for beginners! The Sweet Baby Wildwood crib quilt pattern is both fun and sweet. Create this beautiful baby quilt using our included photos and step-by-step instructions to make a custom crib quilt that fits perfectly in your little one's nursery. It is perfect as a sun-safe option because you can use as much or as little binding on the back as you choose
Patchwork Star Baby Quilt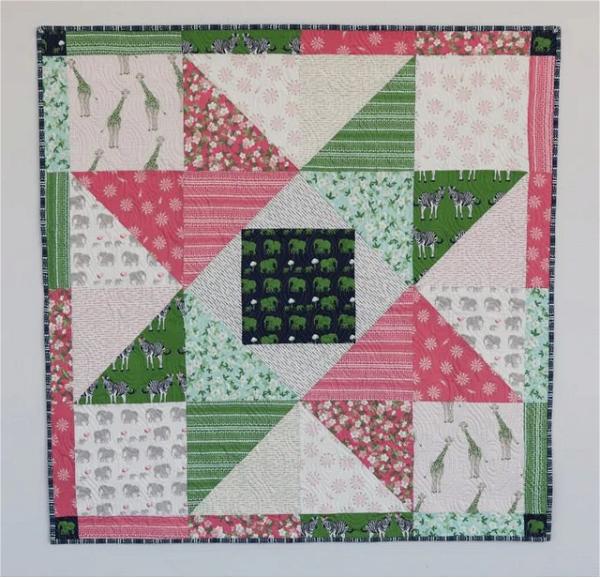 This patchwork star baby quilt is the perfect project for mixing up some of your favorite prints and playing with color. Amy Smart's tutorial comes with cutting instructions and helpful step-by-step photos, so you can make a quilt that fits your space and style perfectly. Use your large-scale prints in this free baby quilt pattern. It's quick to make and showcases the colors and patterns of your fabric collection.
Low Volume Baby Quilt Pattern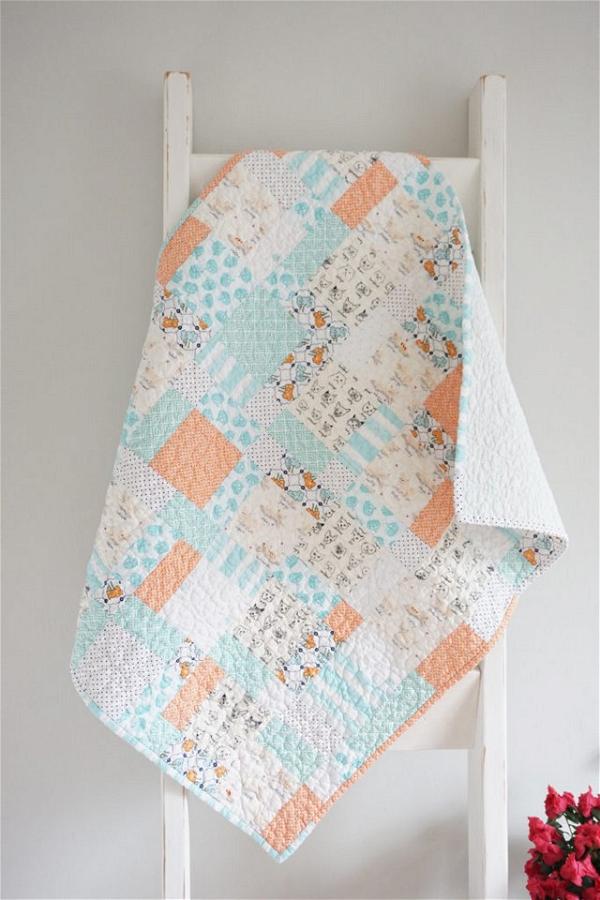 Soft and cuddly, this low-volume baby quilt is a great way to make your child comfortable. It is easy to make, warm, and snuggly for the little one. Little ones are always active, so it's comforting that this quilt will be soft, easy to use, and won't irritate their sensitive skin. Beautiful colorful fabrics provide comfort and visual interest for the eyes as they play with their favorite toys on the floor! The pattern is designed to be easy to follow, making this a great project for beginners!
Scrappy Rainbow Quilt Pattern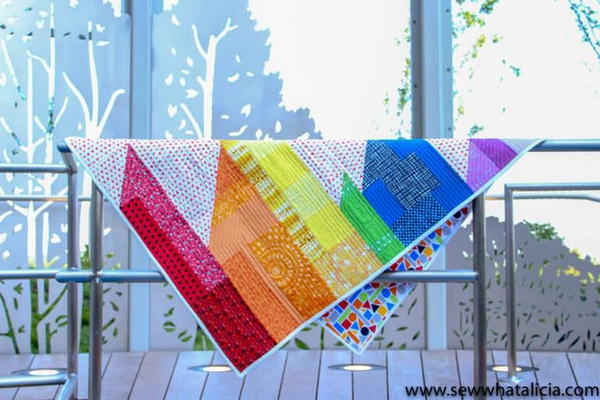 This easy baby quilt pattern uses fat quarters or layer cakes, cutting and piecing them into a square. The blocks are very simple, with only one seam at the corners. And if you want to make it even simpler, omit the borders by stitching your squares together without adding another seam! It also can be made using ½ yard cuts of each color required instead of fat eighths/layer cake. This simple baby quilt is quick and easy to make but still very cute.
Baby Plus Quilt Tutorial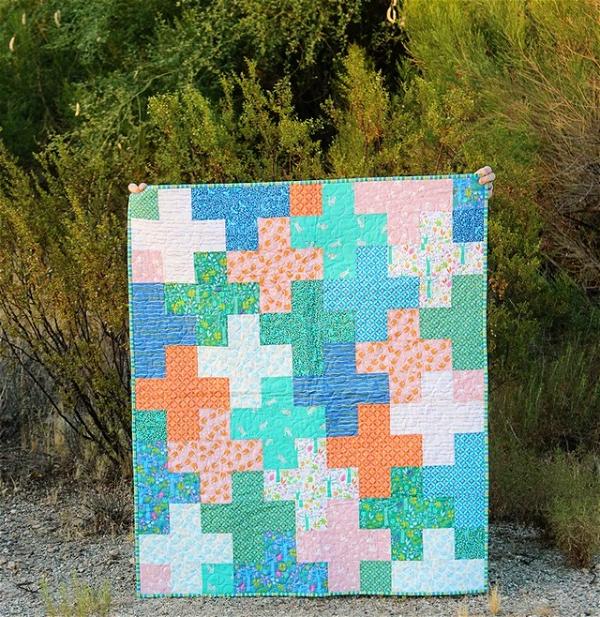 Learn to make our popular BabyPlus quilt pattern with this step-by-step beginner's level tutorial. This is an easy quilt pattern for beginners; the tutorial uses a few different shapes beyond a square to flex the beginner quilt pattern muscles. A great sewing day project – take it with you on vacation or make it during nap time while your kids are off in school. Whether for your own or a gift for a loved one, you can't go wrong with this easy pattern!
You can keep all your quilts organized with the help of DIY quilt rack plans.
Arrow Baby Quilt Pattern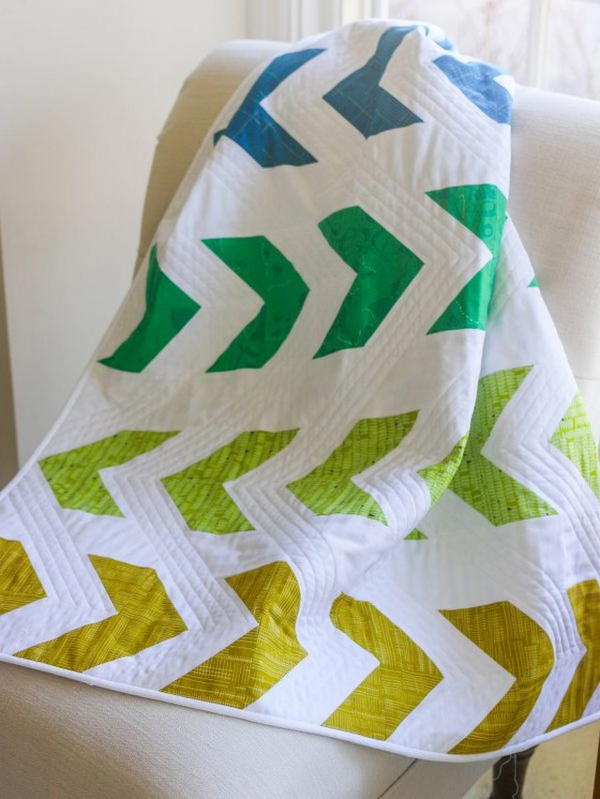 This quilt is made using the HST (Half-Square Triangle) method and is cleverly designed. There are five arrows, each with a different color theme – you can use these applique shapes as the center of each arrow or sew them onto the background fabric in any way you like. I love this idea! Once you've made your quilt, use the design principles from this article to create your own unique set of arrow blocks.
Easy Quilt Pattern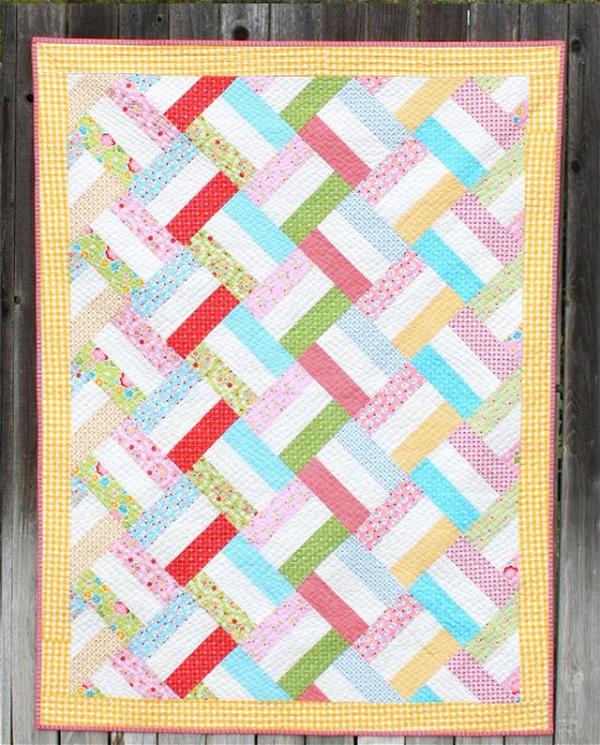 A classic quilt style, the Rail Fence is a favorite of many, and this free strip quilt pattern is a great way to introduce you to this fun and easy block. Inspired by an heirloom piece that had been passed down for generations, this patchwork baby quilt tops off any nursery with more legos than you can count! This free baby quilt pattern is ideal for beginners and takes no time to whip up. The striped binding and classic cord look elegant in any room.
Easy Baby Quilt Pattern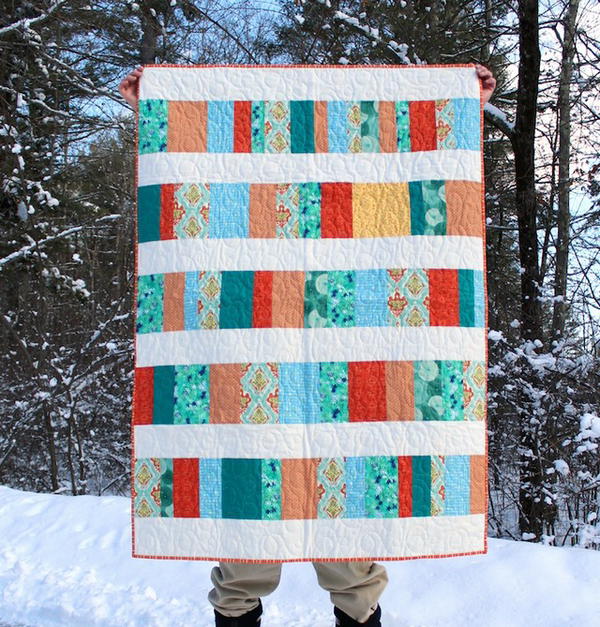 Take your decor from basic to bold with a quilt incorporating brightly colored stripes. The bright and fun colors in this patchwork baby quilt make it a great choice for anyone looking for a stylish personality pop. This crib-size quilt is lovely for a throw, bed, or play area. The stripes are quickly sewn together to form this crib-sized quilt, making this a great project for beginning quilters. Finished size 40" x 56".
Rail Fence Baby Quilt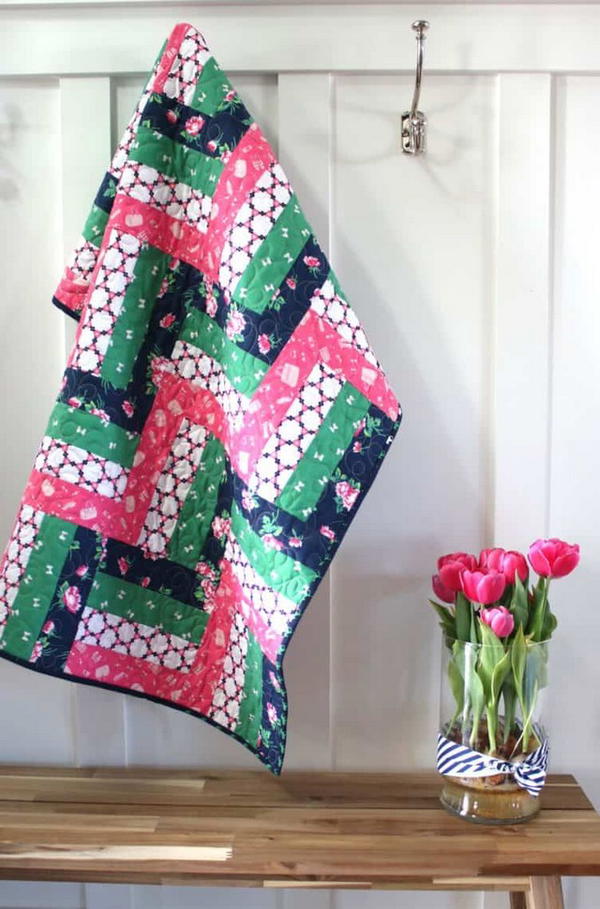 It's time to make a new baby gift. Think it's too late in the season? Not so. We have just the tutorial for you – this quick Rail Fence quilt is made entirely from rectangles and triangles, with no curves or corners! The fabric selection is so gorgeous that you'll make this quilt repeatedly when friends or family members start having babies. Plus, there are tricks to help you put it all together quickly so you can enjoy those precious moments when someone special arrives.
Triangle Baby Quilt Pattern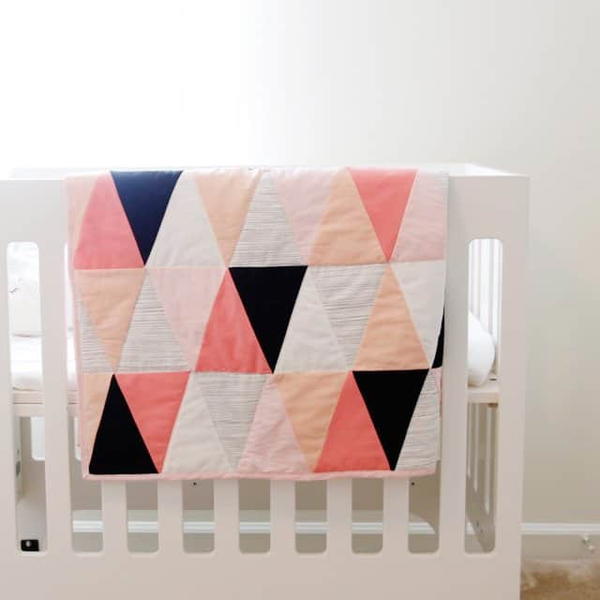 This modern triangle baby quilt is perfect for a baby shower gift. The perfect way to use up fabric scraps and make something beautiful, this pattern will teach you how to make a beautiful quilt with modern colors and simple designs. These neutral colors will match any nursery, and the modern ombre design makes it unique. This versatile triangle quilt allows you to make it as big or small as you'd like. It's perfect for baby cuddling, child's room decor, or a quick gift for family and friends!
Free Baby Quilt Pattern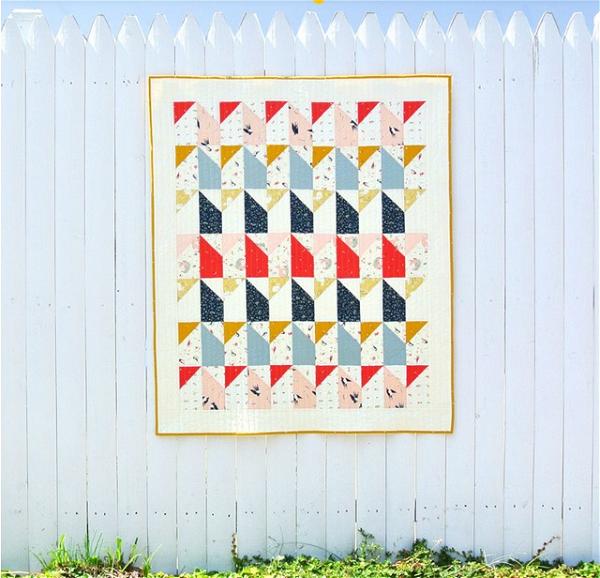 With easy patchwork, simple borders, and a clever design, this clever quilt is the perfect baby gift. Made using a combination of basic blocks and traditional patchwork techniques, this cute and modern-looking design is also fun to make. Thanks to its modern color scheme, the quilt has a layer-cake feel, but this doesn't mean it's trickier than traditional patchwork - it just means you get to use color in completely new ways! If you're looking for inspiration, don't hesitate to make this pattern; trust us, you'll love it!
Free Quilt Pattern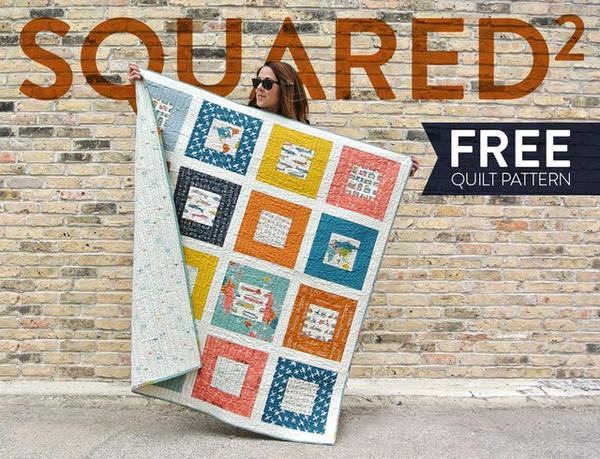 This free Squared Quilt pattern is the perfect first-time quilt to make. With only straight cuts and seams, you will finish this project feeling accomplished and happy with your quick success! While it's great on its own, you could easily add borders, cornerstones, or corners to personalize it further. And if you want another size for a toss pillow or baby quilt, no problem! Measure your desired dimensions and follow our guidelines for making the squares bigger or smaller than those in the pattern.
Simple Heart Quilt Pattern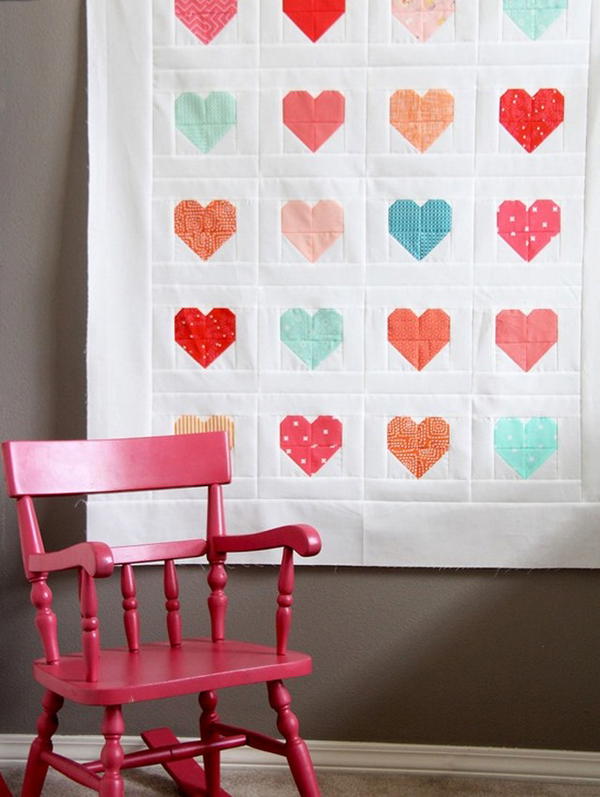 Create a one-of-a-kind baby quilt that makes the perfect gift for your new little one or someone you love! Easy to assemble and fully customizable, the designer updated the Heart Quilt pattern to make it even easier. This project is perfect for beginners who want an easy-going quilt or intermediate sewers who need a quick and fun project. The blocks are edge-joined, so there are fewer pieces to stitch together. It measures 36" x 43"; make it larger or smaller if you prefer.
Pinwheel Baby Quilt Tutorial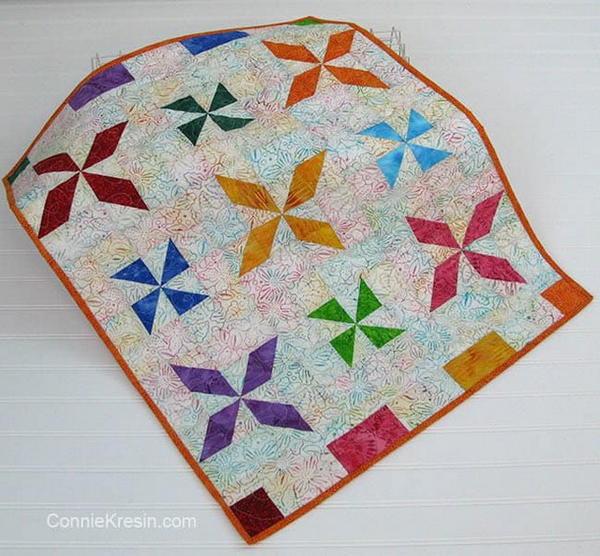 This sweet quilt lets you use your favorite batiks and will surely be a hit with you and your grandchild. The quilt is constructed of various fabric strips that make up the pinwheels. The star block in the center of the back gives this design a unique touch, making it one of a kind. The 45" x 50" quilt has nine patch blocks in the center, and framing rows are pieced using batik fabrics or use all one color if desired. A matching binding finishes this charming quilt.
Ribbon Box Quilt Tutorial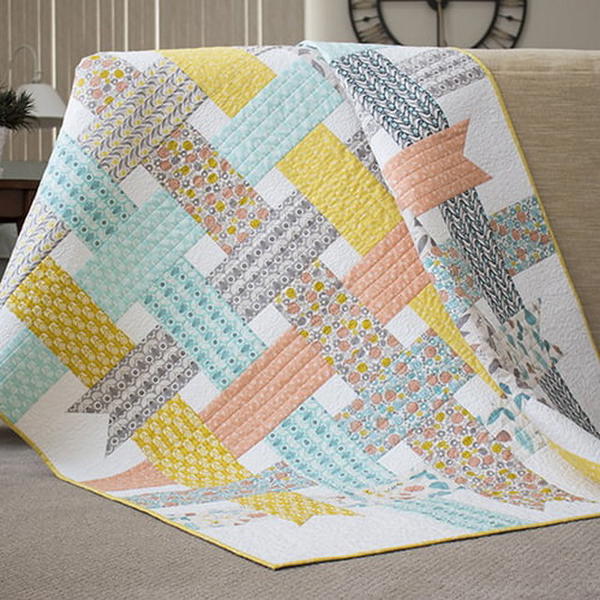 This baby quilt pattern features four ribbon boxes with a chevron design, arranged in a modern square shape. Impress your friends and family with this simple yet stylish quilt. The quilt is 55 inches wide x 63 inches long, the larger size on this list. The interwoven beauty of ribbon blocks is accented with a jagged edge for an elegant look. This quilt is designed to be made on a longarm machine, where you can connect the ribbons at once with the help of a Teflon sheet. Or, use your version of an invisible line to connect all the pieces before sewing them into rows!
Giant Star Baby Quilt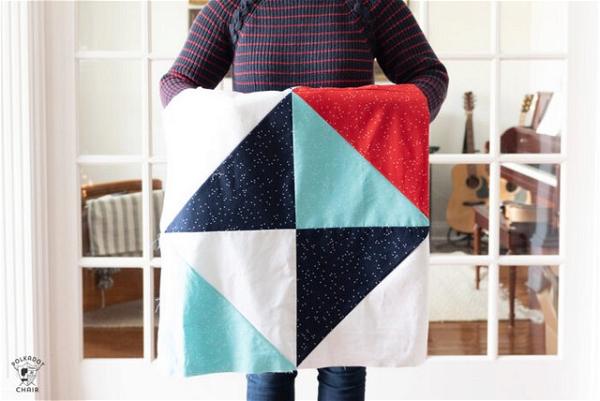 This quilt is a fun take on the classic Sawtooth Star Quilt block. A simple baby quilt that feels a bit modern and is quick to make. The oversized blocks are fun to piece together and look great hung on the wall after you've tucked your little one into bed. This pattern includes full-size templates for every piece in light and dark fabrics, making it great for beginner quilters to practice or advanced sewers who want to whip out a new project. This pattern is perfect for using scrap fabric and making a truly special baby gift!
Wonky Stripes Quilt Pattern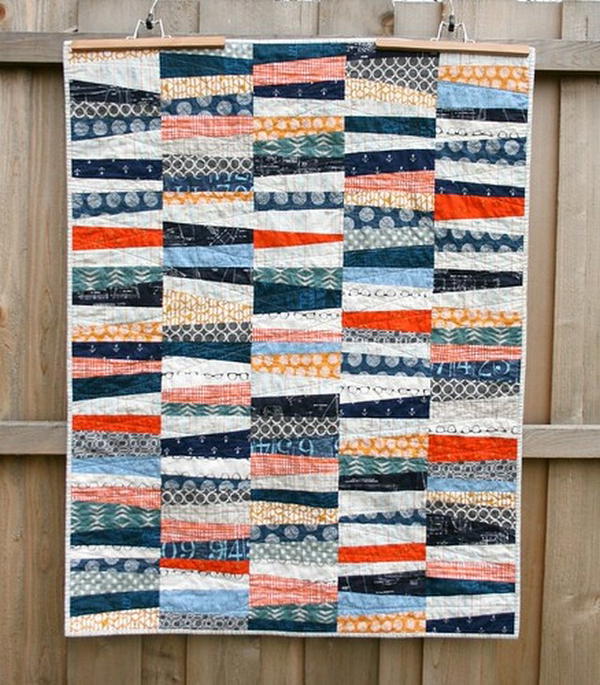 This modern baby quilt pattern is the perfect project to break your square-quilting habits and try something new with all the strips. The modern-looking quilt is made with easy piecing and strip sets that are perfect for any level quilter. This pattern contains full-color step-by-step photo tutorials for the special techniques used in this project. This quilt takes a very simple form but looks so advanced and gorgeous.
Stars And Stripes Quilt For Baby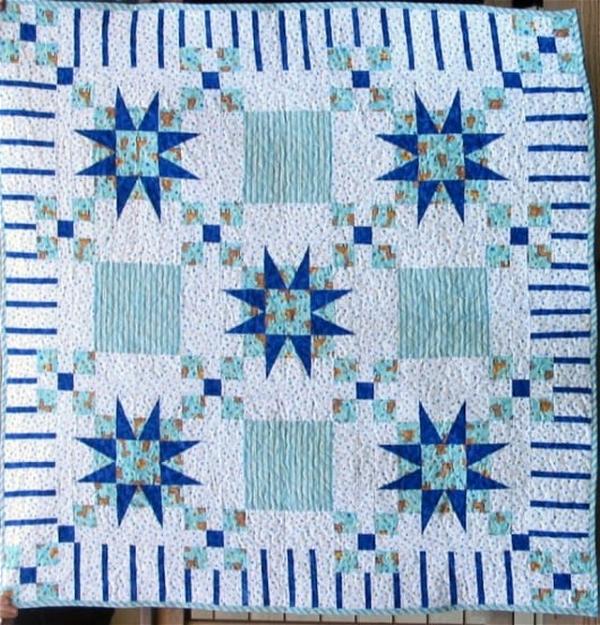 This baby quilt pattern makes a striking statement in red, white, and blue. Celebrate our nation's freedom with this boldly pieced Stars and Stripes design. The blocks are large enough to easily make individual star blocks with straight lines and simple shapes, making this project great for beginners. But it also features traditional piecing such as strip piecing, strip rings, and half square triangles to keep experienced quilters entertained. The perfect boy or girl's nursery quilt for a July 4th celebration or any patriotic holiday!
Skopelos Quilt Tutorial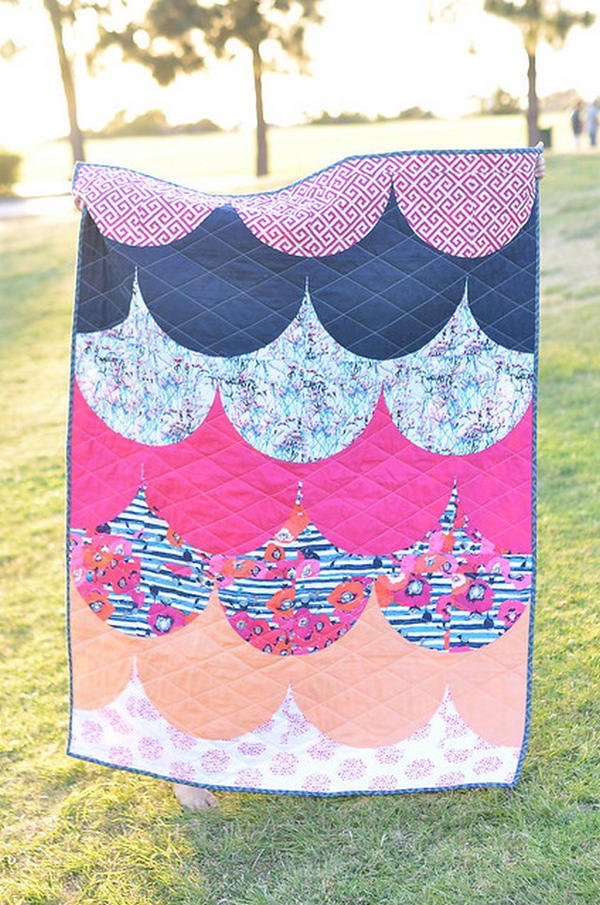 Learn how to combine geometric elements to create this stunning modern quilt. Skopelos quilt tutorial with blocks resembling the traditional path blocks found all over the island. A stunning design with mixing and matching solids and prints can be achieved by selecting your favorite designer fabric. The tutorial shows how to work with various fabrics and colors, making it suitable for all skill levels.
Sew Butterfly Quilt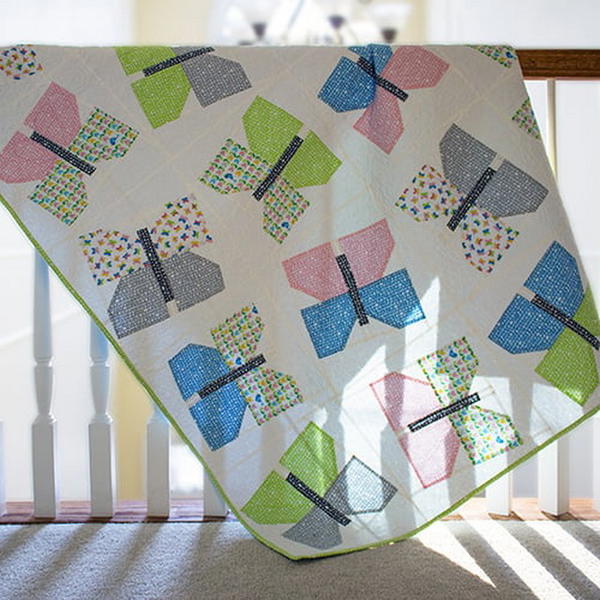 When you find the perfect fabric, but only a fat quarter? Make it Sew offers a solution to this problem. Use pieces of your prettiest fabric stash to create this lovely free quilt pattern with a step-by-step guide. Perfect for beginners and advanced sewists alike. This free butterfly quilt pattern will help you make a bold and beautiful quilt that is sure to become a family heirloom.
Deep Blue Baby Quilt Tutorial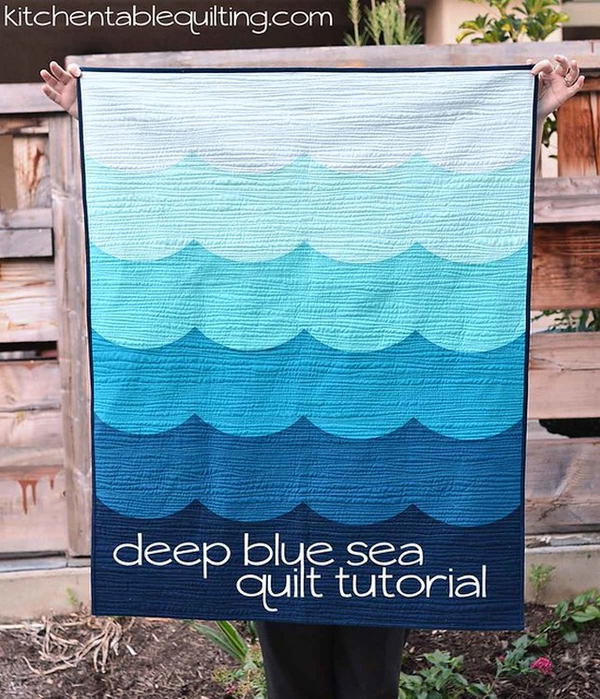 Want to get started on quilting but intimidated by your next project? This baby quilt is a great way to put your quilting skills to the test. This quilt, made with scraps and jumbo rings from your stash, is an advanced-level project perfect for when you're ready for a little more time-consuming challenge. The border print brings the ocean motif to life. An ode to calm waves and sunny days, this is sure to become an heirloom piece!