Cheese presses are used in the production of cheese to remove unwanted moisture from the cheese and form a solid mass. This is especially important in harder cheeses. Without pressing, they would not have the texture and would be too soft and runny. The press is typically made of wood and contains a cheese mold that holds the curd in place as it is pressed. Cheesecloth is used to separate the curd from the cheese press itself so that it can be removed easily. In this article, you will look at 15 different DIY cheese press ideas that can help you make your own at home.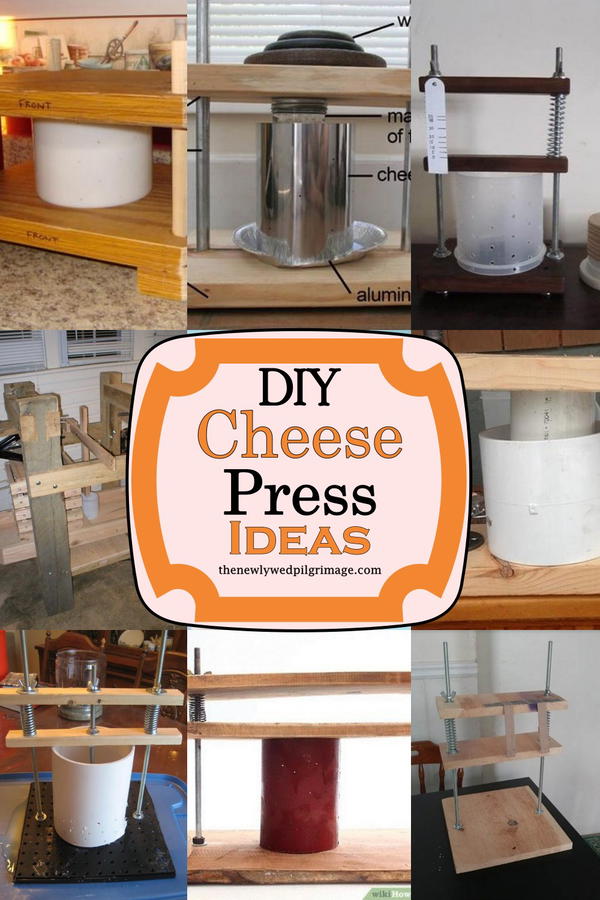 The truth is, you can make a cheese press of your own and eliminate the need to spend so much on the commercial ones. All you need is a little creativity and some materials that can be easily gotten. Also, there are many different ways to go about it and this collection will give you more than enough inspiration to get started. You would not believe how easy it is to make a homemade cheese press – most of them require only basic tools like a drill or screwdriver and minimal carpentry skills. Whether you are looking for an inexpensive DIY cheese press or one that can handle larger blocks, you'll find your perfect cheese press here.
Here are 15 DIY Cheese Press Ideas for you to make fresh cheese every day in the comfort of your own home.
Advantages Of DIY Cheese Press Ideas
Make your cheese at home
It is cheap and simple to make
DIY Cheese Press ideas are easy!
Cheese press ideas can help save money
Make the best flavored and aged cheese
You can make your own delicious and unique cheese
The cheese press is a simple way to create more yogurt, cheese and to drink more kefir
They are affordable, convenient, and easy to use
You can make healthier homemade alternatives from fresh and healthy animals products
Give it a try!
Why We Need To DIY Cheese Press Ideas
1. DIY Cheese Press Ideas that Will Help You in Making the Perfect Cheese
If you are looking for a cheese press, then you are in luck! There are several interesting DIY cheese press ideas that can help you build your own press.
2. Why Do We Need To DIY Cheese Press Ideas?
It is easy to see why cheese making is something that we all love to do, and why it is so important to have a good press. While you may not have time to make homemade cheese every day, there are some occasions when it is necessary.
3. Some Benefits of Having Your Own Cheese Press
Making your own cheese can be a very affordable way to save money, but there are other benefits as well. One of them is the fact that you will be able to create something unique and special for your family or friends when they visit your home. With a little creativity, you can create different kinds of cheeses for different occasions or parties with this tool.
How To Make A Cheese Press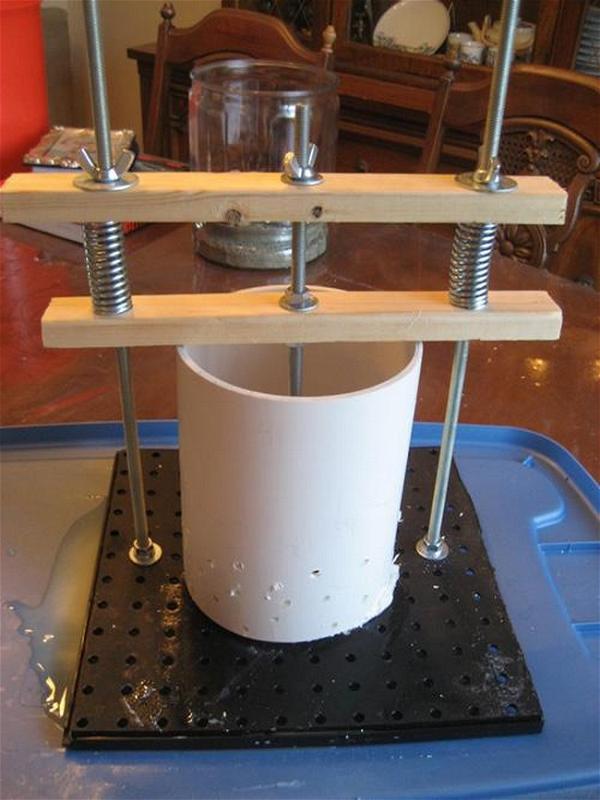 A cheese press is an essential tool you can use to make your own cheese at home. Many DIY cheese presses can be built from basic materials that are highly accessible. This project demonstrates how to make a cheese press from very basic materials. Including an extra-large flat plastic sheet, springs, and wood pieces.
Made from basic materials that can be easily sourced anywhere. This DIY cheese press is simple to make and easy to clean and store. Use as many springs as you need to reach the max PSI to create your favorite cheese. You'll just need a handful of materials and tools; flat plastic sheeting, springs, wood, a handheld drill, PVC pipe & end caps, thread rods & fender washers plus a drill bit and screw bit.
How To Make A Cheese Press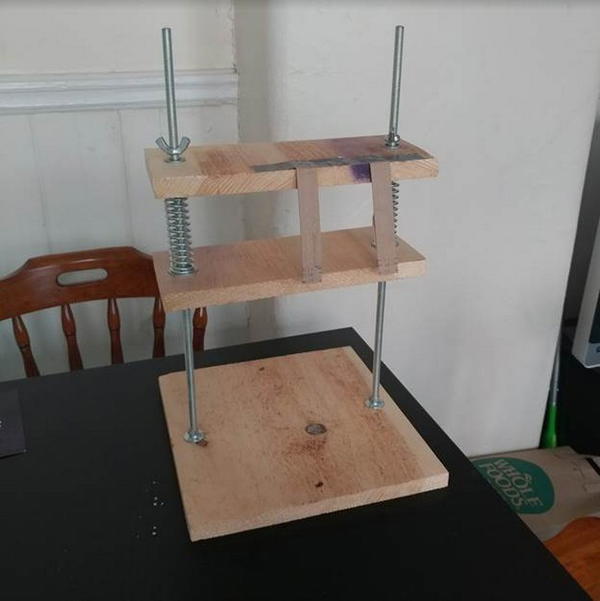 The cheese press is an essential tool for making cheese at home. This is a simple tutorial that will show you how to create one using common household materials. A cheese press is used to apply pressure and weight onto cheeses such as cheddar and Colby. The pressure and weight applied to cheese determine the texture of the cheese. For example, if you open a block of cheddar cheese, you will notice it is firm and hard. This texture is achieved by using a cheese press. And not only that you can use it to make your own cheese, but you can also use it to press all kinds of fruits and veggies for making marmalades, jams, jellies, and all kinds of preserves.
2. DIY Inexpensive Cheese Press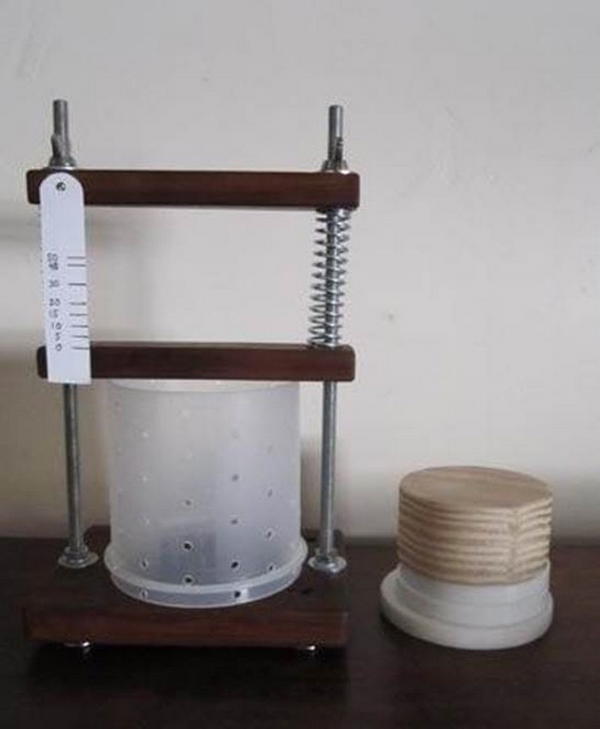 This post gives a simple step-by-step procedure to create an inexpensive cheese press. A homemade cheese press costs just a fraction of what you would pay in stores, and it also looks much better. The best part is that these cheese presses are made out of easy-to-find materials available at most hardware stores. It is cheap, sturdy, and easy to clean and modify (if needed). You will definitely like its beauty even though you are into making cheese.
How To Make A Cheap Cheese Press
The cheese press is an important tool for your cheese-making process and with this video tutorial, you can make one yourself at a very affordable price. A cheese mold made out of wood and metal rods can be a great addition to your kitchen gadgets. The cheese mold should be placed on the bottom board and the top board put in place and weight added. Near that process, the mason jar will act as the cover for the cheese now set in place by the cover. All that is left to do is enjoy your homemade delicious cheese!
DIY Cheese Press
With a DIY Cheese Press like this, you can make homemade cheese without investing in expensive cheese molds. This one is made out of untreated poplar wood and has the advantage of not needing cheese molds, as the box itself serves as the mold. It was made with two 2x4 boards, some 1x4 wood, nails, poplar wood as the base and cover of the press, and a length of copper pipe to reach inside to twist the top board. This wooden cheese press comes in a variety of sizes, allowing you to press your own favorite hard cheeses at home.
DIY Dutch Cheese Press
Do-it-yourself cheese presses aren't the hardest thing to make and this particular type is excellent for anyone who loves making homemade cheese or cheddar. This particular Dutch-style cheese press will help you get more out of your curds, with less effort and considerably more convenience than many commercial cheese presses. The system works for any shaped, hard cheese, and it can even be used to create an above-ground spa bath for the pampered pooch in your house.
How To Build A Cheese Press
The threaded rod cheese press is very easy to make you don't have to spend hundreds of dollars to invest in a fancy contraption if you want a consistent, quality product. Being able to make your own cheese is rewarding and gives you more control over the process and the final product. Some people may be intimidated by the thought of making their own cheese; however, it's actually pretty easy, even a novice can do it. The homemade cheese press will also help you save money as it is much less expensive than purchasing one for home use."
Homemade Cheese Press
A homemade cheese press and cider press made out of hardwood. Great for apples, pumpkin butter, jelly, salsa, and more! This instructable is to help you make one of these cheese presses that can be used on more than just making cheese. They're easy to make and generally easy to maintain and work pretty much the same way as other presses. You can make them out of hardwoods too or use them for pressing cider. The woodwork is a challenge, but since this project is relatively inexpensive, this is a perfect project to get started with woodworking.
How To Make A Cheese Press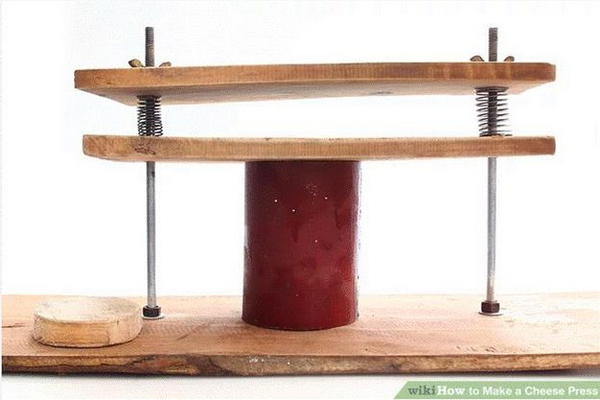 If you love cheese but hate to pay for it, then a cheese press is what you need. A cheese press is a utensil used for squeezing milk from milk curd. It's made of basic materials found around your home. It can be molded any way you want, customized to fit in with your kitchen decor. When making one, follow these simple steps and you'll soon discover how easy it is to make a cheese press. This cheese press works great for making your own cheese from high-quality milk or goats' milk. It's made of basic equipment, tools, and materials you can find around the house or buy at any hardware store.
How To Make An Inexpensive Cheese Press
If you are into cheesemaking, this project will show you how to make a simple but effective cheese press for pressing any kind of hard cheese. It's inexpensive and a great way to regulate weight during the pressing process. which varies based on several factors: the type of hard cheese being made, how much pressure is needed, and so on. While this might seem like an unimportant or insignificant kitchen ingredient or piece of equipment, it is in fact one of the most important factors in making excellent cheese at home.
 Building A Cheese Press
A cheese press can be constructed in your own workshop with these fine plans and some carpentry skills. Consider all the work you are saving by putting the work into building it yourself, rather than purchasing it at your local farm store, where the prices can get a little ridiculous. Learn how to build a beautiful cheese press using a wine barrel and some beautifully handcrafted parts. The video also takes you step-by-step from start to finish, walking you through the process of making your own cheese press.
Cheese Press DIY
Cheesemakers are a busy bunch. They begin preparations for the next batch of cheese long before the last one is finished and sold. If they didn't, there would be a great deal of time wasted in traveling, marketing, and simply waiting, not to mention lost profit opportunities. Having a good solid cheese press at home helps to alleviate some of the pressure exerted by these factors. This by-product of the cheese-making process is also an excellent way for novice cheesemakers to make original cheeses without needing to purchase expensive equipment. In this video, you'll learn how to build your own homemade cheese press using an ordinary household item.
Cheese Press Tutorial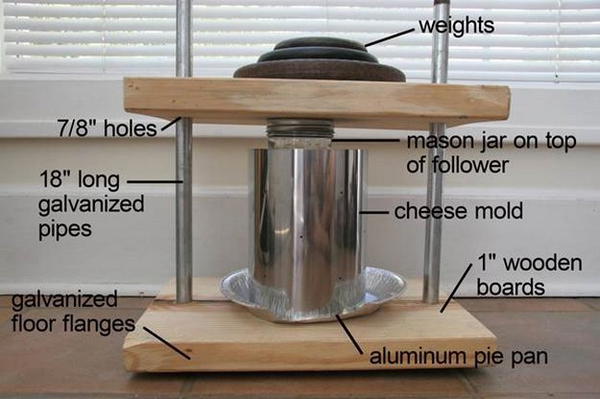 Nowadays, cheese presses are a much sought-after item, but homemade cheese presses can cost you half the price of a new press. The best thing about making your own DIY cheese press is the customizability that comes with it. Using common household items, you can build just what you need and no more. It's handy to use galvanized pipes when building any type of DIY cheese press. They are easy to move around and assemble. . This DIY press can help you make homemade cheese at home, with very little investment and no expense in the manufacturing process or the quality of raw materials.
DIY Cheese Press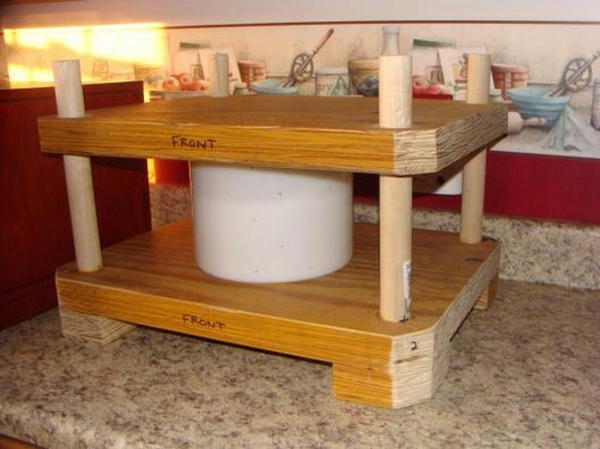 DIY cheese presses come in different shapes, sizes, and finishes. The material is also important to look out for as it determines the longevity of the press. There are those that are made with wood, which is resistant to bacterial growth, but not necessarily attractive if left in your kitchen. Cast iron presses are a sure way of keeping bacteria away from the cheese and giving you the perfect texture after each press, but they can be quite heavy. If you're just getting into making your own cheese at home, a cheese press is a fantastic start as it offers consistent results for each batch of cheese you begin.
How To Make A DIY Cheese Press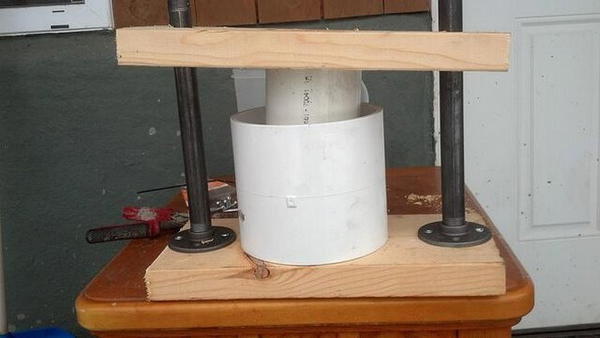 " If you are a cheesemaker or are considering doing it as a hobby, the costs of buying a commercial cheese press can be very prohibitive. Therefore, learning how to make your own DIY cheese press is inevitable. The equipment and instructions used in this article cover different types of cheeses such as cheddar, pecorino, Colby, and mozzarella. The materials required are generally easy to find and are locally available at any hardware store near you."