A tablet stand is a great accessory for your tablet. It allows you to have a good view of the screen, and you don't have to hold it all the time. This will prevent both back pain and hand strain when using your tablet for extended periods of time. However, if you bought a tablet stand recently, you probably noticed that most of them are made out of cheap plastic or metal. Instead of buying a tablet stand that doesn't fit your taste, why not make one yourself? Here we have put together your favorite 26 DIY tablet stand projects that are both visually appealing and functional. Some of these are a little bit more challenging than others, but they are in no way difficult to make.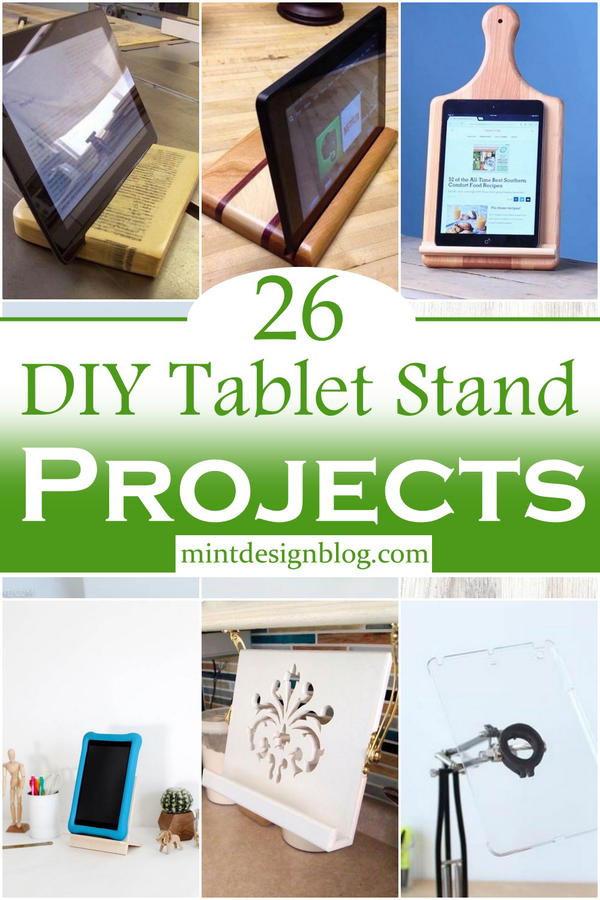 Tablets can be a great way to watch your favorite movies on the go or at home. However, there is nothing more irritating than having to hold the tablet while watching your favorite show. You can save yourself the strain and make a DIY tablet stand for your device. These 26 DIY Tablet Stand Projects are easy to make, and you can customize them to match your style. Some of them require a little bit of craftiness and skill, but others are simple enough that even a novice crafter can handle it. You might want to consider making a tablet stand for someone else as a gift. It's inexpensive, easy to make, and something they'll use all the time. Consider making one for everyone in your family so they can all watch their favorite movies without having to hold their devices the entire time.
Check out these 26 DIY Tablet Stand Projects that will keep your device safe from dust and also keep it accessible for easy use.
Materials Needed For DIY Tablet Stands
-Wood
-Old hardback books
-Duct tape
-Wooden spools
-Popsicle sticks
-Cardboard
-Bricks
-Cereal box cardboard
-Metal utensil holder
-CDs and DVDs
Homemade Wooden Tablet Stand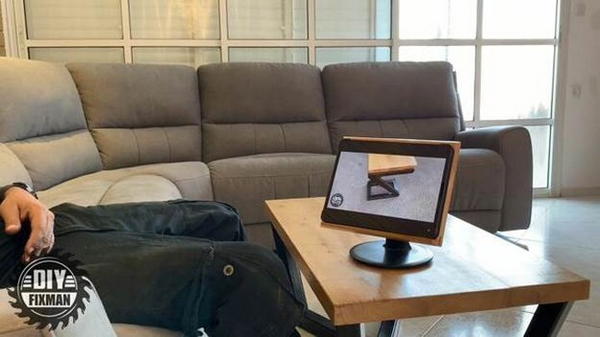 Making a tablet stand using an old computer stand is a great way to save money on an expensive item. If you have an old computer stand, as well as some wood lying around, you can create an easy-to-make stand for your tablet. An old iPad or another tablet should work just fine with it. It is easier and much cheaper to make a tablet that stands out of wood than it is to buy one for your tablet device. You can even use the wood from a broken office chair. In this guide, you will learn how to build homemade tablet stands that are very functional and sturdy. The end result is a beautiful tablet stand that can be placed on your table or desk.
SKILL LEVEL: BEGINNER
DIY Tablet Stand From Laminate Leftovers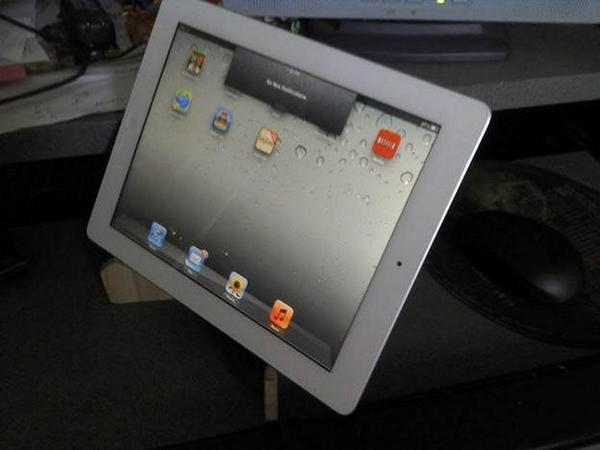 This DIY tablet stand is a cheap and simple way to create an amazing design for your tablet that can be used on any hard surface. The creator of this stand uses leftover laminate samples that you can pick up anywhere and makes them into a usable tablet stand with very little work! This homemade tablet stand is built from durable laminate leftovers that are great for use in your kitchen, office, or anywhere else you might use your tablet. The durability of this stand will allow it to last for years as long as you don't throw it across the room!
SKILL LEVEL: BEGINNER
Under Cabinet Kitchen Tablet Stand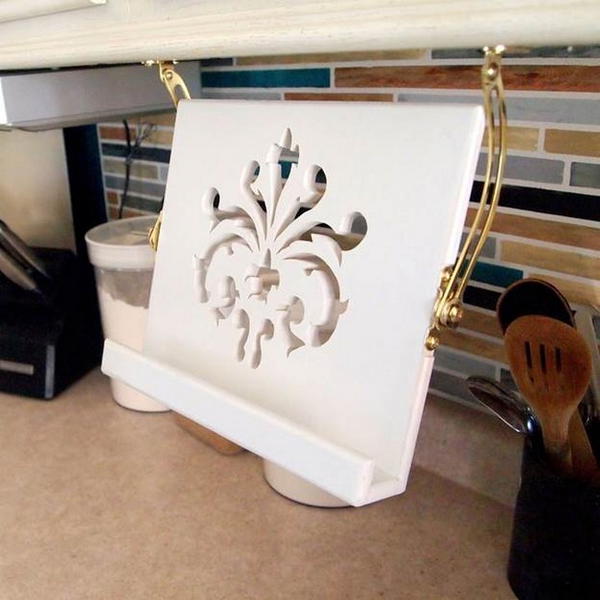 No need to worry about ruining your recipe books in the kitchen anymore! With this versatile under-cabinet tablet stand, you can easily follow cooking tutorials on your tablet hands-free. It swivels and rotates for portrait and landscape view; mounts securely under most cabinets. It is a must-have if you love to cook! Under-cabinet tablet stands for all iPads & tablets, space-saving, and sturdy design, attach to any surface with four screws, quick attach/release clamp, adjustable holder. Convenient space-saving solution that's a must-have kitchen accessory.
SKILL LEVEL: ADVANCED
DIY Tablet Stand
Doing things yourself is always a better deal than buying pre-made products, especially if they're not exactly what you want. This tutorial will show you how to create your own DIY tablet stand, which can be personalized to suit your needs. It is an easy project that can be made with simple materials that are readily available at hardware stores. All you need is some plywood, sandpaper and a table saw to make this DIY tablet stand. This DIY tablet stand would be perfect to hold your tablet upright and out of the way. It is super easy to make and would not take up much counter space!
SKILL LEVEL: BEGINNER
Wooden Tablet Stand DIY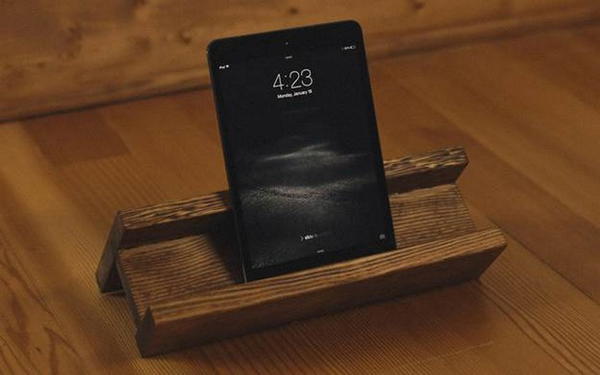 If you are looking for a tablet stand with a unique design, check out this clever project. This wooden stand fits all tablet sizes. It is flat-packed making it easy to assemble when you want to use it and easy to disassemble and store when you don't. This wooden tablet stand was crafted with care on a lathe. It will hold your tablets and cell phones browsing in style. As a phone stand, this indoor phone holder will allow you to make video calls, use the calculator and recipes without picking up your phone. If you like to repurpose old items, this is a great way to put those old magazines or books that you have laying around the house to good use!
SKILL LEVEL: BEGINNER
DIY Custom Wooden Tablet Stand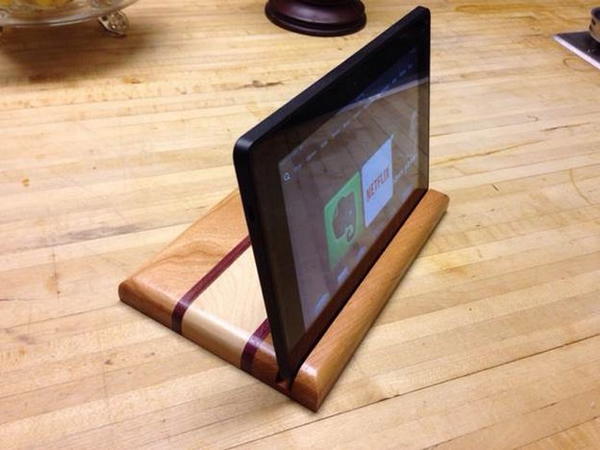 With this amazing tablet stand, your tablet will be on display in style. It's made from three types of wood to create a mixture of colors that make it look better than most DIY tablet stands, and will complement the woodwork in any home. Add a mix of function and beauty to your tablet with this DIY wooden stand. It features a tri-colored design that features a combination of cherry, maple, and purple heartwoods. The two arms can secure tablets in either landscape or portrait position. Over the course of making this tablet stand, you'll need to allow for lots of drying and curing time so plan on some patience.
SKILL LEVEL: ADVANCED
Moveable DIY Tablet Stand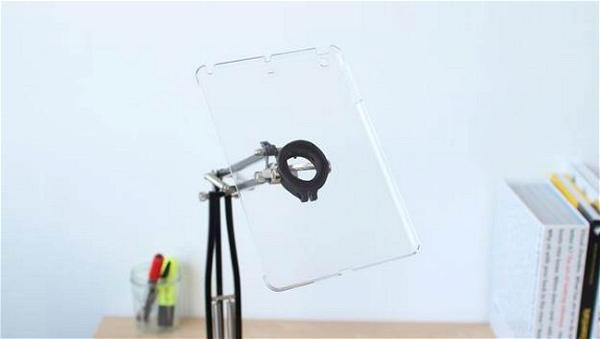 You won't believe how easy it is to make this simple and adjustable tablet stand. This DIY tablet stand is a project aimed to eliminate the constraints of watching your tablet in only one position. After completing this project, you will be able to adjust your tablet at any position for whatever need you may want it for. Instead of buying a tablet stand that has to be a specific size, this can be used with any type of tablet. The design that you can use in your home or office makes using your tablet much more convenient. And, of course, they look amazing!
SKILL LEVEL: ADVANCED
Cutting Board Tablet Stand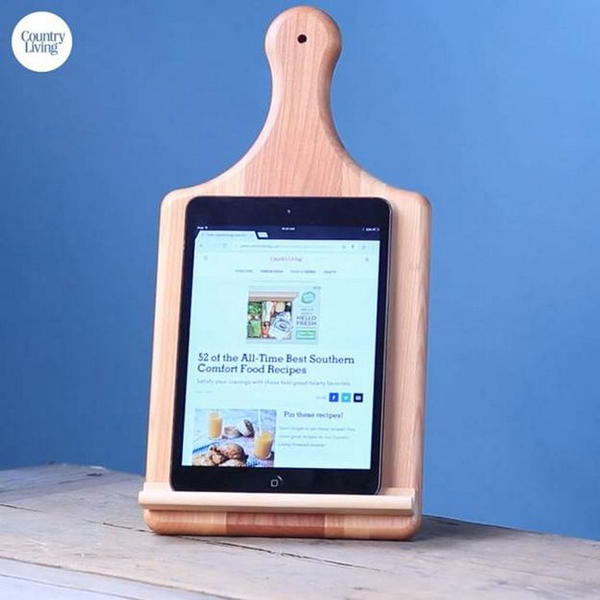 Cooking is made easy. Give yourself a helping hand with this cutting board tablet stand. In seconds you can convert your iPad or other tablet devices into a useful aid when cooking in the kitchen. Plus, you get to do it all on your own—with just a DIY cutting board tablet stand! Build this tablet stand to help keep your hands clean while working in the kitchen. Great for the cook who also loves multitasking on their device while they're cooking.
SKILL LEVEL: BEGINNER
DIY Book To Tablet Stand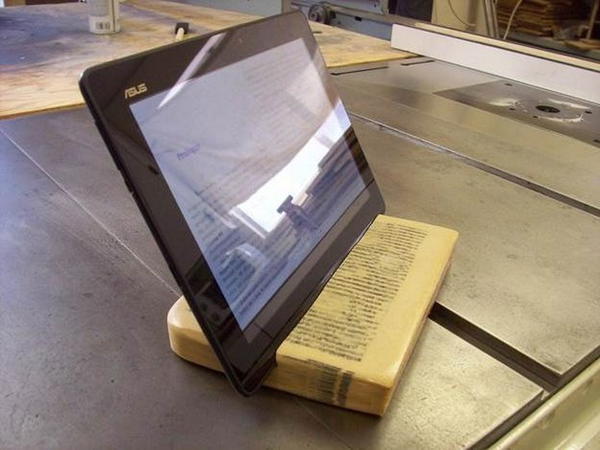 Are you looking for a stand to place your tablet on? You can easily make a DIY tablet stand if you have an old book with you. This is done just for converting a book to a tablet stand. Create the perfect place to put your tablet when you're watching cute cat videos, by converting a book into an elegant tablet stand. It's easier than you think! This comprehensive guide will teach you how to transform an old book into the perfect-sized stand for your tablet. With this DIY Book to Tablet Stand, you can turn your old books, newspapers, magazines into tablet stands in no time. Now there's a new use for all those books lying around the house.
SKILL LEVEL: BEGINNER
DIY Wooden Tablet Stand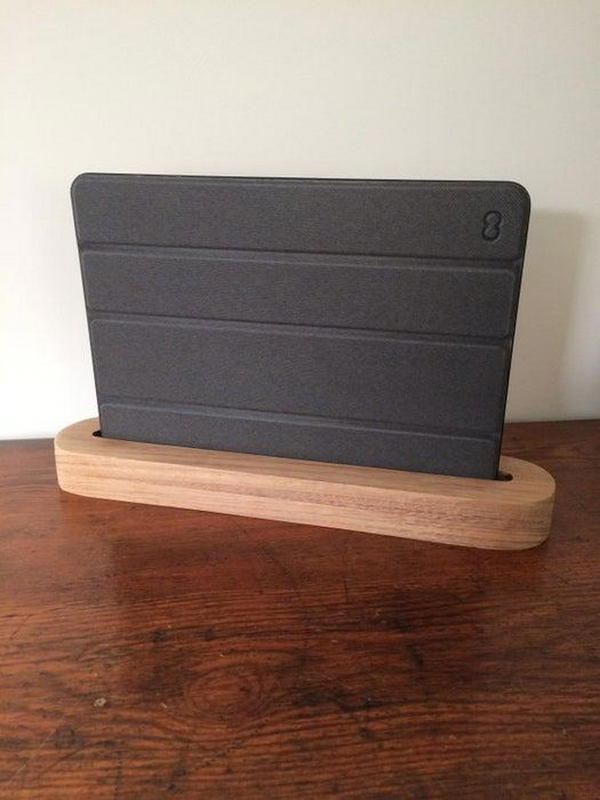 Whether you're using your tablet in the kitchen, in the office at work, or anywhere in between, this stand will keep it propped up for easy viewing. Its simple design is not only durable but useful and convenient. All you need is a small piece of wood, and a few other basic supplies to complete this project. It's fun and easy to make and would make the perfect gift for someone special or even treat yourself to one.
This DIY tablet stand is crafted from a single piece of hardwood and will securely hold your favorite tablet. The wooden design is an aesthetic way to store your favorite device in a convenient, easily accessible location - such as on a desk. This project can be made with basic power tools and is perfect for all skill levels.
SKILL LEVEL: BEGINNER
Cookbook And Tablet Stand DIY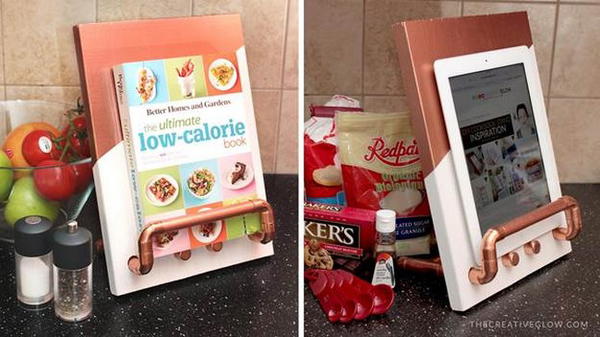 From organizing your kitchen counter to holding a cookbook while you're cooking, this tablet stand is one of the most versatile items that you can have. If you have little to no handyman experience, don't worry. It's designed to be easy to build and customize so that you can get a simple result that's even better than what it's made to do. This tablet stand is one of the best ways to hold your tablet during a cooking session. The copper rod attached to the tablet allows for maximum stability and elegance.
SKILL LEVEL: ADVANCED
DIY Wooden Tablet Stand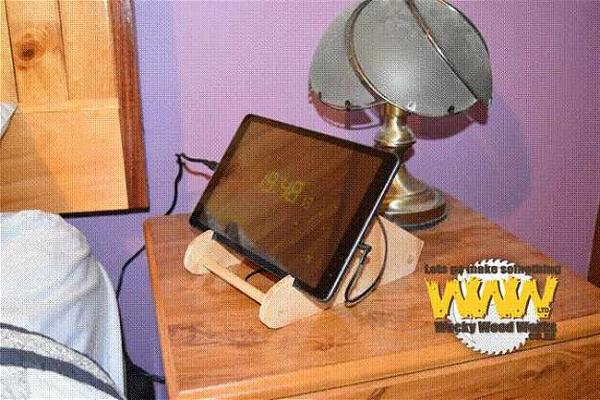 Unlike other tablet stands, this wooden one not only has a compartment to store the charging cable and headphones but also has different viewing angles. You can create this on your own at home. This universal wooden tablet stand is perfect for holding all different sized tablets such as iPads/iPad Mini/iPhone and Samsung Galaxy Tab. It also makes charging, transferring data and headphones simple and easy! You can use it when you are reclining in your lazy-boy chair or when you are reading on your bed. You might need tools to make this tablet stand but it will be worth the effort.
SKILL LEVEL: ADVANCED
How To Make A Tablet Stand With Cardboard
Do you love your tablet, but need some help in terms of stability while using it? If yes then you're going to love this cardboard tablet stand! This will help give you a perfectly stable surface for all of your favorite digital media devices. With a few materials and tools, you can get creative with your tablet and make a functional home gadget. It is an easy project to complete and you will get the most adorable piece at the end of it. In addition, you can make this project with either recycled or corrugated cardboard. It's the best way to give your old cardboard box a new purpose and recycle it into something fun yet useful.
SKILL LEVEL: ADVANCED
How To Make A Tablet Case/Stand With Cardboard
Make your own
tablet case
from cardboard and never worry about where to put your tablet again. It's easy, just follow along with the instructions in this video, and you'll make your very own tablet stand within a few minutes. All you need is a piece of cardboard, some aluminum tape, and double-sided tape. If you don't have aluminum tape, you can also use a sheet of tinfoil. Not only can you make a stand to prop your gadget on your table, but you can also turn it into a handy iPad case to protect your tablet too!
SKILL LEVEL: BEGINNER
How To Make A Tablet Holder In 1-Minute
This video demonstrates how to make a tablet stand in one 1-minute. Making this DIY project is fairly simple, and this short video will demonstrate step-by-step instructions on how to make it. All you need are a couple of items that are easy to find around the house. You will be amazed that this DIY tablet holder is made with things lying around the house. And it will take no more than a minute to assemble all of them and create an efficient customized tablet holder for yourself.
SKILL LEVEL: BEGINNER
How To Make An iPad Stand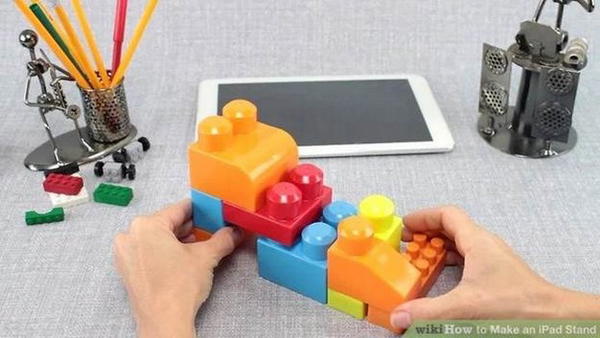 Learn how to make your own tablet stand from household items. Making your own DIY tablet stand is a great solution when you're in a pinch and need your tablet to stand up without having to buy a new one! Make a stand for your tablet for reading in bed, playing on the floor, or watching videos. Make a tablet stand from cardboard so that you can easily have an adjustable angle to look at your tablet and carry it around everywhere! This is a great way to take your iPad and make it into a useful desktop item.
SKILL LEVEL: BEGINNER
DIY Tablet Stand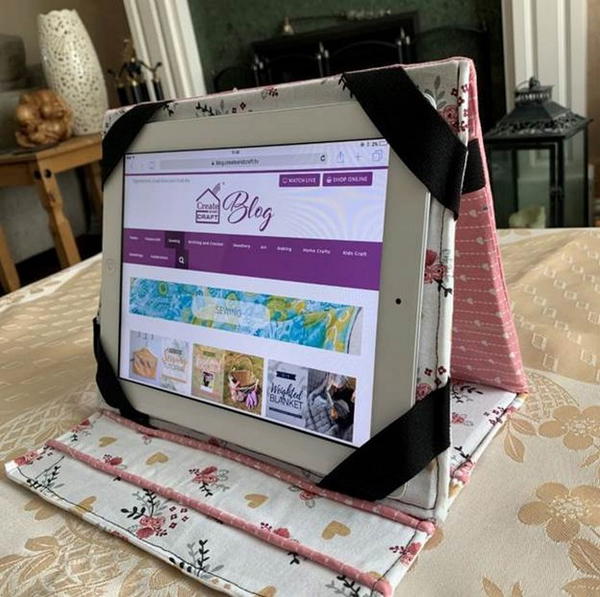 It's not rocket science! But it will be a boon to your life if you spend lots of time online or watching videos on your tablet. Stand it up on your desk, in the kitchen—even hold it in your lap to watch a movie. You'll wonder how you got along without it!
If you know the basics of sewing, you can follow this guide to make a tablet case and stand using your favorite piece of fabric. You will most definitely need a sewing machine and a bunch of other tools—but it's worth it once you have this unique, specially crafted object as a part of your home.
SKILL LEVEL: BEGINNER
Tablet Stand With Clothes Hanger
You're going to love this hack that turns a hanger into a tablet stand. A tablet is such a versatile device. You can use it as an e-reader, play games, or watch YouTube videos while waiting in line or having coffee. That's why I think a tablet stand is a great accessory to have. It will hold your tablet at the proper angle and your hands are free for other stuff. It's a versatile tablet holder, as it has both horizontal and vertical viewing angles, allowing you to use it for reading, watching movies, doing video calls, cooking in the kitchen. The best part is that you don't have to buy anything...just head to the closet and get a hanger!
SKILL LEVEL: ADVANCED
DIY Wooden Adjustable Tablet Stand
This DIY wooden adjustable tablet stand is an awesome beginner project. Its simple design and beautiful hardwood finish can make any tablet look great anywhere, whether at home or at the office. Watch a movie, follow a recipe in the kitchen, or post on Facebook at work--the possibilities are endless. This tablet stand is easily assembled at home and allows you to adjust your tablet stand to fit your needs. It's a simple project that can add function and style to your home.
SKILL LEVEL: BEGINNER
DIY Quick Tablet Stand
This quick, DIY tablet stand can be made in minutes, with all of the supplies found at your local craft store. When watching videos on your tablet it is essential to have a stand for it. This tutorial will walk you through making your own stand to hold your tablet. With a few easy steps, you'll have a cute and functional tablet stand that will make watching videos on your phone or tablet a little easier. This DIY is a perfect gift for your loved ones. This quick project will give you a simple but stylish way to use your tablet.
SKILL LEVEL: BEGINNER
DIY iPad Metal Stand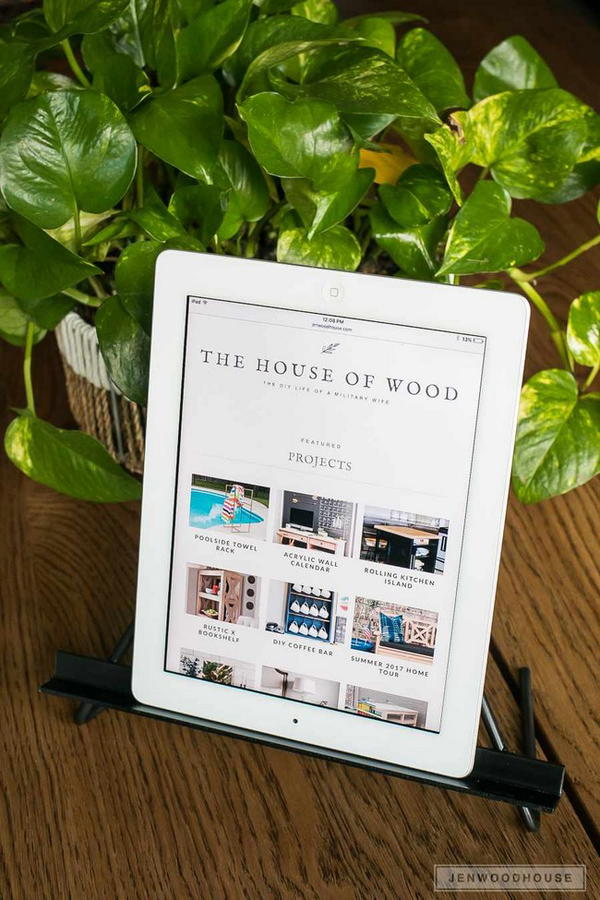 The iPad stand is going to be made using metal, so it will be sturdy and long-lasting. This stand can hold any kind of tablet in an upright position to watch movies at night and play music while you work during the day. The angle of the screen can also be adjusted easily so that you can use it in a sitting or lying down position. This iPad stand will make your life easier. It can be used in the kitchen for watching cooking tutorials, in the bathroom for relaxing reading, and more. The stand was designed by the famous Jen Woodhouse, so you can trust your purchase!
SKILL LEVEL: BEGINNER
DIY Tablet Stand From Egg Carton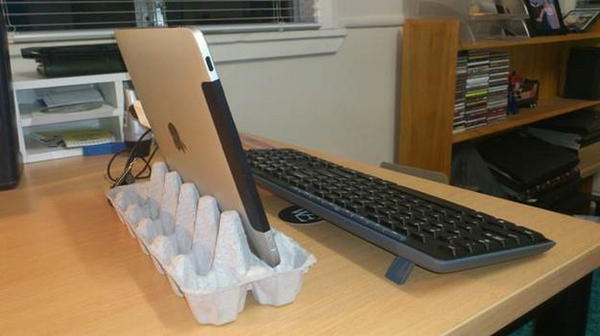 We all want to make cool gadgets and accessories, but sadly, sometimes we don't have the funds to create awesome DIY. And that is perfectly okay because with this tutorial you will learn how to create a tablet stand out of an old egg carton, who'd thunk? If you have an old egg carton lying around somewhere, here's a really cool tutorial for you to check out and learn from. This is a simple DIY project, in just a few minutes you'll learn how to make a tablet stand using an old egg carton.
SKILL LEVEL: BEGINNER
DIY Adjustable Tablet Stand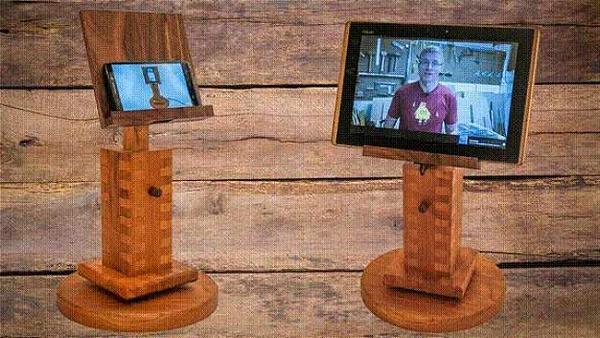 This is a fantastic DIY tutorial on how to make an adjustable tablet stand. The finished product will look great with just about any decor, and you can be sure it will do an awesome job of holding your tablet. This stand looks so cool that you might want to build two of them, one to use and another for a special friend or family member. This adjustable tablet stand is easy for you to make and it will come in handy if you find yourself using a tablet or phone often.
SKILL LEVEL: BEGINNER
Easy Ipad Stand Project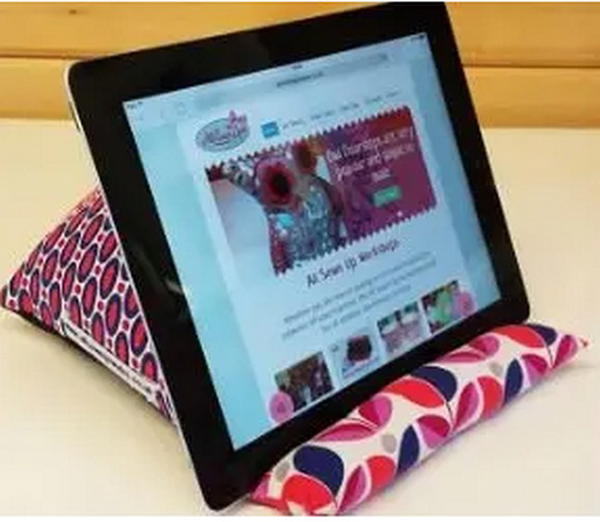 This project is a great way to make use of leftover fabrics. If you are going away or traveling why not make it using your special holiday fabric? You also don't need any sewing skills as all sewing is done by hand and there are no pattern pieces to cut out. It's quick, easy, and makes for the perfect beginner sewing project. This is a great sewing project for beginners as no patterns are needed and it's very quick and will cost you little time and effort. Customize it to match your home decor or choose a fun, trendy print that matches your personality!
SKILL LEVEL: BEGINNER
DIY Tablet Holder For A Car Headrest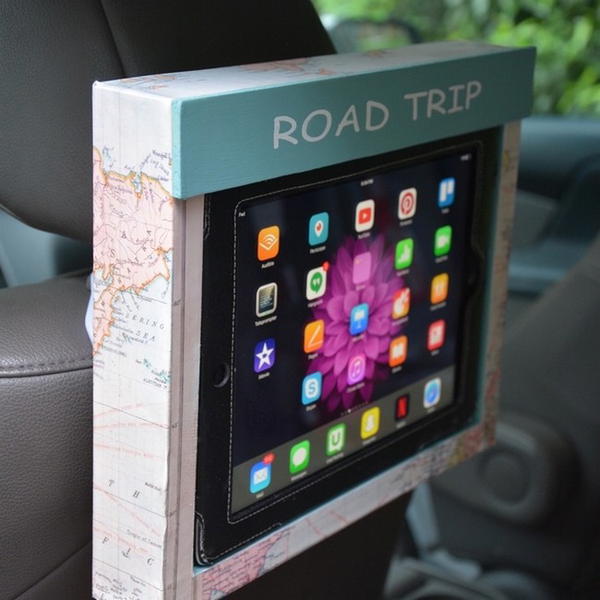 If you love to road trip with your kids for the summer, then this DIY headrest holder for tablets is just what you need! Keep the electronics OUT of your kids' hands and free of spills - just attach one to each of the car headrests. A fun way to keep your kids entertained...and they'll while they enjoy their movies, you can zone out to Spotify on your drive.
Make your own tablet holder for your car headrest to watch shows, or play games on a tablet while you're stuck in traffic, waiting on the kids, or even long car rides. This DIY is made out of affordable materials using scissors and a hot glue gun. It's such an easy and customizable project the kids will love
SKILL LEVEL: BEGINNER
Lego Tablet Stand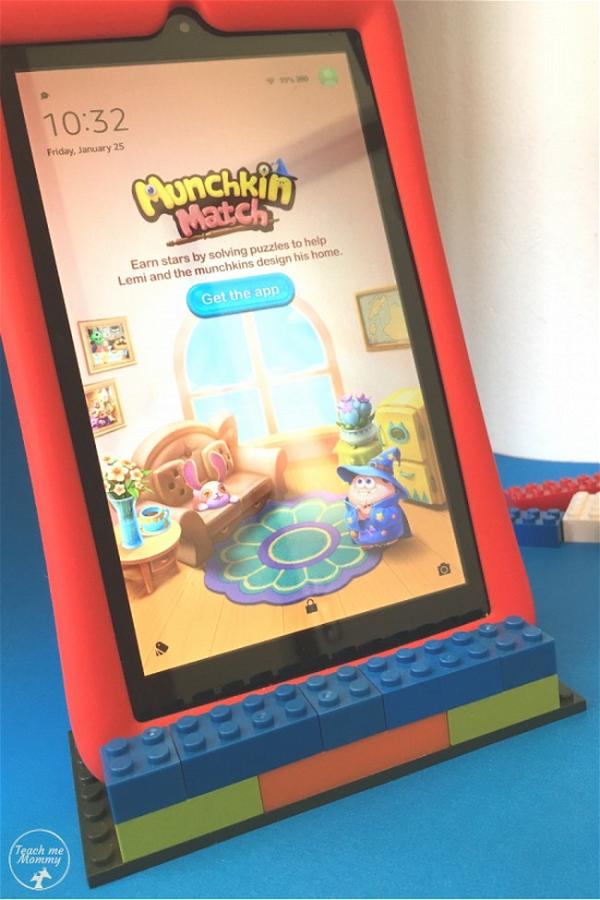 This Lego tablet stand is ideal for watching movies and playing video games. The stand allows you to use your tablet in a landscape or portrait position, while the adjustable base lets you choose a comfortable viewing angle. The Lego blocks are great for storing keys, loose coins, and other small objects. This product was designed for the Lego enthusiast who wants to display and use their tablet on a fun and functional stand. This tablet stand is redesigned with a sloped, clip-in stand that makes it easy to see the screen while you're cooking – and folds flat when you're done. It comes in four great colors (blue, green, orange) with an additional new colorway in black.
SKILL LEVEL: BEGINNER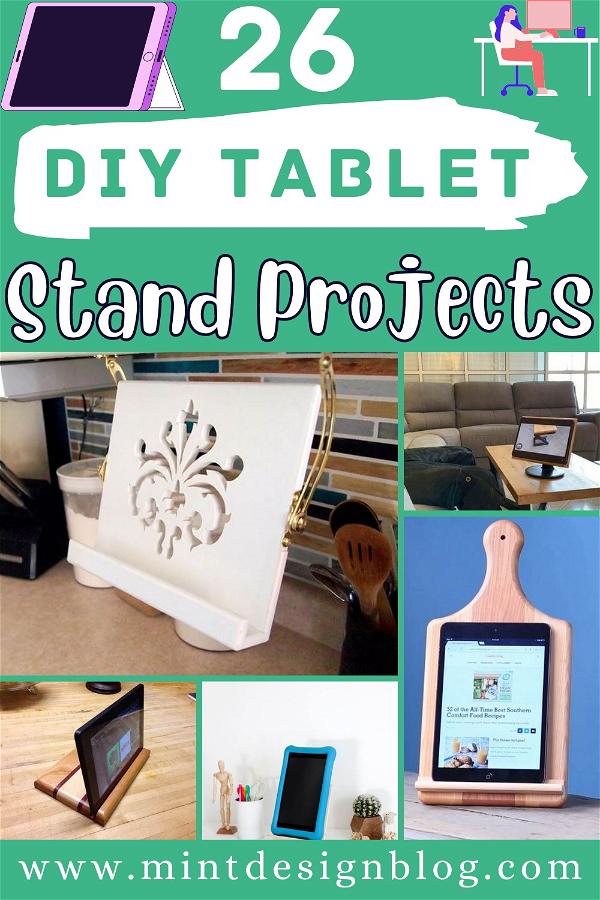 CONCLUSION
There is nothing more inconvenient than looking at your tablet while holding it. You can't be comfortable and relaxed viewers. So, if you think the same way as the rest of us, then you definitely need a tablet stand! A tablet stand holds your device in place so that you can have a better viewing angle with more comfort. If you're new to woodworking or simply on a budget, we have DIY table stand designs for you. It's a good idea to keep your hands free from holding your tablet, so go ahead and make one of these 26 DIY Tablet Stand Projects for some great DIY ideas!