Creative, functional, and affordable! That's what you can create when you build your own spice racks. Spice up your kitchen with an organized spice rack that really works for you! DIY Spice rack Plans are a natural project that can make a huge improvement to your kitchen. With a little instruction, you can roll up your sleeves and make exactly what you need! A well-organized kitchen is a beautiful thing. It doesn't just look nice either… proper kitchen organization can create ease and flow. Something as simple as the right spice rack can change your whole cooking experience...
DIY Spice Rack Plans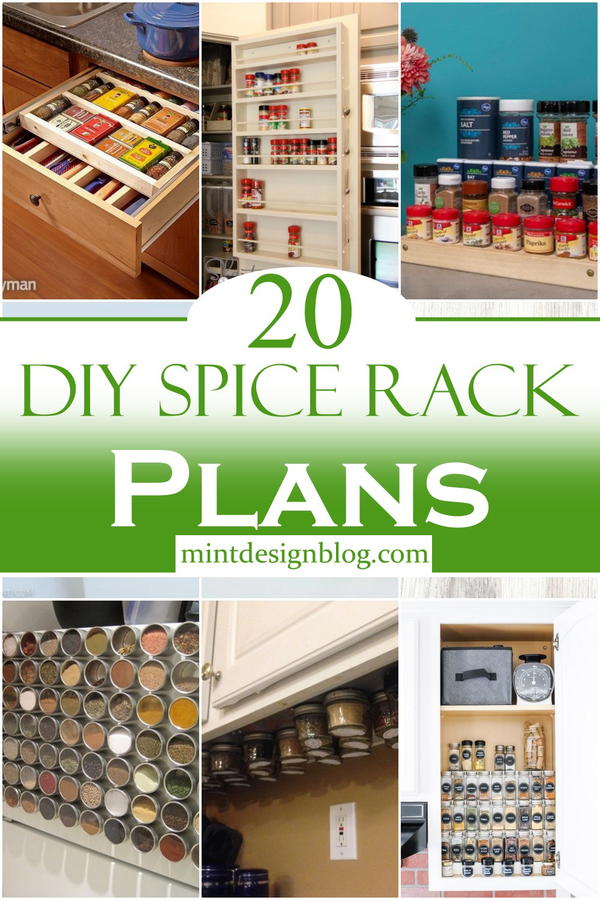 If you're a cook (and even if you're not), it's probably time to get serious about seasoning. Sure, you all have your favorite spices and blends that you use every day, but making your own spice blends is an incredibly easy way to make your food taste better. Not only will you be able to control the ingredients going into your seasoning mix, but you'll save money as well. Trying to find the right size jar for your homemade blends can be a challenge though; they are either too big or too small. Instead of wasting money on containers, you don't need, why not make your own custom-made spice rack?
How to Make a DIY Spice Rack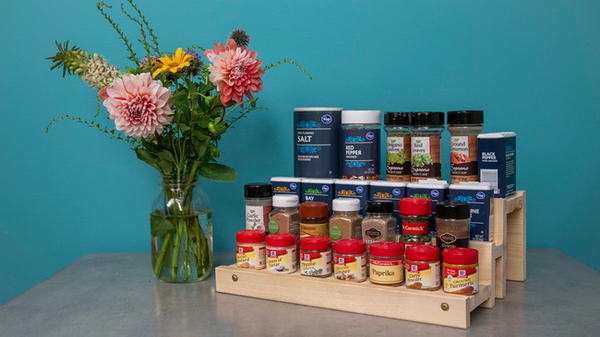 Make your own DIY Spice Rack for cheap! No real tools are needed and all items can be found at the store or in your kitchen. Spice racks are extremely handy to keep in the kitchen. They can be used to store not just spices but other food-related items as well. It can also be a great decoration piece when kept in the living room or dining area. Spice racks are extremely handy to keep in the kitchen. They can be used to store not just spices but other food-related items as well. You might also be someone who enjoys putting up decorations in the kitchen or other areas in the house. You can actually combine these two interests and create your very own DIY Spice Rack that not only will suit your taste but also can bring life to your kitchen or dining room.
DIY Two-Tier Spice Rack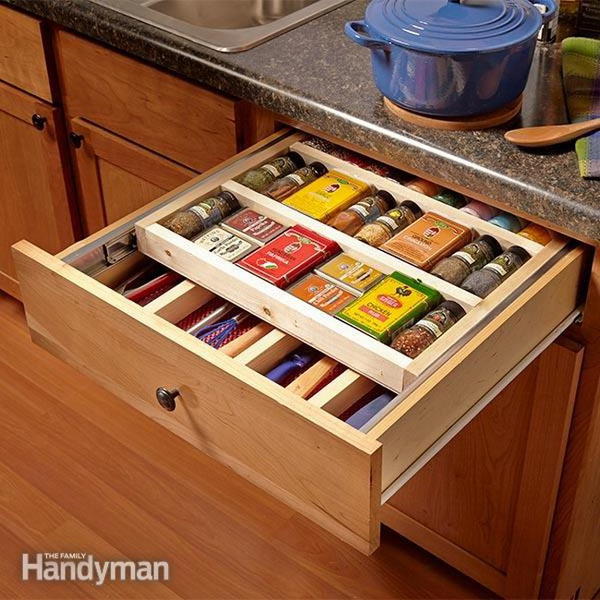 Tired of digging through those messy drawers full of spices to find the ones you need for a recipe? We were. So we decided to make a DIY two-tier spice rack! This spice rack is perfect for storing your most-used spices, keeping them visible and easy to reach. Plus, it only costs about $10 to make and is easy to assemble. The Two-Tier Spice Rack is a simple, easy-to-install wall rack that is the perfect solution for storing and organizing your spice collection. The DIY version of this product requires some basic hand tools (screwdriver, tape measure, level, etc) and you can use it to store and organize spices by using the wall space above your kitchen cabinets.
Required Tools for this Project
Have the necessary tools for this DIY project lined up before you start—you'll save time and frustration.
Air compressor
Air hose
Brad nail gun
Cordless drill
Jigsaw
Miter saw
Required Materials for this Project
Avoid last-minute shopping trips by having all your materials ready ahead of time. Here's a list.
2' x 4' ½" Plywood
Brad's nails
Drawer slides
Door DIY Spice Rack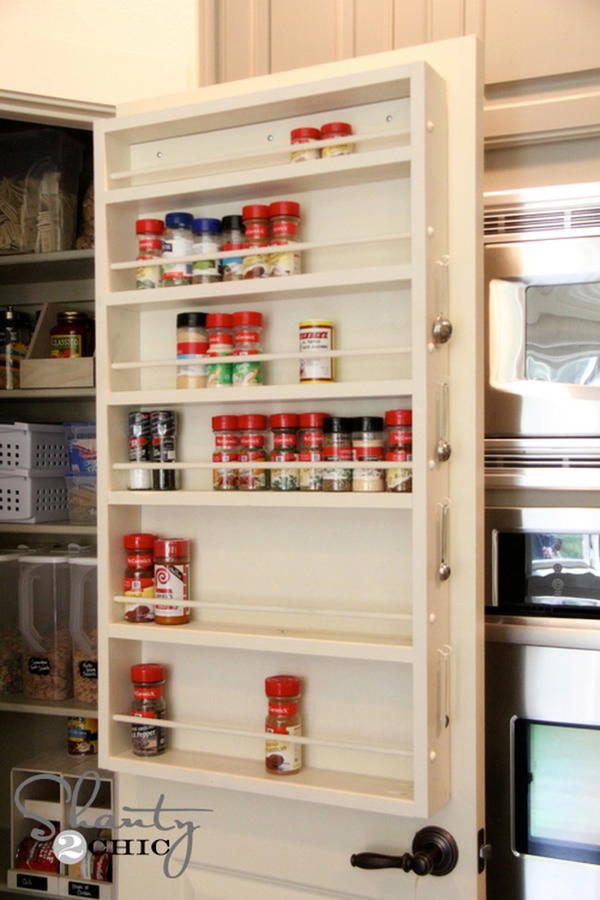 Use your wall space for more than just hanging photos and artwork. This hanging spice rack can be mounted on a door or wall (you choose). Making a door DIY spice rack might be one of the easiest and most useful DIY projects ever. With only an inexpensive trip to Home Depot and some basic tools, you can make your own custom DIY spice rack. Plus, it's easy enough that even beginner DIYers can give it a shot. It's perfect for organizing spices, oils, cleaning products, medicine, beauty products, and more. When designing this spice rack we only used power tools when necessary, because you don't have to! With these plans in hand, you can easily complete them with a hammer, drill, and saw.
Materials: (2) 1×4 boards, 10 feet long, (3) ⅜" dowels, 4 feet long, ⅜" dowel buttons, Cup hooks, (1) 2×4 and ¼" thick plywood sheet, 1¼" finish nails, 1¼" pocket hole screws
Tools Needed: Drill, ⅜" bit for the dowels, Tape Measure, Speed Square, Pencil, Kreg jig, Circular saw, Brad nailer
Magnetic Wall DIY Spice Rack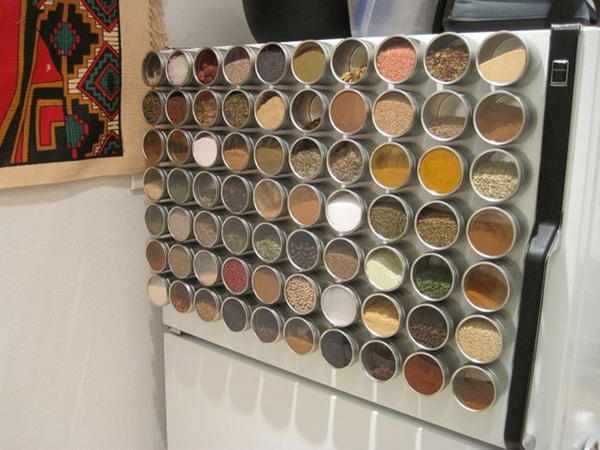 Using a variety of magnetic spice containers, this DIY spice rack is a great way to take advantage of vertical counter space. It's so easy to make and super cheap too! With all the containers magnetized, you don't have to worry about rolling or sliding spices. Make your own spice rack on a budget! This magnetic spice rack is a great way to utilize space in your kitchen and store spices. This is a really attractive storage option that eliminates the need for using containers on the countertops. Many kitchens don't have much space, but this organizer makes good use of what space you do have. Hang your spices and jars on this magnetic wall DIY spice rack, then set aside a bit of counter space for the grates as you barbecue up some tasty treats!
Materials: 4 oz round, clear topped tins, ¼" – 1/16" Neodymium magnets (3 per tin), Surface for mixing epoxy (newspaper, or similar), Epoxy (like JB Weld), Damp paper towel
Tools Needed: Toothpicks, Tweezers, 100-grit sandpaper, Label maker (if desired)
Countertop DIY Spice Rack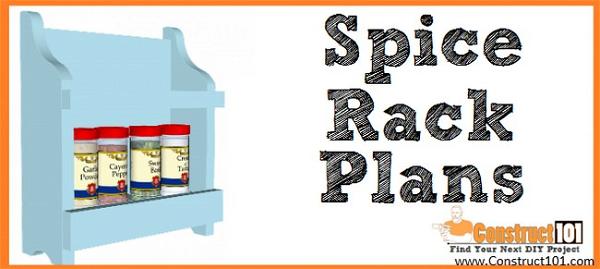 It's as easy as cut, nail, fill with these free spice rack plans! Have a little fun and make an attractive DIY spice rack for your kitchen. If you have the more expansive cabinet space of a wall, the free spice rack plans will easily adapt to take advantage of the available real estate. Splurge on some paint to give your shelf a new look or match existing cabinets. Make a DIY spice rack with these free plans. You won't believe how quick and easy it is to build your own custom spice rack, plus they look great too! This is one of our favorite projects as they can be built in only 30 minutes and never have to be painted or stained! These are perfect for storing your everyday spices under the cabinets on your kitchen counters.
Materials: ¾" 1×6 cedar board (fence or pallet board work too), 1¼" finishing nails
Tools Needed: Jigsaw, Hammer, Sandpaper
Test Tube DIY Spice Rack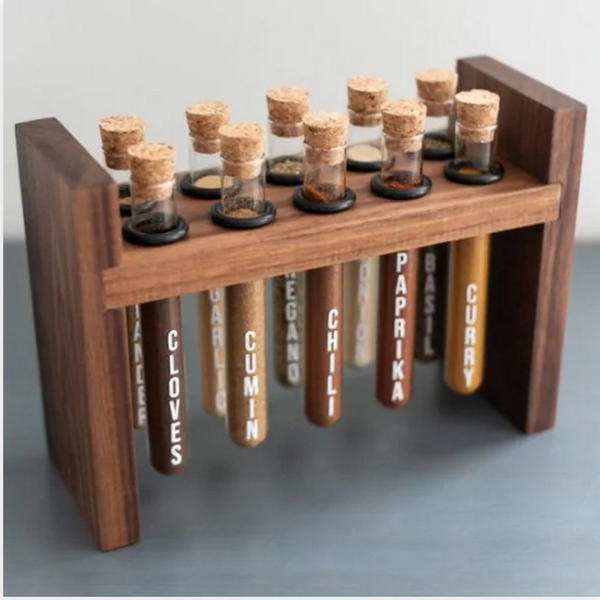 Bold innovation meets artful ingenuity in this cutting-edge spice rack which mimics a laboratory test tube rack. For those of us who love the science behind cooking and chef-y gadgets, this Test Tube Spice Rack is just what we need. This is the perfect way to organize your spices and show off their amazing chemical reactions. It's easy to assemble too! Hand-blown glass test tubes loaded with your favorite seasonings, herbs, and spices. Test Tube is a perfect addition to the stovetop or countertop, giving your kitchen that playful touch of science and fun! Perfect for tiny kitchens, patios, and apartments this spice rack says it all. It is a unique way to spice up your kitchen design and helps you create a healthier lifestyle!
Materials: 1×4 board, 20 mm test tubes with stoppers, 18 mm rubber o-rings, Wood glue, Paint or stain (if desired), Mineral oil (for hardwood)
Tools Needed: Drill, 21 mm Forstner bit, Table saw, Sander, 12" clamps
Storage Bin DIY Spice Rack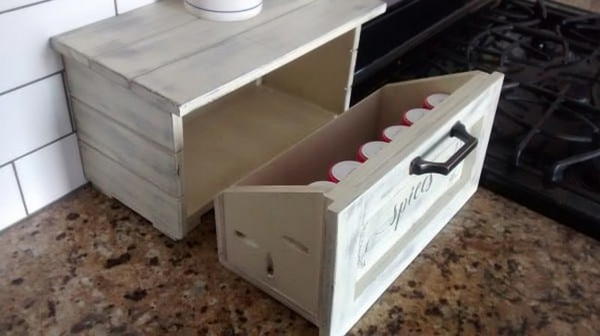 Tired of dirt and smudges on your spice bottles from the cabinet? Build this clever spice box. Drawer Spice Box makes a great DIY project that's perfect for intermediate enthusiasts who want an organized kitchen in just a few hours. This intermediate project takes up some countertop space, but looks so charming! You'll love it if you want a clean and organized kitchen that does not look cluttered. Pop it on your countertop with a drawer for storage, and choose some of the many DIY spice labels provided to label each compartment. With the right tools and supplies, you may be able to whip up this project quickly and easily on your own kitchen countertop.
Materials: ¼ sheet of ½" plywood, Pocket hole screws, Glue, Pre-stain wood conditioner, Stain, Chalk paint, Drawer pull, Polyurethane, Graphite Paper
Tools Needed: Table saw, Miter saw, Drill, Pocket hole jig, Paintbrushes, Sander, Clamps, Measuring tape, Square
Tiered DIY Spice Rack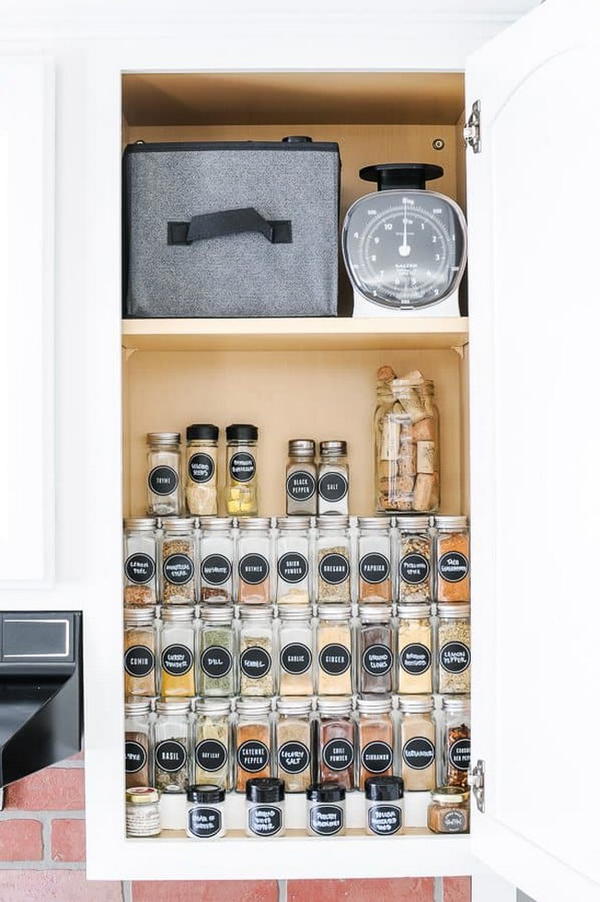 Overfilling is a problem in most spice cabinets, and easy access can be difficult if the spice bottles are not stored upright. The tiered counter or cabinet spice rack melds form with function. Those who like easy access and the readability of their spices will love this plan. Plus, by its very design, this rack promotes organization and impedes overfilling.
This counter or cabinet-tiered spice rack melds form with function. It holds the spices upright, preventing overfilling and its design makes it easy to see what spices are located in each tier. Create your own tiered DIY spice rack to organize your spices on a countertop or cabinet. This tutorial will get you started down the path to kitchen organization with a rack that looks good and fits in any kitchen décor. It holds bottles of all shapes, sizes, and widths, making it easy to see what you need and grab it quickly.
Materials: ¾" plywood, Primer, Paint, Nails, Glass spice jars (optional)
Tools Needed: Table saw, Nail gun or hammer, Clamps, Paintbrush
Under Cabinet DIY Spice Rack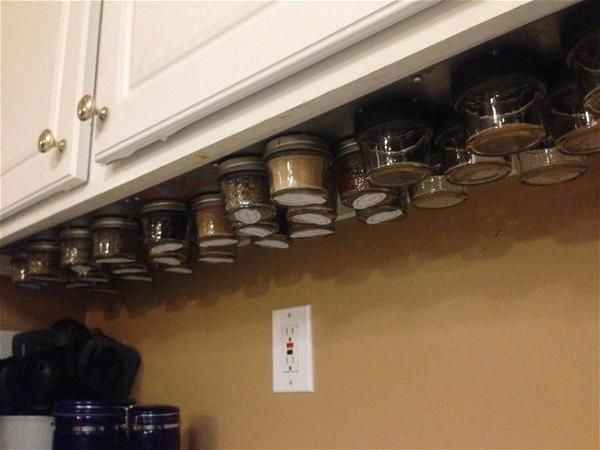 If you've got dead space under a cabinet, don't waste it! Turn it into your very own DIY spice rack. With this plan, you'll save money by reusing items you already have, avoid paying for cabinets and paint, and most of all, add spice storage to an area that can really use it. Plan on spending some time in the kitchen? Put those dead spaces under cabinets to use with this vertical spice rack! Though super-efficient and beginner-friendly, one project downside for this build is that jars may be hard to read with more than one row. This DIY-friendly installation is efficient, secure, and easy to build in just a couple of hours. Just four screws and a quick jaunt to the hardware store later, and you'll be storing your spice jars in the best way possible.
Materials: Canning jars, E6000 glue, ¼" x 1/16" Neodymium magnets, Sheet metal (20 gauge recommended), Liquid nails, Small screws
Tools Needed: Drill
Wall-Mounted Spice Rack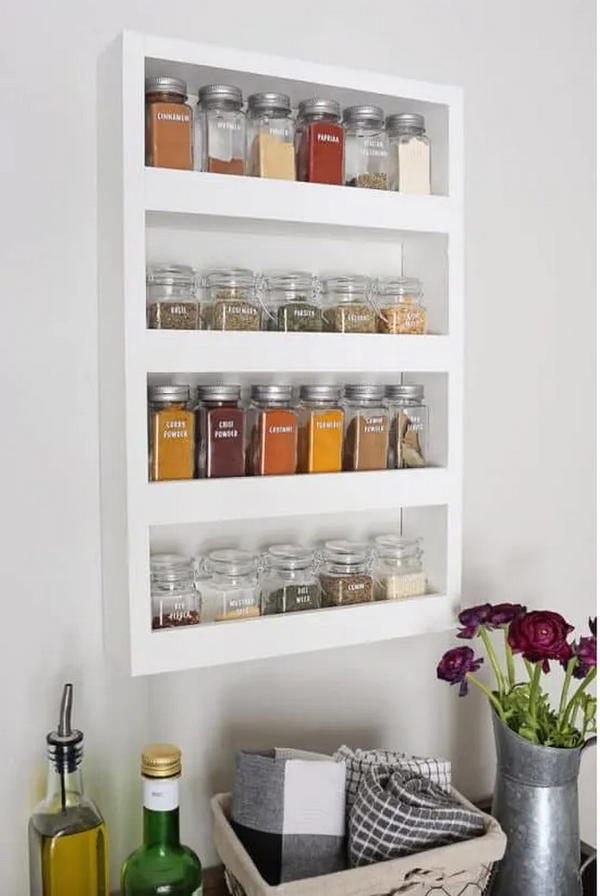 If you love cooking and love cooking shows but hate the way that most of them don't want to share, here is something for you. These plans are straightforward with plenty of photos to help you along. There is a noticeable lack of instruction on the actual wall mounting part, so we don't recommend this build for beginners. For extra style points, they even have pantry label decals. Get your spices organized with these easy-to-install wall-mounted DIY spice rack plans. They make an attractive addition to any cabinet and will help you keep a nice stock of spices on hand. Plus, they're really inexpensive! These instructions are for a homemade Wall Mounted DIY Spice Rack that will provide years of service.!
Materials: (1) 1×3 @ 6ft, (1) 1×4 @ 6ft, (2) ½″ x 3 @ 3ft, (2) ½″ x 2 @ 3ft, 1″ and 1¼ ″ Kreg screws, 1 ¼″ Brad nails, Wood glue, Paint or stain (optional)
Tools Needed: Kreg jig, Drill, Miter saw, Clamps, Brad nailer
Magnetic Fridge DIY Spice Rack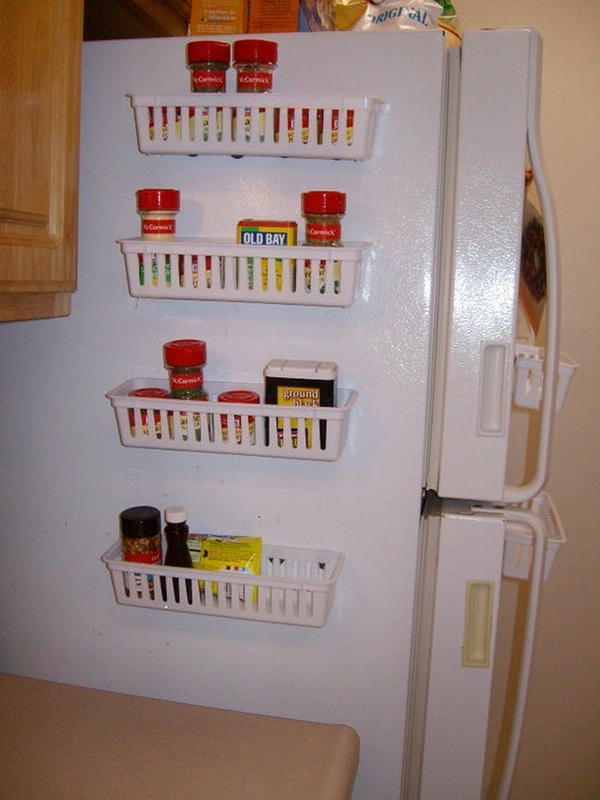 Are you looking for an easy DIY project that will help save your kitchen from disarray and deliver uniformity to your spices? If so, then this is the perfect project for you! Making your own spice rack means that you can customize the design as you see fit. An inexpensive magnetic spice rack for the refrigerator, made from scrap wood. It's perfect for storing everyday spices and herbs. Sure, you can buy pre-made spice racks for a couple of hundred dollars, but this homemade version looks great and costs significantly less to build. Put together your own magnetic spice rack to store spices on the refrigerator door, instead of haphazardly in the cabinet. These DIY racks are inexpensive and easy to build, with no specialized tools needed. This design gets full marks for cost, ease of build, and versatility – all while providing a stylish enhancement to your kitchen decor!
Materials: Small plastic bins (like pencil holders), Magnets
Tools Needed: Hot glue gun
Rustic Wall Shelf DIY Spice Rack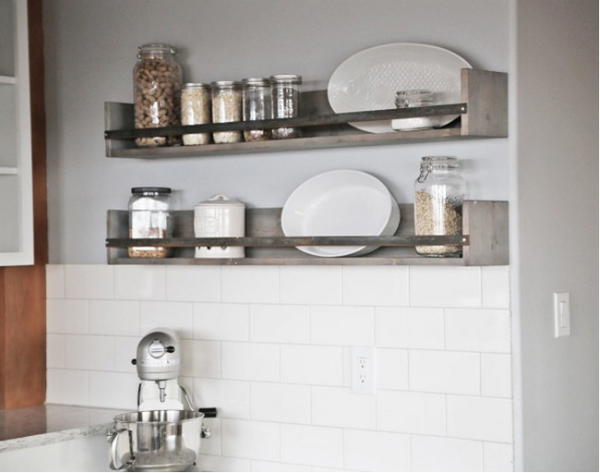 Rustic Wall Shelf DIY Spice Rack is a perfect storage solution for any kitchen. It provides ample space to store your spices and it looks great too. Its freestanding design makes this spice rack easy to use. The best part of the rack is that you can build it with affordable and easily available materials.
If your spice drawer (or junk drawer, or cookie jar) has everything organized by color but still seems a little disorganized, this shelf can help. This corner-Wall Shelf DIY Spice Rack is the perfect addition to any kitchen looking for extra storage in an unused space. This rustic wall shelf is easy to build and requires minimal tools, materials and skills. You will love the homey appeal of this design, built out of old pallets. And it's the perfect caddy for holding those cute little metal measuring spoons we really don't know what to do with .
Materials: (1) 1×8 board @ 8ft, (1) ¾" wide flat metal stock, 41″ long, 1¼" brad nails, 2" self-tapping wood screws OR 1¼" pocket hole screws, 2½" drywall screws
Tools Needed: Drill, Kreg jig (if using pocket hole screws), Stud finder, Jigsaw with metal blade
Built-In Spice Rack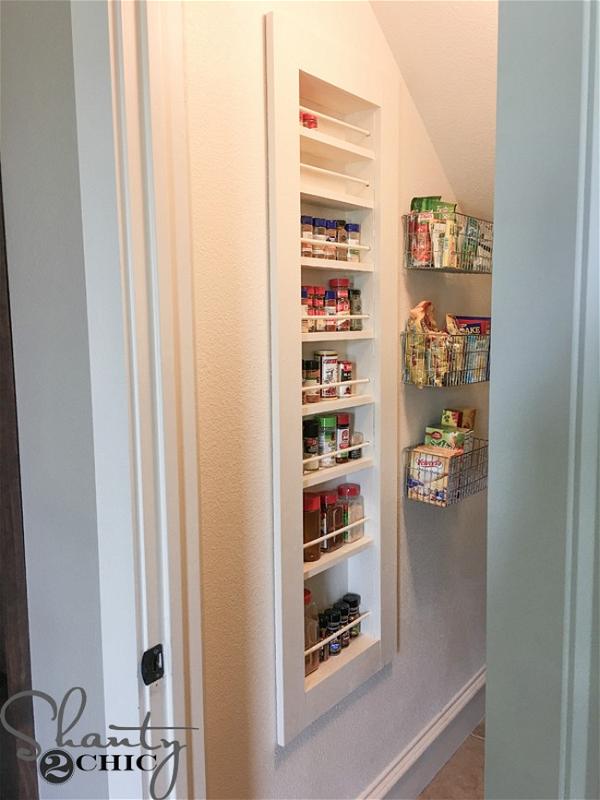 Always on the hunt for fresh spices? Store them in this DIY custom rack that you can install right into your wall–without any fancy tools or even a stud finder. Forget seeing spice jars at the bottom of your cabinet or piled in baskets on your counter. Instead, install this genius DIY spice rack built right into the wall. It keeps spices perfectly organized and easily accessible. The perfect DIY project for home cooks with access to tools. It's easy to build, with helpful detailed directions and pictures throughout.
Add heartiness and flavor to any soup, stew, or vegetable dish. Some of your favorite (or not so favorite) herbal flavors can be distracting or overpowering if used without restraint – but only you know your taste buds best. The best way to go about this is to have some freshly ground pepper on hand each time you cook a meal.
Materials: Three 1×4 planks at 10ft, One 1×4 planks at 6ft, ¼ " plywood to fit (57"x 14 ¾" used here), Three ⅜" dowel rods at 4ft, Wood glue, Wood filler
Tools Needed: Miter saw, Drill, Kreg jig, Rotary saw, Sander, Nail gun (or hammer & finishing nails), Stapler (or hammer & finishing nails)
Simple DIY Spice Rack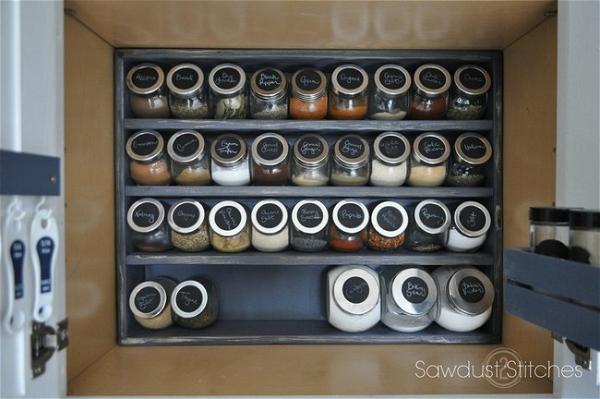 Spice racks aren't just for the countertop anymore! If you're looking for a no-fuss way to organize your spices, DIY this rustic spice rack! Organize and store your spices in these durable and simple, one-of-a-kind DIY spice rack plans. Perfect for the kitchen, or any other place you need to store spices, scented oils, vinegars, etc. in an easy to reach spot and keep them from becoming musty or yucky. This DIY spice rack plan teaches you how to build one that fits in a cabinet or on your countertop. This plan will show you how to build the basics, plus offer tips and suggestions on getting creative with your project. These simple DIY spice rack plans will get you a customized, rustic-chic cabinet storage shelf quickly and easily.
Materials: (2) 1″x 4″ Boards, Primer, Paint, 1½″ finish nails, ¼″ Paneling, Wood Glue, Glass Jars, Black primer
Tools Needed: Miter Saw, Sander, Paintbrushes, Nail gun or hammer, Compressor
Simple Wall Shelf DIY Spice Rack
Need a place to store your spices and still have them on hand? This spice rack was built to be informative as well as practical with the shelf being magnetic as well as wall-mounted! An inexpensive tool box holds everything you need to add spice to meals and lends itself to many other DIY projects. Whether you're looking for a simple spice rack or a unique way to organize the back of your kitchen cupboard, this wall shelf will do the trick. This project is made from two different materials: an inexpensive MDF board and magnetic tins. If you're looking for shelves that are easy on the eye and can be installed anywhere in a kitchen or classroom, then this piece is ideal.
Materials: 48″ x 48″ x ½" MDF sheet, 48″ x 48″ x ¼" MDF sheet, 1″ x 24″ x ½" pine board, 24″ x 6″ metal sheet, Vinyl stickers (if desired), 1″ finishing nails, Glue, Primer & paint, Magnetic tape, Hooks
Tools Needed: Table saw, Jigsaw, Hammer, Pencil, Drill and ⅛" bit, Screwdriver, Paintbrush, Level, Extra fine sanding sponge
Travel Ready DIY Spice Rack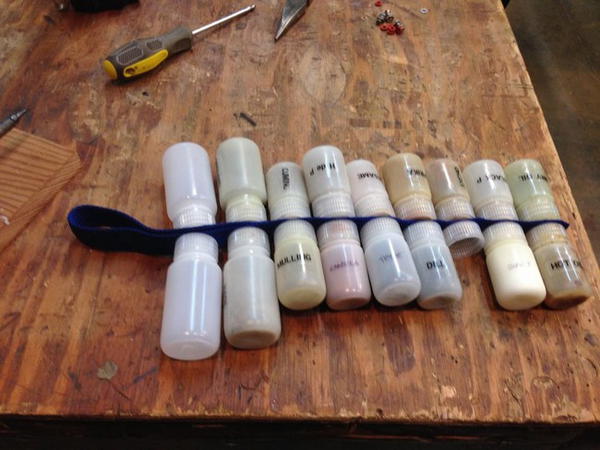 Looking for the perfect gift for that DIY-er? Is it for you? It doesn't matter, this is a must-make. The Travel Ready DIY Spice Rack has it all. It's lightweight, easy to pack & use, cheap to make, requires few tools… the list goes on. You'll never have to sacrifice great cooking while traveling again with this clever build.  This DIY spice rack strap will change the way you travel forever. Unlike store-bought spice racks, this rack is made specifically for traveling. It's lightweight, easy to pack and use, inexpensive to make, requires few tools and no drilling. Basically, it's perfect. But trust us – if you've ever been on the lookout for a super lightweight and simple way to bring your favorite spices along with you on your adventures, then this is the perfect build for you.
Materials: Nylon ribbon or webbing (at least 18" recommended), Pairs of 1 or 2 oz Nalgene containers, ½" long stainless steel bolts, Matching nuts, Matching locknuts (for dry spices), or rubber washers (for oils)
Tools Needed: Hand Drill
Wooden Spice Rack Build Plan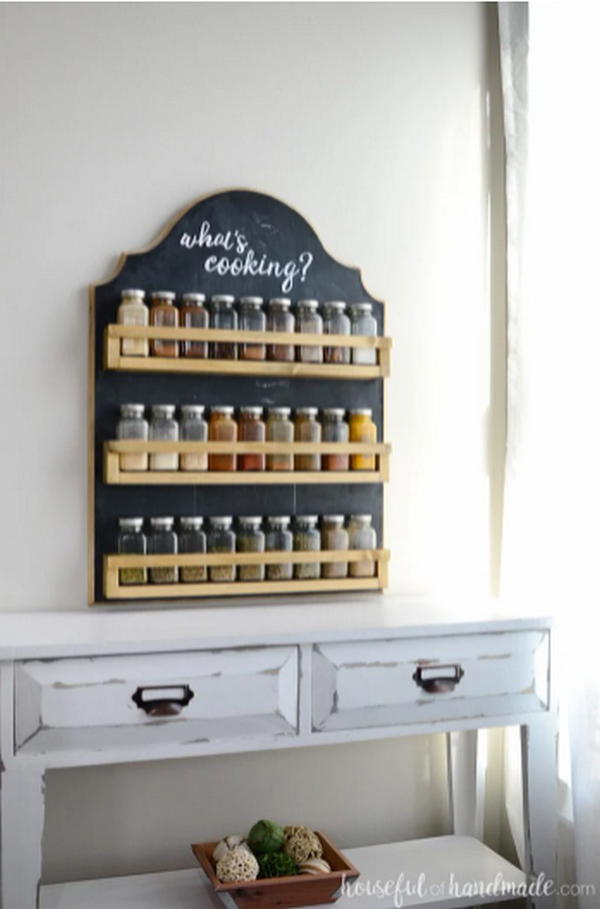 You are going to want to build your own Wooden Spice Rack after seeing all of the uses, benefits, and features it will bring to your kitchen. Build a Wooden Spice Rack and give yourself instant access to herbs and spices so you can quickly pick exactly what you need when cooking. This ledge easy-to-read plans will have you building a spice rack that holds an overabundance of spices, saving you time every day when in the kitchen. You can have your own wooden spice rack ready in minutes. Build your own beautiful spice rack for cooking convenience, easy and perfect for any kitchen. Incorporates many different pieces of wood, each cut in a different way, and can be built in as little as one day with the right tools.
Framed Magnetic Chalkboard Spice Rack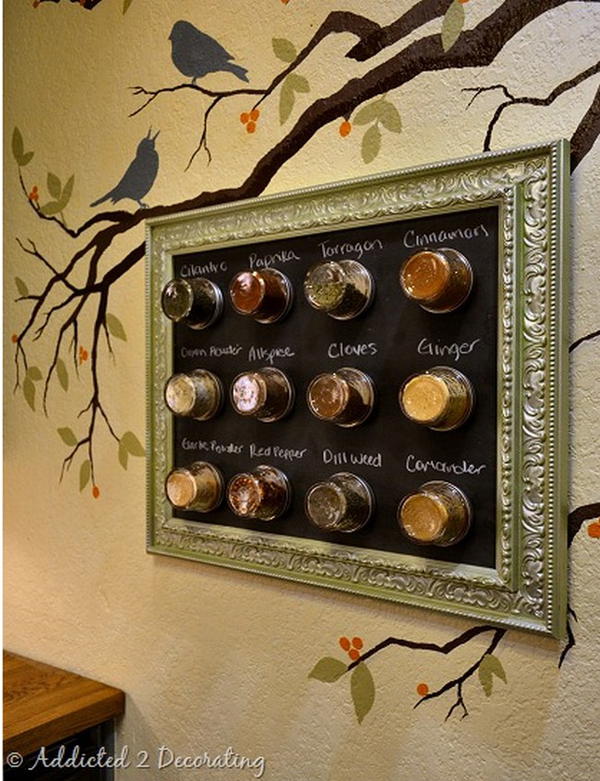 Remake fun with "framed magnetic chalkboard spice rack" picture frame - the perfect way to redesign the walls in a kitchen or bathroom, add beauty & style while creating a place for spices, candles and other small decor pieces. The Framed Magnetic Chalkboard Spice Rack is the perfect solution to kitchen organization. It comes complete with two drawers, two spice jars, and a chalkboard. The magnetic spice jars make it simple to store your favorite spices. The chalkboard allows for any writing you need. Keep track of what you're running out of, or your weekly shopping list on the chalkboard! The set comes ready to mount flat against your wall, making it easy to position in any kitchen space you desire.
Tools & Supplies:
¼" plywood or MDF,
Metal duct,
Decorative frame,
4 oz. jelly jars,
Neodymium magnets,
Epoxy adhesive,
Chalkboard paint,
Sandpaper,
Chalk,
Gloves,
Tin snips,
"L" square or yardstick, and
Jigsaw
DIY Tiered Spice Organizer Rack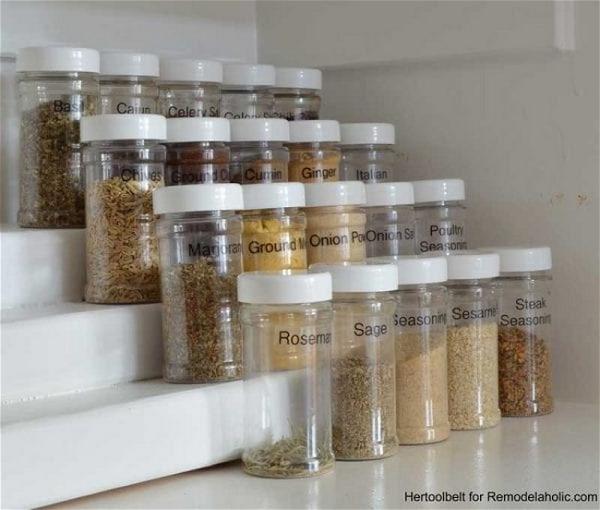 If you're looking for a quick and easy way to organize your spice collection, this handy DIY Tiered Spice Organizer Rack will do the trick. Its design maximizes space, while its open design keeps spices accessible. This DIY tiered spice rack creates a compact storage solution for all your dried spices. Its multiple layers give you plenty of room for small- and large-sized jars, so there's no need for searching high and low for the right flavor. Build a tiered spice rack out of wood and pegboard to organize just about anything; from spices, to nails, markers, pencils, clips, etc. This can be made quite easily and is great for people with limited space or on a budget.
Materials
1 – 2″ x 4″ x 8′ board
7 – 2 ½″ wood screws
wood glue
sandpaper
paint
Tools Used
Miter Saw
Drill and bit for the screws
Sander
Countersink bit
Build A Mini Mason Jar Spice Rack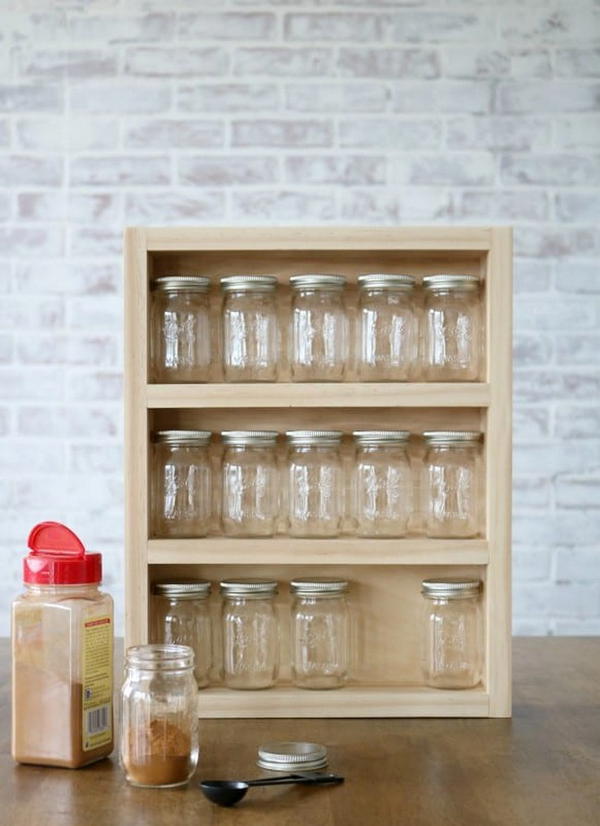 Wow your friends, family, or co-workers with this easy to assemble DIY mini mason jar spice rack. Everything you need to build this project is found around your house, making it a no-brainer for every woodworker. Screws, glue, and a hammer are the only tools needed for assembly. This DIY mini mason jar spice rack is both rustic and charming. Fill it with a selection of your favorite spices and proudly display it on your kitchen countertop. This is an easy enough project for any intermediate woodworker to complete in an afternoon. The purpose of this instructable is to both inspire a great-looking and functional new spice rack for everyone. It can be built with basic tools, materials from around your home or from a dollar or thrift store.
Tools Suggested:
Miter Saw
Table Saw
Nail Gun
Sander
Supplies Used:
1 x 3 Pine Board
¼″ Paneling
16 gauge 2″ nails
wood glue
Mini Mason Jars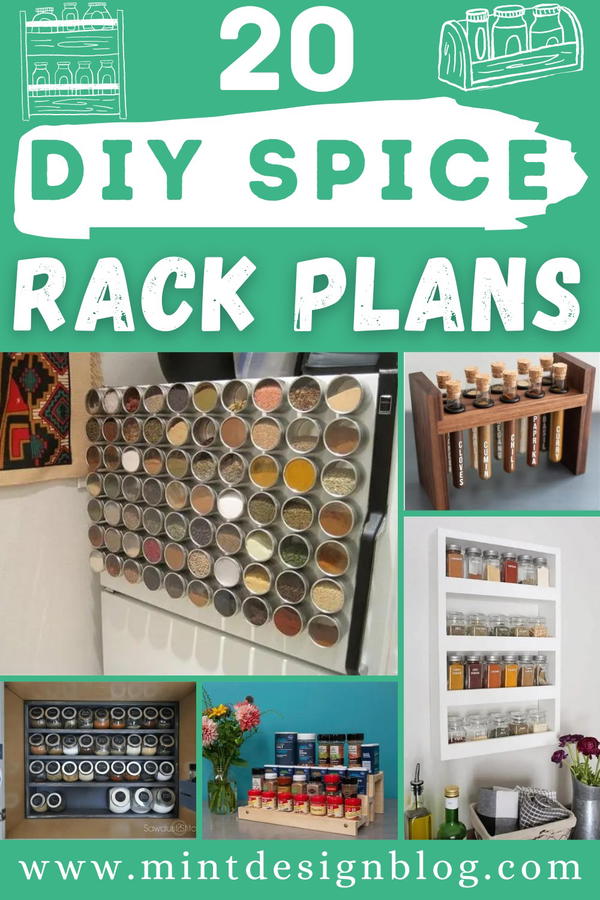 See Other Projects