Don't let the clutter slow you down. Keep your workshop and your projects in order by using these smart DIY lumber rack plans to keep your wood and hardware neatly organized. For most people, the problem comes with what to do with all their wood. The good news is that there are many different kinds of lumber storage racks you can make yourself so that your wood will stay organized and easily accessible. A lumber storage rack will keep your wood properly stored and organized. With the right materials and tools, you can have one built in a jiffy, regardless of your carpentry experience.
DIY Lumber Rack Plans For Wood Workshop
When it comes to storing your lumber, you have a lot of options. You can use a lumber rack, build shelves, or hang your lumber. If you are looking for a simple and cheap way to store your lumber, consider building a pallet lumber rack. Pallets are readily available and inexpensive to purchase. Moreover, they are sturdy and easy to work with. Once you have the materials at hand, follow the instructions below on how to build a DIY pallet lumber rack.
DIY Lumber Rack Plan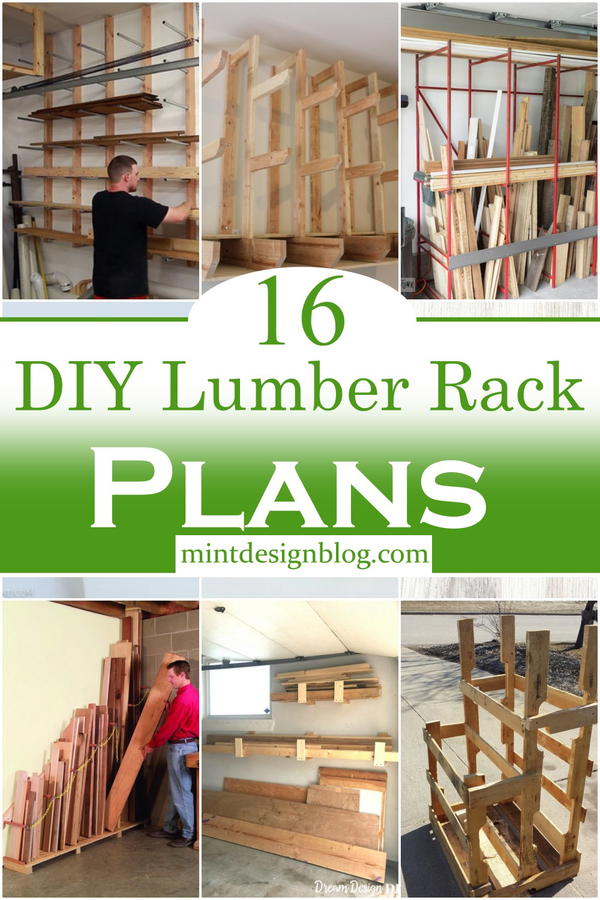 Wall-mount Lumber Rack For Boards And Sheet Goods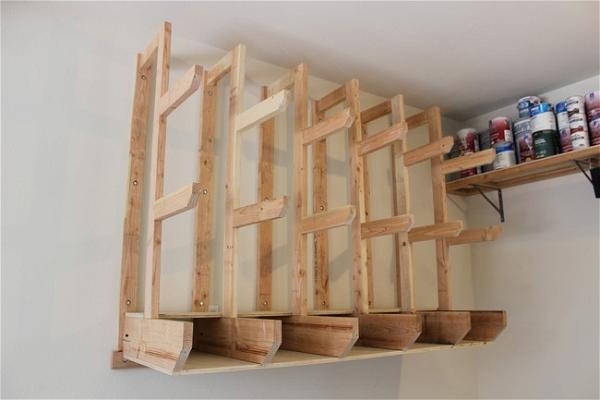 Looking for a quick and easy space-saving solution for storing lumber off the floor and out of the way? This wall-mount lumber rack is the perfect storage solution. It's easy to build, and all you need are some basic tools. You can easily store all of your sheet goods and boards and retrieve them quickly when needed. This helps you take full advantage of your space, save money on a mobile lumber rack, and gives you an efficient way to store and access your lumber, plywood, and other materials. Storage rack stores lumber and sheet goods neatly off the floor, keeping your shop tidy and organized. The rack holds lumber and sheet goods neatly in a compact, vertical orientation where they take up less floor space. It also keeps valuable boards close at hand so they are easily accessible.
Ceiling-Mounted Lumber Storage Rack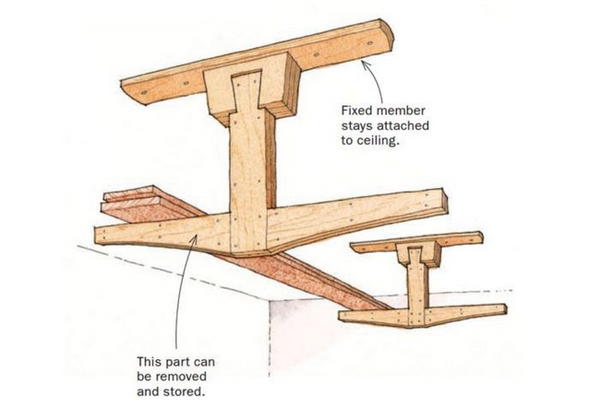 If you're a professional who has lumber and longboards (such as plywood or sheetrock) that you use frequently, this rack is perfect for storing them above the ground. The design allows the vertical components of the rack to be removed from the ceiling easily when not in use! Make the most of your space with a Ceiling-Mounted Lumber Storage Rack. This convenient storage rack allows for storing even the largest pieces of lumber overhead, saving you precious floor space in your workshop. To use, simply secure the vertical components to your ceiling joists and place the slats in-between. When not in use, remove the vertical boards from the ceiling without hassle.
Overhead Lumber Storage Rack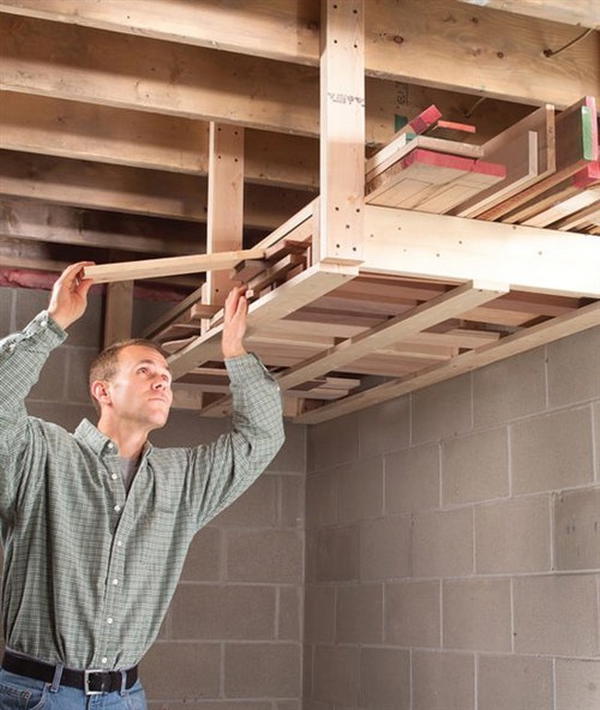 This overhead lumber rack is among the most affordable in the market. It is a nice way to keep your longboards organized, secure, and easy to access. Ideal for families who have several boards to store, it can easily accommodate several medium-sized boards. Since most longboards are much longer than regular boards, this rack allows you to save a lot of space by storing the longer boards parallel. You can even store the smaller boards perpendicularly at an angle so that you have easy access to them. All in all, this is possibly one of the cheapest ways of storing your longboard collection to date.
Scrap Wood Lumber Rack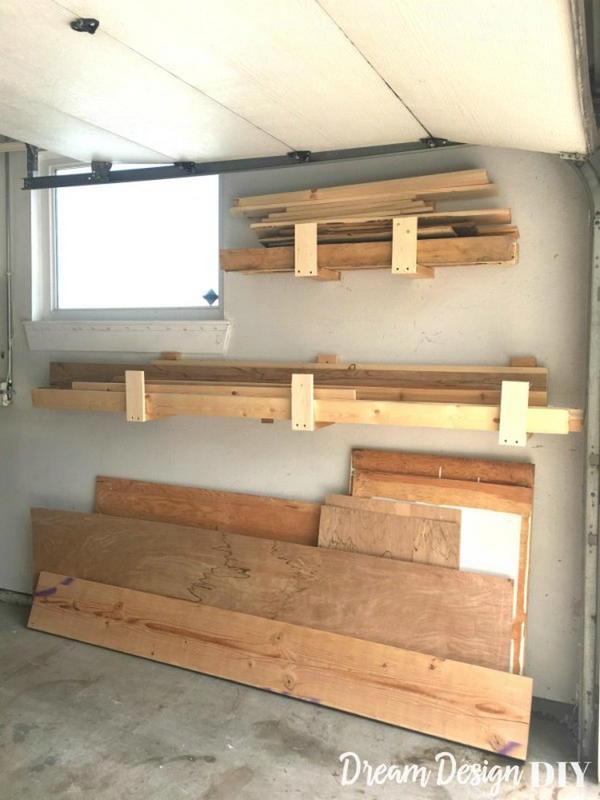 If you are going through the process of clearing out a basement or attic to make room for new renovations, be sure not to just toss your scrap wood. Instead, bring it up to your workshop and use it to build a simple lumber rack that you can use for storing boards for projects. It is easy to create by screwing several 2x4s to wall studs. Be sure to utilize long screws. You can customize the design to either hold long or short pieces of wood, depending on the type that you typically work with.  Be sure to utilize long screws. You can customize the design to either hold long or short pieces of wood, depending on the type that you typically work with.
Vertical Lumber Organizer
Whether you are a contractor with several size lumber lying around or a DIY enthusiast who has just built some wooden items, you can use the vertical lumber organizer to keep everything organized and easy to find. The best way to store boards is vertical. We have designed the vertical lumber organizer using the least amount of wood yet giving you the most utility of all rack systems. So, if your space needs are small then this is a solution for you. The storage rack organizes your boards by their sizes, so it makes it easy to find what board you need at a glance. It also saves your room from unnecessary clutter. You will need a chain to secure the boards to the wall. This storage rack requires minimal wood to construct and is super convenient.
Pallet-and-Loose Lumber Enclosure Tower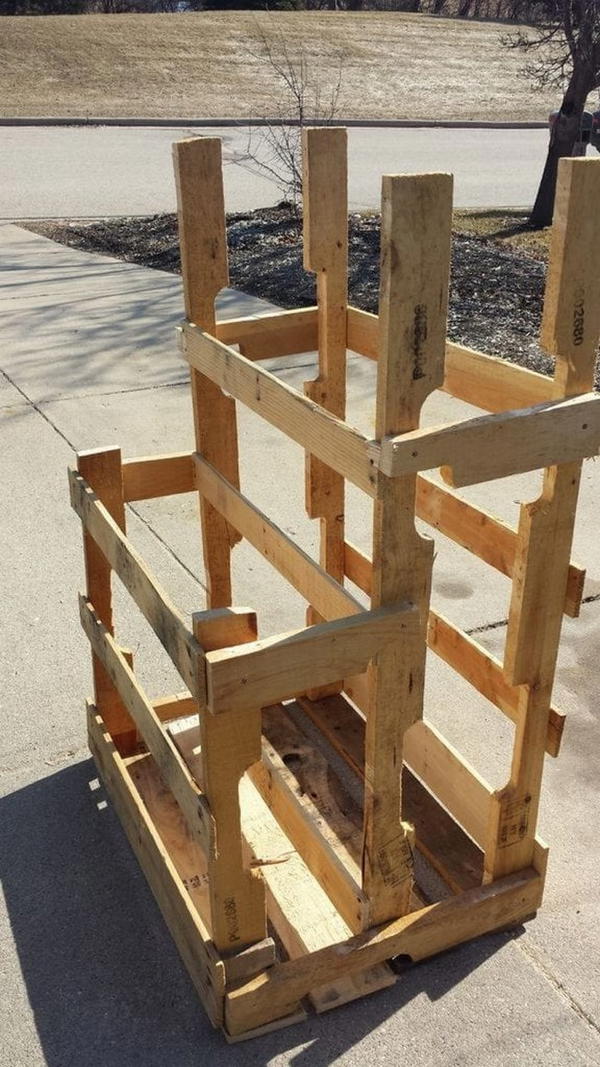 This pallet-and-loose lumber enclosure tower provides a safe and sturdy storage area for your longer lengths of lumber. The rack is small enough to fit into a corner, yet large enough to provide ample space for storing multiple boards. This is a great storing method because it allows you to sort your wood by size and how stocked it is. A rack like this allows you to know exactly how much lumber you have at any given time so that you can order more if needed. There's a handful of great ways to store lumber without spending a lot of money, but this is one of my favorites. It's cheap, quick, and functional. To make it, you'll need two and a half pallets. First, you'll need to partially disassemble a full pallet, keeping just enough intact to support two shelves.
Metal Storage Rack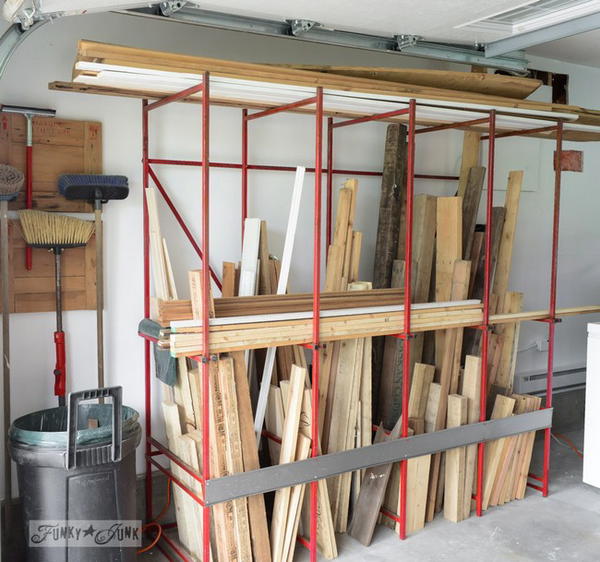 If you need to store some lumber, drop a few pieces of metal and you are on your way. This storage rack makes use of the leftover sections of metal. Don't let lumber around and get you down. Store it up high and out of the way with the help of this easy-to-build storage rack. This storage rack is the best way you can store large quantities of lumber for your woodworking needs because metal is cheap to buy and easily manipulated into new shapes. When you find a treasure trove of metal, this may be an opportunity to take advantage of owning a lumber storage rack.
Conduit Lumber Storage rack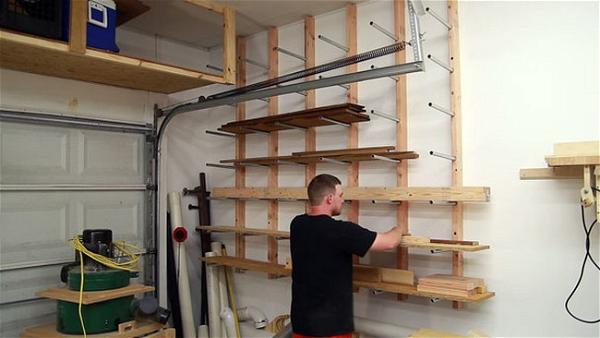 The Conduit Lumber Storage rack is a simple and effective storage rack made from the most inexpensive material you can get your hands on. Not only that but it may be the strongest material available for this purpose as well. The use of conduit also gives this rack a unique look as compared to a standard wood or metal/pipe rack. This rack is easy to build and a great way to utilize a sizable amount of wall space in the garage. The conduit lumber storage rack utilizes a single piece of conduit pipe which effectively provides support for several pieces of standard lumber. The component parts are secured with galvanized steel straps, designed to hold the conduit steadily at each end of the rack. An added bonus is that this DIY project only requires basic tools.
Mobile Lumber Storage Rack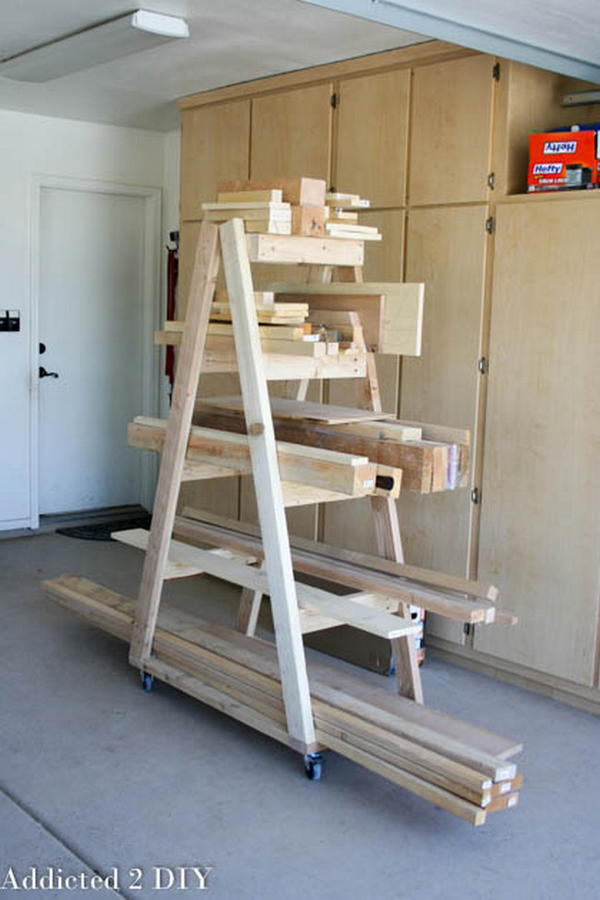 If you need a rack that will hold lumber of different sizes in an organized and expandable manner, then this mobile lumber rack has got you covered. This Mobile Lumber Storage Rack is a convenient solution for storing a large amount of wood. With wheels and plywood sides, you can easily move it around your shop as well as expand upon it to grow with your woodpile. This free woodworking plan can be used to store seven full sheets or eight smaller pieces of wood on wheels so you can easily move it around to cut your pieces. These simple plans featuring a lumber frame are designed for a novice woodworker. Assembly only requires a few tools and can be completed in less than two hours.
 

Smart Cart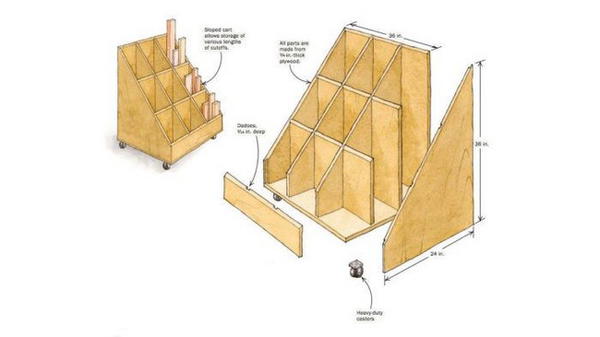 The Smart Cart is perfect for anyone who eats out more than four times a week. With this innovative cart, you will pay homage to all of the great meals you ate out while keeping yourself organized! The Smart Cart's design allows you to store and sort your boards, as well as leftovers, to ensure that you are always aware of what your inventory looks like. It is mobile as well!
Never lose your board to the back of the freezer again! The Smart Cart corrals all of your inventory, separating them into three distinct storage bins for boards, food, and leftovers, ensuring that you are always aware of what your inventory looks like. It's not just for surfers. Three distinct bins keep your inventory upfront. And the Smart Cart offers four locking casters, so it can be easily rolled anywhere in a store or around the house.
Easiest DIY Lumber Rack
Need a place to put your firewood? Need to stack your lumber scraps? This easy DIY lumber rack was constructed out of pallets. It only took a few hours to piece it all together, and the only tools required are a hammer and screwdriver. The best part about using pallets is that you can hook the lumber rack directly over an existing wall, thus saving you the cost of hiring someone to drill holes into your new wood siding. This is the easiest way to make a DIY lumber rack. You'll love this storage solution for your wood, and it's so easy to make! Everything you need is listed in the directions, which are easy to follow. For this project, you'll recycle scrap wood pallets! Lumber racks are designed to make lumber storage more convenient and prevent the wood from damage.
DIY Lumber Rack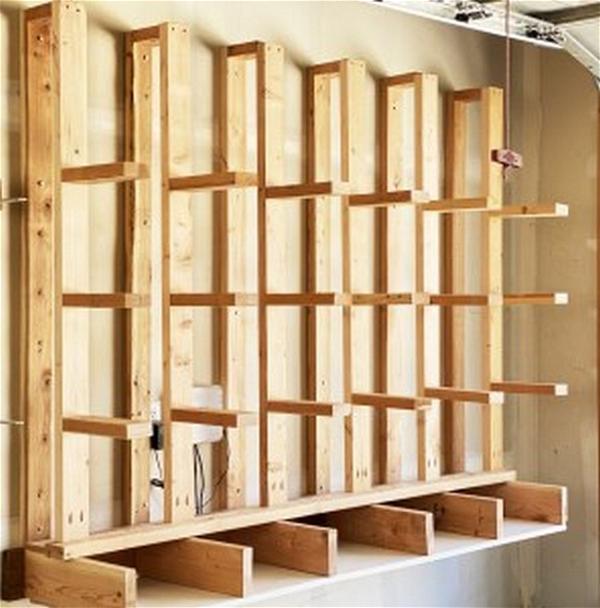 The DIY Lumber Rack is a great project that adds extra storage to most sheds and garages. It is a simple design that is easy to assemble, sturdy enough to hold various lightweight items, and eliminates the need for nails or screws on your wood. This makes the shelves easy to disassemble whenever you want to. The individual boards will rest against your shed or garage wall and the wide top board supports smaller boards in place. Simply slide the wide board on and off of the wall until there are as many levels as you need. It is best if you make these shelves for extra support, but any thickness can be used. This DIY lumber rack is easy to make! Save money by not buying a pre-made one and building it yourself. Get some scrap lumber, such as old fencing, and build it today!
Lumber Rack Plan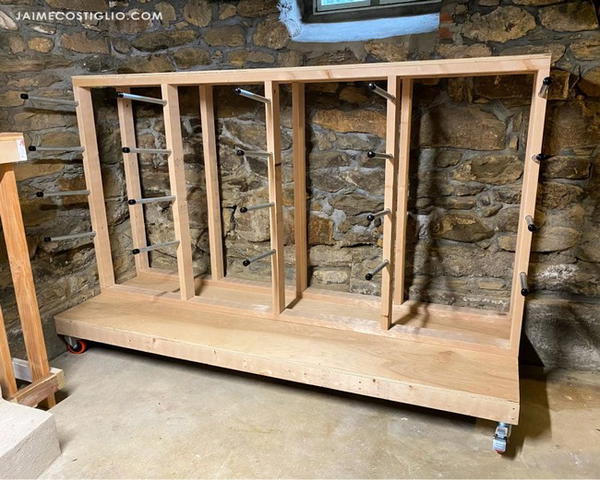 If you have a shed or garage, this is a woodworking plan for you! This rack allows for better space utilization for additional lumber storage without taking up more floor space. Its adjustable shelves provide flexibility and keep your lumber clean and neat.
Create a safe, organized, and attractive wood storage area with this easy-to-follow woodworking plan. This lumber rack gives you the opportunity to utilize more space in your shed, garage, or barn. It helps to keep your lumber clean and organized with its four tiers of storage. Each tier is fully accessible by rolling up the moveable shelving panel. How easy is that?
DIY Wood Storage Rack With Conduit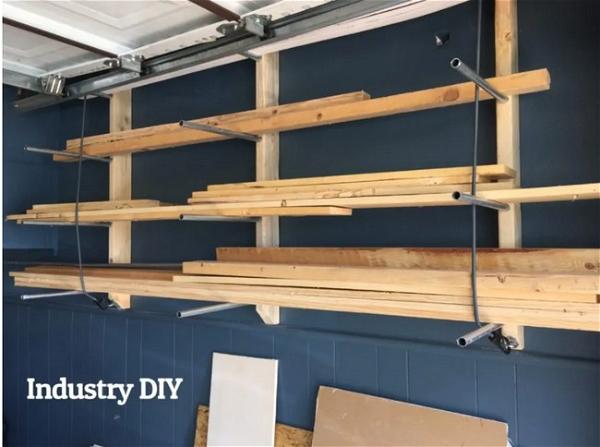 This DIY storage rack is perfect for small spaces and easily customizable. The sheathed conduit and hardwood dowel shelves are shown here. All you need to make it are a few basic tools, some off-the-shelf materials, an adventurous spirit, and not much time. This easy-to-build wood and metal DIY conduit storage rack is a great way to organize tents, cords, extension cords, and other equipment in your garage or basement, use it as an all-purpose storage rack for whatever you need (sports) equipment, power tools, and more. Make this simple wall-mounted garage storage rack from just a few pieces of conduit and some wood scraps. Simple and inexpensive to build, this rack offers plenty of space for all your tools, ladders, and more!
DIY Rolling Lumber Rack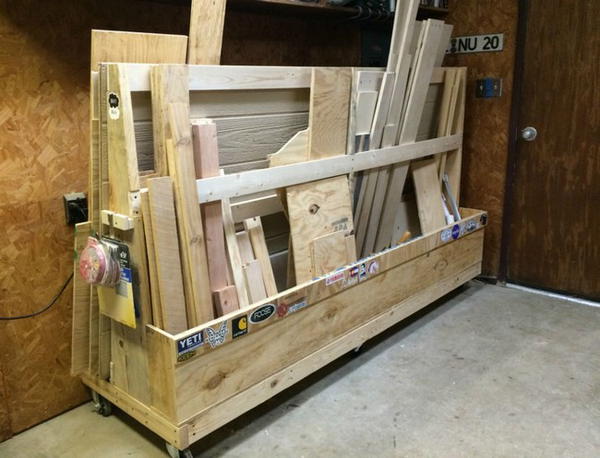 Need to lug large boards, sheets of drywall, or plywood? Not sure where the nearest hardware store is? This DIY rolling lumber rack lets you store your wood wherever you want it. Get outside the garage and on to DIY projects with this DIY rolling lumber rack. This portable, rolling tool carrier will help you get hardware supplies from job to job. The easy-to-assemble lumber rack has a larger front section that holds your longest pieces of lumber or drywall. It also has a cutaway in the middle that is perfect for smaller items such as power tools. The best part is, this handy lumber rack rolls on four sturdy casters—two of which lock in position when stationary to prevent your load from shifting and tipping—and is compatible with any type of transportation.
Simple DIY Lumber Rack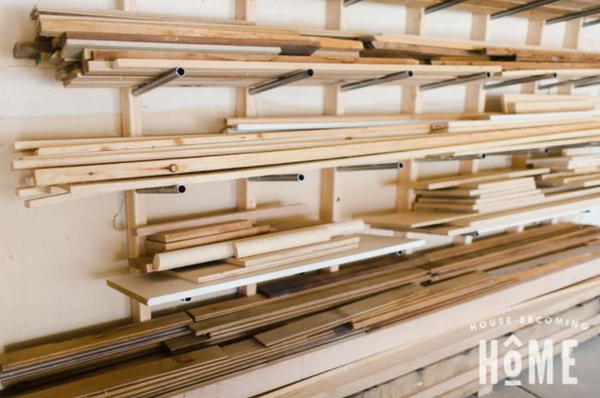 Keep your lumber stacks neatly organized and off the floor without having to drill into your walls. This DIY lumber rack can be mounted on a wall in any garage, basement, or shed. Easy and quick installation by anyone with basic hand tools. Powder-coating finishes and included mounting hardware. Also allows you to choose the spacing between uprights to fit your specific needs. Simple DIY Lumber Storage Rack that anyone can build. This is perfect for those extra pieces of wood you have laying around your garage or shop.
See Other Projects