If you've got a garage, DIY shop, or another piece of rough terrain that sees a lot of use, you might want to think about getting a folding sawhorse. These things are valuable when it comes to dealing with sheet goods, long pieces of lumber, yard waste, or even unexpected guests if you happen to host a lot of outdoor events. What type of sawhorse you build is entirely up to you and what you need it for. No matter which design you choose, these DIY folding sawhorse plans will help get you started on your next project. They're also useful in getting large and unwieldy pieces of woodcut down into smaller, easier-to-handle ones.
DIY Folding Sawhorse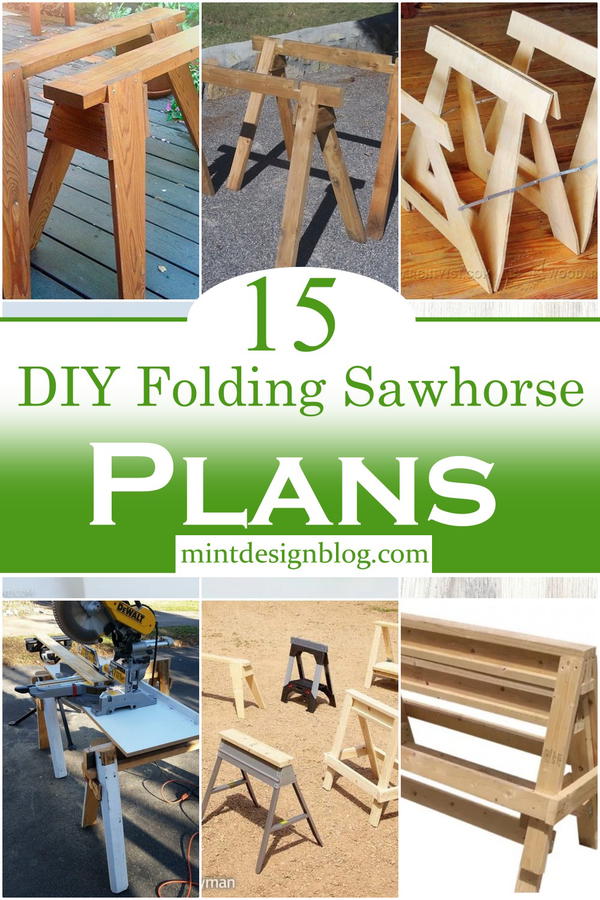 A sawhorse is a very useful tool, especially when you're working on projects like building a shed, deck, or fence. Not only do they provide support for longboards and materials, but they also provide a place to rest your power tools when you need to take a break. Depending on your project, it's not always necessary to purchase sawhorses. You can build your own using basic carpentry. There are 15 DIY Folding Sawhorse Plans available, so choose the one that best fits your needs.
How To Build A Sawhorse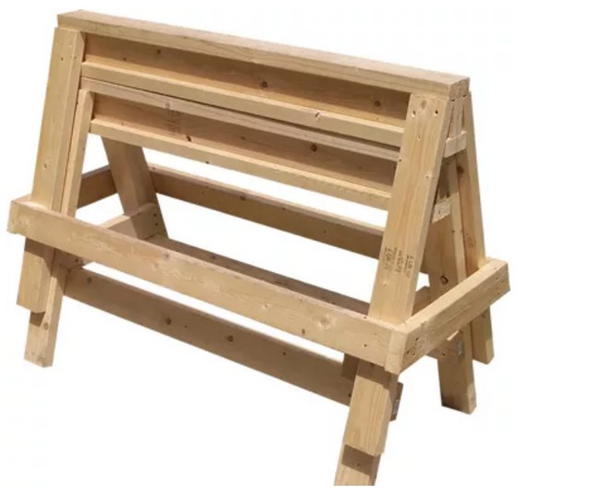 Build a sawhorse, and you'll be able to use it for the rest of your life. It's a handy project you can do with stuff around the house. A sawhorse (sometimes called a carpenter's horse, sawhorse, or trestle) is a very useful thing to have around the workshop. Build one or more of these in minutes with simple tools and readily-available lumber. Sawhorses provide a stable, sturdy work surface for woodworking projects. Sturdy enough for the toughest jobs and built in a variety of sizes and designs that can work for almost any project from small repeated pieces to large tables, raised garden beds, and more.
Build A Classic Sawhorse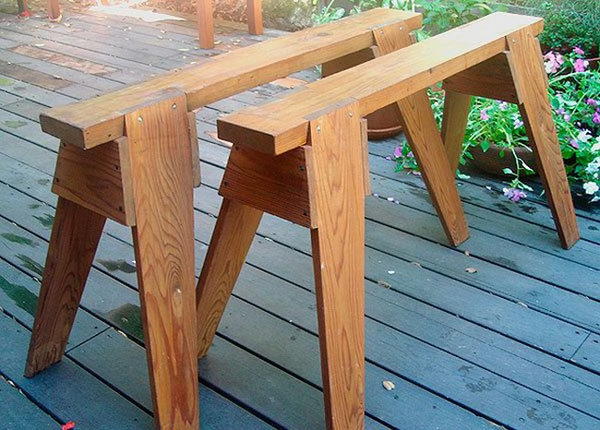 You don't need a workshop to build this classic sawhorse, just a few simple tools and around 20 minutes. With step-by-step instructions and detailed illustrations, you'll be able to construct the basic sawhorse in no time at all. You can then adapt your design to create some handy stools, or build multiple horses for maximum efficiency. Build a Classic Sawhorse with this hands-on kit. The tools and materials to build this classic sawhorse are in the box, so you can make your own version of this simple shop essential. The project card has complete details for making the sawhorse. These classic sawhorses are the perfect complement to your workshop. They're great for cutting long pieces of wood or large sheets of material, and fold up neatly when you're done! Don't let your woodworking projects be limited to the workshop!
Fold Flat Sawhorses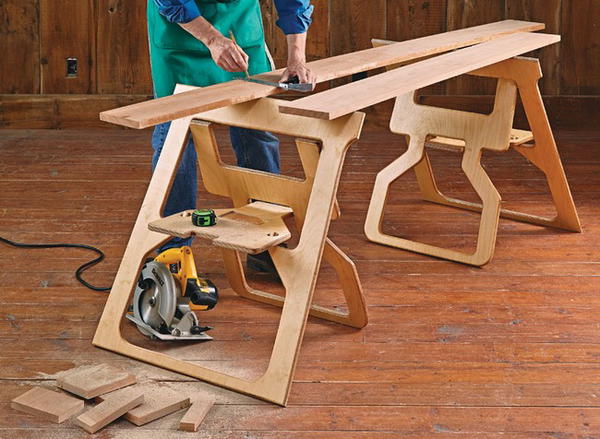 Finding a pair of sawhorses in your workshop can be as challenging as finding a needle in a haystack. But try these! They get their durability from a unique design that uses one piece of plywood to make a folding A-frame – two sawhorses and a shelf, all in one. Fold Flat Sawhorses are easy to make but hard-working helpers. This design is A-frame, just like traditional sawhorses, but because the crosspieces are made from the same piece of plywood as the legs, there's no need for awkward assembly or clamping. They fold flat for storage and transport and unfold in a flash. Each pair is cut from ¾" plywood, and the front legs swing out to tighten the structure. The legs fold together for easy storage when not in use.
DIY Folding Sawhorse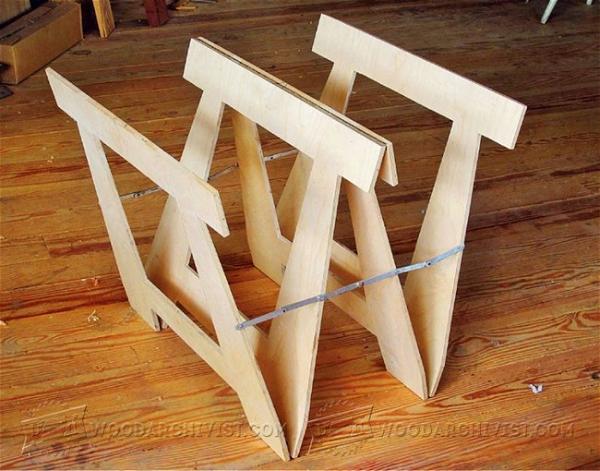 DIY Folding Sawhorse with Locks - is a DIY tool which folded and free standing. It's perfect for cutting longboards, lumber, or logs. Simpler to transport and store. Very handy when you need it to work. By raising the standing legs, you can set the sawhorse to any angle by hand. The bottom board is padded with foam, making it solidly stable for the items you are cutting, making your job easier and more efficient.
This sturdy, folding DIY sawhorse is an eye-catching red. A durable staple of any garage or shop, it folds flat for easy storage and transport. These horses fold up for easy storage. Can be used to support or hold up anything or as a sawhorse. Useful in the shop, garden, and garage. An ideal gift!
Cheap Improved Sawhorses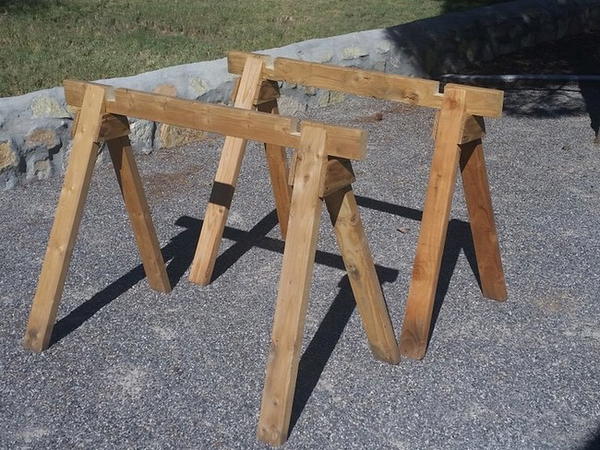 Clamping sawhorses can be a big, bulky affair. In the bigger sets it's difficult to store them (sometimes they take up several cubic feet!) Plus, when you finally get them to where you need them, they're often too tall and in the way. Here's a cheap, easy way to make some customized sawhorses that fold up into almost nothing and are ready for use as soon as you get them. These sawhorses are cheap, easy to make, and can hold a lot of weight. They can also be broken down for storage by unscrewing the bolts that hold the two legs together. This is a great option for anyone looking for a lightweight, portable sawhorse that will not be used on a frequent basis.
Easy 2x4 Sawhorse Plan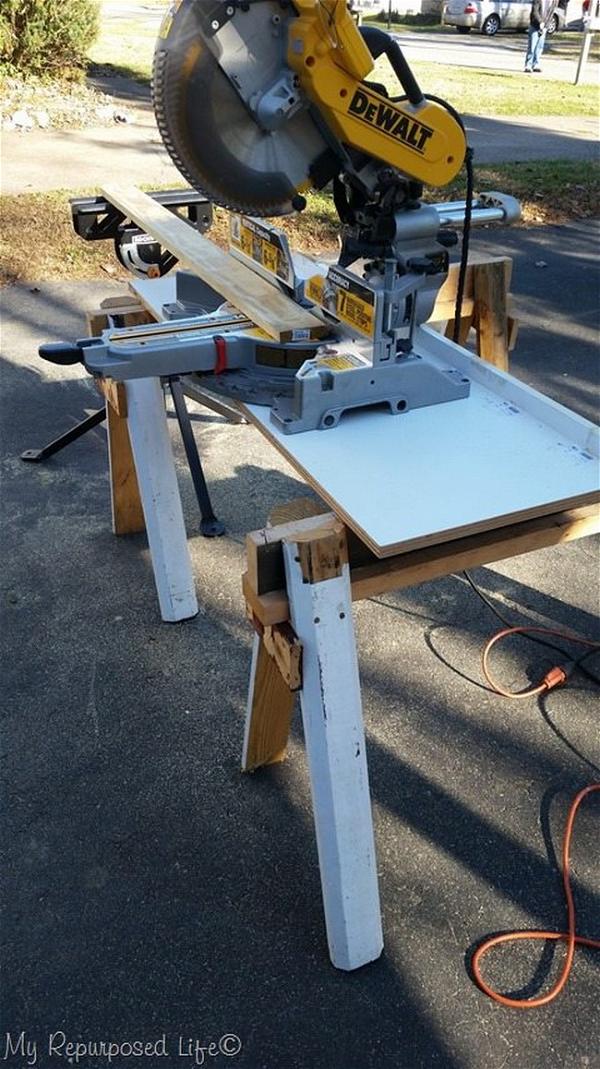 Sawhorses can be made in many different forms. All sawhorses are designated to hold material up off the ground, such as a sheet of plywood. This particular plan is for simple wooden sawhorses that can fold, making them easy to store. They may not be the most sophisticated and fancy you have ever seen, but they very well get the job done in basic carpentry projects. Make four of these sawhorses for yourselves, and you'll have a workbench that sets up in seconds. This plan will show you how to make them yourself out of plywood and 2x4s. The plans specifically call out materials, along with numerical measurements, to make them easy to reproduce. Directions are clear and easy to understand, as well as detailed enough to allow even novice woodworkers to build this project.
Folding Sawhorse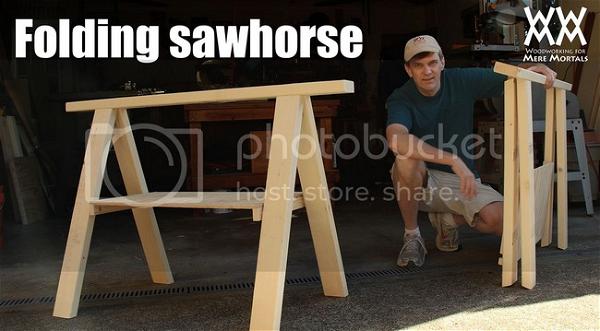 The folding sawhorse is the most portable, most versatile, and easiest to build of all sawhorses. They fold flat for the minimum of storage space, are available in a variety of heights, and can be made out of common lumber. An ax will make the whole process go even faster if you have that instead of a saw table. This sawhorse is an ingeniously simple (and very affordable) solution to the age-old problem of building a temporary workbench. Whether you're building a deck, scraping paint off the ceiling, or making Christmas presents for your kids–or all of the above–this sawhorse is ready for action, and can be assembled in minutes.
Folding Sawhorse Plan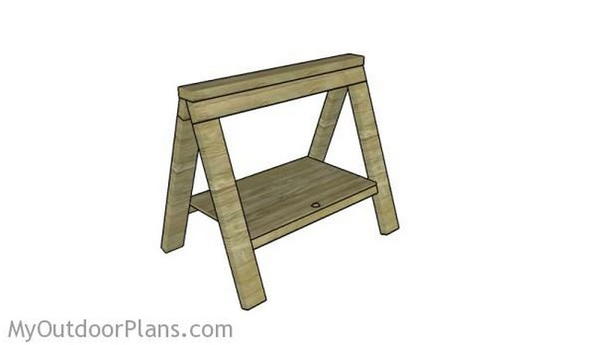 This sawhorse plan brings to mind the old-world toolshed. The folding design and bottom shelf make it ideal for your workshop or garage. The Folding Sawhorse Plan is a simple and time-tested classic. It is an excellent tool to have on hand whenever you need it. These sawhorses are built with a sturdy, laminated bottom shelf that can be taken advantage of for construction, utility, or crafting purposes. Classic sawhorse design at its best, this one even folds up for easy storage. The built-in shelf is a nice bonus for small tools and accessories. The legs are sitting on the floor in the picture to show it in a folded position. You can see how it folds out to give you a high work surface just below your tabletop saws, planers, and jointers. This sawhorse is designed to support the work from underneath rather than the top surface."
Sawhorse Plans
If a sawhorse is what you need, this design is one of the simplest and sturdiest around. This homemade saw horse design is simple, economical, and super quick to build. In fact, once you have the materials purchased and are ready to go; you'll only need about ten minutes of your time and a few simple tools to put it all together. This collection of plans will help you create a durable, simple, and effective workshop table and benches out of nearly any materials that you have on hand, including scrap wood. It can also be built with readily available materials (two-by-fours) and secured without any specialized tools.
Folding Sawhorse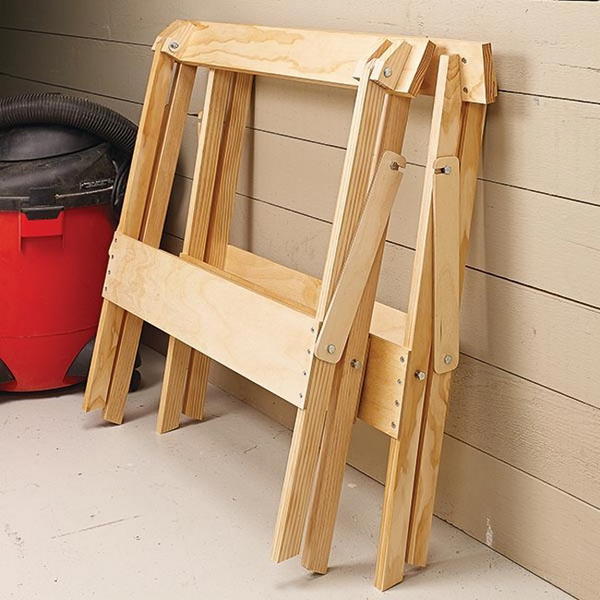 These versatile saw horses are quick and easy to set up. Just slide the legs into the base, and you have a sturdy pair of sawhorses you can use while painting a room or working on an outdoor project. The folding design allows you to store them easily after use. Folding sawhorses have a solid top and legs that fold flat. Flip-up the adjustable side rails to allow legs to fold flat, or to hold sides of workpieces as desired. Legs slide along the top for maximum clamping power. With legs that fold up for compact storage, these sawhorses are easy to move around the shop. These sawhorses are designed for easy storage. When folded, the legs are nearly flush with the top of the crossbar, so they take up very little storage space.
DIY Wooden Sawhorse Plans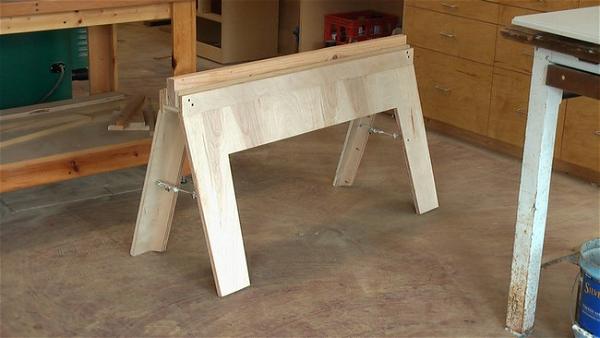 Looking for a project to keep you busy for a weekend? These DIY wooden sawhorse plans will help you build something you'll use (and have fun making) for a very long time. Wooden Sawhorse Plans is a paperback that shows one how to build these unique and useful wooden sawhorses. The plans are for a simple, yet attractive design. This sawhorse can be a great tool for displaying everything from homemade crafts to household decorations. These DIY sawhorse plans are a great way to build your own sturdy yet simple sawhorse for around the house or shop. Save time and money when you can build these yourself instead of buying overpriced saw horses.
Folding Sawhorse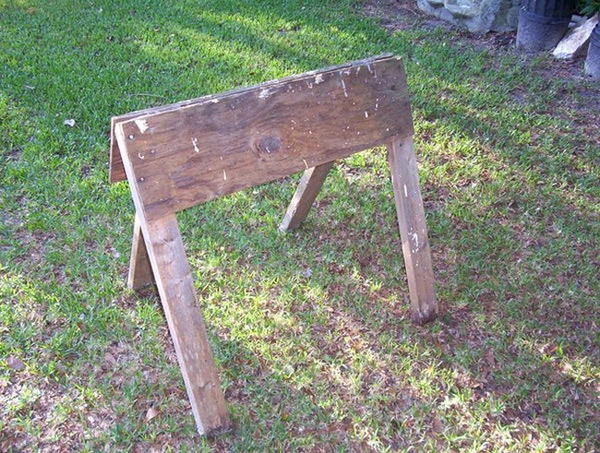 Do it yourself and host a garden party never want to run out of workspace. This rustic folding sawhorse makes a great portable workstation that can be folded up when not in use, and placed inside a shed or garage. These collapsible sawhorses are perfect for cutting wood! Crafted from hardwood and perfectly stitched with linen thread. This rustic folding sawhorse provides solid support for jobs around the yard or home, and stores flat when not in use. This handy sawhorse easily connects to the base of your furniture or deck to provide a secure platform on which to stand while you work on repairing or building. The heavy-duty powder-coated steel construction makes this sawhorse durable yet lightweight enough to carry with you when setting up near your lawn furniture, treehouse, swing set, or other project sites.
Building Sawhorses Done in 14 Minutes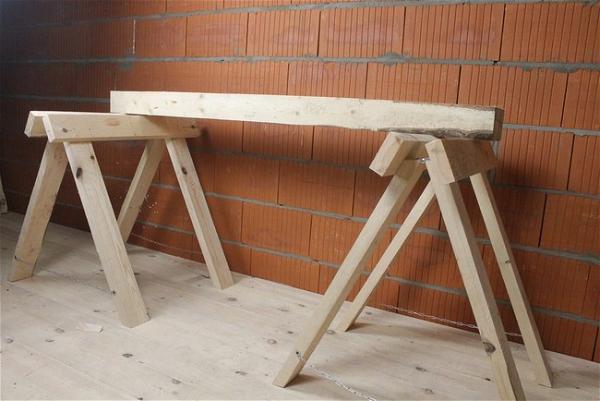 Your dream of the building saw horses just fell short—you had to spend too much time fussing with a complicated, "minute" assembly process. Not anymore! Prepare to cut some time out of your day with a sawhorse kit! These great woodworking helpers assemble in only 14 minutes, without the need for any special tools or hard-to-find parts. Each kit contains all the necessary components to make 2 sawhorses, along with glue and easy instructions. A few simple tools, a little know-how, and less than 15 minutes are all it takes to put these 2 x 4 horse together. No nails or screws are required! In fact, the design of these DIY sawhorses is so unique that you could build them with just 2 boards!
DIY Foldable Steel and Wood Sawhorse Build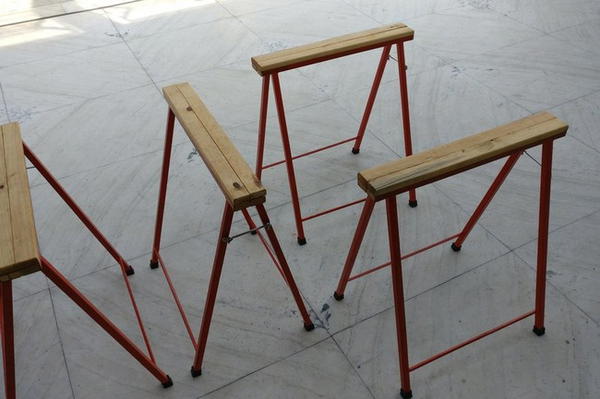 These DIY foldable steel and wood sawhorses will make your day so much easier in the workshop! The folding design is easy to store, as well as portable when you need it for outside work. A sawhorse is an important part of any DIYer's workshop. It is a great way to support material and create a stable base for making cuts, sawing, and hanging tools. By using steel and wood materials, this design allows the sawhorse to fold up when not in use, which makes it completely portable. Includes full plans and instructions. This was an inexpensive project and best of all, it's DIY which means everything can be adjusted to fit your exact needs!
Use these free plans to make a set of sawhorses that are great for small workshops, job sites, events, and more. These sawhorses are easy to store when not in use, making this a perfect project for anyone looking to get organized.
Portable and Adjustable Sawhorses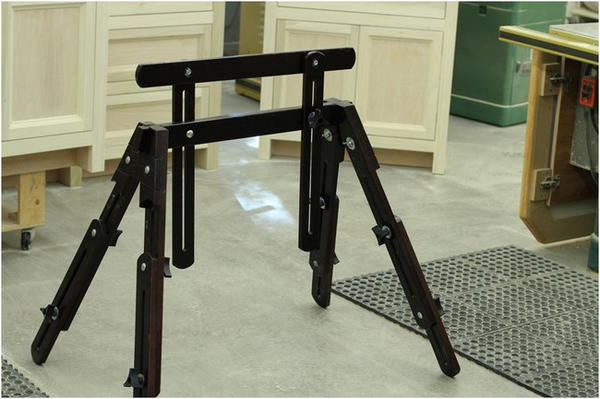 With the Portable and Adjustable Sawhorses, a little hardware becomes a lot of help. Just slip the legs over just about any surface - including top of picnic tables, logs, posts, and more - and you have a sturdy work stand you can use indoors or out. So whether you're working on a construction project, in the garden, or even cleaning up around the house, these sawhorses let you get down to business - anywhere!. Featuring a built-in saw cutting guide, these sawhorses are perfect for making cuts in lumber, plywood, logs, and even rebar. Bend the legs for freehand cutting, or use the guide for repetitive jobs. These sawhorses are lightweight and easy to set up, a great addition to any workshop or job site.
See Other Projects