A charging station is a place where you can charge your electronic devices like mobile phones, tablets, and laptops. You can make this for your home or office. A good charging station should have an electrical outlet, a power strip, and a surge protector. It should also have a couple of USB ports to connect your phone's charger. One great thing about having this is that you can easily find all of your chargers in one place. You don't have to go around the house just to look for them because they are all in one place. This is something that most people enjoy because it makes their lives easier.
These 24 charging station ideas are a great solution to help keep your gadgets organized and accessible. You can build one right into your desk or even create a portable station that looks great and keeps everything together for those longer trips. A helpful DIY charging station can be made using cardboard, fabric, and other materials that are relatively inexpensive. That way, all of your devices are able to charge, and you can use the space as a decorative piece in your home.
How To Make A Charging Station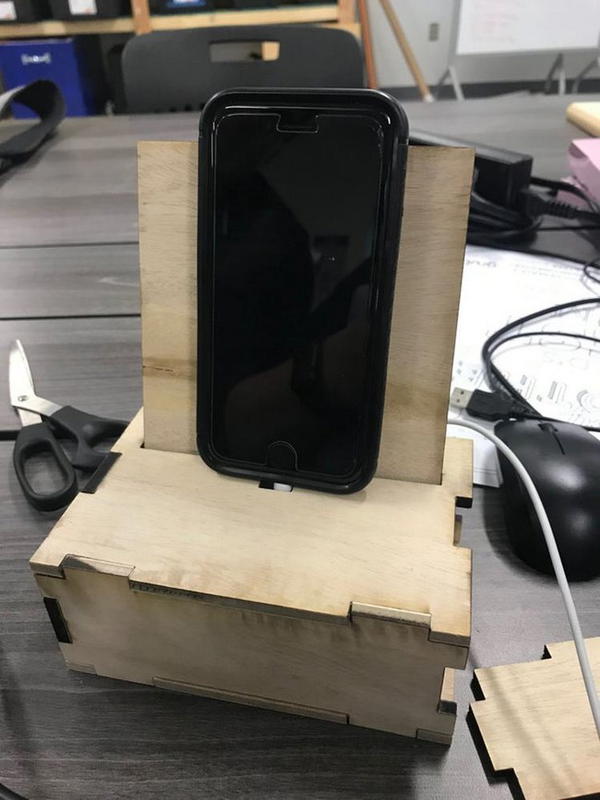 Charging stations save you the trouble of trying to find an outlet for your device, this is now just an easy project with the laser cutter. It's a small wooden box that you can use to put your phone and other devices while they are being charged. This wooden phone charging station can make your room look better. This is also really helpful for people who hang out online. Instructions on how to make it will be shared here, so what are you waiting for? Make your own charger station today!
DIY Wireless Charging Station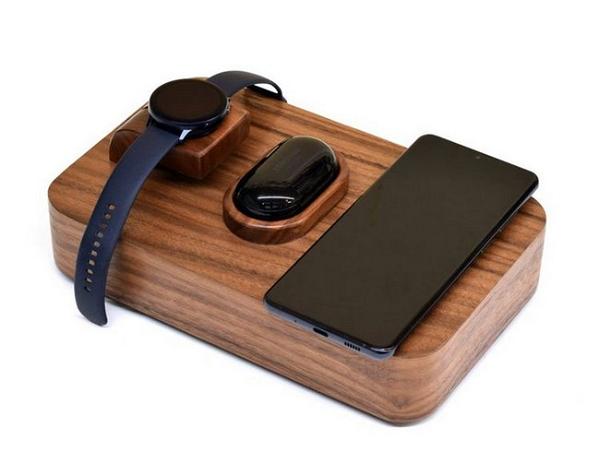 This wireless charging station is made from things you probably already have lying around, and for proof of concept, there's a multi-use example that has multiple separate compartments. If you love DIY projects, and like the idea of this but don't want even to pay the price for them, this project is perfect for you. Just a few items like scrap plywood, a USB power supply, and foam make it incredibly easy to build your own project. It's an easy way to bring a little tech DIY into your life.
DIY Charging Station For All Electronics
If you want to better organize your devices and always know where you left them, this is a useful DIY project for you. It takes about an hour, and all the materials are easy to find. A perfect gift for your loved ones! because as we all know, our lives are full of electronics these days and we need to charge them all the time. This project is perfect for your home office or family room so everyone can charge their electronics in one spot. watch a video tutorial to make them easy even at home.
DIY Custom Charging Station For Videographers
Create a charging station for your master controller and all your accessories. This premium charging hub will connect to one or two wall control components, and can power up to 4 or 8 accessories. The charging hub is perfect if you use lights, gimbals, mics, or anything else needing a charge. Link together all the components you'll need quickly and easily. The process is quick and easy - simply use a drill to install the charging hub into the hole. Then, screw the pegboard onto your wall, mount the pegs onto it, and you're done! Of course, there's also a lot more to do - but we'll let you discover those other options on your own!
DIY Charging Station From Walnut And Brass
Imagine having a charging station for all your laptops and tablets right in your home. This DIY project is the perfect solution to keep your Chromebooks fully charged and altogether so they are easy to find, while also keeping your tabletops clutter-free. This project shows that crafting one from wood is possible without spending much. The vertical dividers can hold a few Chromebooks, with plenty of space for other phones and chargers. In this video, you see how to make a wooden charging station for your Chromebooks.
DIY Charging Station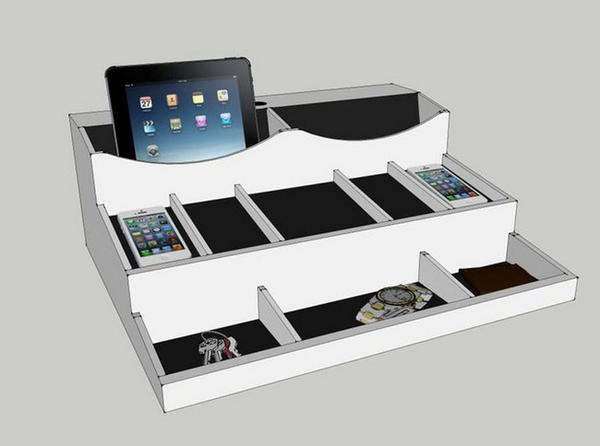 Now you don't have to be frustrated when everyone in your family uses the same power outlet at home. The charging station gives all family members their own power source and keeps everything charged and ready to use.
The DIY charging station is a lifesaver, especially when everyone wants to charge their new devices around the Christmas holidays. You don't have to worry about forgetting to plug in devices because this station has enough outlets for phones, tablets, laptops, etc. The project doesn't require any special skills, just basic woodworking techniques. This step-by-step plan with detailed explanations and pictures makes it easy for you to build this charging station.
DIY Simple Charging Station Build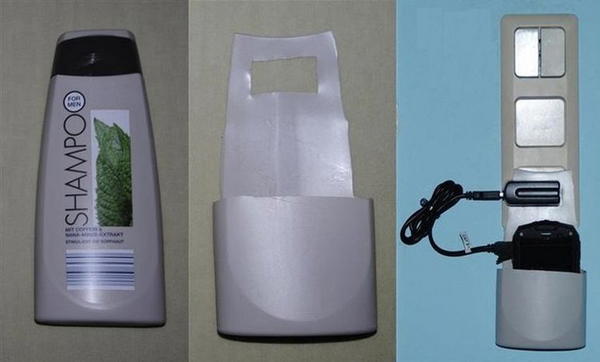 This simple charging station design is a great way to keep your phone safe while charging. It's easy to do, and all you need is a shampoo or cream pet bottle or any other bottle that will fit your phone. The best part is it keeps the phone upright so that you can easily charge your phone and even use it while listening to music etc. Here is the easiest and cheapest way of making this, It's simple, cheap, and easy to use because you can hang it on the socket and keep your phone safe from falling or from tripping anyone around you.
Smart DIY Charging Station With LED Notification
A charging station isn't just a charging station when you add an LED notification area to it. Complete your master bedroom decor with this practical yet beautiful table that everyone will talk about. This elegant charging station offers easy access to all of your household electronics and comes in nine sizes designed to fit your particular setup. Most of your electronic devices run off of batteries and need to be changed regularly, that's why making this is more helpful to you.
DIY Charging Station In A Nightstand
Make your own DIY charging station and nightstand to give you a place to charge all of your tech devices, this can be a very handy thing for homes, especially for those who spend long hours working and have forgotten to charge their phones. The great thing about it is that you can make one yourself from a plain old nightstand and have fun doing it. The instructions are easy to follow, and it's not as expensive as you think!
DIY Drill Charging Station
This charging station will keep your drill, screwdriver, and hammer charged and by your side while they are not in use. With just a little bit of time, effort, and the right tools you can have a prestigious charging station. This is perfect for storing and organizing all of your DIY tools so that you can find them easily. Store your cordless drills in a charging station like this, and make sure that each drill gets its own designated space.
DIY Smartphone Saving Station
The Smartphone Saving Station is designed to keep your smartphone charged without taking up too much desk space or needing to find an available power outlet. Want to make this, but are having a hard time making one yourself from wood, here is a video tutorial that will show you how to use a rubber broom to get a simple charging station that works perfectly. All you need is a rubber broom, some screws, and a drill.
How To Build A Charging Station
This is a great woodworking project to build something useful for your home. It's easy to build, the design looks great and it's pretty practical! If you have some basic woodworking tools, plywood, and brad nails, you can get this done in a couple of hours. Watch this video tutorial to build a charging station for your iPhones, iPads, Android phones, and tablets. It will show you how to add power adapters and you'll soon have a professional-looking charging station.
DIY Charging Station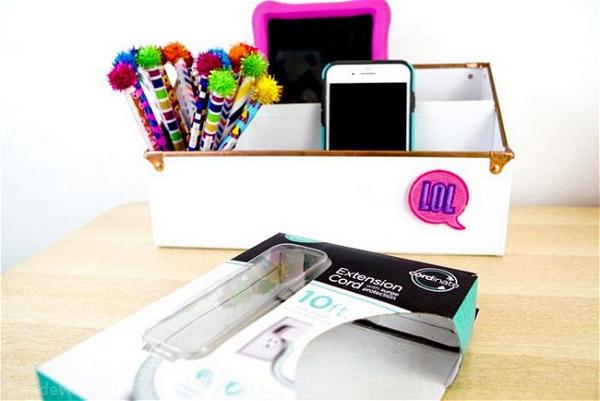 A family charging station is a really easy DIY project in a few steps by cutting the cardboard and mounting it to the wall. All you need are an organizer and a power strip to manage cables. This is easy to make and doesn't cost much. It will also provide a convenient way for you to charge your phone, tablet, laptop, and other devices all in one place. Just follow the step-by-step directions in this simple DIY to make a charging station of your own.
Easy DIY Charging Station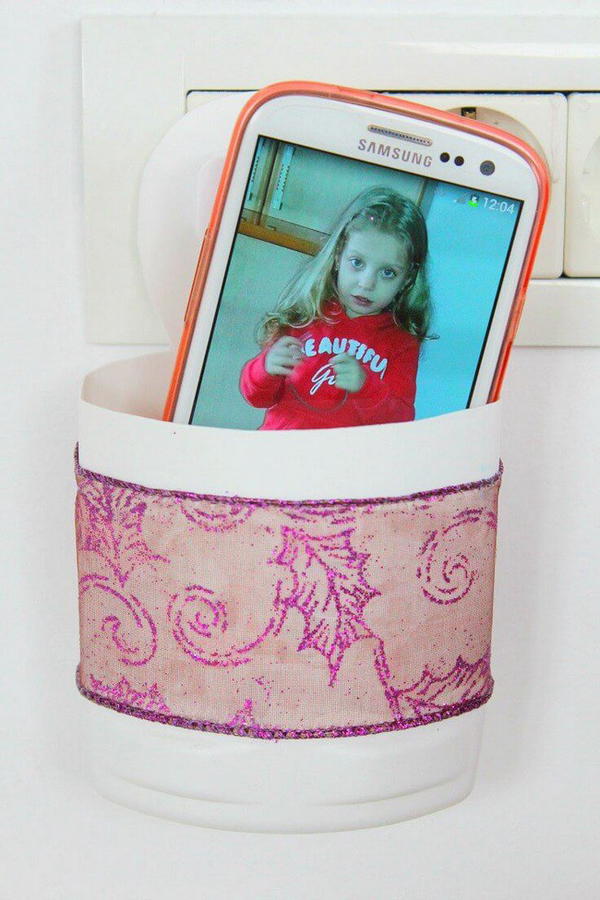 This is the easiest project! Using an empty soap or lotion bottle you can create a beautiful charging station to organize all your electronic devices. The hard part was cutting the top off the bottle, using just scissors. Then, trimmed around the edges with nail polish. After that, glued cotton pads onto the bottom of this and added some ribbon to make it look pretty. You could use pipe cleaners or other decorative materials inside as well. In this guide, you will see how it is prepared.
How To Make A Fast Charging Station
This is a DIY project that focuses on showing you how to build a fast-charging station with a 12V power supply. This fast-charging station will get the job done on various mobile devices including smartphones, tablets, and more. Here is a tutorial video on how to make your own Fast Charging Station. This will allow you to charge up to 10 cellphones or tablets at the same time. The best part is that it's done by using batteries and a 12V power supply. All you need to do is connect them together and trigger the batteries using one of these switches above.
DIY Charging Station With Storage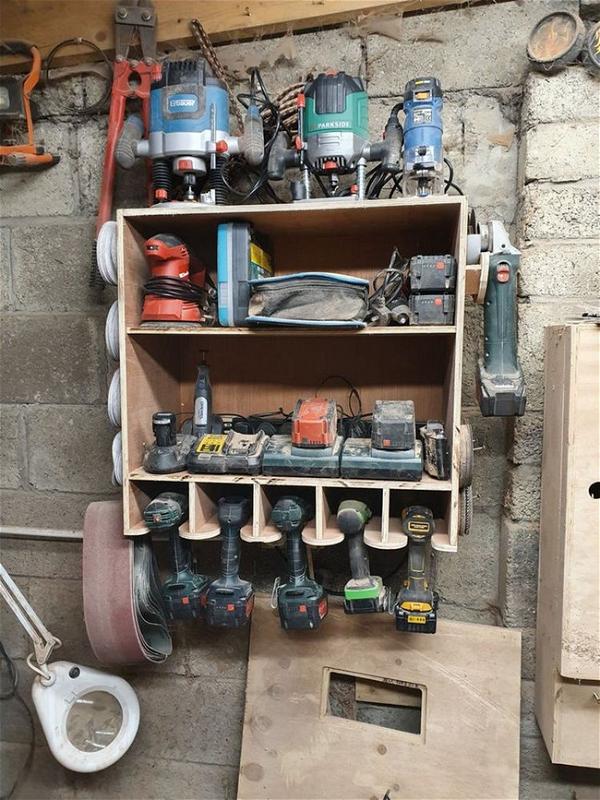 This is a big-time charging station that was made with large storage space for woodworking tools. This charging station is perfect for your garage, where you store your tools. For the materials to make this, you'll need wood boards, hardwood, and basic woodworking tools. The making process is quick and simple to follow.
DIY Drill Charging Station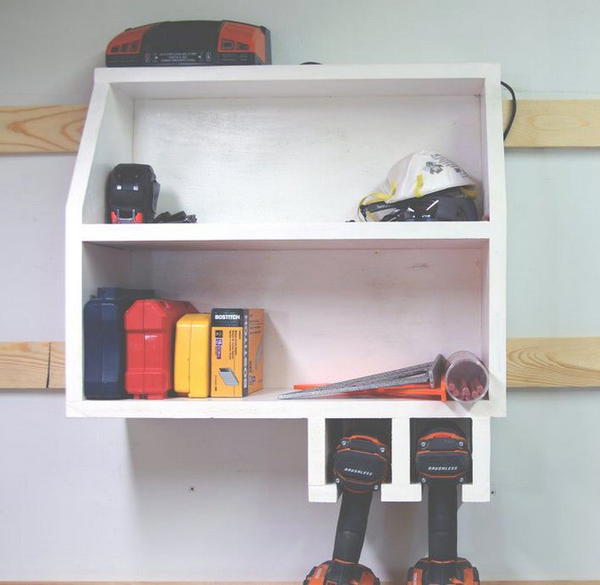 The whole purpose of this project is to provide a solution for all your charging needs. No one likes going around looking for his drill, and then it's bound to have no battery when you finally find it. The whole point of this project is to keep things in the sphere and put everything in the same place, which prefers a DIY drill charging station. Here is a step by step instructions to build your very own drill stations and save money, this is a great gift to give to a carpenter, DIYer, or handyman. Use it in your garage, basement, or even in the work truck!
Basket Charging Station DIY
You can make your own charging station from any basket with some simple craft supplies, it is a simple low-budget DIY project, ideal for stashing all of your cords in one place and keeping them organized. This is perfect for a small desk, also a quick and easy project to make, and can be used in any home and office. Store your cables and electronics in a separate place, and in a cute way! Watch the video tutorial to see how it's done!
DIY Charging Station For Drill
Here's a DIY charging station for cordless power tools, charge different drill machines, and power tools to keep the organization out of the way. If you have a bunch of cordless drills lying around and you are sick of trying to find a place to charge and keep them, you can make your own charging station. It is not rocket science. The nice thing about this project is that it doesn't take much money or time, and can be done by someone relatively new to woodworking if they take their time. This is a video that shows how to build a DIY charging station for your cordless drills.
How To Make A Charging Station
These two charging stations are the perfect quick and easy DIY project for anyone looking for an easy way to organize the electronics that constantly clutter our bedroom tables. One is a tabletop charging station with vertical dividers to separate one device from the other, and the second is a box charging station. These are ideal to hold your electronic devices, including cell phones or tablets, while they're charging. Just follow the step-by-step instructions present in this video tutorial, and you'll have a functional charging station for the whole family.
DIY Mobile Charging Station For Home
Make your own DIY mobile charging station for your home, small enough to fit into almost any space. This mobile phone charging dock is perfect for use in the office as well, It's a nice project to help you understand how things work and how to take it apart if needed. The making process is quick and easy to follow, this video tutorial guide will walk you through the process of making a simple frame by hand with simple tools and a few electrical components. Check it out in the video!
DIY Decorative Box Charging Station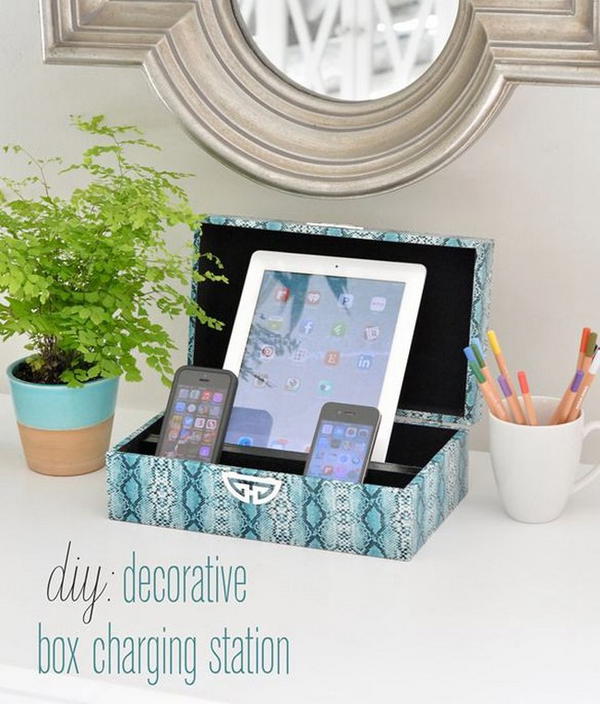 This DIY Decorative Box Charging Station is the perfect piece to keep all your devices organized and charging while serving as a tabletop home decor. This is great for a little nightstand or something, It is extra nice if it has wireless charging capabilities inside the box. This DIY is easy, and you don't have to spend more than 20$. you can create this with a faux snakeskin box and some scrap wood! You can go through this guide and can follow the step-by-step instructions to make this easy.
DIY Hidden Charging Station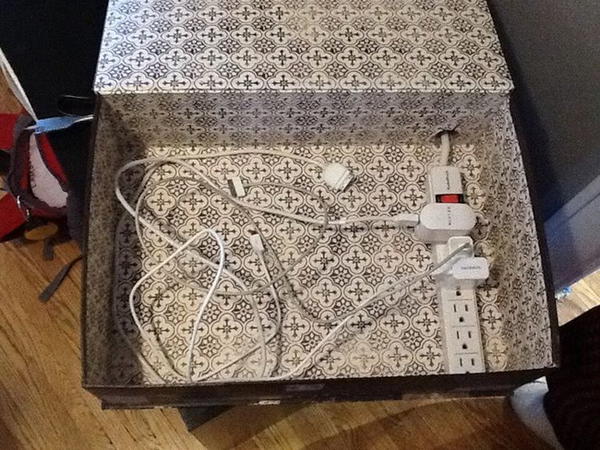 Are you looking for a fun, weekend DIY project? Why not try the hidden charging station that can be used to keep your phone safe from falling and still charges it with cables all tucked away underneath a dresser or bed. This project is super easy with step-by-step instructions provided, you can charge almost any device right on your desk. All you need is to make a hole in your desk with a small drill, add the power bar and plug it into the wall. Velcro is added to the box, and your devices are placed inside.
DIY Tablet Charging Station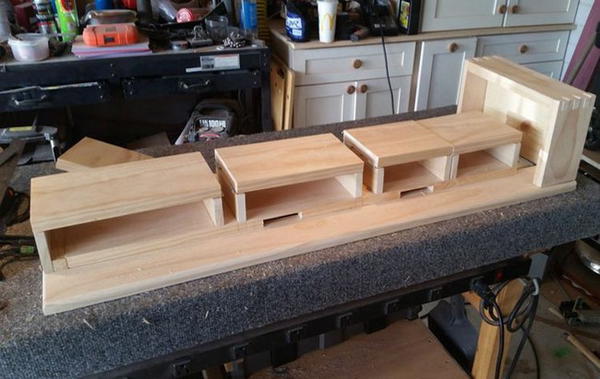 This Tablet Charging Station is made from wood. It's made of pine boards and has a hole rack to show off your favorite tablets. It includes a USB hub so that you can charge all of your cellphones, iPods, iPads, and other devices in one location. This will look great in the kids' room, at the kitchen counter, or anywhere else you want it. This is perfect for anyone who has multiple tablets and wants to charge them in different places. This is also helpful if you want to charge your tablet as you type on it or watch a show because the tablet will turn off and shut down.