When it comes to crochet patterns, the possibilities are endless. But we have to say that when it comes to crochet baskets, one of the favorite things about them is their versatility. You can make a crochet basket pattern in any color or size you want, and they come together in a flash. Whether you're looking for simple crochet basket patterns to store your magazines and books, or a decorative basket that you can use to keep your knitting needles and yarn organized, we've got you covered. We've got patterns for baskets in all shapes and sizes. All you need is some scrap yarn and the right size crochet hook. Browse through this collection of crochet basket patterns to find something fun to make today!

There are a variety of crochet baskets available, many of which can be repurposed for different uses around the house. For example, you can use small or medium-sized baskets to store magazines, craft supplies, yarn, or jewelry. A larger basket is ideal for holding toys, blankets, or dirty laundry. You'll also find trendy crochet basket patterns that will liven up your home decors, such as macrame baskets for plants and hanging baskets for your wall. With these easy crochet patterns, you can make baskets in all shapes and sizes to fit your unique needs!
These easy 27 Crochet Basket Patterns will help you stay organized and bring a bit of texture and color to your home.
You Can See: 25 Free Crochet Bag Patterns
Importance of Crochet Basket Patterns
Take advantage of a great new crafting trend.
Crochet is a practical skill that is always in demand.
Save time and money by learning free online crochet basket patterns.
Crochet basket patterns are very popular in the crafting industry.
They can help you organize clutter.
Crochet Baskets can be used to store toys.
Crochet Basket Patterns are flexible and durable.
Find one that is unique and will complement your style.
Crochet baskets are not just baskets use them to make handbags.
They come in handy for home decor projects
You can bring a basket wherever you go.
Use it to organize your things at home.
Uses of Crochet Basket
Crochet Basket Ideas are a great way to store items.
Crochet baskets can be used to store your small goods.
You can use these to organize your small essentials.
Use great camping, bathroom, kitchen, bedroom, etc.
Give your home a look with crochet baskets.
Make gifts for your friends and family.
Crochet basket patterns are easy to follow and fun to use.
A recycled fabric or a gift bag or even a tutu skirt can be made as a basket.
Crochet tie baskets are classy and perfect for any occasion.
Great for decoration.
Can be used to store items or as a hamper.
It is easy to make and requires no special tools as it utilizes regular yarn, magazines and thread.
Basket With Hearts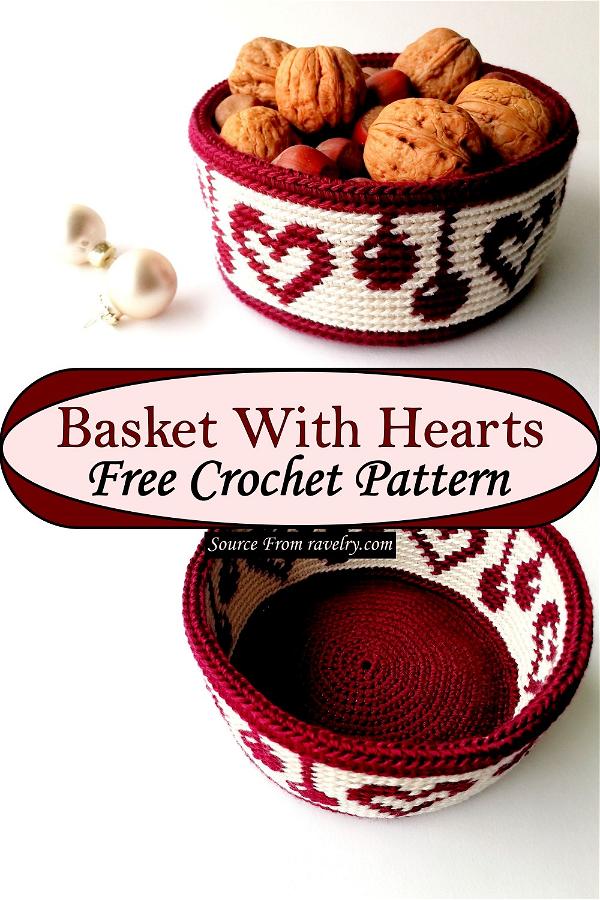 Crochet this beautiful pattern and feel the joy that comes from making something beautiful. Crochet a small basket with hearts to use as a vase or yarn bowl. Perfect for Valentine's Day and Mother's Day. This crochet pattern is for a tapestry crochet basket with hearts. This crochet pattern is suitable for beginners who are familiar with tapestry crochet. It's easy and fun to make. The size of the finished basket will depend on the yarn you choose to use.
Crochet Kawaii Cat Basket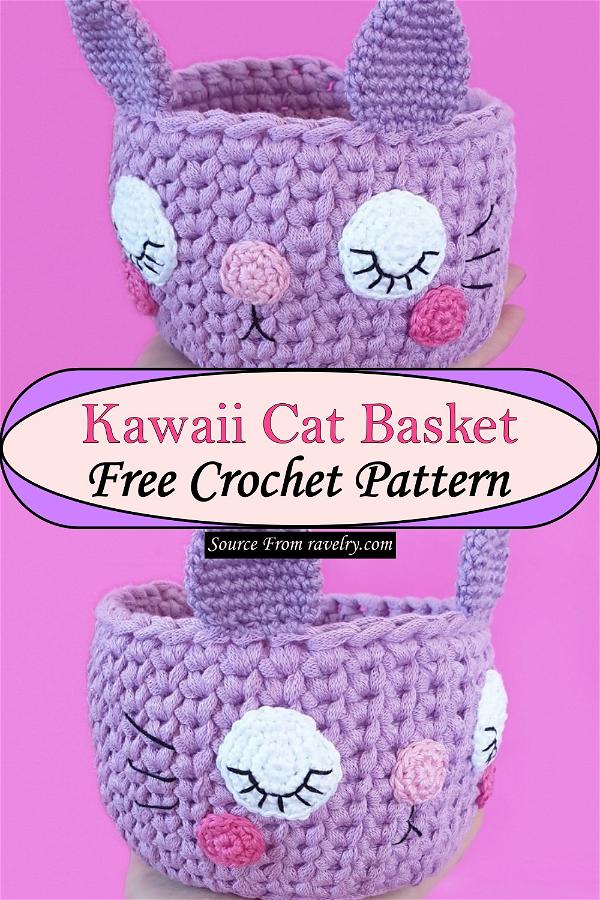 This Kawaii-styled crochet cat basket is an easy way to add some cuteness to your home. Crochet a cute cat basket to use as decorative storage in a bedroom or playroom. It's an ideal project for beginners as it is crocheted in single crochet and only uses stitches that are easy to master. It makes a perfect storage place for keeping yarn skeins and all sorts of small treasures and will work well in the children's room or your own bedroom.
Basket Meander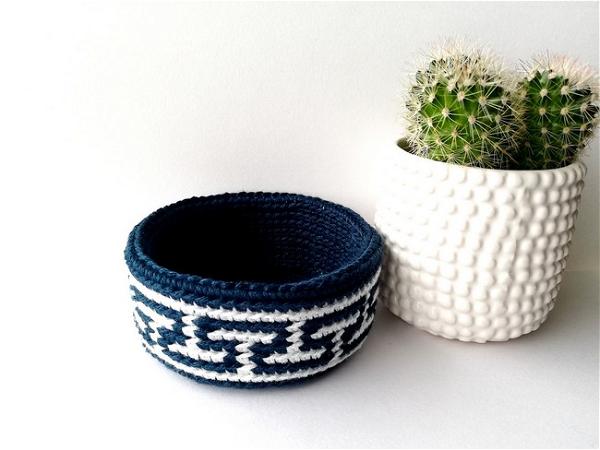 With this pattern, you can create a beautiful crochet basket. It is ideal for storing yarn, keys, and much more. This handmade basket is great as a centerpiece or to store your odds and ends in a stylish way. The design is modern, simple, and bold. This crochet pattern is suitable for beginners who are familiar with tapestry crochet. If you will use relatively thin yarn, the bottom of your basket will not be very firm. You can create a stiffer bottom by creating an additional round at the bottom or putting a small plastic piece on the bottom and crocheting around it. You can also line the basket with fabric or felt. The crochet basket can even be used as a fruit bowl, but please don't put the fruits directly into it, instead place another bowl inside that holds the fruits.
Waffle Stitch Basket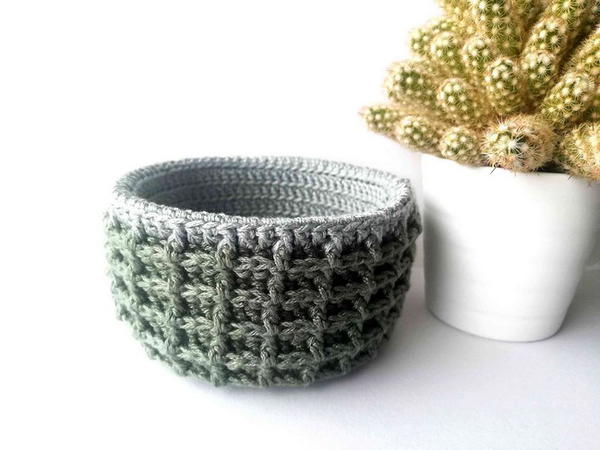 Looking for a way to organize all that stuff strewn about in your spare room? Try crocheting this basket using the simple design of the waffle stitch. It looks great holding magazines, toys, cards and more. This is a pattern for a waffle stitch basket. The waffle stitch used in this pattern is a variation that uses double crochets to create a cushioned texture that can stand up on its own. This makes it the perfect basket for holding items from clothing, to towels, to yarn.
Textured Organizer Baskets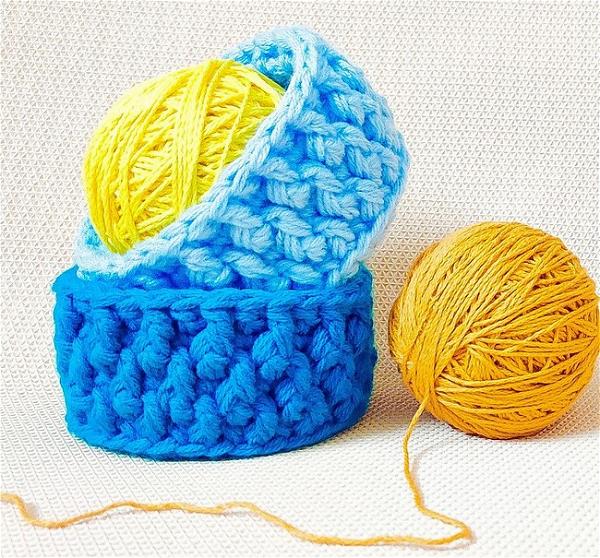 A really pretty, easy to make crochet textured organizer basket is a perfect way to bring some chic modern simplicity to your home. It works up fairly quickly and holds its shape well. You can store most small items in these cute baskets! Crochet baskets are great to personalize your home spaces and add a great deal of charm and a crafty look to your home. They are a perfect way to put together all of your stuff around your home in an organized way. You can easily crochet a basket of any size to store anything right from small things like stationery, cosmetic items, craft supplies, and skeins of yarns to large items as stuffed toys, towels, or blankets.
Spike Stitch Basket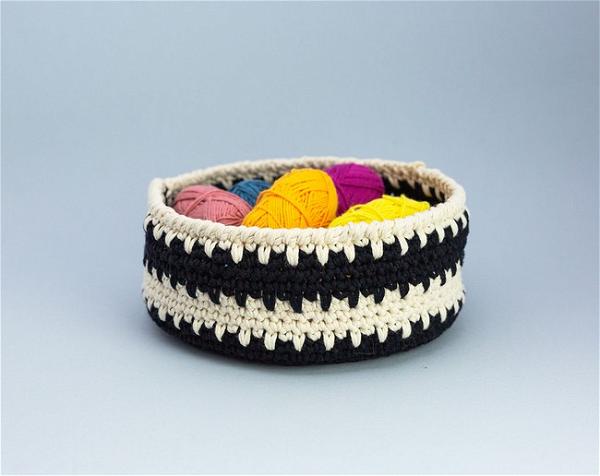 Not only is this a simple crochet basket pattern, but you can use the same stitch for any sized basket, potholder, or bucket! This simple and versatile crochet spike stitch basket pattern is the perfect way to add a touch of coziness and practicality to your home. The crochet spike stitch creates a wonderfully textured look, so even though it's made with simple single and treble crochet stitches, it looks super stylish. It's also a great way to use up your stash!
Amelia Basket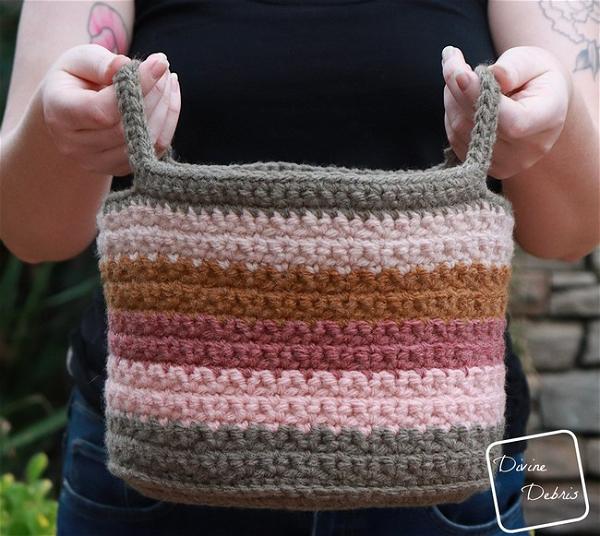 Amelia is perfect for holding your most trinkets, but it's also an easy bottom-up basket project that's perfect for stash busting and stash organizing (after you're done with the basket). It's a fun, striped, squishy basket that both beginner and advanced crocheters alike will love. This easy-to-crocheted basket is worked downward from the bottom, then stitches are picked up and the sides are stitched closed. The Amelia Basket is an essential tool for any crafter and makes a great gift for sewing, knitting, or crochet friends.
Frosty Fringe Basket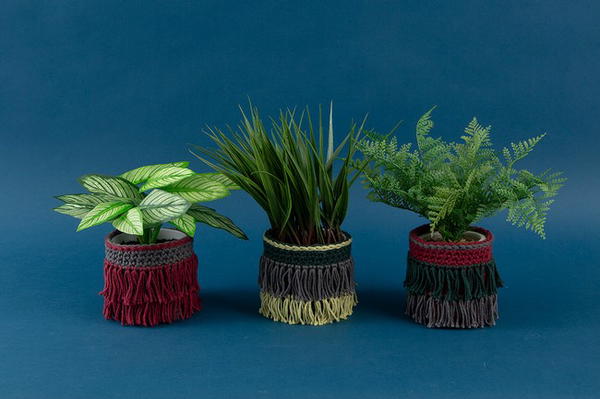 Love crafting? We've got the perfect project for you! Crochet a simple basket for the holidays! Perfect for the beginner, this easy pattern whips up in a flash so you can make multiples for all your holiday festivities. Crocheted from the top down, this chunky basket is a breeze to complete and works up in a flash. You're sure to be the talk of any holiday party with this basket by your side! Add a touch of handmade holiday cheer to your home with this adorable, easy-to-make basket. The perfect size for a centerpiece on your table, or for holding fruit on your counter, this basket is a wonderful project for any novice crocheter.
Snowman And Reindeer Mini Basket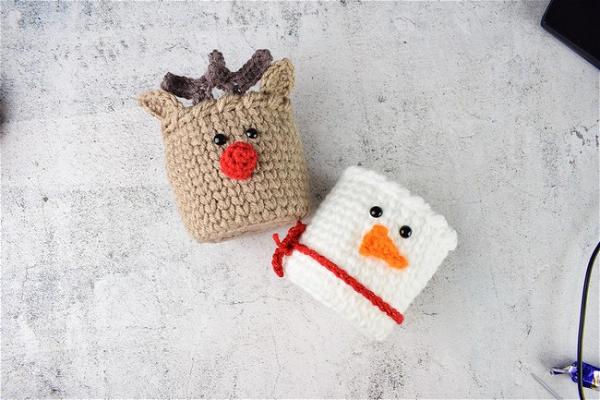 Decorate your coffee table this Christmas with these adorable crochet snowman and reindeer mini baskets. Perfect for leftover candy canes, mini gifts, and stocking stuffers, these Christmas baskets will be the center of attention at your next holiday party. Crochet these adorable Snowman and Reindeer mini baskets, perfect for Christmas and holiday decorating. Simply plop a mini-evergreen tree, candles, or holiday goodies inside to make someone's day. Keep one for yourself and give some as gifts.
Festive Holiday Bells Basket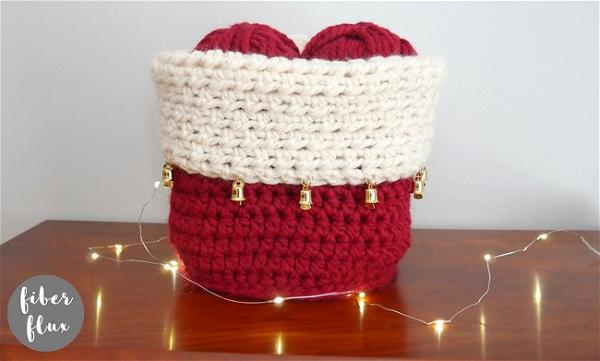 It might not be in your plans to make more than one item for holiday gift-giving, but you will. The minute someone sees this gorgeous and versatile basket, you are sure to receive compliments from friends and family members who want one for themselves. This basket is the perfect place to store your holiday cards and letters! The gorgeous color pattern and texture look festive and inviting. It's perfect for growing your "letter" collection too! It's super fast too, making it perfect for everyone on your list!
Small Universal Basket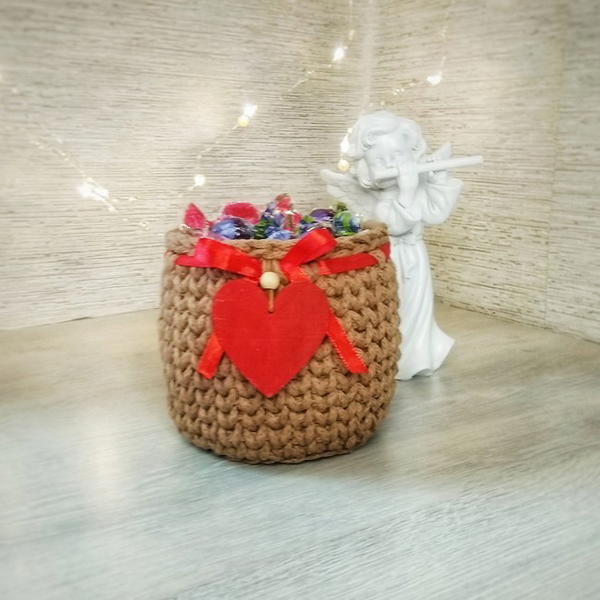 This little basket is a great little handmade item for your home. You can put a note, candy, flowers, gift card in there. You can use it in the future to store cute trinkets. The crochet of this basket is very simple and it will be very easy to master it. But this pattern is very beautiful and original. This small universal basket will decorate any room in your home. It can hold many different things: you can fill it with flowers or put an interesting note, a gift card or sweets in it. Also, the basket can serve as a very original way to present flowers or gifts.
Christmas Santa Basket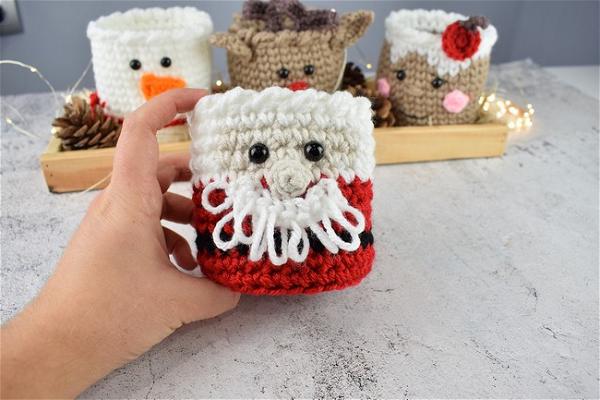 This cute and easy-to-make crochet basket is perfect for Christmas. You can use it to store Christmas ornaments, you can use it as a gift basket or fill it with treats and candies and give them to your loved ones. A little fun and unique gift basket you can make. Fill it with some treats, and candies and give them to your loved ones. This Santa basket is crocheted with single crochet only. Beginning with a magic ring, you will work a single crochet stitch in the round to make a lovely base. This item is great for a gift basket or set of kitchen utensils. It is also great for the kids to put their keys and gadgets in.
Potter Basket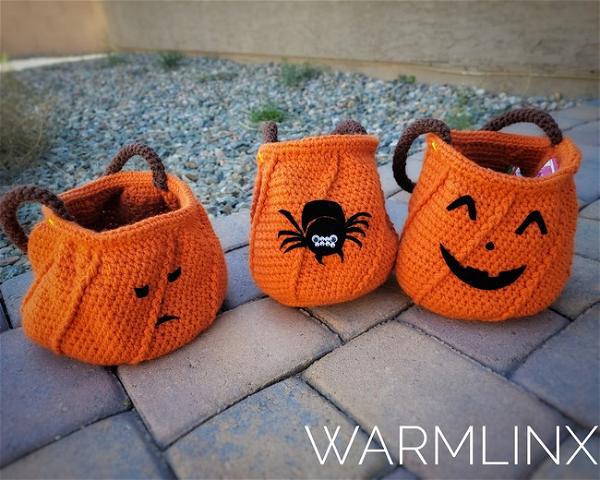 Bring a sparkling touch to any room with this Crochet Potter Basket. Handmade with love, this basket features a modern take on the ancient craft of crochet. This stylish and versatile basket is the perfect accessory to keep all of your essential items at hand, and brings an elegant shine to any room in your home. Store your magazines and books in style by filling it with the Crochet Potter Baskets, or use it as a toy storage solution for your children's room.
Dalia Basket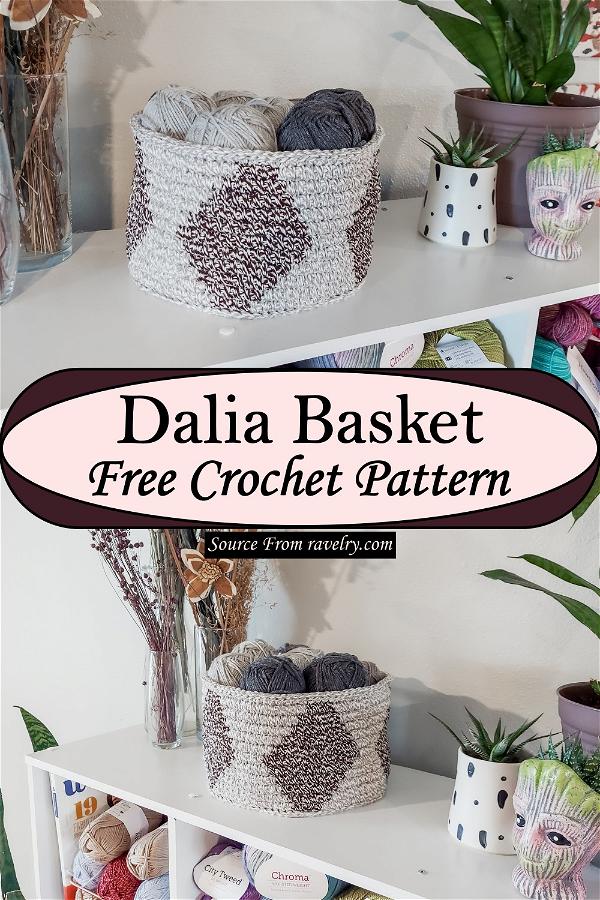 Add a unique touch to your home with this basket. The vintage crochet pattern is handwoven. Make great use of your empty shelf space with the Crochet Dalia Basket! This multi-purpose storage basket is ideal for keeping all your bits and bobs organized and out of sight. Ideal for storing everything from books, toys to cushions or towels in your bathroom. This basket is perfect for your knit or crochet projects! The crochet bag is small enough to take on the go with you but large enough to fit many of your projects inside!
Floral Edge Baskets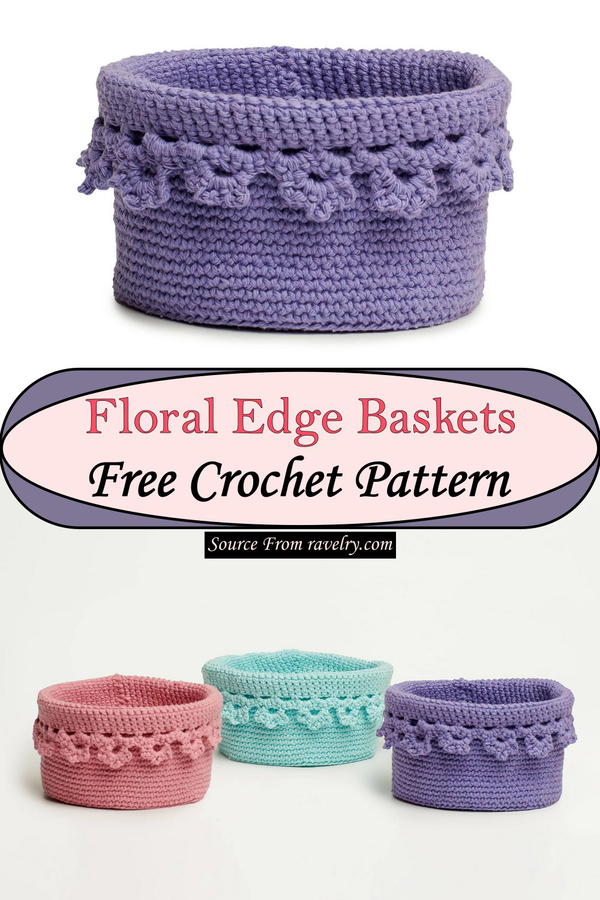 These baskets are an ideal way to use up leftover yarn and showcase your evolving crochet skills. They're also a great project for yarn swaps. The basic crochet stitch single crochet makes this easy stash basket. It's fast, too! Worked in the round with a handy loop at the top for moving your basket from room to room. Add an elegant finishing touch with a crocheted border that features pretty petals. Great for storing anything, including crafting supplies and more! Make these up in one color to create a completely different look and finish them off with a handle or decorative strap.
Cross Stitch Basket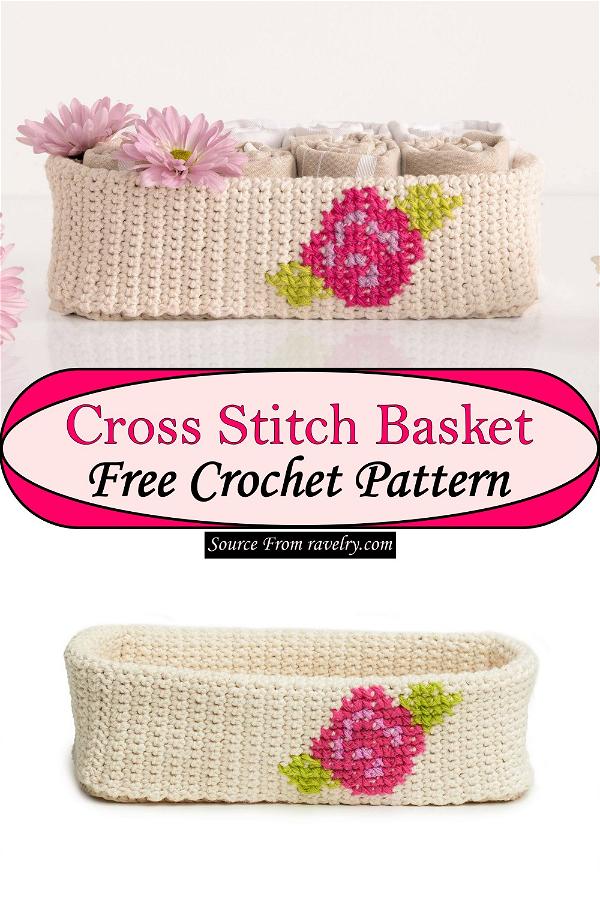 This crochet basket is the perfect accent to your spring decor and will make a stylish addition to your home or office. A simple basket is essential for organizing anything from napkins on your dining room table to those pairs of socks you will inevitably misplace. Luckily, the Lily Sugar's Crochet Cross Stitch Basket is not only simple to make, but it also looks good in any space. Boasting cotton yarn, a solid body, and a colorful cross stitch pattern along the edges of the sides and handle, this basket is both functional and stylish!
Basket With Fish Bones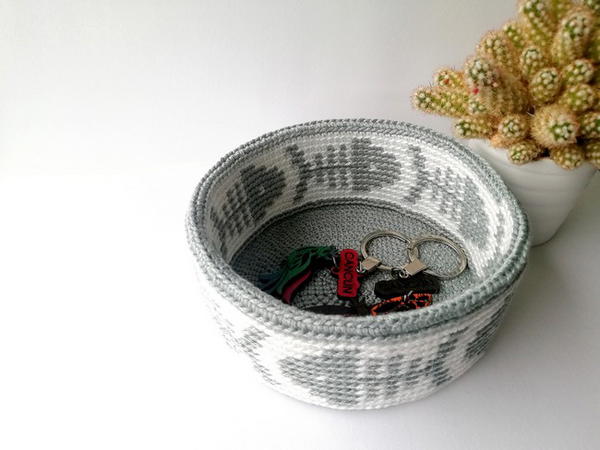 If you love to crochet but have been searching for a project that is a bit out of the ordinary, then this project might be what you are looking for! This pattern uses basic stitches and some simple color changes to create an interesting and modern basket with fish bones. You can use it to store your most precious items, or as a decorative piece in your home. This pattern is easy to follow and suitable for a beginner who is familiar with tapestry crochet. Perfect for keeping all of your treasures, this crochet basket is a fun and colorful way to brighten up any corner of the house. The result will be a small basket perfect to store your little things or to surprise someone as a gift.
Square Bottom Basket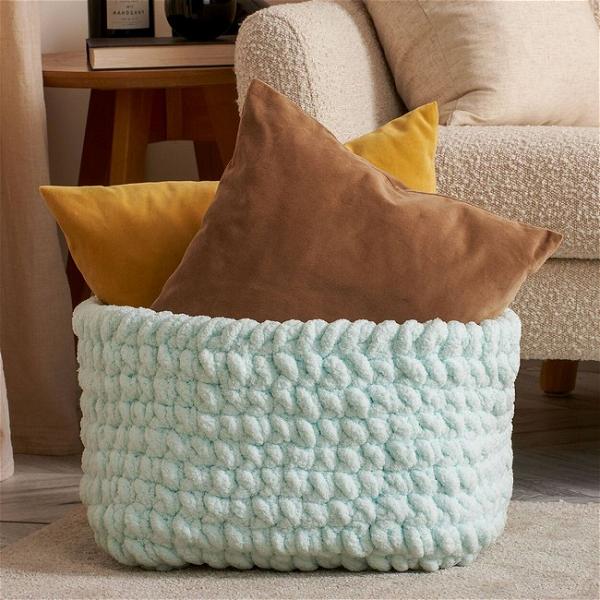 Keep your home stylish by adding this woven basket to your room. The Crochet Square Bottom Basket is a beginner-friendly crochet pattern made with your favorite yarn scraps. You will learn how to make an initial chain, as well as single crochet stitches and reverse single crochet stitches. This simple basket will fit in any room of the house or apartment and will hold all of your knickknacks with ease. Make multiples for end tables, coffee tables, bathrooms, and more.
Basket With Presents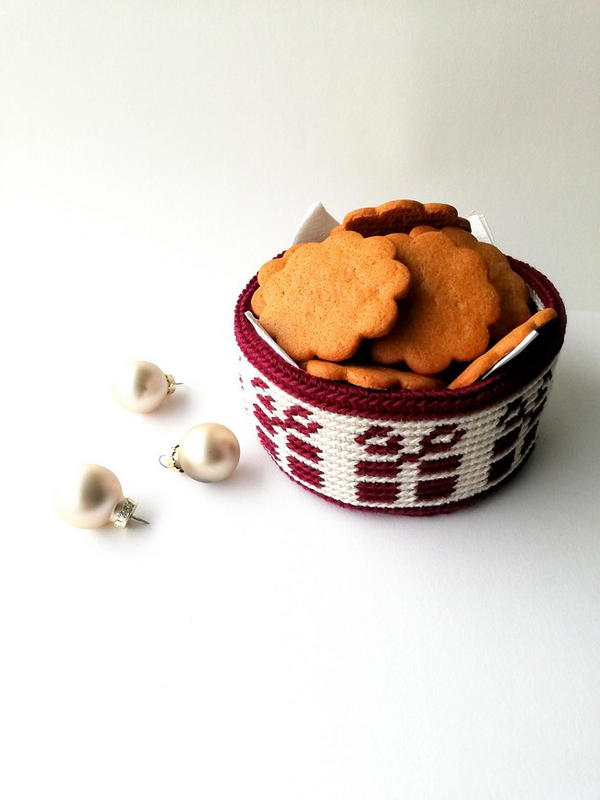 Crochet present basket with gifts! This crochet pattern describes how to make a tapestry crochet basket with presents. The basket can be used as a Christmas decoration or you can use it as a real basket for anything you like! You can use this basket to keep your crochet projects and yarn, or you can fill it with candy and toys for the kids.
Curved Color Block Basket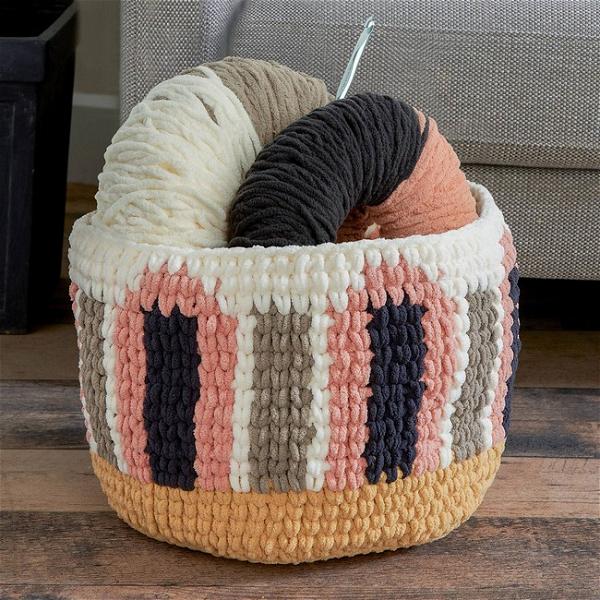 You will love how this handmade crochet basket comes together with self-striping yarn and a fun, repeating color sequence. The curved color block shape adds an intriguing graphic element to the engaging texture created by the split-half double crochet stitch. This unique crochet basket is a perfect project for practicing intarsia colorwork. Worked in the round, each stitch nestles into the row below to create a dense fabric that keeps the basket standing tall and helps with color transitions every time.
Crochet Fireside Basket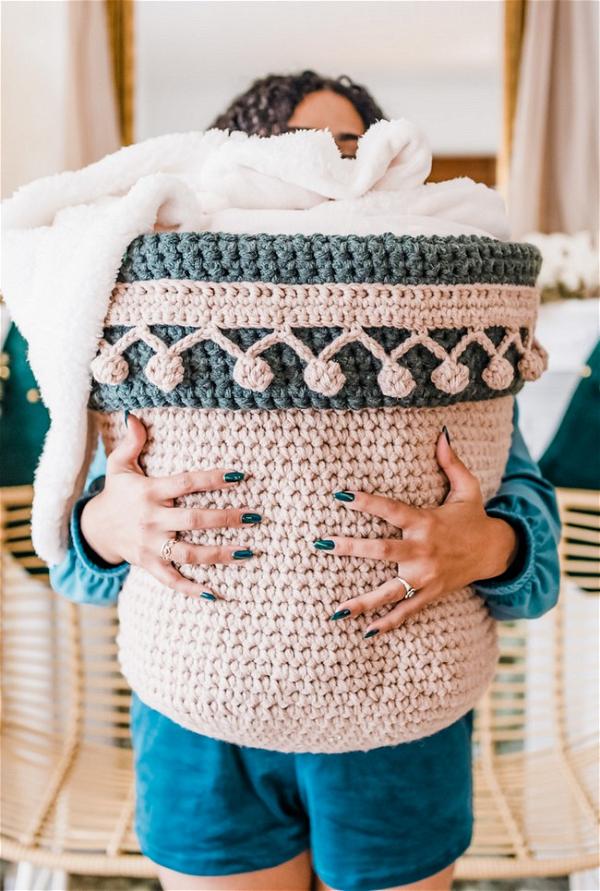 Looking for the perfect place to stash all of your handmade blankets? You can't go wrong with a handmade basket! This basket is a beautiful way to store your favorite blankets, toys, or even a fruit basket on your kitchen counter! Versatile and fun in any color, this basket is also a great gift idea for your favorite crafters. This chunky crochet basket creates both a beautiful home decor statement and a functional way to store blankets and other items neatly away. This chunky crochet basket can be repurposed for stylish storage for the rest of the year. Have fun with different color combinations and sizes to fit every corner and counter in your home.
Basket With Diamonds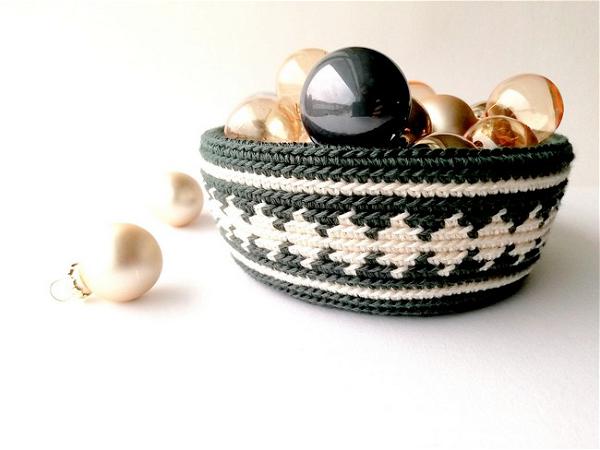 Quick and easy to crochet, this basket features a diamond motif with contrasting colors. It is designed in the tapestry crochet technique, so only one color is used per row. Pictured in wool, this tapestry crochet pattern is suitable for beginners/intermediates with experience in tapestry crochet. Used as a basket or mug rug, this pattern makes a perfect gift or a fun weekend project for yourself. Adjust the size by using the hook and yarn of your preference. It works up fast and is suitable for crocheters of all ages. Make your own modern home decor basket following this easy tutorial!
Granny Square Basket Pattern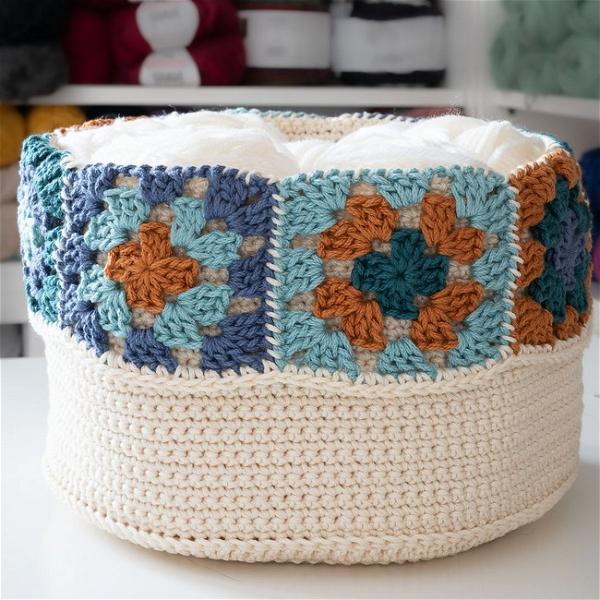 A beautiful and classic pattern, this crochet basket features granny squares that are handmade and then assembled. Crochet your very own granny square basket for use around the house or a baby shower gift. Using the classic granny square pattern, this crochet basket is easy to customize with different colors and patterns. Crochet the granny squares and the base basket separately then assemble them together for your personal touch on this crochet basket. This crochet basket pattern is an ideal storage solution for your home.
Small Easter Basket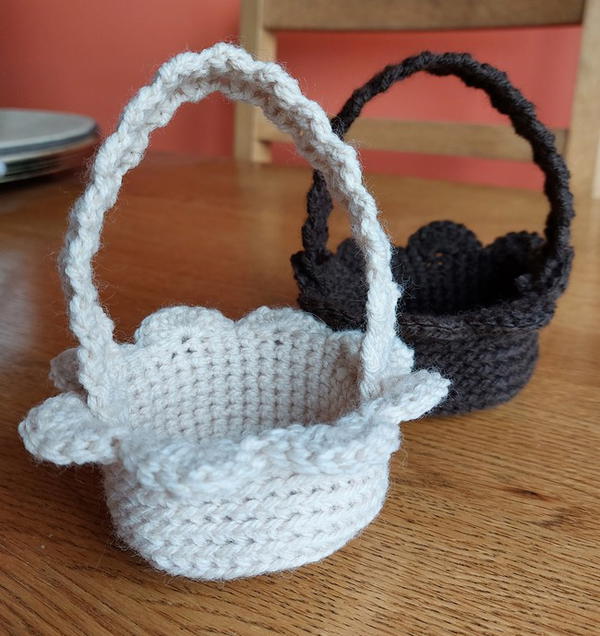 A fun, small Easter basket to fill with goodies for a loved one, or leave empty for imaginative play all year round. Fill it up and watch your kids smile with joy on that Sunday morning! This basket is also a fun one to make, so get the kids involved. Hip and charming hand-crocheted Easter baskets in pastel colors, make a sweet accent to add a little bit of spring style to your home. This small handmade wicker basket is decorated with a soft tassel and sweet bunny so they can hop into the spirit of spring.
Crochet Tea Basket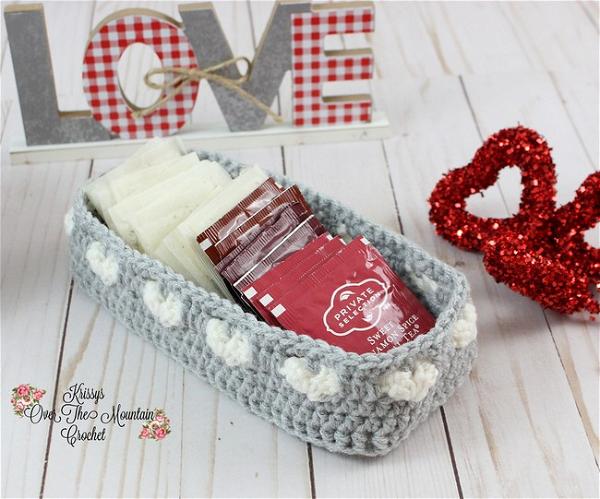 Do you have your coffee/tea area set up with all the bells and whistles? Then this crochet tea basket pattern is for you. You will love the pop of color that it adds to your space. This is one of three baskets that is part of the Proverb's Series of crochet patterns, that will help you beautify your coffee bar. This set is unique in that this body style can be used for any beverage. All of the designs feature a Heart stitch that is so easy to crochet. The second bag features a unique handle all on its own. You can even add beads or flowers to embellish your project.
Crochet Oval Basket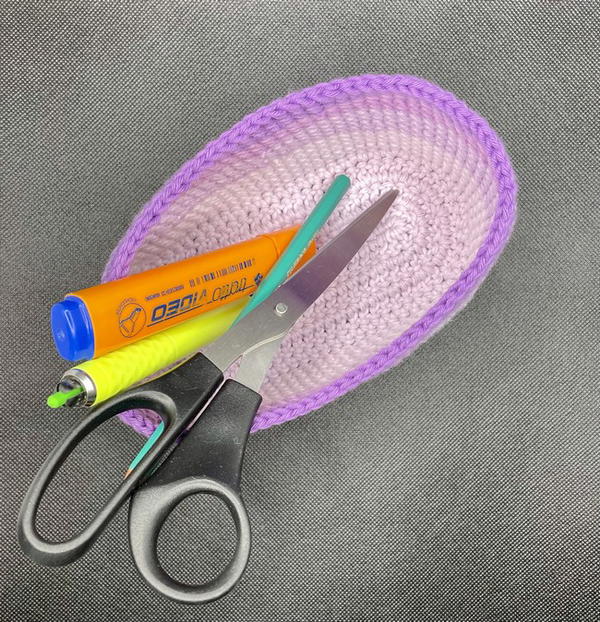 If you want to avoid clutter and distraction from your desk or countertops, this crochet oval basket is the perfect solution for you. This handy Crochet Oval Basket is useful for crocheters, but it can also help you organize your stationery, hair accessories, cosmetics, or anything else you'd like to keep tidy. The lovely round shape and attractive color add a bit of fun to your storage options while keeping things nice and neat.
Hot Chocolate Basket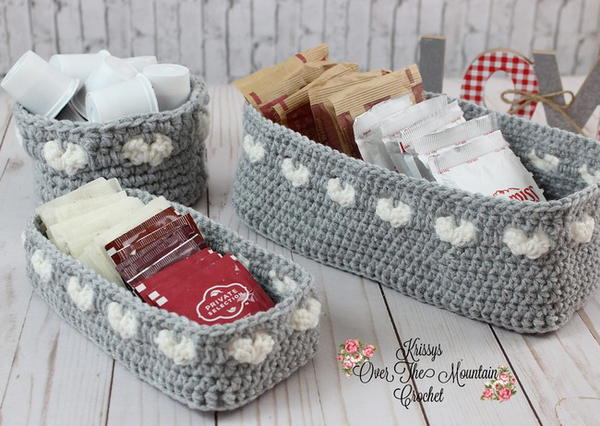 Get your favorite hot chocolate fix with this easy-to-crochet basket and mug cozy. Use as a gift basket insert, or as a hamper to collect different types of hot cocoa packets and cookies and tea bags. Indulge in a mug of sweet and creamy hot chocolate this holiday season with this festive basket. Adorned with fun crochet stitches, these baskets are great for whipping up hot cocoa and curling up with a good book on chilly winter nights. It is perfect for a Valentine's Day or Christmas present! This basket would even make an adorable fruit bowl!