Get ready to carry everything you need in style with these chic crochet bag patterns. And by everything, we mean everything! Not only are some of these crochet purses large enough for your keys, wallet, and phone, but they're also big enough to hold a water bottle, a few diapers and wipes, and even a tablet or small laptop. From fun crochet beach bags to glamorous crochet evening bags and everything in between, there are 25 patterns for handmade crochet bags that are perfect for any occasion. They're also great gifts!

Keep all of your essentials in one place with a crochet handbag. Not only do these crochet bag patterns keep your everyday items handy, but they also make for a great accessory to enhance your outfit. Choose from this wide variety of 25 Crochet Bag Patterns to show off your style. If you're interested in carrying more than the basics, our collection of crochet tote bags is perfect for carrying groceries, beach gear, or anything else you might need on the go. Discover easy-to-make crochet bag patterns in this collection that you can use to hold groceries, beach gear, or any other item.
The 25 crochet bag patterns featured in this guide are easy to make and will hold your groceries, beach gear, or any other item with sturdiness.
Uses of Crochet Bags
Pick the right crochet bag pattern for you
Use it to travel, commute and store your belongings
Make it yourself to save money
Choose and find the best crochet bag patterns according to your needs
Know how to use them properly
Crochet bags are a great craft to do in your downtime
Make gifts for loved ones
Sell them for an extra source of income
Crochet bags are extremely practical
You can use them as everyday bags or beach bags
They can also be Christmas gifts for your loved ones
Crochet bags make great gifts
They are a unique and special way to express yourself, Your mom, sister, girlfriend will love one
Tips to Crochet Bag Patterns
Are you looking for crochet bag patterns? No worries, we've got you covered. Here are some tips to help you craft a stunning handbag:
If you're not sure how to start a crochet project, the best thing you can do is to create a plan. Write down what you want your bag to look like and how big you want the bag to be. When you know exactly what it is that you want, it's easier to figure out how much yarn and what size hook you need. This will also help you ensure that your finished product looks the way that you want it to.
Tip 2: Choose the Right Yarn
There are many different types of yarn that can be used for a bag or other project. Some have more stretch than others, which can make crocheting a little easier or harder depending on your project. Your end product will also depend on which type of yarn you choose, so this is something else to keep in mind when planning your project. Here in this article we also suggest a correct type of yarn you can use for each plan.
Tip 3: Use the Right Hook
This one may seem obvious, but if you are new to crocheting, it's important to remember that the size of your hook does matter. The smaller your hook is, the tighter your stitches will be and vice versa.
Felted Origami Bag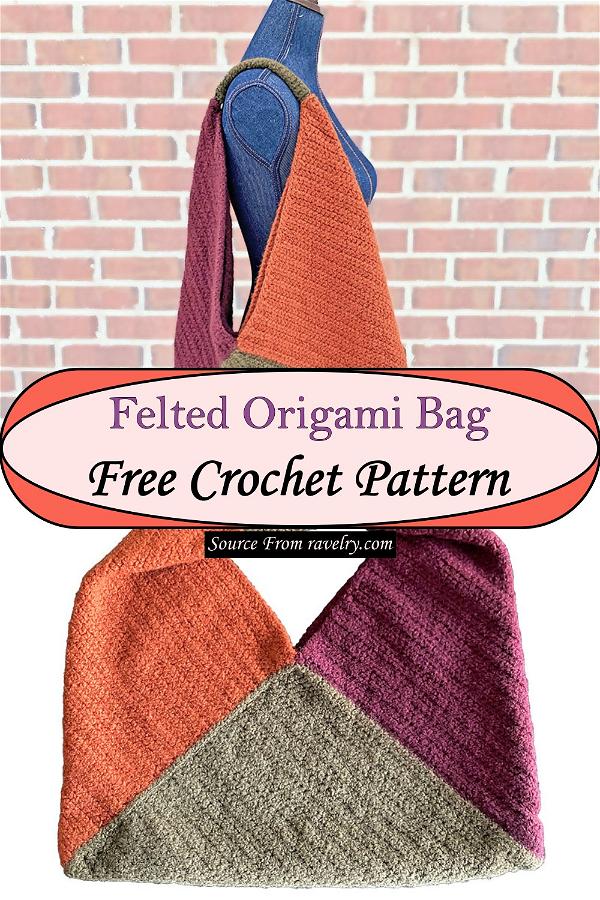 Sculptural and stylish, this super quick crochet tote pattern is simple enough for beginners. All you need is bulky yarn, a big hook, and basic crochet stitches. Add style and function with a woven i-cord handle, decorative tassels, and two handy pockets. In no time at all, you'll be whipping up these felted crochet totes for all your friends or crochet your own beautiful felted bag! Turn a rectangle into a bag with just a few folds - it's easy to do, and crochets up in no time at all. In no time you'll be whipping up these felted crochet bags for all your friends!
Valentine Treat Bag
Easy to crochet with just a few basic stitches, these Valentine treat bags are great for stuffing treats and small toys into for gifting. This Valentine Treat Bag will make you the best gift-giver everywhere you go. This Valentine Treat Bag is cute and super easy to crochet. Great to stuff treats and small toys into for gifting. The pattern is available in both regular and half double crochet, so you can choose whichever you're more comfortable with. This is a very quick project to make, so whip up a few for the upcoming holiday!
Rustic Jute Bag
This beautiful handcrafted bag is perfect for everyday use. The crochet jute bag is made of quality macrame and is perfect for the spring/summer season. The bag makes you look more fashionable, elegant, and beautiful. It can be used as a tote as well as a clutch handbag. There is plenty of space to carry all your little belongings. The straps are easy to carry on for any occasion. This jute bag is a wonderful addition to your home decor. You can use it to put your favorite house plants and decorate your home interior with a rustic vibe or use it as a storage bag for small toys, toiletries, office supplies, and more. Beautiful jute texture is a perfect handmade product that can be used as a whole or in parts!
Lantana Dice Bag
If you love dice, you need a dice bag! This free crochet pattern will teach you how to make a drawstring-style pouch that's perfect for your dice collection. Be unique! This dice bag crochet pattern uses contrasting colors to create a drawstring style pouch to store your Dungeons & Dragons dice or other small items. Featuring a unique loop stitch, this free crochet pattern is beginner-friendly and quick to make. Follow along with the tutorial and learn how to turn this crochet pattern into your own unique project. The Lantana Dice Bag Crochet Pattern is beginner level and uses bright Red Heart Retro Stripe Yarn.
Granny Hexagon Market Bag
Tired of plastic bags? You can now choose a more aesthetic alternative to carry your groceries and other essentials. This pattern will help you crochet a granny hexagon market bag that is easy and fast to make and is durable enough for your daily use. And the best part about this project is that it will not take you long before you get some compliments on it. Easy to make and super quick, this Granny Hexagon Market Bag is perfect for your shopping needs. This hexagon granny bag pattern will hold a lot but will also be nice and light on your shoulders.
Mesh Tote Bag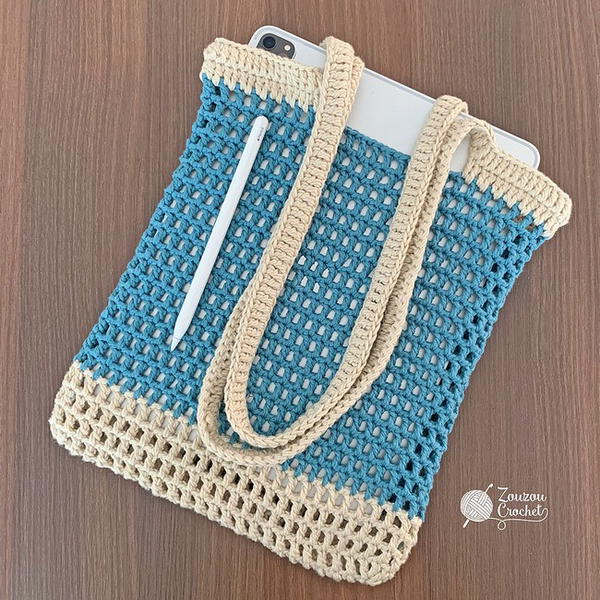 You can now crochet your own mesh tote bag with this beginner-friendly pattern. This crochet tote bag is perfect for shopping, beach, travel, or any other activity where you need a beautiful bag that fits all your needs. In a few easy steps, you can make this stunning crochet tote bag and have it ready for your next shopping trip, a day at the beach, or wherever life takes you. This bag is so soft, yet sturdy and it will hold any items you want to put in it. It will be a perfect shopping bag or beach bag. You can also use it as a laundry basket or even your cat's bed!
Strawberry Milk Box Bag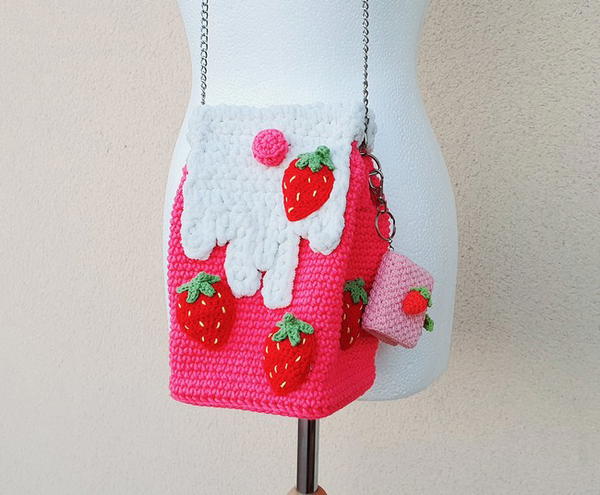 Your kids will love this Strawberry Milk Box Crochet Bag! This cute bag is made of soft and comfortable cotton material for the best skin-friendly. It's a cute strawberry milk carton-shaped bag that's perfect for your kids! It is made of cotton yarn and has a zipper closure with an opening at each end. The kid-friendly loop handle makes it easy to carry anywhere…to school, the park, the beach, and more. The color of the strap may vary from what is shown in the picture due to the availability of yarn. It's lightweight, easy to carry, and washable. Ideal for everyday use or a night out!
Granny Square Bucket Bag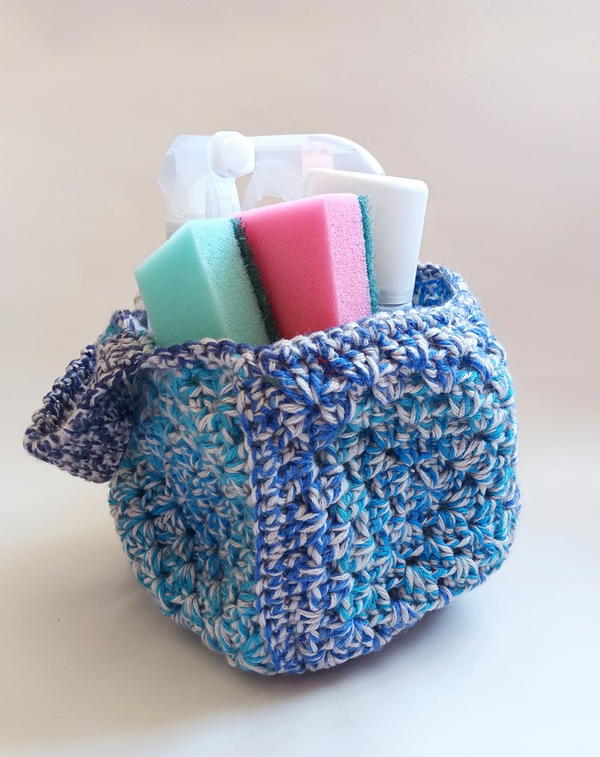 This Crochet Granny Square Bucket Bag is perfect for craft lovers. It is large enough to carry a lot of art and craft supplies, yarn and anything you might need to take to an artist's studio. This sturdy bucket bag is also perfect for storing all kinds of things, craft supplies, art supplies, crochet supplies and even cleaning supplies. It has an extra-long strap for hanging and carrying and the square shape lets you fit loads in! The crochet granny square design is eye-catching and has a long strap so that it can be carried over your shoulder.
Tarot Card Bag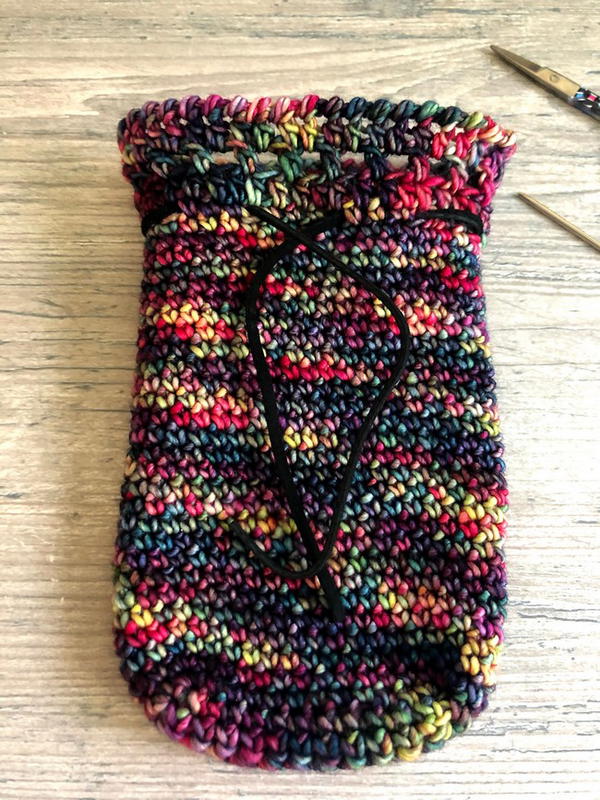 Your tarot cards can be safely stored in this cotton drawstring bag. This bag is made to go anywhere with you. It is designed to fit a standard-sized tarot deck and has a roomy interior that fits the cards plus any slips or accessories you want to carry with it. The bag is ideal for protecting a set of tarot or oracle cards, though it could also be used to hold your precious queen-sized quilt or photo collage. The size and style make it a great gift bag too!
Salaya Market Bag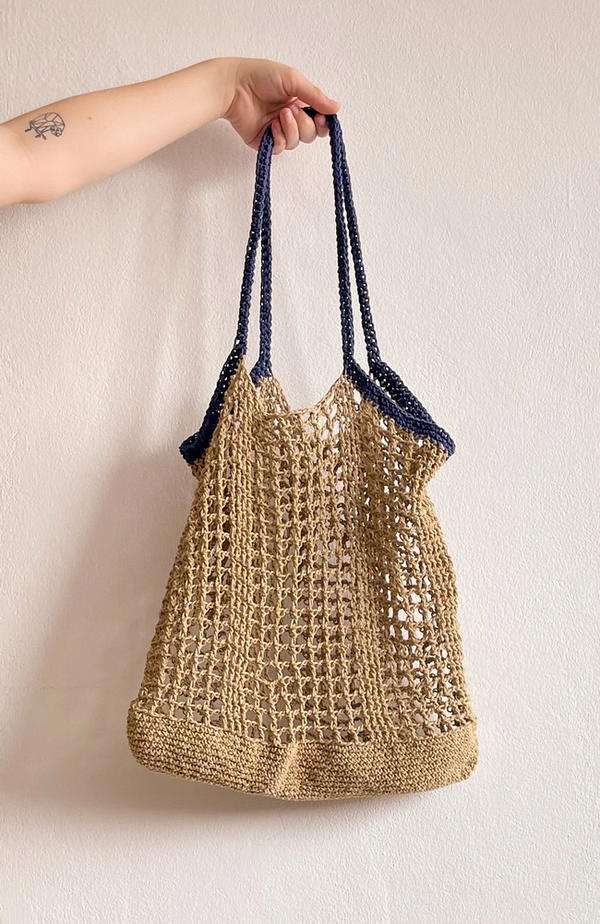 Use this market bag to tote your wares from the farmers market or pick up some gifts for a friend while on your travels abroad. The crocheted holes make this light weight to carry, and keep it interesting! This pattern is much more structured than other bag patterns and uses different crochet stitches, but don't let that confuse you. Feel free to jump in and ask for help when you need it!
Day Tripper Bag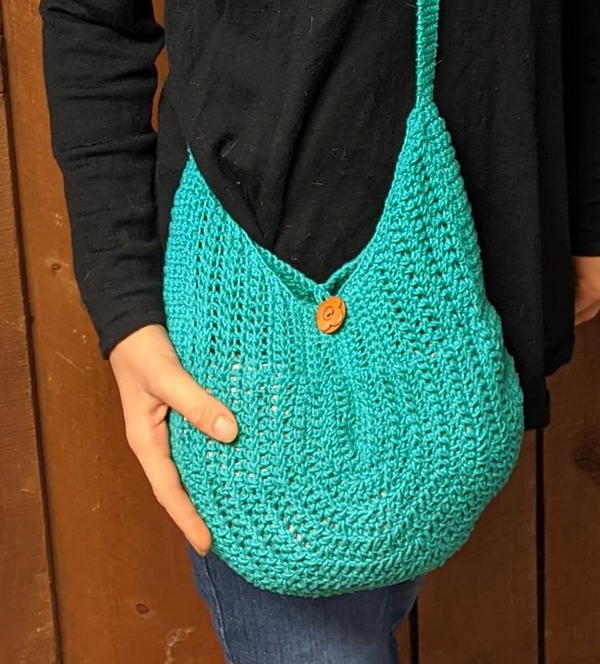 Stitch up a new market bag in time for your trip to the yarn shop or farmers market. This kit includes everything you need to make this sturdy cotton bag. Pick your favorite summer tote yarn and stash your travel patterns, a favorite book, or your crochet tools! This crochet kit contains a pattern and all the dry goods eco-cotton yarn you need to make one market bag. The finished bag is cute enough to use as a purse, but also sturdy enough to haul your farmer's market finds to and from the market or all your beach day needs. It makes a great project for beginners and knitters who want a quick finish, too!
Lulu Basket Bag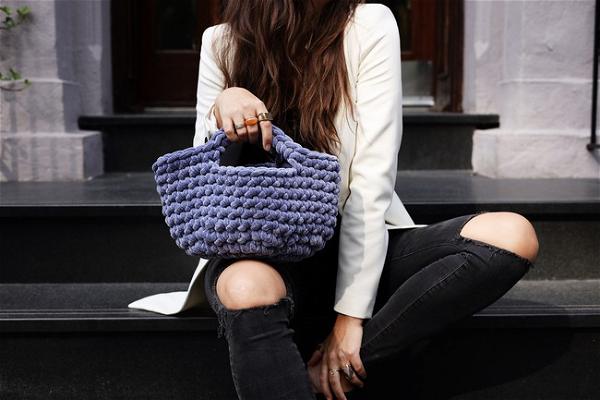 The basket bag trend is here, with this cute crossbody purse. Fun to crochet and functional for everyday use, this bag is a take-anywhere accessory. Featuring a jute base and soft cotton yarn, this high-fashion mini purse is perfect for holiday soirees, cocktail hours, and more. Mini and utterly chic, the Lulu Basket Bag is easier to crochet than you might think. Worked in a soft cotton yarn for summer, it's the perfect accessory for a special night out.
Little Bow Gift Bag
This lil' beauty is a handy stash buster! A perfect little gift bag to fill with holiday cheer, the Little Bow Gift Bag can be used year after year to make gift-giving fun and easy. It's a stash buster that you can use year after year, for holiday or birthday gifts. And it stays closed with a bow, so no wrapping is even necessary! Made from 100% cotton yarn, this gift bag is as cute as it is useful. And if you love having an extra set of hands around during the holidays, check out the coordinating Gift Bag Assistant pattern!
Tulip Square Bag
A charismatic square bag, made of crochet, has a delicate yet sturdy structure that keeps your belongings safe and adds a romantic touch to your everyday look. The classic appeal of the Crochet Tulip Square Bag's roomy silhouette renders it perfect for on-the-go women. An impeccable accessory to an otherwise casual ensemble, this sweet take on staple spaciousness is woven in playful dotting of petals. This little bag is perfect for when you don't want to carry a ton of stuff! Easy to knit, easy to wear, yet beautiful and unique. Perfect for your summer adventures.
Drawstring Gift Bag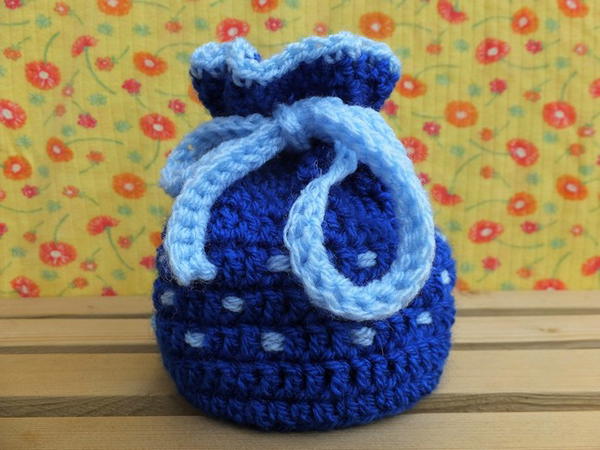 This great little project has unlimited possibilities. It's quick and easy to make, great for using up oddballs and scraps of yarn, and it looks wonderful! It makes a great gift bag but can also use as a decoration in its own right. Simply fill with your choice of affordable fillers like baked treats or body products, or anything you can think of! Whether you're looking for a quick and inexpensive way to wrap your gift or want to give your presents a personal touch, these crocheted drawstring bags are a great choice. They can be made in any color of yarn that you choose, and the drawstring top lets you create the perfect fit for almost any small gift.
Drawstring Bag With A Heart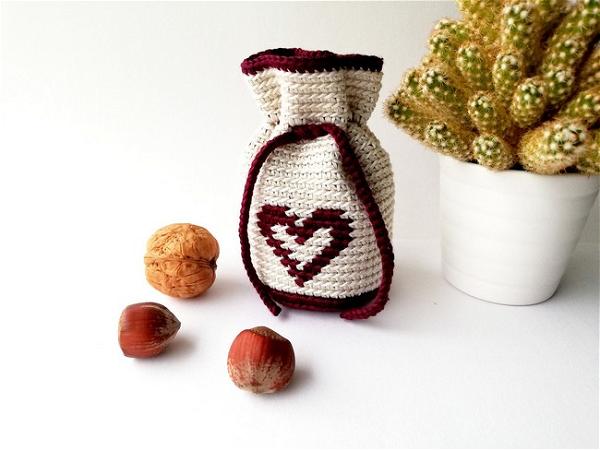 Need a quick and easy crochet pattern for the weekend? Want to make something beautiful, yet stylish, which is perfect for all seasons? The bag is super fast to make and easy too. The beautiful handmade bag would be a unique and one-and-only gift for your beloved ones! The bag is made using the tapestry crochet technique and has a pretty little heart on it. Perfect for small gifts to give your girlfriends, make this adorable crochet bag as a gift bag, or use it to easily make a drawstring pouch gift! Crochet patterns make a fantastic handmade gift!!!
The Navy Shoulder Bag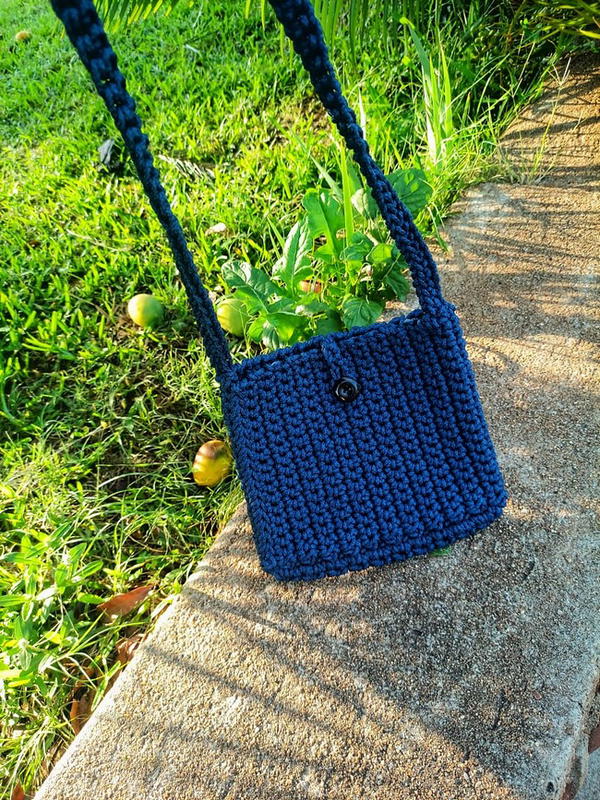 This Navy Shoulder Bag is the ideal bag for your essentials. This bag is crocheted using single crochet and slips stitch. It is a very simple crochet bag pattern. The Boho-style shoulder bag works using single crochet and slips stitch. This bag is made of cotton yarn and is built to last. It will hold your important work supplies or make-up small project. This is the perfect gift for her, a crochet handbag pattern that you can learn to make and create a unique, cute, and practical boho bag. The shoulder bag pattern is very easy to follow and has great texture when finished.
Bag With Christmas Ornament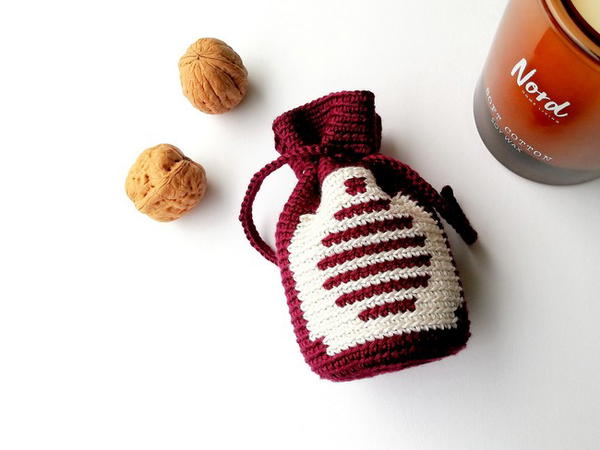 A bag With Christmas ornaments will make you feel happy. This one-of-a-kind Christmas Ornament will be the centerpiece for any room and can be a great addition to your collection or as a gift for that special someone! Add a little Christmas cheer to your home with this lighthearted tree ornament. Beautifully crocheted by hand, this delightfully colorful tree ornament will enjoy for years to come.
Bag With A Bell
This pattern is for a small round drawstring bag made with the tapestry crochet technique. This is a beautiful crochet pattern for a tapestry crochet drawstring bag with a bell. The bell is removable and can work as an ornament long after the bag is gone. Make your Christmas magic with this crochet drawstring bag pattern that works well for tapestry crochet in the round. This crochet pattern is suitable for beginners who are familiar with the tapestry crochet technique.
Why Knot Bag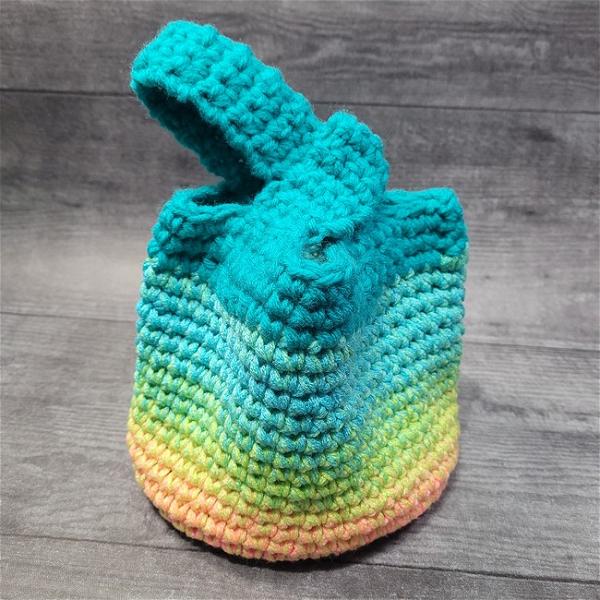 Imagine having a shoulder bag that's both fashionable and functional at your disposal. Suitable for beginners and experts alike, the Why Knot Bag is a quick-knit project with lots of wow factors. The bag works side to side, and the handles are knit separately and then stitch in place. The ending result is a large bag with a nice opening at the top. The Crochet Why Knot Bag pattern allows you to create a beautiful bag. The unique design is easy to crochet, making it a great project for beginners or those looking for fast results. The strap closure allows you to exercise your imagination and make it your own.
Everyday Market Bag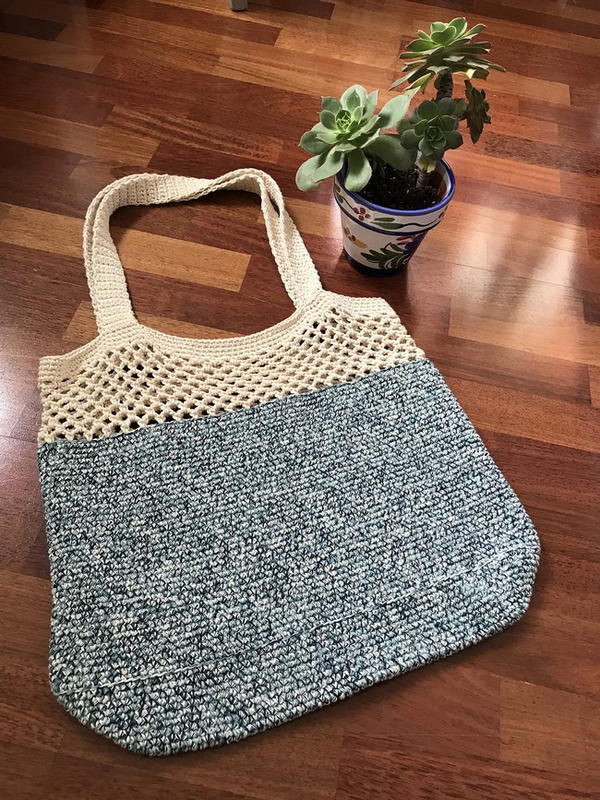 Swap out your plastic grocery bags for the eco-friendly and cute Crochet Everyday Market Bag. You'll have the perfect way to carry all of your shopping homes when you make the Crochet Everyday Market Bag. This roomy bag is suitable for holding everything from yarn and knitting needles to produce. The Japanese cotton thread is 100% washable, so you can use it again and again. This handwoven bag features a simple striped design that looks great with any outfit.
Tulip Square Bag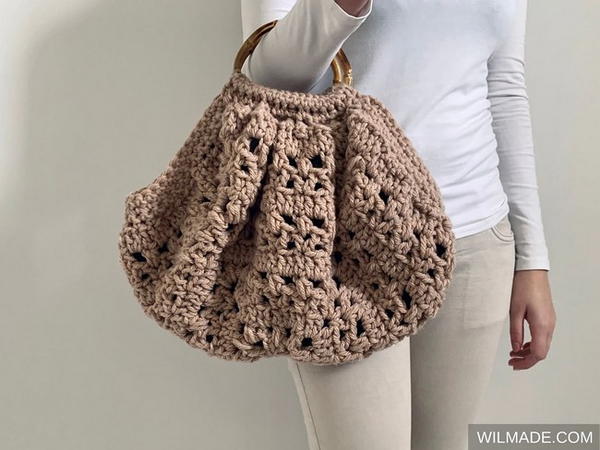 Be sure to have the most unique accessory with this Crochet Tulip Square Bag. Dress up your outfit with the Crochet Tulip Square Bag. This bag features a round handle to help make this purse easy to carry. It also has enough room to carry cell phones, makeup, and money. This creative bag works out of a big square with single crochet stitches on the sides creating an interesting shape. You can make the bag as big as you want by repeating three rows of single crochet stitches to make it larger. The single crochet stitches will help create a more sturdy bag, but if you prefer you can use double crochet stitches instead. This is a good project for beginner crocheters or those looking to practice their skills!
Easy Sun Bag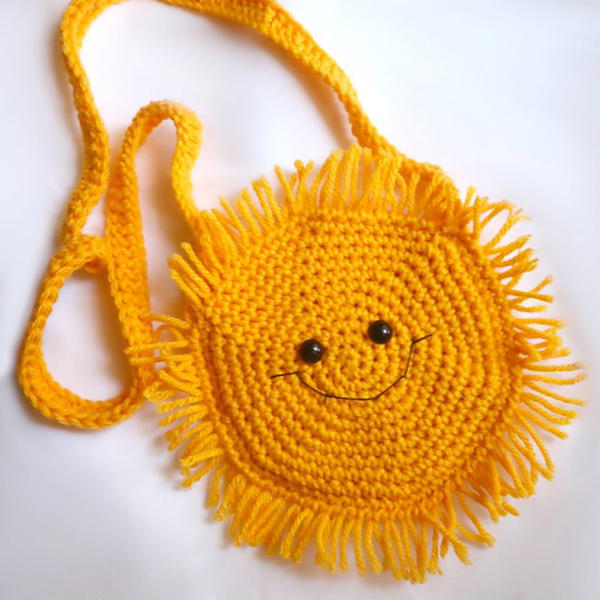 Style and function combine in this Crochet Easy Sun Bag. Shaped like a sun, it has a removable strap to wear as a crossbody bag or remove the strap to carry it as a clutch. You can make yourself chic and special with these free crochet bag patterns. Find the one you like, follow along and make one or a few for yourself, family, or friends! This is an easy and chic sling bag, perfect for summer days. Handy size ideal to store your sun lotion and towel, with a shoulder strap that you can adjust to suit your height.
Granny Square Bag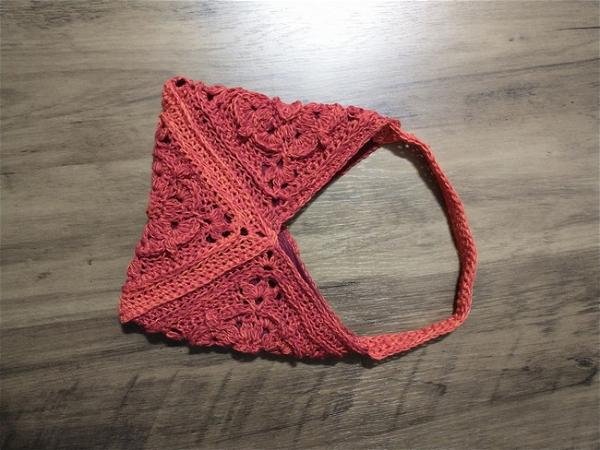 Add a modern twist to a classic favorite with this granny square bag. You can use any granny square pattern that you would like, and make it as big or small as you want! The optional strap also gives it a more contemporary look. Great for fall markets and craft shows. A lightweight lining keeps your bag structured, while the large straps make it easy to carry around. You can even carry it around your wrist!
Colorful Bobbles Sling Bag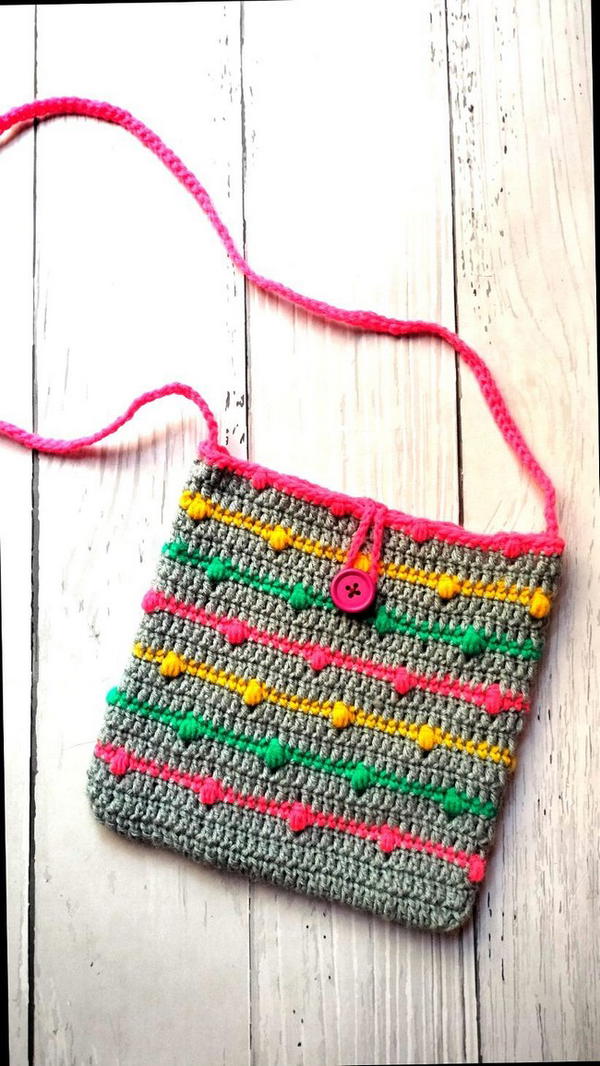 We know you will love this Crochet Colorful Bobbles Sling Bag as much as we do. The Rainbow Striped Slouchy Crochet Bag is a timely pattern for summer that uses yarn from your stash. It's perfect for day trips and for beach outings. It is large enough to carry all your smalls while traveling, yet stylish enough to carry anywhere. The perfect accessory. This sling bag can work in any color combination to match your outfit. The bag is large enough to fit your smartphone, small wallet, keys, earphones, and other small valuables. Carry it when you go shopping or traveling.