Are you the type of person who has to carry a lot of stuff with you? A tote bag is a great choice. For instance, if you are an avid reader, you may need a tote bag for books. If you have kids, you probably are going to need a bag for their toys. The beautiful thing about making your own tote bag is that you can customize it to suit your exact needs. Fun and easy to crochet, the tote is a perfect project for beginners who want to hook their first bag. And with plenty of affordable yarns available today, these bags are quick to finish and easy on the wallet. Brighten up your crochet collection with these 31 Crochet Tote Bag Patterns!
Crochet Tote Bag Patterns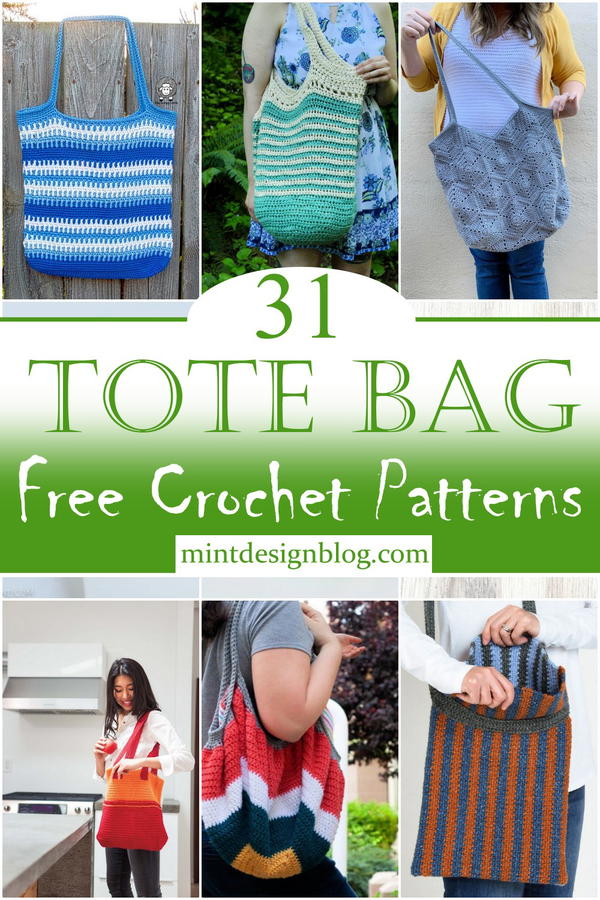 Wrap up your crafty hands around these 30 free crochet tote bag patterns and make them with your favorite yarns. If you are a beginner in crocheting, then it is the right time to master your basic skills by making some of these quick and easy tote bags. A girl or a lady cannot take a step outside without a nice bag on her shoulders or in her hands. Be it a trip to college, a market, or any other outdoor place, the women always carry a stylish bag as all the stash is busted in it for any time use. And the tote bags are of the ladies' favorite choices as they are fun looking to carry proudly at any place.
These 30 free crochet tote bag patterns are quick and easy to crochet, made with minimal supplies.
Mystery Medley Tote Bag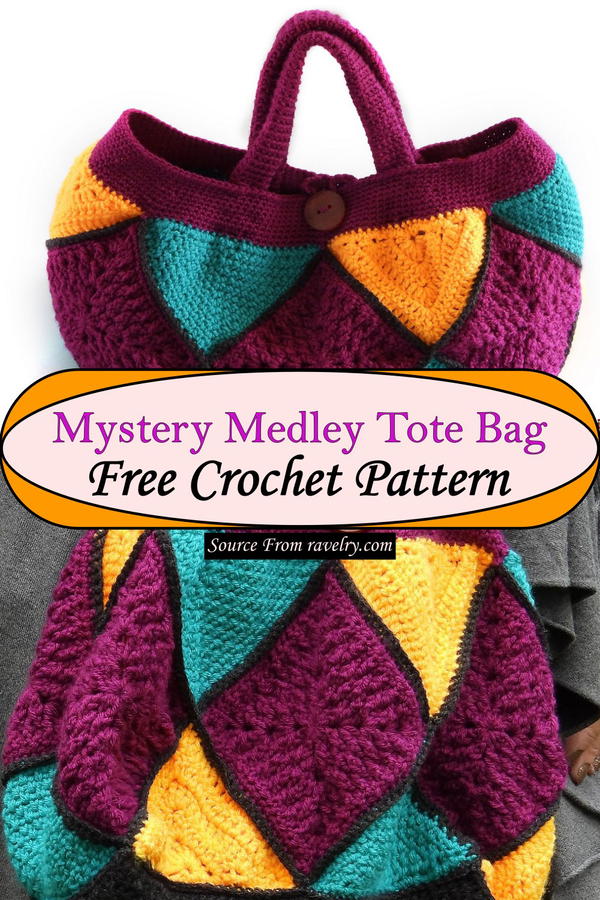 With its practical size and gorgeous design, this tote is perfectly roomy and stylish. The vibrant colors compliment whatever you're wearing while the small, cute bow gives a subtle touch of femininity. Carry your stuff in style with this Mystery Medley Tote Bag. This unique tote bag was designed by one of our favorite designers and includes a variety of fun colors and appealing prints. Pick a mystery tote with four brand-new items that you can't find at any store. From jewelry, accessories, and home decor to beauty products and kitchen accessories, this is the perfect gift for yourself or someone who seems to have it all. Great for work or everyday use!
Lairë Tote Bag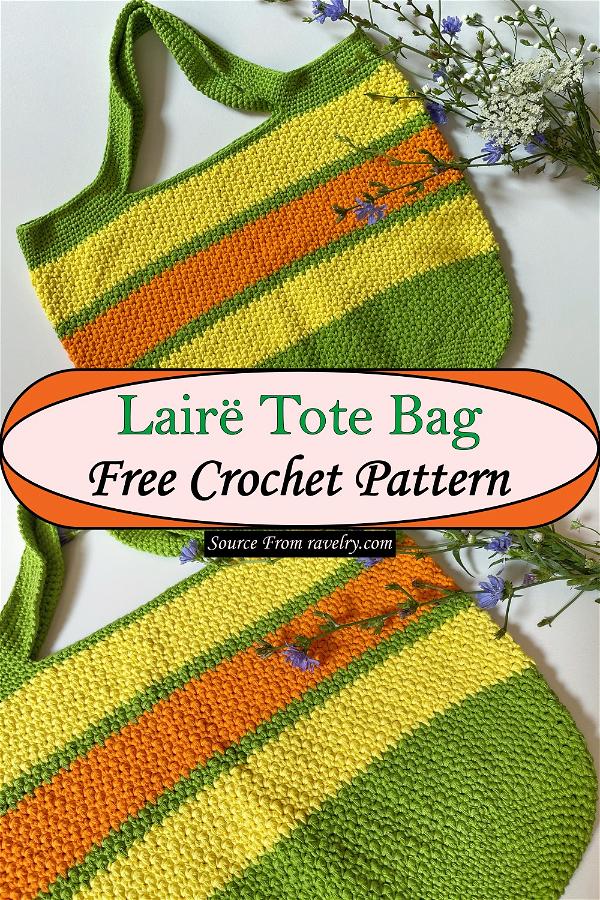 Everyday errands to grocery runs get a boost of style with the Lairë Tote Bag. Simple and ultra-light, this handmade bag will be your daily companion and carry all of your essentials—meaning that the only problem you'll have is deciding which color to get. The Lairë Tote is a beautiful hand-crocheted tote bag with leather straps and accents. This bag can be worn as an everyday tote, or a carry-on for your travels. The neutral tones and stylishly wide straps make this tote ideal for an avid traveler and fashionista. The Lairë Tote Bag pays homage to one of the most fierce and determined characters of recent times. A warrior with power, resolve, and a loyal yet unyielding spirit. The Lairë is the perfect accessory for everywhere you go—from mornings at the office to afternoons past the Wall.
Grindstone Tote Bag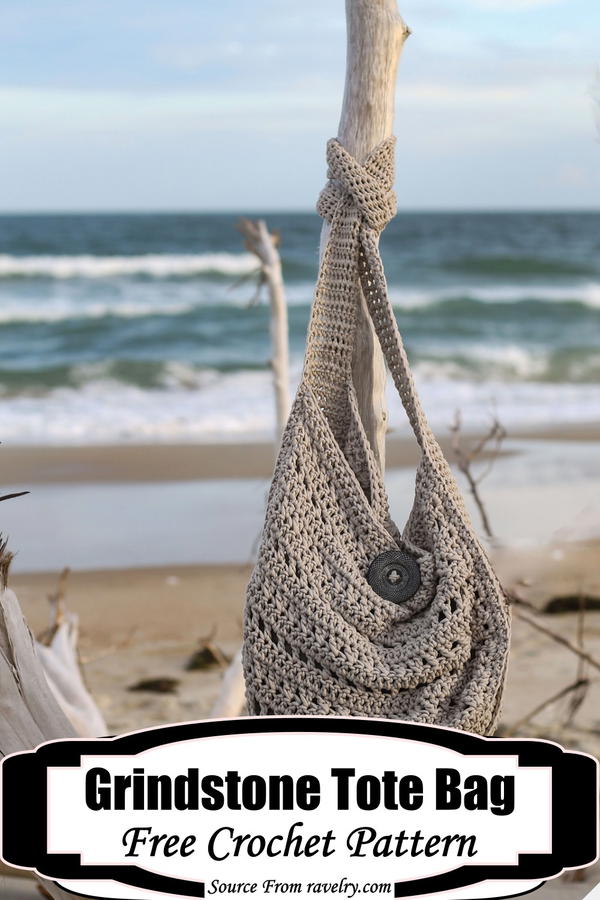 Created in the round and down, this tote bag features a roomy main compartment with a single inside pocket. The design also features a loop at the top that allows you to attach a shoulder strap (optional). This unique bag is entirely adjustable to your preferences! Using any sturdy yarn, find the best ratio of stitches to rows to get a sturdy fabric that holds its shape. This is the perfect bag for anyone looking to create a sturdy bag that can hold all their necessities. It's like magic! Make it whatever size you need! Make this bag for a friend and use it as a fun way to shop with them.
Striped Crochet Tote Bag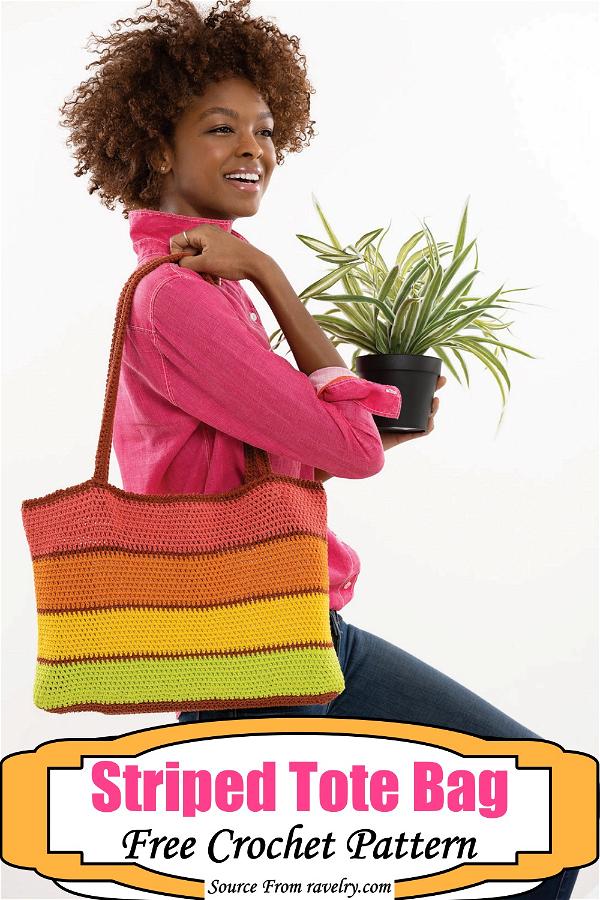 Looking for the perfect versatile tote to complete your look? Look no further! Add a splash of color to your outfit with this large crochet tote, perfect for carrying around all of your essentials. Created using soft yarn and a simple crochet pattern, this beautiful bag is perfect for a quick trip to the supermarket or a day at the beach. Use it as a gift bag, an accessory holder, or a gym bag. Simple and elegant, you'll love showing off this lovely tote.
Accessorize in style with this colorful crocheted tote, worked in the round to create a simple bag that is perfect for any occasion. The finished bag features dual handles and two large pockets, ideal for storing your keys, wallet, and more. This versatile pattern can be made with a variety of yarn colors.
Mosaic Crochet Tote Bag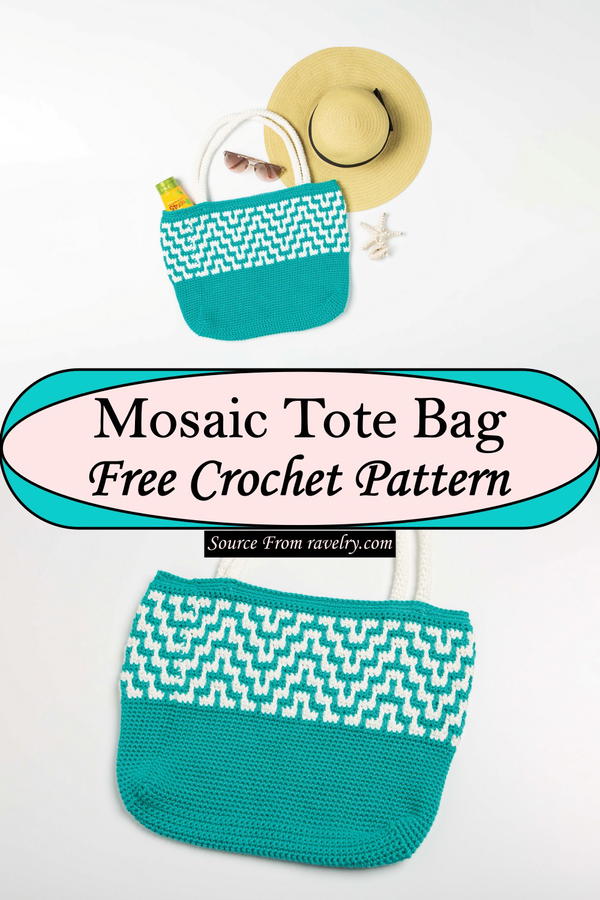 Have you ever seen the beautiful shapes, textures, and swirls that crochet can make? This fun, the colorful tote bag is crocheted using a simple technique called mosaic crochet which creates eye-catching patterns without affecting the shaping of your artwork! You will love this Mosaic Crochet Tote Bag and want to take it everywhere. If you are new to mosaic crochet, this is the perfect chance to practice reading a mosaic crochet chart and implementing this technique into a fun and playful bag. Use basic single crochet stitches for the body of the bag, then work the easy mosaic technique in two colors to create the patterning at the top. Mix different colors if you are feeling playful!
Linen Stitch tote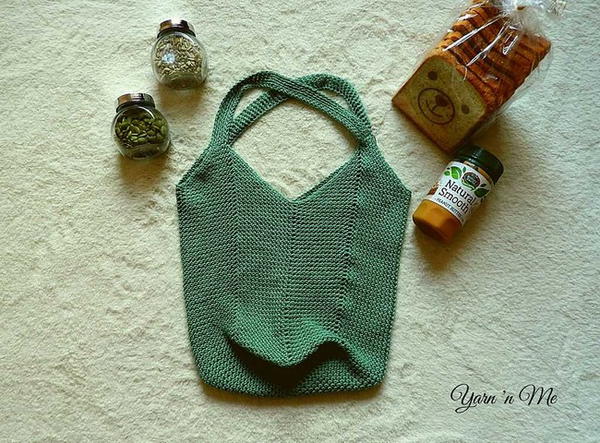 This tote bag is one of the Granny Square base tote bag series. Linen stitch tote is one of the granny bags in the Square base series is easy and fun to make. You can enjoy swift crocheting with yarn in your favorite colors. The bag has a loose vintage feel. Featuring two handles and an exterior pocket perfect for your phone, keys, or favorite book. A versatile piece that can be used as a trip to the grocery store, beach bag, or even a knitting project bag! It has a good shape, and it is easy to carry not only books but also a lunch box and daily supplies. Its design can be used regardless of age and gender, so it's a perfect gift!
Fiesta Tote Bag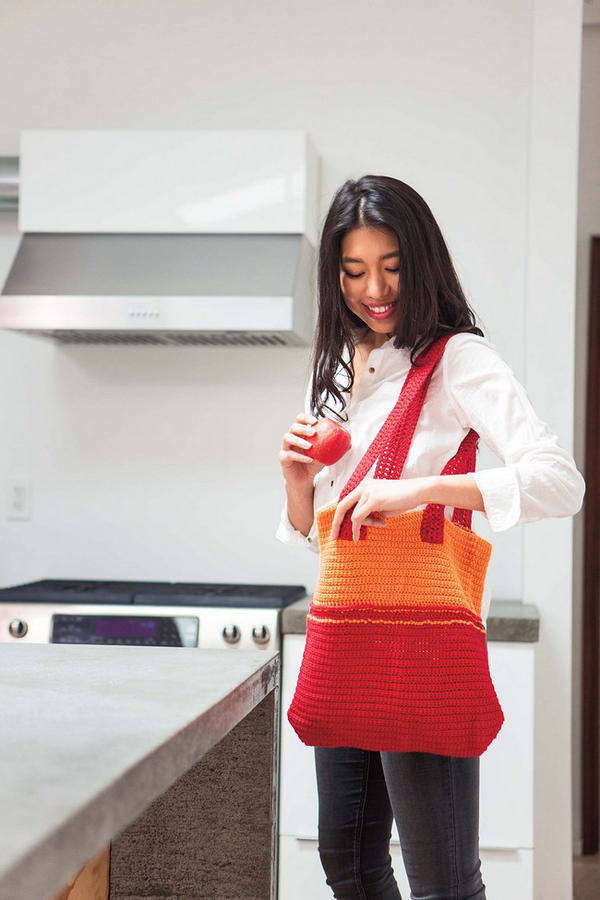 The Fiesta Tote Bag is the perfect accessory for a day out, going to the seaside, to the park, or even to the office. Big enough to hold your current crochet project, this color blocked bag is a quick and fun make. The bag is worked from the bottom up as one piece in a continuous spiral, without turning, and joining. The handles are worked separately and sewn onto the bag. You can easily customize it by increasing or decreasing the size of the bag or handle length. . Big enough to hold your current crochet project, this color blocked bag is a quick and fun make.
The Vendbar Tote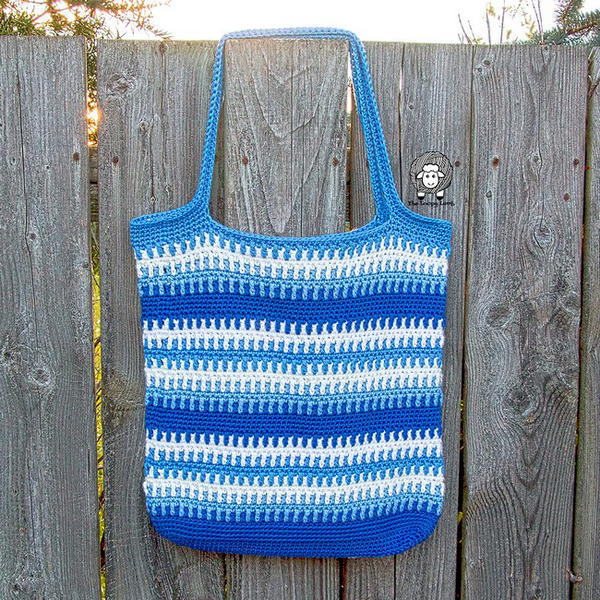 The Fiesta Tote Bag is the perfect accessory for a day out, going to the seaside, to the park, or even to the office. Waxed canvas is a perfect choice for bags and totes because it's durable and it will age beautifully. Big enough to hold your current crochet project, this color-blocked bag is a quick and fun make. Linked double crochet creates a sturdy, non-stretching fabric with no side seaming needed. This bag looks great with one solid color or tries using variegated yarn for a more colorful look. The handles are worked separately and sewn onto the bag. Big enough to hold your current crochet project, this color-blocked bag is a quick and fun make.
Crochet Henrietta Tote Bag Pattern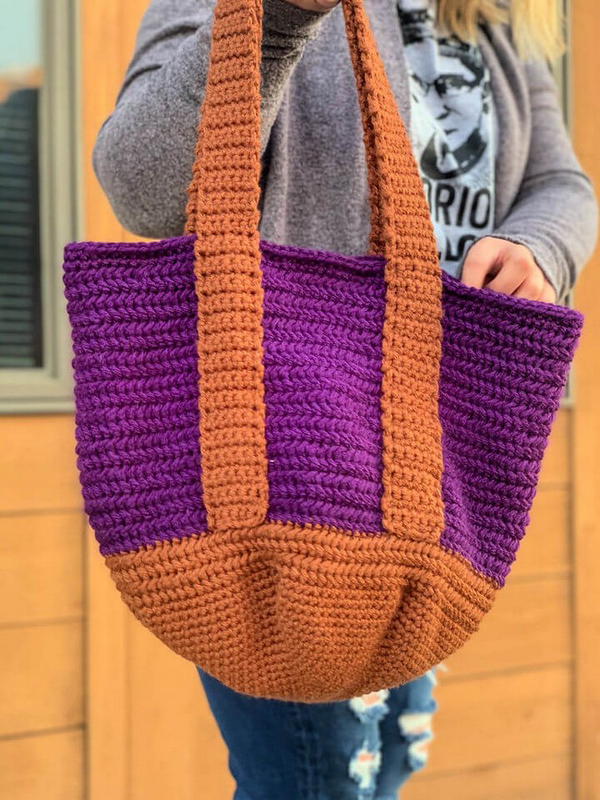 If you have an hour, try to crochet this Henrietta bag. If you are a newbie and want to try your hands on the Herringbone half-double crochet, go for it! You'll be in love with the final look of this bag. A plethora of colors are available which will make you go crazy! You can also try out multicolors and see how they appear and what combination suits you.
This gorgeous crochet Henrietta Tote Bag will be the perfect accessory to jazz up any outfit. Crochet in Bernat Maker Outdoor, you can make it light or dark depending on your preference. Even if you are a newbie, you can craft this bag with the help of an easy pattern.
10. Crochet Tote Square Bottom Bag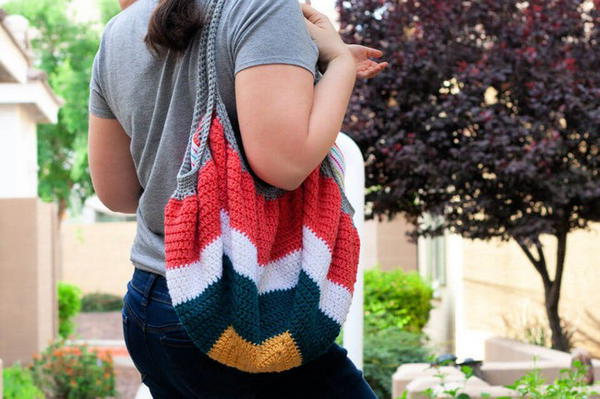 If you love to crochet, you need this bag. Creating the crochet tote square bottom bag helps with the craft of crochet. The steps require you to make granny squares, then join them together for a bag shape. All You need to use is Red Heart super saver yarn, double crochet, chain, and slip stitches. It features a granny square design that gives the bag a chic and retro look. You can easily carry your everyday essentials in this convenient shoulder bag. This bag is of medium size, so you can keep your mobile phone, wallet, keys, and other beauty items in a safe place.
Crochet Slouchy Jean Tote Bag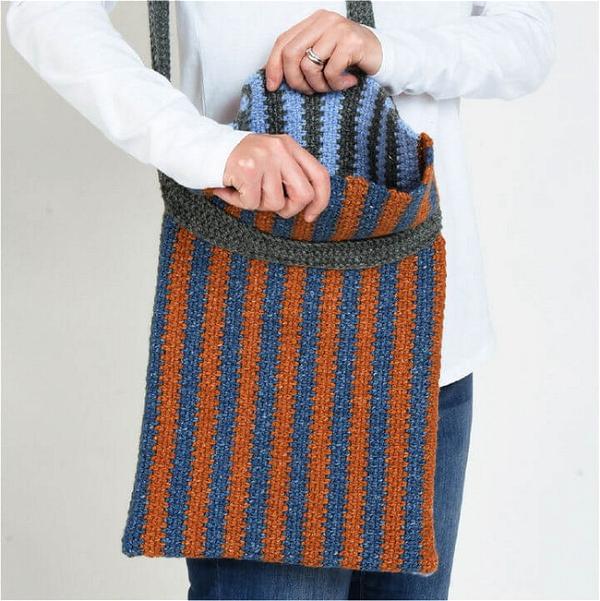 Want to crochet a tote bag with an old jeans look? Here is a crochet pattern for you that uses novelty yarns, a jean pocket, or simply resembles the look of denim while using your favorite worsted weight yarn. Top off your design with a fabric lining. This slouchy jean tote is going to be your favorite bag for shopping and traveling. This adorable bag is the perfect size for your kids, or if you are a kid at heart. With its slouchy jeans design and an attached pocket, it is perfect for everyday use at the park or to carry their toys while traveling.
Striped Tote Bag Crochet Pattern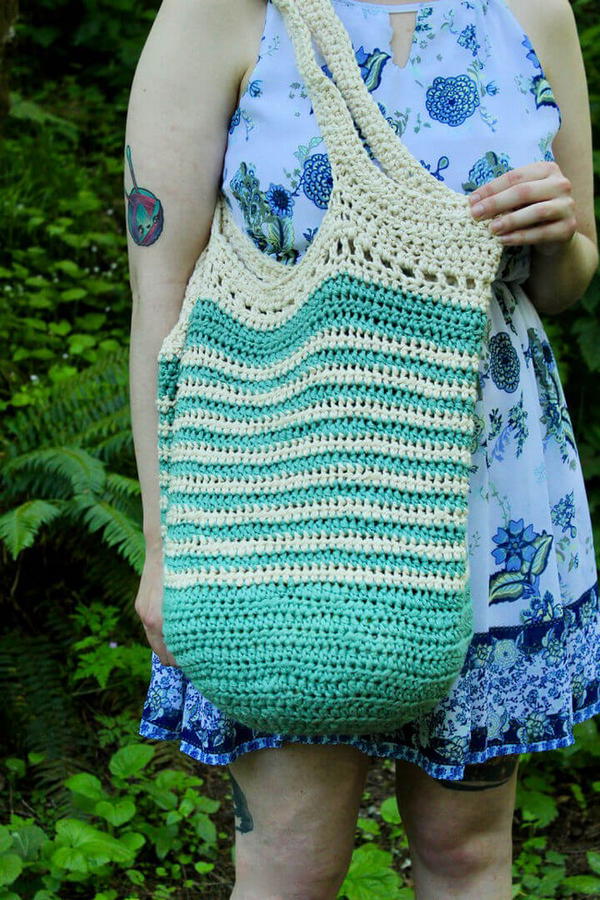 Do you want to be more eco-friendly with your everyday accessories? This easy crochet tote and the market bag pattern is a great way to put your crocheting skills to good use. You can easily crochet this cute and sturdy striped market tote and use it for carrying your groceries, using it at the farmer's market, or even for a day at the beach. Moreover, gift this striped and beautiful tote to your friend. Encourage her to use fabric material instead of plastic for carrying things. Not only in blue and white combination, but you can also make this bag in different colors.
Crochet Honeycomb Trellis Tote Bag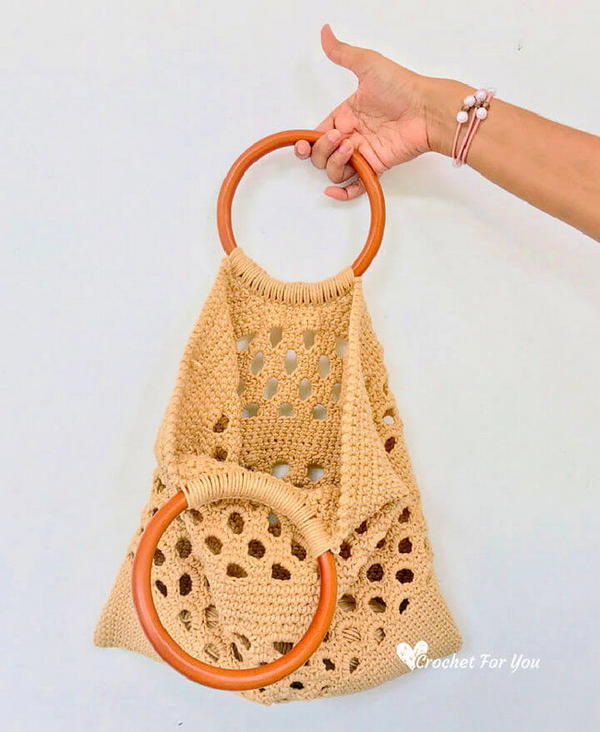 Crochet Honeycomb Trellis Tote Bag Supply your favorite shopping items in a crafty way with this awesomely beautiful tote bag. Use this bag to make people go gaga over your creations while holding your stuff while shopping. Furthermore, use worsted weight yarn in a light brown color with a crochet hook to make this Honeycomb Trellis tote. Use light brown worsted weight yarn and a crochet hook and get going! The handles are of wooden type and have been used in a contrasting color intentionally to give it a very chic and trendy look. This handmade bag can be used to carry yarn or books and has a roomy interior with plenty of pockets for your phone and wallet.
Watch This Video: How To Crochet Beginner Handbag
If you love crocheting, these Crochet Tote Bag Patterns are the solution for you! Get the look and feel of handmade! The crochet tote bag pattern is perfect for a day at the beach or a quick trip to town. You'll love the different styles and designs of this wonderful collection. Grab your favorite yarn or crochet thread and get to work with some of this simple easy Crochet Tote Bag Pattern. This modern, easy crochet bag pattern is worked in rows and assembled afterward. Change the feel of this bag by substituting traditional yarn for an extra chunky or ribbon yarn. You can also change the strap style to make it a unique handbag.
Free Crochet Mirna Tote Bag Pattern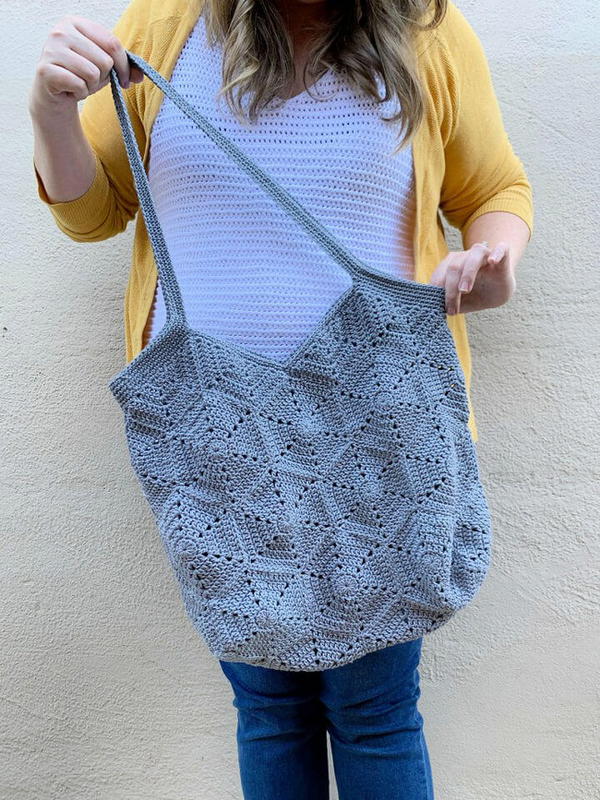 Crochet Mirna Tote Bag Free Pattern. The Marina tote is the ideal option for crocheting a hexagon pattern to create magic loops. Use 4 skeins of Lion Brand yarn in your choice of color, a tapestry needle, and a crochet hook to make this versatile tote bag. While crocheting hexagons can take more time and effort, you will surely love the end product when you have finished working on it. This crochet project will help you make a fun and hip bag that is so comfortable. Also, make your shopping trips more stylish with this versatile handmade tote bag and great for everyday use.
Crochet Plant Lady Tote Bag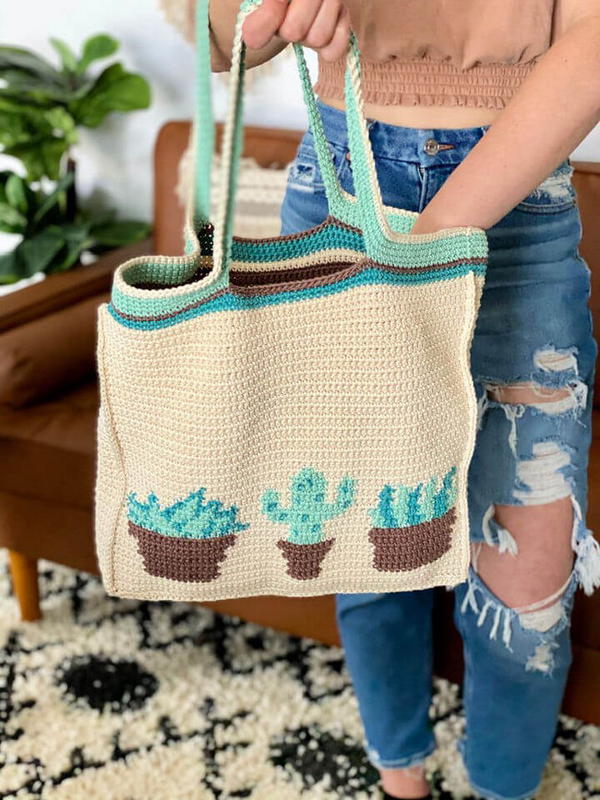 If you are looking for a tote bag that has enough space to keep all your stuff in one place and looks trendy, then this pattern is surely a keeper. Besides that, this bag is easy to make and beginner-friendly too. You can finish it before the day ends and start carrying it from the very next day. Carry your laptop, groceries, or anything with pride because everything is better when you carry it in a sustainable way. Finally, a tote bag that is not only fashionable but also roomy enough to carry around everything you need. This crochet pattern will help you make a funky and trendy bag that is so comfortable, great for everyday use.
Crochet Summer Tote Bag Free Pattern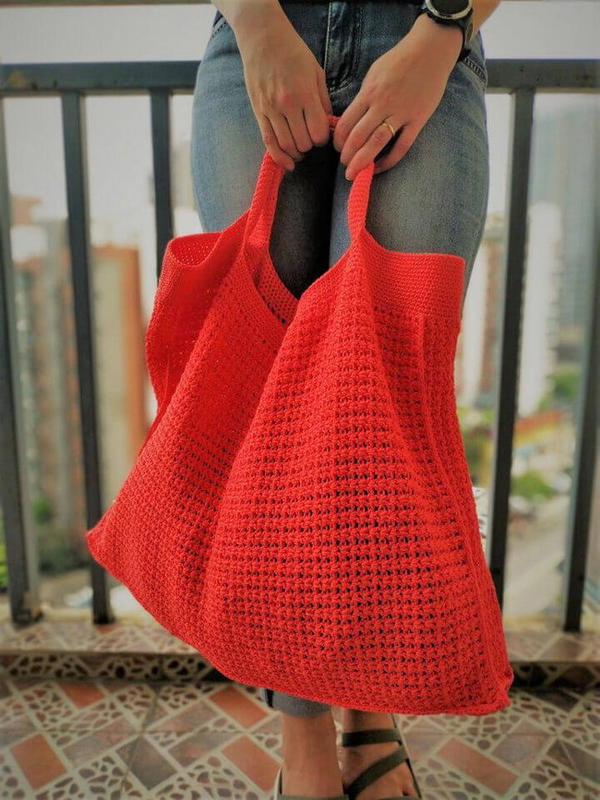 Try out this beautiful and useful tote bag pattern this summer. This handbag is full of color and texture and will look good in your hand or on your shoulder. Use a bright orange cotton yarn to crochet this bag. Its textured pattern will make your bag look more adorable and impressive. The handles of this crochet bag can be customized according to your needs. use a crochet hook with the cotton yarn wool; this will make the small holes even more prominent. This tote bag will give you a beachy feel. You can use it as a shopping or grocery bag, or keep it in your car for whenever you go out shopping!
Crochet Tote Beach Bag Pattern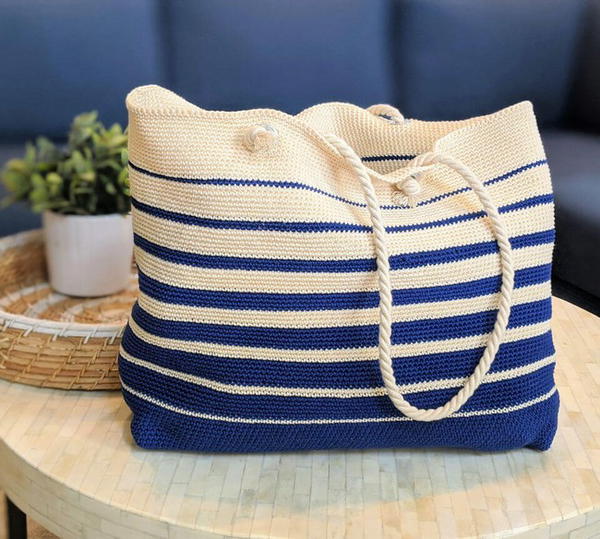 Crochet Tote Beach Bag Pattern is a stylish, trendy, and designer bag having a cotton yarn combination. Create this stylish and trendy bag for you with an E-size crochet hook. This Marina tote bag is going to be your favorite style icon soon. You can carry this bag anywhere you like without any hesitation. You can easily put whatever you want to carry in this handbag and it will suitably take it all for you. Or maybe you're looking for a great gift for the yarn lover in your life. Whatever your reason for wanting to crochet a bit of eye-catching style, this bag pattern is the perfect opportunity.
19. Patons Striped Crochet Tote Bag Pattern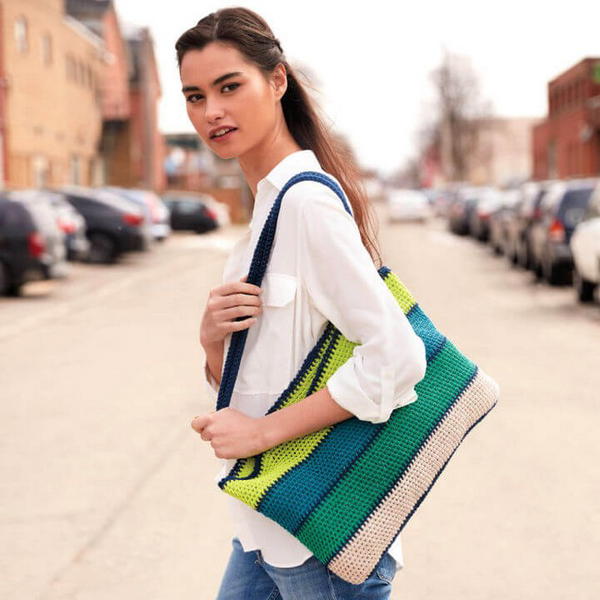 Add a touch of natural texture to your accessory collection with this cute and handy tote bag. Crafted in Panton Hempster (cotton and hemp), Whether you are headed to the farmers market or to the beach, this crochet bag can carry all your essentials. Plus, the stripes add a pop of color and style that is second to none. Hempster's super-soft properties will make this a bag you want to use for years to come. With a beautiful texture and cool, earthy tones, you're sure to stand out in any crowd. The color palette of this yarn is inspired by nature. This easy-care blend of cotton and hemp crochet cord is both durable and eco-conscious..
Crochet All-Time Favorite Tote Bag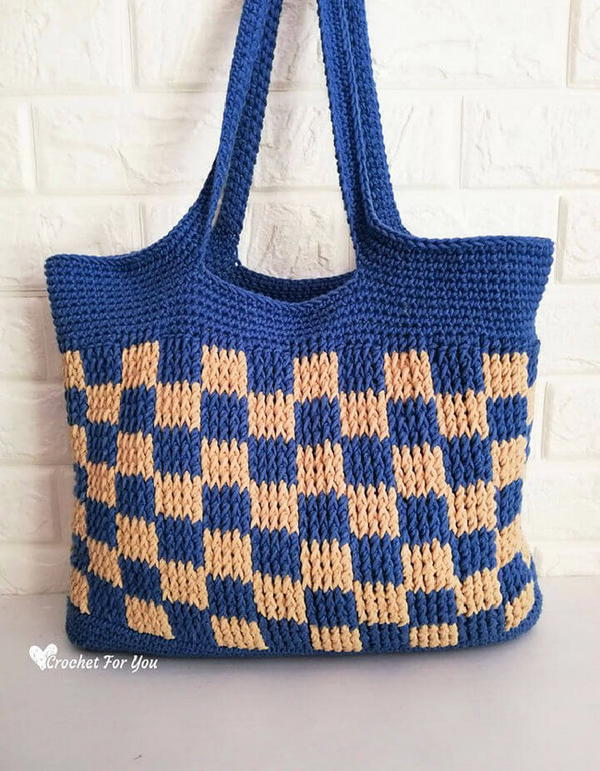 Make this all-time favorite tote bag. Use this easy crochet project for your everyday stuff placing and you'll wonder how you ever got by without it! It's much easier to crochet this bag than you think because it is made from comfortable worsted weight yarn in combination colors. This yarn makes any crochet bag turn out more colorful and playful. Use your crochet hook with a stitch marker and a rows gauge to DIY this all-time favorite tote bag. Use it as a market shopping bag, grocery bag, beach bag, you name it! Of course, it makes a great gift too.
How to Crochet Riviera Tote Bag Free Pattern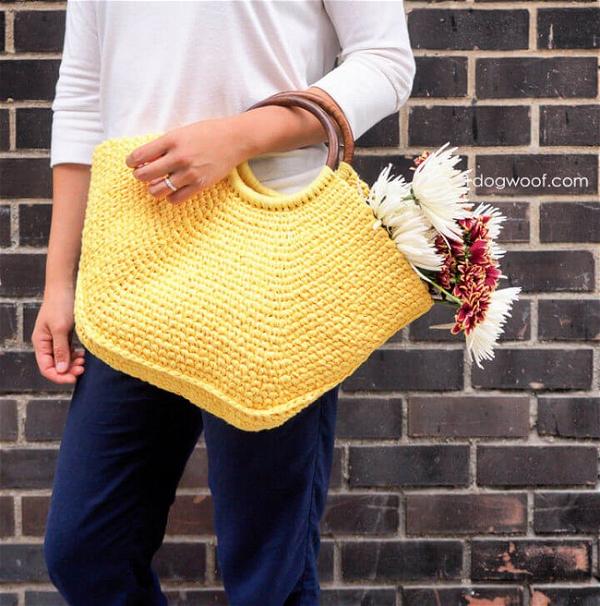 This crochet riviera tote bag features an eye-catching design and a comfortable strap. You'll love making this crochet tote bag since it's perfect for carrying all of your summer essentials like sunscreen and a towel! You can make it with the yarn that is called for or use any medium-weight yarn that you have in your stash. Get started on this easy crochet beach bag pattern today. It is also perfect to use at the beach, the gym, shopping, or even as an everyday purse. Either way, you will love this crochet tote bag. The crochet riviera tote bag is also a perfect gift for your friends and family,
Crochet Hibiscus Tote Bag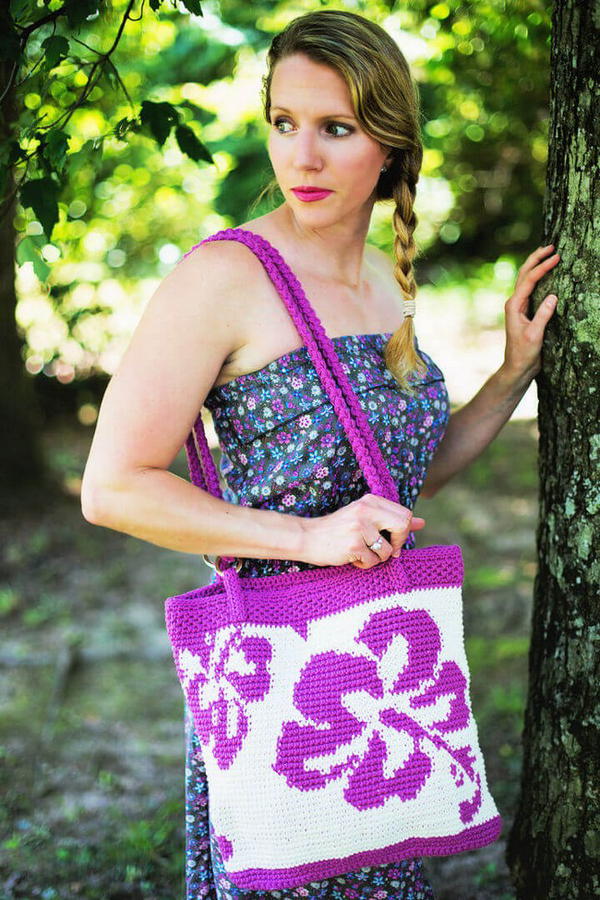 A crochet hibiscus tote bag pattern is available! What else do you wish to adopt? Well, here comes the time to use little crochet skills to create something useful in daily life. Indeed, a crochet bag is also a very popular and highly demanded fashion accessory. Your choice of vibrant color in this tote bag will help you stand out in a crowd as well! This Hibiscus tote bag is an ideal option to carry while shopping and grocery. Well, creating this tote requires not much effort. But you can make it with ease using this pattern. You need to work according to a charted design and spirals to crochet this bag with worsted weight cotton yarn. Additionally, use a crochet hook with a yarn needle to get your hands on this freaking tote.
 Crochet Velvet Tote Bag Pattern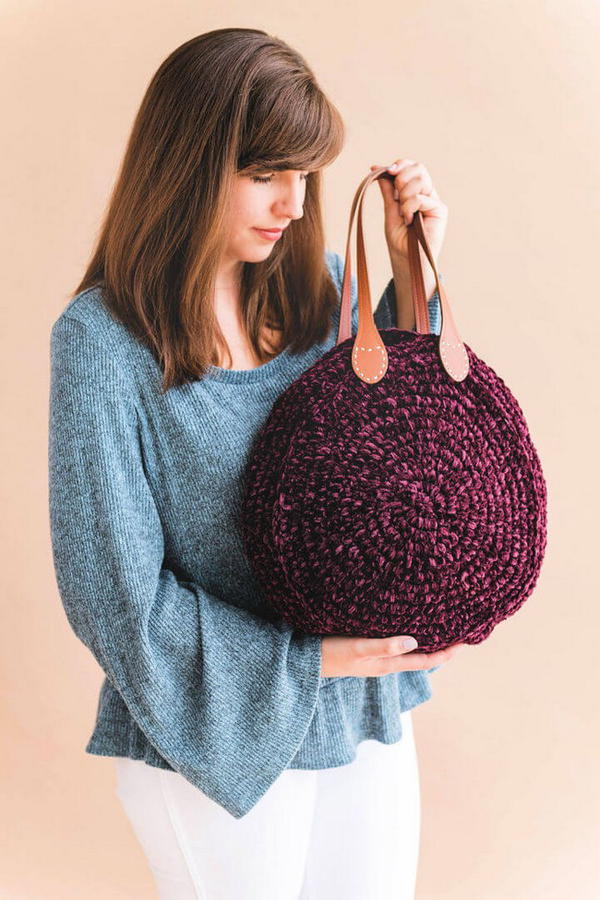 Crochet Velvet Tote Bag Pattern. This is an easy-to-crochet super soft and cute velvet bag that is specially made for your comfort and convenience. The Lion Brand yarn used for making this item is made of polyester in a dark purple color. It is also equipped with leather straps and a handle that makes it more appealing and ideal on the go. This velvet tote bag is also easy to use, simply because of its spacious size that could fit a variety of stuff for your everyday use. Its convenient design adds up to its value, giving you an easy carry-on, whether it's everyday use or a weekend getaway.
24. How to Crochet 9 Ball Tote Bag Free Pattern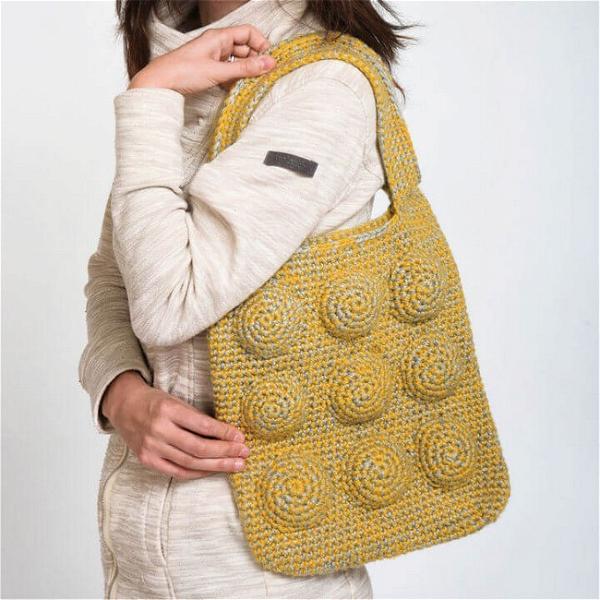 The Crochet 9 Ball Tote Bag Free Pattern is the perfect summer project for beginner crocheters. This easy crochet bag is a fun and quick way to try out some new techniques. The bag consists of 9 single crocheted balls which are then seamed together to create the bag itself. Use any size yarn or color combination that you like to make this crochet bag your own. If you want to add an extra special touch to your bag, add some felted flowers for embellishment. This crochet 9-balls tote bag is perfect for carrying and holding your books, water bottle, laptop, and even things for the beach. This bag is great for everyday use as well. The design does not require hard work, which makes it perfect for beginner crocheters.
Red Heart Crochet Mod Chic Tote Bag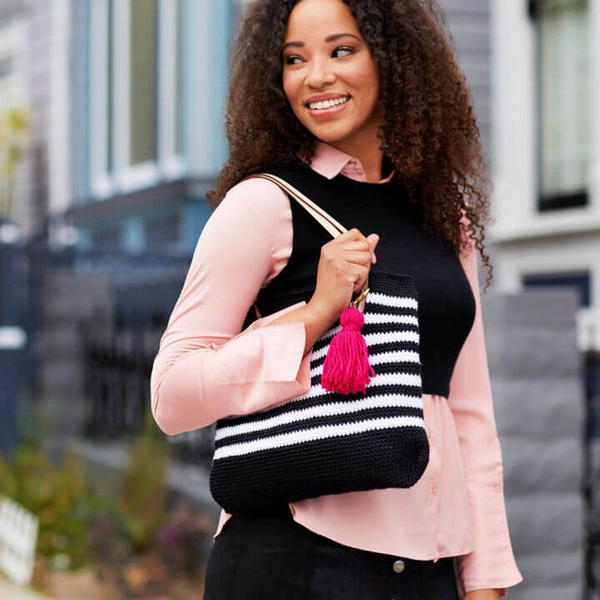 So chic and full of style, this easy-tote bag pattern is the perfect way to explore the world of crochet. This bag is portable in an array of eye-catching colors. The sturdy handle is crocheted with four strands of yarn to make it stand up to everyday use. The crochet hook makes a strong handle. This bag is easy to make. Start working on this DIY tote bag today for a complete style statement tomorrow. You can use it for your daily routine or carry your essentials when you go out to shop with friends. The bag is also great to give away as a gift in any season.
Chunky T-Shirt Crochet Tote Bag Pattern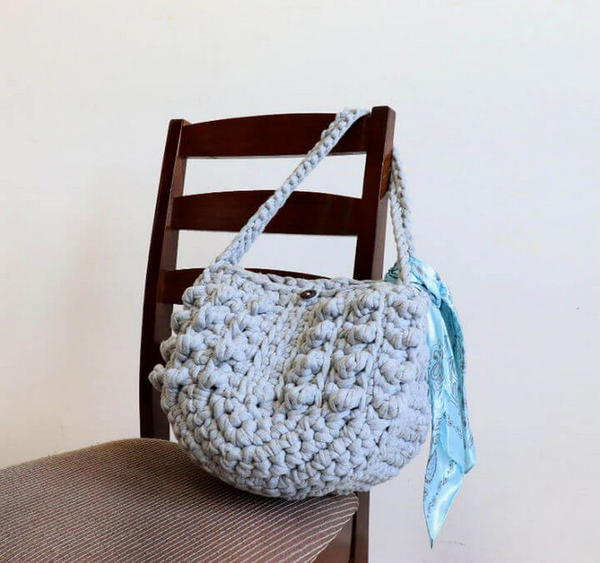 When you need to carry all your stuff in no time and effort, this chunky T-shirt yarn tote bag comes to the rescue. All you need is super bulky yarn in the color of your choice and a crochet hook. And if you didn't know yet, learn now that super bulky yarn is just the type of yarn you need when crocheting bags. Chunky yarn like this makes the bag extra fleecy and firm so it can hold up heavy stuff. Moreover, it's only made with two basic stitches and some macramé knots, so a complete beginner can make this effortlessly and masterly.
Crochet Drawstring Tote Bag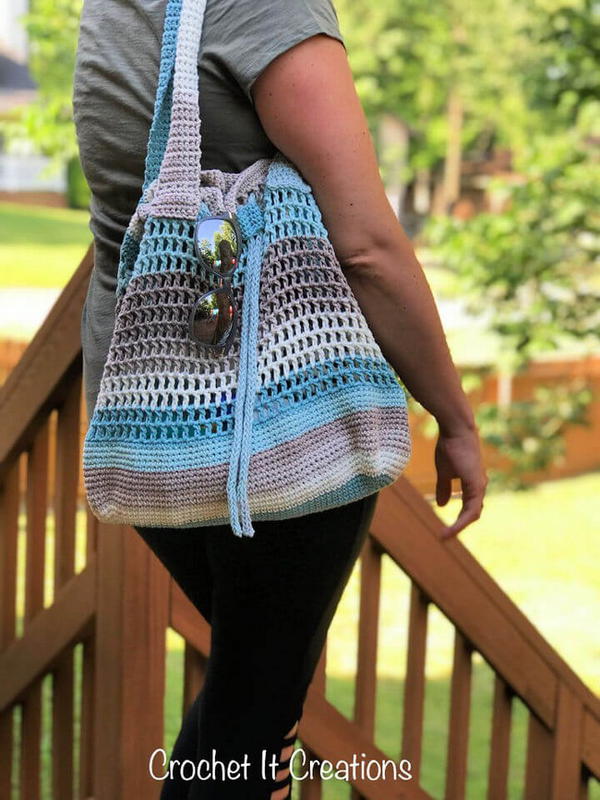 This Crochet tote bag is the perfect pick if you are looking for a bag that helps you carry all your essentials with minimum effort. It comes with an invisible chain stitch design which helps in making the bag more sturdy and beautifying its look. The straps of this bag allow you to carry it on your shoulder or hand-carry it according to your comfort. Don't worry about its interior quality as it is made up of strong material, which will resist the innerwear of your bag. The interior of this Crochet bag is spacious as it allows you to carry magazines, books, cosmetics, and varieties of other daily use.
Red Heart Crochet Trendy Tote Bag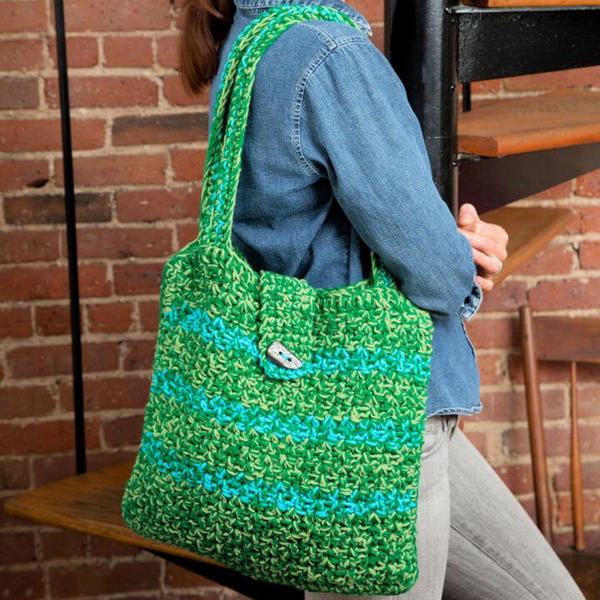 Make a trendy and stylish tote bag that is both fun and functional. Create this beautiful bag from two strands of Red Heart Super Saver yarn, in any combination of colors that you want. This clever design has more uses than any single bag you've ever owned! Easy to make too. This tote bag is a great way to stash your gear and show off your personality. Everyone loves a handmade gift that they'll use all the time - and with this fashionable, easy-to-make tote bag you'll have plenty of time to make one for yourself, too! This trendy tote bag is perfect for the beach or the farmer's market.
Free Crochet Driftwood Tote Bag Pattern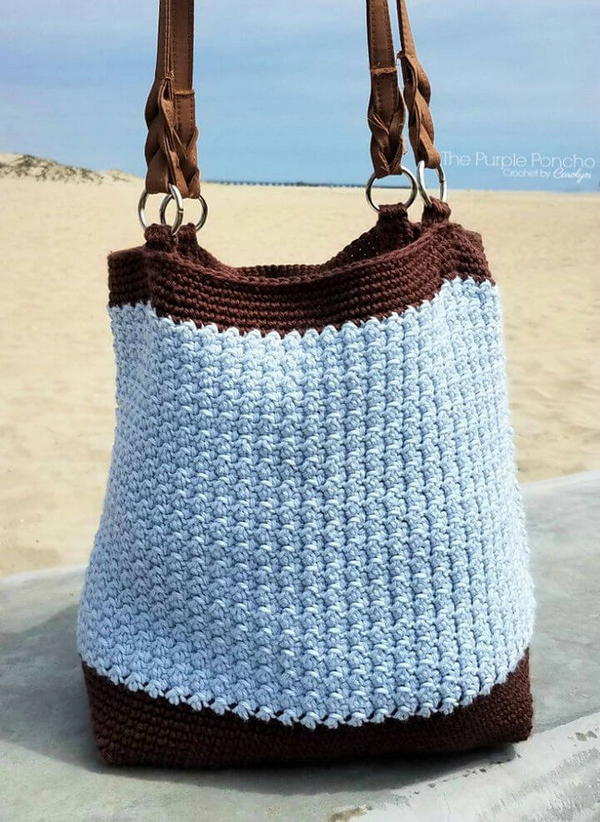 You will love crocheting this beautiful bag. The pattern features are simple and easy to follow. The Driftwood Handbag Tote bag looks very spacious and you can carry a lot of stuff in this bag. It has been designed with an easy pattern that makes it enjoyable to crochet. You can make this bag as a gift for your friends or sister on any special occasion. Also, you can customize the color pattern according to your taste and take it to any party wearing this beautiful handbag. This is an easy and beautiful pattern yet very much functional. The brown floral design of the bag makes it perfect for carrying to beach resorts too.
Crochet Love Me Tender Market Tote Bag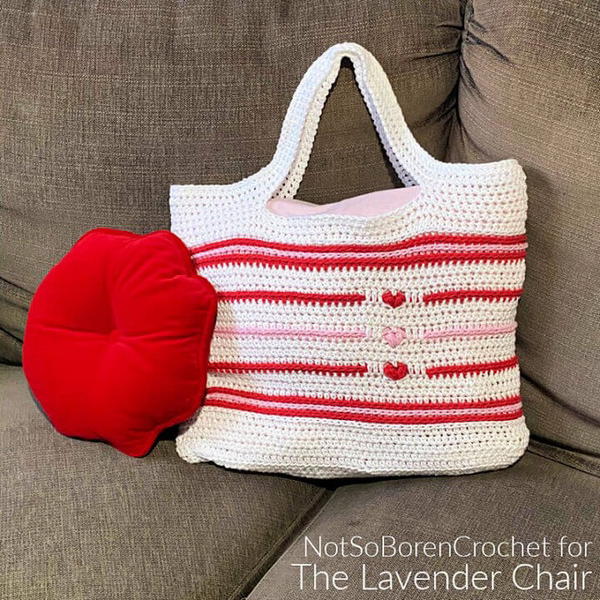 This market tote features gorgeous textured stripes that will bring a smile to your face every time you use it. Made in worsted-weight cotton yarn, this bag is strong and durable enough to last for years. With simple construction, this tote can be made on a weekend. The bottom of the bag has a scalloped shell edging which adds an interesting touch as well as makes the bag slightly larger at the base than where the sides join in at the top. Carry it around while shopping, or use it to hold your crafting supplies. Think this one is too cute?
Crochet Red Heart Split Tote Bag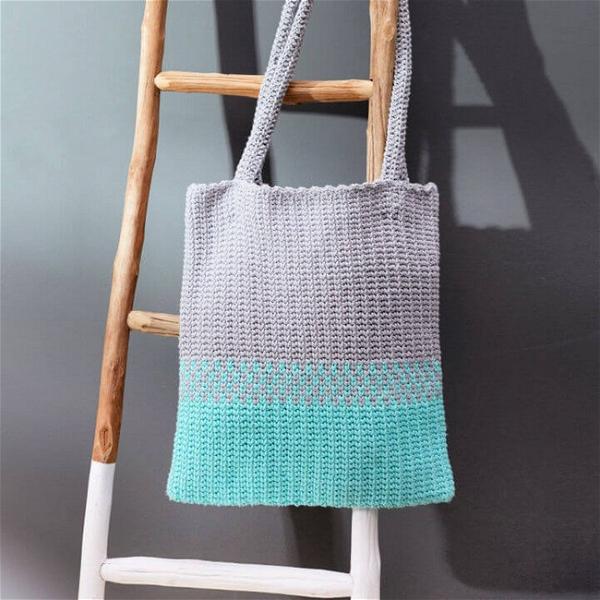 Tired of boring and typical tote bags? Then this crochet red heart split tote bag is perfect for you. It is one of the easiest and most fun-loving crochet patterns to make. And, you can make this tote in a round format easily. Besides, it's an excellent choice to crochet this bag in your favorite colors and tones. Especially if you are looking for something stylish in your wardrobe that matches your personality then do give it a try. you can also carry it on your grocery day and it's perfect for pick-nick days, going on a trip, or beach time. Use it in any season and occasion.