Create your own unique storage with these DIY Storage Bin Ideas. Please choose from our library of beautiful, one-of-a-kind designs and make personal DIY Storage Bins to use at home, put on display in your favorite room, or give as a thoughtful gift! Now you have an organized solution that looks great too. They include everything you need to create personalized organization throughout your home that will last for years of daily use. The clear plastic storage containers typically used in the garage, kitchen, or closet are extremely versatile. They can be used for toys, organizing laundry and bathroom items, or storing blankets and pillows. The best part about these containers is that they can be easily customized to fit any space. You don't have to be a professional designer with years of experience to make your own DIY storage bin ideas.
DIY Storage Bin Ideas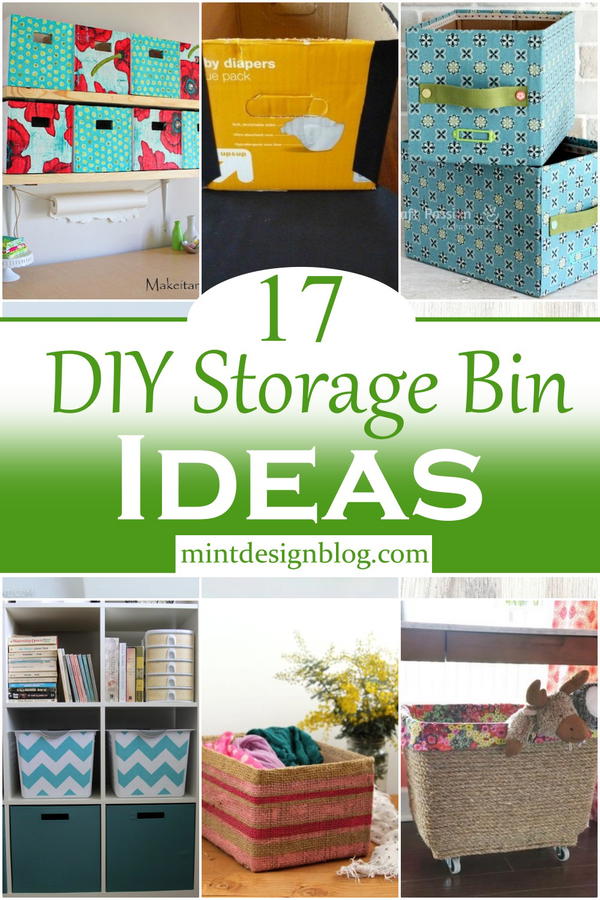 When the bins are clear, they don't take up any visual space, so they can be stacked or stored out of sight when they aren't in use. That makes them perfect for storing toys, shoes, craft supplies, or school books. They're also fantastic for creating an organized workspace in a home office, a craft room, or even a bathroom to store beauty products and towels. When you have DIY projects that require a lot of little bits and pieces, it's easy to lose track of what you have on hand. Clear containers let you see exactly what's inside, so it's simple to find the exact supplies you need.
These DIY storage bin ideas will help you get started organizing your home! These ideas will help keep clutter under control without breaking your budget.
Covered Cardboard Storage Boxes
Wholesale Covered Cardboard Storage Boxes are a great storage solution for a number of consumer products. Made of high-quality paper and cardboard, these boxes are both sturdy and long-lasting. They come in a standard size, and they can also be custom-made to fit your product or product line. These covered storage boxes make storing, organizing, and transporting products easy--whatever the manufacturer, whatever the product!
These boxes also come in standard and custom size options, allowing you to pick a box that works best with your storage space. Organize your home, garage, or business with covered cardboard storage boxes. These versatile boxes offer a large amount of space for storing different items. The cardboard is designed for durability, and these boxes are long-lasting. With a wide range of sizes, you can find the perfect box for any item on hand. The large selection of sizes means you can easily find the box that fits your needs.
Easy & Attractive 5 Minute DIY Storage Boxes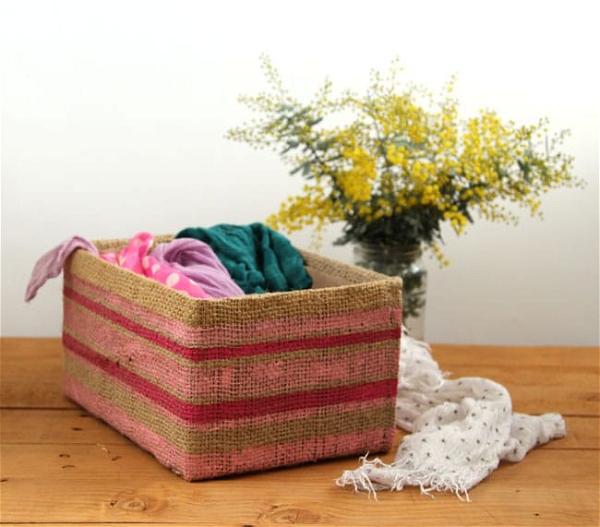 Are you looking for a fun and FAST up-cycle DIY storage box that you can use right now in your home? Look no further! We will walk through the steps of turning a FREE cardboard shipping box into beautiful farmhouse storage boxes that could not be easier to make. It will take less than 10 minutes total, and you will be one step closer to organization bliss.!!!!
These storage boxes are perfect for organizing and storing small odds and ends, and best of all, they only took 5 minutes to make! Follow this step-by-step tutorial using inexpensive supplies from your local hardware store. You'll be able to find things around your home instantly, get rid of unwanted clutter, decorate and personalize your space with style, and finally relax. Enjoy! You may even have a stack of boxes in your garage because you had a project that required a box but now, who needs it? Instead of having to lug out all those boxes each time you want to work on a new project, how about some quick and easy DIY storage boxes that are so simple to make and easy on the eyes. These DIY storage boxes are perfect for farmhouse and boho style decor and great for organizing a pantry, cleaning supplies, or craft materials.
DIY Diaper Box Into Storage Bin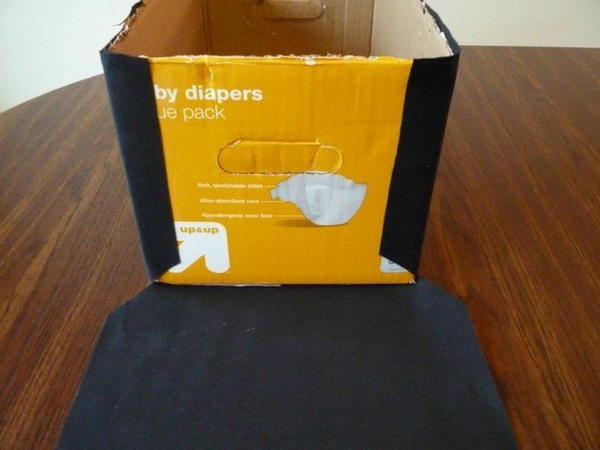 Creating a storage bin out of a diaper box is one of those easy and inexpensive DIY projects you can make in less than an hour. This project turns out looking fantastic and can be used as a storage bin or as a diaper box when it's not transformed. This storage box looks great and can be used as a storage bin, or you can use it as a Diaper Box when you're not transforming it. It works out very well that the design has all of the handle holes in it, making it really easy to do this transformation.
This DIY Diaper Box Into Storage Bin is a beautiful transformation and can actually be used as a storage bin or as a diaper box when it's not transformed. It is so easy to make, very inexpensive, and turns out looking fantastic! You will want one for yourself and as gifts for other soon-to-be parents. This DIY Diaper Box Into Storage Bin is so easy to make and looks great. The boxes are perfect at a very inexpensive price and would look cute in any room in the home.
DIY Rolling Storage Bin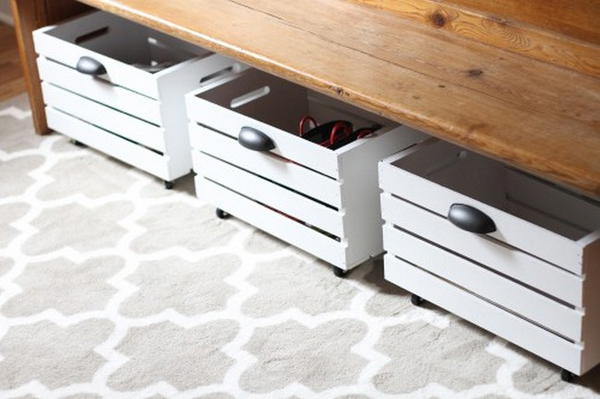 Are you looking for a container to store and move things around? DIY Rolling Storage Bin is exactly what you need! This bin is made of solid plywood, which makes it durable, with an easy-to-use handle. Perfect for camping and outdoor activities, storing canned foods, or even a child's room. The DIY Rolling Storage Bin is foldable, so you can easily transport it around. An ideal item to use as a gift or decoration.
DIY Rolling Storage Bin is exactly what you need to maximize the use of your space. Whether you're storing or moving, take it moving or camping, this storage bin will surely do the job. However, space can be a problem when you're at home or in a hotel room. DIY Rolling Storage Bin is adjustable with the easy set-up so you can maximize storage and mobility, so stock up on our DIY Rolling Storage Bin and keep everything organized with it.
How to Make a Laundry Bin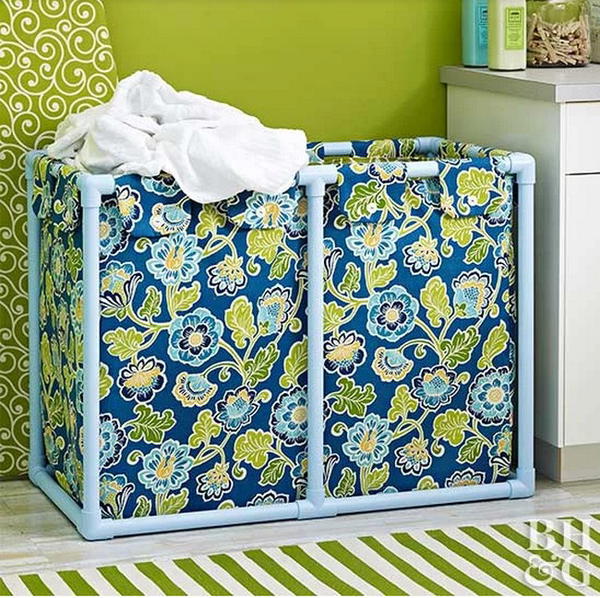 Small laundry bins are a staple in dorm rooms and apartment complexes, but they are often flimsy, unattractive, and impractical. A wide, sturdy laundry bag makes moving dirty clothes to the laundry room much easier. The spacious interior of this Dopp kit is ideal for carrying your toiletries. The exterior features a strap that makes it easy to clip onto your luggage. Tucks into your service bay in a few quick steps.
The strong, sturdy frame is woven from lengths of PVC pipe fitted together with elbows at the corners and tees for the side supports. Then, with the aid of hook-and-loop tape, a sealed laundry bag made from a rubberized mesh material is attached to the top of the frame. We fit lengths of PVC pipe into a box shape using elbows at the corners and tees for the side supports. We then cut a pattern for the bag, added gussets at the bottom corners, reinforced it with quilted batting, and sewed it together. To fasten it off from dirt and dust, we attached hook-and-loop tape to the pipes at the top.
Turn A Plastic Storage Container Into A Mobile Toy Box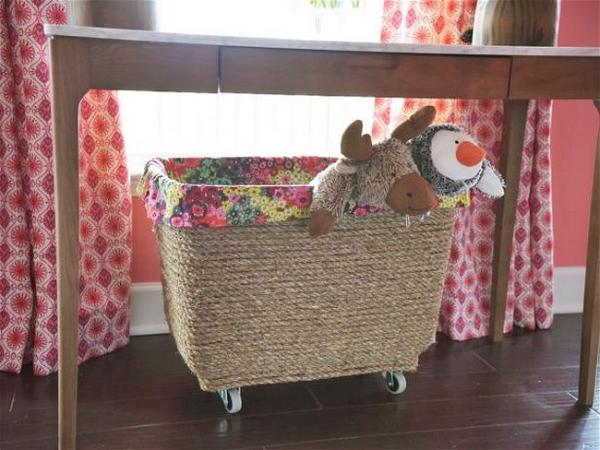 If you find yourself digging around under the couch to find your kids' toys, it might be time to stop the madness. By transforming a plastic storage container, you can create a handy mobile toy box for your home. Transform one, and meet the organizational challenge head-on! Do you need a creative and attractive baby shower gift idea? How about one that's easy to make and really handy? The Turn A Plastic Storage Container Into A Mobile Toy Box is perfect. Not only is this a wonderful toy box for your child's toys, but it doubles as a seat too.
It's modern, unique, and might just be the best baby shower gift idea ever! Suspend your child's toy box with 2 sturdy curtain rods for a mobile toy storage solution. It is simple to do and can be adapted to any plastic container with a lid that has a flat edge to sit on the wire. This handy idea for a toy box is perfect for kids and toy storage. Use it in the playroom, around the house, in the car - the possibilities are endless! It's quick and super easy to make.
DIY Fabric Covered Storage Bins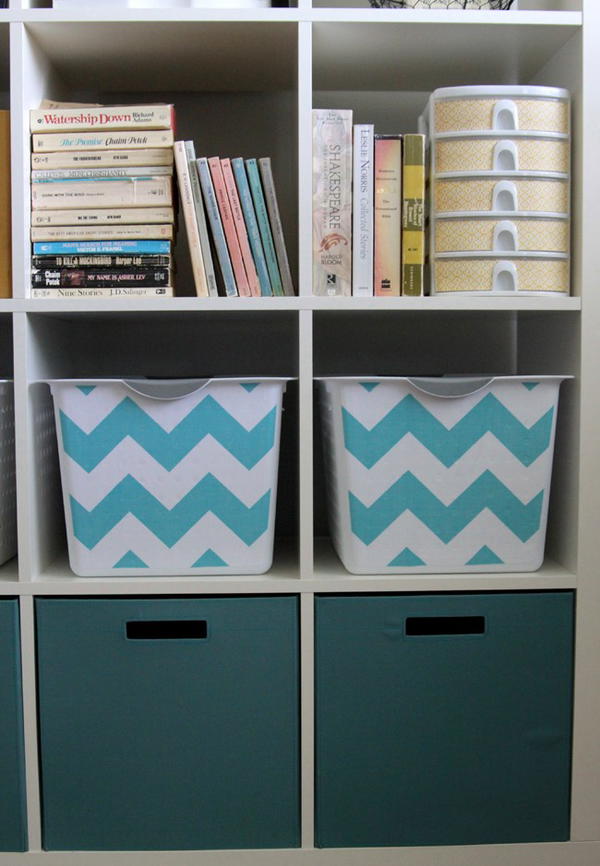 These storage bins can be used just about anywhere -- from the home office to a utility room and everything in between. Here's how to make fabric-covered storage bins for your craft supplies and goodies. They're super simple, and you can adjust the dimensions and dimensions of the bins to suit your particular needs. Start with a set of four storage bins sized just right for toys, blankets, and more. Choose a shape and add your child's name, then let the decorating games begin!
There are so many ways to personalize the set. Use fabric paints, permanent markers, or stickers to make them really stand out. Then stack them on top of each other or side by side. Make your own fabric storage bins to hide away toys, books, and seasonal decorations. The finished size is perfect for storing items in closets or on shelves. Easily remove the clear acrylic lid, and you have access to the bins.
DIY Fabric Storage Box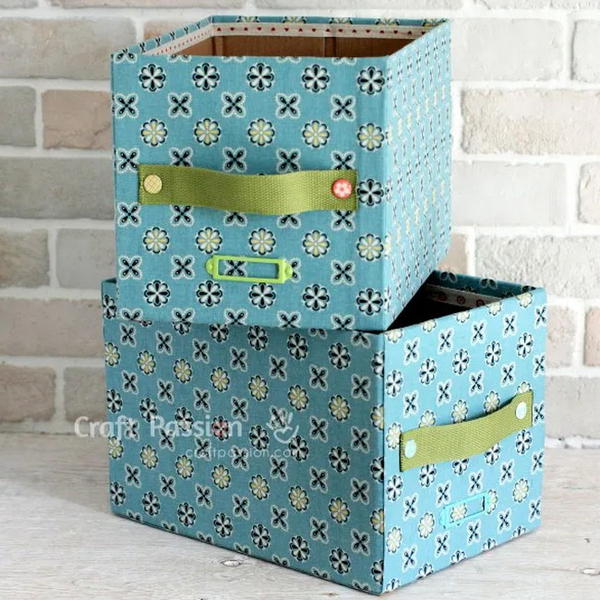 Ditch your flimsy fabric storage boxes for our DIY Fabric Storage Boxes, which are way more fun to look at and even sturdier! Create a new storage space for little pieces of fabric you have leftover from previous projects. With a simple design that only requires a staple gun, you can easily make one for yourself or as a gift for the crafty and DIY-loving friend in your life. These projects don't require a great deal of skill or specific tools, so you'll be able to finish them quickly and easily.
DIY fabric storage boxes are an attractive way to stow away clothing, bedding, blankets, towels, linens, and other items when moving or packing away seasonal items for the winter. It is made from a single piece of fabric. Hand sewed, machine washable, and available in a variety of bright prints, this storage box is the perfect place to keep blankets, pillows, and other bulky home accessories tidy and organized.
DIY Storage Boxes From Cardboard Boxes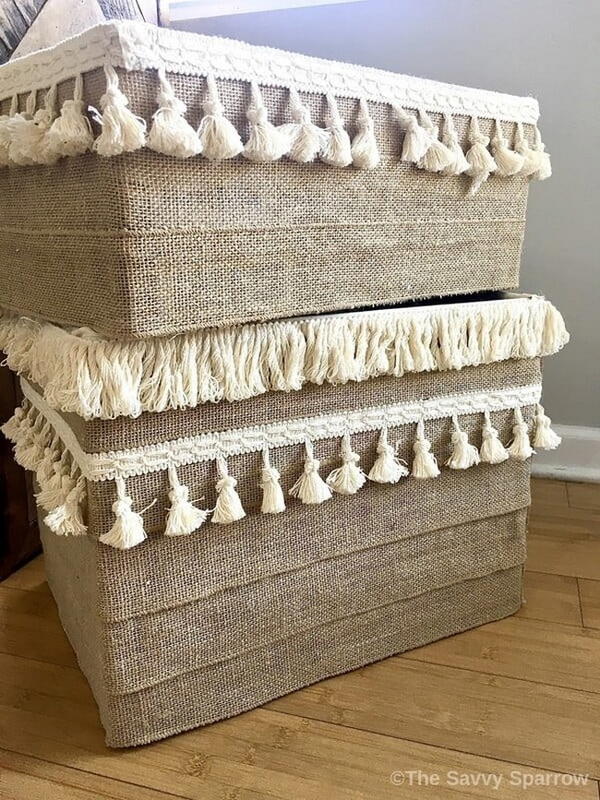 If you've received a bunch of packages in the last few weeks and are trying to find something to do with all that cardboard, we have the perfect solution! Repurpose old cardboard boxes and create your own DIY storage boxes to store all your favorite things! These DIY decorative storage boxes are easy to make, reusable, and are the perfect way to add a little color and organization to your space.
These DIY storage boxes are a great way to repurpose all your cardboard shipping boxes! Put those boxes to good use. These DIY storage boxes from cardboard boxes are a great way to add some fun and color to any room in your home.DIY storage boxes from cardboard boxes are a great way to add some fun and color to any room in your home. By decorating a plain box with fabric, wrapping paper, decoupage, and paint, you can easily make unique storage bins that look as good as they function.
DIY Reversible Fabric Storage Bin
Store all your stuff in style with the DIY Reversible Fabric Storage Bin.  Or, With a unique reversible design available in fashionable colors, it can be used standing up or laying flat. This storage bin has a waterproof lining and an outer layer that is durable and easy to clean. If there's room in the bathroom, kitchen, living room, or under the bed, there's room for this stylish storage bin.
It's also an ideal laundry bin for separating dark clothes from light so they won't run together in the wash. DIY Reversible Fabric Storage Bin is a modern alternative to heavy, boring storage bins. Safe for use in the washing machine, these bins will brighten any room in your house and can be used for storing anything from toys to stuffed animals and compact discs.
Lined Canvas Bins From Diaper Boxes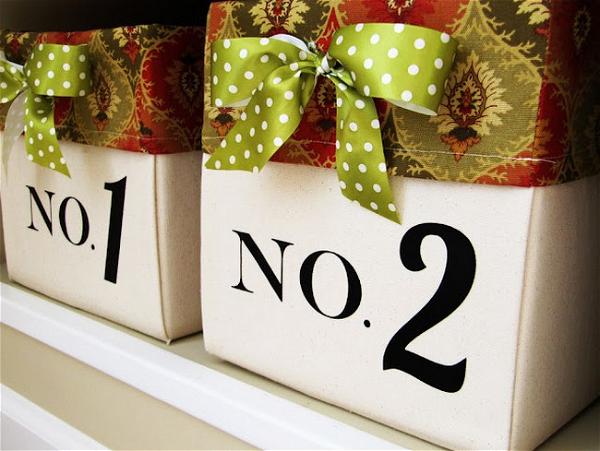 Made from sturdy canvas that's repurposed from recycled diaper boxes, our Canvas Bins are great for storing and organizing just about anything. They're built to last and lined with waterproof canvas for easy cleaning. With multiple sizes to choose from, you can stock up one or more—storing anything from toys to accessories in your living room, playroom, bathroom, or office.
Give your nursery a starring role in the decor with handcrafted Canvas Bins from DiaperBoxes. Every piece is made from sturdy canvas repurposed from recycled diaper boxes and lined with waterproof. Give your nursery a starring role in the decor with handcrafted Canvas Bins from DiaperBoxes. Every piece is made from sturdy canvas that's repurposed from recycled diaper boxes and lined with waterproof
Easy Kate Spade Inspired Storage Boxes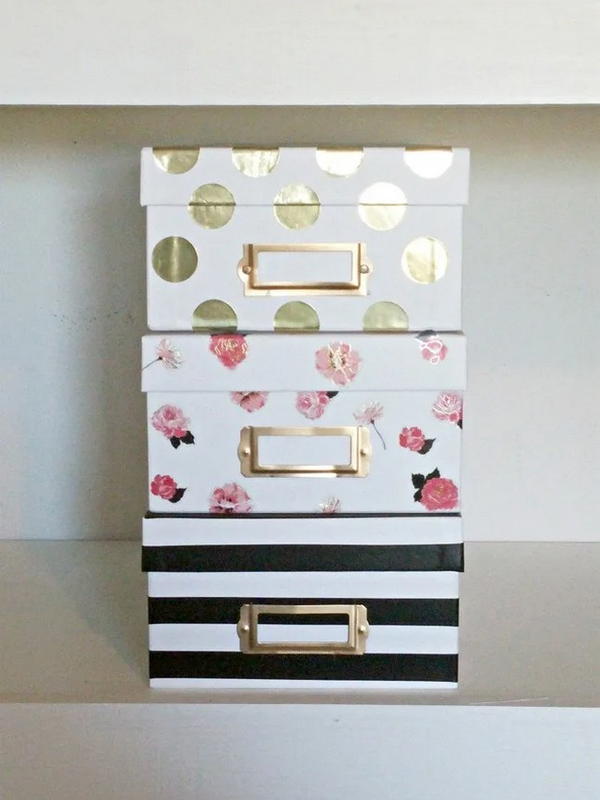 The Kate Spade Inspired Storage Boxes are a great way to compartmentalize your jewelry, craft supplies, yarn, or fabric collection. So you can use it for whatever you like. Some of our clients like to stack them for great storage solutions. These storage boxes have a unique design, hold a ton of stuff, and are easy to stack with pins keeping them together if you have more than one box. You can get an additional size or design options through the top and bottom flaps regardless of the box's position.
These boxes are great storage for storing and organizing your crafts, jewelry, hair accessories, craft supplies, costume jewelry collection, or other collections. They're made of high-quality material, cute and elegant design will be the perfect add-on to your home decor. A great way to keep items in storage bins or boxes organized and easily accessible. These are not your ordinary storage boxes! Each box has a unique and colorful design with a cute name tag. Ideal for anyone who loves Kate Spade products.Which makes this storage system incredibly versatile and useful.
Easy DIY Fabric Storage Boxes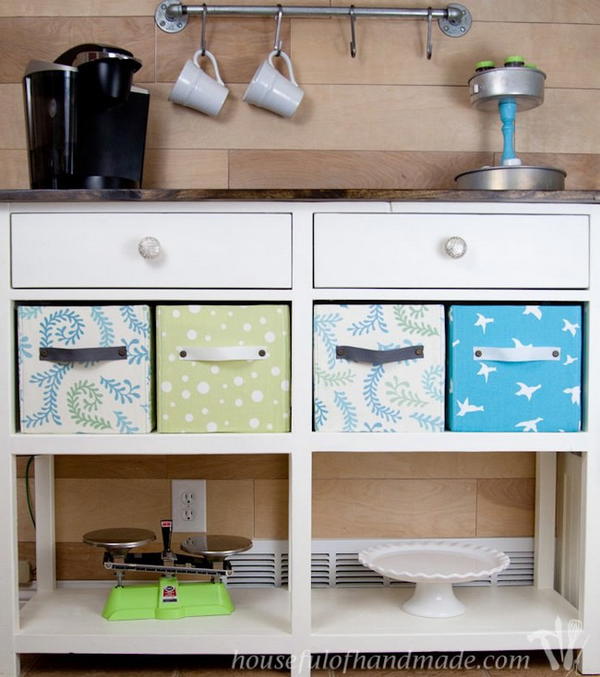 Who doesn't love being organized? You can find a box that is your exact measurements, but what if the one you love doesn't fit perfectly in any of the boxes you find? These DIY fabric storage boxes are a great way to add a little pop of color and pattern to your kitchen. It's also an easy way to get a more organized pantry or closet. They're simple to make, use only a handful of supplies, and can be customized in an easy-peasy afternoon! Using some glue and scissors, you can resize cardboard boxes to fit ANY shape.
This means boxy or oddly shaped items will fit in these boxes and look amazing when covered in fabric; these boxes are super easy to make and look adorable around your house! This is a simple DIY project with our favorite things in mind - fabric and storage. A vibrant and easy storage solution for a more organized kitchen! With these easy DIY Fabric Storage Boxes, you can update your pantry or closet in minutes by storing everything from our favorite tea towels to everyday items like lemons; these boxes are quite possibly our favorite organizational accessories.
Make Your Own Basket Out Of A Box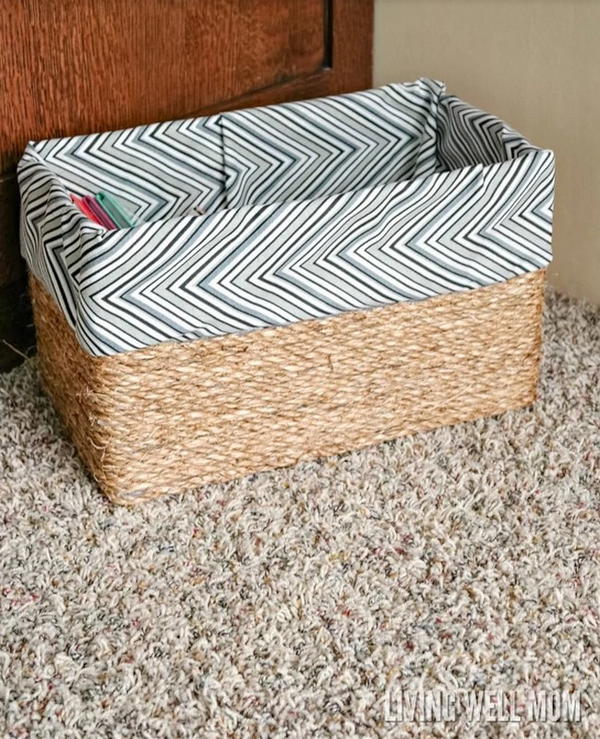 Do you need a basket for your entryway but don't want to spend a bunch of money on one? What about making one you can use for years to come that just so happens to be more interesting and colorful than the regular brown ones from the craft store? Say yes to this project. Making a basket out of an ordinary cardboard box is easy. The finished basket has a beautifully lined inside.
This project works well as a no-sew alternative to fill with flowers or hold magazines and other items - perfect for organizing a closet or anywhere else you need storage. This idea is ideal for someone who wants to create with their hands and is on a tight budget. The materials for one basket cost us less than $5 - so this is a great project to save money and make something you can use around the house. The result of the baskets we made was striking—they are well-made, durable, and would look lovely in any home.
How to Sew a Custom Fabric Storage Bin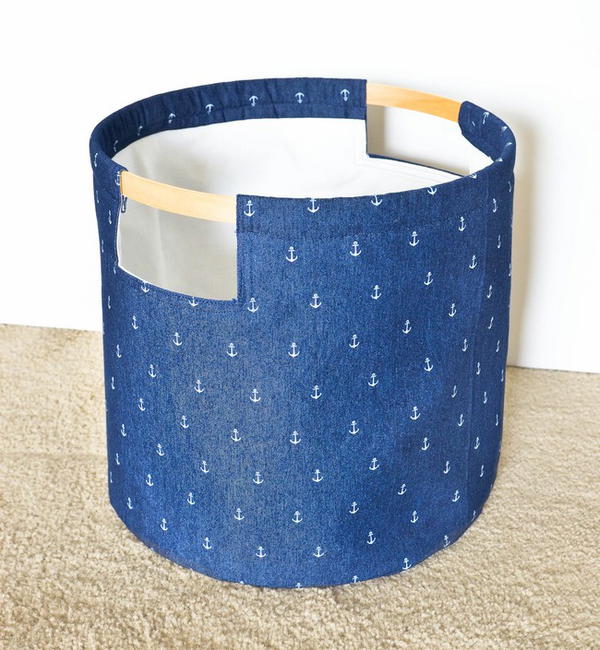 Enjoy some extra organization in your home. The  Custom Fabric Storage Bin is made of durable canvas and cinched with easy-to-use fabric ties. Sew several together to create a custom bin that fits your space! The easiest way to store toys and much more! Create a custom storage bin by sewing this pattern with your fabric. It's easy, fun, and a great way to add a little personality to any room. The possibilities are endless, making this the perfect gift for special occasions. Make one for yourself and one for everyone you know!
It's easy to customize-Bin together with a fabric of your choice, and you're ready to fill it with toys, books, or sewing supplies. Put your craft supplies in one bin at the end of the day, or throw your blankets and pillows in another. It's perfect for storing anything around the house. Everyone knows what an end product looks like, and everyone knows most people will either sew with a machine or you'll buy fabric storage bags.
Sew An Easy Fabric Storage Bin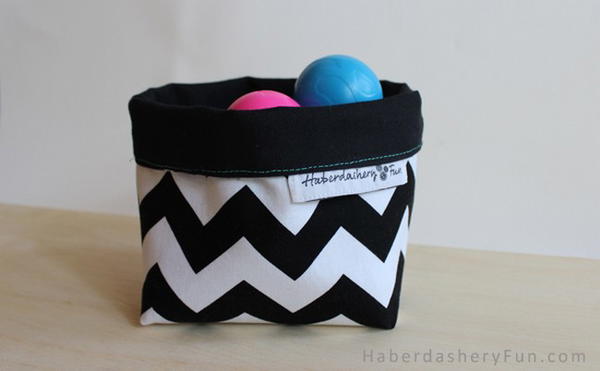 We have all seen the metal hanging bin that holds a single sheet of fabric. Sew An Easy Fabric Storage Bin. This fabric storage bin was what we lacked in our house, and we know it will be a great addition to yours! It has so many easy ways to store all of the small things that you need but aren't sure how to organize. Sew big, sew small, sew ugly-we all have those little things that are sitting around looking like they don't have a place.
Create an organization with storage bins! It looks great for a minute. But with all your sewing products, pins, patterns, and more, you need a bigger solution than this old-fashioned design can provide. This is where our sew and easy fabric storage bins come in.  Makes a terrific gift. The perfect sewing project. Use this sturdy fabric storage bin to clean up your sewing room, craft room, or kids' playroom! Great for sorting and storing quilts, blankets, and other fabrics.
DIY Cork Storage Box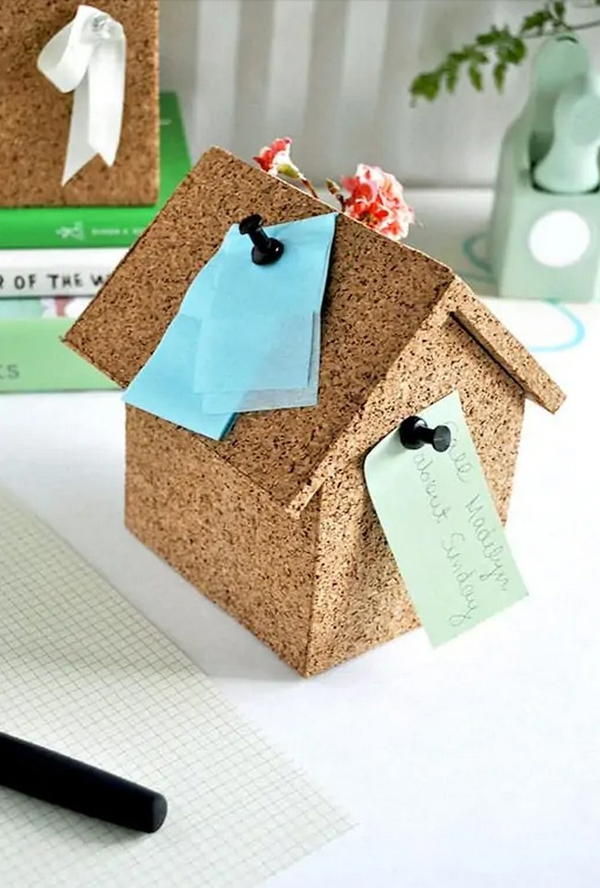 Clamp it, tack it, and store it! This DIY cork storage box is ideal for storing craft supplies, scrapbooking products, and more. This is a quick and easy project that can be done in a day. Kids will like putting the houses together and decorating them with paints, markers, stickers, or anything else they can think of. They make cute gift boxes, especially when you add a simple card and bow. Personalize them by putting the recipient's name on the door.
If you would like to display them in a window or other place, gluing some mini-clothespins onto the back is an easy way to hang them up without drilling holes into them. This DIY Cork Storage Box is one of our new favorites. This Cork box is perfect for storing paper rolls or adhesives, pens, or embellishments; you name it. It's the right size! Whether you're storing your everyday needs or crafting on the go; this cork box is just what you need to keep organized in style.