These wooden box ideas are the most classic form of furniture; You can use them to store items or give them away as a present. Hundreds of DIY wooden box plans are available on the Internet, but we have chosen only those detailed, precise, and clear enough for even a beginner. Completing the projects on this list will teach you many lessons about different kinds of woodworking and will help you master many techniques.
DIY Wooden Box Ideas And Plans: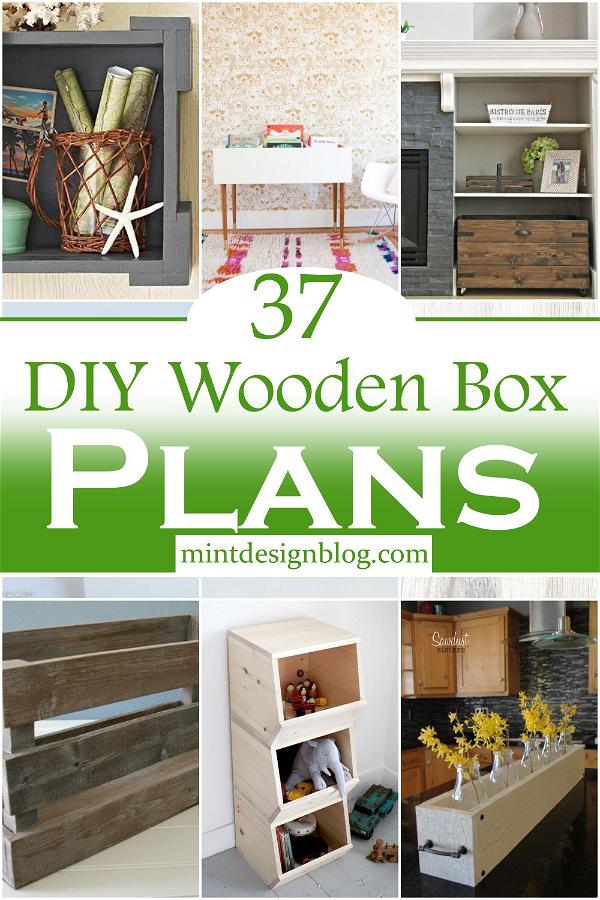 DIY wooden boxes are a wonderful addition to any household. A little box can help you organise your documents, keys, and other small items. They are also great for storing knickknacks or jewellery. You can make many different kinds of wooden boxes, so choosing which one to make first might be a bit difficult. To help you with that decision, here are 37 DIY wooden box plans you can make at home. These DIY wooden box plans are all designed in a very precise way and provide you with the exact measurements for each step. You can also turn some of our given box ideas into DIY shadow boxes to make them more admirable and fit you will.
They also come with full explanations of how to make a wooden box, which will make it much easier for you to follow along. You will also find here useful tips for designing your own wooden box plans without any prior experience in carpentry. You can get inspiration from this series and put your hands on the list of DIY mailbox ideas to put an impression of creativeness on all the viewers at your main door.
DIY Wooden Crate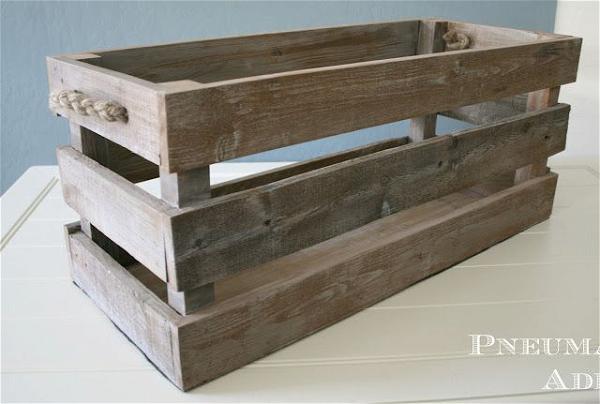 Want to build your own crate but not quite sure how to make one? You can easily find wooden crates in stores, but they're usually big, tall, and bulky--hard to carry or store. If you want a custom-made crate, you can build it using simple materials easily found in most stores.
The DIY Wooden Crate is easy to build even for a beginner, and produces a sturdy, vintage-looking crate that can also be repurposed for other uses. You can assemble the crate with rope handles to create something you can move around easily.
Project details: pneumaticaddict.com
DIY Wooden Toy Bin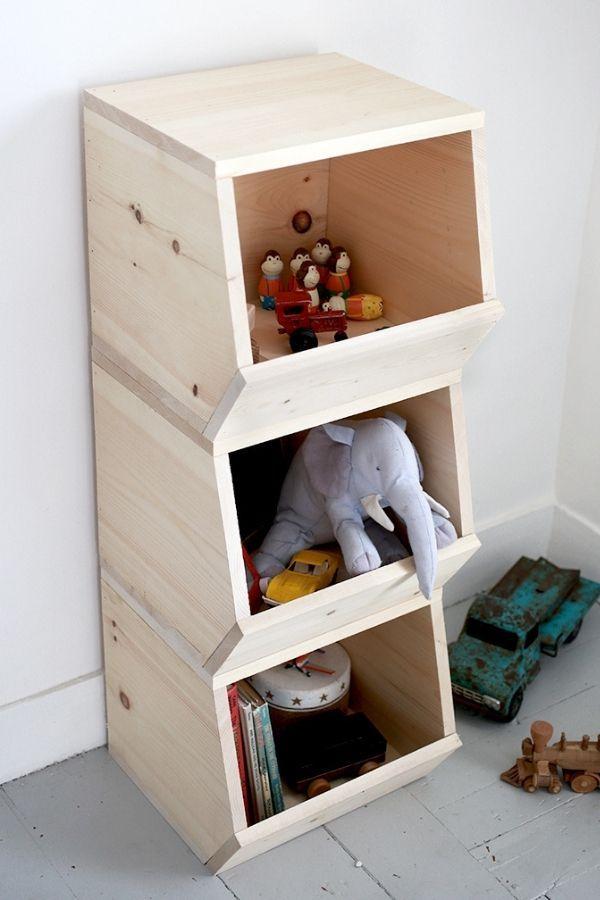 This DIY wooden toy bin is a very easy project to build and not at all intimidating. With its removable smaller compartments, your little one will be able to find just what they're looking for while simultaneously being better organized. Several toy bins can also be built in different colours, so it's easy to create a system in which each child has their own box to store their things.
The project we will be presenting provides you with the opportunity to host a large number of toys in an interesting design. The box is divided into 3 smaller compartments. We have provided a detailed plan and show you how to build it and what materials it will take to do so.
Project details: themerrythought.com
DIY Vegetable Storage Box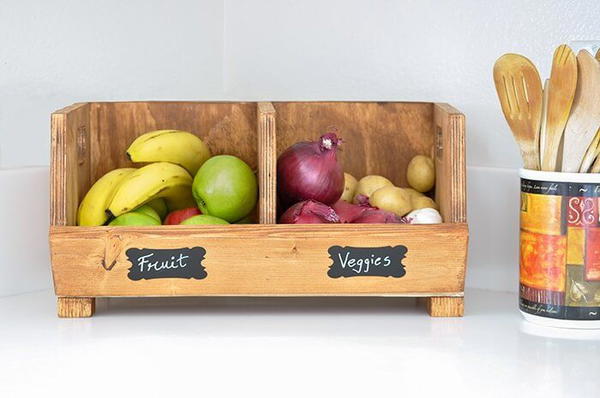 What is the best way to store your fresh vegetables? Unfortunately, the cheap plastic ones in retail stores are unreliable and tend to break. Our vegetable storage box provides a simple and cost-effective way to store your products.
Imagine having a little helper in the kitchen that keeps all of your veggies fresh and handy. All you have to do is move the little helper to wherever your next few day's worths of veggies is destined to be. There's no need to use those plastic bags and make a mess of the counter.
Project details: anikasdiylife.com
Clean And Scentsible's DIY Wooden Crate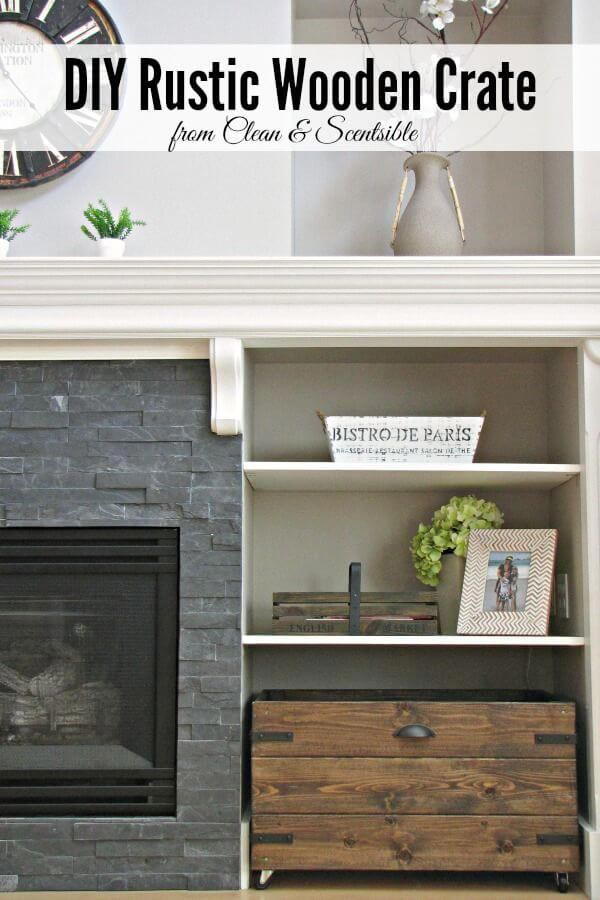 The Clean and Scentsible DIY Wooden Crate is a great piece of furniture to use anywhere you need extra sorting and organizing space, such as in the bedroom or the office. Its large, open design and its wheels on both sides of the base allow you to move it around any room without lifting it up off the ground.
Building this DIY wooden crate does not require any serious skills. Once complete, you can use it for a wide range of different things, from hiding dirty clothes and toys to saving space under a desk or in your closet. All you need is some quality plywood and basic hardware tools.
Project details: cleanandscentsible.com
DIY Dog Toy Box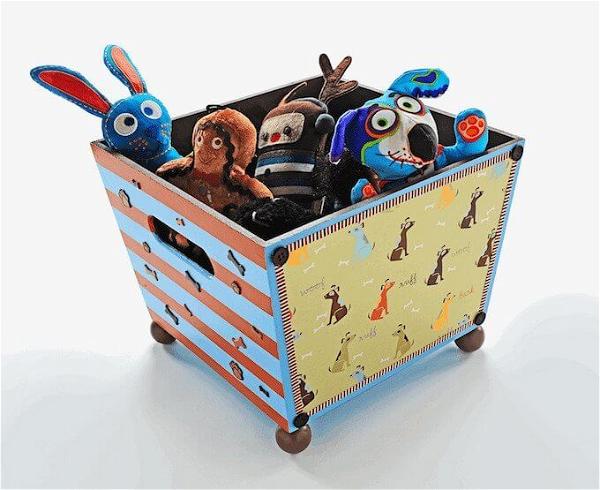 This impressive DIY dog toy box is fun and easy to make. The final product will not only look great in your home, it's also an excellent place to store your pup's favourite toys! Follow along with these step-by-step instructions so you can make one of your own. If you love decorating but can't commit to buying a pricey piece of furniture, make your own. This toy box may be decorative, but it's still functional.
Project details: modpodgerocksblog.com
DIY Book Bin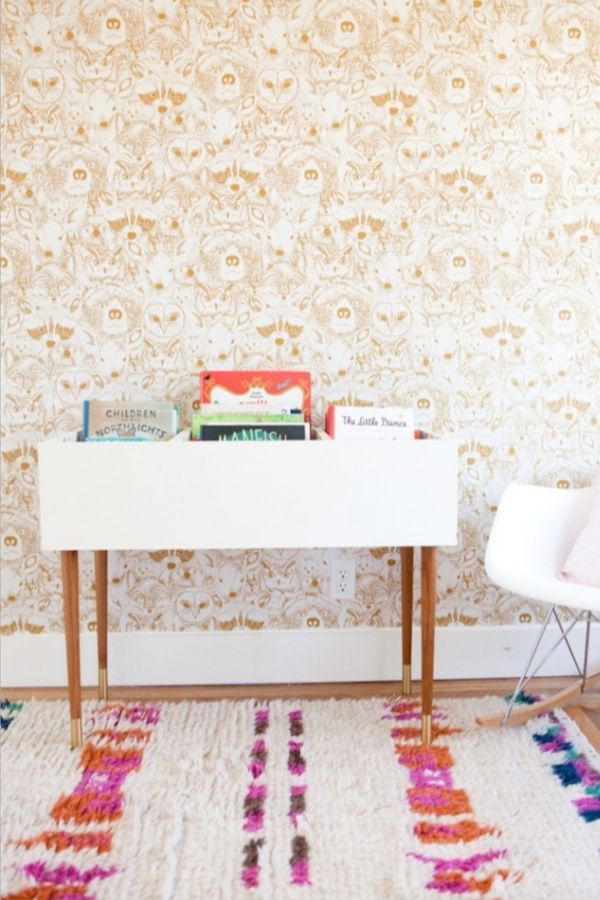 This book bin is a do-it-yourself project aiming to maximize space while keeping books off the ground and easily accessible. With 4 customizable legs to fit any space, the DIY Book Bin is a worry-free solution to organizing your home.
Just about any home can benefit from having a nice bookshelf. The material of shelves are made out of wood, specifically pine wood, to give it a natural look. The shelf fits like a glove in any room with any setting, whether in your living room, bedroom, or even your garden or patio!!!
Project details: thislittlestreet.com
DIY Rolling Blanket Storage Box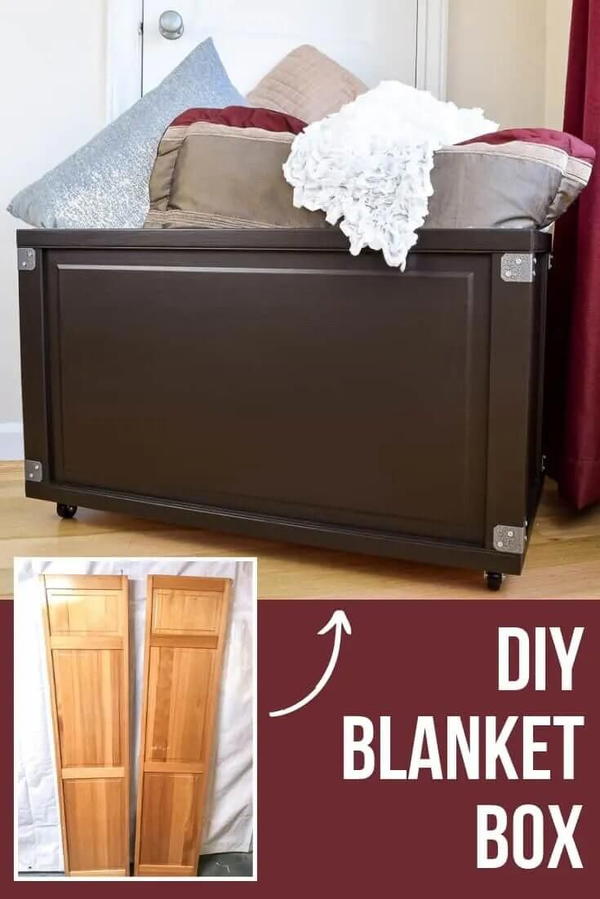 If you have some bi-fold doors that are damaged beyond repair or are just no longer used, consider recycling them! Made from reclaimed bi-fold doors and equally reclaimed lumber, this DIY Rolling Blanket Storage is made to add a rustic touch to your decor. It is the best choice for storing your blankets. Not only will this piece provide you with extra storage space in a very tiny room or apartment, but it also adds an interesting focal point to your décor. These blanket storage boxes are much cheaper to build than many ready-made options and easier on the environment. They are also customizable, with endless possibilities for colour and patterns.
Project details: thehandymansdaughter.com
Basic Wooden Boxes
We are sharing with you some basic and easy wooden boxes projects to make. The basic wooden box we have here is not just suitable for beginners, but even advanced woodworkers can also follow this simple plan to perfection. For optimum results, we suggest practicing a few times on cheap material with an easy cut.
These Basic Wooden Boxes are great for storing your belongings and reducing the clutter in your office, living room, and any other space. Built to last out of birch plywood, these simple and elegant storage boxes can be customized to your needs with varying lengths and widths. Plus they're easy enough to put together that even an amateur DIYer can make a set of his or her own wooden storage boxes in an afternoon.
Project details: lowes.com
DIY Few Simple Boxes – Instructables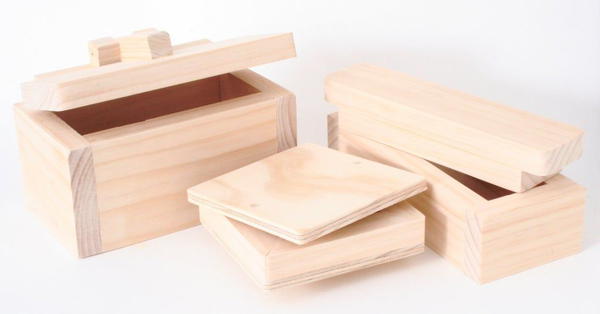 Build an entire range of boxes at different levels of difficulty. Learn how to use the table saw, mitre saw hinges, and basic carpentry techniques to build custom boxes. Boxes will give you all the skills you need to make a beautiful, functional piece of furniture. You can now build basic to more advanced boxes with just a few tools. This instructable will teach you how to build a box with a lid and a box with integrated hinges.
This Instructables explores the steps to make three types of boxes. You can immediately see results when you start with the first one and move on to the second one.   After finishing the third one, you already have enough experience to design boxes with more difficult constructs.
Project details: instructables.com
3. DIY Wooden Jewelry Box
Making a jewellery box from wood has its own twist. The key element is the friction fit, which requires no special hardware. In other words, this DIY project does not require you to be very familiar with woodworking. It's also a great gift for your girlfriend or wife. You do not need any hardware to build the DIY wooden jewelry box plan, instead of hinges or locks you will make use of friction fit. It is an ideal project to make a beautiful one-of-a-kind gift with your own hands.
Project details: fixthisbuildthat.com
DIY Wooden Box Centerpiece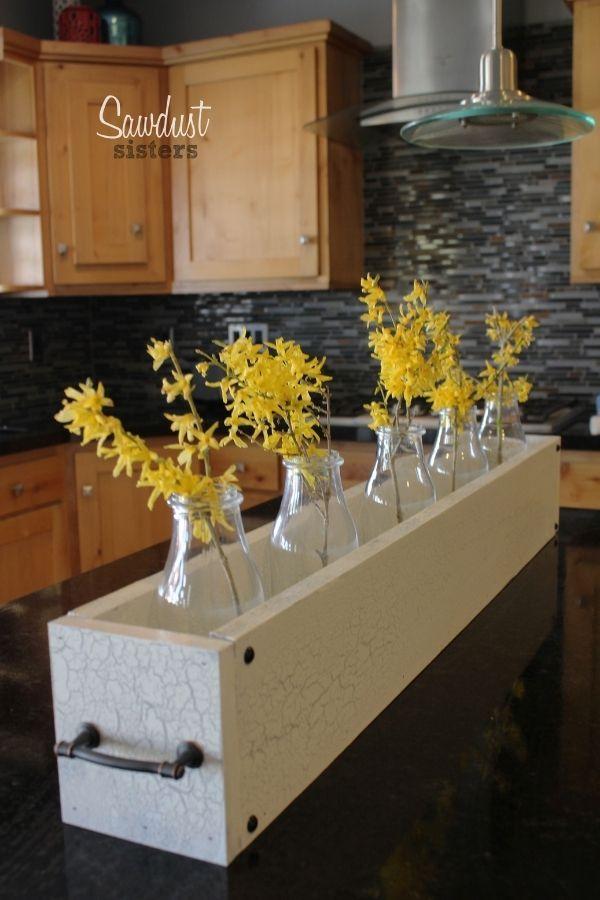 A DIY wooden box centerpiece can add a special accent to your kitchen. The unique decor helps effortlessly draw attention to your favorite spot in the entire home. Plus, you can easily customize this centerpiece by altering the size and color of the wooden box, which gives inspiration for this idea. Make a handmade centerpiece using reclaimed wood, plus whitewash paint, and crackling glaze. DIY wooden box centerpiece is a stunning piece that can be given as a gift to your best friend or loved one.
Project details: sawdustsisters.com
Scrap Wood Keepsake Box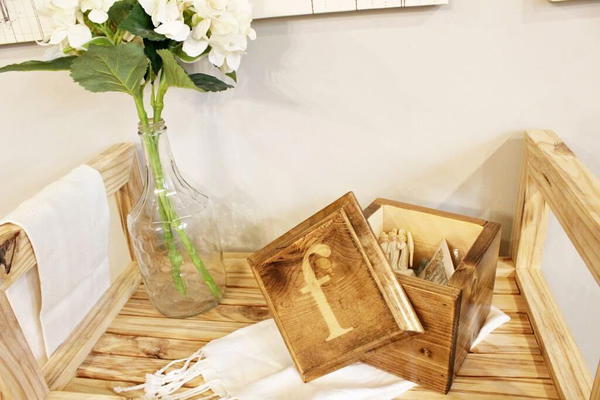 If you are in need of a way to store some keepsakes, this Scrap Wood Keepsake Box would be a great tool to help. It can be made from small pieces of wood from crafting or construction, and it is easy to put together.
A scrap wood keepsake box is very versatile and can be used to store all kinds of things, including letters, keys, and other important items. You can also give it as a gift to someone special. This DIY scrap wood keepsake box is perfect for keeping some mementoes and small things. Rather than old cardboard boxes or glass jars, you can have much more room for your keepsakes with this method. if you're looking for a men's gift-giving option, then our DIY cigar box ideas will benefit you.
Project details: woodshopdiaries.com
Woodworking Storage Box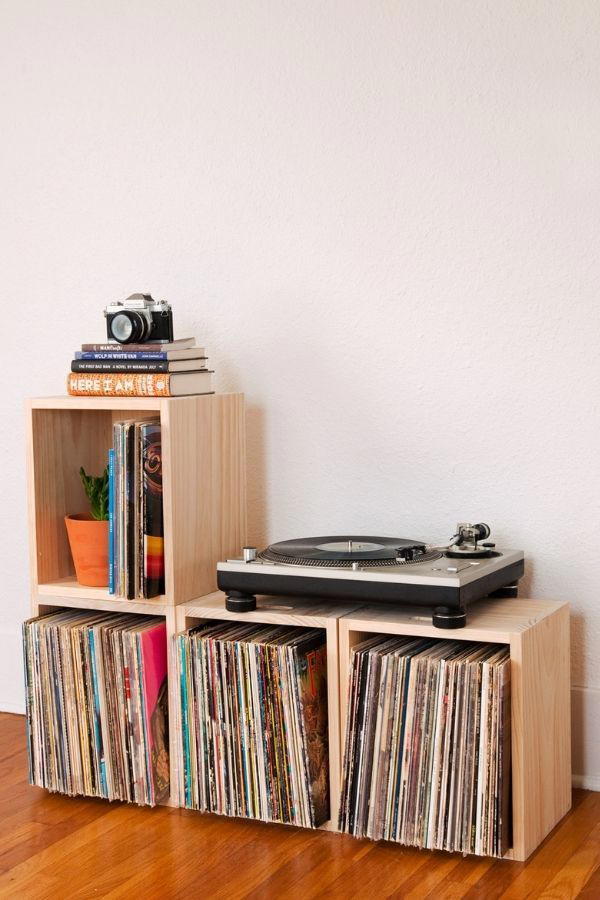 Make your woodworking mojo feel at home with these sturdy wooden storage boxes. Made from solid, sustainable hardwood, they're easy to assemble and can be stacked to create a modular storage solution. A great way to keep your workshop organized and optimized!
The interlocking option of this storage box contributes to its overall versatility. You can assemble and disassemble the boxes in no time, and store them at any place you want. This is a really useful feature, especially if you own several boxes and want to sort them out for a better view.
Project details: manmadediy.com
Scrap Wood Patterned Box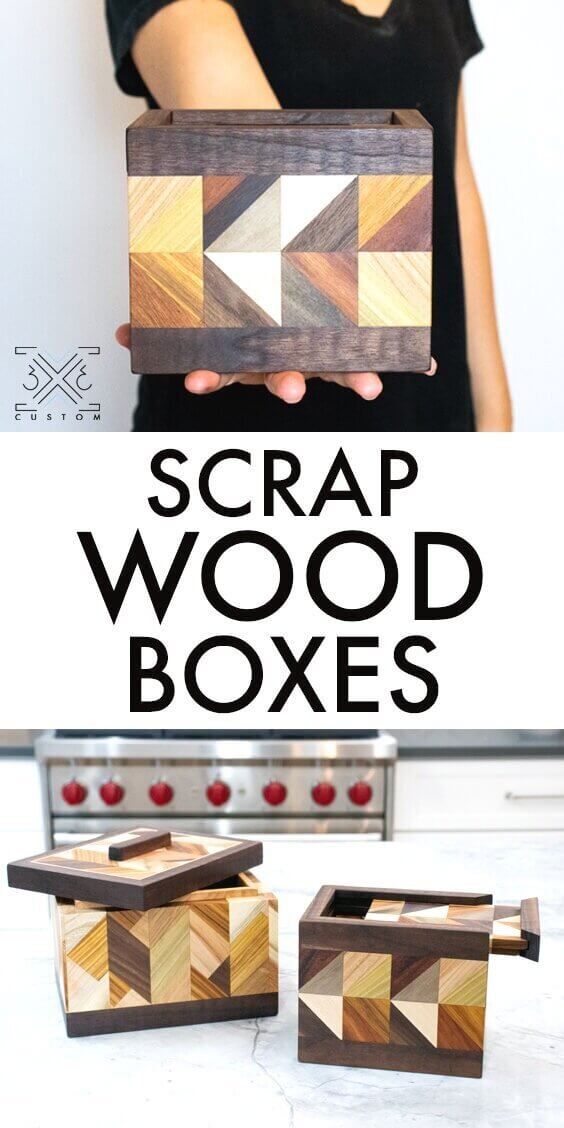 These scrap wood boxes are great for gifting or as a unique storage piece. They are very easy to put together with just two parts and simple cuts. So don't spend money on expensive materials; instead, upcycle old scraps that you can find free at home. Making these boxes is a fun project for kids and adults. The boxes can be decorated with stickers, paint, or decoupage. Or you can leave them plain because the chevron pattern looks pretty cool.
Project details: 3x3custom.com
Customizable Size Boxes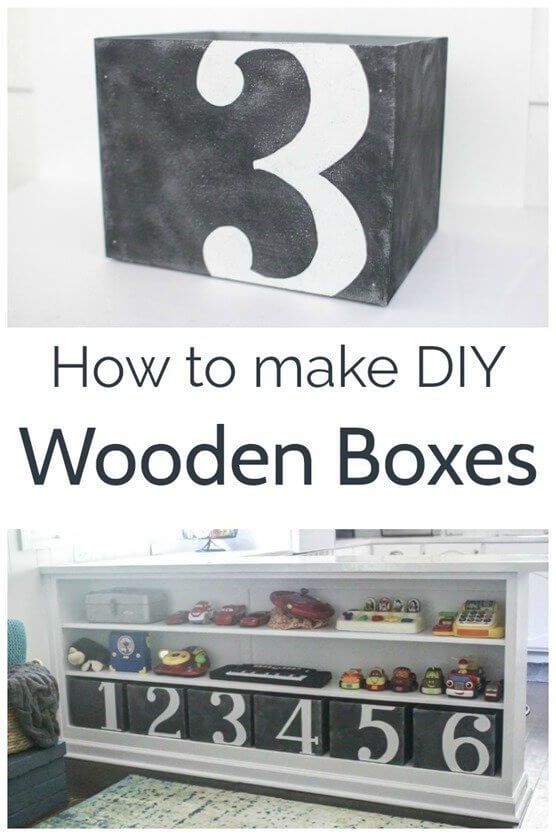 The boxes are versatile and strong. They can be used for a plethora of household items. You may even get some fun out of decorating them, with stickers, markers, or paint! Building things might be your hobby, but having a box of the right size might be a problem for you. You can't just cut the size you need in an existing box, as the manufacturers do not allow it because of potential damages to other items inside that box. This suggested plan will show you how to build a box of any size.
Project details: lovelyetc.com
Pop Projects' Wooden Boxes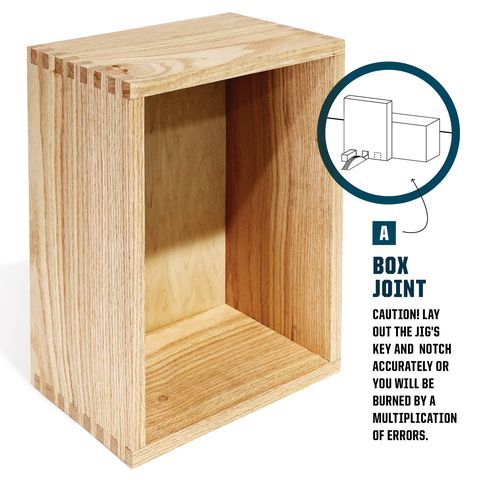 Pop projects' wooden box sets provide you with numerous ideas for making different kinds of boxes. They are simple in design, light in weight, and sturdy when completed. Box joints, splines, and rabbets are widely used in making wooden boxes and containers. The former two methods require very little waste of material as well as time, while the latter has a more appealing appearance if done properly.
A project that allows you to use your creativity and create simple yet stunning pieces of wooden furniture such as boxes. These boxes are not ideal for storing expensive jewelry, but they would make great storage units for kids' toys or even small decorative items.
Project details: popularmechanics.com
Custom Box Dividers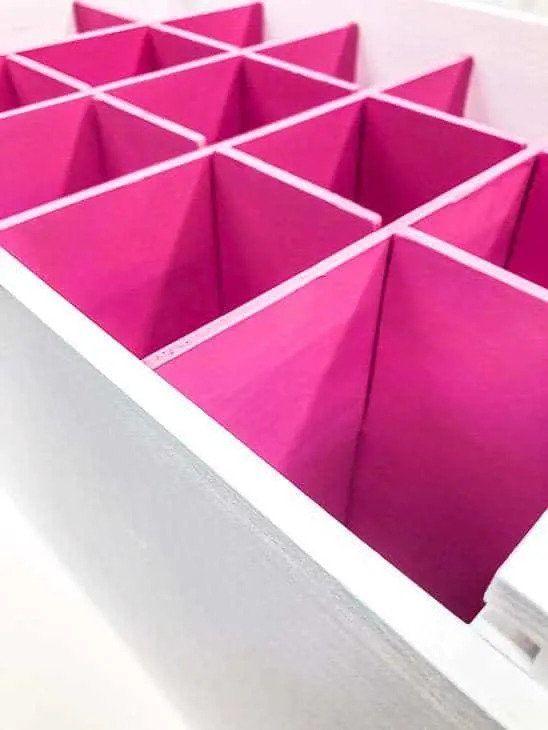 The Custom Box Dividers plan shows you how to make a grid of dividers of any size or shape that can be quickly and easily fitted into a box for keeping spare parts, hardware, paint cans, and more. These dividers are particularly useful for plastic bins with lids, but this plan can also be used with boxes made from plywood, chipboard, or any material. The dividers are shaped with two notches like jigsaw puzzle pieces so they can be pushed together to fit any size box.
Custom Box Dividers is an easy-to-make plan for turning any box into a storage grid. When you need to store things quickly, this system can help you make the most of your available space.
Project details: thehandymansdaughter.com
Snack Display Station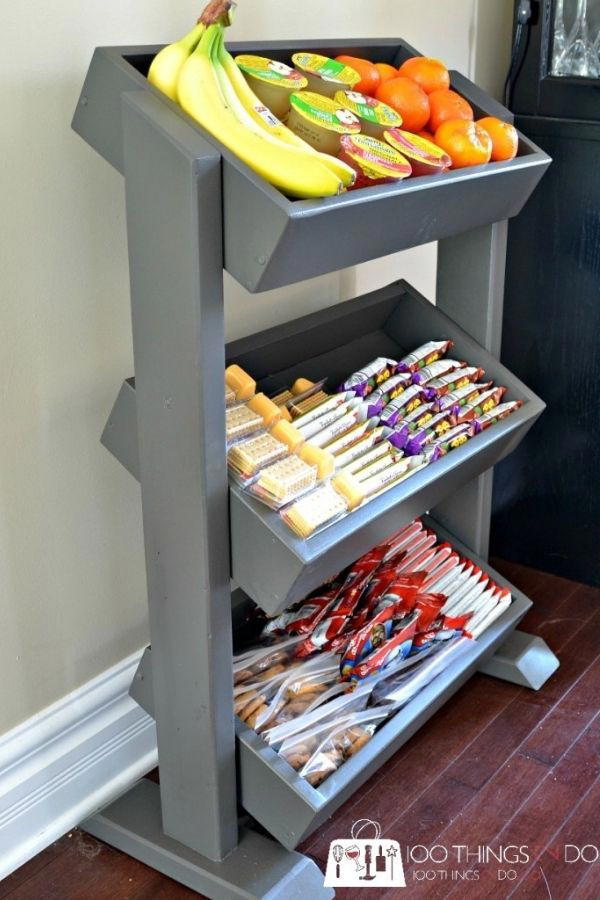 If you love storing snacks and keeping them fresh, this snack display tower will be one of your best friends in the kitchen. It features an angled box that displays cookies, crackers, and other similar snacks. This project consists of building a snack display stand using odds and ends. This is a great project to save money, as you are going to use things you already have laying around the house. With just three boxes, a small stand, and some creativity, you can create an awesome display for your next big game day!
Since the amount of snacks in the house is increasing by the week, it became necessary to build a display station. The best part is that this display station is nice enough to be left out on the countertop and not hidden in the pantry or a cabinet.
Project details: 100things2do.ca
Lego Bin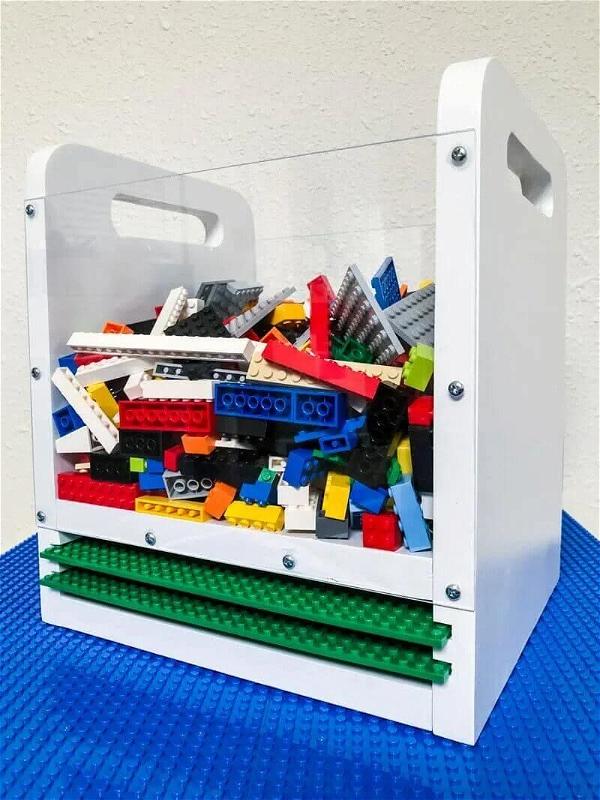 This Lego storage bin is great for storing your kids' loose Lego pieces. Its large top compartment, baseplates, and clear plexiglass sides allow your children to easily see what they need. Its bottom has 2 slots to store the baseplates, which are the backbone of any Lego construction.
The top compartment is as huge in size as the bin itself. It can store all the pieces of Lego from a huge construction, so your child won't need to dig through the bin too much. With the front and back made of clear plexiglass, kids can easily see which piece they need.
Project details: thehandymansdaughter.com
Mudroom Bins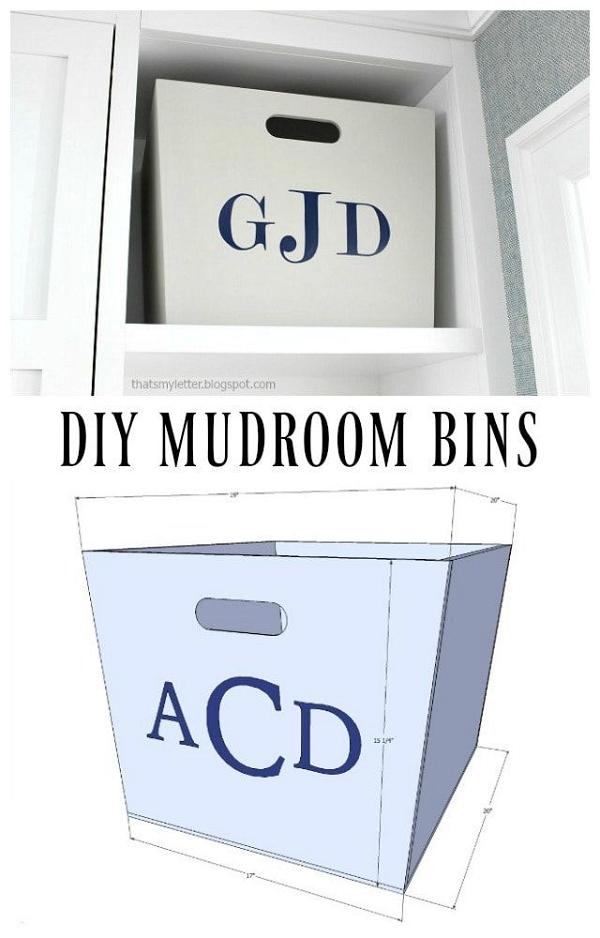 These DIY mudroom bins were created for your accessories such as hats, gloves, and shoes. Usually, mudrooms are messy with typical wicker or wire baskets. Fortunately, you can use these boxes to keep your items organized with labels. Depending on the size, they could be placed on the floor or hung from hooks. When the rainy season rolls in, you don't have to worry about your stuff getting dirty. This DIY project can help you organize your space into tidy bins with breathing room for wet and muddy shoes.
Project details: jaimecostiglio.com
DIY Pallet Centerpiece Box
DIY Pallet Centerpiece Box is a great way to save some money while also adding your personal touch to a dining table. It's easy to do, you only need cheap pallets and wooden pieces. Making use of its rustic and vintage look, it would make for a great centerpiece for the table during the holidays or any other occasion.
This Pallet Centerpiece Box is a perfect idea for home decor, party ideas, or even as a housewarming gift. This could also be great for a centerpiece in your dining table or on your coffee table. Do it yourself and enjoy!
Project details: anightowlblog.com
Pottery Barn Knock-Off Bulk Bin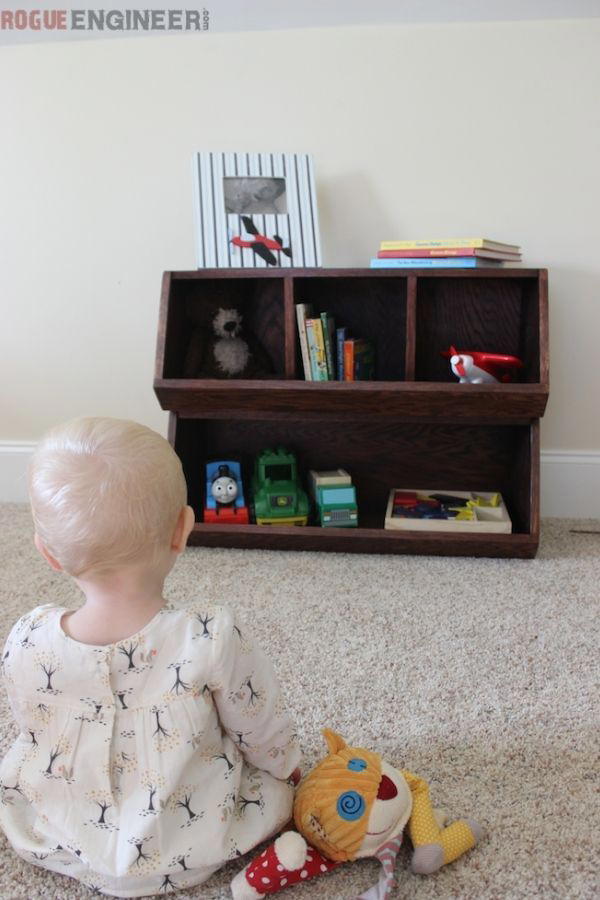 These toy storage bins are exactly what you need to store all your kid's toys at home and keep them together, organized, and impeccably clean. There are so many uses: they fit into a playroom corner or neatly under a bed, and look beautiful grouped together in a girl's or boy's bedroom.
if you prefer to keep the toys off the floor and have some stylish storage and on a budget, then check out this store-bought knock-off from Pottery Barn! We think this DIY version of Pottery Barn's bulk bins is more budget-friendly and also much easier to make.
Project details: rogueengineer.com
DIY Reclaimed Wood Storage Box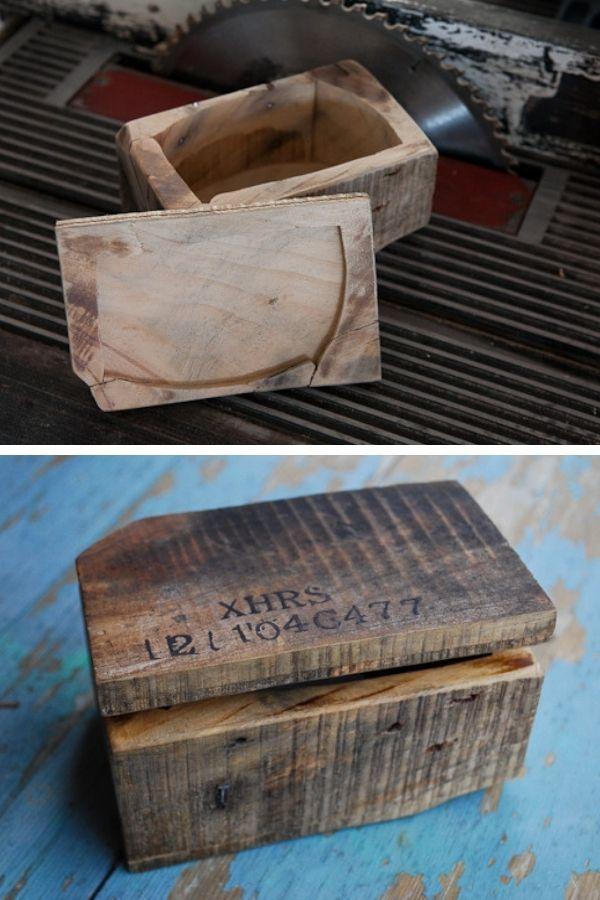 This is a big box made of solid wood. It can be used to store toys, magazines, or craft items. The best part is that you will be able to roughly cut out the initial shape and then smooth out the rough edges with the help of sandpaper and a belt sander.
If you are interested in woodworking, you might want to create a bandsaw box. It takes a lot of patience and skill to complete this project, so you will have to be determined and focused on the details. You will learn how to read and measure, layout the project properly, and use the bandsaw properly by making precise cuts.
Project details: manmadediy.com
DIY Wooden Pie Box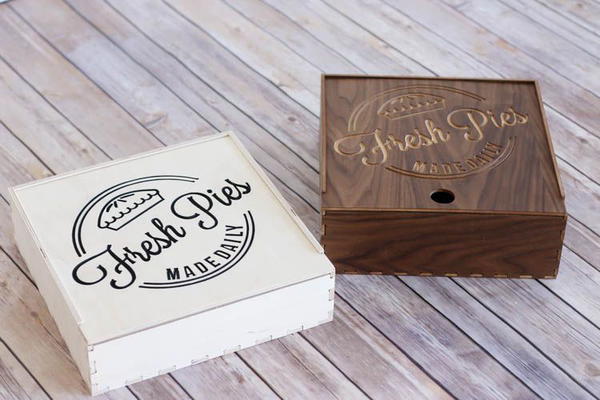 This DIY wood pie box has a beautiful aesthetic but is more importantly, functional. So many other boxes don't seal all that well, but this one does, meaning the pie remains fresh for much longer. This box is perfect for meringue pies in the winter and chilled fruit pies in the summer.
Let's get started making a DIY wooden pie box from scratch. We're going to be using the Inventables X-Carve and Easel to make all of the cuts for us. All we have to do is put them together, add in some glue for extra strength, and make sure that it's stuck well enough so that it does not fall apart.
Project details: addicted2diy.com
Life Storage Blog's DIY Wooden Crate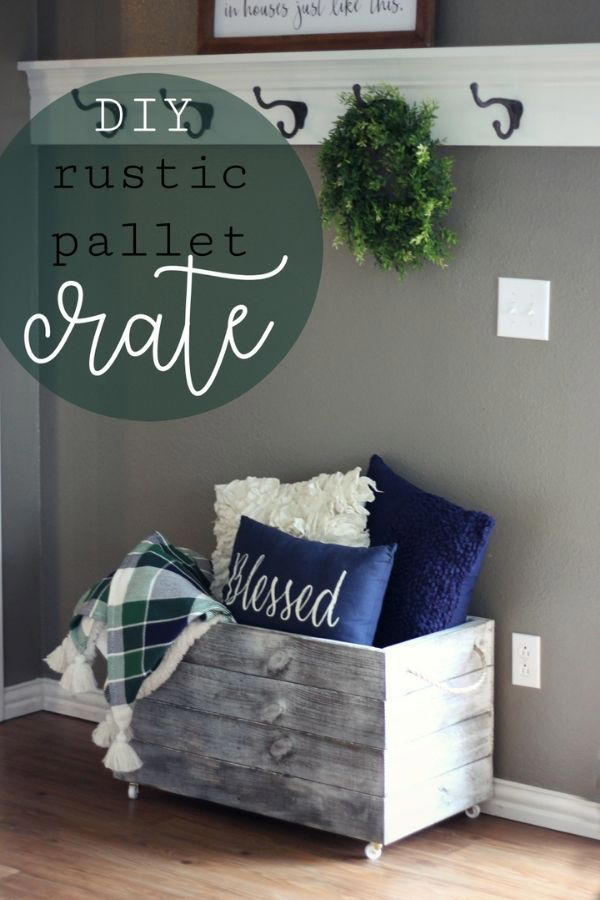 A pallet crate is a great furniture piece to add to your home or perhaps as a gift for someone you love. This guide shows you how to build your DIY wooden crate from easily found materials. Build your own crate and use it for shipping, storing stuff or as a coffee table in front of the sofa. It is easy to store when not in use and goes together in minutes. The DIY planks can be arranged in any way you want, depending on the size of your crate. Allow plenty of time and enjoy a good movie while you build it.
Project details: lifestorage.com
34. DIY Wood Centerpiece Box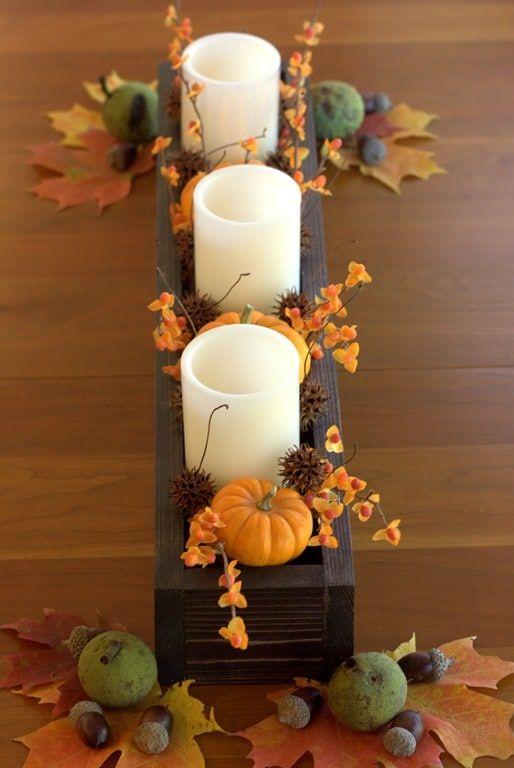 Do you want to create beautiful and festive centerpieces for your parties? Well, this DIY wood centerpiece box is a great way to save money. The materials are actually very cheap, and the process is super simple. With this DIY project, you can create a beautiful centerpiece box to add touches of beauty and elegance to your dining table. The following plan will guide you through all the steps so you can carry out this project as easily and inexpensively as possible.
Project details: virginiasweetpea.com
Vintage Pallet Wood Crate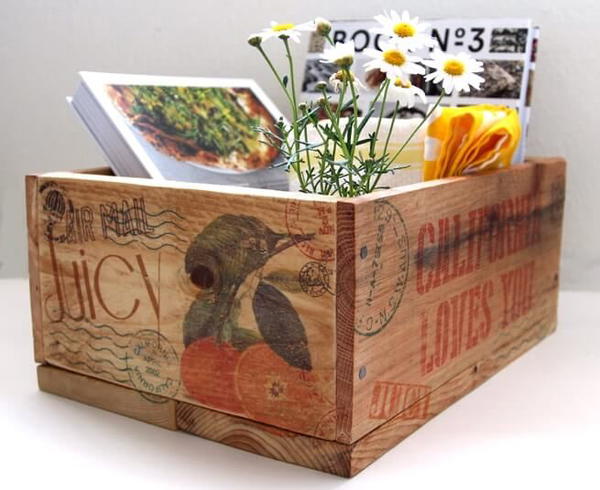 This decorative crate can store books, magazines or anything that might end up clutter on your coffee table. The finished product looks like a vintage item brought back from a market, but you get to enjoy the satisfaction of doing it yourself.
A crate can be more than a tool to hold your items. With some restyling and enough love, you can have vintage pieces that make for great home accents. The article highlights how to do so as well as what you'll need in a very simple way that's easy to understand.
Project details: apieceofrainbow.com
DIY Industrial Wood Toy Crate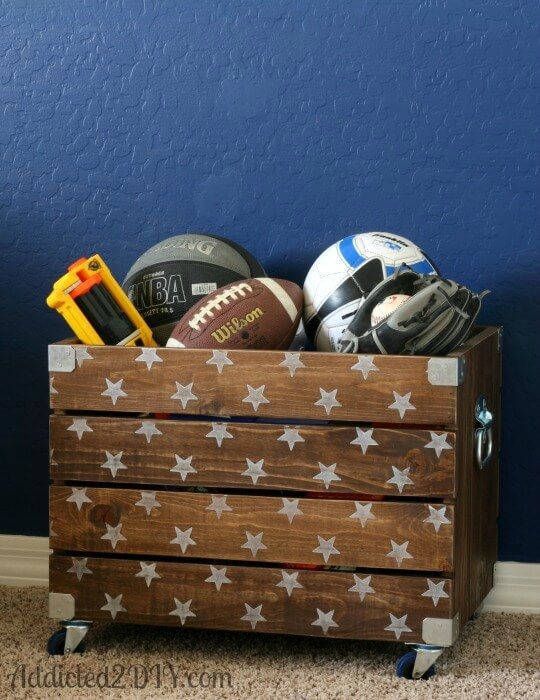 The DIY Industrial Wood Toy Crate is a play box made from a plywood wooden crate. It has a nice vintage-looking appearance, which could make it work for just about any room. Of course, we suggest you use it for toy storage, but it could also be placed in craft rooms or kids' art workspaces. Plus, the stencilled stars give the crate an aspect of classic Americana that we can imagine looking quite appealing on a bookshelf with lots of colourful books inside built into its upper portion.
Project details: addicted2diy.com
Wooden Box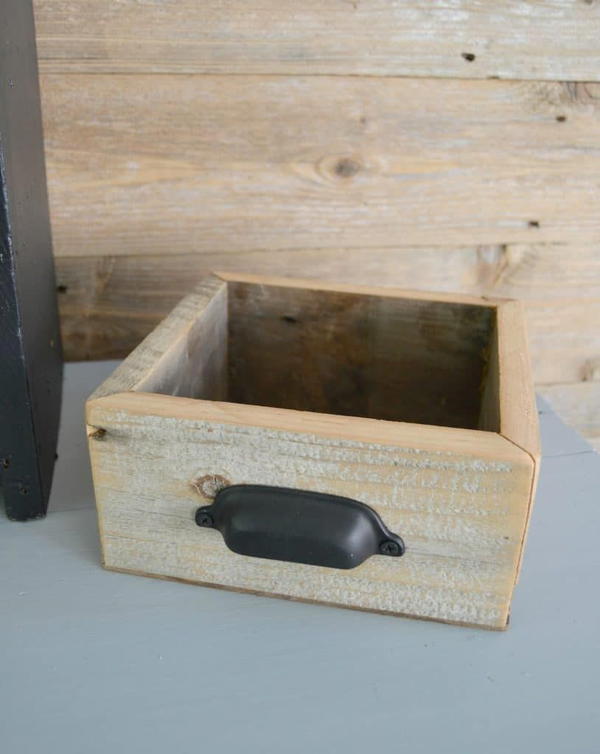 Don't you just hate it when your office has no proper storage? The pile of papers you put on the desk to take care of later keeps getting bigger. What if it wasn't your problem anymore? Wooden Box – My Creative Days will make organizing your work a breeze. with 4 boxes and sheer size, how can you pass this up? With this simple tutorial, you can make a wooden set of drawers. Each one is unique and will serve you purposes that you have in mind. The plans are easy to follow, detailed and accurate so that you can be sure to get everything right.
Project details: mycreativedays.porch.com
Stackable Root Vegetable Bin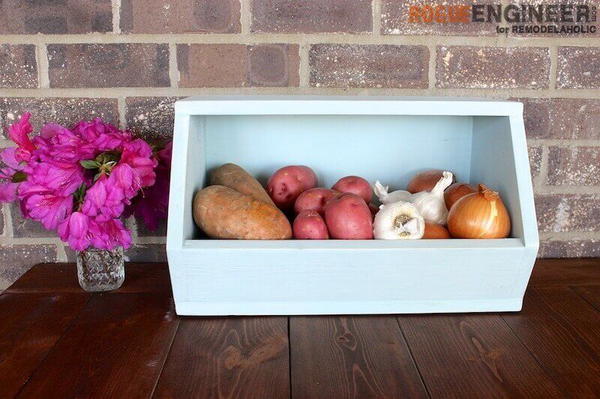 Root Vegetable Bins are the perfect way to store potatoes, carrots, onions, or tomatoes. These bins actually serve three purposes. They keep food away from pests in the basement or your cellar. They take up much less space than traditional storage bins. Finally, these bins look good and can be displayed around your house for a decorative effect. Regardless of what you will be using them for, you will need scrap wood and a handful of nails to build this project.
These Root Vegetable Bins offer a presentable way to store vegetables. With this way of building, you can theoretically stack them infinitely on top of each other. As such, you can store an impressively huge amount of vegetables without taking up too much space.
Project details: remodelaholic.com
DIY Woodworking Decorative Wood Box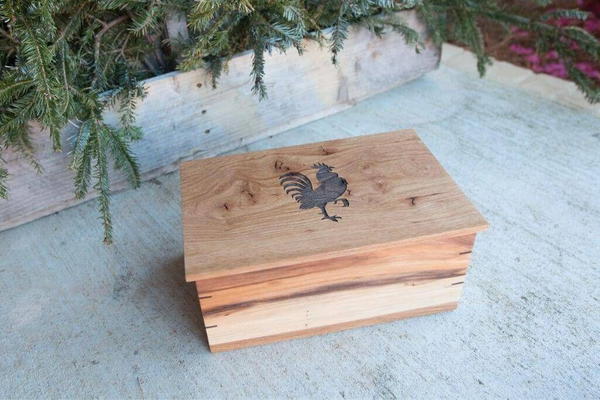 The DIY Woodworking Decorative Wood Box is primarily a decorative display box but can also be used as a storage box. Made of real high-quality woods such as white oak and red gum, the decorative rooster is engraved by laser, ensuring its sharpness and longevity. The DIY Woodworking Decorative Wood Box is primarily a decorative display box but can also be used as a storage box. Made of real high-quality woods such as white oak and red gum, the decorative rooster is engraved by laser, ensuring its sharpness and longevity. And this also makes an excellent gift for your friend if he or she likes roosters.
Project details: bruceaulrich.com
Wooden Toy Box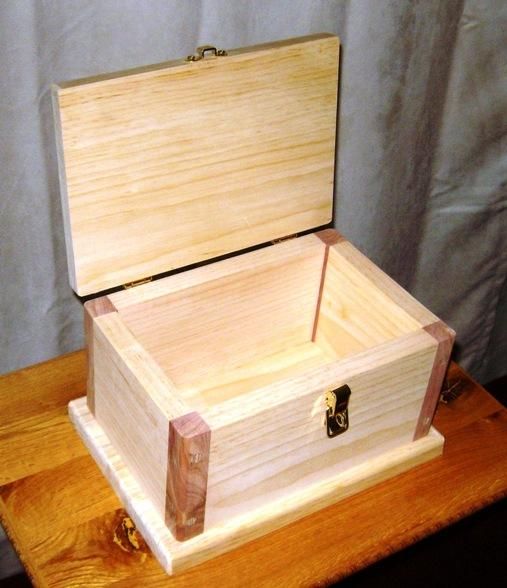 If you are one of those parents who would not mind a touch of whimsy in their child's room, then this wooden toy box project is just right for you. The box looks like a miniature toy chest with a simple design, coming with a lock and hinges, without the frill.
This toy box is designed for children of all ages, whether it be a two-year-old toddler or an eight-year-old boy. It acts as both a footstool and toy chest, keeping toys, books, and other random knick-knacks from being strewn throughout the room. The lid holds on with hasps and hinges, so a child must climb out of the box to get to his new toys.
Project details: woodworkingcorner.com
Fine Woodworking's DIY Box With Two Ways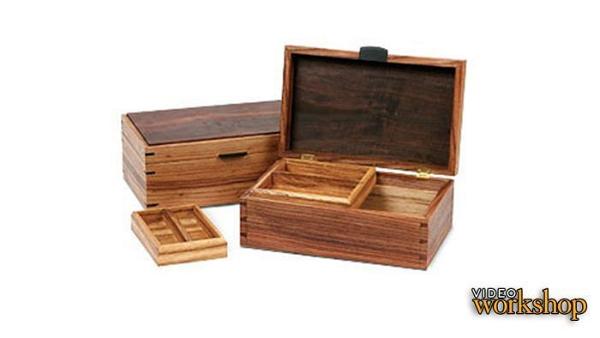 Fine Woodworking introduces the DIY Box in Two Ways. This particular project is especially helpful for beginners looking to improve their woodworking skills by tackling a mitered spline box, plus groove cut, miter joints, and a small-scale dovetail box. It will undoubtedly provide you with a better understanding of woodworking cut techniques, despite your experience level.
If you are looking for an inexpensive and easy to use tool that will give you the ability to cut perfect splines and dovetails at home, the Fine Woodworking DIY Box with Two Ways is just right for you.
Project details: finewoodworking.com
DIY Card Box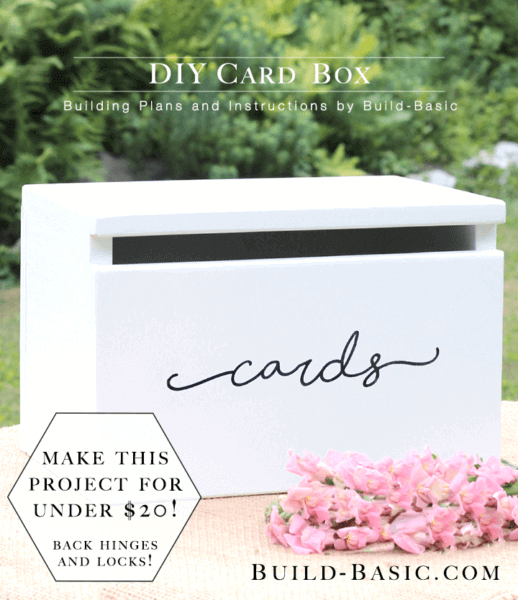 DIY Card Box is a material-saving DIY card box for people who want to learn about deduction and to build something. It is crafted from 1 single board, so we don't need to make any cuts. We never know when we need a card box. Just keep some cards in a card box. But they are often not beautiful or complex. We try to make this DIY card box just for saving material and making it convenient to clean. This is a great way to change the boring gift and reduce waste at the same time. Keep it nice, use it well!
Project details: build-basic.com
DIY Deck Box Plans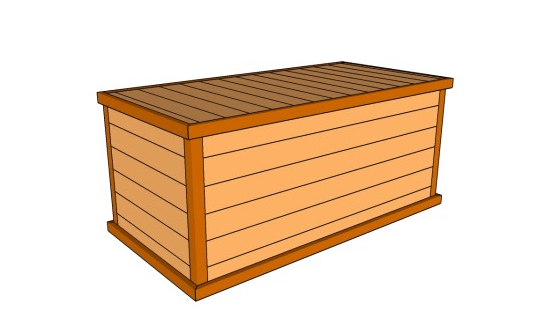 Deck boxes are great for outdoor storage, but if you have ever assembled one, you'll know that they can be a time-consuming pain. With our DIY deck box plans, you'll build an easy-to-assemble and long-lasting deck box that is sure to impress your neighbors.
The instructions and ideas in this plan have been generated after the experience of building a deck box for two. You need to take a moment to read through each step before seriously getting down to woodworking. By the time you are done reading, you will know what tools to use, how to read a tape measure correctly, and the best way of working for you.
Project details: myoutdoorplans.com
Family Handyman's Keepsake Box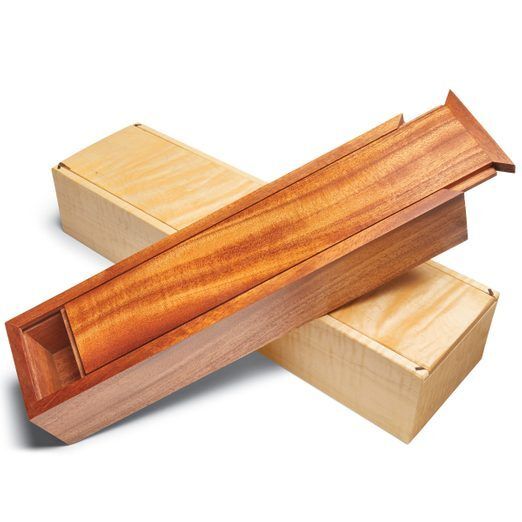 The Family Handyman Keepsake Box is an ideal starter for a fun and useful gift box. As you can easily see, the most appealing aspect of this Keepsake Box is its sliding lid. Obviously, this look and the useful lid are not easy to do, but it is absolutely worth your effort.
Family Handyman's Keepsake Box is cut from one sheet of plywood for a strong frame that slides smoothly on two parallel rails. Incredibly easy to build, it lets you create a box with a sliding lid that looks tough on the outside yet opens smoothly to reveal its contents. It's a beautiful box to store keepsakes, but it's also a challenging woodworking project for beginners. In this article, we'll get you step-by-step instructions on building your Keepsake Box with the sliding lid.
Project details: familyhandyman.com
DIY Planter Box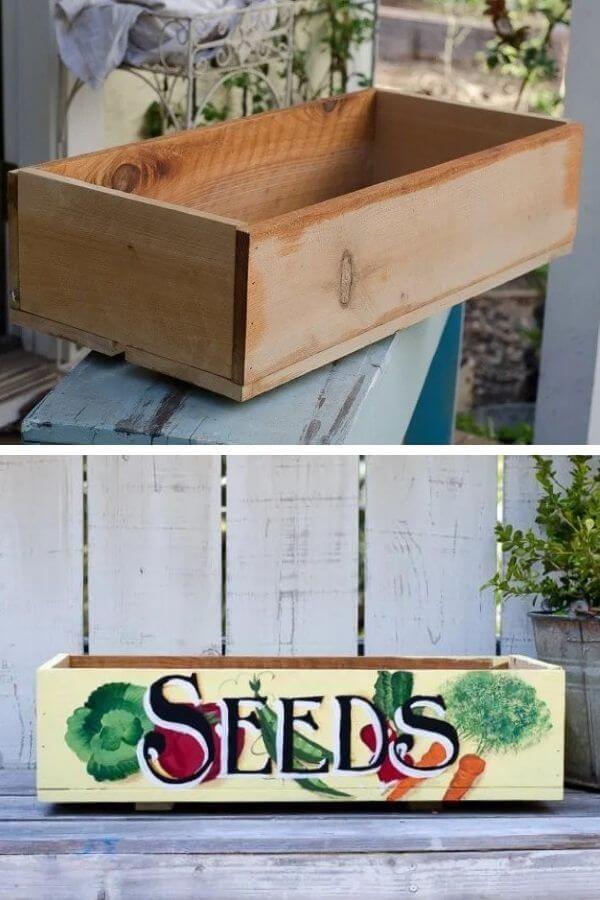 DIY planter box is a joint venture that requires a lot of effort. To build this kind of wooden frame, you need to carefully prepare a large number of wooden slabs and pay attention to the assembly process. Because it needs to assemble according to certain rules; otherwise, fixing the plank will lead to water leakage, which will kill the root of your plants.
You don't need to buy an expensive planter box for your garden, just follow the instructions, and you can come up with one yourself! Putting each piece of wood together takes hardly any time and costs almost nothing. You will get a product that suits your needs and design requirements by doing it yourself, making it more personal.
Project details: flowerpatchfarmhouse.com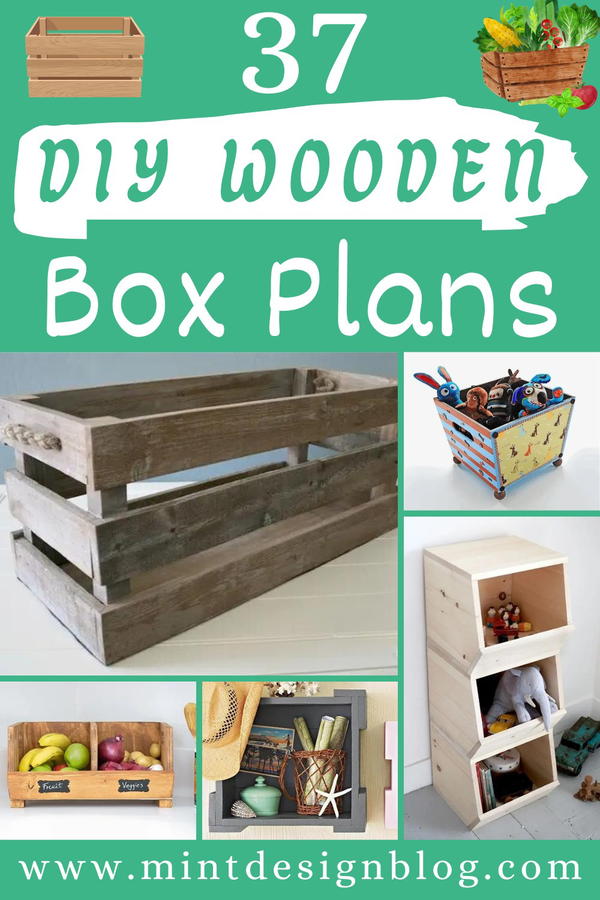 See Other Projects