Have you ever thought of using crates as a DIY project? If yes, then let me tell you that you are not alone. A lot of people are doing this and enjoying the benefits. The crate is a handy tool and can be used in many ways. It is used to carry things and as an organizer or storage solution. If you want to use it for any purpose, you can quickly make it happen by following the DIY guide provided below. Here are some do-it-yourself DIY crate projects that will help you use your available crates in a better way.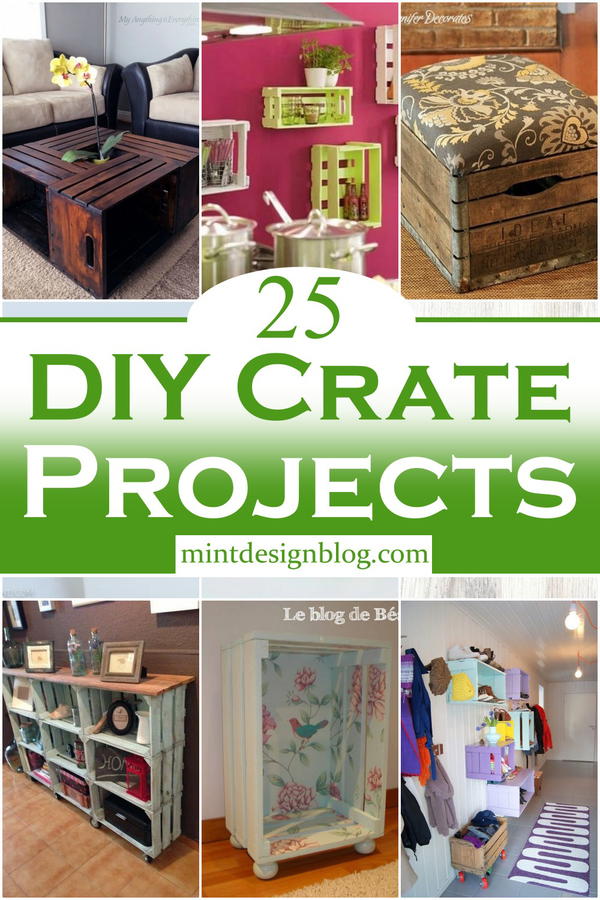 No matter what your taste, you'll find that crates are an easy way to add a touch of personality to any room. Whether you want to use them as storage, as tables, or even as a bedside table, there is no limit to what you can do with them. There are many different crates, but the most common type is made from wood. These wooden crates can be painted or stained in any color that you like and will last for years if treated properly. We have gathered some DIY Crate Projects to help you make the most out of your crates. So sit back and enjoy!
Here are the best 25 DIY projects for your decoration that you can do with crates or wooden boxes; Check out these fantastic ideas and get ready for DIY fun.
DIY Shabby Chic Side Table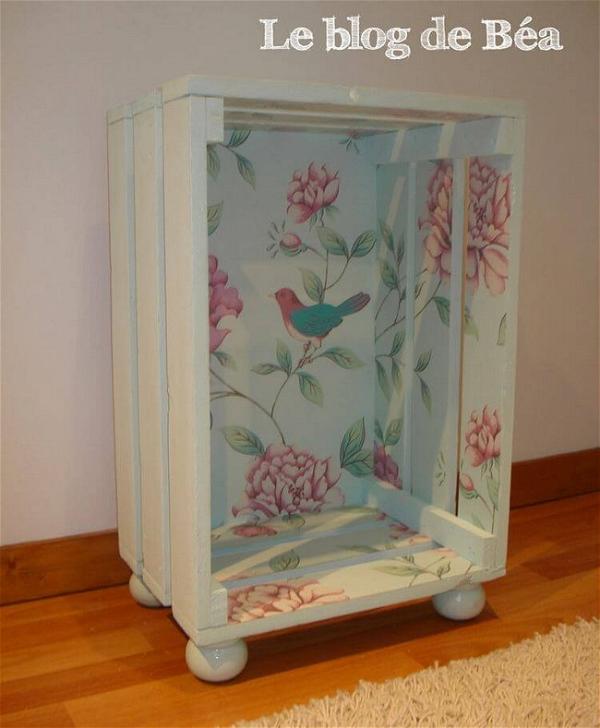 This DIY side table is an elegant piece that will add charm to any room of your home and is simple to make. It's a fun weekend project that requires no particular skill, just some paint and imagination. Using a scratch wooden crate and its interior decoupage, it also can be a beautiful side table for your home or office; this shabby chic beauty will give you a natural vintage look. Start by using a wooden crate of your choice, and then cover it with the floral patterned wallpaper of your choice.
The Ultimate Upcycle: Wood Crate Desk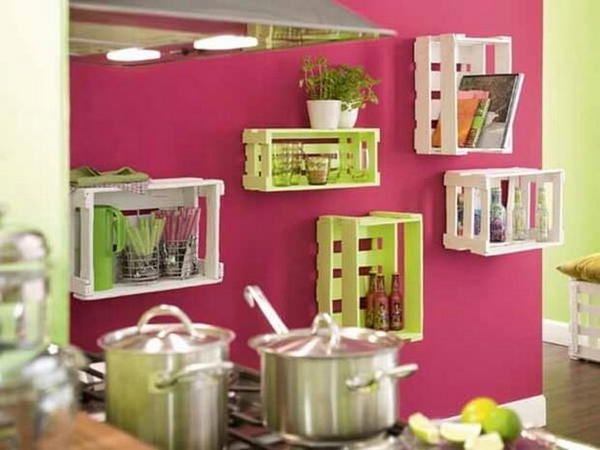 This simple yet sturdy desk is made out of vintage crates. The metal brackets give it a decorative touch and provide the desk with a more elegant look. It's made entirely out of wood, so it's very eco-friendly. The wood is unfinished and has natural markings from being used in its previous life as a crate; however, if you'd prefer to paint it or protect it with oil or wax, that would be up to you. This guide shows you the complete step-by-step instructions and follow-up steps.
From Crates to Console Table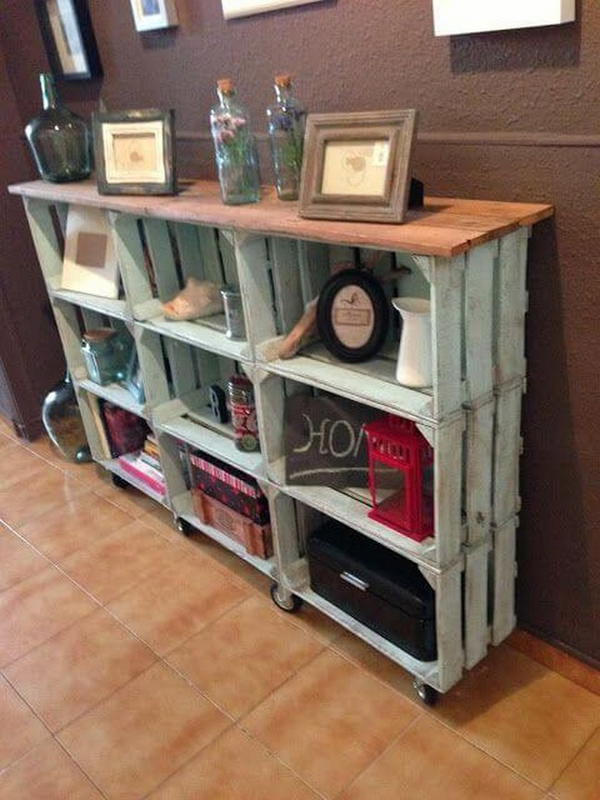 The rolling shelf is the perfect modern practicality and cottage charm combination. Designed with caster wheels, the organizational table may easily be moved from place to place. It may be used in your foyer for hats, snow boots, mittens, and scarves storage over the chilly winter months. Then switch it to a summer playroom for beach towels and sand toys. The perfect multi-functional piece for any home! You can create your own by using this guide.
See more: 15 DIY Entryway Bench Plans
Stool Having A Storage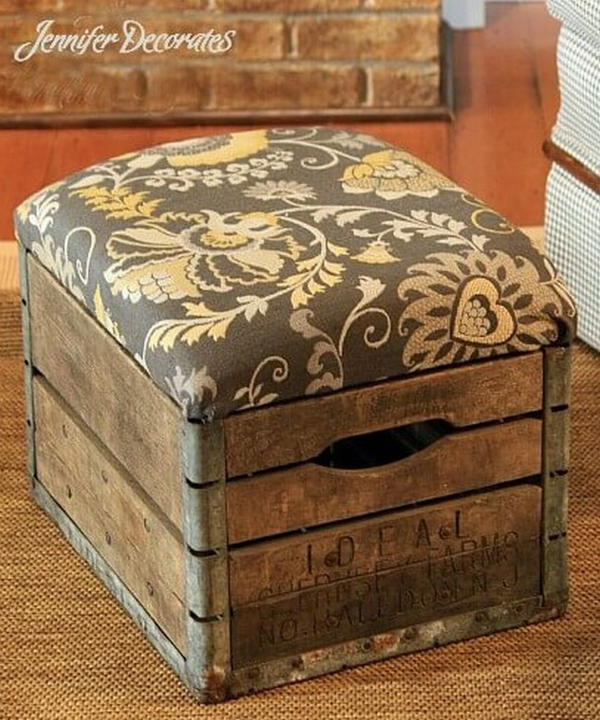 Want to add a stylish touch to your living room? This stool is easy to assemble when following the step-by-step instructions provided. The container of choice for this project could be an old crate or something newly bought from a yard sale or flea market for a small amount. The upholstered ottoman is a piece-wise cake to put together as well. No glue or carpentry experience is required for this project. The link below shows you the complete making process.
DIY Colorful Mud Room Cubbies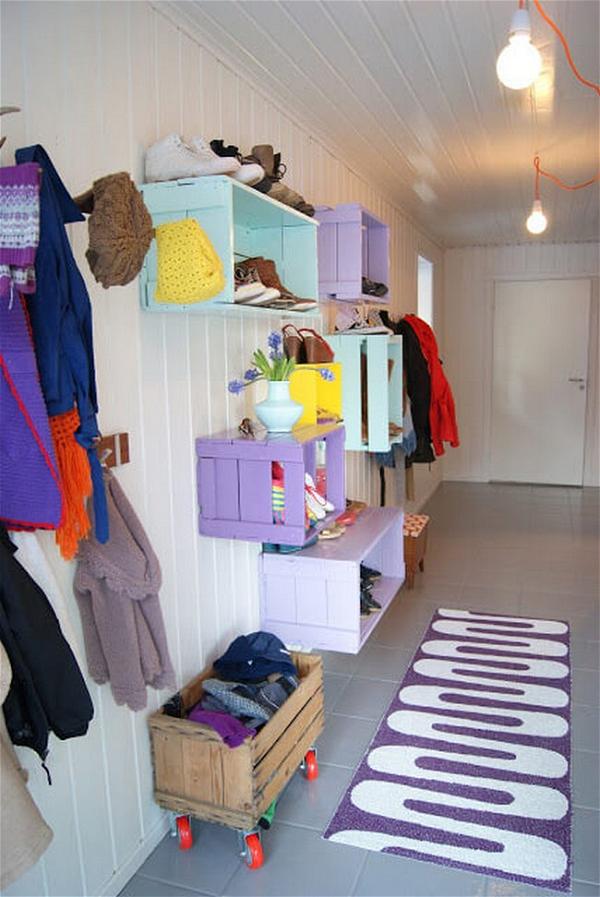 Introducing the DIY Colorful Mud Room Cubbies, a project for DIY lovers who are looking for the ideal, space-efficient organization method for high traffic rooms and cramped quarters. The magical combination of wooden crates gives you a great stylish addition to your entryway or mudroom. This is the perfect way to create a chic, organized look with functionality for those tight spaces where storage is needed. Go through this guide to learn more!
Upcycled Elegance DIY Coffee Table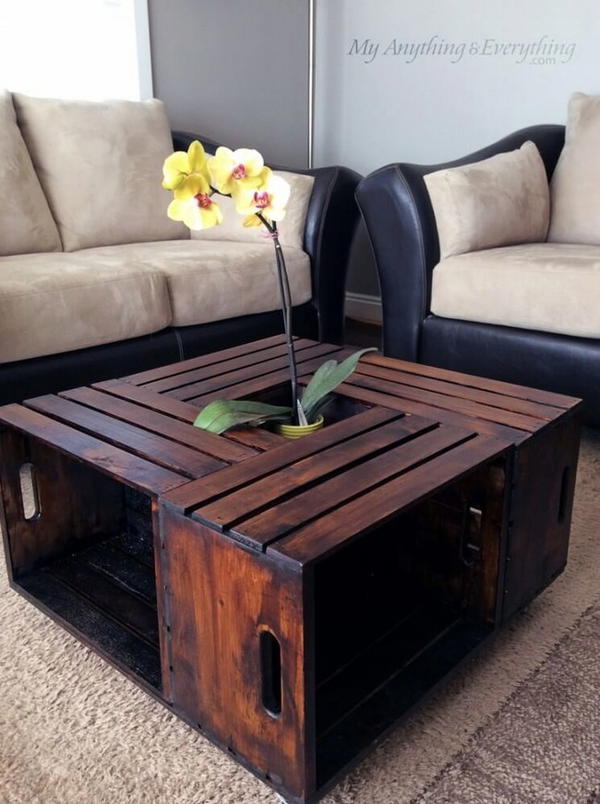 The coffee table is a perfect example of how a couple of plastic storage boxes can transform into something that would look expensive in any modern living room. You can use this table to store things and put the mug down, and The dark stain makes these affordable storage boxes look like expensive antique ones. It's a great way to create a modern look without too much fuss or significant expenses. This guide shows you the complete procedure.
Functional Furniture: Crate Bench Project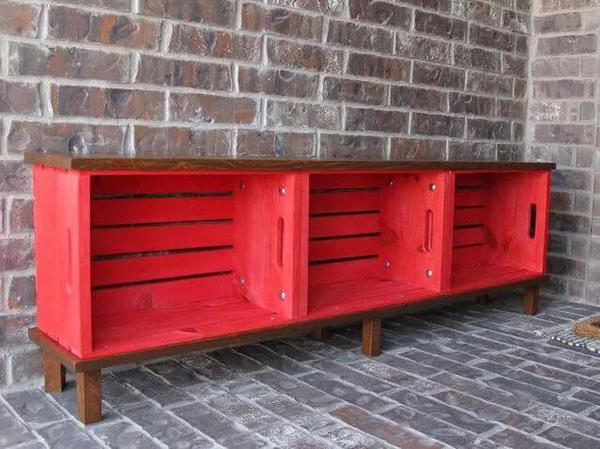 The crate bench is furniture that comes with a lot of functional purposes. It can be used to store shoes, boots, bags, and boots. It might not be as big as your shoe rack at home, but it holds enough that you wouldn't need to walk around the house searching for your favorite shoes anymore. In addition to its primary function of storing stuff, this bench also has an appealing design. This guide shows you the complete step-by-step instructions and follow-up steps.
Simple and Versatile DIY Wood Crate Bookcase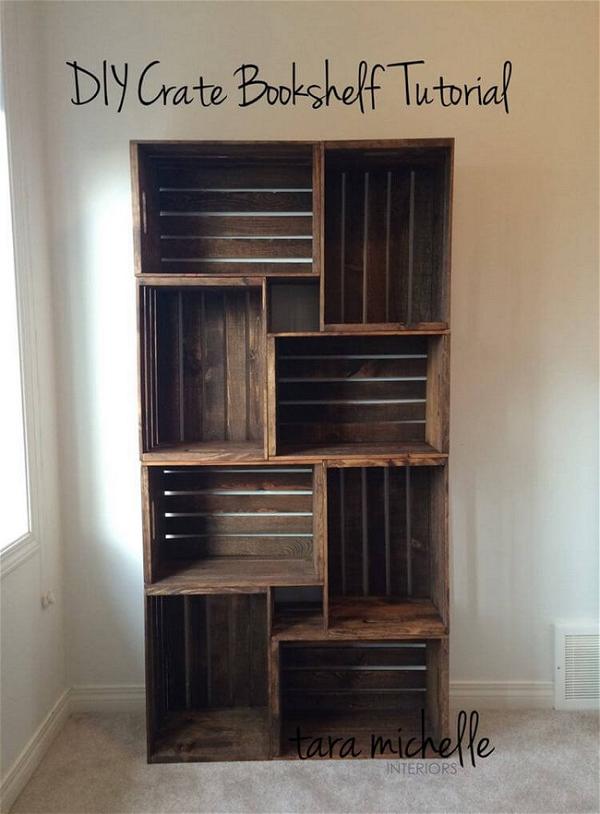 Do you want to take your kids' storage to the next level? With this DIY Wood Crate Bookcase, you'll never find books or backpacks thrown on top of desks or shelves again. This crate idea is ideal for assisting children and teenagers in keeping tidy books, bags, and treasured projects. It is versatile as you can assemble the storage boxes in any shape you deem the best fitting for your furniture. This guide shows you the complete procedure.
You can also see: DIY Kids Bookshelf Ideas
Creative Kid's Car Collection Storage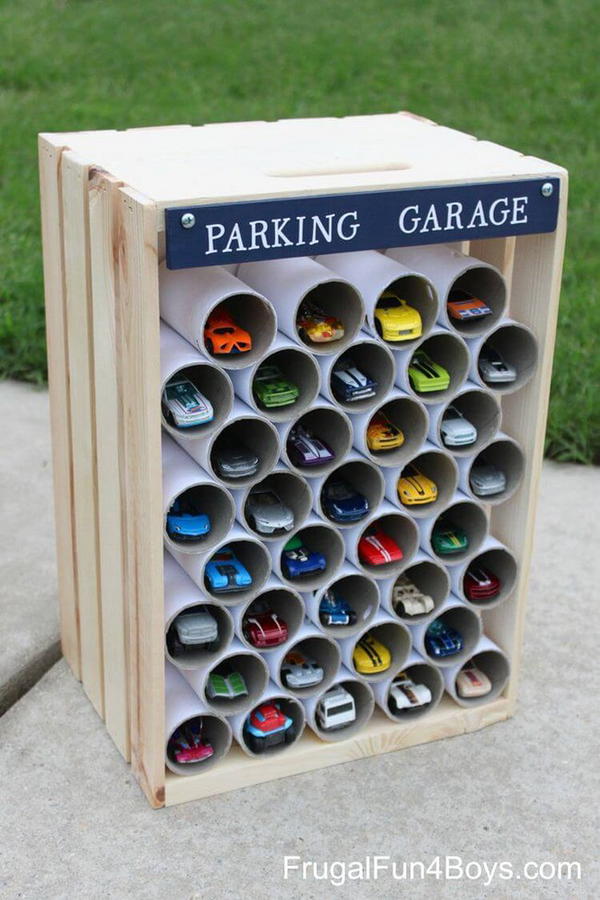 The crate hack is the perfect storage solution for your kid's car collection. The idea is to use an old wooden crate, which can hold a lot of toys as you have three vertically stacked rows of cars. It can also store jewelry and keys in an orderly manner. The crate hack will surely help you create an unusual decoration piece that kids would love in their room. The guide below shows you the complete procedure.
Inexpensive and Stylish Side Table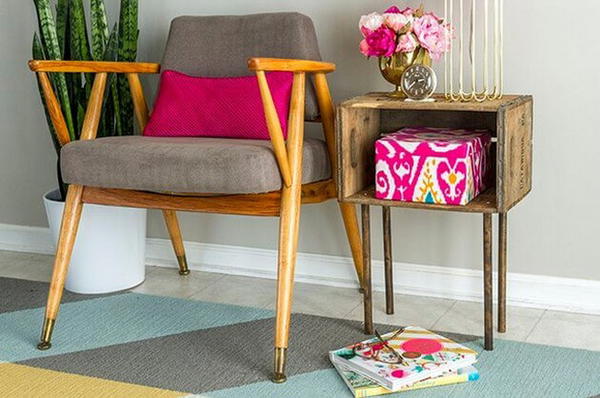 Decorate your home with this elegant Side Table. The classy design is finished in an antique copper finish and features four metal legs. This affordable side table can be used to display a decorative item or anything that you desire, for example, a glass of wine or a book! This unique table can be put easily beside a velvet accent seat or a masculine leather-made sofa. With this side table in your home, you can enhance the beauty of your interiors without spending a lot of money.
DIY Toy Box on Casters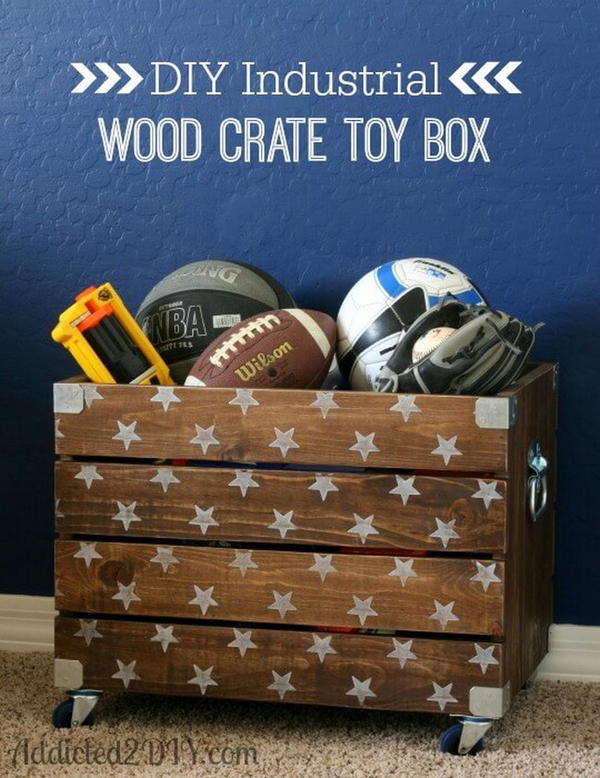 Create a personalized wooden toy box that is perfect for any house room. You can place it on casters or leave it stationary with proper assembly. This DIY project makes it easy to apply various stencil designs to make your crate fun and exciting. It pulls off quickly with built-in wheels to move from room to room with ease. The DIY Toy Box on Casters is also a creative way to store those loose toys, books, and supplies that your child accumulates over time. With so many different methods available to customize this piece, you can make it as straightforward or detailed as possible! Click the show link to learn more!
Durable DIY Pet Bed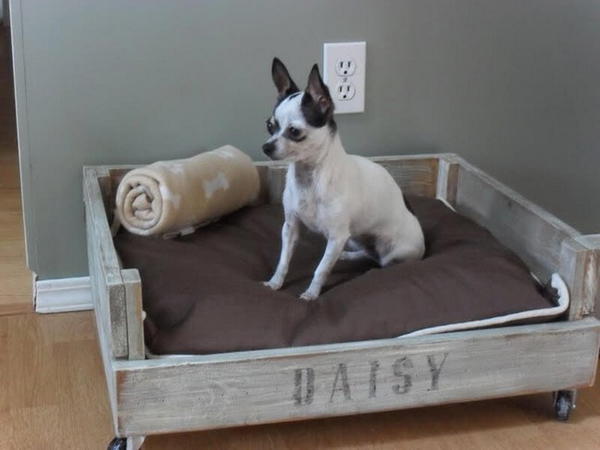 This durable DIY pet bed is a perfect gift for any dog and its owner. The materials needed to create this sizeable crate-style bed are simple: old wooden crates and freezer paper. Old boxes can be salvaged or purchased at garage sales, flea markets, and antique shops. These crates can be painted in your choice of color or left unpainted for an antiqued look rivaling Pottery Barn furniture. This guide shows you the complete procedure.
Wood Crate Stacked Entryway Shelves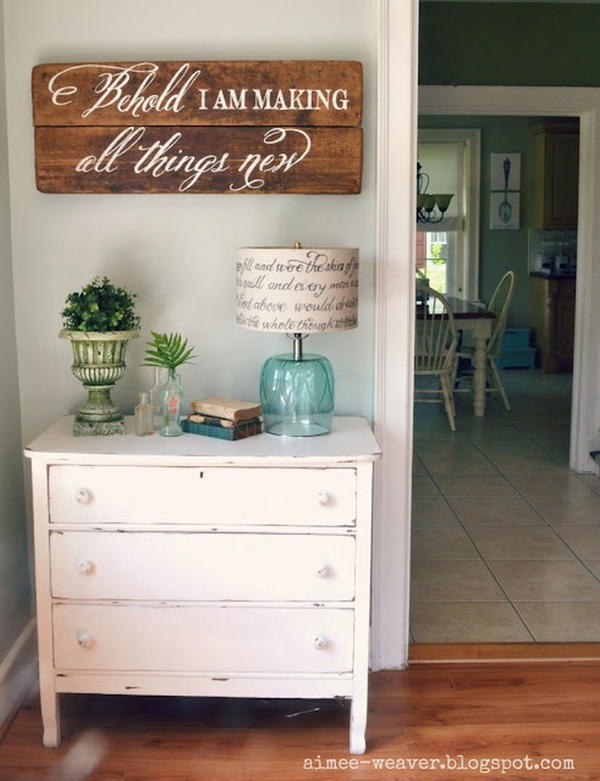 This entryway shelving is a charming use for a stack of wooden crates; this entryway shelving is the perfect storage solution for tiny homes, lofts, and urban spaces. Stack four containers together and secure them with metal brackets. Use industrial-strength spray paint to coat the boxes in a neutral hue like white or black. Then use them to hold shoes, scarves, bags, and other personal items. Your entryway comes to life with the rustic look of these wood-looking crates stacked in a corner.
DIY Cabinet with Sliding Crate Drawers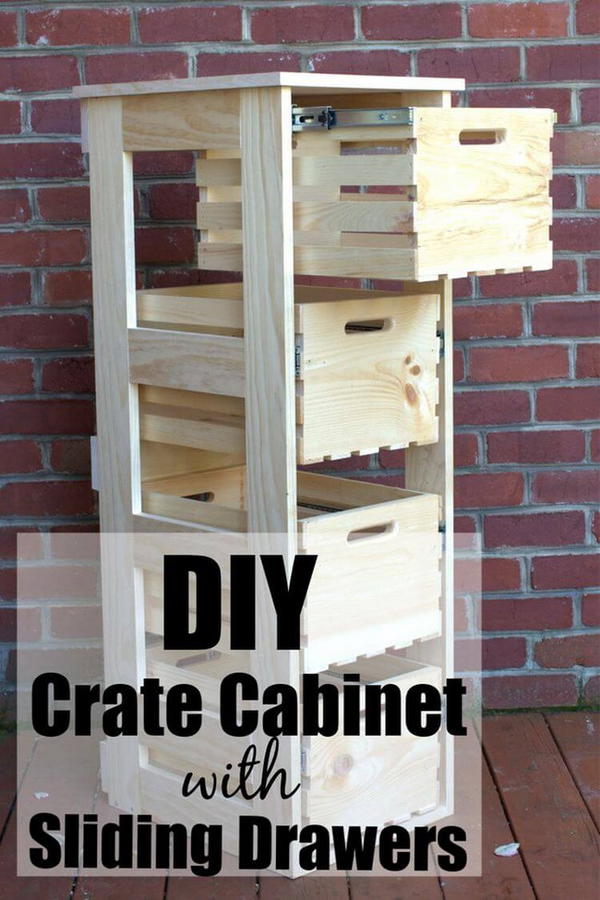 Make your own sliding crate cabinet with this free DIY guide project. Perfect for small spaces, this sliding country storage box has a rustic touch that can work in any house room. Sliding drawers help utilize space in small cabinets, and using crates makes it easy to store bulkier items like blankets and throw pillows. You need a few straightforward tools, suitable materials, and fundamental woodworking skills. With this guide, you'll be able to save hundreds of dollars by making your own cabinetry.
Use Crates to Expand Your Bathroom Shelves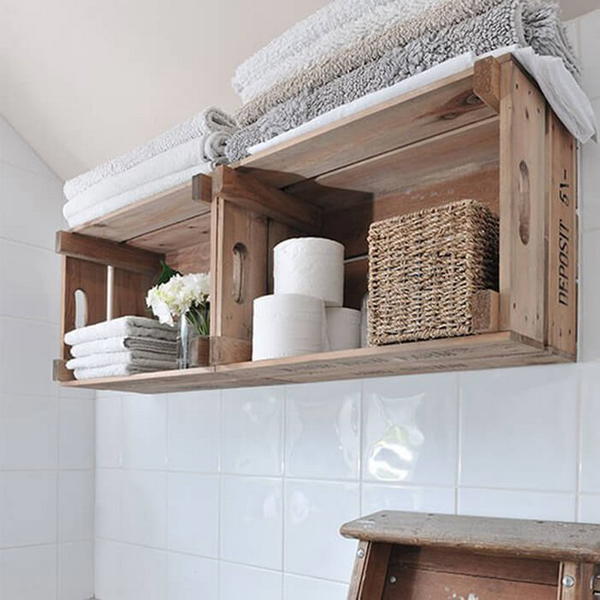 Crates make a fantastic addition to your bathroom. They are a great way to add storage space, but they are not ideal for holding heavy items. However, they can be used to store rugs, towels, and other bathroom essentials. This crate is a simple and budget-friendly way to help you organize your bathroom without having to do any major renovations. Using two or three crates, attach them to the studs in your wall, and then place your towels, rugs, or toiletries inside the crates.
Tabletop DIY Wood Crate Projects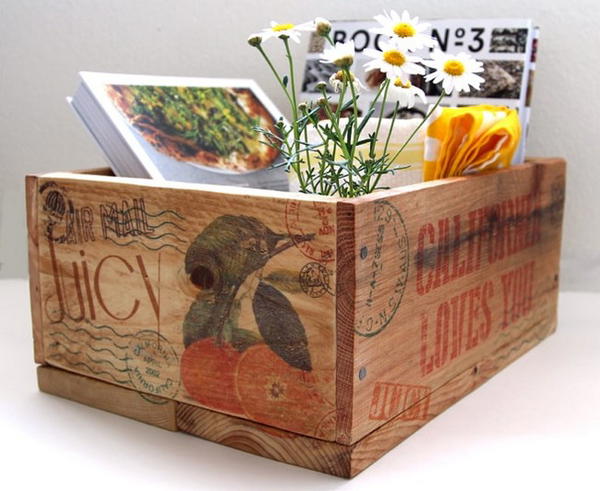 The DIY wooden crates from pallets are perfect for your home and interior décor. These crates are easy to make, and you can use them in multiple ways. They can be used as a great storage solution, or they can be used as decorative pieces to add character to your home or office. You can even put anything in these boxes; your books and magazines, decorative items like pictures and paintings, or even your kitchen utensils and supplies. Use this guide to learn more!
Customized and Functional Crate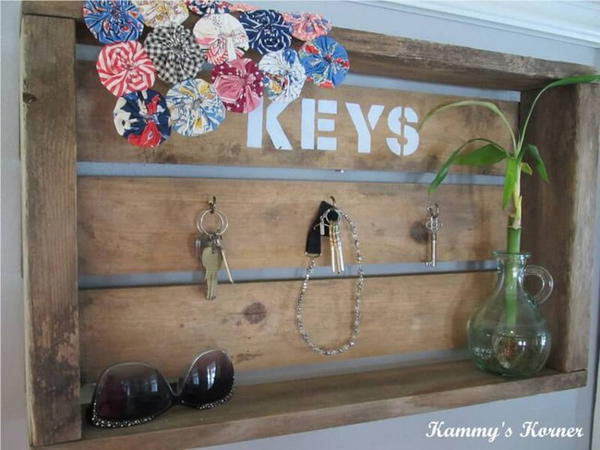 This project is a great way to dress up a crate; this project is functional and decorative. Select two different stencils, paint the crate in your colors, then hang it up in a hall as a mail or critical rack. You can also customize it with vintage hardware for an added touch of charm. This crate can be customized to fit any décor. Using this guide, you could turn your ordinary crate into a valuable and stylish storage piece by creating your very own functional, decorative crate.
From Wood crate to Rustic Nightstand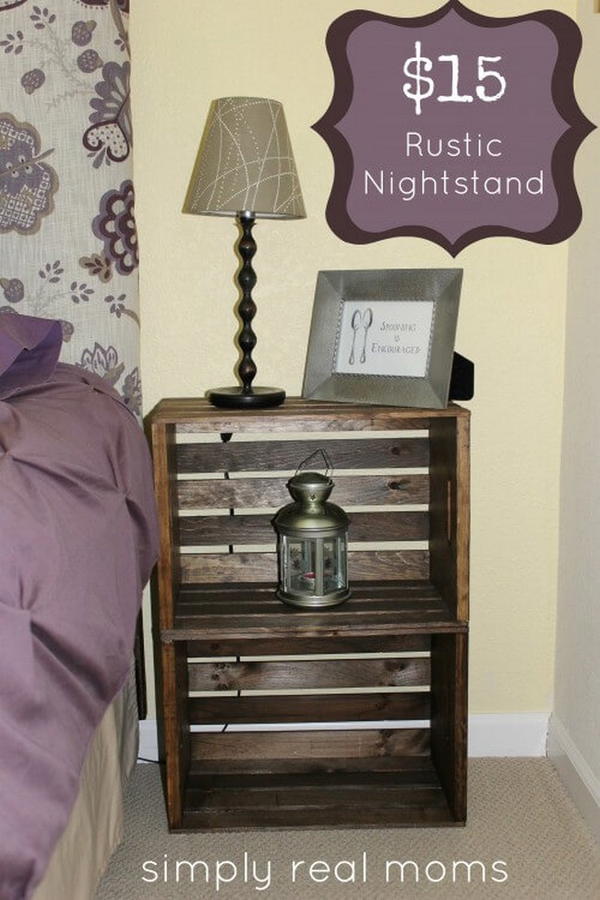 This is a simple and functional nightstand project; It uses only one hour to assemble, and then it is ready for staining. This project can be used as a piece of additional bedroom furniture or an accent in your living room. Its rustic look complements a guest bedroom or an office space where you need extra storage. This nightstand is made from an old wooden crate, but with just minor staining, it becomes a warm, welcoming piece of furniture that fits in anywhere your home.
Easy DIY personalized Toy Crates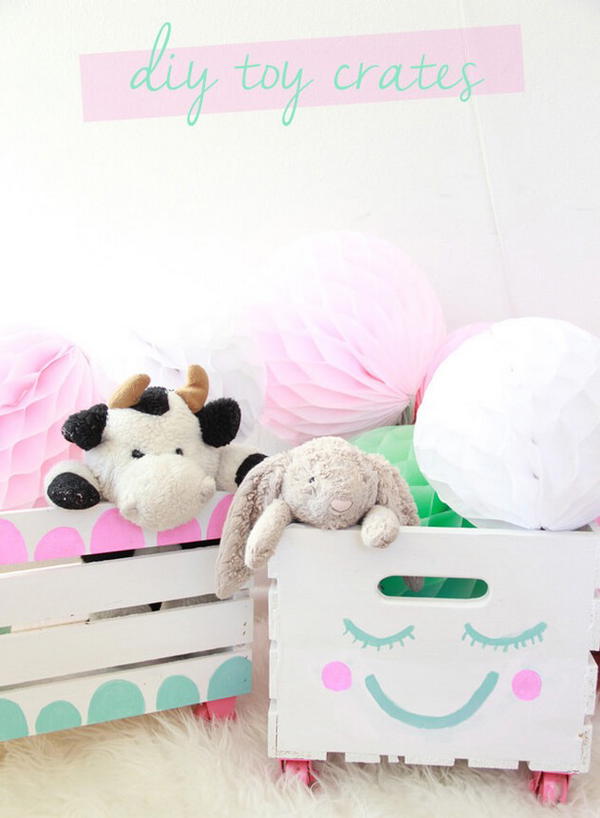 Are you always looking for a container to house some of your kid's toys? Well, here is the perfect solution. This DIY toy crate has been personalized to provide toddlers with fun means of going cruising with the toys they enjoy playing with. The basic idea behind this toy crate is to help children organize their toys and things in a place where they can reach and play with everything super easily! This guide shows you the complete step-by-step instructions and follow-up steps.
Repurposing Crates into Wine Racks
If you are looking for a quick, easy and practical way to store your wine innovatively, then this is precisely what you need. The simple DIY project involves minimal carpentry skills but turns out amazingly beautiful, and best of all, it only takes a few minutes to make! These wine racks are simple because of the way the wooden crate can be recycled into a helpful frame without ruining it. You need to cut two crossbars, stain them, and place them back on other unused crates!
Re-imagine Bedroom Storage with Crates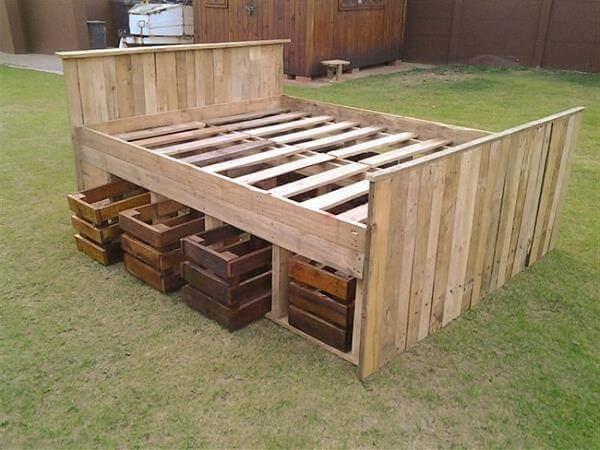 The crate bed is designed for bedroom storage and to enhance the look of the bed frame. Simple, elegant, and practical in its construction, it's what most people desire when creating their own bedroom storage. Constructed from rough sawn boards, it still exhibits a distinctive character with its worn-out appearance. It can be completed by selecting natural fabrics such as cotton and linen for its covering. This guide shows you the complete step-by-step instructions and follow-up steps.
Decorative Storage for a Child's Room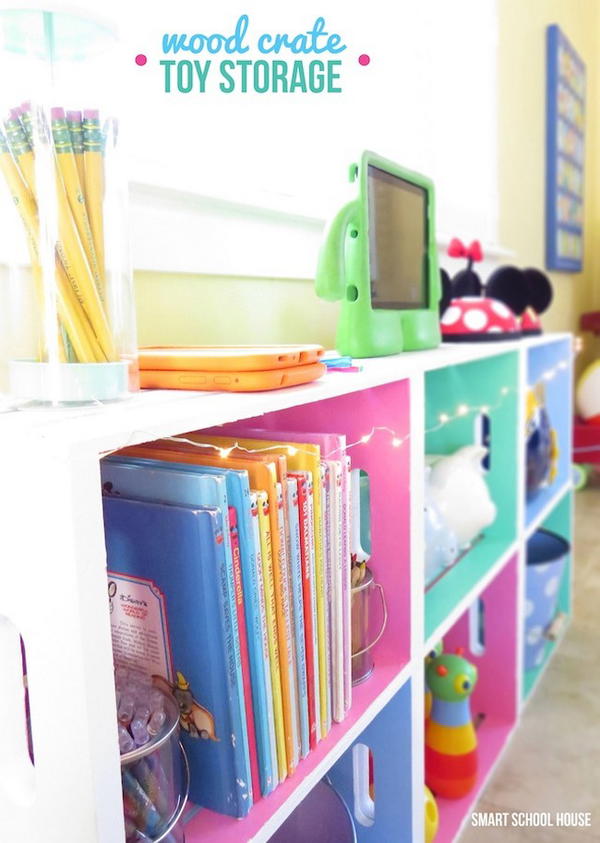 As parents, it is essential to have a place to store everyday items that your children use. A small storage unit can be a great addition to their room and help them keep their things organized and easy to access. Plus, it's fun to decorate! We love this DIY idea because it is easy (no painting required) and adds color to a room that could use some brightening up when used as storage. This guide shows you the complete procedure.
23. DIY Side Table on Casters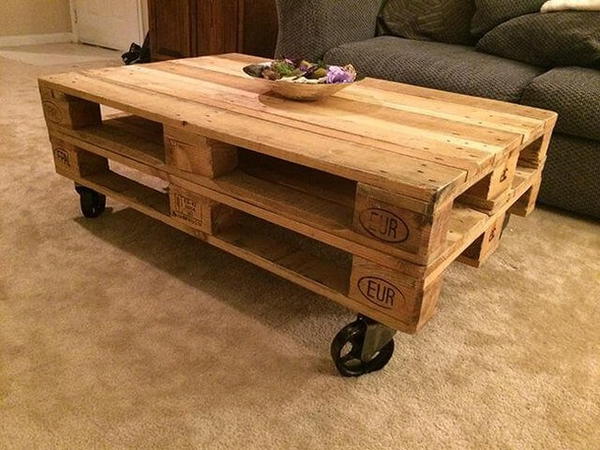 This DIY side table on castors is an excellent furniture project for those just getting started in woodworking. It's an easy project, but it will give you the skills and confidence to tackle other projects. The rustic antique crate character will look great in a country or modern setting, and the casters ensure that changing out the little side table is easy. These castors are easy to roll and make you shift the table wherever needed. The antique crates create a place to keep magazines and give rustic charm to your home.
Simple and Unexpected Book Storage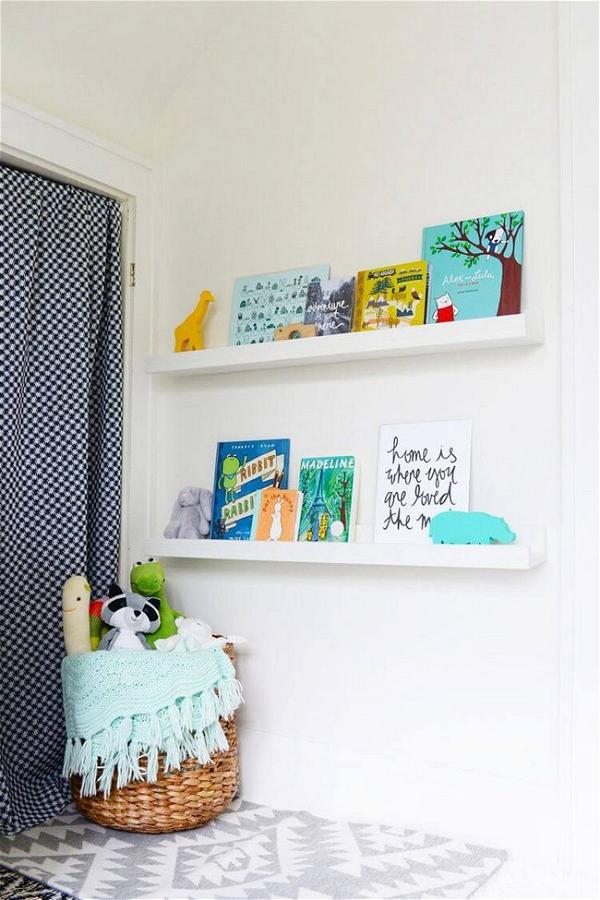 If your children love storybooks and you don't want them to overdo it on the reading, get this Simple and Unexpected Book Storage. It is easy to make and will keep the little fellows busy trying to match every one of them with their name. You have enough crates for all of your books, or you might soon regret buying them for this DIY project! The advantage of this one is that all your kid's favorite stories will be within their reach!
Built-ins Re-envisioned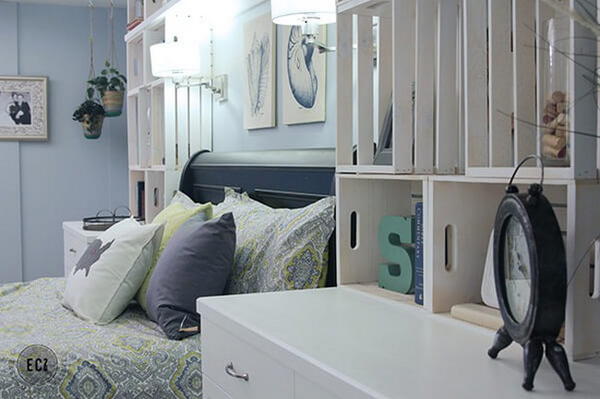 This is the perfect project for any beginner builder or handyman. With this DIY project, one can quickly complete the look of his own bedroom. The crates are extremely easy to assemble and secure to the wall with only a few nails. They are a great way to give your room a vintage look easily customized. This project requires no construction skills and can finish in an evening. You'll have a unique storage solution that can fit any decorating theme when it's done.
See Other Projects