Here are some easiest DIY target stand projects you can try and have fun at home with minimal effort. You can make these stands with commonly used items available around; they are all great for your archery gear.
Easy DIY Target Stands
If you love target shooting, then this list of DIY projects is best to try at home. They're suitable to increase your focus and great for kids to practice targeting something specifically, which will lead forward the passion of shooting, archery, and many more ancient skills in them. Our super easier and unique target stand ideas are best for those who are tight on budget; the most interesting thing about target stand projects is that you can build them in a number of different shapes and sizes, so after practicing these ideas, you'll surely be able to find out the best one upto your need.
How To Make A Target Stand
Making a target stand isn't difficult if you follow the procedure right; follow the guidelines below and select any of the ideas from our collection to end up with something amazing.
Choose materials: Select wood, metal, or PVC pipes for the frame and target backing.
Determine dimensions: Decide on the target stand's height, width, and depth based on the target type and size of the targets you plan to use.
Gather tools: Ensure you have tools such as a saw, drill, screws or fasteners, and measuring tape.
Construct the base: Create a stable and sturdy base to support the target stand, ensuring it can withstand the impact of projectiles.
Build the frame: Assemble the vertical and horizontal supports to form the main structure of the target stand.
If needed, Attach target backing: Secure a suitable backing material (e.g., plywood, foam, or cardboard) to the frame to hold the targets in place.
Mount targets: Attach your targets to the backing, ensuring they are properly aligned and spaced for your shooting needs.
Test stability: Check the stability and durability of the target stand by shooting at it from a safe distance, making any necessary adjustments as needed.
Materials and Tools:
 Wood screws
 Hammer
 Tape measure
Bolts
washers
nuts
Sandpaper or sander
Wood stain
DIY Target Stand With PVC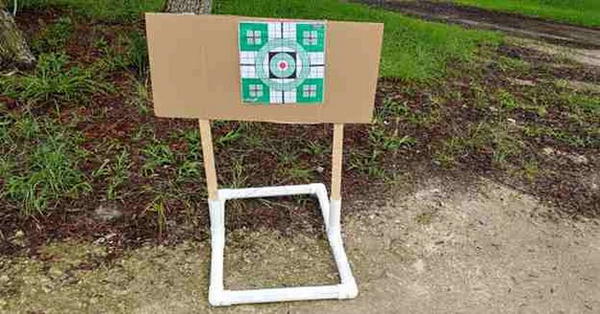 If you want to make a target stand at home, follow this super easier guide; using just the basic PVC pipes, some wooden stripes, and cardboard, you can end up with a decent masterpiece target stand within a few minutes. It can be great for beginner-level archery or kids targeting practice, and I hope you will nail this project.
Skill level: Expert
Make A Target Stand For $10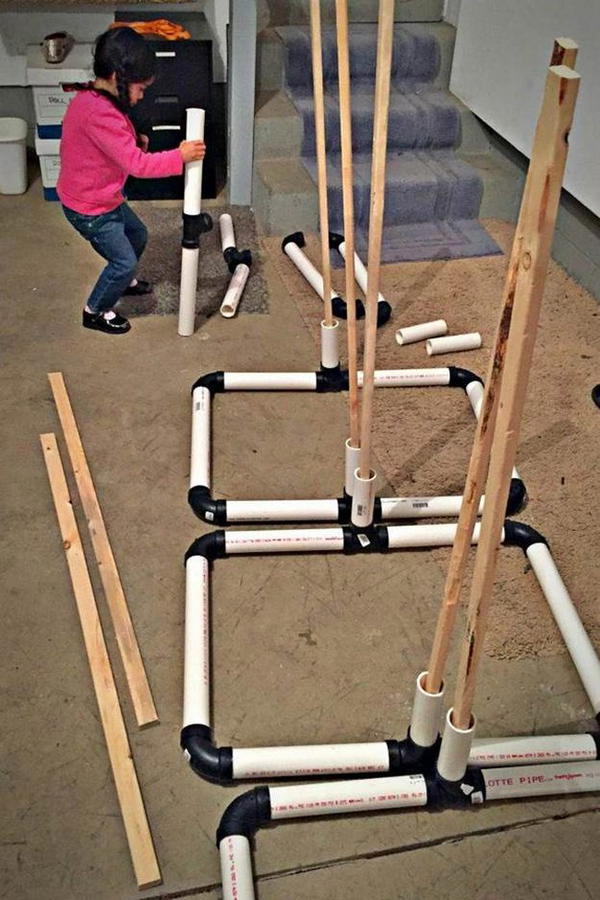 This amazing target stand is a great way to get started in archery. It's cheap, quite sturdy, and should last many years. You can use this target stand to practice your aim and improving your skills, so get your pistol or rifle in hand and start practicing shooting at home with minimal effort. It can be helpful for beginners who want to practice their aim without wasting too much time.
Skill level: Expert
How To Make A Portable Target Stand
Creating this mobile target stand is very simple; it has foldable wooden legs making it easy to store and transport from one place to another. It has a significant height that suits well for practicing professional shooters or those who want to participate in archery competitions. All you need to start is a wooden frame few pieces of cardboard, a printed shooting board, and a bit of hard work to make this fun piece.
Skill level: Intermediate
Simple Target Stand For Kids
Make a goalpost-inspired target stand to practice your archery skills in mid of the forest or hilly area by following this super easier video tutorial. In this guide, the creator will show you how to make a simple target stand using conduit and a bit of imagination. This idea has several advantages and suits well to make a target stand at any location at any time with minimal effort and a great option for adding to your imagination set for future trips.
Skill level: Expert
DIY Target Stand For $7
If you are looking for a traditional style target stand that is easy to make from scratch and very convenient, this is for you. It's made of durable wooden material, designed with two legs and a small wooden base. This amazing target stand can easily be DIY at home with fundamental tools; it is sturdy and will last for years, so you can always have targets to shoot from.
Skill level: Intermediate
How To Make A PVC Target Stand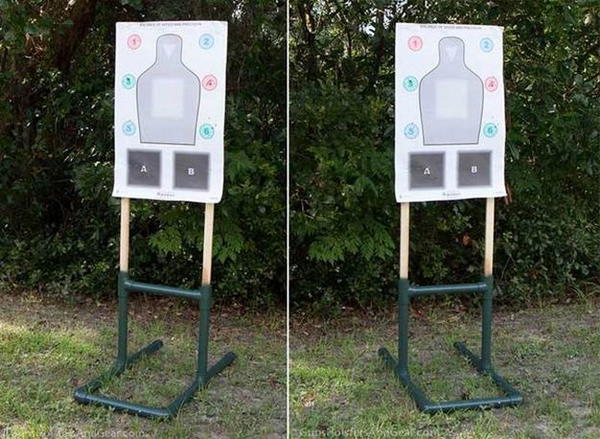 Following this amazing video tutorial, let's DIY a professional-style target stand for hunting or shooting practice. You can use it on the range or when you go hunting, as it allows you to practice your shots. It is made of a PVC pipe base; the upper portion will be DIY with a wooden frame and cardboard in between it, so it's lightweight and easy to carry along.
Skill level: Expert
3D Model DIY Target Stand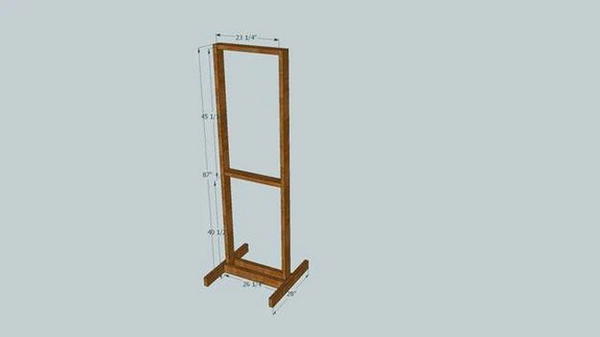 Make a 3D Model DIY Target Stand following this easier guide; it's great for beginners new to DIYing and trying to put their hands on easier projects. You can use the readily available wood to make this simple target stand and get help from the creator's dimension, given in the below link.
Skill level: Intermediate
Portable Target Stand For Shooting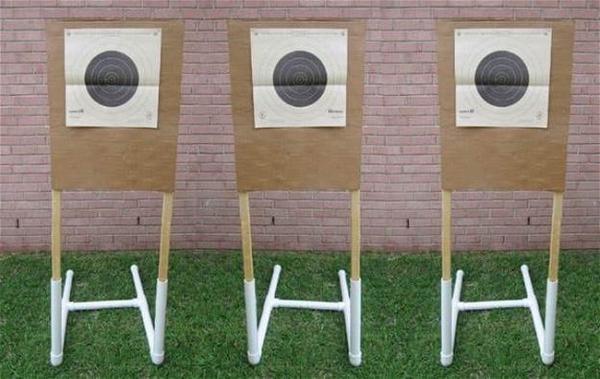 Making this portable target stand is quite easy, and you can take them with you to different locations and set it up with little or no energy spent. So what are you waiting for? Get the supplies in hand and start making fun-inspired shooting targets for your garden and trips outside the home following this easier guide.
Skill level: Expert
$6 Cardboard Target Stand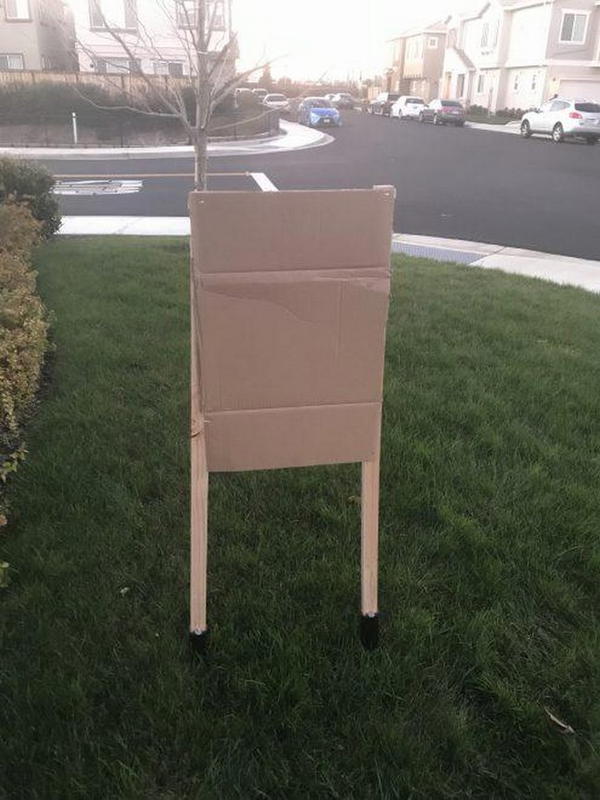 If you want to build a target stand instantly, then this is the tutorial for you. The cool thing is that it only costs $6; you just have to get the cardboard, two longer-sized wooden stripes, and sharper spikes to make a simple shooting target within minutes. Start by nailing spikes above the tips of your wooden stripes, then cover those spikes with a black plastic shell. Join the upper end of the stripes together to give the appearance of a framer and bang by adding cardboard on the top front. It will be as simple as reading this paragraph, and I hope you'll love it.
Skill level: Intermediate
DIY Nerf Gun Target Stand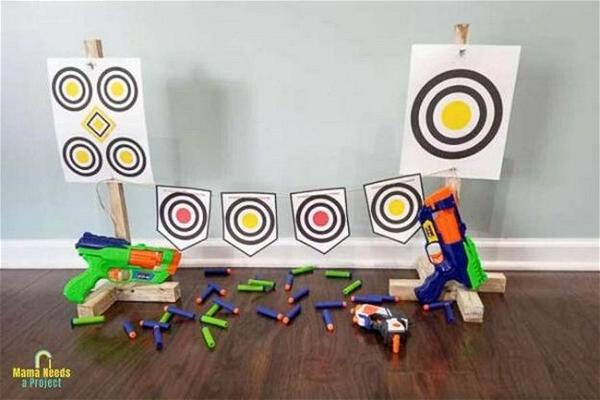 This amazing DIY Nerf gun target will let your kids have a lot of fun at home. It's easy to make your kids have a fun shooting experience following this stunning idea. You'll need some paper targets, scrap wood, and some glue or screws to make this easier and fun target stand.
Skill level: Intermediate
Clay Plinking Target Stand Idea
Make your clay plinking target stand for a fraction of the price following this tutorial. It will help you know how to make a fantastic DIY target stand to use for archery practice or simply as a decoration piece too. You can color this target stand differently to make it fit your decoration option and have fun.
Skill level: Expert
Fun DIY Target Stand
If you have a lot of free time and don't have enough money to buy a Target stand, this amazing tutorial will be the best option. It is a durable, cheap, and at the same time, proud creation for an archery gear set! You'll need some PVC pipes, cardboard, and other material to make this fun target stand, and put them in your car's trunk to keep along from trips.
Skill level: Intermediate
$5 Folding Target Stand
This simple DIY target stand is easy to assemble and will provide enough strength so that your target won't fall when hit by a bullet. If you're facing a spacing problem, this folding stand will surely be the best choice, so get the supplies in hand and start making this fun target spot with minimal effort.
Skill level: Expert
DIY Target Stand From PVC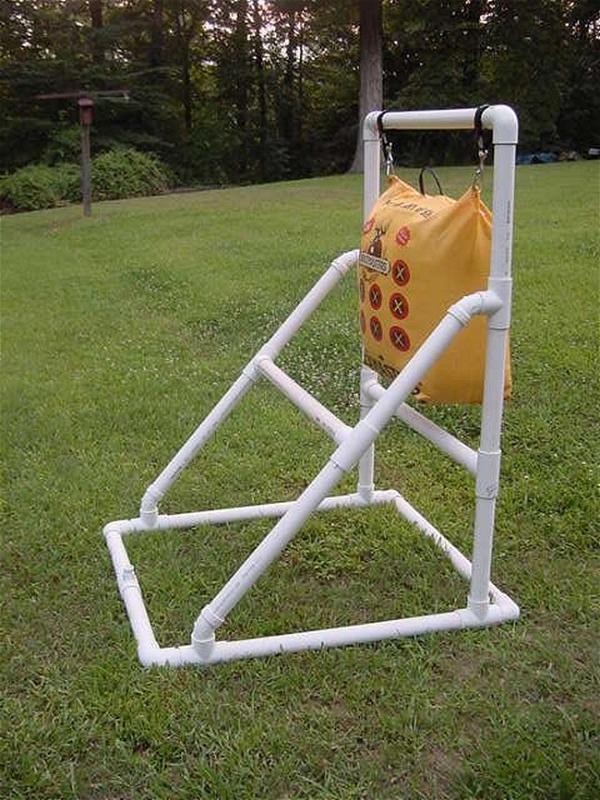 This DIY Target Stand is a great way to make your target more flexible and easy to move around. They're sturdily built using little energy to produce, so you'll spare the hassle of reassembling them every time you use them. This amazing target stand will be easy to move around, as all you have to do is unscrew the top section of each pipe and reattach it to another line.
Skill level: Intermediate
DIY Simple Target Stand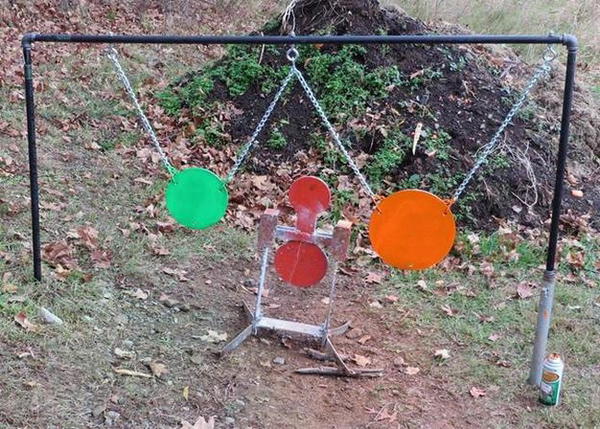 If you love shooting and want to improve your aim using a gun target stand, this amazing tutorial will be the best option for you to follow. It will help you shoot better, especially if your aim of shooting is to hunt because the creator has added different colored aims, so you're going to find this idea useful. Just get the supplies to follow the instructions and have fun masterpiece addition to your archery gadgets.
Skill level: Expert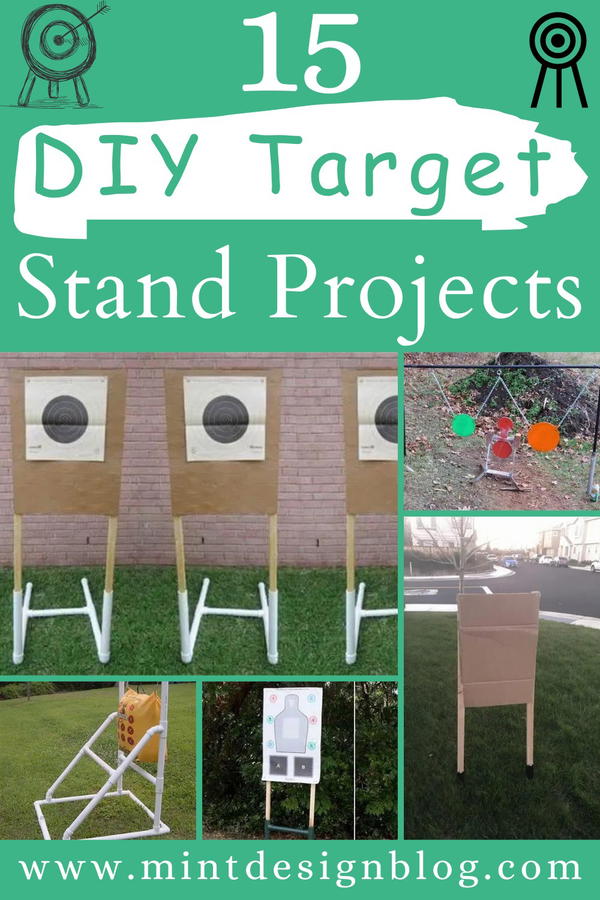 See Other Projects