There are quite a lot of fantastic kitchen table ideas out there. However, instead of buying a table, we recommend making one yourself. It's not hard to make your own table, which will help you save money. If you want to know how to build a kitchen table, this article is for you! We have compiled a list of DIY kitchen table ideas that you can use as inspiration when making your own dining room table. These ideas will help you develop great designs for your home or office.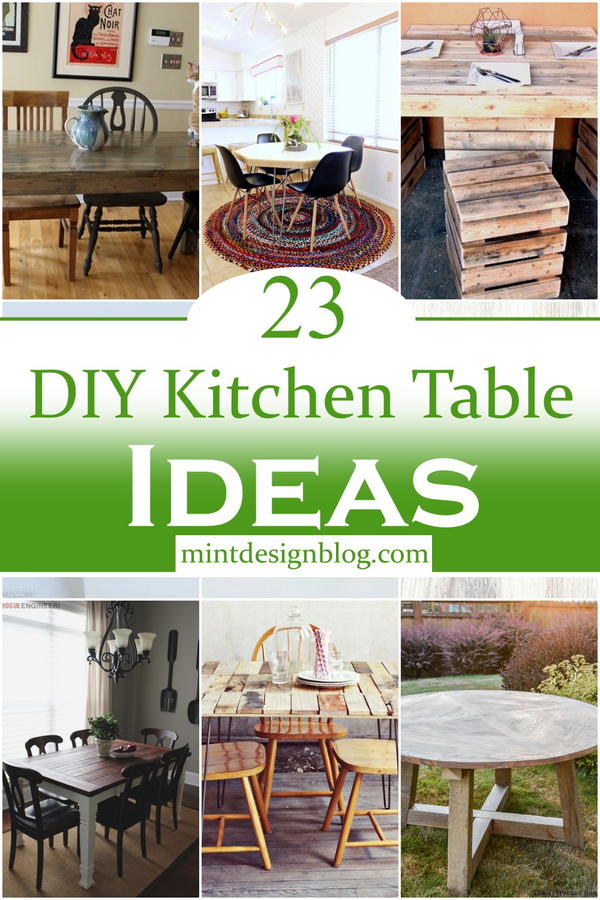 A kitchen is where people gather, cook, and eat; The kitchen table is the centerpiece of this space. The best kitchen tables are not only beautiful but also functional and sturdy. This article has collected more than 20 DIY Kitchen Table ideas you can create in your home. Some of the ideas require tools, while others do not require tools at all. You need to follow the steps carefully and get started with your project!
Look at these fantastic 23 DIY kitchen table ideas that can give a brand new look to your old kitchen table.
Wood Beam Round Table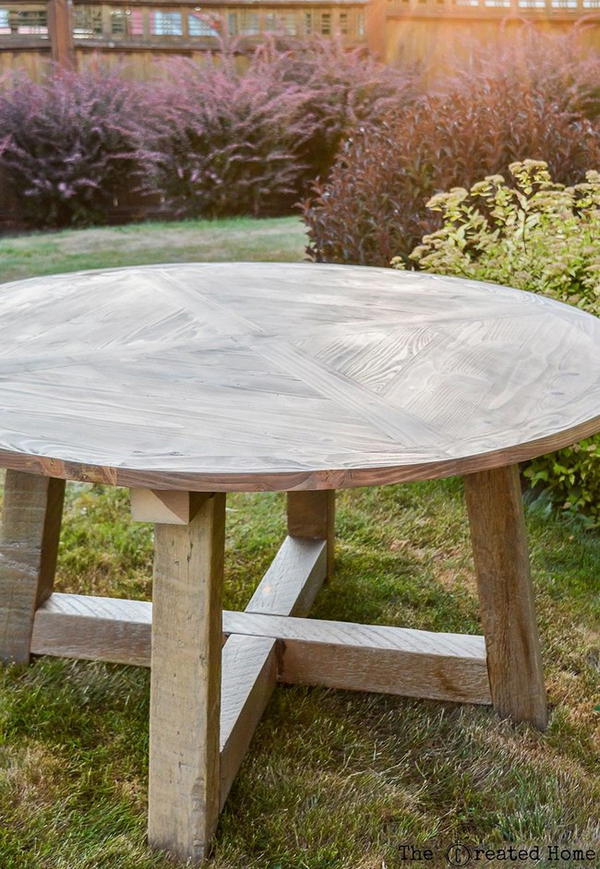 Your kitchen deserves a table that is of good quality and looks great. This table is made with reclaimed wood, so you can be sure it will look great in any kitchen and provide enough space to play cards or even eat together as a family. The size of this table is compact enough to fit in almost any kitchen, but it still has enough room for four chairs around it. This guide shows you the complete step-by-step instructions and follow-up steps.
Kitchen Table Made On A Budget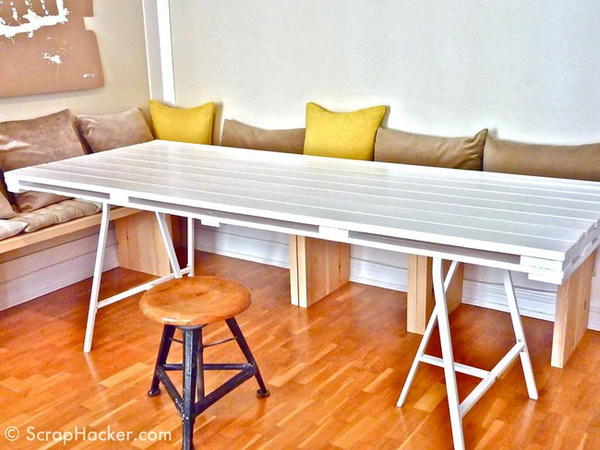 This table was made on a budget and can be made at home too. There's a lot of countertop space on the table; this means you have enough room for different food bowls. Give your kitchen a makeover with this DIY table. This easy-to-make table is just what you need to save space and organize your life. This DIY kitchen dining table costs you less than 40$ to make, which is affordable to your pocket.
DIY Scandinavian Dining table
Let your kitchen take on a touch of Scandinavian style with this DIY Scandinavian dining table. This DIY Scandinavian Dining Table is the ultimate dining table for all your needs. This table pairs great with any decor with a beautiful and sleek design. It's a practical piece built to last and is sure to please. This easy-to-build project features clean-lined legs, beautiful wood grain, and an airy look that will enhance the look of any kitchen.
Small Dining Table DIY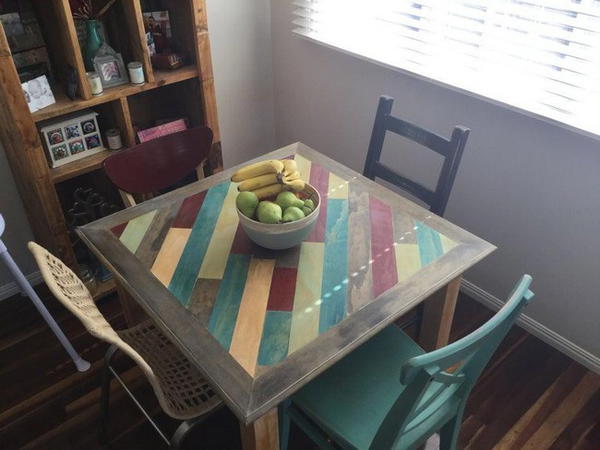 This is a small dining table that you can make at home and use for your kitchen or even for parties in your house. You can have a natural wood countertop or use any other countertop that suits you. The best part about this small dining table is that it can be used as a multipurpose piece. Place it in front of your kitchen island, and it will add to the decor of the area; plus, you'll get all the space you need to cook, eat and drink coffee in style. The DIY guide helps you quickly make this table design.
DIY Farmhouse Kitchen Table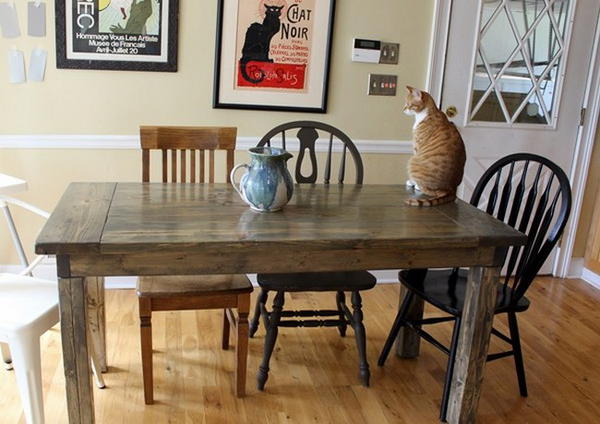 This DIY farmhouse kitchen table will make a great addition to your home. With this DIY Farmhouse Kitchen Table, you can turn your simple kitchen into something that looks like it's straight out of a design catalog. This table is made from reclaimed wood. It has an adjustable shelf, making it easy to store items near at hand. The great thing about this project is that it doesn't take up too much space, which is necessary for your tiny kitchen; its color will blend and match any decor to keep it for the years ahead. Use this guide to learn more!
DIY Kitchen Rollable Table
This DIY rollable kitchen table comes in handy when you want to move the kitchen table out of the way. It is not so easy to make, but if you know how to use wood tools, it will be a piece of cake. The best feature is that it has wheels to quickly move it around your kitchen when not in use. The kitchen rollable table could also be called a kitchen helper. This DIY project video will help you make one for yourself if you have time and patience.
DIY Kitchen Cooking Table
The kitchen is one of your home's essential parts, especially when you love cooking. But with limited space, you need to figure out where to put your table so you can have enough countertop space for preparing food. Making a DIY kitchen table is not a simple task, but you will be on your way to making one in no time with the right instructor. This kitchen table is made of cement and other materials that are easy to find around your place. This DIY Kitchen Table Building tutorial will show you how to make one for your home!
DIY Hexagon Table Transformation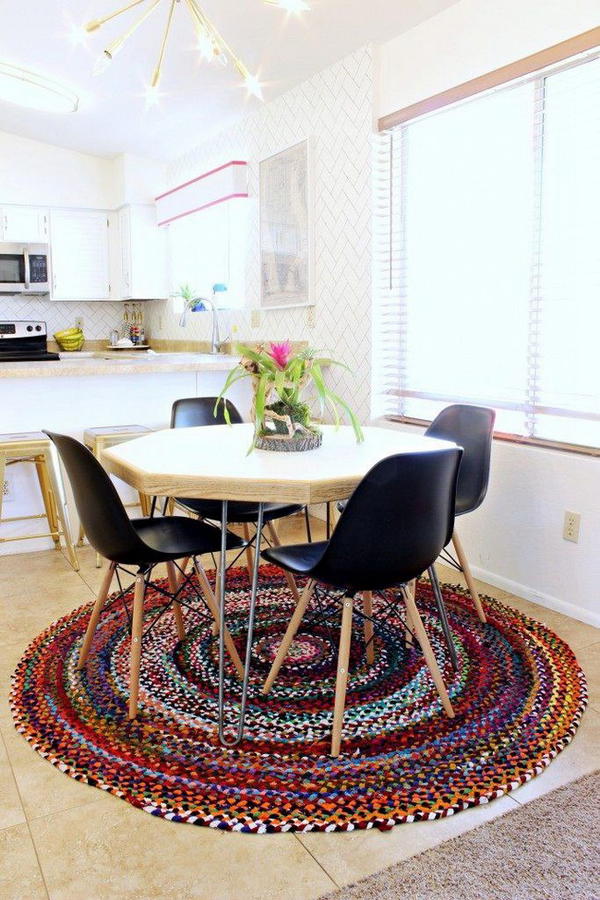 Are you tired of looking at your old kitchen table? Well, do not get rid of it just yet because we have a creative and inexpensive way for you to make that old table look brand-new! This DIY project will show you how to paint laminate furniture using only your local hardware store materials. You can do it yourself! Transform your existing table into a unique-looking hexagon kitchen table without the hassle or cost of purchasing a new one. In this DIY hexagon table transformation guide, you will learn the whole process.
DIY Pallet Kitchen Table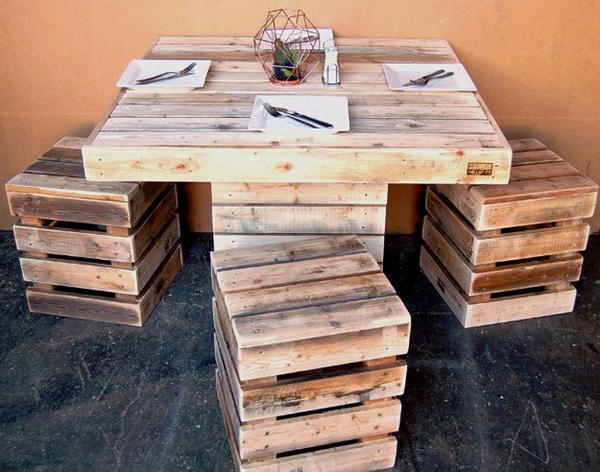 The DIY pallet kitchen table is a beautiful piece of furniture that can be used to serve food and beverages. The DIY pallet kitchen table can be made very quickly in your own home with the help of some essential tools, skills, and good-quality pallets. It looks simple yet unique, with enough space to hold your dining needs; The chairs can also be made by yourself and have a new style. This guide shows you the complete step-by-step instructions and follow-up steps.
Wood Pallet Table DIY

It doesn't have to be a vast space; you can use this pallet table to complement your kitchen. It looks amazing. The pallet countertop will add some character and personality to the room. This pallet wood table is super easy to make, and it seems like a piece of art with all those inscriptions. You can put it in your kitchen, living room, or garden and create the atmosphere you want. Use this guide to learn more!
DIY kitchen Dining Table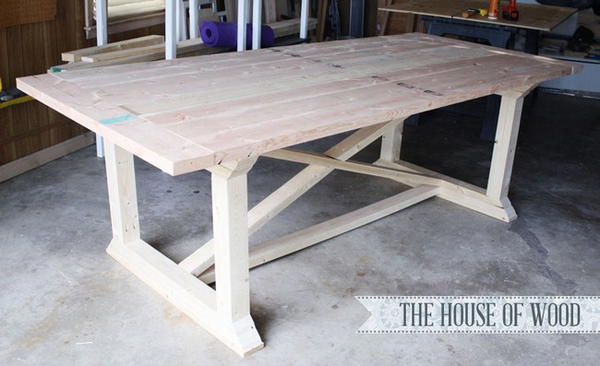 If you need a kitchen table that matches any decor and color, then this DIY kitchen table is perfect; The simple design will work in any room. Not everyone can afford to buy a custom kitchen table. But if you want something different and want to make it yourself, then this is the perfect project to do just that. We will show you all the materials you need, along with the detailed instructions in this guide on how to create this table that anyone can do.
Farmhouse Dining Table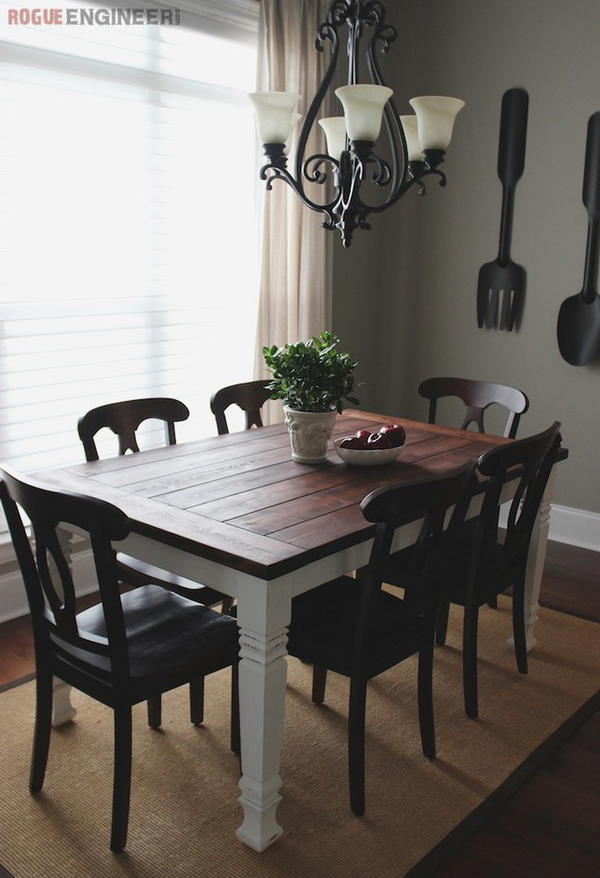 Are you looking for a nice, classic-looking dining table to add to your kitchen? This farmhouse-style table is the perfect addition. The wooden legs are very sturdy, and the countertop of the table is beautiful. This table will seat six and still give you room to comfortably serve your family and friends. The legs on this table were designed to mimic farmhouse designs; they are sturdy, strong and do not take up a lot of room. you can make your own by using this guide.
Low Budget Kitchen Table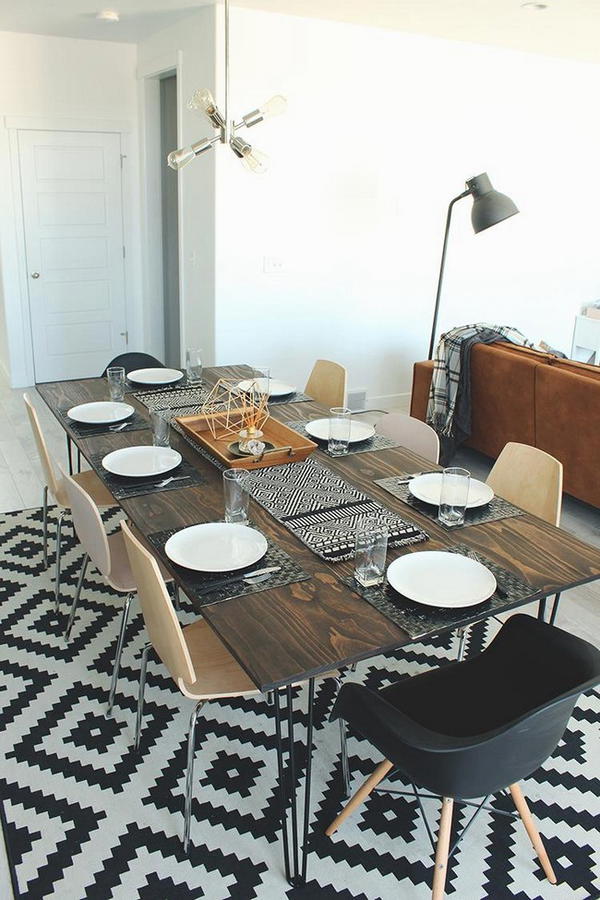 This DIY kitchen table is suitable for every home. It will give a unique look to your kitchen and can be used as a great addition to it. The best part about this project is that it won't cost you much. You can have this beautiful DIY kitchen table without spending a truckload of cash. With this guide, you can make your own cheap kitchen table in under a day.
Modern Farmhouse Table DIY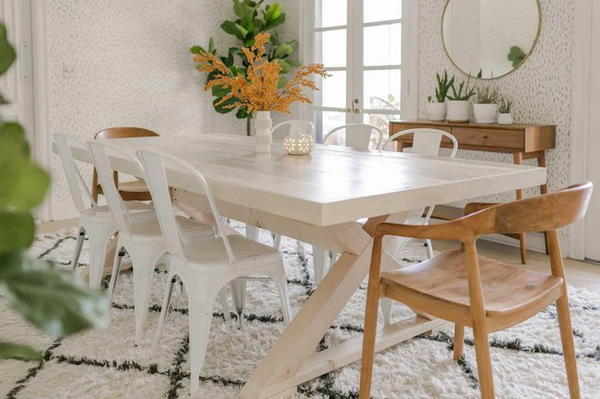 This DIY project will show you how to make this fantastic modern farmhouse table. The table is large enough to accommodate eight medium-sized table chairs. This kind of kitchen table is ideal if you have a large family and need to accommodate several people simultaneously. All you need is some essential tools, lumber, and a few materials from your local hardware store. By using this DIY guide, you'll be able to make your own beautiful table for your home!
DIY Kitchen Dining Table With Copper Legs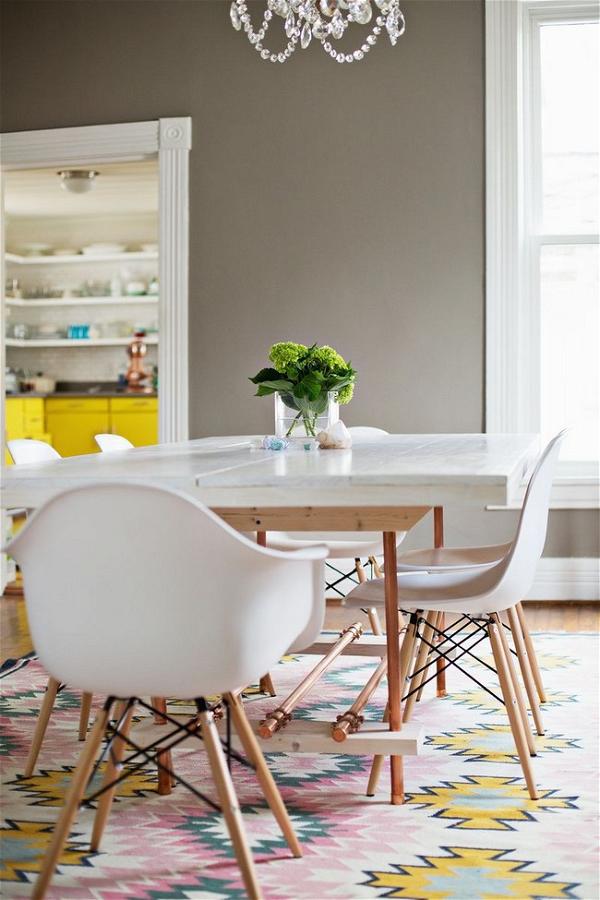 This DIY kitchen dining table is one that you will never forget; Its design is classy, and its legs are made of copper. To have this table in your home is one way of telling people that you're someone who doesn't settle for the usual things in life. If you are looking for something like this, this project is what you need. If you want to make one for your home, This guide shows you the complete step-by-step instructions and follow-up steps.
DIY Large Kitchen Table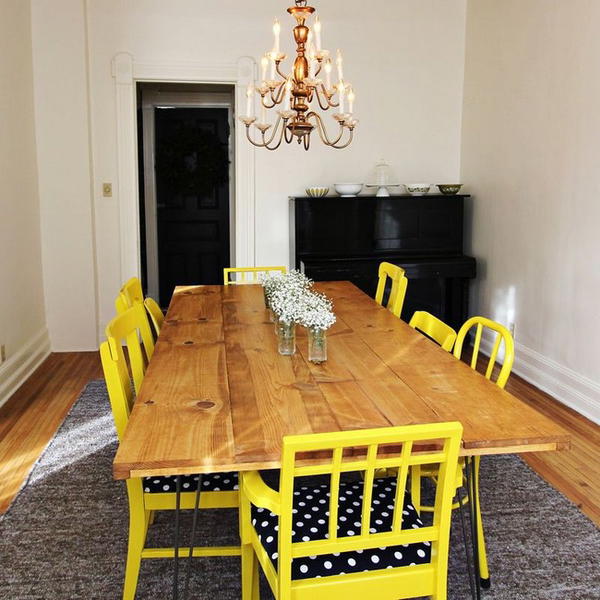 This DIY Large Kitchen Table is just what you need if your dining section is in your kitchen. You will be able to enjoy a lot of available space for you to use this table while enjoying meals and having conversations with your loved ones. This table has ample countertop space, providing enough space for everyone sitting on it. This dining set can accommodate up to eight people for family meals or entertaining guests. make one by yourself with the help of this guide.
DIY Concrete Kitchen Table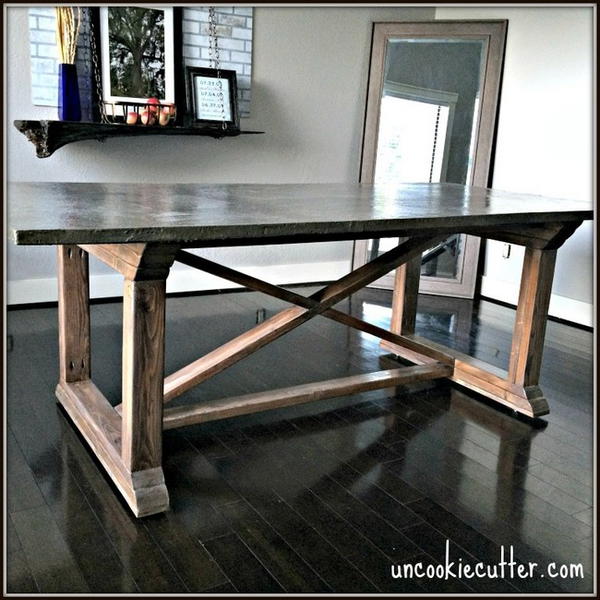 Looking for a modern, durable, affordable DIY concrete kitchen table that doesn't require too much space? Well, you've come to the right place! A concrete kitchen table can be an excellent piece of furniture for your kitchen. It is not only functional but also stylish, and it complements the design of your kitchen wall. You'll be surprised at how easy it is to make one. This how-to guide will walk you through your step-by-step how to make your own concrete kitchen table, so let's get started now!
Hardwood Floor Topped Kitchen Table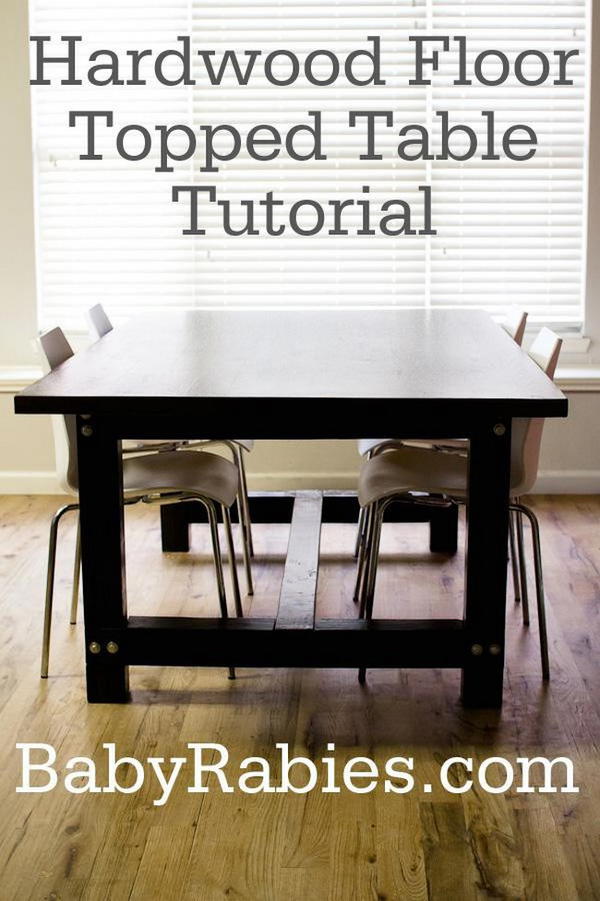 This is perfect if you are looking for a DIY project to build a kitchen table. The top of this table composes of hardwood, which means it will be very durable. The countertop on it is also lovely, so you can even use it as an eating counter! This easy-to-make DIY project could be perfect for a beginner or someone with little room in their house who needs a small table to fit into an area that would otherwise be wasted.
DIY Honeycomb Table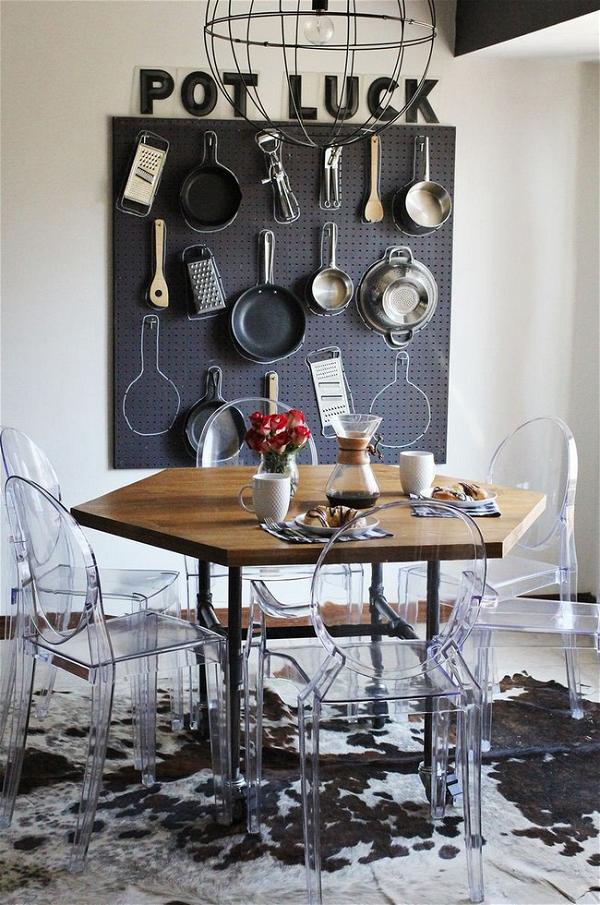 The honeycomb table is for everyone who loves having a new table in your kitchen. The table composes of industrial pipe legs and can assemble by anyone with the necessary tools. All of this to help you make the honeycomb table yourself. It's like looking at a flower from above, as the hexagonal shape brings a unique look to your home decor.go through this guide to make your own, and Give your next dinner party a contemporary design upgrade with this hexagonal table.
See More: 15 DIY Dining Chair Plans You Can Build Easily
Large Pallet Kitchen Table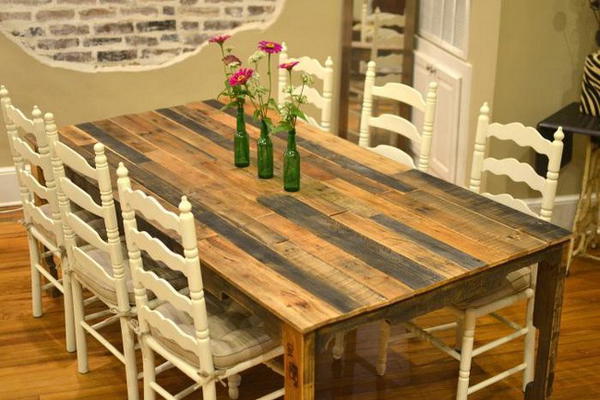 Get your friends, family, and loved ones for a delicious meal. This kitchen table is ideal for sitting around and sharing a feast. This is a lovely big, six-seater kitchen table made from pallets. Perfect for those with a large family or just need extra table space for guests. It's also ideal if you often have guests to stay overnight. This guide shows you the complete step-by-step instructions and follow-up steps.
DIY Plumbing Pipe Table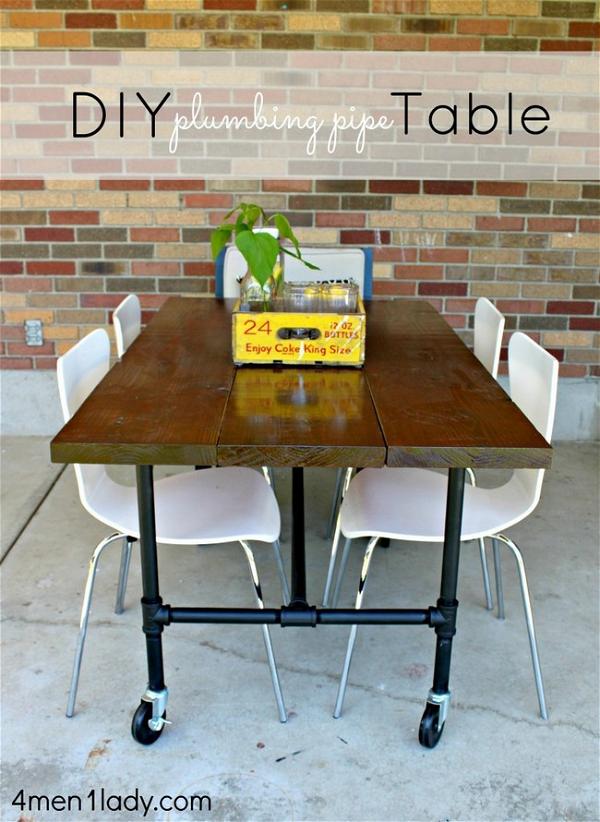 Are you ready to change the look of your kitchen? Then, why not make a DIY Plumbing Pipe Table? You can quickly build one with plumbing pipes, wood, screws, and other materials. This table will be an excellent fit for your kitchen needs as it has wheels and can easily move around your home. This one is pretty easy to make, so it shouldn't take too much time if you have some wood and other supplies. Plus, once complete, you will have an excellent-looking kitchen table you can move around your house wherever you please.
DIY Metal Conduit Kitchen Table With Glass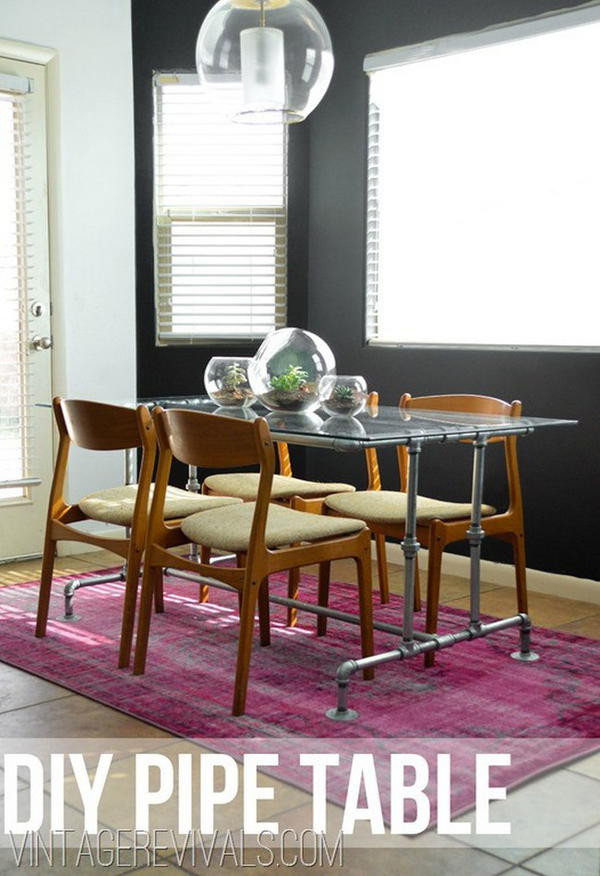 This DIY metal conduit kitchen table with glass is a perfect option for a small apartment or house that doubles as a dining and kitchen area. Not only is it unique, but it's easy to clean and as sturdy as most wooden furniture. You will need some skills with machinery to make it – but we will show you how; this guide shows you the complete step-by-step instructions and follow-up steps.
Beautiful Glass Table DIY
A glass table is the best way to maximize your living area with space and light. And this project will teach you how to make a glass table DIY to fit your dining needs. This glass table has a cool, high-tech look. The beauty of this design is that it will save you space, money, and time. Make your own glass dining table and enjoy it with your family. by watching this video, You'll learn how to make it in simple steps that take just a few hours or up to two days, depending on the materials used.
See Other Projects