The dining room is the gathering spot for family, friends, and guests. That's why having the right furniture in your dining room is important. Some furniture you can buy from a store, but sometimes you want to make your own. In this article, we will give you 15 DIY dining chair plans that are easy to follow and inexpensive as well. Dining chairs are usually made of wood, so you must work with wood a lot. Woodworking takes patience and practice, so be sure you understand how wood works if this is your first time building furniture.
DIY Dining Chair Plans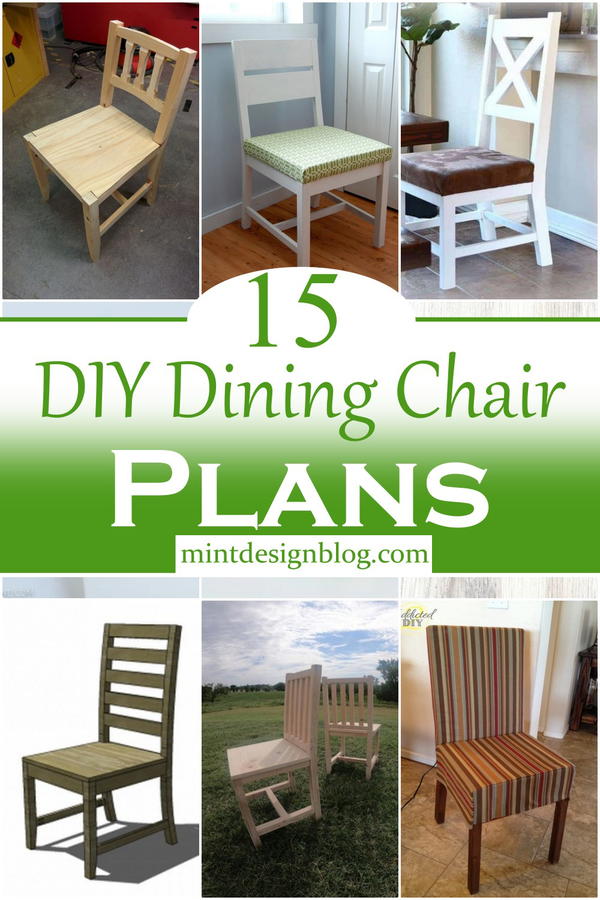 The dining chair is an essential piece of furniture in any home. When properly cared for, they can last a lifetime. When neglected, they are prone to damage and will eventually need to be replaced. Various woodworking plans can help you build brand-new dining chairs if you are in need of some replacements or if you want to create a matching set of dining room furniture. The variety of designs available allows you to create a custom look that perfectly matches your decorating style. Below you'll find 15 DIY dining chair plans that are all very easy to follow. Find the perfect one for your next project!
DIY Pallet Dining Chair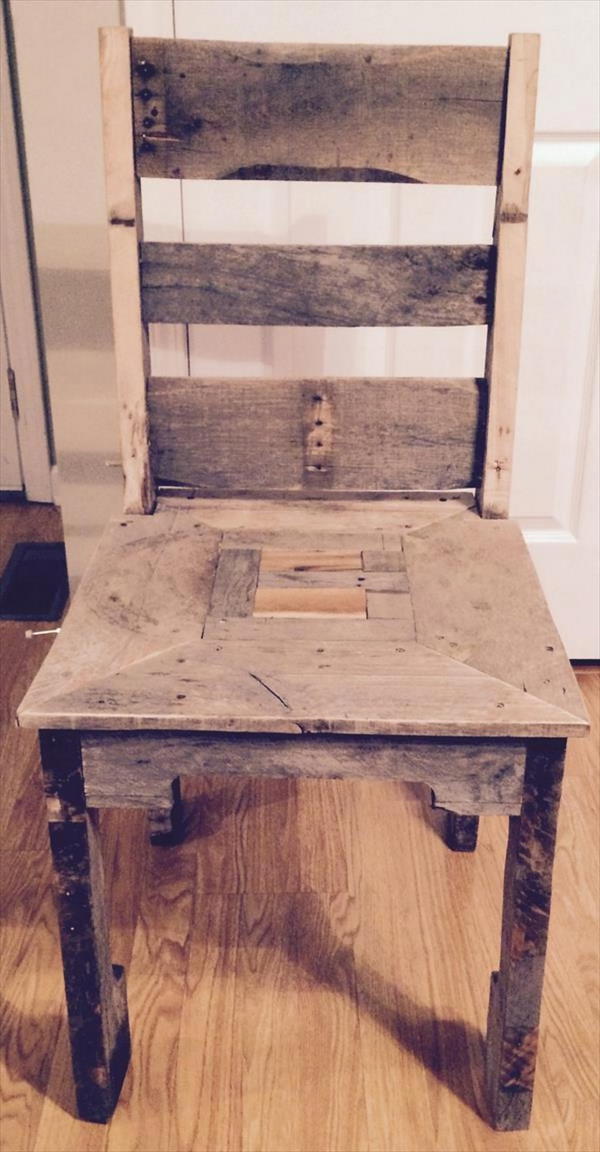 Pallets are a cheap and popular way for furniture to be made. Pallet Dining Chairs is a project that creates simple yet sturdy chairs that hold up well and can easily be matched with pallet stuff such as sofas, tables and cabinets. These DIY pallet dining chairs are the perfect way to put an artistic twist on your dining room decor without breaking the bank. Whether you're dealing with a blank wall or just want to add some extra seating, these unique dining chairs are a simple solution. They're super easy and inexpensive to make, and best of all, they allow you to channel your inner artist.
Skill Level: Advanced
Materials: Lumber, wood glue
Tools Needed: Router, table saw, sander
How to Build the Easiest Dining Room Chair Ever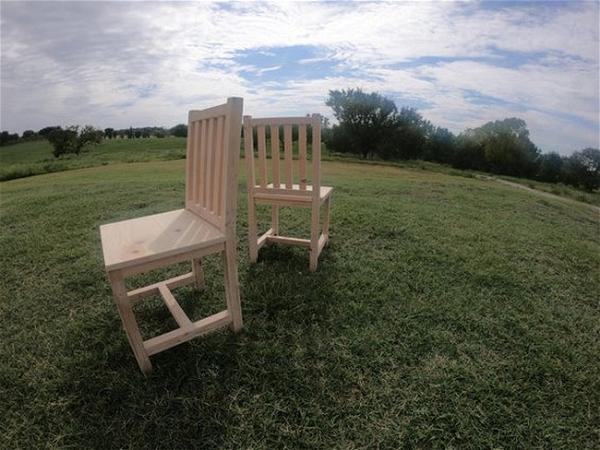 If you love the idea of a farmhouse-style table, but don't want to deal with all of the fuss that comes with it, then this DIY project is for you! You'll need a few wood planks, some screws and nails, and a drill. It will take less than an hour to complete. And best of all, you can customize it with different planks as much as you want. Your ordinary dining room chair just got a lot more exciting. Attach legs to the chair frames with basic tools, then add simple wooden caps for stylish, sturdy shoes. You can easily change the style of your dining room from rustic to casual or chic with a few hacks and design ideas.
Skill Level: Advanced
Materials: Lumber, wood glue
Tools Needed: Router, table saw, sander
Kitchen Chair Plan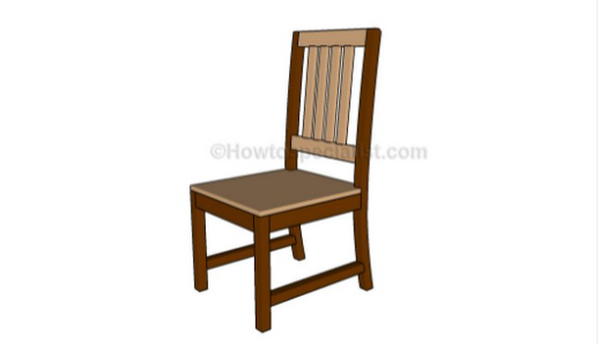 Are you looking to build some new kitchen chairs but don't know where to start? This woodworking plan contains detailed instructions on building dining chairs, including a shopping list and material cuts list. It is one of the few "easy" dining chair plans on this list, and the finished chairs will have you sitting pretty! This easy chair plan for the kitchen is a great project for the beginner woodworker. The chair is compact, lightweight, and has a no-frills design, making it easy to clean. The individual slats provide excellent back support yet are thin enough to minimize gaps so that you won't catch your clothing on them as you sit down.
Skill Level: Easy
Materials: Boards, screws
Tools Needed: Saw, screwdriver
Dining Chair Plan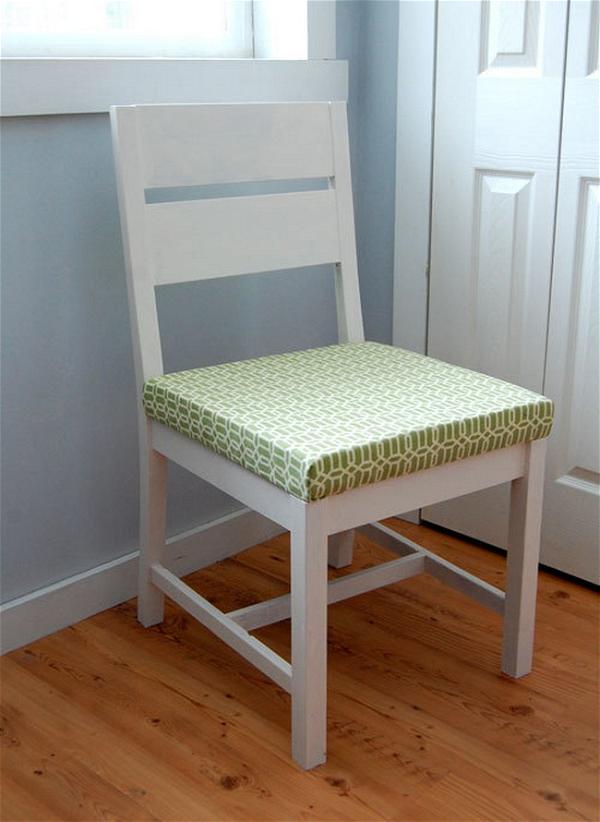 Looking for a project that you can do by yourself? Then this Dining Chair Plan is for you. The Dining Chair Plan is the perfect project for getting started in the world of woodworking! With accurate step-by-step instructions and professionally drawn illustrations, you will be able to build this side chair from scratch. It is lightweight, portable, and durable due to its solid wood construction. The elegance of a hand-crafted wooden chair gives any table a rustic and finished look. You'll be surprised at how comfortable this lightweight, portable and durable dining chair is. Someone with simple woodworking skills can build this chair on a weekend.
Skill Level: Easy
Materials: Lumber, foam, screws, staples
Tools Needed: Jigsaw, drill, sander
Francine Dining Chair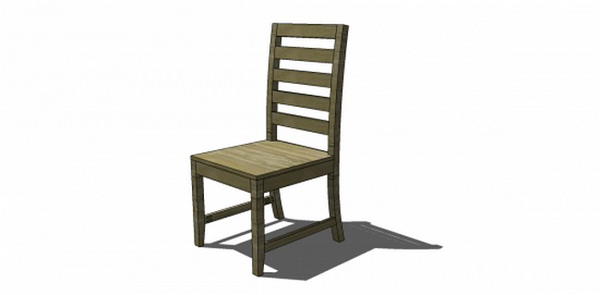 If you are looking for your first DIY project or want to make some new rocking chairs for around the house, please try Francine. This chair is great for a beginner because of its angle-only design, and for a seasoned builder looking for a furniture project. The Francine is a simple and elegant design that makes it perfect for your dining room or kitchen. Its solid beech frame has the feel of old-fashioned furniture, while the soft beech structure ensures a comfortable seat in the dining room and around the lounge with friends and family.
Skill Level: Moderate
Materials: Boards, screws, stain
Tools Needed: Saw, screwdriver, sander
Farmhouse Chair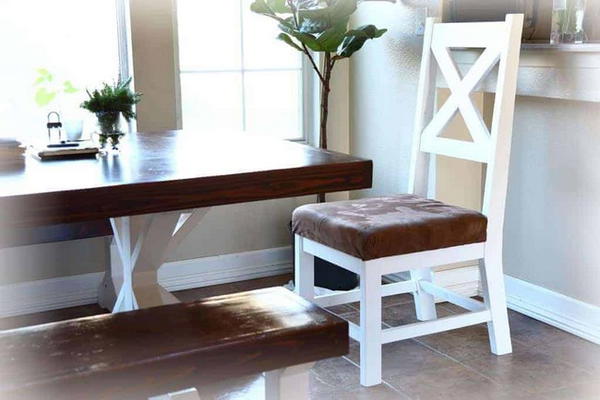 If you love the farmhouse look, this DIY Farmhouse Chair is perfect. This chair is great for any room in your home or office. it has an elegant style and is extremely durable. You can make this chair without any special tools or vacuum-forming equipment. Everything hinges on hand tools you probably already have around your garage! Whether you're looking to give a chic addition to your living room or dining room, or just something to get your feet off the ground and help you relax, this chair is perfect.
Skill Level: Moderate
Materials: Foam, lumber, wood glue
Tools Needed: Drill, jigsaw, nail gun
Upholstered Dining Chairs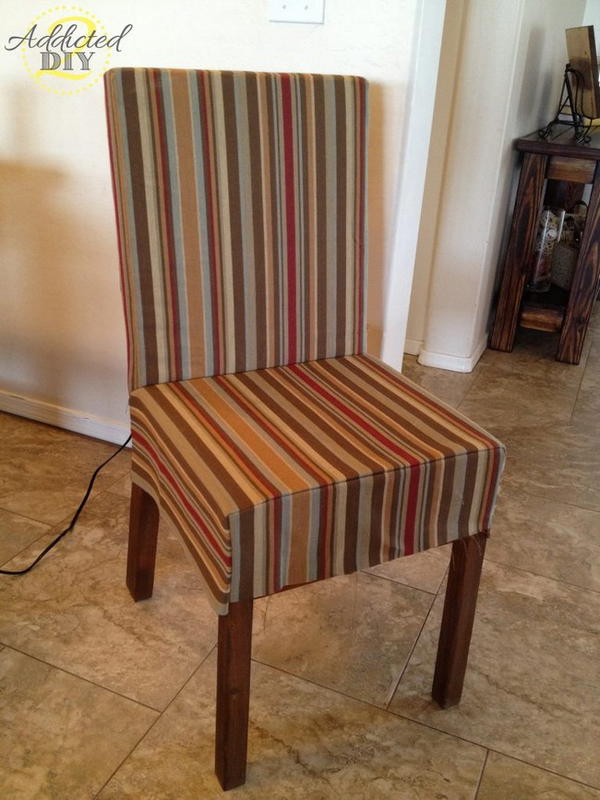 The DIY Upholstered Dining Chair Set makes it easy to get stylish and comfortable dining chairs for your dining room at a fraction of the price you'd find at furniture stores. With a cozy feathered cushion that slips right over the chair backs and seat, you will have the perfect home for any meal! Learning how to build your own custom upholstered dining chairs is easier than you might think! This Dining Chair tutorial shows you step-by-step photos and pattern schematics to make creating the perfect seat for your dining room table easy.
Skill Level: Moderate
Materials: Boards, screws, foam
Tools Needed: Clamps, drill, stapler
Build A Dining Chair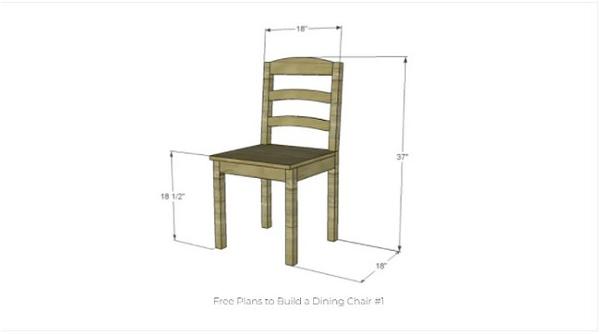 The Chair takes the mainframe of a full-size picnic table and reduces it to a smaller scale. Perfect for an unfinished room or a dining area, this Build-A-Dining-Chair kit comes in your choice of ten different kinds of wood. This moderately challenging project requires some basic woodworking skills, and the use of a jigsaw (or another fine-toothed hack saw) is required to make the many angled cuts. Once you've made the many cuts and turns, the rest is simple assembly. You get an armchair that is great for a more intimate setting but can also be used as dining furniture. You can build this chair on the weekend, and it has all the nice touches of a more expensive chair, like the boxy seat, scooped arms, and of course, a padded seat.
Skill Level: Moderate
Materials: Plywood, screws
Tools Needed: Saw, screwdriver
Wingback Dining Chair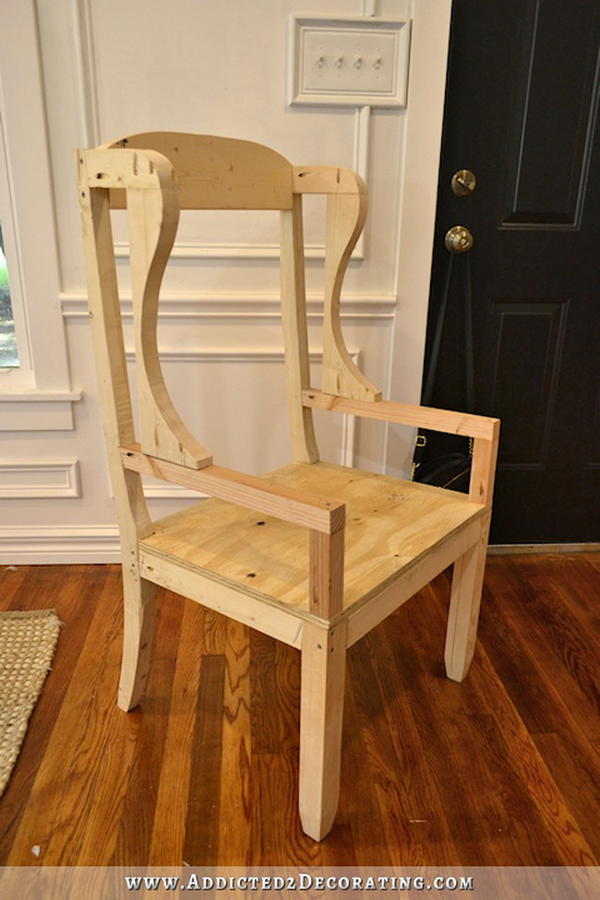 Easy to build, these over-the-wing dining room chairs are a stunning design conversation piece and conversation starter. They are inexpensive, solid wood, and do not require unusual tools or miters in order to complete the project. It is moderately difficult because of all the curves but you can eliminate most of them if necessary. The structure is entirely supported by screws into the legs and no glue is required. These chairs double as a great introduction to cutting angles and curves. This comfortable, chic dining chair plan is perfect for any interior design enthusiast's plans library or one handy person's weekend project. This moderately difficult plan has clean lines and features a wingback style that is sure to add flair to your home.
Skill Level: Moderate
Materials: Lumber, screws
Tools Needed: Saw, drill, screwdriver
Build an Elegant Dining Chair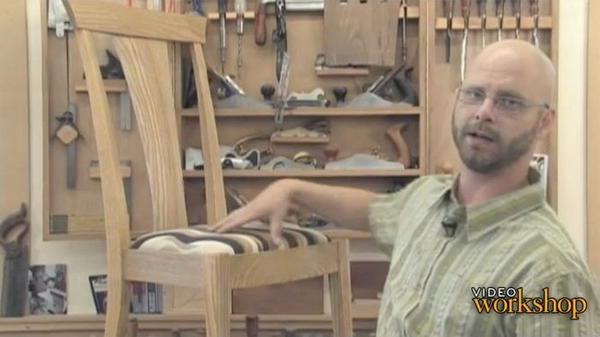 Find out how to build the perfect dining chair with this furniture-building project. This dining chair is sure to be the talk of the city. It has a rustic and timeless design, and its construction makes it exceptionally easy for anyone to make. The chairs build quite quickly, taking on average, just two hours to complete. You'll learn useful skills like cutting dovetails, carving ball-and-claw feet, and adding acanthus leaf details. To complete this iconic project, you'll need a table saw, router, jigs, and sanding tools. So invest in the finest tools you can afford and ensure they are sharp. As you build this chair, strive for excellence in everything you do. The end result will be an elegant dining chair that will set the stage for fine eating and hassling your kids about their homework for years to come.
Skill Level: Advanced
Materials: Lumber, foam, screws, fabric, wood glue
Tools Needed: Table saw, router, drill, clamps
Engineered Woodworking and DIY
If you love the feel of authenticity, but want something a little more comfortable than a back-breaking log or rock to sit on while eating your steak and salmon outdoors, then this Engineered Woodworking and DIY chair plan are exactly what you need! Beginners will be guided through the whole process, including cutting the pieces out of plywood, dealing with bolts and screws, maximizing the use of pocket holes, using a router for the curved back rail, and much more. Use it as an advanced woodworking project, or decide how many you'd like to build your friends and family. Either way, you'll enjoy the result!
Skill Level: Advanced
Materials: Lumber, wood glue, stain
Tools Needed: Table saw, router, clamps
The Wood Whisperer
Tired of that old kitchen table? Take matters into your own hands with The Wood Whisperer Dining Chair Plan. Get a comfortable, custom-built dining chair for the cost of materials. This chair requires several advanced tools but will yield an incredibly strong, sturdy, and attractive final product that should last for years. As you build yours, hold off on sanding the pieces until after you glue them together. This lets you see how everything fits together before committing to the shape. The most exciting part of building furniture is finishing it; I highly recommend following our simple three-step finishing process to give your chair incredible depth and richness.
Skill Level: Advanced
Materials: Lumber, foam, wood glue, screws
Tools Needed: Drill, table saw, jigsaw, clamps
Canadian Woodworking
The Canadian Woodworking plans have been formed to give you the greatest insight into the mind of an artistic genius. Bring elegance and beauty to your dining room with this chair plan that features a gracefully arched back and a padded seat. With the help of our detailed instructions and illustrations, you'll be able to build this beautiful chair using some advanced cutting techniques. The arms and legs are splined together through mortise-and-tenon joints. Instructions are also included on how to turn the parts on a lathe. This project is difficult and perfect for intermediate woodworkers who want a challenge.
Skill Level: Advanced
Materials: Lumber, wood glue, foam, fabric, staples
Tools Needed: Saw, router, staple gun
Dining Chair From a 2x4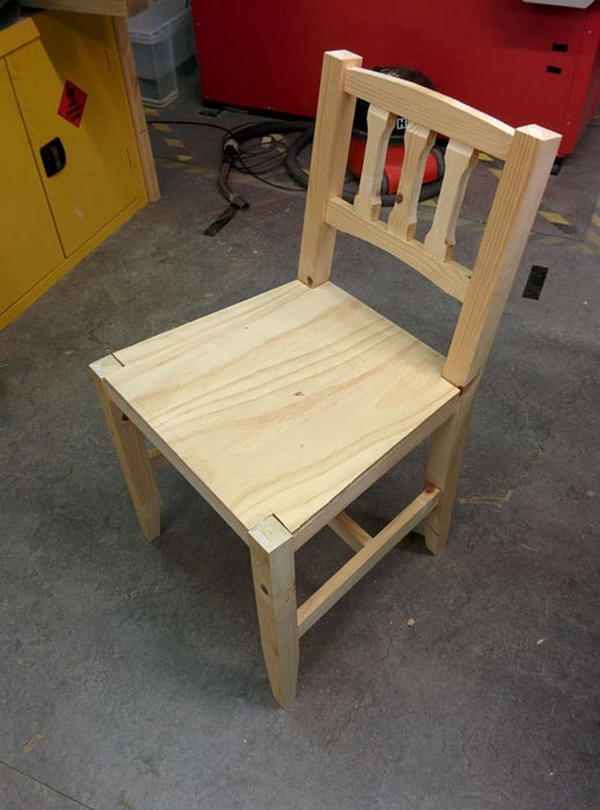 The Dining Chair is an advanced plan that requires sophisticated tools. A dado stack is highly recommended, as is more than one saw blade suited to your saw's maximum cutting capacity. With the right tools and some precision work, you will have a classic-looking dining chair that can seat. This classic-looking dining chair with a mid-century modern appeal. Use materials that are available at home or you can make the chair entirely out of reclaimed wood. The basic construction method shown here can also be adapted to a range of other furniture, so you don't need just one plan!
Skill Level: Advanced
Materials: Lumber, wood glue
Tools Needed: Router, table saw, sander
Elegant Pallet Wood Dining Chairs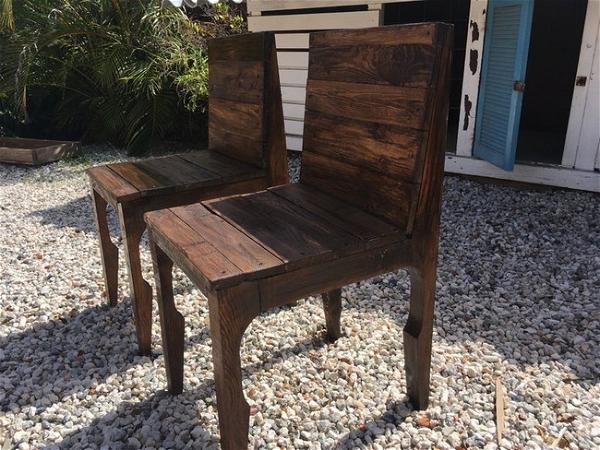 The simple, natural beauty of handcrafted wooden dining chairs. Guaranteed for a lifetime! Made from real pallet wood, these dining chairs are the perfect addition to your dining table. Construct the chairs to be extremely durable so that they can be used for all types of outdoor festivities. The unique design and rustic appeal give these chairs a unique look that will surely stand out in any home or restaurant space. This Solid Wood Pallet Dining Chair has a rustic charm that looks great in both a dining room or kitchen with its authentic look and feels. The wood can be stained to match any home decor! The new legs are made out of reclaimed cedar logs. They are finished with a whitewash that brings out the details in the wood and creates a rustic contrast to the dark tone of the raw pallet wood.
Skill Level: Advanced
Materials: Lumber, wood glue
Tools Needed: Router, table saw, sander
Stylish Dining Chair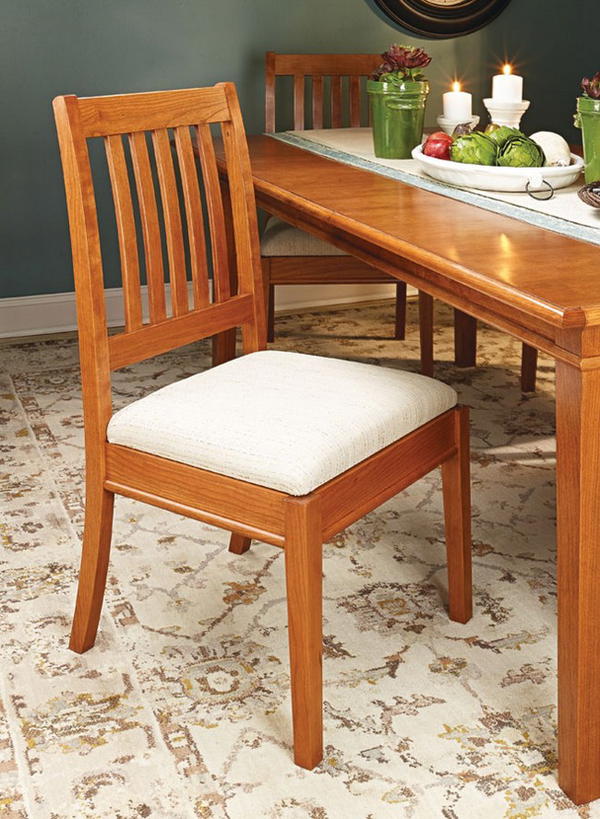 Glittering, glitzy, and glamorous, the Crown Dining Chair will add instant glamour to any room. The stunning black and gold glitter finish is complimented by an elegant and classic button-back design. Meet the chair that will turn heads at every gathering. This stylish dining chair is one of the newest additions to our extensive range of furniture. It is made using only the highest quality materials available and is sure to last for many years to come. A classic wingback design's cool and bold lines add the perfect accent to any dining room or modern living space. This polyester upholstered dining armchair with a sturdy hardwood frame has a lower back cushion to provide comfort and class.
Skill Level: Advanced
Materials: Lumber, wood glue
Tools Needed: Router, table saw, sander