If you're in charge of the next beer pong game or want to be this summer, check out these easy DIY beer pong table plans! These simple plans will help get you a great-looking party table that can be used for years, again and again. Did you know that there are official rules for beer pong? With a few simple supplies you might already have in your workshop ​and a little DIY spirit, you can build your very own beer pong table for the next party.
DIY Beer Pong Tables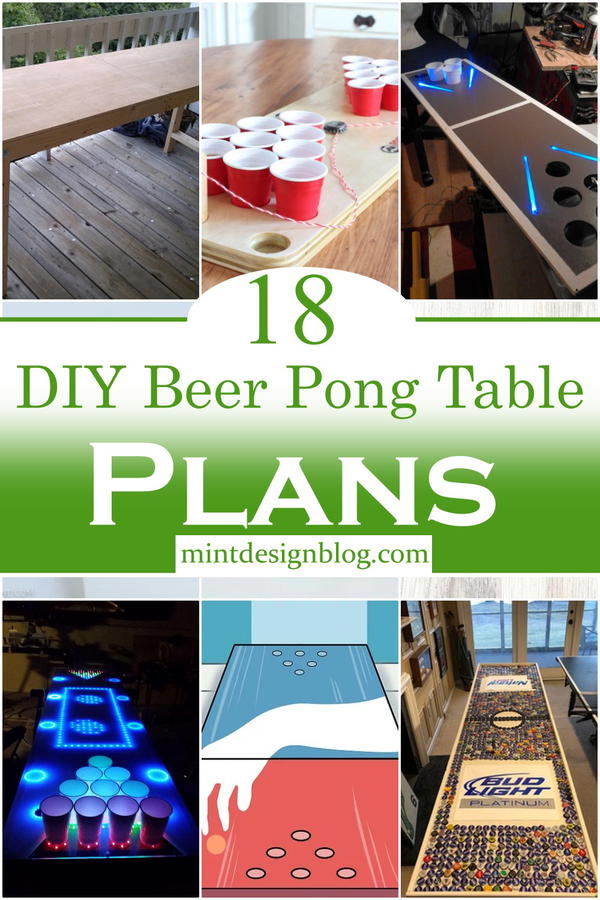 If you love to play beer pong and don't want to spend hundreds of dollars on an official beer pong table, why not build your own? There are a lot of different ways to make your very own DIY beer pong table. But which one is the best? We've gathered up some of the best ones for you to choose from. So whether you're looking for something simple or more complex, we have you covered. And don't forget to customize it to make it perfect for your next party!
Other Plans
Interactive LED Beer Pong Table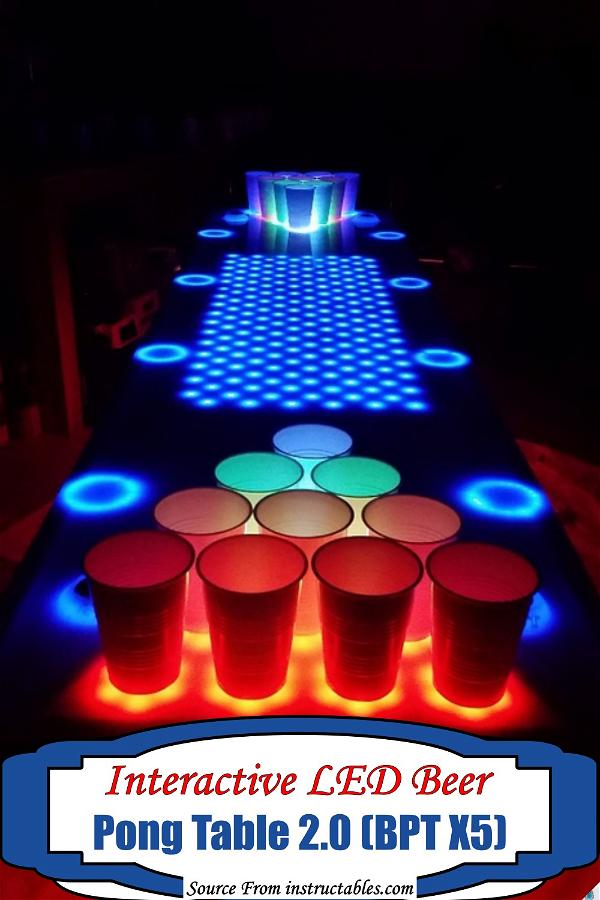 If you love beer and you love pong, then you'll absolutely love this LED Beer Pong Table DIY project. It's sleek, interactive, and fun to use. This project is also a great way to get family and friends together while playing a favorite game. If you're looking for more ways to geek out your home bar with LEDs, then be sure to check out our overview of the best beer pong tables.
This Instructable will show you how to make an Interactive LED Beer Pong Table with a light and speaker system. The Auther will tell you all the "Do's" and "Don'ts" of making this thing so that you don't end up with a big expensive mess.
Custom Beer Pong Table
This video is about how to build your own beer pong table. This shows you everything you need to know from supplies, building the frame, painting it, putting in the top and playing some matches on it. The process of creating a beer pong table is relatively simple. However, it is not something to be taken lightly and requires strong attention to detail. First off, This began by sketching out the dimensions on a piece of cardboard–we wanted to make sure how large we would want our table to be.
How To Make The Perfect Beer Pong Table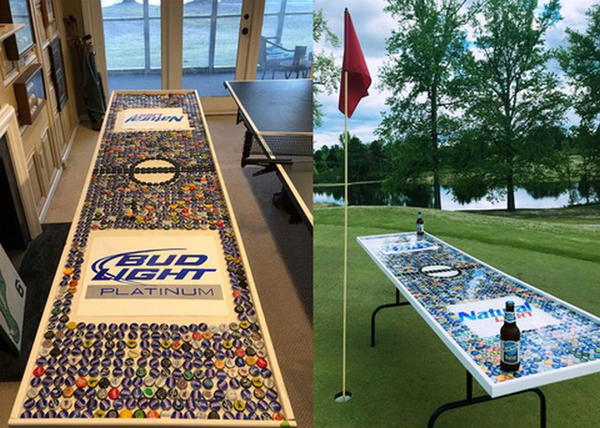 Bored with throwing back beer on your usual bar table? Treat yourself and your friends to a slightly more elevated beer-drinking experience! Follow this step-by-step DIY tutorial to make your very own wooden beer pong table based on the classic setup. With easy instructions, comical illustrations, and simple design, you can have one for yourself in no time!
Check out this DIY tutorial on how to build the perfect beer pong table for your tailgate or backyard parties! It's a great idea if you are looking for a unique version of this much-loved game. Learn all about the supplies, tools, and steps as you plan to make a one-of-a-kind beer pong table for your next college party.
Father's Day Edition Beer Pong  Table
Have you been looking for a new way to show your father how much you really love him? If not, it is about time that you try. Gift the man of your life, dad a custom Beer pong table and make this upcoming father's day a memorable one. As long as it suits your budget, you will be able to craft your perfect gift out of wood and other items that are available in almost every hardware store.
This DIY beer pong table is an ultimate gift for the dad who loves both playing and watching beer pong. Featuring sturdy construction, this project requires only basic tools, a screwdriver and a drill. Have some fun with your dad over a few beers!
Beer Pong Table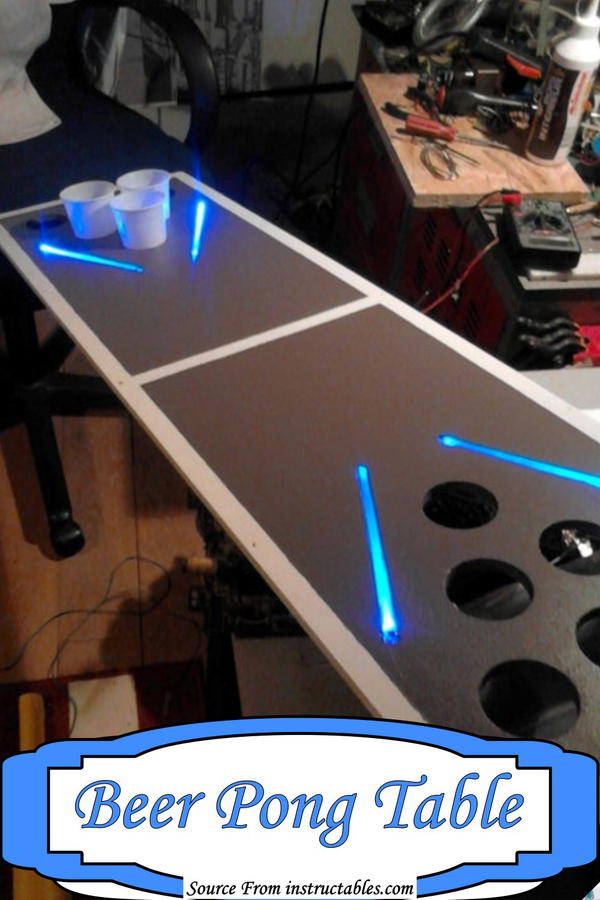 Put down the ping pong paddles and step away from the table. Regarding beer pong, this table is where it's at. With an innovative built-in LED system, the Beer Pong Table lights up when you're on a roll, while glow-in-the-dark balls keep things interesting even in dimmer light. It also features sturdy construction to ensure your next party will be a hit.
Your beer pong dreams have finally been realized. The Upside Down Beer Pong Table is here to take drinking games to the next level. This inflatable table set off a flurry of down balls and up balls, drawing cheers from onlookers.
Beer Pong Table With Bottlecaps
If you love to enjoy your favorite beverage in the company of friends, you will certainly be getting cozy at home playing beer pong with them. If that floats your boat, creating your own beer pong table from scratch is the first thing to do. This DIY post has all that you need to make one from scratch: materials needed, detailed instructions on how to create the tabletop, and the proper measurements for creating one that includes both dedicated and side storage space. This tutorial also has a list of tools that you need to have on hand as well as materials that are available in
How To Make A Beer Pong Table
You would be surprised how much money you can save by building your own beer pong table! It just takes a little bit of creativity and effort. This tutorial will show you how to build your own beer pong table, step-by-step. There's no need to be intimidated by a difficult project.
Mater the instructions above and you got yourself an amazing beer pong table. Now it's time to let your creative juices flow and design your very own ping pong table. The possibilities are endless, so have fun with it!
Beer Pong Table With LED
You can choose a simple, classy, and fancy beer pong table instead of hitting the bars and clubs these nights. You don't need a lot of money to enjoy beer pong with your friends especially if you make it in a DIY way. If you want to be the king or queen of your neighborhood in your beer pon gang then make this DIY beer pong table now!
Check out this awesome beer pong table you can make in just a few days. The DIY instructions are clear and simple, plus you can use any design or pattern for the epoxy coat – it's up to you!
DIY TikTok Inspired Beer Pong Table
In the spirit of DIY, influencers are taking the TikTok app beyond lip-syncing videos and making their own products to share with followers. Now, more than ever, consumers are looking for ways to personalize their life experiences and connect with brands in new ways. If you love to drink beer, then you surely know what beer pong is. A game involving plastic cups and a table that's 18 inches wide by 10 inches long makes it easy to carry around. Influencers have created an easy tutorial on creating custom beer cups from a ping pong table!
How To Make A Beer Pong Table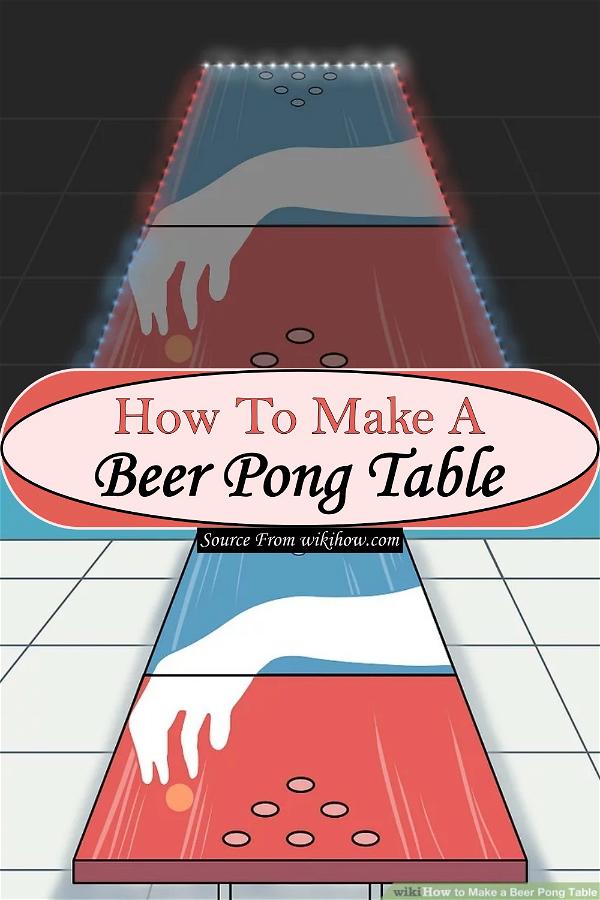 This guide will direct you step by step on how to make a beer pong table, which is essentially a ping pong table with playing cups (or "paddles") placed in each corner and the center of each side. Make your own and save some money while having an easy way to party with your friends.
This segment will show you three different methods on how to make your own beer pong table. Whether you just have a few simple tools, or if you already have the materials needed to make your own, we hope you enjoy finding out how simple it is to build your own beer pong table
Beer Pong Table For Friends
You say you want a beer pong table. Well, all you need to do is dust off that old coffee table, paint it green and then add some fresh coats of white paint on top. Just don't forget to time your coats so that it dries for the next coat before you apply the next one. This instructional DIY video makes it look easy--it's not. The process involves sanding, priming and then painting at least 5 times, with different kinds of brushes and rollers each time. Some days are better than others...and the best ones are highlighted in this video!
How To Build A Beer Pong Table Top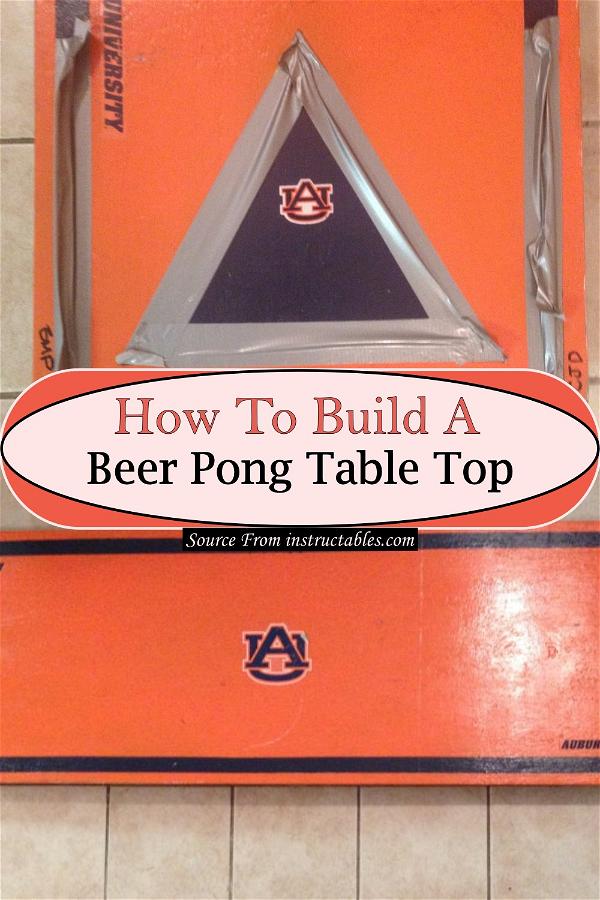 Want to build your own beer pong table? Here's everything you need to know to make a killer beer pong table for pennies on the dollar. This guide will walk you through the entire process of how to build a beer pong tabletop so you can stop using those plastic fold-up tables and start playing with style!
Building a beer pong tabletop is a DIY project looking more for accuracy and perfection than speediness. With this guide, you'll get precise information on how to build a beer pong tabletop and become "the Master" to your friends!
 Tiktok Inspired Table
This classic project is an easy way to get your friends together for a casual game night and a delicious—and boozy—way to wrap up the evening. Whether it's late at night or the sun has yet to rise, create your own beer pong table with minimal investment in time and money. Julia and her roommate offer step-by-step instructions on how to make this DIY project your own!
The perfect DIY project for this summer! With an industrial/rustic look and a chalkboard station, this DIY beer pong table is going to be the must-have for summer parties. The fun doesn't stop there...if you want to get your own tutorial for making this, head over to the video immediately!
11 Easy Steps To Make A Folding Beer Pong Table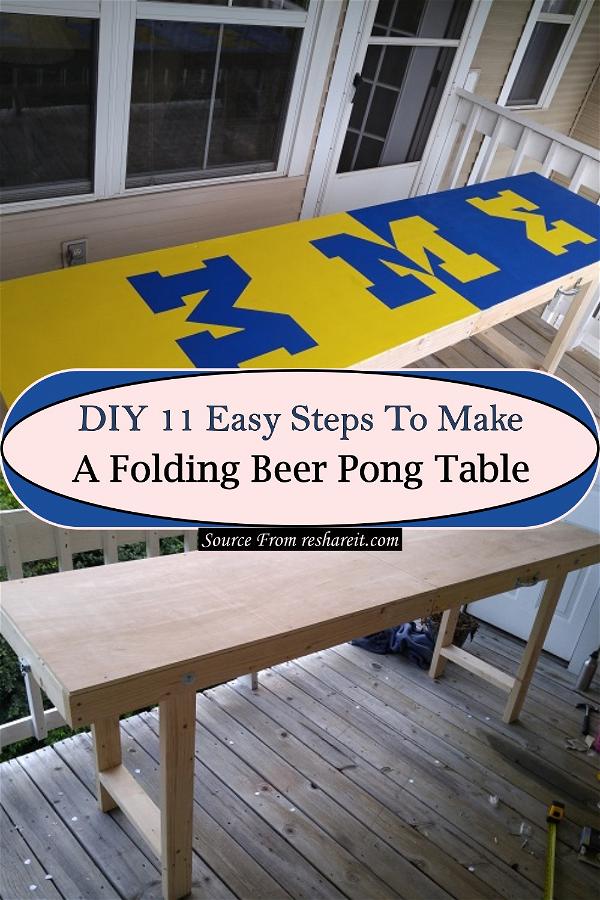 Folding beer pong tables come in handy, no matter what the occasion. You can use this folding beer pong table to play, practice your skills, or keep the beer cold while you enjoy game time with friends. Follow this eleven-step guide to make a beer pong table from scratch.
The DIY Beer Pong Table is a great beginner woodworking project for anyone looking to get some experience before tackling a bigger build. If you are relatively new to using power tools and haven't really dabbled all that much in the world of woodworking, this could be a great place to start building something cool that serves a pretty useful purpose.
Foldable Beer Pong Table!
Play beer pong anywhere with the foldable beer pong table. The folding design lets you store all your beer pong essentials inside the table and protect it. This must be one of the most efficient designs. Now get out there and make your own DIY foldable beer pong table!
Have you ever wanted to play beer pong on a Sunday afternoon but there are not enough tables in your home? Here is a complete DIY folding beer pong table that you can easily use for your parties! Moreover, the Youtuber himself mentions the measurements and design, so keep watching and listening carefully.
Floating Beer Pong Table Tutorial
Throw a successful pool party with a floating beer pong table. If you ask me, this floating beer pong table is a great concoction. You can store it anywhere on your lawn/pool and fetch it when needed for an easy setup in minutes. You can also use this DIY project as a promotional strategy for parties and events that require a giant beer pong table.
This is it. This is the Floating Beer Pong Table. It's very portable and you can completely disassemble it to fit in a car or whatever. This is yet another step toward the decline of society.
Mini Beer Pong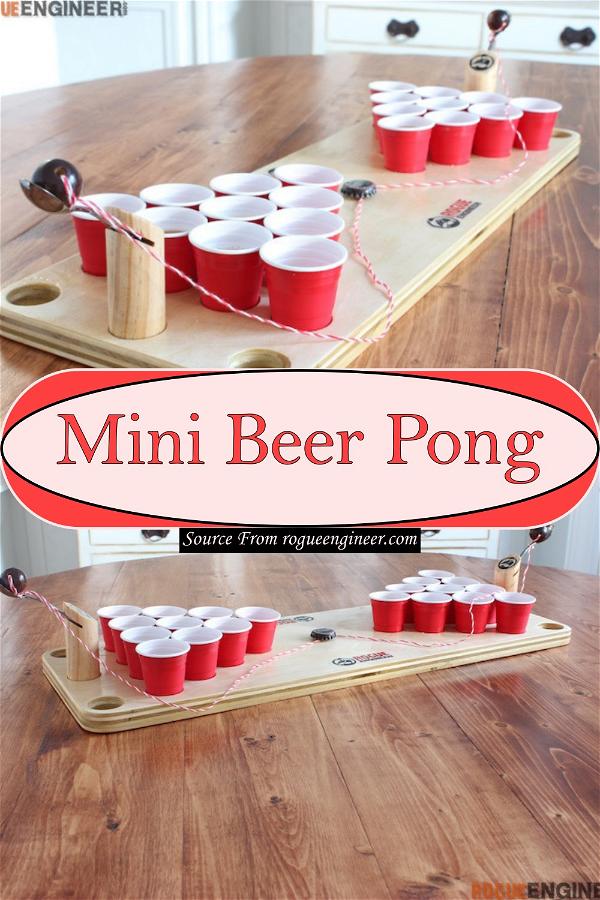 Mini Beer Pong is a game for those who love the bar and board game scene, but at the same time want to do something different. Play the classic beer pong with your friends, family, and loved ones as you immerse yourselves in an enjoyable party game that everybody can enjoy! "Mini Beer Pong" gives you all the tools to create your own homemade "board" made out of simple items that you probably already have on hand!
To create a small-scale beer pong table, you'll have to make some critical decisions. There are a lot of different materials that can be used for its construction.
Painted Beer Pong Table
Our world is chock full of unnecessary waste, including many perfectly good tables that don't get used! Whenever The Auther sees a table He likes but doesn't need, he figures out if he can repurpose it into a beer pong table. This is one of those tables. There are detailed plans at the top on how to make your own grid for the pong balls to bounce off.