The holiday season is near; we all will host or attend parties in it, and there'll be a lot of fun. So why not make those special moments more exciting by adding one of these DIY beer pong table ideas to your home? You can create the most fun beer pong table for your next get-together or small party by getting inspiration from the ideas we gave below.
DIY Beer Pong Tables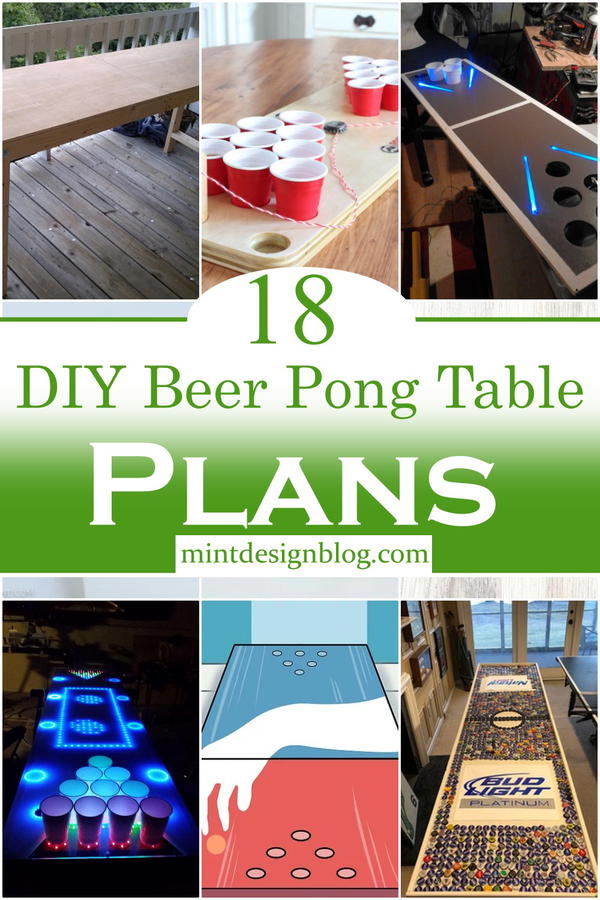 Have fun DIYing with minimal expense and enjoy the best quality time indoors with your friends and family. Organize fun competitions or play solely to bring out your tiredness by playing with these amazing beer pong table plans.
Below you'll find several cheaper but useful and long-lasting ideas o make beer pong tables. Some of these plans have lighting options added to make them more attractive and glowy at night to grab everyone's attention and enjoy some fun moments.
The only limit for these beer pong tables is your imagination. You'll surely find several personalized fun addition options to these amazing DIY ideas if you're crafty by nature.
Other Plans
Interactive LED Beer Pong Table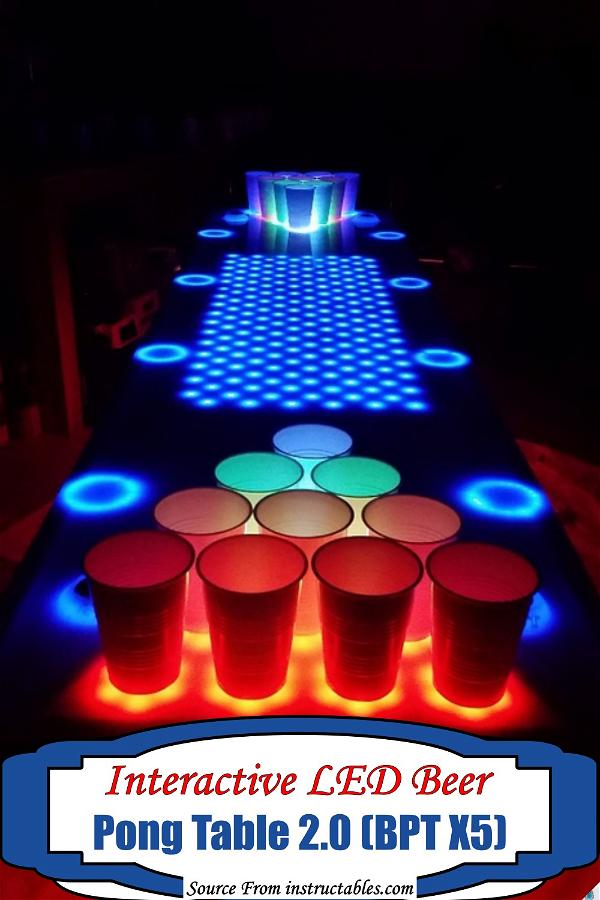 This interactive LED Beer Pong Table is the perfect addition to your beer pong. Play in teams and keep score with the built-in LCD screen and 6 markers, or have a good time with your mates. Place the ping pong table on a surface for the ultimate party night and have fun. This amazing ping pong table will be so much fun to make and you'll find it useful.
Custom Beer Pong Table
Assembling a beer pong table is an easy way to give your house an edge over your friends' stuff without spending much money. While creating a custom beer pong table can seem overwhelming, it's quite simple. Creating a beer pong table is simple but requires strong attention to detail, and it will also be great to be a part of your playing tables.
How To Make The Perfect Beer Pong Table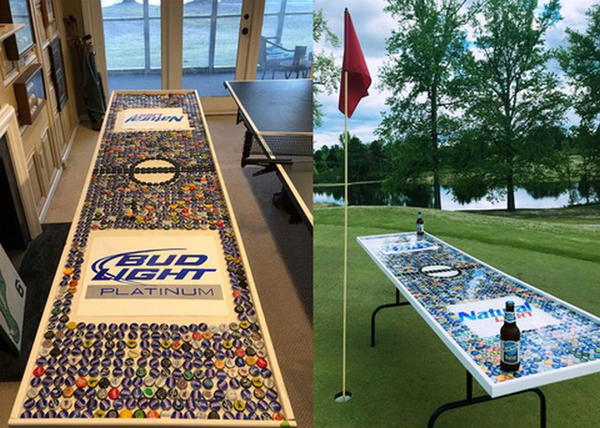 Learn how to build a Perfect Beer Pong Table at home that you can customize for your college parties. It's easier to make by following simple steps and using the right materials. Whether using it at home, on a camping trip, or at college dorm parties, you'll love this versatile table for hours of fun!
Father's Day Edition Beer Pong  Table
This DIY project is a great gift for the dad who loves beer pong. He'll love playing at home with his friends and family. With this table, you can play drinking games like beer pong or flip cup for your next birthday party or use it as a simple table or centerpiece in your living room.
Beer Pong Table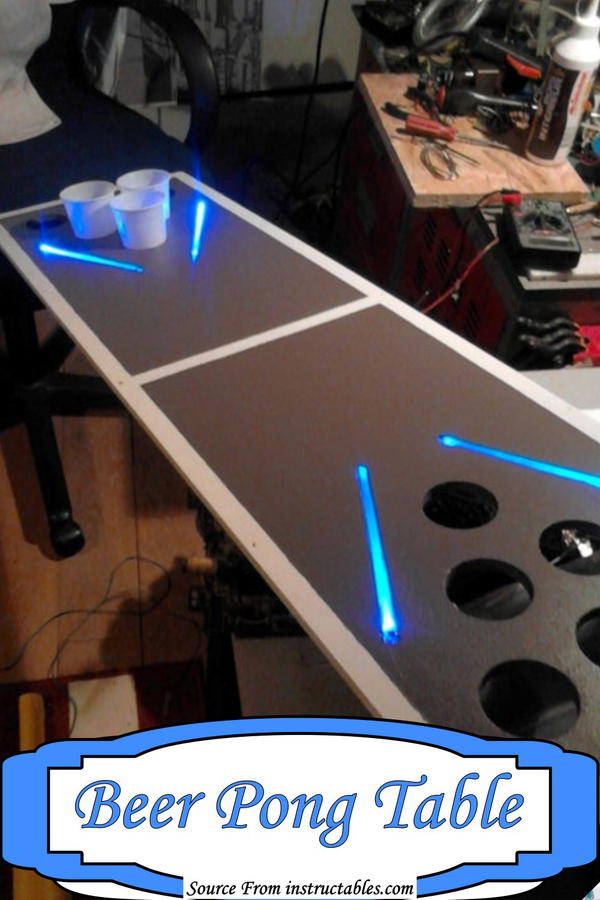 This beer pong table brings your next party to life. Perfect for all your beer pong needs, it features an innovative LED system with customizable light patterns and even glow-in-the-dark balls. With sturdy construction and a built-in cup holder, this amazing beer pong table is built to last longer.
Beer Pong Table With Bottlecaps
The Beer Pong Table with Bottlecaps can be easy goes for $40.​ It comes with an inflatable center section and a bottlecap-shaped design, which gives it the character of a beer pong table. This beer pong table will glow in various colors and sizes and can be customized to fit your needs. With its unique design and smart features, this will make your next party memorable while being entertaining and engaging at the same time!
How To Make A Beer Pong Table
Follow this easier tutorial about making a beer pong table to add a touch of uniqueness to your home decor and indoor playing options. You can enjoy some quality time with your friends and family while organizing a competition of beer pong at home and I hope you'll love it.
Beer Pong Table With LED
Get ready to elevate your beer pong experience to a new level with this stunning, customizable, easy-to-make LED beer pong table. Make a unique Beer pong table with LED attached on the border following this easier video tutorial.
DIY TikTok Inspired Beer Pong Table
Get inspiration from this DIY TikTok Beer Pong Table for making fun additions to your home decor. Its super catchy appearance will make this table attractive for teens; you can add your favorite fantasized decorations to this pong table and make it your heartedly favorite.
How To Make A Beer Pong Table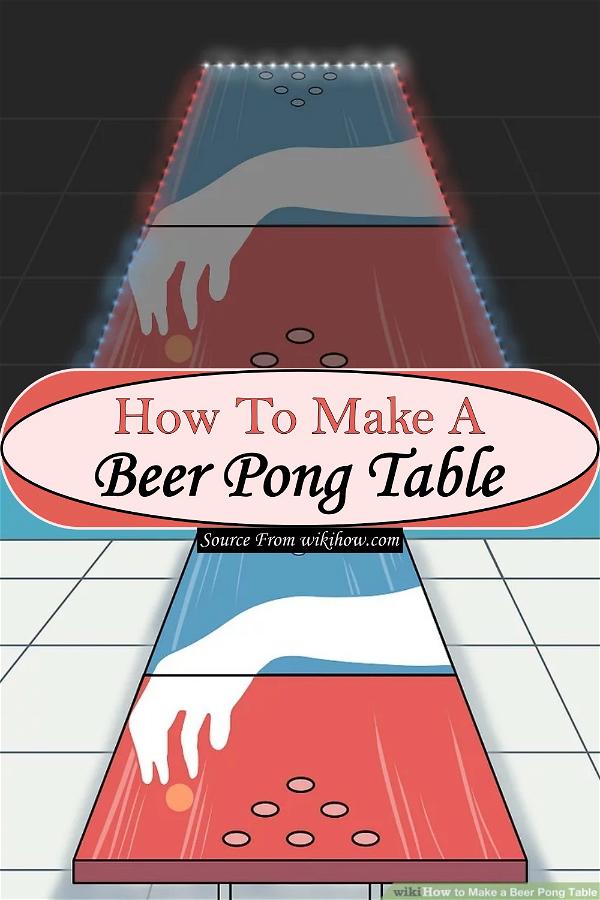 Make your own beer pong table and save money while having an exciting way to party with your friends following this easier idea. Cheaper material will be used to make this beer pong table; you can add an led strip on the border for a stylized and unique touch, plus the easier creation will make this table best for beginners to try.
Beer Pong Table For Friends
You say you want a beer pong table. Well, all you need to do is dust off that old coffee table, paint it green, and then add some fresh coats of white paint. Just don't forget to time your coats so that it dries for the next coat before you apply the next one. This instructional DIY video makes it look easy--it's not. The process involves sanding, priming, and painting at least 5 times with different brushes and rollers. Some days are better than others...and the best ones are highlighted in this video!
How To Build A Beer Pong Table Top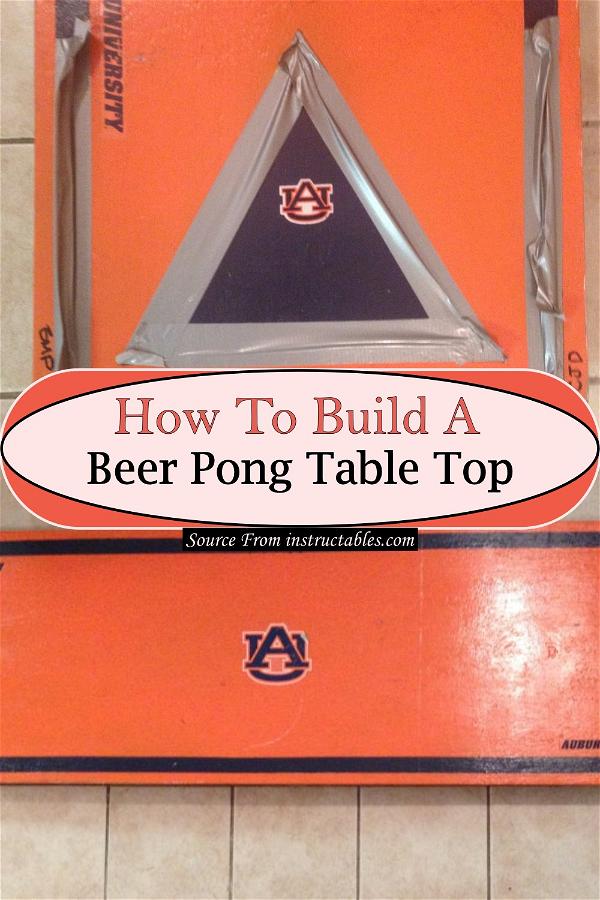 Want to build your own beer pong table? Here's everything you need to know to make a killer beer pong table for pennies on the dollar. This guide will walk you through building a beer pong tabletop so you can stop using those plastic fold-up tables and start playing with style!
Building a beer pong tabletop is a DIY project looking more for accuracy and perfection than speediness. With this guide, you'll get precise information on how to build a beer pong tabletop and become "the Master" to your friends!
 Tiktok Inspired Table
This classic project is an easy way to get your friends together for a casual game night and a delicious—and boozy—way to wrap up the evening. Whether it's late at night or the sun has yet to rise, create your own beer pong table with minimal investment in time and money. Julia and her roommate offer step-by-step instructions on how to make this DIY project your own!
The perfect DIY project for this summer! With an industrial/rustic look and a chalkboard station, this DIY beer pong table will be the must-have for summer parties. The fun doesn't stop there...if you want to get your own tutorial for making this, head to the video immediately!
11 Easy Steps To Make A Folding Beer Pong Table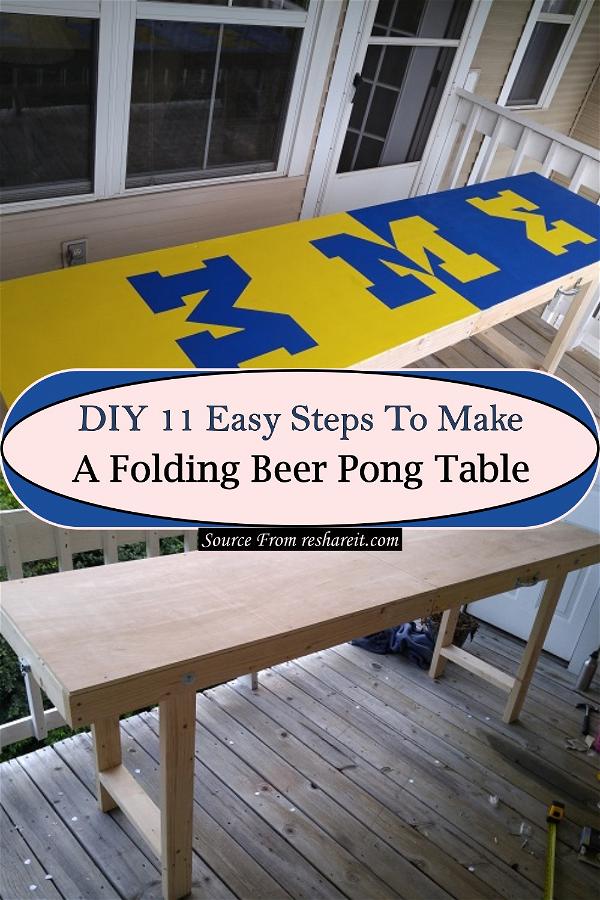 Folding beer pong tables come in handy, no matter what the occasion. You can use this folding beer pong table to play, practice your skills, or keep the beer cold while you enjoy game time with friends. Follow this eleven-step guide to make a beer pong table from scratch.
The DIY Beer Pong Table is a great beginner woodworking project for anyone looking to get some experience before tackling a bigger build. If you are relatively new to using power tools and haven't dabbled all that much in the world of woodworking, this could be a great place to start building something cool that serves a useful purpose.
Foldable Beer Pong Table!
Play beer pong anywhere with the foldable beer pong table. The folding design lets you store all your beer pong essentials inside the table and protect it. This must be one of the most efficient designs. Now get out there and make your own DIY foldable beer pong table!
Have you ever wanted to play beer pong on a Sunday afternoon but not enough tables in your home? Here is a complete DIY folding beer pong table that you can easily use for your parties! Moreover, the Youtuber mentions the measurements and design, so watch and listen carefully.
Floating Beer Pong Table Tutorial
Throw a successful pool party with a floating beer pong table. If you ask me, this floating beer pong table is a great concoction. You can store it anywhere on your lawn/pool and fetch it when needed for an easy setup in minutes.
You can also use this DIY project as a promotional strategy for parties and events that require a giant beer pong table. This is the Floating Beer Pong Table. It's portable and can completely disassemble it to fit in a car. This is yet another step toward the decline of society.
Mini Beer Pong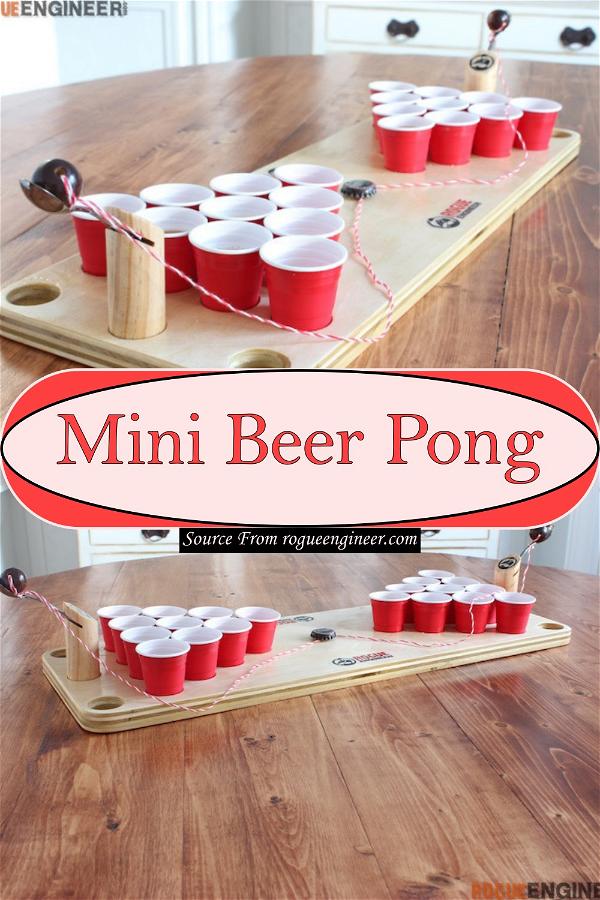 Mini Beer Pong is a game for those who love the bar and board game scene but at the same time want to do something different. Play the classic beer pong with your friends, family, and loved ones as you immerse yourselves in an enjoyable party game that everybody can enjoy!
"Mini Beer Pong" gives you all the tools to create your own homemade "board" made out of simple items you probably already have! You'll have to make some critical decisions to create a small-scale beer pong table. There are a lot of different materials that can be used for its construction.
Painted Beer Pong Table
Our world is chock full of unnecessary waste, including many perfectly good tables that don't get used! Whenever the Auther sees a table he likes but doesn't need, he figures out if he can repurpose it into a beer pong table. This is one of those tables. There are detailed plans at the top for making your own grid for the pong balls to bounce off.