Ping pong table is more than just a game; It's an art. It is an activity that children and adults can enjoy. That's why most tennis players highly recommend ping pong as an indoor fun activity for all the family. Nowadays, the desire to own table tennis tables is a hot topic, and many people buy their ping pong tables. But as you know, buying something from the store is always expensive and boring, plus DIYers can't prefer anything less creative, so that's why we come up with an outstanding list of DIY Ping Pong Table Projects. These are all easy to make and simple. However, if you don't think that you can do it on your own, some so many experts will willingly help you make one for yourself.
DIY Ping Pong Table Projects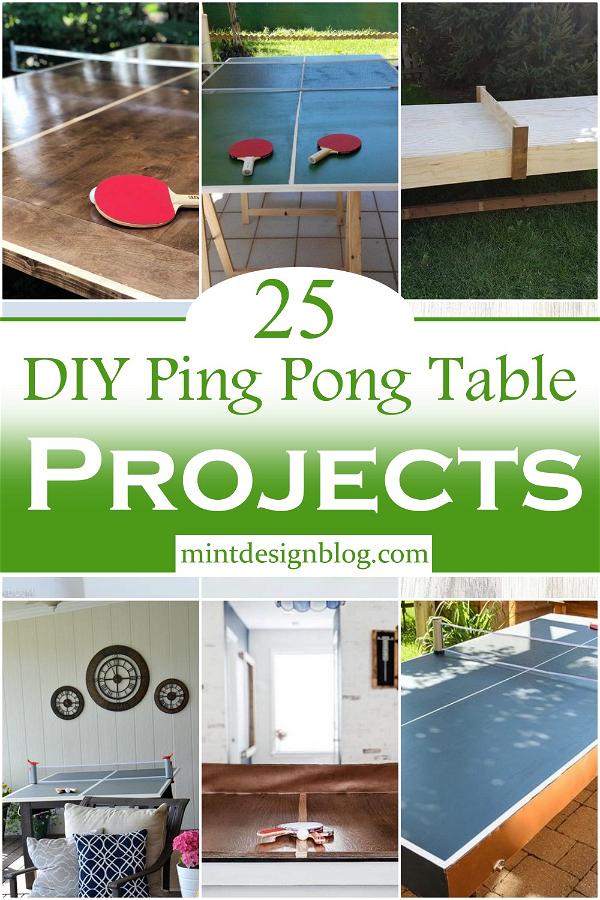 If you are looking for an activity to do or just want to surprise your kids with an alternative game that can be played at home, look no further than the ping pong table. I've gathered 25 ways how to make a ping pong table. There is something for everyone, from using a folding table and covering it with plywood to using recycled materials such as pallets or worn outdoors. Some ideas use materials you have lying around the house, while others detail how to build your table from scratch. Follow your passion and make some impressive ping pong options following this amazing list of DIY ping pong table projects.
How To Build A Ping Pong Table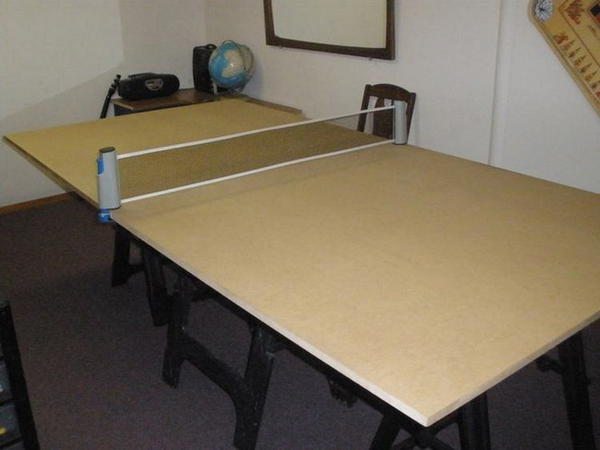 A ping pong table is an excellent addition to any home, especially with a large living room. It can encourage your friends and family members to organize tournaments or play with each other for fun. A ping pong table will make even the most boring parties. It is easy to make an indoor ping pong table if you follow the instructions thoroughly. The best part is that you don't need any special tools or expensive materials for this project. This large table will take up space, so make sure you have room to assemble it before you buy all the materials that make up this great family activity.
DIY Folding Ping Pong Table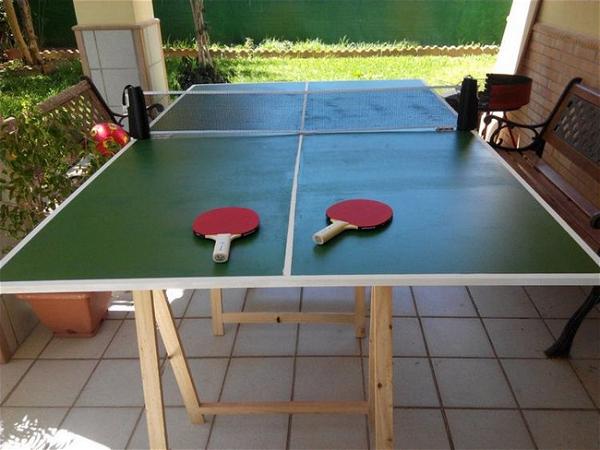 A DIY folding ping pong table is an efficient choice, as it can be used both indoors and outdoors. It is important to paint the greenwood before assembling a ping pong table, making it look much better. The stainless steel hinges are very durable and long-lasting, but it is recommended to apply more than one coat of paint for perfect results. The materials required for making a DIY table like this are easily available at home improvement stores or hardware shops. You would require tools such as clamps, measuring tape, saws, and drills to make this table successfully.
How To Make A Ping Pong Table
This ping pong table is made from 2 -4 feet long pieces of wood. The size of the wood depends on your preference and measurements. Cut out the pieces with a table saw, drill, and a nail gun to create a firm base. Glue each layer together and add plywood to make it strong enough to withstand continuous usage as a ping pong table. Once complete, you will have a sturdy table that requires minimal assembly time and maintenance. This table can also be used as a dining room table.
How To Build A Ping Pong
This tutorial is the best way to build a ping pong table from scratch. Before starting, make sure you have all the necessary materials such as free-standing legs, plywood, and screws. Other things that are required are a drill, jigsaw and miter saw. First, cut out your pieces using the suggested tools and jigsaw. Next, drill holes in the side rails to attach them to the frames. Insert 2 ½" screws into the tabletop holes and attach them with glue and clamps, so they don't move while securing them. Lastly, attach all of your rails, then screw them onto the legs (with pre-drilled holes), and once assembled, start playing!
Homemade Ping Pong Table
This is a homemade ping pong table that can be made in 30 minutes. The table is easy to build since it only requires two cuts on each side. The table's dimensions are 5ft x 9ft, and it requires two 5ft plywood boards to construct. It is made from Baltic birch plywood, engineered hardwood with good strength and stiffness, yet very lightweight. This kind of material is ideal for furniture making because it gives furniture the strength they need without adding unnecessary weight.
DIY Outdoor Ping Pong Table
This DIY outdoor ping pong table is an excellent addition to the backyard or during the summer months. It's made out of plywood and 1×6 pieces of wood. Our instructor will take you through each step of building your own outdoor ping pong table. The table is made from plywood and 1×6 pieces of wood. After making the table, you will use a boat varnish to stain it and protect it against the harsh weather conditions in your area.
How To Make A DIY Folding Ping Pong Table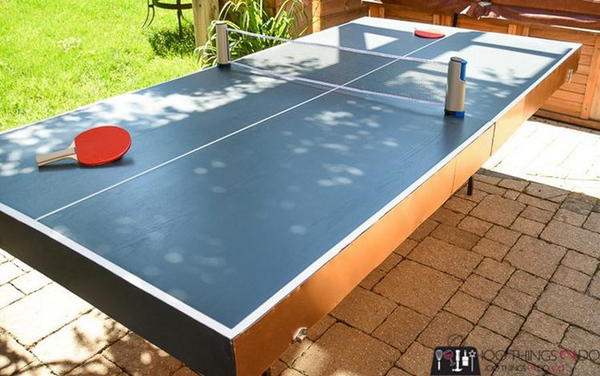 If you have some free time and want to make a folding table, this guide will help you. This article covers the detailed steps on how to make the DIY folding ping pong table for your home that is comfortable and easy to store at the same time. You need to consider two main features when building the folding table. These features are the cutting list and the well-drawn plan. You will have an excellent outcome by considering these two elements while constructing your folding table.
DIY Ping Pong Table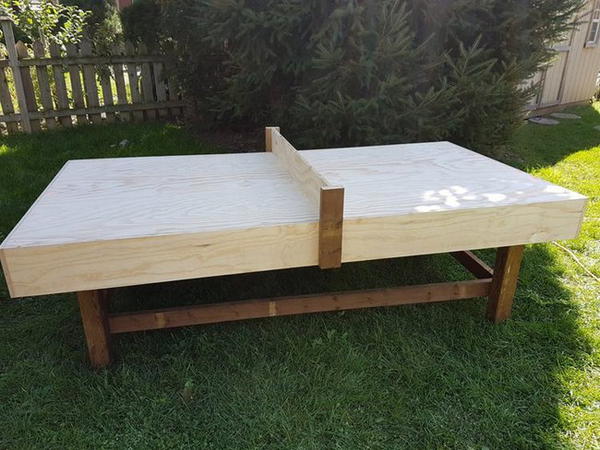 If you've ever thought about creating your table tennis table but have been put off by spending hundreds of dollars to buy one, you'll love this guide. Here, you'll find step-by-step instructions for creating a professional-looking ping pong table for less than $200. The steps are simple and don't require any special tools or expertise. And best of all, if lumber prices go up in the future, you can make some adjustments to the cutting list so that it will still be within your budget!
DIY Portable Ping Pong Table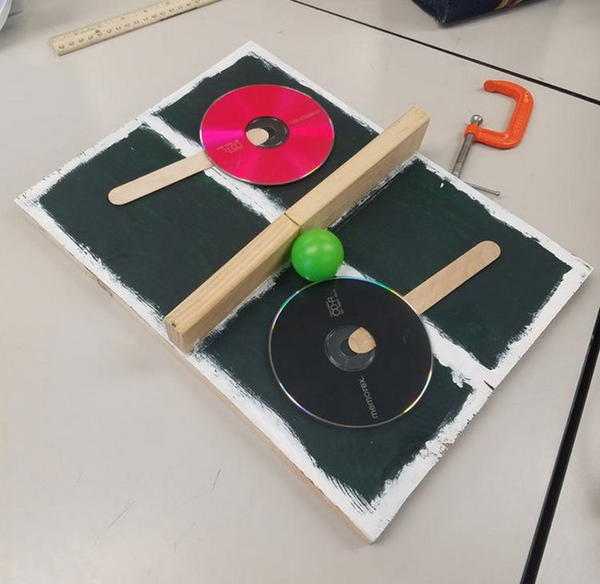 If you love playing table tennis and have no place for a permanent table, we have the perfect plan for you! This DIY Portable Ping Pong Table is made from 2 boards, wood glue, a power saw, green paint, a hot glue stick, and popsicle sticks. When finished, it has no screws or bolts and will fold up flat against a wall until you need to play again. Play anywhere! You can make it in less than 4 hours, and this little table folds up flat when not in use, or you can store it away when guests come over.
DIY Ping Pong Table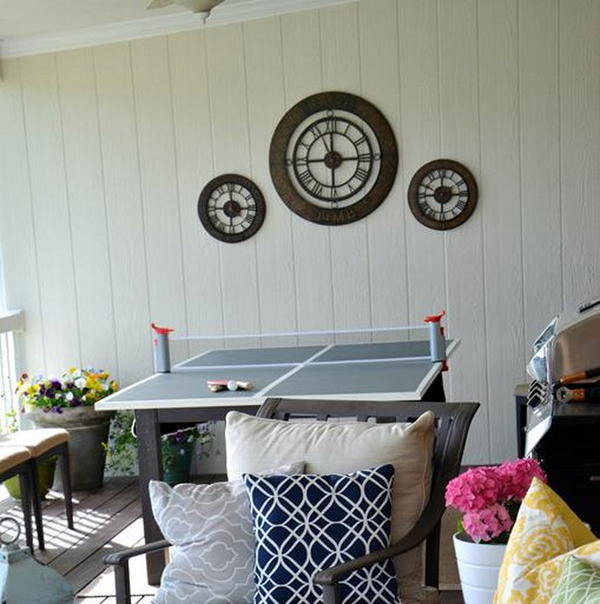 Have fun while being creative and handy by making this DIY Ping Pong Table. It's an awesome project to build and play with. The table is constructed out of reclaimed wood, and it's easy to customize for your needs and preferences. This guide will help you decide how you want to design your table, how to make the basic frame, add wheels for mobility, install the net and chalkboard back, paint, and much more! With this DIY Ping Pong Table, you can make your customized table that is easy and cheap to set up.
Ping Pong Table Top DIY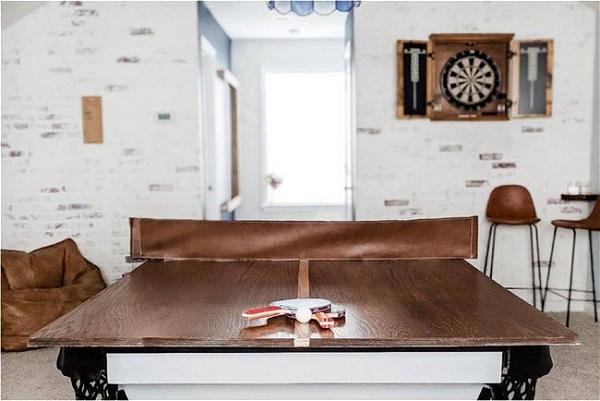 The Ping Pong Table Top is a versatile and easily portable table set up on any smooth surface. The top is high quality, durable, and will not wear out easily as it is wood laminate. The height can be adjusted in seconds by using the clamping mechanisms that firmly lock the legs. This design can be used to rapidly set up a playing area at home, in public spaces such as parks or shopping malls, or even used as a temporary desk during an exhibition and then quickly folded away when no longer required.
DIY Exterior Ping Pong Table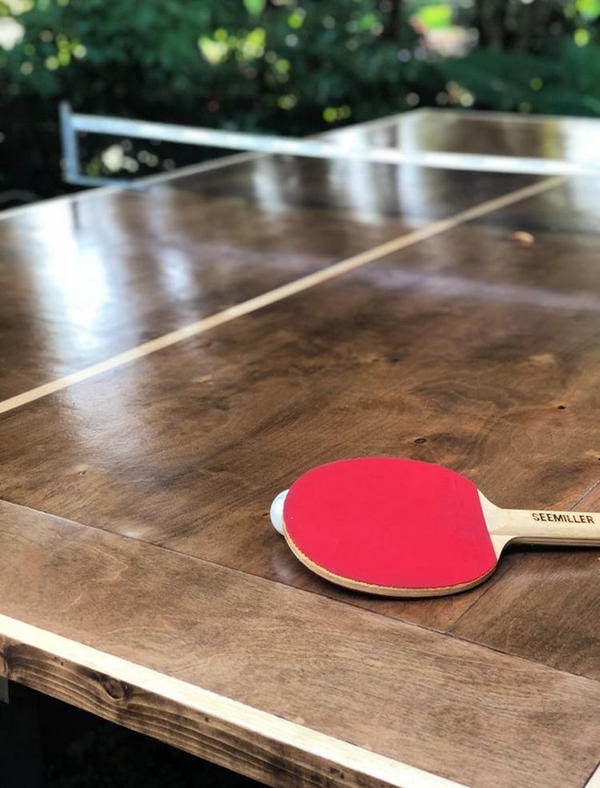 DIY Ping Pong Table - this is a simple project, and you can do it yourself with little effort; just follow the step-by-step tutorial, and you will have your own DIY Ping Pong table. It is important to know that the size of a ping pong table is 5 feet x 9 feet (1.5 m x 2.7 m), so you might need to adjust some of your measurements accordingly. An outdoor ping pong table costs about $500 on average. But you can make this one for around $30. The process is easy and doesn't require much skill. You need to drop a few screws into some wood — it's that simple!
Walnut Ping Pong Table Build
If you're looking for an easy-to-build project, consider making a ping pong table with heavy-duty features. There are two important things to consider: the sub-frame and the top surface. The sub-frame will require a router, table saw, and drill. The plywood needed to build the frame is 4' x 8'. The legs are 2" x 4"s with ½" plywood tops. After attaching legs to the plywood top, attach another piece of plywood as a skirt around the table's perimeter to hide exposed screws and bolts. Check out this link for detailed instructions on building your own walnut ping pong table.
DIY Outdoor Ping Pong Table Build
This outdoor ping pong table is made from wood, paint, and PVC piping. The project can be a great addition to your yard or patio area or even just for your family room. The project requires a few relatively inexpensive materials and is readily available at hardware or home improvement stores. This project is a good way to learn these skills and make the right decisions when you are building your table. Using simple tools like a bandsaw, sandpaper, and power drill will not take more than two days to complete the table.
How To Build A Ping Pong Table
Build your ping pong table with this DIY project. The resulting table is a beautiful piece of furniture that will last for years. This is a sturdy table for playing ping pong. The tabletop is made of high-quality wood, and the sides and legs are aluminum. There are two wheels attached to each side of the table. This allows free movement of the large table at any time. In addition, it has an adjustable height range (18-29 inches), so you can use it in any environment, even in front of a TV set or other media devices.
Easy DIY Ping Pong Table
The DIY Ping Pong Table is your chance to bring the fun and excitement of a real quality table but at a fraction of the cost. This table can be customized to fit any space indoors or outdoors. Its creation is simple, but some of the tips important for this project are to paint the tabletop red and allow it to dry. Cut and secure the support and legs to the tabletop using a nail gun, metal brackets, bolts, and washers. Attach an umbrella as desired to create a table that is ready to play on!
How To Make An Outdoor Ping Pong Table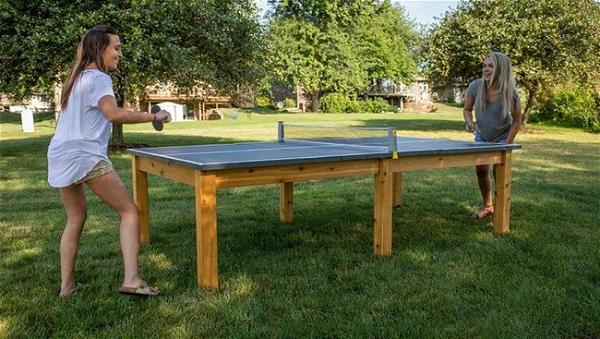 If you want to know how to make an outdoor ping pong table, this article is for you. This guide explains the process in detail and walks you through step-by-step how to set up a large outdoor ping pong table with drawers. The difficulty level is moderate, which means the average number of people who can take part in the project. It is easy, simple, and cheap! The average cost of the materials required to create one is less than $100, making this project a very inviting one.
DIY Floating Ping Pong Table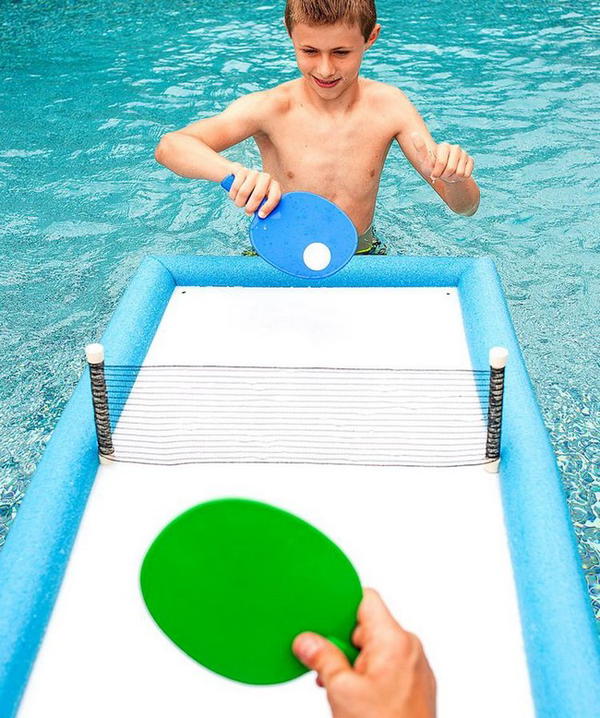 This DIY floating ping pong table will let you enjoy the summer outdoor and have fun. It is made of 4 sections; each section comprises two pieces of 5mm thick foamed PVC. When they are connected, they can form a stable table base. This table is lighter than most other tables, making it easy to carry around. Once you finish all the work and assemble this DIY project, you should be able to use it for many years in your pool or backyard. In this way, you can play it with your family or friends by swimming. It's easy to make, and no technical knowledge is required.
DIY 6 Person Ping Pong Table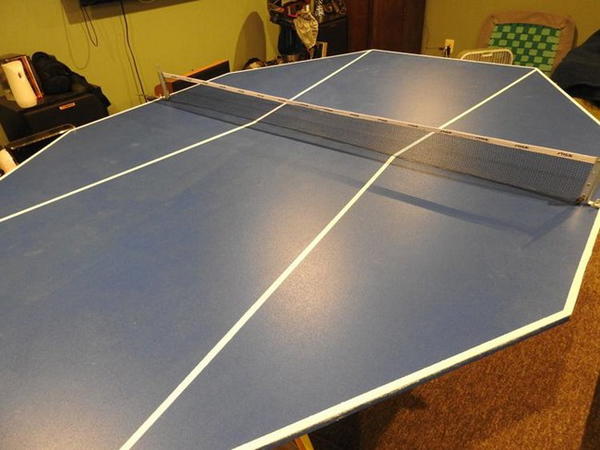 The Ping-Pong table is a good choice for home use. This table is specially designed to play ping pong in your spare time, improving family communication and bonding quality. It has a good decorative effect, adding fun to your room. With the help of this Ping Pong Table, you can practice with or without a ball while having fun. It makes playing together more enjoyable and rewarding. Like all DIY projects, this table requires many hours of work, but the outcome is worth it. The finished table is about 6 ft x 9 ft (1.8 m x 2.7 m), which makes it suitable for six players at once.
DIY X-Pong Table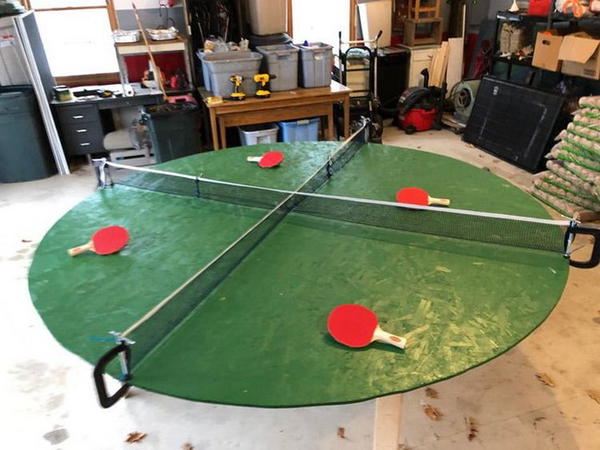 This multipurpose outdoor furniture is the best choice for outdoor spaces that need additional seating or other uses, featuring an exceptional round ping pong table. Features include heavy-duty steel frame construction, attractively industrial finish, and protective top. It can be used by four players and can be dissected into two separate tables, with each section having its scoreboard. It features a sturdy construction and weighs approximately 85 lbs when fully assembled.
DIY Foldable Table Tennis
Whether you live in a studio apartment and need to save space or want to create a new way to play with friends, our DIY Foldable Table Tennis gives you three options with one table. This Mini Ping Pong can be stored in a flat position, so you can easily store it away against the wall when not in use. With this alternative design, you can easily fold up the legs and attach the steel frame to hold them together while they are standing upright.
How To Make A Portable Ping Pong Table From a Cheap Folding Table
If you need a fun activity for the family, this is one way to go about it. Learn how to make a mini ping pong table from a cheap folding table. You don't have to spend a bunch of money on this project; it's super cheap! Check out the video tutorial and get ready to play a new game with your family. This is a quick and easy way to make a cheap, portable mini ping-pong table. Take it anywhere there's room for this small foldable mobile table - and enjoy your own game anywhere!
DIY Modern Ping Pong Table Build
Watch this video tutorial to learn how to build a modern-style ping pong table. This DIY project is easy to follow and can be done with limited tools. You will learn how to cut the wood, drill holes and apply finishing touches with stain and polyurethane. This design has been tested on several occasions by professional table tennis players. This build can be completed with hand tools or power tools if you have those available. If not, they can all be substituted with their corresponding hand tools.
DIY Concrete Ping Pong Table
This DIY ping pong table is a fun way to play the game and a great way to add light to any room. The concrete tabletop gives the table a sturdy surface for playing, while the LED lights around the outer range make it easy to see in all types of lighting. This beautiful and unique ping pong table will appeal to casual and serious players alike. The concrete top provides a sturdy surface for playing, and the LEDs around the table edge ensure you're visible at night, making it easy to get your game on!
DIY Personal Ping Pong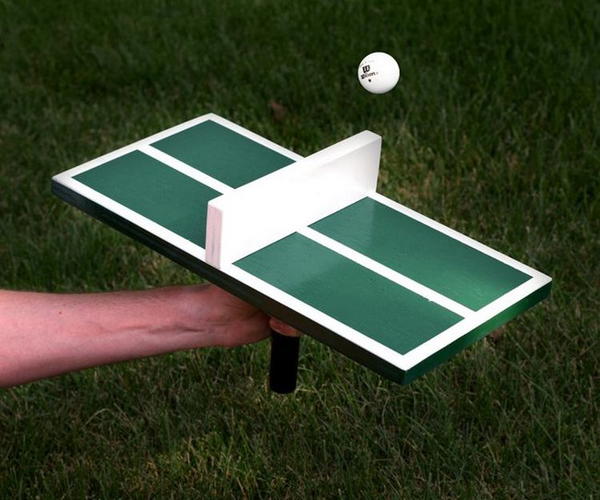 The DIY Personal Ping Pong Table is an excellent table for solo players who want to practice while watching television or waiting for an appointment. It is constructed from plywood and half-inch dowel, which means that it is both lightweight and malleable. This makes it very easy to hold with one hand while playing. It's easy to make, it only takes 30 minutes, and the materials are cheap! The size can easily adjust according to your need and skill level.
See Other Projects