Do you love birds? Do you want to feed them but don't have time to do it? You can make a bird feeder on your own. There are different types and styles of DIY bird feeders. They can be made from all kinds of materials, ranging from plastic to glass, even wood. The best thing about them is that they are easy and cheap to make. Building a bird feeder is a great project for the whole family to take part in. It's fun to make and the birds will love it. You can build one from scratch using scraps, or use a kit to make it easy. If you love bird watching and don't want to buy a bird feeder, then try making your own. It's easy, fun, and most importantly, cheap.
DIY Bird Feeders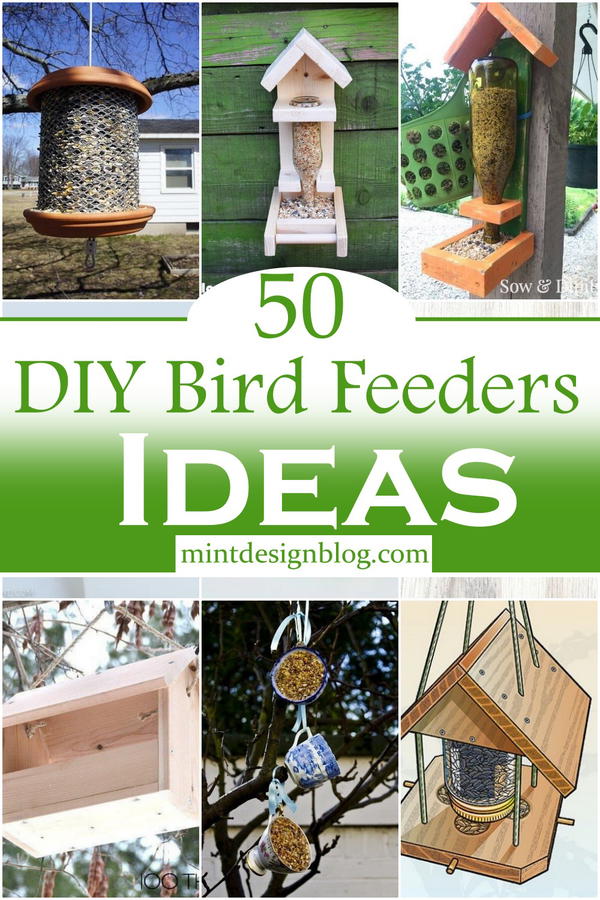 These DIY bird feeders are perfect for both the novice and the experienced crafter. You can use a variety of materials to make these feeders, including recycled items, such as cans and jars, or supplies you find at the dollar store.DIY bird feeders are a fun way to watch birds in your backyard. One of the greatest joys of the backyard bird watcher is watching the birds come to feeders. You feel great satisfaction when you see a bird feeding from your homemade bird feeder. Feeding the birds has become an expensive hobby for some people, with many high-end store-bought bird feeders. These homemade DIY bird feeders are so fun to make, and they are a great way to invite birds and cute feather species into your garden.
DIY Bird Feeder From A Flower Pot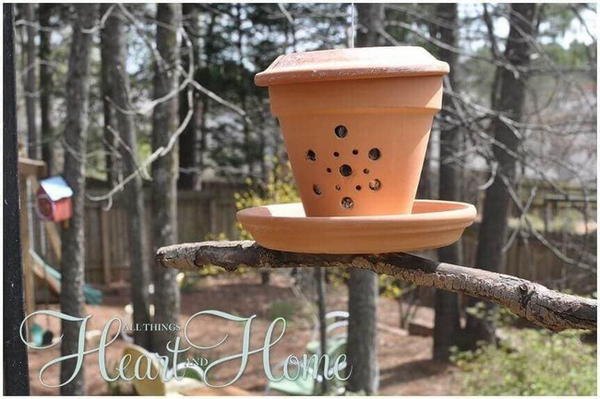 As time changes and with it, our ways of spending time outside doing stuff. Sometimes, we tend to forget about the small yet important things, like the friendly welcome from a birdhouse to our garden or balcony. Your cute and charming backyard will get a new vibe if you add some awesome bird feeder activities. Nothing is simpler than DIY. Do you want to feed birds in the winter too? They cannot go away and stay warm all day, so they will still be around in your garden when it's cold. However, they are not always predictable; they sometimes fly away before you have noticed them. So, you need to attract them to eat, which is what the DIY bird feeder is for.
It might be a good idea to make a simple DIY bird feeder from a flower pot if you have an old flower pot in your backyard. You can create a lovely bird feeder from an old and unused flower pot. The bottle has a special property that makes it easy to attach to the hook. But if you fail to do so, use some tape on the hook and glue on the bottom of the bottle. This is an attractive alternative way to invite the wild birds over to your place. Hang this feeder up high and close to a window, and you will be able to watch your bird friends feed happily.
DIY Bird Feeder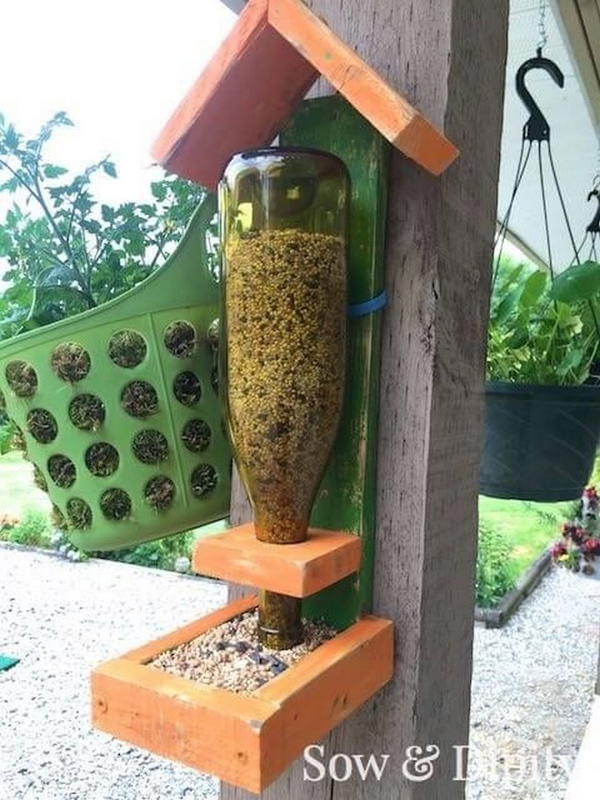 Have a bird feeder in your yard or at your porch but can't afford to buy one? Build it yourself easily with this DIY project. Sow and Dipity's DIY bird feeder is the perfect way to recycle your empty wine bottle bottles and turn them into food storage for the birds. This DIY bird feeder is made with recycled products, if you don't want to buy a premade feeder, then using your own existing supplies can be cost-effective! Turn a glass bottle into a bird feeder with this simple project.
This DIY project is extremely easy to make and completely customizable. Use it as a planter or place to hang decorations with our wine bottle bird feeder. It's fun, fast, and best of all, completely free! The finished feeder will attract birds to your backyard and give them a place to eat, rest, and socialize with others. This fabulous DIY bird feeder is easy and affordable to make. Create a gift for yourself, your friends, and your family, or use it as a fundraising tool. This is such a great DIY project that you can't go wrong with!
Bottle Bird Feeder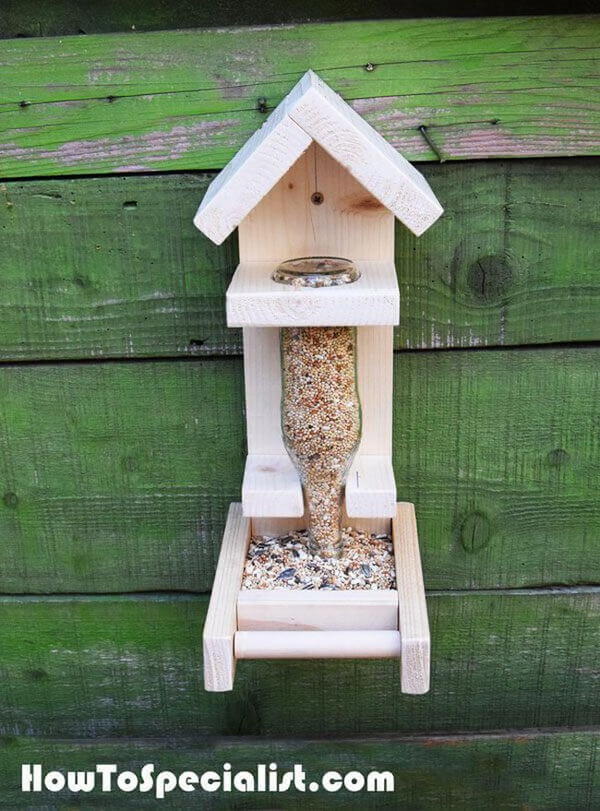 We all know that birds are attracted to houses, trees, and plants. They don't really think about what kind of habitat it is, so if it has food available, they will go for it! So here's a great resource for your bird-watching needs. Bottle Bird Feeder We have another idea for a bottle bird feeder! This  Bottle Bird Feeder | How To Special List will provide you with all the materials necessary to assemble this outdoor project, including a lumber wood sheet cut to fit, a bottom board, and 2 pieces of string.
Bottle feeders are very common in gardens. With a few materials, you can make something similar to this house for feeding glass bottle birds. This project is great for kids or adults looking for an inexpensive craft idea and nutrient-packed bird food.  Measure carefully so the bottle will fit into the base and be maximum stable.  Take a pause before you start working on this step.
Mason Jar Bird Feeder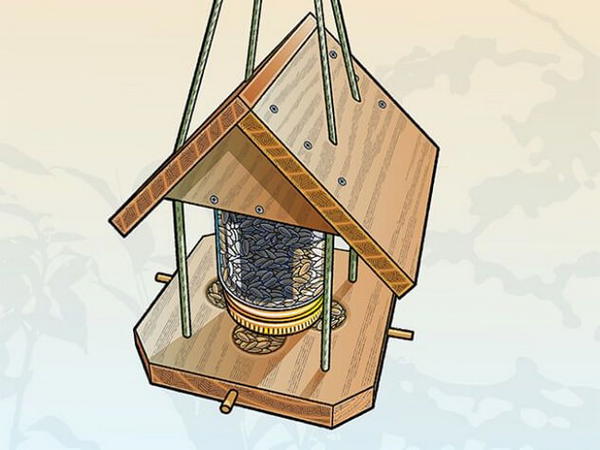 With a pine board, a jar, and some ropes, you can make a warm birdhouse to feed the birds during the year's cold season. This birdhouse is made from a mason jar and pine board. First, measure out the size of your jar on the pine board and cut it out with a saw. Then, use a hammer to put some nails into the bottom of the pine board to keep the jar in place. After hammering these nails on, put screws through them so you can hang your container off of branches or wires. You can use a little glue, screws, or both to hold the lid on.
Next, cut a hole in the lid of the jar (this will be where the birds enter the house). From there, place your pine board in and nail it down. If you want to paint it, do so now. Next up is hanging your bird feeder up, which requires you to drill holes into either your porch ceiling or the feeder itself and tie the ropes through. Now you have a working birdhouse for winter!
Bird Feeder DIY Craft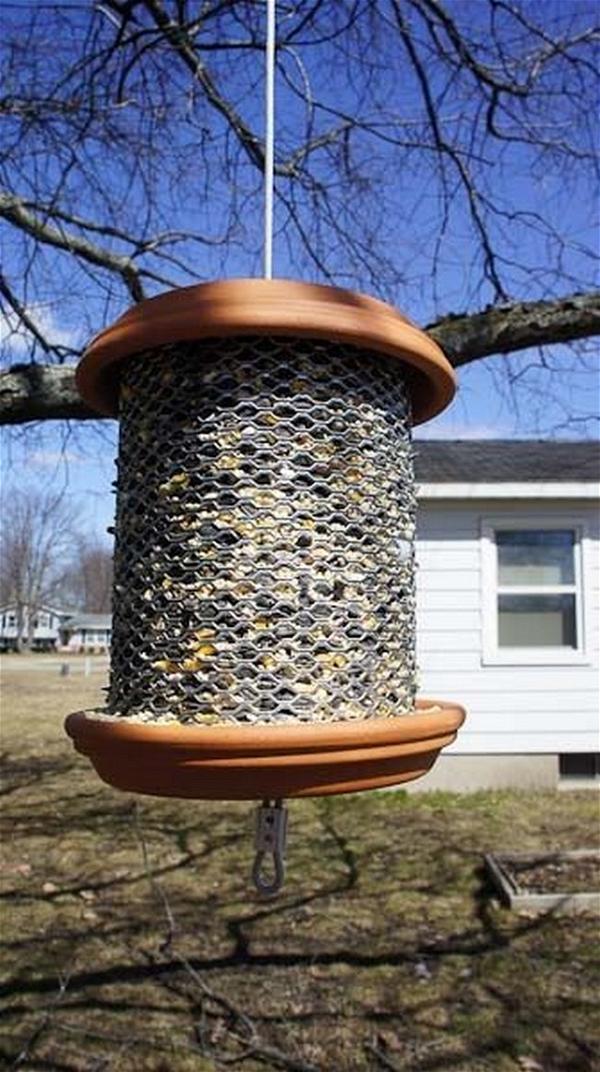 Bird feeders are a great way to attract local birds to your garden, and this one won't cost you an arm and a leg, because it's made from items you probably already have laying around in your craft supplies. This easy DIY craft project gives you other low-cost and fun bird feeder ideas for kids also. You just need a metal mesh, 2 ceramic saucers, and a hook to make your own hanging bird feeder.
Have you ever seen a hung ceramic saucer bird feeder? It is so creative, isn't it? You only need to prepare a metal mesh and some ceramic saucers. With just a bunch of tools and 2 ceramic saucers, plus a hook, you can make this stylish hanging chic ragdoll bird feeder! This hanging bird feeder provides food and water for the birds, multi-functional. Isn't it just perfect! Both the appearance of the flower-patterned hanging saucers and the big plastic pipe are really attractive, don't you think so?
DIY Bird Feeder For Small Bird Only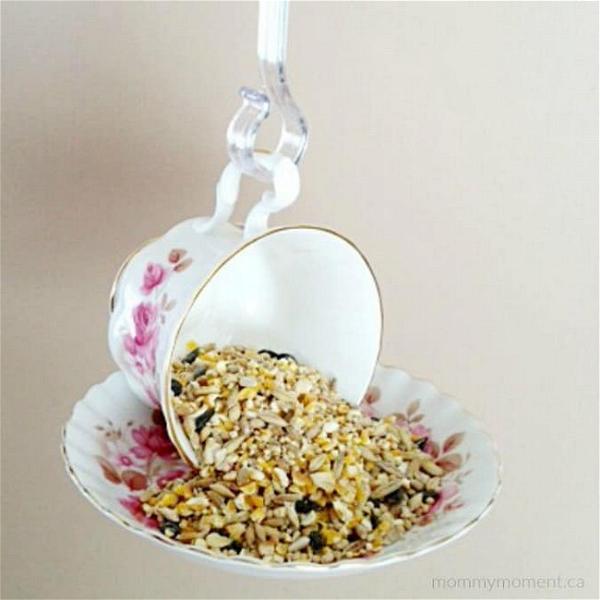 Do-it-yourself teacup bird feeders are a great idea for your winter bird watching. Simple and inexpensive, you can buy a couple of used teacups at a garage sale or thrift store and repurpose one into a bird feeder. You can make your own feeders by attaching a small tea cup, a tea plate, or a glass with a rope or chain to hang from the tree.
If you want to feed only small birds such as blue jay, house finch, mourning dove, chickadee, etc., the DIY TeaCup Feeder is a good idea to learn from! You must attach a small teacup, a tea plate, and a birdseed container into three "legs," and you can enjoy both drinking and feeding the cute little birds! This small bird feeder can also be used with homemade suet balls or suet cake since a small hole is drilled into the teacup. You can fill the container with any sort of seeds and sprinkle them over the small hole.
Vintage Teacup Bird Feeders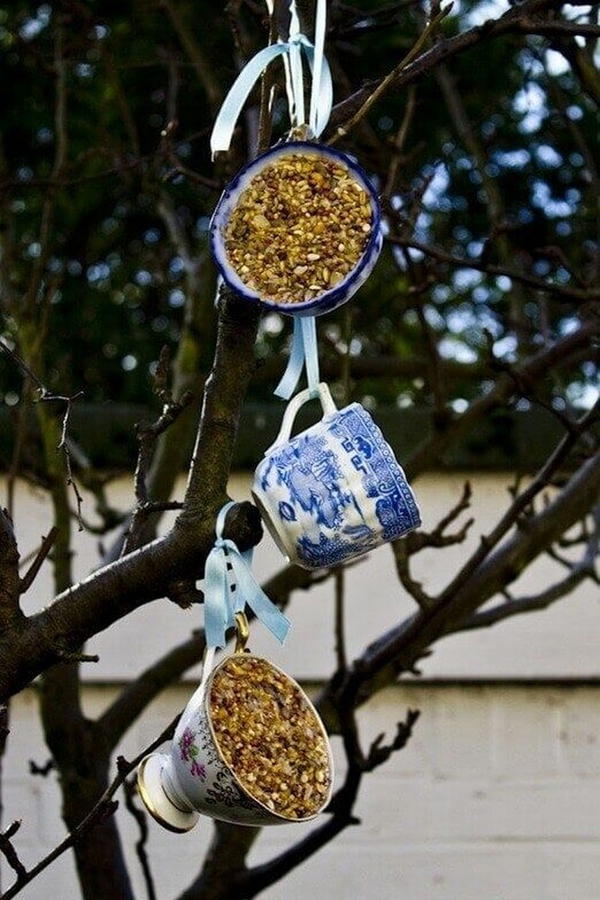 Our vintage teacup bird feeders are designed to be placed on a post or tree branch. This special feeder bowl for your wild birds is crafted from ceramic or porcelain teacups, so preserving the teacup as you help the birds will be guilt-free. The simple and functional design keeps squirrels and other animals from stealing food from your birds - no mess is left behind!
This bird feeder comes in different styles, such as a hummingbird feeder or a sunflower bird feeder. They will surely become a beautiful decoration in your yard, patio or garden. Fancy giving one as a gift? Or include them in your personal wedding décor? We offer custom engraving services to create something more unique. If water is added, it can also be used as a hanging flower vase. This is a simple, yet super cute – and of course functional – idea. Simply hang your Teacup Bird Feeder in the tree to attract birds near and far! This bird feeder is vintage-inspired so it can complement any outdoor décor.
DIY Bird Feeder | 100 Things 2 Do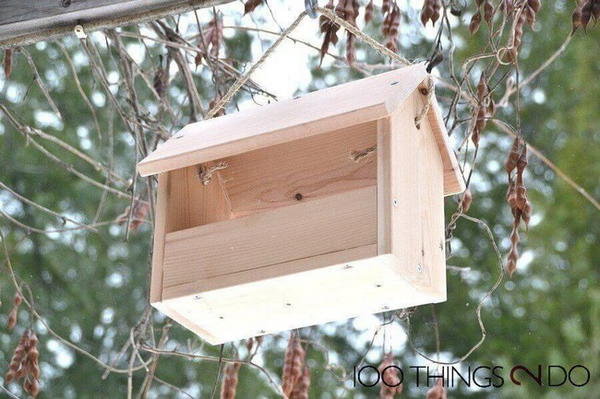 Who says you can't have a pet bird? Birds are one of the most popular pets. You can provide your bird with a little house to live in, or help them escape in nature by building them a bird feeder. This project is easy to make and will attract many birds to your backyard with its fresh seed. You can construct your own bird feeder using simple methods and give fresh food to a large number of birds in your garden! You can use steel or galvanized nails to attach the wood. Then, you can wait here for the birds to come and pick up the seeds from your DIY birdhouse.
Building this bird feeder will be really easy and doesn't require any expert skills. The materials are affordable and you can use recycled materials in case you don't want to buy any. You can construct it in the shape of a small house, but you can also design it according to your taste!
Window Bird Feeder | Ana White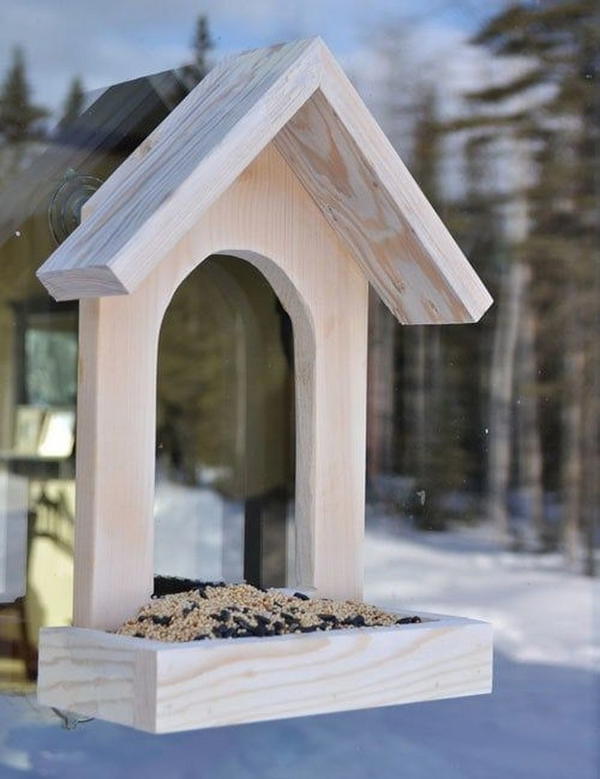 This is a bird feeder that you can make with your own hands. It is easy to do and is a great decorative item. What's more, it also brings lots of birds to your home. We've all seen the ads - hundreds of birds perched on branches and eating from feeders in people's backyards. Most of us have envied the bird owners, who get closer to nature right in their own yards. Now you can have a window bird feeder in your own home without the mess or the mess to clean up. Better yet, it's easy and inexpensive to build!
From the picture, you can see that the window bird feeder is actually made of wooden boards. However, you can buy the materials and make them by yourself even if you don't have so many woodworking skills. After that, you will stick the feeder on your glass wall so that it looks like a window. The birds love the food in this feeder and they can't even see it's just fake food inside. That's how much realistic it is!
DIY Chick-Bird Feeder  The Garden Roof Coop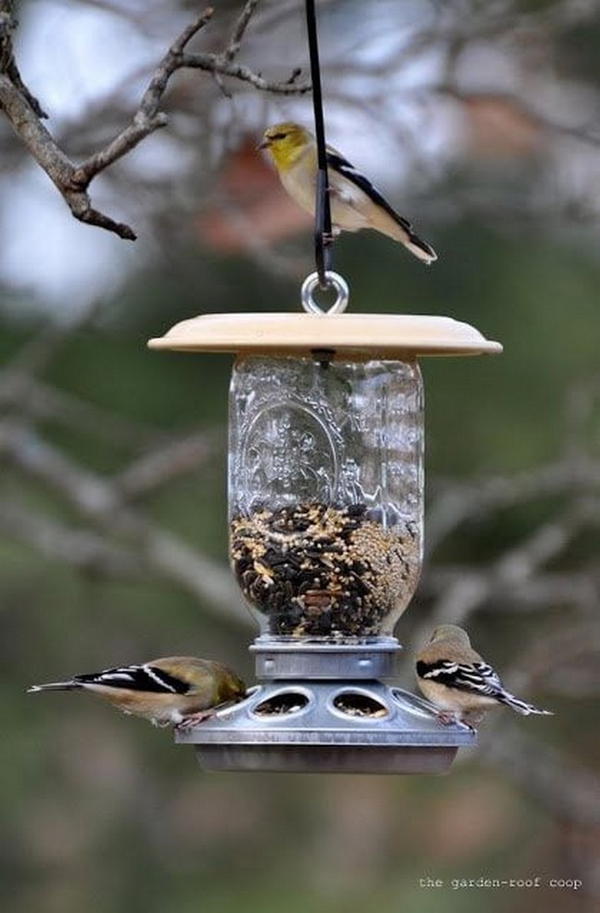 Ever wanted to keep birds in your garden? If you've asked yourself this question, then this project is for you. It's better than using a traditional feeder because it will keep the feathered friends out of your garden and in your yard. This is an easy and inexpensive way to make a DIY chick-bird feeder out of a chick-bird feeder. This DIY project for a chick-bird feeder is easy to build, mainly by assembling three components with a couple of nails. After you have assembled the feeder, you must hang it up high in your garden or near your window.
The birds will smell the food and will come for sure! Your chickens will be (love, love, love) this chick-bird feeder! The funnel creates a small trail for the birds to climb before they can get their food. This feeder is also perfect for all of your other small feathered friends who want a snack in your garden. This DIY project is great for kids and adults who are looking to create something unique from ordinary items.
Paper Plate Bird Feeder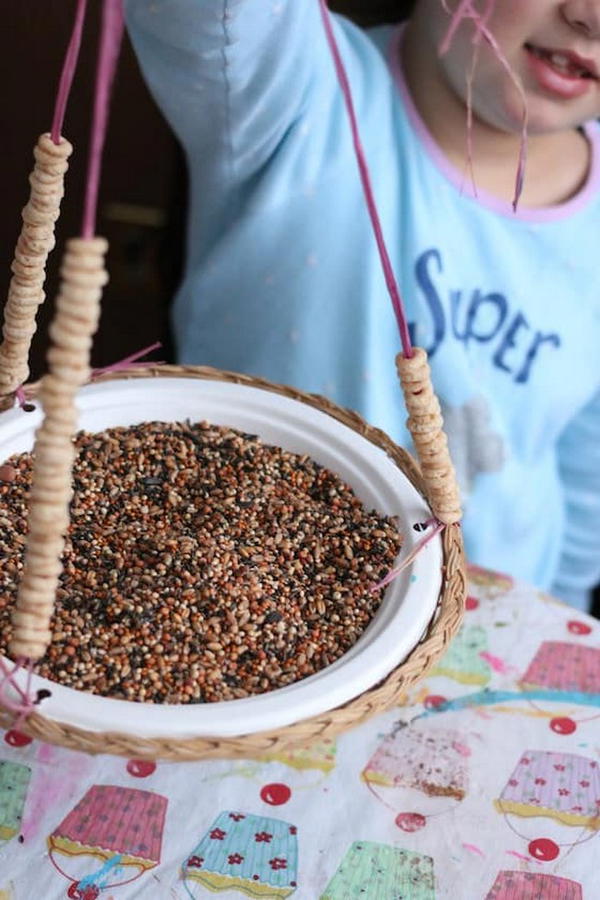 How lovely this food table for the birds is! You may not guess that it is actually made of paper plates. Don't waste your money buying expensive bird feeders when you can make a beautiful food table at home using simple stuff! All you need is a paper plate holder, ropes, and a small food door. The ultimate birdfeeder that you can make yourself! The  Happy Hooligans have come up with a great idea for a paper plate bird feeder! It's fun and easy to make, and you can use any color plates that you like to match it to your home. It requires only a few minutes to complete and is suitable for children.
What's more, you can use them for different kinds of foods such as fruits and cakes. Easy and fun to make, this is a simple paper plate bird feeder. It's very effective in attracting a variety of birds and keeping them entertained. This is the perfect project for you if you'd like to encourage children to take an active interest in nature or if you're making these for a school project.
Pine Cone Bird Feeders
The decoration is well and good. Pine cones, however, can also be used for other purposes than being an eye-catching decoration in the corner of your place. They can be excellent materials for making bird feeders. Here are two lovely pine cone bird feeders that you can make yourself. These pine cone bird feeders are easy and quick to make. They add flair to your yard or garden and they are very useful when it comes to entertaining those tiny feathered creatures. It is a quick way of making pine cone bird feeders. It's simple, cheap, and easy to do. Just remember to choose pine cones that are healthy and do not have cracks, or they can attract unwanted pests like ants or woodworm.
A pine cone bird feeder is also a great project for the kids too they can learn about nature and recycle too. You will make a few bird feeders from leftover pine cones from Christmas decorations and hot glue gun glue. It is a great way to recycle a pine cone that otherwise would go into the recycle bin after the holidays.
DIY Wooden Bird Feeder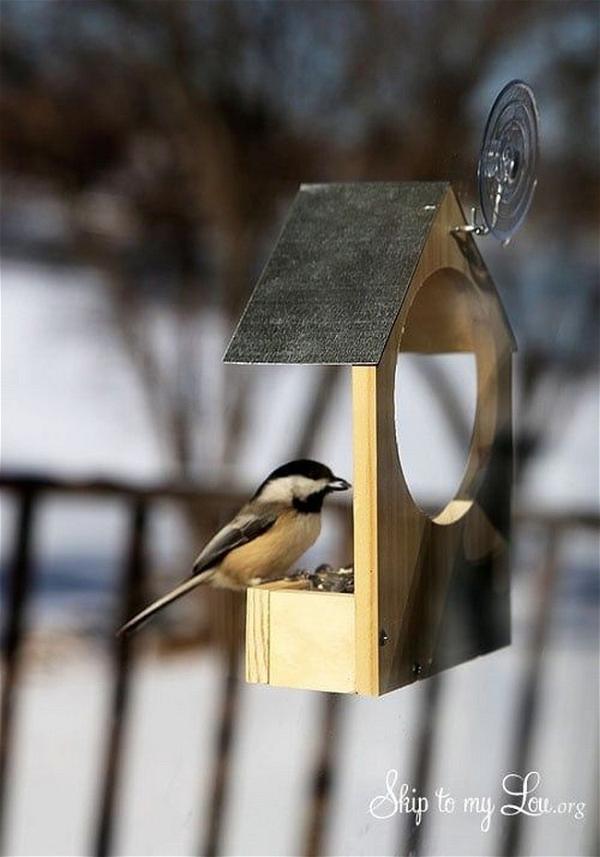 Do you know how to attract different birds to your backyard? Here is a great and creative idea we have prepared for you. The bird feeder is ideal for the parks, gardens, and backyards. You can hang it on trees, walls, or fences – it doesn't really matter where you put it. It's always great to take an active part in the action and make your garden a better place for birds.
The bird feeder holds food for birds - seeds and nuts. Birds prefer sunflower seeds but types of nuts also attract a number of species: acorns, peanuts, shelled sunflower seeds. Birds will easily overfeed out of the feeder so keep it clean after each use. It is Different from traditional ones, this wooden birdhouse is an easy DIY project which is precision cut out of birch plywood panel with simple tools, no help of professional carpentry is required. The wooden bird feeder is among the best feeders because it attracts birds to your home as they get an opportunity to eat food off the feeder. This birdhouse is a perfect idea for mothers and kids as you can use your favorite paints or markers to decorate it.
 Automatic Bird Feeder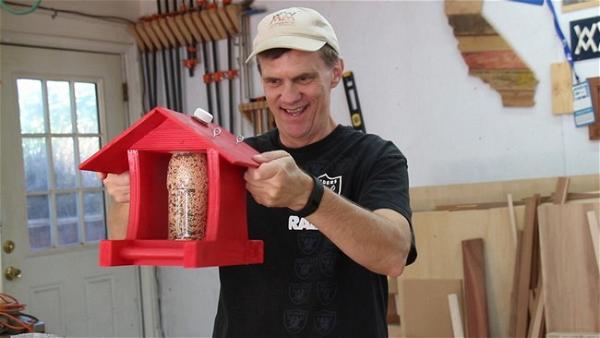 Woodworking for Me Remortals is an expert group in making modern pet food bowls. They just came up with a brand new idea on making automatic bird feeders. What you have to do is to throw some seeds into the bird feeder and then it will release food when birds drop on it. This is absolutely an intelligent tool made by them! Do you like to feed birds but feel tired of preparing food and cleaning up after birds? You are getting the bird feeder which has a special design.
It releases the food within seconds while the birds are eating and it cleans up the leftovers automatically when they leave or you stop pressing it.No more struggles to get food for your birds or forget to refill. This tool will release the food automatically whenever the birds drop on it. Even if you leave your house, you can be sure that your bird will never starve. The product comes with a manual switch that allows you to control whether to feed or not during your absence.
 Bird Feeder With Citrus Peels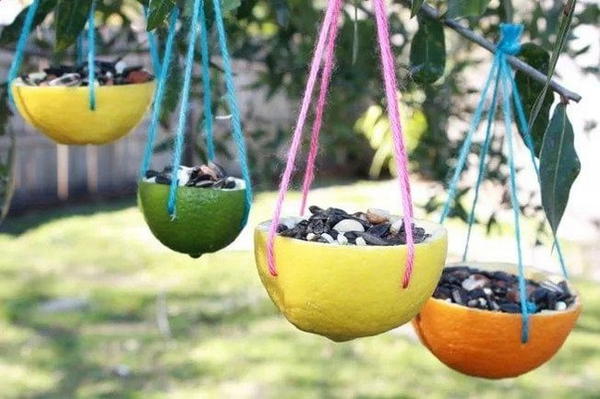 For most people, it's a kitchen or litter box but for squirrels, it's a mansion. That's because squirrels love to make their home in undisturbed wooden areas. So put an end to the destruction and keep them out of your bird feeders with a homemade citrus peel house. Orange is a versatile fruit. You can eat it, drink it, and squeeze it for juice. By using a few orange peels, you can attract birds to your yard. Use your imagination and see what else you can do with this fruit.
A quick and simple project to keep the squirrels off your bird feeder. Use a citrus peel to make a birdhouse that will also discourage squirrels from eating up all of your bird food. Bird lovers everywhere know that citrus peels are the best way to attract birds to a birdhouse. But did you know that your citrus peels can be used for more than just attracting birds? Citrus peels can hold hundreds of tiny eggs, making them the perfect resource for small bird enthusiasts.
Glass Soda Bottle Bird Feeder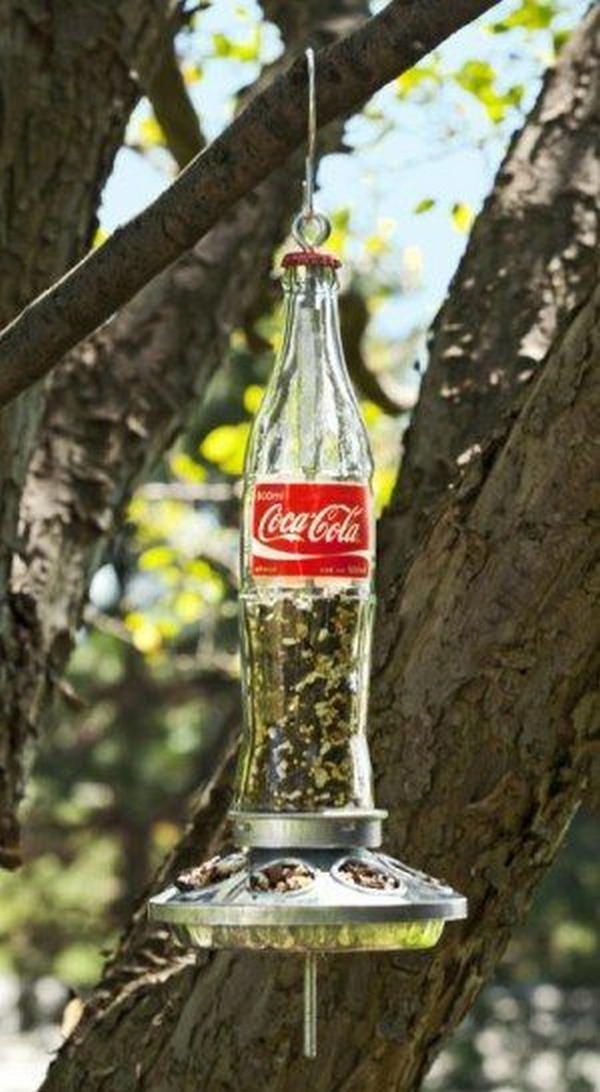 Learn how to make a soda bottle bird feeder with Birds & Blooms! This easy craft is fun to make out of recycled materials and supplies. If you're up for the challenge, turn a glass bottle into a beautiful parakeet feeder. Bottles not applied for recycling due to food residue can be a great material for a bird feeder. It's really a funny, easy and cheap project for everyone. It's also a good way to use leftover bottles of wine or soda from your local restaurant.
DIY soda bottle bird feeder is a fantastic idea to attract birds to your home. The wide mouth opening on this soda bottle makes it easy to fill with sunflower seeds or peanut butter, peanut butter makes the birds stick around longer and feed more, The clear design gives you a better view of your visitors. It is an attractive addition to your garden or patio, We recommend using a wood soda bottle as pictured for the best results; however, if you're really creative, try using a wine or beer bottle and adding some drainage holes in the bottom. It keeps birds happy especially if they are strangers in their surroundings while offering you the chance to watch them and enjoy the beauty of nature close to your home.
DIY Bird Feeder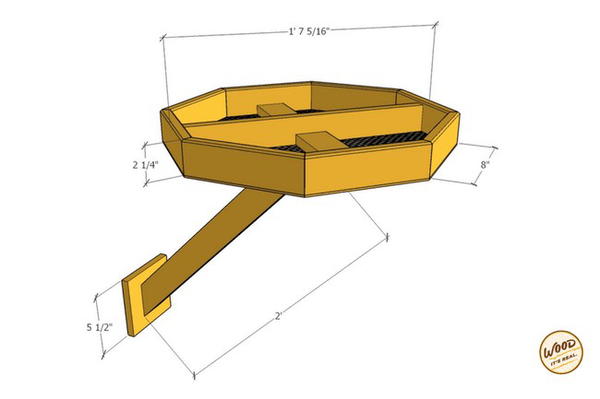 Use this Wood It's Real bird feeder to bring nature indoors. This DIY project is simple and inexpensive, plus it can be mounted on your wall or hung from a tree to keep birds close by and your home looking beautiful. This attractive, hefty feeder is designed to be mounted, so you don't have to worry about it tipping over while it's filled with seed. This easy-to-make DIY Bird Feeder is perfect for attracting birds to your garden or patio! Mount the feeder onto the wall and let it do its magic. No more worrying about cats stealing your seed while trying to keep above-ground feeders clean. It's easy, cheap, and, most of all look great. These plans not only explain how to build the feeder but also where to hang it so you can watch the birds.
Hang that bird feeder on your wall with a solid mount. The Wood It's Real DIY Bird Feeder is a great way for you and your kids to have a little fun, trying to figure out how to get the birds stocked and then to start hanging it up for them! Without putting out any holes in the wall, this feeder can still last for the long haul. With the different colors of wood, you can grab enough different colors of paint and make it just like you want it! Enjoy a new way to decorate your home!
Wooden Bird Feeder Plans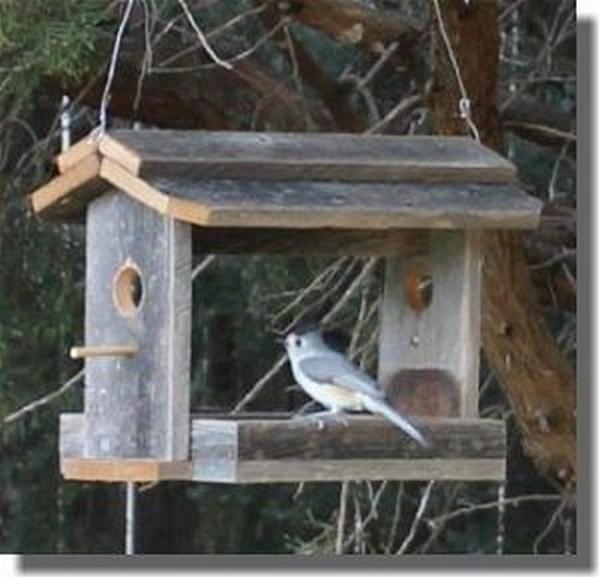 If you are interested in Carpentry & woodworking, then you must have heard about the best bird feeder plans. The wooden feeder is easy to make and very decorative, so it's perfect for bird-watching enthusiasts. You may use it to feed the birds that you wish to watch. Bird food can be kept in bowls. Great as a gift for friends or family members. Humans are often so busy that they have no time left to care for nature. Bird watching is a great hobby to make friends with nature and a great way to get away from the hustles and bustle of modern life. Yet it can be difficult finding a good spot to watch birds. A bird feeder table is a great solution.
It is a type of bird feeder that allows birds to eat easily and peacefully. Whether you are doing a project for a school or just to fill your garden with some spectacular beauty look up here. This bird feeder is so cheap and easy to make that it will become the favorite thing in your garden and attract all kinds of birds from various species.
Platform Bird Feeder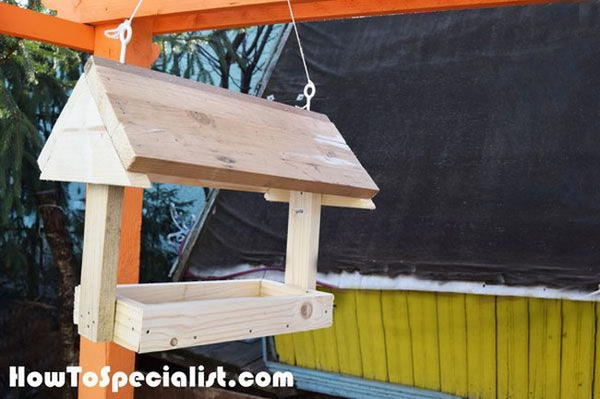 This project will require that you build a platform, attach it to a pole, install the feeder on it, and then hang the entire unit from a tree branch or your home. This Platform feeder is an easy and beautiful way to bring in birds for your viewing and listening pleasure. But you will need more than a few bird feeders and some solid woodworking skills! A wooden platform feeder makes an excellent addition to any bird feeder collection and is the ideal natural location for small songbirds, who feed primarily on seeds in the winter.
It is the time of the year when flocks of tiny birds come to us and start serenading us with beautiful songs. What better way to spend an afternoon than sitting in a shaded area in your garden or porch enjoying these little ones while they are busy catching insects or sipping nectar. Why?  This feeder can hold a lot of food and is made from a much sturdier material than any other type of bird feeder you can buy. This means that your birds' will be able to stay comfortable and warm even during chilly winter nights!
Wine Bottle Bird Feeder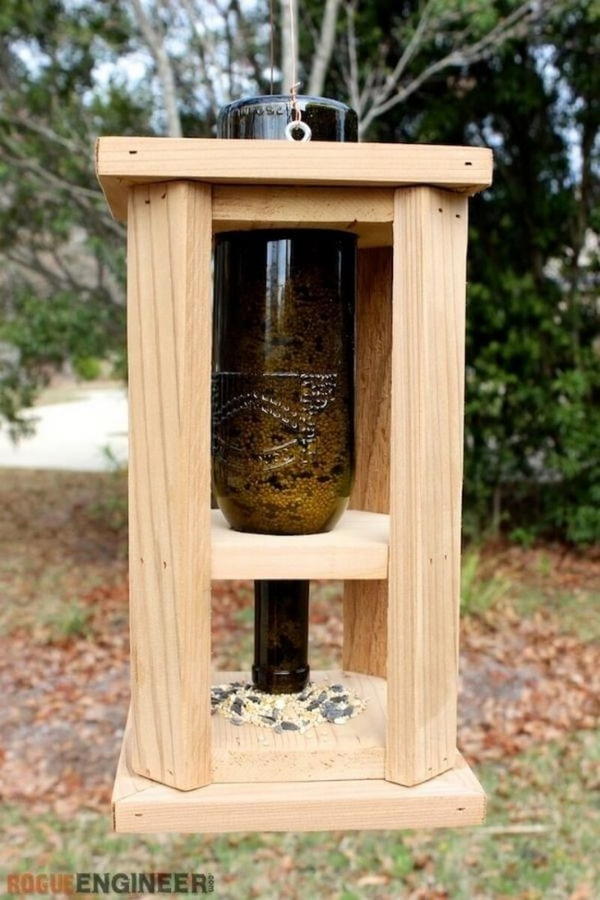 How to make a wine bottle bird feeder from wood? This is a very lovely idea. The ideas of the owl glass are so creative and attractive. The DIY wine bottle bird feeder craft is made from wood or painted, then hung in a garden or patio area for all birds to enjoy their millets and fruits. If you have a glass bottle left over from a party, or much more chances are that maybe you can get it from local shops which sell empty wine bottles. And then what you will need are two wooden sticks of your favorite polished wood and some screws. The design is easy and creative. Place on an old wine box, the small neck of the bottle will hang out of the box, which you can put some sunflower seeds in there.
There are 2 parts to this project. The first one is to make the bird feeder. In the middle of the wine glass body, there is a small neck of the bottle. And you need to drill enough to fix the neck in place. Second, you can use some wooden rings and glue to hold it with another piece of wood and paint it like a real box! You can also invite the owl especially by making his favorite rest station following our series of DIY owl house ideas.
Cozy Cabin DIY Bird Feeder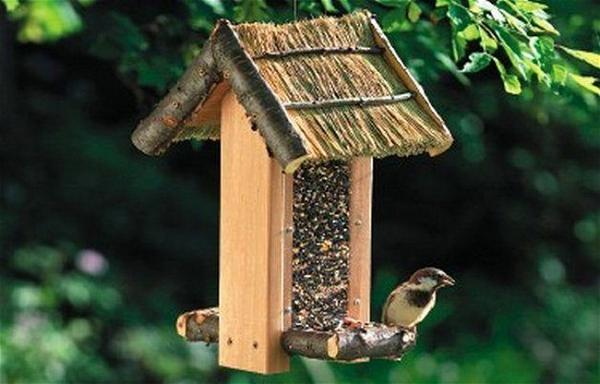 Grab the materials from your local shop and using our easy step-by-step DIY instructions, restore or create a new bird feeder for your garden. This cute feeder is charming with forest character created by natural pinecone, twig, and pine needle details. All birds will feel so cozy to have their tasty meal there! Your beloved birds will love the treats you'll provide them with this cute, easy-to-make bird feeder. It is sturdy, stylish, and totally squirrel-proof. Bring a cozy cabin-style touch to your garden with this homemade bird feeder! This squirrel-proof feeder is made with simple local materials and can be hung from a tree or on a post.
Start building this cozy cabin DIY bird feeder and enjoy watching your little friends visiting it! Try making your bird food with a homemade squirrel-proof feeder and let it sit on a tree, post, or inside the cabin. Now your bird can enjoy having its meal in idyllic surroundings.!
DIY Colorblock Bird Feeders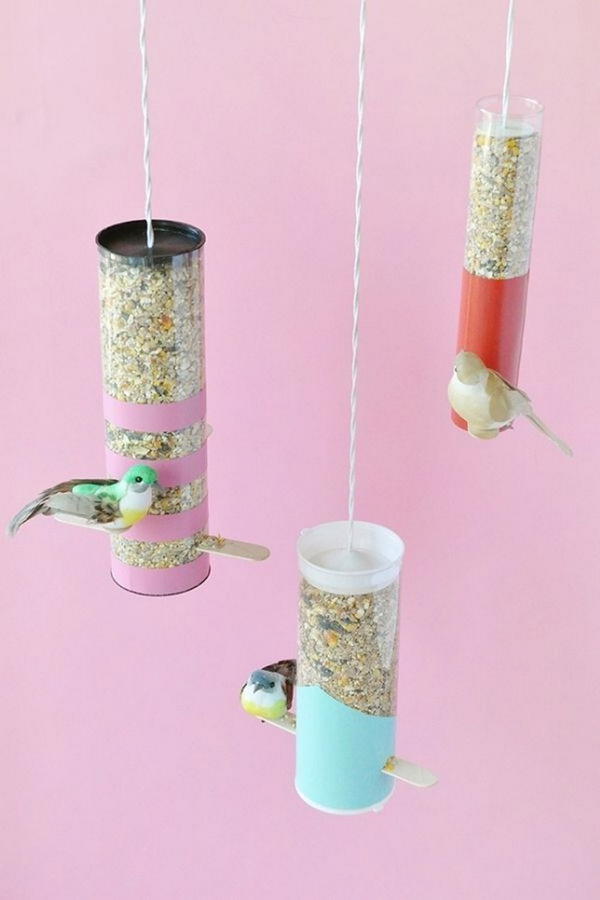 Would you like to try making your bird's food yourself? As spring is coming and the trees start to bloom, the birds are also looking for food for their babies. Paint a bird feeder with some colorful designs and hang it on the branches of a tree! Try attracting colorful birds to your place by making a bird feeder from empty transparent cylinder tubes! You can make your own color-block bird feeders with empty transparent cylinder tubes!
All you have to do is paint colorful designs onto the outside of the tubes, fill them with birdseed, and hang them in a tree. Colorful birds are beautiful to see. Attract them by making DIY bird feeders from empty transparent tube cans. Easy to make, they come in various sizes and shapes and can be personalized with glitter glue and stickers! The DIY colorful bird feeder is simple to make and will bring you and the birds joy. All you need is a transparent cylinder tube and any seasonings of your choice. Plants or herbs from your backyard will work great too!
DIY Bird Feeder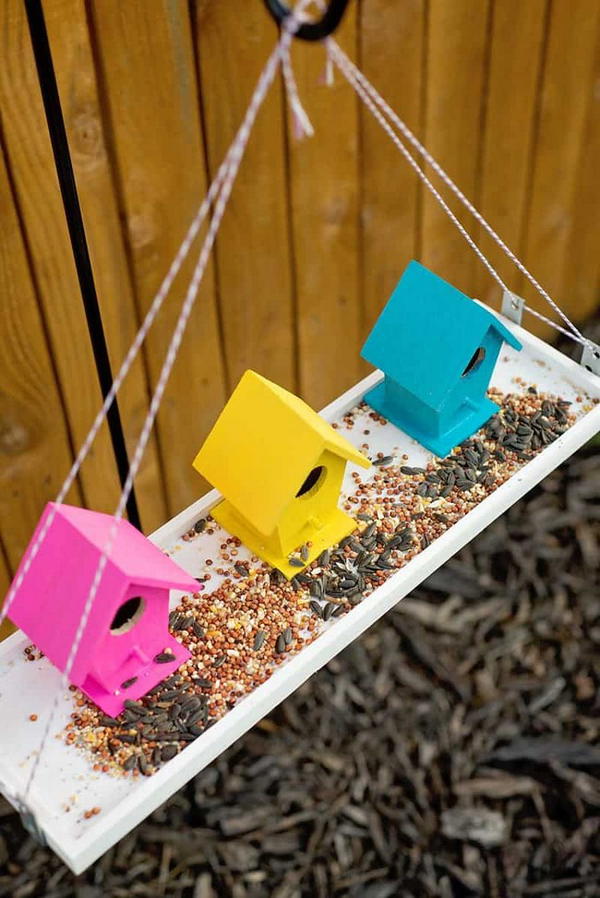 It is unnecessary to have expensive tools such as a saw, board, or metal mesh for building bird feeders! This product supplies the simplest DIY method. You can easily make an environmentally friendly bird feeder with a candy box, which will attract more birds! It doesn't have bacteria since it is the natural substrate. The durability is high because of the cube shape, and there is no danger of critters getting in! Building a bird feeder is not difficult. Nor do you need to have expensive tools such as a saw, board, or metal mesh for the components. All you need is some moderately-priced materials and a good set of instructions for the feeder construction.
Made of recycled materials, this DIY bird feeder uses multiple simple steps to create an eye-catching bird feeder. If you do not mind the mess and making a little noise, there is no need to worry about how expensive it is to buy a bird feeder! Let's start now! Build your own bird feeder with only a few materials and affordable tools! See how you can make the bird feeder by yourself easily without tools.
Scattered Thoughts Of A Crafty Mom
DIY Bird Feeder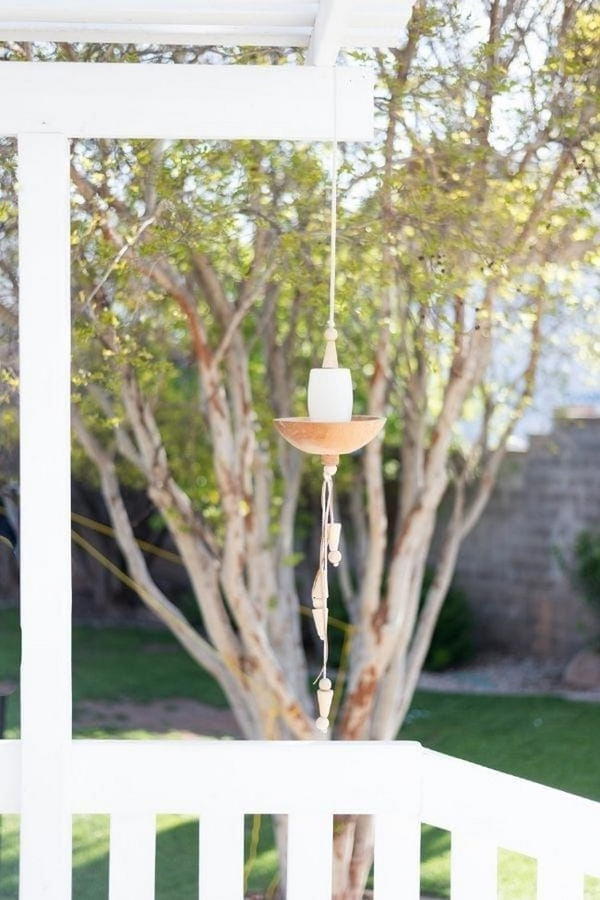 The Vintage Revivals and White Widow Design present a great DIY project that is easy and inexpensive. It will give your backyard lots of styles but, most importantly, will attract birds to your new table. There are several different designs for DIY bird feeders out there. Here at Craft it Forward, we wanted to share how you make a worm feeder out of an old bottle. Creativity and recycling are the two main components of this project, so if you have a few minutes, stop by your local thrift shop and pick up an interesting bottle.
This fun bird feeder can be made from any bottle, plastic or glass with a standard mouth. Bottles with holes in the bottom make a perfect base for the feeder but require drainage holes using a bit or drill. It's easy to make with just three materials: Bird-friendly seeds you can purchase at a pet supply store, a funnel to pour the seeds through, and an empty bottle. To create your own personalized bird feeder, write on the side of the bottle with a permanent marker the name of the birds that eat from it, or paint it to add color and design.
Mason Jar Log Bird Feeder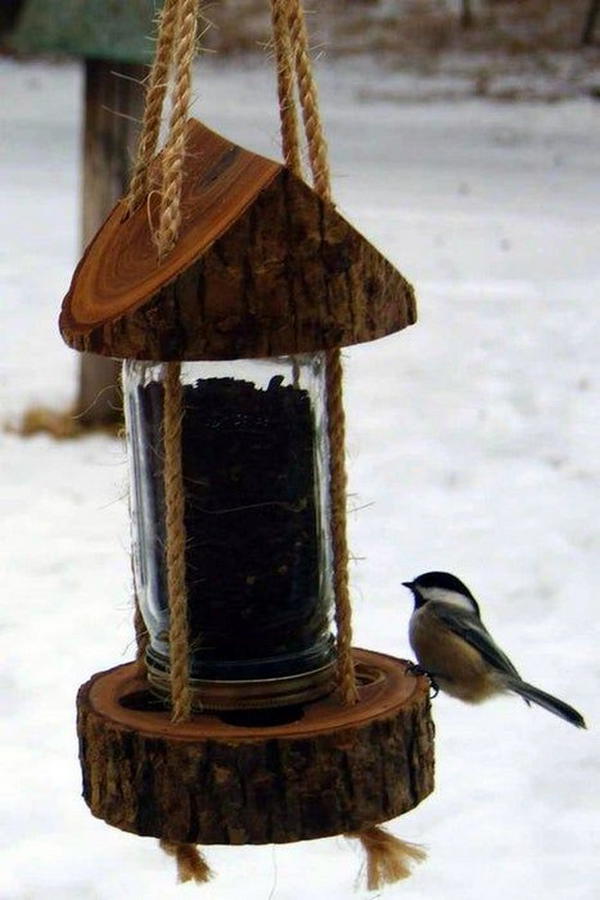 Whether using fancy vintage jars or making your own from a log and a mason jar, this feeder will give hummingbirds, orioles, and other birds food to eat all year long.It's never been easier to attract birds right to your backyard! This mason jar log bird feeder is hand-made using a real, live hardwood branch and a mason jar. Fill with your own favorite bird food, and you are set for a natural feeding station that mimics the trees squirrels and other wild woodland creatures use. This bird feeder will add beauty and charm to your yard or garden area!
DIY Wine Bottle Bird-Feeders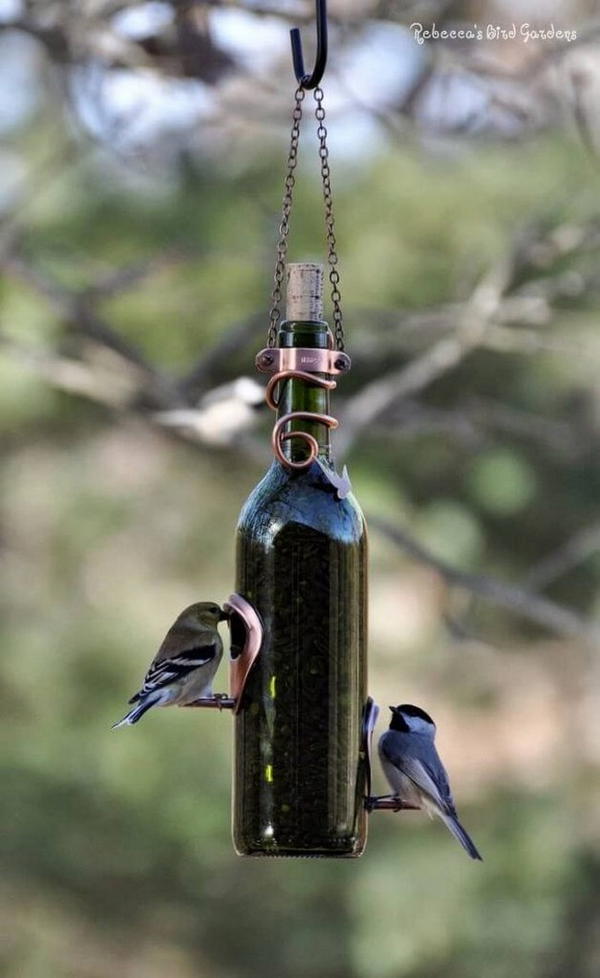 There are many easy DIY bird feeders on the market. The DIY Wine Bottle Feeder is one of them. It has never run out of trend because you can take a pretty bottle from your liquor collection and use it as a bird feeder. However, the work will be a little more difficult this time when you need to measure and drill the glass bottle.DIY Wine Bottle Bird-Feeders for those who love bird watching. These feeders are beautiful and good to enjoy with friends and relatives. Feed the birds and other species in a very new way by making your own wine bottle bird-feeders at home.
The DIY Wine Bottle Feeder kit is ideal for kids as well. Painting on the glass bottle is a very enjoyable process, as it can be decorated with bright colors or clear paints to suit your individual preferences. In this project, you'll need a wine bottle made from glass. Do not worry if your DIY wine bottle bird-feeders are not perfect or do not have what the original work has. It is only a home improvement, and it is worth it. You can break the wine glass and make beautiful bird feeders with your own hands.
Sisal Rope Bird Feeder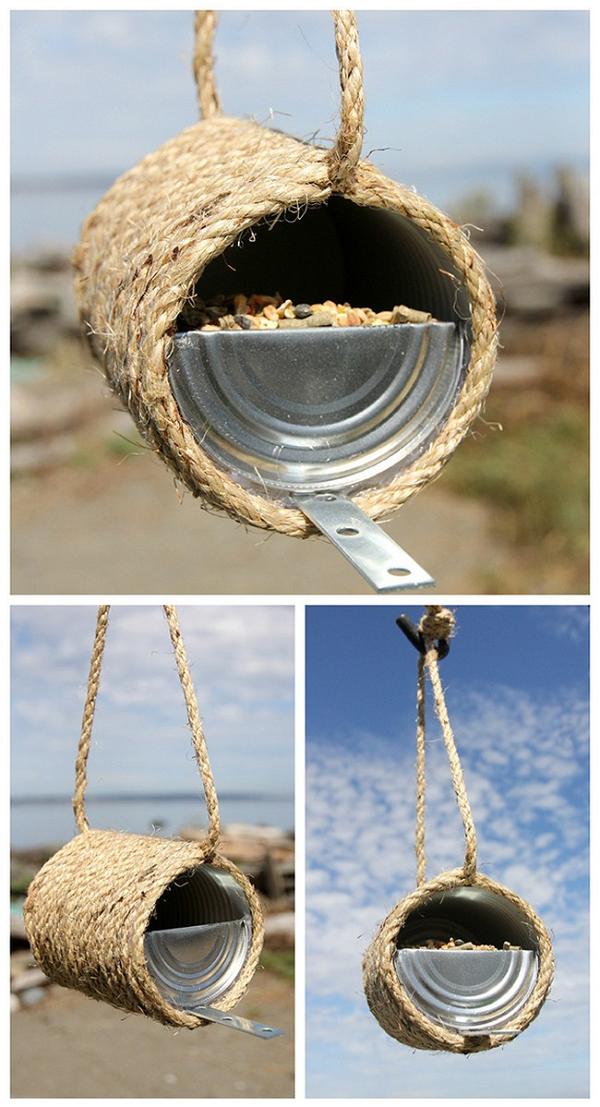 A bird feeder is simple, inexpensive, and joyful. It's created with a rope and a can of food. There are different designs; the most common are wood or plastic. Sisal rope is plentiful, easy to longer, and creates a beautiful design. The birds will appreciate your work, and you can relax on the beach, beer in hand, watching them enjoy your work. A sisal rope bird feeder is one of the most creative ideas. You can make it by yourself.
All you need to do is to cut a soup can in half and cover the can with a rope; after that hang it up. A metal stick will be attached to the feeder for the bird to land on. It is really easy to build! Save money and have fun building a feeder for the birds in your backyard. You only need some rope, scissors, and a can to make this handy can feeder. It is simple to hang anywhere and is functional as well as decorative!
Bird Feeder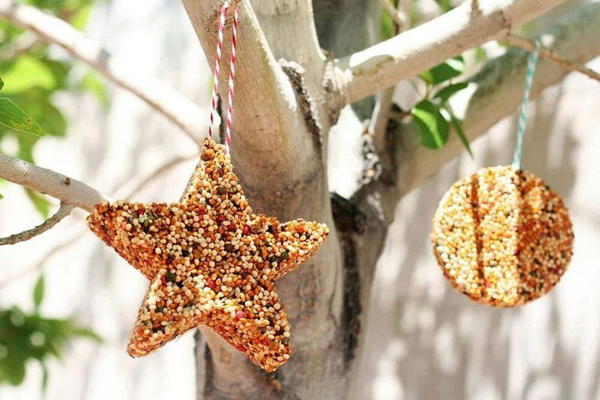 Have you ever seen a bird feeder? Before now, most of them would have been closed and unable to watch the birds eating.   This star shape bird feeder consists of a solid base, four long poles, and a crossbar. We stick all the food together and form it into a star shape to hang it on the tree. Then, we can watch the birds come to peck at the food through the glass window.
Now, our concept can make bird feeding more interesting and open for people to enjoy! Our concept is simple: if you're bored with the usual way of feeding birds, or would like to give your friends an unforgettable gift, then this is perfect for you. This is a perfect gift for you and your child. It comes as a set of beautiful bird feeders. Each one is colorful, cute, and different. They are designed to fit upon each other so that the combined result is a beautifully crafted, bubbly bird feeder. They are easy to use, safe, and fun to build together!
Homemade Bird Feeder From Vintage Teacups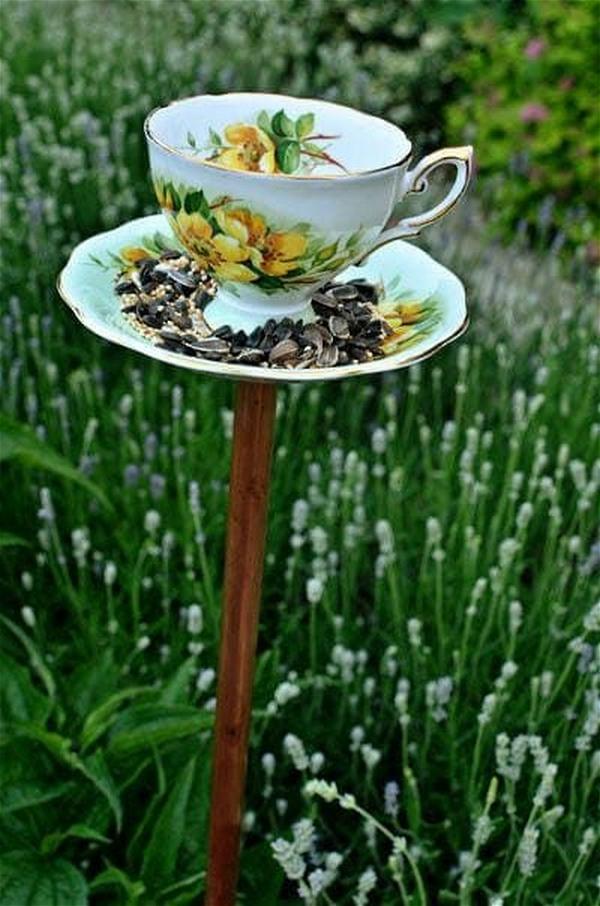 If you love birds, this bird feeder is perfect for you! All you need are some vintage teacups, wires, and other stuff. Make a big set of this feeder and decorate it at a wedding, then it will attract singing birds to the event! Make a wedding gift or housewarming gift. You can use the handmade bird feeder for parties, outside picnics, on the porch, or at a wedding! It will attract birds to your party and brighten up your day. The birds will be attracted to your feeder due to its bright colors and easily accessible food source. This bird feeder is so easy to make and will work perfectly on those beautiful spring days. Just fill the vintage teacups with seed and place a slice of apple or orange on top. Your birds will be lining up for their delicious treat!
This vintage teacup bird feeder is a wonderful decoration for weddings, parties, and other special events. The feeder is easy to make and will look great on the table at any event. It has space for five suet cakes so that you can fill them with lots of yummy seeds!
DIY Sunflower Tower Bird-Feeder
If you love bird watching and enjoy growing flowers and plants, then you will surely be thrilled with the Sunflower Tower feeder. This is an economical way of feeding birds when one designs his or her own bird feeder with a metal mesh, 2 terra cotta saucers, and other supplies. This DIY Sunflower Tower bird-feeder starter kit comes complete with all the tools and information you need to make a beautiful bird feeder.
With two terra cotta saucers, one Flower Pot Antique Brass Bell, and a metal mesh for separating the flower pot and the feeding area, this is a fabulous gift for friends and family or to keep for yourself! The Sunflower Tower is a type of bird feeder that's easy and fun to make at home. This DIY starter kit contains the necessary parts to assemble your green-thumbed gift.
Mason Jar Bird Feeder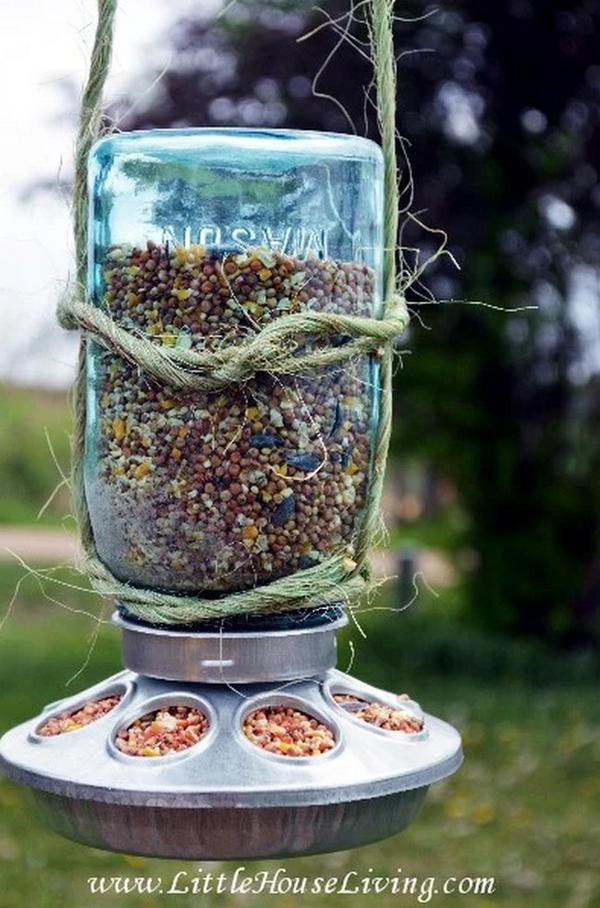 Have you ever seen a bird feeder that is made from Mason jars? The Mason jar seeds will fall to the small chicken feeder. When the birds come, they will peck through the feeder's holes. Accessorize your garden with our original bird feeder from vintage Mason jars. The seeds inside the jar will fall down to the small chicken feeder. When the birds come, they will peck through the holes of the feeder, creating a unique homemade bird feeder.
Enjoy watching birds enjoy our daily food and looking at your unique homemade bird feeder. Make a little wildlife to your backyard, let the birds come, and peck through mini holes at the bottom of the feeder by providing them with food. This Mason jar bird feeder is very easy to make with some hard work, you can also give it to your kids for a DIY project.
Acorn Bird Feeder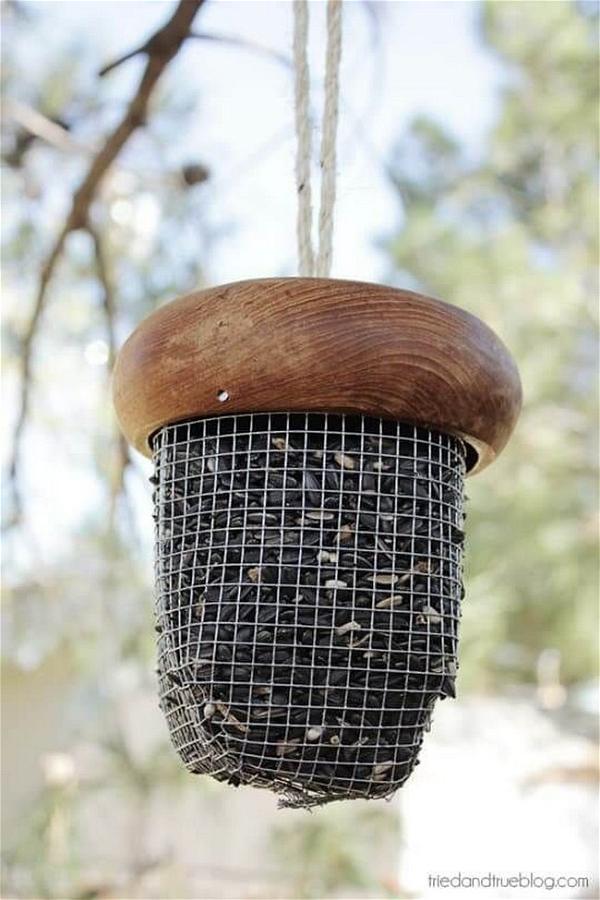 If you have a big backyard and want to give birds some food, then an acorn bird feeder is very useful. With some simple materials, you can make yourself an acorn bird feeder. Build an Acorn Bird Feeder This Acorn bird feeder is beautiful and easy to build and incredibly effective at encouraging birds to eat right outside your window! This project is part of a series on bird feeding. You might also enjoy the hummingbird feeder, the DIY bird feeder, and the finch feeder.
If you have a big backyard and want to give birds some food, then an acorn bird feeder is very useful. With some simple materials, you can make yourself an acorn bird feeder. If you feed wild birds in your backyard but are tired of throwing the birdseed on the ground for them, making and using an acorn bird feeder may be a good solution for your situation. Wood can be used to build this project, but we use a plastic bowl designed for this purpose because it is lighter than wood and doesn't decompose as fast.
DIY Milk Carton Bird Feeders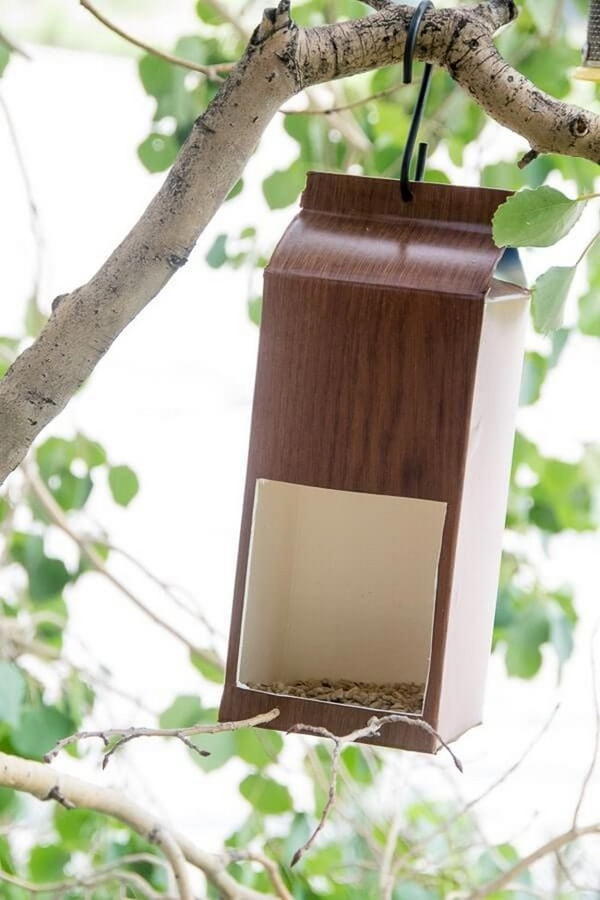 There are a lot of things you can recycle to make a bird feeder. This idea is really easy to learn and do after! So, give it a try! These DIY milk carton bird feeders are so easy to make that anybody can do it. The best part is what you'll see after the birds see their new home.DIY Milk Carton Bird Feeders are easy to make, and most of the things you need are probably around the house. It's a great way to recycle your recyclable items. It only takes a few minutes and costs very little - meaning you can easily afford to make one for every season! These adorable DIY Milk Carton Bird Feeders are a cheap, easy, and quick craft idea you can make from the milk carton your family uses.
This is a great activity to do with kids because they get to work on making a bird feeder and feed the birds while they're at it! Get your milk cartons and cut them in half. Next, put peanut butter on the carton lids and then stick them to the milk carton halves. Put birdseed inside the cartons! Now, it is ready to decorate! You can use foil or paint for some fun designs!
Soda Bottle Bird Feeder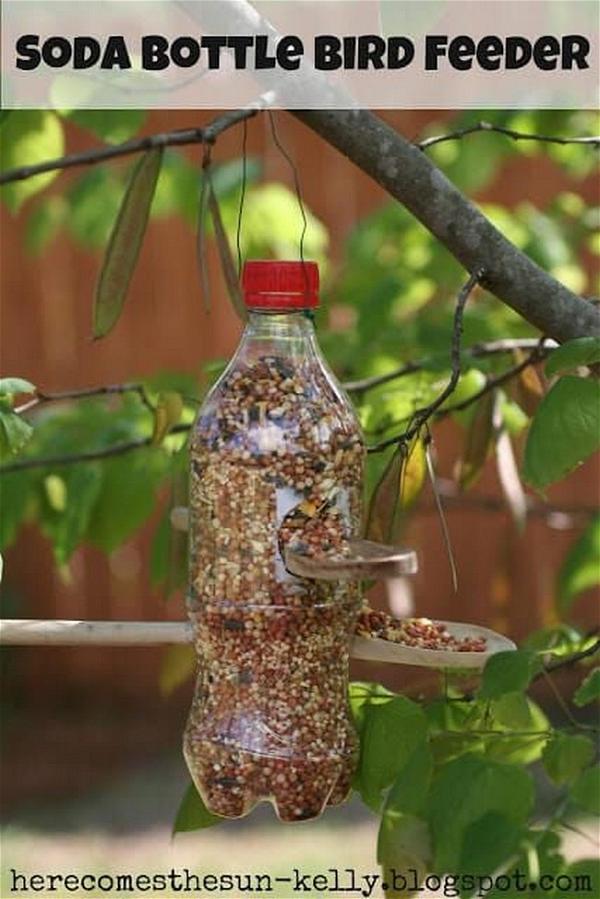 A soda bottle bird feeder can also be a beautiful decoration to your garden. When the birds come to this feeder, they will eat the food directly from these spoon bowls and leave no mess on your table and floor. Isn't this feeder pretty? I made it myself out of an aluminum soda bottle. It's not only beautiful but also very safe for the environment. Or have you ever been short of time to buy a new one? The bottle bird feeder can be made easily at home because it does not need expert skills.
If you're looking for an inexpensive, no-sew bird feeder, your search is over! This bottle feeder features a plastic soda bottle that's a beautiful addition to any yard or garden. It's simple to make and easy to use: just fill the bottom of the feeder with black oil sunflower seeds, press bulbs or marbles into the bottleneck to hold plastic spoons in place, then hang it up for the birds to enjoy.
PVC Pipe Homemade Bird Feeder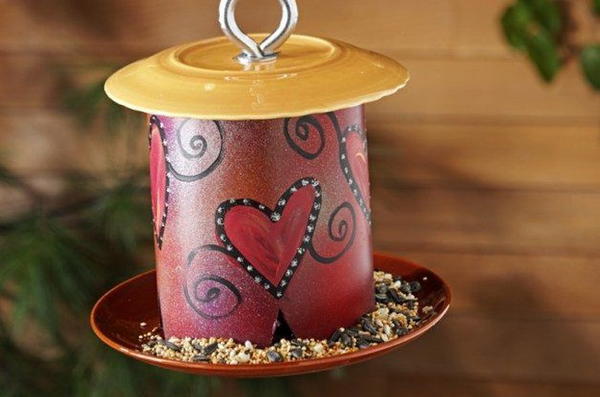 If you are looking for a feeder with a large food capacity, this PVC Pipe will definitely have a place in your collection. This project is very easy and cheap to do. You just need one wooden or metal pole, PVC pipe, and other small tools for assembly. This feeder has a good capacity for food, making sure that your feathered friends can have in their meals here. With this feeder, you can attract many kinds of birds without spending too much money to get the feed.
The bird feeder is suitable for all kinds of birds and it will create a great backyard attraction. It is one of the easiest and most fun projects you can make. This design allows the birds to eat on top of the bottle rather than underneath like most feeders, and it also holds LOTS of food. A full soda bottle will hold about 1-½ cups of seed, so you only need to fill it halfway with seed for a two-week food supply for a busy bird feeder!
Rustic Log Bird Feeder DIY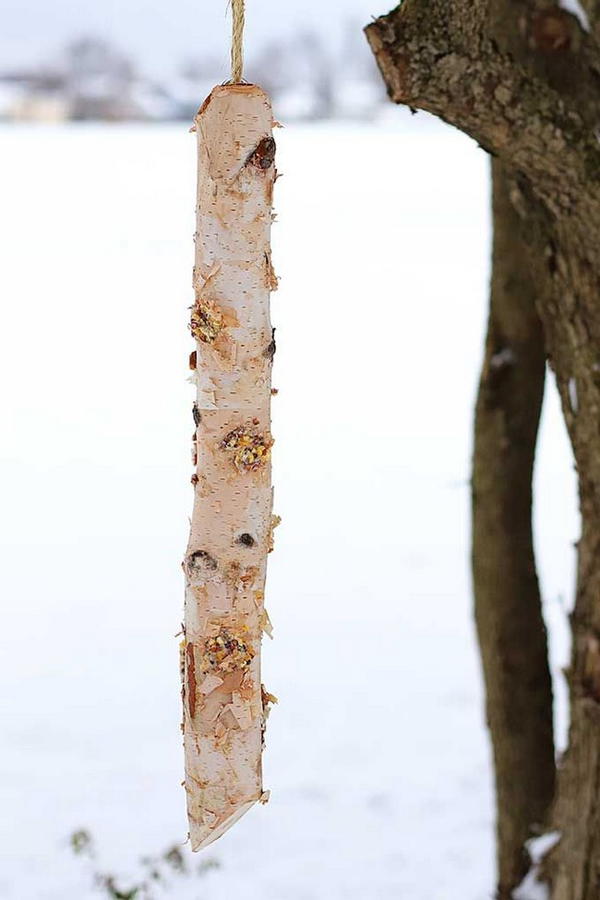 Wondering how to make a bird feeder with waste material? Our Rustic Log Bird Feeder DIY is super easy to make. All you have to do is grab a log, connect it to a rope and add some food to it. All you need is a log, rope or wire, and food and you can create your own unique bird feeding station. This rustic log bird feeder is super easy to make. You must grab a log, connect it to a rope, and add food. Just grab a log, connect it to a rope, and add some food.
This rustic log bird feeder is easy to make. All you have to do is grab a log, connect it to a rope, and add some food to it. It will give you a different kind of experience in your backyard by letting the birds close to you and providing them with the freshwater they need, especially during the hot summer days. You can see cute hummingbirds, tiny sparrows, or beautiful blue jay in your garden.
Gazebo Family Handyman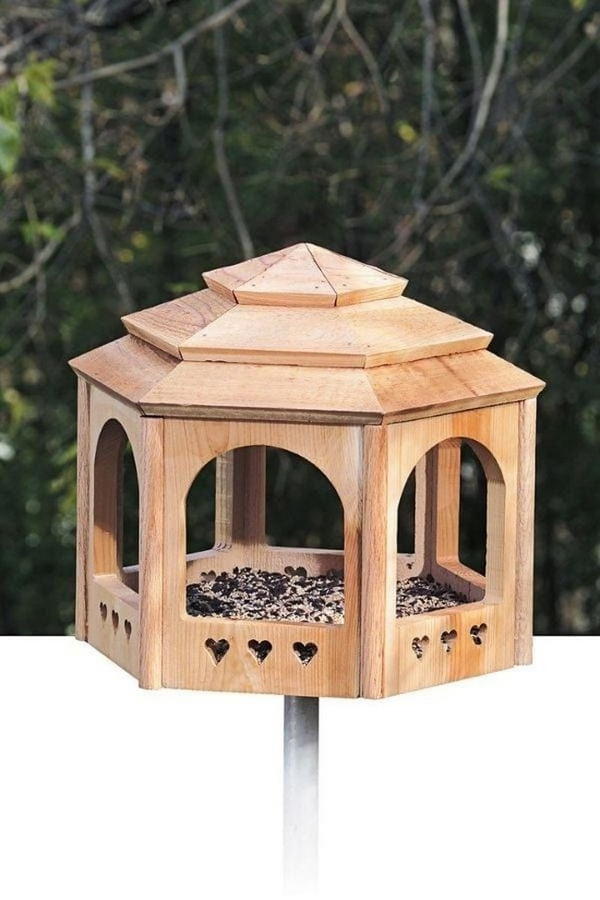 The Family Handyman suggests this simple and elegant project to make a gazebo-style feeder for the birds. It has that old-time feel and will be the favorite of your feathered friends! What better way to make the neighborhood songbirds feel welcome in your garden than with a gazebo-style feeder that has the shape of an old wooden pavilion? Add a touch of elegance to your yard or garden with this simple and cheerful wooden bird feeder shaped like an old-fashioned covered pavilion.
The roof is made from very thin plywood and covered with copper flashing to help protect the wood from rain. We designed this bird feeder to hang from a tree limb (you'll need a hefty branch that can bear the weight).Our Family Handyman staff designed this stylish four-sided, redwood birdhouse with lattice walls and a zinc roof that looks like the traditional stepped-gable roof on a pavilion.
Bird Feeder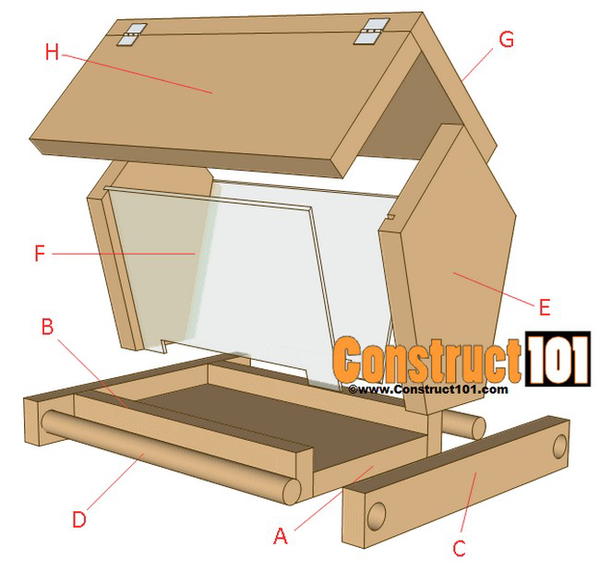 Keep your feathered friends happy with this reliable and easy-to-use bird feeder. Perfect for the novice, it comes fully assembled but also allows you to add food easily through hinged plexiglass. This feeder can be used year-round and will attract a wide variety of birds. Birdy is a fun and easy way to attract and care for birds in your yard. This feeder contains a built-in seed tray allowing you to easily add food through hinged plexiglass.
Made from recycled milk jugs, it can be used year-round and will attract a wide variety of birds. This fully assembled feeder comes with a bag of bird food and can be used year-round. Use the convenient hinged plexiglass cover to add food for your visiting birds. It will attract a wide variety of species, including finches, cardinals, chickadees, titmice, and nuthatches.
Cedar Bird Feeder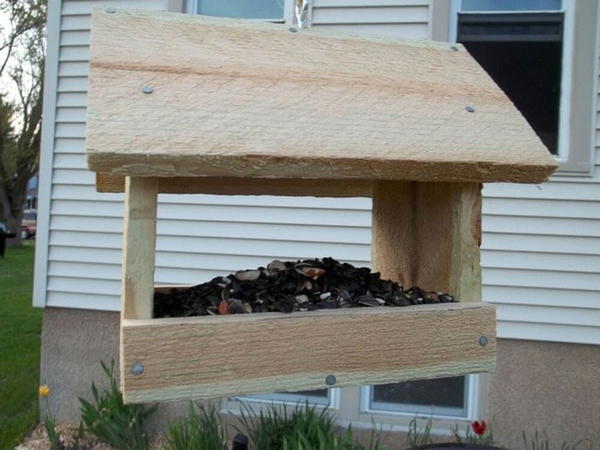 This carefully crafted Cedar Bird Feeder is an innovative way to become more closely acquainted with nature. Not only does it fill a functional need, but it is also a decorative piece that blends nicely into any yard or garden. The feeder comes fully assembled, but an additional plexiglass panel allows easy feeding. This feeder can be used throughout the year and will draw birds from near and far in search of the sugary snacks inside. The bird feeder is an easy tool to encourage the beautiful side of nature in your backyard. Holds quarts of your favorite seed mix and features a removable bottom tray for easy cleaning and filling. The hinged plexiglass door makes it easy to fill with food while protecting the food from rain and snow. This bird feeder allows you to enjoy your birds throughout the seasons and year.
Log Bird Feeder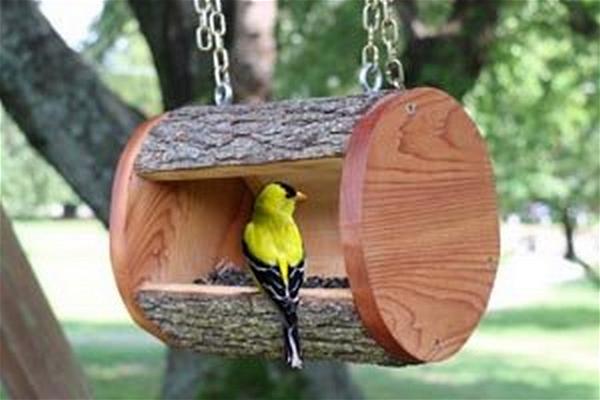 This Log Bird Feeder is a beautiful addition to any yard or garden. You can cut down a log from a fallen tree and transform it into a tough, creative, and beautiful bird feeder, and you get to pick the shape and height. This bird feeder is perfect for bluebirds, chick-a-dees, Cardinals, Finches, and Hummingbirds. This feeder is made from a naturally weathered wood log, which takes only a few hours. It really is quite easy to make, and something the whole family can do together.
Besides looking great, it'll keep squirrels away because they won't be able to hang onto the bark while they're eating! Robust and stylish tree log bird feeder made from a real tree log with a birch bark design. It is simple, ecological, and easily maintained. The large opening at the bottom allows smaller birds to nest safely...
Simple Macrame Bird Feeder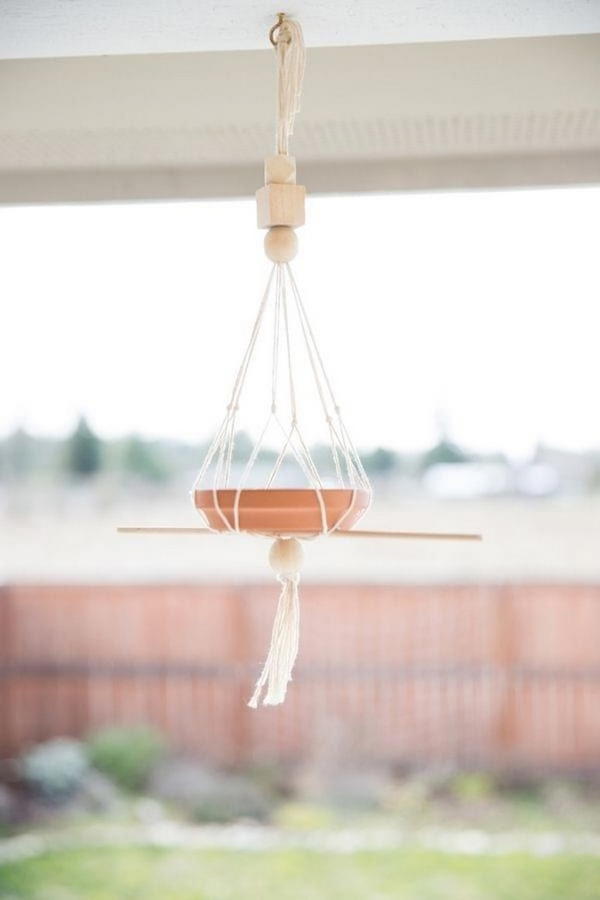 We will make a bird feeder that is perfect for the garden or patio. It's simple, but it will have all of your guests asking where you got it, and which urban homesteaders made it. It's very cheap to make as you are only using recycled materials. Perfect gift idea! Who says that bird tables can not look minimalistic? They will show you how to make a simple bird bowl from terra cotta plant saucers, sticky glue, and cotton twine. We made this beauty in a jiffy. It was one of the easiest macrame patterns that we have done. If you grew up doing macrame, then you will know how easy this is. This macrame bird bowl can be used indoors or outside on any type of surface and it won't slip or move around.
DIY Bird Feeder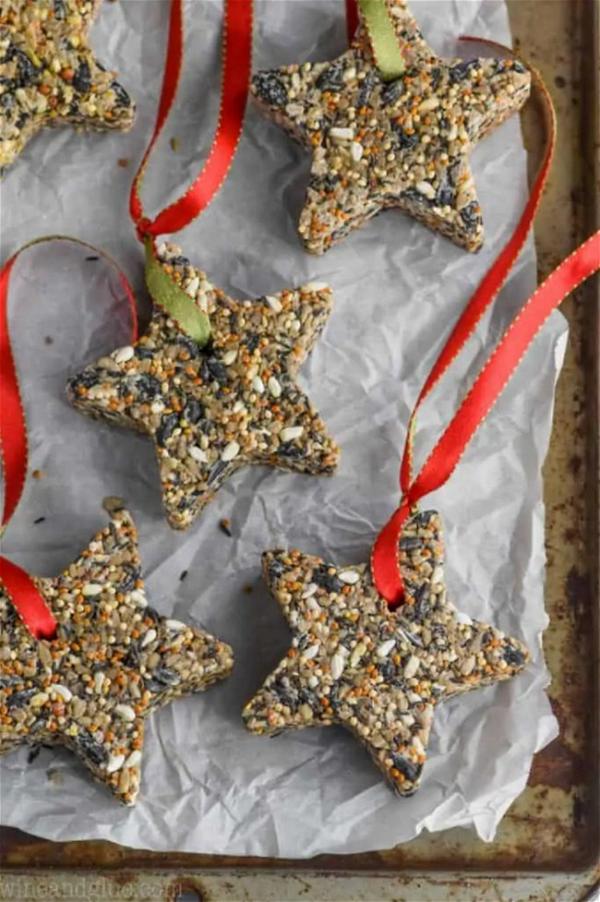 Ever wanted to feed a Greenfinch? Of course, you have! This easy DIY bird feeder helps you make the food look like it is on a plate. Making it easier for the bird to pick up the food because there is no need for it to stand on its legs and hold its wings. Its Star shape makes it, even more fun and cute. Wow! Making a DIY Bird Feeder at home with only some recycled bottles is so easy! Mix the bird food, cut the drink bottle into a star shape, and hang it up high! It is so easy to choose what to feed the birds every day! And it is also super fun and cheap to make as we only need to use recycled bottles.
Have fun crafting this DIY Bird Feeder. Not only can birds eat, but they also can make beautiful scenery for us. The bird feeder is an indispensable accessory for bird lovers. One type of bird feeder is a DIY bottle bird feeder. It's cheap, fun, and easy to make. You just need some empty glass bottles (cleaned), scissors, kitchen twine, and food.
Popsicle Stick Bird Feeders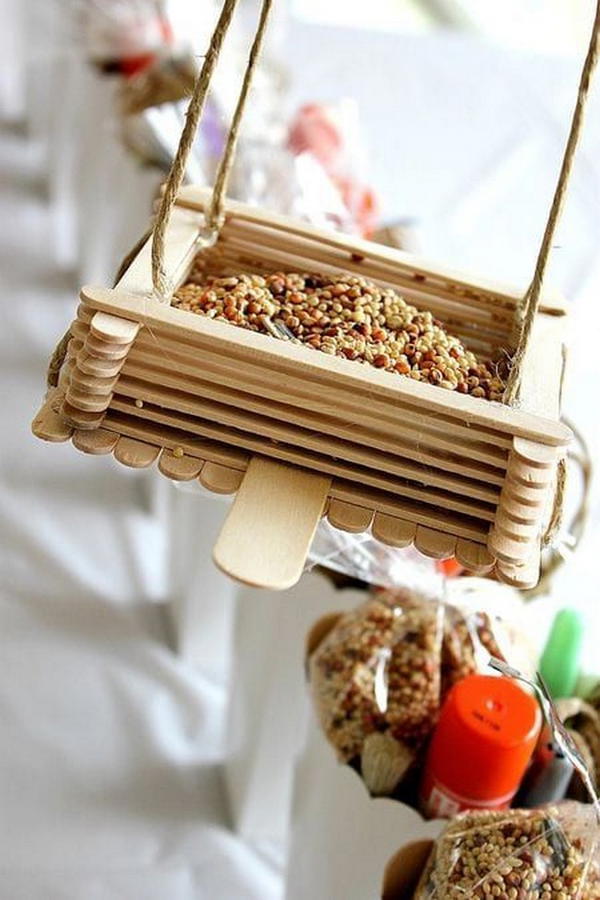 Popsicle Stick Bird Feeders! Want a fun and easy way to enjoy birds in your backyard? You can make an incredibly easy bird feeder with popsicle sticks, a little glue, and a few colorful markers. This feeder is easy for even young children to make! A popsicle stick bird feeder is a great way to start feeding birds in your yard. These pretty little feeders call in several types of birds, from chickadees and titmice to buntings, grosbeaks, cardinals, and woodpeckers!
By making this feeder out of popsicle sticks, you have much more room to advertise your treats for the birds. You can easily put information on this feeder about species of birds that will come with detailed illustrations or photos. These bird feeders use popsicle sticks to create a fun design. Just glue them onto a feeder, and you are ready to attract birds to your backyard!
Glass Shades Bird Feeder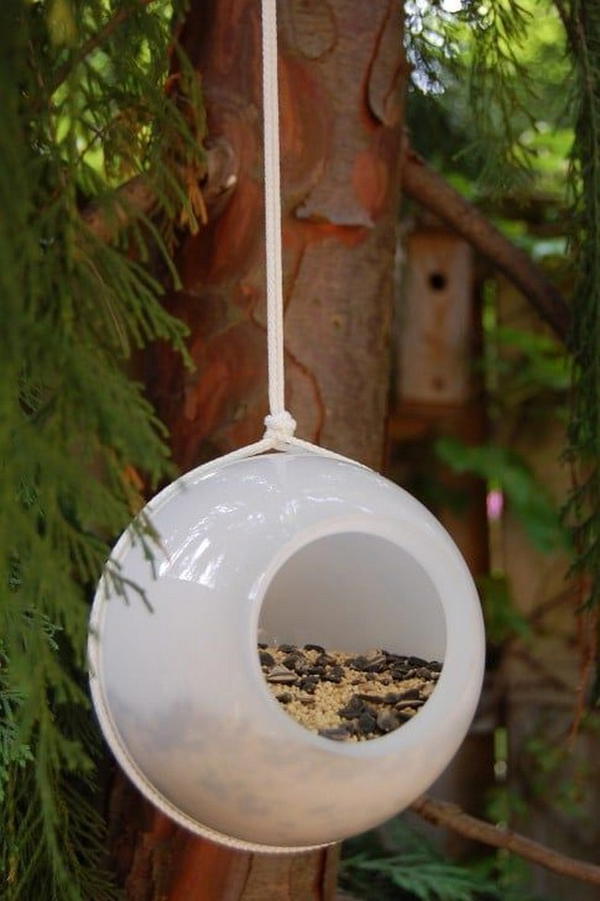 Glass Shades Bird Feeder is specially designed to introduce nature to your home, yard, and garden. If you are interested in bird watching, let this Glass Shades Bird Feeder build a bridge for you between nature and your home or yard. With its exquisite design, it is a perfect bird feeder and can be a gorgeous decoration for your home or garden. It is made of handblown glass and high-tech plastic, so it is safer and more durable.
Glass Shades Bird Feeder with its exquisite design not only attracts beautiful birds but also can be an amazing decoration for your home and garden. Glass Shades Bird Feeder with its exquisite design not only attracts beautiful birds but also can be an amazing decoration for your home and garden. A modern-designed bathroom shower tub has a glass door to make it more transparent.
DIY Glass Bottle Bird Feeders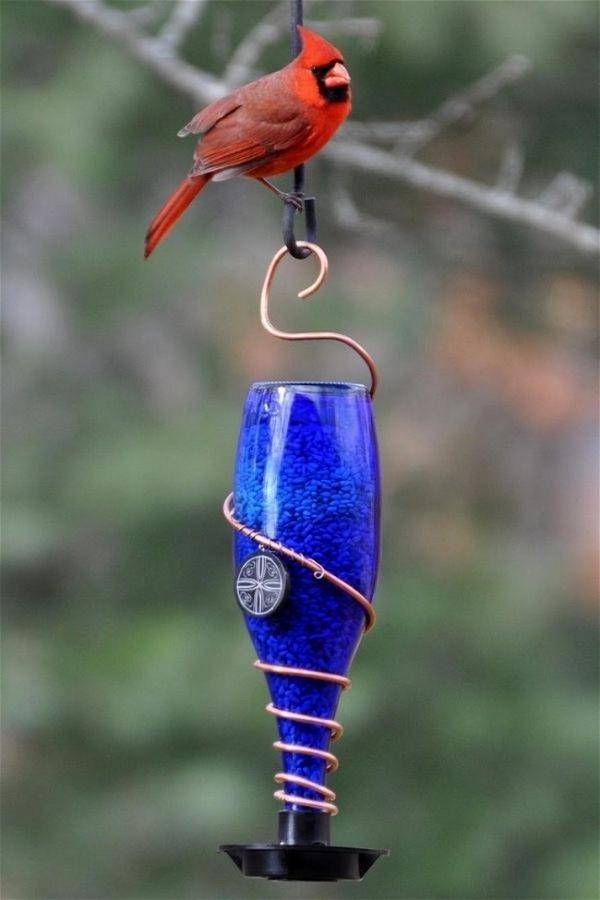 These beautiful DIY bird feeders are extremely easy to make! They are made from wine glasses and, therefore, great for recycling as well. Find out how to make these easy DIY bird feeders and hang them up in your own yard to keep the birds happy and well-fed! Making cheap and best DIY glass bottle bird feeders is a good idea. You will not need to buy expensive things when you only needed the wine glasses! Yes, just go ahead and make small holes in the wine glass and insert your favorite food. Put some peanuts on the bottom of the wine glass, add the bird seed in the next layer, and, last but not least, put nuts and seeds on top. This way you can create an inexpensive bird feeder by using what you have at home now.
This unique DIY bird feeder allows you to use what you have, such as peanuts and sunflower seeds, and make a fun, inexpensive gift for the bird lovers. With just a little bit of construction and decor, this is a fun project that anyone can do.
DIY Bird Feeder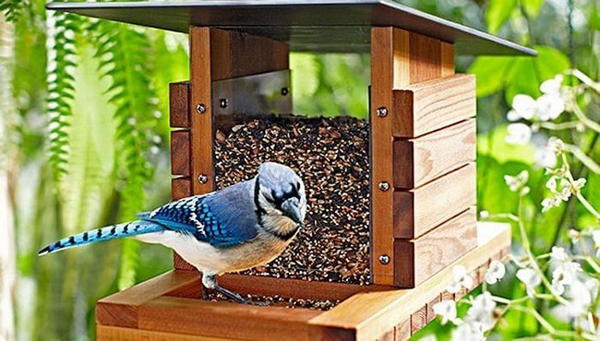 DIY pallet bird feeder. Now that spring is here, there are things you can start doing to prepare for the new season. That includes: planting seeds, creating a craft garden, clearing out wintertime debris, and building a birdhouse. This DIY bird feeder is easy to prepare and construct, giving you ample time to enjoy nature in the upcoming spring/summer. It's a fun project that allows you to express your creativity and ability.
Making your own DIY wood birdhouse is an easy and inexpensive way to share nature's beauty with your family. Making things yourself allows you to add a personal touch that lasts many years.his DIY Bird Feeder is really easy and inexpensive to prepare. Not only will you save money, but also enjoy the fun of making it. The best thing about this project is that you can create a different bird feeder each time by using various shapes and sizes of wood.
DIY Simple Bird Feeder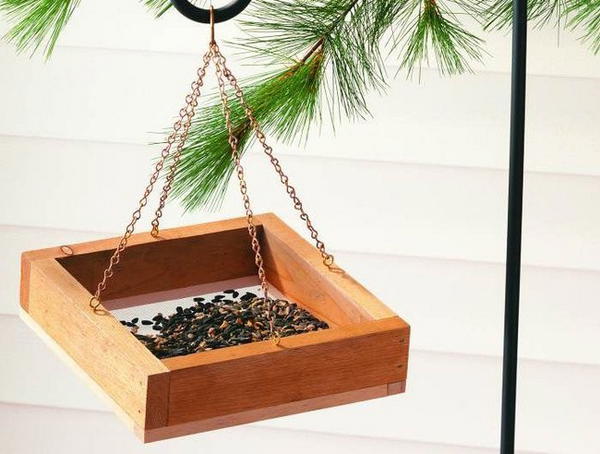 DIY Simple Bird Feeder is simply made of wood.    This kit is built to last and is easy to assemble. Place it anywhere in your yard and watch the birds enjoy their new feeder. Have some fun in the sunshine this summer. Our DIY Simple Bird Feeder will keep ants off your table and will give you hours of pleasure watching a songbird eat breakfast. Four styles of birds can enjoy this feeder, including hummingbirds and orioles, as well as sparrows and finches (small perching birds).
This DIY Simple Bird Feeder is simply made of wood which is of square shape. Also, it is hung by a beautiful chain. DIY Bird Feeder is a project for those who like working with their hands and enjoying the garden. You will need only a few materials, and within one hour your bird feeder will be ready. The chain connected to it adds beauty to its look, so no extra cost is required.. If you want to be specialized in making one, we can freely provide customer service.
DIY Flower Pot Bird-Feeder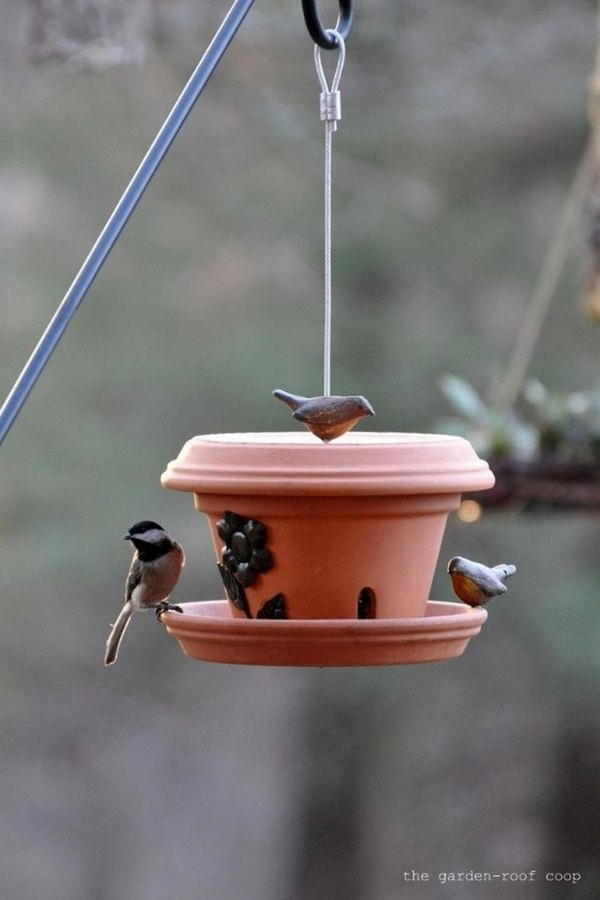 Do it yourself bird feeder made from a planter can allow you to enjoy watching birds at your home. You just need some time and the right materials to finish this project. You can refer to this page to make a unique feeder from recycled pot to both feed the birds and decorate your house. Creating bird feeders is a fun and easy way to add plants and nature to your backyard while entertaining your feathered friends.
This does a great project for DIY enthusiasts looking to spice up their garden with a homemade bird feeder well, it becomes much easier to make a DIY Flower Pot Bird-Feeder when you have the guideline with the picture.  All you need is a pot, its saucer, and a hook, but you can hang any baskets, bottles, or planters around. Place food, seed, and water in a different location. Make this DIY bird feeder to save money, have fun and enjoy the beauty of bird watching.
Upcycled Bird Feeder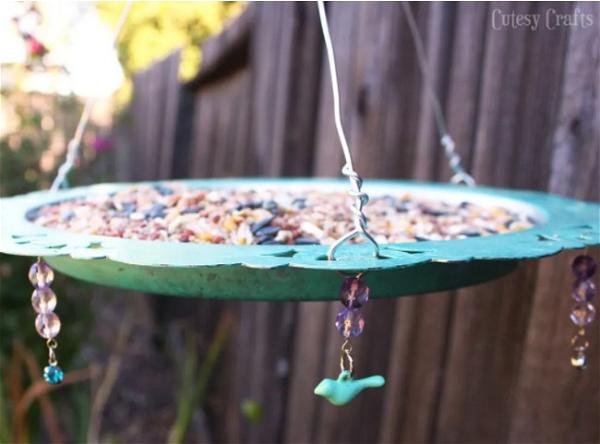 Building a wooden bird feeder is a great family activity. It is also rewarding for your wallet as you get to reuse and recycle items in your home. This simple design includes a flat bottom that can handle more than one bird at once and a smooth surface so the birds won't get hurt while eating. All the birds in your area will keep coming back for more food, but the best part is that you can buy the materials for this quickly and easily.
Your friends will be impressed when they come to visit because the feeder is very interesting and different from a regular bird feeder. Upcycle an old window, bucket, or shell with this DIY bird feeder! Make it out of some old materials, and make an easy flat surface for your pigeons' favorite snack. This project was upcycled, so expensive materials aren't needed. It might be a good activity to do with your kids or an adult at home.
DIY Bird Feeder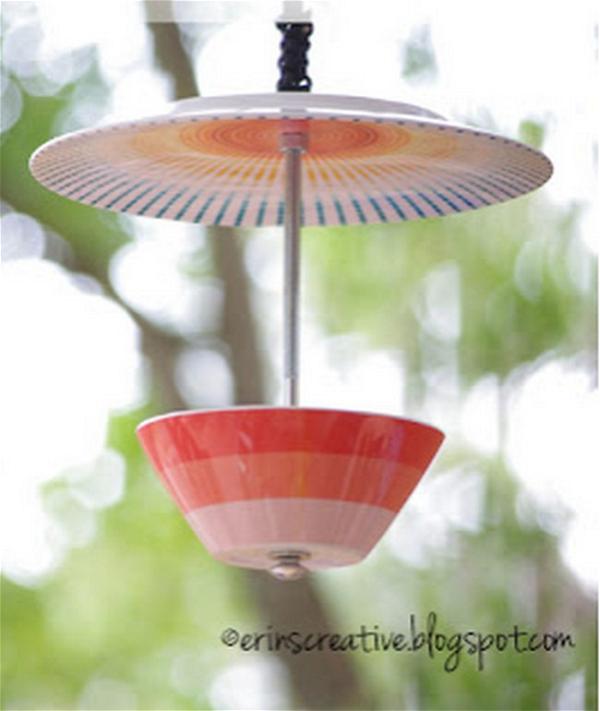 Here in the "For those interested" column is a bird feeder design that can be easily made without the help of specialists. Do you love birds? Want to feed them to your heart's content but don't want to deal with a messy bird feeder that will leave behind all sorts of stuff if you don't clean it regularly? This is where this idea comes in handy. It's a DIY bird feeder made from a small cup set. You can have great fun creating it and put it up in the garden and watch birds coming over for a free meal. So do try this out for a bit of light fun! To make a shape of a colorful flying umbrella, we only need to use a small teacup set and wood carving tools.
This design really is cool and interesting! We developed a DIY bird feeder with this simple shape! You can use it at home, or take it outside. We used a teacup and saucer to create the shape of a colorful flying umbrella. The bird feeder is easy to make and you can use your materials around the house. It is an easy handmade project that makes use of just a small teacup and some recycled materials. It's perfect for a kid's craft and will provide beautiful outdoor and indoor decorations.