DIY Mason jar vase crafts are all the rage right now, and if you're planning a wedding, they are the perfect way to add a touch of something different and organic. You can use them as favors, table displays, or tuck one in each bridesmaid's bouquet. The sustainable world will surely admire our list of DIY mason jar vase ideas because it will be a great approach to efficiently use the leftover wasted jars and empty bottles for useful purposes. You can use any of your favorite color range or ideas to make these superb mason jars; they would look grand mixed with fresh or silk flowers mixed and displayed on a console, buffet, or dining table, or also to use as a fabulous beautifying chain of pieces for any home or outdoor decor.
DIY Mason Jar Vase Ideas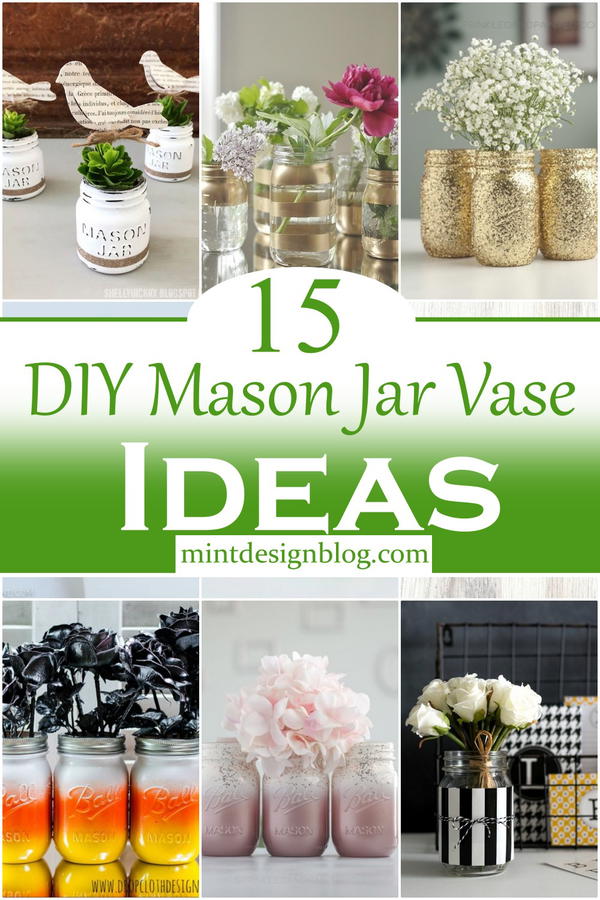 Are you ready to try upcycling your mason jars? You can use these mason jar vase ideas to turn your mason jars into vases, ornaments, or storage jars. There are tutorials for basic mason jar vases and rustic, modern, and distressed instructions. Our given list of DIY bloggers also has instructions for making glittery and personalized vases that would be perfect gifts for teachers and wedding guests. Here we come with some fabulous DIY Mason Jar vase ideas for 2022. We think you're going to fall in love with almost all of these!
Ombre Mason Jar Round-Up: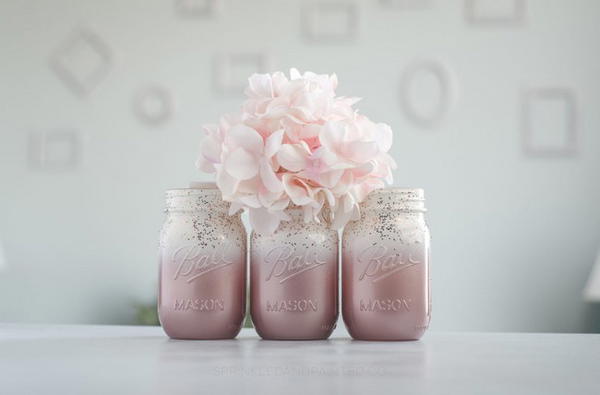 Yes, they're coming back! The classic mason jars have been one of the most popular topics among DIY enthusiasts and crafters. They are easy to make and don't cost a fortune. I used Krylon's Fusion for these four jars, and they are very durable, even after putting them through the dishwasher many times. Of course, I always use Mod Podge Matte or Glossy to seal the inside of my ombre mason jars, although I feel this is optional, and you can also make several other embellishments to this DIY piece.
DIY Gold Mason Jar Flowers Vases: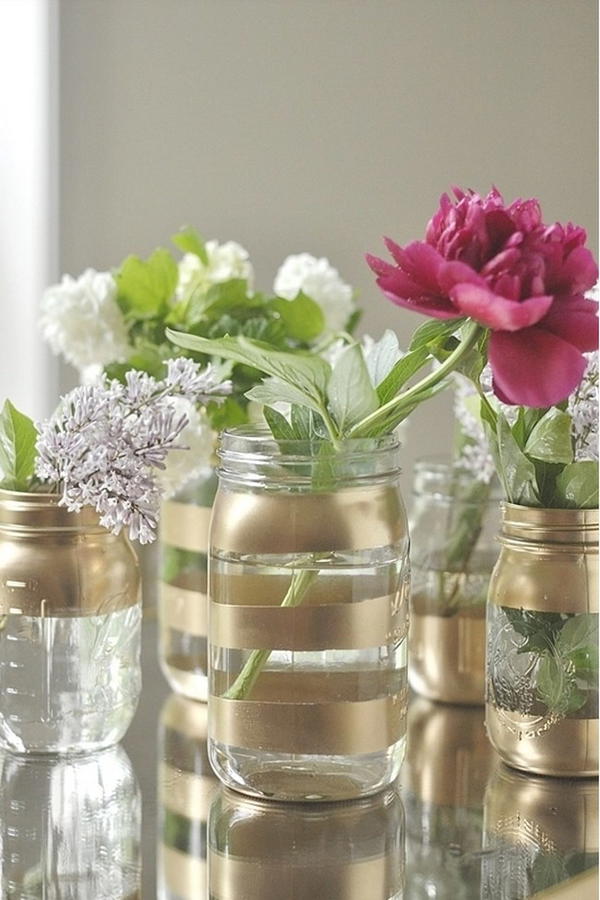 With our DIY Gold Mason Jar Flowers Vases, you can create these beautiful vases easily and quickly. Perfect for the table or mantel, you can fill them with water and flowers to instantly brighten up any room. This DIY project is sure to get compliments from weddings and birthday parties to home decor. They are easy and quick to make and look stunning on the table or mantel. Makes a great centerpiece idea for any table decor. Comes with full instructions and templates. These DIY gold mason jar vases can be used to store items or flowers in or simply as a decorative accessory on the table or mantel.
DecoArt Chalk Paint Mini Mason Jar Planters: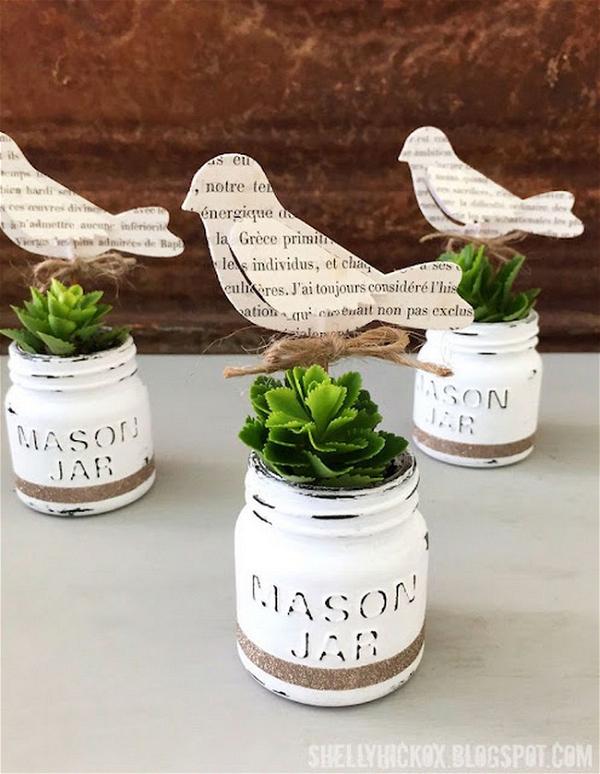 Decorating mason jars is a popular trend right now. All you need is an idea and then the perfect supplies to bring that idea to life. This mini version makes great "pick me ups" or gifts to friends. Figuring out how to decorate mason jar planters is tricky because you want the dies to show and the mason jar's design to show. You don't want to cover those features up, so it can be challenging. Here are some tips and examples of how the creator solved this design dilemma.
Gold Glitter Mason Jars:

Our gold glitter mason jars give any party an instant festive touch! Wide mouth jars fit on a variety of bottles and cans so that you can mix and match. A little gold top-dipped mason jars creator tutorial is available here. These are perfect for New Year too. They're a unique party favor or great to finish off your wine bottle labels and drinks, like the ones in the photo. They make a wonderful centerpiece during the holidays or for special events! These make perfect party favors, gifts, or table decorations for New Year's eve.
Mason Jar Desk Organizers: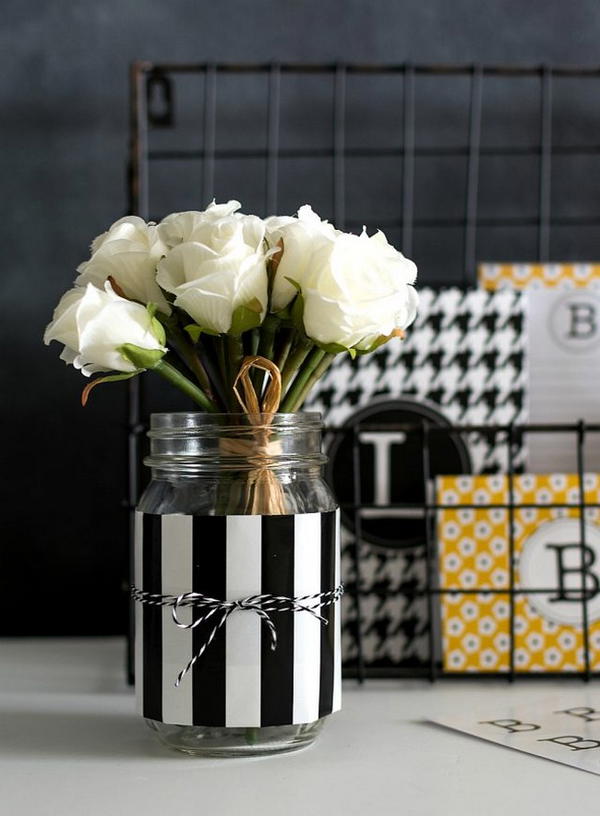 It's truly astounding how many items you can reimagine, reinvent and repurpose as everyday functional items. These four DIY mason jar desk organizers are made from standard glass mason jars dressed in fresh, vibrant wrapping paper for a unique take on decorative desk accessories that add life and color to your office space. But if it is and you need to run, or if you want to finish that document on your computer, or if your co-worker wants to celebrate with a happy one, then be prepared with this Happy One Mason Jar Desk organizer.
Painted Mason Jars: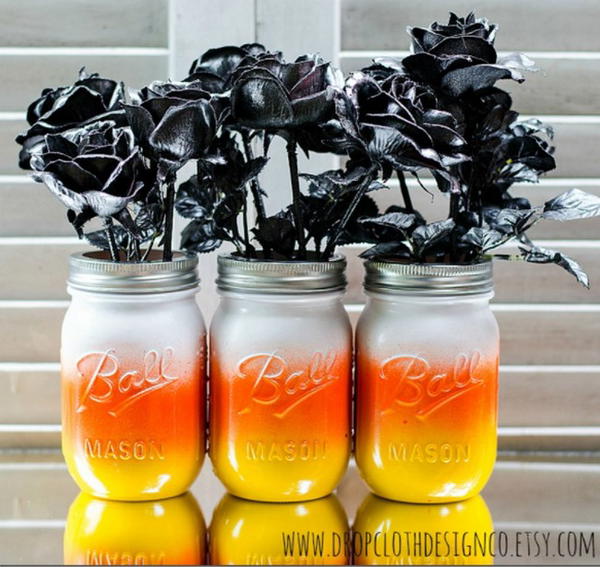 Make your Halloween party anything but typical! We took everything you love about a mason jar, like durability and versatility, and added even more character. Painted with Annie Sloan Chalk Paint in Duck Egg Blue, the addition of distressing takes this project to the next level. This craft is sure to make you the star of your next event! These pretty sealed jars can be filled with treats as a little Halloween treat jar or used to hold buttons and other embellishments. They also make a sweet vintage candle holder.
Gift Ideas Make Gorgeous Mason Jar Vases: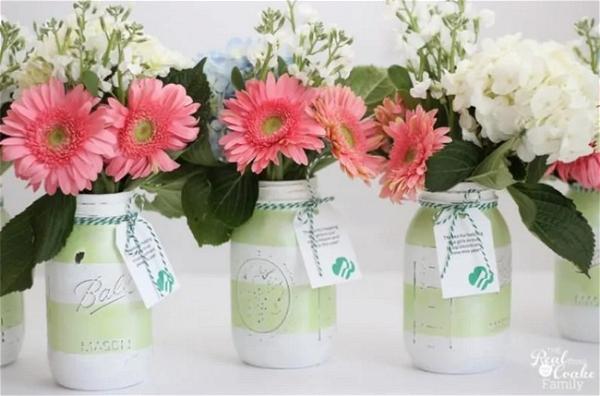 Mason jars aren't just for canning! Transform these cool jars into lovely vases to decorate your home or give as special gifts to friends and family. Our gorgeous glass vases are easy to make, and there are so many ways you can use them! Don't forget the flowers! You can easily turn mason jars into beautiful gifts that are perfect for birthdays, housewarmings, or to say, "I love you." They're perfect for turning flowers into keepsakes that last a lifetime or putting little notes inside them and making them into little catchalls. The sky is the limit with mason jar vases!
Speckled Robin's Egg Mason Jar: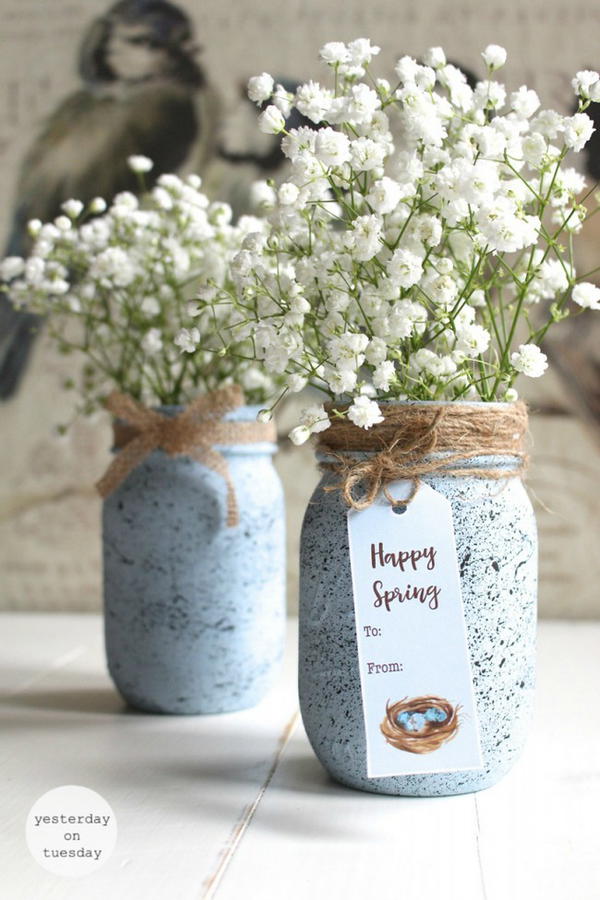 I made this mason jar to welcome spring into my home. The Speckled Robin's Egg Mason Jar is a great way to catch the eye of anyone passing by, and I love using mine as a vase. It looks really lovely with some dried rose petals and other spring flowers mixed into the water. If you need an artful addition to your kitchen or simply want a unique vessel to hold your jewelry or knick-knacks, this DIY craft is the perfect addition to your life. When we need light during the evening, we will add this mason jar to our mantle as a lantern.
Mason Jar Succulent Planters: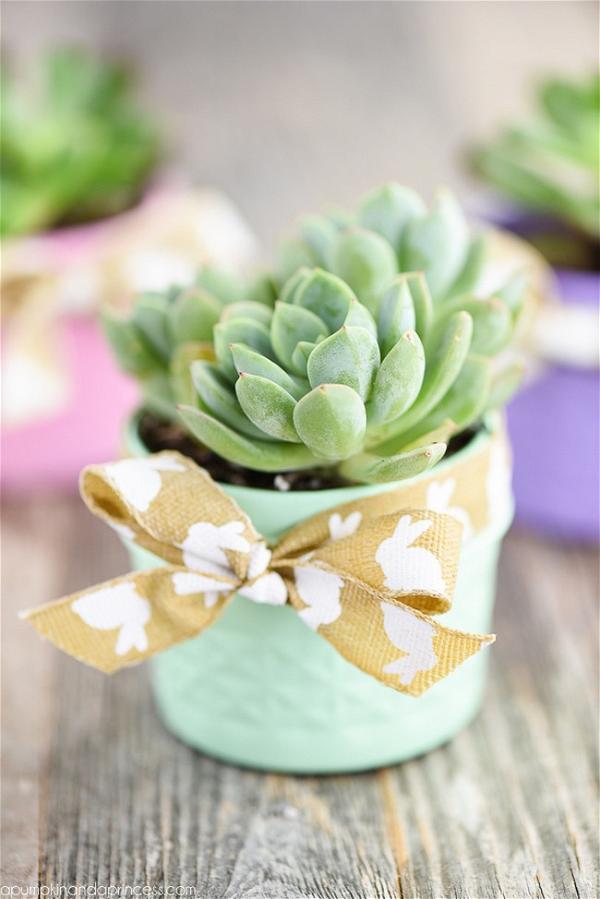 The Happy Easter Mason Jar Succulent Planters are the perfect way to decorate your Easter tablescape with a pretty, fun, and affordable touch. All you need to do is print the tags onto some pretty card stock paper, then remove the decorative Happy Easter from the center of each tag and replace it with a pushpin. Then place the succulent stems into the mason jar, add a bit of dirt, water, and place fill in each jar with more soil. A quick and easy craft project that would also be great as gift ideas.
Vintage Farmhouse Mason Jar Vase: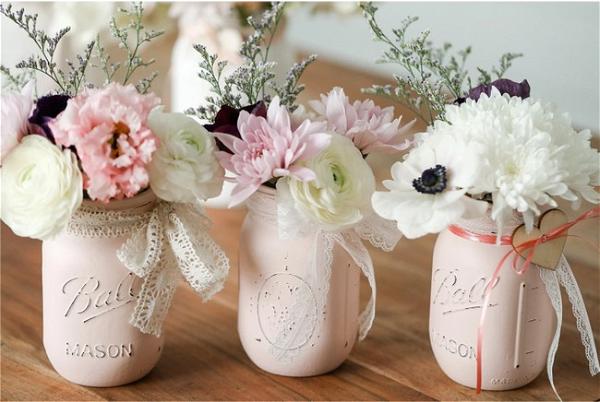 In this post, I will show you how to fashion six gorgeous DIY mason jar vases to add a touch of farmhouse style to your decor. I know they'll make you fall in love with mason jars all over again and you'll be frantically making more mason jar vases than you'll know what to do with. These vases are perfect for carrying through a season or two and are easy to make. To create them, start by taking an old glass jar, like a mason or canning jar. Take the ring off the jar and then spray paint the outside of it, whatever color you want the flowers to blend in with.
Mason Jar Vases:
The mason jar misses no occasion, whether you're using them for your homemade condiments or drinking glasses. But what if you could give them a little extra something without sacrificing their simplicity? You can with this DIY tutorial that pretty much takes your old jars and turns them into something brand new. There is no better time to do this than over the weekend, and with this great DIY project, you can give your home a laughably easy makeover that costs next to nothing.
DIY Mason Jar Vases: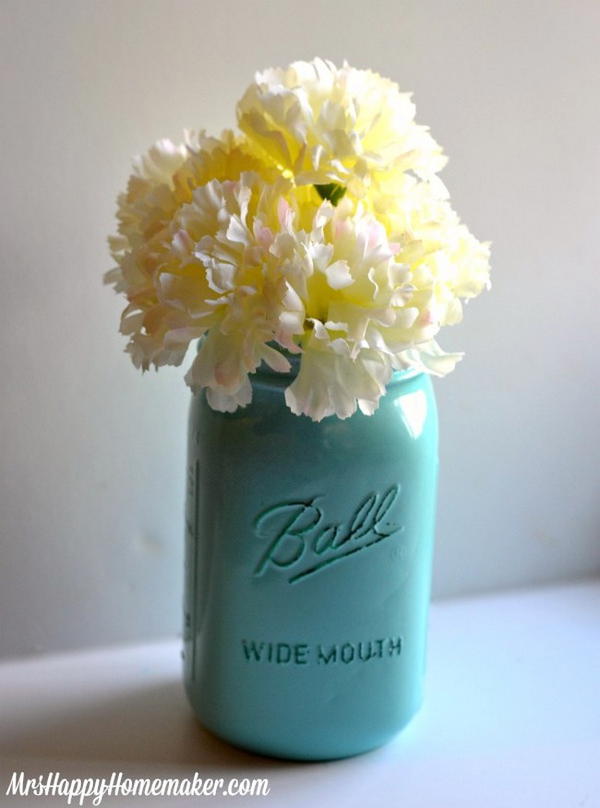 For Valentine's Day this year, I decided to get crafty and make a bunch of vases using these super cute, vintage-looking Mason Jar lids! Coming up with ideas for a DIY Valentine's Day gift is always one of the harder things to do for holidays and special occasions. They're also perfect for your own home decorating too! Whether you choose to give them away or display them as decorations for your own home, these DIY Mason Jar Vases are super cute and super simple! These mason jar vases are both DIY and budget-friendly. Our DIY Mason Jar Vases come with step-by-step instructions and easy-to-follow photo tutorials to make the most beautiful, handmade ones you've ever seen!
DIY Glitter Mason Jar Vase: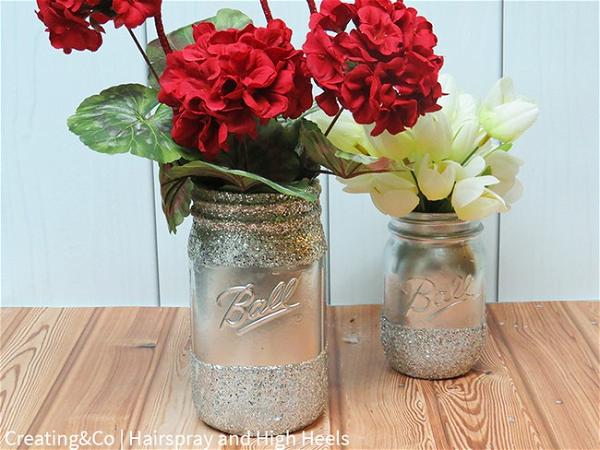 Now that we're almost into the swing of spring and summer, it's time to get your summer decor in order! And what better way to spruce up your indoors and out than with some DIY glitter mason jars? They're ridiculously simple and look pretty freaking adorable, even if I do say so myself. You may have seen these glitter mason jar vases filled with jelly beans, confetti, paper flowers, or even flowers but no matter what you fill them with, they look so pretty and are perfect for springtime.
DIY Flower Vases: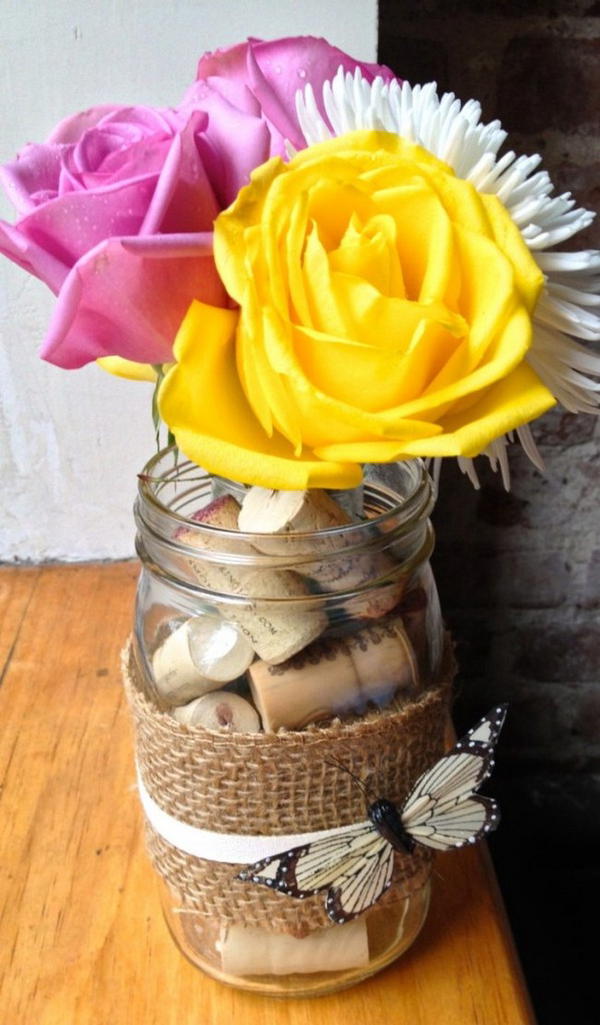 DIY flower vases are an ideal project to decorate your home, patio, and garden with this summer. These cheery vases are perfect for displaying plants, flowers, and an occasional succulent or fern. You can personalize them by adding decorative papers, ribbons, and burlap on the outside. There are many different ways to get creative with them, from painting glasses or bottles with unique designs to adding ribbons, lace, or pops of color using some scrapbook or decorative paper and burlap.