Looking for beautiful, unique lighting that adds a ton of personality to your home? Candelabras are an excellent choice. They're multi-purpose, make a significant impact, and can be dressed up or down depending on the occasion. It's easy to find a candelabra at the store. However, if you want something extraordinary and customized to your taste, you should consider making one yourself! This is easier than you might think. With some of these fantastic 27 DIY candelabra ideas and inspiration, you can have a gorgeous new piece for your home in no time. There are tons of different types of candelabras, but they all have their own unique look that will fit into any style of home decor. There is something out for everyone, from classic wooden pieces to modern metal designs!

Candlelight is a quick and easy way to add some romance to your home; a candelabra also allows you to display your favorite candles uniquely and beautifully. Whether you prefer the rustic look or something more modern, there's probably a candelabra that will suit your needs. We've put together some of the most impressive but simple DIY candelabras we could find in this collection. Many uses repurposed materials, so they cost next to nothing to make. You can turn them into a fun craft project also with the kids. They're also great for parties because they add instant ambience without too much space on the dining table.
These great-looking 27 DIY Candelabra Ideas are quite easy to make; most of them are made with acrylic or plastic cans.
DIY Metal Candelabra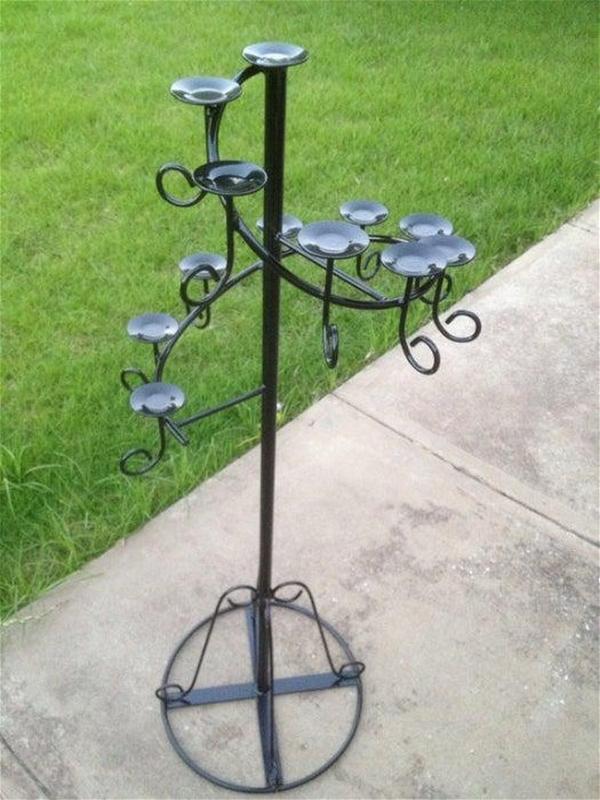 This DIY Metal Candelabra will add rustic chic to your home and make a great gift for family and friends. All you need is a candle, tape measure, hammer (or nail), ruler, scissors, and pliers. This is a fairly easy project but it does require some precision to get it right. However, the end product was definitely worth the effort. It is awesome looking and quite heavy. Once you're done, you will have a nice solid piece of art and it will be weatherproof with a couple of coats of your favorite finish. This is one piece that can be displayed or used inside or outside. Although these pictures were taken outside.
DIY Copper Pipe Candelabra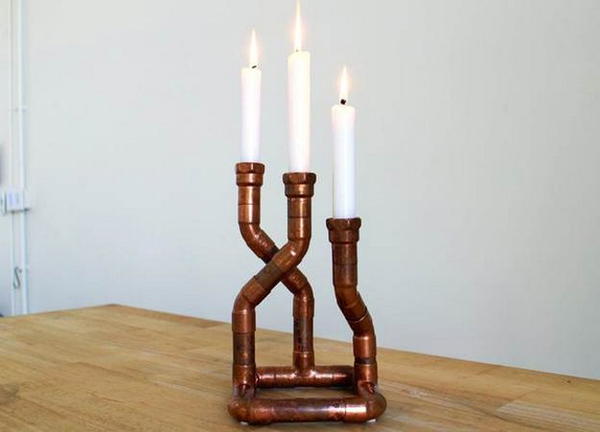 Are you looking for an original decoration for your home? Do you know those lovely, expensive candelabras that seem to be placed on every movie set? What if we told you there is a way to make one at home and without too much effort? The materials needed are easy to find and they will not cost you a fortune! All you need is a copper tube, copper tape, a soldering gun, a few other pieces of equipment, and some time. It's really pretty simple. The DIY copper pipe candelabra is PERFECT for outdoor or indoor use. It's simple enough to be messy, or complex enough to be professional-looking. Anyone can do it! The best part is...you'll never look at copper pipe again without picturing your own personal candelabra project.
How To Make A Candelabra From Plumbing Pipes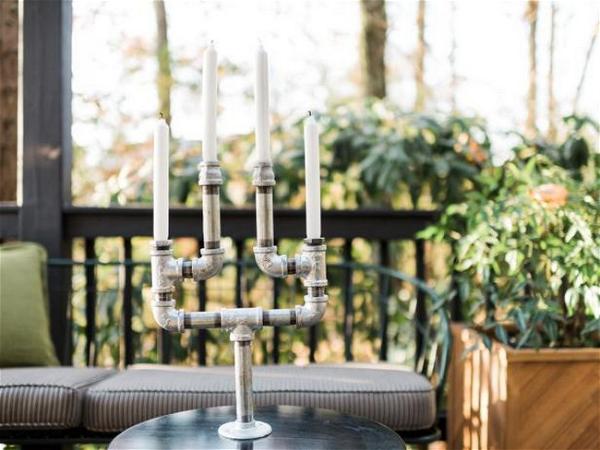 Want to make your home feel vintage and cozy? Or Want to add a bit of elegance and class to your dining table? Well, what could be better than attaching a bunch of candles to a candlestick made from porcelain pipes? The Candelabra is not only about beauty, but also about functionality. With it, you can create an ambiance wherever you would want. This guide will show you some great ideas for making a candelabra from plumbing pipes. For party decoration and decoration of office interiors, you can even get creative with your own hands and make a DIY candelabra from plumbing pipes.
DIY Duchess Candelabra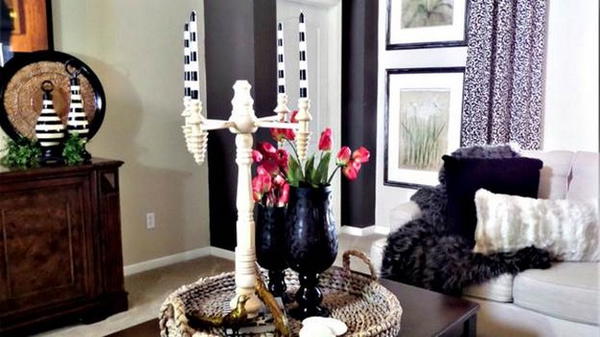 Candles are a great source of light. This is a tutorial on how to make your own candelabra. It is very easy and you only need four pieces to make this wonderful candlestick holder. To find the four pieces, look around the house for candle holders that you don't use anymore and old jewelry holders. This candelabra has all the makings of something that should be found at an upscale home store. Perhaps you have some extra candlesticks, vases or candle holders laying around and can't find a use for them. Scour your house and you may be surprised by what you can find. !
DIY Candelabra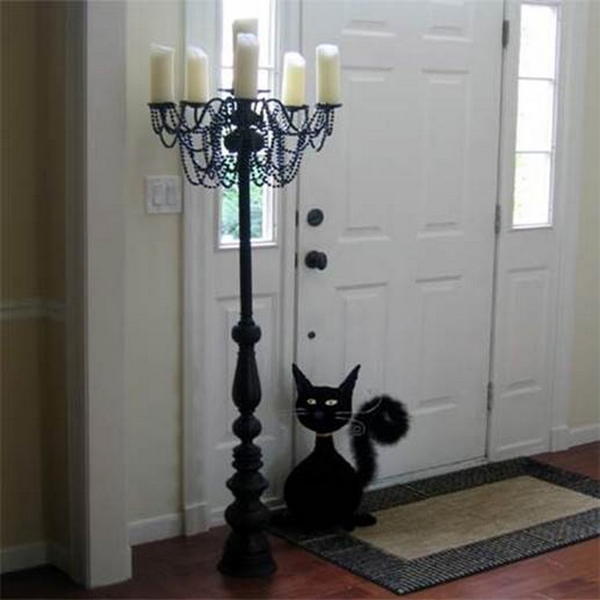 This is an easy project - all you'll need is an empty candle tube, a candelabra base, nuts, bolts, and washers! All you have to do is drill a hole into the base of the candelabra and attach it to the bottom of the candle tube. The best part about this project? You can purchase most of the supplies at your local hardware store. The traditional candelabra design is back, with a simple and complete solution to create the perfect candle holder for any event. Candles are expensive, but this guide will provide you with the core knowledge required to create your own candelabra by yourself.
DIY Log Candelabra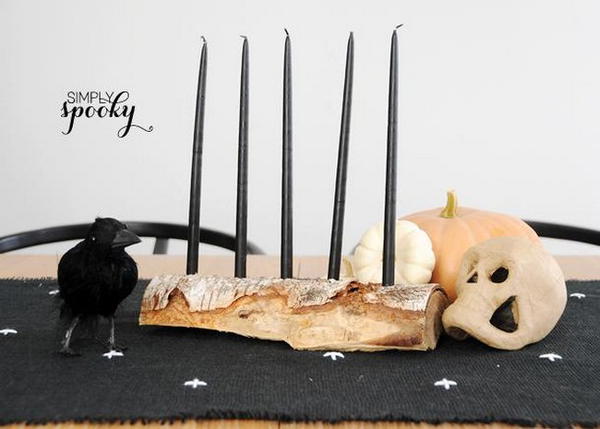 This log candelabra is the easiest candelabra you will ever make. Seriously! All you'll need is a log and some glue, and in no time, your DIY log candelabra will be ready for display. Whether you're planning a Halloween dinner party or looking for an elegant addition to your fireplace mantel, this candelabra will be sure to do the trick. It is the fastest and easiest way to make a seasonal centrepiece or fall decoration. It can be made with a little bit of time, basic tools and materials, and two simple cuts in your log. Wood logs make great decor pieces, especially around the holidays. With a natural log for the base and metal branches curving up and out, this table centrepiece is sure to turn heads.
DIY Modern Wood Candelabra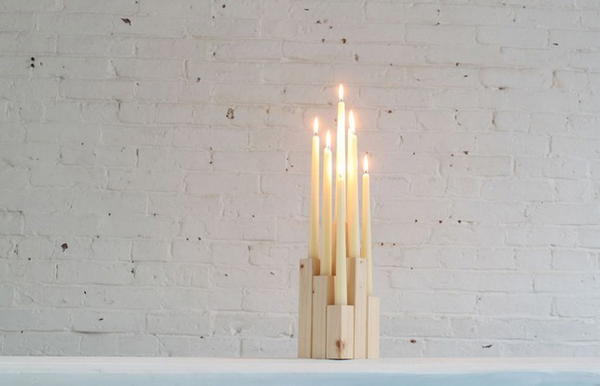 Interested in a DIY project? You can make your own candelabra with this modern wood candelabra with complete step-by-step instructions. Modern Wood Candelabra is a perfect addition to any upscale home or restaurant. The adornment is made of natural unfinished solid wood, giving it an antique look. This project requires a few woodworking tools such as a mitre saw, sanding machine, drill machine, and a variety of clamps. This makes a beautiful decoration and is perfect for new homeowners and renters.
How To Make Wine Bottle Candelabras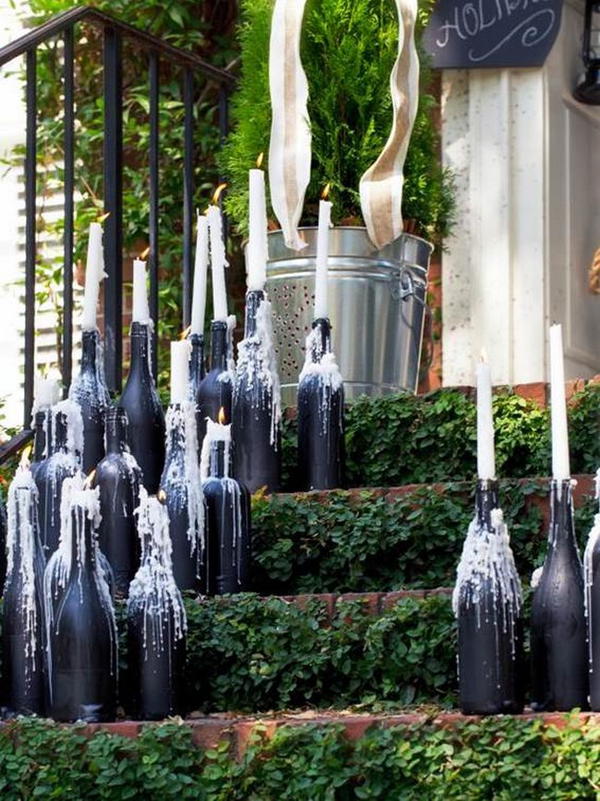 Ever wanted to make your own wine bottle candelabra? What you need are a wine bottle, candles, and fake flowers. This is the unique way of converting a mini wine holder into a candle holder. The stuff you need at a very affordable price. Turning wine bottles into beautiful, candle-holding candelabras is about as creative as you can get. Do it yourself and bring the beauty of this candelabra to your table for a special occasion from your own personal home. All materials are recyclable. Use your imagination and choose bottles with different shapes and colours, also have some character to them – paint splatters, chips, cracks, and dents will add more details to your wine bottle candelabra.
DIY Dollar Tree Candelabra
This DIY dollar tree candelabra project is one of the most beautiful candelabra projects you could ever make. Picture it being placed on top of your dining room table and being able to light up your dining room to add a touch of style to the surrounding atmosphere. Some materials you might need for this project is a dollar tree candle holder, five glass votives, mason jars, candle strings, and a drill that could go through glass. Making this candelabra involves drilling holes in the glass votives and then stringing them together.
DIY Tall Centerpiece Candelabra
Have you ever noticed that you have an empty spot on your table and have to keep looking for something to fill in the blank space? This candelabra centerpiece is perfect. It is not too big nor too small so it would not overwhelm small tables or too small for large tables. Its intricate design adds a touch of class and that is a must need in every home. This Tall Centerpiece Candelabra is made up of PVC pipes which makes it quite cheap to make and beautiful to display in your home.
DIY Halloween Candelabra
Halloween is almost here and the time has come to start making the decorations that surround us every year. Making a Halloween-themed candelabra for this holiday can be tricky. Most of the candelabras sold in stores have shapes and colors that don't fit in with a Halloween party theme. Candles burn out after a time, and require you to buy more, so why not make your own? This DIY project shouldn't take you more than an hour or so and is easy enough for beginners to complete. Have fun creating your own candelabra or a fun Halloween outdoor decor using this easy tutorial.
How To Make A Yuletide Candelabra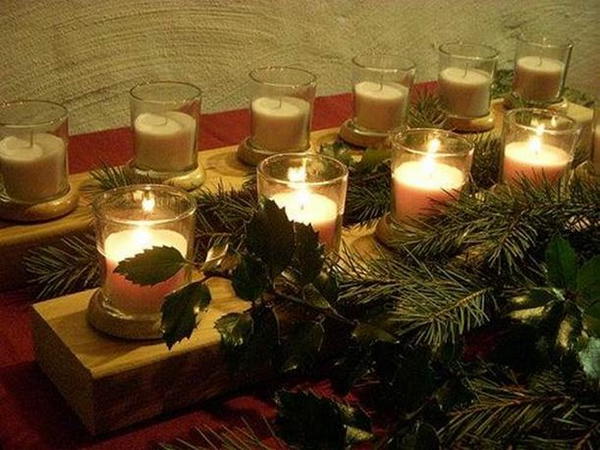 The 12 Days of Yule is a custom where you decorate your house for the holidays and each day, decorate another object. It is a great way to get into the holiday spirit. This unique candelabra is unlike others you'll find online. It has a style of its own – one that you'll want to show off for years to come. The candelabra is lightweight and easy to move around, but still durable enough to hang on your wall year after year. No worries about being scared of the dark: just turn a light on this candelabra and feel at ease. Enjoy!
DIY Candelabra Chandelier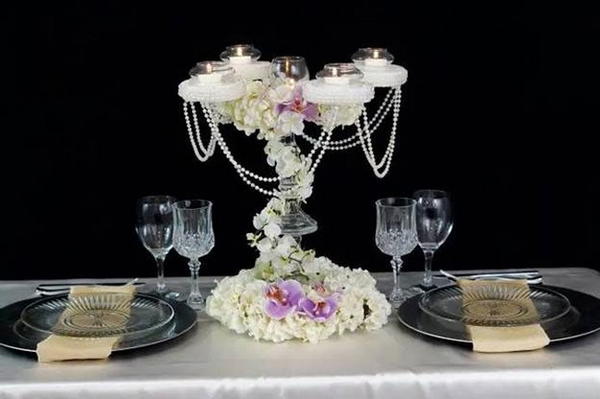 Make a chandelier with candlesticks and chains. This DIY candelabra has all of the steps needed to create this one-of-a-kind fixture. Whether you are looking for an unusual centerpiece for your dining room or a fun DIY project for a weekend afternoon with family and friends, this guide will help you get started. The great thing about making your own candelabra chandelier is that you can create something that fits with the decor of your house, you can make it as elaborate or as simple as you like, and it's handmade piece that you created yourself.
DIY 34-Inch Tall Candelabra
DIY Candelabra is a very helpful do-it-yourself project that you could use as decoration for weddings and special occasions. The process is quite easy with the instructions to guide you. This 34-inch tall candelabra is made of painted iron and decorated with glass candle cups. The pieces are fixed together with ornamental hardware so you can attach them to the walls or put them on the centre table. Add more beauty to your occasion by making use of this DIY Kit. You can easily make your own candelabra out of cardboard, glue, glitter, and paint, thanks to the easy-to-follow instructions in this kit.
DIY Gold Candelabra
Have you ever wanted to find a special gift for your wedding or anniversary? You've found it! It's an awesome DIY Gold Candelabra made from twisted paper. It looks real and expensive, but only costs pennies to make! Use this craft as part of your decorating for a wedding or anniversary, or to adorn your other special events throughout the year. This DIY gold candelabra is a very easy and fashionable project to do. It will look great in your dining room or kitchen during those special gatherings and dinners. This project can be done in 3 steps, the first step is to make the candles holder, the second step is to make the base, and the third step is to make the candle holders stand up.
DIY Candelabra For Halloween
Halloween needs to have the appropriate tone and ambience. There's a lot that you can do to decorate your home for Halloween. However, at the heart of all these activities is lighting. Candles will always be a good choice but not everyone wants their house to smell like smoke. If you're looking for an alternative solution to this problem, a candelabra might be the answer you need. Here's one candelabra that you can easily recreate with the most basic materials around your house. Use this candelabra to liven up your Halloween dinner and make it memorable.
DIY Industrial Pipe Candelabra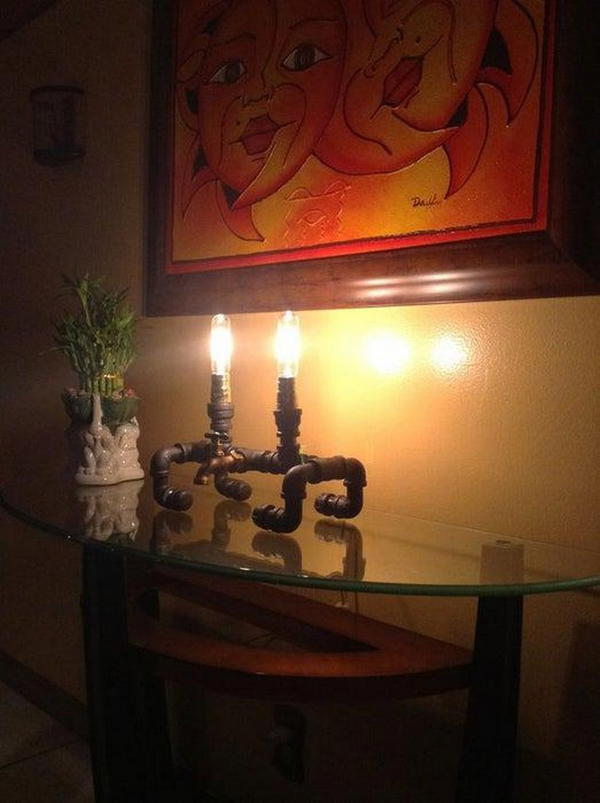 Let's take a look at how you can use pipes to make a candelabra. Well, if you have been searching for a way to make your industrial pipes look more attractive or decorative, this candelabra would be the perfect solution. The candelabra is designed in a simple and modern way using industrial pipes. The materials you'll need are pipes, solder, a soldering gun, flux, gloves, and a pair of pliers. Just follow the steps below and soon you'll be able to enjoy your own DIY Industrial Pipe Candelabra! The finished product looks great when it's lit up. It is a fine centerpiece for your home or office.
DIY Neopixel Candelabra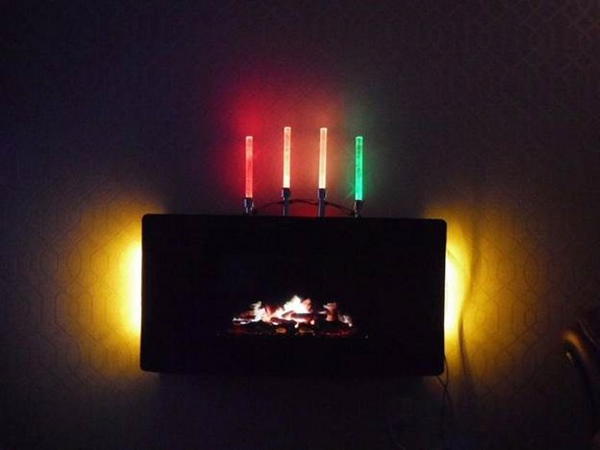 Get ready to take the ordinary out of ordinary candelabra! This Neopixel candelabra is a great thing to have in every household. Not only that it is an eye-catcher, but it can also be used for practical purposes if you are looking for a night light. It is powered by a battery and uses LED lights which means that it is energy efficient. It can last from 8 hours up to 80 hours! A quick note on the material. You will need to buy or gather LEDs but you should go ahead and grab 46 LEDs because you can use them later on other projects.
How To Make Candelabras From Old Bottles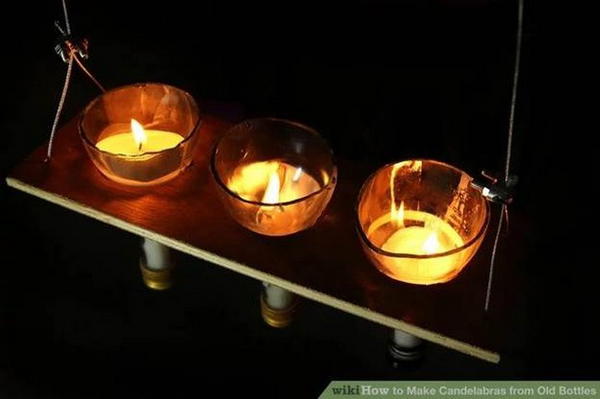 Candelabras have been used for many years and today, more than ever before, recreating them has become a popular trend in interior design and decorating for both homes and restaurants alike. However, if you wish to add a touch of class to your home, then why not bring back the nostalgic and elegant candelabra look? This informational guide will reveal all of the required steps in creating a candelabra from old bottles with ease. Candleholders from old bottles are actually easy to make. In fact, the process is similar to that of making wreaths from wine bottles. However, more than anything, you will need patience, a few basic tools and equipment, and enough time on your hands.
20. DIY Gothic Candelabra
Prepare yourself to make your Halloween and every other occasion great with this creation. It is a little hard but if you follow the proper steps, it will be very easy for you. You should know that it makes a good decoration where candles light up your room.DIY Gothic Candelabra is a great-looking decor made from iron wire. Gold paint also has been applied to give it a classic and elegant look. This is an easy candelabra-making project that you can prepare with simple materials. Moreover, this Gourd Style Candle Holder DIY will be loved by people who love the fall holidays.
DIY wine Glass Candelabra
These DIY Wine Glass Candelabra are pretty amazing, don't you think? For a few bucks and very little effort, you can have an awesomely unique and beautiful centerpiece for your next party. They are really easy to make, especially if you have some leftover wine glasses from your parties. It was originally made out of a couple of wine glasses that were glued together and a scented candle placed in between. These candleholders are beautiful and surprisingly easy to make. They look great, work well and cost almost nothing to do – perfect! Enjoy!
DIY Bloody Candelabra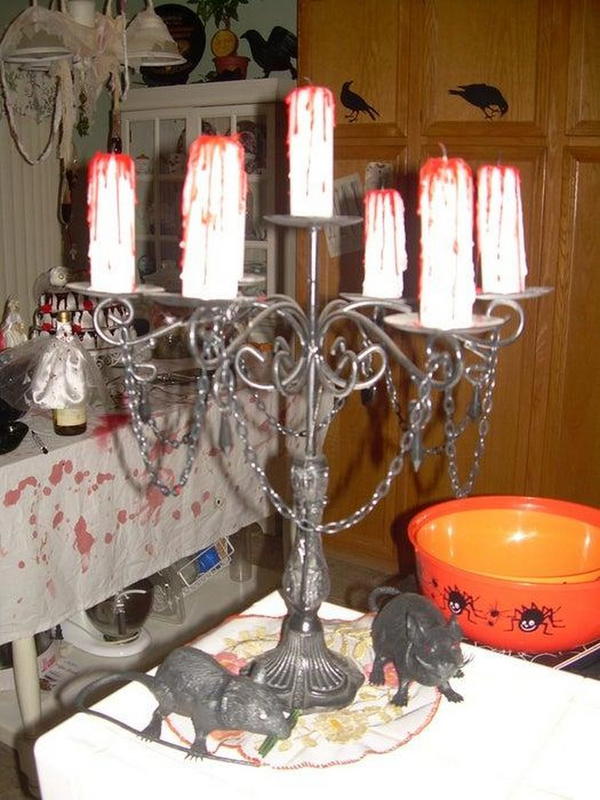 What do you get when you combine a stark white candelabra with fake blood and seashells? This DIY horror centerpiece. The great thing about this project is the versatility: You can create the centrepiece with almost any candelabra, or use the aesthetic as inspiration to build one from scratch. The materials you'll need are easy to find at your local arts and crafts store. Such a creepy party can be a good way to change things up, build friendships and have fun! Here is how you can create your own bloody candelabra at home!
DIY Driftwood Candelabra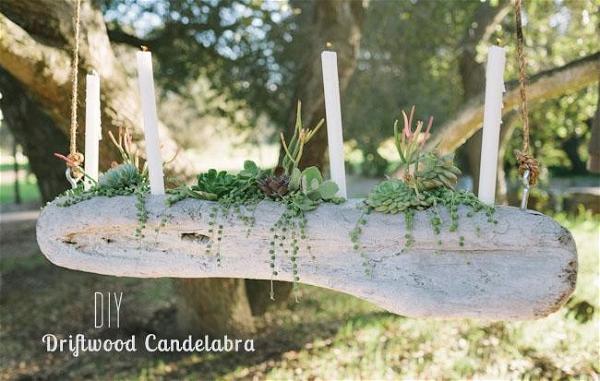 This is a super easy, but very cool DIY project. It can be used as a centerpiece or in your bedroom or living room. Choose any oval-shaped piece of driftwood and drill holes in the top half to place the candle holders. Stick candles into the rope and light them with a lighter (not included). This is a ready-to-hang wall décor with candles, which will look stunning all year around. These beautiful candle holders will complement any interior design.
DIY Candelabra For Halloween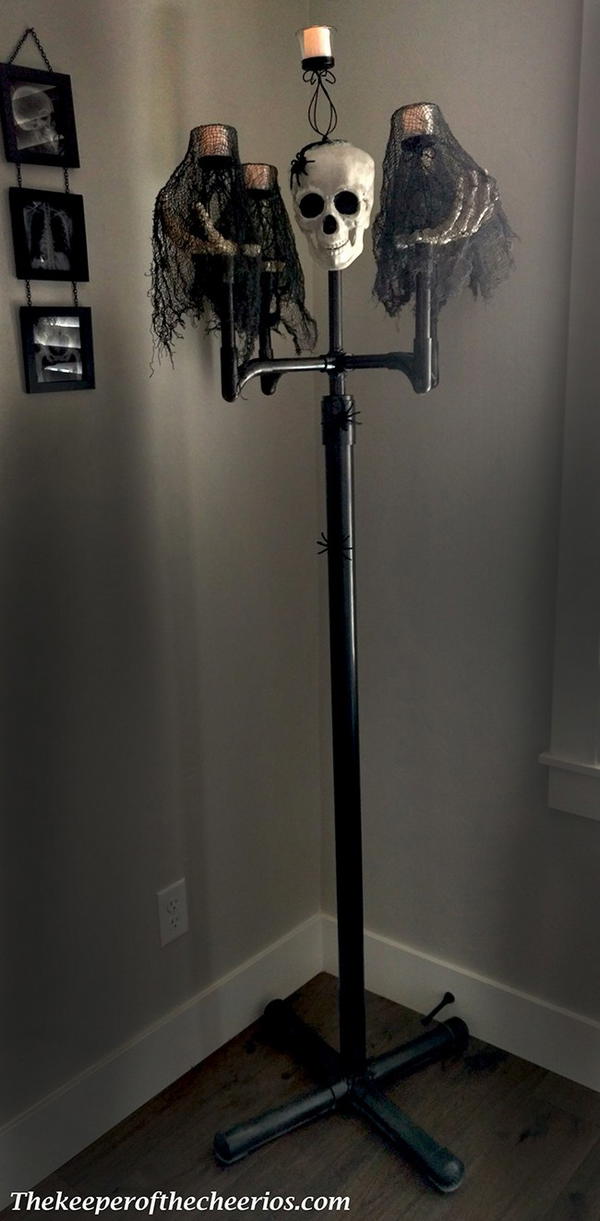 If you're looking for a simple, easy and cheap way to scare your family and friends this Halloween, this candelabra should prove to be perfect for you. Get started and learn how to make your own PVC Candelabra! This is a great and affordable way to decorate for Halloween or even as a Christmas decoration. We recommend that these candelabra be displayed outside on the porch. It will make your home look haunted, take you less than an hour to create, and cost only a couple of dollars, making it a cost-effective and meaningful decoration. Assembly is quick and easy.
How To Make A Set Of Tree Stump Candle Holders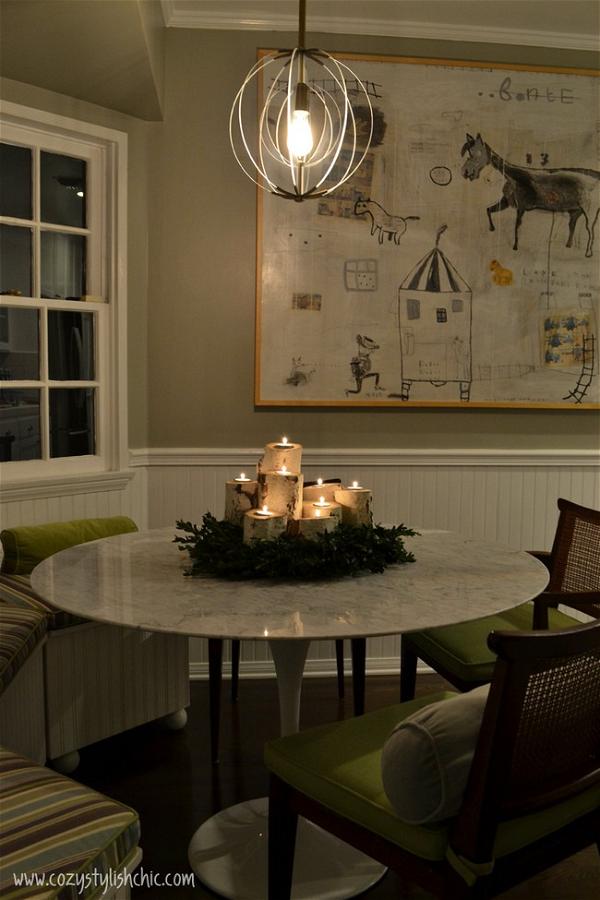 These free candle holder plans will show you how to make tree stumps into candlesticks! Making a set of candle holders out of tree stumps is a great project to do in the fall and winter months. Make these rustic candle holders instead of letting your tree stumps sit outside and look unsightly. These candleholders are easy and cheap to make. There are so many different ways to decorate these candle holders, making your new fall or winter home decor unique, one-of-a-kind, and stylish.
DIY Faceted Clay Tea Light Holders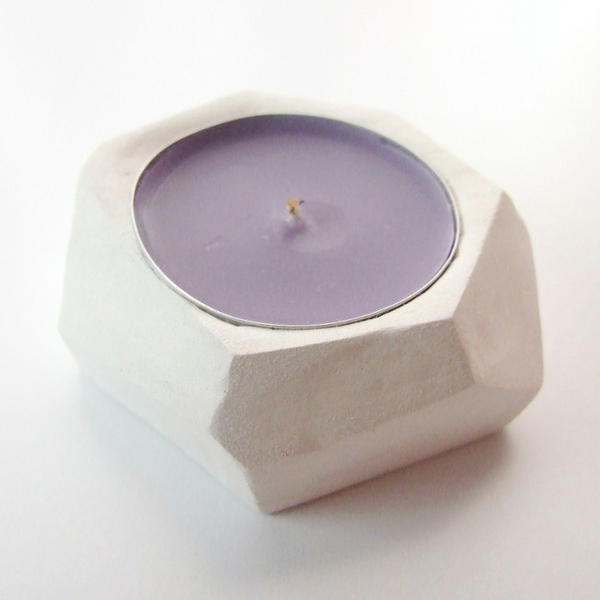 A stylishly different way to light your space! These little tea light holders are perfect for adding a touch of whimsy and romance to any evening. Just pop a tea light into the "bowl" of the candle holder and it becomes a warm glow on your table. The possibilities for their use are endless! They are a great last-minute gift idea for the holidays. It's incredibly simple to make, and only requires a pottery wheel and a few simple tools to create the perfect gift for the family - or yourself. This DIY project is super easy to make, and the end result is a beautiful home for tea lights. Use these to add an elegant, rustic touch to any room and a collection you can be proud of.
DIY Outdoor Candle Chandelier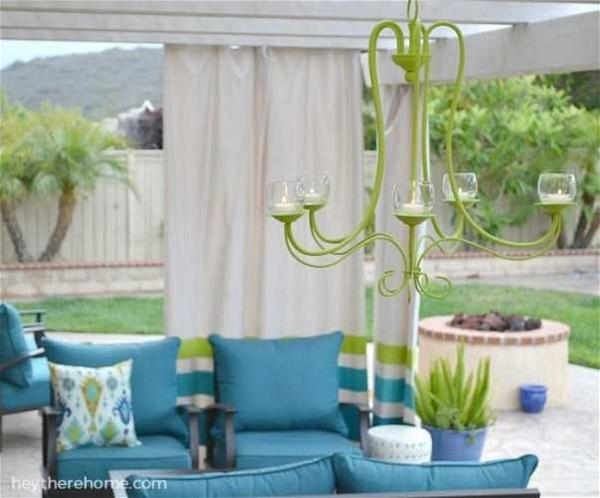 If you're working on your outdoor space this summer, you need to add this DIY outdoor candle chandelier to your list of projects! It will be the perfect addition to a deck, patio, or garden area and give that 'wow factor that will have you and your friends raving. This outdoor chandelier has the ability to transform the look of your outdoor space using items you may have at home. It's perfect for patio parties and get-togethers, or even just hanging outside to add some light to your yard. Do it yourself and have something that you will truly love.