Get inspired with these DIY Christmas decor ideas. Find fun ways to spread holiday cheer throughout your home, like our Christmas garland on the staircase or the fireplace mantel, an ornament on each wedding picture on the wall, and holiday cards tucked around your home. Skip the same old and choose the perfect Christmas decorations and gift ideas that reflect your unique style and personality. Whether you're hosting a cozy holiday family dinner or brightening up with twinkle lights and baubles, we've got all the perfect Christmas decor ideas for you.
DIY Christmas Decor Ideas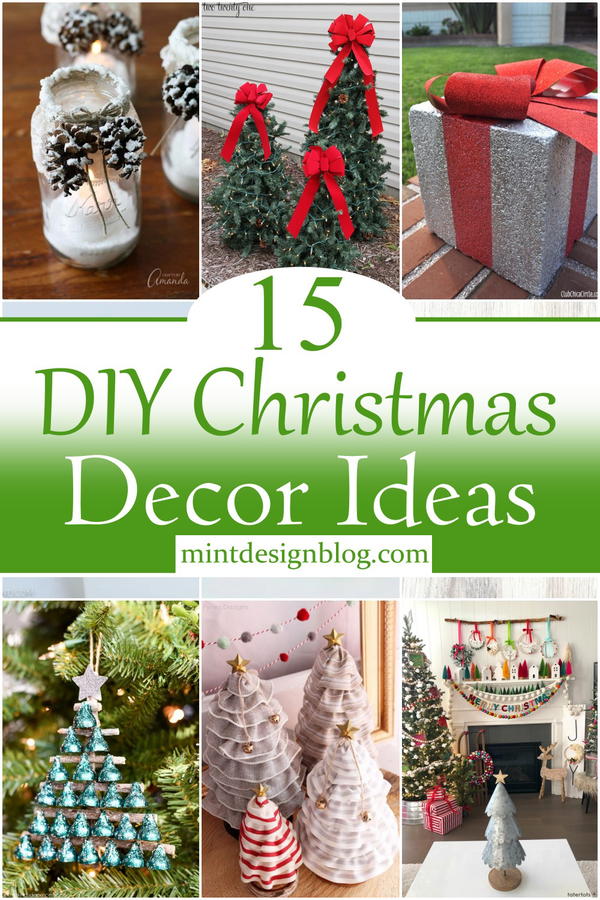 Celebrate the holidays with something new every year! Here are the Christmas decor ideas that will instantly update your space and bring festive fun into your home. Start by putting up Christmas string lights, which you can hang indoors or outdoors to bring fun vibes to any party! Create a winter wonderland with our given white twinkle lights, red bulbs, gold shades, and more for another easy way to get in on the holiday spirit, including some trees or wreaths in your décor. You can even find wreaths that match the color scheme of your room, so they seamlessly blend. Decorate your home for the most wonderful time of the year with these extra beautiful and amazing DIY Christmas decor ideas.
Make adorable garlands and wreaths following the simple threads or fleece.
Christmas decor can bring a message of comfort, style, and inspiration to your home over the holidays.
Other Ideas:
Holiday Gift Box Concrete Block Craft With Frogtape: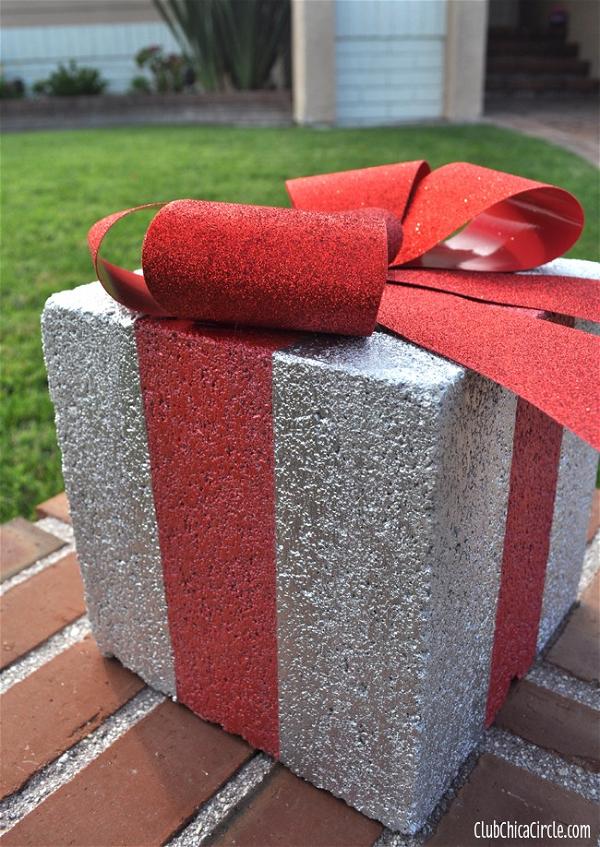 Holiday Gift Box Concrete Block Craft With Frogtape makes a wonderful seasonal decoration. A great way to add some "psyching up for the holidays" joy and bring some cheer and festiveness to your house! Instead of using the same old Christmas lights on the outside of my house, I created a unique holiday display. This fun new product is so easy to use and looks great! It will be a superb DIY piece, and you'll surely admire it.
Wine Bottle Christmas Craft: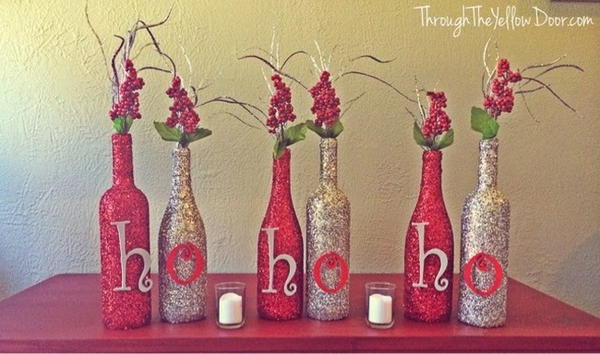 Christmas is coming, and that means it's time to crack out those 4-liter bottles of wine from under the stairway. You can do lots of fun things with those large green bottles, including making a great Christmas decoration. The wine bottle Christmas tree you create is a reusable decoration, making it an easy, no-cost, green craft project that doubles as a drinking game. It will be a superb showoff for your love of decorations and stylization; follow this excellent idea, you'll heartedly love its glamorous appearance.
DIY Christmas Decor Tree Cones For Only 99¢: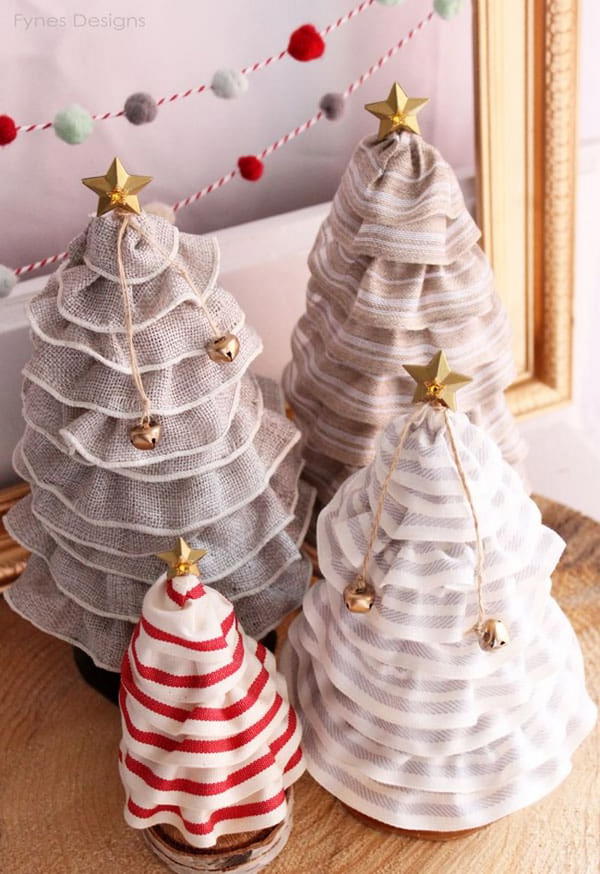 This is a super quick and cheap project – the cones only cost 99 cents, making a pretty and original Christmas topiary/tree. I stacked cone-poles of different heights and scattered them around the living room (but you could also line them up on a mantlepiece, along an outside wall, or even in a window). The most fiddly bit is covering the tip of the cone with the next pole – I used small Styrofoam balls pushed into place and then stuck with hot glue and topped off with gold balls and ribbon for hanging. Because they're so light, it's best to Hang, and everyone will surely admire them.
Winter Luminaries Snowy Pinecone Candle Jars: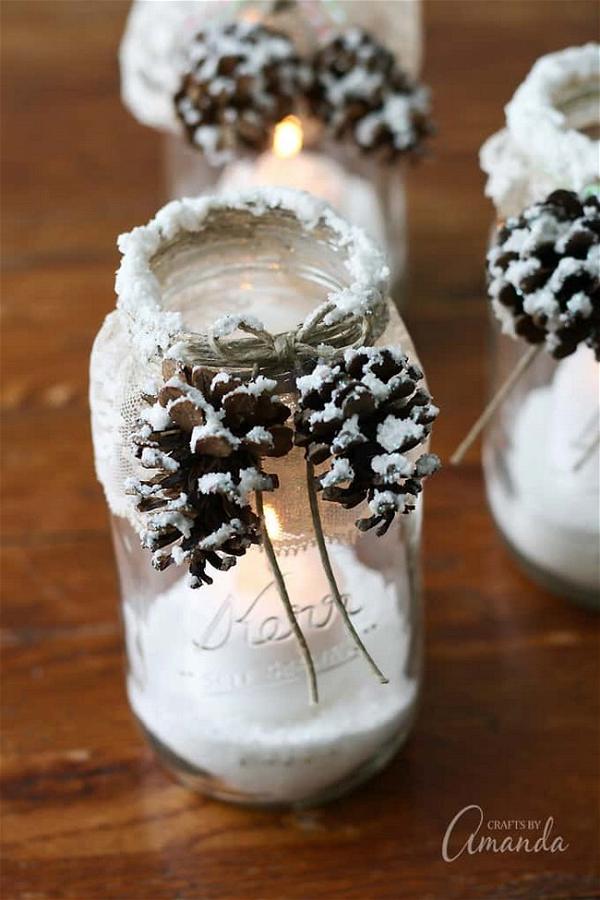 These little luminaries are gorgeous on their own or top of a table, but they are even better with some tea lights inside! They are so easy to make, and it doesn't matter if you get them perfect on the first try because you can paint on more snow texture on top. Our wonderful, dear friends were kind enough to share this stunning idea for snowy candle jars that look as if the snow has just fallen freely from the sky. These oddly shaped candleholders were created with fresh pinecones, giving an amazingly organic texture and look, especially when they "light up" and bring the outdoors in.
Tiered Tomato Cage Christmas Decor Trees:
Tiered Tomato Cage Christmas Trees are perfect for creating a magical experience at Christmas time. Stack three tomato cages of the same size on top of one another, then decorate with your favorite festive decorations. These easy-to-use, space-saving little trees are made to fit leftover tomato cages from your vegetable garden. Its making is too easy, Wrap the lower section of the heaviest cage with green floral wire and then cover with green floral tape. The next two layers are optional. Use smaller cages on the top of the tallest tomato cage and decorative greens, berries, and flowers to cover. Add a red mason jar on top with a faux candle or battery-operated LED candle.
Yarn Snowman Mason Jar Luminary:
With a hat made from yarn and glitter, these Snowman Mason Jar Luminaries will bring a sophisticated, country feel to your holiday decor – and they're easy to make using the free pattern we've created. Black glitter hat on the rim, of course. Then the sophisticated appearance will make these jars everyone's favorite. They would also make a great teacher gift to give during the winter months too. I am quite sure that these unique candleholders will be the favored one of your collection. Four clear mason jars with a black glitter hat on the rim, of course. Then the sophisticated appearance will make these jars everyone's favorite.
5 Minute Christmas Decor Luminaries: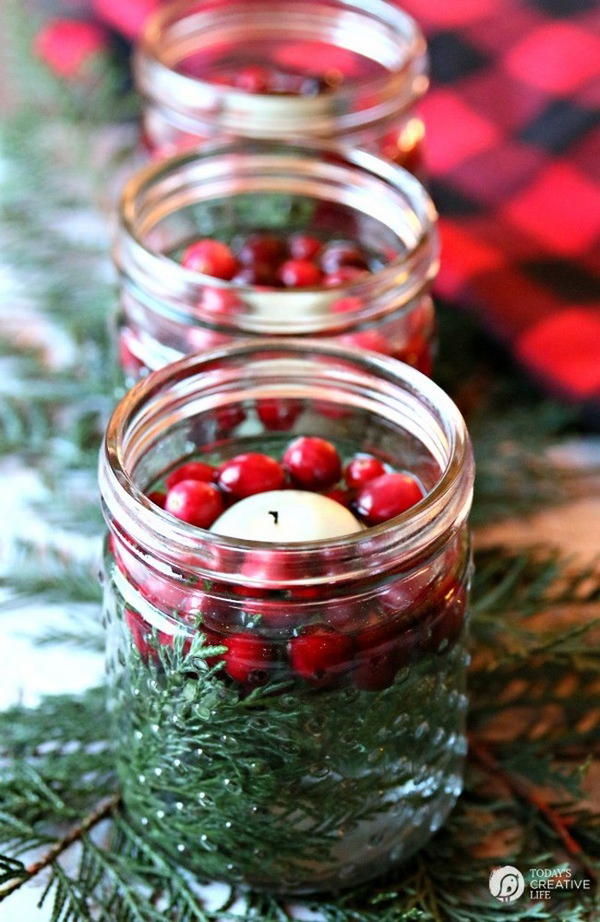 Take your Christmas celebration to new heights with these beautiful cedar luminaries. You'll create five different styles of these holiday wonders in just five easy steps. And they'll take you less than 5 minutes to make! Use them in your home, on your porch, or to decorate your chimney. They are so simple to decorate with whatever you have on hand. We recommend using cedar or pine cones instead of burning real candles in this project. So simple - the hardest part is finding something beautiful to put inside.
DIY Mason Jar Holiday Luminaria: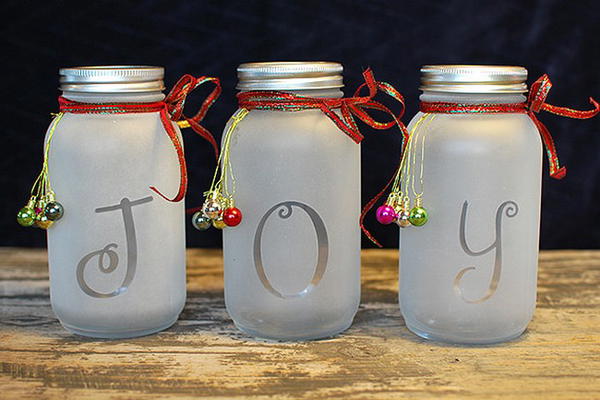 Now that the warm weather is in full swing, we refreshed our patio and entry with a vintage vibe – and we're sharing the details on how we made these DIY mason jar holiday luminaria and rustic metal star garland. So easy to do, you will love how these mason jar holiday luminaria turned out. I'm not sure I have ever found my same vintage mason jars in the thrift store before; they are usually more aqua blue. These are so pretty, though; they are waterproof, so I think I may use them around my home all year long with greenery in them.
Hershey's Kisses Christmas Decor Tree: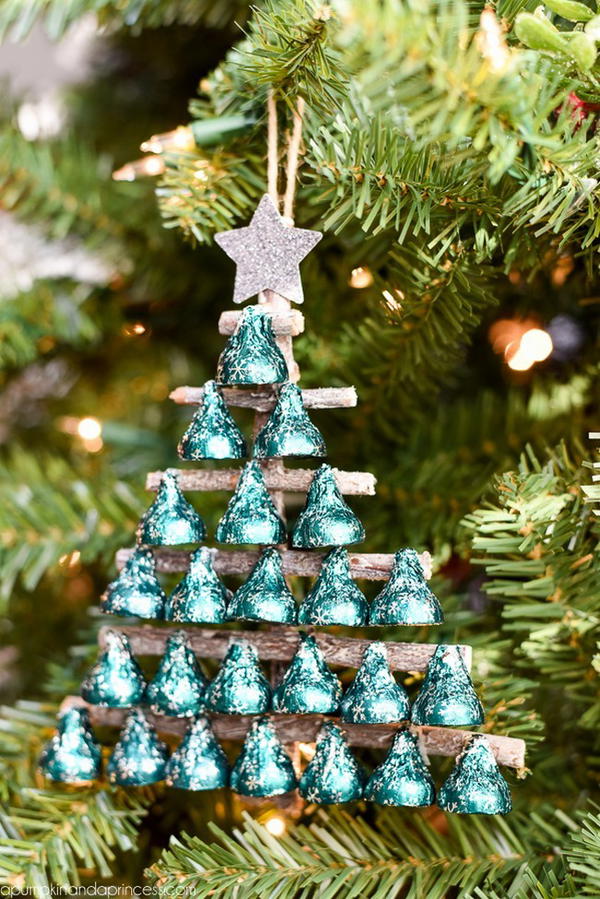 Have a look at this Hershey's Kisses Christmas Tree idea to make an impressive Christmas tree for your holiday decorations. Make this delicious Christmas tree with some extra Hershey's Kisses candies and some creativity from your side. However, our families are busy with home décor, holiday gifts, and baking our favorite seasonal recipes. This Christmas Tree made of Christmas Hershey's Kisses is a perfect way to add a new dimension to your holiday. They come together pretty quickly and can be a great gift to make for a friend or family member.
Christmas Mantel Garlands: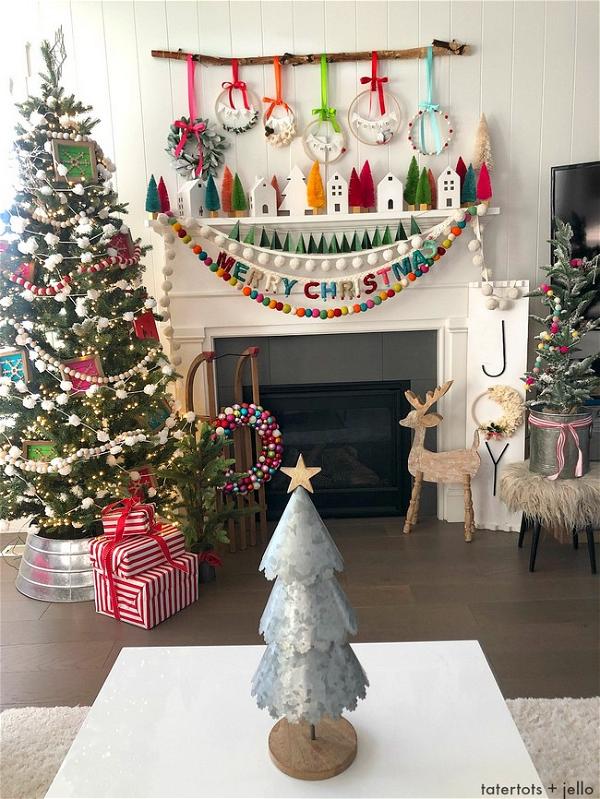 Add a touch of whimsy and color to your mantel or fireplace with these handmade embroidery hoop sayings and wood sign DIY tutorials. Perfect for any season, entertaining, and party decor. Makes a great hostess gift! Add big bunches of berries, candles, and jars filled with an upcycled mix of nuts, pom-poms, glitter, googly eyes, and buttons for a charming mantel display. Made of sturdy wire coated with latex, plus thick cotton fabric that has been wrapped around the hoop and stitched into place. Thin string threaded through all three hoops allows you to easily move it around your house as needed─or hang it on the wall.
DIY Wooden Christmas Decor Tree Forest: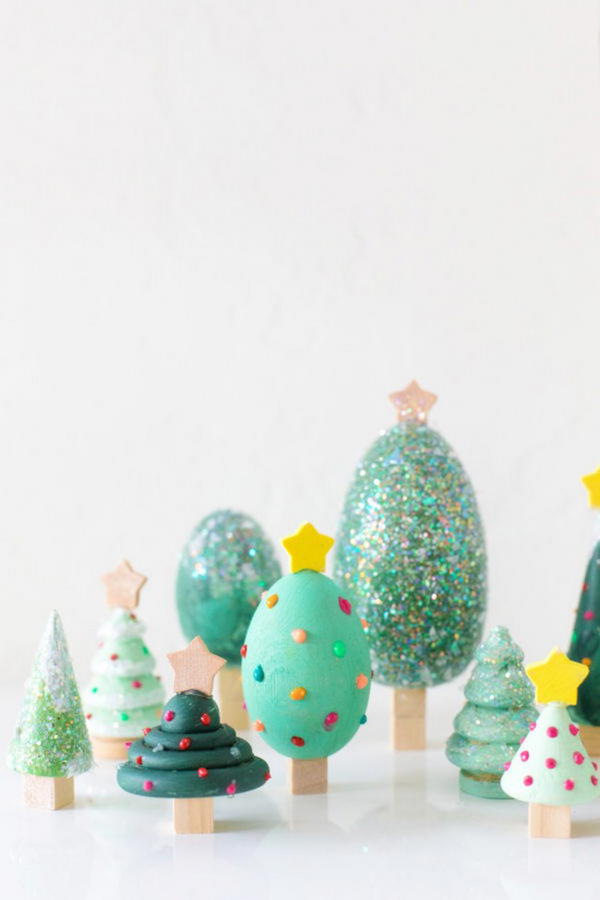 These tiny Christmas trees are all made from random odds and ends, showing the true love for nature. To make it without using any other tools except an electric hand drill, these 3D living Christmas trees are fun to collect. It's always better to enjoy it with your family and friends, but sometimes you don't have enough space to put down all those Christmas trees inside your house. This project provides you with the easiest way to make tiny Christmas trees out of wood.
DIY Colorful Christmas Village: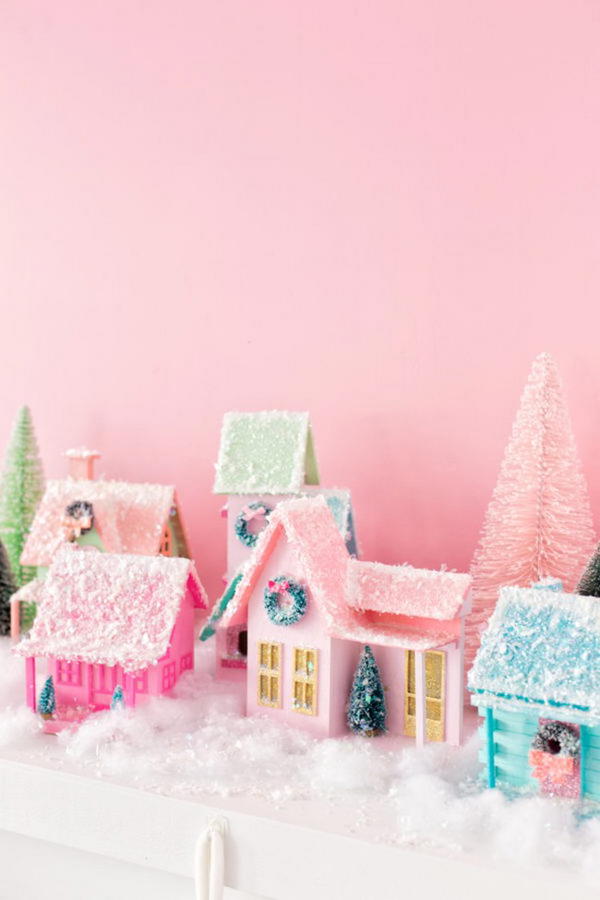 If you're tired of your kids playing with your $500+ Christmas village and replacing the houses and people with their favorite fictional characters and Star Wars figurines, here's a solution: this colorful and fun DIY Christmas village. For less than $20 in materials, you can make your village complete with charming stores, adorable little stores, and even a tiny Starbucks. This DIY project takes the stress out of holiday shopping and makes a very special family heirloom.
Christmas Village Stocking Hanger Box: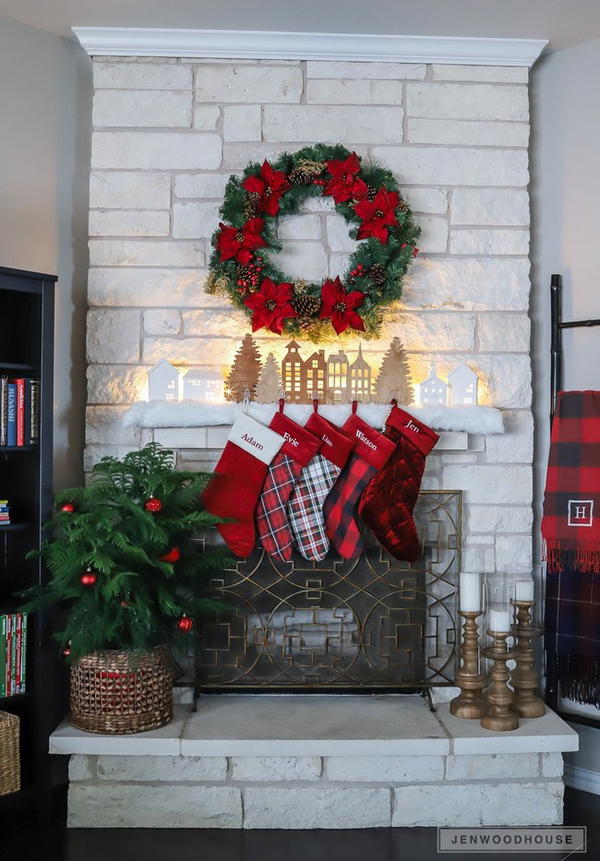 Christmas village figures should be displayed so that they add to the holiday decor and add memories to the ones we share with them. Many people display their Christmas figures on shelves, the fireplace mantel, or the coffee table. There is one display that many people overlook, and it's a great one because it's so easy. Hang your favorite figures on your mantelpiece, kitchen cupboards, and even in your bathroom using this Christmas village stocking hanger box idea.
DIY Nordic Sweater Mini Christmas Trees: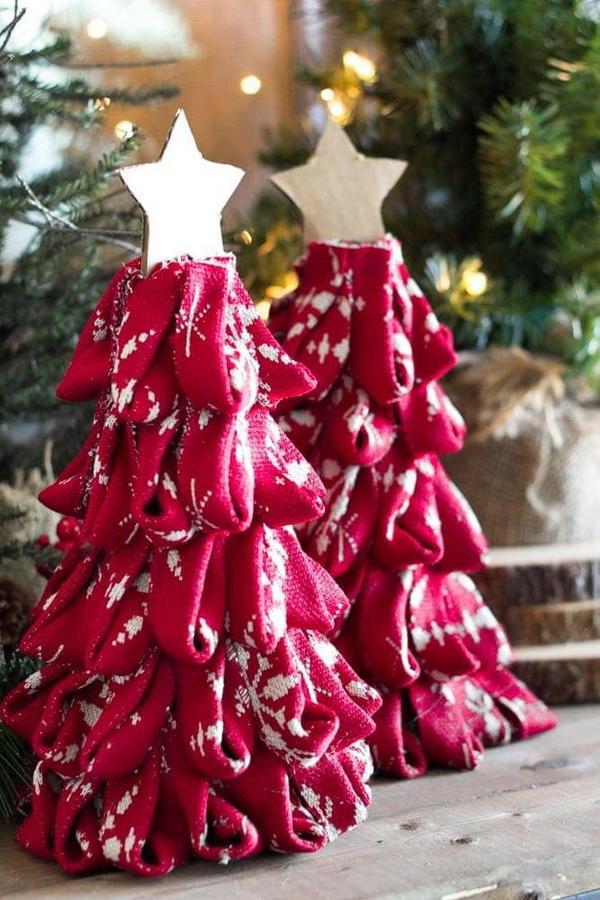 These DIY Nordic Sweater Mini Christmas Trees are quick, easy, and inexpensive! They're made only from 3 materials: a spool of ribbon, some wire hangers, and glue. The Scandinavian comfort colors of this sweater print ribbon inspired me to use them to make some cute Christmas decor. And I love how they'll go with almost any Christmas decor. These are so easy to make, cost-effective & you can personalize them however you want using different ribbons, decorations & colors!
A Very Merry Christmas Decor Ideas: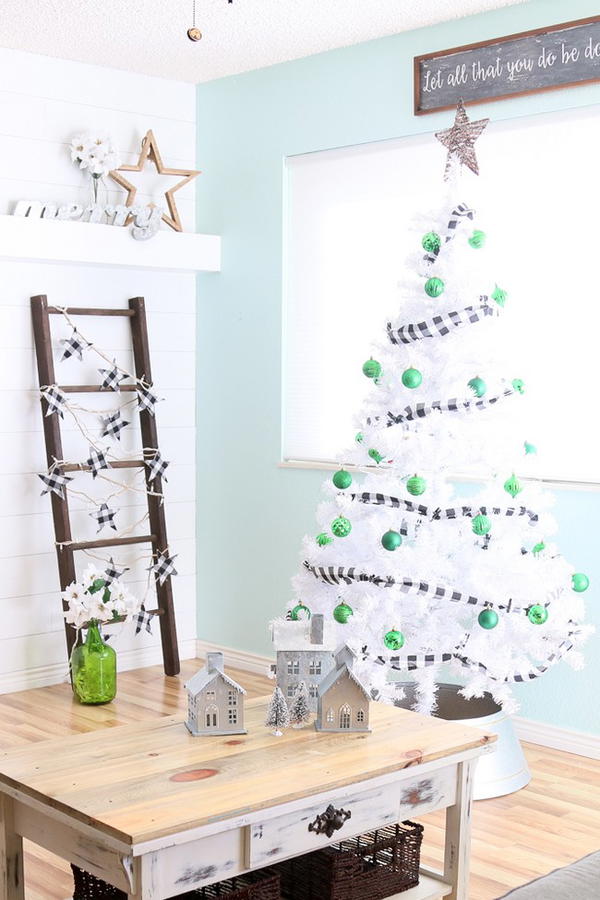 Do you know the kind of gifts that you can't wait to give? Yes, this was one of those gifts. I designed this star over the summer, and it is finally here! I like to make things displayed for many years and not confined or dated to a certain season. This star will likely find its way into our Christmas décor year-round. A concept is captured in this beautiful hand-painted Christmas village piece created exclusively for A Very Merry Christmas Home Tour.