What could be more fun than making your own Christmas ornaments? Making your own ornaments is a great way to add personality to your holiday décor. DIY Christmas ornaments can be made out of almost anything! There's nothing quite like personalizing your Christmas trees. While we sometimes settle for store-bought goods to show our love and appreciation for the family and friends in our lives, we like to include little homemade treats.
These handmade ornaments are easy to make and require very few tools; we've included ideas ranging from yarn and pinecone designs to woodcuts and candy cane push pins. These homemade Christmas ornament ideas are made of wood, twine, yarn, fabric, and more. A variety of DIY Christmas ornaments can be found here. A tree isn't just about ornaments, of course. You can also deck yours with garlands that are better for the environment, lights that are safer for you and the birds, and even homemade silver balls (or red, white, and blue ones). So bust out your glue gun and make yourself some ornaments.
DIY Christmas Ornaments: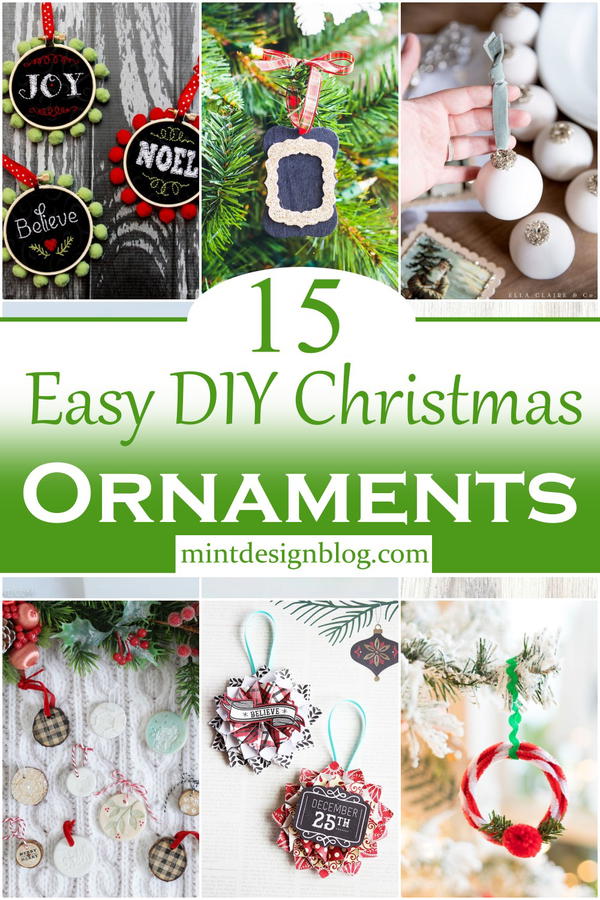 Some of the best DIY Christmas ornaments are the unique ones you create yourself. This collection of 15 unique DIY Christmas ornament ideas is specifically designed to take advantage of your crafting time, keeping it fun even during the days when you're in a rush. From yarn sleds to wood coasters, these simple DIY ornaments are customizable for any holiday or season and come together with just a few materials and a little time. DIY Christmas ornaments can be a fun craft. Whether they're homemade from yarn, beads, wood, or paper, they're a great way to add tradition to your Christmas tree. Check out these DIY Christmas ornaments that you can make in minutes with supplies from your local craft store.
Chalkboard Ornament Tags – 3 Ways: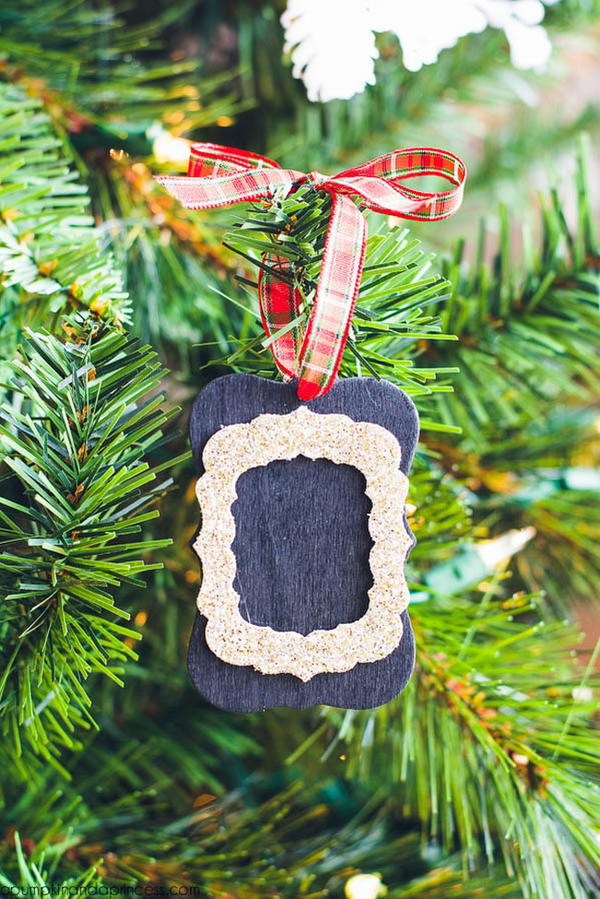 These handmade chalkboard ornament tags give you 3 ways to create a chalkboard ornament for gift wrapping, all in one set. Use the included number strips to add a personal touch, or add your own holiday message with chalk markers. It's the perfect craft for kids working on handwriting and basic addition skills, and because there are 3 tags in each set, you can coordinate personalized gifts for all of your recipients. Whether you want a quick and cute way to add some personality or something different to a gift, these tags are a great choice.
These handmade chalkboard tags are the ideal way to decorate your Christmas gifts. Use as a wrapping paper alternative to creating a one-of-a-kind gift. Or, use it as a special tag and then give the tags away as an extra holiday (or any occasion) present.
Easy Scrap Wood Christmas House Ornaments: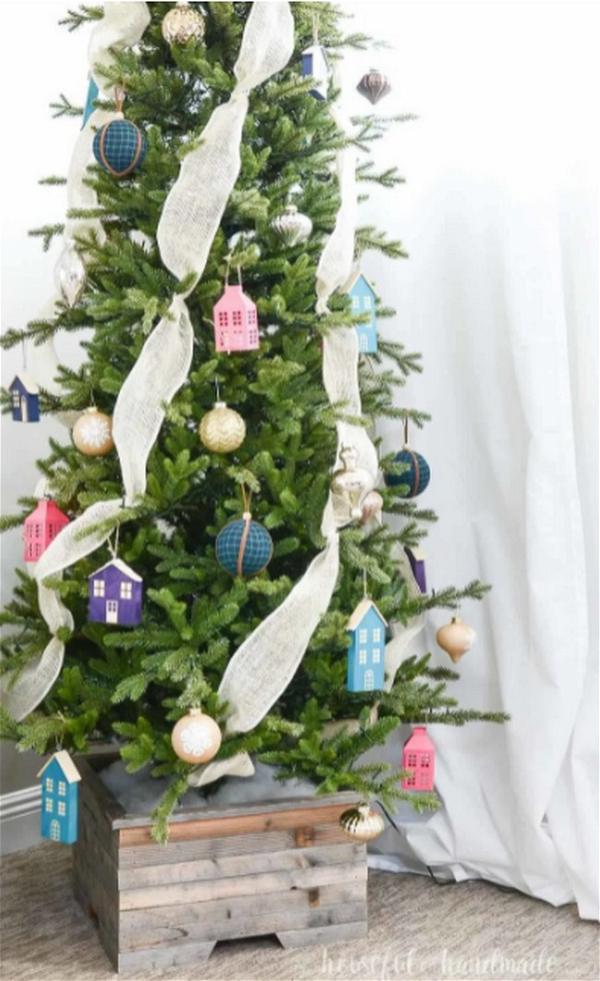 These little Christmas houses will be a hit with kids and adults of all ages. Everyone will enjoy making these Christmas decorations and once they're done, they can be used as ornaments for your tree, they can sit on a shelf in your home, or you could hang them from a wreath.  These would even be cute at a holiday open house or for a craft fair. This Easy Scrap Wood Christmas House would add a touch of homemade to anyone's Christmas decor. You'll have so many leftover scraps from making these houses you'll be making more for years to come! Whether you display it on a shelf, mantel, or give it as a gift, this little house is sure to bring a smile.
These scrappy wood Christmas houses are the perfect quick-and-easy project. You can create a whole army of houses for your mantle or table in less time than it takes to watch a movie. This project also makes a great opportunity to revisit those leftover odd-shaped scraps from other projects. The houses themselves will display the scrap wood perfectly, and the scraps inside will be a reminder of all the fun projects you've created!
Make The Cutest Mason Jar Lid Wreath Ornaments: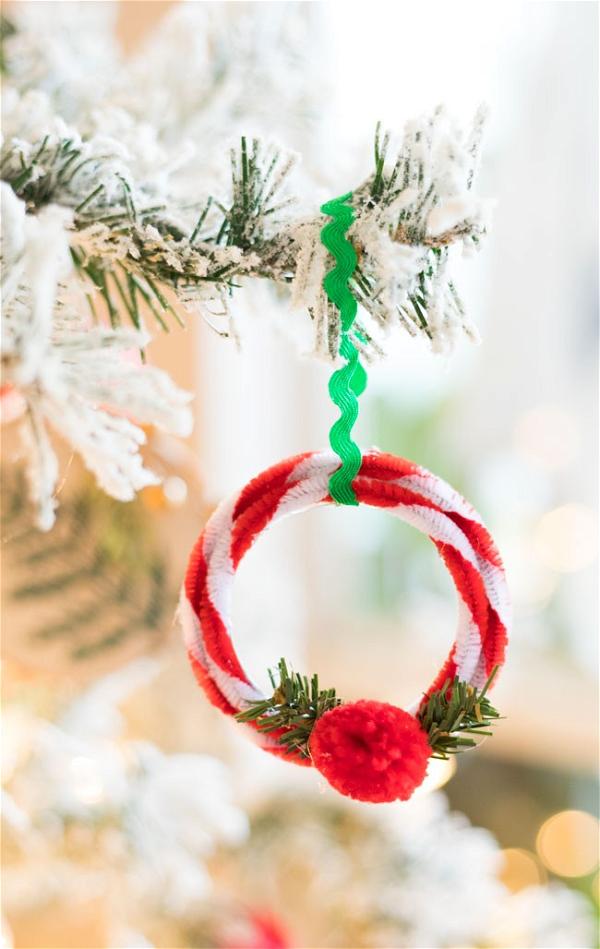 Create a beautiful keepsake to remember the holidays. Transform a metal ring, burlap ribbon, wire, yarn, and glue into cute mason jar lid ornaments that are sure to be tiny works of art. Not only is this an easy project to make, but the result is a cute little mason jar lid wreath ornament for your Christmas tree or to give as a gift. These favorite Christmas crafts are those that make our home look beautiful and festive without costing us much money, right? Have fun trying this DIY craft!
Wreaths are a fun way to show off your mason jar ornaments, and you can easily reuse a few of the mason jars from the gifts you made last year. Start with a ring from a metal coat hanger and some ribbon. Don't throw out those fruit cups and jelly jars, use them to make cute Christmas tree ornaments.
DIY Stamped Christmas Ornaments Two Ways: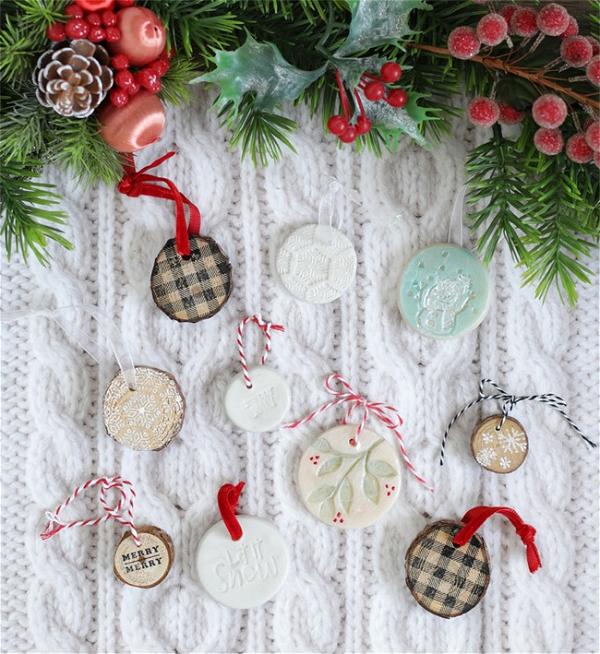 Choose which DIY Christmas ornaments say "Merry Christmas"! You can stamp an assortment of wood slice ornaments to create a rustic woodland vibe or use stamps to imprint designs into oven-bake clay, then paint with acrylic paints. Whichever you choose, these DIY wall decorations will give your living space a festive and fun feeling. DIY stamped Christmas ornaments add instant holiday cheer to your decor. Strung up on ribbon, this project is a great way to add some fun to your desk at work or dorm room.
This is a DIY Christmas craft for the whole family to dig their hands into! Perfectly sized to hang from a wreath or bundled together as a set of three, make a set of wooden ornaments if you're going for a rustic woodland vibe, or imprint designs into oven-bake clay using stamps for a more modern look. Either way, your festive handmade baubles will be an original addition to your Christmas tree.
DIY Wooden Tassel Ornaments: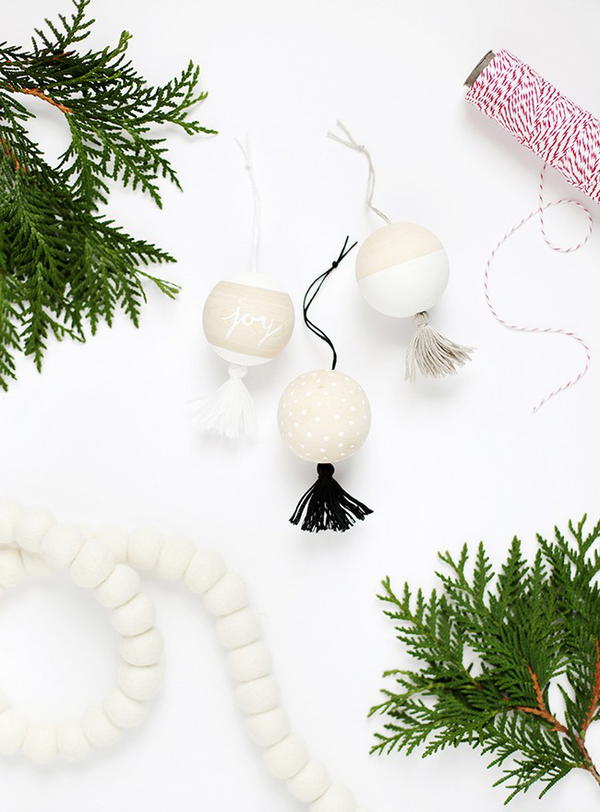 These DIY wooden tassel ornaments add a bit of texture and an extra pop to any wintery or fall-styled home. They're super easy to make and come complete with everything you need to get started making your own. For all of you crazies who love color, this is for you. Not only are these easy to make, but they are also inexpensive and fun! I hope you enjoy making these ornaments as much as I do.
If you're on the hunt for a perfect way to hang some simple decorations on your Christmas tree, why not try these? These DIY wooden tassel ornaments are the perfect holiday craft for you minimalists out there. Each super simple ornament can be knotted in just a few minutes, but you could also spend some time gluing random doodads to them for more color. Minimalist ornaments are meant to be blank canvases for your imagination!
DIY Ceramic Glitter Glass Ornaments: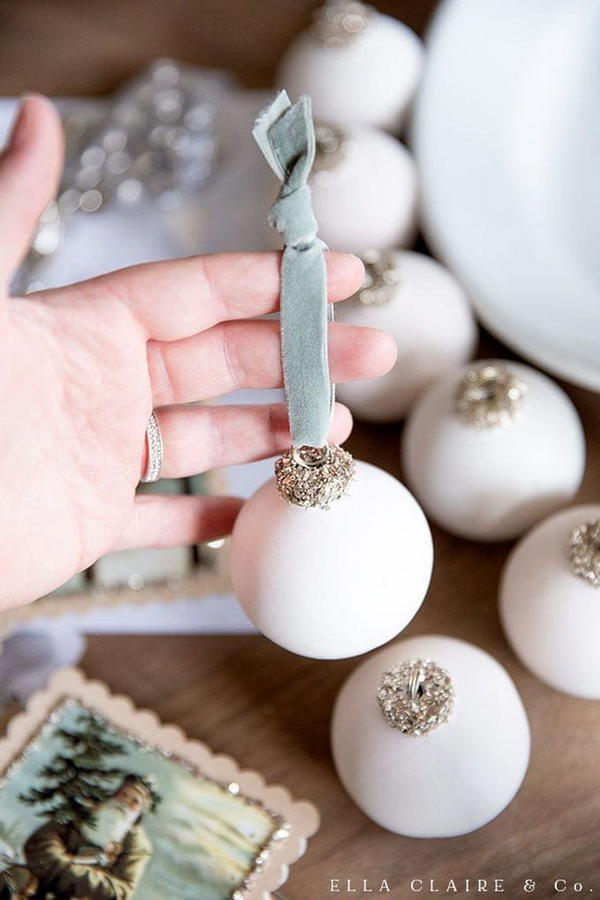 Add holiday cheer to any room with these DIY glitter glass ornaments. These adorable ornaments include everything you need to make your own - ceramic base, German glass glitter, vintage-inspired velvet ribbon, and twinkle bulb inside. Glue the glitter on with provided glue dots for this special DIY ornament. Inspired by the holiday season, these stunning baubles will be cherished by you and your loved ones for years to come! These ceramic ornaments are the perfect gift for that special someone on your Christmas shopping list.
They're hand-painted, velvet ribbon tied, and come with German glass glitter on the top of the ornament. It doesn't get any more vintage than this! These glitter glass ornaments are simple and elegant, vintage-inspired DIY Christmas ornaments. They make a striking gift to your loved ones this Christmastime
Rolled Paper Homemade Christmas Ornaments: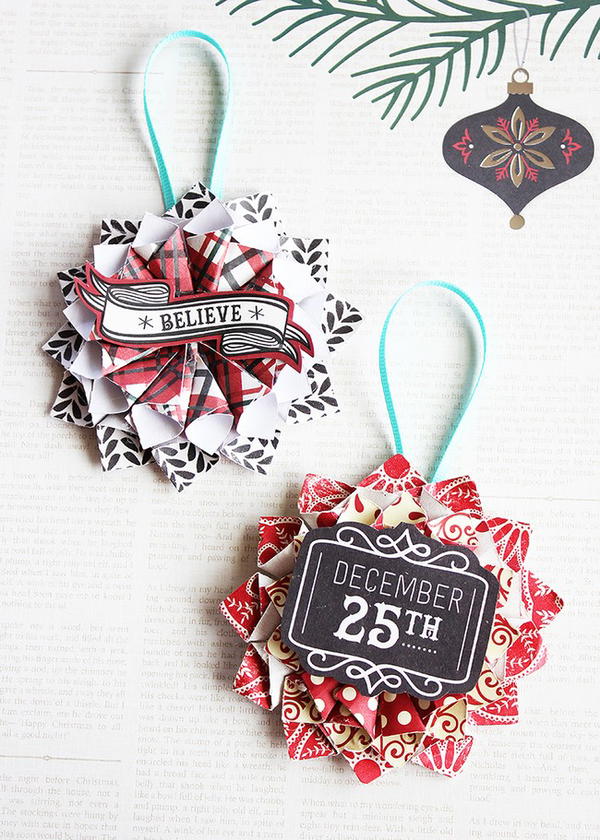 Open up your own little Christmas hobby shop with our Rolled Paper Homemade Christmas Ornaments. Start with patterned scrapbooking paper that you roll into tubes, then wrap around pieces of cardboard to form an ornament that can be used as a gift tag or just hung on the tree. These Christmas ornaments are so easy to make! Using patterned scrapbooking paper you can make them in any color scheme/theme you like. Hang them on your tree, use them as unique tags on a present for someone special, or just display them as a piece of art.
Wonderful for group projects or a class. This is a picture of what they look like hung on a tree. These are so easy to make and are so cute up on our tree which made our ornaments look very special! Just pick out some patterned scrapbooking paper, put them together in no time flat!
Chalk Embroidery Mini Hoop Ornaments: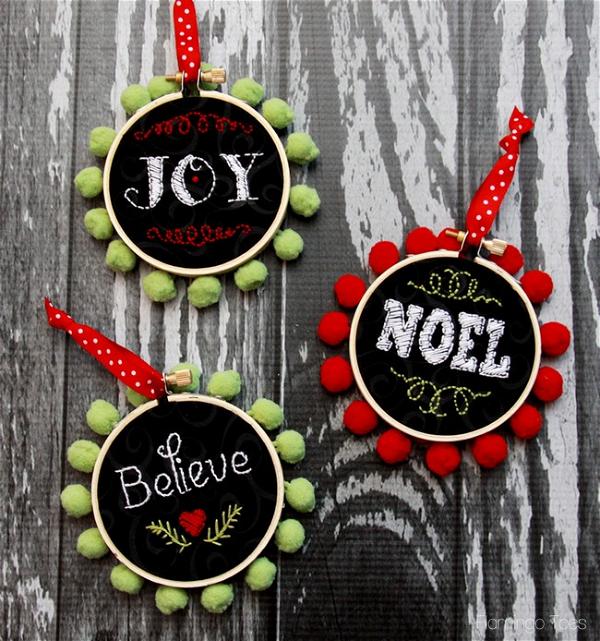 Everything is cuter in the mini version, right? These Chalk Embroidery Mini Hoop Ornaments would look so cute on your tree! They are quick and easy to make and all you need is a little bit of embroidery thread and a hot glue gun. Time for some last-minute handmade gifts! These Ornaments are quick and easy and take only a few supplies you probably have laying around already. Display them on your tree or give as little handmade gifts to friends & family this Christmas!
Want a fast and easy way to decorate your tree? Make these adorable mini hoop ornaments with chalk embroidery. They only take a few minutes to make and they look so cute on the tree. Featuring 3 patterns, you can easily mix and match them on each branch for a stunning result! These mini hoop ornaments would also be great as present toppers, gifts, party decorations, and more.
Buffalo Check Christmas Ornaments: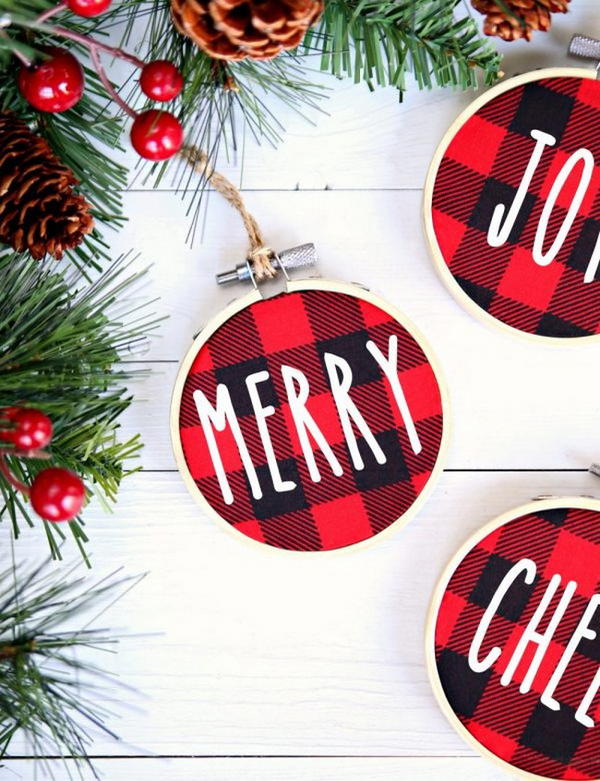 Looking for the right Christmas ornaments to hang on your tree? We've got you covered. Make these fun festive Buffalo Check ornaments in five easy steps. These are a snap to make and look adorable on a Christmas tree! For a modern take on a classic buffalo check, it used bright red and white felt, but this pattern would look great in other bright colors as well. For this recipe, you will need safety pins, dish detergent or wool wash, super glue, toothpicks, and an ornament. These Buffalo Check Christmas ornaments will decorate your tree all season long. They're the perfect addition to the Americana-themed tree, as well as a fun way to bring a little bit of the countryside into your decorating. And they couldn't be easier to make.
DIY Gumball Machine Ornaments: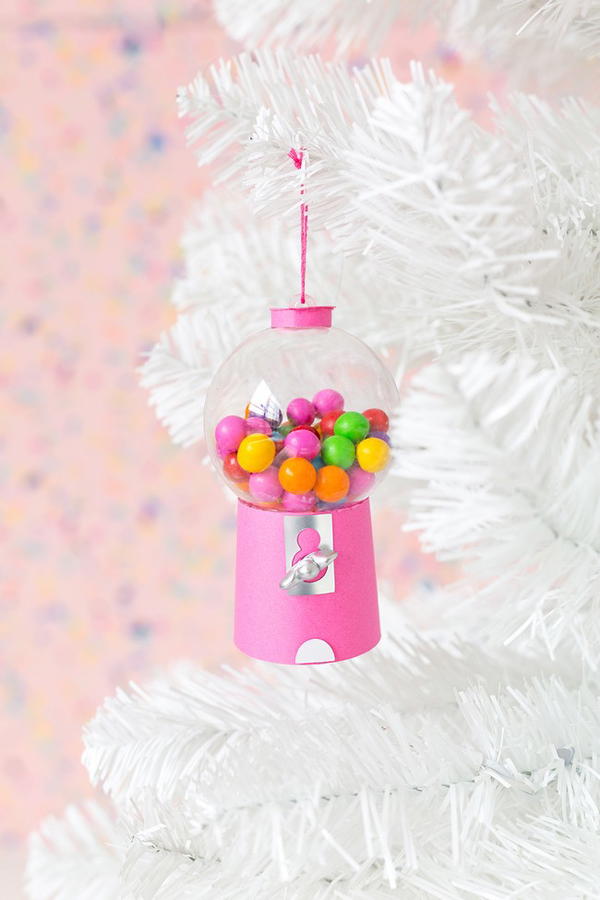 Do you want Gumball Machine ornaments? You got 'em! These are the Gumball Machine Ornaments you've been looking for. Made of easy-to-cut, easy-to-print foam board, these Gumball Machines are scaled to fit inside an Ornament. Stick some foil inside the top and make it reflective, for an extra-special ornament! These gumball Machine Ornaments are seriously fun. Easy to make, super cute, and can be customized with any colors or favorite treat you like.
This gumball machine ornament is so easy and inexpensive to make. Pick up a few small items at the dollar store, and then cover them with paint and glitter. These DIY Gumball Machine Ornaments are super easy to make. You can make both in one weekend or break it up into two days total. Plus, they are totally customizable to whatever you want! Just spray paint the parts with whatever color you want! The body of these gumball machines is made from faux apples, which are available at most craft stores in the Fall. They are already green so no need to paint them!
10 Minute DIY Taco Holiday Ornaments: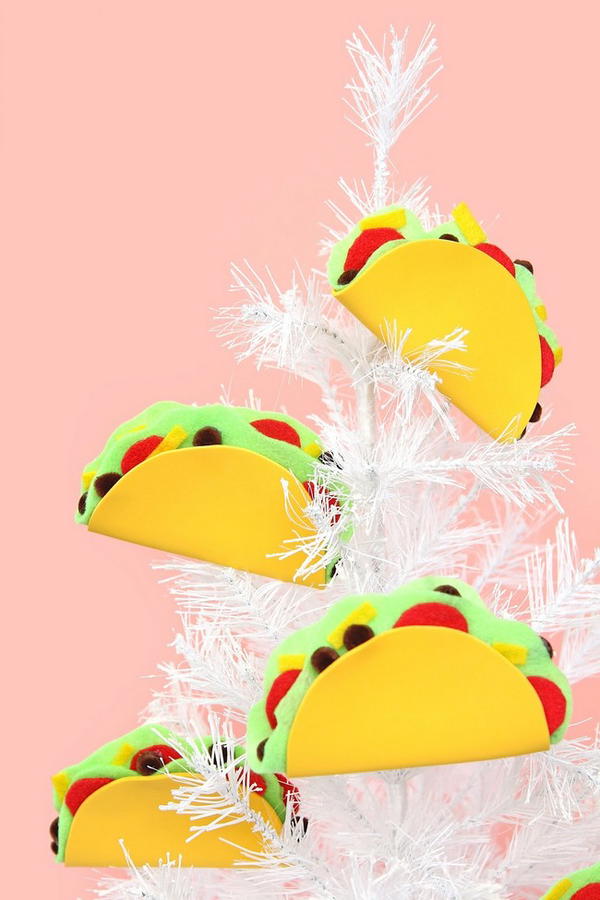 Meet the perfect last-minute gift and they're a great way to add a little extra holiday cheer to your family's Christmas tree! Skip the long hours in front of a hot glue gun. Instead, whip up these 10 Minute DIY Taco Holiday Ornaments that are super easy to make AND fun to give! They make great presents for teachers, co-workers, friends and family members! Make homemade ornaments inspired by your favorite Mexican dishes this holiday season with this recipe from The Kitchn.
These DIY taco ornaments are SO simple, yet SO festive! Who doesn't love tacos? This means you can make them for everyone in your family if you're in need of a last-minute gift, AND still have time left to bake a batch of cookies or watch the new episode of your favorite TV show., AND still have time left to bake a batch of cookies or watch the new episode of your favorite TV show.
Melted Crayon Ornaments: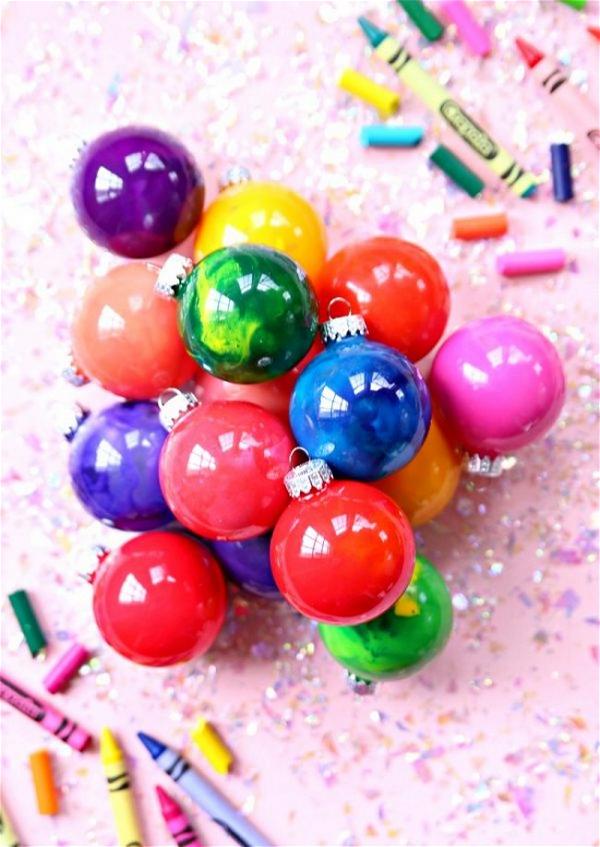 If you are looking for the perfect holiday craft to make with the kids, look no further! This Melted Crayon Ornament Craft is fun, easy, and adorable. Such a simple idea that results in amazing masterpieces! Use a few melted crayons to make a tree, a heart, or any other ornament your little heart desires. These ornaments make a great gift for grandparents and anyone else you want to show some holiday love to! Kids of all ages will love making these melted crayon ornaments.
Create a family tradition that your kiddos will be excited to work on every year! Especially if they get to eat the results! Colorful melted crayon Christmas ornaments! These easy Christmas crafts are pretty to look at and a lot of fun to make! 2 ornaments per package. Each ornament is about 3" long. Add color to your Christmas tree with these melted crayon ornaments. Each one is so wonderfully different, making them great for all ages.
Christmas Kids Craft Grinch Ornaments: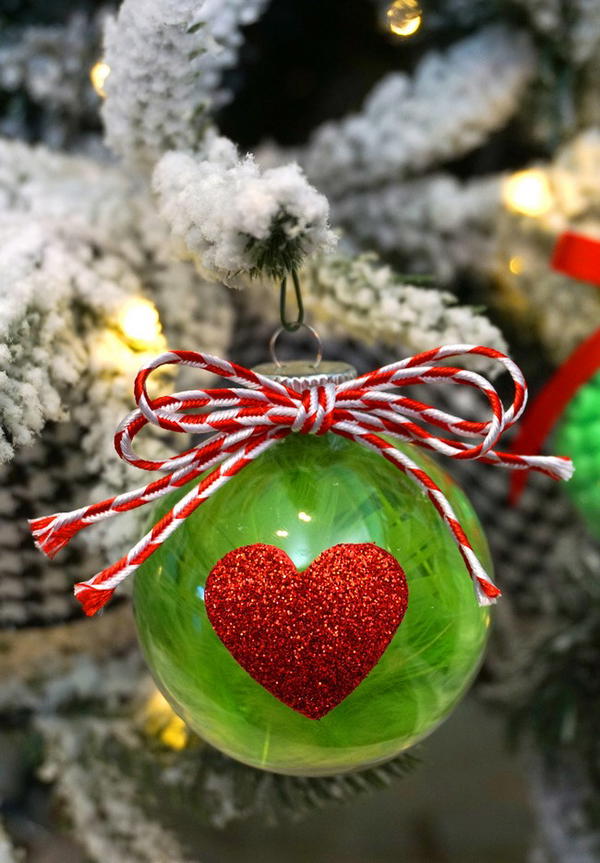 What could be better than sharing your Christmas spirit by making simple holiday decorations for your loved ones? If you are looking to keep kids busy this year during your holiday crafting sessions, they will most certainly love making these adorable Grinch Christmas Ornaments! What a great way to have a family "craft night" and have a little holiday decorating fun too! These ornaments can be made in a few minutes using items you probably already have in the house! It's the most wonderful time of the year! Or is it? The poor old Grinch is trudging through the snow, so these simple little ornaments are the perfect way to help show kids some holiday cheer.
They are easy to customize, so kids can create their own 3-D printed Grinch ornaments using their favorite craft supplies. This project can be done with a 3-D printer at your local library, school, or maker space. These ornaments are easy to hang on the tree using ribbon, yarn, or even twine. You can use this tutorial as a template to create ornaments for all your favorite books and shows! Let's get started.
Stained Glass Tumbling Block Ornaments: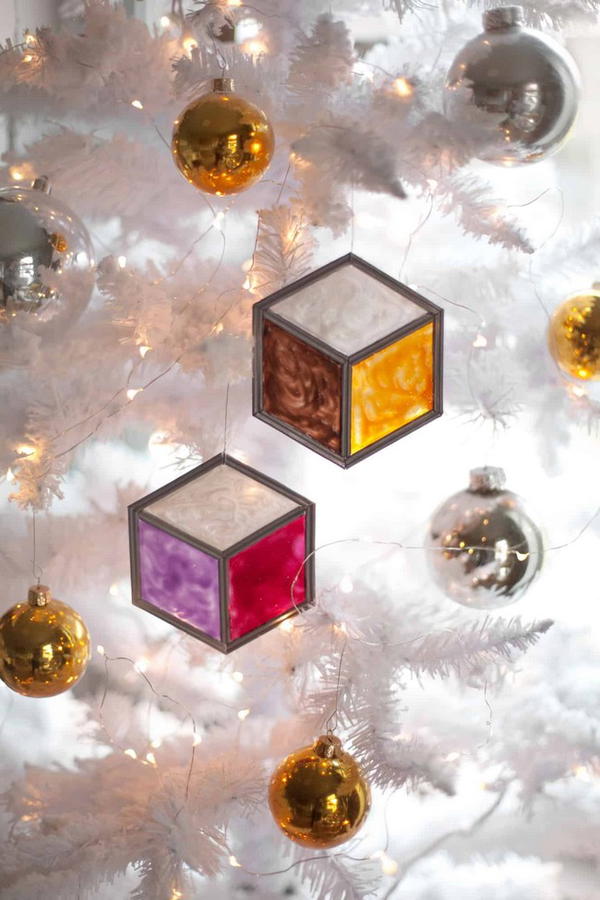 Tumbling block is one of the most popular patterns for quilts, but it's also easy to use in other crafts as well! Use this design as a stepping stone into a whole new world of crafting. The repetitive pattern becomes relaxing and meditative as you work. Whether you're a first-time crafter or an accomplished artist, these stained glass tumbling block ornaments will bring beauty and color to your holiday season. You'll love the look of these stained glass tumbling block ornaments.
Use the patterns to make your own design or choose from a variety of patterns. Make a set for you and a few as gifts. This is a fun and easy project to do with friends at a craft night. Make these vibrant stained glass look like tumbling block ornaments to brighten your holiday. With just a few materials, this project comes together in just minutes. Use it as a gift topper, for DIY decor, or even to string on the ribbon and use it as an ornament itself.
Cookie Cutter Ornaments: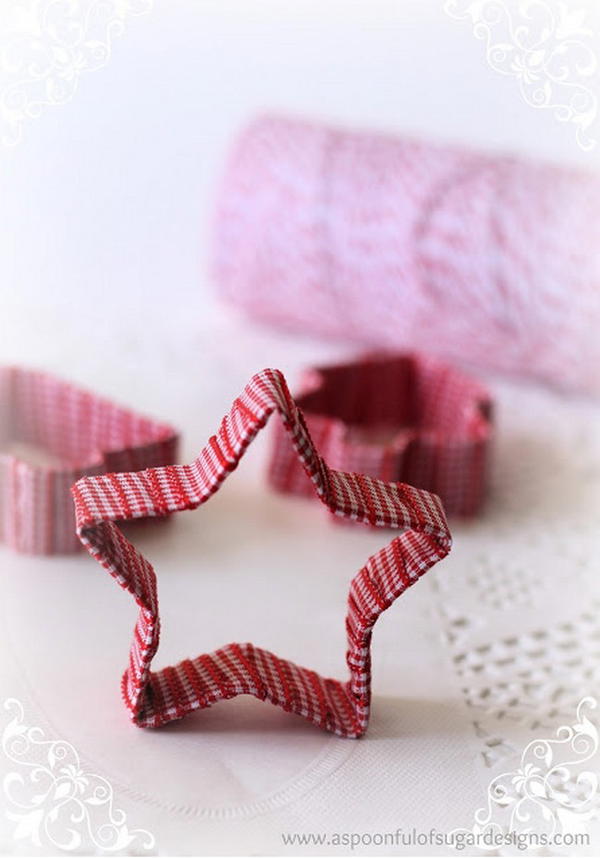 Do you need to spice up your Christmas tree? Then these are the perfect cookie-cutter ornaments for you! These 2 little dough cutters are completely dishwasher friendly and made of high-quality stainless steel. This small tree cookie cutter is definitely cute, but it's also really practical. It's made of durable stainless steel that will last for years. The handle is very comfortable and easy to use. Now, these cookie cutters can be used for more than just Christmas cookies!
This makes a great gift for your family or friends who love baking! You can use them to create creamy or frosty decorations on any dessert plate or in the molding of various chocolate, sugar, fruits, and other foodstuffs. This Christmas, bake some fun cookies and then turn them into festive ornaments! This small-tree-friendly cutter can transform any dessert into a whimsical piece of holiday decor. With a simple twist of the wrist, you'll have a cookie ornament in minutes.